By S. Arshad, New Age Islam
28 February 2022
In A Multicultural Society Like India, Veiling Should Also Be Accepted If Nakedness Is Acceptable On Religious Grounds
Main Points:
1. In India even Hindu women have covered their faces with Ghoonghat.
2. Muslims are divided on face cover as Jains are divided on clothing.
3. Both Muslims and government should show some flexibility on the issue.
-----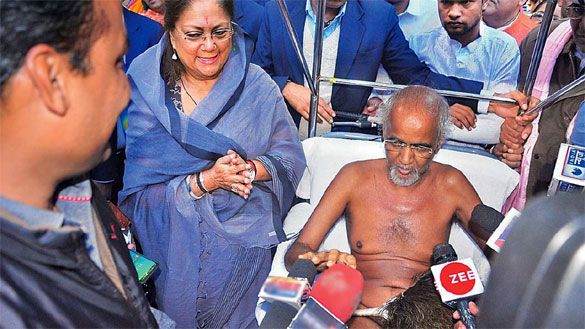 Tarun Sagar was greatly respected by various politicians including PM Modi, Haryana CM Manohar Lal Khattar and Rajasthan CM Vasundhara Raje. (Photo: DNA)
-----
In October 2016, the Digamber Jain Saint Tarun Sagar had been invited by the Education Minister of Haryana, Ram Vilas Sharma to preach a sermon in the Haryana Assembly. He had accepted the invitation and come to the Assembly and delivered his sermon for forty minutes. According to his religious principles, he was totally naked though there were some women MLAs also present in the assembly.
Questions were raised on the legitimacy of the event on the social media. Questions were raised as to how a monk or a Saint can be invited to address an audience in a public comprising women while sitting completely naked. Reacting to the event, a woman columnist Sanjukta Basu had written an article that was published in Firstpost. She wrote about India's laws on obscenity and the justification of permitting a religious guru to deliver a sermon in an Assembly while naked. She wrote:
"Section 294 of Indian Penal Code defines the crime of obscenity: Whoever to the annoyance of others
a) does any obscene act in any public place or
b) sings, recites or utters any obscene song, ballad or words in or near any public place."
She further wrote: "Of course the law is very ambiguous. The main test is that of annoyance. Courts have held that no act is per se obscene or vulgar unless it causes annoyance (2005 (3) ALD 220). But what constitutes annoyance? Who are others? What is a public place? When a formal event is organised in a workplace where women go as part of their ordinary duties that choice is kind of taken away. But this is not just one day in Haryana Assembly or just about a few women. What example is being set? Tomorrow it could be a school or college --- a nude body should not be forced upon a female gaze in any way. Nudity in the workplace would amount to sexual harassment but why doesn't religious nudity? Is it because it is about what the religious man intends and not how the non-religious female gaze receives the body?"
----------------------------------------------------------------------------
Also Read: Indian Muslims Should Adopt A Realistic Approach To Hijab Issue
----------------------------------------------------------------------------
To many this analogy to the Hijab issue may not sound appropriate but in a multicultural society like India it sounds bizarre that religious veil or Hijab causes annoyance to many but religious nudity does not. India is not a culturally homogenous society like France where uniformity in looks and dress is expected and so if Hijab is banned there, it is seen as lack of knowledge to cultural sensitivities of others. But in India where veiling and nudity are both part of religion and culture and people of different geographical regions wear different clothing.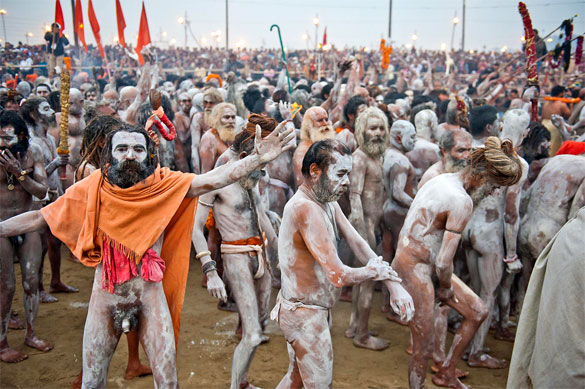 Images by Abhishek | This photograph was taken during the Naga sadhus procession while the crowd looks on
----
There are Naga sadhus whose nudity does not cause annoyance to any one so as to fall under obscenity. Again when a rape happens, it is said that scantily clad women encourage rape.
The Muslim college girls were barred from attending college because it annoyed the boys associated with a particular ideology. The arguments the girls presented was that the Hijab or veil was among their Essential Religious Practices just as the Jain monk said nudity was his Essential Religious Practice.
In India not only Muslim women use veil or face cover but for centuries Hindu women have used Ghoonghat, a part of sari to cover their face. In a joint family the bride or the daughter in law had to draw Ghoonghat over her face the whole day because she was supposed not to show her face to the senior male members of the family.
In modern society too young Hindu girls cover their face with scarf or stole for security reasons. Some high profile rape cases, in the country have instilled a sense of fear and insecurity among the girls. By covering their face they avoid unwanted glares and enjoy the comfort of anonymity. Incidents of posting of photos of girls in the social media by rogue elements have also made no-Muslim girls to opt for face cover. However, since there is no religious compulsion of covering the face in Hinduism, so Hindu girls are not rigid on the issue of covering the face and so they remove the scarf where uncovering the face is required. In case of Muslim girls, since veil or Hijab is seen as a religious ordainment, the Hijab or veil becomes a religious identity. Hence the rigidly.
----------------------------------------------------------------------------
Also Read: Hijab Is Not Only A Religious Dress But Also Represents Various Social And Psychological Aspects Of Society
----------------------------------------------------------------------------
The girls who are ready to leave their career for veils or Hijab are not aware that in many Muslim countries veil is banned. In 2009, Egypt's Al Azhar University banned veil or niqab in all female classrooms and dormitories in all its affiliate colleges and educational institutes. In Saudi Arabia there have never been clear cut rules mandating Hijab or Niqab. The black Abaya was imposed because of the pressure of the religious section. The present government has lifted the Hijab. Now it is not compulsory.
In India too, Hijab or veil is worn by a section of women and girls while other section does not wear hijab or veil. The choice is entirely theirs. In Karnataka, Muskan Khan was hailed by Muslims for wearing Hijab while a Kashmiri girl who was a topper in class 12 was criticised for not wearing Hijab.
In a society where girls face harassment, cat calls, or harassment on social media, they have found Hijab or face cover as a protective cover irrespective of religious affiliation. The Indian government has not banned Hijab or veil and so educational institutions may adopt some leniency In view of the sensitive nature of the issue. Whether veil or face cover is cited in Quran or Hadith is a debatable issue as different Ulema have interpreted Quran and hadith differently. Some say veil is mentioned in the Quran while others say it is not just as Digamber Jains and Shwetambar Jains differ on dress. In short, as religious nudity is allowed and accepted in a multicultural society like India, religious veil should also be acceptable. However, a degree of flexibility is desired from both the Muslims and the government on the issue.
-----
S. Arshad is a columnist with NewAgeIslam.com.
URL: https://www.newageislam.com/interfaith-dialogue/religious-nudity-veiling/d/126474
New Age Islam, Islam Online, Islamic Website, African Muslim News, Arab World News, South Asia News, Indian Muslim News, World Muslim News, Women in Islam, Islamic Feminism, Arab Women, Women In Arab, Islamophobia in America, Muslim Women in West, Islam Women and Feminism