By Amjad Malik
25th March 2020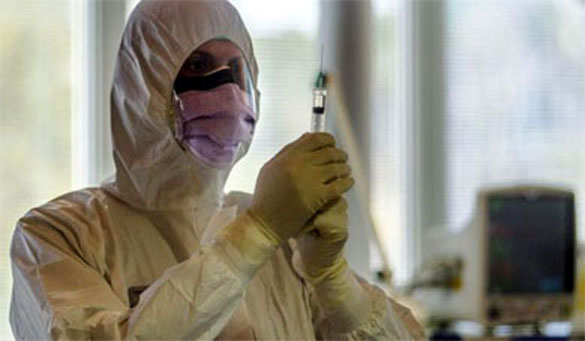 A medical staffer of the Intensive Care Unit of the Casalpalocco COVID-19 Clinic in the outskirts of Rome checks a syringe, Wednesday, March 25, 2020. (AP/Domenico Stinellis)
-----
If we had spent as much money on our health service as we did on advanced weaponry would we really be in such a horrible panic?
The coronavirus pandemic has laid bare how large weapons manufacturers and multi-national companies have shaped our world. The real threat was never terrorism or weapons of mass destruction, nor unfriendly dictators – it was an invisible enemy that has forced the world to its knees.
Has there ever been a point in history like this? Schools are closed, airports are shutting down, airlines are suspending flights and bars, restaurants and cafes have locked their doors. This week, that one brand that signifies who and what we are as a society – McDonald's closed all its restaurants. And what did we do? We queued and rushed for one last burger and fillet.
No sport, no theatre, no cinema, no weddings, no parties and no festivals. We are living in a historic moment in time which will be studied by future generations.
There is no left or right politics nor is there leave or remain. In the past year we fought over the petty issues of our time calling out each other for minor infractions on social media so we could score points and add likes to our ever-pointless posts.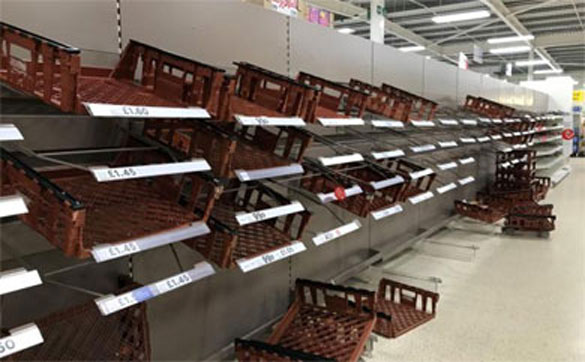 Empty shelves in a Tesco Extra in Worthing, West Sussex last week
-----
We are being advised to stay home to protect not only our own families but the wellbeing of others. We are where we are because, let's face it we allowed our governments to prioritise what was more important.
Alongside the multi-national companies, the media is equally guilty of helping to ramp up the threats from rogue forces and enemy states. It was not the Russians, it was not the Iranians, it was not the communists or the terrorists that did this – it was out of undeniable ignorance in thinking that we as a society could fight and win against anything.
Of what value are the trillions of dollars and pounds worth of weapons, the drones, the war ships, the guns, the spy satellites, the computer firewalls? They are all worthless.
How we would happily sacrifice all of this for some hospital beds, some ventilators, some masks, some simple hand wash to fight the germs which have forced us back into our caves. Without these things we feel helpless.
The very same people who were calling for our immigration to be tackled are now finding that we are relying on their skills in the NHS to keep us alive. Without foreign doctors and nurses we are at the mercy of something sinister that takes life without mercy and discriminates between no-one.
We watched migrants dying as they made their way across seas and commented on the wars that were caused in some far-off land. How blessed we were that we lived in peace, and to keep that peace we were prepared to ignore our government's foreign policies.
The superpowers bombed homes into submission and other smaller nations armed with this latest weaponry destroyed those villages others couldn't reach.
Yet, within weeks we have seen people fight over toilet rolls, pasta, hand gels and other household goods which we took for granted. We talked ourselves up as people who could survive on the basic means but we are not the wartime generation and rationing is something we cannot handle.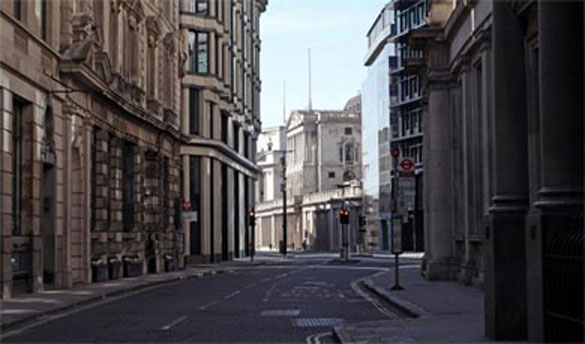 An empty Old Broad Street with the Bank of England in the distance, in the City of London, the day after Prime Minister Boris Johnson put the UK in lockdown to help curb the spread of the coronavirus. Yui Mok/PA
------
And then began the shutdown and our freedom was curtailed by none of the things we had fought so valiantly against in the 21st century but something much more deadly that could strike at any time, any place, to anyone.
We must stand two meters apart and stop all forms of socialising. Locked in our homes we are experiencing the same as many other families have across the world.
For a moment we have realised it is the people – the health workers, the drivers, the porters and emergency services who deserve our biggest applauds, not the rich, the celebrities, the sports personalities or those who speak our politics.
We thought this crisis will bring us together and we will forget the past and come through this as better people. We will realise that the only way through this is as one community and peoples.
I say once this temporary period of 'unity' is over we will return to the very same ways that led us to this path which means we are not capable of tackling this invisible enemy. We will be led to the same lies and regress to the same places, tackling the same enemies that helped to make the rich more powerful and the brands more popular.
Original Headline: We spent billions on weapons, were made to hate Muslims and fear migrants – now look at us
Source: The Asian Image
URL: https://www.newageislam.com/spiritual-meditations/the-coronavirus-pandemic-were-made/d/121445