New Age Islam News Bureau
10 Nov 2017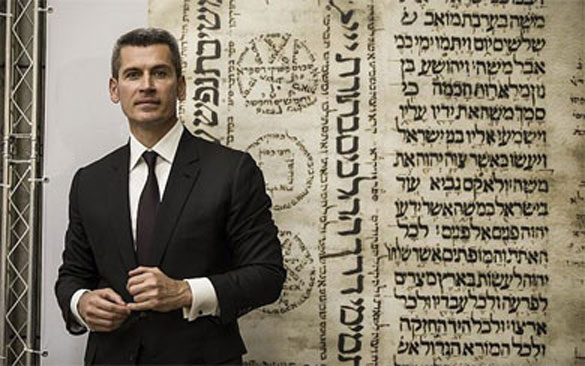 Russian billionaire Ziyavudin Magomedov attends signing of an agreement between the state libraries of Israel and Russia at the National Library of Israel in Jerusalem, November 7, 2017. (AP/Tsafrir Abayov)
-----
• Top Saudi Scholar Says Muslims May Pray In Churches And Synagogues
• Pakistan To Mint New Coins In Honor Of Catholic Nun
• Russian-Muslim Billionaire Funds Digitizing of Jewish Manuscripts
• Pakistani Terrorists, Smugglers May Use Drones To Ship Arms, Drugs To India
• Saudi Siege On Yemen: 'Hundreds Will Die Within A Week'
Arab World
• Top Saudi Scholar Says Muslims May Pray In Churches And Synagogues
• Infighting Intensified among Terrorists in Western Aleppo
• Notorious ISIL Commander Flees Deir Ezzur to Turkey
• Egypt's el-Sisi says Iraq, Syria militants headed to Libya
• Syrian army 'liberate' last ISIL stronghold in eastern region
• France's Macron condemns Houthi missile launch at Riyadh
• Syrian Army Takes Military Airport Back from ISIL in Deir Ezzur
• Syrian Army on Verge of Retaking All Lost Positions in Northeastern Hama
• Turkey Orders Transfer of Chinese Terrorists from Idlib to Northern Aleppo
--------
Pakistan
• Pakistan To Mint New Coins In Honor Of Catholic Nun
• Senior Pakistani Police Official Among 3 Killed In Quetta Suicide Attack
• Pakistan, Iran keen to rebuild relationship, says NA body chief
• PFUJ urges govt to take steps for journalists' safety in Balochistan
• Sikhs thankful to Pakistan's hospitality
--------
Europe
• Russian-Muslim Billionaire Funds Digitizing of Jewish Manuscripts
• In Brexit-Era London, a Mosque Sits Between Two Types of Hate
• Thousands of children referred to UK's counter-terrorism scheme, figures show
• Cambridge crackdown on Palestine event part of 'worrying trend'
• White Supremacists Now Have Their Own Anti-Islam Military Camps
--------
India
• Pakistani Terrorists, Smugglers May Use Drones To Ship Arms, Drugs To India
• Govt To Soon Seek Naik's Extradition From Malaysia
• Security forces raid south Kashmir villages, Hizbul suspect held
• Hizbul Mujahideen 'overground worker' arrested, says J&K Police
--------
Mideast
• Saudi Siege On Yemen: 'Hundreds Will Die Within A Week'
• Over 110 Detained In Vast Anti-IS Raids In Ankara
• Netanyahu grilled 'for several hours' in graft probe
• Iran's Revolutionary Guards arrested at least 30 dual nationals in two years
• Houthis bomb Taiz, hit children and displace dozens of families
• Hamas lambastes Mahmoud Abbas for resuming security coordination with Israel
--------
South Asia
• China, Pakistan, Afghanistan To Step Up Cooperation On Counter-Terrorism
• HRW Urges Strong Action Against Myanmar Over Rohingya
• US Congress Weighs Sanctions on Myanmar Military Over Rohingya Crisis
• 1 dead as explosion hits Afghanistan's Mazar-e-Sharif City
• Rohingya row to Bangladesh as Myanmar's Suu Kyi runs summit gauntlet
• Bangladeshi academic missing amid spike in disappearances
• Heavy explosion rocks Lashkargah city in Helmand province
• Afghanistan to be a close of Pakistan in the future, says Pak president
--------
Southeast Asia
• Controversial Islamic Cleric An Asset In Malaysia's Deradicalisation Programmes, Says DPM
• Can An Extremist Rehabilitate Extremists, Asks Perlis Mufti
• Is Sabahan Amin Baco new IS regional emir?
• Zahid urged to advise Zamihan against making hate speeches
• Indonesia: Islamic State Primarily Relying on Online Donations for Money
• Indonesia, Malaysia and Philippines to Discuss Future of Counterterrorism Cooperation
• Singapore Detains Two for 'Terrorism-Related' Activities
--------
North America
• Father Of Murdered Muslim Pizza Delivery Driver Forgives Man Convicted Over Killing Then Hugs Him In Court
• US Worried But Rules Out Mediation To Reduce India-Pak Tension
• US, Britain hit out at Russia as chemical watchdog meets on Syria
• Nuclear commitments undertaken by Iran being implemented: IAEA chief
• Marine Corps instructor accused of calling Muslim recruits 'terrorists'
--------
Africa
• Tanzania: 5 Pupils Dead, 43 Injured In Grenade Blast
• Nigeria: President Buhari Urged to Free Ailing Shiite Leader Zakzaky
• Muslim group blasts Adeboye, Oyedepo, CAN for telling FG to exit Islamic bodies
Compiled by New Age Islam News Bureau
URL: https://www.newageislam.com/islamic-world-news/top-saudi-scholar-says-muslims/d/113181
--------
Top Saudi Scholar Says Muslims May Pray In Churches And Synagogues
10 November 2017
JEDDAH: Abdullah bin Sulaiman Al-Manea, a member of the Council of Senior Scholars, has said that Islam is a religion of tolerance and mercy, not of violence, intolerance, or terrorism. Al-Manea stressed that Muslims should spread true Islam and follow the tradition of the Prophet in his tolerant treatment of people from different religions.
Al-Manea gave a fatwa (religious advisory opinion), reported by Al-Anba' Kuwaiti newspaper, stating that Muslims may pray in Shiite or Sufi mosques, churches or synagogues. He noted that all lands belong to God, and cited the Prophet's words: "The earth has been made a place of prostration and a means of purification for me."
Al-Manea said that Islam is a religion of coexistence not of violence, and noted that Muslims cannot have differences in the basic principles of Aqidah (creed) of Islam, but they may differ in the branches.
Concerning dealing with non-Muslims, Al-Manea cited an occasion when the Prophet received a delegation of Christians from Najran in his mosques, and he allowed them to perform their own prayer facing Jerusalem. Al-Manea also cited other sayings of the Prophet which reflected his kindness and mercy with non-Muslims.
Al-Manea stressed that Islam spread in many countries, such as Indonesia and Malaysia, because of the good manners of Muslim merchants, which attracted the citizens of these countries to embrace Islam.
Al-Manea stated that the Prophet explained all aspects of good and warned of everything evil. Al-Manea called upon Muslims to be thankful to God for the blessing of faith and warned against rushing into giving fatwas.
The office of Al-Manea issued a statement 10 years ago stressing that Muslims are allowed to enter churches to look around and gain more knowledge about these places of worship. The statement referred to the incident when Omar bin Al-Khattab, the second Muslim Caliph, refused to pray at the Church of the Holy Sepulchre in Jerusalem because he did not want Muslims to bother Christians in their church. Instead, he prayed in a nearby area, where a mosque was built with the name Omar Mosque. Yet, Omar did not say that Muslims cannot enter churches.
Al-Manea stressed that Muslims "may enter churches to learn about them, and Christians are allowed to enter mosques — except the Grand Mosque in Makkah — and pray in them."
http://www.arabnews.com/node/1191041/saudi-arabia
--------
Pakistan to mint new coins in honor of Catholic nun
November 9, 2017
Pakistan will issue 50, 000 commemorative coins in honor of German-born Catholic nun and physician Sister Ruth Martha Pfau who dedicated her life to eradicating leprosy in the country.
Known as Pakistan's Mother Teresa, Sister Pfau died in Karachi on Aug. 10 at the age of 87. She was given a state funeral, an honor normally reserved for heads of state and soldiers.
Sister Ruth Pfau was a member of the Society of the Daughters of the Heart of Mary and founded the Marie Adelaide Leprosy Center in Karachi and in all provinces after arriving in Pakistan in 1960, aged 29.
"The entire nation is indebted to Ruth Pfau for her selflessness and unmatched services for the eradication of leprosy," said Prime Minister Shahid Khaqan Abbasi.
According to a statement issued by the Press Information Department on Nov. 8, a federal cabinet meeting headed by Abbasi approved a proposal to produce 50,000 commemorative 50 rupee coins (48 US cents) in honor of Sister Ruth Pfau.
The Central Bank of Pakistan was authorized to issue the commemorative coins, it added.
https://www.ucanews.com/news/pakistan-to-mint-new-coins-in-honor-of-catholic-nun/80739
--------
Russian-Muslim Billionaire Funds Digitizing of Jewish Manuscripts
NOVEMBER 9, 2017
A Russian-Muslim billionaire is funding an Israeli project that will digitize Jewish manuscripts that were seized by the Soviet Union a century ago and are held in the Russian State Library.
The Russian State Library and National Library of Israel this week announced their joint effort to digitize more than 2,000 manuscripts that are part of so-called Günzburg Collection, amid the 100th anniversary of Russia's October Revolution.
The project is funded by Russian oligarch Ziyavudin Magomedov's Peri Foundation.
Magomedov, a 49-year-old energy and shipping tycoon, is the 58th-wealthiest person in Russia, with an estimated net worth of $1.5 billion. Through his foundation, the Russian billionaire has financed various Christian and Muslim heritage projects, and will now finance the conservation of Jewish relics.
"I think it's important for the whole cultural world, for preservation," said Magomedov.
The Russian State Library's Günzburg Collection — which was amassed by Jewish-Russian aristocrat Baron David Günzburg in the early 20th century — is comprised of manuscripts covering a wide range of subject matters, including biblical commentary, Talmud, Kabbalah, philosophy, astronomy, medicine and magic.
"The collection was supposed to come to the national library a century ago," said David Blumberg, chairman of the National Library of Israel. "The Soviet revolution disrupted that matter. The Soviets nationalized the collection."
https://www.algemeiner.com/2017/11/09/russian-muslim-billionaire-funds-digitizing-of-jewish-manuscripts/
--------
Pakistani terrorists, smugglers may use drones to ship arms, drugs to India
Nov 9, 2017
Terrorists and smugglers from Pakistan may use drones and paragliders to escape detection while dropping arms and contraband items in India from across the border, a multi-agency group has said in a confidential report accessed exclusively by ET.
The report submitted to the government also expresses concern over attempts to "revive terrorist activities" in Punjab. The group set up by the government includes members of the Indian Army, BSF and Punjab Police, among other agencies.
Senior officials representing their respective agencies have elaborated in the report on the threat of use of drones and paragliders from across the border for dropping arms and drugs that can be retrieved later using the GPS coordinates. "This possibility needs to be factored into security arrangements, especially around international border," says the report.
This comes after BSF troops recorded 40 observations of flying of drones, 36 of which were spotted in Amritsar sector alone. With regard to Punjab, the report says: "Several inputs have been received from central agencies regarding infiltration of terrorists through international border and cooperation between Sikh militants with J&K militants for revival of terrorist activities in Punjab."
Senior lawyer and ASG Chetan Mittal told ET: "This unprecedented initiative by the central government resulting in sharing of crucial information will go a long way in tackling drug smuggling and terrorism."
The report says some women in border areas are being "trained to lure" officials to make them accomplices in smuggling. One such case, where a BSF official connived with anti-India elements, was brought to the notice of BSF by IG Border range in July, after which the BSF official was dismissed, the multi-agency group was informed.
BSF has observed that drug peddlers and terrorists are found to be actively using social media platforms to communicate among themselves, as per the report. To tackle this, the report says, officials feel an inter-agency WhatsApp group can be created to share real-time information.
The report says Pak-based drug smugglers in the "guise of farmers" are trying to establish contact with innocent Indian farmers during day time while working in the fields. BSF troops apprehended two such farmers who were talking to Pak nationals and handed them over to the local police.
Security forces have zeroed in on the Gujjar community living in 'deras' near the border that have long been suspected to be used for "logistic purposes" by terrorists and smugglers.
Agencies have carried out fresh mapping of such deras and listed the Aadhaar cards and mobile numbers of the residents, the report says.
The report says Pakistan has beefed up security along the border since India carried out surgical strikes in PoK.
Pakistan's Punjab police has established check posts at many places on Narowal-Shakargarh road and intensive search of vehicles is being carried out. Pakistani rangers are continuously strengthening and improving their defences near the international border, according to the report, and constructing new iron observation posts (OP).
"After constructing the OP tower, they go for a small hut under the pretext that they are making it for rest and relief of troops. Finally, they establish a post in front of the border.
After the surgical strike, they are trying to cover the huge gaps which exist in their areas by constructing new OP towers/small posts so that particular area is covered and remains under their observation."
https://timesofindia.indiatimes.com/india/pakistani-terrorists-smugglers-may-use-drones-to-ship-arms-drugs-to-india/articleshow/61575231.cms
--------
Saudi siege on Yemen: 'Hundreds will die within a week'
by Faisal Edroos
Nov 10, 2017
Hundreds of sick and elderly Yemenis "will die within the next week" unless Saudi Arabia lifts its blockade and allows urgently needed medical supplies into the country.
Doctors in the capital told Al Jazeera pharmacies across Sanaa that were already struggling with a critical shortage of specialist drugs, would be unable to treat cancer, diabetes and renal failure patients by the start of next week.
"We're running dangerously low on medical supplies and won't have anywhere near the necessary vials of pain-relief medication, insulin, and other specialist medicines for our patients," said Abdulrahman al-Ansi, a doctor at Sanaa's al-Mutawkil hospital.
Ali, a two-year-old boy with acute lymphocytic leukaemia died last month as a direct result of the absence of cancer medications, he said.
"Unless Saudi Arabia eases its restrictions and allows food and medical supplies, I could end up losing all of my cancer patients - even those suffering from diabetes - [a treatable disease] will die. Hundreds will perish in the next week alone."
Saudi Arabia, which has been at war with Yemen since 2015, tightened its air, land and sea blockade of the country on Sunday, after Houthi rebels fired a ballistic missile towards the Saudi capital, Riyadh.
The Houthis, a group of fighters that controls the capital and large expanses of the country, justified the missile attack, blaming Saudi-led air strikes - which have killed thousands of people - of ravaging large parts of north Yemen.
The kingdom has defended the blockade, which bars aid groups like Doctors without Borders, Oxfam and UN agencies from delivering aid, claiming it is aimed at preventing weapons being smuggled into Yemen by its regional rival, Iran.
Tehran has rejected allegations of arming the Houthis, calling them "malicious, irresponsible, destructive and provocative".
'Fatal consequences'
Aid organisations in Yemen said they were "greatly alarmed" by Saudi Arabia's decision, warning it could "bring millions of people closer to starvation and death".
"The current stock of vaccines in the country will only last one month. If it is not replenished, outbreaks of communicable diseases, such as polio and measles, are to be expected with fatal consequences, particularly for children under five years of age and those already suffering from malnutrition," said Oxfam, Save the Children, the Norwegian Refugee Council and 19 other aid groups in a joint statement.
The 22 humanitarian groups also warned Yemen had only six weeks of food aid remaining for about seven million Yemenis who are facing "famine-like conditions".
"The humanitarian situation in Yemen is extremely fragile and any disruption in the pipeline of critical supplies such as food, fuel and medicines has the potential to bring millions of people closer to starvation and death," they added.
Since the start of Sunday's siege, the country's already inflated food and fuel prices have skyrocketed, while flights delivering much-needed humanitarian aid have been prevented from landing.
'Assad's playbook'
"I haven't received my salary in months," Mohamed Aboubakr, a 62-year-old civil servant, who was undergoing chemotherapy at the hospital, told Al Jazeera.
"How am I going to pay my medical bills?" he asked. "Prices have soared since the start of the siege - what am I supposed to do?"
Aboubakr said he had borrowed more than $2,000 from friends and family to pay for the treatment, but with the tightening of the siege, suggested it could have all been in vain.
"The Saudis have taken a page from [Syrian President Bashar] al-Assad's playbook. They think this siege will break us and we'll accept their plan for the country. I may not live to see the end of this war, but I pray the Saudis lose."
The streets of Sanaa were almost free of cars on Thursday due to a fuel shortage, with locals saying public transport fares have doubled.
Azzubair Abdullah Hasan, a medic at a cholera centre in Sanaa's Aljiraf neighbourhood, said even wealthy Yemenis were beginning to feel the pinch.
"Everything has gone up in price," Hasan told Al Jazeera.
"Cooking gas has spiked and filling up my car with petrol now costs YR10,000 ($38) [it cost YR6,000 before the start of the siege], how can people continue with their lives. The situation is unbearable."
Saudi Arabia entered the conflict in Yemen in 2015 after the Houthi rebels took over the capital, Sanaa, and forced Yemeni President Abd-Rabbu Mansour Hadi to flee.
Together with a coalition of other Arab states, and with logistical support from the United States and other western powers, Saudi Arabia has pushed the Houthis from the southern port city of Aden, but has failed to dislodge them from Sanaa and their northern strongholds.
According to the UN, the conflict has killed more than 10,000 people and left over seven million in need of food assistance.
Millions of others do not have adequate access to health, water and sanitation services.
The country has also been hit by a cholera outbreak, with some 900,000 suspected cases since April.
http://www.aljazeera.com/news/2017/11/saudi-arabia-siege-yemen-hundreds-die-week-171109132019410.html
--------
Arab World
Infighting Intensified among Terrorists in Western Aleppo
Nov 09, 2017
Websites affiliated to the terrorists reported on Thursday that Nouralddeen al-Zinki terrorists gained control of the village of Basartoun and Tahrir al-Sham's checkpoint in Taqad-Abazmo road in an infighting with other members of Tahrir al-Sham militants.
Also, other reports said that during the clashes, Tahrir al-Sham terrorists won control of the village of Deir Hessan in Western Aleppo, expelling Nouralddeen al-Zinki terrorists and commanders' family members from the region.
A fresh wave of tensions and infighting erupted among the terrorist groups in Northern Aleppo following the Syrian Army troops' rapid advances in the Southeastern part of the province on Wednesday.
The sources said that the Al-Nusra Front (Tahrir al-Sham Hay'at or the Levant Liberation Board) and Nouralddeen al-Zinki terrorist groups have engaged in fierce clashes in Northern Aleppo, adding that the clashes broke out after the Al-Nusra stormed the command posts of Nouralddeen al-Zinki in the town of Bayanoun in Northern Aleppo and arrested a number of Al-Nusra fighters that had defected the group and joined to al-Zinki movement.
In the meantime, the towns and settlements of Dar al-Izzah, Oweijal, Haraytan and other Western and Northern regions in Aleppo province have faced the same tensions, causing both warring sides to put their forces on alert.
The sources further said that the gunmen of Nouralddeen al-Zinki have called for the release of their arrested members and threatened to hit the Al-Nusra positions if the latter refuses to free its members.
http://en.farsnews.com/newstext.aspx?nn=13960818000242
--------
Notorious ISIL Commander Flees Deir Ezzur to Turkey
Nov 09, 2017
Media activists reported on Thursday that Adnan al-Jawar Fakhz al-Da'eiji, one of the senior ISIL commanders responsible for all financial affairs related to oil trade in the region, escaped from Northern Syria along with a large amount of money.
They added that he has safely passed through all the Free Syrian Army (FSA) terrorist group's checkpoints in the region, saying that he has possibly fled to Turkey.
Al-Javar was among the first terrorists who joined the ISIL in Deir Ezzur and was considered as the right hand of the ISIL top commander in Eastern Deir Ezzur, Abu Ali al-Sha'eiti.
The Syrian Army troops stormed ISIL's positions in the outskirts of Deir Ezzur city on Wednesday, laying siege on the terrorists in their large stronghold North of city.
The army men clashed fiercely with ISIL in Huwieja Kateh region, hitting their strongholds hard from the Eastern and Southern directions.
In the meantime, the army's artillery and missile units shelled heavily ISIL's positions in the region.
Full report at:
http://en.farsnews.com/newstext.aspx?nn=13960818000308
--------
Egypt's el-Sisi says Iraq, Syria militants headed to Libya
9 November 2017
Egypt's president said the defeat of the extremist ISIS group in Iraq and Syria was likely to have forced militants to seek a safe haven in neighboring Libya, from which they will later cross into his country where his security forces have been battling militants in the Sinai peninsula and, more recently, in its vast western desert.
President Abdel-Fattah el-Sisi also said Egypt's ongoing arms buildup was designed in part to equip the country to deal with terrorism and redress the "strategic imbalance" in the region created by conflict and turmoil engulfing several countries in the area like Iraq, Syria, Libya and Yemen.
El-Sisi would not be drawn into specifics about militants leaving the battlefields in Iraq and Syria after they lost almost all territory they seized in 2013 and 2014. He said it was only "natural" for them to move to Libya, where mostly Islamist militias wield influence over large swathes of territory, and eventually to Egypt.
"We must have the military capabilities that compensate for that imbalance in the region and to counter terrorism," he said. "This is a threat not just faced by us, but also by Europe," he told during a two-hour news conference in the Red Sea resort of Sharm el-Sheikh in southern Sinai.
No reliable estimates
There are no reliable estimates for the number of militants fighting Egyptian security forces, but they are believed by experts to number in the low thousands.
Ominously, there has been an uptick in recent months in attacks in Egypt's western desert close to the Libyan border, raising questions on whether the area has become a second theater of operations for the militants beside Sinai.
The latest such attack was last month, when authorities said 16 police officers were killed in what appeared to be an elaborate ambush. Security officials, however, said the number was as high as more than 50.
Also read: Egypt's Sisi names new armed forces chief of staff
El-Sisi said subsequent operations by his security forces have killed the 14 militants he said participated in the attack. A "foreign" militant who also took part was captured alive, he said. He also suggested that the militants were planning to attack a desert Coptic Christian monastery.
A spate of attacks earlier this year that targeted Egypt's minority Christians were blamed by authorities on militants based and trained in Libya. One attack hit Christians traveling on a quiet side road making their way to a remote desert monastery.
Libyan border
El-Sisi said up to 20 vehicles loaded with weapons, ammunition and fighters have been destroyed in the past week, all in the vast western desert near the Libyan border.
El-Sisi also delivered a stern, though implicit, warning to Ethiopia, which is finalizing construction of a massive dam on the Blue Nile and will eventually start filling a giant reservoir behind it to power Africa's largest hydroelectric dam, which Egypt fears would significantly reduce its vital share of the river's water, on which it's heavily dependent.
"We positively view the developmental needs of our friends and brothers in Ethiopia," said the general-turned-president. "Water to us is not merely a question of development, it's a matter of life and death. We are capable of protecting our national security and water to us is a question of national security. Full stop."
Full report at:
https://english.alarabiya.net/en/News/middle-east/2017/11/09/Egypt-s-el-Sissi-says-Iraq-Syria-militants-headed-to-Libya.html
--------
Syrian army 'liberate' last ISIL stronghold in eastern region
By Osama Bin Javaid
Nov 10, 2017
The Syrian army says it is now in control of the eastern city of al-Bukamal after Islamic State of Iraq and the Levant (ISIL, also known as ISIS) fighters withdrew.
The border city was one of the last remaining pockets of territory in Syria held by the armed group.
Al Jazeera's Osama Bin Javaid reports from Gaziantep, on the Turkish-Syrian border.
http://www.aljazeera.com/news/2017/11/syrian-army-liberate-isil-stronghold-eastern-region-171109191454655.html
--------
France's Macron condemns Houthi missile launch at Riyadh
10 November 2017
JEDDAH: French President Emmanuel Macron condemned on Thursday a recent Houthi missile launch toward the Saudi capital, the Saudi Press Agency reported.
Macron met with Saudi Crown Prince Mohammed bin Salman in Riyadh where they discussed the developments in the Middle East and efforts being exerted for regional security, including joint coordination in the fight against terrorism.
The pair also discussed opportunities to further develop bilateral cooperation within Saudi Arabia's Vision 2030.
The meeting was attended by Foreign Minister Adel Al-Jubeir and a number of officials.
Houthi rebels in Yemen fired a ballistic missile on Saturday night aimed at Riyadh.
Saudi defense forces intercepted and shot down the missile, and there were no casualties.
Full report at:
http://www.arabnews.com/node/1191076/saudi-arabia
--------
Syrian Army Takes Military Airport Back from ISIL in Deir Ezzur
Nov 09, 2017
The army soldiers won back control of al-Hamdan airbase near the village of al-Sukriyeh in the Northwestern parts of Albu Kamal during the operations in Southeastern Deir Ezzur on Thursday.
In a relevant development on Wednesday, the Syrian army troops stormed ISIL's positions in the outskirts of Deir Ezzur city, laying siege on the terrorists in their large stronghold North of city.
The army men clashed fiercely with ISIL in Huwieja Kateh region, hitting their strongholds hard from the Eastern and Southern directions.
In the meantime, the army's artillery and missile units shelled heavily ISIL's positions in the region.
A military source said that 20 terrorists were killed in the army operation and the remaining pockets of the ISIL were trapped in the circle of government forces in Huweija Kateh.
The source further said that a large number of ISIL terrorists had fled Deir Ezzur to Huweija Kateh.
Also a military source reported on Wednesday that the Syrian army's elite forces kicked off an operation to free the ISIL-held town of Albu Kamal in Southeastern Deir Ezzur at the border with Iraq from the South of the town of al-Mayadeen.
The source said that the task forces deployed in the Sothern direction of al-Mayadeen started the Albu Kamal liberation operation.
The source further said that the elite forces engaged in a tough battle with ISIL South of the small town of Mahkan and managed to enter al-Qouriyeh, another small town.
In the meantime, the Russian and Syrian fighter jets pounded ISIL's strongholds in the region.
Full report at:
http://en.farsnews.com/newstext.aspx?nn=13960818000557
--------
Syrian Army on Verge of Retaking All Lost Positions in Northeastern Hama
Nov 09, 2017
The artillery units of the army also targeted the areas of clashes on Thursday, killing and wounding tens of terrorists and forcing others to leave the region.
The Syrian army troops had a few days ago retreated from their positions in the villages of Balil, Abu al-Tolou, Um Tarikiyeh and Um Khazim after they came under attack by the al-Nusra Front (Tahrir al-Sham Hay'at or the Levant Liberation Board) in Northern Hama.
The al-Nusra terrorists had used chemical weapons to stop the army's further advances in Northeastern Hama and push them back.
A military source said that a large number of reinforcements were sent to the region several hours after the villages were occupied by al-Nusra and operations started to retake these areas.
A military source said Wednesday that the Syrian Army forces drove Al-Nusra Front out of vast regions in Northern Hama and managed to restore security to a long chunk of the road connecting the town of Ithriya in Hama to the town of Khanasser in Aleppo.
The source said that the army men operating in Northern Hama stormed the Al-Nusra positions in an area stretching for about 30 km Northward along the road to Aleppo, and prevailed over the terrorists.
The source further said that the army men captured a vast region North of the towns of Ithriya and Sheikh Hilal.
The army units continued their operation to liberate the regions near the town of al-Rahjan to restore security to the key road of Hama-Aleppo, the source said, adding that the army captured several regions and villages in Northern Hama and restored security to the road connecting East of al-Sa'an to Ithriya in an area 15 km in depth.
Full report at:
http://en.farsnews.com/newstext.aspx?nn=13960818000437
--------
Turkey Orders Transfer of Chinese Terrorists from Idlib to Northern Aleppo
Nov 09, 2017
Syria's al-Watan newspaper quoted sources close to the terrorists in Aleppo and Idlib as saying that Turkey has ordered the Turkestani terrorists to transfer the family members of Chinese Uyghuri militants who are almost 3,000 people from Idlib, specially Jisr al-Shaqour, to areas in Aleppo and Jarabulus which are controlled by the Turkey-affiliated forces.
The sources explained that Turkey has embarked on the move for the fear of possible reactions by the local people who are enraged by the terrorists' repeated attacks on infrastructures in the province.
The Chinese terrorists have recently intensified attacks on railways, infrastructures, historical monuments and properties of the local people to sell them in the market.
In a relevant development on Wednesday, the Turkish army dispatched a long convoy of military vehicles to the Northwestern province of Idlib.
Sources said that the Turkish Army convoy reportedly entered Syria's Idlib province via Hatay Province, adding that the convoy included several armored vehicles and military personnel.
They added that the Turkish military convoy further headed towards the Southwestern territories of Aleppo, where they deployed in an area close to the Afrin Canton.
Full report at:
http://en.farsnews.com/newstext.aspx?nn=13960818000335
--------
Pakistan
Senior Pakistani police official among 3 killed in Quetta suicide attack
Nov 09 2017
An explosion targeted the vehicle of a senior police official in Pakistan with preliminary reports suggesting at least seven people were killed or wounded.
According to the local security officials in Quetta, the provincial capital of Balochistan, the incident took place close to Chaman Housing Scheme area.
The officials further added that the a suicide bomber detonated his explosives as a senior police official Hamid Shakil was crossing the area.
Security sources quoted by Dawn News said at least three people including the Shakil were killed and four others including the police official were wounded.
In the meantime, there are reports that the health condition of at least two people wounded in the attack is critical.
No individual or group has so far claimed responsibility behind the incident.
However, the majority of the homegrown insurgent groups including the Tehrik-e-Taliban Pakistan often claim responsibility behind such attacks.
This comes as a deadly explosion ripped through a vehicle of the Pakistani armed forces in Quetta city the provincial capital of Balochistan in mid-August, leaving scores of people dead or wounded.
Nangarhar's certain remote districts are home to several anti-government armed militant groups including the Taliban and ISIS militants.
The anti-government armed militants often carry out insurgency activities including bombings despite efforts are underway to eradicate the terrorists from the province.
Today's incident in Mazar-e-Sharif city takes places amid ongoing efforts by the anti-government armed militant groups to destabilize the province which has witnessed relative calmness during the recent years.
http://www.khaama.com/senior-pakistani-police-official-among-3-killed-in-quetta-suicide-attack-03811
--------
Pakistan, Iran keen to rebuild relationship, says NA body chief
November 10, 2017
ISLAMABAD: Pakistan and Iran are keen to rebuild their relationship plagued by mistrust and are eyeing cooperation for peace in Afghanistan and stronger economic ties between them.
"Pakistan and Iran are determined to take positive steps to deepen mutual understanding, increasing cooperation and scaling up bilateral relations," National Assembly's Standing Committee on Foreign Affairs chairman Makhdum Khusro Bakhtyar said while talking to Dawn on Thursday.
Many believe Army Chief Gen Qamar Javed Bajwa's recent visit to Tehran could reset the relationship. The rethink on both sides about the relationship has been driven by the regional developments.
"Both countries are consulting on regional peace and security with a focus on Afghanistan in keeping with their strong commitment to peace, stability and progress in Afghanistan," Mr Bakhtyar said.
Pakistan and Iran have in the past coordinated on Afghanistan through the Pakistan-Iran-Afghanistan trilateral process, but not much could be achieved due to multiple factors, particularly Iran-US rivalry that limited the space for cooperation with Tehran.
The NA body's chief is, however, optimistic that latest attempt at renewing the relationship would be fruitful. In this regard, he points towards the efforts being made to improve border management as a concrete manifestation of the "forward looking approach" being pursued.
A statement issued at the conclusion of Gen Bajwa's trip by the Inter-Services Public Relations said that steps for "establishment of hotline communication bet­ween the field commanders along Pak-Iran border, fencing by Iran on their side of the border, coordinated border patrolling, intelligence sharing and more frequent interactions were agreed to".
Mr Bakhtyar noted that Pakistan was keen to reinforce economic cooperation and enhance connectivity between the two countries.
Speaking about the relationship with the US, he recalled that it was strategic and longstanding, but had been conducted in a transactional manner. His word of advice for Trump administration was that differences with Pakistan should not be turned into disputes. He also proposed resumption of bilateral strategic dialogue for a multifaceted engagement.
Full report at:
https://www.dawn.com/news/1369589/pakistan-iran-keen-to-rebuild-relationship-says-na-body-chief
--------
PFUJ urges govt to take steps for journalists' safety in Balochistan
November 10, 2017
KARACHI: The Pakistan Federal Union of Journalists (PFUJ) has expressed concern over the threats hurled at journalists in Balochistan by militant and religious groups.
In a statement released on Thursday, the PFUJ said journalists were experiencing difficulties in carrying out their duties in the face of attacks and threats.
The PFUJ recalled that a number of newspapers had stopped publication in the wake of attacks on their offices. At least 18 press clubs have been locked up, the statement added.
"The number of journalists to have laid down their lives in the line of duty is the highest in Balochistan," the PFUJ said. "But it's regrettable that no murderer has so far been arrested nor have investigations proved fruitful."
The PFUJ called upon the government to take immediate measures for protecting the lives of journalists in Balochistan.
https://www.dawn.com/news/1369580/pfuj-urges-govt-to-take-steps-for-journalists-safety-in-balochistan
--------
Sikhs thankful to Pakistan's hospitality
November 10, 2017
SIALKOT - More than 1,200 male and female Sikh Yatrees from UK, the US, Australia, Canada, India and other countries visited the Darbar Sahib Kartarpura Gurudawara near Shakargarh.
They participated in the celebrations of Baba Guru Nanak's 549th birth anniversary. The Sikh pilgrims also distributed sweets and food.
Several Sikhs refreshed their per-partition sweet memories. They also exchanged gifts with the local people. Wearing colourful dresses, the Sikh pilgrims also performed their religious rites. The Sikh pilgrims led by Sardar Sohan Singh, highly hailed the Pakistan government's sincere efforts for ensuring the religious freedom of minorities and safeguarding their sacred places.
They also thanked Pakistan for rendering the splendid hospitality to the visiting Sikh Yatrees (pilgrims) reached here from different countries.
Sikh leaders Sardar Sohan Singh, Sardar Manmohan Singh, Sardar Gurupareet Singh, Sardar Jaskaran Singh, Sardar Badal Singh, Preet Kaur, Naseeb Kaur and Sikh Paree Kaur said that Pakistan was peaceful country and the people of Pakistan were also peace-loving. They said that the Pakistanis have given marvelous love, affection, care and unforgettable hospitality to the visiting Sikh pilgrims.
They said that they felt it homelike while visiting Pakistan in a fully secured and love-filled atmosphere here in Pakistan . "We have brought love and will go back to our countries with the unforgettable love given them by the people of Pakistan ," they said.
They also wished durable peace and people-to-people relations between both Pakistan and India, stressing a need for early start of meaningful peace talks between the nuclear neighbours.
Full report at:
http://nation.com.pk/10-Nov-2017/sikhs-thankful-to-pakistan-s-hospitality
--------
Europe
In Brexit-Era London, a Mosque Sits Between Two Types of Hate
By DAVID D. KIRKPATRICK
NOV. 9, 2017
LONDON — Behind a glass door inside Al Madina Mosque, Ashfaq Siddique stands at ramrod attention, his eyes darting. He is the mosque's guiding spirit. He is also a former policeman with Scotland Yard. He is scanning live feeds from 36 closed-circuit cameras that monitor everything from the prayer hall to the ablutions room. He is searching for trouble.
None in the parking lot, where white nativists routinely throw nails over the walls to puncture the car tires of those praying inside. Nor in the main hall, where Islamist extremists have sometimes argued against democracy with mainstream imams.
This morning, the problem is overcrowding. So many Muslims now live in the working-class East London neighborhood of Barking that roughly 9,000 people attended the morning prayer sessions in early September to begin the holiday of Eid al-Adha.
"Upstairs is filling up — start moving them to the upper hall of the community center!" Mr. Siddique, 50, shouts into a yellow walkie-talkie.
Few, if any, major Western cities have been more open to Muslims than London. More than 12 percent of Londoners are Muslim. Eighteen months ago, this became the first Western capital to elect a Muslim mayor, a milestone for residents proud of their multicultural ethos.
Now, though, religious hate crimes are up nearly 30 percent, primarily against Muslims. At his mosque, Mr. Siddique is hiring extra security guards to protect his congregants. Muslim women have complained about being spit on, or cursed.
Britain's unexpected vote in June 2016 to exit the European Union — only a month after London elected Sadiq Khan as mayor — was fueled by a nationwide campaign infused with anti-Muslim, anti-immigrant venom. Then, after a decade without Islamist terrorist attacks, this year Britain has suffered four, including an assault by Islamist terrorists in June that killed eight people at London Bridge and Borough Market.
Even as crowds of Londoners came out to mourn — and to show their commitment to the city's inclusive spirit — the dynamics of daily life shifted for many mainstream Muslims. Brexit and the terrorist attacks have given bigots license to express hostility, many Muslims say, or to label them all as terrorists, or to tell them to go home — as if London were not their home.
"People feel they have the right to be open about Islamophobia," said Saima Ashraf, a local council member in Barking and a French-Palestinian immigrant. "Or to be open about their racial views, or just to be a bit more nasty."
The Brexit vote stunned many Londoners — the city voted heavily to remain in the European Union — but not Mr. Siddique. His borough of Barking and Dagenham was one of the few in London that voted to leave, and it did so by a margin of nearly two to one. Many whites there saw a vote for Brexit as a vote against immigration and Islam.
For years, Al Madina Mosque has sat uncomfortably on a fault line between the Islamist radicalism of the terrorist attacks and the white nativism intertwined with Brexit.
One of the plotters of the London Bridge attack, Khuram Butt, was radicalized a few blocks to the north, in Ilford. There, a notorious jihadist recruiter, Anjem Choudary, built a following before going to jail last year, even as Mr. Siddique sought to keep him from influencing congregants at Al Madina.
Mr. Siddique has also clashed with Peter Harris, a local politician based a few miles to the east in Dagenham. Mr. Harris has made a career out of thwarting the opening of Muslim prayer facilities, as Dagenham has become a "white British" stronghold in a borough that has seen a demographic transformation from a flood of new Muslim residents during the past 15 years.
The tensions in Barking once seemed peripheral to London. No longer. Mr. Siddique knows some conservative Muslims in Ilford scorn his support for the police. He also knows that the growing crowds at his mosque, like the rising numbers of Muslims in the city, terrify some of his white British neighbors.
"We get both kinds of extremists," Mr. Siddique said. "They both espouse the same garbage — and in the middle is us."
Fear of a Secret Mosque
Two years ago, the borough council approached Mr. Siddique with a proposal. It would make available the empty grounds of a former pharmaceutical factory if Mr. Siddique could raise money to build a cricket training facility. It was seemingly a win-win — a sports complex that would be open to the public, to be built at no public cost. Except that the plans, as with many public buildings in Britain, included a quiet room for prayer.
And that the empty property was in Dagenham, under the watchful eyes of Mr. Harris.
"I almost fell out of my chair," Mr. Harris said of the moment he read of the prayer room in the planning application. "There would be room for thousands of Muslims."
He launched a campaign against the project, with one rally at a local pub and another where one of his supporters waved a copy of the Quran to show what they were fighting. At one point, Mr. Harris called Mr. Siddique to accuse him of trying to build a new mosque in Dagenham.
"You have turned it into a political football," Mr. Siddique responded, and withdrew the offer.
The factory grounds are still empty, a point of pride for Mr. Harris. On a recent day, he steered his white Kia past squat rowhouses and shuttered stores in Dagenham in a tour of his resistance to what he calls "the Muslim plan" for a "huge march of mosques." He passed two Muslim community centers that he suspected, without basis, of hiding secret houses of worship, as well as a long-closed pub where a Muslim entrepreneur had opened a banquet hall that he found suspicious.
At 51, Mr. Harris owns a service station and leads the local branch of the U.K. Independence Party, or UKIP, which helped drive the Brexit campaign. Nativism has a long history in Barking and Dagenham. Neo-Nazi skinhead gangs roamed its streets in the 1970s, and in local elections in the 2000s the far-right British National Party won about 20 percent of the vote.
For decades, Dagenham was dominated by a Ford factory, which once employed as many as 40,000 people, but the company moved its last production line abroad in 2002. Other big manufacturers followed. The "white British" population fell from 81 percent in the 2001 census to 49 percent in 2011 (across London, it's 45 percent).
Many pubs and other businesses have closed. The pub across the street from Mr. Harris's service station is now an African grocery.
In the Eastbrook, around the corner, dozens of patrons, all white, said they had voted for Brexit to stem the influx of Muslims.
"The culture has changed completely," said Mark Stubbs, 59, a roofer. "The English, traditional people are just not there anymore."
"It is getting frightening," he said. "On a Friday afternoon there are Muslims coming out of the woodwork. In 15 or 20 years this will be a Muslim state completely. Look, the mayor of London is a Muslim! If nothing is done about it, they are going to be running this country."
Mr. Harris said white British natives like himself were "an endangered species" in London, making the borough "the front line" of a battleground.
Asim Khan, a Pakistan-born financial adviser who clashed with Mr. Harris at a public hearing over a Muslim community center, said, "He is trying to do what he believes will protect his people."
"We are trying to tell him, 'Hey, we are the same people,' " Mr. Khan continued. " 'If something happens to the U.K., we will be with you by your side to protect it!' "
But Brexit has isolated the communities, he said. "We can see an unseen wall being built."
Margaret Hodge, a member of the Labour Party who represents Barking in Parliament, said that at open coffee hours with constituents after Brexit, she immediately began hearing: " 'Oh, Margaret, it is all right. We have got our country back.' "
"That is code for: Barking and Dagenham will go back to what it was in the 1950s — predominantly white — which of course is not going to happen."
Them Versus Us
Before his arrest last year, the jihadist recruiter Mr. Choudary sometimes attended prayers at Al Madina. He would turn up every two or three months — to the horror of Mr. Siddique, who feared that teenagers might be vulnerable to his message.
"We would watch him like a hawk," Mr. Siddique said. He knew some at Al Madina sympathized with Mr. Choudary's jihadist group, Al Muhajiroun, or "The Emigrants," which has been linked to the enlistment of fighters for the Islamic State in Syria.
Mr. Choudary never stuck around long enough for a confrontation. But the wave of anti-Muslim sentiment around last year's Brexit vote and this year's terrorist attacks has only made recruiters more dangerous, Mr. Siddique said, by arming them with new evidence to argue that the West is at war against Islam.
"All the young people hear is, 'Muslims are terrorists,' " Mr. Siddique said. "They are always stopped by the police. They are growing up under suspicion, with a sense of alienation," he added. "Half of the belief system of these radicals is, 'It is them versus us.' "
Before retiring two years ago, Mr. Siddique was one of the first Muslims at Scotland Yard. His friends, and initially even his father, disapproved. Fellow police officers repeatedly super-glued his car locks. Colleagues sometimes called him by an ethnic slur for Pakistanis, while one senior officer nicknamed him "Osama bin Laden."
"It was abhorrent, we would say now," said Gary Copson, a retired London police commander who praised Mr. Siddique's work. "But there was a kind of casual racism in our society that spilled over into the police."
Today, Mr. Siddique keeps fliers in the mosque lobby to remind prayer-goers of a religious duty to report signs of radicalism to a confidential police hotline. Yet he also clashes with the police over the Home Office's main counterterrorism program, Prevent. The program requires teachers, social workers and other government employees to notify a local coordinator — typically a former police officer — about any Muslim who matches a checklist of "warning signs."
British Muslims often accuse the program of targeting them for domestic surveillance.
"Concerned parents come to us and say, 'I don't want to go to the police; the Prevent program will tag my child,' " he said.
In 2014, Mr. Siddique himself passed the local community liaison officer a tip about Mr. Butt, then a young immigrant from Pakistan. He was "radicalizing youngsters and up to no good," Mr. Siddique said.
Mr. Butt had appeared the same year in a television documentary, "The Jihadi Next Door," standing by a preacher who declared that a black jihadist flag was "going to be on 10 Downing Street."
But the police did nothing — until, on June 3, Mr. Butt led the deadly London Bridge attack.
So when a police officer turned up to press for information — "community cohesion is a two-way street," the officer told Mr. Siddique pointedly — he nearly threw her out. "This is a one-way street where we are giving you information," he said he told her, "and you are giving us nothing!"
Slurs and spitting
Sixteen days after the London Bridge attack, a man driving a van plowed over Muslims leaving a mosque in North London. One person died and nine others were injured.
"I want to kill all Muslims," the van driver had shouted.
During the same period, half a dozen women in head scarves told Mr. Siddique they had been spit upon on the street. Vandals scrawled slurs on houses and cars, and a wave of anonymous threats arrived at the mosque.
"We had ladies who were called 'terrorists' or 'Paki,' or told to go home," Mr. Siddique said. "It has become something that, as a Muslim, you just have to accept."
He complained that the local police waited eight days to show up. "I had to call our member of Parliament to get them here," he said. "I had to hire a private security firm to protect the mosque at night during Ramadan."
Today, some at Al Madina dismiss the surge in hostility as an anomaly. "People hear things about Muslims in the media and say, 'Let's kill Muslims,' " said Khalid Salem, 36, an Uber driver who was born in Egypt. "But London is different than any other place. We feel like our roots are here. We feel proud of London."
Yet after a terrorist attack in August in Barcelona, Spain, Mr. Siddique took his own precautions. He stationed nine young men in high-visibility vests in the streets at night. The mosque has started formal security training for volunteers.
Still, Mr. Siddique said, he was born in Barking and he is not going anywhere. "Do I feel scared walking down the street? No, London is my home."
https://www.nytimes.com/2017/11/09/world/europe/uk-brexit-london-muslims.html?
--------
Thousands of children referred to UK's counter-terrorism scheme, figures show
November 09, 2017
Thousands of children and teenagers, including large numbers of girls, were referred to Britain's often-criticized counter-terrorism program Prevent, new official figures showed on Thursday.
Prevent is a key strand of Britain's security strategy which was launched in 2003 to combat extremism after the Sept 11 attacks on the United States. It has grown in prominence since the 2005 suicide attack on London's transport network which killed 52 people and the rise of the Islamic State in recent years.
It has been dogged since its inception by claims that it is used to spy on Muslim communities and a 2015 government edict instructing public bodies such as schools, health workers and universities to report concerns further exacerbated those fears.
The first official Prevent figures from Britain's Home Office (interior ministry) showed that of the 7,631 individuals thought to be at risk of being drawn into terrorism from April 2015 to March 2016, almost a third were children .
Of all those referred, only five percent, the 381 assessed to be the most at risk, were eventually deemed to need support from specialist mentors in the voluntary, de-radicalization scheme known as Channel.
Some 63 individuals withdrew from the process and the Home Office said there was no data about whether they or any others who had been referred to Prevent or gone through the Channel process had later gone on to be involved in extremism.
Two-thirds of Prevent referrals were made over fears of Islamist extremism and 10 percent because of far-right concerns. The vast bulk came from the education sector and police, with 2,127 aged under 15, including 532 girls, and 2,147 aged 15 to 20, with 420 female.
A senior Home Office official, who spoke on condition of anonymity, cited the case of a nine-year-old boy who had been referred to Prevent after he stood up in class and said he supported Islamic State.
The boy, who had been bullied at school, had been watching IS execution videos after searching for news coverage after the Paris attacks. After a year of support, his life was turned around, the official said.
"NOT IDEOLOGICAL"
"In the last two years the number of teenagers has spiked and the number of teenagers that I've had who are on the autistic spectrum has also spiked," one of Channel's Islamist mentors, told reporters.
"What IS and these groups have understood is young people need narratives and they've created narratives which make a very complex world seem very simple."
Britain suffered four militant attacks this year that killed 36 people - the deadliest spate since the London "7/7" bombings of 2005.
Britain's Home Secretary has been meeting representatives of leading U.S. tech firms Facebook, Google, Microsoft and Twitter in Washington this week as part of her ongoing effort for them to do more to tackle online extremism.
A Prevent coordinator said the proliferation of extremist online content was an accelerant rather than a cause.
Full report at:
http://nation.com.pk/09-Nov-2017/thousands-of-children-referred-to-uk-s-counter-terrorism-scheme-figures-show
--------
Cambridge crackdown on Palestine event part of 'worrying trend'
10 November 2017
LONDON: More than 350 people, including lecturers from leading UK universities, have signed an open letter protesting "an intolerable violation of academic freedom" after Cambridge University officials threatened to shut down a Palestine Society event on Wednesday.
Lecturers from Cambridge, SOAS and LSE were among those who condemned the decision to intervene in a panel event hosted by the student-run Cambridge University Palestine Society (PalSoc).
University officials contacted organizers hours before the "BDS (boycott, divestment, sanctions) and the globalized struggle for Palestinian rights" event was due to begin, insisting that its director of communications Paul Mylrea replace SOAS academic Ruba Salih as the panel's chair.
Organizers agreed after being told the event would be canceled if they refused to comply.
Jamie Woodcock, a fellow at LSE, told Arab News that Cambridge University's decision is part of a "broader worrying trend."
"Time and time again we are seeing managers move in to control events, or shut them down all together, under the cover of 'security concerns' or 'impartiality.' In fact what we are seeing is an undermining of civil liberties, academic freedom, and the right to free political expression."
In a press release, PalSoc criticized the "heavy-handed, authoritarian intervention by university management in the panel on human rights.
"Their replacement of a Palestinian woman with a white male member of university management, with no substantiation of their claim that the former was incapable of neutrality other than racialized insinuation, sends deeply disturbing signals about the prevalence of institutionalized discrimination at Cambridge.
"Similar events at LSE ... raise the same concerns."
The Cambridge University panel included pro-Palestinian speakers including Omar Barghouti and former NUS President Malia Bouattia.
Describing the university's decision as "a form of censorship as well as an undermining of academic freedom," Bouattia said that "one is left wondering if the same would have happened if the event was chaired by a white man, or organized by another group than the Palestine society."
In a statement, a spokesperson for Cambridge University said: "The university is fully committed to freedom of speech and expression. We do understand that certain events and issues invoke strong feelings among people and communities. But we believe it is important that staff, students and visitors to the university can participate fully in legitimate debate, partly so that they are able to question and test controversial ideas.
"We have no reason to believe that these events are in any way unlawful. Events will be well-chaired in order to ensure open, robust and lawful debate. In this instance, following calls from the organizers for extra safety measures, a neutral chair was provided to ensure that all sides were represented in what is an important and often emotionally charged debate."
But the open letter signed by academics said, "It is disturbing that university authorities consider appropriate such censorship, including the forced imposition of an 'independent chair,' on an event designed to raise awareness about the human rights of Palestinians and indigenous peoples around the world.
"In doing so, it risks being seen to side with those who seek to silence the voices of the marginalized, and raises questions about the extent of its commitment to free speech."
Priyamvada Gopal, a lecturer at Churchill College, Cambridge, was among the first to sign the open letter.
"This is a manifest violation of academic freedom. I am also deeply concerned at the implicit racial politics of such a move which in this case has involved replacing a respected female academic of color with a purportedly 'neutral' white man," she said.
Full report at:
http://www.arabnews.com/node/1190986/middle-east
--------
White Supremacists Now Have Their Own Anti-Islam Military Camps
By Cristina Maza
11/9/17
Young, far-right Europeans are reportedly attending military-style training camps in France hosted by racist anti-Islam and anti-immigrant groups.
Members of Generation Identity, a pan-European youth movement that claims "white European culture" is under attack by Muslim immigrants, bragged about their para-military training in an exclusive new documentary, which debuted on Britain's ITV network.
"It was really good," one of the trainees says in the film. "We had like a mock demonstration. It was like really realistic because they had like pepper spray, everything. It was really organized.
The camps allegedly have an equal mix of male and female participants and include two hours of training each morning.
Generation Identity also has a three-step program for "patriots" who want to get active in combating "the Great Replacement," their name for the alleged Muslim takeover of Europe. The group is known for being tech savvy and adept at wooing a younger audience with its hip image. Its website claims chapters in Flanders, Germany, Austria, France, and Italy.
Like the alt-right in the United States, Generation Identity is afraid European governments are promoting a mixing of cultures that will eventually lead to a "monoculture." The group is relatively new, riding a recent wave of anti-Islamic rhetoric among many European politicians and the public.
The military-style training camp in France was also attended by members of Britain's far-right, including members of the United Kingdom Independence Party that spearheaded Britain's exit from the European Union and whose leaders are known to insult Muslims and oppose immigration.
Generation Identity's leader, Martin Sellner, is a far-right activist from Austria who was involved in the Defend Europe movement that chartered a 465 ton vessel to stop refugees arriving in Europe from Africa from being rescued in the Mediterranean. Defend Europe raised over $70,000 in grass roots donations to target and harass boats sent by international charities like Save the Children to rescue refugees who would otherwise die at sea.
The Defend Europe mission was a disastrous failure, and even had to beg a German refugee rescue ship to save it when its own boat suffered mechanical failures. The group was also banned from docking in ports in Malta, and eventually abandoned its mission because it was unable to refuel.
Despite the many setbacks, the group claimed success.
"Defend Europe has been a political success. Only two months ago, many NGOs sailed in front of the Libyan coasts, like cabs waiting for customers," the group said in a statement following their dismal failure. "Today, there is only one."
In reality, the number of rescue ships has been reduced in response to a decrease in the number of migrant boats departing from Libya.
Full report at:
http://www.newsweek.com/far-right-white-supremacists-islam-military-camps-europe-training-706578
--------
India
Govt to soon seek Naik's extradition from Malaysia
Nov 10, 2017
NEW DELHI: The government is close to wrapping up its legal processes and inter-ministerial consultations on seeking the extradition of controversial Islamic preacher Zakir Naik, the foreign ministry said, adding that India would make an official request to Malaysia "soon".
"The formal request for assistance of a foreign government in such case requires a legal process... Soon an official request will be made to the Malaysian government. The internal process is also underway," the MEA spokesperson said.
The Indian response came after Malaysian deputy PM Ahmad Zahid Hamidi said Naik could be extradited if a formal request was sentunder the mutual legal assistance treaty by the Indian government.
https://timesofindia.indiatimes.com/india/govt-to-soon-seek-naiks-extradition-from-malaysia/articleshow/61586977.cms
--------
Security forces raid south Kashmir villages, Hizbul suspect held
Nov 9, 2017
SRINAGAR: Security forces laid siege to around 13 villages in search of militants in south Kashmir on Thursday and arrested a Hizbul worker in Kulgam district. In Anantnag district, a suspected militant attack left a police officer injured.
Following a tip-off, a police team arrested Showkat Ahmad Lone an alleged Hizbul overground worker with a pistol and four rounds of ammunition during a raid in Kulgam district. "Showkat was tasked by Hizbul divisional commander Riyaz Naikoo to carry out attacks and snatch weapons from government forces," SSP Kulgam Shridhar Patil said.
Based on inputs on the presence of militants in villages, a massive deployment of Army, CRPF and SOG personnel launched early morning raids in Shopian district. All entry and exit points in the villages were sealed off during the operations. In the previous five months, the forces have carried out three other similarly large operations in south Kashmir.
Director general of police S P Vaid said the operations have been an all-out success with nearly 170 militants including top Pakistani commanders killed so far. The casualties include Jaish-e-Muhammad chief Moulana Masood Azhar's nephew Talha Rashid, Jaish-e-Mohammad's Mehmood Bhai, Lashkar-e- Toiba's Abu Dujana and Waseem Shah as well as Burhan Wani's successor Sabzar Ahmad Bhat of the Hizbul Mujahideen.
"We had a lot of success on the borders. Since it is a difficult border to control, some people manage to enter. However they are neutralised once they reach the hinterland," said Vaid.
Full report at:
https://timesofindia.indiatimes.com/india/security-forces-raid-south-kashmir-villages-hizbul-suspect-held/articleshow/61582995.cms
--------
Hizbul Mujahideen 'overground worker' arrested, says J&K Police
November 10, 2017
by Wajahat Shabir
The Jammu and Kashmir Police on Thursday claimed to have arrested an overground worker affiliated to militant outfit Hizbul Mujahideen from Kulgam district.
A police official said that after receiving information, the local police launched a manhunt to nab the worker, Showkat Ahmad Lone, a resident of Charsoo.
The police claimed that they found out that Hizbul Mujahideen operational chief Riyaz Naikoo had directed the cadres to carry out attacks on security personnel and snatch their weapons.
An official said that Naikoo had provided weapons to overground workers such as Lone to carry out subversive activities in Kulgam. He added, "One pistol, pistol magazine and 04 pistol rounds were recovered from Lone."
In a separate incident, militants shot and injured a Special Police Officer of Jammu and Kashmir Police in Anantnag district on Thursday.
Full report at:
http://indianexpress.com/article/india/hizbul-mujahideen-overground-worker-arrested-says-jk-police-4930588/
--------
Mideast
Over 110 detained in vast anti-IS raids in Ankara
NOVEMBER 10, 2017
ANKARA: Turkish police detained 111 Islamic State suspects in a vast anti-terror operation in the capital Ankara on Thursday, the latest round-ups in a widening crackdown against the extremist group.
A total of 1,500 police officers took part in the raids across the Turkish capital after authorities issued arrest warrants for 245 suspects, state-run news agency Anadolu said.
The raids took place at 250 addresses where documents and digital material were found, the agency said, without giving further details. In the western city of Bursa, 27 suspects including Syrians were also detained in anti-IS raids, Anadolu said.
Turkey has been hit by a series of attacks blamed on IS jihadists in the past two years, including the killing of 39 people in an elite Istanbul nightclub over the New Year by Uzbekistan-born Abdulgadir Masharipov.
He has previously confessed to the attack and will go on trial in Istanbul on December 11. The group began to target Turkey from late 2015 onwards after Ankara allowed the US military to conduct air strikes on IS targets in Syria via Turkey's southern Incirlik air base from August 2015.
https://dailytimes.com.pk/136680/110-detained-vast-anti-raids-ankara/
--------
Netanyahu grilled 'for several hours' in graft probe
10 November 2017
Israeli Prime Minister Benjamin Netanyahu was questioned by police on Thursday evening in connection with two separate investigations into alleged corruption, a police statement said.
"We confirm that the prime minister was questioned today for several hours at his Jerusalem residence," the Hebrew language statement said adding, that the interrogation was carried out by detectives of national fraud and serious crimes squad.
It gave no further details. Israeli media said that the detectives arrived at the house shortly before 5.00 pm (1500 GMT) and left about four hours later. Netanyahu has previously been questioned four times as part of the investigations.
He is suspected to have received luxury gifts from wealthy supporters, including Israeli businessman and Hollywood producer Arnon Milchan, a longtime friend who reportedly sent boxes of expensive cigars and other items with a value of tens of thousands of dollars. Milchan was again questioned in September.
Secret deal
The second affair over which Netanyahu has faced police questioning involves suspicions he sought a secret deal for favorable coverage with the publisher of top-selling daily Yediot Aharonot.
The alleged deal, not believed to have been finalised, would have seen Netanyahu receive positive coverage in return for helping curb Yediot's competitor, the pro-Netanyahu freesheet Israel Hayom.
Netanyahu has consistently denied any wrongdoing and says he has been the target of a campaign by political opponents.
Full report at:
https://english.alarabiya.net/en/News/middle-east/2017/11/10/Netanyahu-grilled-for-several-hours-in-graft-probe.html
--------
Iran's Revolutionary Guards arrested at least 30 dual nationals in two years
9 November 2017
Iran's Revolutionary Guards have arrested at least 30 dual nationals during the past two years, mostly on spying charges, according to lawyers, diplomats and relatives, twice as many as earlier reported by local or international media.
The number marks a sharp rise since 2015, when an international nuclear deal raised hopes of detente with the West. In the years before that the number of dual nationals detained at any given time was in single figures.
It also points up a new trend as a majority of those arrested since then, 19 out of the 30, have citizenship in Europe. Previously most of the detainees were Iranian Americans.
Detainees' relatives and lawyers said the Guards were using them as bargaining chips in international relations and to put off European firms that sought business in Iran after the government agreed the deal with world powers to lift sanctions.
The Islamic Revolutionary Guard Corps has vast business interests as well as being Iran's most powerful security force and has criticized the government for handing contracts to foreigners.
The Guards did not respond to several requests for comment. The Iranian government referred Reuters to the judiciary, which also did not respond to repeated approaches. Iranian authorities have previously denied holding detainees for ransom and accuse Western governments of holding Iranians on trumped-up charges.
Relatives of dual nationals detained in Iran, their lawyers and Western diplomats shared information such as name, date of arrest and any charges, on condition neither they nor the detainees were identified, citing fear of repercussions.
Iran does not routinely announce arrests or charges and does not recognise dual nationals, whose rights to consular assistance are enshrined in the UN Vienna Convention.
In all cases, the sources said the detainees had not carried out any espionage and were arrested only because of their second citizenship. They explained their willingness to share details be saying they had been kept in the dark by both the Iranian authorities and Western governments.
Several governments argue that maintaining a low profile is in the best interests of the detainees. "This is very much what guides our approach," a UK government source said. Dutch Foreign Ministry spokeswoman Daphne Kerremans said identifying detainees "could get the prisoners into trouble".
Breaking silence
Some relatives only break their silence once their initial hopes have been dashed. The wife of Ahmadreza Djalali, a Swedish-based Iranian scientist arrested in 2016 after attending a conference in Tehran, decided to speak out in February.
"We were all hopeful that he would be released soon. He was calling us from jail, saying he had not been officially charged. They had told him that he would be released after answering a few questions," Vida Mehrannia said by telephone from Stockholm.
"I made the case public to media after nine months when he was threatened with a death sentence by a prosecutor and went on a hunger strike," she added. Djalali was sentenced to death in October on espionage charges.
Swedish Foreign Minister Margot Wallstrom said at the time: "We will point out that this will affect the relationship with the EU, and this in a time when Iran and the EU need to cooperate, not least with the nuclear deal we have with Iran."
The deal to lift sanctions in return for curbs on Iran's nuclear program was international, but significant US restrictions remained in place. Official confirmation of new arrests sometimes emerges indirectly. Records of a session of the European Parliament in June 2017 showed three Dutch-Iranian nationals were in jail in Iran. Only one case has been reported.
Prisoner exchange
In 2016, Iran released five US citizens in a prisoner exchange as the nuclear deal was implemented. One remained behind and six American citizens or permanent residents have been arrested since, their lawyers or relatives have told media, of whom one has been freed on bail.
A US State Department official confirmed three cases, did not comment on two others and mentioned another detainee, Nizar Zakka, saying he was unjustly held and calling for his release without clarifying his US status.
Asked for more details about Zakka and other detained US citizens and legal residents, the official said the safety and security of US citizens abroad was a top priority, adding: "Due to privacy considerations, we have no further comment."
In an October 25 letter to the UN Secretary General seen by Reuters, Zakka's lawyer Jason Poblete said his client was a US permanent resident and "is being held as a hostage, as are other innocent persons, to exact political concessions from the United States and other governments", including on sanctions.
For its part, Iran says its nationals are detained unjustly in the West. Kazem Gharibabadi, deputy head of Iran's Council for Human Rights, part of the judiciary, has said more than 56 Iranians are imprisoned in the United States and an unspecified number in other countries.
"Some of those are detained under baseless charges, including bypassing sanctions," he was quoted as saying by state media on Sunday.
US Department of Justice spokesman Wyn Hornbuckle declined to comment on Gharibabadi's figure, saying the Justice Department does not track prosecutions by nationality and the US government's Bureau of Prisons does not track how many inmates have Iranian nationality.
Full report at:
https://english.alarabiya.net/en/News/middle-east/2017/11/09/Iran-s-Revolutionary-Guards-arrested-at-least-30-dual-nationals-in-two-years.html
--------
Houthis bomb Taiz, hit children and displace dozens of families
10 November 2017
According to medical sources in Taiz, southwestern Yemen, ten people including children, were wounded by bombings shot by the Houthi and Saleh's militia, targeting the villages west of the city.
The sources pointed out that among the injured were four children, some are seriously wounded, as a result of bombing residential villages in Al-Asharouh and Beni Bakari, Azlet Elyaman and Kuweyha located in the western area of Jabal Habashi, west of the city of Taiz.
In the same district, the coup militias forced 65 families from the lower Al Quoz village to leave their homes by force at gunpoint.
Families of forcibly displaced persons reported that Houthi militias had spread mines in the village to force the residents out.
They confirmed that during the departure of the displaced families, on Thursday, a mine exploded, and injured two girls.
During the past two months, the Houthi militias forced the villagers of Khor, Hamili, Khalwa, Mat'a and Tibsha'a by isolating Alwafi region, adding to their bloody and criminal records thousands of displaced and distressed families.
The Center for Human Rights in Taiz (non-governmental) condemned the systematic forced displacement of the Houthi and Saleh's militias against the besieged Yemeni people.
It also condemned the act of implanting thousands of mines in the roads used by unarmed citizens in these villages describing the act as an atrocious war crime
Full report at:
https://english.alarabiya.net/en/News/gulf/2017/11/10/Houthi-bombs-hit-children-displace-dozens-of-families-in-Taiz.html
--------
Hamas lambastes Mahmoud Abbas for resuming security coordination with Israel
Nov 9, 2017
The Palestinian Islamic resistance movement, Hamas, has criticized the leader of Fatah movement and Palestinian Authority President Mahmoud Abbas, for his decision to resume security coordination with Israel, nearly a month after the two movements reached a landmark national reconciliation deal.
The move by the Palestinian Authority (PA) "distorts the reputation of the Palestinian people, its struggles and history," said Hamas spokesman Fawzi Barhoum in a statement on Thursday, expressing his disapproval of the PA's new security stance in the occupied territories.
"Hamas is surprised of the PA in the West Bank's resumption of security coordination and cooperation with the Zionist enemy, which is the equivalent of the greatest danger to the Palestinian people, its unity and its legitimate rights, including the right to resist the occupation," Barhoum further said.
Hamas's statement came a day after PA Police Chief Hazem Atallah said that all branches of the PA security forces had fully restored security cooperation with Tel Aviv two weeks ago. He fervently defended the resumption, saying "this is for our people, the safety of our people and for the rights of our people."
Back in July, Abbas announced that security coordination with Israel had been halted in protest against the regime's installation of metal detectors near the entrance to the al-Aqsa Mosque compound in East Jerusalem al-Quds.
According to a September poll conducted by the Palestinian Center for Policy and Survey Research, some 73 percent of Palestinians backed Abbas's decision on suspending security coordination with Tel Aviv.
The development came as Hamas and Fatah signed a provisional unity agreement in the Egyptian capital Cairo on October 12, in which the former agreed to hand over the full administrative control of the besieged Gaza Strip to the Palestinian Authority to end a decade-long standoff between the two sides.
Fatah and Hamas have been at odds ever since the latter scored a landslide victory in parliamentary elections in 2006. Since 2007, Hamas has been governing Gaza, with Fatah based in the autonomous parts of the Israeli-occupied West Bank. The two rival Palestinian factions finally agreed on a unity government in April 2014, but it fell apart months later.
After the national reconciliation deal was reached, Israeli Prime Minister Benjamin Netanyahu, enraged by the accord, demanded that the new government recognize Israel, dismantle the military wing of Hamas and cut ties with Iran.
The US has echoed the demand, saying any Palestinian government must "unambiguously and explicitly" adhere to certain "basic requirements," namely recognizing Israel.
In reaction to the demand, the head of Hamas, Yahya Sinwar, said that "no one" can force the movement to disarm or recognize Israel.
Full report at:
http://www.presstv.com/Detail/2017/11/09/541606/Palestine-PA-Israel-security-coordination-Abbas-Hamas-Fatah
--------
South Asia
China, Pakistan, Afghanistan to step up cooperation on counter-terrorism
November 10, 2017
BEIJING: China, Pakistan and Afghanistan have agreed to step up cooperation on counter-terrorism and security and join hands to address the threat posed by terrorism and jointly uphold the security and stability of the three countries and the region at large, Chinese Foreign Ministry spokesperson Hua Chunying said on Thursday.
During the Trilateral Vice-Ministerial consultation on counter-terrorism and security among China, Pakistan and Afghanistan recently held in the Chinese Capital, all the three countries agreed that the three parties should step up cooperation on counter-terrorism and security and join hands to address the threat posed by terrorism and jointly uphold the security and stability of the three countries and the region at large, Hua Chunying said during her regular briefing here.
The spokesperson informed that on November 7, Assistant Foreign Minister Li Huilai, Pakistani Foreign Ministry Special Secretary Tasnim Aslam and Afghanistan's Deputy Foreign Minister Hekmat Khalil Karzai held the Trilateral Vice-Ministerial Consultation on Counter-Terrorism and Security among China, Pakistan and Afghanistan in Beijing.
The three parties had an in-depth exchange of views on such topics as the current international and regional counter-terrorism situation and trilateral cooperation on counter-terrorism and security, she added.
Hua Chunying said that on the same day, Foreign Minister Wang Yi also met Pakistani Foreign Ministry Special Secretary Tasnim Aslam and Afghanistan's Deputy Foreign Minister Hekmat Khalil Karzai.
"Foreign Minister Wang Yi said that Pakistan and Afghanistan are important forces of the international counter-terrorism efforts and have made great contributions to the international counter-terrorism campaign, especially the counter-terrorism campaign in South Asia," she added.
The spokesperson said that the Chinese side expressed gratitude to Pakistan and Afghanistan for constantly and steadfastly supporting China in fighting the East Turkestan Islamic Movement and other terrorist forces.
She said the Chinese side stands ready to continue enhancing security cooperation with Pakistan and Afghanistan, work together to address the threat and challenges posed by terrorism and jointly maintain regional peace and tranquillity.
Hua Chunying said that Special Secretary Tasnim Aslam and Deputy Foreign Minister Hekmat Khalil Karzai spoke highly of the efforts made by China to promote the improvement of Pakistan-Afghanistan relations, safeguard regional peace and stability and propel regional development and prosperity.
"They said that Pakistan and Afghanistan are willing to bolster counter-terrorism exchanges and cooperation, firmly combat all forms of terrorism and earnestly uphold the security and stability of the three countries and the region at large," she added.
Responding to a question regarding understanding reached between China and the United States regarding the US South Asia Policy, she said that the US and China have reached a consensus on fighting terrorism and upholding peace and stability in South Asia. "The two sides believe that maintaining the stable and constructive relations between Afghanistan and its neighboring countries is of great significance to the peace and reconstruction process in Afghanistan," she added.
Hua Chunying said that they support an Afghan-led and Afghan-owned peace and reconstruction process, call on all relevant parties in Afghanistan to achieve extensive and inclusive national reconciliation through political negotiation at an early date and stand ready to play a positive role through such mechanisms as the Quadrilateral Coordination Group of Afghanistan, China, Pakistan and the United States.
The spokesperson remarked that China and the United States have important shared interests in combating terrorism and upholding regional peace and tranquility.
"China stands ready to continue stepping up cooperation in this regard with the United States and other relevant parties," she added.
https://www.pakistantoday.com.pk/2017/11/10/china-pakistan-afghanistan-to-step-up-cooperation-on-counter-terrorism/
--------
HRW urges strong action against Myanmar over Rohingya
Nov 9, 2017
Human Rights Watch (HRW) has called on world leaders to address the plight of Rohingya Muslims in Myanmar, who have been fleeing government-sanctioned violence in the Southeast Asian country since late last year.
The New York-based rights organization made the plea on Thursday as world leaders are set to gather for a host of summits in Asia from November 10 to 14.
"The Rohingya crisis is among the worst human rights catastrophes in Asia in years and demands concerted global action," said Brad Adams, the Asia director at HRW.
"World leaders shouldn't return home from these summits without agreeing to targeted sanctions to pressure Burma (Myanmar) to end its abuses and allow in independent observers and aid groups," he said.
'Take Myanmar to The Hague!'
Adams also stressed that world leaders gathering in Asia should consider organizing a set of judicial mechanisms to hold accountable the perpetrators of the abuses in Myanmar via the United Nations General Assembly and Human Rights Council.
"The International Criminal Court was created precisely to deal with crimes against humanity like those being committed in Burma," the executive at the US-based organization said. "Members of the Security Council attending the Asia summits should be discussing referring the situation in Burma to The Hague."
Adams called on leaders to ensure that their governments opposed plans for the displaced Rohingya Muslims to be returned to Myanmar by force, citing that such plans fail to meet core international standards prohibiting forced returns or returns that could result in further abuses.
Heads of governments from the Asia-Pacific Economic Cooperation (APEC), including the US, China, Japan, Russia, Canada, Australia, and Mexico, will be meeting in Da Nang, Vietnam, on November 10.
Leaders from the Association of Southeast Asian Nations (ASEAN) will be meeting in Manila, Philippines, on November 12, along with associated ASEAN side-summits with the US, the European Union, Japan, and South Korea, among others.
Most of these leaders will then take part in the annual East Asia Summit in Angeles, north of Manila, on November 13 and 14.
In a unanimously-backed statement released on Monday, the United Nations Security Council (UNSC) strongly condemned government-sanctioned violence against Myanmar's Muslim Rohingya minority, voicing "grave concern" at the reports of human rights violations by the country's security forces in the Rakhine State.
Myanmar's government has been denying the widespread reports and eyewitness accounts of horrific violence by government soldiers and Buddhist mobs against the Rohingya in Rakhine. That violence began late last year and intensified in August.
Myanmar brands the Rohingya Muslims in the country "illegal immigrants" from Bangladesh. Rohingya Muslims, however, have had roots in the country that go back centuries. They are considered by the UN the "most persecuted minority group in the world."
Full report at:
http://www.presstv.com/Detail/2017/11/09/541556/HRW-Rohingya-Muslims-Asia-summits-Brad-Adams
--------
US Congress Weighs Sanctions on Myanmar Military Over Rohingya Crisis
November 09, 2017
CAPITOL HILL —
Proposed sanctions against the Myanmar military should move quickly through the U.S. Congress due to strong bipartisan support, lawmakers told VOA.
The Burma Sanctions Bill in the House of Representatives and a companion bill in the Senate would apply economic pressure on military generals with the aim of ending the ongoing violence inflicted on Rohingya Muslims in Myanmar, also known as Burma.
"This sends a very strong message to the Burmese military that we're not going to tolerate business as usual while they reap economic profits at the same time as they are perpetuating ethnic cleansing against the Rohingya people," said Representative Eliot Engel, the top Democrat on the House Foreign Affairs Committee.
In a House Foreign Affairs Committee hearing on the crisis last month, Chairman Ed Royce called on Myanmar's de facto leader, Aung San Suu Kyi, to be more forceful in condemning the crisis that has displaced hundreds of thousands of people. Many have fled to neighboring Bangladesh.
"Those responsible for these atrocities must face justice. She and the military generals must rise to this challenge," Royce said. "This is ethnic cleansing."
Engel said it is important for Aung San Suu Kyi to speak out about the crisis, "but we also have to take it in the context where her hands are tied because she's not able to do things because of the way the constitution was written."
A spokesman for Myanmar's leader told the Reuters news service, "We need internal stability to improve the country's economy. Imposing international sanctions directly affects the people in travel and in business investments, and there are many bad consequences."
The House bill's Republican co-sponsor told VOA the sanctions are meant to give Aung San Suu Kyi more leverage with the military.
"We would be able to work with her perhaps to relieve sanctions once in place if the military does reform itself and does certainly cease the hostilities and the atrocities that have occurred," said Representative Steve Chabot, a Republican member of the House Foreign Affairs Committee.
If passed, the legislation would stop U.S. military cooperation with Myanmar in training and regional exercises, as well as reimposing bans on the country's lucrative gem trade that then-U.S. President Barack Obama lifted by executive order last year.
If hostilities do stop, the bill also provides economic assistance to foster development in Myanmar and encourage the return of Rohingya.
"The goal here is to get those who have been displaced and in general have gone to Bangladesh to allow them to return to Burma to return to their homes, although a lot of those homes have been burned to the ground by the military, so there's an awful lot of economic development that's going to be necessary," Chabot told VOA.
Senate support
The Senate version of the sanctions bill is co-sponsored by Republican John McCain and Democrat Ben Cardin. Senate Majority Leader Mitch McConnell is a longtime supporter of Aung San Suu Kyi, dating back to her time under house arrest.
McConnell told reporters in September that he does not support a congressional resolution calling on Aung San Suu Kyi to be more forceful in condemning the crisis.
"I think she's the greatest hope that we have to move Burma from where it has been, a military dictatorship, to where I hope it's going," McConnell said.
Even with time running short for Rohingya, the lobbyists who have mounted years of effort on their behalf are hopeful.
"This is one issue where everybody across the political spectrum comes together in support of human rights in Burma," said Simon Billenness, executive director of the International Rohingya Campaign.
"We think that bodes very well for the progress of this bill and getting it to the president's desk."
Engel said he hopes to see the bills pass Congress by the end of this year.
Full report at:
https://www.voanews.com/a/us-congress-weighs-sanctions-myanmar-military-rohingya-crisis/4108555.html
--------
1 dead as explosion hits Afghanistan's Mazar-e-Sharif City
November 09, 2017
At least one person was killed when an explosion hit the city of Mazar-e-Sharif in Balkh province of Afghanistan on Thursday, TOLO News reported.
According to TOLO News, an eyewitness said the target was a former militant commander who was passing through the area.
Balkh police said at least one person was killed in the blast.
According TOLO News, an eyewitness said that two people were wounded in the incident.
Afghan forces have struggled to combat a resurgent Taliban since the United States (US) and NATO forces formally concluded their combat mission at the end of 2014.
Previous terror attacks
At least 43 Afghan soldiers were killed in a Taliban-claimed suicide attack on a military base in Kandahar last month.
It was the third suicide and gun attack on a security installation this week and takes the total death toll to more than 120, including soldiers, police and civilians.
In each assault the Taliban used a Humvee vehicle as a bomb to blast their way into their targets.
Two attacks in southeast Afghanistan killed 80 people and wounded nearly 300 in the bloodiest day in the war-torn country in almost five months.
The deadliest of assaults was on a police compound in the city of Gardez in Paktia province where Taliban militants disguised as police detonated three explosive-packed vehicles ─ including a truck and a Humvee ─ that cleared the way for 11 gunmen to enter.
At least 60 people, including Paktia police chief Toryalai Abdyani and civilians waiting to collect documents, were killed in the blasts and ensuing battle that lasted around five hours, health officials said, with more than 230 wounded.
Full report at:
https://www.dawn.com/news/1369416/1-dead-as-explosion-hits-afghanistans-mazar-e-sharif-city
--------
Rohingya row to Bangladesh as Myanmar's Suu Kyi runs summit gauntlet
NOVEMBER 10, 2017
COX'S BAZAR/YANGON: Blessed by calmer seas, several hundred more Rohingya Muslims on Thursday joined a multitude of refugees in Bangladesh, as calls grew for upcoming regional summits to exert more pressure on Myanmar's Aung San Suu Kyi to stem the crisis.
A Myanmar military operation has driven out more than 600,000 Rohingya since late August and the latest refugees to find sanctuary in predominantly Muslim Bangladesh say many thousands more are still trying to leave.
Ariful Islam, of Bangladesh's Border Guard, said about 200 people arrived on Thursday morning on the stretch of coast he commands at Teknaf, on the southern tip of Cox's Bazar district.
Abdus Sabir was among a group that came ashore at Shamlapur after a six-hour boat journey, the final leg of an escape begun weeks ago.
"We fled because the military is still burning our houses," Abdus, who had abandoned his home in the Rathedaung region of Myanmar's Rakhine State, told Reuters.
Nearby, Husain Shorif, from the Buthidaung region, said he had rowed for four hours to help bring across 56 people on a raft cobbled together from bamboo and plastic jerrycans.
Full report at:
https://dailytimes.com.pk/136696/rohingya-row-bangladesh-myanmars-suu-kyi-runs-summit-gauntlet/
--------
Bangladeshi academic missing amid spike in disappearances
November 9, 2017
DHAKA: A Bangladeshi professor internationally respected for his work on Islamist extremism has gone missing, police said Thursday, with activists fearing the worst amid a spate of disappearances in recent months.
Mubashar Hasan, an assistant professor of political science at Bangladesh's North South University (NSU), has not been seen since Tuesday afternoon, his family said.
"We are very concerned. We hope law enforcement agencies will find him and return him to us," his uncle Monzur Hossain told AFP.
Hossain said his nephew, a former journalist, had become increasingly concerned about his safety just before his disappearance.
Hasan had installed CCTV cameras around his home just last week after an unidentified man paid him a visit at home, his uncle said.
Police said Hasan's mobile phone was switched off early Tuesday evening after the prominent professor of political Islam attended a conference.
"We are trying our best to find him. There is no shortage of sincerity on our part," Anwar Hossain, deputy commissioner of Dhaka Metropolitan Police, told AFP.
Rights groups in Bangladesh say Hasan disappearance is the ninth high-profile case since July, with opposition political figures, a businessman and journalists among others to vanish.
"He has done some research on Islamist extremism in Bangladesh. His disappearance could be linked to his work," prominent rights activist Nur Khan Liton told AFP.
Hasan joined NSU, Bangladesh's most prestigious private university, after completing a doctorate overseas on political Islam in Bangladesh.
His research on Islamic extremism in Bangladesh — a Muslim-majority nation plagued by home-grown militancy — has been published in respected journals and international media.
More than a dozen progressive academics, bloggers and rights activists have been murdered by militant groups in Bangladesh in recent years, most in brutal machete attacks.
Dozens of Islamist extremists have been killed and 200 suspects arrested in the government offensive against extremism since July last year, when militants killed 22 hostages, including 18 foreigners, at an upmarket cafe in Dhaka.
Opposition parties have accused Prime Minister Sheikh Hasina's government of arresting tens of thousands of their supporters and activists since 2014, when they boycotted a controversial general election amid concerns it would be rigged.
Full report at:
http://gulfnews.com/news/asia/bangladesh/bangladeshi-academic-missing-amid-spike-in-disappearances-1.2121537
--------
Heavy explosion rocks Lashkargah city in Helmand province
Nov 10 2017
A relatively heavy explosion has rocked Lashkargah city, the provincial capital of southern Helmand province of Afghanistan.
The incident has taken place in the vicinity of Bolan area of the city after a suicide bomber detonated his explosives near a police outpost.
In the meantime, an official of the Border Protection Police Forces in Helmand confirmed that a policeman lost his life and around five others were wounded in the attack.
The Taliban group in Afghanistan claimed responsibility behind the incident.
http://www.khaama.com/heavy-explosion-rocks-lashkargah-city-in-helmand-province-03815
--------
Afghanistan to be a close of Pakistan in the future, says Pak president
Nov 09 2017
The President of Pakistan Mamoon Hussain has said he is confident that Afghanistan will be a close friend of Pakistan in the future.
President Hussain expressed optimisms as he was speaking during a gathering at the President House on Wednesday.
He made the remarks in the aftermath of a tragic incident involving the murder of a Pakistani diplomat by unknown gunmen in Jalalabad city of Afghanistan.
Urging the Afghan government to fulfill its responsibilities towards protection of diplomats and regional stability, President Hussain said Pakistan was desirous of peace and development in Afghanistan and Afghanistan will have to trust Pakistan in that regard.
He expressed confidence that Afghanistan will be a close friend of Pakistan in the future, according to the local Daily Times newspaper.
The remarks by President Hussain follows as relations between Kabul and Islamabad remains strained, mainly due to the presence of the terror safe havens and circumstances surrounding the fight against terrorism.
The Afghan officials are saying that the Taliban and Haqqani network leaders use the Pakistani soil as safe havens for the attacks in Afghanistan.
According to reports, the United States last month shared a list of at least twenty terrorist groups with Islamabad which Washington insists use the Pakistani soil for the terrorist activities in Afghanistan and elsewhere, it has been reported.
Full report at:
http://www.khaama.com/afghanistan-to-be-a-close-of-pakistan-in-the-future-says-pak-president-03812
--------
Southeast Asia
Controversial Islamic Cleric An Asset In Malaysia's Deradicalisation Programmes, Says DPM
November 10, 2017
KUALA LUMPUR — Putrajaya on Thursday (Nov 9) defended a controversial Muslim preacher's role in running its deradicalisation programmes for detained militants and Islamic State (IS) supporters.
Deputy Prime Minister Ahmad Zahid Hamidi said Mr Zamihan Mat Zin — who was investigated for sedition last month for allegedly criticising the Johor Sultan's ban on a Muslim-only laundromat in the state — was an "asset" in helping to rehabilitate those who had been radicalised by IS or other terrorist groups.
"Even though he is prohibited from giving religious talks in Selangor, his expertise in rehabilitating terrorists or potential terrorists is invaluable," he said.
"He is an asset when it comes to rehabilitating the faith of those who have gone astray."
Opposition Parti Keadilan Rakyat (PKR) had earlier on Thursday questioned why the federal government is still allowing Mr Zamihan to conduct the rehabilitation programmes.
"Why does a preacher — who is banned from speaking in Selangor and Johor — is still being given access to IS detainees?" asked PKR Supreme Council member Latheefa Koya.
Mr Zamihan is part of a team assisting the Prisons Department and the police in their deradicalisation programmes. He is on secondment from the Malaysian Islamic Development Department (Jakim) to the department.
The cleric, in some of his lectures available on YouTube and media interviews, had also admitted that he was involved in rehabilitation programmes for drug addicts and Shia followers.
Mr Zamihan was investigated for sedition last month after a video surfaced on social media depicting him as saying it was not right of Johor Ruler, Sultan Ibrahim Iskandar, to ban Muslim-only laundromats in his state.
The preacher also made what was seen as racist remarks against the Chinese whom he claimed were unclean as they allegedly did not wash themselves after urinating and defecating.
As a result, he was stripped of his accreditation to preach in Selangor, while the Johor ruler has directed the Johor Islamic Religious Department to cease all dealings with Jakim.
Following the controversy, deputy home minister Nur Jazlan Mohamed said on Oct 12 that Malaysia will re-examine an Islamic preacher's role in its deradicalisation programmes. AGENCIES
https://www.todayonline.com/world/asia/controversial-islamic-cleric-asset-malaysias-deradicalisation-programmes-says-dpm
--------
Can an extremist rehabilitate extremists, asks Perlis mufti
November 9, 2017
PETALING JAYA: Perlis mufti Mohd Asri Zainul Abidin today questioned the ability of an extremist to rehabilitate other extremists, in an apparent reference to controversial preacher Zamihan Mat Zin.
In a Facebook post, Asri said it was surprising that some people who held religious titles still failed to understand that Islam taught goodwill and mercy towards all.
He said it was such people who would disagree with providing assistance to non-Muslims during disasters.
"However, it is more surprising that the authorities have all this while been using people like this to supposedly rehabilitate terrorists and extremists in jail," he added.
"The question is, can 'extremists' rehabilitate extremists?
"This is not the first time he has expressed his extremist thinking.
"It is not enough to condemn fellow Muslims, even non-Muslims are dragged into his extremist thinking."
Asri added that the authorities should seriously reassess the matter.
News recently broke that Zamihan was still involved in the home ministry's rehabilitation and deradicalisation programme for Islamic State (IS) detainees.
On Tuesday, a posting on Zamihan's Facebook page showed him at the Tapah Prison, in Perak, with two prison officers and a lawyer who was not identified.
Zamihan wrote that the four-hour session with the detainees had been cheerful and dynamic as he took their questions.
He added that the "enlightenment session" focused on the role of the nation's leaders, army and police in Islamic countries, as well as on the hadith on jihad, and jihad law, among other things.
Earlier this week, the preacher also criticised a surau which provided shelter to non-Muslims after the floods which hit Penang over the weekend.
In a Facebook post, he said there were still other alternative means of attending to the flood victims' needs.
However, Asri said those who had opened mosques and suraus to the flood victims should be thanked as they had conveyed a positive message regarding Islam to others.
He added that Islam taught mercy for Muslims, non-Muslims, animals, plants and all other beings.
Full report at:
http://www.freemalaysiatoday.com/category/nation/2017/11/09/can-an-extremist-rehabilitate-extremists-asks-perlis-mufti/
--------
Is Sabahan Amin Baco new IS regional emir?
Zam Yusa
November 9, 2017
PETALING JAYA: Analysts are divided over the possibility of Malaysian militant Mohd Amin Baco being the new leader of the Islamic State (IS) terror group in Southeast Asia.
Philippine police chief Ronald de la Rosa on Monday said, based on information from a captured Indonesian terrorist last week, the Sabahan was alive and leading the pro-Islamic State stragglers in the war-torn southern Philippine city of Marawi.
The police chief also said the seasoned militant had been made the IS emir for the region.
However, the Philippine military believe Amin has been killed and have launched a search for his body.
An analyst with Terrorism Research and Analysis Consortium (TRAC) said it made sense that Amin was the new leader.
"He is the last of the inner circle of the early Marawi planners and had joined (slain IS emir for Southeast Asia) Isnilon Hapilon in 2014," Michael Quinones told FMT.
He said the leader of IS East Asia would have to be a Marawi siege leader.
This is instead of choosing Abu Sayyaf sub-commander Furuji Indama in Basilan or Bangsamoro Islamic Freedom Fighters leader Esmael Abdulmalik in the Ligusan marshland.
Veryan Khan, editorial director of TRAC, agreed with Quinones' opinion on the possibility of Amin becoming the new IS leader for expediency in the field.
"More likely, those still left in the militant group in Marawi claimed him as the new leader," she said.
"Amin will be a clear contender for an actual designation by IS Central if he survives."
Another analyst had a different opinion on the prospect of Amin leading the terror group in the region.
Sydney Jones, director of the Jakarta-based Institute for Policy Analysis of Conflict (Ipac), said Amin might have been made the leader of the militants in Marawi but this did not make him the Southeast Asia emir of IS.
She said Amin might have temporarily assumed leadership of the stragglers in Marawi, "but you can't extrapolate from that and say that somebody is emir".
"I'm not sure on what basis the police chief made that statement. I don't think we have any evidence to support that."
More than 900 militants, 145 security personnel and 47 civilians were killed in the five-month standoff in Marawi which began on May 23.
Amin is a native of Tawau and a member of the outlawed movement Darul Islam Sabah — a faction that emerged after Indonesia's Darul Islam split from Jemaah Islamiah in 1993.
The group is said to have facilitated the passage of terrorists and firearms between the two countries.
In 1999, Amin was among the men from the Tawau cell of the Darul Islam Sabah sent to Ambon, Indonesia, where he used the alias "Hassan".
He underwent training in Mangkutana in South Sulawesi, Indonesia in 2000 before transferring to Pendolo where "jihadis from several organisations had camps", an Ipac report said.
In Malaysia, Amin was listed among the most wanted in 2010. He left Malaysia to join the Abu Sayyaf group, whose pro-IS faction was led by Isnilon.
Full report at:
http://www.freemalaysiatoday.com/category/nation/2017/11/09/is-sabahan-amin-baco-new-is-regional-emir/
--------
Zahid urged to advise Zamihan against making hate speeches
Michael Murty
November 10, 2017
PETALING JAYA: G25's Noor Farida Ariffin has urged Ahmad Zahid Hamidi to advise Zamihan Mat Zin against making derogatory remarks about others, following the deputy prime minister's defence of the controversial preacher.
Noor Farida, who is the spokesperson for the group of prominent Malays, acknowledged that Zamihan might be useful for Putrajaya's programmes to deradicalise local Islamic State (IS) sympathisers.
She added however that this did not give him the right to make disparaging comments about those from other races and religions.
"That applies not just to Zamihan, but to all other preachers, especially Malaysian Islamic Development Department (Jakim) preachers. They represent the government and they should be able to respect people of other races and religions.
"We are a multiracial country. Does Zamihan want to encourage dissension and racial strife among the Malaysian people?" she said to FMT.
Zahid, who is also home minister, had said that Zamihan was an expert in rehabilitating those involved in terrorist activities.
"Even though he is prohibited from giving religious talks in Selangor, his expertise in rehabilitating terrorists or potential terrorists is of value.
"He is an asset when it comes to rehabilitating the faith of those who have gone astray," Zahid said.
However, Noor Farida said Zamihan had created issues over the Muslims-only laundrette in Johor, whose operator was rebuked by Johor ruler Sultan Ibrahim Sultan Iskandar.
"It is totally unacceptable to me to have preachers and staff of Jakim and all other Islamic agencies who have this kind of negative attitude towards people of other faiths.
"Zahid should ensure that Jakim respects the rights of others," she said.
Amanah strategy director Dzulkefly Ahmad meanwhile said Zahid was wrong to defend Zamihan when saying he was an asset in rehabilitating terrorists.
Speaking to FMT, he said Zahid "did not understand the genesis of radicalism".
"The genesis of radicalism is when someone has this holier-than-thou attitude. They think they are supreme to others.
"The embodiment and DNA of Zamihan is extreme in nature. You can see from his statement on the surau in Penang, even during such a crisis. This is the genesis of a fundamentalist or extremist thought," he told FMT.
Dzulkefly was referring to Zamihan's criticism on Facebook of a surau which provided shelter to non-Muslims after the floods which hit Penang over the weekend.
Dzulkefly also asked if Zamihan had the tolerance or grace to embrace a multicultural country like Malaysia.
"How can he teach people that Islam teaches mercy for all and that Islam is able to relate to others? All this should be able to come from someone who embodies Islam in a tolerant manner and gives respect to others.
"How is he then supposed to make radicals understand tolerance?
"The tolerance to relate to others and their views is quite Quranic, actually."
Dzulkefly said Zamihan's statements on the laundrette in Johor and the surau in Penang clearly showed where he stood on tolerance.
"Maybe Zahid has to explain in detail what Zamihan does for them to rehabilitate local IS sympathisers. Does he have some secret formula?
Full report at:
http://www.freemalaysiatoday.com/category/nation/2017/11/10/zahid-urged-to-advise-zamihan-against-making-hate-speeches/
--------
Indonesia: Islamic State Primarily Relying on Online Donations for Money
9 Nov 2017
Sympathizers attempting to finance jihadi attacks in Indonesia are increasingly relying on online donations to provide financial support to the Islamic State (ISIS/ISIL), according to counter-terrorism analysts in the country.
A new joint study by Indonesia's National Counterterrorism Agency, State Intelligence Agency, and Financial Transaction Reports and Analysis Center (PPATK) found that online donations are the preferred method to finance ISIS because they are "practical, easy, and borderless," reports the South China Morning Post (SCMP).
The flow of money, primarily consisting of donations between $100 and $1,000 via social media, is "continuous" and "tough to track," SCMP learned from Kiagus Ahmad Badarudin, chairman of the PPATK.
Another reason why online payment services and so-called cryptocurrencies like Bitcoin have become the preferred funding method for terrorists is that they allow anonymous payments, the PPATK pointed out.
"Terror groups now call for donations through social media [and messaging platforms] such as WhatsApp groups or Twitter," stressed Badarudin. "Bitcoin and PayPal are also used to move their money."
The PPATK chief noted that the legitimate businesses like phone credit companies and small-time merchants are facilitating the illicit transactions.
SCMP reports:
Encrypted messaging platforms such as Telegram and WhatsApp are proving popular not only with active terror cells in Indonesia, but even with militants who are already behind bars. Authorities suspect the services are used by imprisoned terrorists, using mobile phones smuggled into their jails, to propagate their ideologies and even direct attacks from the comfort of their cells.
The newspaper argues that the Indonesian government's crackdown on terrorism-financing operations is responsible for the increased use of online donations, which reportedly caught traction in 2015.
"Jemaah Islamiyah [JI] in particular used a network of charities to siphon funds for militant operations. Those charities fell under scrutiny by security forces and more or less dried up as a funding source," noted Zachary Abuza, professor at the National War College, referring to the U.S.-designated jihadist organization.
"It is not a surprise that pro-Islamic State groups have turned to social media to make appeals for donations as Islamic State has such a slick and widespread presence across so many different social media platforms," he added.
The country is cracking down on ISIS's presence as it faces a threat from the group's battle-hardened jihadists returning from the Middle East to Indonesia, the world's most populous Muslim-majority country.
In August, a raid conducted against ISIS-affiliated terrorists revealed that they had been working on building a radioactive "dirty bomb."
Authorities identified the terrorism suspects as members of Jamaah Ansharut Daulah (JAD), a group linked to ISIS.
Full report at:
http://www.breitbart.com/national-security/2017/11/09/indonesia-islamic-state-primarily-relying-online-donations-money/
--------
Indonesia, Malaysia and Philippines to Discuss Future of Counterterrorism Cooperation
November 10, 2017
Jakarta. Indonesia, Malaysia and the Philippines will hold an informal meeting on the sidelines of the 31st Asean Summit in Manila on Sunday (12/11) to discuss the continuation of their joint plan of action to address increasing threats of terrorism in the region.
"The main purpose of this meeting is to discuss the situation in Marawi [in the southern Philippines]. There have been positive developments in the past few weeks and we expect the Philippines to share information on the progress and outcomes, and [the three countries] will discuss the next steps in the joint plan of action," Arrmanatha Nasir, a spokesman for the Indonesian Ministry of Foreign Affairs, said during a press briefing in Jakarta on Thursday.
The Philippine government wrapped up combat operations in Marawi City on Oct. 23, exactly five months after violent clashes between the country's security forces and Islamic militants resulted in the deaths of more than 1,100 people and drove hundreds of thousands from their homes.
The clashes raised concern in both Indonesia and Malaysia, who feared that militants could flee to nearby North Maluku and Sabah.
Indonesia initiated joint marine patrols with its two neighbors in the aftermath of the violence in Marawi to stem the movement of militants in the region.
Philippine security forces killed two high-profile figures in the Islamic State-affiliated Abu Sayyaf – Omar Maute and Isnilon Hapilon – during a series of actions in Marawi in October.
The trilateral meeting is a follow-up of a previous meeting in June, attended by the three countries' foreign ministers, defense ministers and police and intelligence chiefs.
The three countries previously agreed to cooperate in the joint development and implementation of counterterrorism measures and strategies to address the various aspects that underlie the threat of terrorism as part of an attempt to tackle the root causes. These include poverty, illegal drugs, crime and social inequality.
The three countries pledged to improve intelligence sharing, stop the flow of terrorist financing, weapons smuggling and movement, as well as contain the spread of terrorism-related content on the internet.
They also agreed to engage in efforts to promote deradicalization, rehabilitation and reintegration programs. This will be further discussed in the upcoming meeting.
"Our plan of action also considers future efforts to rebuild the affected areas when the situation in Marawi City returns to normal," Arrmanatha said.
Full report at:
http://jakartaglobe.id/news/indonesia-malaysia-and-philippines-to-discuss-future-of-counterterrorism-cooperation/
--------
Singapore Detains Two for 'Terrorism-Related' Activities
November 10, 2017
Singapore. Singapore said on Thursday (09/11) it has detained a Singaporean man and a woman for affiliations to radical Islamist groups under the country's tough security law that allows for detention without trial.
The man, 25 year-old Abu Thalha bin Samad, is a member of the Southeast Asian Islamist group, Jemaah Islamiyah (JI), and was educated and trained in JI-linked schools in the region, the Ministry of Home Affairs said in a statement.
The Singapore government worked with "a regional government" to deport him back to Singapore for his arrest, the ministry said, but it did not disclose from which country.
"He was duty-bound to carry out whatever instructions the JI leaders had for him, including performing armed jihad and sacrificing his life for the JI's violent cause," the ministry said.
The woman detained is Islamic State supporter Munavar Baig Amina Begam. The 38-year-old Singaporean housewife is originally from India and the second woman in Singapore to be detained under the Internal Security Act.
"She is an ISIS (Islamic State in Iraq and Syria) supporter and harbored the intention to make her way to the conflict zone to join ISIS," the ministry said in the statement.
"To influence others to support ISIS, Amina shared materials promoting terrorism on social media, which ... encouraged others to fight and die as martyrs," it added.
Neither of the two was available for comment.
Last week, Singapore banned two popular foreign Muslim preachers from entering the city-state because, it said, their views bred intolerance and were a risk to social harmony.
As concern grows about the spread of militancy, there has been a significant rise in the number of detentions under the country's security law.
At least 14 radicalized Singaporeans have been put under restriction or detention orders under the ISA since 2015, up sharply from 11 cases between 2007 and 2014, according to data from the ministry.
Diverse, affluent Singapore is majority ethnic Chinese with sizable minority ethnic Malay and ethnic Indian communities, and numerous foreign workers from Asia and beyond.
Singapore said late last year it had deported nearly 70 foreigners including five maids for suspected radicalism over the previous two years.
Full report at:
http://jakartaglobe.id/international/singapore-detains-two-terrorism-related-activities/
--------
North America
Father of murdered Muslim pizza delivery driver forgives man convicted over killing then hugs him in court
Nov 10, 2017
A father hugged and forgave a man convicted over the murder of his son, saying he had done so in the spirit of Islam.
Trey Relford was jailed for 31 years after admitting complicity in the robbery and murder of Salahuddin Jitmoud, a 22-year-old pizza delivery driver in Lexington, Kentucky.
The young man was making his final delivery of the night when he was fatally attacked. It was said Relford had planned the robbery, and he denied being the one who killed Mr Jitmoud.
On Tuesday Mr Jitmoud's father, Sombat, reduced a courtroom to tears by saying he forgave Relford. At one point the judge even had to call a recess from the emotional hearing.
According to CNN, he said "Islam teaches that God will not be able to forgive" someone unless the person they wronged has first done so.
He said: "I'm angry at the devil, who's misguiding you and misleading you to do such a horrible crime.
"I don't blame you. I'm not angry at you. I forgive you. Whatever happens to you is from Allah. Let the believer put their trust in Him."
After addressing the court he stepped down from the stand and hugged Relford, who was himself in tears.
Both Relford and his mother apologised to Mr Jitmoud.
http://www.independent.co.uk/news/world/americas/father-muslim-murder-pizza-delivery-driver-man-forgive-convicted-killing-trey-relford-lexington-a8046196.html
--------
US worried but rules out mediation to reduce India-Pak tension
Nov 9, 2017
WASHINGTON: President Donald Trump's new South Asia strategy+ focuses on reducing tension between India and Pakistan, a top American diplomat has said but ruled out any mediator role for the US between the two neighbours.
Alice G Wells, the acting assistant secretary for South and Central Asia, told lawmakers that the Trump administration is increasingly concerned about the threat to strategic stability in South Asia associated with the introduction of new nuclear capable ballistic or cruise missile systems in the region.
"The South Asia strategy also focuses on reducing tensions between Pakistan and India+ ," she told lawmakers yesterday during a Congressional hearing on Afghanistan and Pakistan held jointly by House Foreign Affairs Subcommittees for Middle East and North Africa, and Asia and Pacific.
She said the US does not seek a role as a mediator between India and Pakistan, but encourages both countries to restart dialogue+ at the earliest opportunity.
"An improved relationship between these two countries is critical to regional security and stability," Wells said.
"In particular, the region and the world looks to both Pakistan and India to safeguard against a nuclear conflict in South Asia," she said.
She said the US remains concerned about Pakistan's growing fissile material stockpiles and its expanding and diversifying military nuclear and missile programmes.
Wells also voiced concern over the stability and security of the South Asia region and said the US is ready to work constructively with Pakistan against the terrorist groups like Lashkar-e-Taiba, Jaish-e Mohammed and the Haqqani Network.
"We remain concerned about the stability and security of the region, and of Pakistan itself," she said.
"We are prepared to work constructively with Pakistan to move against these terrorist groups, including the Haqqani Network, Lashkar-e-Taiba, and Jaish-e-Mohammed," she added.
She also told lawmakers that the Trump administration values the role India can play in global security and stability as part of its shared vision of a free and open Indo-Pacific region.
"We also want to work with India to counter terrorist threats. And we see significant economic and business opportunities in both countries that we intend to explore for the benefit of all of our citizens," she said.
The US welcomes the central role of India in the Indo-Pacific region and throughout the world, she said.
"Our two democracies have a shared commitment to uphold the rule of law, freedom of navigation, universal values, and free trade," she said.
Full report at:
https://timesofindia.indiatimes.com/india/us-worried-but-rules-out-mediation-to-reduce-india-pak-tension/articleshow/61580578.cms
--------
US, Britain hit out at Russia as chemical watchdog meets on Syria
November 10, 2017
THE HAGUE - The United States and Britain accused Russia on Thursday of "denying the truth" as Moscow sought to rip up a report blaming Syria for a deadly chemical attack in April.
In a strongly-worded statement at a meeting of the watchdog Organisation for the Prohibition of Chemical Weapons (OPCW), US representative Ken Ward said Russia was "continuing to deny the truth" regarding the attack in which sarin gas was used.
Last month a report by a joint UN-OPCW panel said the Syrian air force on April 4 had dropped a bomb on the opposition-held town of Khan Sheikhun, releasing the deadly nerve agent that killed more than 80 people, including children.
But Russia has dismissed the Joint Investigative Mechanism (JIM) report, saying the experts did not travel to Khan Sheikhun and worked with samples Moscow maintains may have been tampered with by Western intelligence.
Russia also lambasted the investigators for not travelling to the Shayrat air base, from where the aerial attack on the northwestern Syrian town was allegedly launched.
But Ward accused Russia of "collaborating with the (Bashar al-)Assad regime in a deplorable attempt to discredit the (OPCW) Fact Finding Mission (FFM) and the Joint Investigative Mechanism."
"Regrettably, Russia has abetted Syria's use of chemical weapons and disregarded the international responsibilities Syria undertook," Ward said in a statement posted on the OPCW's website.
The dispute came as Russia and Iran, the Syrian regime's allies, proposed a resolution at the OPCW meeting on Wednesday which diplomats say effectively asks investigators to scrap the first probe into the Khan Sheikhun incident and launch a new investigation.
The draft resolution "decides to renew the work by the FFM on the incident with the use of chemical weapons in Khan Sheikun in order to ensure a full-scale, professional and high-quality investigation to identify sarin," according to a copy seen by AFP.
29 civilians 'will die' if not evacuated from Syria's
Eastern Ghouta: UN
Some 400 civilians are in urgent need of medical evacuation from Syria's Eastern Ghouta region, including 29 who will die if they are not allowed to leave immediately, the United Nations warned Thursday. "Around 400 men, women, children... need to be evacuated now," Jan Egeland, head of the UN's humanitarian taskforce for Syria , told reporters in Geneva, adding that 29 of them, including 18 children "will die if they are not evacuated."
As of now, "we have confirmation of seven patients dead because they were not evacuated, some of them children," he said.
The Eastern Ghouta region, near the capital Damascus, is one of the last strongholds of rebels fighting Syrian President Bashar al-Assad's regime.
Egeland said the region was now "the epicentre of suffering" in the war-ravaged country, with some 400,000 civilians stuck in a dozen besieged towns and villages.
The region, where a "de-escalation zone" deal was agreed by regime allies Iran and Russia and rebel backer Turkey in July, is now seeing increasingly dire conditions, he said.
"Since September, it has been completely sealed off," he said, pointing out that UN convoys are now the only lifeline to the area, and more often than not, those convoys are unable to get through.
"We cannot continue like that. If we get in only a fraction of what is needed, it would be a complete catastrophe," he said.
UN staff last week entered the area for a few hours and assessed that there are now "a growing number of acutely malnourished children," meaning they are "very close to dying", Egeland said.
He said many were babies whose mothers had been too malnourished themselves to breastfeed.
He pointed out that since May, efforts to carry out desperately needed medical evacuations from the area have largely failed, with only about a dozen patients evacuated to date.
This has created a situation where hundreds of civilians, most of them women and children, need to be evacuated.
They are currently languishing "in clinics, in basements, in makeshift hospitals inside the Eastern Ghouta besieged towns and villages," Egeland said.
"They range from acutely malnourished children ... to severely wounded civilians, children, women, men. We really cannot understand that they can't be evacuated," he added.
Full report at:
http://nation.com.pk/10-Nov-2017/us-britain-hit-out-at-russia-as-chemical-watchdog-meets-on-syria
--------
Nuclear commitments undertaken by Iran being implemented: IAEA chief
Nov 10, 2017
During a visit to the United States, International Atomic Energy Agency (IAEA) Director General Yukiya Amano says Iran has been complying with the 2015 nuclear agreement, and that the nuclear-related commitments undertaken by Tehran under the deal are being implemented.
Amano met with US Ambassador to the UN Nikki Haley in New York on Thursday, where they discussed the UN nuclear watchdog's verification and monitoring of Iran's implementation of its nuclear-related commitments under the Joint Comprehensive Plan of Action (JCPOA).
Amano called the JCPOA a significant gain for nuclear verification, and reiterated that Iran is in compliance with the provisions of its nuclear deal with the world powers.
He informed Haley about the IAEA's strong and effective safeguards activities in Iran.
Iran and the five permanent members of the United Nations Security Council – the United States, France, Britain, Russia and China – plus Germany signed the nuclear agreement on July 14, 2015 and started implementing it on January 16, 2016.
Under the JCPOA, Iran undertook to put limitations on its nuclear program in exchange for the removal of nuclear-related sanctions imposed against Tehran.
The IAEA has repeatedly verified Iran's adherence to the terms of the JCPOA since January 2016, when the deal took effect.
During his October 29 visit to Tehran, Amano also stressed the importance of full implementation by Iran of its nuclear-related JCPOA commitments.
Amano is in the United States for meetings and speeches in Washington, New York and Boston, including his annual address to the United Nations General Assembly on Friday.
Although the IAEA has repeatedly verified Iran's compliance with the deal, US President Donald Trump delivered an anti-Iran speech on October 13, in which he said he would not continue to certify Iran's compliance and warned that he might ultimately terminate the agreement.
Trump has now kicked the issue to Congress, which has been given 60 days to decide whether to reimpose sanctions that were lifted under the deal.
Full report at:
http://www.presstv.com/Detail/2017/11/10/541637/Nuclearrelated-commitments-undertaken-by-Tehran-being-implemented
--------
Marine Corps instructor accused of calling Muslim recruits 'terrorists'
By Yaron Steinbuch
November 9, 2017
A Marine Corps drill instructor was a "bully" who abused recruits – focusing his venom on three Muslims whom he labeled "terrorists," a military prosecutor said during his court-martial.
"He was drunk on power and sometimes Fireball whiskey, and he used that power again and again," Lt. Col. John Norman said Wednesday in his closing arguments in the case against Gunnery Sgt. Joseph Felix.
"He abused his power to abuse his recruits. He punched them. He kicked them. He degraded their religion, and he put them in industrial appliances," he said, according to NBC News.
Defense attorney Navy Lt. Cmdr. Daniel Bridges said prosecution witnesses gave fanciful accounts about the former DI at boot camp in Parris Island, including one in which he grabbed a recruit by the throat and lifted him off the ground with one arm.
"Just because a lot of people said it, doesn't mean it's beyond a reasonable doubt," the attorney said. "Not credible equals not guilty."
A jury at Camp Lejeune, NC, begins deliberating Thursday over whether, among other charges, Felix forced recruits to choke each other, ordered them to drink chocolate milk until they vomited and loaded Muslim recruits into a commercial dryer.
One former trainee, Lance Cpl. Ameer Bourmeche, said the dryer was turned on as Felix ordered him to renounce his Islamic faith.
The most closely observed allegations involve the March 2016 suicide death of recruit Raheel Siddiqui, a Pakistani-American who jumped from the third floor of a Parris Island squad bay, according to military.com.
Felix is accused of calling Siddiqui a terrorist, slapping him and forcing him to run back and forth in the squad bay minutes shortly before his death.
Siddiqui's family has filed a $100 million wrongful death lawsuit against the Marine Corps.
He also is accused of routinely calling Muslim recruits "terrorist," referring to a Kurdish recruit, Rekan Hawez, as "ISIS," and forcing another Muslim to conduct a mock beheading while yelling, "Allahu Akbar!"
Investigators have found rampant abuse of recruits by junior drill instructors at the training depot.
Six drill instructors, including Felix, were charged and the training battalion's commanding officer fired. A court-martial for Lt. Col. Joshua Kissoon is scheduled for March.
Eleven others faced lesser, administrative discipline, according to Marine Corps spokesman Capt. Joshua Pena, who said Felix was permanently removed from his duties as a DI after the probe began.
Full report at:
http://nypost.com/2017/11/09/marine-corps-instructor-accused-of-calling-muslim-recruits-terrorists/
--------
Africa
Tanzania: 5 pupils dead, 43 injured in grenade blast
09 November 2017
At least five pupils died and 42 others and one teacher were injured Wednesday following a hand grenade explosion at the Kihinga Primary School in Ngara, district of Kagera Region in northwestern Tanzania.
Police Commanding Officer Augustine Ollomi confirmed the incident to Anadolu Agency in a phone interview, saying the blast happened as the first-grade students were heading to their classroom.
"Three pupils died on the spot, while two others died at Rulenge Hospital while being attended by medical experts," Ollomi said.
Commenting on the initial investigation reports, Ollomi said one of the pupils found a hand grenade on his way to school and put it in his school bag, thinking it was scrap metal and he could sell it.
The dead students were aged 8 to 13, according to Ollomi.
Rulenge Hospital's principal physician, Dr. Mariagoreth Fredrick confirmed receiving five dead bodies and 42 injured pupils plus one teacher.
Kihinga Primary School is located along the Tanzania-Burundi border post. Burundi has been embroiled in unrest since April 2015 when President Pierre Nkurunziza announced his candidacy for a controversial third term.
Since then, more than 400 people have been killed and tens of thousands have fled the country to seek refuge in neighboring states within the East African region.
http://www.worldbulletin.net/africa/195749/tanzania-5-pupils-dead-43-injured-in-grenade-blast
--------
Nigeria: President Buhari Urged to Free Ailing Shiite Leader Zakzaky
9 NOVEMBER 2017
Nigeria's government was on Thursday urged to order the release of a pro-Iranian Shiite Muslim group leader, Ibrahim Zakzaky, who has been in custody for nearly two years since clashes with soldiers.
Zakzaky, who heads the Islamic Movement of Nigeria, and his wife should be freed "on health grounds", lawyer Femi Falana said in a letter to President Muhammadu Buhari.
The cleric lost the sight in his left eye during two days of unrest in the northern city of Zaria in December 2015 in which soldiers allegedly killed more than 300 IMN members.
Now he risks losing the sight in his right eye "sequel to the brutal treatment meted out to him by the armed soldiers", Falana wrote.
Zakzaky's wife, Zainab, was said to be in a "far worse" state, according to the lawyer, who said he visited the couple in secret police detention in Abuja a few days ago.
"For reasons best known to the State Security Service, some of the bullets lodged in her body during the brutal attack of December 14, 2015 have not been extracted," he wrote.
"In the circumstances, she has been subjected to excruciating pain and agony on a daily basis," he added, warning her life was in danger unless she received urgent medical attention.
Nigeria's government has previously ignored a court order to release the couple. Hundreds of IMN were arrested during the military crackdown in Zaria.
Zakzaky has long been at loggerheads with Nigeria's secular authorities because of his repeated call for an Iranian-style Islamic revolution in Nigeria.
Northern Nigeria is predominantly Sunni Muslim.
On Sunday, at least three people were killed in the northern city of Kano when police shot at an IMN procession marking the Shiite day of mourning, Ashura.
Full report at:
http://allafrica.com/stories/201711090903.html
--------
Muslim group blasts Adeboye, Oyedepo, CAN for telling FG to exit Islamic bodies
November 10, 2017
By Wale Odunsi
Muslim Rights Concern (MURIC) has condemned the Christian Association of Nigeria (CAN) and leaders including General Overseer of Redeemed Christian Church of God, Pastor Enoch Adeboye and Presiding Bishop, Living Faith Church Worldwide, Bishop David Oyedepo, for calling on the Nigerian government to exit all international Islamic organisations it was part of.
Professor Ishaq Akintola, MURIC Director, in a statement said the body is not a little amused by CAN's latest demands.
"CAN is hallucinating. It is laughable, untenable, kindergarten and quixotic. This is reminiscent of the eponymous hero of Don Quixote de la mancha. CAN is manifesting symptoms of orubebemantis", it said.
He said CAN wants Northern states to issue certificates of occupancy (C of Os) to churches in the North whereas South East and South South governments demolish mosques in their states, refuse to grant Muslims C of Os and infringe constantly on Allah-given fundamental human rights of Muslim minorities in their midst.
'For instance, a tertiary institution in the South East has demolished the only mosque on the campus and refused to allow the Muslim Students Society of Nigeria (MSSN) to operate.
'MURIC warns the National Assembly (NASS) to ignore CAN's call for its intervention. An anti-Muslim National Assembly will shoot itself in the foot sooner than later. Nonetheless, should the NASS show any interest in CAN's demand, it should beam its floodlight on all Western oriented international organizations like the United Nations (UN) as they have always been used as tools in the hands of Western crusaders while their religious bias is always hidden.
'MURIC therefore accepts CAN's demands with the proviso that: Nigeria should withdraw from all Western oriented international organizations like the UN and WHO;
"National Assembly should study Nigerian work-free days with a view to dropping the religious ones like Sunday and Saturday (Saturday is also used by the Seventh Day Adventists) and;
"Nigeria should also drop all Christian landmarks like the cross as sign in hospitals, academic gowns in tertiary institutions, wigs and gowns used by lawyers and judges, etc.
"The leaders of CAN have consistently displayed lack of readiness to coexist with Nigerian Muslims. They want the country only for themselves alone. They have refused to listen to the voice of reason. The Vice President, Professor Yemi Osinbajo, himself a pastor, told CAN that the allegation of Islamisation is an illusion. CAN refused to listen. Femi Falana asked CAN to Christianise Nigeria instead of alleging Islamisation everyday but CAN will not listen.
"Who says Nigeria is not Christianised? What system have we been forced to use since the advent of the colonial master to date? What is the religion of our colonial master whose system we have adopted hook, line and sinker? Why are Muslims being forced to write examinations during Jumat service on Fridays?
"Why are Muslims at the mercy of their employers every Friday? Is it not because Friday is not a work-free day like Sunday? Muslims have been tolerating all these for so long. Let us start working on Sundays and Fridays for a change and see if CAN will find it funny.
Full report at:
http://dailypost.ng/2017/11/10/muslim-group-blasts-adeboye-oyedepo-can-telling-fg-exit-islamic-bodies/
--------
URL: https://www.newageislam.com/islamic-world-news/top-saudi-scholar-says-muslims/d/113181
New Age Islam, Islam Online, Islamic Website, African Muslim News, Arab World News, South Asia News, Indian Muslim News, World Muslim News, Women in Islam, Islamic Feminism, Arab Women, Women In Arab, Islamophobia in America, Muslim Women in West, Islam Women and Feminism