New Age Islam News Bureau
28 October 2021
A file view of the Hindu Gymkhana in Karachi. — AFP
-----
• Anti-Muslim Violence Flares Up In Indian State Following Attacks on Mosques and Properties Owned By Muslims in Tripura
• Bangladeshi Hindus Joined Indian-Origin Bengali Hindus to Protest outside UK Parliament over Temple Violence
• Israel Refuses to Condemn China's Treatment of Uyghur Muslims
• Supreme Court Irked By Delay in Vacating Hindu Gymkhana in Karachi
Pakistan
• 'Castrating Rape Convicts Un-Islamic': Council of Islamic Ideology
• Pakistan Needs To Unapologetically Tell Its Narrative To The World, Says National Security Adviser
• Govt decides to treat TLP as militant outfit
• Eight embrace martyrdom as terrorist attacks rise in KP
• Pakistan: 4 policemen among 8 dead in clashes with radical Islamist party
--------
South Asia
• Taliban-appointed top diplomat, head of US Mission to Afghanistan meet in Qatar
• China to build military base on Tajikistan's border with Afghanistan
• ISIS unable to threaten region, Taliban are way stronger: Taliban's minister
--------
India
• 'Nikah' Would Not Have Been Solemnised As Per Islam, Had Sameer Wankhede Not Been a • Muslim – Qazi Who Solemnised the Marriage
• Tripura: Forces guard mosques after tension over Bangladesh violence
--------
Europe
• Russia's Putin wants Israel's help in lifting US sanctions on Syria: Report
• German parliament's Turkish VP calls on immigrants to get involved in politics
--------
Southeast Asia
• Report: 'Clean', multi-racial Pakatan will give Melaka voters better deal, says ex-CM Idris
• China urges World Bank, IMF to help cash-strapped Afghanistan
--------
Arab World
• UAE A 'Close Ally' For Collaboration on Space Innovation: Israel Aerospace Chief
• Kosovo sanctions seven people, one company for links to Lebanon's Hezbollah
• 8 Sunni civilians killed in Shia revenge attack in Iraq's Diyala
• Saudi Arabia Designates Lebanon's Al-Qard Al-Hassan Terrorist Entity, Freezes Assets
--------
Mideast
• Near 150 Extremist Jewish Settlers Defile Aqsa Mosque
• Iranian FM: Caretaker Gov't in Kabul Responsible for Security of Afghan People
• Spokesman: Iran Holding Afghan Neighbours Meeting to Convey Message of Opposition to Foreign Interference
• President Rayeesi Calls for Broadening of Ties with Turkmenistan, Pakistan
• Iran agrees to restart nuclear deal talks in November: Chief negotiator
• International Committee Founded to Promote Prophet's Seerah, Thoughts in Istanbul
--------
Africa
• Sudan Army Chief Burhan Relieves Six Ambassadors, Including US, EU, France, Qatar
• Sudan's military launches arrest campaign against activists, journalists
• African Union suspends Sudan amid military takeover
--------
North America
• United Nation of Islam 'Cult' Members Charged With Unpaid Child Labour and Abuse
• UN High Commissioner Denounced Israeli Regime over Blacklisting Palestinian Rights Groups
• Pentagon condemns Sudan's military, top US diplomat asks how Washington can help
• US tells Iran 'window will not remain open forever' to revive nuclear deal
• Erdogan says will discuss with Biden F-35 jets during COP26 summit in Glasgow
Compiled by New Age Islam News Bureau
URL: https://www.newageislam.com/islamic-world-news/pakistan-supreme-court-hindu-gymkhana-karachi/d/125664
--------
Pakistan Supreme Court Irked By Delay In Vacating Hindu Gymkhana In Karachi
October 28, 2021
A file view of the Hindu Gymkhana in Karachi. — AFP
-----
KARACHI: The Supreme Court on Wednesday expressed concern over an inordinate delay in getting vacated the heritage building of Hindu Gymkhana that currently houses the National Academy of Performing Arts (Napa) and not providing an alternative land to the academy.
The court directed the authorities concerned to submit a report till Oct 29 (tomorrow).
A three-judge bench headed by Chief Justice of Pakistan Gulzar Ahmed said that the apex court had been issuing directives to authorities for the past three years to get the building vacated and grant substitute land to Napa, but the officials were shifting responsibility to each others.
The provincial culture secretary appeared in court and submitted that he took charge a week ago and his predecessor had sent the matter about alternative land to commissioner Karachi. The bench directed officials to file a report about alternative land to Napa on Friday.
A petition was filed by Shree Ratneshwar Mahadev Welfare in 2014 submitting that the heritage site belonged to the Hindu community of Karachi before partition as the gymkhana building was established for the promotion of social and religious activities of Hindus, but the government took it over as an evacuee trust property after partition.
The petitioner argued that a directive may be issued to Napa to vacate the building and hand it over to the Hindu community.
Meanwhile, the bench directed the Karachi Metropolitan Corporation to remove encroachments around a nullah in PECHS after the KMC argued that society had built shops on a drain.
However, the lawyer for the society submitted that they had not made any construction on the nullah land.
Source: Dawn
Please click the following URL to read the text of the original story:
https://www.dawn.com/news/1654464/supreme-court-irked-by-delay-in-vacating-hindu-gymkhana-in-karachi
--------
Afghanistan's Hardline Rulers Try to Polish Their Media Image; Mullah Omar's Son Comes on TV Signalling Their Emergence from the Shadows
October 28, 2021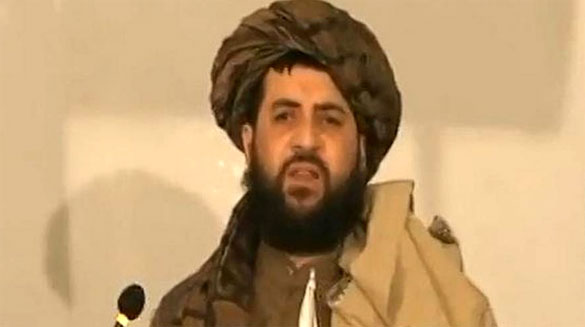 A video grab showing Mohammad Yaqoob. | Photo Credit: - The Hindu
-----
The son of Taliban founder Mullah Omar appeared in public for the first time on Wednesday, as Afghanistan's hardline rulers try to polish their media image.
The televised event saw Mohammad Yaqoob, Afghanistan's new defence minister, appealing to local businessmen to invest in hospitals and clinics, signalling the Taliban are emerging from the shadows.
As supreme leader of the movement during their first reign of power, Yaqoob's father Mullah Omar rarely appeared in public, and photos of him were banned.
Even when the one-eyed cleric died in 2013, the news was not made public for more than two years.
But since the Taliban returned to power in mid-August after a 20-year war against a US-backed government, its ministers have been taking a more open public and political role.
"Let's spend some money here. Businessmen brothers have to come here to build hospitals, clinics, doctors have to come here too," Yaqoob said, at the Sardar Mohammad Dawood Khan military hospital in Kabul.
Afghanistan's health sector has been shattered by war and Afghanistan's economy has ground to a halt since the return of the Taliban, who remain under international sanctions.
Thousands are seeking treatment abroad, adding to chaos at the borders as others flee Taliban rule.
Yaqoob was once head of a powerful military commission and benefited from the aura of his late father's cult-like status in the movement.
But the most senior positions in the new government went to comrades of Omar, including Prime Minister Mohammad Hassan Akhund and his deputy Abdul Ghani Baradar.
Source: India Today
Please click the following URL to read the text of the original story:
https://www.indiatoday.in/world/story/mullah-omar-son-mohammad-yaqoob-on-tv-taliban-public-image-1870267-2021-10-28
--------
Anti-Muslim Violence Flares Up In Indian State Following Attacks on Mosques and Properties Owned By Muslims in Tripura
October 28, 2021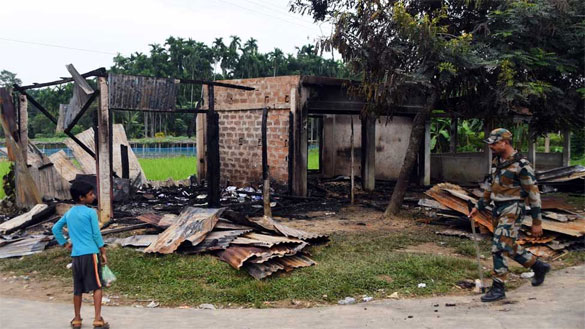 PINAKI DAS/ BBC News/ Image caption, Muslim properties have been targeted in the recent violence in Tripura
----
Tension prevails in India's north-eastern state of Tripura following attacks on mosques and properties owned by Muslims.
Security has been tightened and restrictions on gatherings have been enforced in the affected areas.
The violence followed clashes between Hindu groups and the police.
The groups were protesting against the police refusing them permission to hold a rally against recent attacks on Hindus in neighbouring Bangladesh.
At least seven people were killed, temples desecrated and hundreds of houses and businesses of the Hindu minority torched in Bangladesh earlier this month after rumours spread that the Quran had been insulted at a special pavilion set up for the annual Hindu religious festival of Durga Puja.
Tripura is encircled on three sides by Bangladesh and connected by a thin corridor to the neighbouring state of Assam. The state has been run by India's ruling Bharatiya Janata Party (BJP) since 2018 after 25 years of Communist rule.
More than 10 incidents of religious violence have been reported from the North Tripura district in the past four days.
Authorities enforced restrictions on large gatherings after Tuesday night's violence in the border town of Panisagar in which a mosque and several shops belonging to Muslims were vandalised.
The attacks followed a rally taken out by the hardline Hindu organisation, Vishva Hindu Parishad (VHP) - a close ally of the BJP.
Soubhik Dey, a senior police official in Panisagar, said some 3,500 people had taken part in the rally.
"Some VHP activists participating in the rally ransacked a mosque in the Chamtilla area. Later, three houses and three shops were ransacked and two shops were set on fire in the Rowa Bazar area, around 800 yards from the first incident," Mr Dey said.
Police said the ransacked shops and houses belonged to Muslims and a case has been filed based on a complaint by one of them.
Narayan Das, a local leader of Bajrang Dal, another hardline Hindu group, has claimed that some youngsters in front of the mosque abused them and brandished swords, a charge that could not be independently verified.
The Tripura police tweeted that "some people are spreading rumours and circulating provocative messages on social media" and appealed to people to maintain peace.
The BBC is not responsible for the content of external sites.
View original tweet on Twitter
Last week, the state unit of the Jamiat Ulama-e-Hind, a Muslim organisation, had alleged that mobs had attacked mosques and neighbourhoods dominated by Muslims. The Tripura police said that they were providing security to more than 150 mosques in the state.
Muslims make up less than 9% of Tripura's 4.2 million population.
"Though a majority of Tripura's population is Hindu refugees from what is now Bangladesh, there has never been any backlash against Muslims here after previous religious disturbances in the neighbouring country," said Bikach Choudhury, a Tripura-based writer.
Opposition parties have blamed the "politically motivated fringe elements" close to the BJP for the attacks on Muslims.
Sushmita Dev, an MP from the regional Trinamul Congress party, told the BBC that the BJP was trying to use the recent violence in Bangladesh to "polarise" the voters ahead of the municipal elections in the state in November.
Calls to Tripura's Minority Affairs' Minister Ratanlal Nath went unanswered.
But a BJP leader, on condition of anonymity because he was not authorised to speak to the media, told the BBC that the opposition should "not try to spin political capital out of a few sporadic incidents in reaction to the massive attacks on Hindus in Bangladesh".
He claimed that "the state government had done what is needed to control the situation".
Source: BBC News
Please click the following URL to read the text of the original story:
https://www.bbc.com/news/world-asia-india-59047517
--------
Bangladeshi Hindus Joined Indian-Origin Bengali Hindus to Protest outside UK Parliament over Temple Violence
NAOMI CANTON
Oct 28, 2021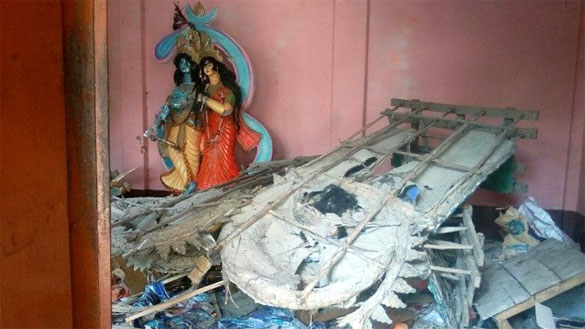 Vandalised idols at a temple. Photo: TBS
----
LONDON: Hundreds of Bangladeshi Hindus joined Indian-origin Bengali Hindus at a protest outside the UK Houses of Parliament on Wednesday demanding the British government put pressure on Bangladesh to take action over the recent anti-Hindu atrocities.
The protesters, men, women and children, travelled to London from Bradford, Birmingham, Manchester, Wales and Scotland.
Outside the House of Commons they shouted "Stop Killing Hindus" and "We want justice" and held placards saying "Stop ethnic cleansing in Bangladesh".
"There are a significant number of Bangladeshi Hindus living in the UK and we want British MPs to know what is happening in Bangladesh. We want the UK Foreign Office to put pressure on the Bangladesh government to take action," explained Himanish Goswami, youth ambassador for the Bangladeshi Hindu Association (UK).
They marched down Regent Street, past bemused shoppers, to the BBC headquarters where they demanded the broadcaster cover the anti-Hindu riots and questioned its silence, shouting "Bias BBBC", holding placards saying: "We demand the BBC and world media investigate and report on the ongoing atrocities on Hindus in Bangladesh."
Rumy Haque (48), a Bangladesh-born Muslim, joined the protest. "It happens every year. It is being done by Islamist extremists who want Bangladesh to be a Muslim country. I think it must be funded by Saudi Arabia or Pakistan. There are preachers in Bangladesh radicalising youngsters. It is an attempt at ethnic cleansing. They want to get rid of all the minorities. The majority of Muslims in Bangladesh don't support it but they are too scared to speak out," she said.
Kolkata-born Bikram Banerjee, from Bengali Hindu Adarsha Sangha UK (BHAS UK), which represents Bengali Hindus in Britain, said: "The BBC is suspiciously quiet, not saying anything about the human rights violations happening in Bangladesh. But we are British taxpayers. Hindu lives matter. We hope they will fulfil their (responsibility) as a news broadcaster."
Bangladesh-born Proshanta Purokayastha, chairman of BHAS UK, said: "This has been going on since 1946, The administration is not taking any action so we want the UK government to put pressure on Bangladesh and create dialogue and stop the violence."
Shatta Bhowmick (19), a Bangladeshi-origin Briton, said: "It is a daily thing when we go to the temple in Bangladesh, they spit on us and they always want to convert us to Islam. As a woman you have to dress modestly. My family there has not been able to go out since the violence. The government shut down the Internet to hide what is happening. I have hope the British government can influence Bangladesh."
Biplab Roy Chowdhury, who fled aged five months to India after his father was killed in 1973 in Bangladesh, told TOI: "Where there used to be whole villages of Hindus, now there are just three or four houses."
More than 150 British Indian organisations have sent a joint letter to UK PM Boris Johnson calling on the British government to condemn the violence and to ask the Bangladesh government to protect Hindu minorities, to ensure the perpetrators are brought to justice, ensure that the Bangladeshi government restores the Hindu temples, and to use its influence to ensure Bangladesh abides by its commitment to human rights.
Conservative MP Bob Blackman has tabled two early day motions in the House of Commons condemning the violence.
Source: Times of India
Please click the following URL to read the text of the original story:
https://timesofindia.indiatimes.com/world/uk/bengali-hindus-protest-outside-uk-parl-and-bbc-over-anti-hindu-atrocities-in-bangladesh/articleshow/87319627.cms
--------
Israel refuses to condemn China's treatment of Uyghur Muslims
By Sakina Fatima
27th October 2021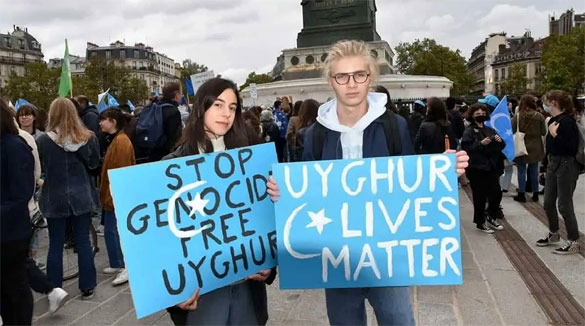 Photo: Twitter
----
Jerusalem: Israel has dropped its signature from a United Nation statement condemning China's human rights abuses against Uyghur Muslims in Xinjiang province, local media reported.
On October 21, 2021, 43 countries condemned China's practices against Uyghur Muslims and other minorities in the Xinjiang region, in a consolidated statement at the United Nations.
The 43 countries that signed the statement are Turkey, United States, Britain, France, Australia, Austria, Belgium, Bulgaria, Canada, Croatia, Czech Republic, Denmark, Estonia, Finland, Germany, Honduras, Italy, Japan, Netherlands, Spain and Sweden which expressed particular concern at 'credible reports' of the existence of 're-education camps' in Xinjiang.
MS Education Academy
The move comes despite Israel having signed a declaration by the United Nations Human Rights Council in June calling on China to allow independent monitors access to the western region of Xinjiang.
According to the The Times of Israel, an Israeli diplomat, who spoke on condition of anonymity, said the government had received a draft resolution beforehand but decided not to support the initiative, due to "other interests it has to balance".
"We call on China to allow immediate, meaningful and unfettered access to Xinjiang for independent observers, including the UN High Commissioner for Human Rights, Michelle Bachelet and her office," Times of Israel quoted reporting the Israel's statement.
Who are the Uyghurs?
According to the official statistics there are about 23 million Uyghurs, mostly Muslim, living in Xinjiang, which is officially known as the Xinjiang Uyghur Autonomous Region (XUAR).
Uyghurs speak their own language, which is similar to Turkish, and see them as culturally and ethnically close to the countries of Central Asia. They make up less than half of Xinjiang's population.
The statement cited credible reports that "point to the existence of a large network of 'political re-education' camps where more than a million people have been arbitrarily detained."
In response to the statement, China's UN Ambassador Zhang Jun criticized the statement as baseless accusations and lies. He accused the US and several other anonymous signatories of "using human rights as a pretext for political maneuvering to provoke confrontation."
According to the media reports, the Chinese official defended the development of Xinjiang, saying the lives of its people were getting better by the day.
14 Arab countries supported China
The counter-statement of 62 countries, including 14 Arabs, defended China and its violations.
Confrontations over the Uyghur minority between China and mostly Western countries have become a regular occurrence in both the United Nations General Assembly in New York and the United Nations Human Rights Council in Geneva. But the statement of the countries supporting China, including the Arabs, constituted a new event under the roof of the United Nations.
These countries said in their statement that they "oppose the baseless allegations against China with political motives based on media misinformation and interference in the internal affairs of that country under the pretext of human rights."
The 14 Arab countries that signed the counter-statement are: Egypt, Saudi Arabia, Algeria, Tunisia, Morocco, the United Arab Emirates, Palestine, Iraq, Lebanon, Libya, Sudan, Yemen, Mauritania and Somalia.
Other countries also signed it, including: Iran, Myanmar, Pakistan, Venezuela and Bangladesh.
It is reported that, China has come under increased criticism for its treatment of Uyghur Muslims. In August 2018, the UN Human Rights Committee reported that Beijing has detained nearly one million Uyghur Muslims in secret "re-education" camps in eastern Turkestan. Many return to their families in a debilitated state, unable to walk and talk, and show signs of abuse.
Source: Siasat Daily
Please click the following URL to read the text of the original story:
https://www.siasat.com/israel-refuses-to-condemn-chinas-treatment-of-uyghur-muslims-2215377/
--------
Pakistan
'Castrating rape convicts un-Islamic': Council of Islamic Ideology
Oct 27 2021
ISLAMABAD: The Council of Islamic Ideology (CII) has declared the castration of rape convicts un-Islamic, said a notification issued by the body on Wednesday.
The notification was issued after a two-day session of the CII, which also expressed concerns regarding incidents of sexual harassment reported from seminaries, universities, and institutes of Islamic education.
Law for chemical castration of rapists okayed by PM Imran Khan
Last year in November, Prime Minister Imran Khan had approved, in principle, a law for the chemical castration of rapists.
The decision was made during a federal cabinet meeting wherein the law ministry presented a draft of the anti-rape ordinance. The draft included increasing women's role in policing, fast-tracking rape cases and witness protection.
Stressing that this was a serious matter, PM Imran Khan had said no delay will be tolerated. "We need to ensure a safe environment for our citizens."
The premier had said the legislation will be clear and transparent with strict enforcement. He had added rape survivors will be able to register complaints without fear, adding that the government will protect their identity.
The federal cabinet has, in principle, approved strict severe punishment for rape convicts.
Addressing a post-cabinet press briefing, Minister for Information and Broadcasting Senator Shibli Faraz said after giving in-principle approval to the anti-rape ordinance, the cabinet asked the Law Division and other departments concerned to finalise the draft at the earliest by removing all legal lacunae that could be exploited by offenders.
He said PM Imran Khan, after noting with grave concern the recent rape incident of a mother and her daughter in Sindh, asked Law Minister Farogh Naseem to prepare a comprehensive ordinance, encompassing fast-track trial of the accused, a comprehensive definition of rape, inclusion of new offences and strict punishments for the convicted rapists.
The minister said as the ordinance is of great importance and involves punitive actions against the rapists, it was forwarded to the Law Division for further improvement.
Source: Geo Tv
Please click the following URL to read the full text of the original story:
https://www.geo.tv/latest/378541-castrating-rape-convicts-un-islamic-council-of-islamic-ideology
--------
Pakistan Needs To Unapologetically Tell Its Narrative To The World, Says National Security Adviser
October 28, 2021
National Security Adviser (NSA) Moeed Yusuf on Thursday said that Pakistan needed to "unapologetically" share its narrative with the world.
Speaking at a seminar in Islamabad on national narratives, Yusuf outlined three words that encapsulated his approach to narratives: proactive, unapologetic and pragmatic.
"Virtually every time we communicate, these three principles can get us anywhere we want to go. There is no reason for Pakistan to be shy because we have nothing to hide.
"The fact of the matter is that we have absorbed Western narratives of Pakistan to the point that even internally, there is a debate on whether Pakistan's narrative is the correct one," he said.
Yusuf said this was "mindboggling" for him since according to him, Pakistan had a "real story" to tell based on what the country was doing and stood for. "There is absolutely no reason to be apologetic about it," he added.
The NSA outlined his experience when he came into government and elaborated on what he had found to be different, saying that for the first time he "realised that Pakistan has a real positive story to tell the world".
"We actually have a story that is compelling, logical [and] true, which we must put out to the world for them to understand who we are and what we stand for."
Source: Dawn
Please click the following URL to read the full text of the original story:
https://www.dawn.com/news/1654543/pakistan-needs-to-unapologetically-tell-its-narrative-to-the-world-says-nsa-moeed-yusuf
--------
Govt decides to treat TLP as militant outfit
Iftikhar A. Khan | Syed Irfan Raza
October 28, 2021
A DAY after a meeting of the country's civil and military leadership, the government on Wednesday decided to crush the banned Tehreek-i-Labbaik Pakistan (TLP) by all means and resolved that army, Rangers and police would stop participants of its long march from entering the federal capital.
The decision was taken by the federal cabinet in its meeting presided over by Prime Minister Imran Khan following which Rangers were requisitioned in Punjab for 60 days to maintain law and order in the province.
The government categorically announced that it could not meet the TLP's demand of closing down the French embassy in Pakistan and revealed that there was no French ambassador in the country.
"The cabinet has decided to treat TLP as a militant organisation and it will be crushed as other such groups have been eliminated. Pakistani state has defeated major terrorist organisations such as Al Qaeda," Information Minister Fawad Chaudhry said at a post-cabinet meeting press conference, adding that the TLP did not have the status and the quantum of arms the other organisations had.
"Yesterday PM chaired a meeting which was attended by the military leadership and representatives of intelligence agencies and relevant authorities. It was decided that the TLP would no more be dealt as a political party but as a militant organisation and it would not be tolerated anymore," he said.
The minister said the government had evidence that the TLP was being funded by some groups in India which also maligned Pakistan through social media. "Therefore the cabinet also decided to launch a crackdown through the Pakistan Telecommunication Authority against those spreading "fake news", adding that some journalists were also using social media for propaganda.
Mr Chaudhry said the TLP would not be allowed to challenge the writ of the state and it would now be treated as a "militant" group and not a religious party.
The TLP, he said, was established in 2015 and since then, its modus operandi had been to come out on the roads and block them. "But there is a limit to the state's patience."
He said the people had a right to their "ideas" but could not be allowed to take up arms if their ideas were not heard.
"In today's cabinet meeting, it was decided that such activities will not be tolerated," he said, adding that "no one should make the mistake of thinking that the state is weak. Those who made this mistake later realised they were wrong".
The minister said last time, six policemen were martyred and more than 700 injured in clashes with TLP workers. Now, at least three policemen have been martyred in two days and more than 49 are injured.
"How long will we show restraint?" the minister asked.
He said that on Tuesday, Prime Minister Imran Khan had chaired a meeting which was also attended by intelligence officials.
"A clear policy decision has been taken. The banned TLP will be treated as a militant party. We will not treat them as a political party [...] The rest of the country's institutions should also play their role."
However, responding to a question the minister said the government could not declare any political party a terrorist organisation and for that it (the government) had to adopt a procedure and file a petition in the Supreme Court. "We have finalised the petition and it will be filed soon."
Mr Chaudhry also questioned the registration of the TLP as a political party by the Election Commission of Pakistan on an application filed by a person who, he said, "lived abroad".
In a press conference, Interior Minister Sheikh Rashid said: "We have decided to deploy Rangers in Punjab for 60 days to maintain law and order situation in the province, like Karachi."
He said Rangers were being deployed in Punjab under Section 4 (2) of the Anti-Terrorism Act 1997, read with Article 147 of the Constitution, on the requisition of the provincial government.
He warned that the way the TLP was behaving, it could be declared a global terrorist organisation. "In such a case, nothing will be in our control," he said.
Stressing the need for peace in the country, the minister said Pakistan was under pressure. He reiterated that certain "international powers" wanted to impose sanctions on Pakistan and "had their eyes on the country's nuclear programme".
He said 70 other policemen suffered injuries and eight of them were in critical condition.
He said automatic weapons were used by the TLP against the police which restricted themselves to baton charge and tear gas shelling.
Alluding towards the TLP claims about casualties of its workers, he said he had directed the Federal Investigation Agency to take strict action against those spreading fake news on social media.
Mr Rashid said the TLP did not meet its commitment of unblocking the roads. "The government cannot keep schools and hospitals closed due to the protests," he added.
The minister urged Pakistan Democratic Movement chief Maulana Fazlur Rehman to realise the gravity of the situation.
Mr Rashid said he remained in touch with the TLP leadership and had last contact with them at 3:30am last night and told them to look at the situation in the country. "I assured them that the French ambassador is not even in Pakistan, but TLP activists are still on roads which shows that they have some another agenda."
TLP-police clashes
At least four police officials were killed and another 263 wounded, many of them seriously, when violent activists of the TLP clashed with police near Muridke and Sadhuke on Wednesday.
The fierce clashes broke out after the TLP tried to resume its march on Islamabad to pressurise the government to accept its demands.
Source: Dawn
Please click the following URL to read the full text of the original story:
https://www.dawn.com/news/1654441/govt-decides-to-treat-tlp-as-militant-outfit
--------
Eight embrace martyrdom as terrorist attacks rise in KP
October 28, 2021
PESHAWAR: Eight security personnel including four soldiers were martyred and another wounded in cross-border attack, ambush and bomb explosions in different areas of Khyber Pakhtunkhwa in two days.
Terrorists from inside Afghanistan attempted to cross the fence along the Pak-Afghan border in Kurram tribal district between the night of Tuesday and Wednesday when troops in a prompt response engaged them and thwarted their attempt, according to the military's media wing, the Inter-Services Public Relations (ISPR).
During intense exchange of fire, however, Lance Naik Asad Ali, 24, resident of Kurram, and Sepoy Asif, 21, resident of Lakki Marwat, embraced martyrdom, the ISPR added.
Four soldiers, four constables martyred in blasts, cross-border attack and ambush in two days
From Lakki Marwat, our correspondent adds: Four police constables were martyred when terrorists ambushed a patrolling party on a busy road linking Lakki Marwat with Mianwali on Tuesday night.
An official said a police party headed by ASI Yaqoob Khan came under attack at a distance of six kilometres from Lakki city. The official said armed men riding motorcycles fired at the police van and sped away.
He said the deceased included ASI Yaqoob Khan and Constables Mustaqeem Shah, Inamullah and Rahimullah.
A large contingent of police, led by Bannu RPO Sajid Ali Khan and Lakki Marwat DPO Shezada Umar, reached the scene as personnel started combing the area in search of the assailants, the official maintained.
Source: Dawn
Please click the following URL to read the full text of the original story:
https://www.dawn.com/news/1654445/eight-embrace-martyrdom-as-terrorist-attacks-rise-in-kp
--------
Pakistan: 4 policemen among 8 dead in clashes with radical Islamist party
October 28, 2021
At least four policemen were among eight persons killed on Wednesday in fresh clashes between supporters of a radical Islamist party and police in Pakistan's Punjab, prompting the Imran Khan government to deploy Rangers in the province for two months to deal with the protesters.
Interior Minister Sheikh Rashid Ahmed said that the Rangers were being called in to maintain law and order in Punjab for 60 days following renewed clashes between police and the banned Tehreek-i-Labbaik Pakistan (TLP), which started march towards Islamabad after the government announced that it "cannot meet the TLP's demand for expulsion of the French ambassador".
According to a notification issued by the interior ministry, 'Rangers have been deployed in Punjab. The powers have been entrusted to Rangers in terms of section 4(3)(1) of Anti-Terrorism Act 1997within Punjab to prevent the commission of terrorist acts and scheduled offences under ATA 1997 execute powers of police officers provided in the code of criminal procedure."
The development comes as fresh clashes between police and TLP supporters near Sadhoke in Punjab's Gujranwala district, killed at least four policemen and injured over 263 others.
"Four of our policemen have died, while 263 have sustained injuries after members of the banned organisation opened fire on the forces during their protest," Inspector General Punjab Rao Sardar Ali Khan told reporters. "We won't let this gang get away with its actions."
TLP office-bearer Ibne-I-Ismail told PTI that at least four of its workers were killed from the direct firing of the police. He also claimed that firing was also made on the protesters from a helicopter.
"Police did a massive shelling and also threw drums of acid on road to stop Ashiqaan-e-Rasool (lovers of the Prophet) to proceed to Islamabad, Ismail said and warned the government that thousands of TLP workers will sacrifice their lives but will not budge from their demands.
The clashes between the Islamists and police started at Sadhoke, some 50 kms from Lahore, when thousands of the TLP protesters who had been camping between Muridke and Gujranwala along the GT Road for the last three days started the march towards Islamabad after getting a go-ahead from their leadership.
"When the TLP workers reached Sadhoke police stopped them by force. The area became a battle ground. Police used tear gas shells to disperse the protesters, a senior police officer told PTI.
He said cellphone and internet services have been suspended from Muridke to Gujranwala areas of Punjab. A fresh batch of 10,000 policemen has been called from Lahore to stop the protesters from heading towards Islamabad, he added.
TLP's founder late Khadim Rizvi's son Saad Rizvi has been detained by the Punjab government since April last under the maintenance of 'public order' (MPO) following the party's protest against the blasphemous caricatures of Islam's Prophet published in France and its demand that the French ambassador be sent back and import of goods from that country be banned.
The TLP had given a two-day deadline on Sunday to the government to meet its demands to release the party chief Saad Rizvi and expel the French envoy or face a sit-in in the capital.
Addressing a press conference in Islamabad, Interior Minister Rashid warned the protesters to return home.
"The TLP has turned into a militant organisation as its members had opened fire on policemen using Kalashnikovs," he said.
Source: The Week
Please click the following URL to read the full text of the original story:
https://www.theweek.in/news/world/2021/10/28/pakistan-4-policemen-among-8-dead-clashes-with-radical-islamist-party.html
--------
South Asia
Taliban-appointed top diplomat, head of US Mission to Afghanistan meet in Qatar
Oct 27, 2021
KABUL: Acting Afghan Foreign Minister from the Taliban government, Amir Khan Muttaqi, on Wednesday met with the head of the US mission to Afghanistan, Ian McCary, in the Qatari capital of Doha, the Afghan Foreign Ministry said.
"Today the US mission chief for Afghanistan in Doha, Ian McCary, & 7-member delegation met with the Foreign Minister of the Islamic Emirate H.E. Mawlawi Amir Khan Muttaqi," ministry spokesperson, Abdul Qahar Balkhi said in a tweet.
The officials discussed Afghan-US ties and a number of other linked issues, he added in a follow-up tweet.
The Taliban took over Afghanistan in August and the US military ended its 20 years of military presence in the country. In the subsequent weeks, the World Bank and the International Monetary Fund suspended financial aid to the country.
Source: Times of India
Please click the following URL to read the full text of the original story:
https://timesofindia.indiatimes.com/world/south-asia/taliban-appointed-top-diplomat-head-of-us-mission-to-afghanistan-meet-in-qatar/articleshow/87317011.cms
--------
China to build military base on Tajikistan's border with Afghanistan
28 Oct 2021
Tajikistan's officials have confirmed that China is willing to build an $8.6 million military base on the border of Tajikistan with Afghanistan where the Tajik military personnel will be settled and not even one Chinese.
The police outpost that will later be handed over to the Tajik paramilitary unit is planned to be built close to Vakhon, Wakhan of Afghanistan's northern Badakhshan province.
China has already been running a military base in Kulob of Tajikistan that was yesterday (October 27) offered by Tajikistan to be fully transferred to China.
China has built that military base in 2016.
A communique written and sent from Tajik President Emomali Rahmon to the Chinese embassy reads that China should build more border outposts on the border with Afghanistan in return for giving full control of their previous base.
Source: Khaama Press
Please click the following URL to read the full text of the original story:
https://www.khaama.com/china-to-build-military-base-on-tajikistans-border-with-afghanistan-679679/
--------
ISIS unable to threaten region, Taliban are way stronger: Taliban's minister
27 Oct 2021
Islamic Emirate of Afghanistan has assured the region not to be threatened by ISIS-K from their soil and said that their fighters are way stronger and serious when it comes to suppressing the group.
Afghanistan's acting minister of information and culture Khairullah Khairkhwa said that they will eliminate not only ISIS-K but any group who wants to insecure the region.
On the other hand, US undersecretary of defense Colin Kahl said that they suspect the ability of the Taliban in suppressing ISIS-K and Al Qaida.
Colin Kahl has said that the Taliban have relations with the Al Qaida terror group and that will make it difficult for the former to fight against the group.
Source: Khaama Press
Please click the following URL to read the full text of the original story:
https://www.khaama.com/isis-unable-to-threaten-region-taliban-are-way-stronger-talibans-minister-865875/
--------
India
'Nikah' Would Not Have Been Solemnised As Per Islam, Had Sameer Wankhede Not Been a Muslim – Qazi Who Solemnised the Marriage
Oct 27, 2021
Maulana Muzammil Ahmed, the Qazi who claimed to have performed the first marriage of Sameer Wankhede with Shabana Quraishi said at the time of the wedding, Sameer Wankhede belonged to a Muslim family. Otherwise, the 'nikah' would not have been solemnised as per Islam, news agency PTI reported.
"I had performed the 'nikah' of Sameer Wankhede and Shabana Quraishi. Her father had approached me to perform the marriage in the Lokhandwala complex area of Mumbai. The groom's name was Sameer Dawood Wankhede who married Shabana Quraishi," the Qazi told a news channel, according to PTI. He also claimed that the "Mehar" amount mentioned in the Nikahnama was ₹33,000. "Mehar" in Islam is a security deposit which signifies a contract made by the groom and his family to his bride at the time of their Nikah.
What is the controversy over Sameer Wankhende's 1st marriage? 5 points
The NCB officer's first marriage is in the news after Maharashtra minister Nawab Malik on Wednesday claimed that Sameer Wankhede's first marriage was performed according to Islamic rituals. Earlier, Nawab Malik claimed Sameer Wankhede is Muslim, which Wankhede refuted claiming that he is from a multi-religious family, where his father is Hindu and his mother was a Muslim.
After the minister posted the purported photos of the 'Nikah', Wankhede said his first marriage was under the Islamic ritual as that was his mother's wish. He never converted to Islam and that's why after the 'Nikah', they got their marriage registered under the Special Marriage Act.
Source: Hindustan Times
Please click the following URL to read the full text of the original story:
https://www.hindustantimes.com/india-news/nikah-wouldn-t-have-been-performed-if-what-qazi-says-on-wankhede-s-marriage-101635334741988.html
--------
Tripura: Forces guard mosques after tension over Bangladesh violence
Oct 27, 2021
GUWAHATI: Security forces guarded mosques in Tripura on Wednesday after intimidating actions by some right-wing groups, in apparent revenge for deadly violence against Hindus in neighbouring Bangladesh.
Authorities have banned gatherings of more than four people in the most tense northern parts of the state while police have issued warnings about "provocative messages" spreading on social media.
Tripura has a 850-kilometre long border with Muslim-majority Bangladesh, where seven people were killed when a mob ransacked a Hindu temple this month.
The riots, sparked by footage of a Koran being placed on the knee of an idol during Durga Puja celebrations, spread to 12 districts in Bangladesh.
Source: Times of India
Please click the following URL to read the full text of the original story:
https://timesofindia.indiatimes.com/india/tripura-forces-guard-mosques-after-tension-over-bangladesh-violence/articleshow/87313388.cms
--------
Europe
Russia's Putin wants Israel's help in lifting US sanctions on Syria: Report
27 October ,2021
Russia President Valdimir Putin asked Israel's PM Naftali Bennett to encourage US President Joe Biden's administration to ease sanctions on Syria to allow Russian countries to take part in the reconstruction of the country, Israel officials told Axios.
"Israeli officials say Putin wants Russian companies to get most of the big reconstruction projects in Syria, to boost both revenues and Russian influence in the Syrian economy," Axios reported.
The US imposed tough sanctions on Syria under the Caesar Act during Donlad Trump's presidency. Washington said the sanctions aimed to cut revenue for Syrian President Bashar al-Assad government.
The US sanctions can freeze the assets of anyone dealing with Syria and cover many sectors.
Source: Al Arabiya
Please click the following URL to read the full text of the original story:
https://english.alarabiya.net/News/world/2021/10/27/Russia-s-Putin-wants-Israel-s-help-in-lifting-US-sanctions-on-Syria-Report
--------
German parliament's Turkish VP calls on immigrants to get involved in politics
Ayhan Simsek and Cuneyt Karadag
27.10.2021
BERLIN
The German parliament's new vice president has called on the country's young immigrants to get involved in politics to make their voices heard and shape their future.
German-Turkish politician Aydan Ozoguz said her election as the vice president of Bundestag shows that politicians with immigration backgrounds can also become successful in politics and reach top positions in the country.
"In the past, many immigrants felt like they were treated unfairly. Many of them thought they can never hold important positions, just because they were from immigrant families," she told Anadolu Agency after the vote in parliament on Tuesday.
Ozoguz said many young talented immigrants did not take part in political life due to their mistrust, but stressed it was wrong.
"I have been telling young people that if they step up, if they work towards their goals, they will be successful in getting the positions they deserve. I believe that with this election result, we were able to show this again," she said.
The 54-year-old politician has become the first ethnic Turkish politician to hold such a key position in national politics.
Ozoguz said she is proud of being elected to such an important position, and expressed hope that this will further help strengthen immigrant participation, and diversity in democratic politics.
The Social Democrat politician successfully garnered support from across the political spectrum in the Bundestag, and her candidacy was also backed by the environmentalist Greens, the pro-business Free Democrats, and the conservative Christian Democrats.
However, the lawmakers of the far-right Alternative for Germany (AfD) opposed her.
Ozoguz said she is aware of the AfD's stance against her, but expressed hope that they will change their attitude in the coming days.
Source: Anadolu Agency
Please click the following URL to read the full text of the original story:
https://www.aa.com.tr/en/europe/german-parliament-s-turkish-vp-calls-on-immigrants-to-get-involved-in-politics/2404812
--------
Southeast Asia
Report: 'Clean', multi-racial Pakatan will give Melaka voters better deal, says ex-CM Idris
26 Oct 2021
KUALA LUMPUR, Oct 26 — Former Melaka chief minister Datuk Seri Idris Haron has thrown his weight behind Pakatan Harapan (PH) to prevail in the upcoming state elections.
The recently sacked Umno politician, in an interview with English portal Free Malaysia Today (FMT), asserted how a government led by PH would be the better choice for Melaka voters.
Idris said he believes a combination of former chief ministers comprising himself and Parti Amanah Negara's Adly Zahari would be a good fit to govern the state, saying it was the best "offer" available to Melaka.
He asserted such leadership would be able to govern the state with integrity and transparency.
"We will prove that the government that will take over next will be a more responsible government, one that does not discriminate and that distributes the economic pie proportionately," he was quoted as saying in the report.
When quizzed on his next political party, Idris said meetings with party presidents and leaders are ongoing, but assured that it would be aligned with PH.
"(PH) will give the people of the state of Melaka a better offer in the coming state elections," he said.
The former Sungai Udang assemblyman also asserted that Melaka would be better off being governed by a multi-racial and "clean" administration, instead of a Malay-Muslim led government that is corrupt and incompetent.
Idris acknowledged that the former Barisan Nasional-led government was an all Malay-Muslim administration governing Melaka.
"Yes, they're Malay and Muslim, but what choice do we have?"
"On the one hand, a government that claims to be Malay-Muslim but is rotten, corrupted, incompetent, (subject to external) interventions, which discriminates, among other traits.
"On the other hand, a government of various backgrounds which possesses racial unity, that is more Islamic and capable of ensuring the welfare of the people of Melaka," he was quoted as saying.
Backing his claims, Idris alleged that aid programmes under the previous state government were distributed discriminately against those with differing political views, claiming that aid from the Melaka Islamic Religious Council (MAIM) was distributed in a hall decorated with party flags.
"We don't want party politics to take over the government, where one is asked which party they support when receiving aid. Then if you don't support me, you won't get the aid.
"That is a sickness that burdens the people of Melaka today. I'm confident that the MAIM aid distributed recently was an agenda that was not pure in heart and irresponsible advising recipients to support them and so on," he said.
Idris said this went against the beliefs of Islam, which he said teaches its believers to help all of those in need, regardless of their backgrounds.
"Islam doesn't distinguish between races. Islam doesn't distinguish between political backgrounds. If we really say that we are a Malay government that upholds Islam, then there should not be any political discrimination in giving aid to the people of Melaka," he said.
Dissolution
Concerning his defection from BN that triggered the state polls, Idris denied withdrawing support from incumbent chief minister Datuk Seri Sulaiman Md Ali to further his own pursuit to become chief minister.
He said if becoming chief minister was his main goal, such an objective could have been achieved a long time ago.
"I don't see that as a solid enough reason to cause such a major shift to happen in Melaka. If my goal was to become the chief minister again, it would have happened long ago," he said.
"Because when the (federal) government changed due to the Sheraton Move (last year) there were already offers at the time for me to be with them (PH) and they invited me to lead Melaka.
"And I didn't accept it, because I advised the PH government then to give BN a chance to lead (the state) and then we'll see how things go," he said.
When touching on why he withdrew his support from Sulaiman, Idris reiterated the apparent lack of leadership and the yes-man attitude of Sulaiman towards party seniors in Umno Melaka as the main causes.
Idris claimed Sulaiman was forcefully guided by other "figures" not part of the state government, likening it to a situation of "two lions on one mountain" with Melaka Umno chief and state legislative assembly Speaker Datuk Seri Abdul Rauf Yusoh the other alpha character.
"The (state assembly) speaker was a show-off and announced the assembly's dissolution, while the chief minister sat on the side. Then a few more announcements were made on government procedures.
"So from there, we could see who the two lions were. What should have been done by the chief minister or the state secretary, was done by the speaker," he said, referring to Ab Rauf.
Source: Malay Mail
Please click the following URL to read the full text of the original story:
https://www.malaymail.com/news/malaysia/2021/10/26/report-clean-multi-racial-pakatan-will-give-melaka-voters-better-deal-says/2016067
--------
China urges World Bank, IMF to help cash-strapped Afghanistan
28 October, 2021
Chinese Foreign Minister Wang Yi urged the World Bank and International Monetary Fund (IMF) on Wednesday to resume financing support to cash-strapped Afghanistan for reconstruction.
The Taliban takeover in August saw billions of dollars in central bank assets frozen and international financial institutions suspend access to funds, although humanitarian aid has continued.
Banks are running out of money, civil servants have not been paid and food prices have soared. The IMF said on Tuesday that Afghanistan's economy was set to contract up to 30 percent this year, possibly fuelling a refugee crisis.
"Afghanistan is in need of revival on all fronts, and development is the top priority," said Wang, speaking via video-link to foreign ministers from Afghanistan's neighbors.
Source: Al Arabiya
Please click the following URL to read the full text of the original story:
https://english.alarabiya.net/News/world/2021/10/28/China-urges-World-Bank-IMF-to-help-cash-strapped-Afghanistan
--------
Arab World
UAE a 'close ally' for collaboration on space innovation: Israel aerospace chief
28 October ,2021
The United Arab Emirates is an ideal partner for collaboration on space innovation and exploration and can help drive Middle East progress into the solar system, a leading Israel aerospace chief told Al Arabiya English.
Colonel Shlomi Sudri, general manager of Israel Aerospace Industries' Space Division, said, following the US-brokered Abraham Accords, the peace deal has paved the way for collaboration in science, technology – and now space.
"Dubai for us symbolizes technology and innovation on one side and on the other side international collaboration," said Sudri, speaking to Al Arabiya English on the sidelines of the International Astronautical Congress in Dubai. "We come to Dubai to seek for international collaboration, because we think that both Israel and the UAE, are tech hubs and we are leading local and international technology."
According to Sudri, Israel and the UAE working together can accelerate the technology and innovation in the region.
"I think that both of us are relatively small countries, but with big minds," he said.
UAE and Israel space programs
Both nations are already known for their forays into space.
Israel has witnessed near-unprecedented developments in space research, advanced technologies and the expansion of its private sector in recent decades. Including becoming the eighth country in the world to successfully launch and position satellites in space.
The Emirates' space program started in 2006 with a knowledge transfer program that saw Emirati engineers working with partners around the world to develop the UAE's spacecraft design, engineering and manufacturing capabilities, launching a series of earth observation satellites designed and built by Emirati engineers.
The country has already marked many milestones in space with the UAE's Hope Probe reaching the Red Planet in February - becoming only the fifth nation in history to do so.
The UAE has also recently announced that the country is setting a course for Venus and the main asteroid belt. The new interplanetary mission will launch in 2028 and will see the spacecraft go on a five-year expedition, orbiting Venus and Earth before reaching the main asteroid belt located between Mars and Jupiter in 2040.
UAE, Israel space agencies join forces
Earlier this week, the UAE Space Agency announced it is joining forces with the Israel Space Agency to boost cooperation in scientific research, space exploration and knowledge transfer.
It is the latest in a string of bilateral business agreements achieved between the two Middle East nations.
The UAE will exchange research and develop scientific instruments for Israel's Beresheet-2 mission to land a spacecraft on the Moon by 2024 as part of the landmark agreement.
Beresheet 2, was first announced in late 2020 and plans to set new global space records through a double landing on the moon and the installment of the lightest ever moon landers, each weighing 60 kilograms (132 pounds) without fuel.
It will be composed of three spacecraft — an orbiter and two landers — with the mission hoping to follow China in becoming only the second to successfully land on the far side of the moon.
The orbiter, known as the mothership, is set to remain in space for years, serving as a platform for educational science activities through a remote connection that allows students from around the world to participate in deep-space research.
Under the new partnership, universities in Israel and the UAE will also launch collaborative research projects.
They include exploring red tide phenomenon, analyzing red palm weevil infestation which threatens date palm cultivation, and mapping aerosols – solid and liquid particles suspended in the atmosphere.
Vegetation and environmental data gathered by a microsatellite used by the Israel Space Agency and the French Space Agency will also be shared with the UAE.
Sudri told Al Arabiya English that many more collaborations in the space sector will follow.
"In our region, we used to call Israel the startup nation. And I think that, that we can call the UAE the startup Emirates. When you combine the startup nation with the startup Emirates, I think we can open the boundaries and do a very exciting things up in space."
He said that the Israel Aerospace Industries hope to collaborate further with the UAE, especially in the field of next-generation satellite and communication systems and data sharing.
Source: Al Arabiya
Please click the following URL to read the full text of the original story:
https://english.alarabiya.net/News/middle-east/2021/10/28/UAE-a-close-ally-for-collaboration-on-space-innovation-Israel-aerospace-chief-
--------
Kosovo sanctions seven people, one company for links to Lebanon's Hezbollah
28 October ,2021
Kosovo on Wednesday sanctioned seven local businessmen and a company for links with Lebanon's military group Hezbollah.
The decision was in line with sanctions the US imposed on Hezbollah, a powerful Shia faction that holds seats in Lebanon's Parliament.
A statement said that seven people and the AID Properties company had their assets frozen. The seven can neither leave the country nor receive money from other individuals or companies from Kosovo.
Neither Lebanon nor Palestine recognize Kosovo's 2008 independence.
Source: Al Arabiya
Please click the following URL to read the full text of the original story:
https://english.alarabiya.net/News/middle-east/2021/10/28/Kosovo-sanctions-7-people-1-company-for-links-to-Lebanon-s-Hezbollah
--------
8 Sunni civilians killed in Shia revenge attack in Iraq's Diyala
Ali Jawad
27.10.2021
BAGHDAD
Eight Sunni civilians were killed by Shia gunmen in an apparent revenge attack in Iraq's eastern Diyala province on Wednesday, according to a local police officer.
The attack came one day after suspected Daesh/ISIS militants attacked the predominantly Shia village of al-Rashad in Diyala Tuesday evening, killing at least 15 people and injuring 13 others.
"Hundreds of gunmen from the Bani Tamim [Shia] tribe attacked the Sunni village of Al-Imam in response to Tuesday's attack," the police officer told Anadolu Agency, requesting anonymity because he was not authorized to brief the media.
He said a number of houses and farmlands were set on fire during the attack.
In recent months, Daesh/ISIS terrorists have escalated their attacks, especially in the area between Kirkuk, Salahuddin, and Diyala, known as the Triangle of Death.
Source: Anadolu Agency
Please click the following URL to read the full text of the original story:
https://www.aa.com.tr/en/middle-east/8-sunni-civilians-killed-in-shia-revenge-attack-in-iraqs-diyala/2404763
--------
Saudi Arabia designates Lebanon's Al-Qard al-Hassan terrorist entity, freezes assets
27 October ,2021
Saudi Arabia designated Al-Qard al-Hassan (AQAH) association as a terrorist organization for financing Lebanon's Iranian-backed militant group Hezbollah, state news agency SPA reported on Wednesday.
The State Security Presidency also froze all of AQAH's assets inside the Kingdom and prohibited any direct or indirect transactions with the association by financial institutions, businesses and people.
"[AQAH] is linked to activities supporting Hezbollah's terrorist organization, as it works to manage Hezbollah's finances and its funding, including supporting its military purposes," the statement said.
The US had designated Al-Qard al-Hassan finance firm in Beirut as a terrorist organization in 2007 for providing financial support to Hezbollah.
According to the US Treasury, AQAH "masquerades as a non-governmental organization (NGO) under the cover of a Ministry of Interior-granted NGO license, providing services characteristic of a bank in support of Hezbollah while evading proper licensing and regulatory supervision."
"By hoarding hard currency that is desperately needed by the Lebanese economy, AQAH allows Hezbollah to build its own support base and compromise the stability of the Lebanese state. AQAH has taken on a more prominent role in Hezbollah's financial infrastructure over the years, and designated Hezbollah-linked entities and individuals have evaded sanctions and maintained bank accounts by re-registering them in the names of senior AQAH officials," the Treasury said.
Source: Al Arabiya
Please click the following URL to read the full text of the original story:
https://english.alarabiya.net/News/gulf/2021/10/27/Saudi-Arabia-designates-Lebanon-s-Al-Qard-al-Hassan-terrorist-entity-freezes-assets-
--------
Mideast
Near 150 extremist Jewish settlers defile Aqsa Mosque
October 28, 2021
Dozens of extremist Jewish settlers on Wednesday morning desecrated the Aqsa Mosque in Occupied al-Quds under police escort.
According to local sources, at least 141 settlers entered the Mosque in groups through its Maghariba Gate and toured its courtyards under tight police protection.
The Aqsa Mosque is exposed to daily desecration by Jewish settlers and police forces in the morning and the afternoon except on Fridays and Saturdays.
The Israeli police close al-Maghariba Gate, which is used by Jews to enter the Mosque, at 10:30 am after the settlers complete their morning tours at the holy site. Later in the afternoon, the same gate is reopened for evening tours by settlers.
Source: ABNA24
Please click the following URL to read the full text of the original story:
https://en.abna24.com/news//near-150-extremist-jewish-settlers-defile-aqsa-mosque_1193081.html
--------
Iranian FM: Caretaker Gov't in Kabul Responsible for Security of Afghan People
2021-October-27
The security of Afghan citizens and the country's borders was upon the caretaker government in Kabul, Amir Abdollahian said in Tehran on Wednesday, addressing a meeting of Afghanistan neighbors plus Russia.
He expressed the hope that the meeting of foreign ministers of Afghanistan's neighboring countries could send a unified message to the global community and Afghanistan.
Iran supports formation of an all-inclusive government in Afghanistan, the top diplomat said, adding that every country should help bring Afghanistan out of the current situation.
He named respecting the sovereignty and territorial integrity of other countries and the principle of non-intervention among the basic principles of foreign policy of the Islamic Republic of Iran.
Exit from the current crisis in Afghanistan requires internal coherence and leveraging all capacities and potentials of the country, the foreign minister added.
He called on all neighboring countries and the world community to pay special attention to the humanitarian situation, expansion of terrorism, drug trafficking, human rights situation and women in Afghanistan.
Current problems in Afghanistan are rooted largely in foreign intervention and the US should shoulder the responsibility for the tragedies it caused in Afghanistan during the last two decades, Amir Abdollahian said.
Source: Fars News Agency
Please click the following URL to read the full text of the original story:
https://www.farsnews.ir/en/news/14000805000374/Iranian-FM-Careaker-Gv'-in-Kabl-Respnsible-fr-Secriy-f-Afghan-Peple
--------
Spokesman: Iran Holding Afghan Neighbours Meeting to Convey Message of Opposition to Foreign Interference
2021-October-27
"Lasting peace and stability depend on the fulfillment of the people's will," Khatibzadeh tweeted.
The Iranian diplomat noted that the message of the Tehran meeting is cooperation and convergence of neighbors instead of competition, as well as participation of all popular groups in the future political structure of Afghanistan.
"The meeting also rejects foreign interference in Afghanistan," he added.
Khatibzadeh announced earlier on Tuesday that the second foreign ministerial meeting of neighbors of Afghanistan plus Russia will be held here on Wednesday.
He said that Iranian President Seyed Ebrahim Rayeesi will inaugurate the meeting and deliver a speech.
The meeting is underway with participation of foreign ministers of six neighbors to Afghanistan.
Source: Fars News Agency
Please click the following URL to read the full text of the original story:
https://www.farsnews.ir/en/news/14000805000385/Spkesman-Iran-Hlding-Afghan-Neighbrs-Meeing-Cnvey-Message-f-Oppsiin-
--------
President Rayeesi Calls for Broadening of Ties with Turkmenistan, Pakistan
2021-October-27
"I thank Turkmenistan for its cooperation and support for Iran's permanent membership in the Shanghai Cooperation Organisation (SCO)," President Rayeesi said in a meeting with Turkmen Foreign Minister Rashid Meredov in Tehran.
"Relations between Iran and Turkmenistan are beyond political and economic relations and stem from the heart and belief between the two nations and the level of these relations should increase day by day," he added.
Pointing out that the capacity to expand Tehran-Ashgabat relations is far beyond the current level, the President said, "Increasing the level of relations by activating cooperation capacities in various fields, specially transit and energy, is in the interest of the two nations and the region."
In his meeting with Pakistani Foreign Minister Shah Mahmoud Qureshi, the Iranian president said, "Iran sees no restrictions on increasing economic and security relations with Pakistan."
Referring to the meeting of foreign ministers of Afghanistan's neighbouring countries hosted by Iran, the President said, "We hope this meeting can expel the Americans from the region and find a solution to solve Afghanistan's problems."
The Pakistani foreign minister, for his part, said during the meeting, "There is a feeling between the people of Iran and Pakistan as Afghanistan's neighbours to work for national peace and reconciliation in the country."
Iranian Foreign Ministry Spokesman Saeed Khatibzadeh announced earlier on Tuesday that the second foreign ministerial meeting of neighbors of Afghanistan plus Russia would be held here on Wednesday.
Source: Fars News Agency
Please click the following URL to read the full text of the original story:
https://www.farsnews.ir/en/news/14000805000648/Presiden-Rayeesi-Calls-fr-Bradening-f-Ties-wih-Trkmenisan-Pakisan
--------
Iran agrees to restart nuclear deal talks in November: Chief negotiator
27 October ,2021
Iran agreed to restart talks to revive the abandoned 2015 nuclear dear in November, Tehran's lead nuclear negotiator Ali Bagheri said on Wednesday.
"We agree to start negotiations before the end of November. Exact date will be announced in the course of the next week," Bagheri, who is also the deputy Foreign Minister said, according to state news agency IRNA.
The EU, which acts as a coordinator for the deal, has been trying to restart negotiations to revive the Iran nuclear deal which was abandoned after former US President Donald Trump withdrew from the accord in 2018.
Source: Al Arabiya
Please click the following URL to read the full text of the original story:
https://english.alarabiya.net/News/middle-east/2021/10/27/Iran-agrees-to-restart-nuclear-deal-talks-in-November-Chief-negotiator
--------
International Committee Founded to Promote Prophet's Seerah, Thoughts In Istanbul
October 28, 2021
The "International Committee to Support the Prophet of Islam" announced its establishment in Turkey's Istanbul on Tuesday.
The opening ceremony was held with presence of more than 300 officials and scholars from around the globe including former Hamas leader Khaled Mashaal, and Ali Muhiuddin Al-Qurra Daghi, Secretary General of the International Union of Muslim Scholars, according to Arabi21.
The committee aims work under the guidance of scholars and introduce the Holy Prophet's (PBUH) Seerah in all languages of the world with the hope of "filling the gap through which some malicious people penetrate."
Source: ABNA24
Please click the following URL to read the full text of the original story:
https://en.abna24.com/news//international-committee-founded-to-promote-prophet%e2%80%99s-seerah-thoughts-in-istanbul_1193076.html
--------
Africa
Sudan army chief Burhan relieves six ambassadors, including US, EU, France, Qatar
28 October ,2021
Sudan's army chief General Abdel Fattah al-Burhan relieved six Sudanese ambassadors from their posts, including in Washington and Paris, state TV reported on Wednesday.
The decision included Sudan's ambassadors to the US, EU, France, China, Qatar and the head of Sudan's mission to Geneva.
Sudan's military seized power from the transitional government on Monday. Burhan ordered the dissolution of the government and declared a state of emergency.
For the latest headlines, follow our Google News channel online or via the app.
The General said he was trying to stave off a "civil war" in the country.
Thousands of people took to the streets to protest the military's coup. Several people died in clashes with security forces.
Burhan had detained Abdalla Hamdok, the prime minister of the deposed transitional government, claiming it was for his safety. Hamdok has since been released.
Other ministers and civilian leaders remain in detention.
Source: Al Arabiya
Please click the following URL to read the full text of the original story:
https://english.alarabiya.net/News/north-africa/2021/10/28/Sudan-army-chief-Burhan-relieves-six-ambassadors-including-US-EU-France-Qatar
--------
Sudan's military launches arrest campaign against activists, journalists
Mohammed Amin
28.10.2021
KHARTOUM, Sudan
Sudan's military has arrested more members of the country's civilian leadership after detaining Health Minister Omar El Najeeb and Irrigation Minister Yasser Abbas, sources with the prime minister's office said Wednesday.
Meanwhile, sources with the Sudanese Professionals Association (SPA) said the military has launched a widespread arrest campaign targeting activists and other former officials.
The military leaders have already arrested the majority of the government officials and Prime Minister Abdalla Hamdok is still under house arrest, the sources confirmed.
Other officials including the prime minister's former media adviser, Fayez Seleik, and leading SPA member Ismail Al-Taj were among those arrested.
The Sudanese Journalist Network (SJN) has also said that around five journalists have been arrested while others have been summoned for investigation by the security organs.
On Monday, Sudan's military announced a state of emergency and dissolved the transitional Sovereign Council and the government hours after detaining Prime Minister Hamdok and ministers in his civilian government.
Source: Anadolu Agency
Please click the following URL to read the full text of the original story:
https://www.aa.com.tr/en/africa/sudan-s-military-launches-arrest-campaign-against-activists-journalists/2405128
--------
African Union suspends Sudan amid military takeover
Addis Getachew
27.10.2021
The African Union on Wednesday suspended Sudan from all its activities.
The decision will remain in effect until the reinstatement of the Sudan Transitional Government formed over two years ago after the ouster of former President Omar al-Bashir.
In a statement, the African Political, Peace and Security council (PAPS) urged the reinstatement of the transitional government that brought together both the military and civilian officials.
Welcoming the release of Prime Minister Abdalla Hamdok, it called on the military wing led by Gen. Abdel Fattah al-Burhan to release detained Cabinet members and other civilian officials.
On Monday, Sudan's military announced a state of emergency, dissolved the transitional sovereign council and the government, hours after detaining Prime Minister Hamdok and ministers in his civilian government.
Shocked by the military takeover, the UN and numerous countries have urged a return to the transitional process envisaged to culminate in a national election.
After a failed military coup last month, deep tensions erupted between the military and the civilian administration in Sudan amid recent rival protests.
Source: Anadolu Agency
Please click the following URL to read the full text of the original story:
https://www.aa.com.tr/en/africa/african-union-suspends-sudan-amid-military-takeover/2405012
--------
North America
United Nation of Islam 'Cult' Members Charged With Unpaid Child Labour and Abuse
October 28, 2021
Federal prosecutors allege eight people connected to a Kansas-based organization conspired to provide unpaid child labour to businesses across the country and physically abused them for years.
The organization, formerly known as the United Nation of Islam and the Value Creators, was labelled a cult by a federal judge in the District of Kansas in 2018.
The building believed to be the former headquarters of the United Nation of Islam in Kansas City.
In an indictment unsealed Tuesday, prosecutors alleged the Kansas City group beat children, imposed severe dietary restrictions and forced children, some as young as 8, to work without pay, The Kansas City Star reported.
Royall Jenkins had been a member of the Nation of Islam until 1978, when he founded the separate United Nation of Islam. He persuaded his followers that he was shown the proper way to rule the Earth after being "taken through the galaxy by aliens on a spaceship," according to the indictment. At one point, the group had hundreds of followers.
Eight leaders of the organization, including three of Jenkins' "many wives," were named in the indictment after they were arrested in cities across the U.S. They are Randolph Hadley, Jacelyn Greenwell, Etinia Kinnard, Dana Peach, Daniel Jenkins, James Staton, Yunus Rassoul and Kaaba Majeed.
They are accused of conspiracy to commit forced labour and forced labour. None of the defendants had an attorney listed in federal court records.
Prosecutors allege that beginning in October 2000, the organization ran businesses such as gas stations, bakeries and restaurants in several states using unpaid labor from group members and their children, some as young as 8.
Parents were encouraged to send their children to an unlicensed school in Kansas City, Kansas, called the University of Arts and Logistics of Civilization, which did not provide appropriate instruction in most subjects.
The indictment said those who didn't attend the school were forced to work instead.
Some of the child victims worked in businesses in Kansas City, while others were trafficked to businesses in other states, including New Jersey, New York, Ohio, Maryland, Georgia and North Carolina, the indictment alleges.
Prosecutors said the victims also lived in "overcrowded dormitories, barracks, or households of adult members who were not related," and many were forced to work up to 16 hours per day. Their diet consisted of bean soup, salad, and occasionally fruit, and frequent cleanses were ordered that included only consuming lemon juice for days.
Source: Fox News
Please click the following URL to read the full text of the original story:
https://www.foxnews.com/us/united-nation-islam-cult-members-charged-child-abuse
--------
UN high commissioner denounced Israeli regime over blacklisting Palestinian rights groups
October 28, 2021
UN high commissioner for human rights Michelle Bachelet on Tuesday denounced Israel's blacklisting of six Palestinian rights organizations on terror allegations, describing its decision as an attack on human rights defenders, on freedoms of association, opinion and expression, and on the right to public participation.
She called for the move to be immediately revoked.
According to a press release issued by the commissioner's office, the organizations concerned are some of the most reputable human rights and humanitarian groups in the occupied Palestinian territory and for decades have worked closely with the UN.
The UN human rights chief said Israel's anti-terrorism legislation should not be applied to legitimate human rights and humanitarian aid activities.
"Claiming rights before a UN or other international body is not an act of terrorism, advocating for the rights of women in the occupied Palestinian territory is not terrorism, and providing legal aid to detained Palestinians is not terrorism," Bachelet stated.
"The organizations, which include some of the key partners of the UN Human Rights Office, face far-reaching consequences as a result of this arbitrary decision, as do the people who fund them and work with them," Bachelet said.
"The crucial work they perform for thousands of Palestinians risks being halted or severely restricted," she added.
"The designation decisions contravene the right to freedom of association of the individuals affected and more broadly have a chilling effect on human rights defenders and civic space. Any restrictions on the right to freedom of association must meet a strict test of necessity and proportionality," the UN official underlined.
"In addition, these latest developments highlight how problematic Israel's counter-terrorism law is, including its overly broad definition of terrorism, problems of due process and the manner in which it allows evidence to be kept secret," she added.
Source: ABNA24
Please click the following URL to read the full text of the original story:
https://en.abna24.com/news/un-high-commissioner-denounced-israeli-regime-over-blacklisting-palestinian-rights-groups_1193083.html?__cf_chl_jschl_tk__=pmd_j1aYA1qs8GTaNzT56llpHUi_lvGXzblL0M2O6K9smG4-1635403933-0-gqNtZGzNApCjcnBszQkl
--------
Pentagon condemns Sudan's military, top US diplomat asks how Washington can help
28 October ,2021
The Pentagon condemned Sudan's military for its recent "takeover" of the country's transitional government, a US Defense Department spokesperson said Wednesday.
"These actions are counter to the democratic aspirations of the Sudanese people, contravene the Constitution Declaration, and undermine the Juba Peace Agreement," the spokesperson told Al Arabiya in an e-mail.
Sudan's military seized power from the transitional government on Monday after the top general, Abdel Fatah al-Burhan, ordered the arrest of Prime Minister Abdalla Hamdok and several other senior government officials.
"We are deeply concerned with the Sudanese military's takeover of the transitional government and intent to maintain power until democratic elections are held. We call on the military to unconditionally release and reinstate all detained civilians in order to allow the civilian-led transition to continue its progress toward elections," the Pentagon official said.
The official added: "We call on the Sudanese security forces to respect the right of the Sudanese people to peacefully protest."
Separately, US Secretary of State Antony Blinken spoke with his Sudanese counterpart, Mariam al-Mahdi, to "solicit her views about what steps the United States can take to support the Sudanese people in their call for a civilian-led transition to democracy in accordance with the Sudanese Constitutional Declaration."
Blinked renewed his call for the immediate release of the detained civil leaders and reiterated the condemnation of the military takeover.
Burhan dissolved the transitional government and declared a state of emergency just hours after he met with US Special Envoy for the Horn of Africa Jeffrey Feltman.
Feltman visited Khartoum for the second time in less than a month in a bid to stave off what was seen as a tense standoff between the civilian-led transitional government and the military, which was supposed to hand over power in the coming weeks.
Source: Al Arabiya
Please click the following URL to read the full text of the original story:
https://english.alarabiya.net/News/middle-east/2021/10/28/Pentagon-condemns-Sudan-s-military-top-US-diplomat-asks-how-Washington-can-help
--------
US tells Iran 'window will not remain open forever' to revive nuclear deal
27 October ,2021
The US urged Iran on Wednesday to show "good faith" after it agreed to return to negotiations over the abandoned 2015 nuclear deal and warned that the window of opportunity to revive the accord would not last forever.
"We are prepared to return to Vienna, and we believe that it remains possible to quickly reach and implement an understanding on return to mutual full compliance [with the 2015 nuclear deal]," a State Department spokesperson told AFP.
The US and EU have been trying for months to restart negotiations to revive the Iran nuclear deal which was abandoned after former US President Donald Trump withdrew from the accord in 2018.
The negotiations, in Vienna, have stalled since the election of Iranian President Ebrahim Raisi in June.
Iran's lead nuclear negotiator Ali Bagheri-Kani announced on Wednesday that Tehran agreed to restart nuclear talks in November. It was the first time Iranian officials set a date for talks since negotiations came to a halt in June.
The State Department spokesperson said the talks should focus on "closing the small number of issues that remained outstanding at the end of the sixth round of talks in June."
Source: Al Arabiya
Please click the following URL to read the full text of the original story:
https://english.alarabiya.net/News/middle-east/2021/10/27/US-tells-Iran-window-will-not-remain-open-forever-to-revive-nuclear-deal
--------
Erdogan says will discuss with Biden F-35 jets during COP26 summit in Glasgow
27 October ,2021
Turkey's President Recep Tayyip Erdogan said he will discuss his country's participation in the F-35 jet program with US President Joe Biden on the sidelines of the COP26 climate summit in Glasgow, which starts Sunday.
"During the meeting, the issue of F-35 fighter jets will top the agenda. We have a 1.4 billion payment regarding the F-35s. We need to discuss how the repayment plan will be," state broadcaster TRT cited Erdogan as saying.
Erdogan had previously said he planned to meet with Biden during the upcoming G20 meeting in Rome.
The US removed Turkey from the F-35 joint strike fighter program in 2019 over its concerns because of Ankara's purchase of Russia's S-400 missile defense system.
Erdogan had said earlier this month that his country was in talks with the US to buy F-16 fighter jets instead of the F-35.
However, the US did not confirm that it offered Turkey the sale of F-16 fighter jets but said that it has not made Turkey a financing offer for the warplanes.
The Turkish president also stressed that Ankara is determined to recoup $1.4 billion paid to the US for F-35 fighter jets Washington blocked it from buying.
Erdogan's comments on the F-35 jets come days after he backtracked his threat to expel US and nine other Western countries' ambassadors over their calls for the "urgent release" of philanthropist Osman Kavala, who has been imprisoned for four years, charged with financing protests in 2013 and involvement in the failed coup in 2016.
Source: Al Arabiya
Please click the following URL to read the full text of the original story:
https://english.alarabiya.net/News/world/2021/10/28/Erdogan-says-will-discuss-with-Biden-F-35-jets-during-COP26-summit-in-Glasgow
--------
URL: https://www.newageislam.com/islamic-world-news/pakistan-supreme-court-hindu-gymkhana-karachi/d/125664
New Age Islam, Islam Online, Islamic Website, African Muslim News, Arab World News, South Asia News, Indian Muslim News, World Muslim News, Women in Islam, Islamic Feminism, Arab Women, Women In Arab, Islamophobia in America, Muslim Women in West, Islam Women and Feminism