New Age Islam News Bureau
01 January 2021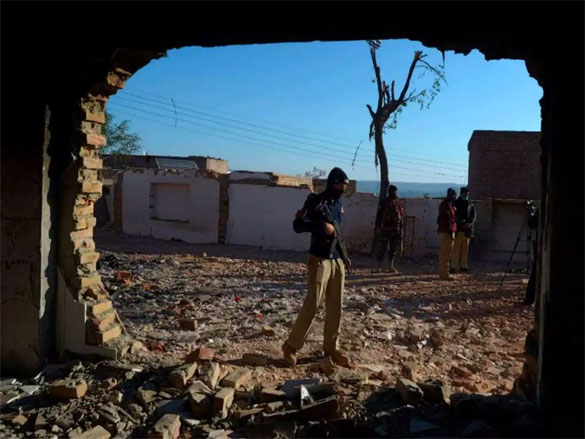 Hindu shrine razed by a mob led by supporters of local clerics in Karak district of northwestern Khyber Pakhtunkhwa province
-----
• In Late Trump Salvo, US Rejects UN Budget over Disagreements on Israel and Iran
• UN Condemns Iran's 'Appalling' Execution of Young Offenders
• Fake Federations of Fatwa Are Enemies of Humanity: Union Minority Affairs Minister
• China Offering Bounties for Attacks on US Troops in Afghanistan: Reports
• Israel Says It Hit 50 Targets in Syria In 2020 Including Govt, Iran, Hezbollah Forces
• Ethiopian Forces Killed Scores in Unrest after Singer's Death, Says Report
Pakistan
• Pakistan SC Takes Suo Motu Cognisance of Temple Demolition by a Mob Led By Supporters of Local Clerics
• Provincial Government to Pay for Pakistan Hindu Temple Destroyed By Mob
• Pakistan, India Exchange Nuclear Installations List In Annual Practice
• Pak Hindus Stage Protest against Demolition of Temple in Khyber Pakhtunkhwa
• JUI-F leaders among 31 arrested over Hindu shrine attack in Karak
• Durrani meets Fazl to coax him into avoiding confrontation
• PDM huddle today after PPP 'somersault'
• Mufti Muneeb announces drive against FATF-related law
• Chinese, Pakistani FMs agree on need to deepen cooperation
--------
North America
• In Late Trump Salvo, US Rejects UN Budget over Disagreements on Israel and Iran
• Trump desperately trying to trigger war with Iran: Academic
• China Offered Bounties to Fighters In Afghanistan Who Attacked US Soldiers?
• US to send home only Navy aircraft carrier operating in Middle East amid Iran tension
• Cuban president slams US plan to place island on terrorism list
--------
Mideast
• UN Condemns Iran's 'Appalling' Execution of Young Offenders
• Houthi hails 'balanced deterrence' against Saudi Arabia, predicts 'victory' for Yemen
• Israel's settlement approvals in 2020 highest on record: Palestinian NGO
• Senior Diplomat Highlights US Heavy Defeat against Iran at UNSC
• Hamas arrests Palestinian for taking down banner of Iran's Soleimani in Gaza
• Iran's Zarif: Intelligence from Iraq shows Trump aims to fabricate 'pretext for war'
• Israeli regime's attempts to Judaize occupied Jerusalem al-Quds will fail, Hamas says
--------
India
• Fake Federations of Fatwa Are Enemies of Humanity: Union Minority Affairs Minister
• BJP MP Tejasvi Surya Opposes Renaming Of Bengaluru Roads, Says, This Is Dangerous And Must Be Condemned
• 4 Booked In First Case under U'khand Anti-Conversion Law
• India Lodges Strong Protest With Pakistan over Demolition of Temple
• J&K-based Punjabi jeweller gets domicile, shot dead by terrorists
• Not disputing slain youths were 'terrorists': J&K DGP
• 225 terrorists killed in J&K in 2020: DGP J&K
• Pakistan troops violate ceasefire along LoC, target mosques and houses in Kupwara
--------
South Asia
• China Offering Bounties for Attacks on US Troops in Afghanistan: Reports
• Freezing Climate: Challenges Afghan Children's Survival
• A Nangarhar Reporter Realizes, Individual Killed in IED Blast Is His Brother
--------
Arab World
• Israel Says It Hit 50 Targets in Syria In 2020 Including Govt, Iran, Hezbollah Forces
• Syria War killed 6,800 in 2020, lowest annual toll: Monitor
• Saudi warplanes bomb Yemeni capital after blast at Aden airport
• US troops shoot dead Syrian child in Hasakah Province
• Roadside bomb explosion targets US-led coalition military convoy in southern Iraq
--------
Africa
• Ethiopian Forces Killed Scores in Unrest after Singer's Death, Says Report
• Is Boko Haram Gaining Foothold in Nigeria's Northwest?
• 'Our children die in our hands': Floods ravage South Sudan
--------
Europe
• Italy Slams Egypt's Decision To Clear Police In Italian Student Regeni's Murder
• ISIS claims knife attack by two assailants in capital of Russia's southern Chechnya
--------
Southeast Asia
• Mahathir Slams 'Lie' That PN A Malay-Muslim Govt
• Indira Gandhi's 2021 journey to reunite with stolen daughter
• DAP can't win beyond 18 federal seats? We've done it thrice before without your help, Kit Siang tells Dr Mahathir
Compiled by New Age Islam News Bureau
URL: https://www.newageislam.com/islamic-world-news/pakistan-sc-takes-suo-motu/d/123947
--------
Pakistan SC Takes Suo Motu Cognisance of Temple Demolition by a Mob Led By Supporters of Local Clerics
Dec 31, 2020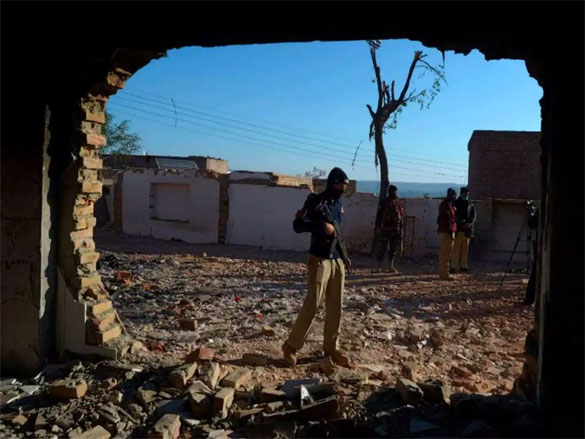 Hindu shrine razed by a mob led by supporters of local clerics in Karak district of northwestern Khyber Pakhtunkhwa province
-----
ISLAMABAD: Chief Justice of Pakistan Gulzar Ahmed took suo motu cognisance on Thursday of the razing of a Hindu shrine by a mob led by supporters of local clerics in Karak district of Northwestern Khyber Pakhtunkhwa province.
The case is to be taken up for hearing on January 5. Chief justice Ahmed directed the chairman of the minority rights commission, police chief and chief secretary of Khyber-Pakhtunkhwa to submit a report regarding the incident by January 4.
A notification issued by the apex court stated that the chief justice took notice of the incident after meeting Pakistan Hindu Council patron-in-chief Ramesh Kumar. "I trust the judiciary to deliver justice in the case," Kumar said.
Meanwhile, police arrested 14 people in overnight raids and claimed that more raids were underway to arrest individuals who participated or provoked the mob to demolish the shrine.
The shrine was attacked on Wednesday after members of the Hindu community received permission from local authorities to renovate the building. According to witnesses, the mob was led by a local cleric and supporters of a religious political party.
Eyewitnesses claimed that the clerics led the mob to the shrine to force a halt to the construction. Several rioters, they said, had grown incensed by the rhetoric and set fire to the shrine before using construction tools to destroy it.
The samadhi (shrine) of Shri Paramhans Ji Maharaj is considered sacred by the Hindu community and Hindu devotees, especially from Sindh, who used to visit it frequently.
This wasn't the first time that the shrine has been targeted by bigots. In 1997, a group of Muslim fanatics destroyed it. Since its refurbishment in 2015, it has had police and guards stationed outside.
The temple's destruction drew condemnation from human rights activists and the minority Hindu community.
Chela Ram Kewlani, chairman of the National Commission on Minorities, strongly condemned the incident, saying that those responsible cannot be called human beings. "This is indeed a black day for all of us. I request people from all religions to come forward and support the cause so that strict action is taken against the people responsible for it," he said.
https://timesofindia.indiatimes.com/world/pakistan/pak-sc-takes-suo-motu-cognisance-of-temple-demolition/articleshow/80051266.cms
--------
In Late Trump Salvo, US Rejects UN Budget Over Disagreements On Israel And Iran
01 January 2021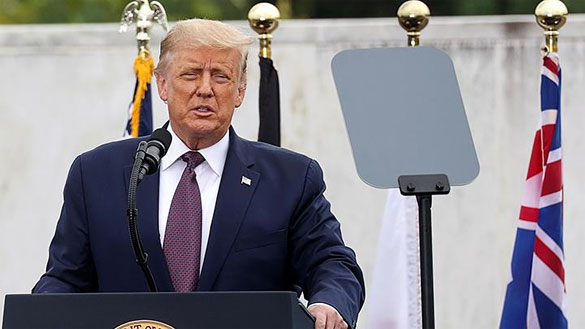 President Donald Trump
-----
President Donald Trump's outgoing administration on Thursday fired a late salvo against the United Nations by voting against its budget, citing disagreements on Israel and Iran, but it found virtually no international support.
Only Israel voted with the United States, with 167 nations in favor, as the General Assembly closed the year by approving the $3.231 billion UN budget for 2021.
For all the latest headlines follow our Google News channel online or via the app.
Kelly Craft, the US ambassador to the United Nations, voiced objections that the budget would fund a 20th anniversary event for the 2001 UN conference on racism in Durban, South Africa, where the United States walked out in solidarity with Israel over what it said was a fixation by Muslim-majority countries against the Jewish state.
The United States, the biggest funder of the UN, "called for this vote to make clear that we stand by our principles, stand up for what is right and never accept consensus for consensus's sake," Craft said on the General Assembly floor.
"Twenty years on, there remains nothing about the Durban Declaration to celebrate or to endorse. It is poisoned by anti-Semitism and anti-Israel bias," she said.
Israel's ambassador to the UN, Gilad Erdan, said that the Durban conference "will become another meeting demonizing the Jewish state -- it will be used once again to slander us and to launch false accusations of racism against Jewish self-determination."
The General Assembly separately approved a resolution backing follow-up efforts on the Durban conference.
That resolution passed 106-14 with 44 abstentions. The United States and Israel were joined in voting no by Western powers including Britain, France and Germany.
Craft also complained about how the United States received almost no support in the world body in September when it declared that UN sanctions against Iran had come back into force.
The Trump administration said it was triggering UN sanctions due to alleged Iranian violations of a nuclear deal negotiated by former president Barack Obama, but even US allies scoffed at the argument that Washington remained a participant in an accord that Trump had loudly rejected.
"The US doesn't need a cheering section to validate its moral compass," Craft said.
"We don't find comfort based on the number of nations voting with us, particularly when the majority have found themselves in an uncomfortable position of underwriting terrorism, chaos and conflict."
Craft said that the US vote would not change its UN contribution, including 25 percent of peacekeeping expenditures and some $9 billion a year in UN-channelled humanitarian relief.
President-elect Joe Biden is expected to seek a more cooperative relationship with the UN including stopping a US exit from the World Health Organization, which Trump blamed for not doing more to stop Covid-19.
https://english.alarabiya.net/en/News/middle-east/2021/01/01/In-late-Trump-salvo-US-rejects-UN-budget-over-disagreements-on-Israel-and-Iran
--------
UN Condemns Iran's 'Appalling' Execution Of Young Offenders
31 December 2020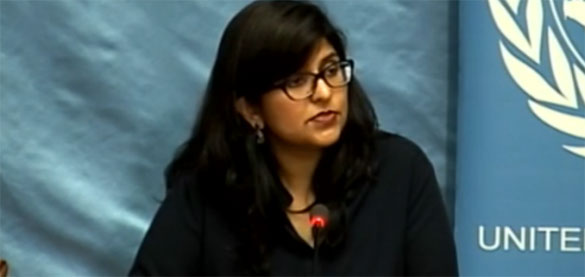 Ravina Shamdasani, spokesperson for the UN Office of the High Commissioner for Human Rights, at a press conference in Geneva, February 24, 2017 (UN screenshot).
-----
The UN voiced outrage at the execution Thursday of a man in Iran who was only 16 when he committed his alleged crime, marking the fourth juvenile offender put to death in the country this year.
The UN human rights office said that Mohammad Hassan Rezaiee was executed early Thursday.
It did not provide further details about Rezaiee or the crime he was convicted of, allegedly committed when he was 16.
But according to Amnesty International, he was arrested in 2007 in connection with the fatal stabbing of a man in a brawl and had spent more than 12 years on death row.
"The execution of child offenders is categorically prohibited under international law and Iran is under the obligation to abide by this prohibition," UN rights office spokeswoman Ravina Shamdasani said in a statement.
The UN High Commissioner for Human Rights, Michelle Bachelet, "strongly condemns the killing," she added.
Shamdasani said the rights office was dismayed that the execution had taken place despite its efforts to engage with Tehran on the case.
"There are deeply troubling allegations that forced confessions extracted through torture were used in the conviction of Mr. Rezaiee," she said, adding that there were also "numerous other serious concerns about violations of his fair-trial rights."
She noted that Rezaiee's execution, the fourth of a juvenile offender in 2020, had come shortly after a series of other executions in Iran.
The December 12 execution of the France-based dissident Ruhollah Zam sparked an international outcry, with Western governments accusing Tehran of abducting him abroad to put him on trial.
And Shamdasani noted that at least eight people were executed at different prisons across the country between December 19 and 26 alone.
She warned that unconfirmed reports suggested that at least eight others were at risk of "imminent execution".
Many people convicted of committing crimes as minors are awaiting execution in the country.
"The UN has repeatedly urged Iran to cease the appalling practice of executing child offenders, but we understand that at least 80 child offenders remain on death row," Shamdasani said.
Bachelet, she said, "urges Iranian authorities to halt all executions of child offenders and immediately review their cases in line with international human rights law."
https://english.alarabiya.net/en/News/middle-east/2020/12/31/UN-condemns-Iran-s-appalling-execution-of-young-offenders
--------
Fake Federations of Fatwa Are Enemies of Humanity: Union Minority Affairs Minister
December 31, 2020
New Delhi: Union Minority Affairs Minister Mukhtar Abbas Naqvi on Thursday said that fake federations of fatwa work against the welfare of common people and they are enemies of humanity.
"They have opened up shops for fatwas and just like vegetable vendors go about selling vegetables on their thelas (carts), they are going about selling fatwas ''fatwa le lo, fatwa le lo''. When the Covid-19 vaccine arrives, they will be the ones who will be the first to take it and then they will issue a fatwa and put the lives of others in danger," Mr Naqvi said while speaking to ANI.
"Earlier, they used to issue fatwa against the vaccine which was given to Haj Yatris to keep them safe. Now, they are trying to do it for the Covid-19 vaccine which is in the offing. It is their habit. They want to play with the health and welfare of common people. They had also raised questions on the vaccine for dengue. They completely work against the welfare of common people and are against humanity."
The Minority Affairs Minister said that those who were opposing the Citizenship Amendment Act (CAA) should realise that the government brought this law to deliver justice to the people who were victims of cruelty in the neighbouring countries, with a special reference to Pakistan.
"In Pakistan, the cruelty committed against minorities is not hidden from anyone. The people who were raising questions on CAA should understand that the government brought this legislation to deliver justice to people who were victims of this cruelty. Women and children are killed brutally there," he said.
"People who have "Bharatphobia" talk about the rights of minorities in India. They should see and read about the situation there. Cruelty has crossed all limits there," he added.
Mr Naqvi further said that the world should see how minorities are being killed in Pakistan.
Further alluding to the situation in Pakistan, Mr Naqvi said that in a country where there 25-26 per cent minorities at the time of independence, today there are less than 2 per cent minorities.
"On the contrary, in India there were 9 per cent minorities at the time of independence and today there are more than 20 per cent," he said.
https://www.ndtv.com/india-news/union-minority-affairs-minister-mukhtar-abbas-naqvi-fake-federations-of-fatwa-are-enemies-of-humanity-2346262
--------
China Offering Bounties for Attacks on US Troops in Afghanistan: Reports
By Mohammad Haroon Alim
31 Dec 2020
President Donald Trump listens during a White House videoconference with members of the military on Nov. 26, 2020.Erin Schaff | The New York Times | Bloomberg | Getty Images
Trump administration declassified an unconfirmed intelligence, showing that the Chinese government offered bounties to nonstate bodies in Afghanistan to attack stationed American troops, and recently the president was briefed according to the matter.
The revelation was first reported by Axios on Wednesday, the report is said to have been uncorroborated
Washington Examiner reported, that two senior administration officials separately confirmed the reports on the declassified intelligence with the news firm.
In a report by the POLITICO, it is said that US National Security Adviser Robert O'Brien briefed President Donald Trump on the unconfirmed allegations on December 17, 2020.
The official went on to described the recent intelligence as "rumors" and lacking "hard evidence," Politico said in a report.
According to POLITICO allegations involving Chinese operatives in Afghanistan is being handled differently than those involving Moscow earlier this year.
The US "treats this intelligence with caution, but any intelligence or reports relating to the safety of US forces is something we take very seriously," officials Told Politico.
Biden Transition team seeks to learn "as much as we can about these allegations," said a transition official, noting that the news is "another illustration of why we need full cooperation" from the Pentagon, Politico Indicated.
Biden earlier this week accused Defense Department leadership of obstructing the transition, according to the report.
https://www.khaama.com/china-offering-bounties-for-attacks-on-us-troops-in-afghanistan-reports-66556644/
--------
Israel says it hit 50 targets in Syria in 2020 including govt, Iran, Hezbollah forces
31 December 2020
Israel's military, which rarely comments on individual strikes in Syria blamed on its forces, said Thursday it had hit about 50 targets in the neighbouring country in 2020.
The annual report released by the Israel Defence Forces did not provide details about the targets hit, but Israel is believed to have launched hundreds of strikes in Syria since the start of the civil war in 2011.
For all the latest headlines follow our Google News channel online or via the app.
They have targeted government troops, allied Iranian forces and fighters from the Lebanese group Hezbollah.
The Jewish state has consistently vowed to prevent its arch-enemy Iran gaining a foothold in Syria, where Tehran has backed President Bashar al-Assad throughout the nearly decade-long war.
A military spokeswoman told AFP that figures in the report were correct as of December 20.
The latest strike in Syria blamed on Israel came Wednesday, when missile fire from the Jewish state hit a military position near Damascus, Syrian news agency SANA reported, citing a military source.
SANA said one Syrian soldier was killed and three others wounded.
Israel's military declined to comment on the incident.
Overall, Israeli warplanes flew 1,400 "operational" sorties in 2020, the report said, without elaborating.
Regarding the Palestinian conflict, the report said 176 rockets were fired from the Hamas-ruled Gaza Strip into Israel, of which 90 fell on open ground.
It said that Israeli missile defences had intercepted 80 rockets.
Israel and Hamas have fought three wars since the Islamists took power in Gaza in 2007.
The first came in December 2008, when Israel launched "Operation Cast Lead" to stop rocket fire into Israel.
It ended with a ceasefire in January 2009, after 1,440 Palestinians and 13 Israelis were killed.
On Tuesday, Hamas and other armed groups staged military exercises in Gaza, including firing rockets into the sea, to mark the anniversary of the start of the 2008 conflict.
https://english.alarabiya.net/en/News/middle-east/2020/12/31/Israel-says-it-hit-50-targets-in-Syria-in-2020-including-govt-Iran-Hezbollah-forces
--------
Ethiopian forces killed scores in unrest after singer's death, says report
01 January 2021
A new report says Ethiopian security forces killed more than 75 people and injured nearly 200 during deadly unrest in June and July after the killing of a popular singer. More than 30 others were beheaded, tortured or dragged in the streets by attackers amid ethnic slurs.
The Ethiopian Human Rights Commission in its report released on Friday says 123 people in all were killed and at least 500 injured in one of the country's worst outbreaks of ethnic violence in years, a "widespread and systematic attack" against civilians that points to crimes against humanity.
Ethnic violence is a major challenge to Nobel Peace Prize-winning Prime Minister Abiy Ahmed, who has urged national unity among more than 80 ethnic groups in Africa's second most populous country.
The unrest in June and July followed the killing of singer Hachalu Hundessa, who had been a prominent voice in the anti-government protests that led to Abiy taking office in 2018 and announcing sweeping political reforms.
The unrest was unrelated to the conflict in Ethiopia's northern Tigray region that began in early November, another sign of the tensions straining the country of some 110 million people at the heart of the Horn of Africa.
A spokeswoman for Abiy's office did not immediately comment. Interviews with government officials and security figures were part of the commission's investigation, which also involved visiting some 40 communities.
https://english.alarabiya.net/en/News/world/2021/01/01/Ethiopian-forces-killed-scoresin-unrest-after-singer-s-death-says-report
--------
Pakistan
Provincial government to pay for Pakistan Hindu temple destroyed by mob
01 January 2021
A Hindu temple in Pakistan destroyed by a mob last week will be rebuilt using provincial government funds, its information minister said Friday.
Around 1,500 people descended on the temple - in a remote village of northeast Khyber Pakhtunkhwa province - after protesting against renovations being made to an adjoining building owned by a Hindu group.
They used sledgehammers to knock down walls before setting the building ablaze.
"We regret the damage caused by the attack," said Kamran Bangash, the provincial information minister.
"The chief minister has ordered the reconstruction of the temple and adjoining house," he told AFP.
Construction will start as soon as possible with the support of the Hindu community, he said, adding security would be provided at the site.
Pakistan's top court has ordered authorities to submit a report on the temple's destruction.
Discrimination and violence against religious minorities are common in Pakistan, where Muslims make up 97 percent of the population and Hindus around two percent.
The temple, which was destroyed in similar circumstances in 1997 and then rebuilt, is located some 160 kilometers (100 miles) southeast of Peshawar, the provincial capital.
While no Hindus live in the area, devotees often visit the temple and its shrine to pay homage to the Hindu saint Shri Paramhans, who died there before the 1947 partition of India that gave birth to Pakistan.
District police chief Irfanullah Khan told AFP around 45 people had been detained in connection with the incident - including a local cleric, Maulana Sharif, who is accused of inciting the mob.
Khan added police are also looking for Maulana Mirza Aqeem, the district leader of Jamiat Ulema-e-Islam (JUI-F), one of Pakistan's largest Islamist parties.
Last year, the US placed Pakistan on a list of "countries of particular concern" for religious freedom violations.
https://english.alarabiya.net/en/News/world/2021/01/01/Provincial-government-to-pay-for-Pakistan-Hindu-temple-destroyed-by-mob
--------
Pakistan, India exchange nuclear installations list in annual practice
Naveed Siddiqui
01 Jan 2021
Pakistan and India on Monday exchanged lists of their nuclear installations and strategic facilities under the terms of an agreement which restricts the two countries from attacking each other's atomic facilities in case of war, a statement from the Foreign Office said.
The annual exchange, which has been conducted on the first day of every new year since 1992, began after a December 1988 pact between the two rival states termed the 'Agreement on Prohibition of Attacks against Nuclear Installations and Facilities between Pakistan and India'.
As part of the exchange, the Foreign Office handed over its list to the Indian High Commission while the Indian Ministry of External Affairs handed over a similar list to an officer of the Pakistan High Commission in New Delhi.
Pakistan and India first exchanged the lists on January 1, 1992. Under the agreement, both the parties are to "refrain from undertaking, encouraging or participating in, directly or indirectly, any action aimed at causing the destruction of, or damage to, any nuclear installation or facility in the other country".
The two countries have been rivals for 70 years and have fought three wars in that period.
Present ties between the two remain particularly strained due to a string of recent developments beginning from the Feb 2019 Pulwama suicide attack, which India blamed on Pakistan, in which 44 of its soldiers were killed in occupied Kashmir.
Days after the Pulwama incident, the two nuclear states came on the brink of war after an aerial dogfight between the two air forces, resulting in the downing of two Indian fighter planes and Pakistan capturing one of the pilots.
In August 2019, India's revocation of occupied Kashmir's special status in violation of UNSC resolutions led to further deterioration of ties between the two.
Recently, Pakistan has warned that India is planning another "false-flag operation" similar to the one it conducted in the aftermath of the Pulwama incident, warning that any such act will be met with a strong response from Pakistan – as had happened in Feb 2019.
https://www.dawn.com/news/1599055/pakistan-india-exchange-nuclear-installations-list-in-annual-practice
--------
Pak Hindus stage protest against demolition of temple in Khyber Pakhtunkhwa
Dec 31, 2020
AMRITSAR: Hindu men, women, and children from all walks of life staged a protest in Karachi on Thursday against the demolition of a Hindu temple in Karak district of Khyber Pakhtunkhwa (KPK) province on Wednesday.
"This incident would have never happened if the then administration had given exemplary punishment to the miscreants who had earlier made a similar attempt in 1997," said Ramesh Kumar Vankwani, patron-in-chief of Pakistan Hindu Council and member of National Assembly.
He said the demolished Hindu temple was a 'samadhi' of Hindu saint Shri Paramhans Ji Maharaj. He alleged the temple was demolished by Maulana Sharif, saying he led the mob that desecrated and burnt it.
Vankwani said from 1997 to 2014 the temple remained closed but was restored in 2015 on the direction of the Supreme Court.
Notably, the temple was demolished allegedly in the presence of district administration officials.
He further alleged that Pakistan's Evacuee Trust Property Board(ETPB), responsible for the repair and maintenance of holy shrines of Hindus and Sikhs, had done nothing for the restoration of the temple.
"The Maulana was active for the past few months and we had the information that the temple would come under attack on December 30."
After receiving this information Vankwani took up the issue with deputy commissioner of Karak, who assured him that the admnistration will take care of stopping any such attempt.
Meanwhile, chief justice of Pakistan Justice Gulzar Ahmad has taken cognizance of the matter and had listed the matter before the Supreme court on January 5.
He has also directed the One Man Commission on Minority Rights, chief secretary of KPK and Inspector General of Police, KPK to visit the site and submit their report by January 4.
https://timesofindia.indiatimes.com/world/pakistan/pak-hindus-stage-protest-against-demolition-of-temple-in-khyber-pakhtunkhwa/articleshow/80048778.cms
--------
JUI-F leaders among 31 arrested over Hindu shrine attack in Karak
01 Jan 2021
KARAK: Police arrested 31 people including district leaders of Jamiat Ulema-i-Islam-Fazl (JUI-F) here on Thursday for vandalising and demolishing the shrine of a Hindu saint in Teri area of the district.
Police officials told Dawn that JUI-F senior leader Rehmat Salam Khattak was also among the arrested persons. He was arrested from his residence in Chokara area of Takht-i-Nusrati tehsil. He served as provincial general secretary of PML-N before joining JUI-F.
Officials said that they raided the houses of people, who were involved in the attack on the shrine. However, several of them, who took part in damaging the shrine, went underground to avoid arrest, they added.
Teri police registered an FIR against the people involved in the attack for defiling place of worship, hurting religious sentiments, robbery, hurt, arson, mischief and assault. The FIR also included section 7 of Anti-Terrorism Act.
Terrorism section included in FIR; political parties ask govt to bring attackers to justice
The FIR stated that Maulana Mohammad Sharif during a protest informed the gathering about the shrine and said that they would neither allow a Hindu shrine on the soil of Teri nor the visits by Hindus.
It said that during his speech, he asked the participants numbering 1,000 to 1,500 to destroy the shrine.
"Whoever dies while demolishing the shrine would be a martyr," the FIR quoted the cleric telling the crowd.
It said that about 400 people led by Maulana Sharif attacked the shrine and set it on fire.
It said that the attackers also opened fire on police. It added that the mob also took away artefacts from the shrine.
Provincial police chief Dr Sanaullah Abbasi also visited the Hindu shrine. He said that investigations were underway and FIR was lodged in the case. He said that 31 accused were arrested for attacking the shrine while 350 persons were nominated in the FIR and raids were being conducted for their arrest.
Ishaq Khattak, a local elder, told Dawn that situation remained calm in Teri and mostly locals stayed away from the site of occurrence. He said that Teri Bazaar also remained closed.
Meanwhile, the district chapter of Pakistan Tehreek-i-Insaf condemned the incident and said that chief minister and IGP should take practical steps for the arrest of the people involved in the attack on Hindu shrine.
Addressing a press conference, PTI district general secretary Kamran and senior vice president Ashiq Muneer said that it was an act of few individuals and should not be attributed to the entire Khattak tribe.
They said that stringent action should be taken against the people involved in the attack.
They said that police committed criminal negligence during the attack and district administration failed to take timely steps to prevent the incident.
They demanded of the chief minister to suspend deputy commissioner, district police officer and DSP of tehsil Banda Daud Shah and other responsible administrative officers for their failure to preempt the attack.
In Peshawar, Awami National Party provincial president Aimal Wali Khan condemned the incident and described it as an attempt to pave way for resurgence of violence in Pakhtun region.
In a statement, he said that provincial government should bring to justice those people, who led the mob to attack the shrine. He said that it was prime duty of the government to provide security to all citizens including non-Muslims and their places of worship.
The ANP leader also condemned setting on fire houses in Waziristan and said that such incidents would increase violence in the Pakhtun belt. He said that Pakhtuns were peace-loving people, who always played role for promoting interfaith harmony.
In Kohat, minority leaders condemned vandalising of Hindu shrine in Karak and said that India would use the incident against Pakistan. Former district councillor Mubashir Naz in a statement said that the stigma attached to such a big incident could not be removed.
Advocate Rohit Kumar said that the incident hurt the feelings of the Hindus living in Sindh.
https://www.dawn.com/news/1598969/jui-f-leaders-among-31-arrested-over-hindu-shrine-attack-in-karak
--------
Durrani meets Fazl to coax him into avoiding confrontation
Zulqernain Tahir
01 Jan 2021
LAHORE: A day before an important huddle of the Pakistan Democratic Movement (PDM) in Jati Umra, Raiwind, to hammer out the issue of en mass resignations from the assemblies, Pakistan Muslim League-Functional (PML-F) secretary general Mohammad Ali Durrani called on PDM president Maulana Fazlur Rehman on Thursday night to convey to him a "message" about finding some other way instead of pursuing a collision course that may lead to wrapping up of the "democratic system".
This is Mr Durrani's second meeting with the PDM leadership within a week. Earlier, he met PML-N president and Opposition Leader in National Assembly Shehbaz Sharif in Kot Lakhpat jail, asking him to play a role in convincing the opposition not to quit assemblies and initiation of a grand dialogue.
Maryam Nawaz, who is acting as de facto president of the PML-N in the absence of Mr Shehbaz, had expressed her "annoyance" over Durrani-Shehbaz meeting and pointed at the establishment for arranging this meeting without the consent of Mr Shehbaz or the party. She categorically declared that the time for any kind of dialogue was over.
Maulana Fazl, who is also chief of JUI-F, told reporters after the meeting that there was no room for talks with the PTI government.
"There can be dialogue (with the powers that be) only if Prime Minister Imran Khan resigns and fresh elections are called," he made it clear.
Talks are possible only after Imran resigns, insists PDM chief
The Maulana said engaging in dialogue with the government at this stage would amount to disappointing the people of Pakistan.
"Today Pakistan's economy has been weakened. The country has no friend in the region. Saudi Arabia and UAE, which provided us funds to strengthen our foreign reserves, are taking back their money. The government has taken loan from China to return the Saudi money at a huge rate of 14 per cent markup."
He said those who had brought the PTI to power should realise that every day of the PTI government would be a step towards destruction.
Asked whether PPP chairman Bilawal Bhutto-Zardari was not coming to attend the Jati Umra meeting of PDM on Friday (today), he said it was not necessary for every leader of the opposition alliance to attend all of its meetings.
Earlier, Ms Nawaz had said that the PPP chairman would explain his party's position over resignations and the fate of the Sindh government.
The Central Executive Committee of the PPP had decided that the party would take part in coming Senate elections and by-polls, showing that it has no intention to resign from assemblies before the Senate polls.
Mr Durrani told reporters that he had conveyed to the Maulana a message from his party chief Sibghatullah Rashidi, better known as Pir Pagaro.
Mr Durrani had been a federal minister during Musharraf regime and is considered close to the establishment. The PML-F is an ally of the Pakistan Tehreek-i-Insaf (PTI)-led government.
Mr Durrani said that the "collision course" the PDM, was going to adopt would have "serious consequences".
https://www.dawn.com/news/1598972
--------
PDM huddle today after PPP 'somersault'
Amir Wasim
01 Jan 2021
ISLAMABAD: The heads of the opposition Pakistan Democratic Movement (PDM) will go into a huddle on the first day of the year 2021 (today) at Raiwind in an effort to come up with a united stance on the issue of en masse resignations and participation in the upcoming elections on a number of seats of the national and provincial assemblies and the Senate.
PDM president and Jamiat Ulema-i-Islam (JUI-F) chief Maulana Fazlur Rehman and vice president of the Pakistan Muslim League-N (PML-N) Maryam Nawaz, after their late-night meeting in Islamabad on Wednesday, had announced that they wanted to provide an opportunity to Pakistan Peoples Party (PPP) chairman Bilawal Bhutto-Zardari to present his viewpoint on the issues of resignations and participation in the coming elections after which they would try to develop a consensus.
PML-N's supremo Nawaz Sharif had also participated in the meeting of the PML-N and the JUI-F leaders via a video link from London in which the leaders of the two parties discussed various options in the wake of the PPP's reluctance over the proposal of en masse resignations as part of their anti-government campaign.
According to the Maulana, the PDM leaders in their meeting on Friday (today) would make "final decisions" on key issues and devise the future course of action.
"We will like to directly hear from Bilawal Bhutto Zardari. Let's see what he presents before the PDM," said Ms Nawaz in response to a question during the brief media chat with Maulana Fazlur Rehman.
Issues of resignations, by-polls on assembly seats and Senate elections on top of agenda
Both the Maulana and Ms Nawaz welcomed Mr Bhutto-Zardari's announcement that all the future decisions would be made collectively from the PDM platform and termed it a "positive attitude".
Responding to a question, Ms Nawaz said that so far her party had made no decision regarding participation in the by-elections and the Senate polls. She said whatever decision they would make in this regard, it would be from the PDM's platform.
Speaking at a news conference after presiding over a meeting of the party's Central Executive Committee in Karachi on Dec 29, the PPP chairman had stated that the CEC believed "that if we (joint opposition) take up the challenge of Senate elections collectively we can make a better impact and achieve larger success."
He had said that he would take up the CEC's decisions before the PDM leadership and discuss a further plan of the opposition's movement against the Pakistan Tehreek-i-Insaf (PTI) government.
An interesting point came up during the PPP chairman's presser when he was asked about the details of the discussion and opinions of the party leaders at the CEC meeting but he avoided to give details.
Asked about the "strong opinion" within the PPP for return of the PML-N supremo to the country, Mr Bhutto-Zardari preferred to move on to the next question.
Sources said that PML-N's supreme leader would also address the PDM leaders through a video link from London on Friday. According to an official announcement, Mr Bhutto-Zardari and former president Asif Zardari would also attend the meeting via a video link from Karachi. However, a party delegation comprising former prime ministers Yousuf Raza Gilani and Raja Pervaiz Ashraf, Qamar Zaman Kaira and Farhatullah Babar will attend the PDM's meeting at Raiwind.
Political experts are terming the PDM's meeting as significant as it is happening after the PPP's CEC meeting in which the party had decided to take part in the by-polls on the vacant national and provincial assemblies seats and the Senate whereas the other component parties of the PDM, including the JUI-F and the PML-N, are of the view that they should not provide any legitimacy to the present legislatures which they have announced they will leave.
The first phase of the PDM's anti-government movement had come to an abrupt end with the public meeting in Lahore on Dec 13 as the leadership had failed to announce any future plan to intensify their campaign. Though, the PDM leaders had declared they would make an announcement regarding district-wise protests, shutterdown and wheel-jam strikes and the long march during the Lahore public meeting, no such plan was announced from the stage.
Later, the PDM leaders set Jan 31 deadline for Prime Minister Imran Khan to resign or face a decisive long march to Islamabad sometime in February.
It was after a meeting of the heads of the constituent parties of the PDM in Islamabad on Dec 8 that Maulana Fazlur Rehman had announced that all the national and provincial lawmakers belonging to the opposition would hand over their resignations individually to the heads of their parties by Dec 31.
The Maulana had announced the decision during a press talk after presiding over a more than four-hour-long summit of the alliance which was also addressed by Mr Sharif and former president Zardari through video link from London and Karachi, respectively.
The PDM leadership, however, had failed to come up with an agreed plan regarding the use of their most lethal weapon of en masse resignations and its timing and Maulana Fazl simply announced that the steering committee of the PDM would meet in Islamabad the next day "to decide the schedule for further rallies and demonstrations and the date for long march towards Islamabad".
The next day, however, before the meeting of the steering committee could take place, the PDM leaders once again gathered at the residence of the Maulana for a luncheon meeting after which Mr Bhutto-Zardari categorically declared that his party would come out with a final decision regarding en masse resignations after discussing it at its CEC.
Sources in the PDM said that the PPP leaders during the meeting were not very enthusiastic to the proposed move and Mr Zardari was not in favour of Mr Sharif's proposal to hand over the resignations to Maulana Fazl for future use and it was on his proposal that finally other parties agreed on the PPP's suggestion that the resignations should be collected by the party heads.
https://www.dawn.com/news/1598979/pdm-huddle-today-after-ppp-somersault
--------
Mufti Muneeb announces drive against FATF-related law
01 Jan 2021
ISLAMABAD: Only a day after his removal as head of the Ruet-i-Hilal Com­­mittee, Mufti Munee­bur Rehman on Thursday announced laun­ching of a campaign against the government under aegis of the newly-established Tehreek Tahaffuz-i-Masajid-o-Madaris over a legislation related to the Financial Action Task Force (FATF) that was passed in a joint sitting of the parliament in September.
The announcement was made by Mufti Muneeb himself at a conference that had been organised by the new group. Ulema belonging to various seminaries of the Deobandi and Ahl-i-Hadees schools of thought attended the conference.
At the conference it was announced that implementation of the Islamabad Capital Territory Waqf Properties Bill 2020, which was adopted by the parliament amid protests by opposition parties, would be resisted.
The speakers declared that the law had been imposed under a conspiracy against Islamic institutions, in the garb of registration of religious seminaries.
Mufti Muneeb said the act had been passed by the parliament under pressure from the FATF. "Religious restrictions are not accepted in an Islamic republic like Pakistan and if authorities try to impose them, we will resist them," he said.
Secretary General of the Jamiat Ulema-i-Islam-F Mau­­lana Abdul Ghafoor Haideri said clerics in the parliament were the "first line of defence against any law that was contrary to Islam. He said the prime minister should take another U-turn and withdraw the act.
https://www.dawn.com/news/1598993/mufti-muneeb-announces-drive-against-fatf-related-law
--------
Chinese, Pakistani FMs agree on need to deepen cooperation
Baqir Sajjad Syed
01 Jan 2021
ISLAMABAD: Pakistan and China on Thursday decided to deepen their cooperation and work together for peace and stability in the region.
This was agreed between the two countries during a telephone conversation between Foreign Minister Shah Mahmood Qureshi and his Chinese counterpart Wang Yi, which continued for an hour.
The conversation, the Foreign Office said, was arranged to "reaffirm the depth and breadth" of bilateral 'All-Weather Strategic Cooperative Partnership' and exchange views on Covid-19, bilateral relations, and regional and international issues of mutual interest.
"Both foreign ministers agreed to maintain strategic communication and consultation, at all levels, to promote mutual goals of peace and stability in the region and beyond, and expressed commitment to further strengthening all-round cooperation and taking the bilateral relationship to a higher level for shared benefit of the two countries," said the statement.
Foreign Minister Wang hoped that 2021 would witness further deepening of Pakistan-China ties.
It was being expected that Chinese President Xi Jinping would visit Pakistan in the early part of 2021. However, it now appears that the trip may not happen in the coming months as FM Qureshi has been invited to visit Beijing for "maintaining momentum of high-level exchanges". Mr Qureshi has accepted the invitation.
Chinese minister says Beijing will make over one million doses of Covid-19 vaccine available
"Foreign Minister Wang Yi expressed satisfaction over Pakistan and China's cooperation on regional and international issues and reaffirmed the vitality of the time-tested All-Weather Strategic Cooperative Partnership which remained unaffected by the vicissitudes of the regional and international developments and continued to move from strength to strength," the FO said.
Talking about efforts to deal with Covid-19, Mr Qureshi recalled the bilateral mechanisms in this regard and said they were playing a useful role in controlling the pandemic, resuming economic growth and restoring supply chains across the region.
Mr Qureshi informed his counterpart that Phase-III trials of Covid-19 vaccine produced by Chinese firm CanSino were progressing well in Pakistan. He, moreover, told him that his government had approved another Chinese vaccine of Sinopharm for emergency use in Pakistan and hoped for its early availability from China.
The government has announced its decision to procure 1.2 million doses of the vaccine from the Chinese state-controlled firm.
Mr Wang assured Mr Qureshi that China would provide over one million doses of the vaccine to Pakistan for emergency use.
INDIA: The two ministers also discussed the threat posed by Indian actions to regional peace.
"FM Qureshi briefed State Councilor and Foreign Minister Wang Yi about India's aggressive posture in the region and how New Delhi's bellicose and irresponsible policies were imperiling regional peace and stability," the FO said.
"The foreign minister also emphasised that Pakistan and China must continue to closely coordinate efforts to advance the shared objectives of peace, stability and economic development in Afghanistan," it added.
Mr Qureshi described the China-Pakistan Economic Corridor as a "transformational project", and hoped that BRI and CPEC would become "the hub of trade and economic activity, sustainable development and greater people-to-people exchanges".
He said both countries were taking measures for timely completion of CPEC projects. He said the 10th JCC meeting, which would be held shortly, would play an instrumental role in taking CPEC further.
https://www.dawn.com/news/1598975/chinese-pakistani-fms-agree-on-need-to-deepen-cooperation
--------
North America
Trump desperately trying to trigger war with Iran: Academic
31 December 2020
An Iranian-American political scientist says he believes outgoing US President Donald Trump is desperately trying to tiger a war with Iran on the eve of the anniversary of Pentagon assassination of Lieutenant General Qassem Soleimani.
Kaveh L. Afrasiabi, who has taught political science at Tehran University, Boston University, and Bentley College, is the author and co-author of several books, including Trump and Iran: From Containment to Confrontation.
Afrasiabi made the remarks in an interview with Press TV on Thursday ahead of the first anniversary of the martyrdom of General Soleimani by the US military on January 3 in Iraq.
As the Trump administration is engaged in provocations in the run-up to the anniversary, Iran's Foreign Minister Mohammad Javad Zarif has warned that the Islamic Republic avoids military conflict, but is prepared to defend the country.
"Iran doesn't seek war but will OPENLY & DIRECTLY defend its people, security & vital interests," Zarif tweeted on Thursday.
"With less than a month to the end of his wretched presidency, Trump may still cause further mischief by igniting a war in the region. Having failed to bring Iran to its knees with the maximum pressure strategy, Trump is dangerous to world peace and is apt to trigger a war with Iran through a false flag operation coinciding with the first anniversary of General Soleimani's assassination," Afrasiabi said.
He added that Iran's best revenge is to deprive Trump of his sinister wish to harm Iran in the waning days of his presidency, by promoting regional tranquility and peaceful, cooperative interaction with the neighbors.
"Iran's national security interests dictate utmost vigilance and, at the same time, assiduous effort toward war-avoidance," the analyst advised.
"As a co-author of a book on Trump, I have no doubt that Trump's Iran policy is untenable and will not be sustainable under the new administration, which is why Trump has been deliberately trying to escalate tensions and thicken the spider web of US military in the region in order to make it harder for his successor to disentangle himself from this web," he noted.
"It is an irrefutable fact that despite all the Trumpian pressures, Iran's clout in the region has grown and US's hegemony is on the decline, a net legacy of General Soleimani, which must be preserved at all costs, above all by the exercise of prudent caution and regional and international diplomacy," he stated.
https://www.presstv.com/Detail/2020/12/31/641965/Trump-desperately-trying-to-tiger-war-with-Iran
--------
China offered bounties to fighters in Afghanistan who attacked US soldiers?
Jan 1, 2021
US President Donald Trump was briefed this month about intelligence reports that China had offered to pay bounties to fighters in Afghanistan who attacked US soldiers there, but the information was uncorroborated and comes months after Trump dismissed as a "hoax" a CIA assessment that Russia had paid for such attacks.
It is unclear whether the intelligence on China shows that any bounties were paid or whether any attacks on U.S. personnel were even attempted. US intelligence agencies collect enormous amounts of information, much of which turns out to be false or misleading.
The information, included in the president's written briefing Dec. 17 and relayed verbally by the national security adviser, Robert O'Brien — was earlier reported Wednesday night by Axios and confirmed by US officials.
It comes at a time when Trump administration officials, including the director of national intelligence, John Ratcliffe, have sought to put more pressure on China, partly in the hope of limiting any plans by the incoming Biden administration to ease tensions with Beijing.
Trump, Ratcliffe and other officials have also sought to direct attention toward Chinese misbehavior in areas where other U.S. officials consider Russia to be a greater threat, including computer hacking and the use of disinformation to disrupt American politics.
After the disclosure this month that the U.S. government had been subjected to a huge cyberbreach that U.S. officials, including Secretary of State Mike Pompeo, confidently attributed to Russia, Trump angrily cast doubt on that notion and sought to implicate Beijing. "Russia, Russia, Russia is the priority chant when anything happens," Trump wrote on Twitter, charging that the news media avoids "discussing the possibility that it may be China (it may!)."
The Axios report said Wednesday that the underlying intelligence on the bounties, about which it obtained no further details, would be declassified, although it was unclear why or for whom. White House officials would not elaborate but did not dispute that the intelligence was uncorroborated.
Although tensions between the United States and China have escalated significantly during the Trump era, Beijing is not known to provide substantial support to anti-American proxies in combat zones like Afghanistan, and some national security experts were initially skeptical that Beijing would support attacks on Americans. By contrast, many considered similar reports about Russian bounties to be credible.
If confirmed, and particularly if traced to political leaders in Beijing, such an action by China would constitute a grave provocation that might demand a response by President-elect Joe Biden after he takes office in January.
A Biden transition official would not say Wednesday night whether Biden, who now receives official daily intelligence briefings, had been presented with the same information as the president.
But the official said that the Biden team would seek to learn more about it from the Trump administration and that it underscored the importance of a fully cooperative transition process, including with the Defense Department, which Biden on Monday accused of "obstruction."
"Right now," Biden said in Wilmington, Delaware, "we just aren't getting all the information that we need from the outgoing administration in key national security areas."
Months before the report involving China, the Pentagon and US intelligence agencies were investigating reports collected this year, and first reported by The New York Times, that Russian military intelligence agents had offered to pay Taliban-linked fighters in Afghanistan for the killing of US soldiers there.
The CIA assessed with medium confidence that Russia had covertly offered and paid the bounties to a network of Afghan militants and criminals. The National Security Agency placed lower confidence in the intelligence. But Pompeo, for one, took the reports seriously enough to issue a stern face-to-face warning this summer to his Russian counterpart.
Trump was similarly provided with a written briefing on that intelligence, but publicly he dismissed it as "fake news" and an extension of what he called the "Russia hoax," including the investigation into his 2016 campaign's ties to the Kremlin. At the same time, the president suggested that subordinates had not done enough to draw the report about Russia to his attention.
"If it reached my desk, I would have done something about it," Trump said in July. U.S. officials have said that the assessment regarding Russia was included in his written intelligence brief in February but that he rarely reads that document.
In multiple subsequent conversations with President Vladimir Putin of Russia, Trump did not raise the matter.
Many questions are outstanding about the unverified intelligence regarding China, including when such bounties were said to be offered, by whom and to whom. The United States and its coalition partners in Afghanistan are fighting not only the Taliban but also al-Qaida, the Islamic State and various other militant and criminal groups.
The reportedly planned release of more information comes at a time when Democrats and many career intelligence officials are concerned that Trump officials like Ratcliffe have sought to selectively declassify intelligence for political purposes, like the Russia investigation and election interference.
https://timesofindia.indiatimes.com/world/us/china-offered-bounties-to-fighters-in-afghanistan-who-attacked-us-soldiers/articleshow/80054791.cms
--------
US to send home only Navy aircraft carrier operating in Middle East amid Iran tension
31 December 2020
The Pentagon has decided to send home the only Navy aircraft carrier operating in the Middle East, a move that would reduce US firepower in the region amid heightened tensions with Iran, officials said Thursday.
The decision, confirmed by three defense officials but not yet publicly announced, emerged one day after Air Force B-52 bombers flew nonstop from the United States to the Arabian Gulf in a show of force that military officials said was intended to caution Iran against carrying out attacks against US forces or interests. The officials were not authorized to publicly discuss the decision and spoke on condition of anonymity.
For all the latest headlines follow our Google News channel online or via the app.
Sending the aircraft carrier, the USS Nimitz, home to the US West Coast would seem at odds with the idea that a show of force is needed to deter Iran. This might reflect a split within the defense establishment on whether Iran poses a heightened threat to strike in the waning days of the Trump administration.
Earlier this week, an American military officer close to the situation told reporters that the US had detected signs that Iran had made preparations for possible attacks on US or allied targets in Iraq or elsewhere in the Mideast. This was the reason for dispatching two B-52 bombers from the US to briefly overfly the Gulf on Wednesday, said the officer, who spoke on condition of anonymity to discuss internal assessments.
President Donald Trump recently cited "chatter" that Iran might strike. Days after a Dec. 20 rocket attack on the US Embassy compound in Baghdad by Iranian-supported Shia militia groups, Trump tweeted that Iran was on notice.
"Some friendly health advice to Iran: If one American is killed, I will hold Iran responsible. Think it over," Trump wrote on Dec. 23. He added, "We hear chatter of additional attacks against Americans in Iraq."
US concerns have been tied to the approach of the Jan. 3 anniversary of the American airstrike that killed Iran's top commander, Gen. Qassem Soleimani. Iran initially retaliated with a ballistic missile strike on a military base in neighboring Iraq that caused dozens of brain concussion injuries but no deaths among US troops.
But US officials are concerned that Iran might be planning further retaliation.
Because of the potential for escalation that could lead to a wider war, the US has sought to deter Iran from additional attacks. Strategic calculations on both sides are further complicated by the political transition in Washington to a Biden administration that may seek new paths to dealing with Iran. President-elect Joe Biden has said, for example, that he hopes to return the US to a 2015 agreement with world powers in which Iran agreed to limit its nuclear activities in exchange for the lifting of international sanctions.
The US has maintained a near-continuous aircraft carrier presence in the Gulf region since the USS Abraham Lincoln was sent in May 2019 amid concerns that Iran was considering attacking US interests in the region. The US also sent additional land-based attack planes and reestablished a troop presence in Saudi Arabia.
The Nimitz deployed from the US in April and was due to return before the end of the year. In early December, its planned return was postponed, in part out of concerns about potential Iranian threats, and more recently it was ordered to provide support off the coast of Somalia for the movement of American forces out of the country.
https://english.alarabiya.net/en/News/middle-east/2020/12/31/US-to-send-home-only-Navy-aircraft-carrier-operating-in-Middle-East-amid-Iran-tension
--------
Cuban president slams US plan to place island on terrorism list
01 January 2021
Cuban President Miguel Díaz-Canel has condemned a final-hour effort by the outgoing administration of US President Donald Trump to place the Caribbean island on its list of state sponsors of terrorism.
Only three weeks left before Trump leaves office, his state department prepared a controversial proposal to designate Cuba as a state sponsor of terrorism.
Secretary of State Mike Pompeo must decide whether to sign off on the plan, the New York Times reported, citing two US officials.
It is unclear whether Pompeo has decided to move ahead with the designation, the Times wrote.
The State Department notified Congress in May that Cuba was among five countries it said were "not cooperating fully" with US so-called counter-terrorism efforts.
If approved, the move will automatically trigger US sanctions against Havana.
In response to the move, President Díaz-Canel said in a tweet on Thursday that Havana condemns "a unilateral, absurd, hypocritical and unjust maneuver of the US administration to include Cuba in their list of state sponsors of terrorism."
"This administration protects terrorist groups acting against #Cuba," he said.
Díaz-Canel also wrote that Havana "will constantly and rightfully denounce every mercenary and imperialist action against #Cuba."
We condemn a unilateral, absurd, hypocritical and unjust maneuver of the US administration to include Cuba in their list of state sponsors of terrorism. This administration protects terrorist groups acting against #Cuba. #LivingCuba https://t.co/pAqKbP6lez
— Miguel Díaz-Canel Bermúdez (@DiazCanelB) December 31, 2020
Things will no longer be easy for them. We will constantly and rightfully denounce every mercenary and imperialist action against #Cuba. #LivingCuba https://t.co/tvV1RUK7Ez
— Miguel Díaz-Canel Bermúdez (@DiazCanelB) December 31, 2020
Democrats denounced the Cuba proposal on Tuesday, describing it as an attempt to unfairly limit the incoming administration of president-elect Joe Biden.
"It's another stunt by this president with less than 23 days to go," said Democrat Representative Gregory Meeks.
He said that Trump is "trying to put handcuffs on the incoming administration."
Biden's incoming administration could take Cuba back off the list, but the process might take several months.
Washington removed Cuba from its list of terrorism sponsors in 2015, after former president Barack Obama announced the normalization of relations with Havana for the first time in almost six decades.
Obama had dropped economic sanctions, relaxed restrictions on travel and trade, and reopened an embassy in the Cuban capital.
He also became the first US president to visit the island in more than eight decade.
Cuba was first added to the terrorism list by the Reagan administration in 1982.
https://www.presstv.com/Detail/2021/01/01/641987/US-Cuba-politics-terrorism-list
--------
Mideast
Houthi hails 'balanced deterrence' against Saudi Arabia, predicts 'victory' for Yemen
01 January 2021
A member of Yemen's Supreme Political Council says Yemeni armed forces have pulled off a "balanced deterrence campaign" after years of fighting off a Saudi-led aggression.
"The balanced deterrence campaign is a victory pulled off by Yemeni forces in military and security centers. This is what millions of steadfast, honorable and devoted Yemenis should be proud of," Mohammed Ali al-Houthi tweeted on Thursday night.
"The world should know that, God willing, the fruits of patience will be the victory of truth and the cost of arrogance will be defeat."
His remarks came amid reports that Israel sought to intervene in the years-long war on Yemen which, in many analysts' terms, has turned to a quagmire for Saudi Arabia.
On Monday, Yemen's official Saba news agency quoted an unnamed official at the Yemeni Foreign Ministry as saying that "in case the Zionist regime commits a great folly against Yemen, all its interests as well as those of its allies in the Red Sea region will become a legitimate target within the framework of the right of self-defense guaranteed by all international conventions and agreements."
Al-Houthi said the status quo in Yemen has nothing to do with the Tel Aviv regime, urging Israeli authorities to focus on the situation in the occupied Palestinian territories and stop threatening regional states.
For years, Israel has used Iran as a
Earlier, spokesman for the Israeli military, brigadier general Hidai Zilberman, had told the Saudi news website Elaph that the Tel Aviv regime expects that an Iranian attack could come from Iraq and Yemen.
Zilberman referred to Iraq and Yemen as Iran's second circle after Lebanon and Syria, and said that Israel has been monitoring the situation in both countries closely.
He noted that Iran has developed a wide range of capabilities in the area that include advanced drones and remote-guided missiles, indicating "a great Iranian ability in this field."
https://www.presstv.com/Detail/2021/01/01/641994/Yemeni-armed-forces-waging-balanced-deterrence-campaign-against-aggressors-Houthi
--------
Israel's settlement approvals in 2020 highest on record: Palestinian NGO
31 December 2020
A Palestinian non-governmental organization says Israel has pressed forward with plans for the construction of thousands more settler units in the occupied West Bank, making 2020 a record year for illegal settlement building activities.
The director of the Applied Research Institute - Jerusalem (ARIJ), Jad Isaac, told the Voice of Palestine radio station that Israeli authorities endorsed plans for 10,000 more units in various parts of the West Bank this year, in addition to the legalization of dozens of settlement outposts.
Isaac added that these approvals make 2020 the highest year on record in terms of units in settlement plans.
He highlighted that Israeli officials seek to impose sovereignty on more Palestinian lands, convert occupied West Bank towns and cities into isolated cantons and connect illegal settlements together, all of which represent an apartheid system.
Speaking at a weekly cabinet meeting in Ramallah on December 28, Prime Minister Mohammad Shtayyeh called on the international community to put a stop to Israel's settlement plans in the occupied Palestinian territories.
The international community should oblige the occupying Israeli regime to stop its colonial projects in Palestinian lands, and to abide by United Nations Security Council resolution 2334, he added.
Shtayyeh regretted that the upcoming election campaign in Israel will focus on expansion of settlements built in the occupied Palestinian territories, just as in all previous campaigns.
He called on United Nations organizations operating in Palestine to organize teams and protect Palestinians in the West Bank against settler attacks, which he said are being carried out under the eyes of Israeli military forces.
More than 600,000 Israelis live in over 230 illegal settlements built since the 1967 Israeli occupation of the Palestinian territories of the West Bank and East Jerusalem al-Quds.
The UN Security Council has condemned Israel's settlement activities in the occupied territories in several resolutions.
https://www.presstv.com/Detail/2020/12/31/641973/Israel%E2%80%99s-settlement-approvals-in-2020-highest-on-record--Palestinian-NGO
--------
Senior Diplomat Highlights US Heavy Defeat against Iran at UNSC
2020-December-31
Al-e Habib made the remarks on Thursday, addressing a meeting of the United Nation in New York.,
He called the US move to increase maximum pressures on Iran "a political move", and said, "The US anti-Iran move in implementing snapback mechanism was rejected by 13 members of the United Nations Security Council (UNSC)."
He termed JCPOA as an achievement of multilateral diplomacy in the face of long-standing fake crisis against Islamic Republic of Iran, and reiterated that UNSC Resolution 2231 was adopted unanimously and approved Joint Comprehensive Plan of Action (JCPOA).
According to this resolution, all mechanisms of previous sanctions imposed by the UN Security Council sanctions Iran were lifted, Al-e Habib added.
He reminded Washington that only JCPOA members have reserved this right to use mechanisms, stressing that the US action has no legal basis.
"Is the General Assembly allowed to provide funding for what the UN Security Council has opposed it?" the diplomat asked.
Washington had proposed to fund a committee on reviving UN sanctions against Iran, claiming that with the activation of the snapback mechanism by the Trump administration, all the international sanctions against Iran should resume.
The UN rejected the US bid to register yet another defeat for the outgoing Trump administration against Iran.
The United Nations Security Council had also in August resoundingly rejected the second bid to extend an arms embargos on Iran, which expired in October.
https://www.farsnews.ir/en/news/13991011000505/Senir-Diplma-Highlighs-US-Heavy-Defea-agains-Iran-a-UNSC
--------
Hamas arrests Palestinian for taking down banner of Iran's Soleimani in Gaza
Yaghoub Fazeli
31 December 2020
The Palestinian militant group Hamas arrested on Thursday a man for tearing down a banner of slain Iranian military commander Qassem Soleimani which was put up ahead of the first anniversary of his death by the group, according to a relative of the detainee.
Hamas arrested Majdi al-Maghribi for tearing down a photo of a "criminal," al-Maghribi's brother wrote on Facebook on Thursday.
Al-Maghribi had urged Gazans in a Facebook post on Wednesday to remove banners of Soleimani in the city. Hours later, he posted a video of himself tearing down a banner of the slain Iranian general which quickly went viral.
Hamas put up a large banner of Soleimani on the main coastal road in Gaza on Tuesday after a military drill, Reuters reported.
Several other banners of Soleimani were spotted across Gaza ahead of the one-year anniversary of the Iranian general's death, according to Palestinian social media users. Arabs were quick to criticize the banners and Israeli officials condemned them as glorifying a "murderer."
"A question to the people in Gaza: Do you expect Arabs to sympathize with you and your cause when they see you erecting statues of the killers of Syrians, Iraqis, Yemenis and the Lebanese?" Israeli military spokesman Avichay Adraee wrote on Twitter in Arabic, commenting on an image of one of the Soleimani banners in Gaza.
The same banner now appears to have been ripped apart by Gazans, according to a video shared by Palestinian social media users. A man filming the torn banner in Gaza can be heard describing Soleimani as the "killer of Syrians and Iraqis."
The banner included text from a speech by Hamas leader Ismail Haniyeh at Soleimani's funeral in Tehran. "The martyr commander Qassem Soleimani who spent his life supporting the resistance… he is a martyr of al-Quds (Jerusalem)," the text reads.
Several other Soleimani banners have also been taken down and vandalised, images and videos shared by Palestinian social media users show.
Relations between Shia Iran and Sunni Hamas briefly deteriorated in the early years of the Syrian conflict after Hamas refused to support Iran's ally Syrian President Bashar al-Assad against Sunni rebels.
Soleimani, who headed the Quds Force – the overseas arms of Iran's Islamic Revolutionary Guard Corps (IRGC) – was killed in a US airstrike at Baghdad's international airport on January 3.
A senior Hamas official said Sunday the group received $22 million in cash from Soleimani during a visit to Tehran in 2006, drawing criticism from Iranians who accuse the regime of prioritizing its network of proxy groups over its citizens.
Iranian demonstrators have voiced their opposition to Tehran's foreign policies and accused the regime of squandering the country's resources on foreign militias in three separate waves of anti-government protests – in 2009, 2017 and 2019 – using the popular chant "not Gaza, not Lebanon, I give my life for Iran" in reference to Tehran's support for Hamas in Gaza and Hezbollah in Lebanon.
https://english.alarabiya.net/en/News/middle-east/2020/12/31/Hamas-arrests-Palestinian-for-taking-down-banner-of-Iran-s-Soleimani-in-Gaza
--------
Iran's Zarif: Intelligence from Iraq shows Trump aims to fabricate 'pretext for war'
Tuqa Khalid
31 December 2020
Iran's Foreign Minister Mohammad Javad Zarif said on Thursday that intelligence from Iraq indicated outgoing US President Donald Trump aiming to fabricate a "pretext for war."
"Instead of fighting COVID-19 in US, Donald Trump and cohorts waste billions to fly B52s and send armadas to OUR region," Zarif wrote on Twitter. "Intelligence from Iraq indicate plot to FABRICATE pretext for war," he said.
US aircraft carrier USS Nimitz has been patrolling Gulf waters since late November and two American B-52 bombers recently overflew the region.
"Iran doesn't seek war but will OPENLY and DIRECTLY defend its people, security and vital interests," he added.
Zarif's comments come days ahead of the first anniversary of top Iranian general Qassem Soleimani's assassination in US drone strike in Baghdad on January 3.
Trump said last week said he would hold "Iran responsible" for any fatal attack on Americans in Iraq after accusing Tehran of being behind a rocket strike on the US embassy in Baghdad on December 20.
Zarif at the time warned the US president against any "adventurism" before leaving the White House on January 20, and said "putting your own citizens at risk abroad won't divert attention from catastrophic failures at home".
The US embassy in Iraq and other foreign military and diplomatic sites have been targeted by dozens of rockets and roadside bomb attacks since later 2019.
Trump unilaterally withdrew the US from a landmark nuclear deal with Iran and world powers in 2018 and launched a "maximum pressure" campaign against Tehran, reimposing and reinforcing crippling sanctions.
The two countries have twice come to the brink of war since June 2019, especially following the killing of Soleimani.
https://english.alarabiya.net/en/News/middle-east/2020/12/31/Iran-s-Zarif-Intelligence-from-Iraq-shows-Trump-aims-to-fabricate-pretext-for-war-
--------
Israeli regime's attempts to Judaize occupied Jerusalem al-Quds will fail, Hamas says
31 December 2020
The Palestinian Islamic Resistance Movement, Hamas, has censured the Israeli regime over attempts to change the geographic and demographic character of occupied Jerusalem al-Quds, saying such bids are doomed to failure.
Hamas made the remarks in a statement on the new railway project that Israel has started to connect its illegal settlements in Jerusalem al-Quds with Tel Aviv and other Israeli areas.
In its statement, Hamas has condemned the Jerusalem al-Quds rail project as "a new colonial project that is part of the settler Judaization projects."
The Jerusalem al-Quds light rail project aims to connect the western sector of the holy city with settlements located on occupied Palestinian territory in the eastern part and to favor their illegal development in violation of international law.
Hamas said the project is indicative of the Tel Aviv regime's insistence on imposing faits accomplis of all forms on the ground and its determination to go ahead with its Judaization plans.
"It is also aimed at imposing full Israeli sovereignty on occupied al-Quds, separating it from the occupied West Bank, and changing its historic, Arab and Islamic features, as planned in [US President Donald] Trump's deal of the century," Hamas stated.
Hamas attributed increasing settlement activities in occupied Jerusalem al-Quds to normalization agreements between some Arab countries and Israel, emphasizing that such accords have emboldened the regime to annex more Palestinian lands.
It called on the Palestinian Authority to shoulder its responsibilities towards al-Quds by supporting local Palestinians against Israeli settlement expansion schemes.
The Palestinian resistance movement also asked Arab and Muslim leaders to take a serious position against Israeli settlement projects in occupied al-Quds, and support the steadfastness of Palestinian residents of the city through all possible means.
"We demand that the international community and the European Union put pressure on the Israeli Occupation to stop its colonial projects in occupied al-Quds that are illegal according to the international law," Hamas pointed out.
Israel lays claim to the entire Jerusalem al-Quds, but the international community views the city's eastern sector as occupied territory and Palestinians consider it the capital of their future state.
United Nations Security Council Resolution 478, adopted on August 20, 1980, prohibits countries from establishing diplomatic missions in Jerusalem al-Quds.
Palestinians, who seek an independent state in the occupied West Bank and Gaza, with East Jerusalem al-Quds as its capital, have condemned the US pro-Israel agenda.
https://www.presstv.com/Detail/2020/12/31/641958/Israeli-regime%E2%80%99s-bids-to-Judaize-occupied-al-Quds-will-not-succeed-Hamas-says
--------
India
BJP MP Tejasvi Surya Opposes Renaming Of Bengaluru Roads, Says, This Is Dangerous And Must Be Condemned
Jan 1, 2021
BENGALURU: Two weeks after BBMP issued a notification to name 11 roads in ward 135 (Padarayanapura), Bengaluru South BJP MP Tejasvi Surya on Thursday opposed the proposal.
In a letter to BBMP commissioner Manjunath Prasad, Surya said, "Christening of roads in a Muslim-dominated locality with only Muslim names reeks of the same communal mentality of the two-nation theory and Muslim League's demand of separate electorates for Hindus and Muslims. This is dangerous and must be condemned."
Amid reports that the BBMP has recommended to the government to withdraw the notification, Rakesh Singh, secretary, urban development department, told TOI he has discussed the issue with the commissioner. "Both of us are in quarantine. So far, no decision on the matter has been taken."
https://timesofindia.indiatimes.com/city/bengaluru/mp-opposes-renaming-of-bluru-roads/articleshow/80052483.cms
--------
4 booked in first case under U'khand anti-conversion law
Dec 31, 2020
Dehradun: For the first time since the anti-conversion law was brought into force in Uttarakhand two years ago, four persons in Dehradun have been booked for violating its norms — a Muslim man, the Hindu woman he had married, his uncle and the qazi who solemnised their wedding.
The man, Sameer Ali, 22, had met the 20-year-old woman from Rudraprayag at a coaching class in Dehradun. "After a year of courtship, they got married on September 28 this year. She converted and took on a new name. The same day, the qazi performed their nikah in the presence of Sameer's uncle, Shaukeen," a police official said.
The Uttarakhand Freedom of Religion Act, 2018 stipulates that a month's notice must be served when a person decides to convert — both from the applicant and the religious priest who conducts the conversion. Sameer had approached the Uttarakhand high court a month before their wedding, August 28, seeking protection for himself and his wife. The high court ordered an investigation by the Dehradun district magistrate (DM) and that report reached the police, through the DM, in November. Police conducted their own preliminary investigation and said they found two violations — the DM had not been given a month's notice and the woman's parents were not informed.
"Prima facie, it was found that they violated provisions under the Uttarakhand Freedom of Religion Act, 2018. Following that, an FIR was registered at Patel Nagar police station on Tuesday and a detailed investigation has begun," Dehradun circle officer Anuj Kumar told TOI.
The four have been booked under sections 3 (conversion by misrepresentation, force, fraud, undue influence, coercion, allurement or marriage), 8 (one month's declaration of intent to convert) and 12 (parties to the offence) of the Uttarakhand Freedom of Religion Act, 2018. They are all in Dehradun now, police said. They had not been arrested till the time of filing this report. The accused face up to seven years in prison and if convicted, their marriage would be annulled.
https://timesofindia.indiatimes.com/city/dehradun/4-booked-in-first-case-under-ukhand-anti-conversion-law/articleshow/80032397.cms
--------
India Lodges Strong Protest With Pakistan over Demolition of Temple
Jan 1, 2021
NEW DELHI: A day after reports emerged of the destruction of a Hindu temple in Pakistan, India on Friday lodged a formal protest with Pakistan via diplomatic channels, according to sources.
On Wednesday, a mob set fire to a temple and later demolished it in Karak, a town in the northwestern Khyber Pakhtunkhwa province.
Following the demolition, police arrested 31 people in overnight raids as dozens of Hindus rallied across the country to protest again the violence on their place of worship.
The attack happened after members of the Hindu community received permission from local authorities to renovate the temple. According to police and witnesses, the mob was led by radical cleric Maulana Shareef and supporters of Pakistan's radical Jamiat Ulema-e-Islam party.
https://timesofindia.indiatimes.com/india/india-lodges-strong-protest-with-pakistan-over-demolition-of-temple/articleshow/80058501.cms
--------
J&K-based Punjabi jeweller gets domicile, shot dead by terrorists
Dec 31, 2020
SRINAGAR: A 70-year-old jeweller from Punjab settled in Srinagar for four decades was shot dead by motorcycle-borne terrorists in the city's congested Sarai Bala locality on Thursday, months after he got a domicile certificate and purchased a shop and a house.
Claiming responsibility for the killing of Satpal Nischal, whose roots are in Amritsar, the fledgling Pakistan-backed terror outfit TRF said the new domicile law was "unacceptable" and everyone other than indigenous Kashmiris would be treated as "occupiers" if they acquired property in J&K. "More to come," TRF said in a statement circulated through Facebook.
A little-known outfit that calls itself the United Liberation Front of J&K praised TRF, an amalgam of the banned Jaish-e-Mohammad, Lashkar-e-Taiba and Hizbul Mujahideen, for going hard at "occupiers and stooges".
Nischal, the first domicile certificate holder to be targeted by terrorists since the new law took effect, was the owner of Nischal Jewellers in Srinagar. Police said he took three gunshots to his chest and was declared dead on arrival at SMHS Hospital.
As soon as he got his domicile certificate earlier this year, Nischal purchased a shop at Hanuman Mandir in the heart of Srinagar and a house at Indira Nagar, near the Army headquarters in Badami Bagh. "His shop in Saria Bala is a popular one among to-be brides because of its reasonable rates," a family friend said.
Nischal is survived by two sons and a daughter.
Meanwhile, a CRPF sub-inspector was injured when suspected terrorists lobbed a grenade, followed by firing, on a patrol party in the Sangam area of south Kashmir's Anantnag district.
https://timesofindia.indiatimes.com/india/70-yr-old-punjab-jeweller-shot-dead-in-jk/articleshow/80051370.cms
--------
Not disputing slain youths were 'terrorists': J&K DGP
Dec 31, 2020
SRINAGAR: J&K DGP Dilbagh Singh on Thursday said that he has "no reason to dispute" what a senior army official had stated about Wednesday's encounter in which three "terrorists" were killed, but added that "still police will investigate the claims of [fake encounter] made by their families".
The families have claimed that the encounter was "stage managed" and insisted that the youths had gone to a university to submit forms. "I want to ask them what were their children doing at the encounter site if they had gone to submit forms?" Singh said in reply to a query during a press conference at Jammu.
Security forces continue to maintain that the three youths — identified by their families as Zubair Ahmad Lone of Turkawangam area in Shopian, Ajaz Ganai of Putrigam, and Athar Mushtaq of Bellow in Pulwama — were Al-Badr terrorists. One Ak-47 rifle, along with several live hand grenades, was recovered on Wednesday from the site of the night-long encounter at Lawaypora on the outskirts of Srinagar, they have pointed out.
The DGP also said that General Officer Commanding (GoC) Kilo Force H S Sahi had mentioned that the trio had plans to carry out a big strike on the Srinagar-Baramulla highway and that they turned down repeated surrender offers.
On Wednesday, Sahi had said that the slain terrorists were "yet to be identified". The police, too, have admitted that the trio was not listed as militants. On this, Sahi said, "It is not important that every militant is listed with the police. When a person leaves his home to join, he doesn't tell his parents."
Singh said, at times parents are not aware of the activities of their wards. "Still, we will investigate allegations made by their families. If we find anything, we will probe that," he said.
Partial shutdown was observed in two south Kashmir districts — Pulwama and Sopian — against the "fake" encounter. Also, almost all mainstream political parties have demanded a probe into the incident. Internet remained suspended on Thursday in both districts as a precautionary measure.
https://timesofindia.indiatimes.com/india/not-disputing-slain-youths-were-terrorists-jk-dgp/articleshow/80051359.cms
--------
225 terrorists killed in J&K in 2020: DGP J&K
Dec 31, 2020
JAMMU: Dilbag Singh, DGP of J&K, on Thursday said terrorist incidents, infiltration, and civilian killings came down in the Union territory in 2020.
He also claimed that all top commanders of various terror outfits operating in J&K have been eliminated.
Addressing the annual media interaction on achievements of J&K Police on Thursday, Singh said: "We carried out 90 successful operations in Kashmir and 13 in Jammu, and neutralized 225 terrorists during the year." He said that among the slain terrorists 47 were top commanders.
Referring to security personnel losses during action, the DGP said, "Sixteen J&K police personnel (15 in Kashmir and 1 in Jammu) and 44 jawans of other security forces (42 in Kashmir and 2 in Jammu) were killed while fighting terrorism this year."
Singh said police and security agencies cracked down on overground workers (OGWs) of terror outfits and 635 OGWs were arrested, 56 of whom were booked under the Public Safety Act (PSA).
"During the year, 299 terrorists and their associates were arrested and 12 terrorists surrendered," he said.
The DGP claimed that the number of civilian killings decreased during the year. "38 civilians were killed this year, compared to 44 last year," he said.
Referring to Covid-19 situation, Singh said 15 policemen have lost their lives to the pandemic while performing their duties and around 3,500 personnel contracted the infection, most of whom have recovered from the ailment.
https://timesofindia.indiatimes.com/india/225-terrorists-killed-in-jk-in-2020-dgp-jk/articleshow/80051284.cms
--------
Pakistan troops violate ceasefire along LoC, target mosques and houses in Kupwara
Dec 31, 2020
SRINAGAR/JAMMU: Pakistani troops opened fire and shelled mortars in unprovoked violations of a ceasefire agreement along the Line of Control (LoC) in Kupwara and Rajouri districts of Jammu and Kashmir, officials said on Thursday.
In the Tangdhar sector of Kupwara, Pakistani troops specifically targeted mosques and houses in border villages, an Army official said in Srinagar.
"Pakistan initiated an unprovoked ceasefire violation along LoC in Tangdhar Sector, Kupwara by firing mortars and other weapons yesterday evening," the official said.
In the Nowshera sector of Rajouri, Pakistan Army personnel engaged in heavy firing and mortar shelling on forward posts.
"At about 1515 hours today, Pakistan Army initiated unprovoked ceasefire violation by firing with small arms and intense shelling with mortars along LoC in Nowshera sector in Rajouri district," a defence spokesman said in Jammu.
Indian Army retaliated befittingly to the unprovoked ceasefire violations, officials said.
https://timesofindia.indiatimes.com/india/pakistan-troops-violate-ceasefire-along-loc-target-mosques-and-houses-in-kupwara/articleshow/80048286.cms
--------
South Asia
Freezing Climate: Challenges Afghan Children's Survival
By Mohammad Haroon Alim
31 Dec 2020
An internally displaced Afghan girl poses for a photograph at a camp in the snow on the outskirts of Kabul, Afghanistan, Sunday, Jan. 12, 2020. Kabul has been experiencing below freezing weather and snow. (AP Photo/Rahmat Gul)
In a press release on Thursday, Save The Children organization reported, that more than 300,000 Afghan children are facing challenging freezing climate conditions in Afghanistan adding that without proper clothing and heating, it could lead to illness and in the worst cases to death.
In regions where weather temperature can plummet as low as -27 degrees Celsius, the schools and classrooms are only the sources of warmth, it is a terrible blow because schools are off until March of 2021.
Chris Nyamandi, Save the Children's Country Director in Afghanistan said, "The early snow in the northern parts of Afghanistan where we work has impacted children particularly badly. The most vulnerable children are those whose schools have shut because of the worsening winter conditions. Their families don't have the money to buy winter clothing. Instead, children are forced to huddle at home to escape the bitter cold."
"It also means it is more difficult for us to reach these children to provide them with winter clothing. We must go from home to home to deliver thick coats and blankets." Nyamandi added.
The ongoing conflict in the country forced many children into homelessness and forced them to shelter in camps, these children are at risk of hunger, diseases like covid-19, and even death from freezing temperatures.
Nyamandi also said, "The situation is bleak for children forced to live in camps in places like Balkh province. It is already very cold in this northern province with overnight temperatures as low as minus ten. But it will get much colder before March" adding that "Here, and in camps in other parts of Afghanistan, plastic sheeting and the clothes they wear are often all that separates them from the freezing temperatures".
"For thousands of children, the Afghan winter is a time of grim survival," according to Nyamandi.
Earlier in August, WFP had announced that over 16 million afghans are threatened by lack of food, poverty, and requires humanitarian aid, 4 million of whom have lost their source of income were due to covid-19.
Save the children said in May, that almost 2 million children may die of malnourishment and extreme hunger annually and due to a shortage of doctors, children may less likely get lifesaving treatments.
Just recently the International Red Cross Committee reported that Afghanistan remains a dangerous place to be a civilian, mostly women and children were affected by the battles in the nation.
https://www.khaama.com/freezing-climate-challenges-afghan-childrens-survival-443355/
--------
A Nangarhar Reporter Realizes, Individual Killed in IED Blast Is His Brother
By Mohammad Haroon Alim
31 Dec 2020
Local officials in Nangarhar province said, at least one person has been killed in an explosion near the PD1 of Jalalabad city.
Ataullah Khogyani, the spokesman for the governor of Nangarhar told media on Thursday, that the explosion took place in the First police zone of Jalalabad city.
He added that one person was killed in the blast.
No individual or group has claimed responsibility for this incident.
Sardar Ajmal Bawar, a reporter at Safa FM radio posted the news of a blast in the city writing that "A man was martyred in a roadside bomb blast near Bagh-e-Zanana in Jalalabad's PD1".
He later realizes the killed individual in the blast is his brother.
Nangarhar, an eastern province in Afghanistan, is one of the most insecure provinces in the country, where the Taliban have a large presence.
The battle between the Afghan forces and the Taliban across the country has raged and escalated, causing casualties to both sides specifically to the unarmed citizens.
https://www.khaama.com/journalist-in-nangarhar-realizes-individual-killed-by-ied-blast-is-his-brother-334435/
--------
Arab World
Syria War killed 6,800 in 2020, lowest annual toll: Monitor
31 December 2020
The Syrian conflict claimed at least 6,800 people in 2020, the lowest annual death toll since it began nearly a decade ago, a war monitor said Thursday.
According to figures compiled by the Syrian Observatory for Human Rights, more than 10,000 people were killed in the conflict in 2019.
For the latest headlines, follow our Google News channel online or via the app.
The deadliest year was 2014, when more than 76,000 people died, according to the UK-based organization, which has an extensive network of sources on the ground.
The overall tally since the start of the conflict has crept up to 387,000, including 117,000 civilians.
The fighting, which erupted in 2011 after the brutal repression of anti-government protests, has largely abated in 2020 as a ceasefire held in northwestern Syria and attention turned to containing the coronavirus pandemic.
Violence continues to claim lives every week, however.
On Wednesday, fighters from ISIS ambushed soldiers in the eastern province of Deir Ezzor, killing 37 of them.
The attack was one of the deadliest by the organization since the end of its so-called caliphate in early 2019.
Almost 10 years of war have devastated Syria's infrastructure, crippled the economy and led to the displacement of more than half of its pre-war population.
https://english.alarabiya.net/en/News/middle-east/2020/12/31/Syria-War-killed-6-800-in-2020-lowest-annual-toll-Monitor
--------
Saudi warplanes bomb Yemeni capital after blast at Aden airport
01 January 2021
Saudi warplanes have bombarded targets in Yemen's capital Sana'a, a day after a large explosion struck the airport in the southern port city of Aden as a plane carrying members of the newly formed Saudi-backed cabinet landed there.
Residents said Thursday's coalition airstrikes hit Sana'a International Airport and several other sites in and around the city.
They said loud blasts were heard and warplanes flew overhead for several hours.
Yemen's Arabic-language al-Masirah television network reported that the warplanes struck at least 15 locations in different districts in the capital. There were no immediate reports of casualties and the extent of damage caused.
On Wednesday, at least 26 people were killed and more than 50 were wounded in Aden airport attack.
The source of the explosion was not immediately clear and no group claimed responsibility for attacking the airport. No one on the Saudi-backed government plane was hurt.
Hours after the attack, a second explosion was heard around Aden's Maasheq presidential palace where cabinet members of Saudi-backed former president Abd Rabbuh Mansur Hadi, including prime minister Maeen Abdulmalik, as well as Saudi Arabia's ambassador to Yemen, Mohammed al-Jaber, had been taken to safely.
The Saudi-led coalition accused the popular Houthi Ansarullah movement of the attacks on Aden's airport and the presidential palace, a charge Ansarullah strongly dismisses.
Aden has been a scene of bloody fighting between Saudi-backed pro-Hadi loyalists and the UAE-backed separatists in the Southern Transitional Council (STC).
The STC forces seek independence for southern Yemen. They declared self-rule in Aden in April, triggering fierce clashes with Hadi's forces and complicating United Nations efforts to forge a permanent ceasefire in the overall conflict.
'Over 6,000 Yemeni women, children killed in Saudi aggression'
Separately, a Yemeni rights organization says the war being waged by Saudi Arabia and a number of its regional allies, mainly the United Arab Emirates, has claimed the lives of more than 6,000 women and children, and left many more injured in Yemen.
Entesaf Organization for Women's and Children's Rights said in a report published on Thursday that a total of 2,392 women as well as 3,796 children have been killed in Yemen ever since the Riyadh regime and a coalition of its allies launched the brutal war on the impoverished nation more than five years ago.
The report added that 2,798 women and 4,096 children have also sustained injuries during the mentioned period.
The organization then condemned the shameful international silence on violation of the international law and the United Nations Charter in Yemen, emphasizing that such principles are aimed at protecting civilians, mainly women and children.
It finally held the Saudi-led military alliance responsible for all crimes and violations against innocent Yemeni civilians, especially women and children.
Saudi Arabia and a number of its regional allies launched the war on Yemen in March 2015, with the goal of bringing Hadi's government back to power and crushing the popular Ansarullah movement.
Last month, the UN Office for the Coordination of Humanitarian Affairs (OCHA) put the death toll from the Saudi war on Yemen at 233,000.
The popular Houthi Ansarullah movement, backed by armed forces, has been defending Yemen against the Saudi-led alliance, preventing the aggressors from fulfilling the objectives of the atrocious war.
https://www.presstv.com/Detail/2021/01/01/641988/Saudi-coalition-strikes-Yemeni-capital-after-blast-hits-Aden-airport
--------
US troops shoot dead Syrian child in Hasakah Province
31 December 2020
US soldiers have shot dead a 12-year-old child in Syria's northeastern province of Hasakah amid growing discontent with the presence of foreign forces in the region.
Syria's official news agency, SANA, citing local sources, reported on Thursday that the incident took place close to a US-occupied base in the town of Shaddadi.
Muhaidi Hussein Falah came under deliberate fire of US soldiers while playing with a group of children in a neighborhood of the troubled region, the report added.
A US-led military coalition has been bombarding what it claims as Daesh positions inside Syria since September 2014 without any authorization from the Damascus government or a UN mandate.
US troops are also operating on the ground in eastern and northeastern Syria. While the US claims its troops in Syria are assisting SDF Kurdish militants in their purported fight against Daesh, there is ample evidence which shows the US is there to loot Syria's oil resources.
Last month, it was revealed that the US military had used dozens of tanker trucks to smuggle crude oil from Hasakah to western Iraq.
The looting of Syrian oil by the US was first confirmed during a Senate hearing exchange between South Carolina Republican Senator Lindsey Graham and US Secretary of State Mike Pompeo in late July.
US President Donald Trump has more than once acknowledged that American military forces are in Syria for the country's oil.
In addition to that, security conditions are reportedly getting worse in SDF-controlled areas in Syria's Raqqah, Hasakah and Dayr al-Zawr provinces.
Locals complain that SDF raids and arrest campaigns have generated a state of frustration and instability.
Residents accuse the US-sponsored militants of stealing crude oil and refusing to spend money on services.
Local councils affiliated with the SDF have also been accused of financial corruption.
https://www.presstv.com/Detail/2020/12/31/641972/Syria-Hasakah-Daesh-SDF-Turmp-Kurds-
--------
Roadside bomb explosion targets US-led coalition military convoy in southern Iraq
31 December 2020
A roadside bomb has exploded in Iraq's southern province of Basra, targeting a US-led military coalition's logistics support convoy.
The incident occurred in al-Yousufia district in the vicinity of the Jerishan crossing near the Iraqi-Kuwaiti border on Thursday, Iraq's Arabic-language al-Sumeria television news agency reported.
Citing an unnamed security source, it said the explosion inflicted damage to one of the trucks, but did not leave casualties. The source gave no further details.
No group or individual has yet claimed responsibility for the blast.
This is the latest attack in a string of such incidents in recent weeks against convoys contracted with the US-led coalition in Iraq.
Early this week, a roadside bomb explosion struck a convoy of trucks belonging to the US-led coalition in Iraq's southern province of al-Qadisiyah. The blast occurred when the convoy was moving near the provincial capital city of al-Diwaniyah, without causing casualties.
The attacks come amid rising anti-US sentiment in the Arab country, which were intensified following last year's assassination of a top Iranian anti-terror commander.
General Qassem Soleimani, the commander of the Quds Force of Iran's Islamic Revolution Guards Corps (IRGC), and his Iraqi trenchmate Abu Mahdi al-Muhandis, the deputy head of the Popular Mobilization Units, were targeted along with their companions in a US terror drone strike authorized by President Donald Trump near Baghdad International Airport.
Two days after the attack, Iraqi lawmakers approved a bill on January 5 that requires the government to end the presence of all foreign military forces led by the United States in the country.
https://www.presstv.com/Detail/2020/12/31/641963/Iraq-US-Basra-blast-convoy
--------
Africa
Is Boko Haram Gaining Foothold in Nigeria's Northwest?
By Sirwan Kajjo
December 31, 2020
Boko Haram's claim of responsibility for a recent kidnapping of more than 300 students in Nigeria's northwestern state of Katsina signals that the militant group is expanding its terror activities beyond its traditional stronghold in the West African country's northeast, experts warn.
On December 11, Boko Haram's leader, Abubakar Shekau, said in an audio recording that his group was behind the abduction of the schoolboys in the town of Kankara in Katsina. The students, however, were released several days after being abducted by gunmen.
The militant group also released a video showing some of the students before their release.
Regardless of whether Boko Haram was responsible for the kidnappings, some experts say the incident represents a worrying sign for stability and security in northern Nigeria.
Shekau "has been able to claim it and that is in part because northwest Nigeria has been facing a simmering security crisis over the last year," said Daniel Eizenga, an expert on violent extremism at the Africa Center for Strategic Studies in Washington.
In recent months, northwestern Nigeria has witnessed growing intercommunal violence, including conflict between herders and farmers, violent crime from bandits, and initial indications that extremist groups may be gaining ground in the area.
"Within this complicated context of rising insecurity, it is possible for Boko Haram to appear more dangerous and expansive than it may actually be," Eizenga told VOA.
He added that "should the trajectory of northwest Nigeria follow a similar path as the northeast, much of northern Nigeria will have become embroiled in a security crisis that has been simmering for the better part of the past decade."
Boko Haram, which has been fighting to create an Islamic state based in Nigeria, has killed 36,000 people and displaced millions since it began its insurgency a decade ago.
Despite carrying out terror attacks in neighboring Cameroon, Chad and Niger – mostly in the Lake Chad Basin – the group's activities inside Nigeria have largely remained limited to its stronghold in the northeast.
Various hypotheses
While the Nigerian government hasn't confirmed whether Boko Haram was responsible for kidnapping students in Katsina, experts say there are several hypotheses for a possible Boko Haram presence in Nigeria's northwest.
"One is that a faction of Boko Haram might well have contracted with a criminal gang to carry out the kidnapping without actually doing it itself," said John Campbell, a senior fellow for Africa policy studies at the Council on Foreign Relations in Washington.
"Another hypothesis is that Boko Haram simply claimed responsibility (for the kidnapping) as part of a propaganda initiative," he told VOA, adding that another "possibility of course is that indeed Boko Haram has become active in the northwest."
However, Campbell, a former U.S. ambassador to Nigeria, stressed that "if we're going to talk about Boko Haram being active in the northwest, I think we need some evidence of a political or ideological dimension."
Other jihadist groups have in the past carried out attacks in northwest Nigeria. For example, the Ansaru, a Boko Haram breakaway group, has claimed responsibility for several attacks in the area in 2020.
Government response
The recent developments in the northwest should be "a cause for the Nigerian security forces to redouble their efforts in the region, especially with regards to intelligence," said Gbenga Akinbule, a Nigerian affairs analyst.
The fact that Boko Haram might be present in the northwest requires a serious response from the Nigerian military, he said.
"Our security forces should go back there to clean up and see how best they can get to look at the dangerous trend that is happening," Akinbule told VOA.
Analyst Eizenga disagrees.
"Approaching the growing insecurity in the northwest with heavy-handed operations that neutralize militants and destroy their camps is unlikely to resolve the main drivers of these different security threats," he said.
Eizenga suggested that the Nigerian government needs "to work closely with local communities to develop differentiated responses to the threats they are facing."
In late 2015, Nigerian President Muhammadu Buhari said his military had "technically defeated" Boko Haram militants in the country.
https://www.voanews.com/extremism-watch/boko-haram-gaining-foothold-nigerias-northwest
--------
'Our children die in our hands': Floods ravage South Sudan
January 01, 2021
OLD FANGAK, South Sudan: On a scrap of land surrounded by flooding in South Sudan, families drink and bathe from the waters that swept away latrines and continue to rise.
Some 1 million people in the country have been displaced or isolated for months by the worst flooding in memory, with the intense rainy season a sign of climate change. The waters began rising in June, washing away crops, swamping roads and worsening hunger and disease in the young nation struggling to recover from civil war. Now famine is a threat.
On a recent visit by The Associated Press to the Old Fangak area in hard-hit Jonglei state, parents spoke of walking for hours in chest-deep water to find food and health care as malaria and diarrheal diseases spread.
Regina Nyakol Piny, a mother of nine, now lives in a primary school in the village of Wangchot after their home was swamped.
"We don't have food here, we rely only on UN humanitarian agencies or by collecting firewood and selling it," she said. "My children get sick because of the floodwaters, and there is no medical service in this place."
She said she eagerly waits for peace to return to the country, with the belief that medical services will follow "that will be even enough for us."
One of her nieces, Nyankun Dhoal, delivered her seventh child into a world of water in November.
"I feel very tired and my body feels really weak," she said. One of her breasts was swollen, and her baby had rashes. She wishes for food, and for plastic sheeting so that she and her family can stay dry.
The mud sucks at people's feet as they engage in the daily struggles to hold back the waters and find something to eat.
Nyaduoth Kun, a mother of five, said the floods destroyed her family's crops and life has been a struggle for months, with people selling their prized cattle to buy food that's never enough.
The family eats just two meals a day and the adults often go to bed on empty stomachs, she said. She has begun collecting water lilies and wild fruits for food.
She said she had little knowledge of the coronavirus pandemic ravaging other parts of the world and spreading largely undetected in poorly resourced South Sudan. "There are many diseases living among us, so we can't figure out if it's coronavirus or not," she said.
Instead, her fear is that the makeshift water dike around their home could collapse at any time, flooding the young children.
The chief of Wangchot village, James Diang, made the decision early during the flooding to send badly affected children to the town center after several drowned "and everything was being destroyed rapidly."
Now cattle are dying, he said, and survivors have been transported to drier areas.
Remaining residents are eating tree leaves and sometimes fish to survive, he said. Fevers and joint pain are widespread.
When there is no canoe to transport people during times that waters surge, "our children die in our hands because we are helpless," he said.
He hopes, like everyone, for sustainable peace, and for an improved dike so the community can have enough dry ground for planting.
The people of South Sudan put their trust in President Salva Kiir and former armed opposition leader Riek Machar to lead during this transition period, "but now they are failing us," said the government's acting deputy director in the area, Kueth Gach Monydhot. "We don't have hope, we lost confidence in them."
The situation in Fangak county remains volatile, with almost all of its more than 60 villages affected by the flooding and "no response from the government," he said. "Do you think they will plan for other people when they have failed to implement the peace agreement?"
At the clinic in Old Fangak run by the medical charity Doctors Without Borders, Nyalual Chol said the dike she tried to build against the floodwaters collapsed, and her home quickly collapsed, too.
She had been alone at home with her four children. As with many families, her husband was away on duty in another part of the country as a soldier.
She reached the clinic by canoe after an hour of travel, seeking help for her sick child. There, she also received a ration of food.
The Doctors Without Borders project coordinator in Old Fangak, Dorothy I. Esonwune, recalled the sight of newly displaced people sheltering under trees without mats, blankets or mosquito nets.
Meanwhile, the charity's mobile clinics were suspended because of the COVID-19 pandemic, further complicating efforts to reach sick people stranded by the flooding.
"The water continues to rise and the dikes continue to break and there are people still displaced, yet they don't have the main necessities," she said, describing several people often crammed into a single shelter.
Now the international community has rung the alarm about likely famine in another flood-hit part of Jonglei state.
The UN Food and Agriculture Organization representative in South Sudan, Meshak Malo, has appealed to the parties that signed the country's peace accord to cease violence and ensure safe humanitarian access to prevent the dire situation from turning into a full-blown catastrophe.
The new report of likely famine is an eye-opener and a signal to the government, which has not endorsed its findings, said the chairman of the National Bureau of Statistics, Isaiah Chol Aruai.
"There is no way that the government would ignore or downplay an emergency when it's really found out to be an emergency," he said.
https://www.arabnews.com/node/1785691/middle-east
--------
Europe
Italy slams Egypt's decision to clear police in Italian student Regeni's murder
01 January 2021
The Italian government has described as "unacceptable" a decision by Egypt's public prosecutor to clear five police officers over the murder of Italian student Giulio Regeni.
The decision announced on Wednesday came nearly three weeks after Italian prosecutors said they planned to charge four Egyptian security officers over the torture and death of Regeni.
For all the latest headlines follow our Google News channel online or via the app.
The Cambridge University graduate was in Egypt researching trade unions, when he was kidnapped in January 2016 and his mutilated body later found on the outskirts of Cairo.
"The declarations of the Egyptian public prosecutor's office are unacceptable," the Italian foreign ministry said in a statement.
It said it would "continue to work at all levels, including through the European Union, for the truth about Giulio Regeni's brutal murder to finally emerge".
"We hope the Egyptian public prosecutor shares this insistence on the truth and will extend all necessary collaboration to the Rome prosecutor's office," it added.
In his statement, public prosecutor Hamada al-Sawy said he had no intention of "pursuing a criminal case in the murder, abduction and torture of Giulio Regeni because the perpetrator is unknown".
Investigators would continue to seek the identity of the murderer but the prosecution has "ruled out" any charges "against the four officers and a fifth policeman" in connection with the case, he said.
Regeni's death sparked outrage in Italy and strained diplomatic relations between the two countries, with Italy's government accusing Egyptian authorities of non-cooperation.
On December 10, Italian public prosecutor Michele Prestipino told a parliamentary commission in Rome there were "elements of significant proof" implicating Egyptian policemen.
"We are going to ask to begin a criminal action concerning certain members of the Egyptian security services," he said.
"We owe it to the memory of Giulio Regeni."
Regeni had been researching the sensitive topic of labour organisations in Egypt when he disappeared. He had also written articles critical of the government under a pen name.
https://english.alarabiya.net/en/News/middle-east/2021/01/01/Italy-slams-Egypt-s-decision-to-clear-police-in-Italian-student-Regeni-s-murder
--------
ISIS claims knife attack by two assailants in capital of Russia's southern Chechnya
01 January 2021
The ISIS group has claimed responsibility for a knife attack on police on Monday in the capital of Russia's southern Chechnya region, Al-Naba newspaper affiliated with the group said on Friday.
It made the claim without providing any evidence.
Two assailants killed one policeman and injured another on Monday in Grozny, Chechen leader Ramzan Kadyrov said.
The poor and mainly Muslim region has seen previous attacks on security officials and an insurgency since Moscow fought two wars with separatists after the 1991 Soviet Union breakup.
Kadyrov said the attackers were brothers from the neighboring region of Ingushetia who worked at a bakery in Chechnya. They were shot dead while trying to seize weapons, he said.
https://english.alarabiya.net/en/News/world/2021/01/01/ISIS-claims-knife-attack-by-two-assailants-in-capital-of-Russia-s-southern-Chechnya
--------
Southeast Asia
Mahathir slams 'lie' that PN a Malay-Muslim govt
Adam Abu Bakar
December 31, 2020
SHAH ALAM: Dr Mahathir Mohamad has slammed Perikatan Nasional leaders for claiming the current administration is a Malay-Muslim government, saying its survival depended on the support of non-Muslim MPs.
The former prime minister said the ruling coalition was in fact in a shaky position as, without the support of the non-Muslims MPs, the Muhyiddin Yassin-led government would collapse.
"If the Chinese and Indian leaders decide not to back it (PN), the government will fall. Because of these two or three non-Muslims leaders, the Malay-Muslim government can collapse," he said.
On the other hand, Mahathir said, Pejuang, the party he founded, had never claimed to want to form a Malay-Muslim government and was prepared to work with other parties.
"But of course we will champion the interest of the Malays, as it is the cornerstone of the country."
Asked if Pejuang was prepared to work with the likes of DAP and PKR, Mahathir said his party would become an "alternative movement" which would not be tied to any other party.
"We want to see first what is being done by this alliance (of DAP and PKR) and their stand. If it is in line with our objectives, we will consider. But at this moment, we are not keen."
Mahathir also said Pejuang had a "Plan B" if the Registrar of Societies decided to reject its application as it had done previously to PPBM – the party he also founded after leaving Umno – and Pakatan Harapan, in the run up to the last general election.
"However we can't reveal it. But trust us, we know what we are doing."
https://www.freemalaysiatoday.com/category/nation/2020/12/31/mahathir-slams-lie-that-pn-a-malay-muslim-govt/
--------
Indira Gandhi's 2021 journey to reunite with stolen daughter
01 Jan 2021
BY YISWAREE PALANSAMY
KUALA LUMPUR, Jan 1 ― M. Indira Gandhi's resolution for 2021 remains the same as the one she made 11 years ago when she was forcefully separated from her youngest child Prasana Diksa.
To see and hold her little girl once more.
"It's getting very frustrating because we are waiting for an end to this and that a solution will come, but nothing is happening.
"I waited for more than 11 years. Prasana is already 12, but still, I can't even see her. I am not even allowed to see her. I feel very let down by the government," she told Malay Mail when contacted.
The wheels of justice have been grinding exceedingly slow for this mother of three from Ipoh, Perak.
Indira saw justice as on her side when the Federal Court ordered the police in 2018 to find and return Prasana, stolen away by her ex-husband just before he converted to Islam in 2009.
The High Court had first issued an arrest warrant for the Muslim convert who now goes by Muhammad Riduan Abdullah in 2014.
But until last September, Inspector-General of Police Tan Sri Abdul Hamid Bador said the process to return Prasana and Muhammad Riduan was complicated and time consuming as both were no longer in Malaysia.
Abdul Hamid said police knew where the father and daughter were, but did not disclose the country, only saying negotiations for their extradition through a third-party were ongoing.
In August, Home Minister Datuk Seri Hamzah Zainuddin claimed Muhammad Ridhuan was believed to be living abroad and regularly relocating to avoid detection.
That same month, Abdul Hamid also said that the police were looking for an amicable solution where both Indira and Muhammad Riduan will get the benefit of "some form of joint custody".
This despite a High Court ruling in 2010 granting full custody of all three children from their marriage to Indira.
Unable to bear the misery of a longer wait, India filed a RM100 million lawsuit against the IGP and the police in November 2020, over their continued failure to execute the court order to reunite the mother and daughter.
Her voice cracking with emotion, Indira pointed out that the courts had sided with her and questioned why the IGP sought to negotiate with her fugitive ex-husband for joint custody of Prasana.
"I truly do not get all these statements by the authorities one bit. I am not asking for anything unjust, but what is rightfully mine. Why must so much consideration be given to a party who wronged me?
"This matter should also not be politicised by other parties. She is my daughter and I want her back. Why must this be spiralled into what it is today? When will I see Prasana ever? I am her mother. Her birth mother. I should not be begging this way," Indira said.
Now 45, Indira has gained a number of accolades and recognition in her search for her daughter last seen at 11 months old.
The US Embassy here lauded Indira as one of its international women of courage in recognition of her legal challenge against the unilateral conversion of her three children, and her efforts to reunite with Prasana.
Muhammad Riduan, formerly known as K. Pathmanathan, embraced Islam in 2009 and converted all three of his children with Indira on April 2 the same year without her knowledge. They had been raised as Hindus.
After a protracted court battle that spanned years, the Federal Court ruled in January 2018 that the unilateral conversions of Indira's children were unlawful.
Their two older children, Tevi Darsiny, now 22, and Karan Dinish, now 21, have stayed with Indira.
Keeping hope lit
Despite the setbacks, Indira has not given up hope of meeting her lost daughter.
She had initially planned to go on a hunger strike to compel a meeting with the IGP. It was later cancelled after he agreed to meet not just Indira but her supporters who have formed a solidarity group called the Indira Gandhi Action Team, or Ingat for short, last September.
Indira also planned to carry out a justice walk from Sungai Petani, Kedah to the Prime Minister's Office in Putrajaya, which has been put on hold due to the pandemic.
She told Malay Mail that her justice walk would resume in 2021 at a date to be announced later, though she hopes to do it by the end of January if the Covid-19 situation in the country improves by then.
"We will announce the date because it's the pandemic now, and the numbers are increasing. We don't want to take risks. Other than that, we have the plan set up.
"We want to do the justice walk at the end of January but we are still going to wait and see how the pandemic situation is by then," she said.
https://www.malaymail.com/news/malaysia/2021/01/01/indira-gandhis-2021-journey-to-reunite-with-stolen-daughter/1936369
--------
DAP can't win beyond 18 federal seats? We've done it thrice before without your help, Kit Siang tells Dr Mahathir
01 Jan 2021
BY EMMANUEL SANTA MARIA CHIN
KUALA LUMPUR, Jan 1 — Contrary to Tun Dr Mahathir Mohamad's claim, DAP is capable of winning more than 18 parliamentary seats without help from him, veteran Opposition lawmaker Lim Kit Siang said today.
Scoffing at the former prime minister's recent assertion, Lim said DAP has proven so more than once in past general elections, and attributed its success to the party's consistency in sticking to its principles and five objectives for a multiracial, multilingual and multicultural society that has struck a chord with voters.
"I admit that Dr Mahathir had helped in DAP winning 42 parliamentary seats in the 2018 General Election, but to say that the DAP had not been able to win more than 18 parliamentary seats is totally incorrect," the Iskandar Puteri MP said in a statement.
He pointed out the DAP's trajectory in elections has consistently moved upwards over the years.
He said it won 24 parliamentary seats in the 1986 elections, 20 seats four years later, 38 seats in Election 2013, before securing 42 seats in the last general election in 2018.
"Although the DAP had been demonised by lies, falsehoods and fake news as anti-Malay, anti-Islam and anti-Malay Rulers for the past five decades, the DAP had right from its formation in 1966 been committed to a multi-racial, multi-lingual, multi-religious and multi-cultural Malaysian objective and had never been against any race or religion or against the monarchical system in Malaysia.
"With the diabolical campaign of misinformation, lies, falsehoods and fake news, which were intensified in the last 12 years since 2008, that the DAP was anti-Malay, anti-Islam and anti-Malay Rulers, we faced an uphill battle to win over the support of the Malays, but we have never given up this challenge," Lim added.
Dr Mahathir told China Press in a recent interview that the Pakatan Harapan coalition ― of which DAP is a founding party ― would not be able to garner Malay support in the next general election without his help.
Dr Mahathir had singled out DAP, saying the party benefited the most from his popularity during the GE13 campaign as he helped bolster Malay support, enabling it to win 42 out of 222 seats in the Dewan Rakyat.
The 95-year-old left Umno and was later expelled last year from Bersatu, the Malay Bumiputera-based party he co-founded in 2016, after the collapse of the PH government.
Dr Mahathir has since founded yet another Malay based party called Pejuang, which had called for all Opposition parties to band together again and form a "grand coalition" to take on the Perikatan Nasional government in the next general election, which is not due until 2023.
https://www.malaymail.com/news/malaysia/2021/01/01/dap-cant-win-beyond-18-federal-seats-weve-done-it-thrice-before-without-you/1936474
--------
URL: https://www.newageislam.com/islamic-world-news/pakistan-sc-takes-suo-motu/d/123947
New Age Islam, Islam Online, Islamic Website, African Muslim News, Arab World News, South Asia News, Indian Muslim News, World Muslim News, Women in Islam, Islamic Feminism, Arab Women, Women In Arab, Islamophobia in America, Muslim Women in West, Islam Women and Feminism