New Age Islam News Bureau
06 September 2020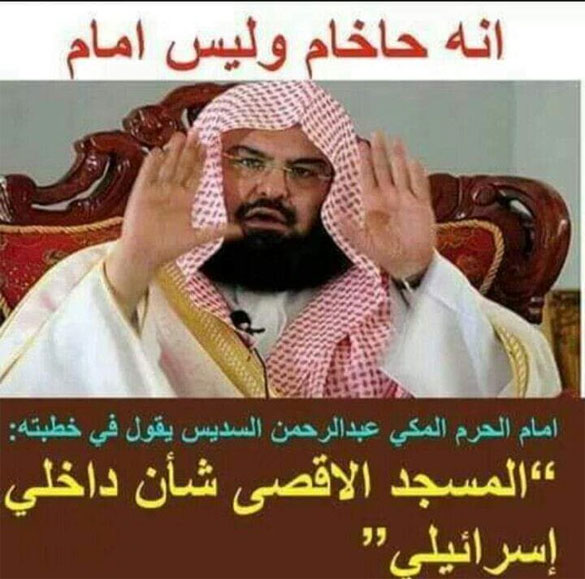 He pointed out that Prophet Mohammed "performed ablution from a polytheistic water bottle and died while his shield was mortgaged to a Jew."
-----
• Sermon Delivered on Friday By the Imam, Abdul Rahman al-Sudais, of The Grand Mosque Suggests Saudi Arabia On Its Way to Normalizing Ties with Israel
• ISIS Lost 97 Percent of Its Power After the End of Sharia Mufti
• Hizbul-Mujahideen Militant Outfit Trying to Re-Establish Base in North Kashmir: DIG Sulaiman Chowdry
• 'He Must Be Re-Elected': Bin Laden's Niece. Swiss-Born Noor bin Ladin Says She's A Trump Supporter And 'American At Heart'
• State-Run Media Acknowledges Iranian's Growing Hatred of Mullahs' Regime
• Pakistan Govt Frustrates Evil Designs of Anti-Islamic Forces: Minister for Religious Affairs and Interfaith Harmony
• Pro-Palestine Protesters March Against Israel In Scotland
Arab World
• Sermon Delivered on Friday By the Imam of The Grand Mosque Suggests Saudi Arabia On Its Way to Normalizing Ties with Israel
• ISIS Lost 97 Percent of Its Power After the End of Sharia Mufti
• Inside the Lavish Life of Saudi Prince Mohammed Bin Salman with £400m Superyacht, £230m Chateau And £400bn 'Mega-City'
• Saudis Reduce Oil Pricing in Sign Demand Recovery Struggling
• Saudi arrests famous Quran reciter Abdullah Basfar
• From Jeddah To New York, Egyptian Star Mohamed Ramadan Is Lighting Up Billboards
--------
India
• Hizbul-Mujahideen Militant Outfit Trying to Re-Establish Base in North Kashmir: DIG Sulaiman Chowdry
• Human Rights Watch Demands Ban On Pellet Guns In Kashmir
• New Telangana Secretariat Will Have Temple, Church, Two Mosques: Chief Minister
• Mecca Masjid, Shahi Masjid of Hyderabad Thrown Open To Public With Restrictions
--------
North America
• 'He Must Be Re-Elected': Bin Laden's Niece. Swiss-Born Noor bin Ladin Says She's A Trump Supporter And 'American At Heart'
• Texas Assistant Attorney General Loses His Job After Tweets Targeting Muslims, Social Justice Protests
• Pope's New Encyclical to Praise Jihad Terror Supporter as Example of 'Peace' and 'Fraternity'
• 'Agricultural Jihad': A Hungry Lebanon Returns to Family Farms to Feed Itself
• Qanta Ahmed: As a Muslim American Trump admirer, I say to Joy Reid and Ilhan Omar: Shame on you!
-------
Mideast
• State-Run Media Acknowledges Iranian's Growing Hatred of Mullahs' Regime
• Turkish Expert Criticizes EU's Double Standard Toward Islam
• Iran looks to China as US sanctions bite
• Iran could become hub of arms trafficking and exports as embargo ends
• Netanyahu says Serbia will move its embassy to Jerusalem
• How brutality to protesters shames Israel's police
• Yemen president orders troops to foil Houthi attacks on Marib
-------
Pakistan
• Pakistan Govt Frustrates Evil Designs of Anti-Islamic Forces: Minister for Religious Affairs and Interfaith Harmony
• NA, Senate to take up more FATF bills
• Dawar not allowed entry to Quetta for security reasons: govt
• Three TTP men killed in clash with security forces in South Waziristan
-------
Europe
• Pro-Palestine Protesters March Against Israel In Scotland
• Ammunition depot of "Ahrar Al-Sham Islamic Movement" explodes in northern Aleppo
• Birmingham stabbings: Police declare 'major incident' as several injured
--------
Africa
• Nigerian Army Accused Of Executing Over 70 Civilians Uncovered In 6 Mass Graves; Are They Bodies Of Sheikh Zakzaky's Followers?
• Islamist insurgency in northern Mozambique threatens gas fields
• Boko Haram Terrorists Planning to Attack Abuja, Kogi, Nasarawa --Nigerian Government
• Islamic State West Africa Province Kill 20 Nigerian Soldiers
---------
South Asia
• Online Muharram Programs Broadcast in Japan
• Bhashan Char Facilities: Rohingya team on 'go-and-see visit
---------
Southeast Asia
• Police Lambasted for Targeting LGBT Community in Raid in Jakarta
• 'Enough is enough', Anwar tells Sabahans to send clear message to Perikatan govt about self-serving politicians
• Former Transjakarta president director arrested after fleeing fraud conviction
Compiled by New Age Islam News Bureau
URL; https://www.newageislam.com/islamic-world-news/sermon-delivered-friday-imam-abdul/d/122801
------
Sermon Delivered on Friday By the Imam, Abdul Rahman al-Sudais, of The Grand Mosque Suggests Saudi Arabia On Its Way to Normalizing Ties with Israel
By KHALED ABU TOAMEH
SEPTEMBER 5, 2020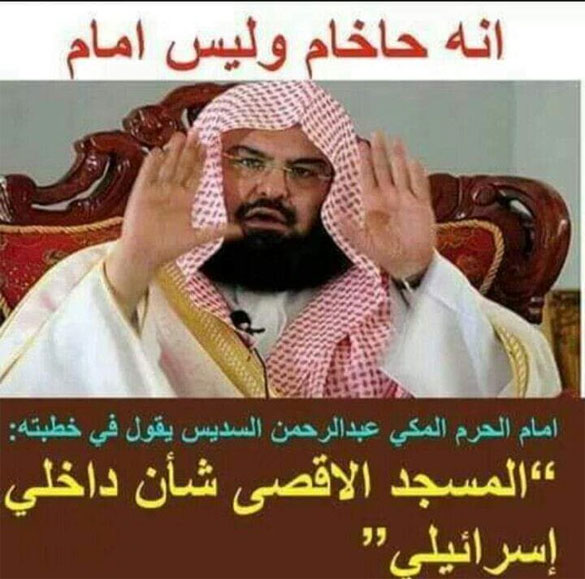 He pointed out that Prophet Mohammed "performed ablution from a polytheistic water bottle and died while his shield was mortgaged to a Jew."
-----
Has Saudi Arabia begun preparing its people for normalization with Israel?
A sermon delivered on Friday by Abdul Rahman al-Sudais, the imam of the Grand Mosque in Mecca, has been interpreted by some Arabs and Muslims as a prelude to normalization with Israel.
He pointed out that Prophet Mohammed "performed ablution from a polytheistic water bottle and died while his shield was mortgaged to a Jew."
According to Sudais, the prophet was so good to his Jewish neighbor that the latter converted to Islam. Sudais also talked about the need to "correct and purify the Islamic faith from false and suspicious beliefs."
The imam had previously called for peaceful inter-faith dialogue and preached Islam's opposition to "explosions and terrorism."
Saudi Arabia has agreed to allow Israeli flights into its airspace. Saudi Foreign Minister Prince Faisal bin Farhan recently said the kingdom was open to establishing relations with Israel on condition that a peace agreement is reached between Israel and the Palestinians.
Sudais's words sparked a wave of protests on social media, where many Arabs and Muslims claimed he was paving the way for Saudi Arabia to follow suit with the United Arab Emirates and establish relations with Israel.
Egyptian Islamic scholar Mohammed al-Sagheer accused the Saudi cleric of hypocrisy. "He is paving the way for normalization and treason," Sagheer commented.
Islamic cleric Muhammad al-Shinqiti of Mauritania accused Sudais of exploiting the podium of the Grand Mosque in Mecca to promote normalization with Israel.
Abdel Fatah Fayed, Egyptian affairs editor at Al-Jazeera, said the bottom line of the Friday sermon was that "submission, normalization and loyalty to Israel" are permitted. He added: "Al-Sudais does not have the right to tamper with Islam. Nothing can justify treason."
Algerian Twitter user Mohamed Mestour posted a picture on the social media platform of Sudais with the caption: "I'm a rabbi, not an imam."
https://www.jpost.com/israel-news/sermon-suggests-saudi-arabia-on-its-way-to-normalizing-ties-with-israel-641176
-------
ISIS Lost 97 Percent of Its Power After the End Of Sharia Mufti
Iraq News
2020-09-05
Shafaq News / Today, Saturday, Al-Hashd Al-Shaabi revealed the end of "Sharia Mufti " in ISIS.
The Al-Hashd media spokesman Ali Hashem al-Husseini told Shafaq News agency that ISIS, and before it, al-Qaeda established the so-called "Sharia Mufti" formations to attract people to join terrorist organizations under jihadist titles, indicating that the terrorist organizations targeted "Sunni areas" to build Bases for support and sectarian incitement.
Al-Husseini stressed that the security forces and PMF were able to end the "myths" of the Sharia Mufti and the terrorist organizations' loss of a false ideological base through which they aimed to establish extremist terrorist areas supported by regional and global powers and states.
He pointed out that ISIS lost 97% of its power after the end of Sharia mufti, which did not find any acceptance in all Sunni areas, and which, through Sunnis security and intelligence cooperation with the security services and Al-Hashd, contributed to getting rid of ISIS.
Social researchers believe that extremism spread at its beginning after the fall of the former regime in rural and remote semi-isolated areas in mixed population governorates, stressing that al-Qaeda and ISIS took advantage of "jihad" titles to drag people to carry out armed operations or to cooperate with militant organizations.
https://www.shafaaq.com/en/Iraq-News/ISIS-s-Sharia-Mufti-formation-ends
-------
Hizbul-Mujahideen Militant Outfit Trying to Re-Establish Base in North Kashmir: DIG Sulaiman Chowdry
Altaf Baba
September 6, 2020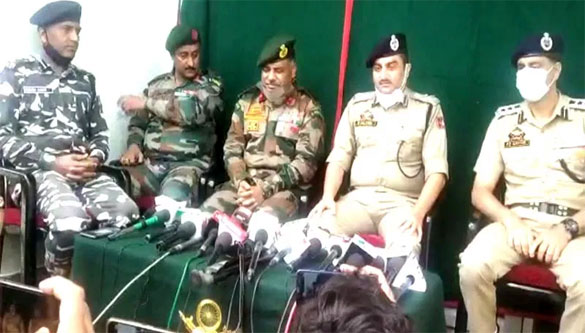 Photo by J&K Information Department
-----
Top army and police official on Saturday said Hizbul-Mujahideen militant outfit was desperately trying to re-establish its base in north Kashmir.
Deputy Inspector General of Police (DIG) north Kashmir, Sulaiman Chowdry said the "footfall of Hizb militants across north Kashmir was almost negligible and it is after four years that any Hizb militant has been killed here." He was referring to killing of three Hizb militants at Yadipora Pattan in on Friday.
"It seems Hizb is desperately trying to re-establish its base in north Kashmir. These killings are an indication. However, all such designs will be foiled," said the DIG, addressing a press conference here.
He identified two of the slain militants as Hanna Bilal Sofi of old town Baramulla and Shafkat Ali Khan of Rawatpora Delina while describing the third slain militant as "unidentified."
Giving details of the operation in which, the three militants were killed, the DIG said based on the specific information about presence of militants, a joint team of army's 29 RR, CRPF and police cordoned the area during early morning on Friday.
He said as search party was approaching the house were militants were hiding, one of the militants opened fire, resulting in the injury to an army Major and two policemen.
Speaking during the presser, Commander 20 Sector RR, Brigadier N K Mishra said all the three militants were given opportunity to surrender, however, they refused.
"We provided enough opportunity to the militants to surrender but they refused and fired upon the search party, resulting in the injury to a Major and two cops," he said. "The operation lasted for 12 hours and our main priority was to evacuate 12 residents who were holed up inside the house. We successfully evacuated them without any harm."
To a question about recruitment of locals in the militancy, the Commander said the recruitment of local youths in different militant outfits has come down drastically with the efforts of police as well as other security forces.
"Several youth have been brought back from the path of militancy and most of them are now happily living with their families," he said.
"Around 38 youth joined militancy in 2018, while in 2019, the number went down to 19 and during the current year, the number of locals joining militancy is very less," he said. Meanwhile, a police official in Baramulla said the bodies of all the three slain militants were buried at Sonmarg.
https://www.greaterkashmir.com/news/kashmir/hizb-trying-to-re-establish-base-in-north-kashmir-dig-chowdry/
-------
'He Must Be Re-Elected': Bin Laden's Niece. Swiss-Born Noor bin Ladin Says She's A Trump Supporter And 'American At Heart'
THOMAS CATENACCI
September 05, 2020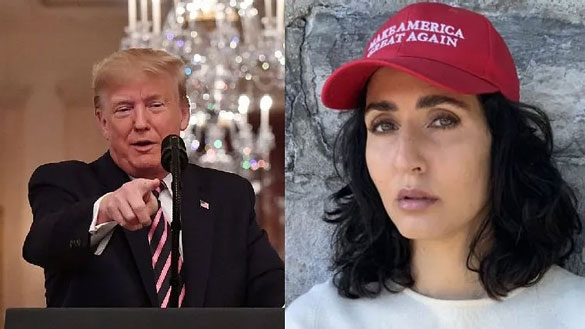 Osama Bin Laden's niece wants Americans to vote for TrumpFile Image/Twitter
-----
One of Osama bin Laden's nieces says she's a loyal President Donald Trump supporter and considers herself "American at heart," according to a new report.
Swiss-born Noor bin Ladin, 33, has been a Trump supporter since 2015, she told The New York Post. Her branch of the family spells their last name differently than her uncle's family, according to the Post.
"I have been a supporter of President Trump since he announced he was running in the early days in 2015. I have watched from afar and I admire this man's resolve," bin Ladin, who resides in Switzerland, told The Post.
She continued: "He must be re-elected … It's vital for the future of not only America, but western civilization as a whole."
Donald Trump rides an escalator to a press event to announce his candidacy for the U.S. presidency at Trump Tower on June 16, 2015 in New York City. (Christopher Gregory/Getty Images)
Bin Ladin told The Post that she often wears a "Make America Great Again" hat and that her favorite show is "Tucker Carlson Tonight" on Fox News. She also expressed disdain for Minnesota Democratic Rep. Ilhan Omar, according to the Post.
"You do have a situation now in America where you have people like Ilhan Omar who actively hate your country," bin Ladin said, The Post reported.
"It's an honor to be able to go and live in the United States and make the most out of all the opportunities. If she hates it so much why doesn't she leave."
Bin Ladin specifically pointed to Trump's record on terrorism and his handling of ISIS' presence in the Middle East, according to The Post. She also attacked Democratic presidential nominee Joe Biden's record on terrorism.
"ISIS proliferated under the Obama/Biden administration, leading to them coming to Europe," she told The Post. "Trump has shown he protects America and us by extension from foreign threats by obliterating terrorists at the root and before they get a chance to strike.
ISIS has suffered major defeats in recent years and has all but disappeared in the Middle East. After notably expanding its networks and influence in 2015, the group had lost 95 percent of its territory by December 2017, according to the Wilson Center.
The U.S. led coalition Operation Inherent Resolve tasked with defeating ISIS celebrated the declining influence of the group in 2017, but stopped short of declaring victory. "We know this enemy is as adaptive and savvy as it is cruel and evil," the coalition spokesman tweeted at the time.
Bin Ladin's uncle and world-renown terrorist Osama bin Laden was killed by U.S. forces in Pakistan during a nighttime raid in 2011. Bin Laden masterminded the September 11, 2001 terrorist attacks, which resulted in thousands of American deaths.
https://dailycaller.com/2020/09/05/osama-bin-laden-niece-noor-bin-ladin-trump-supporter-american-at-heart/
---------
State-Run Media Acknowledges Iranian's Growing Hatred of Mullahs' Regime
by Mohammad Sadat Khansari
5th September 2020
Almost a year after the major Iran protests of November which rattled the regime's foundations, now state-run media express fear of another uprising due to the economic crisis and the coronavirus pandemic.
Since the coronavirus outbreak, the Iranian regime has used the criminal policy of a deliberate cover-up of this crisis, thus using its resulting mass casualties as a barrier against a possible uprising by the restive Iranian society. After forcing people back to work and holding college entrance exams and recently the Muharram mourning ceremonies, the Iranian regime has now decided to reopen schools. This decision will jeopardize the lives of the students and increase the rapid spread of this virus.
In this regard, the state-run Resalat daily, in an article on Thursday, acknowledged the people's hatred of the regime's decision to reopen schools. "The doubt of the students' families has turned to the certainty that amid the coronavirus outbreak, schools are not safe. Thus, they should forget about sending their children to school, because as always, the word of officials is not reliable," Resalat wrote.
Minoo Mohraz, a member of the regime's so-called "National Committee to Combat Coronavirus," on Wednesday told the state-run Asr-e Iran website: "Schools are considered the best place for the coronavirus transmission. Even if people wear masks for a long time and sit indoors, there is a high risk of infection."
In addition, during their infightings, Abdolreza Mesri, the regime's Member of Parliament from Kermanshah, western Iran, on August 29 had said: "If we rush and let students contract the coronavirus, it means we have deliberately committed murder."
The Javan daily, affiliated to the regime's Revolutionary Guards (IRGC), on Thursday wrote: "The news indicates a strange pressure of the non-governmental school mafia to reopen schools and confusion in the Ministry of Education … It seems that the force behind the scenes and the non-governmental school mafia is more powerful than the Ministry of Health."
One of the main grievances of the Iranian society is the economic crisis. This includes the rising inflation rate, high prices, and liquidity. These are due to the regime's wrong economic policies, systematic plundering of national wealth for funding terrorist groups such as Hezbollah, and institutionalized corruption. The economic problems were the reasons that triggered the previous two nationwide uprisings in 2018 and 2019.
In this regard, the state-run Ebtekar daily on Thursday wrote: "People have been hearing news of rising prices of goods. They are not even surprised. The sad thing is people have to exchange as much money as they have with goods to bear the unbridled inflation. The question is who is responsible for this situation?"
While acknowledging that economic hardship has eliminated the middle class, Ebtekar wrote: "What people are experiencing today is the unpredictability of their living conditions. This inflation, however, will have more consequences in the future. When people's purchasing power does not increase, they can no longer replace what they have today. The living standards of the Iranian people will decline in the coming decade, and the consequences of this will be the gradual disappearance of the middle class."
Referring to the regime's failed sham parliamentary elections which were boycotted by the public and the Iranian society's restiveness Ebtekar wrote: "The prospect of eliminating the middle class from Iranian society is, of course, nothing more than passivity and frustration, which, although may not lead to a revolt in the short term, ultimately will lead to increasing turmoil and violence in society. This indifference, which showed itself in the dimension of political action in the elections of the 11th parliament, can no longer accompany and empathize with the government in advancing its goals."
Ebtekar daily warned the regime's officials that if the society's trust is not restored or their grievances are not answered, people will "turn to violence." While calling a possible uprising and a social turmoil "despair and distress," Ebtekar added: "Ultimately, however, what can further lead Iranian society to despair and even distress is the lack of an unclouded vision of the future. When people lose their hope in the future, the situation becomes critical. The alarm of this crisis has been ringing for some time. Perhaps it would be better to hear this alarm earlier than ever and think of a clear and practical solution, instead of speech therapy."
To control this restive society, the Iranian regime has increased executions and death sentences, particularly against the detained protesters of the January 2018 and November 2019 uprisings. Yet, these oppressive measures no longer terrify society. In this regard, the state-run Mostaghel daily on Wednesday wrote: "The sympathy and harmony of the society with the executed people and the awakening of their sense of compassion towards these selected [victims] by the ruling system are signs of the widening rift between the society and the government. As much as the government carries out executions coldly, society views these executions as violent and protests them."
https://www.ncr-iran.org/en/news/society/iran-peoples-growing-hatred-of-mullahs-regime-could-lead-to-a-new-uprising-state-run-media/
--------
Pakistan Govt Frustrates Evil Designs of Anti-Islamic Forces: Minister for Religious Affairs and Interfaith Harmony
By News desk
September 6, 2020
Federal Minister for Religious Affairs and Interfaith Harmony, Dr Pir Noorul Haq Qadri said on Saturday the government had successfully foiled the nefarious designs of anti-Islamic forces which wanted to destroy Pakistan like Yemen, Iraq and Syria by promoting sectarianism.
Addressing the Ittehad-e-Ummat Conference at Faisalabad Chamber of Commerce and Industry (FCCI), he said that clear-cut statement of Prime Minister Imran Khan not to recognize Israel had dragged the Arab states out of uncertainty- whether accept Israel or not.
However, it was very encouraging that most of the Arab states had decided to follow the Pakistani stand, he added. He said that conspiracies hatched by social media to promote sectarianism in Pakistan were geared up during last 6-7 months.
'Certainly anti-Islamic forces were involved in these conspiracies', he said and added that Pakistan was fully aware of the ill-impacts of sectarianism and the government with the cooperation of religious circles decided to cow down such elements. In this connection, a decision was taken to 'Don't leave your sect; don't intervene in others sect', he added.
The minister said that few years ago, a conference was held in Saudi Arabia which had clearly pointed out that the followers of eight sects were Muslims and could not be dubbed out non-Muslims. He urged the religious scholars to promote the 90 percent similarities in these schools of thought instead of projecting the 10 percent minor and academic differences.
He further said that he had made it clear one month before Muharram that the elements sowing seeds of hatred would not be tolerated and they would be dealt with an iron hand. He appreciated the cooperation of religious leaders and said that with the efforts of government, Muharram had passed peacefully and now it was the duty of ulema to maintain peace in future also.
He also quoted a joint declaration of ulema on sectarianism and said that other Islamic countries were quoting the clauses of this declaration while it would be translated into other languages very soon. He said that people belonging to different sects would have to live in this country and in this connection, we must explore new avenues of unity and tolerance. 'This could be possible only through dialogue', he added. Pir Noorul Haq Qadri also mentioned the efforts of Prime Minister Imran Khan to highlight the Kashmir issue at international level effectively. Regarding fresh publication of blasphemous material in Norway.
https://pakobserver.net/govt-frustrates-evil-designs-of-anti-islamic-forces-qadri/
------
Pro-Palestine protesters march against Israel in Scotland
September 6, 2020
Islam Times
Pro-Palestine protesters gathered at Hampden ahead of Scotland's UEFA Nations League match against Israel, according to GlasgowTimes.
Demonstrators held banners outside the stadium with messages such as "Don't play ball with Israeli Apartheid," while others waved Scottish and Palestinian flags.
Earlier in the day the protesters poured red paint over the entrance to the stadium, saying it symbolized Palestinian blood, while also daubing the nearby walls with pro-Palestinian graffiti, with staff quickly springing into action to remove the graffiti ahead of the match.
Israel has been criticized for its treatment of Palestinians and for its expansionist policies.
https://en.abna24.com/news//pro-palestine-protesters-march-against-israel-in-hampden_1068110.html
-------
Arab World
Inside the Lavish Life of Saudi Prince Mohammed Bin Salman with £400m Superyacht, £230m Chateau And £400bn 'Mega-City'
Henry Holloway
5 Sep 2020
The 35-year-old is the public face of the House of Saud, with the collective wealth of its members estimated to be some £1trillion.
It is an astounding figure nearly 16 times higher than the British Royals.
Their riches stem from the vast oil reserves uncovered in Saudi Arabia more than 75 years ago during the reign of King Abdulaziz ibn Saud.
While the family normally likes to keep their fortune private, MBS is believed to live a life of almost inconceivable luxury thanks to his wealth.
He is known for his lavish spending, luxury properties and is even rumoured to be the owner of the world's most expensive painting.
And he was thought to have been part of the failed big-money deal to buy Newcastle United after missing out on Manchester United.
At the time, it was recorded as the world's most expensive "house" sale.
Two years later, reports emerged that the buyer was bin Salman who fell in love with the 50,000 sq ft Château Louis XIV on a work trip.
The property boasts ten bedrooms, an indoor and outdoor pool, a library and an aquarium.
The aquarium doubles as a meditation room and features a transparent underwater chamber, something that wouldn't look out of place in a James Bond film.
And if that was not enough, it has indoor and outdoor pools, a private cinema, a squash court, two ballrooms, and a nightclub.
Before the prince bought the palace, Kim Kardashian once considered it as a venue for her wedding to Kanye West.
MBS carefully concealed his ownership by using shell companies in France and Luxembourg.
And alongside this property, the prince is also believed to own the Le Rouvray estate, a 620-acre plot of land an hour's drive from Paris.
The Crown Prince reportedly plans to renovate the manor house on the land, which hasn't been upgraded in 60 years.
The royal then reportedly handed over nearly £400m to Russian vodka tycoon Yuri Shefler for his superyacht in 2015.
The Serene is one of the largest boats in the world, with an overall length of 439ft and a beam that is 60ft wide.
Bin Salman also loves his art and is rumoured to be the owner of a painting worth nearly as much as his yacht.
In 2017, it was reported someone purchased Leonardo da Vinci's Salvator Mundi for £340m on behalf of the Crown Prince.
That sum made the 16th century painting the most expensive art sale ever.
The work is rumoured to be hanging aboard MBS's yacht, making the floating palace seemingly worth more than £700million.
And if all that wasn't enough, MBS has big plans to build a £400billion mega city on a huge 10,200 square mile site along the Red Sea.
Named Neom, the development will be 17 times the size of London, and will be run on 100 per cent renewable energy.
It will become a cross-border city state with its own economic zone and more relaxed laws than the rest of Saudi Arabia.
MBS hopes his city will be able to surpass Silicon Valley in terms of technology and overtake Hollywood as the world's entertainment capital.
Sci-fi-esque ideas are built into the plans including flying taxis, cloud seeding to make it rain, and a giant artifical moon to light up Neom at night.
Homes will have robot maids and scientists will work in the city to develop genetic modifications to enhance humans.
Beaches will have glow in the dark sand, and it is hoped a Jurassic Park-style robot dinosaur theme park will be open.
He is said to have married Sarah bint Mashhoor, known as the "Barbie Princess" in 2008 and they have four children.
"I want my children to live a very normal life away from the spotlight, political pressures and attention," he said in 2018.
https://www.thesun.co.uk/news/12589873/saudi-prince-mohammed-bin-salman-lavish-life/
-------
Saudis Reduce Oil Pricing in Sign Demand Recovery Struggling
By Anthony Di Paola
September 5, 2020
Saudi Arabia cut pricing for oil sales in October, a sign the world's biggest exporter sees fuel demand wavering amid more coronavirus flare-ups around the globe.
The kingdom's state producer, Saudi Aramco, reduced its key Arab Light grade of crude by a larger-than-expected amount for shipments to Asia, its main market. It also lowered pricing for U.S. buyers.
Aramco cut Arab Light to Asia to a discount against the benchmark oil price used by the Saudis for the first time since June. It's the second consecutive month of reductions for barrels to the region and the first month in six that U.S. refiners will see a cut. Aramco will trim pricing, too, for lighter barrels to northwest Europe and the Mediterranean region.
Oil demand has plunged this year after the pandemic forced governments to lock down economies, airlines to cancel fights and workers to stay at home. Saudi Arabia, Russia and other OPEC+ producers agreed in April to slash output by almost 10 millions barrels a day, roughly 10% of global supply, to bolster prices.
Those cuts and a demand recovery in China have since helped oil prices more than double. But they're still down around 35% this year. Brent crude fell to $42.66 on Friday, suffering its biggest weekly loss in almost three months as infection rates continue to climb in nations such as the U.S. and India.
"Aramco understands the importance of China for the global oil market," said Giovanni Staunovo, a commodities analyst with UBS Group AG. "The cut for October might help to support stronger imports from China over the coming months."
The company is reducing pricing for Light exports to Asia in October by $1.40 a barrel to 50 cents below the regional benchmark. It was expected to pare pricing by $1 a barrel to a 10-cent discount, according to a Bloomberg survey.
The Saudis raised pricing from June to August for Asia. However, refinery demand has softened due to weak profits from turning crude into gasoline and other fuels. Asian refiners are also working through large stockpiles built up earlier in the year when crude prices troughed.
Aramco is cutting prices for U.S. buyers for the first time since April after Saudi oil exports to the country dwindled to the lowest in decades in August.
Saudi Arabia usually sets the tone for pricing decisions by other Middle Eastern petrostates, including Iraq and the United Arab Emirates, the second- and third-largest producers in the Organization of Petroleum Exporting Countries.
https://www.bloomberg.com/news/articles/2020-09-05/saudis-reduce-oil-pricing-in-sign-demand-recovery-is-struggling
--------
Saudi arrests famous Quran reciter Abdullah Basfar
September 5, 2020
Saudi Arabia
Saudi authorities have recently arrested Sheikh Abdullah Basfar, one of the famous Quran reciters across the Islamic world, the Prisoners of Conscience revealed on Twitter on Friday.
The Prisoners of Conscience Twitter account conveyed that the sheikh was arrested in August, without giving more details on how and where he was arrested.
Basfar is an associate professor at the department of Sharia and Islamic Studies at King Abdul Aziz University in Jeddah. He is also the former Secretary-General of the World Book and Sunnah Organisation.
The reports about the detention of Sheikh Basfar coincided with reports about the detention of Sheikh Saud Al-Funaisan, who was arrested in March.
However, some hailed these detentions as part of the crackdown on extremism in the kingdom, based on the plan of the Saudi Crown Prince Mohamed Bin Salman to erase the religious identity of Saudi Arabia.
But a massive number of Saudis expressed their anger over the detention, Rai Al Youm online newspaper revealed, quoting a Saudi citizen on Twitter: "The elite whom we necessarily need are in prisons."
Another Saudi citizen's Twitter account reported by Rai Al Youm posted: "Our clerics are being detained arbitrarily, while the trivial people enjoy freedom and spread corruption in the country. It is an overt campaign to get rid of Islam and spread vice in the land of Haramin."
Since 2017, when the crown prince took power, he has been cracking down on clerics, journalists, academics and cyber activists over their critical views on his manner of ruling the country and his plans to secularise it.
https://www.middleeastmonitor.com/20200905-saudi-arrests-famous-quran-reciter-abdullah-basfar/
---------
From Jeddah To New York, Egyptian Star Mohamed Ramadan Is Lighting Up Billboards
ARAB NEWS
September 06, 2020
DUBAI: An image of Egyptian star Mohamed Ramadan will be projected on a Spotify billboard on one of the world's most famous landmarks, Times Square in New York City, to promote his new song, "Ya Habibi," a collaboration with French-Congolese hip hop star Gims released on Sept. 6.
Ramadan, who gained prominence for his catchy lyrics and instantly-viral dance moves, will also feature in an advertisement for the streaming giant on the world's largest LED screen, situated on Jeddah's Old King Road.
It's not the first time the Egyptian star has featured on a Spotify billboard. Back in July, Ramadan's single "Tik Tok" was promoted in Times Square in a bid to highlight the music and culture of the Middle East and North Africa.
"Spotify is the place for music discovery. We make it easier for people to discover music and for artists to meaningfully engage with their fans," said Wissam Khodur, artist & label partnerships lead for MENA, in a released statement.
"Artists are looking at Spotify as the first place for audience development and Spotify's ability to help artists build their brand through our campaigns is a key part of why they want to work with us."
Commenting on the streaming giant's campaign, Ramadan said, "I'm really excited to take our music to new audiences. It was a great experience collaborating with Gims and to see our track light up the streets of New York and Jeddah, is special."
The first time an Arabic recording artist was given the spotlight in New York's prominent location was last year, when renowned Egyptian singer Amr Diab was featured on Spotify's billboard in the most-visited landmark in the Big Apple.
https://www.arabnews.com/node/1730266/lifestyle
------
India
Human Rights Watch demands ban on pellet guns in Kashmir
September 6, 2020
ABNA24
Human Rights Watch, a global human rights watchdog body has demanded complete ban on use of shotguns firing lethal metal pellets in conflict torn region of Indian-controlled Kashmir.
The organization in a Press statement has criticized Indian forces for opening fire on Muharram mourners in the region.
Rights activists say time and again, Indian law enforcement's use of shotguns in Kashmir result in shocking, grievous injuries of protesters and bystanders. They call on Indian authorities to recognize that the weapon will invariably cause indiscriminate and excessive injury in violation of international standards.
Last week Indian Forces attacked several Muharram processions in Kashmir and fired pellets and tear gas shells to disperse the mourners. Scores of mourners were injured, some face partial or total blindness. This disproportionate use of force evoked widespread condemnation across the globe.
The unabated use of pallet-firing shotguns has resulted in killing and injuries to hundreds of people over the past years. The victims are as young as 4 years. Many victims have been hit by full cartridge of pallets and have faced total blindness. Despite repeated pleas by global and local rights and civil bodies to ban pallet guns, Indian forces continue to use the weapon in brazen violation of international law and in utter disregard for human rights groups.
The United Nations High Commissioner for human rights has already banned the use of pallet guns for crowed control, calling it "one of the most dangerous weapons used in Kashmir".
The 2020 UN guidance also discourages use of pellets. New Delhi has been justifying the use of pellet guns on the pretext that it is necessary to maintain law and order in Kashmir.
Once again the use of pellet guns in Kashmir has come under criticism with Human Rights Watch calling for immediate ban on the use of them by Indian forces. Now it remains to be seen whether the authorities would meet the demand or continue to use the weapon in violation of international law.
https://en.abna24.com/news//human-rights-watch-demands-ban-on-pellet-guns-in-kashmir_1068102.html
--------
New Telangana Secretariat will have Temple, Church, two Mosques: Chief Minister
6 September 2020
NEWS AGENCIES
In the new Secretariat, Temple, Mosques, and Church would be constructed by the government, Telangana Chief Minister K Chandrashekhar Rao on Saturday.
He declared that after the end of the ensuing Legislative Session, foundation stones will be laid for all the places of worship on the same day and construction works will be launched and completed on a fast note mirroring the true Ganga Jamuna Tehjeeb of the State.
Rao held a meeting with the elder members of the Muslim community at Pragathi Bhavan on Saturday over the construction of a new Mosque at the Secretariat and other issues. On this occasion, he discussed several issues at length. He elicited their opinion and suggestions.
During the meeting, it was decided to construct one temple, two mosques that were damaged while demolishing the old secretariat buildings by the government. It was decided to construct them with all the facilities.
"The government would construct two Mosques, each in 750 square feet (total 1500 Sq Feet) including one Imam Quarters. The new Mosques would be constructed at the same location where they were, in the new Secretariat. The New Mosques after the construction will be handed over to the State Wakf Board," the Chief Minister said.
"Temple will also be constructed in 1,500 Square feet and the temple after the construction will be handed over to the Endowments department," added Rao.
Since there was a demand from the Christian Community that they should also have Church in the new Secretariat, the government will construct the Church, he further said.
The Chief Minister said the state treats all religions equally. It will practice religious tolerance. It is a symbol of Ganga Jamuna Tehjeeb. Hence, new places of worship are constructed in the new secretariat for all the religions. After the Legislative Sessions, the foundation stone for these places of worship will be laid on the same day.
"We will expedite the construction of Anees-ul-Gurbah, the institution which gives shelter to the orphaned Muslim children and gives them education. Already 80 per cent of the construction works were done. Another Rs 18 crore is needed and it will be released and the construction works will be completed speedily," he said.
The government has decided to set up an Islamic Centre in Hyderabad with international standards. A piece of land was allocated for the purpose. There was some delay in the construction work due to Corona Pandemic. Works on this Centre will also be put on fast track very soon.
He said that there is a need to have Burial places (Khabrastans) around the city of Hyderabad. We have requested Rangareddy and Medchel Collectors to identify the lands. They have identified some places. At several places in the city, 150 to 200 Khabrastans will be created.
"Due to the widening of roads in Narayanpet, Asurkhana was damaged. Instructions were given to the Collector concerned to identify the land and construct the Asurkhana," he said.
"We are recognizing Urdu as the second official language in the state. Programmes will be organised for the protection and development of the Urdu language. The development programmes for Urdu will be taken up by the Official Language Commission and a Vice President connected with Urdu language will be appointed in the Commission," Rao added.
Home Minister Mohammed Ali, MP Asaduddin Owaisi, MLA Akbaruddin Owaisi, All India Muslim Personal Law Board member Moulana Mufti Khaleel Ahmed, Board Secretary Moulana Khalid Saifullah Rehmani were among the people present in the meeting.
http://www.catchnews.com/india-news/new-telangana-secretariat-will-have-temple-church-two-mosques-chief-minister-199883.html
-------
Mecca Masjid, Shahi Masjid of Hyderabad thrown open to public with restrictions
Sep 6, 2020
Bajaj Allianz
Hyderabad: Finally, after a gap of five months, the historical Mecca Masjid near Charminar and Royal Mosque (Shahi Masjid) at Public Gardens were thrown open for the public on Saturday.
After the State Waqf Board's decision to open the two big mosques of Hyderabad, the places of worship were opened for offering five times prayers with strict adherence to MHA guidelines. On Saturday, the mosques were opened from pre-dawn prayers (Fajr) to night prayers (Isha). Though devotees thronged for prayers, only fifty persons were allowed inside the mosques. The regular Imams of the mosques led the prayers in the open shed erected in the vicinity of the places of worship with two meter physical distancing. However, the administration has avoided arranging Namaz in the actual structure due to ventilation issues.
Though the government decided to open the mosques with the condition of maximum 50 devotees in the initial days but from September 21, there will be permission for 100 devotees. Automatic hand sanitisers have been fixed at the entrance and each person is being screened. Children less than 10 years of age and elderly people aged above 60 years will not be allowed in the mosques.
https://timesofindia.indiatimes.com/city/hyderabad/mecca-masjid-shahi-masjid-thrown-open-to-public-with-restrictions/articleshowprint/77955787.cms
-------
North America
Texas assistant attorney general loses his job after tweets targeting Muslims, social justice protests
By CHUCK LINDELL
September 5, 2020
AUSTIN, Texas (Tribune News Service) — An assistant attorney general for Texas has lost his job after a national media report detailed social media posts that encouraged violence against Black Lives Matters protesters, likened Islam to a virus and dismissed the fight for LGBTQ rights as "normalizing perversion."
The report by Media Matters for America, a liberal media watchdog, also highlighted Nick Moutos' support for the theories behind QAnon, which sees President Donald Trump as a leading hero in the fight against satanic pedophiles who secretly run the government.
Moutos was an assistant attorney general in the Criminal Prosecutions Division until Thursday, when the Media Matters report was published online.
An agency spokeswoman confirmed that Moutos was no longer employed by Attorney General Ken Paxton but declined to discuss the matter further.
"Speaking out against the #ChinaVirus #Plandemic & #Democrats using it to steal #Election2020 makes people angry," he added, referring to a conspiracy theory that sees the COVID-19 pandemic as part of a scheme for profit and control.
Moutos has tweeted that America is in the midst of a second civil war with "globalists," Democrats and Black Lives Matter activists on one side and patriots supporting gun rights on the other. Those patriots bought more than 1.7 million guns in May, he warned, and several of his tweets included a NoWarningShots hashtag.
After former President Barack Obama supported those protesting against police violence directed against Black Americans, Moutos responded by calling Obama a traitor and added: "I pray to meet you on the #CivilWar2 #Battlefield."
Although his tweets about protesters have included such hashtags as PlentyOfAmmo and TargetsOfOpportunity, Moutos denied that he was advocating for violence. In a tweet sent late Thursday, he said he was instead "calling for using the full authority of the law and defend yourselves and your families!"
Moutos was an unsuccessful Republican candidate for Congress earlier this year, coming in third in a three-way primary to face Democratic U.S. Rep. Lloyd Doggett.
It was his first run for office, according to his campaign website, which noted that Moutos joined the Criminal Prosecutions Division in April 2017 after two years as a deputy county attorney in Arizona.
A six-year stint in the Navy began in 1986 and included service on the USS Wisconsin battleship during Desert Storm, after which Moutos continued serving in the Navy and Army Reserves, rising to the rank of captain, his campaign biography said.
The website said Moutos' campaign was inspired by the impact of the 1962 Supreme Court decision barring organized prayer in public schools, saying it led to God being "systematically removed from society" in an attack on morality that is destroying families, particularly women and children.
https://www.stripes.com/news/us/texas-assistant-attorney-general-loses-his-job-after-tweets-targeting-muslims-social-justice-protests-1.644016
--------
Pope's New Encyclical to Praise Jihad Terror Supporter as Example of 'Peace' and 'Fraternity'
BY ROBERT SPENCER
SEP 05, 2020
Pope Francis' new encyclical, Fratelli tutti: sulla fraternità e l'amicizia sociale ("All Brothers: On Fraternity and Social Friendship") will be issued on October 3, the Vatican confirmed Saturday. According to Church Militant, the encyclical is "a sequel to his controversial Abu Dhabi pact with Grand Imam Ahmad al-Tayyeb last year, and will cite Abu Mazen [Mahmoud Abbas], a Palestinian backer of terrorism, as an example of 'peace' and 'fraternity.'" No, this is not the Babylon Bee; this is real.
It gets even worse. According to Vatican News, "The theme of fraternity is also present in [the Pope's] constant embrace of migrants, epitomized in his pastoral visit to Lampedusa. His signing of the Document on Human Fraternity in Abu Dhabi in 2019 marks one more example of Pope Francis' dedication to promoting brotherly love."
Brotherly love. As I told Church Militant, Mahmoud Abbas has made it abundantly clear over the years that he doesn't want peace, but the total destruction of Israel as a Jewish state and the eradication of all Jews from the region. After two jihad groups, the Mourabitoun and the Mourabitat, began violent riots on the Temple Mount in September 2015, he applauded: "We bless you; we bless the Mourabitoun and the Mourabitat. We welcome every drop of blood spilled in Jerusalem. This is pure blood, clean blood, blood on its way to Allah. With the help of Allah, every shaheed (martyr) will be in heaven, and every wounded will get his reward. All of their steps, we will not allow them. All these divisions, Al-Aqsa is ours, and the (Church of the) Holy Sepulcher is ours, everything is ours, all ours. They (the Jews) have no right to desecrate them with their filthy feet and we won't allow them to."
Abbas envisions the total expulsion of Jews from a Palestinian state: "In a final resolution, we would not see the presence of a single Israeli – civilian or soldier – on our lands." And as for regarding all human beings as brothers, both Sunni and Shi'ite Islam teach that the lives of non-Muslims are not worth as much as the lives of Muslims. Reliance of the Traveller, a classic Sunni manual of Islamic sacred law, explains matter-of-factly that "the indemnity for the death or injury of a woman is one-half the indemnity paid for a man. The indemnity paid for a Jew or Christian is one-third the indemnity paid for a Muslim. The indemnity paid for a Zoroastrian is one-fifteenth that of a Muslim" (o4.9). The Qur'an calls "the unbelievers among the People of the Book," that is, Jews and Christians who do not accept Islam, "the most vile of created beings" (Qur'an 98:6).
Sultan Hussein Tabandeh, the Shi'ite author of A Muslim Commentary on the Universal Declaration of Human Rights, agrees, stating:
Thus if [a] Muslim commits adultery his punishment is 100 lashes, the shaving of his head, and one year of banishment. But if the man is not a Muslim and commits adultery with a Muslim woman his penalty is execution. … Similarly if a Muslim deliberately murders another Muslim he falls under the law of retaliation and must by law be put to death by the next of kin. But if a non-Muslim who dies at the hand of a Muslim has by lifelong habit been a non-Muslim, the penalty of death is not valid. Instead the Muslim murderer must pay a fine and be punished with the lash. … Since Islam regards non-Muslims as on a lower level of belief and conviction, if a Muslim kills a non-Muslim, then his punishment must not be the retaliatory death, since the faith and conviction he possesses is loftier than that of the man slain…Again, the penalties of a non-Muslim guilty of fornication with a Muslim woman are augmented because, in addition to the crime against morality, social duty and religion, he has committed sacrilege, in that he has disgraced a Muslim and thereby cast scorn upon the Muslims in general, and so must be executed. … Islam and its peoples must be above the infidels, and never permit non-Muslims to acquire lordship over them.
But the Pope's encyclical is certain to ignore all of this, and it is likely that the pontiff is completely unaware of it. The encyclical will mislead millions of Catholics into a complacency that could be fatal.
https://pjmedia.com/culture/robert-spencer/2020/09/05/popes-new-encyclical-to-praise-jihad-terror-supporter-as-example-of-peace-and-fraternity-n896237
--------
'Agricultural Jihad': A Hungry Lebanon Returns to Family Farms to Feed Itself
By Vivian Yee
Sept. 5, 2020
ANTELIAS, Lebanon — The falafel shop owner leaned back and listed the keys to the Lebanese kitchen — the staples that help lend this country its culinary halo:
And the chickpeas for hummus, that ethereally smooth Lebanese spread? They come from Mexico. Lebanese chickpeas are considered too small and misshapen for anything but animal feed.
"We got spoiled," said Jad André Lutfi, who helps run Falafel Abou André, his family's business, a cheap and casual chain. "We've imported anything you can think of from around the world."
So it went for years, until the country's economy caved in, before the coronavirus pandemic paralyzed what was left of it and an explosion on Aug. 4 demolished businesses and homes across Beirut — to say nothing of the damaged port, through which most of Lebanon's imports arrive.
The country that boasts of serving the Arab world's most refined food has begun to go hungry, and its middle class, once able to vacation in Europe and go out for sushi, is finding supermarket shelves and cupboards increasingly bare.
"Even making hummus at home is a luxury now," said Mr. Lutfi, noting that a kilogram of Mexican chickpeas has tripled in price. "These are necessities. Now they're becoming a luxury."
The Lebanese pound has bled about 80 percent of its value since last fall, sending food prices soaring and forcing many households to accept food handouts as the share of Lebanese living in poverty rose to more than half the population.
The potential for hunger has only grown since the blast, which displaced about 300,000 people from their homes, stripped an unknown number of their incomes and left many residents reliant on donated meals.
Late last year, Lynn Hobeika cleared out a long-neglected family plot in the village where she grew up in the mountains northeast of Beirut.
Borrowing money from a friend, Ms. Hobeika, 42, planted enough tomatoes, beans, cucumbers, zucchini, strawberries, eggplant, greens and herbs to see her extended family through the winter and beyond. She also began making fresh goat cheese for extra income.
"This is what makes me feel blessed. I can grow my food," she said, surveying the view from her garden — terraces of olive, fig, mulberry and walnut trees sloping down to a green valley. "It's OK, we're not going to starve."
Though her father, who owned a fleet of school buses, had kept chickens and a backyard garden when she was young, Ms. Hobeika and her generation grew up expecting to lead comfortable city lives. She graduated from an elite university. She and her husband earned enough to send their son to private school.
The garden in the village of Baskinta became her family's safety net. Her father and uncle were about to sell the land, which had been in the family for generations. But Lebanese banks have barred account holders from withdrawing more than a few hundred dollars per week, rendering any bank check "as worthless as toilet paper," Ms. Hobeika said.
"You lose the land for toilet paper, or we keep it and we eat for months," she said she told her uncle. "You're not making money, but you're saving money. Instead of going to the supermarket, you're eating something fresh."
Her cousin, Mansour Abi Shaker, also turned to fallow family land elsewhere, planting vegetables and raising chicken and sheep in a backyard enclosure shaded by mulberry and persimmon trees.
He had been a ski instructor, a factory manager and an operator of the generators many Lebanese depend on to fill gaps in government-supplied electricity. Then he lost all three jobs.
"Suddenly I woke up, and — nothing. Like all of Lebanon, I was jobless," said Mr. Abi Shaker, 34, who lives in the village of Aajaltoun. "I never thought I'd do this in my life, but I have to survive. This is the only business I can live off of in the future."
YouTube tutorials did not prepare Mr. Abi Shaker for the ups and downs of animal husbandry. Five sheep died, each a loss of about $500.
Though Ms. Hobeika's zucchini plants have delivered so enthusiastically that she will have enough to preserve or freeze for the winter, she, too, cannot get government water.
Then there is the climbing price of the imported dried cranberries with which she studs her goat cheese by hand; the power blackouts that make refrigerating it a daily ordeal; and the wildly fluctuating exchange rate, which has forced her to raise prices three times.
All seemed beatable until the explosion, which appeared to be the result of government incompetence and neglect. In despair after the blast, Ms. Hobeika was considering leaving Lebanon.
"I was just thinking that I was a success story. I tried," she said. "But, enough — this is not a life. We're only surviving, we're not living. And I'm not seeing any future for my son here anymore."
In returning to land last tilled by their grandparents, Mr. Abi Shaker, Ms. Hobeika and other newly minted farmers are also, in small measure, reversing Lebanon's decades-long shift away from agriculture toward banking, tourism and services.
For decades, agriculture's decline mattered little to consumers; the country could afford to import 80 percent of its food. But that outside dependence is no longer sustainable when hyperinflation is hollowing out salaries.
"We'll never be self-sufficient in what we produce," said Mabelle Chedid, a sustainable farming expert and president of the Food Heritage Foundation. "But with globalization, we started to shift to other ingredients and other food items, and I think now it's time to re-look at our traditional diet and really see the value of it."
Instead of imported quinoa, self-sufficiency advocates plug Lebanon's traditional whole grains — bulgur, a cracked wheat, and freekeh, a smoky roasted green wheat that, in the optimistic assessment of Shadi Hamadeh, an agriculture professor at the American University of Beirut, "is competing with quinoa in New York right now."
Mr. Hamadeh and Ms. Chedid run a sustainable farming initiative that counsels new farmers to plant native Lebanese seeds instead of imported varieties that yield greater harvests but are not adapted to the environment.
Among the more than 130 people who have contacted them since the economic crisis began are those planting tomatoes on their balconies, new farmers with small plots and those investing their life savings in farmland.
"It's a joke," said Chef Antoine El Hajj, Lebanon's chief televangelist for cooking affordable, traditional food, dismissing the politicians' sudden zeal for gardening. "It's not realistic."
It is not that he does not believe in homegrown produce — his extended family eats from his garden in the mountains above Beirut — but, he pointed out, there would be no need for it if Lebanon's leaders had not steered it into an economic abyss.
https://www.nytimes.com/2020/09/05/world/middleeast/lebanon-economic-crisis-farming.html
--------
Qanta Ahmed: As a Muslim American Trump admirer, I say to Joy Reid and Ilhan Omar: Shame on you!
By Qanta Ahmed
06-09-2020
Two Trump-hating, far-left radical women made news this week as they got into an argument about how to best insult President Trump. As a Muslim woman observing Islam, and someone who admires the president as a true friend of Muslims around the world and an outstanding leader of our country, I find their comments to be ignorant, insulting and intellectually dishonest.
The argument began Monday night when MSNBC host Joy Reid — who devotes her nightly show "The ReidOut" to denouncing Trump and all he does — said the president has radicalized his supporters in the same way that "Muslims act."
"Leaders, let's say in the Muslim world, talk a lot of violent talk and encourage their supporters to be willing to commit violence, including on their own bodies, in order to win against whoever they decide is the enemy," Reid said.
"We in the U.S. media describe that as they are radicalizing those people — particularly when they're radicalizing young people," Reid added. "That's how we talk about the way Muslims act. When you see what Donald Trump is doing, is that any different from what we describe as radicalizing people?"
In reaction to that ludicrously ignorant commentary, U.S. Rep. Ilhan Omar, a Muslim originally from Somalia, sharply criticized Reid and demanded an apology.
"Honestly, this kinda of casual Islamophobia is hurtful and dangerous," Omar, D-Minn., tweeted. "We deserve better and an apology for the painful moment for so many Muslims around our country should be forthcoming."
Reid didn't apologize, but said on her show Wednesday that her comments were "not exactly the most artful way of asking that question."
We all know the stereotypes about Muslims: Radical extremists and terrorists. Haters of the West in general, America in particular, and especially the Jewish state of Israel. Fundamentalists who reject modernity and oppress women.
While the stereotype is accurate for a small percentage of the world's 1.9 billion Muslims, it's far from accurate for most of us. I'm a proud U.S. citizen, reject Islamism, support the state of Israel, and as physician I am an obvious example of an educated woman who embraces science and the modern world and believes in equal rights for my gender.
I am committed to combatting Islamism — the notorious imposter of Islam that is actually an extremist political ideology that embraces radical Islamic fundamentalism. At the same time, I reject the left's obsession, objectification and infantilization of all Muslims — whether by Reid or Omar.
True to form, Omar raised the specter of Islamophobia — the fear and hostility toward Muslims — in her attack on Reid. That's a favorite silencer used by Islamists and Islamist sympathizers to simultaneously silence discourse and cry victimhood.
Omar and Reid both engage in deeply flawed thinking, illustrating how Islamism engages with the left in their notorious Red-Green Alliance that renders Muslims as monolithic, voiceless and blind followers of leftism.
I have traveled throughout the Arab Muslim world for 20 years and frequently during the Trump presidency and I have talked with ordinary Iraqis, Kurds, Yazidis, Palestinians, Jordanians, Egyptians, Emiratis, Saudis and others. In these conversations, my co-religionists have told me that far from being a radicalizer of Muslims, President Trump is a galvanizer of Muslims.
Muslims who Trump has backed include those surviving the rampage of terrorists groups such as ISIS, Hamas, Hezbollah, the Taliban, Al Qaeda and other radical Islamists. Far from being an "objectifier" of Muslims, President Trump has been a powerful advocate for Muslims by combating radical Islam throughout the greater Middle East.
Trump has taken a refreshing rapprochement with the Sunni Arab world after eight years of marginalization by the Obama administration that favored the Islamist Muslim Brotherhood.
The U.S. president received an astonishing reception at the 2017 Riyadh Summit by leaders of 55 Muslim-majority nations during his welcome to the Kingdom of Saudi Arabia, hosted by King Salman. And Trump has intensified pressure on Shiite Islamist Iran, which waging a covert proxy war with several Sunni Arab states.
In addition, President Trump ordered the remarkably bold and timely assassination of Iranian spymaster and legendary commander of the elite Quds Force of the Iranian Revolutionary Guard Corps Qassem Soleimani, the second-most powerful figure in Islamist Iran.
Trump also proposed the Israeli-Palestinian Peace Deal that offered over $50 billion in investments into the economy of a nascent Palestinian state. And he recently forged the Abraham Accords to lead to normalized relations between Israel and the United Arab Emirates — the first such peace agreement between Israel and an Arab nation in 26 years.
In truth, President Trump can be seen only as a devoted supporter of those Muslims fighting fundamentalist Islamism everywhere — namely Muslims who fight radicalization, not court it. For this Trump has earned our accolades.
Reid claims that President Trump is a puppet-master inciting Muslims like a fundamentalist Mullah — much as we find among Islamist ideologues in Pakistan, Iran, Syria, Iraq, Turkey and elsewhere. But this is absurd and couldn't be further from the truth.
Reid reveals she has no insight as to the diversity, complexity and ideological differences among my fellow Muslims across the Muslim-majority world and here in America. She has rendered us monolithic in every way — a demeaning and contemptible view.
As to the accusation of Islamophobia, Ilhan Omar once again reveals her Islamist credentials. Islamophobia is a 20th century construct that seeks to act as censor of all dialogue and examination of matters relating to Muslims and Islam, including by Muslims observing Islam and those brave critics of Islam's political imposter — Islamism.
Omar — like all Islamist sympathizers — seeks to silence any who dare criticize, examine or analyze Islam, Muslims, our institutions, our leaders, or any aspect of our societies.
Was Reid's utter stupidity offensive? Perhaps. But more than offensive, Reid's remarks were revelatory of her own rank ignorance. But were Reid's remarks an assault on Islam? Hardly.
Stretching Reid's remarks to anything close to anti-Muslim xenophobia (which is despicable in a liberal secular democracy where all minorities are protected and celebrated), Reid could be accused of xenophobia against Muslims, but this is not Islamophobia.
Islamists and their allies (including the left) recall that Omar met with Turkish President Recep Tayyip Erdogan in 2017 when she was a member of the Minnesota House of Representatives. Erdogan is the modern godfather of the Muslim Brotherhood — the mothership of Islamism.
Islamists and their sympathizers wield Islamophobia as a political and judicial shield against criticism and scrutiny of ideological Islamism. Omar seeks to silence not only the stupidity of Reid's remarks, but any rights Reid might have to examine Muslims.
This does not excuse the dumb and dumber exchange we were all subjected to. But it does reveal in the left's alliance with Islamism — whether Muslim Islamist sympathizers or a recognized far-left political commentator — how it demeans and devalues Muslims everywhere.
https://www.foxnews.com/opinion/joy-reid-ilhan-omar-qanta-ahmed
-------
Mideast
Turkish expert criticizes EU's double Standard toward Islam
Sep 5, 2020
During an illegal gathering on August 28, supporters of right-wing Danish politician Rasmus Paludan, who leads the anti-Islamic group Tight Direction (Stram Kurs), burned a copy of Holy Qur'an in the southern Swedish city of Malmo.
On Tuesday, (September 1), French Magazine Charlie Hebdo republished offensive cartoons of Prophet Muhammad (Peace be upon Him) on the eve of the trial of suspects in a deadly attack on the paper's office five years ago. In January 2015, two terrorists attacked the magazine's offices in Paris, killing 12 people, many of whom worked for the publication. The attack, condemned by Muslims across the world, was allegedly a response to the magazine's offensive cartoon of the Prophet of Islam (PBUH) a few years earlier.
Anti-Muslim moves have been on the rise across Europe in recent years. Muslim leaders in Europe and around the world have reiterated their unequivocal condemnation of the anti-Muslim acts.
Moreover, the rise of far-right ideology and the propagation of anti-immigration policies have exacerbated the status of religious minorities in Europe particularly Muslims.
To shed light on the issue, we reached out to Turkish researcher and expert Deniz Caner.
"Although the Swedish authorities did not allow the demonstration of provocation against the Quran and imposed an entry ban on the so-called politician, on August 28, far-right street painter Dan Park and Danish racist politician Rasmus Paludan had been in Malmö for two weeks and also made many attempts to provoke Muslims," Caner said.
"For 2 weeks, it seemed that these provocateurs were expected to burn the Qur'an in a completely helpless manner by the Swedish police," she added.
Commenting on the European leader's double standards regarding human rights, the Turkish expert highlighted, "While Europe, which accepts human rights and the rule of law as its basic principle, is very sensitive about anti-Semitism, it is still not able to prevent these ugly attacks against Muslims and Islam."
During an illegal gathering on August 28, supporters of right-wing Danish politician Rasmus Paludan, who leads the anti-Islamic group Tight Direction (Stram Kurs), burned a copy of Holy Qur'an in the southern Swedish city of Malmo.
On Tuesday, (September 1), French Magazine Charlie Hebdo republished offensive cartoons of Prophet Muhammad (Peace be upon Him) on the eve of the trial of suspects in a deadly attack on the paper's office five years ago. In January 2015, two terrorists attacked the magazine's offices in Paris, killing 12 people, many of whom worked for the publication. The attack, condemned by Muslims across the world, was allegedly a response to the magazine's offensive cartoon of the Prophet of Islam (PBUH) a few years earlier.
Anti-Muslim moves have been on the rise across Europe in recent years. Muslim leaders in Europe and around the world have reiterated their unequivocal condemnation of the anti-Muslim acts.
Moreover, the rise of far-right ideology and the propagation of anti-immigration policies have exacerbated the status of religious minorities in Europe particularly Muslims.
"Although the Swedish authorities did not allow the demonstration of provocation against the Quran and imposed an entry ban on the so-called politician, on August 28, far-right street painter Dan Park and Danish racist politician Rasmus Paludan had been in Malmö for two weeks and also made many attempts to provoke Muslims," Caner said.
"For 2 weeks, it seemed that these provocateurs were expected to burn the Qur'an in a completely helpless manner by the Swedish police," she added.
Commenting on the European leader's double standards regarding human rights, the Turkish expert highlighted, "While Europe, which accepts human rights and the rule of law as its basic principle, is very sensitive about anti-Semitism, it is still not able to prevent these ugly attacks against Muslims and Islam."
https://en.mehrnews.com/news/163102/Turkish-expert-criticizes-EU-s-double-Standard-toward-Islam
-------
Iran looks to China as US sanctions bite
Najmeh Bozorgmehr
06-09-2020
Please use the sharing tools found via the share button at the top or side of articles. Copying articles to share with others is a breach of FT.com T&Cs and Copyright Policy. Email licensing@ft.com to buy additional rights. Subscribers may share up to 10 or 20 articles per month using the gift article service. More information can be found at https://www.ft.com/tour.
Inscribed on the blue tiles above the entrance to Iran's foreign ministry in downtown Tehran is the ideological motto that has informed its foreign policy since the 1979 revolution: "Neither East, Nor West; [only] the Islamic Republic".
But in what appears to be a tactical shift for a theocratic state under pressure from US sanctions and hopeful for better relations with other states, Iran's leaders are working on a "comprehensive" 25-year plan to become "important strategic partners" with China.
A proposal approved by the Iranian cabinet in June and yet to be put to Beijing reflects the regime's attempt to better position itself and its economy in the face of US sanctions and what it sees as limited European efforts to save the 2015 nuclear deal, say analysts. That deal - under which Tehran agreed to abide by limits on its nuclear programme in return for sanctions relief - has faltered since the US abandoned it in 2018.
For Iran's conservative forces — who are hostile to the west — China and Russia offer a counterweight to historically strong business ties with Europe.
"Iran's political message to western states is that Iran is not alone. [ It is like] shouting: 'Hello! my daughter has an important suitor and is getting married', in case they want to rush and do something to prevent it," said a regime insider close to hardline forces.
"If this makes westerners, in particular Europeans, change their approach, then we can see how to find solutions. If not, Iran will continue to play this game with China as we have no other choice."
Reformists, who typically pivot to Europe but are disillusioned by the nuclear deal, also favour a deal with China. "Over the years, China has strengthened its foothold in Iran without trying to interfere in Iran's political stability, security and independence," said Saeed Laylaz, a reformist analyst. "This distinguishes China from the US and even Russia, both of which tend to interfere in Iran's domestic affairs."
The 18-page document seen by the Financial Times suggests many areas of potential co-operation, including the energy, petrochemicals, technology and military sectors as well as maritime projects. Despite local media reports of Chinese troops being sent to Iran and an Iranian island being given to Beijing — fanned by opposition groups who said closer ties risked Iranian independence — there were no details of this in the plan.
China is already Iran's biggest trade partner as a crippling US sanctions regime has deterred all but smaller companies without US operations from dealing with Iran. Iran-China trade was $20.7bn during the last Iranian year, which ended in March, according to Iran's customs administration, roughly a quarter of Iran's total. The figure does not include Chinese goods reimported from countries such as the United Arab Emirates.
Iran is negotiating with China over the purchase of 630 carriages for Tehran's metro, according to comments made by the city's mayor © AFP/Getty
Scaling up this business to the multi-billion-dollar projects Tehran hopes for requires better relations with the US, Iranian businessmen said. Both Chinese and European companies left Iran in the wake of US sanctions.
"This agreement is a political decision for Iran but it is a business decision for China, which means China cannot do anything serious with Iran as long as sanctions are in place," said Pedram Soltani, a businessman who deals with China. "Chinese top financial institutions and banks and big companies will not risk their interests in the US market by investing in Iran."
In July, Zhao Lijian, a spokesman at the Chinese ministry of foreign affairs, said China and Iran enjoyed a "traditional friendship" and had "been in communication on the development of bilateral relations". President Xi Jinping visited Iran in 2016.
Iran's geographical position was "strategically important" for Beijing, said Yu Jie, senior research fellow on China at Chatham House, especially given its proximity to Pakistan, where China is involved in infrastructure projects through the so-called China-Pakistan Economic Corridor. "Iran would be operating as a very important transit point for China," she said.
There are already many signs of co-operation between Iran and China. China is one of the biggest export markets for Iranian crude. Iranian analysts say that while Iran wants a guaranteed market for its oil, Beijing wants assurances of safe passage of oil tankers through the at-times tense Strait of Hormuz to China.
A manager of a leading truck company, who asked not to be named, said imports from China had doubled already this year and he expected them to increase further. Iran is negotiating with China over the purchase of 630 carriages for Tehran's metro, according to comments made by the city's mayor Pirouz Hanachi in July. "Iran's bus companies may still dream of Germany's Mercedes-Benz at night but wake up in the morning to the reality that they can at best afford Chinese buses," said Mr Laylaz.
Iranian analysts expect the agreement with China to be signed next year, regardless of the outcome of elections in the US in November and Iran next year. But the scope of co-operation will hinge on any negotiations with the US.
"China will certainly sign provisional agreements in all fields, " said the regime insider, adding that the investments could be tied to crude exports. "They [China ] will continue this game until US sanctions are lifted when they hope to be in the front row to reap benefits."
Iran lacked trust in global powers, the person said, but saw the US as a "giant wolf" and China as "an army of ants". "Both will empty our silos, but we are horrified when we look at that wolf but not too scared of those ants," he added.
https://www.ft.com/content/35d8df85-012f-4ec3-9e7d-24da255d45e1
--------
Iran could become hub of arms trafficking and exports as embargo ends
By SETH J. FRANTZMAN
SEPTEMBER 5, 2020
Iran's own media has bragged that Tehran will soon become an exporter of weapons as the arms embargo on the country ends.
The arms embargoes on Iran are ending despite US calls for them to be extended. The embargo on Iran exporting arms was supposed to be in force for five years after the Iran Deal, the JCPOA, was adopted in October 2015.
Iran's Press TV says the country produces 90% of its arms locally and that Iran is one of the leading top 10 countries in the world in terms of indigenous production. Arms embargoes that began in the 1980s during the Iran-Iraq war led the country to "produce a wide array of hardware over the years, including its own tanks, armored personnel carriers, missiles, radars, boats, submarines, UAVs and fighter planes."
"Sanctions have so far had minimal negative effects on countries and groups allied with Iran as part of the so-called 'resistance axis' formed against foreign and Zionist intervention," Press TV says.
Iran is considering not only exports of weapons but also what to do in the face of US "maximum pressure" and attempts to trigger "snapback" sanctions by the US. An article from Fars News reveals that Iran is watching the US presidential election closely. However, despite the view in the US that US presidential candidate Joe Biden might be more keen on returning to the Iran Deal, Tehran is not as enthusiastic.
"Biden's presence in the White House, if not more harmful for Iran, at least has the same consequences as Trump's presence in this position. A look at the Democratic campaign document also confirms continuation of the same containment strategy that has been in place since the Obama administration."
In short: Iran will move forward with provocations and weapons import and export regardless of the US election, according to this one report at least.
Iran is under crippling sanctions, but its narrative is that it can still export and develop weapons. Tehran in recent months boasted about new ranges for drones, new precision weapons for drones, new missiles, a satellite, new naval weapons and new radar.
The country's message is that it is still full steam ahead. However foreign reports indicate that Iran suffered mysterious setbacks at the Natanz nuclear facility and at a missile facility and that it is unable to pay its proxies in Yemen, Iraq and Lebanon due to US sanctions.
The article on the arms exports shows Iran's plans in the coming months. It illustrates that the regime wants to legally export weapons, not just do so clandestinely as it has already done in the region.
Iran has sent ballistic missiles to Iraq in 2018 and 2019, Reuters reported, and Iran has sent at least three ships laden with weapons to the Houthis in Yemen, all of which were intercepted by the US, and Iran sends air defense and other weapons to Syria, while sending precision guided munitions to Hezbollah in Lebanon.
https://www.jpost.com/middle-east/iran-could-become-hub-of-arms-trafficking-and-exports-as-embargo-ends-641171
-------
Netanyahu says Serbia will move its embassy to Jerusalem
5 Sept 2020
NEWS AGENCIES
Israeli Prime Minister Benjamin Netanyahu has said Serbia will move its embassy from Tel Aviv to Jerusalem, becoming the first European country to follow the United States in making the move.
Most diplomatic missions in Israel have been in Tel Aviv as countries stayed neutral over the disputed city of Jerusalem until its status could be settled in an Israeli-Palestinian peace deal.
But in December 2017, US President Donald Trump recognised Jerusalem as Israel's capital and announced the shifting the US embassy from Tel Aviv.
On Friday, Netanyahu revealed Serbia's move, adding that the transfer will happen by July 2021.
"I thank my friend the president of Serbia ... for the decision to recognise Jerusalem as Israel's capital and to transfer his embassy there," Netanyahu said.
"I would like also to thank my friend President Trump for contributing to this achievement."
News of the move by Serbia, not a member of the 27-nation EU, coincided with the announcement by Trump that former foes Serbia and Kosovo had agreed on an historic pact to normalise economic relations.
Meanwhile, a senior Palestinian official slammed Serbia's decision, saying it makes "Palestine a victim" of Trump's re-election hopes.
"Palestine has become a victim of the electoral ambitions of President Trump, whose team would take any action, no matter how destructive for peace ... to achieve his re-election," said Saeb Erekat, the secretary-general of the Palestine Liberation Organization (PLO), in a tweet.
"This, just like the UAE-Israel agreement [to normalise diplomatic ties], isn't about Middle East Peace," he added.
Israel seized control of East Jerusalem in 1967 and later annexed it in moves never recognised by the international community.
It considers the city its undivided capital, but the Palestinian Authority (PA) sees the occupied eastern part of Jerusalem, including the Old City with its holy sites, as the capital of their future state.
The United Nations and the European Union, Israel's top economic partner, say the city's final status must be negotiated between Israelis and Palestinians, before which countries should not locate their embassies there.
Netanyahu also announced that Israel had set up diplomatic relations from Kosovo, which declared independence from Serbia in 2008.
"Kosovo will become the first majority-Muslim country to open an embassy in Jerusalem," Netanyahu said in a statement. "As I've said in recent days - the circle of peace and recognition of Israel is expanding and more countries are expected to join."
Trump's decision to move the embassy from Tel Aviv to Jerusalem three years ago triggered Palestinian outrage and a diplomatic shockwave.
So far, only Guatemala followed in his footsteps, also opening up its diplomatic mission in the holy city in May 2018.
Friday's announcement also comes less than a month after Israel and the United Arab Emirates agreed to normalise ties under a US-brokered deal.
The agreement, expected to be signed at a White House ceremony in the coming weeks, would be Israel's first with a Gulf nation, and the third with an Arab country after Egypt (1979) and Jordan (1994).
The Old City, a UNESCO World Heritage Site, includes Islam's third holiest site - the golden Dome of the Rock and Al-Aqsa Mosque compound.
It is also home to the Western Wall, the holiest place where Jews are allowed to pray, and the Church of the Holy Sepulchre on the site where Christians believe Jesus was crucified and buried.
More than 200,000 Israeli settlers live in occupied East Jerusalem, which is home to about 300,000 Palestinians.
https://www.aljazeera.com/news/2020/09/erdogan-raises-rhetoric-greece-standoff-mediterranean-200905171928246.html
-------
How brutality to protesters shames Israel's police
YOSSI MEKELBERG
September 05, 2020
Police brutality and its use to supress political opposition is not an Israeli invention, not even a Benjamin Netanyahu brainchild; we see it on too many occasions across the globe. But for a public security minister, a former justice minister no less, to lay the responsibility for such brutality at the door of the High Court is a unique act of chutzpah.
Amir Ohana told a Knesset committee that the excessive force, including injuries inflicted on protesters, was a genuine attempt by the police to enforce the court's ruling that noise must be curtailed beyond a certain time of day in the streets surrounding the prime minister's official residence in Jerusalem. It's hard to say which is worse — that police officers honestly believe the highest court in the land allowed them to assault people exercising their democratic right to demonstrate, simply to ensure residents could have a quiet evening; or that a cabinet minister should show such utter disrespect for the intelligence of committee members and the public by making such an outlandish claim, in the process making himself look very foolish.
There have been mass protests before against Israel's political establishment, even calls for governments to resign. In 1959, Mizrahi Jews in the Wadi Salib neighbourhood of Haifa protested against discrimination. Veterans have taken to the streets en masse to express their anger at governments sending them to fight needless wars due to negligence, incompetence or sheer folly, as was the case in 1973, 1982 and 2006. In 2011, hundreds of thousands of Israelis demonstrated against the rising cost of living and the widening gap between the haves and have nots.
At many such demonstrations there were a few scuffles with the police, but most of the aggression was verbal, even if the occasional push and shove and use of the baton was never far away. But it is important to note that police violence has not always been so restrained; for example in 1976, when Palestinian Israelis protested against the confiscation of their land, and in 2000 when they came out in solidarity with their brethren in the West Bank. On those occasions live ammunition was used to kill or injure scores of protesters.
Furthermore, a substantial proportion of the security forces in charge of maintaining order in the current demonstrations have been involved in the oppression of Palestinians in the occupied territories, in many cases away from the probing media, and have habitually abused their power with excessive force. The behavior of the police in the current anti-Netanyahu demonstrations is one of the rare occasions that the Israeli population itself, especially the Jewish one, has been on the receiving end of such brutality, and even this is a much milder version of what Palestinians experience daily in the West Bank and the Gaza Strip; violence that is carried out with almost complete impunity.
It can be argued that big political protests are by their very nature tense and ferocious... however, this is no excuse for the security forces to lose their rag and behave like a bunch of untrained thugs at the behest of the prime minister.
Thankfully, no one has been killed yet in the protests outside the prime minister's Balfour Street residence and other places where citizens are exercising their basic right to peacefully assemble, to express their displeasure at the authorities, and demand Netanyahu's resignation. It is hard to separate the police's treatment of the protesters from the constant incitements against them by the prime minister and his son Yair, whose Twitter account is a boundless source of hate speech against the demonstrators; in one tweet he said he hoped they would contract COVID-19.
It can be argued that big political protests are by their very nature tense and ferocious and attract those eager to confront authority in ways that are neither eloquent nor calm. However, this is no excuse for the security forces to lose their rag and behave like a bunch of untrained thugs at the behest of the prime minister. I have watched numerous video clips in recent weeks in which, in response to some heated verbal exchange between police and protesters, or when a demonstrator stepped into the road, the police responded with disproportionate force, not sparing women and elderly people from their brutality. Some victims were pushed to the ground and dragged along or carried off like sacks of potatoes.
One senior police officer, Superintendent Nisso Guetta, was filmed punching and attacking protesters who he claimedlater had sworn at policemen. This is usually the sort of excuse the police hear from mindless thugs embroiled in brawls before locking them in a cell overnight to cool down. Although the Justice Ministry launched an investigation, he was not suspended, and instead oversaw his officers in the very next protest. This makes a mockery of police accountability, and appears to be a message to the rank and file that the use of disproportionate force is permissible because it is what their political masters wish.
Police brutality is a global phenomenon that can take the form of false arrest, intimidation, racial profiling, surveillance abuse, sexual abuse, or corruption. It leads to individual and collective trauma, and a loss of faith in those charged with protecting us from violence when our defenders become the offenders. It is even more worrying when politicians turn a blind eye to this behavior or unscrupulously encourage it to tighten their grip on power. Sadly, this is currently the case in Israel, where those being met with such unwarranted violence are protesters sick to their core with a prime minister who is a defendant in the most serious of corruption cases, and has also been exposed at his most incompetent by his failure to contain the coronavirus pandemic and its disastrous economic consequences.
The situation is a shambles, and if it is not contained and reversed, the road to the collapse of the democratic order could be rather short.
https://www.arabnews.com/node/1730001
--------
Yemen president orders troops to foil Houthi attacks on Marib
SAEED AL-BATATI
September 05, 2020
AL-MUKALLA: Yemeni President Abed Rabbo Mansour Hadi has repeated accusations about the Houthis serving Iran's agendas by fueling a "futile" war in Yemen, the official Saba news agency reported.
In a telephone conversation with the governor of Marib, Sultan Al-Arada, and the defense minister, Mohammed Al-Maqdishi, Hadi hailed army troops and allied tribesmen who have pushed back Houthi attacks on the central city of Marib and other areas in Yemen — and vowed to foil Iran's plots against the country.
The Yemeni president said that the Houthis had dispatched thousands of "deceived" fighters to Marib and other contested areas, fueling a war that only served the agendas of their masters in Tehran.
According to Saba, Hadi thanked the Arab coalition for the military support to government troops, ordering army commanders to join forces to thwart Houthi attempts to seize control of new areas in Taiz, Jawf, Marib, Al-Bayda, Sanaa, Dhale and other contested locations.
Hadi's repeated commitments to challenge the Iran-backed Houthis came as his forces, backed by the Saudi-led coalition's air cover and military logistics, engaged in heavy battles with the rebels in the province of Marib.
Despite local and international calls to cease their attack on the densely populated Marib, the Houthis have sent thousands of fighters to the province over the past couple of weeks in an attempt to defeat government forces that have pushed them back, Yemeni officials say.
Rights groups fear that the Houthi invasion of Marib could trigger a huge humanitarian crisis and displacement since the city hosts more than a million people who have fled Houthi occupation of their home provinces.
Rights groups fear that the Houthi invasion of Marib could trigger a huge humanitarian crisis and displacement since the city hosts more than a million people who have fled Houthi occupation of their home provinces.
Yemen's army website reported on Friday that more than 3,000 Houthis, including senior commanders, were killed or wounded, in addition to losing 150 military vehicles and tanks and drones last month.
The army's chief of staff, Lt. Gen. Sagheer bin Aziz, said that military operations against the Houthis would continue until the rebels were driven from the areas under their control, including the capital, Sanaa.
Inspecting battlefields in the northern province of Jawf, the chief of staff vowed to defeat the Houthis, saying the army and tribesmen had scored large victories.
On Friday, the army announced the seizing of control of a strategic mountain north of Houthi-controlled Hazem, the capital of Jawf, and the besieged Labenat military base in the province.
Yemeni Army's spokesperson, Abdullah Abdu Majili, said that the continuing battles against the Houthis in Jawf, Al-Bayda and Marib had greatly diminished Houthi manpower and equipment, adding that Arab coalition warplanes played a role in paving the way for government forces to advance on the ground.
In Marib, hundreds of people on Friday attended the funeral of Roubesh Wahban, a member of parliament who was killed in fighting with the Houthis in Marib province.
https://www.arabnews.com/node/1730081/middle-east
-------
Pakistan
NA, Senate to take up more FATF bills
Amir Wasim
06 Sep 2020
ISLAMABAD: Adviser to the Prime Minister on Parliamentary Affairs Babar Awan on Saturday said the government had convened sessions of the National Assembly and the Senate next week, specifically to get FATF-related bills passed.
Talking to Dawn, Mr Awan said he would also move motions in the upcoming National Assembly session starting on Monday (tomorrow) to seek approval of the house to refer the Anti-Money Laundering (Second Amendment) Bill and the Islamabad Capital Territory (ICT) Waqf Properties Bill — earlier rejected by the Senate — to the joint sitting of the parliament.
He said the date for the joint sitting would be finalised after consultation with Prime Minister Imran Khan.
Meanwhile, Pakistan Peoples Party (PPP) Chairman Bilawal-Bhutto Zardari, in a statement, has asked the government to postpone the National Assembly session due to the emergency situation in the country after the recent rains.
The PPP chairman said the elected representatives were presently busy in relief activities in their respective constituencies.
PPP MNA Raja Pervez Ashraf had already made a formal request to the National Assembly speaker to delay the session.
After the passage of the 18th Consti­tu­tion Amendment, if a bill passed by one house of the parliament is rejected by the other, it can only become a law after being passed by a combined sitting of the two houses.
The 104-member opposition-dominated Senate on Aug 25 had rejected the two bills through a voice vote after it objected to some of the provisions of the laws and linked its cooperation to retraction of the remarks made by Leader of the House Dr Shahzad Waseem about its leadership.
These bills had been passed by the National Assembly only the previous day.
A day after the rejection of the two bills, the opposition had questioned the legality of the entire proceedings leading to the voting process and said the bills could not be sent to the joint sitting of parliament.
While the opposition controverted the discretionary powers exercised by the Senate chairman to allow the motion seeking permission to take the bills for consideration, Chairman Sadiq Sanjrani ruled that the proceedings were in accordance with the rules of business.
The opposition has a thin majority of nine votes in the joint sitting of parliament, but the government is hopeful of getting the two bills passed.
Mr Awan said the government intended to bring the Anti-Terrorism Amendment (ATA) Bill as per the demand of the opposition in the upcoming sessions of the two houses of the parliament. He said previously the government had planned to introduce the bill seeking an amendment to the Criminal Procedure Code (CrPC) to accommodate some of the conditions of the Financial Action Task Force (FATF) to bring the country out of the grey list of countries in terms of terror financing.
Mr Awan said the opposition was of the view that if the provisions aimed at unearthing criminals' network were included in the CrPC, it could provide an opportunity to the police to misuse their powers.
In response to a question, the adviser made it clear that "presently we are not holding any talks with the opposition" and said the understanding on the amendments to the ATA had been reached with the opposition during negotiations held with them in the past.
Meanwhile, the Cabinet Secretariat on Saturday issued a notification regarding nomination of Mr Awan as member of the Cabinet Committee on Disposal of Legislative Cases.
https://www.dawn.com/news/1578173/na-senate-to-take-up-more-fatf-bills
-------
Dawar not allowed entry to Quetta for security reasons: govt
Saleem Shahid
06 Sep 2020
QUETTA: The Balochistan government on Saturday confirmed that Pashtun Tahaffuz Moment (PTM) leader and MNA Mohsin Dawar had been barred from entering Quetta.
"Mohsin Dawar is our guest and he has been shifted to a safe place," government spokesman Liaquat Ali Shahwani said, adding that ensuring safety of the MNA was the government's prime responsibility.
"After the recent blast in Quetta it was decided to provide our honourable guest maximum security," he said.
It may be recalled that Mr Dawar was taken into custody and shifted to a rest house from the airport when he arrived in Quetta on Friday.
Sources said the airport security officials did not allow Mr Dawar to enter the city.
Rejecting the official claim that restriction on him had been placed because of security reasons, Mr Dawar said the airport authorities had informed him that he was not allowed to enter Balochistan for a period of another 90 days.
"The state thinks it can break our resolve with such tactics. They can't," he tweeted.
The MNA also posted the image of a government notice on Twitter which says that under the Balochistan Maintenance of Public Order Ordinance, 1960, PTM leaders, including Mohsin Dawar and Ali Wazir, are barred from entering Balochistan for 90 days. The notice has supposedly been issued "in the best interest of public peace and safety".
Airport officials said on Saturday that the last returning flight from Quetta to Islamabad had taken off before Mr Dawar's arrival.
Local PTM leader Khalil Ahmed said Mr Dawar wanted to visit the city to offer condolences to families of those people who died during the recent violent incident at Chaman border.
https://www.dawn.com/news/1578168/dawar-not-allowed-entry-to-quetta-for-security-reasons-govt
-------
Three TTP men killed in clash with security forces in South Waziristan
Dilawar Wazir
06 Sep 2020
SOUTH WAZIRISTAN: Three suspected terrorists from the banned Tehreek-i-Taliban Pakistan (TTP) were killed in a gun battle with members of security forces in South Waziristan tribal district on Saturday.
According to police, clashes between security forces and the insurgents took place in the Shahsur Kaskai area of Servekai tehsil. They said that TTP militants attacked a military convoy which triggered the exchange of fire between the two sides.
Three militants were killed in the exchange of fire. They were identified as Shamsuddin, Rehmatullah and Adil Khan.
This was the first clash between security forces and the TTP after two splinter groups of militants declared the launch of an armed struggle against Pakistan three weeks ago.
Mohammad Khurasani, central spokesman for the TTP, in a social media post had announced that Umar Khalid Khurasani, the head of the Jamaatul Ahrar and Umar Khurasani, the head of his own splinter faction of Hizbul Ahrar, had dissolved their respective groups and taken the oath of allegiance to TTP chief Mufti Noor Wali Mehsud, aka Abu Asim Mansoor.
In another incident, a check-post came under fire from a non-custom paid vehicle near Wana, the district headquarters. Officials said that a child passing near the check post was wounded in the firing.
Members of security forces arrested two people involved in firing and they were taken to Wana Scouts Camp for investigation.
On Thursday, an army lieutenant and two soldiers were martyred and three army soldiers were wounded in a roadside blast in Anakhel area of South Waziristan district.
https://www.dawn.com/news/1578171/three-ttp-men-killed-in-clash-with-security-forces-in-south-waziristan
--------
Europe
Ammunition depot of "Ahrar Al-Sham Islamic Movement" explodes in northern Aleppo
Sep 5, 2020
SOHR sources have reported hearing a loud explosion nearby Azaz city in northern Aleppo, caused by the explosion of an ammunition depot affiliated to "Ahrar Al-Sham Islamic Movement", on the road between Kafr Kalbin and Azaz in areas controlled by Turkish forces and their proxies. The explosion resulted in the outbreak of fires in some surrounding houses. However, no casualties have been reported.
Observatory activists have just reported hearing an explosion in Al-Ghandourah town, which is under the control of Turkish forces and their proxies, in north-eastern Aleppo. The explosion, which took place this morning on the town's outskirts, was caused by the detonation of an IED in the vehicle of people working at the crossing to areas controlled by "Al-Jabha Al-Shamiyyah". The explosion killed two people and injured another one.
https://www.syriahr.com/en/182748/
-------
Birmingham stabbings: Police declare 'major incident' as several injured
06-09-2020
Birmingham News
West Midlands Police said they were called to reports of a stabbing at around 00:30 BST on Sunday, with other stabbings reported shortly afterwards.
Police said there were "a number of injured people" but could not say how many or how serious the injuries were.
West Midlands Mayor Andy Street said the incidents in the Hurst Street area "look to be related".
However he said the motivation was still unknown. A police briefing is expected at 11:00.
The BBC's Nick Clitheroe, at the scene, said the incidents had unfolded in a part of Birmingham where the Gay Village meets the Chinese Quarter, which is typically busy at night with clubs and bars.
He added: "This appears to have started out as a major fight between large groups of people but obviously at some point knives have been pulled and stabbings have taken place.
Witness Cara Curran, a club promoter working in the Arcadian Centre, said it had been busier during the evening than it had been at any time since the start of lockdown.
She said she had finished her shift at about 00:30 BST and was drinking with colleagues when she heard a "loud bang and quite a lot of commotion".
She added: "I found multiple people having fist fights... people from inside pubs and clubs came out and started to see what was going on.
"Working on the club scene for over two years, I've always seen quite a lot of fights but it was nothing like tonight. The body language and demeanour was quite different.
"The amount of things that I've heard have happened tonight in the space of three hours, with the stabbings that have happened, the car crashes and multiple other things, it's such a huge shock to me.
"For me to be an eyewitness to something that has happened, it's been quite an emotional night to the point where I'm actually still a bit shell-shocked."
Mayor Andy Street said he had been briefed by the chief constable and could confirm there had been a "series of incidents in the Hurst Street area".
He added: "The motivation is not yet understood. The area is calm and the public has been told to go about their business but remain vigilant."
West Midlands Police said: "We are aware of a number of injured people, but at the moment we are not in a position to say how many or how serious."
The force said emergency services were working together at the scene, and making sure that those who were injured received medical care.
The statement continued: "Work is still going on to establish what has happened, and could take some time before we are in a position to confirm anything.
"At this early stage it would not be appropriate to speculate on the causes of the incident.
"The emergency services have well-rehearsed plans for dealing with major incidents. Our response is ongoing in Birmingham city centre and will be for some time. Cordons are in place, and there are some road closures."
The force later said there had not been any reports of gunshots, adding: "We're aware of some comments that gunshots were fired, this has not been reported to us at this stage."
Many people had been seated at outdoor tables eating and drinking in the area on Saturday evening, the BBC's Simon Jones said.
The streets in the area had already been closed to traffic due to coronavirus restrictions.
Our correspondent added there had also been some police activity at a second location in the Snow Hill area, about a 10-minute walk from the cordoned-off area, which is believed to be linked to the Hurst Street incident.
Foreign Secretary Dominic Raab said those in the vicinity should be "very vigilant".
Speaking on BBC1's Andrew Marr Show, Mr Raab said: "We know it's a very serious incident and our thoughts and prayers are with the victims and their families. We don't know too much more than that but we advise people to stay very vigilant."
https://www.bbc.com/news/uk-england-birmingham-54045143
--------
Africa
Nigerian Army accused of executing over 70 civilians uncovered in 6 mass graves; Are they bodies of Sheikh Zakzaky's followers?
September 6, 2020
Mehr News
Having discovered above 70 bodies in six mass graves in Tillaberi, Niger's national human rights commission has accused the army of executing dozens of civilians during operations in March and April.
International rights groups have accused the armies of Niger, Mali and Burkina Faso of carrying out dozens of extrajudicial executions during campaigns against armed groups in the Sahel region.
Niger's National Commission on Human Rights was investigating allegations that 102 civilians had gone missing in the troubled region between 27 March and 2 April after an army operation.
"There have indeed been executions of unarmed civilians and the mission discovered at least 71 bodies in six mass graves," said Abdoulaye Seydou, the president of the Pan-African Network for Peace, Democracy, and Development, which took part in the investigation.
"It is elements of the Defense and Security Forces (FDS) which are responsible for these summary and extrajudicial executions," he added.
Also, last week, on August 30, dozens of people were injured and two were arrested after Nigerian police attacked mourners marking the martyrdom anniversary of Imam Hussein (PBUH) on Ashura day.
Ashura mourning ceremonies were held in more than 300 areas of Nigeria by supporters of the prominent Muslim cleric Sheikh Ibrahim Zakzaky, and in some areas police clashed with mourners, injuring and detaining several, Islamic Human Rights Commission (IHRC) website reported.
Back in 2015, Nigerian Army brutally invaded and attacked Imam Hussein's mourners in Sahib al-Zaman Husseiniyah and killed about 2,000 mourners. After injuring Sheikh Zakzaky and his wife, the Nigerian Army transferred Nigeria's top Shia Cleric to an unknown location.
Following the Nigerian Army's attack to Baqiyatallah Husseiniyah, Sheikh Ibrahim Zakzaky was severely injured and lost one of his eyes completely due to the severity of his injuries and his other eye was exposed to blindness.
https://en.abna24.com/news//nigerian-army-accused-of-executing-over-70-civilians-uncovered-in-6-mass-graves-are-they-bodies-of-sheikh-zakzakys-followers_1068212.html
--------
Islamist insurgency in northern Mozambique threatens gas fields
African News
Sep 5, 2020
It is a sobering thought for Mozambique and Southern Africa as a whole that, at time of writing, a growing insurgent army with links to Islamic State remains in control of Mocimboa da Praia in Mozambique's northern Cabo Delgado province.
The commercially and strategically important port, about 70 kilometres from the border with Tanzania, was captured by a force of as many as 1 000 fighters on August 11.
This victory was important as it was here that the insurgency really began on October 5, 2017, when a ragtag group of about 30 fighters armed with AK-47s attacked the police station and other government buildings, killing two police officers and several civilians before withdrawing.
The fall of the town earlier – while a major victory for the insurgents – was a heavy blow for Mozambique as the port is the state's main source of resupply for its war effort in the north of Cabo Delgado. The town is a major logistics hub for the liquified natural gas projects further north at Afungi near the coastal town of Palma.
https://www.energymixreport.com/islamist-insurgency-in-northern-mozambique-threatens-gas-fields/
-------
Boko Haram Terrorists Planning To Attack Abuja, Kogi, Nasarawa --Nigerian Government
BY SAHARAREPORTERS
SEP 05, 2020
The Nigerian Government has revealed that Boko Haram terrorists were already in the Federal Capital Territory, Abuja, and neighbouring states.
The government said the terrorists were planning to attack some selected targets within the nation's capital and had already set up five camps in the area.
According to an internal memo dated August 20, 2020 and signed by the Comptroller, Enforcement of Customs headquarters, H.A Sabo, all officers must be vigilant and security conscious.
The document reads, "Information reaching the Comptroller-General of Customs reveals the existence of Boko Haram terrorists camps in and around the Federal Capital Territory. Further reports have it that they are planning to attacks some selected targets within the territory.
"They are reported to have set up their camps in the following identified enclaves; Kunyam bush along airport road off DIA staff quarters - Abuja, Robochi/Gwagwalada forest, Kwaku Forest Kuje - Abuja, Unaisha Forest in Toto Local Government of Nasarawa State, Gegu Close To Idu Town in Kogi.
"Consequently, you are to be at alert and security conscious of your environment at all times. Ensure wide circulation please."
The first major terror attack in the FCT was on October 1, 2010, months after ex-Nigerian President, Goodluck Jonathan, assumed office following the death of Umar Musa Yar'adua.
http://saharareporters.com/2020/09/05/boko-haram-terrorists-planning-attack-abuja-kogi-nasarawa-nigerian-government
---------
Islamic State West Africa Province Kill 20 Nigerian Soldiers
09/05/2020
Olivia Miller
Nigeria (International Christian Concern) – Boko Haram's ISWAP faction has yet again killed more than a dozen soldiers of the Nigerian army and have overrun a military position. In the first of the two separate attacks, fighters from the Islamic State West Africa Province (ISWAP) attacked and overran a military position in Magumeri on Tuesday, September 1. During this attack, the insurgents used trucks loaded with heavy machine guns to kill at least 10 soldiers who were located at the post.
The second attack then took place in Garin Giwa Village in Kukawa Local Government Area of Borno State. This attack was conducted as a patrol of Nigerian soldiers was driving along the road. The troops were then ambushed by the insurgents. Another 10 soldiers were killed in this attack which took place on Wednesday, August 2. The terrorists were also able to steal several armored gun trucks from the troops that they had just attacked. This means more weapons and ammunition have made it into the hands of the terrorist group.
This attack comes after the latest claims by the Nigerian government that Boko Haram has been defeated or reduced in capability. Clearly these attack on military positions, shows that the group continues to have strong capabilities. This means that the people of Borno State are still very much in danger of attacks by the hateful group. Please continue to pray for an end of Boko Haram and their destructive ways.
https://www.persecution.org/2020/09/05/islamic-state-west-africa-province-kill-20-nigerian-soldiers/
--------
South Asia
Online Muharram programs broadcast in Japan
September 6, 2020
Source : IQNA
Special mourning programs in Muharram were organized by the Iranian Cultural Center in Japan.
According to the Islamic Culture and Relations Organization (ICRO), the "Online Husseiniyah" was the title of the center's programs, held in the first ten days of the lunar Hijri month of Muharram (August 21-30) and continued until the 14th of the month.
The programs were held in cooperation with the Astan (custodianship) of Imam Reza (AS) holy shrine, Al-Mortaza International Institute and ICRO's representative office in the holy city of Mashhad.
They included Quran recitation by Jalil Hossenizadeh and speeches by Hojat-ol-Islam Seyyed Mahdi Waidh Mousawi and Seyyed Ja'far Tabatabayi.
The speakers discussed Imam Hussein's (AS) uprising and the mission of Hazrat Zeynab (SA) to convey the message of the uprising.
Elegy recitations by Amir Aref and Ja'far Malaeki were other parts of the programs.
The programs were broadcast live on YouTube and Aparat channels of the center.
https://en.abna24.com/news//online-muharram-programs-broadcast-in-japan_1068111.html
--------
Bhashan Char Facilities: Rohingya team on 'go-and-see visit
September 06, 2020
Diplomatic Correspondent
A team of 40 Rohingyas reached Bhashan Char in Noakhali's Hatiya upazila yesterday on a "go-and-see visit" to the island where the government has built an accommodation for one lakh Rohingyas.
Mahbub Alam Talukder, refugee rehabilitation and repatriation commissioner (RRRC), said, "Rohingya majhis [leaders] from Cox's Bazar camps went to Bhashan Char under the supervision of Bangladesh Army and Navy. They will stay there for three days before returning to Cox's Bazar on Tuesday."
Additional RRRC Mohammad Shamsuddoza Noyon said the 40 Rohingyas from 34 Rohingya camps were mobilsed at a transit camp at Kutupalong of Ukhiya on Friday night.
In the morning yesterday, they were taken to Chattogram from where they were moved to Bhashan Char on a Bangladesh Navy ship, reports our Cox's Bazar correspondent, quoting the additional RRRC as saying.
The government has built 120 cluster villages on the 40 sq km island under a Tk 2,312 crore housing project for one lakh out of the nearly 1 million Rohingyas sheltered in cramped camps in Cox's Bazar.
Government officials said the houses have been built four feet above the ground with concrete blocks and are protected by a 13-km-long flood embankment. There are also 120 cyclone shelters, which are planned to be used as schools, medical centres and community centres.
The officials also said there are large swathes of land that could be used for rearing livestock and farming fish if the Rohingyas were relocated there. The refugees in Cox's Bazar camps have a very little work to do now.
The UN and aid agencies have been insisting that the island was isolated, flood-prone and would be hazardous for Rohingyas because of cyclones and tidal surges.
Against such a backdrop, a government delegation visited the housing project on February 13 and considered shelving the idea of relocation.
Speaking to The Daily Star, State Minister for Disaster Management and Relief Md Enamur Rahman had said the government would face difficulties in arranging food, healthcare and other necessary services for one lakh people in Bhashan Char without cooperation from those organisations.
Foreign Minister AK Abdul Momen had said if the Rohingyas were shifted to Bhashan Char, they might not agree to leave the place in future. Thus, the government was focusing on Rohingya repatriation, not relocation.
In a reverse of the plan, Foreign Secretary Masud Bin Momen at a webinar on August 24 said the 306 Rohingyas rescued from the Bay of Bengal and sheltered in Bhashan Char were doing well. He also hinted at the "go-and-see visit" by the Rohingyas.
"If they find the place better than the cramped camps in Cox's bazar, we expect to start the initial transfer of Rohingyas there after the Monsoon season," he added.
Meanwhile, the UNHCR yesterday said it is aware of the "go-and-see visit" to Bhashan Char. It is an important part of ensuring refugees can make an informed choice about voluntary relocation to the island, the UN agency said.
"The safety and protection of refugees are the most important considerations," said Mostafa Mohammad Sazzad Hossain, assistant communication officer at the UNHCR Bangladesh.
He said the UN stresses on thorough protection and technical assessments before any relocation to Bhasan Char. He said they have informed the Bangladesh government that the UNHCR would be prepared to undertake a visit to Bhasan Char to assess the accommodation and protection mechanism of the refugees.
"We are awaiting feedback [from the government]. Several months have passed since a group of refugees were transferred to Bhasan Char, and it is now urgent for the UN to have access to them," Sazzad said.
https://www.thedailystar.net/frontpage/news/bhashan-char-facilities-rohingya-team-go-and-see-visit-1956533
--------
Southeast Asia
Police lambasted for targeting LGBT community in raid in Jakarta
Alya Nurbaiti
September 5, 2020
Civil groups have criticized the Jakarta Police over the criminalization of the lesbian, gay, bisexual and transgender (LGBT) community following a recent raid on a private party in Kuningan, South Jakarta. On Aug. 29, police officers broke into an apartment where 56 males were holding a private gathering. The police later named nine people, who were the party organizers, as suspects, while the 47 attendees became witnesses in the case. Investigators charged the nine suspects under Article 296 of the Criminal Code, which is generally used to charge pimps. They also charged the suspects under Article 33 of the 2008 Pornography Law, which restricts people from funding or facilitating pornographic services, which carries a maximum sentence of 15 years' imprisonment. Read also: EDITORIAL: The politics of gay-bashing The Civil Society Coalition for the Protection of the Rights of Vulnerable Groups criticized the force's decision to name the party organizers suspects, saying the charge was unsuitable as the organizers did not hold the party for profit. The coalition -- consisting of several civil groups including the Institute for Criminal Justice Reform (ICJR), LGBT rights group Arus Pelangi and the Indonesian Legal Aid Institute (YLBHI) -- also argued that partying in a private space could not be considered a violation of the law. It went on to say that the police had violated the International Covenant on Civil and Political Rights, which was ratified by Indonesia through Law No. 12/2005, which restricts state authorities from arbitrarily entering citizens' residences. "The state shouldn't use criminal law to target certain groups. The police shouldn't justify ways to obtain evidence that violate the suspects' rights," the coalition wrote in a statement on Saturday. The coalition also argued that the police had ignored the suspects' rights to a fair trial during the raid and investigation as the force did not notify their relatives about the arrest. The police only made an announcement about the raid five days later during a press briefing. Read also: 'Moral panic' targets Indonesia's LGBT community Civil rights groups also lambasted the police for not providing legal assistance to the suspects and witnesses during the investigation, although it is guaranteed by Article 54 of the Criminal Law Procedures Code (KUHAP). "We urge the Jakarta Police to prioritize the fair trial principles and stop using all means that violate the citizens' privacy. The National Commission on Human Rights [Komnas HAM] should ensure that the case won't become a precedent for future persecutions against LGBT groups." Being LGBT is not illegal in Indonesia, but members of the community have persistently faced discrimination from authorities, society as well as radical Islamic groups. United States-based Pew Research Institute found in 2019 that only 9 percent of Indonesians agreed that homosexuality should be accepted by society. Although the figure had increased from 3 percent in 2013, it was still far below other countries, including the neighboring Philippines, where 73 percent of respondents responded that they were tolerant of homosexuality.
https://www.thejakartapost.com/news/2020/09/05/police-lambasted-for-targeting-lgbt-community-in-raid-in-jakarta.html
--------
'Enough is enough', Anwar tells Sabahans to send clear message to Perikatan govt about self-serving politicians
06 Sep 2020
BY JULIA CHAN
KOTA KINABALU, Sept 6 — Opposition Leader Datuk Seri Anwar Ibrahim urged Sabahans to send a "clear signal" in the coming state election and reject politics of patronage, racism and corruption through their votes.
The PKR president accused the federal Perikatan Nasional (PN) government of being more focused on retaining its rule by handing out favours and positions than public interest.
"This is why Sabahans during this election need to send a clear signal. Enough is enough," he said in his speech launching PKR's election machinery here last night.
He said the PN is in a precarious position in the Dewan Rakyat, holding a narrow edge over the Opposition with just 119 MPs in the 222-seat House and that the federal government could change any time.
"The prime minister cannot sleep soundly. Never before had we had so many ministries, a lot of money is spent there. The unemployment rate is soaring so high," he said.
However, Anwar told Sabahans that these political issues were far away across the South China Sea in the peninsula, but were also in their home state.
"Yes, we have politicians who rob the country. But in Sabah, there are also people robbing timber. So you need people with integrity to lead," he said.
Touching on the ongoing seat negotiations, Anwar urged PKR's partners for fair distribution, saying his party had been in Sabah since 2001.
Anwar assured his party's allies Warisan and Upko that PKR would field candidates who were loyal to the party's reform cause.
"I guarantee my friends in Warisan and Upko that we will have good candidates who are with us," he said.
He also reminded them that it was the PKR flag that went to polls in GE14 and won big for Pakatan Harapan with 54 per cent of total voters.
Nominations for Sabah is on September 12, polling is on September 26.
https://www.malaymail.com/news/malaysia/2020/09/06/enough-is-enough-anwar-tells-sabahans-to-send-clear-message-to-govt-about-s/1900548
--------
Former Transjakarta president director arrested after fleeing fraud conviction
The Jakarta Post
September 6, 2020
A joint team of attorneys arrested on Friday the former president director of city-owned transportation company PT Transjakarta, Donny Andy Sarmedi Saragih, who has been at large since 2019 after he was convicted of fraud. The team from the Attorney General's Office, the Jakarta Prosecutor's Office and the Central Jakarta Prosecutor's Office arrested him at his apartment in North Jakarta at 11:30 p.m. on Friday Central Jakarta Prosecutor's Office General Crime Unit head Nur Winardi said Donny had been on the wanted list since the Supreme Court convicted him of fraud in 2019. He said the joint team found that Donny was going to Pondok Indah Hospital (RSPI) in South Jakarta. The team immediately went to the hospital to monitor him, but he could not be found there. The team then tracked Donny's whereabouts until they went to his residence in North Jakarta. "They immediately arrested the convict at his apartment. He was taken to the Jakarta Attorney General's Office to be handed over to the Central Jakarta Prosecutor's Office," Nur said as reported by kompas.com on Saturday. Read also: Maria's extradition shows up other fugitive failures The case started in 2017 when he was serving as the operational director of private transportation company PT Lorena Transport. He and the company's corporate secretary Porman Tambunan, pretending to be officials from the Financial Services Authority (OJK), blackmailed the company's president director Gusti Terkelin Soerbakti into paying US$250,000 by threatening to reveal wrongdoings by the company. Gusti then reported the blackmail to the Central Jakarta District Court in 2018. Donny and Porman were declared guilty by the court in the same year, and the verdict was upheld by the Supreme Court in 2019. Porman was arrested in January 2020 while Donny fled his conviction. Jakarta Governor Anies Baswedan briefly appointed Donny to lead Transjakarta in January. However, Anies sacked him less than a week after his appointment following reports of his criminal record.
https://www.thejakartapost.com/news/2020/09/05/former-transjakarta-president-director-arrested-after-fleeing-fraud-conviction.html
---------
URL: https://www.newageislam.com/islamic-world-news/sermon-delivered-friday-imam-abdul/d/122801
New Age Islam, Islam Online, Islamic Website, African Muslim News, Arab World News, South Asia News, Indian Muslim News, World Muslim News, Women in Islam, Islamic Feminism, Arab Women, Women In Arab, Islamophobia in America, Muslim Women in West, Islam Women and Feminism