New Age Islam News Bureau
10 Feb 2020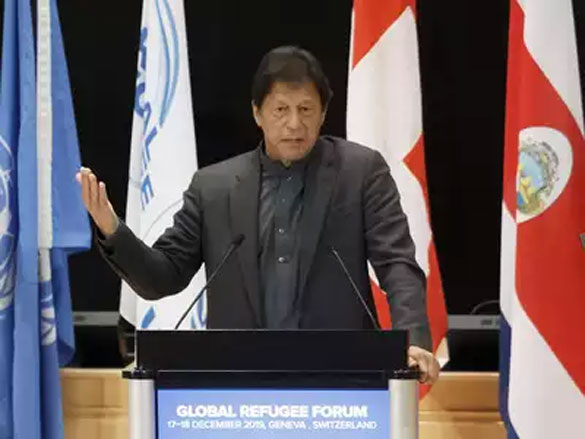 Pakistan's Prime Minister Imran Khan
------
• Jamia Students, Delhi Police Face Off Over Anti-CAA March To Parliament
• Assam Plans Survey To Segregate Assamese Muslims from Bangladeshis
• Indonesians Embrace FGM as Religious, Traditional Practice
• Iraqis Ridicule Shia Leader's Calls for Gender Segregation during Protests
• FBI Says Neo-Nazis Pose Equal Threat To US As Daesh
• Soleimani Directly Involved In Suppressing Iran Protests: Former IRGC General
• U.S. Envoy for Afghan Peace Meets Mullah Baradar, Other Senior Taliban Leaders in Qatar
Pakistan
• Pakistan PM Imran's Party Suspends Leader for Posters Insulting Hindus
• Maulana Aziz Agrees To Leave Lal Masjid after Authorities Promise 20 Kanals Of Land For Jamia Hafsa
• Islamic countries urged to stay away from imperialistic forces
• Ex-CM wants greater role of Baloch people in CPEC projects
• Sit-in was called off on assurance of PM's exit: Fazl
• LHC stays conversion of Ishaq Dar's house into shelter home
• Buzdar sees economic stability, promises relief for people
• FC personnel martyred, 5 injured in landmine blast in Harnai
--------
India
• Jamia Students, Delhi Police Face Off Over Anti-CAA March To Parliament
• Assam Plans Survey To Segregate Assamese Muslims from Bangladeshis
• Economist Kundu Says Muslims Need Support
• Davinder arrest threatens the fragile trust Kashmiri Sikhs enjoy with Indian state & Muslims
• Hasn't Put Up "No Exit" Board: Minister on Muslim Leaders Quitting BJP
• Omar Abdullah's sister Sara Pilot moves Supreme Court against his detention under PSA
• PSA file indicts Omar Abdullah for getting people to vote, refers to Mehbooba Mufti as 'Daddy's girl'
• Soldier killed in Pakistan shelling along LoC
• PSA dossier against Mehbooba: Daughter rebuts charges, why did BJP form govt with PDP?
• J&K: Civilian shot dead by militants in Pulwama's Tral area
• Seven Bangladeshi nationals held in UP's Jhansi
• Cops book man linked to UP's Shaheen Bagh
• Pakistan presents 60 from India as kabaddi world cup team
• Pak breaches truce along LoC for fourth time in 8 days
--------
Southeast Asia
• Indonesians Embrace FGM as Religious, Traditional Practice
• Learning STEM in English Will Not Undermine Islam or The Malay Race
• Action against Nur Sajat will be to safeguard Islam, says Mujahid
• Malaysian Hindus defy virus fears to mark festival
• Mosque in Perak censured by Islamic body for holding Chinese New Year lion dance, fireworks
• Anwar: Fight the Palestinian cause with clear action
• Zakir Naik files defamation suit against former Penang state rep
• I was told Saudi's King Abdullah offered monetary aid to Najib during informal Jan 2010 • meeting, former ambassador testifies
• New pact with Mahathir will ensure Muslims dominate govt, says Hadi
--------
Arab World
• Iraqis Ridicule Shia Leader's Calls for Gender Segregation during Protests
• Rulings Spark Hope For Egyptian Copts Fighting Islamic Estate Law
• Egypt's army kills 10 terrorists in Sinai
• Two Lebanese soldiers killed, three others wounded in 'ambush'
• Iraq PM-designate must form independent cabinet or face 'hell': Al-Sadr aide
• Syrian regime forces recapture territory in Idlib clashes
• Bahraini protest movement urges civil disobedience on uprising anniversary
• Syrian army gains control of 600 sq.km., several towns, villages in Aleppo, Idlib: Statement
• Qatar may become first Persian Gulf Arab state to operate submarines: Report
• Russian air strikes kill 5 civilians in Syria: monitor
• Perform or quit, archbishop tells Lebanese leaders
• Yemeni parties urged to adhere to Riyadh Agreement
--------
North America
• FBI Says Neo-Nazis Pose Equal Threat To US As Daesh
• Two US service members killed, six others injured in Afghanistan
• At least 6 US troops, 6 Afghan soldiers reported killed during operation in E Afghanistan
• Kuwait's Parliament Speaker throws Trump's peace plan in the dustbin
--------
Mideast
• Soleimani Directly Involved In Suppressing Iran Protests: Former IRGC General
• Three Doctors Sentenced To Flogging in Iran for 'Insulting' Cleric
• Turkish academic offers an intriguing but controversial view of the Muslim world
• Turkey won't allow 'deal of century' to threaten peace: President
• Iran rocket launch fails to put satellite into orbit: State TV
• Israel blocks Palestinian export in escalating trade crisis
• Not so fast: US orders Netanyahu to delay annexation of West Bank land
• Israel accused of torturing Palestinians after fatal bombing
• Israel attacks Hamas 'terror targets' after projectile
--------
South Asia
• U.S. Envoy for Afghan Peace Meets Mullah Baradar, Other Senior Taliban Leaders in Qatar
• 5 Ansar-al-Islam members held in Dhaka
• 29 Taliban militants killed, detained in airstrikes and Special Forces raids
• Key Taliban Sniper among 5 Killed In A Premature Bomb Explosion In North Of Afghanistan
• The US emphasizes law enforcement against corrupt Afghan officials
• Prominent Taliban leader, in charge of high-tech weapons killed in an airstrike
• US confirms 2 soldiers killed, 6 injured in Afghanistan
--------
Africa
• Thousands Demonstrate In Morocco against Trump Middle East Peace Plan
• Suicide attack kills Algerian soldier near Mali border
• Libya talks end without ceasefire, UN proposes second round
• Libyan rivals agree to support ongoing prisoner exchange process, extend talks
• Tunisia fires envoy to UN, reportedly over Trump plan
• At least 11 civilians killed in Takfiri terrorist attacks in Niger: Officials
• Ethiopia hosts African Union Summit to discuss poverty, human rights
• UN-brokered Libya talks end with no formal truce deal
--------
Europe
• Yazidi Choir Who Survived ISIS Persecution In Fight To Save Their Music
• Turkey reinforces troops in Syria's Idlib amid talks with Russia
• Greece seeking to outmaneuver Turkey in Mediterranean Sea
• Slovenia supports Turkey's EU membership bid: Deputy PM
• Syria and Turkey refuse to back down in Idlib
Compiled By New Age Islam News Bureau
URL:https://www.newageislam.com/islamic-world-news/pakistan-pm-imran-party-suspends/d/121027
--------
Pakistan PM Imran's Party Suspends Leader for Posters Insulting Hindus
Feb 8, 2020
LAHORE: The ruling Pakistan Tehreek-e-Insaf party led by Prime Minister Imran Khan has suspended the general secretary of its Lahore chapter over posters that featured an insulting slogan targeting the minority Hindus after public backlash, a media report said on Saturday.
Mian Akram Usman put up the poster in connection with Kashmir Solidarity Day, which was observed across the country on February 5, with the slogan "Hindu baat se nahi, laat se maanta hai" (Hindus cannot be reasoned with using words but by force).
Usman, who came under fire from netizens and his party, apologised for the posters that were put up in public spaces in Lahore.
The Pakistan Tehreek-e-Insaf party has suspended the general secretary of its Lahore chapter over a poster that had featured an insulting remark targeting Hindus, Geo News reported.
In the show-cause notice to Usman after his suspension, the party noted that the words that appeared on the posters violated the party's policy, it said, adding that the notice was issued by party's Lahore president Zuhair Abbas Khokhar.
The matter has been referred to a special committee, it said.
Usman had blamed printer for the derogatory posters, saying he had wanted to target Prime Minister Narendra Modi but the printer "mistakenly" substituted Modi's name with the word "Hindu".
"I apologise [to] all peaceful Hindus living on both sides of the border. All posters [were] removed immediately when they came [to] my notice. I'm not the one who [is] stuck on mistakes," he tweeted.
Human rights minister Shireen Mazari in a tweet on Thursday said Usman had been "reprimanded and posters were taken off immediately".
She termed it "a shameful and ignorant approach by the individual".
In March last year, another member of the ruling party Fayyazul Hassan Chohan was removed as the Punjab information and culture minister amid intense criticism over his derogatory remarks against the Hindu community.
https://timesofindia.indiatimes.com/world/pakistan/pakistan-pm-imrans-party-suspends-leader-for-posters-insulting-hindus/articleshow/74032217.cms
--------
Jamia Students, Delhi Police Face Off Over Anti-CAA March To Parliament
February 10, 2020
Students from Jamia Milia Islamia clashed with Delhi Police after being stopped from carrying an anti-CAA march towards Parliament on Monday.
The police, which had deployed heavy security around the campus, stopped protesting students near the Holy Family Hospital in Okhla. The students, in retaliation, railed against the police and jumped barricades.
ANI
✔
@ANI
Delhi: Jamia Coordination Committee's (JCC) protest march against CAA, NRC, & NPR, from Jamia to Parliament, stopped by security forces near Holy Family Hospital in Okhla.
View image on TwitterView image on TwitterView image on Twitter
239
2:32 PM - Feb 10, 2020
Twitter Ads info and privacy
74 people are talking about this
Scores of residents in Jamia Nagar staged a protest on Monday outside Jamia Millia Islamia against the CAA and NRC.
The protesters led by Jamia Coordination Committee (JCC), a group comprising JMI students and alumni, plan to march to Parliament to raise their voice against the Citizenship Amendment Act (CAA) and the National Register of Citizens (NRC).
The police, however, urged them to restrict the protests to the university as permission for the march to Parliament had been rejected.
Shaheen Bagh Official
@ShaheenBagh_
• 2h
JMI students started their march towards parliament..@Jamia_JCC @jamiamillia_
(Half an hour ago).
Via - @khannishat
Embedded video
Shaheen Bagh Official
@ShaheenBagh_
All JMI students were stopped at Holy Family Hospital by police.
Police are not allowing them to march towards parliament@MirchiSayema @ReallySwara @AshrafFem @BhimArmyChief @_YogendraYadav @NrcProtest @Jamia_JCC @QutqutG @Qazi_faroagh @ImAbdy @imMAK02 @AisiTaisiDemo
Embedded video
96
2:32 PM - Feb 10, 2020
Twitter Ads info and privacy
60 people are talking about this
The protesters, however, remained adamant about continuing the march.
"Your permission to march has been denied, I request you to protest around this area only and not march ahead," said Upendra Singh, SHO of Jamia Nagar police station.
The protesters though said, "It is our right to march to Parliament, we will continue the march ahead."
Jamia Millia Islamia Chief Proctor Waseem Ahmad has also requested students to move back. "I request both students and police to deal with the situation in a calm manner. I appeal to students to move back," Jamia chief proctor said.
Meanwhile, the police force has been deployed with tear gas and water cannons just a walking distance from Jamia, near Holy Family hospital. The march started about an hour late due to ongoing exams at the university.
The protesters raised slogans of "Aeen ke dum pe march karenge" (We will march with power from the Constitution).
The security forces have also put up multiple layers of barricades along the way.
The march to Parliament was called by the Jamia Coordination Committee against the Citizenship Amendment Act (CAA) and National Register of Citizens (NRC).
A similar march on January 30 had created a controversy after a man raising pro-CAA slogans opened fire injuring a protesting student.
https://www.indiatoday.in/india/story/jamia-students-delhi-police-face-off-over-anti-caa-march-to-parliament-1644996-2020-02-10
------
Assam plans survey to segregate Assamese Muslims from Bangladeshis
MANOJ ANAND
Feb 9, 2020
Guwahati: In what may trigger a fresh controversy in Assam, the BJP-led government in the state has decided to conduct a socioeconomic census from March this year to identify and segregate indigenous Muslims from those that migrated from erstwhile East Bengal, East Pakistan or present-day Bangladesh.
The Assam Minorities Development Board chairman Muminul Aowal told Asian Agethat the census will cover the Goria, Moria, Desi communities and the tea tribe of Jolha, whom the state government considers indigenous (like other ethnic tribes and communities of the state).
The Muslim population constitutes about 34.22 per cent of the 3.55 crore population of Assam. This includes about 40 lakh indigenous Muslims. The move to conduct a survey comes at a time when the proportion of the indigenous population of Assam, which was 47 per cent in 2001, came down to 40.45 per cent in 2016 due to the influx of migrants.
Pointing out that the department would take all the stakeholders into confidence, Aowal said, "The names of indigenous Muslims and Bangladeshi Muslims are the similar. As a result, the government faces a problem in identifying them for implementation of various welfare schemes. Since our government is committed to the welfare of indigenous Muslims, they should have a separate identity."
He said preparations for the census are in the final stage. He hoped the exercise will commence "within this financial year".
A meeting convened on February 11 by the state Minorities Development Department with various stakeholders belonging to indigenous Muslim communities will set the ball rolling for the census, which will be the first of its kind in the state, he said, adding that the state government would also be finalising the guidelines for the survey.
The religious break-up of Assam is: Hindu 61.47 per cent, Muslim 34.22 per cent, Christian 3.74 per cent, Buddhist 0.18 per cent, Jain 0.08 per cent, other religions 0.09 per cent and 'not stated' 0.16 per cent.
https://www.asianage.com/india/all-india/090220/assam-plans-survey-to-segregate-assamese-muslims-from-bangladeshis.html
--------
Indonesians Embrace FGM as Religious, Traditional Practice
By Nurhadi Sucahyo
February 09, 2020
YOGYAKARTA, INDONESIA - With a knife, a razor blade, scissors or a needle, half of Indonesia's girls are circumcised, and a new study found that it is a tradition more rooted in family folkways than religion.
"Cultural reproduction occurs in the household," said Sri Purwatiningsih, a researcher of Center for Population and Policy Studies at Gajah Mada University in Yogyakarta. "Circumcised grandmothers tend to circumcise their daughter. A mother who was circumcised by the grandmothers will most likely circumcise their daughter."
Purwatiningsih presented her findings Thursday, the International Day of Zero Tolerance for Female Genital Mutilation, at the university, where the center refers to the procedure as female genital mutilation or cutting.
Indonesia ranks third in the world, at 49%, for the rate of prevalence of female circumcision, after Mali, at 83%, and Mauritania, at 51%. According to an Indonesian Basic Health Research study from 2013, 51% of the nation's girls up to the age of 11 have been circumcised. Among them, 72.4% were circumcised at between 1 and 5 months, 13.9% when they were between 1 and 4 years old, and 3.3% were 5 to11 years old.
UN definition
Female genital mutilation refers to "any procedure involving partial or total removal of the external female genitalia or other injury to the female genitals for nonmedical reasons," according to the United Nations Population Fund. The most widespread practices worldwide involve partial or total removal of the clitoris, prepuce, or both, and the partial or total removal of the clitoris and the labia minora. The UNPF found the practice is linked to child marriage and said it "predates rise of Christianity and Islam," and was practiced as recently as the 1950s in Western Europe and the United States because a clitoridectomy was performed "to treat perceived ailments, including mental and sexual disorders."
More than an estimated 200 million women and girls alive today have undergone female genital mutilation, and "the impacts on their health and well-being can be immediate — from infections, bleeding or psychological trauma — to chronic health conditions that can occur throughout life," according to a U.N. release. It continued to say, "the cost of treating the total health impacts" of female genital mutilation is $1.4 billion globally per year.
"FGM is not only a catastrophic abuse of human rights that significantly harms the physical and mental health of millions of girls and women; it is also a drain on a country's vital economic resources," said Dr. Ian Askew, director of the World Health Organization's Department of Sexual and Reproductive Health and Research on a U.N. website.
Indonesian study
A survey focused on Indonesian girls and women, conducted by the Center for Population and Policy Studies in 2017, found 87.3% of 4,250 households in 10 provinces obtained female circumcision information from their parents. Of those surveyed, 92.7% said they believed the practice was primarily religious and 84.1% said the practice is also traditional. An overwhelming majority of respondents, 97.8%, approved of female circumcision, saying the tradition should be practiced.
The survey also found that traditional Indonesian birth attendants were responsible for 45% of female circumcisions, midwives or nurses conducted 38%, female circumcision specialists performed 10%, and doctors performed 1%.
Hamim Ilyas, a professor at the Faculty of Sharia and Law at Islamic National University Sunan Kalijaga in Yogyakarta told VOA Indonesia that only those who interpret Islam in the most literal way can find justification for female circumcision in its teachings.
He considers the best approach to the issue to be "state based," meaning families should obey Indonesia's laws. He used traffic lights as an example, religion never taught a person to stop at a red light, but the signal represents a law that drivers know to obey.
"The minister of health's regulation has forbidden FGM. … However, the government seems to be hesitant under pressure," from fundamentalist sectors of Indonesian society, he said. "If the government is determined, if the government is brave, the practice can be eradicated. But the government seems not ready yet [to enforce the law] because the people are not ready yet. We have to change our society, to be a society that anti-FGM. It is through the transformation of religious understanding — not [by] changing the teaching, but changing the understanding of it."
Indonesian law
Ika Ayu, an activist at the Jaringan Perempuan Yogyakarta, or Yogyakarta Female Network, criticized the government's indecisiveness on FGM, as even Majelis Ulama Indonesia, the country's top Muslim clerical body, rejected the practice in 2008.
Despite the Ministry of Health regulations, she said, "The government has not ever been clear in regulating FGM, while we know FGM has been listed as harmful practice as part of [the U.N.'s] Sustainable Development Goals."
She urged the government to be more decisive and added, "Today, we commemorate zero tolerance for female genital mutilation, but in practice, it is still being done. We should ask, 'How can a country guarantee the fulfillment of every citizen's rights?' Female circumcision violates individual rights because it was done without the girls' consent."
Dr. Mukhotib, a reproductive health activist who, like many Indonesians uses only one name, told VOA that the many reasons to reject female circumcision include the fact that it has no medical benefit, countering traditional beliefs.
"There is no benefit to FGM. It does not make women healthier," he said. "If there is no medical benefit, why bother?"
https://www.voanews.com/east-asia-pacific/study-indonesians-embrace-fgm-religious-traditional-practice
--------
Iraqis Ridicule Shia Leader's Calls for Gender Segregation during Protests
9 February 2020
Hundreds of Iraqis took to social media on Sunday to ridicule a prominent Shia political leader for his comments calling for gender segregation during protests.
Muqtada al-Sadr said that men and women should not mix in sit-in tents during demonstrations in a list of restrictions and rules posted on his Twitter page.
One Twitter user, who drew a mustache on her face, shared a video mocking al-Sadr's comments with a caption that said, "In solidarity with the wave of ridicule of Moqtada the traitor, I participate in my own way."
"There will be no mixing. Even my brothers, I won't mix with them…The Sayed [al-Sadr] does not allow mixing [between men and women]. But for the Sayed it is acceptable that we steal, we bomb the world, we filter people out [by killing them] based on their name, do you remember?" she said in the video.
Another Twitter user posted a video of a woman leading a protest in Iraq's Nasiriyah, with a chant praising the city's men.
The caption on the video said, "The Sayed: It is not permissible for men and women to mix, and Nasiriyah responds."
Rasha al-Aqeedi, an Iraqi journalist, shared a GIF of Iraqis inside a sit-in tent in Baghdad, with the caption "Muqtada al Sadr: men and women shouldn't mix. Baghdad's youth: Hold our chai and cigarettes, habibi".
Rasha Al Aqeedi
✔
@RashaAlAqeedi
Muqtada al Sadr: men and women shouldn't mix
Baghdad's youth: Hold our chai and cigarettes, habibi https://twitter.com/tbark_mansour/status/1226196816657625091 …
Tbark Mansour تبارك منصور
@tbark_mansour
مقتدى: مراعاة القواعد الشرعية والاجتماعية للبلد وعدم اختلاط الجنسين في خيام الاعتصام.
Embedded video
1,116
3:32 AM - Feb 9, 2020
Twitter Ads info and privacy
251 people are talking about this
Iraqi men also launched their own social media campaign on Facebook, sharing photos of themselves with headscarves, jokingly disguising themselves as women, to poke fun at the leader's statement that men and women should not mix during protests.
عراقي🇮🇶
@iraq2020110
بعد دعوة الصدر الى عدم الاختلاط
حملة يطلقها الشباب على فيس بوك تتمثل بارتداء الحجاب للسخرية من تغريدة مقتدى
View image on TwitterView image on TwitterView image on TwitterView image on Twitter
1,553
10:11 PM - Feb 8, 2020
Twitter Ads info and privacy
533 people are talking about this
Almost 550 Iraqis have been killed in anti-government demonstrations since protests erupted in Baghdad and southern cities across the country in October 2019.
https://english.alarabiya.net/en/features/2020/02/09/Iraqis-ridicule-Shia-leader-s-calls-for-gender-segregation-during-protests.html
--------
FBI says neo-Nazis pose equal threat to US as Daesh
09 February 2020
The rise of violence by neo-Nazi and white supremacists in the US is now as significant a threat to the country as foreign terrorist organizations such as Daesh (ISIL), according to the FBI.
The threat of anti-government and far-right groups has risen to a "national threat priority" for 2020, FBI Director Christopher Wray told the Judiciary Committee of the US House of Representatives.
Racially and ethnically motivated extremists pose a "steady threat of violence and economic harm" to the US, Wray said.
The FBI director said his agency is "most concerned about lone offender attacks" which have "served as the dominant lethal mode" for domestic terror incidents.
In 2019, the FBI made 107 domestic terrorism arrests, on pace with the number of arrests it made for international terrorism.
In the same year, the FBI announced the launch of a Domestic Terrorism-Hate Crimes Fusion Cell, which allows the organization to allocate as much resources to combat domestic terrorism as it does to combat other terror-linked groups.
The US Department of Homeland Security, which oversees the FBI, recently recognized white nationalism as a significant domestic threat.
On Saturday, more than 100 members of a white nationalist group held a rally in Washington.
Members of the Patriot Front, dressed in khaki pants and caps, blue jackets and white face masks, shouted "Reclaim America!" and "Life, liberty, victory!" video of the march showed.
In his State of the Union address Tuesday night, President Donald Trump said the US will continue to fight against what he called "radical Islamic terrorism" but did not mention the terror threat fueled by white nationalist and other domestic terror groups.
Since his election, polling has shown Americans wary of Trump when it comes to race. A Pew Research Center poll last year showed 56% of Americans believe Trump has made race relations worse.
Americans gave similarly poor assessments of the president's impact on specific racial, ethnic and religious minorities. Nearly 6 in 10 considered Trump's actions to be bad for Hispanics and Muslims, and about half said they were bad for African Americans, according to a February 2018 poll from the AP-NORC Center for Public Affairs Research.
https://www.presstv.com/Detail/2020/02/09/618234/US-FBI-Racially-motivated-violent-extremists
--------
Soleimani directly involved in suppressing Iran protests: Former IRGC General
10 February 2020
Slain Iranian military commander Qassem Soleimani was directly involved in suppressing protests inside Iran, according to the former head of the Islamic Revolutionary Guard Corps (IRGC) Maj. Gen. Mohammad Ali Jafari.
"Qassem Soleimani was on the streets in the fight against the counter-revolutionary and took effective measures to control insecurity and riots in 1999 and 2009," Jafari, who headed the IRGC from 2007 to 2019, tweeted on Sunday.
Jafari's tweet refers to the Iranian student protests in 1999 and the protests that followed Iran's controversial presidential election in 2009.
In 1999, Soleimani was one of 12 IRGC commanders who warned then-President Mohammad Khatami in a letter that if he did not put an end to the student protests, the IRGC would step in and do it itself.
"Soleimani was at the Tharallah base on many occasions," Jafari added in the same tweet.
The Tharallah base is an IRGC base in Tehran which oversaw the suppression of protests in the Iranian capital that followed the disputed 2009 presidential election.
Soleimani, who headed the Quds Force, the overseas arms of the IRGC, was killed in a US airstrike at Baghdad's international airport last month.
Anti-government protests broke out across Iran in 2019 and early 2020. The Iranian authorities cracked down on the protesters with lethal force, with the exact death toll contested.
The fate of thousands of Iranian protesters arrested since last November remains unknown, with their relatives fearing they are dead as they have not received any information from authorities, according to a report by the US-based Center for Human Rights in Iran.
https://english.alarabiya.net/en/News/middle-east/2020/02/10/Soleimani-directly-involved-in-suppressing-Iran-protests-Former-IRGC-General.html
--------
U.S. envoy for Afghan peace meets Mullah Baradar, other senior Taliban leaders in Qatar
10 Feb 2020
The U.S. envoy for Afghan peace Zalmay Khalilzad met with Mullah Baradar, the deputy political chief of Taliban in Qatar late on Sunday.
Suhail Shaheen, a spokesman for the political office of Taliban in Qatar said some other senior Taliban leaders including Mullah Mohammad Fazil, Mullah Khairullah Khairkhwa and Mawlavi Amir Khan Mutaqi also attended the meeting.
Shaheen further added that the Foreign Minister of Qatar was also present in the meeting.
According to Shaheen, the participants of the meeting discussed some key issues pertaining the outcome of peace talks as well as steps to be taken in the future.
The U.S. and Taliban representatives launched direct negotiations over a year ago in a bid to find a political solution to end the ongoing conflict in Afghanistan.
The two sides have so far participated in 11 rounds of peace talks.
https://www.khaama.com/u-s-envoy-for-afghan-peace-meets-mullah-baradar-other-senior-taliban-leaders-in-qatar-04438/
--------
Pakistan
Maulana Aziz agrees to leave Lal Masjid after authorities promise 20 kanals of land for Jamia Hafsa
Kalbe Ali
February 09, 2020
Deposed khateeb of Lal Masjid Maulana Abdul Aziz agreed on Sunday to end his occupation of the mosque after three-day long negotiations with the Islamabad administration, who said that 20 kanals of land will be allotted to establish Jamia Hafsa.
The maulana is expected to leave by Tuesday. The female students, who had entered the Jamia Hafsa in Islamabad's Sector H-11 on Thursday, have started to leave. The police force surrounding the seminary in H-11 has been withdrawn.
During the negotiations, the maulana claimed that his "movement" against former president Pervez Musharraf had started because mosques in the capital were being demolished and insisted that such incidents had resumed. The authorities assured him that his complaints will be taken to competent authorities and that his demand for a settlement in light of the Supreme Court's decision will be considered.
Earlier, an official of the capital administration had said that the demands of Maulana Aziz cannot be implemented as he wants to become the khateeb of the mosque again. He also wants Rs250 million along with a large piece of land to establish Jamia Hafsa and the possession of the adjacent old children's library plot, he added.
Aziz occupies mosque
Maulana Aziz had returned to Lal Masjid around two weeks ago, reiterating his claim to be its prayer leader. The situation, however, turned serious on Thursday night when over a hundred female students entered the Jamia Hafsa in Islamabad's Sector H-11 by breaking its official seal. As a result, officers from the capital administration approached Lal Masjid to meet Maulana Aziz. But talks remained inconclusive as the cleric insisted that a senior authority equivalent to a federal minister should negotiate with him.
On Saturday, in a bid to end the standoff, the proscribed Ahle Sunnat Wal Jamaat (ASWJ) volunteered to play a role and met officials outside the state-run mosque, while security personnel met the Islamabad administration officials to defuse the situation. A delegation of ASWJ, led by its Islamabad president Hafeez Nazeer, came to Lal Masjid on Saturday and met the officers posted outside. The delegation assured the assistant commissioner of their support and cooperation for a peaceful solution to the standoff.
None of the sides seemed to back off from their positions as the followers of Maulana Aziz and the administration enhanced their strict posture possibly in a show of strength.
Speaking to Dawn, Maulana Aziz said: "The rhymes we are playing are not aggressive or instigative, at least if compared to the dharnas with dance and music.
"There is always a way out. But this government is more politically immature and tyrant than the Musharraf regime," he said while comparing the political sense of former dictator Pervez Musharraf with the incumbent government.
The maulana said his only demand was to implement the 2007 decision of the Supreme Court.
He said neither he would leave Lal Masjid nor the female students, who had entered the Jamia Hafsa H-11, would do so.
"We are not afraid of anything," he had declared.
Lal Masjid standoff
A tense environment had prevailed over the weekend near the capital's state-owned mosque, which was occupied by its deposed Maulana Aziz, with the cleric's supporters raising slogans amidst a heavy police presence.
The maulana was holed up inside the mosque along with several female students and police had cordoned off the area by placing barriers and barbed wires on the roads around the mosque.
In an apparent bid to garner support, Maulana Aziz had also reached out to seminaries of Deobandi school of thought in Islamabad. Three major seminaries of the Deobandi school of thought — Jamia Fareedia, Jamia Rasheedia and Jamia Muhammadia — declined Maulana Aziz's request to send their students either to hold a protest against the blockade of Lal Masjid or to offer prayers on the main road outside the mosque.
Maulana Zahoor Alvi, the principal of Jamia Muhammadia and the head of Wafaqul Madaris Al Arabia's Islamabad chapter, also refused to be part of the group of individual clerics who wanted to meet both sides.
Explaining Maulana Zahoor's stance, his son Maulana Tanvir Alvi said: "It is a clear policy of Wafaq that students should be learners and not activists or politicians."
Maulana Zahoor's decision did not sit well with the deposed Lal Masjid cleric, who said that "the standards [of the Wafaqul Madaris Al Arabia] were different when Maulana Fazalur Rahman launched his political drive and the students were seen actively participating in his dharna".
Administrative lapse?
Taking advantage of the situation when the authorities seemed to be busy with other issues, and the slackness of the Islamabad Capital Territory (ICT) administration to notify either a prayer leader or a deputy, Maulana Aziz had re-entered the Lal Masjid two weeks ago.
Possibly to test the reaction of the authorities, the cleric delivered a Friday sermon last week but it was ignored despite repeated warnings by one of his former comrades Hafiz Ehtesham Ahmed, who claims to be the spokesperson of Lal Masjid's Shuhada Foundation.
"The matter was brought to the notice of police that Haroon Rasheed, who had been picked up by security personnel earlier, was also illegally occupying the official residence of naib khateeb in Lal Masjid," said Hafiz Ehtesham.
https://www.dawn.com/news/1533420/maulana-aziz-agrees-to-leave-lal-masjid-after-authorities-promise-20-kanals-of-land-for-jamia-hafsa
--------
Islamic countries urged to stay away from imperialistic forces
February 10, 2020
ISLAMABAD: Leaders of diverse religio-political parties Sunday called on the Islamic countries to stay away from the imperialistic forces for their survival and unity in their ranks.
Speaking here at a rally, organised by Majlis Wahdatul Muslimeen to mark Chehlum of Iranian senior commander General Qassem Soleimani and others, they said the martyred general was a hurdle in the way of US terrorist proxies in the Middle East, who had been dealt a telling blow by him. Large numbers of senior leaders and activists from MWM, Milli Yakjehti Council, Imamia Student Organisation, Jamaat-e-Islami and Tanzeem Ahle Haram attended the event.
MWM Secretary General Allama Raja Nasir Abbas Jaffary said that Soleimani had defeated the US plot to divide the Islamic countries and its dream of a greater Israel had been smashed. He claimed the deal of the century had been trampled, as many participants chanted slogans against the imperialist powers and their agents in the Middle East. They vowed to take forward his mission. "The protection and survival of the Ummah lies in staying away from the US, which always stabs from the back and reneges on commitments and promises," he went on to allege.
Allama Nasir called for production of 'our missing persons in courts, as forced disappearances are immoral, illegal, unconstitutional and inhuman acts'. He said that claims of framing an independent and free foreign policy were turning out to be as hollow, as other promises of turning around the country's fate. MWM Deputy Secretary General Allama Ahmad Iqbal Rizvi said the martyred general had trashed all the satanic conspiracies while some countries in the Middle East supported the US in its deal of the century.
He alleged Muslim countries in the Middle East had struck a deal on Palestine by establishing diplomatic relations with Israel. "General Soleimani lives on in the hearts of all free people," he remarked while paying tributes to him.
Referring to the boisterous gathering, Allama Abdul Khaliq Asadi said that the congregation was a manifestation of unity and amity while the anti-Islam forces wanted to weaken the Islamic nations by fanning sectarian tensions. Deputy Secretary General of MYC Saqib Akbar said, "We will not allow compromise on Kashmir issue and want our foreign policy to be framed in Islamabad and not on the dictations from outside."
Full report at:
https://www.thenews.com.pk/print/611570-islamic-countries-urged-to-stay-away-from-imperialistic-forces
--------
Ex-CM wants greater role of Baloch people in CPEC projects
February 10, 2020
GWADAR: Former chief minister of Balochistan Dr Abdul Malik Baloch believes that federal and provincial governments should prioritise the inclusion of Balochistan's local communities in all projects being executed under the China-Pakistan Economic Corridor (CPEC).
"Their interests and identities need to be protected through legislation for economically sustainable and socially acceptable development," he said, according to a press release.
Addressing a stakeholders' roundtable at Gwadar, Dr Malik advocated a greater role of the locals in running organisations such as the Gwadar Port Authority and Gwadar Development Authority (GDA).
"How can you expect the local people not to be resentful if their share of jobs in provincial institutions such as GDA or the Gwadar Port Authority is minimal," asked the former chief minister, adding that the share of jobs must be increased for locals in Gwadar, in particular, and Baloch people in general across the province.
Political activists, provincial government officials, fishermen and business representatives participated in the round-table organised jointly by the Centre for Research and Security Studies (CRSS) and the Association for Integrated Development (AID).
They sounded frustrated with what they called the indifference of the federal and provincial governments to issues such as health, education and livelihoods of the fishermen. "Is it not ironical that we are surrounded by sea but we have hardly a pint of potable water," asked a local trader dealing in fish.
Most of the delegates who deal in fisheries demanded subsidies or soft loans to further develop their business. "Almost 75 per cent of Gwadar's population lives off the sea i.e. fishing but hardly has anybody access to subsidies or loans," they said.
Almost all participants highlighted the dismal state of public health and educational institutions. Abul Hassan, a local political activist, asked if the CPEC agreements were about state-to-state loan and grants or they were about purely commercial projects. He bemoaned the fact that hardly any socio-economic impact study had ever been carried out before launching development projects in Gwadar.
People at large at the round table sounded wary of local politicians. "They [politicians] are ready to spend tens of millions on their election campaign but hardly seem to care for potable water that locals desperately need," said a local fisherman at the stakeholders' dialogue.
Residents of Gwadar at the dialogue also spoke about their discomfort with unusual strict security measures on roads connecting the port with the city. "These security measures would come across as less imposing if the personnel on checkpoints are sensitised on how to approach locals," said Ashraf Hussein, a local politician.
They demanded immediate redressal of problems that local fishermen face because of the trawlers that intrude into Balochistan's waters from Sindh.
Most of the participants also repeatedly underscored the need for urgently setting up technical education and training centres in Gwadar so that the city could produce skilled workers for the upcoming industrial zone.
Full report at:
https://www.dawn.com/news/1533576/ex-cm-wants-greater-role-of-baloch-people-in-cpec-projects
--------
Sit-in was called off on assurance of PM's exit: Fazl
Amjad Mahmood
February 10, 2020
LAHORE: Jamiat Ulema-i-Islam (JUI-F) chief Maulana Fazlur Rehman has claimed that he had ended the Islamabad sit-in on the assurance that Prime Minister Imran Khan would immediately step down and new elections would be held three months after his resignation.
Before making this claim, Maulana Fazl said: "I urge [Punjab Assembly Speaker] Chaudhry Pervaiz Elahi to disclose the secret he is carrying as amanat."
However, he did not say where the assurance came from, and analysts are of the view that throughout the JUI-F protest and dharna there was no indication that the PTI government was vulnerable or it may agree to the JUI-F's demand for re-elections.
Chiding the government for failing to control the spiral of price hike, the JUI-F leader announced that his party would again take to the streets, beginning from Karachi on Feb 23.
The benefit expected from the Azadi March that the JUI-F had launched in November last year against the government could not be achieved, because the two major opposition parties Pakistan Peoples Party and Pakistan Muslim League-Nawaz didn't extend their support to the cause, he said.
The JUI-F had staged 13-day (from Nov 1 to 13, 2019) sit-in on Kashmir Road in Islamabad that came to an abrupt end as the party chief announced going for Plan B, blocking various major roads across the country.
The Chaudhrys had held a number of meetings with the JUI leadership during the sit-in.
Talking to the media after meeting Markazi Jamiat Ahle Hadith chief Prof Sajid Mir here on Sunday, Maulana Fazl said he would think of inviting the Chaudhrys of Gujrat to his public meetings (he planned to hold across the country) only after they changed their position (giving up support to the PTI government).
Answering a question, he gave credit to his anti-government movement for the fissures appearing in the ruling alliance.
The JUI-F chief said he didn't recognise the existing parliament that he alleged was the result of a bogus mandate.
Replying to another query about the rifts in the ruling coalition, he said issues would emerge when the government wouldn't keep the word it had given to its coalition partners.
He told a questioner that he had no contacts with former president Asif Ali Zardari and former prime minister Nawaz Sharif since their respective parties voted for the amendment to the Army Act to empower the prime minister to extend the tenure of the chief of the army staff.
However, he added, he had not shut doors of cooperation on the two parties and would talk to them if they approached him for the purpose. He said PPP was earlier conditionally supporting the amendment to the army act but then withdrew the changes it had recommended for the proposed amendment, as both PPP and PML-N backed the extension.
It was because of the PPP and PML-N, which didn't extend their support to the cause, that the benefit expected from the Azadi March could not be achieved, the JUI-F chief said.
At present there was vacuum in power corridors, with the government having lost its writ to 'some forces', as the situation changed after the issue of the army chief's extension went to the courts and parliament, he said.
Answering a question, Maulana Fazl said the opposition was staying put with its narrative but the mindset of the masses could not be changed. That was why, he said, the JUI-F had decided to take to the streets, beginning from Karachi on Feb 23, followed by a national convention in Islamabad on March 1, and a public meeting in Lahore on March 19 in an attempt to assemble people on a single platform. He urged the people to respond to his call for removing the 'illegal' and 'incompetent' government.
Full report at:
https://www.dawn.com/news/1533564/sit-in-was-called-off-on-assurance-of-pms-exit-fazl
--------
Buzdar sees economic stability, promises relief for people
February 10, 2020
LAHORE: Chief Minister Usman Buzdar has claimed the Pakistan Tehreek-i-Insaf government's relations with its allies were exemplary and the opposition will have to face humiliation for spreading despair.
In a statement issued here on Sunday, he said the opposition's attempt to create cracks in the ruling coalition would be foiled as it was doing "politics of anarchy".
He also claimed the country's economy had been stabilised and the government would now focus its attention on providing relief to the people.
The chief minister said the Pakistan Tehreek-i-Insaf government was taking all possible administrative measures to overcome the price hike problem, besides other positive initiatives to resolve the masses problems.
He said the government had taken unprecedented practical steps to bring prosperity and comfort in the people's lives.
He regretted that the previous rulers focused their attention on "filling up their own coffers" instead of ensuring country's progress and prosperity and added that the whole nation was now paying a very heavy price for their "misdeeds".
GOVERNOR: Governor Chaudhry Sarwar has said the opposition was not united and has lost people's trust as its components do not believe in each other.
In a meeting with three provincial ministers -- Basharat Raja, Ansar Majeed Khan Niazi and Rai Taimoor Khan Bhatti at the Governor House on Sunday, Mr Sarwar said the opposition was fighting just to save its own skin.
He said obstructing transparent and indiscriminate accountability for even a single minute would not be in the country's interest.
Stating the federal and Punjab governments were taking practical steps for the public welfare, he said a policy was being formulated to do away with problems like price hike.
The governor said the opposition might continue making plans, but it would not succeed in its agenda come what may.
He said the opposition's dream of mid-term elections would never come true as the its component parties were only watching their own interests.
About the opposition parties, he said they would be left with nothing to sell to people once the present government completed its tenure in 2023. "The opposition, instead of resorting to protests and creating chaos, must play its democratic role inside and out of the parliament," he suggested.
Later, in a meeting with Christian community's delegation led by PTI MNA Shanila Ruth, the governor said the minorities were enjoying complete freedom in Pakistan and their lives and properties were safe here.
Full report at:
https://www.dawn.com/news/1533502/buzdar-sees-economic-stability-promises-relief-for-people
--------
FC personnel martyred, 5 injured in landmine blast in Harnai
Syed Ali Shah
February 09, 2020
A Frontier Corps personnel was martyred while five were injured after the patrolling vehicle came into contact with a landmine in the Khost mining area in Balochistan's Harnai district on Sunday.
Harnai Deputy Commissioner Azeem Jan Damar confirmed the incident and said that the FC soldiers were on a routine patrol when their vehicle hit the landmine. The vehicle was also damaged in the blast.
The injured personnel were rushed to a nearby hospital as Levies and FC forces arrived at the scene to investigate the incident.
https://www.dawn.com/news/1533426/fc-personnel-martyred-5-injured-in-landmine-blast-in-harnai
--------
India
Economist Kundu says Muslims need support
FEBRUARY 09, 2020
Hyderabad: With mainstream media perpetuating negative stereotypes about Muslims' treatment of women and their overall conditions, Prof Amitabh Kundu's presentation was a breath of fresh air. That too, with Syed Jaleel Ahmed, President of the All India Majlis-e-Tamir-e-Millat, stating that a campaign is underway to demonize the Indian Muslim population in his introductory remarks.
The chairperson of the Post-Sachar Evaluation Committee delivered the 14th Annual Khaleelelullah Hussaini Memorial Lecture titled "The Socio-economic Inequalities and the Current Challenges for Indian Muslims."
He started on a high note by quoting Asian Development and Brookings Institution reports that extolled the economic potential of Asia and, especially India. However, Kundu quickly clarified that these reports assume that there is equal labour participation and overall equity among the diverse communities within the country.
During his presentation, he evaluated the different levels of economic well-being and economic progress over time of Muslims compared to many other socio-religious groups. Be it upper as well as lower caste Hindus or even Christians, Muslims surprisingly fared better in certain areas. "Access for Muslims to health care within government facilities regarding supplementary food, medical checkups are subpar, and nutrition but overall health outcomes are better. Part of this is because they tend to have toilets in their households."
What stood apart among all these statistical evaluations was the fact that a Muslim woman lives a year and a half longer than the upper-caste Hindu one. Although he did clarify that such a reality doesn't negate the discrimination faced by Muslim women in the household. However, he mentioned that, "There is more emphasis on medical care and attention in their [Muslim's] households."
He also elaborated on one effect of the impending National Population Register in that it will affect migration from rural to urban areas, which is where Muslims are concentrated. This in turn will make the 2021 census difficult to carry out.
Kundu also singled out the lack of access to basic housing and infrastructure facilities that only further the exclusion and inequality that Muslims face in metropolitan cities. "The Waqf property can help alleviate such disparities by helping out with housing," he
added.
Prof Shaban substantiated the perspective presented by Kundu while Prof Amir Ullah Khan pointed out that the Muslim community is flux following the enactment of CAA and the hanging sword of NRC. These factors have unsettled the community and instead of worrying about bettering the lifestyle it is pushed to think only about the enumerators who might declare its Indian identity suspect.
Tameer-e-Millat President Jaleel Ahmad underscored the fact the community has to fully grasp the change sweeping across the country and get ready for the future which appears to becoming uncertain.
https://www.siasat.com/economist-kundu-says-muslims-need-support-1821017/
--------
Davinder arrest threatens the fragile trust Kashmiri Sikhs enjoy with Indian state & Muslims
KHUSHDEEP KAUR MALHOTRA
10 February, 2020
The details of Jammu and Kashmir Deputy Superintendent of Police Davinder Singh's alleged involvement with militants and purported role as a 'double agent' are still not clear, and perhaps will never be. But the incident has opened familiar and painful wounds for the Sikh community in the Valley.
A notification issued by the Narendra Modi government on 22 July 2019 illustrates the point. Issued in response to Referendum 2020, a non-binding vote proposed by the British non-governmental organisation Sikhs for Justice (SFJ) to see whether people wanted an independent Punjab, the notification declares SFJ an "unlawful association" under the Unlawful Activities Prevention Act (UAPA).
The notification further confers powers on eight states and Union Territories (including Delhi and Kashmir), which have a "sizeable Sikh population", to exercise UAPA as a preventative action against Sikhs who might be brainwashed by SFJ in favour of Khalistan, as explained by a senior home ministry official.
Implicit in this notification is the underlying assumption that each Sikh is plausibly a Khalistan supporter, or at least a sympathiser, and it is in the interest of the Indian state to treat every Sikh as such.
Loyalty test?
For almost two decades, Punjab and Punjabis suffered the horrors of violence, caught between a Sikh militant movement that demanded loyalty in the name of upholding the Sikh faith, and a counter-insurgent response that tested Punjabi Sikhs' allegiance to India. While many would say that the Khalistani movement is a thing of the past in India, and Sikhs are by all indicators well-integrated into the country, the assumed association between Khalistan and the Sikhs continues to be a festering wound in the Sikhs' relationship with India.
Among the many devastating impacts of the Punjab militancy, this is perhaps the most enduring — in India, Sikh loyalty will always be suspect.
Today, there are approximately one lakh Sikhs living in Kashmir. Settled there for generations, Kashmiri Sikhs have borne witness to the political violence in the region since Partition. They have even become its target — on 20 March 2000, armed assailants who remain unidentified gunned down 35 Sikh men in Chitti Singhpora village of Anantnag district.
With trust in Kashmir
Despite this violence, Sikhs resisted migrating en masse from Kashmir. Both Kashmiri Sikhs and Muslims have worked hard to keep the communalisation of their relationship at bay. In my interviews with Kashmiri Sikhs, they describe their official position on Kashmir's freedom movement as one of 'neutrality'. They neither support, nor oppose the movement.
The difficulties of being a minority, and the similar fate of Punjab and Kashmir have generated solidarity, and Sikhs sympathise with the struggles of Kashmiri Muslims. Yet, they clearly articulate that any decision for the future of Kashmir should take the Sikh position in consideration.
As a visible minority, the ability to maintain safety, among other important factors, has gone a long way in ensuring Sikhs' non-displacement from Kashmir. Integral to the lived experience of this safety is the trust that both communities have been able to build, especially in mixed localities, where Sikhs and Muslims live in close geographic proximity. "Yeh militant hamein kuchh nahi kehte hain .Na hum kuchh kehte the, jab hum inhein dekhte the (The militants never say anything to us. We didn't say anything either when we saw them [in the 1990s])," P. Singh, a Kashmiri Sikh had told me when I asked him to describe his experiences of the militancy, during the course of my PhD fieldwork in 2018.
A catch-22 situation
The Davinder Singh episode risks upending not only this trust, but once again puts Sikhs in a familiar catch-22 situation. If he was indeed working as a covert government operative, then that stands to shake the carefully built trust between Kashmiri Sikhs and Muslims. If, on the other hand, he was working with militants, then it risks Sikhs being seen as supporters of another militancy against India. Underpinning both scenarios is the unwillingness to trust a state that both communities say has failed them repeatedly.
If the last few years are any indication, then for any citizen to live a life of dignity, proving loyalty to the state — regardless of legitimate grievances — seems to have become of paramount importance in an increasingly majoritarian India. As Indian Muslims can well attest, despite their many contributions to the country throughout its elongated history, their only choice seems to be to fit within the binary of 'national' or 'anti-national'.
Full report at:
https://theprint.in/opinion/davinder-arrest-threatens-the-fragile-trust-kashmiri-sikhs-enjoy-with-indian-state-muslims/361026/
--------
Hasn't Put Up "No Exit" Board: Minister On Muslim Leaders Quitting BJP
February 09, 2020
New Delhi: In the wake of some Muslim leaders from Madhya Pradesh quitting the BJP in protest against the Citizenship Amendment Act, Union Minority Affairs Minister Mukhtar Abbas Naqvi on Sunday said his party has not put up a board of "no exit" or "no entry".
He said those who have misunderstandings about CAA should think with an open mind and get their misconceptions cleared as the new law is not a threat to any Indian citizen.
Talking to reporters here, Mr Naqvi assured Indian Muslims that their citizenship was "100 per cent protected".
Asked about Muslim leaders from the Congress-ruled Madhya Pradesh quitting the BJP in protest against the CAA, Mr Naqvi said, "The BJP is a big political party. The BJP has neither put up a board of 'no exit' nor of 'no entry'. People come to the BJP and those who don't want to stay in the party go away."
To another question, the Union minister denied that the BJP failed to convince its Muslim leaders that the CAA was in the country's interest.
Full report at:
https://www.ndtv.com/india-news/mukhtar-abbas-naqvi-on-muslim-leaders-quitting-bjp-hasnt-put-up-no-exit-board-2177538
--------
Omar Abdullah's sister Sara Pilot moves Supreme Court against his detention under PSA
February 10, 2020
Omar Abdullah's sister Sara Abdullah Pilot Monday moved the Supreme Court against the detention of the former Jammu and Kashmir chief minister and National Conference leader under the Public Security Act (PSA). Pilot has sought immediate release of her brother.
The court agreed for a hearing after senior advocate Kapil Sibal sought an urgent hearing of the plea before Justice Ramana's bench.
Sibal told the bench that they have filed a habeas corpus petition challenging the detention of Abdullah under the PSA and the matter should be heard this week.
In her petition, Pilot said that disagreement with policies of the Central Government is a lawful right of a citizen in a democracy (especially to a member of opposition). She added that allegations against Abdullah are not supported by any material, whether in the form of social media posts or otherwise.
To the contrary, there exists overwhelming evidence in the form of tweets and public statements by Abdullah prior to his detention pointing towards his exemplary conduct wherein he has repeatedly requested to people to maintain peace, the plea before the apex court read.
Pilot also said that the dossier handed over to Abdullah along with order of detention under the PSA contains patently false and ridiculous material, essentially accusing him of becoming a popular figure among general masses and possessing considerable influence over them.
Full report at:
https://indianexpress.com/article/india/omar-abdullah-detention-sister-moves-supreme-court-psa-6260181/
--------
PSA file indicts Omar Abdullah for getting people to vote, refers to Mehbooba Mufti as 'Daddy's girl'
by Bashaarat Masood
February 10, 2020
OMAR Abdullah's ability to "convince his electorate to vote in huge numbers" and Mehbooba Mufti being "referred (to) as 'Daddy's girl' and 'Kota Rani'" for "her dangerous and insidious machinations and usurping profile and nature" are among the reasons cited by the Jammu and Kashmir (J&K) administration for invoking the stringent Public Safety Act (PSA) against the two former chief ministers.
The PSA dossier prepared by the police on National Conference leader Omar Abdullah says that "the capacity of the subject to influence people for any cause can be gauged from the fact that he was able to convince his electorate to come out and vote in huge numbers even during the peak of militancy and poll boycotts".
While hailing the Centre's decision to revoke J&K's special status under Article 370 as a "historic decision", the dossier has accused Abdullah of trying to stoke public anger to trigger violent protests.
"Despite the fact that the subject has been a mainstream politician, he has been planning his activities against the Union of India under the guise of politics. And while enjoying the support of gullible masses, he has been successful in execution of such activities," it says. "After revocation of Article 370 and Article 35A, in order to secure support of common people, the subject removed all covers/ curtains and while resorting to his dirty politics has adopted a radical methodology by way of instigating general masses against the policies of central government".
The PSA dossier on PDP leader Mehbooba Mufti, who headed the PDP-BJP coalition government in the state before the two parties parted ways in June 2018, says: "(The) subject is recognised as hot-headed and scheming person, known for dangerous and insidious machinations…. She has been promoting separatism as corroborated by several confidential reports filed by (intelligence) agencies… The subject is referred, for her dangerous and insidious machinations and usurping profile and nature, by the masses as 'Daddy's girl' and 'Kota Rani', based on the profile of a medieval queen of Kashmir, who rose to power by virtue of undertaking intrigues ranging from poisoning of her opponents to ponyardings (sic)."
While terming the creation of PDP as dubious, the dossier says the "green colour of the party flag reflects (its) radical origin". It claims that the PDP's symbol (inkpot and pen) has "been taken from Muslim United Front" — an alliance of several parties including the Jamat-e-Islami which contested the 1987 elections against the NC-Congress alliance.
It also lists Mufti's refusal to sign a bond, stating that she will not talk about the scrapping of Article 370, as among the reasons for invoking PSA against her. Quoting her tweets on triple talaq, lynchings and the curbs on civilian movement in February last year to allow unhindered movement of security convoys in the Valley, it says she has been issuing "provocative statements that led to incitement of violence" and accuses her of invoking religion to create a divide.
The two former chief ministers have been under preventive detention since August 5 last year, when the Centre announced abrogation of Article 370 and bifurcation of the erstwhile state into two union territories — Ladakh, and Jammu and Kashmir.
They were booked under the PSA on the night of February 6. Sources said the government took the decision since it was becoming "legally untenable" to keep them under preventive detention for longer.
The reasons cited in the police dossier are also reflected in the grounds of detention listed by District Magistrate (Srinagar) Shahid Iqbal Choudhary.
Omar's father, Farooq Abdullah, former chief minister and currently a member of Lok Sabha, was booked under the PSA in September last year.
The PSA allows the administration to detain a person without trial for three to six months. It was promulgated in 1978 by a government led by Farooq Abdullah's father and then Chief Minister Sheikh Abdullah as an administrative measure aimed at keeping timber smugglers "out of circulation".
Full report at:
https://indianexpress.com/article/india/omar-abdullah-mehbooba-mufti-public-safety-act-psa-jammu-and-kashmir-6259588/
--------
Soldier killed in Pakistan shelling along LoC
February 10, 2020
A soldier was killed and four others injured as Pakistani troops continued unprovoked mortar shelling and small arms fire at different places along the Line of Control in Jammu and Kashmir's border Poonch district.
Identifying the soldier as Naik Rajeev Singh Shekhawat, 36, Defence PRO Lt Colonel Devender Anand said that he belonged to Luhkana Kurd village in Rajasthan's Jaipur district. He is survived by his wife Usha.
Lt Colonel Anand said Naik Shekhawat was a brave and highly motivated soldier and the nation will always remain indebted to him for the supreme sacrifice.
Giving details, sources said Naik Shekhawat was among three soldiers injured in unprovoked mortar shelling and small arms fire in Digwar sector on Saturday evening. The Army retaliated, killing at least three Pakistani soldiers, the sources said. They said the cross-border shelling stopped late on Saturday night.
On Sunday afternoon, Pakistani troops again resorted to mortar shelling and small arms fire along the LoC in Balakote and Mendhar areas. The shelling started around 12.50 pm, the Defence PRO said.
Contractor killed by suspected militants: Police
Srinagar: A contractor was shot dead by suspected militants in south Kashmir's Pulwama district on Sunday evening, police said. Officials said Ghulam Nabi, a resident of Tral area, was shot outside his home.
Nabi was said to be in his 60s. "He succumbed to his injuries. He was a contractor by profession," Superintendent of Police, Awantipora, Tahir Saleem told The Indian Express. The militants used a pistol for the attack, he added.
Full report at:
https://indianexpress.com/article/india/soldier-killed-in-pakistan-shelling-along-loc-6259633/
--------
PSA dossier against Mehbooba: Daughter rebuts charges, why did BJP form govt with PDP?
by Bashaarat Masood
February 10, 2020
The daughter of PDP president and former Jammu and Kashmir CM Mehbooba Mufti, Iltija Mufti, took to Twitter on Sunday to issue a point-by-point rebuttal of the Public Safety Act (PSA) dossier against her mother.
On the dossier stating that Mehbooba refused to sign a bond that she will not make a statement against the scrapping of Article 370, Iltija tweeted from her mother's account, "However BJP can exploit Article 370 esp in election campaigns inc Delhi but those most affected by it cannot utter a word. Why is BJP scared of a debate?"
In response to the dossier citing "confidential reports" by intelligence agencies that Mehbooba has supported separatism in the Valley, Iltija dared the government to place the evidence in public domain. "This highlights BJP's disregard for rule of law and intentionally defaming political rivals. Why not place such evidence in public domain? Are we a khap panchayat now?" she tweeted.
The PSA dossier says PDP's creation is dubious and that the "green colour of party flag reflects its radical origin". In reply, Iltija has asked why the BJP formed a coalition government with PDP if its origin was dubious? "Indian army officers wear green uniform and their vehicles are of the same colour. Are they radicalized too?" she asked and also posted a picture of the green flag of BJP's Bihar ally JDU.
On the resemblance of PDP's symbol with that of the Muslim United Front, Iltija asked, "PDP's party symbol has been approved by ECI. Is GoI going to question and undermine decisions of ECI so brazenly now?"
The PSA dossier questions Mehbooba's "provocative statement that led to incitement of violence". Iltija has asked the government to substantiate this allegation with evidence. "Why did PM Modi heap praises on Ms Mufti in 2016 when today they accuse her of being hand in glove with separatists? What changed?…"
Full report at:
https://indianexpress.com/article/india/psa-dossier-against-mehbooba-mufti-daughter-rebuts-charges-why-did-bjp-form-govt-with-pdp-6259602/
--------
J&K: Civilian shot dead by militants in Pulwama's Tral area
February 9, 2020
Suspected militants shot dead a civilian in South Kashmir's Pulwama district on Sunday evening. Police officials said a civilian identified as Ghulam Nabi, a resident of Tral, was shot at by militants outside his home.
"He succumbed to his injuries. He was a contractor by profession," SSP Awantipora Tahir Saleem told The Indian Express on Sunday.
Police officials said Nabi was taken to the local hospital, where he was declared brought dead. Soon after the incident, security personnel arrived in the area and launched a manhunt to nab the attackers. No militant outfit has so far claimed the responsibility for the killing.
The attack comes on the seventh death anniversary of Parliament attack convict Afzal Guru. The authorities had snapped 2G mobile internet services in Kashmir in the morning as a precautionary measure to prevent any law-and-order situation. The services were restored in the evening.
Market places were also shut and public and private transport remained off the roads following a Hurriyat Conference's call for a bandh on Sunday and Monday.
Full report at:
https://indianexpress.com/article/india/jk-civilian-shot-dead-by-suspected-terrorists-in-pulwamas-tral-area-6259340/
--------
Seven Bangladeshi nationals held in UP's Jhansi
Feb 9, 2020
JHANSI: Seven Bangladeshi nationals were arrested here as they did not have any valid documents for staying in the country, police said on Sunday.
Jhansi senior superintendent of police D Pradeep said, "As many as seven Bangladeshi nationals were arrested during routine checking near the bus stand in Babina on Friday."
Babina -- a cantonment town in Jhansi district -- stands for British Army Base in North Asia.
Those arrested were staying at a hotel near the bus stand and did not have valid documents for staying in India, the SSP said, adding that the seven belong to Dhaka.
"For some time, they were in the business of selling fish oil. During routine probe, no criminal cases have been found against them, but they have been booked under the Foreigners Act for illegally staying in India," Pradeep added.
The arrested were identified as Mamoon Sheikh, Milan Sheikh, Aslam Sheikh, Falan Sheikh, Sijer Sheikh, Mukul Sheikh and Monu Vaid, police said.
In the last few years, several Bangladeshi nationals have been held in Uttar Pradesh for staying without valid travel documents.
In May last year, the Uttar Pradesh Anti-Terror Squad (ATS) had arrested six Bangladeshi citizens from Agra for allegedly preparing fake passports.
The ATS got information that some Bangladeshis, living illegally in the state, were making fake Aadhaar and ration cards and were then using these documents to get Indian passports made.
During interrogation, they confessed to being residents of Bangladesh living in India on the basis of fake documents and data retrieved from the accused revealed that they had also visited Punjab and Rajasthan.
Those arrested were identified as -- Habibur Rehman of Madaripur district (in Bangladesh), Zakir Hussain of Narayanganj district, Mohammad Kabil of Khansama district, Kamaluddin of Sylhet district, Taizul Islam of Mymensingh district and Liton Miya of Ghazipur district.
Similarly, in 2018, the ATS had picked up three persons, including a Bangladeshi national, for their alleged involvement in preparing fake passports, Aadhaar cards and other documents for illegal immigrants.
The Bangladeshi national, identified as Yusuf Ali alias Nazrul, was arrested from Muradnagar in Ghaziabad and two locals -- Ahsan Ahmad and Wasim Ahmad -- were nabbed from Deoband in Saharanpur.
In September 2017, three illegal Bangladeshi immigrants -- Mohammad Imran, Rajidudeen and Mohammad Firdaus -- were arrested from the Charbagh railway station in Lucknow.
The three brothers were staying in western Uttar Pradesh for years.
The police said they were originally residents of Jessore district in Bangladesh, but had got their Aadhaar cards made on the basis of fake addresses.
They stayed in Deoband, where Imran was employed as a teacher in a madrasa.
In 2017, the Uttar Pradesh Special Task Force (STF) had arrested another illegal Bangladeshi immigrant -- Abu Hannan alias Abu Hana -- who was staying in India for 15 years.
He had married an Indian woman and got his Indian passport and Aadhaar card made.
Abdullah-Al-Mammon, an alleged key operative of the Ansarullah Bangla Team (ABT) -- an al Qaeda-inspired Islamic extremist group in Bangladesh -- was arrested from Muzaffarnagar in a separate case.
The names of Imran, Rajidudeen and Firdaus came to light during his interrogation.
Yet another illegal Bangladeshi immigrant, Abdullah, was arrested from Kuteshara in Muzaffarnagar district on August 5, 2017.
Abdullah was arrested from a place of worship, where he worked as a preacher.
He was originally a resident of Momin Shahi district in Bangladesh but told the locals that he belonged to Assam and got a fake Aadhaar card and a passport made for himself.
During interrogation, it came to light that the accused used to get Aadhaar cards, voter ID cards and other documents made on the basis of false documents. The documents were then used to get passports made.
Six persons including five Bangladeshi nationals were arrested from Dulhipur village in Chandauli district of Uttar Pradesh in November 2018.
Acting on a tip-off, the Uttar Pradesh Police had arrested them and seized from their possession fake high school certificates, mark sheets and four voter identity cards.
The arrested Bangladeshis-- Mohd Farooq Parmanik, Mohd Manik Sardar, Zulfikar, Mohd Mamoon and Mohd Nurul Islam were residents of Naogaon district of Bangladesh, police said.
The sixth arrested person was Mohd Shakeel alias Guddu Ansari, a resident of Dulhipur village.
In January this year, a special court in Lucknow convicted three Bangladeshi natives who were arrested in 2017 for living in the country without valid documents.
The three were awarded five years imprisonment and also fined Rs 19,000. They were convicted for cheating, criminal conspiracy, forgery of valuable security and section 14 of the Foreigners Act.
Identified as Mohammad Imran, Faridudeen and Mohammad Firdaus, the three, natives of Jessore in Bangladesh, were residing at Madrasa Talimul Quran in Deoband, Saharanpur, police said.
Full report at:
https://timesofindia.indiatimes.com/city/kanpur/seven-bangladeshi-nationals-held-in-ups-jhansi/articleshow/74045362.cms
--------
Cops book man linked to UP's Shaheen Bagh
Feb 10, 2020
LUCKNOW: The Lucknow police on Sunday arrested Sheikh Tahir Siddiqui of Bahujan Muslim Mahasabha, a local outfit, on charges of inciting mobs ahead of a mass mobilization programme against the amended citizenship law at Lucknow's own Shaheen Bagh, the Husainabad Clock Tower.
Thakurganj police said Siddiqui was instrumental in mobilizing people for the "Ghantaghar Chalo" campaign during his visit to the protest site on Saturday. Siddiqui was also booked for vandalizing property and hurling bombs at Satkhanda police outpost during the December 19 protests in the city.
Ten others were also detained on charges of fomenting trouble. At least 50 people have been arrested so far for holding protests at the Clock Tower since January 17.
The Lucknow police on Sunday also slapped notices on 10 people, including prominent social activists Sandeep Pandey, Mohammed Shoaib, retired IPS officer SR Darapuri, Shia clerics Kalbe Sibten Noori and Saif Abbas, and former Lucknow University vice-chancellor Roop Rehka Verma to stop them from participating in the campaign.
The notices were served under Section 144 of CrPC, which prohibits assembly of five people without the permission of the police commissioner.
Full report at:
https://timesofindia.indiatimes.com/india/cops-book-man-linked-to-ups-shaheen-bagh/articleshow/74053421.cms
--------
Pakistan presents 60 from India as kabaddi world cup team
Feb 10, 2020
AMRITSAR: A group of about 60 circle kabaddi players, said to be mostly from Punjab, has created a controversy by participating in Pakistan's first 'kabaddi world cup 2020', which is being played in circle format, without any official permission or clearance by the Union sports ministry.
India has denied sending any team to Pakistan and the Amateur Kabaddi Federation of India (AKFI), the apex body for the sport in the country, too washed its hands off the row by saying that it had not authorized any player to go to Pakistan.
This is the first time Pakistan is hosting the event. The poster of the tournament shows participation by 10 countries, including India, Australia, UK, Canada, Germany, Iran, Kenya, Sierra Leone and Azerbaijan. The eight-day tournament was inaugurated at Punjab Stadium, Lahore, on Sunday and matches will be played in Faisalabad on February 12 and 13 and in Gujrat, which is in the country's Punjab province, on February 14. The final will be held on February 16 in Lahore and the prize money for the victorious team is 1 crore Pakistani rupees.
The circle format is popular mostly in Punjab. The national-style kabaddi is recognized by Indian Olympic Association and also by the Olympic Council of Asia and is used in the Asian Games. Tournaments like the Pro-Kabaddi League and 'Kabaddi World Cup' are played in the same format.
A circle kabaddi team has 10 players and four rolling substitutes are allowed during a match, so ideally a team would not comprise more than 14 players. The invitation to 60 Indian players has created a controversy in Pakistan too. Pakistan Amateur Circle Kabaddi Federation (PACKF) blamed the Pakistan Sports Board (PSB) for "importing 60 Indian players to adjust them in teams of other countries, who have not sent official teams.'
Sources told TOI on Sunday that as many as 58 Indian kabaddi players had crossed over to Pakistan from Attari international border in two batches on February 6 and 7 and were received by Pakistan Punjab's minister of sports, Rai Taimoor Khan Bhatti.
All the Indian players purportedly had gone to Pakistan on their own but Pakistan, according to these sources, was projecting them as the 'Indian team players.' There are no details available about how these kabaddi players financed their trip when they did not get any permission from AKFI.
Punjab Kabaddi Association president Sikander Singh Maluka admitted he knew that some kabaddi players had gone to Pakistan to play in a tournament but denied they were part of any official team. He said Pakistan had invited many kabaddi players in Punjab and even asked him to attend the tournament "being organised in the name of Guru Nanak Dev."
However, There is no information available in Pakistan about the event being organized as part of celebration for Guru Nanak Dev's 550th birth anniversary.
Reiterating his allegations about a 'scam' linked to the invitation to such a large group of kabaddi players from India, Muhammad Sarwar Bhatt, the PACKF secretary general, told TOI that he had filed a writ petition against PSB in the Lahore high court a few days ago.
"This is a big fraud being committed in the name of kabaddi," claimed Bhat.
The Lahore high court had summoned the PSB director to furnish records and began an inquiry into the reason for inviting 60 Indian players for the tournament, Bhatt said, adding that "the PSB president has been directed to furnish records on March 12."
Full report at:
https://timesofindia.indiatimes.com/india/pakistan-presents-60-from-india-as-kabaddi-world-cup-team/articleshow/74052999.cms
--------
Pak breaches truce along LoC for fourth time in 8 days
Feb 9, 2020
JAMMU: Pakistan violated ceasefire along the Line of Control (LoC) for the fourth time in eight days by resorting to unprovoked firing and heavy shelling in J&K's Poonch district on Sunday. The breach of truce comes a day after a soldier lost his life and three others were injured in a similar violation in the same district.
"Around 12.50pm, Pakistani troops initiated firing with small arms intense mortar shelling along the LoC in Poonch's Balakot and Mendhar sectors, to which our soldiers retaliated effectively," Jammu-based defence spokesperson Lt Col Devender Anand said.
The cross-border fire exchange stopped around 3pm. While no injuries were reported, two residential houses were partially damaged due to the heavy shelling by Pakistan, said police sources.
In a similar breach of truce on Saturday afternoon, Pakistan opened unprovoked and indiscriminate fire along the LoC in Poonch's Digwar sector, in which Naik Rajeev Singh Shekhawat lost his life while three other soldiers were injured.
Full report at:
https://timesofindia.indiatimes.com/india/pak-breaches-truce-along-loc-for-fourth-time-in-8-days/articleshow/74050225.cms
--------
Southeast Asia
Learning STEM in English will not undermine Islam or the Malay race
Moaz Nair
February 9, 2020
As mentioned by the prime minister lately, the teaching and learning of STEM subjects like Science and Maths in English will benefit the Malays in the long run. In fact, the interdisciplinary and applied approach to teaching STEM in English will benefit all Malaysians.
STEM, often referred to as the sciences, is a curriculum based on the idea of educating students in four specific disciplines — science, technology, engineering and mathematics.
The prime minister also rightly pointed out that STEM is not indigenous to the local culture. It is a foreign discipline that has found its usefulness in the local context. Globally, the sciences have developed extensively and the language used for scientific discourse has always been in English in the main. Today, no other language has come so close to English when it comes to scientific discourse.
However, there is still this notion among some Malaysians, fuelled by some ill-advised politicians and NGOs that English is an alien language. Some others seem to have the slanted view that adopting English to teach STEM will dilute the Malay language and also render the Malay race to become less nationalistic or less Islamic.
English is 'inherently mathematical'
Scientific and non-scientific papers in non-English speaking countries have been earnestly translated into English and published in international journals. International conferences and seminars are mainly conducted in English.
In fact, all the local universities have opted for English as the medium of instruction and have encouraged their academics to have their papers in all disciplines written and presented in English. This includes subjects on Islam.
Today, more papers on Islamic discourse are written and presented in English than in any other language to reach a wider audience. By default or design, the English language has become the world lingua franca in all areas of knowledge, both in the Islamic and non-Islamic world.
There is more Islamic literature written in English than in Arabic or any other language today. Muslim scholars have chosen to write in English to disseminate Islam as some claim that English is "inherently mathematical" and that it arms them with seamlessly precise words to match the thoughts and meanings of what they wish to impart.
Progressive Muslim scholars
Of late, there has been a massive infusion of Arabic terms into the English language and English has already started to become a suitable language for Islamic texts. Salam, haj, Ramadan, Iftar, Wudu, zakat and jihad, for instance, no longer need English equivalents, even though not all non-Muslims who read these words understand their intrinsic meaning in the full sense.
There is a need for politicians and the Malays in general to take into account the socio-cultural aspects of learning English for Muslims to value the importance of learning English for the purpose of acquiring contemporary knowledge.
The English-speaking world has been exposed to the Quranic text since the 17th century. The earliest known translation of the Quran into English is "The Alcoran of Mahomet" (1649) by Alexander Ross. George Sale, in 1734, translated the Quran, called the "Alcoran of Mohammed". This was followed by John Rodwell's "The Koran" (1861) and EH Palmer's two-volume translation in 1880.
Over the past century, there have been numerous versions of English-translated Quran all because English has become an international language, giving it a wider audience.
The need to present Islamic texts in English is, however, not limited to the translations of the Quran; it covers the entire spectrum of Islamic corpus. It is this need that calls for a resolute effort by progressive Muslim scholars to develop English as an "Islamic language", for them to render their thoughts.
Muslims and Malaysians in general should not forever remain "foreigners" in this global language. Today, 1.5 billion of English speakers include Muslims, where about 375 million people speak English as their first language, an equal number as their second language, and about 750 million as a foreign language.
English has become the official language of several Muslim and non-Muslim countries and is unofficially the preferred language of the educated. To the Muslims, this has made Islamic literature blossom in English.
Face the realities
The Malay race should face the realities of the present world. There should not be any conflict between English and nationalism or Islam. English no doubt may be rooted in the Judeo-Christian culture, and often viewed as the focal means for the dissemination of "Western" values in other cultures, but the learning of English is not in conflict with Malay or Islamic values. The resistance towards English is therefore a backward step.
Be that as it may, the STEM subjects should be taught in English in all national schools if there is a demand for it by parents and students. At the same time, for a start, also allow students to learn STEM in Malay or the mother tongue, as in the case of vernacular schools, if they wish to do so.
The Dual Language Programme is still the best option for now. Providing an option would be politically feasible so as not to allow some political bigots to turn this thorny policy into an unnecessary political issue.
Learning STEM in English will not dilute Islam, the Malay race or the mother tongue of Malaysians. Unfortunately, for politicians, their vote bank is their prime concern and there is bound to be those using this issue for their political benefit at the expense of making the Malays and other races in the country make no headway in education.
https://www.freemalaysiatoday.com/category/opinion/2020/02/09/learning-stem-in-english-will-not-undermine-islam-or-the-malay-race/
--------
Action against Nur Sajat will be to safeguard Islam, says Mujahid
February 9, 2020
PETALING JAYA: Any action by religious authorities against controversial transgender entrepreneur Nur Sajat will be to safeguard the interests of Islam and shariah law, according to a cabinet minister.
The de facto minister for Islamic affairs, Mujahid Yusof, said he would look into all the information obtained before deciding on action against Nur Sajat, whose legal name is Muhammad Sajjad Kamaruzzaman and who identifies as a woman.
Nur Sajat came under criticism after posting a video showing her in a telekung, the female prayer garment, while performing the umrah recently.
Mujahid said today that "what's important is that we want to safeguard the interests of Islam and all Muslims must adhere to shariah law", Bernama reported.
"At the same time, if a Muslim commits an offence, he should come back to the true teachings of Islam. Do not apologise just for the sake of apologising."
Last week, Mujahid had said Nur Sajat was wrong to don female garments because the entrepreneur's MyKad identifies her as male and pilgrims were required to perform their religious observances in Mecca by their stated gender.
Full report at:
https://www.freemalaysiatoday.com/category/nation/2020/02/09/action-against-nur-sajat-will-be-to-safeguard-islam-says-mujahid/
--------
Malaysian Hindus defy virus fears to mark festival
February 10, 2020
Hindus gathered in temples across Malaysia on Saturday to celebrate the annual Thaipusam festival, with many piercing their bodies with hooks and skewers, despite concerns about the deadly coronavirus outbreak.
Massive crowds descended on the Batu Caves temple complex on the outskirts of capital Kuala Lumpur to participate in the event, where Hindus showcase their devotion to the deity Lord Murugan.
Worshipers walked barefoot up 272 steps to reach the temple -- an important religious site for Tamil Hindus -- armed with gifts including milk pots which are eventually smashed as offerings.
Many displayed their fervor by carrying heavy ornate metal structures called "kavadis", affixed to their bodies with sharp metal spikes that are hammered into the skin.
Some devotees appeared to be in a state of trance as they carried the kavadis, which can weigh as much as 100 kilogram.
Others pierced their faces with tridents or hung multiple hooks and chains from their bodies in an act of penance.
The crowd at the Batu Caves looked as big as in previous years despite worries about the new virus, and only a handful were wearing protective masks.
The pathogen has killed hundreds and infected tens of thousands in China and is spreading around the world. Malaysia has so far reported 16 cases, mostly in visiting Chinese nationals.
"We are quite worried about the Wuhan virus," conceded devotee Navindran Arumugam, referring to the Chinese city at the center of the outbreak.
But he added he was not too concerned about picking up the illness at such a "holy place".
Prior to Thaipusam, devotees will typically hold daily prayer sessions, abstain from sex and stick to a strict vegetarian diet for weeks.
Most of Malaysia's roughly 32 million people are Muslim, but the country also has around two million ethnic Indians.
Most are descendants of laborers brought from ethnic Tamil areas of southern India by Malaysia's former British colonial masters.
Full report at:
https://www.thejakartapost.com/life/2020/02/10/malaysian-hindus-defy-virus-fears-to-mark-festival.html
--------
Mosque in Perak censured by Islamic body for holding Chinese New Year lion dance, fireworks
FEB 7, 2020
IPOH (THE STAR/ASIA NEWS NETWORK) - A small mosque in Perak that organised a lion dance and fireworks to celebrate the Chinese New Year in an event attended by two lawmakers from Chinese-led Democratic Action Party (DAP) has been censured by the state religious authority for angering the local Muslim community.
The Perak Islamic Religious Department (JAIPk) said the surau, as small community mosques are called in Malaysia, defied its instructions and disrespected the sensitivity of the Muslim community in the area.
The mosque is located at Taman Pengkalan Utama in Ipoh, capital of Perak state.
"Based on some postings on social media, we found that there have been a lion dance, lighting of fireworks and a speech by the Ipoh Timur MP during the celebration on Feb 1.
"The lion dance and fireworks have caused a negative reaction and anger among the Malay community," JAIPk director Mohd Yusop Haji Husin said in a press statement on Friday (Feb 7).
"And having the Member of Parliament give a speech may be seen as going against the instructions and law as set," he added.
Politicians are barred from using Malaysian prayer houses as a platform for their activities, especially by giving political speeches.
Malaysia's Malay Muslims who are turning more conservative often frown on taking part in events that are seen coming from outside the Islamic religion.
Last month, the Tamil Pongal festival was in the spotlight after a surprise letter issued by Malaysia's Education Ministry warned Muslims not to take part in the festivities, saying this was based on advice from the Malaysian Islamic Development Department (Jakim).
And in January too, a school in Selangor became a centre of attention after a complaint by a Malay political party over Chinese New Year decorations on the school's premises. Nine Cabinet ministers and deputy ministers led by Deputy Prime Minister Wan Azizah Wan Ismail came to the school to hang up big red lanterns as an affirmation to Malaysia's multiracial culture.
On Friday, Datuk Mohd Yusop said JAIPk was informed by the surau committee on the celebration on Jan 31.
"We have questioned the suitability for such a programme to be held, given that there were no Chinese members in the surau.
"The surau committee chairman said the programme was to build a closer rapport with the non-Muslim folk and to show that they also respect the culture of various races, while changing the negative perception towards Islam," he said.
The surau committe chairman who was not named also said, according to Mr Mohd Yusop, that there would be a performance by traditional Malay drums called the kompang and a feast. Two Perak DAP lawmakers - MP Wong Kah Woh and assemblyman Abdul Aziz Bari - were invited with the hope of getting funding for the mosque's upkeep, the statement said.
Mr Mohd Yusop said the surau committee chairman has apologised for the incident and has also sent in a formal letter, admitting his mistake and oversight.
"We will bring the matter up in the next Perak Islamic Religious Council and Malay Customs meeting.
"I would like to reiterate that we have no objections and would support programmes that promote harmony and understanding between races and among the people," he said. "But whatever programmes to be held at mosques or surau, it needs to respect the sensitivity of the Muslims and the Malay community, while not causing conflict with Malay customs.
Full report at:
https://www.straitstimes.com/asia/se-asia/mosque-in-perak-censured-by-islamic-body-for-holding-chinese-new-year-lion-dance
--------
Anwar: Fight the Palestinian cause with clear action
10 Feb 2020
PETALING JAYA, Feb 10 — Clear action, and not just rhetoric, must be taken in the fight for the Palestinian cause, Datuk Seri Anwar Ibrahim said yesterday.
The Parliamentary Caucus on Reform and Governance chairman said a mere rhetorical agenda was not acceptable as it has not improved the current situation of the restive region.
"We would certainly use The League of Parliamentarians for Al-Quds to continue to engage with Muslim countries not represented (in the league) to suggest to them a clear position... a mere rhetoric is not acceptable and clear commitment and action (must be taken)," he said.
Anwar was speaking at the 3rd Annual Conference of League of Parliamentarians for Al-Quds (LP4Q) farewell dinner here tonight.
Also present was Deputy Prime Minister Datuk Seri Dr Wan Azizah Wan Ismail, who is Anwar's wife.
Anwar said Muslim leaders need to speak up and show courage to express what was right to claim justice for Palestine.
The two-day conference that ended today was organised by LP4Q under the patronage of the Malaysian Parliament with the support of several civil society organisations, including the Muslim Youth Movement of Malaysia (ABIM) and the Palestinian Cultural Organisation Malaysia (PCOM).
Full report at:
https://www.malaymail.com/news/malaysia/2020/02/10/anwar-fight-the-palestinian-cause-with-clear-action/1836013
--------
Zakir Naik files defamation suit against former Penang state rep
Feb 9th, 2020
Muslim preacher Dr Zakir Naik has filed a defamation suit against former Batu Uban assemblyperson S Raveentharan over five postings uploaded to the latter's Facebook page in October last year.
Zakir, through legal firm Messrs Akberdin & Co, filed the writ of summons at the Kuala Lumpur High Court Registry on Dec 12 last year.
According to a copy of the statement of claim sighted by Malaysiakini today, PKR member Raveentharan is alleged to have uploaded the five FB postings between Oct 13 and 17.
Zakir claimed that the five FB postings were actuated by malice, hatred, envy, and/or without making verification from him pertaining to the truth and validity of the allegations in the postings.
The plaintiff alleged that the defendant, through the uploaded five statements, imputed that the former is a person of bad character and is a threat to the national security, peace, and harmony of Malaysia.
Zakir claimed that the five statements are unfounded, untrue, fabrications, spurious, entirely fictitious, and/or have been twisted and slanted to meet Raveentharan's purported agenda.
The statement of claim stated: "The said defamatory statements, which have been published and/or republished and/or caused to be published and/or caused to be republished, were done so by the defendant with the purpose of:
(a) Inciting public hatred, ill-will and/or contempt towards the plaintiff;
(b) Achieving cheap publicity, mileage and/or adulation for the defendant;
(c) Exposing the plaintiff to physical, mental, emotional and/or psychological harm.
"By publishing the said defamatory statements, the defendant had also incited and/or provoked racial, religious or ethnic sensitivities among Malaysians in general.
"In the premises, it is beyond reasonable doubt that the defendant harboured ill-intentions against the plaintiff. It is also clear that the defendant intended to disrupt communal harmony by defaming the plaintiff, a famous Muslim religious personality."
Zakir claimed that his lawyers had sent a letter of demand dated Nov 1 last year to Raveentharan, demanding a retraction of the purported defamatory statements, an apology and/or damages over the said statements.
The plaintiff however claimed that the defendant refused, neglected and/or failed to accede to the former's demands.
Zakir is seeking a mandatory injunction to compel Raveentharan to remove the five defamatory posts from the internet within seven days of pronouncement of judgment (if in favour of Zakir).
The plaintiff seeks a permanent injunction to restrain the defendant from publishing, distributing, and/or uploading any defamatory statement against the former on any medium whatsoever.
Zakir is seeking an apology to be published in English daily The Star, Bahasa Malaysia newspapers Berita Harian and Sinar Harian, vernacular dailies Tamil Nesan and Sin Chew Daily, online news portal Free Malaysia Today, as well as Raveentharan's FB page. The plaintiff seeks general, compensatory, aggravated, and exemplary damages, costs on a solicitor and client basis, and any other relief deemed fit by the court.
Checks at the online cause list showed that the suit is set for case management before the Kuala Lumpur High Court Registry at 9am tomorrow (Feb 10).
According to a copy of a notice of application by Raveentharan, who is also a practicing lawyer, tomorrow's case management is in relation to his bid to transfer the suit to the Penang High Court.
Among the reasons cited for the transfer are that the potential witnesses that the defendant may call for the suit are all in Penang, among them being Penang Deputy Chief Minister II P Ramasamy, Penang Mufti Wan Salim Mohd Noor, Bagan Dalam assemblyperson M Satees, and an investigating officer of a related police report lodged at Penang.
The notice of application was filed on behalf of Raveentharan by Penang-based legal firm, Messrs Baljit Singh & Company.
In August last year, Zakir had issued multiple letters of demand against notable political figures like Human Resources Minister M Kulasegaran, Klang MP Charles Santiago, Satees and former ambassador Dennis J Ignatius.
These legal notices were in relation to statements issued following Zakir's controversial remarks on the Malaysian Chinese and Indian community during his speech in Kelantan early August last year.
Since then, it was reported that Zakir had filed two defamation suits against Ramasamy.
Full report at:
https://www.malaysiakini.com/news/510203
--------
I was told Saudi's King Abdullah offered monetary aid to Najib during informal Jan 2010 meeting, former ambassador testifies
10 Feb 2020
KUALA LUMPUR, Feb 10 — Then Saudi ruler King Abdullah Abdulaziz Al-Saud offered monetary assistance to Datuk Seri Najib Razak during an informal meeting between the two heads of state in January 2010, a former Malaysian ambassador to Saudi Arabia testified today.
Datuk Syed Omar Al Saggaf, who is also Malaysia's former permanent representative at the Organisation of the Islamic Conference (OIC), said the informal meeting had taken place at King Abdullah's palace in Riyadh, Saudi Arabia on January 11, 2010 as Najib's official visit was scheduled to take place only on January 13, 2010.
Syed Omar had previously helmed the ambassador post in Riyadh, Saudi Arabia between September 2008 and September 2013 following his appointment by then prime minister Tun Abdullah Ahmad Badawi.
"At the end of the official discussion, I saw King Abdullah, Najib and Jamil Khir distance themselves from the meeting hall and walk towards the centre of the hall before discussing something enthusiastically.
"I later found out King Abdullah had offered aid in the form of funding that would be sent to Datuk Seri Najib to be used in managing his political affairs in the upcoming general election," he said in his witness statement at the High Court as the third defence witness in Najib's RM42 million SRC International Sdn Bhd corruption trial today.
He said among those present during the meeting were former foreign minister Datuk Seri Anifah Aman and former minister in the Prime Minister's Department for Islamic Affairs Datuk Seri Jamil Khir Baharom.
Syed Omar also confirmed his presence at the meeting as Malaysia's ambassador, further explaining that he too acted as an interpreter between Najib and King Abdullah.
Najib has maintained throughout his trial that multiple transactions amounting to RM3.2 billion from 2011 to 2013 were Saudi royal family donations.
He said he believed the funds, which originated from senders identified as Prince Faisal Turki, Blackstone Real Estate Partner and Tanore Finance Corp, were part of donations from King Abdullah.
Praises for Najib's administration
During the meeting, Syed Omar recalled how King Abdullah had praised Malaysia's administration that practised moderate Islam and expressed worry at the political upheavals in other Islamic countries which led to Arab Spring.
"King Abdullah was worried Arab Spring influences would spread to other countries such as Indonesia, Thailand, Pakistan, India and the Philippines before causing a domino effect that would affect Saudi Arabia.
"Malaysia was seen to be an exception and King Abdullah believed that it was related to the effectiveness in Najib's administration," he said, adding that the monarch also took into account of Malaysia's democratic system.
He said King Abdullah subsequently offered his assistance to 'ensure' the same administration continued to ruled Malaysia, lest the Arab Spring effect spread to South-east Asia.
To this, Syed Omar said Najib embraced King Abdullah's offer and thanked the monarch for assistance rendered.
He also disclosed how Najib was also awarded the distinguished Order of King Abdulaziz (First Class) in a closed-door ceremony at King Abdullah's palace, thus becoming the first South-east Asian head of state to receive such an award.
The award presentation ceremony took place on January 16, 2010 which also saw the attendance of Najib's wife Datin Seri Rosmah Mansor and several Malaysian Cabinet ministers.
Najib is currently on trial over seven charges related to SRC International.
Full report at:
https://www.malaymail.com/news/malaysia/2020/02/10/i-was-told-saudis-king-abdullah-offered-monetary-aid-to-najib-during-inform/1836113
--------
New pact with Mahathir will ensure Muslims dominate govt, says Hadi
February 7, 2020
PETALING JAYA: PAS president Abdul Hadi Awang said he was in favour of a new coalition that would ensure the government is in the hands of Muslims, amid intense speculation of a realignment of political alliances.
Speaking to reporters after his weekly pre-dawn religious lecture at Masjid Rusila in Marang, Terengganu, the PAS leader said the administration must be based on Islam with an assurance that past mistakes by the previous government would not be repeated.
Hadi, however, said it was too early for PAS to make any decision at the moment.
"(We) have to study it carefully. The first step was the formation of Muafakat Nasional, bringing together the political strength of Muslims and Malays," Hadi said, referring to his party's formal alliance with Umno.
"The political power of Islam must dominate the administration because Pakatan Harapan is bumbling," he said.
Hadi said PH was dominated by non-Muslims "when Muslims constitute 69% of the population".
"All of a sudden, they (non-Muslims) dominate the government," he added.
Yesterday, Umno secretary-general Annuar Musa dismissed talk about the formation of a back-door government under the so-called Pakatan Nasional.
But he said such a speculation surfaced due to the uncertainty surrounding the handover of the prime minister's post to PKR president Anwar Ibrahim.
"The problem now is that there are doubts that Anwar can get majority support. This automatically means that Mahathir would need to carry on in his role as the prime minister," he added.
The claim of a new coalition in the works was made by Umno Supreme Council member Lokman Noor Adam earlier this week, who accused party president Ahmad Zahid Hamidi of supporting the plan in order to escape corruption charges.
On Jan 20, FMT reported that there could be a new political realignment that could thrust PAS into federal power, following several private meetings between Hadi and Mahathir.
It said the new alignment would bring together forces aligned to Mahathir with the clout that the Islamist party holds in the northern Malay heartland, with dire consequences for DAP and Anwar.
In his response, Mahathir played down the possibility of a collaboration with PAS, saying it was his job to meet "everybody".
Full report at:
https://www.freemalaysiatoday.com/category/nation/2020/02/07/new-pact-with-mahathir-will-ensure-muslims-dominate-govt-says-hadi/
--------
Arab World
Rulings spark hope for Egyptian Copts fighting Islamic estate law
February 10, 2020
CAIRO: Egyptian Copt Amal Hanna says she is determined to fight the long-standing application of Islamic inheritance laws to Christians, as recent court victories embolden Coptic women.
For decades, Egyptian courts have largely applied Islamic inheritance laws — which mostly allocate a bigger share of inheritances to men than to women — to both Muslims and the country's significant Coptic Christian minority.
But Coptic Orthodox customs call for gender equality in inheritance matters.
Hanna has twice been faced with the unbalanced division of family estates.
The first was more than 20 years ago, when a court granted her brother double her share of their parents' property.
Then, after her aunt died last year, another court awarded the entire inheritance to Hanna's brother.
"I was dumbstruck," she said. "It really upset me, especially as my family raised us — me and my brother — as equals."
Hanna has appealed against the ruling.
But Christian women's hopes were rekindled late last year after Coptic lawyer Hoda Nasrallah and her brothers were granted an equal share of their father's inheritance.
The November ruling by a Cairo family court took into account a constitutional article allowing Christian principles to be the basis of rulings on the minority's personal status affairs.
Nasrallah's rare victory generated a buzz across Egypt, but it was not the first of its kind.
In 2016, a Christian woman won a legal dispute with her brother, obtaining equal inheritance.
Coptic Christians have long complained of discrimination and underrepresentation in Egypt.
They are the largest non-Muslim religious minority in the Middle East, and account for 10-15 percent of Egypt's predominantly Sunni Muslim population of 100 million.
They have also been the target of Islamist militant attacks that have left more than 100 dead since December 2016.
Elizabeth Monier, an expert on Coptic affairs at the University of Cambridge, said applying Christian inheritance rules would meet resistance from within the legal system.
Their application "has had to overcome resistance from entrenched practices and norms, both in the judiciary and society," she said.
Though Nasrallah had already agreed with her brothers to split the estate equally, it took her around a year to have a court rule in her favor.
She said she pursued the case in order to set a legal precedent for other Christian women.
"My fight was about ensuring that the constitution is applied," Nasrallah said.
"Many judges are against applying Christian norms," she added. "It can be even more challenging when the heirs are in disagreement."
Hanna also criticized a lack of legislation forcing judges to apply Christian rules.
In building her case, she said she invoked the constitution and used the 2016 ruling as precedent.
Hanna said she feared her appeal would be rejected, but would keep on challenging the decision.
"I will even take it to the constitutional court if I have to," she said.
Lawyers say the lack of a personal status law for Christians is partly to blame for courts' resistance.
"Coptic males sometimes push for Islamic laws to be applied since it's in their interest," lawyer Atef Nazmy said. "It is vital that a personal status law for Christians be created to regulate these issues."
Christian denominations have for years been locked in talks over a unified personal status law.
They have yet to reach agreement or present a bill to parliament.
Nazmy said issues like divorce were at the core of the divisions.
Egypt's strict Coptic Church applies rigid rules to divorce, granting it only in cases of adultery or conversion to other faiths.
Monier said courts might also resist granting Christian women equal inheritance because they fear Muslim women would seek the same rights.
In 2018, then Tunisian President Beji Caid Essebsi sparked controversy across the Islamic world by proposing a bill on equal inheritance for Muslim women.
The move drew praise from secularists and women's rights activists across the region, but stern rebuke from Egypt's Al-Azhar, the Sunni Muslim world's most prestigious educational institution.
Despite the resistance, Monier remains optimistic.
"That a Coptic woman has taken her case to court and won suggests there is some progress being made," she said.
"This is another step that is part of the journey toward greater gender equality."
https://www.arabnews.com/node/1625546/middle-east
--------
Egypt's army kills 10 terrorists in Sinai
9 February 2020
The Egyptian army killed 10 terrorists on Sunday when they attempted to attack an army security post in the restive northern Sinai province.
Egypt has for years been battling an insurgency in the northern Sinai Peninsula that's now led by an ISIS affiliate.
The militants have carried out scores of attacks, mainly targeting security forces and Christians.
In February 2018, the army and police launched a nationwide operation against militants, mainly focused on North Sinai.
The operation also targets other areas including the Western Desert along the porous border with Libya.
https://english.alarabiya.net/en/News/middle-east/2020/02/09/Egypt-s-army-kills-10-terrorists-in-Sinai.html
--------
Two Lebanese soldiers killed, three others wounded in 'ambush'
9 February 2020
Two Lebanese soldiers were killed and three others were wounded Sunday in the northeast region of Hermel while pursuing a stolen vehicle, the army said.
The army patrol giving chase "was ambushed and came under fire," a statement said.
It said one gunman was killed and the driver of the vehicle was arrested, without providing additional details.
Lebanon's prime minister Hassan Diab condemned the ambush, saying an attack on the army is an attack on all Lebanese.
Full report at:
https://english.alarabiya.net/en/News/middle-east/2020/02/09/Two-Lebanese-soldiers-killed-three-others-wounded-in-ambush-.html
--------
Iraq PM-designate must form independent cabinet or face 'hell': Al-Sadr aide
9 February 2020
Iraq's incoming prime minister will face "hell" and be removed within days if he includes members of the political elite in his cabinet, a top aide to cleric Moqtada al-Sadr has warned.
Premier-designate Mohammed Allawi has until March 2 to form a new cabinet, to be put to the protest-rocked country's parliament for a vote of confidence.
Thousands of anti-government demonstrators have already rejected his nomination as prime minister.
Al-Sadr, a former militia leader with millions of devoted followers across the country, first backed the rallies but split with the movement by endorsing Allawi last week.
Kadhem Issawi, a senior adviser to al-Sadr, insisted the new cabinet must not include members of the political elite - particularly Shiite military groups like the powerful Hashed al-Shaabi network, which rivals al-Sadr.
"If Sayyed Moqtada hears that Allawi has granted a ministry to any side, specifically the Shiite armed factions, Iraq will turn into hell for him and will topple him in just three days," Issawi told a gathering including an AFP journalist late Saturday.
Al-Sadr even rejected the appointment of members of his own movement to the government, Issawi said.
He said al-Sadr's supporters would be willing to encircle Baghdad's Green Zone, the high-security enclave housing government offices and foreign embassies, to ensure a non-partisan cabinet gets a vote of confidence.
Al-Sadr has a long-standing rivalry with the Hashed, formed to fight ISIS in 2014, as many of its members defected from his own movement.
In 2018, the cleric's Saeroon parliamentary bloc joined forces with the Hashed's political arm Fatah to form a shaky alliance that brought Adil Abdul Mahdi to the premiership.
But the partnership frayed, and two months after popular protests demanding government change erupted in October, Abdul Mahdi stepped down.
On February 1, Iraq's bitterly divided political parties named Allawi as a successor but in private, government and security sources have expressed scepticizm he will get his cabinet through the deeply-divided parliament.
Al-Sadr immediately endorsed Allawi's nomination as a "good step" but Issawi appeared to soften Sadrist support.
"We haven't adopted Allawi. We just said we wouldn't veto him," he said.
Al-Sadr has faced growing criticism by young anti-government demonstrators for a dizzying series of tweets recently in which he backed, then abandoned, then re-endorsed protests.
The cleric's supporters, usually identified in protest squares by their blue caps, have raided rival demonstrators and the ensuing violence has left eight anti-government activists dead over the last week.
Issawi said al-Sadr still backed the rallies but alleged that drug use and other "moral" problems had tainted them.
Full report at:
https://english.alarabiya.net/en/News/middle-east/2020/02/09/Iraq-PM-designate-must-form-independent-cabinet-or-face-hell-Al-Sadr-aide.html
--------
Syrian regime forces recapture territory in Idlib clashes
9 February 2020
Syrian regime forces are set to retake a key motorway connecting the capital Damascus to second city Aleppo following weeks of battles in the opposition-held Idlib region, said the British-based Syrian Observatory for Human Rights war monitor on Sunday.
The M5 has been long in the sights of the Syrian government as it seeks to revive a moribund economy after nearly nine years of war.
It connects Aleppo, once Syria's economic hub, to Damascus and continues south to the Jordanian border and recapturing it would allow traffic to resume between economically-vital parts of war-torn Syria.
After weeks of steady regime advances in Syria's northwest, only a two-kilometer section of the M5 remains outside government control, said the war monitor.
Key to the territory is the strategic city of Saraqib, held by opposition forces.
"Regime forces have gained new ground and now control several villages near the motorway," Observatory head Rami Abdul Rahman told AFP.
Syrian government recaptured 600 square kilometers
On the same day, the Syrian regime announced it has recaptured more than 600 square kilometers of territory so far in its campaign in Idlib.
The Syrian army has taken control of dozens of towns and villages in recent days as part of the campaign, a statement from the armed forces said.
The Syrian regime has been bombarding the area around the strategic city of Saraqib, Idlib, which is the intersection of two major highways.
Full report at:
https://english.alarabiya.net/en/News/middle-east/2020/02/09/Syrian-regime-forces-recapture-territory-in-Idlib-clashes.html
--------
Bahraini protest movement urges civil disobedience on uprising anniversary
09 February 2020
A Bahraini opposition protest movement has called for nationwide dissidence on the eve of the ninth anniversary of the popular uprising against the Al Khalifah regime.
The February 14 Youth Coalition, named after the date of the beginning of the popular uprising against the Manama regime, demanded the action to start as of the evening of Wednesday, February 12, until the evening of Friday, February 14.
The opposition movement outlined some acts of civil disobedience as school strike on Thursday, and local residents switching off the lights of their houses at eight o'clock in the evening for two consecutive nights.
The February 14 Youth Coalition then urged Bahraini shop owners to shutter their stores as of eight o'clock in the evening on Wednesday, and re-open them on Friday sunset, not to travel along King Fahd Causeway, which connects Bahrain to Saudi Arabia, on February 13 and 14, and to boycott shopping mall on the mentioned days.
It also called on Bahraini people from all walks of life to participate actively in the diverse popular movement as well as various peaceful demonstrations.
Thousands of anti-regime protesters have held demonstrations in Bahrain on an almost daily basis ever since a popular uprising began in the country in mid-February 2011.
They are demanding that the Al Khalifah regime relinquish power and allow a just system representing all Bahrainis to be established. Manama has gone to great lengths to clamp down on any sign of dissent. On March 14, 2011, troops from Saudi Arabia and the United Arab Emirates were deployed to assist Bahrain in its crackdown.
On March 5, 2017, Bahrain's parliament approved the trial of civilians at military tribunals in a measure blasted by human rights campaigners as being tantamount to imposition of an undeclared martial law countrywide.
Full report at:
https://www.presstv.com/Detail/2020/02/09/618264/Bahrain-civil-disobedience-
--------
Syrian army gains control of 600 sq.km., several towns, villages in Aleppo, Idlib: Statement
09 February 2020
Syrian government forces, backed by allied fighters from popular defense groups, have made significant advances against foreign-sponsored Takfiri militants in the northwestern provinces of Aleppo and Idlib.
In a statement released by the official news agency SANA on Sunday, Syria's General Command of the Army and Armed Forces announced that troops making territorial gains in the eastern countryside of Idlib have linked up with their counterparts advancing in southern Aleppo at one crossing point, establishing full control over a number of towns and strategic hills and nearly 600 square kilometers of land.
This picture taken on February 9, 2020 shows Syrian government forces in the strategic Tell al-Eis region in country's embattled northern province of Aleppo. (Photo by SANA)
The statement enumerated some of the liberated towns and villages as Khan al-Sabil, Jobas, al-Nayrab, Tell Mardikh, Kafr Amim, Afes, Saraqib, Tell al-Tabariz, Maharem, Zummar, al-Eis, Tell Touqan, Khan Tuman, Khalsa, Zitan and al-Rayyan.
It went on to say that Syrian forces keep safeguarding national sovereignty and public dignity, eliminating the dangers of terrorist groups.
The statement highlighted that attempts by sponsors of terrorism to stop the collapse within the ranks of terror groups operating inside Syria will not succeed.
Syria's Ministry of Foreign Affairs and Expatriates wrote to the United Nations on January 25, stressing that the operation in Idlib and Aleppo against Takfiri elements "will not stop until the elimination of those terrorists, who threaten safety and security of Syrian civilians."
The Syrian army declared the start of an offensive against militants in Idlib on August 5 last year.
It came after those positioned in the de-escalation zone failed to honor a ceasefire brokered by Russia and Turkey and continued to target civilian neighborhoods.
Full report at:
https://www.presstv.com/Detail/2020/02/09/618249/Syria-Aleppo-Idlib
--------
Qatar may become first Persian Gulf Arab state to operate submarines: Report
09 February 2020
Qatar is reportedly expected to acquire submarines from Italy and turn into the first Persian Gulf Arab country to operate those watercrafts.
The American business magazine Forbes reported that a new memorandum of understanding (MoU) with Italian company Fincantieri, Europe's largest shipbuilder, covers the "supply of cutting-edge naval vessels and submarines" to the Qatari Emiri Navy.
"Qatar may become the first Arab Persian Gulf state to operate submarines," the report said, adding that currently Iran is the only submarine operator in the Persian Gulf.
According to the report, the Qatari submarines, which are likely to be relatively small light ones, may be part of a much larger 5-billion-euro deal with Italy which was agreed in 2017.
The accord, it noted, included a large helicopter carrier, called a Landing Platform Dock (LPD), four warships and two patrol boats as well as shore support and help with a new offshore naval base.
It further said that Saudi Arabia and the UAE, two of Qatar's neighbors embroiled in a diplomatic crisis with Doha, have both stated needs to acquire submarines.
"Qatar has difficult relations these countries so the submarine acquisition could be seen, at least in part, as a response to these moves," the report added.
In June 2017, Saudi Arabia, Egypt, Bahrain, and the UAE imposed a land, naval and air blockade on import-dependent Qatar, accusing Doha of supporting terrorism; an allegation strongly denied by Doha.
Full report at:
https://www.presstv.com/Detail/2020/02/09/618236/Qatar-submarine-Persian-Gulf
--------
Russian air strikes kill 5 civilians in Syria: monitor
February 10, 2020
BEIRUT: Russian air strikes Monday killed at least five civilians in the last major opposition bastion in northwestern Syria bringing the death toll to 25 in less than 24 hours, a monitor said.
The early morning raids hit a populous village in Aleppo province where battles between Russia-backed regime forces and their opponents have raged for weeks, said the Syrian Observatory for Human Rights.
The victims include at least one child and a number of internally displaced Syrians, the Britain-based monitor said.
It follows a night of heavy bombardment by Russia and the regime that left at least 20 civilians dead in the neighboring provinces of Idlib and Aleppo, according to the Observatory.
Since December, Syrian government forces backed by Moscow have pressed a blistering assault against the Idlib region in the country's northwest and recaptured town after town.
The Idlib region, including slivers of neighboring Aleppo and Latakia provinces, is the last major opposition bastion and dominated by rebels and militants.
The violence has killed more than 300 civilians and sent some 586,000 fleeing toward relative safety near the Turkish border.
Some three million people, half of them already displaced by Syria's devastating war, live in the rebel bastion.
Some 50,000 fighters are also in the shrinking pocket, many of them militants but the majority allied rebels, according to the Observatory.
On Sunday raids by regime ally Russia left 14 people dead, including nine in the village of Kar Nuran in southwestern Aleppo province, the monitor said.
Syrian air raids with crude barrel bombs also killed four civilians in the Atareb district east of Aleppo, while another died in artillery fire near the city of Jisr Al-Shughur and one in Ketian village in southern Idlib.
Regime and Russian forces have intensified their attacks on Aleppo in recent days as government forces close in on a two-kilometer section of the M5 highway that remains outside of their control.
Full report at:
https://www.arabnews.com/node/1625616/middle-east
--------
Perform or quit, archbishop tells Lebanese leaders
February 10, 2020
BEIRUT: Archbishop Abdel Sater has told Lebanon's political rulers to find solutions to the country's problems or choose an "honorable" resignation.
He told them: "Lebanese people, who trusted you and elected you in May 2018, trust you to reform the political, economic, financial and social imbalances and work along with the true revolutionaries, who have goodwill, to find solutions that guarantee a decent living for every citizen. Otherwise, resignation is more honorable."
President Michel Aoun, Prime Minister Hassan Diab and Parliament Speaker Nabih Berri were told by Sater that "the people will explode after they get tired of the vulgar accusations between the responsible political leaders and the recrimination for gains."
He added: "He who promotes intolerance and discrimination in his speech is neither a national leader nor a good official, and he who deems the homeland his and his children's property, monopolizes power, practices tyranny and oppresses those who trusted him is not a leader."
The three politicians met at Mar Maroun Church in Gemmayze in Beirut on Sunday to celebrate the day of the patron saint of the Maronite Church, Mar Maroun (St. Maron).
The celebration needed tight security to prevent protesters from approaching the processions. Activists are holding sit-ins in the squares close to the church.
During a meeting held a few days ago at the Baabda Palace, the Supreme Defense Council discussed measures to ensure MPs' access to Parliament on the day of the session for giving confidence to the government formed by Diab.
While the council did not reveal its measures, which remain secret, concrete walls are blocking most of the roads leading to Parliament. The council left only one or two routes open for easy control.
Activist Mahmoud Fakih told Arab News: "The activist groups in the civil movement will try to prevent MPs from reaching Parliament to give confidence to a government that does not meet our ambitions.
"Arrests of activists also continue in an attempt to intimidate people and prevent them from expressing their pain," he said, adding: "We are betting on recharging the street as there is increasing pressure on people's livelihoods."
The new government faces strong financial pressures, including benefits to pay off state debt next month, an acute shortage of dollar liquidity leading to a decrease in confidence in banks — which continue to increase their strict restrictions on capital movement — the continued weakening of the lira and rising prices.
The extent of the confidence that the government will gain in Parliament is set to greatly impact its work, especially since the main forces supporting it are concerned about the possibility of a decrease in the number of votes it will receive in light of the negative echoes of the ministerial statement that the government has put in place.
Activists believe the government's plan does not include listening to protester demands.
Nizar Hassan, a researcher of social movements, told Arab News: "We have put in place a ministerial statement as an alternative to the government's. We do not want to be accused of rejecting it for the sake of it. We have clear alternatives and a work program that serves as a basis for our opposition."
Hassan revealed that "the alternative statement was discussed in the protest tents in all regions and has been revised to represent every activist group, therefore voicing demands regarding the economic affairs and serving as their language and focus of their demands."
Full report at:
https://www.arabnews.com/node/1625471/middle-east
--------
Yemeni parties urged to adhere to Riyadh Agreement
February 10, 2020
AL-MUKALLA: The commander of the Saudi-led coalition forces in Yemen has asked military and security bodies to help the coalition accelerate the implementation of security and military arrangements under the Riyadh Agreement, pledging to send military support to battlefields in southern Yemen.
At a meeting with commanders of military and security units in southern provinces on Saturday, Brig. Gen. Mujahid Al-Otaibi demanded that officers from the internationally recognized government and the separatist Southern Transitional Council (STC) comply with a Saudi-led military committee that was tasked to put into place security and military provisions of the agreement, local media said.
The Saudi commander also said that the coalition would urgently dispatch military assistance to battlefields in Abyan's Thora, Dhale and other provinces.
The Riyadh Agreement signed in Riyadh last year was meant to end hostilities between the government and the STC. Under the deal, both sides would pull out of areas that they had controlled during fighting, hand over
heavy weapons to the Saudi-led military committee and form a shared government.
The committee has moved most heavy weapons outside Aden and is working with both sides on allowing government's presidential forces to return to Aden and deploy military brigades on the battlefields.
In the north, local pro-government media outlets said that at least 100 Houthi militants, including 32 officers, have been killed in fierce fighting with government forces in the mountainous Nehim district, near Houthi-held Sanaa, over the past couple of weeks.
A news agency run by the National Resistance Forces led by Brig. Gen. Tareq Mohammed Saleh reported that seven Houthi colonels and dozens with lower rankings have been killed in Nehimas, making territorial gains in the district. Funeral processions have become a daily occurrence in Houthi-controlled areas as rebels have dug new graves to bury the increasing number of dead.
Moving ahead
Yemeni Minister of Defense Mohammed Al-Maqdashi said that his government was proud of the military sacrifices by army troops on battlefields, adding that the Yemeni forces would press ahead with military operations till it ended the Houthi coup and liberated Sanaa and other areas.
Al-Maqdashi, who on Saturday inspected recently liberated mountainous locations in Marib's Serwah, thanked local tribes who stood by the Yemeni army in their battles against the Houthis.
Military commanders said the aims of the current military operations in Nehim were to recapture areas controlled by Houthis over recent years, end a months-long military stalemate and pave the way for forces to capture Sanaa.
In the southern city of Taiz, at least 10 Houthi militants were killed on Saturday in clashes with government forces on the eastern and western edges of the city. The fighting came as army troops shot down a Houthi drone east of Taiz city.
Full report at:
https://www.arabnews.com/node/1625426/middle-east
--------
North America
Two US service members killed, six others injured in Afghanistan
9 February 2020
Two US service members were killed and six others injured when an individual in an Afghan uniform opened fire on them, the US military said on Saturday.
The incident, which took place in Nangarhar province, occurred after a combined US and Afghan force was returning from a "key-leader engagement," Colonel Sonny Leggett, a spokesman for US forces in Afghanistan, said in a statement.
"Current reports indicate an individual in an Afghan uniform opened fire on the combined US and Afghan force with a machine gun," US Forces-Afghanistan spokesman Sonny Leggett said in a statement on Sunday.
"We are still collecting information and the cause or motive behind the attack is unknown at this time," Leggett added.
Provincial governor Shah Mahmood Meyakil said in an audio message to reporters that three Afghan commandos were wounded.
He said it was not immediately clear if the incident was a deliberate act by an "infiltrator" or an accident.
"It was not a clash between the forces. We are investigating," Meyakil said.
In a tweet, the US Army's 7th Special Forces Group (Airborne) said "several" of its soldiers had been killed or injured during combat operations in Afghanistan.
No group immediately claimed responsibility.
Last year was the deadliest for US forces in Afghanistan since combat operations officially finished at the end of 2014, highlighting the challenging security situation that persists.
In December, Taliban infiltrators in the Afghan military killed nine Afghan soldiers in central Afghanistan.
In July, an Afghan soldier killed two US troops as they were visiting an Afghan army base in Kandahar.
That came two weeks after another Afghan soldier shot and killed an influential Afghan army colonel while he was conducting a security assessment in Ghazni province.
https://english.alarabiya.net/en/News/world/2020/02/09/Two-US-service-members-killed-six-others-injured-in-Afghanistan.html
--------
At least 6 US troops, 6 Afghan soldiers reported killed during operation in E Afghanistan
09 February 2020
At least six US soldiers as well as six Afghan troops have reportedly been killed in Afghanistan's eastern Nangarhar province after coming under direct file during a skirmish with local insurgents.
The US-based daily New York Times cited two Afghan officials as saying on Saturday that fatalities occurred as American Special Forces were assisting Afghan army soldiers in their bid to secure an area in the province that had been overrun by Taliban militants.
Earlier reports cited spokesman for US forces in Afghanistan, Col. Sonny Leggett, as saying that "a combined US and Afghan forces conducting an operation" in the province came under "direct fire" but did not elaborate on the number of casualties in the battle.
"We are assessing the situation and will provide further updates as they become available," Leggett said.
The report further noted that the total number of casualties remains unknown.
It is yet unclear which insurgent group was behind the assault on the joint US-Afghan operation, since earlier reports had pointed to Daesh (ISIL) militants as being behind the armed encounter.
The deadly incident came as the administration of US President Donald Trump has been engaged in peace negotiations with Taliban militants in efforts to end the 19-year-old American military occupation of Afghanistan.
In his State of the Union address this week, Trump mentioned the peace talks, saying that the US military shouldn't act as "law enforcement" for other countries.
There are currently between 12,000 and 13,000 US military service members still in Afghanistan.
The development comes as a US government watchdog agency announced last week that violent attacks against US and Afghan troops have surged to record levels in the last quarter of 2019.
"Enemy-initiated attacks" rose sharply last year, with the fourth quarter seeing a total of 8,204 attacks -- up from 6,974 in the same period in 2018, said the US Special Inspector General for Afghanistan Reconstruction (SIGAR) in a statement on January 31.
"A turbulent last six months resulted in increases in overall enemy attacks (6 percent) and effective attacks (4 percent) in 2019 compared to the already high levels reported in 2018," SIGAR stated in its quarterly report to the US Congress.
Attacks dropped earlier in the year but picked up again after US President Donald Trump called off talks with the Taliban near Washington after an American officer was killed in Afghanistan.
The SIGAR report further claimed that Afghanistan's security forces were struggling to take the fight to the Taliban and that they continued to rely on American military backing for more than half their ground operations.
It also highlighted an increase in the number of casualties among Afghan troops, who it said have sustained massive losses over the past five years.
The SIGAR report came two days after the US Air Force said American warplanes had dropped more bombs on Afghanistan in the past year than at any other time in at least a decade.
According to the figures released by the US Central Command (CENTCOM), American warplanes dropped a total of 7,423 bombs and other munitions across Afghanistan, marking a whopping eight-fold increase from 2015.
Full report at:
https://www.presstv.com/Detail/2020/02/09/618221/US-troops-Afghanistan-Nangarhar-province-Taliban-militants
--------
Kuwait's Parliament Speaker throws Trump's peace plan in the dustbin
Saturday, 08 February 2020
Kuwait's National Assembly Speaker Marzouq Ali Al-Ghanim throws US president Donald Trump Mideast peace plan in the dustbin during the 30th emergency conference of the Arab Inter-Parliamentary Union (AIU) held in the Jordanian capital, Amman.
https://www.presstv.com/Detail/2020/02/08/618212/Kuwait's-Parliament-Speaker-throws-Trump's-peace-plan-in-the-dustbin
--------
Mideast
Three doctors sentenced to flogging in Iran for 'insulting' cleric
9 February 2020
Three medical doctors have been sentenced to flogging in Iran on charges of "insulting" a controversial cleric who denounces modern medicine and recently burned the world's leading internal medicine textbook in a viral video.
The doctors have been sentenced to 60 lashes each for "insulting" Abbas Tabrizian, a cleric who burned Harrison's Manual of Medicine among his followers in a viral video in January.
Tabrizian – considered the "father of Islamic medicine" by his followers – is an advocate for treating patients using "Islamic medicine" rather than modern medicine.
"Islamic medicine" relies on the sayings of the Shia Imams to treat patients.
Tabrizian has written a number of books on Islamic medicine and runs an Islamic medicine center. The center's website sells medicinal herbs, as well as products such as "Islamic soap" and "Islamic toothbrush."
Powerful cleric Ayatollah Mahmoud Hashemi-Shahroudi – reportedly an advocate for Islamic medicine and once considered to be a possible successor to Supreme Leader Ali Khamenei – died in 2018 due to trusting Islamic medicine, according to his son.
"The Islamic doctors told my father to not pay attention to what the modern doctors were saying about his health," Ala Hashemi-Shahroudi said last December.
Iran's highest authority Supreme Leader Khamenei is also believed to be an advocate for Islamic medicine.
https://english.alarabiya.net/en/News/middle-east/2020/02/09/Three-doctors-sentenced-to-flogging-in-Iran-for-insulting-cleric.html
--------
Turkish academic offers an intriguing but controversial view of the Muslim world
Claire Sadar
Feb 09 2020
Turkish academic Ahmet Kuru presents an intriguing and sure to be a controversial thesis in his latest book Islam, Authoritarianism, and Underdevelopment: A Global and Historical Comparison. It is based on an analysis of political history and contemporary political institutions and policies. However, in Kuru's latest volume, the scope of analysis and the conclusions he draws are much broader and more ambitious than his previous work.
In the book, Kuru tries to answer one of the most hotly debated and politicised questions of political science and global economics: "Why do Muslim-majority countries exhibit such high levels of authoritarianism and such low levels of socioeconomic development in comparison to world averages?" Kuru dismisses the two most common arguments of the political right and left - that either Islam or Western colonialism are entirely to blame for the contemporary problems of Muslim-majority countries - as based on a cherry-picked reading of history.
For example, Kuru traces back the adage used by both Islamists and Islamophobes that in Islam, "religion and royal authority are twins" to the pre-Islamic Sasanian political tradition. He argues that the comparatively advanced development of Muslim-ruled territories between the eighth and twelfth centuries proves that Islam is indeed compatible with intellectual, technological, and economic progress and innovation and that the subsequent stagnation and decline these same territories experienced in the late middle ages predates the ascendance of European colonial rule.
Instead, Kuru postulates that domestic political relations between rulers and the intellectual, economic, and religious classes, and the rearrangement thereof, explains the ascendance of Muslim-ruled areas in the eighth to twelfth centuries, their subsequent decline and the simultaneous dominance of Western Europe beginning in the early modern period. According to Kuru, "In early Islamic history, Islamic scholars' independence from the state and the economic influence of merchants" created a space for philosophical and intellectual freedom outside of state control.
Later political authorities, most notably the Seljuks, would bring the Islamic religious establishment, the ulema, under state control. The Seljuks would also introduce land and tax reforms that curtailed the economic and political influence of the merchant class. Western Europe, in contrast, underwent the opposite political and economic process in the early modern period: political and religious authorities fought and gradually disentangled from one another, universities fostered intellectual growth, and a merchant class emerged and wielded increasing political and economic power.
At different periods in their history, both the "Muslim world" and predominantly Christian western Europe have suffered from the religion-state entanglement that Kuru sees as the primary force hampering intellectual progress and innovation. There is nothing essential in either Islam or Christianity that encourages or impedes philosophical exploration or scientific experimentation. Each has the potential to stunt and stop the intellectual flourishing of its adherents when it becomes dominated political interests. Kuru contends that this tradition of political domination of religion has continued even in secular Muslim-majority countries such as Turkey and Egypt.
The book is broken into two sections. The first addresses the contemporary problems of authoritarianism, underdevelopment, and violence in the forty-nine countries with majority Muslim populations. Kuru begins with the provocative, and seemingly tangential, question of "what explains the recent surge of Muslim involvement in political violence?" Kuru uses this question to explore his major claims – that Islam can be interpreted to support many different political, social, and economic projects, that neither colonial rule nor Islam fully explains the political and social conditions of Muslim-majority countries, and, most crucially, that the ulema's conservatism and political co-option has made it difficult to counter extreme interpretations of Islamic theology and social organisation.
The second section of the book lays out the historical evidence for Kuru's thesis that the entanglement of political, religious, intellectual, and economic actors is the primary cause of Western Europe's dominance, and the decline of Muslim empires, since the early modern period. In detail, he lays out the political history of the Muslim empires that dominated western Asia, northern Africa and southern Europe for over a thousand years.
Kuru draws on studies of primary sources ranging from biographies of Islamic scholars, to theological works and administrative manuals to mark the changing relationship between state and religion and the decline of the merchant class in this region over the period of approximately 700 years. He also addresses why efforts at political and social reform by a number of 19th-century Muslim leaders ultimately failed.
Kuru anticipates that his thesis and the evidence he uses to support it will inevitably draw criticism. Toward the end of the book, he directly addresses alternative explanations for both the rise of Western Europe and the decline of Muslim-ruled empires. Kuru also discusses critiques he received while writing this book, namely that he was in danger of glossing over the violent and destructive forces unleashed by Western colonialism.
Kuru readily acknowledges the overall horrific legacy of colonialism and slavery. However, he contends that a lengthy examination of the carnage of colonialism is outside the scope of this book, as he is interested in what turned Western Europe into a colonial power in the first place. Kuru also raises the point that Muslim-rules empires, throughout their history, also engaged in cultural and ethnic cleansing, slavery, and discrimination of native populations.
Certainly, these attempts to head off critics will only go so far. Kuru blames the ulema not just for the historic decline of the Muslim-majority world, but also for the pervasiveness of violent interpretations of Islam. This contention is sure to raise controversy, not least among members of the ulema itself. Kuru's dismissal of colonialism as central to both the state and non-state violence that is pervasive in many Muslim-majority countries is likely to receive significant pushback as well.
Full report at:
https://ahvalnews.com/book-review/turkish-academic-offers-intriguing-controversial-view-muslim-world
--------
Turkey won't allow 'deal of century' to threaten peace: President
February 09 2020
Turkey will never allow the peace in the region to be disrupted by the U.S.' so-called "deal of century" Mideast peace plan, said Turkey's president on Feb. 9.
Recep Tayyip Erdoğan's remarks came in a statement he sent to the current 3rd Conference of the Inter-parliamentary Jerusalem Platform in Malaysia's capital, Kuala Lumpur.
In his message to the platform, Erdoğan underlined the meaning and the importance of such a conference in this critical period and added that "the so-called 'Deal of Century' [which] declares Jerusalem the capital of Israel is nothing more than a dream that threatens peace in the region. We will not allow this dream to come true.
"We do not recognize this plan, which means annexation of Palestinian lands, completely destroys Palestine, and completely seizes Jerusalem. We never accept this attempt, which accepts a two-state solution on the surface but actually means legitimizing the Israeli occupation under the mandate of the American administration."
U.S. President Donald Trump's so-called "deal of the century" was announced on Jan. 28. It refers to Jerusalem as "Israel's undivided capital" and recognizes Israeli sovereignty over large parts of the West Bank.
Jerusalem red line
The plan has drawn widespread criticism from the Arab world and was rejected by the Organization of Islamic Cooperation, which urged "all member states not to engage with this plan or to cooperate with the U.S. administration in implementing it in any form."
Leaders of the Muslim bloc reiterated a need for a just and comprehensive solution that protects the rights of Palestinians.
Erdoğan said Israel has unfairly and unlawfully reached its present borders while Palestine has been facing occupation, destruction, and suffering for years.
He said Turkey "will never remain silent on the annexation of Jerusalem or forsake its fellow Palestinian brothers in this fight."
"I would like to stress once again that Jerusalem is our red line. As Muslim countries, our most important responsibility in this process is to protect Al-Aqsa Mosque, embrace the peace symbol Jerusalem, and defend the rights of Palestinians," Erdoğan said.
"The policy pursued by some Islamic countries against this step, which is the beginning of a process that will affect the entire world, especially the Middle East, has created a sad picture."
Full report at:
https://www.hurriyetdailynews.com/turkey-wont-allow-deal-of-century-to-threaten-peace-president-151883
--------
Iran rocket launch fails to put satellite into orbit: State TV
9 February 2020
An Iranian rocket failed to put a satellite into orbit on Sunday, state television reported, the latest setback for a program the US claims helps Tehran advance its ballistic missile program.
The launch happened at Imam Khomeini Spaceport in Iran's Semnan province, some 230 kilometers (145 miles) southeast of Iran's capital, Tehran. A Simorgh, or "Phoenix," rocket couldn't put the Zafar 1 communications satellite into orbit, however, due to a low speed, Iranian state TV reported.
The launch had been planned amid celebrations ahead of the February anniversary of Iran's 1979 Islamic Revolution. Iran routinely unveils technological achievements for its armed forces, its space program and its nuclear efforts during this time.
Sunday's failure came after two failed launches of the Payam and Doosti satellites last year, as well as a launchpad rocket explosion in August. A separate fire at the Imam Khomeini Space Center in February 2019 also killed three researchers, authorities said at the time.
The rocket explosion in August drew even the attention of US President Donald Trump, who later tweeted what appeared to be a classified surveillance image of the launch failure. The three failures in a row raised suspicion of outside interference in Iran's program.
The US alleges such satellite launches defy a UN Security Council resolution calling on Iran to undertake no activity related to ballistic missiles capable of delivering nuclear weapons.
Iran, which long has said it does not seek nuclear weapons, maintains its satellite launches and rocket tests do not have a military component. Tehran also says it hasn't violated the UN resolution as it only "called upon" Tehran not to conduct such tests.
Over the past decade, Iran has sent several short-lived satellites into orbit and in 2013 launched a monkey into space.
The launch comes amid heightened tensions between Iran and the US since Trump unilaterally withdrew America from Tehran's 2015 nuclear deal with world powers in May 2018. Iran since has begun breaking terms of the deal limiting its enrichment of uranium.
Full report at:
https://english.alarabiya.net/en/News/middle-east/2020/02/09/Iran-rocket-launch-fails-to-put-satellite-into-orbit-State-TV.html
--------
Israel blocks Palestinian export in escalating trade crisis
9 February 2020
The Israeli military blocked Palestinian agricultural exports on Sunday in the latest escalation of a months-long trade war that comes amid fears of renewed violence as well.
Following Defense Minister Naftali Bennett's instruction, the military said it would not allow the Palestinians to transfer their products through their land crossing to Jordan, the West Bank's only direct export route to the outside world.
The Western-backed Palestinian Authority said Israeli forces at checkpoints blocked vegetable shipments that were in their way to export abroad. The Ministry of Agriculture statement said vegetable exports to Israel were worth $88 million last year, comprising 68 percent of the West Bank's overall vegetable exports.
The crisis erupted in September, when the Palestinians decided to stop importing beef from Israel. The Palestinian Authority claimed most of the 120,000 head of cattle they imported monthly from Israel was itself imported and that they therefore preferred to import directly from abroad. The move appeared aimed at reducing the Palestinians' economic dependence on Israel.
Shortly after the September announcement, Israeli cattle ranchers saw a drop in their market and pressured Israeli authorities to take action. Bennett retaliated with a ban on Palestinian beef and other products, triggering the Palestinians to expand their boycott, and stop importing Israeli vegetables, fruits, beverages and mineral water.
The Palestinians say their actions are aided at pressuring Israel into revoking its ban, while Israel says normal trade will be restored the moment the Palestinian reverse the cattle ban that started the crisis in the first place.
Full report at:
https://english.alarabiya.net/en/News/middle-east/2020/02/09/Israel-blocks-Palestinian-export-in-escalating-trade-crisis.html
--------
Not so fast: US orders Netanyahu to delay annexation of West Bank land
February 10, 2020
AMMAN, Jordan: Israeli Prime Minister Benjamin Netanyahu was forced on Sunday to backtrack on plans for a rapid annexation of occupied West Bank land after an unprecedented warning from the US that he was moving too quickly.
Under pressure from far-right extreme nationalists in his coalition government, Netanyahu had pledged quick "application of Israeli law" to illegal Jewish settlements, and to the Jordan Valley.
The prime minister had been given the green light to act by US President Donald Trump's Middle East peace plan, unveiled on Jan. 28, which proposes that Israel retain vast areas of occupied land required by the Palestinians for an independent state.
But David Friedman, the US ambassador to Israel and a key supporter of the Trump plan, warned on Sunday: "Israel is subject to the completion (of) a mapping process by a joint Israeli-American committee. Any unilateral action in advance of the completion of the committee process endangers the plan, and American recognition.
"With the news out that the Israeli Cabinet was about to be pushed in a direction that was potentially adverse to our view of the process, we just let people know where we stand."
Palestinian leaders told Arab News that Netanyahu had no option but to do what Washington told him. "There is no doubt that in such a disagreement Trump is the powerful side in the equation, and if Trump and Netanyahu disagree, the opinions of the Americans will prevail," said Nabil Shaath, senior political adviser to Palestinian President Mahmoud Abbas.
The US had interests in the region other than Israel, Shaath said. "For many in the Arab and Muslim worlds, Jerusalem and Arab occupied lands do have a role in the way Washington thinks."
However, chief Palestinian negotiator Saeb Erekat told Arab News that Friedman had been "historically involved in the funding and support of illegal colonial settlements, and is one of the master brains behind this annexation plan.
Full report at:
https://www.arabnews.com/node/1625476/middle-east
--------
Israel accused of torturing Palestinians after fatal bombing
February 10, 2020
RAMALLAH: One of the men was hospitalized with kidney failure and 11 broken ribs. Another was nearly unrecognizable to his wife when he was wheeled into a courtroom. A third was stitched up after being attacked by a security dog.
Then the three Palestinians were returned to their Israeli interrogators. They had been swept up in a sprawling manhunt launched after a roadside bomb killed a 17-year-old Israeli girl and wounded her father and brother as they hiked down to a spring last August in the occupied West Bank.
The attack raised fears of a sophisticated militant cell that might strike again, and Israeli interrogators appear to have treated it as a ticking time-bomb scenario. Israeli and Palestinian rights groups say there is strong evidence that they tortured several detainees in violation of Israeli and international law.
The allegations against Israel are the most serious to come to light in years, and the rights groups say they point to a loosening of constraints two decades after the Israeli Supreme Court outlawed most forms of torture.
Lawyers and family members of the three main suspects say they were tortured to the point of being hospitalized. Several other Palestinians swept up by Israel's Shin Bet internal security agency say they were threatened, beaten, forced into painful stress positions and denied sleep.
A landmark 1999 Israeli Supreme Court ruling forbids such torture. But the law allows interrogators to defend the use of force when there is fear of an imminent attack.
Rights groups say interrogators routinely make use of the loophole, knowing they will face few consequences, if any.
The Public Committee Against Torture in Israel says more than 1,200 complaints against the Shin Bet have been filed since 2001, without a single case going to trial. Only one criminal investigation has been launched, over a 2017 case involving alleged rape, and it is still open.
The allegations come at a sensitive time following the release of President Donald Trump's Mideast initiative, which heavily favors Israel and would allow it to annex large parts of the West Bank. The Palestinians have rejected the plan, and sporadic clashes have erupted across the West Bank in recent days.
The Western-backed Palestinian Authority, which has also been accused of torturing prisoners, has responded to the plan by threatening to end its longtime security coordination with Israel, which many Palestinians view as an extension of the occupation. The latest torture allegations could add to the mounting pressure on President Mahmoud Abbas to follow through on those threats.
A frenzied manhunt
The Shin Bet launched a massive manhunt after the Aug. 23 bombing killed 17-year-old Rina Shnerb and seriously wounded her father and older brother. Such bombings, a hallmark of the 2000-2005 Palestinian uprising, have been rare in recent years.
Authorities blamed the attack on the Popular Front for the Liberation of Palestine, or PFLP, a leftist political party that has an armed wing. In the following weeks, security forces arrested dozens of its members — suspected militants as well as politicians and student leaders.
The 2.5 million Palestinians in the West Bank live under Israeli military rule, and detainees can be held for months or years without charge under a practice known as administrative detention. Israel says such measures are needed to prevent attacks without disclosing sensitive intelligence.
The Shin Bet identified 44-year-old Samer Arbeed as the mastermind of the attack and the bombmaker. It said Qassem Barghouti, 22, took part in the bombing and other attacks, and that Walid Hanatsheh, 51, was a senior commander in the group's armed wing.
The Shin Bet, also known as the Israeli Security Agency, said the interrogations helped foil attacks planned for the "near future" and led authorities to several weapons caches.
The agency declined to address specific allegations of torture, saying only that "interrogations are conducted in accordance with the law and are aimed at protecting the State of Israel and its citizens from terror attacks."
'Severe torture'
In September, days after his arrest, Arbeed was taken to a hospital in critical condition.
Sahar Francis, the head of the Palestinian Addameer rights group and a lawyer for the suspects, said Arbeed's interrogators beat him for 36 hours, leaving him with kidney failure and 11 broken ribs. He was hospitalized and required a respirator after developing pneumonia. He was released from the hospital after three weeks and returned to Shin Bet custody.
The Shin Bet said at the time that Arbeed "did not feel well" during interrogation and was taken to a hospital, without elaborating. Israeli media said the Justice Ministry was investigating. The ministry did not respond to requests for comment.
While Arbeed's hospitalization was widely reported at the time, Francis said his alleged co-conspirators, Barghouti and Hanatsheh, were also severely beaten.
Hanatsheh's wife, Bayan, said she hardly recognized him when she saw him 60 days after his arrest.
"He was brought into court in a wheelchair," she said. "He looked very old, his beard was plucked from several places and his eyes were deep inside his head. He was not himself," she said.
Francis shared photos of Hanatsheh she said were taken 10 days after his interrogation. They appeared to show large red bruises on his legs, feet and shoulders.
Barghouti, the third alleged attacker, was bitten in his genitals by a security dog when authorities raided his home near the West Bank city of Ramallah, Francis said.
"When he was brought back from the hospital for interrogation, the interrogators hit him on his wounds," she said. At one point during his interrogation, he urinated in his pants because he was not permitted to use the bathroom, she added.
Addameer declined to share medical records detailing the injuries, citing privacy laws.
Rachel Stroumsa, the executive director of the Public Committee Against Torture in Israel, said the allegations are "very credible" and line up with the testimony her group has gathered from other detainees over the years.
"Somebody who is in good health is arrested and ends up two days later in hospital, incubated, on dialysis, with broken ribs," she said. "It's extraordinarily difficult for me to see how you could give it any other explanation than a severe suspicion of torture."
The experience 'never leaves you'
Addameer says several other suspects were subjected to less severe forms of abuse that the human rights community widely views as torture. It said a total of around 50 Palestinians were subjected to some form of torture in the wake of the bombing.
George Abu Ghazaleh, a 29-year-old who works at a music production company and teaches traditional dance, was arrested at his home on Nov. 11 and taken away in his pajamas and slippers. He said that for weeks he was isolated in a filthy cell, beaten and screamed at.
"I was asked about acquaintances and about people that I don't even know," he said. "I struggled to convince them that I have no ties whatsoever to any of these people."
He said he was held for several hours at a time with his arms and legs cuffed to a chair in the so-called Shabach position — a practice specifically outlawed by the Supreme Court.
He was released after 40 days without being charged but says he's still traumatized.
"This kind of experience never leaves you," he said. He describes feeling distracted much of the time and says he wakes up at night to the slightest sound outside his window.
Addameer said the Shin Bet also arrested family members of the alleged militants — mostly women — to put pressure on them.
It says Hanatsheh's 21-year-old daughter was held for two days and paraded before her father in detention. Authorities also detained Barghouti's mother, who teaches media studies at Birzeit University, holding her for two weeks.
The Shin Bet also rounded up university students with alleged ties to the PFLP. Mays Abu Ghush, 22, was also subjected to Shabach over the course of 30 days of interrogations, according to Francis, who is also representing her.
Sanctioned at the 'highest levels'
Stroumsa said the "necessity defense" allowed by the Supreme Court was never intended to sanction any form of torture but to allow interrogators to defend themselves if they strayed into gray areas.
"Torture is forbidden absolutely," she said. "There are things we do not do. We don't rape. We don't enslave people. We don't torture. That's a moral code. It's also a legal code which Israel is bound to."
She said the necessity defense is now agreed upon before interrogations, and is often sanctioned "at the highest levels," by the head of the Shin Bet or the attorney general.
Her group has recorded a "sharp increase" in reports of torture over the last three months.
The Shin Bet declined to comment on when or how the necessity defense is employed.
The Palestinian Authority, which has limited autonomy in parts of the West Bank, and the Islamic militant group Hamas, which rules Gaza, have also been accused of torturing political prisoners. Rights groups say torture is endemic in other countries in the region, such as Syria and Egypt.
Unlike those countries, Israel routinely portrays itself as the region's sole democracy and extolls the morality of its security forces.
In December, Prime Minister Benjamin Netanyahu commended the Shin Bet, the army and police for apprehending the "reprehensible terrorists who murdered Rina Shnerb."
Full report at:
https://www.arabnews.com/node/1625596/middle-east
--------
Israel attacks Hamas 'terror targets' after projectile
February 10, 2020
JERUSALEM: Israeli forces attacked Hamas positions from the air early Monday, the army said, after militants in the Palestinian enclave fired a projectile at the Jewish state.
The "aircraft and fighter jets targeted a number of Hamas terror targets in the southern Gaza Strip," a statement from the Israeli army said, noting a Hamas "training compound and military infrastructures" were included in the attack.
There were no reports from Gaza of casualties or damage.
On Sunday night, a projectile was launched from Gaza at southern Israel, triggering air raid sirens and sending thousands to bomb shelters.
A spokeswoman for the regional council in Shaar Hanegev, just northeast of Gaza, said the projectile apparently hit an open field.
Palestinian attacks have increased since January 28 when US President Donald Trump released his vision for resolving the Israeli-Palestinian conflict — a plan firmly rejected by the Palestinian leadership in both the West Bank and Gaza.
It would grant Israel a number of its long-held goals, including full control of disputed Jerusalem and a green light to annex all settlements and other parts of the West Bank.
In exchange the Palestinians would be offered a state in the remaining parts of the West Bank and Gaza.
Full report at:
https://www.arabnews.com/node/1625581/middle-east
--------
South Asia
5 Ansar-al-Islam members held in Dhaka
February 10th, 2020
CTTC will hold a media briefing around 11:30am on Monday
Dhaka Metropolitan Police's (DMP) Counter Terrorism and Transnational Crime (CTTC) unit has arrested five suspected members of the banned militant outfit Ansar-al-Islam alias Ansarullah Bangla Team from Dhaka.
They were arrested from the Sabujbag area on Sunday night and CTTC will hold a briefing in this regard at DMP Media Centre around 11:30am on Monday.
DMP Deputy Commissioner (media) Masudur Rahman confirmed the matter to Dhaka Tribune.
https://www.dhakatribune.com/bangladesh/dhaka/2020/02/10/5-ansar-al-islam-members-held-in-dhaka-2
--------
29 Taliban militants killed, detained in airstrikes and Special Forces raids
10 Feb 2020
A series of airstrikes killed at least 21 Taliban militants in three provinces of Afghanistan in the past 24 hours, the military official said.
The officials further added that the Afghan Special Forces also arrested 8 Taliban militants in three provinces during the same period.
According to officials, the security forces conducted three separate airstrikes in Nahr-e Saraj district of Helmand, Chawkai district of Kunar and Nadir Shah Kot district of Kunar which killed 21 militants.
The Special Forces arrested 8 Taliban militants during the operations in Sabari dsitrict of Khost, Muhammad Agha district of Logar and Dishu district of Helmand, the officials said.
The military officials also added that the Special Forces also destroyed a small cache of weapons during the raid in Sabari district of Khost.
Full report at:
https://www.khaama.com/29-taliban-militants-killed-detained-in-airstrikes-and-special-forces-raids-04441/
--------
Key Taliban sniper among 5 killed in a premature bomb explosion in North of Afghanistan
09 Feb 2020
A premature bomb explosion killed five Taliban militants including a key sharp-shooter (sniper) of the group in North of Afghanistan, the Afghan Military said.
According to a statement released by Special Operations Corps, an Improvised Explosive Device (IED) went off prematurely among Taliban militants in northern Sar-e-Pul province which killed 5 Taliban militants.
The statement further added that the bomb exploded among Taliban militants in Sayad district, killing five Taliban militants including Bismillah alias Farahuddin, one of the sharp-shooters (snipers) of the group.
The Special Operations Corps also added that the explosion also destroyed a thermal rifle scope.
The Taliban group has not commented regarding the incident so far.
Taliban militants and other insurgent groups often use improvised explosive device as the weapon of their choice to target the security forces and government officials.
Full report at:
https://www.khaama.com/key-taliban-sniper-among-5-killed-in-a-premature-bomb-explosion-in-north-of-afghanistan-04437/
--------
The US emphasizes law enforcement against corrupt Afghan officials
08 Feb 2020
The US Department of State's deputy assistant secretary for South and Central Asia, Alice G. Wells emphasized law enforcements against corrupt Afghan officials who have recently been jailed for drug smuggling.
Alice Wells expressed her disappointment over the involvement of Afghanistan's police officials in drug smuggling.
Dispirited that six Afg counternarcotics police officials are allegedly involved in drug smuggling, Allice tweeted.
The drug trade fuels instability and undermines good governance & development of Afghanistan's economy, she said.
Important for law enforcement to take action against corrupt officials, she added.
State_SCA
✔
@State_SCA
Dispirited that six Afg counternarcotics police officials are allegedly involved in drug smuggling. The drug trade fuels instability and undermines good governance & development of Afghanistan's economy. Important for law enforcement to take action against corrupt officials. AGW
56
8:27 AM - Feb 8, 2020
Twitter Ads info and privacy
34 people are talking about this
This comes as Afghanistan's Ministry of Interior Affairs announced last week that Mia Ahmad Ahmadi, director of counter-narcotics, was detained by the Kabul Police Command along with five other senior staff members on charges of "drug distribution."
Full report at:
https://www.khaama.com/the-us-emphasizes-law-enforcement-against-corrupt-afghan-officials-879075/
--------
Prominent Taliban leader, in charge of high-tech weapons killed in an airstrike
10 Feb 2020
An airstrike killed a prominent Taliban leader who was in charge of high-tech weapons of the group in northern Balkh province.
The Ministry of Defense in a statement said a precision airstrike killed Mohammad Gul alias Abu Bakar in Chemtal district of Balkh province at around 5:30 pm local time on Sunday.
The statement further added that the security forces conducted the airstrike in Dilbar Village of Chemtal district.
According to Ministry of Defense Gul Mohammad was a prominent Taliban leader who was in charge of high-tech weapons including thermal-scoped rifles and night vision-equipped snipers.
The Taliban group has not commented regarding the killing of Gul Mohammad so far.
Full report at:
https://www.khaama.com/prominent-taliban-leader-in-charge-of-high-tech-weapons-killed-in-an-airstrike-04439/
--------
US confirms 2 soldiers killed, 6 injured in Afghanistan
09 February 2020
The US military says two American soldiers have been killed and six others wounded in an attack in eastern Afghanistan.
Colonel Sonny Leggett, a spokesman for US forces, confirmed late on Saturday that the casualties took place in the Sherzad district of eastern Nangarhar Province after an individual in "Afghan uniform" opened fire on combined American and Afghan forces conducting a joint patrol in the area.
"Upon completing a key-leader engagement at the district center, current reports indicate an individual in an Afghan uniform opened fire on the combined US and Afghan force with a machine gun," Leggett said in a statement.
"We are still collecting information and the cause or motive behind the attack is unknown at this time. The incident is under investigation," he added.
Haley Britzky
✔
@halbritz
NEW, statement from US Forces-Afghanistan spox Col. Leggett:
2 US troops killed and six injured in Afghanistan after "an individual in an Afghan uniform opened fire on the combined U.S. and Afghan force with a machine gun."
View image on Twitter
8
9:51 AM - Feb 9, 2020
Twitter Ads info and privacy
See Haley Britzky's other Tweets
The US spokesman said six Afghan troops had also been killed in the attack and that the wounded servicemen were receiving medical treatment at a US facility in Nangarhar.
Afghan individuals wearing military uniforms sometimes open fire at US forces, in what are sometimes referred to as "insider attacks." In at least some of those attacks, the assailant flees and later emerges among the Taliban.
Both the Taliban militants and members of the Takfiri Daesh terrorist group are active in Nangarhar.
The Taliban and the US had been negotiating a peace deal on and off for a year. Talks restarted in Qatar later last December, but were suspended again following an attack near the Bagram military base in Afghanistan, which is run by the US.
Full report at:
https://www.presstv.com/Detail/2020/02/09/618237/US-military-insider-attack
--------
Africa
Thousands demonstrate in Morocco against Trump Middle East peace plan
9 February 2020
Thousands of demonstrators flooded the streets of the Moroccan capital Sunday to protest against a new US Middle East peace plan which the Palestinians says favors Israel.
Carrying Palestinian flags, the demonstrators, including local politicians, Islamist sympathizers and trade unionists, marched in Rabat chanting "Long Live Palestine."
They called for a boycott of American products, denouncing the United States as "enemies of peace" and chanted "Palestine is not for sale."
Some of the demonstrators, who wore red-black-green-white scarves in the colors of the Palestinian standard, torched an Israeli flag and spoke against any attempt by Morocco "to normalize" ties with Israel.
Israel and Morocco opened "liaison" offices in each other's countries in the mid-1990s but Rabat closed them after an escalation of Palestinian-Israeli violence in 2000.
Last month US President Donald Trump unveiled a Middle East plan for peace between Israel and the Palestinians which the Palestinians have rejected saying it is biased in favor of Israel.
Under the plan, Israel would retain control of the disputed city of Jerusalem as its "undivided capital," and annex settlements on Palestinian lands. Palestinians however want all of east Jerusalem to be the capital of any future state.
The plan has also been rejected by the Arab League and the Organization of Islamic Cooperation - two bodies in which Morocco is a prominent member.
After Trump unveiled the plan, the foreign minister of Morocco, a key US ally, said Rabat "appreciates the constructive efforts for peace deployed by the US administration for a durable solution in the Middle East."
Nasser Bourita went on to reiterate that Morocco's position is to support the creation of an independent Palestinian state with east Jerusalem as its capital.
https://english.alarabiya.net/en/News/middle-east/2020/02/09/Thousands-demonstrate-in-Morocco-against-Trump-Middle-East-peace-plan.html
--------
Suicide attack kills Algerian soldier near Mali border
9 February 2020
An Algerian soldier was killed on Sunday in a suicide car bomb attack near the Mali border, the Algerian defense ministry said in a statement.
"Today at 1050 (0950 GMT) in the border area of Timiaouine, a detachment of the ANP (army) was the target... of a suicide attacker in an all-terrain vehicle," the statement said.
"The soldier in charge of access managed to stop the suspect vehicle from entering, however the suicide attacker blew up the vehicle, causing the death of the solider on guard," it added.
No information was given about the identity of the attacker.
Acting Deputy Chief of Staff Said Chanegriha offered condolences to the family of the "martyred" soldier, and praised "the great vigilance shown by the unit which was able to foil this desperate attempt for media attention."
Chanegriha stressed "the determination of ANP forces to eradicate the scourge of terrorism and to track down criminals across the country, to preserve the security and stability of the state."
The attack - which was not immediately claimed - is the first of its kind in southern Algeria in years.
In January 2013, members of al-Qaeda attacked a gas plant near In Amenas near the Libyan border. Forty hostages died along with 29 extremists.
Sunday's attack comes as Algeria is seeking involvement in attempts to resolve regional crises in Libya and the Sahel.
Worried by the risk of instability in southern Algeria, Algiers served in 2014 and 2015 as mediator between the Malian government and militants.
The last suicide attack against Algerian forces was in August 2019.
Full report at:
https://english.alarabiya.net/en/News/north-africa/2020/02/09/Suicide-attack-kills-Algerian-soldier-near-Mali-border.html
--------
Libya talks end without ceasefire, UN proposes second round
9 February 2020
Talks between representatives of Libya's warring parties in Geneva this week ended Saturday with no deal on a ceasefire but the UN has proposed a second round of negotiations for February 18.
The talks aim to end fighting between the UN-recognized government in Tripoli, led by Prime Minister Fayez al-Sarraj, and the eastern-based Libyan National Army, led by Gen. Khalifa Haftar, the latest conflict to hit the North African state.
"As both sides agreed to the need to continue the negotiations in order to reach a comprehensive ceasefire agreement, the [UN mission] has proposed 18 February 2020, as the date for a new round of talks" in Geneva, the UN said.
UN envoy Ghassan Salame earlier said the two sides agreed on the need to turn their truce into a full ceasefire but there were "points of divergence."
Five senior officers from the UN-recognized Government of National Accord (GNA) and five appointed by the LNA took part in the talks as part of a "military commission" set up in broader peace negotiations.
At a summit in Berlin last month, world leaders committed to ending all foreign interference in the country and to uphold a weapons embargo to help end the long-running civil war.
Full report at:
https://english.alarabiya.net/en/News/north-africa/2020/02/09/Libya-talks-end-without-ceasefire-UN-proposes-second-round.html
--------
Libyan rivals agree to support ongoing prisoner exchange process, extend talks
8 February 2020
Both sides to the Libyan conflict have agreed to support the ongoing process of exchanging prisoners and extend negotiations aimed at reaching a comprehensive ceasefire agreement, according to a statement from the United Nations Support Mission in Libya.
"Since the two parties agreed on the necessity of continuing negotiations in order to reach a comprehensive ceasefire agreement, the mission proposed the meet on February 18 for a new round of negotiations between them in Geneva," the statement from UNSMIL read after meetings concluded on Saturday.
The 5+5 Libyan Joint Military Commission began meeting in Geneva, Switzerland, under the auspices of the United Nations on Monday. Five senior officers appointed by the Government of National Accord (GNA) and five senior officers appointed by the Libyan National Army (LNA) are taking part in the talks moderated by UN Special Representative and Head of the UNSMIL Ghassan Salame.
At a summit in the German capital Berlin last month, world leaders committed to ending all foreign interference in the oil-rich country and to uphold a weapons embargo to help end the long-running civil war.
Full report at:
https://english.alarabiya.net/en/News/north-africa/2020/02/08/Libyan-rivals-agree-to-support-ongoing-prisoner-exchange-process-extend-talks.html
--------
Tunisia fires envoy to UN, reportedly over Trump plan
8 February 2020
Tunisia fired its ambassador to the UN on Friday accusing him of failing to consult the foreign ministry on key issues that diplomatic sources said included Washington's controversial Middle East peace plan.
"Tunisia's ambassador to the United Nations has been dismissed for purely professional reasons concerning his weak performance and lack of coordination with the ministry on important matters under discussion at the UN," a foreign ministry statement said.
Diplomatic sources said that ambassador Moncef Baati, who has occupied a seat at the UN Security Council since the start of the year, had gone further than President Kais Saied wanted in his criticism of US President Donald Trump's long-delayed peace plan.
Saied, a political outsider who only took office in November after a surprise election victory, was concerned that Baati's expressions of support for the Palestinians risked damaging Tunisia's relations with the United States, the sources said.
"It was quite a shock to hear that. I don't know all the details, the reason behind this," Ambassador Marc Pecsteen de Buytswerve of Belgium, which holds the rotating presidency of the Security Council, said of the sacking.
"He was a very good colleague and I really very much regret to see him leave," he added.
Another diplomat and member of the Security Council, who did not wish to be identified, said that Baati was "the right person" to negotiate a resolution wanted by the Palestinians.
Baati's swift recall to Tunis meant that he missed a closed doors briefing of the Security Council on Thursday by the US plan's architect, Trump adviser and son-in-law Jared Kushner.
After the briefing, Kushner blamed Palestinian president Mahmud Abbas for a spike in violence in Israel and the Palestinian territories since the plan was unveiled on January 28.
Abbas "calls for days of rage in response and he said that even before he saw the plan," Kushner told reporters in New York.
Abbas is due at the UN next week to oppose the plan and demand adherence to international law.
The Palestinians hope to push for a Security Council resolution condemning the Trump plan, but any text will almost certainly be vetoed by the United States.
Full report at:
https://english.alarabiya.net/en/News/north-africa/2020/02/08/Tunisia-fires-envoy-to-UN-reportedly-over-Trump-plan.html
--------
At least 11 civilians killed in Takfiri terrorist attacks in Niger: Officials
08 February 2020
At least 11 civilians had been killed in two separate attacks in Niger, which is struggling to contain a wave of Takfiri terrorists' violence, officials said Saturday.
In one attack on Friday, members of the Boko Haram Takfiri terrorist group killed six civilians in Bosso district in the southeast region of Diffa bordering Chad and Nigeria, a local official told AFP.
Four members of the same family were among those killed, said the official.
Officials in Bosso district confirmed the attack, but said five people had been killed.
In a separate attack in the southwestern region of Tillaberi, which borders Mali, four armed men on two motorbikes opened fire on workers in the village of Molia, killing four people, a regional official told AFP.
That attack took place late on Thursday. The use of motorbikes is banned in the region.
The attacks were just the latest in a surge in violence in the West African country.
Niger's Diffa and Tillaberi regions are vulnerable to increasingly deadly incursions by the Takfiri terrorists based in northern Nigeria.
According to an official toll, three attacks in December and January, all claimed by the Daesh Takfiri terrorist group, have killed 174 soldiers.
In January, officials in Tillaberi were forced to suspend voter registration in several towns because of the growing violence.
The first round of presidential elections, coinciding also with a legislative ballot, is scheduled for December 27 this year.
These will be preceded by municipal and regional elections, on November 1.
Full report at:
https://www.presstv.com/Detail/2020/02/08/618202/Niger-Takfiri-terrorists-Boko-Haram-Bosso-Diffa-Daesh
--------
Ethiopia hosts African Union Summit to discuss poverty, human rights
SALMA AHMED
February 10, 2020
CAIRO: African leaders met on Sunday in Ethiopia's capital Addis Ababa for the 33rd African Union (AU) Summit.
The annual summit gathers African leaders to discuss their future plans, and is responsible for conflict resolution on the continent.
This year's theme is "Silencing the Guns," but the two-day summit is also focusing on gender equality, climate change and human rights.
Egyptian President Abdel Fattah El-Sisi, who is attending the summit, met with UN Secretary-General Antonio Guterres.
Bassam Rady, spokesman for the Egyptian presidency, said El-Sisi welcomed the meeting with Guterres, and stressed Egypt's keenness to continue strengthening cooperation with UN organizations in various fields, including international peace and security.
Guterres said the partnership between the AU and the UN is strengthening. "We need fair globalization so that Africa no longer suffers from unfair trading and financial rules, subsidies and other policies and market distortions that perpetuate inequality and make it harder for Africa to compete and prosper," he added.
Full report at:
https://www.arabnews.com/node/1625461/middle-east
--------
UN-brokered Libya talks end with no formal truce deal
February 10, 2020
CAIRO: Libya's warring sides ended several days of UN-brokered talks without reaching a deal to consolidate a provisional cease-fire in and around the capital, the UN said.
Another round of talks was proposed for later this month "as both sides agreed to the need to continue the negotiations," according to a statement from the UN support mission in Libya released on Saturday.
The current cease-fire was brokered by Russia and Turkey on Jan. 12. It marked the first break in fighting in months, but there have been repeated violations from both sides.
Libya is split between rival governments, each backed by an array of foreign countries apparently jockeying for influence in order to control Libya's resources.
A UN-supported but weak administration, led by Fayez Al-Sarraj, holds only a shrinking area of western Libya, including the capital Tripoli. It has been fending off an offensive since last April by forces loyal to Gen. Khalifa Haftar, who is allied with a rival government that controls much of Libya's east and south, including key oil fields and export terminals.
Outside nations continue to break a UN arms embargo on Libya by sending equipment, weapons and even foreign fighters to both sides.
The UN statement said there was "broad consensus" between the two sides on "the urgency for Libyans to safeguard the sovereignty and territorial integrity" and to "stop the flow of non-Libyan fighters and send them out of the country."
Al-Sarraj is backed by Turkey, Italy and Qatar. In the latest twist, Turkey has deployed Syrian fighters affiliated with Al-Qaeda and Daesh to the Libyan battlefield.
The UN statement said there was "widespread consensus" between the two sides to continue the fight against UN-identified militant groups, such as Daesh, Al-Qaeda and Ansar Al-Sharia.
Full report at:
https://www.arabnews.com/node/1625431/middle-east
--------
Europe
Yazidi choir who survived ISIS persecution in fight to save their music
Claire Corkery and Balquees Basalom
Feb 8, 2020
A choir made up of Yazidi girls who survived being kidnapped and raped by ISIS has been performing in Britain in a bid to save their people's culture.
In 2014, thousands of Yazidi men were killed, while Yazidi women and girls were forced into sexual slavery in a genocide carried out by the terrorist group in northern Iraq.
Forced to flee their ancestral lands, most of the 350,000 Yazidi population are living in refugee camps. Many of them have family members who are still missing.
Last year, a British Council-funded initiative started helping the women and girls living in the camps find healing from the horrors they have experienced through the medium of music.
British healthcare and education charity the AMAR Foundation began a project to keep Yazidi music, which was in danger of being wiped out, alive. The foundation, which works in five refugee camps in northern Iraq, began teaching and recording Yazidi music.
The project is being led in the camps by classical violinist Michael Bochmann, who formed the choir of 14 girls who travelled to London to perform.
"Music is central to Yazidi culture," Mr Bochmann said. "Their religious music is performed by priests known as Qawals. There are only 16 of them left because ISIS tried to kill them all to get rid of their culture."
The music, which is traditionally passed on orally from generation to generation, is not written down. Earlier this week, the choir visited Oxford University's Bodleian Library to hand over an archive of Yazidi music to be preserved for the future.
During their stay, the choir and two Qawals also performed for Prince Charles, patron of the AMAR Foundation, and in the Houses of Parliament.
Choir member Dlvin Ahemd, 22, told The National before the parliamentary performance that ISIS had tried to eradicate the Yazidi people.
"We will not let anyone erase our music or our religion," she said in Arabic.
Fellow choir member Awaz Saadi said she had survived being in ISIS captivity but it had left her with mental scars.
"When I joined the group at AMAR, my mental health got better. The music kept our minds busy and the training was really good," she said.
Miss Saadi, 17, said she hoped performing in the UK would preserve her people's music.
"This is the tradition and cultures of the Yazidis," she said. "We want to show the whole world that the Yazidi tradition and culture is important."
About half of the choir's members were at one point enslaved by ISIS.
AMAR's founder, Baroness Nicholson of Winterbourne, who hosted the performance in Parliament, said the Yazidis were in "abominable need".
"These girls have been raped by a number of different men over a period of about five years. Some of them have only just escaped. Music is the centre of everything for them," she said.
AMAR is working in five of the 10 refugee camps housing Yazidi survivors, but Lady Nicholson said the aim was to reach more.
"Music is probably one of the most therapeutic things of all," she said. "I would like to get music into every refugee camp in the globe."
https://www.thenational.ae/world/europe/yazidi-choir-who-survived-isis-persecution-in-fight-to-save-their-music-1.975685#15
--------
Turkey reinforces troops in Syria's Idlib amid talks with Russia
09 February 2020
Turkey has further reinforced its troops in Syria's Idlib province, ratcheting up fears of a large-scale confrontation with Syrian government forces, as officials from Turkey and Russia met in Ankara to discuss the fighting.
Ankara sent hundreds of military vehicles on Saturday into Syria's northwestern Idlib province, witnesses said, after Syrian government forces took control of a strategic town close to the provincial capital.
The UK-based Syrian Observatory for Human Rights said on Saturday that 430 Turkish military vehicles had crossed into Idlib in the last 24 hours.
The fresh Turkish deployment came as Turkish and Russian officials, whose countries support opposing sides in Syria's nearly nine-year war, met in Ankara to discuss the fighting in the last major enclave of militants.
The two sides held three hours of apparently inconclusive talks, agreeing to meet again next week.
"The situation in Idlib was discussed," Turkey's foreign ministry said after the talks.
"Steps that could be taken to establish peace on the ground as soon as possible and advance the political process were evaluated," it said.
Despite the build-up of Turkish troops, the Syrian army forces have pressed their advances, surrounding several observation posts that Ankara set up around a "de-escalation zone" agreed with Moscow and Tehran in 2017.
Syrian army soldiers and their allies managed to assert control over two villages in the eastern countryside of Idlib province.
Official news agency SANA reported that Syrian forces managed to capture the villages of Maharem and Tell Karatine following clashes with Jabhat Fatah al-Sham (formerly known as Nusra Front) terrorists and their affiliates.
Full report at:
https://www.presstv.com/Detail/2020/02/09/618218/Turkey-idlib-talks-russia-deploy-forces-Syria
--------
Greece seeking to outmaneuver Turkey in Mediterranean Sea
08 February 2020
Greece has sought to bolster its Mediterranean presence in recent weeks in response to heightened tension with Turkey, ramping up its maneuvers but sparking accusations of adventurism at home.
Over the past month, Prime Minister Kyriakos Mitsotakis has revamped a defense agreement with the United States, sent a warship to join a French naval battle group and will deliver defensive missiles to Saudi Arabia.
The latest flurry has exposed the recently elected, US-educated prime minister to accusations of "adventurism" in a particularly volatile Middle East.
"You are embroiling the country in adventures that lie beyond its capacity and change decades-old foreign policy," leftist former PM Alexis Tsipras told Mitsotakis last month.
Mitsotakis, who became prime minister in July, has shrugged off the criticism as short-sighted.
"We are strengthening the framework of our strategic alliances, not just with the US... our military cooperation (with France) has never been better," he told lawmakers in January as parliament prepared to approve the US defense deal.
A few days earlier, a Greek warship had joined the French aircraft carrier Charles de Gaulle, whose battle group is on a mission against Islamic State in Iraq and Syria.
According to diplomats, France has encouraged Greece to be more "autonomous" and play a more active role in EU defense initiatives.
And after a decade-long debt crisis that saw Greek arms spending drop by over 70 percent, the Mitsotakis government wants to be heard, says Spyridon Litsas, professor of international relations at the University of Macedonia.
'Idle is risky'
"Being idle during these days of high volatility is equally risky and has nothing substantially to offer to Greece's attempt to achieve a return to international politics after the economic crisis of 2010," he says.
Greek relations in Turkey — never particularly warm — have taken a turn for the worse in recent months under the added burden of migration and an energy exploration scramble in the eastern Mediterranean.
Right now, "France is the ideal Greek ally," Panagiotis Tsakonas, a professor of international law at Athens University, told AFP.
"The two countries share views on the situation in the eastern Mediterranean," he said, citing involvement of French firms in energy exploration off Cyprus, historically Greece's chief ally.
Turkey has pushed ahead with drilling activity in Cyprus's designated exclusive economic zone (EEZ) despite EU threats of sanctions.
Greece last month signed an agreement with Cyprus and Israel on EastMed, a huge pipeline project to ship gas to Europe.
The rivalry has extended to Libya.
Turkey signed a maritime and military cooperation memorandum with the Tripoli-based Government of National Accord (GNA) in November, carving out energy spheres of influence in the Mediterranean at the expense of Greece.
Athens retaliated by expelling the GNA ambassador and by seeking to build ties with Khalifa Haftar, a general based in the east who controls three-quarters of Libyan territory.
Other Middle Eastern states wooed by Athens — the United Arab Emirates, Saudi Arabia and Egypt — are foes of Turkey and back pro-Haftar forces.
Constantinos Filis, executive director of the Athens-based Institute of International Relations, agrees that Athens "must demonstrate its presence and secure backing in the face of Turkish claims in the region".
But he is less sanguine about Greece's February 4 announcement that it would send a batch of US-made Patriot defensive missiles to Saudi Arabia to guard energy facilities.
"This could risk involving (Greece) in a confrontation between Saudi Arabia and Iran," says Filis.
Mitsotakis, whose father Constantine served as prime minister in the early 1990s and cultivated close links with the family of US President George HW Bush, has faced furious criticism of being too pliable towards Western allies, especially Washington.
The PM drew fire last month when, ahead of a visit to the White House, he called Greece "the most reliable and predictable ally of the United States in NATO in this region," according to state agency ANA.
Fighter jet upgrade
Rejecting the attacks, Mitsotakis insists that "predictability in foreign policy is a big advantage."
"In the United States I said it's good to be predictable. All alliances are based on the notion of predictability," he told parliament.
Athens has agreed a $1.5 billion upgrade to its fleet of F-16 fighter jets and is also interested in US-made drones and possibly F-35 warplanes.
The Greek defense ministry also insists that a greater US presence is good for the country's struggling arms industry.
Full report at:
https://www.presstv.com/Detail/2020/02/08/618161/Greece-Mediterranean-presence-tension-Turkey-adventurism-Kyriakos-Mitsotakis
--------
Slovenia supports Turkey's EU membership bid: Deputy PM
Tugrul Cam
09.02.2020
Slovenia is supporting Turkey's EU membership bid as it is the natural strategic partner of the EU, said a senior Slovenian official.
"Slovenia has been continuously supporting Turkey's goal to become a member of the EU. The fact is that Turkey is a candidate country, which is confirmed by all relevant EU Council conclusions," Deputy Prime Minister and Foreign Minister Miro Cerar told Anadolu Agency.
His remarks came a day before his official visit to Turkey on Monday.
He underlined that Slovenia is also "against any closure of the door leading towards the EU" and the present stalemate in Turkey's accession process "should not be considered as a weakening in the relations."
The EU and Turkey are natural strategic partners and thus developing an open dialogue and deep cooperation "is of utmost importance," he said.
Cerar said Slovenia wants to boost the already-positive ties with Turkey, especially in economy.
"There are many reasons for my visit to Turkey. First, we attach great importance to the relations with Turkey that are traditionally good and friendly. Slovenia and Turkey signed the strategic partnership in March 2011 and it still provides a solid basis for our cooperation," he said.
Cerar added: "Secondly, we are very interested in intensifying the relations with Turkey and I am convinced that there are many opportunities for further strengthening already good cooperation, especially in the field of economic cooperation."
Full report at:
https://www.aa.com.tr/en/europe/slovenia-supports-turkey-s-eu-membership-bid-deputy-pm/1728982
--------
Syria and Turkey refuse to back down in Idlib
Feb 9, 2020
Syria vowed on Sunday to keep up its military campaign in Idlib as Turkey said all options were on the table to protect its outposts in the last bastion of armed opposition to President Bashar Al Assad's rule.
The Syrian military said it had recaptured more than 600 square kilometres of territory so far, including dozens of towns and villages in recent days, as it presses its offensive to seize control of the last rebel-held areas in Idlib and the neighbouring Aleppo.
Military spokesman Gen Ali Mayhoub said government forces advancing from around Aleppo's southern countryside had linked up with those coming from eastern Idlib.
Efforts to back the armed opposition "will not succeed in preventing the fast collapse" of the rebel groups, Gen Mahyoub said. Turkey supports some of the rebel forces.
The government advance has encircled several Turkish military observation outposts set up under a 2018 ceasefire agreement between Turkey and Russia, an ally of Mr Al Assad.
Eight Turkish military personnel were killed in shelling by government forces last week, prompting Turkey to launch retaliatory strikes and send more troops and weaponry into Idlib.
"There was a serious troop and military equipment support sent to Syria's Idlib region in recent weeks," a senior Turkish official told Reuters.
Three hundred vehicles entered Idlib on Saturday, bringing the total to about 1,000 this month, he said.
He declined to say exactly how many new troops had been sent but called it a "notable amount".
"The observation points have been fully reinforced," the official said. "The Idlib front has been strengthened."
The Syrian Observatory for Human Rights said 1,240 Turkish military vehicles and 5,000 soldiers crossed into Idlib in the past week.
"The regime has been violating all agreements and accords," the Turkish official said. "We are prepared for any event. Of course, all options are on the table."
The 2018 agreement between Russia and Turkey allayed international fears of a humanitarian disaster in the Idlib region, the population of which had risen to more than 3 million with the influx of civilians and fighters displaced from areas retaken by the government.
Nearly 600,000 people have fled their homes since the fighting intensified in December, many of them towards the relative safety of the Turkish border.
But there are too many for aid agencies to assist, with many families forced to live in the open in the middle of winter.
Turkey has kept its border shut, saying it cannot host more Syrian refugees after already accepting about 3.6 million since the civil war began in 2011.
Turkish President Recep Tayyip Erdogan has given Damascus until the end of the month to pull back from the outposts and has urged Russia to convince Mr Al Assad to halt his offensive.
Turkey's Defence Minister, Hulusi Akar, insisted its Idlib outposts would remain in place and said they were being supplied in co-ordination with Russia.
"Despite this, if there is any obstacle we put it clearly that we will do what's necessary," Mr Akar told the Hurriyet daily.
"We on every occasion say, 'Do not force us, otherwise our Plan B and Plan C are ready'.
"Our primary goal is to prevent migration and humanitarian tragedy. We are working to establish a ceasefire as soon as possible and stop the bloodshed."
A Russian delegation including President Vladimir Putin's Syria envoy visited Ankara on Saturday to try to ease the tensions over Idlib.
The Turkish Foreign Ministry said more talks would be held in coming days.
For now, the government campaign appears to be aimed at securing a strategic motorway rather than seizing the entire province and the densely populated provincial capital, Idlib city.
The Observatory said government troops were only a few kilometres from seizing full control of the strategic M5 motorway.
The road links the capital Damascus with the country's north, which has for years been divided between government and opposition forces.
Government forces last week seized the town of Saraqib, which sits on the junction of the M5 and the M4 motorway leading to the Mediterranean province of Latakia, an Assad stronghold.
Meanwhile, Pope Francis called on Sunday for respect of humanitarian law in Idlib, saying reports from the province were "painful, particularly regarding the conditions of women and children, of people forced to flee from a military escalation".
"I renew my heartfelt appeal to the international community and all parties involved to use diplomatic means, dialogue and negotiations, in respect of international humanitarian law, to safeguard the lives and fate of civilians," Francis said.
Full report at:
https://www.thenational.ae/world/mena/syria-and-turkey-refuse-to-back-down-in-idlib-1.976489
--------
URL:https://www.newageislam.com/islamic-world-news/pakistan-pm-imran-party-suspends/d/121027
New Age Islam, Islam Online, Islamic Website, African Muslim News, Arab World News, South Asia News, Indian Muslim News, World Muslim News, Women in Islam, Islamic Feminism, Arab Women, Women In Arab, Islamophobia in America, Muslim Women in West, Islam Women and Feminism