New Age Islam News Bureau
10 Jan 2020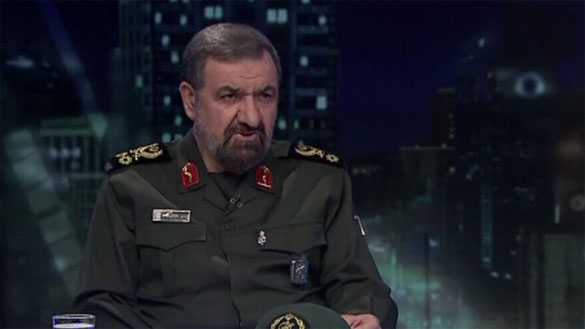 Senior Iranian official Mohsen Rezaee. (MEMRI)
---------
• Iranian-American Says Killed Iranian General Was Just As Bad As Osama Bin Laden
• Senior Iranian Official: 'Islamic Revolutionaries Can Now Target US Troops'
• Shia Cleric Al-Sadr Asks Pro-Iranian Militias to 'Stand Down'
• Imams, Politicians, Professors: Dozens of Muslim Brotherhood Suspects Detained In Tajikistan
• Malaysian Govt Mulls Raising Muslim Marital Age to 18, Says AG
• With Muslim Chief, TN Village Sends 'Inclusive' Message
• The Council of the Islamic Ideology Terms Some NAB Ordinance Clauses Un-Islamic
• Saudi Arabia Ranked Global 5th, Arab 1st for Humanitarian Aid
• Groups Show Solidarity In Face Of Islamophobic Graffiti near Brixton Mosque
• US Congress Moves to Clip Trump's Wings By Reclaiming War Powers
• Suspected Islamist militants kill 25 soldiers in Niger: government
Compiled By New Age Islam News Bureau
URL: https://www.newageislam.com/islamic-world-news/iranian-ameri-says-killed-iranian/d/120760
------
Mideast
Commemoration ceremony for General Soleimani, his companions held at Imam Khomeini Hussayniyeh
Iraqi Shia militias deny involvement in Baghdad Green Zone attacks
Israel's plan to isolate Al-Aqsa Mosque, end Waqf role
'The Muslims will leave no spot anywhere safe for the Americans'
Syrian Kurds free dozens of Islamic State-linked Syrians
Japanese PM Shinzo Abe to go ahead with Mideast visit
Iran could have nuclear weapon within 1 to 2 years: France
Air strike kills 8 Iraq paramilitaries in east Syria
Iran invites Boeing to probe plane crash that killed 176
------
South Asia
Taliban: US, Iran tensions will not interrupt Afghan peace process
Afghan NDS detains 76 suspects involved in various criminal acts
US strike targeting Taliban commander causes civilian casualties
Taliban Says US-Iran Dispute Will Not Harm Afghan Peace Process
US strike kills Taliban splinter commander in Herat: officials
Airstrike in western Afghanistan kills leader of Taliban splinter group, may have killed civilians
------
Southeast Asia
Plight of the Uyghurs: Why Muslims Won't Speak Up for Their Brethren
Uyghurs and Other Muslims Forced to Labour in Chinese Factories
Philippines opens its doors to foreign Islamic banks
Islamic banks could benefit from digital banking
Sri Lanka Muslim party warns that minority parties in grave danger
China claims its Muslim 'concentration camps' in Xinjiang contribute greatly to the international counter-terrorism efforts
Indonesia: Islamic School's Herbal Medicine Project Helps Environment
Demak regent restricts visits during sunset to respect Islamic prayer
Indonesia asks Japan to invest in islands near waters disputed with China
------
India
Kerala: Muslim Organizations Divided over Suleimani's Killing
No Need For CAA, NPR, NRIC, Say Over 100 Ex-Bureaucrats In Open Letter
Supreme Court's verdict on curbs imposed in J&K: Key points
We're going through difficult times, says CJI Bobde on anti-CAA stir
T.N., Kerala hunt for suspected Islamic ultras
------
Pakistan
Pakistan Asks UN To 'Act Decisively' To Prevent A 'Disastrous War' With India
Sikh Girl Tells Court She Married Muslim Man On Her Free Will; Does Not Want To Go Home
Pakistani President, PM, FM condoles with Iran over tragic plane crash
Pakistan court concludes cross examination of prosecution witnesses against Hafiz Saeed, aides
NA approves Zainab Alert Bill two years after uproar over Kasur killings
No record of cabinet's approval over filing of treason case against Musharraf, LHC told
Pakistan, Russia agree to launch joint efforts to restore peace in region
Pakistan moves US court to stop over $6bn fine in Reko Diq case
PM Imran launches country's 'largest' skills development programme for youth
------
Arab World
King Salman affirms Saudi Arabia's solidarity with Australia over bushfire crisis
'The Perfect Candidate,' a Saudi movie to debut in German language
Custodian of the Two Holy Mosques congratulates Prime Minister of Kingdom of Spain on occasion of his swearing in as PM
Qatar's Islamic financial services
Fears Dakar Rally could overshadow Hail racing event
------
Europe
Kosovo Muslim faces terror charges over Soleimani posting
Kosovo's former president, Grand Mufti among the world's 500 most influential Muslims
Pope Calls for Dialogue, Restraint amid Growing US-Iran Tensions
EU's official: No-deal is more harmful for Britain than EU
Finally, British MPs prepare to seal Brexit deal
------
North America
Advancing India-US ties crucial for America: Congressman Engel
Trump turns to those he has scorned for help on Iran
Trump: Killing Iran's Soleimani was delivering 'American justice'
Michigan imam eulogizes Soleimani for backing Syria against US, 'Zionists'
Dearborn imam eulogizes Soleimani, calls his killing a 'cowardly and heinous act'
------
Africa
Muslim World League to launch "Islamic Jurisprudence Award"
Sudan eliminates Qur'an learning for younger pupils
Tunisia Packages Offered By 'First' Muslim-Friendly Ota
------
Iranian-American says killed Iranian general was just as bad as Osama Bin Laden
January 9, 2020
A Georgia business owner left his home in Iran for America 45 years ago to get a college education and improve his quality of life.
But the man known as Ali still keeps up with the news from his homeland and said he wasn't surprised when a U.S. drone missile strike killed Revolutionary Guard Gen. Qassem Soleimani, a member of a convoy near Baghdad, Iraq, on Friday.
"I knew it was going to happen sooner or later," he said. "He brought that to himself. In general, I don't want to see anybody dead. It was a consequence for what he did. That man was not a good guy. He's done a lot of bad things to his people, people abroad and those in neighboring countries. He was not a very popular person with ordinary people in Iran."
Ali asked that his last name not be used for the safety of his family.
"He planned or took part in the deaths of a lot of American soldiers," said Ali, who moved to Decatur in the early 1980s after finishing college at the University of Tennessee and Alabama A&M. "He participated in creating proxy forces to kill Americans and other innocent people."
Ali said the he is interested in seeing the reaction of the Iranian government to the 56 deaths and more than 200 injuries caused during a stampede at the funeral procession Tuesday in Soleimani's hometown of Kerman, Iran.
"I'd like to think President (Donald) Trump is on the side of the Iranian people, not the Iranian government," he said. "The government there is not representative of the people."
Ali said he is somewhat bothered by the U.S. politics involving Soleimani's killing.
"When Osama Bin Laden was killed (in 2011), everybody cheered," he said. "This guy was just as bad. He's done the same thing. Soleimani masterminded the killing of a lot of people, too. What is the difference? Why are Democrats so sensitive about this?"
The Associated Press reported the U.S. blames Soleimani for killing U.S. troops in Iraq and accused him of plotting new attacks just before he was killed in the drone strike. Soleimani also led forces supporting Syrian President Bashar Assad in that country's civil war, and he also served as the point man for Iranian proxies in countries like Iraq, Lebanon and Yemen, the AP reported.
Decatur artist Becky Littleton said she no longer keeps up with the daily activities of life in Iran after fleeing the country in the mid-1970s.
Littleton, her American contractor husband and their three young children had called Iran home for a couple of years when her husband died from side-effects of the flu, she said.
"The American embassy said I had no rights in that country since my husband was dead," she said. "I was told I could lose my children, my goods. I had 20 minutes to pack my things and get on a plane. I had three small children and all we had was a backpack with shoes and clothes. I remember being so happy when the plane landed in Germany. I felt like I had rights again."
She said a few years after her departure, a revolution put Ayatollah Ruhollah Khomeini in control of the Iranian government.
"Things have not improved for the regular citizens," she said. "We have to pray for them constantly. It's like they all live in prison. They can't do and say things and wear the clothes they want to wear."
She supports the Trump administration for taking action against Soleimani.
"I feel like our government knows you can't placate a bully," she said. "There were not too many other things (we) could have done (with him)."
Iran struck back for the killing of Soleimani by firing a barrage of ballistic missiles early Wednesday at two Iraqi military bases that house American troops. Trump said no Americans or Iraqis were harmed during the missile strike.
Ali said he is uncertain what the future holds for his former country, but he remains optimistic.
"History tells me the truth always prevails," he said. "If so, it'll be a good thing for the Iranian people if Trump supports the good causes of the Iranian people. I would like to see the Iranian people live in harmony and peace with their neighbors. We have to remember the Iranian people and the Iranian government are different. They don't represent the same thing."
https://warisboring.com/iranian-american-says-killed-iranian-general-was-just-as-bad-as-osama-bin-laden/
------
Senior Iranian official: 'Islamic revolutionaries can now target US troops'
(January 9, 2020 / MEMRI) Former Iranian Islamic Revolutionary Guard Corps' commander Mohsen Rezaee said last week that U.S. President Donald Trump had "crossed the red line" by killing IRGC Quds Force Maj. Gen. Qassem Soleimani.
During an interview with Iran's Channel 2 on Jan. 3, Rezaee, currently the secretary of Iran's Expediency Discernment Council which advises the country's supreme leader, said that the Islamic revolutionaries in the region had previously focused on targeting Israel and Saudi Arabia while leaving the United States alone, but can now target American soldiers.
Rezaee also said that Iran has increased its monitoring of American bases, warships and installations in the region, and that resistance fighters in Lebanon, Syria, Iraq, Yemen and elsewhere are "preparing for action."
He said that since U.S. President Donald Trump "is not a man of war," Tehran is making its own calculations, which according to him do not involve starting a war. However, he promised that Iran's revenge will be "very severe."
Iran will do something that will prevent all countries, not just America, from "perpetrating crimes" such as killing Soleimani, he said.
JNS is more than just another news website and syndication service. It is an organization devoted to nonstop reporting, and telling the truth about Israel and Jewish issues unburdened by the biases and institutional blinders that distort so much of what we read, hear and see about these topics elsewhere in the secular and even Jewish press.
At JNS, you get the facts about Israel and Jewish issues without the bias that so often tilts the argument against the Jewish state. JNS articles and columns are republished every week by digital outlets and print newspapers across the globe. But in the age of round-the-clock news coverage, advertising and syndication revenues are not enough to support our continued growth. We need your financial help to keep JNS on target as we continue our fair and accurate reporting.
Please help us take JNS to the next level with a tax-deductible sponsorship, either on a recurring monthly basis. Jewish News Syndicate is a 501(c)3 not-for-profit organization.
https://www.jns.org/senior-iranian-official-islamic-revolutionaries-can-now-target-us-troops/
------
Shia cleric Al-Sadr asks pro-Iranian militias to 'stand down'
BY KEN HANLY
Moqtada al-Sadr the influential Iraqi Shia cleric who heads the largest bloc in parliament on Wednesday issued a statement asking all Shi'ite militias to stand down as the US and Iran work at lessening tensions.
Al-Sadr's statement
Reuters reports al-Sadr's statement: "I call on the Iraqi factions to be deliberate, patient, and not to start military actions, and to shut down the extremist voices of some rogue elements until all political, parliamentary and international methods have been exhausted." Al-Sadr also called for a new stronger Iraqi government that could protect Iraq's sovereignty.
The Iran-supported Kata'ib Hezbollah (KH) also said that passions must be avoided in order to achieve the goal of expelling US troops from Iraq according to a statement to its followers.
Sadr and others want to expel US troops from Iraq
Sadr still expressed support from ejecting all foreign troops including those of the US from Iran but advised patience and the use of political, parliamentary, and international means to force the US to withdraw.
Iran's position
Iran's Supreme Leader Ayatollah Ali Khamenei said the missile attack was merely a slap in the face to Washington and claimed it was not sufficient saying:"Military action like this is not sufficient. What is important is ending the corrupting presence of America in the region. This region will not accept the presence of America." While military action may have stopped for now, no doubt political action to try and force US troops to leave will no doubt continue perhaps even more forcefully.
Some of Trump's remarks after the Iranian attack are on the appended video.
Sadr identifies himself as a nationalist
Although Sadr has long been an opponent of the US and used his Mahdi army to fight US troops in Iraq he also has objected to excessive Iranian meddling in Iraq. He wants to avoid Iraq being a battlefield between the US and Iran. He would like to see a strong sovereign independent Iraq. He sees pro-Iranian militias as possibly increasing tensions by attacks and making Iraq a battle ground for the Iran US conflict. He sees reduced tensions as a positive development for Iraq.
http://www.digitaljournal.com/news/politics/shia-cleric-al-sadr-asks-pro-iranian-militias-to-stand-down/article/564915
------
Imams, Politicians, Professors: Dozens Of Muslim Brotherhood Suspects Detained In Tajikistan
January 09, 2020
Authorities in Tajikistan have been silent about reports of the detention of at least 27 suspected followers of the banned Muslim Brotherhood movement in several different regions of the country in recent days.
Law enforcement agency sources told RFE/RL the suspects were detained in dozens of raids as Tajik authorities uncovered an alleged Muslim Brotherhood cell operating in the capital, Dushanbe, as well as in the Sughd and Khatlon provinces.
Several relatives of the detainees -- which reportedly include university professors, imams, and government officials -- said on January 7 they had had no contact with their loved ones since they were taken away and didn't know whether they have been charged with a crime or provided with access to a lawyer.
The government hasn't commented about any raids or detentions, while officials who were approached by RFE/RL have mostly declined to comment.
Interior Ministry spokesman Nusratullo Mahmadzoda said on January 7 there had not been any recent arrests of suspected Muslim Brotherhood members.
"We don't have any ongoing investigation regarding this matter," he added.
It's not uncommon for officials in the tightly controlled Central Asian country to withhold information from the media.
Police sources within the Interior Ministry, however, have told RFE/RL's Tajik Service that there have been many detentions, including at least one relative of Hoji Akbar Turajonzoda, a prominent religious and political figure. The family wouldn't comment on the matter.
The ministry sources spoke on condition of anonymity, as they were not authorized to speak to the media.
Another suspect detained for his ties to the Muslim Brotherhood was identified as Abdullo Oqilzoda, who had in previous years been active on social media, mostly sharing religious content on Facebook. A religious-school graduate, Oqilzoda hasn't posted on his known social-media accounts in recent years.
There are also several local government officials, university professors, and imams among the suspects, the sources said.
Firdavs Rahimzoda, the newly appointed head of the State Properties Agency in the northern district of Isfara, was detained recently and transferred to Dushanbe with other suspects, the sources told RFE/RL.
Rahimzoda, 35, had previously worked as the head of the Chorkuh village council.
Relatives of some of the detainees claim security officers also conducted searches of the suspects' homes.
"Law enforcement officers came to our home and checked everywhere and took away a few religious books we had," said a man whose son was detained on January 2. "They didn't tell us anything, but searched everywhere, even the barn."
The family told RFE/RL that their son, a graduate of the National University, had worked as a schoolteacher.
Another man said that police did not "provide a search warrant" when entering his home, and that two of his brothers were among the detainees.
The families who spoke to RFE/RL all requested anonymity, fearing possible repercussions from officials.
Religious Crackdown
Tajik opposition groups outside the country claim that many dozens of people have either been detained or investigated by security officials during the series of raids in the country against suspected Muslim Brotherhood members.
Predominantly Muslim Tajikistan banned the Muslim Brotherhood as an extremist group in 2006 and it faces a similar ban in Central Asian neighbors Kazakhstan, Turkmenistan, and Uzbekistan. It is not banned in Kyrgyzstan.
It is considered a terrorist organization in Tajikistan, Syria, Egypt, Libya, Saudi Arabia, Bahrain, the United Arab Emirates, and Russia but not in the United States or other Western countries.
In 2016, about 20 imams were arrested in the northern province of Sughd for allegedly being members of the movement. They were accused of receiving funds from abroad and of spreading Muslim Brotherhood ideology in Tajikistan, ultimately seeking to overthrow the secular government in Dushanbe.
Critics accuse the Tajik authorities of exploiting the state's campaign against extremism and terrorism to clamp down on religious groups and individuals critical of government policies in the authoritarian state.
The Supreme Court declared the opposition Islamic Renaissance Party of Tajikistan (IRPT) a terrorist group in 2015, after several years of pressure on the party and smear campaigns against its officials and members.
The IRPT had previously served in the government and rejects all accusations it is extremist. Many of its leaders have been imprisoned on trumped-up charges while others have fled the country.
https://www.rferl.org/a/dozens-of-muslim-brotherhood-suspects-detained-in-tajikistan/30368551.html
------
Malaysian Govt Mulls Raising Muslim Marital Age To 18, Says AG
V Anbalagan
January 10, 2020
PUTRAJAYA: The government is looking into a proposal to increase the minimum age of marriage for Muslims from 16 to 18, Attorney-General Tommy Thomas said.
He said it is also looking into introducing more stringent procedures for shariah court judges to take into account before allowing those below 18 to enter into marriage.
"These are among the proposals the Attorney-General's Chambers is evaluating into how best to safeguard the welfare and interest of children," Thomas said at the opening of the 11th edition of the legal year here today.
He said his officers were actively involved in the consultation process between the federal government and the states for purposes of uniformity in the law and the drafting of amendments to the Islamic Family Law (Federal Territories) Act 1984.
The government, he said, has taken the lead to introduce restorative justice in the legal system to deal with child offenders.
"The programme aims to divert children under the age of 18 who have committed criminal offences away from the existing criminal justice system and promote children's rehabilitation," he said.
Thomas said that under restorative justice, offenders would be given a stern warning before being referred to the Social Welfare Department.
He said the department would undertake counselling, mentoring, education and community work, depending on the nature of the offence.
"This in line with Article 40 of the UN Convention on the Rights of the Child," he said.
Thomas said sending children to prison, which may have the effect of turning a good hearted but misguided juvenile to a hardened criminal, must be avoided.
https://www.freemalaysiatoday.com/category/nation/2020/01/10/govt-looking-into-proposal-to-raise-age-of-muslim-child-bride-to-18-says-ag/
------
With Muslim chief, TN village sends 'inclusive' message
Sivapriyan
JAN 10 2020
Seriyalur Inam is a Hindu-dominated village in Pudukkottai district of Tamil Nadu, but the nondescript hamlet has sent out a clear and loud message in the just concluded elections to rural bodies by electing a Muslim candidate as its panchayat presid
The election of a Muslim candidate in a Hindu dominated village comes at a time the country is facing massive protests against the controversial Citizenship (Amendment) Act and the proposed National Register of Citizens (NRC) which Opposition parties
Though the village in Alangudi taluk in the Cauvery delta region has only 60 Muslim voters, only around 40 cast their votes, people's choice transcended religion, caste and creed as they reposed their trust in 45-year-old Mohammed Jiyavudeen.
Jiyavudeen, who has coordinated relief and rehabilitation efforts in the village and near-by areas after Cyclone Gaja left a trail of destruction in 2018, romped home despite elders of the village "auctioning" the panchayat president post in favour
The 45-year-old received maximum support from youngsters and women, who refused to toe the line of the village elders and voted in Jiyavudeen. He had returned to the village in 2018 after being in the UAE for over a decade.
"I see it as a recognition for the work that we as a group did in the aftermath of Cyclone Gaja. People reposed faith in me and two others from our group who contested as councillors. Through election people here have not just sent out a message on
Jiyavudeen and fellow villagers, especially youth, had pooled in resources from various sources to rehabilitate people who were affected by Cyclone Gaja. "We built 10 new houses to people who lost their houses, distributed sewing machines to widowed
The new panchayat president said he takes pride in the fact that he neither spent money on distributing liquor or money for his voters. Read more at: https://www.deccanherald.com/national/south/with-muslim-chief-tn-village-sends-inclusive-message-79
Nimal Raghavan, a techie who had quit his job in UAE and is now involved in desilting lakes and ponds in near-by Thanjavur district, told DH that the country should follow the example set by people of Seriyalur Inam village.
"In our area, we live in complete peace and harmony. People will even print names of their friends belonging to other faith in wedding invitations. Election of Jiyavudeen is a classic example that humanity is above religion, caste and creed. His elec.
Kannan, a resident of Sethangudi village, said people should realise that humanity trumps everything including religion. "People like Jiyavudeen should come to power as they inspire the common man. He had worked with us to ensure that his villagers g
https://www.deccanherald.com/national/south/with-muslim-chief-tn-village-sends-inclusive-message-793048.html
------
The Council Of The Islamic Ideology Terms Some NAB Ordinance Clauses Un-Islamic
Muhammad Anis
January 10, 2020
ISLAMABAD: The Council of the Islamic Ideology (CII) has termed some clauses of the National Accountability (NAB) Ordinance as un-Islamic and against the Sharia.
Talking to the media after Council's meeting, the CII Chairman, Dr Qibla Ayaz said the CII declared that Clauses 14-D, 15-A and 26 were un-Islamic and against the Sharia. He maintained that concept of accountability as given under the NAB ordinance was not in conformity with Islam norms for justice. He pointed out that as per Constitution, no law which clashes with Islam could prevail in the country.
He said that there was no concept of plea bargain in Islam while keeping an accusedin detention for a long time without registration of a case and hand-cuffing was un-Islamic. The CII chairman also said making an accused approver was also un-Islamic. The CII chairman said that Islam also did not permit publicity of an accused on media.
To a question about some remarks given in detailed judgment in high treason case against Pervez Musharraf, he said the meeting was not called for that purpose. "The remarks like body of Pervez Musharraf are not part of judgment but personal opinion of the judge," he said.
He told newsmen that the Council prepares comprehensive recommendations on burning issue of child abuse. The religious scholars also recommended the legislation of strict laws and establishment of separate courts to prevent child abuse in the country.
The CII has also decided to invite minority leaders at next meeting on issue of forced conversion, saying that there is no such provision in the religion. The CII meeting also suggested Ministry of Interior to introduce a performa for those minority members who want to accept Islam. The same performa should be presented in the court.
https://www.thenews.com.pk/print/596250-cii-terms-some-nab-ordinance-clauses-un-islamic
------
Saudi Arabia ranked global 5th, Arab 1st for humanitarian aid
January 10, 2020
RIYADH: Saudi Arabia has been ranked a global fifth, and first in the Arab world, for its provision of humanitarian aid.
According to figures published on Wednesday on the UN Financial Tracking Service platform, the Kingdom contributed $1,281,625,265 (SR4,808,021,026 or 5.5 percent) toward the total amount of international spending on relief programs.
In Yemen, the Kingdom's 2019 share of international humanitarian aid funding for the war-torn country amounted to $216 billion (31.3 percent).
Adviser at the Royal Court and general supervisor of the King Salman Humanitarian Aid and Relief Center (KSRelief), Dr. Abdullah Al-Rabeeah, said the rankings were a result of the unlimited backing by King Salman and Crown Prince Mohammed bin Salman for support initiatives around the world.
https://www.arabnews.com/node/1610836/saudi-arabia
------
Groups show solidarity in face of Islamophobic graffiti near Brixton mosque
9th January 2020
The anti-racism activist group Stand Up To Racism is holding an event with North Brixton Islamic Cultural Centre tomorrow to show solidarity in response to recent Islamophopic graffiti.
Hate-filled graffiti was found scrawled on a building close to the Brixton Road mosque on New Year's Day, just three days after anti-Semitic graffiti was found on a synagogue and shops in north London during the Jewish festival of Hanukah.
The solidarity event will include chief imam of North Brixton Islamic Cultural Centre Faisal Boadi, and other speakers from the affected mosque, and Weyman Bennett co-convener of Stand Up to Racism.
Also speaking will be Bell Ribeiro-Addy, MP for Streatham, Sonia Winifred, Lambeth councillor and cabinet member for equalities and culture, Sara Tomlinson, chairwoman of Lambeth Trades Council, and Steve Headley, assistant general secretary of the RMT.
On the importance in standing in solidarity with the Muslim community, Cllr Winifred said: "We are witnessing an alarming rise in hate crimes across society and we must stand united against this disease."
This racist vandalism in Brixton was conducted only a few days after anti-Semitic graffiti was found on a synagogue and shop fronts in Hampstead in north London.
Stand Up to Racism called a vigil on December 30 which was attended by more than 200 people. Speakers included Rabbi Janet Darley, Rabbi Herschel Gluck and Stand Up To Racism's Weyman Bennett.
Poet and broadcaster Michael Rosen closed the event with a poem – They shall not pass – reminding us of the Battle of Cable Street and the long tradition of opposition to anti-Semitism, racism and fascism.
Sheikh Baimba, Imam at North Brixton Islamic Cultural Centre, said: "We stand shoulder to shoulder with all charities, faith groups and others to condemn racism, Islamophobia and all other forms of discrimination.
"We believe that together we can exist in peace, dignity and prosperity through mutual respect and understanding."
Rahul Patel, convener of South London Stand Up to Racism, said: "Boris Johnson has shaped and is pushing the Islamophobic debate in the UK today.
"What he is preaching is now having ramifications on the streets of London. We believe that any attempt to scapegoat Muslims is unacceptable and as a community and as a society we will unite and we will make sure those that peddle hate and division will be pushed back. This includes leading politicians in the UK today."
https://www.londonnewsonline.co.uk/groups-show-solidarity-in-face-of-islamophobic-graffiti-near-brixton-mosque/
------
US Congress moves to clip Trump's wings by reclaiming war powers
Jan 9, 2020
WASHINGTON: Immediate threat of a war between the United States and Iran may have passed but tensions between President Donald Trump and the US Congress – already high over the impeachment issue – are rising with regards to war powers.
After both Teheran and President Trump backed down from outright war – it transpires that Iran deliberately avoid killing US personnel and Trump recognized that by avoiding punitive retaliation for Iran's ineffectual missile attacks – the White House and US lawmakers are duking it out in Washington over who has the authority to declare war.
The US War Powers Act, enacted during the Nixon Presidency, provides that the President can send the US Armed Forces into action abroad only by declaration of war by Congress, "statutory authorization," or in case of "a national emergency created by attack upon the United States, its territories or possessions, or its armed forces."
The Act further requires the President to notify Congress within 48 hours of committing armed forces to military action and forbids armed forces from remaining for more than 60 days, with a further 30-day withdrawal period, without congressional authorisation for use of military force (AUMF) or a declaration of war by the United States.
But successive US Presidents, including Bill Clinton and George Bush, have seized on ambiguous caveats in the act (e.g an attack on US base abroad could constitute attack on US possessions) to usurp war powers the US Constitution purportedly intended to vest in Congress.
Trump too has played fast and loose with the Act, dispatching troops at will and cavalierly suggesting a tweet is sufficient notice of communication to Congress. Distrustful of President Trump's motive and judgment, the Democrat-controlled House of Representatives is now aiming to reassert its powers.
In fact, many lawmakers are aghast at the Trump-authorised assassination of a serving general of a sovereign foreign country even as the President's supporters are making a belated case that Gen.Suleimani was a "terrorist" and a "war criminal."
Amid assertions that the President lacked the authority to order such a strike, Trump acolytes are arguing that the President has the right as a result of the 'Authorization for Use of Military Force Against Terrorists' Law that was initiated on September 18, 2001, shortly after the 9-11 attacks on the World Trade Centers and the Pentagon.
Apparently, it was with this rationalization in mind that vice-president Mike Pence tweeted, post-assassination, that Suleimani "assisted in the clandestine travel to Afghanistan of 10 of the 12 terrorists who carried out the September 11 terrorist attacks in the United States."
But Democrat lawmakers are not convinced. "President Trump recklessly assassinated Qasem Soleimani. He had no evidence of an imminent threat or attack," said Pramila Jayapal, the Indian-American Congresswoman from Washington state.
Although dangers of an immediate shoot-out with Iran has passed, the House is slated to take up on Thursday a resolution by Congresswoman Elissa Slotkin, a former CIA analyst and senior Defense Department official, calling on the President "to terminate the use of United States Armed Forces to engage in hostilities in or against Iran" unless Congress declares war or enacts "specific statutory authorization" for the use of armed forces.
Senate Democrats are also moving a resolution directing the President to remove US forces from hostilities with Iran no later than 30 days after the resolution is enacted absent a declaration of war by Congress or passage of a new authorization for use of military force.
It's not just Democratic lawmakers who are agitated over President Trump's seemingly reckless lurch towards a confrontation with Iran that began with the scrapping of the Obama-engineered and Europe-support nuclear deal with Teheran. Two prominent Republican Senators raged at the casual manner in which the White House sought to ride roughshod over lawmakers, calling an administration briefing on Iran "insulting" "insane" and "unacceptable."
The Senators, Utah's Mike Lee and Kentucky's Rand Paul, have indicated they will support the Democrats' bid to rein in the President's war powers.
Although their votes are not sufficient to overturn the 53-47 majority the GOP has in the Senate, it is the first major crack among Senate Republicans, derided by one late-night comedian as "pasty white men" who have enabled Trump to remain in office despite lack of popular vote.
https://timesofindia.indiatimes.com/world/us/us-congress-moves-to-clip-trumps-wings-by-reclaiming-war-powers/articleshow/73177662.cms
------
Suspected Islamist militants kill 25 soldiers in Niger: government
10-Jan-2020
Suspected Islamist militant groups killed 25 soldiers and wounded six others in an attack on an army post in west Niger near its border with Mali on Thursday, the government said.
It was not immediately clear who was responsible for the attack on the post at Chinagodrar, about 209 kilometers north of the capital Niamey.
It coincides with a campaign by Islamist groups connected to al-Qaida and ISIL to force the Nigerian army back from its western frontier with Mali, where government control of the rural center and north has all but evaporated because of the rise of jihadists.
Attackers approached the military post on motorcycles and other vehicles and were met with resistance from the army and the air force, the government said in a statement. Sixty-three assailants were also killed during the raid.
"The Defense Ministry offers its condolences to the victims and wishes the wounded a prompt recovery," the statement said, adding that a search operation was underway to find those responsible.
Despite efforts by international forces to stop them, attacks have risen four-fold over the past year in Niger, killing nearly 400 people, according to data from the Armed Conflict Location & Event Data Project, a non-profit research organization.
They include a raid last month that killed 71 soldiers at another military outpost about 150 kilometer to the west of Chinagodrar, believed to be the biggest attack on the Nigerian military.
Security has deteriorated this year across the Sahel, a semi-arid strip of land beneath the Sahara, amid jihadist attacks and deadly ethnic reprisals between rival farming and herding communities.
The region has been in crisis since 2012, when ethnic Tuareg rebels and loosely aligned jihadists seized the northern two-thirds of Mali, forcing France to intervene the following year to beat them back. The jihadists have since regrouped and expanded their range of influence.
https://news.cgtn.com/news/2020-01-10/Suspected-Islamist-militants-kill-25-soldiers-in-Niger-government-N8vLIU58Eo/index.html
------
Mideast
Commemoration ceremony for General Soleimani, his companions held at Imam Khomeini Hussayniyeh
January 9, 2020
AhlulBayt News Agency (ABNA): The commemoration ceremony of the martyrdom Lt. Gen. Soleimani and his companions started on Thursday in Tehran's Imam Khomeini Hussayniyeh.
The commemoration ceremony of martyr Lt. Gen. Qasem Soleimani and Iraq's Abu Mahdi al-Muhandis and their companions began in the presence of Leader of Islamic Revolution Ayatollah Seyyed Ali Khamenei, three heads of power branches, Iranian officials and people in Imam Khomeini Hussayniyeh.
Iran's Commander of Quds Force Lt. Gen. Qasem Soleimani and Iraq's Deputy Popular Mobilization Units (PMU) Abu Mahdi al-Muhandis were assassinated by the US terrorist forces at Baghdad airport in the early hours of Friday.
Further details will be released later.
https://en.abna24.com/news//commemoration-ceremony-for-general-soleimani-his-companions-held-at-imam-khomeini-hussayniyeh_1000905.html
------
Iraqi Shia militias deny involvement in Baghdad Green Zone attacks
Thursday, 9 January 2020
A Popular Mobilization Units leader denied on Thursday the involvement of the Shia militias in the attacks that happened in Baghdad's Green Zone, according to the Iraqi News Agency.
Jawad al-Tleibawi described the accusations as "incorrect and inaccurate," adding that the attack could have been "a reactive act by an individual or an attempt by some parties to distort the image" of the militias.
"The PMU does not disobey the orders of the commander in chief of the Armed Forces," al-Tleibawi said.
Two Katyusha rockets struck Baghdad's heavily fortified Green Zone on Wednesday, landing near the US embassy but causing no casualties, according to the Iraqi military.
Sirens immediately rang out at the American compound in the area hosting both diplomats and troops, according to military sources.
The attack came nearly 24 hours after Tehran launched ballistic missiles at Iraqi bases housing American and other coalition forces, which did not cause casualties.
The strikes were in retaliation for a US drone strike that killed top Iranian general Qasem Soleimani and Iraqi commander Abu Mahdi al-Mohandes last week.
https://english.alarabiya.net/en/News/middle-east/2020/01/09/Iraqi-Shia-militias-deny-involvement-in-Baghdad-Green-Zone-attacks.html
------
Israel's plan to isolate Al-Aqsa Mosque, end Waqf role
January 9, 2020
Since the start of the year, Israel has been implementing a plan to isolate and suffocate Al-Aqsa Mosque and change its status.
The Deputy Director of the Muslim Waqf (Religious Endowments) Department in occupied Jerusalem, Najeh Bkerat, said the occupation is increasing the frequency of its violations of Al-Aqsa Mosque, including the performance of Talmudic rituals within its compound, restricting the movement of Muslim worshippers, and thus imposing a new reality in the mosque.
According to Brekat, Israel has also threatened to close the Rahma Gate in an effort to increase its presence in the compound and get a foothold within its walls.
Finally, Israel seeks to impose its sovereignty on Al-Aqsa Mosque by interfering with the powers of the Islamic Waqf, including by preventing the Muslim body from carrying out any work inside the compound, in addition to hindering restoration and reconstruction activities.
Brekat pointed out that since the beginning of the year, the occupation has arrested more than 15 citizens in Jerusalem, and assaulted women and men in Al-Aqsa Mosque.
He stressed that the occupation is paving the way to convert Jerusalem to a Jewish capital by waging an ideological war against the Arab-Islamic narrative in the Holy City.
Brekat continued: "The Arab-Islamic silence and the conflicts and chaos taking place in the vicinity of Palestine served the occupation very significantly, and assisted it in its quest to monopolise Al-Aqsa Mosque and Jerusalem. Thus, the Israeli authorities remain immune and avoid accountability for their violations."
"It is clear that the occupation seeks, day in and day out, to enter Al-Aqsa Mosque in order to change the equation significantly."
https://www.middleeastmonitor.com/20200109-israels-plan-to-isolate-al-aqsa-mosque-end-waqf-role/
------
'The Muslims will leave no spot anywhere safe for the Americans'
09/01/20
IRGC Commander-in-Chief General Hossein Salami spoke at the funeral procession for Qods Force Commander Qasem Soleimani. He said that Iran will exact revenge and that it will be "hard and severe" and "the kind of revenge that causes remorse", reported the Middle East Media Research Institute (MEMRI).
He added that "the natural outcome of all of this is that the Muslims will leave no spot anywhere safe for the Americans." General Salami said that the Americans have set all their investments on fire with this "cowardly assassination".
General Salami's remarks were met with chants of "Allahu Akbar!" from the crowd.
General Salami warned Iran's enemies that if they take another step, Iran will set the "place they love on fire" and in response, the crowd chanted: "Death to Israel!"
The funeral procession was broadcast live on Channel 1, Iranian TV.
http://www.israelnationalnews.com/News/News.aspx/274322
------
Syrian Kurds free dozens of Islamic State-linked Syrians
January 9, 2020
QAMISHLO, Syrian Kurdistan,— Syria's Kurds have released 30 Syrians suspected of affiliation to the Islamic State group after guarantees from tribal leaders, a spokesman said Tuesday, adding more should be freed soon.
The Kurdish-led Syrian Democratic Forces (SDF) hold thousands of suspected IS fighters after years of leading the US-backed fight in the country against the jihadist group.
The suspects are mostly Syrian and Iraqi — Iraq was the other key crucible of the conflict with IS — but they also include hundreds of foreigners.
A spokesman for the Kurdish authorities in Syrian Kurdistan (Rojava) in northeastern Syria said tribal leaders had requested that 300 Syrian detainees be freed, and that 30 were approved and released on January 5.
"Those being released have no blood on their hands and have not been proven guilty of any crime," the Kurdish region's foreign affairs spokesman Kamal Akef told AFP.
They might have joined the extremist group to earn a living or because they were forced to, he said.
They "are being released with guarantees from the tribal leaders," the official added, without specifying what guarantees are involved.
"In the coming days, some more will be released in waves" to return to the provinces of Deir Ezzor and Raqa in the east and north of Syria, he said.
Earlier that month, nearly 300 Syrian men were freed after tribal chiefs lobbied for their release including in Raqa, the Kurdish authorities said.
At the time, the Syrian Observatory for Human Rights, a Britain-based war monitor, said it was not the first release of IS-linked prisoners, but the number was particularly large.
The Kurds have also said they were releasing hundreds of suspected IS-linked women and children from overcrowded camps for the displaced.
In December 2019 around 200 Syrian displaced people, mostly women and children, were heading home from the desert camp in the northeast.
The Kurdish Democratic Union Party PYD and its powerful military wing YPG/YPJ, considered the most effective fighting force against IS in Syria and U.S. has provided them with arms. The YPG, which is the backbone of the Syrian Democratic Forces SDF forces, has seized swathes of Syria from Islamic State.
The Kurdish forces expelled the Islamic State from its last patch of territory in the eastern Syrian village of Baghouz in March 2019.
11,000 Kurdish male and female fighters had been killed in five years of war to eliminate the Islamic State "caliphate" that once covered an area the size of Great Britain in Syria and Iraq.
Syria's Kurds have detained thousands of foreigners suspected of fighting for Islamic State, as well as thousands of related women and children, during the battle against IS in Syria and are being held in by Kurdish forces in Syrian Kurdistan.
The Kurdish authorities have repeatedly called on Western nations to repatriate their nationals, but they have been largely reluctant, except in a handful of cases.
https://ekurd.net/syrian-kurds-free-dozens-islamic-2020-01-09
------
Japanese PM Shinzo Abe to go ahead with Mideast visit
Jan 10, 2020
TOKYO: Japan's Prime Minister will go ahead with a planned visit to the Middle East this weekend despite the crisis in the region, a spokesman said Friday.
Japan is also expected to deploy a warship and a maritime reconnaissance aircraft to protect its shipping interests in the Persian Gulf and the Gulf of Oman.
Prime Minister Shinzo Abe will visit Saudi Arabia, the United Arab Emirates and Oman from January 11 to 15, chief cabinet secretary Yoshihide Suga told reporters.
"In this visit, as the situation in the Middle East increases in tension, we will exchange views with the three countries that will play an important role in mitigating regional tensions and stabilizing the situation as part of diplomatic efforts to avoid further escalation of the situation," Suga said.
There was uncertainty if the trip would take place following an Iranian missile attack against Iraqi military bases housing US troops in its violent confrontation with Washington over the US drone strike that killed an Iranian Revolutionary Guard general.
Japan is also expected to go ahead with plans to deploy a warship and a reconnaissance aircraft this weekend. An announcement is to be formally made by the defence ministry later Friday.
https://timesofindia.indiatimes.com/world/rest-of-world/japanese-pm-shinzo-abe-to-go-ahead-with-mideast-visit/articleshow/73183735.cms
------
Iran could have nuclear weapon within 1 to 2 years: France
January 10, 2020
PARIS: Iran could have nuclear weapons in one to two years if the country carries on violating the 2015 nuclear accord, French Foreign Minister Jean-Yves Le Drian said on Friday.
"If they continue with unraveling the Vienna agreement, then yes, within a fairly short period of time, between one and two years, they could have access to a nuclear weapon, which is not an option," Le Drian said on RTL radio.
EU foreign ministers will hold an emergency meeting on Friday to seek ways to guide the United States and Iran away from confrontation, knowing that a miscalculation on either side could leave the bloc facing a war and a serious nuclear proliferation crisis on its doorstep.
https://www.arabnews.com/node/1610916/middle-east
------
Air strike kills 8 Iraq paramilitaries in east Syria
January 10, 2020
BEIRUT: An air strike in eastern Syria killed eight fighters of Iraq's Hashed Al-Shaabi paramilitary force overnight, a war monitor said on Friday.
"Unidentified aircraft targeted vehicles and arms depots in the Albu Kamal area, causing a large explosion. At least eight Iraqi Hashed fighters were killed," the head of the Syrian Observatory for Human Rights, Rami Abdel Rahman, said.
He said several others were wounded.
Through a spokesman contacted by AFP, the US-led military coalition operating in Syria and Iraq denied carrying out the strike.
Abdel Rahman said three villages in the Albu Kamal area known for housing forces loyal to Tehran have been targeted by drone strikes since Wednesday, causing no casualties.
The deadly strike comes in a context of spiralling tension between the United States and Iran, much of which has played out in Iraq.
Late last year, a US air strike in Iraq killed 25 Hashed fighters from the Kataeb Hezbollah militia, considered one of the closest to Tehran.
Hashed supporters subsequently stormed the huge US embassy compound in central Baghdad, further escalating the situation.
On January 3, a US strike near Baghdad airport killed Qasem Soleimani, Iran's feared external operations supremo, in one of the Middle East's highest-profile assassinations of recent years.
Also killed in the strike was Abu Mahdi Al-Muhandis, a founder of Kataeb Hezbollah and seen as Iran's man in Iraq.
Tehran has vowed bloody revenge and has so far responded with ballistic missiles on a base in western Iraq housing US and other coalition troops.
Iran claimed the strikes killed 80 people but neither the US nor the Iraqi military reported any casualties.
https://www.arabnews.com/node/1610886/middle-east
------
Iran invites Boeing to probe plane crash that killed 176
January 10, 2020
TEHRAN: Iran's state media say authorities have invited Boeing to take part in the investigation into a Ukrainian jetliner that crashed, killing all 176 people on board.
The move came after Western leaders said the plane appeared to have been unintentionally hit by a missile amid soaring tensions between Washington and Tehran.
The state-run IRNA news agency quoted a foreign ministry spokesman on Friday as saying Iran "has invited both Ukraine and the Boeing company to participate in the investigations."
The spokesman, Abbas Mousavi, says it will also welcome experts from other countries' whose citizens died in the crash.
https://www.arabnews.com/node/1610871/middle-east
------
South Asia
Taliban: US, Iran tensions will not interrupt Afghan peace process
Friday, 10 Jan 2020
The Taliban leaders believe the recent tensions between the United States and Iran will not interrupt the Afghan peace process led by the United States.
Suhail Shaheen, a spokesperson to Taliban peace delegation said the talks between the Taliban and US peace delegation have reached at a concluding edge and close to signing off an agreement. He said the US-Iran tensions will not interrupt the talks, VOA reported.
"The developments will not have a negative impact on the peace process because the U.S.-Taliban peace agreement is finalized and only remains to be signed by the two sides," Shaheen said.
This comes as the major issues on the recent discussions table were the US forces withdrawal, violence reduction, ceasefire, and Intra-Afghan talks.
The details are not out yet to know how these terms have been agreed between the Taliba and US delegations.
The recent regional tensions that arose following the death of a top Iranian military leader by a US drone strike in Iraq, have created concerns in reference to the Afghanistan peace process led by the United States.
Iran has an influence on one or several Taliban militant groups who are on the battlefield.
A group of armed militants naming 'Almahdi' holding Taliban flags have been seen during military training and rehearsals in some snowy mountains, seemingly somewhere in Afghanistan.
https://www.khaama.com/taliban-us-iran-tensions-will-not-interrupt-afghan-peace-process-7865432/
------
Afghan NDS detains 76 suspects involved in various criminal acts
Friday, 10 Jan 2020
Afghanistan NDS special forces have detained 76 suspects in the last month's operations who have been involved in various criminal acts.
According to a statement published by the NDS press office, NDS special forces have detailed 76 suspects in Kabul province who have been involved in terrorism, smuggling, kidnapping, and armed robberies.
The detainees include a Taliban militant group of five who have been detained from Kabul's Deh Sabz district, the statement added.
The head of the terror network Samiullah son of Roozuddin with his four men, newly recruited by the Taliban commander Qari Yusuf who is based around Kohi Safi in northern parts of Kabul city, are among the detainees.
These militants were engaged in several roadside bombings on Afghan military vehicles in several areas of Dehsabz district of Kabul, NDS said.
The Afghan Ministry of Interior has also recently arranged mobile patrols to prevent armed robberies in the capital Kabul, following series of complaints by the Kabul residents who had been robbed in Kabul streets.
Kabul residents had launched a security advocacy campaign named 'Kabul is Not safe' through social media tools, following the death of a 22-year old student by armed robbers in Kabul.
Ali Sina Zafari, a third-year student at the American University of Afghanistan (AUAF), was snubbed to death by armed men while showing resistance to hand over his personal computer and laptop on Saturday night, in the 13th district of Kabul City.
https://www.khaama.com/afghan-nds-detains-76-suspects-involved-in-various-criminal-acts-4356734/
------
US strike targeting Taliban commander causes civilian casualties
More than 60 civilians were killed or wounded in a US drone attack targeting a top Taliban splinter-group commander in the western Afghanistan province of Herat, local officials said.
The Taliban commander, named as Mullah Nangyalay, was killed in Shindand district close to the border with Iran, Herat provincial governor's spokesman Jailani Farhad said on Thursday.
"According to the people, over 60 civilians were killed and wounded in the operation," Toryalai Tahiri, deputy head of Herat provincial council, told Afghan local media TOLO News.
Quoting Wakil Ahmad Karkhi, a member of the Herat provincial council, TOLO News reported "civilians have been killed and wounded alongside Mullah Nangyalai's fighters" in an American attack on Wednesday.
The Afghan government said it launched an investigation into reports of civilian casualties.
Nangyalay split from the main branch of the Taliban after the 2013 death of founder Mullah Omar and joined a smaller breakaway faction led by a commander known as Mullah Rasool.
A senior provincial police source said Wednesday's air raid had been carried out by a US drone.
Resolute Support, NATO's mission in Afghanistan, told AFP news agency it launched "a defensive air strike in support of Afghan forces", with a spokesman confirming US participation in the operation.
The main Taliban faction has been negotiating with Washington for more than a year over the withdrawal of US troops in exchange for security guarantees from the armed group that could pave the way to intra-Afghan peace talks.
https://www.aljazeera.com/news/2020/01/strike-targeting-taliban-commander-civilian-casualties-200109165736421.html
------
Taliban Says US-Iran Dispute Will Not Harm Afghan Peace Process
By Ayaz Gul
January 09, 2020
ISLAMABAD, PAKISTAN - The Taliban said Thursday it believes escalating military tensions between the United States and Iran are unlikely to hurt the insurgent group's negotiations with Washington aimed at ending the war in Afghanistan.
The first official reaction from the Taliban comes a day after Tehran fired more than a dozen ballistic missiles at two bases in Iraq housing U.S. troops, though they did not cause any casualties.The attack was a retaliation to Friday's American airstrike in the Iraqi capital of Baghdad that killed Iranian military commander, Qassem Soleimani.
Suhail Shaheen, who speaks for the Taliban's negotiating team, told VOA their meetings with U.S. interlocutors over the past year have brought the two adversaries in the 18-year-old Afghan on the verge of signing a peace deal. He dismissed reported concerns U.S.-Iran tensions threatens the peace initiative.
"The developments will not have negative impact on the peace process because the (U.S.-Taliban) peace agreement is finalized and only remains to be signed (by the two sides)," Shaheen asserted.
The progress, he insisted, has been achieved because both the Taliban and the U.S. agree the Afghan conflict could only be settled through peaceful means.
The Trump administration has been negotiating an agreement with Taliban representatives in a bid to wind down the stalemated Afghan war, America's longest in the history.
The U.S. is seeking counterterrorism assurances and pressing the Taliban to reduce violence as well as open negotiations with Afghan stakeholders on reaching a power-sharing deal to end decades of hostilities in the country.
American's renewed conflict with Iran, which shares a long border with Afghanistan, has raised concerns Iranian authorities could attempt to derail the U.S.-Taliban peace process by increasing Tehran's alleged covert military assistance for the insurgents to encourage them to step up attacks on U.S.-led coalition forces.
Pro-Iranian Shi'ite Afghan factions have also denounced the killing of Soleimani.
U.S. chief peace negotiator Zalmay Khalilzad had acknowledged in early September a draft agreement had been reached with the Taliban and it could begin a U.S. troop drawdown process in a few months.
Just days later, however, President Donald Trump temporarily suspended the peace process citing a Taliban attack that killed an American soldier and 11 other people in the Afghan capital, Kabul.
The dialogue was resumed early last month only to be paused again after the Taliban staged a major attack on the largest U.S. military base of Bagram.
Khalilzad has demanded the Taliban reduce attacks or observe a brief ceasefire before the talks could be resumed.But the Taliban has refused to cease hostilities until the proposed agreement is singed with the U.S.
Insurgent sources say Khalilzad is currently visiting the Qatari capital of Doha, where he has made informal contacts with Taliban representatives to find out whether they are ready to meet his demand for a ceasefire or reduction in the violence.
Neither Taliban nor U.S. officials have commented on Khalilzad's presence in the Gulf nation, which has played host to the U.S.-Taliban talks since late 2018.
https://www.voanews.com/south-central-asia/taliban-says-us-iran-dispute-will-not-harm-afghan-peace-process
------
US strike kills Taliban splinter commander in Herat: officials
Jan 10, 2020
Kabul: A US airstrike killed a Taliban splinter-group commander and several other fighters in the western Afghan province of Herat, Afghan and military sources said Thursday.
The commander, named as Mullah Nangyalay, was killed in Shindand district, close to the border with Iran, said Herat provincial governor's spokesman Jailani Farhad.
Nangyalay split from the main branch of the Taliban after the 2013 death of founder Mullah Omar and joined a smaller breakaway faction led by a commander known as Mullah Rasool.
A senior provincial police source said the airstrike had been carried out by a US drone.
A spokesman for US forces in Afghanistan confirmed they had launched "a defensive air strike in support of Afghan forces".
The main Taliban group has been negotiating with Washington for more than a year over the withdrawal of US troops in exchange for security guarantees from the militants that could pave the way to intra-Afghan peace talks.
https://economictimes.indiatimes.com/news/defence/us-strike-kills-taliban-splinter-commander-in-herat-officials/articleshow/73188029.cms
------
Airstrike in western Afghanistan kills leader of Taliban splinter group, may have killed civilians
By J.P. LAWRENCE
January 9, 2020
KABUL, Afghanistan – A U.S. drone strike killed a regional leader of a breakaway faction of the Taliban in western Afghanistan Wednesday and may have killed several civilians, officials and militants said.
"U.S. Forces-Afghanistan, at the request of Afghan Security Forces, conducted a coordinated defensive air strike in support of Afghan forces in Shindand, Herat on January 8, 2020," said a statement sent to Afghan media by U.S. military officials.
The statement did not comment on casualties and a spokesman for U.S. and NATO forces in Afghanistan directed further questions to the Afghan defense ministry.
The ministry confirmed that airstrikes had occurred in the province, which borders Iran, and said an investigation has been launched to determine if any civilians were killed.
The strikes killed Mullah Mohammad Nangyalai, a regional commander of an insurgent faction led by Mullah Mohammad Rasoul that split from the mainline Taliban in 2015, the breakaway militant group said in a statement.
Mullah Nangyalai, a regional leader of the Taliban breakaway faction led by Mullah Mohammad Rasoul, writes on a notepad in an undated photo provided by friends of his. Nangyalai was killed in an airstrike on Jan. 8, 2020 in western Afghanistan, the Rasoul splinter group said.
JAVED HAMIM
The splinter group's fighters will continue to fight against "the U.S. and other foreigners" in Afghanistan, the statement said.
The attack began at 4 p.m. Wednesday in an area controlled by the government, Tolo News reported.
The drone strikes were launched as the Rasoul faction was planning to attack a government checkpoint, said Abdul Hakim, a resident of the district.
"A few civilians were killed and injured" when a second strike hit as they gathered dead bodies after the initial strike, Hakim said.
An official from the area, Tor Mohammad Zarifi, said several civilians were among the roughly 30 people killed in the strikes.
After the attack, at least 10 people were brought from Shindand to the regional hospital in the city of Herat, about 90 miles away, said Dr. Abdul Hakim Tamana, Herat's public health director. He was unable to say if the injured were civilians or militants.
A spokesman for the governor of Herat, Jailani Farhad, confirmed that there were airstrikes but did not comment on casualities.
The Rasoul group, which has operated with the tacit support of the Afghan government, continues to fight the mainline Taliban in Herat, but the clashes between the two groups are not as frequent or heavy as in previous years, a source within the group said.
https://www.stripes.com/news/airstrike-in-western-afghanistan-kills-leader-of-taliban-splinter-group-may-have-killed-civilians-1.614105
------
Southeast Asia
Plight of the Uyghurs: Why Muslims Won't Speak Up for Their Brethren
by Patrik K. Meyer
The Islamic world has responded to the plight of the Uyghurs with deafening silence. That silence has not gone unnoticed by many western news organizations, which exposes the inconsistency between it and the unquestionable obligation that the Muslim world has to defend the Uyghurs. Headlines such as "Muslim countries' silence on China's repression of Uighurs," "Islamic Leaders Have Nothing to Say About China's Internment Camps for Muslims," and "The Muslim World Remains Largely Mute on Uyghurs' Plight" are just some discussing this issue. And when the Muslim world decides to express its opinion, it gets even worse. Most Arab states "give China a pass on Uyghur crackdown" and the de facto leader of most of the Muslim world, Saudi Arabia, defends Beijing's brutal assimilation program by arguing that China has the "right to put Uighur Muslims in concentration camps."
If there is no question that Muslims should defend their brethren and that they have the means to do so, then why is the Islamic world silent about the Uyghur plight? The answer is that the overwhelming majority of Muslims are "cultural Muslims" rather than true believers in Islam. The term "cultural Muslim" refers to a person who adopts a number of Islamic traditions in his life but lacks 'Iman' (belief), Islam's fundamental value. While no one can assess the degree of belief held in another person's heart, one can, however, compare the person's actions to what is expected of him in Islam. I will use two cases to explore the distinction between a Muslim believer and a cultural Muslim: the lack of sufficient Arabic language knowledge (for the case of non-Arab Muslims) and the distinction between being born and becoming a Muslim, a necessary process to be a believer.
What are the implications of over 70 percent of Muslims not speaking Arabic? Muslims are expected to believe that Allah created them and everything around them, that He is the only true source for guidance in this life and that nothing in our lives is possible without His consent and grace. They also believe that to guide humans, Allah sent the Qur'an, which is the only infallible guide for humans until the Day of Judgment. In Qur'an, Muslims can find guidance to successfully overcome all kinds of challenges—personal, social, economic, religious, and so on.
This unique and precious source of guidance and success is, however, written in the Arabic language and cannot be translated because it contains the words of Allah. Islamic scholars can make their own interpretation of the meanings of Qur'an and share them in other languages. These personal interpretations can be used by others as one of the sources of advice but not as guidance. This is because each person will interpret the Qur'an in a different way resulting in thousands—if not millions—of interpretations of Qur'an. As a consequence, Muslims are not allowed to seek guidance from anyone besides Allah and His Messenger. To reinforce this fundamental point, there is a well-known and true hadith narrated by Mu'aawiyah ibn Abi Sufyaan, in which Prophet Muhammad (PbuH) warns Muslims not to make fundamental changes to Islam and not to blindly follow Islamic leaders:
"Those who came before you of the people of the Book split into seventy-two sects, and this Ummah will split into seventy-three: seventy-two in Hell and one in Paradise, and that is the jamaa'ah."
In summary, Qur'an is the only valid source of guidance from Allah and cannot be translated from Arabic. Hence, if Muslims want to find out how to be successful in this life and in the hereafter, they must learn Arabic if they do not have any impediment to do so. There is no alternative to this.
It is deeply inconsistent to declare that one­­­­­ believes in Allah and Qur'an, but then does not make the minimal effort to learn the language that is the key to access Allah's guidance. This same person finds the time and energy to learn all kinds of other languages, skills, and worldly knowledge that have only very limited value in the material life. More surprisingly, this person who might "read" and "recite" Qur'an multiple times during his daily prayers, does not seem to be bothered by the fact that he does not understand the meaning and value of the precious words he is uttering. Knowing that the person has no impediment whatsoever to learn Arabic, wouldn't you be surprised by the fact he is not learning it? And when an entire community follows this pattern of not learning Arabic, wouldn't you question the degree of belief found in the entire community?
Now, let's explore the difference between being born a Muslim and becoming one. When asked why they consider themselves Muslims, the large majority of Muslims reply that it is because they were born into a Muslim family. Well, being born a Muslim does not imply that one is a Muslim. All humans, animals, vegetation, planets and so on are born Muslim. Hence, being born a Muslim does not make a person a Muslim believer. Everyone who wants to be a Muslim must take the initiative and go through the struggle of becoming a Muslim first. That is, to learn and to question everything, to think and think again, slowly digesting what Islam means and what it implies to be a Muslim. This cannot be achieved by birth. This is a life-long struggle full of ups and downs, successes and failures. And what is the source of the knowledge that needs to be "digested" to become a Muslim? Qur'an, the original Qur'an in Arabic, not the interpretations of scholars.
The fact that 75 percent of Muslims do not speak Arabic and maybe over 90 percent of them have not been through the necessary process of becoming Muslims strongly undermines their claim that they are believers in Allah and His Book. Ultimately, it is up to the 1.8 billion Muslims in the world to do some soul-searching and honestly decide if they are "living" Islam as believers should or "wearing" Islam as cultural Muslims do. Meanwhile, the Islamic world will remain deafening silent about the harrowing plight of over ten million of their brethren whose Islamic belief and actions are being forcefully wiped out.
Patrik K. Meyer holds a PhD in Politics and International Studies from the University of Cambridge and is a visiting professor at Universitas Muhammadiyah Yogyakarta, Indonesia.
https://nationalinterest.org/feature/plight-uyghurs-why-muslims-wont-speak-their-brethren-112466
------
Uyghurs and Other Muslims Forced to Labour in Chinese Factories
January 9, 2020
In China, a shocking new exposé has revealed that Chinese authorities are systematically forcing Muslims — mostly Uyghurs and Kazakhs — into labor programs to supply Chinese factories with a cheap and compliant workforce. The New York Times investigation, based on official documents, interviews and visits to the far-western region of Xinjiang, reveals a sweeping program to push poor farmers, villagers and small traders into sometimes months-long training courses before assigning them to low-wage factory work. The programs work in tandem with indoctrination camps where an estimated 1 million adults from the Uyghur community are being imprisoned. China claims its labor programs are "vocational training centers" designed to combat extremism and alleviate poverty, while Uyghur activists say they are part of China's ongoing campaign to strip them of their language and community and to carry out cultural genocide. We speak with Austin Ramzy, a New York Times reporter who co-authored the recent exposé, and Nury Turkel, a Uyghur-American attorney and board chair at the Uyghur Human Rights Project.
TRANSCRIPT
AMY GOODMAN: This is Democracy Now! I'm Amy Goodman, with Nermeen Shaikh.
NERMEEN SHAIKH: We turn now to China, where a shocking new exposé has revealed that Chinese authorities are systematically forcing Muslims — mostly Uyghurs and Kazakhs — into labor programs to supply Chinese factories with a cheap and compliant workforce.
The New York Times investigation, headlined "Inside China's Push to Turn Muslim Minorities into an Army of Workers," is based on official documents, interviews with leading experts and visits to the far-western region of Xinjiang, where about half of the population is Muslim.
What it reveals is a sweeping program to push poor farmers, villagers and small traders into sometimes months-long training courses before assigning them to low-wage factory work. The programs work in tandem with indoctrination camps where an estimated 1 million adults from the Uyghur community are being imprisoned.
China claims its labor programs are designed to combat extremism and alleviate poverty. Uyghur activists say they're part of China's ongoing campaign to strip them of their language and community and carry out nothing short of cultural genocide.
The New York Times obtained rare footage taken inside one of China's labor programs.
AMY GOODMAN: That, a New York Times exposé.
For more, we go to Hong Kong, where we're joined by Austin Ramzy, The New York Times reporter who co-authored the recent exposé. And in Washington, D.C., we're joined by Nury Turkel, Uyghur-American attorney, board chair of the Uyghur Human Rights Project.
We welcome you both to Democracy Now! Austin, let's begin with you. Can you lay out the significance of these documents that you got? Explain where you got them from, hundreds of pages, and what they say.
AUSTIN RAMZY: We received hundreds of pages of documents from a member of the Chinese political elite that revealed the origin of the internment camps in Xinjiang and how the Chinese leadership, including Xi Jinping, beginning in 2014, pushed for a solution to what he saw as extremism and terrorism and violence that needed to be controlled, put under control in Xinjiang. And so he called for a tough solution.
And in the years that followed, we saw a beginning of small-level internment camps. And then, beginning in — after 2016, a new party secretary came into Xinjiang and began a large-scale internment operation that led to the — you know, as many as a million people who were put into these camps.
The documents also revealed that — you know, publicly, the Chinese government has described these camps as training centers to give people skills to help them [inaudible] that will steer them away from extremism. But in the language of the documents themselves, it describes these as — these programs as punishment. And it shows that the authorities are plainly aware of the suffering that is caused, not only to the people in the camps, but to their families and children, who are left without parents.
AMY GOODMAN: And can you explain what these camps are? You've got indoctrination camps, and you've got labor camps. And explain how you were able to document what you say is as many as a million people, Uyghur Muslims, Kazakh Muslims, in these camps.
AUSTIN RAMZY: Well, there are multiple programs happening. There's the internment program, which has as many as a million people in these camps. The labor program is separate but related, and it involves taking people from — primarily from southern Xinjiang and sending them to northern Xinjiang, to other parts of China, to work in factories, to work, as the video showed, as street cleaners, to put them in more formal labor, as opposed, often, to the farm work that they did before. It's a separate system of control, not as extreme as the camps themselves, but from everything we've seen, there is coercion involved in forcing these people into this sort of work. These people, some of them include family members of people in camps. So there are connections, and it is related to the overall program of control. But there are many different programs happening in Xinjiang.
NERMEEN SHAIKH: Well, Austin, earlier you talked about the fact that, you know, some of these — when these Uyghurs are disappeared from their homes and they have children who return from study either in Hong Kong or other parts of China, they come back and they discover that their family members are gone. What explanation are they given? There's actually a document that's distributed?
AUSTIN RAMZY: That's right. That was one of the most telling documents in the cache that we received. And it outlines basically what local officials in Xinjiang should say to these young people who return home from other parts of China to learn that family members have been put into camps. It was a document from 2017, when the program really began ramping up.
And it told officials to tell these young people that their family members had — it uses almost pseudomedical language to say that they've been infected by a virus, and just as if you were infected with an actual virus, you would want a period of treatment. It must be closed treatment so that this won't spread to other people. And it describes these programs as being for their own benefit. But at the same time, there's messages to sort of warn these young people that they themselves should not complain, because only through their agreement will their family members eventually get out.
AMY GOODMAN: Austin Ramzy, can you talk about the impact of the forced labor on the global supply chain and the participation by stores, including Muji, Uniqlo, Walmart?
AUSTIN RAMZY: Well, Xinjiang produces about 80 to 85% of China's cotton. China is, of course, a huge clothing manufacturer. And the government has been trying to increase the amount of clothing and textile production in Xinjiang, so some of these labor programs involve clothing and textile factories and are tied with the production of cotton in Xinjiang.
And so, Muji and Uniqlo have previously advertised Xinjiang cotton. Muji did not respond to us, but they said last year that they work very hard to ensure that there's no forced labor in their supply chain. Uniqlo said that they do not work with partners in Xinjiang.
But the short answer is that the significance of China in production of all things and the significance of Xinjiang in terms of clothing and textile production means that it's very risky for companies that have any production connected with Xinjiang, and requires really close investigation of their supply chains.
NERMEEN SHAIKH: Well, I'd like to bring in Nury Turkel, a Uyghur-American attorney and activist, board chair at the Uyghur Human Rights Project. Could you, Nury, respond to the significance of this exposé?
NURY TURKEL: These are what we lawyers call an evidence. This is not a speculation. This is not a report done by a third party or NGO. This is a hard evidence, comes straight out from the Chinese government's own archives.
What we have today is that in the past two-and-a-half years we've been relying on open-source information on construction bids and the future expansion of the camps, as well as the personal witness accounts, survivors' accounts, to come up with a close-to-reality figure. But now we have evidence. These evidence are so significant and so revealing.
Several things comes to mind. One is that this is not a local government officials trying to impress the central government and formulated these policies. This has come, apparently, directly coming from the Chinese Communist Party, General Secretary Xi Jinping, and his local entrusted officials, Chen Quanguo and others. So, we've been saying — these documents confirm —
AMY GOODMAN: We have five seconds, Nury.
NURY TURKEL: These documents have confirmed what we have been telling the world in the last two-and-a-half years, but it's incumbent upon the government officials, lawmakers, judges and prosecutors to look into this to see if this constitutes crimes against humanity.
AMY GOODMAN: We're going to do Part 2. Thank you to Nury Turkel as well as to Austin Ramzy of The New York Times.
Nermeen Shaikh
Nermeen Shaikh is a broadcast news producer and weekly co-host at Democracy Now! in New York City. She worked in research and non-governmental organizations before joining Democracy Now! She has an masters of philosophy from Cambridge University and is the author of The Present as History: Critical Perspectives on Global Power (Columbia University Press).
https://truthout.org/video/uyghurs-and-other-muslims-forced-to-labor-in-chinese-factories/
------
Philippines opens its doors to foreign Islamic banks
January 10, 2020
With the approval of a new Islamic banking law in the Philippines by the country's central bank last December, doors are now open for both domestic and foreign banks to open a Islamic banking window or to establish a subsidiary Islamic bank in the country with millions of under- or unbanked Muslims, especially in the southern region of Mindanao.
"The Bangko Sentral ng Pilipinas aims to create an enabling environment that will allow Islamic banks to operate alongside conventional banks under the same regulatory and supervisory approach, taking into consideration the unique features of the Islamic banking operations," the central bank said in a statement.
Economists and lawmakers praised the decision, saying that the law will lead to a "finance and banking surge" in undersupplied Mindanao this 2020 and "unlock the full potential of Islamic financing in fostering inclusive economic growth."
The entry of a new bank with Islamic banking services, however, remains subject to the approval of the central bank's monetary board. In the absence of a central regulatory entity on Shariah-compliance in the Philippines, the law further states that it is the responsibility of an Islamic bank, or window, to ensure its compliance with Shariah principles. Like in other Muslim nations without a central regulatory Shariah board, Islamic banks in the Philippines will have to constitute their own Shariah advisory council comprising persons "who are qualified and have knowledge or experience in Shariah and in banking, finance, law or other related disciplines."—Agencies
https://pakobserver.net/philippines-opens-its-doors-to-foreign-islamic-banks/?utm_source=rss&utm_medium=rss&utm_campaign=philippines-opens-its-doors-to-foreign-islamic-banks
------
Islamic banks could benefit from digital banking
January 10, 2020
Industry experts are supporting Bank Negara Malaysia's (BNM) plan to issue five digital banking licences for both conventional and Islamic banking, as the financial sector is seen to benefit from the move. Digital banking is the way to go, although it's too early to foretell any significant impact on traditional lenders, Islamic finance expert Prof Dr Obiyathulla Ismath Bacha said.
"If you are a non-bank entity trying to come in, it is going to require quite a bit of capital. "(But) this is definitely moving in the right direction — pushing banks towards more digitalisation," he told The Malaysian Reserve recently. Lenders would do well in embracing digitalisation as having access to customer data allows banks to mine data, employ data algorithms and so forth, he added. While challenges lie ahead, there are also opportunities for growth, particularly in small personal loans, albeit on a "very restrictive, basic, standardised, commodity-type financing basis".
"That is where digital banking can go in for the time being, not in the other businesses, and small and medium enterprises loans," Obiyathulla said.In the meantime, digital banking remains an unknown area. Its depth and breadth have yet to be determined, but the likes of Amazon.com Inc have made good use of the available resources, using artificial intelligence and data mining algorithms. There is much cross-selling that can be done, which is where the potential for big money is, Obiyathulla stated. "I'm told that is something many of the potential digital bank players are looking to tap into," he said.
The entry barriers into banking industries appear to have been gradually lowered, paving the way for more intense competition going forward, Bank Islam Malaysia Bhd chief economist Dr Mohd Afzanizam Abdul Rashid said.—Agencies
https://pakobserver.net/islamic-banks-could-benefit-from-digital-banking/?utm_source=rss&utm_medium=rss&utm_campaign=islamic-banks-could-benefit-from-digital-banking
------
Sri Lanka Muslim party warns that minority parties in grave danger
Fri, Jan 10, 2020
Jan 09, Colombo: Sri Lanka's Muslim party, All Ceylon Makkal Congress (ACMC) warned that any constitutional amendments to remove minority parties from the Parliament are anti-democratic and endanger the reconciliation among communities.
ACMC Leader Vanni District MP Rishad Bathiudeen addressing the Parliament on 8 January warned that that 'there's a danger to end of reconciliation achieved by hard work over a period of time.'
"We are disturbed of new government's intentions to side-line minority parties by amending the constitution," Bathiudeen said.
Speaking at the adjournment debate on President Gotabaya Rajapaksa's policy statement in parliament yesterday, the former Minister said there is a need to amend the constitution and ACMC also supports a stronger constitution for Sri Lanka that respects everyone's social and political rights.
"However, President's intention, to amend the constitution appears to be aimed at reducing the power of minority political parties among others. Minority parties of a country represent the voice of all minorities including ethnic, political and other representations" said Bathiudeen.
"These parties grow in to being since major political parties do not have "political space" for their weak voices. Our party ACMC is one such party among many parties and Sri Lankan minority communities have these small parties as their only voice in parliament. These minority parties played a major role in bringing militant youth back to democracy. For example the JVP and some Tamil parties worked to bring militant youth back to democracy and today they are successful public representatives and MPs. Also some minority parties voice the issues of various communities. There is no doubt that if the minorities are thrown out, ethnic harmony and reconciliation achieved from hard work over a period of time, would meet a sad end. If these parties including our ACMC are thrown out, I would like to ask that where are we to go? Even though ACMC is a minority party, even we have elected MPs in Provincial and smaller councils representing all communities including Sinhala Buddhists. Among our Provincial MPs were Sinhalese Buddhist, a Tamil Hindu MP and a Tamil Catholic MPs. What is the expectation of the President when he tries to close our voices in this way? Is it not clear of the possible dangerous outcomes for Sri Lanka's ethnic harmony and reconciliation from such dangerous and undemocratic acts?"
The parliamentarian also welcomed President's efforts to reduce the cost of living.
"We welcome President Gotabaya Rajapaksa's actions to reduce the cost of living and reducing many taxes to re-start the business sector which was slowing down, especially the SME and micro businesses.
He said the ACMC also welcomes the President's statement in his January 3 state speech that said "the benefits of development should reach every group of people."
http://www.colombopage.com/archive_20A/Jan10_1578597924CH.php
------
China claims its Muslim 'concentration camps' in Xinjiang contribute greatly to the international counter-terrorism efforts
9 January 2020
China has praised its Muslim re-education camps in Xinjiang, where more than one million Uighurs and other ethnic minorities are said to have been detained.
The facilities, referred to as 'concentration camps' by human rights activists, have made significant contribution to the international counter-terrorism efforts by eliminating extreme thoughts, according to the country's Foreign Minister.
They have safeguarded Xinjiang residents' lives and protected the public's right to religion, said the top official, adding countries opposing Beijing's campaign are those that disrespect Islamic civilisation.
UN experts and activists say at least one million ethnic Uighurs and other Muslims have been held in the detention centres in Xinjiang.
Uighur activists say that they have documented nearly 500 camps and prisons run by the country to hold members of the ethnic group, alleging that the number of detainees could greatly exceed the commonly cited figure.
Former detainees claim they were subject to a series of cruel treatment inside the controversial facilities, including gang rape and medical experiments.
They also claim to have been forced to eat pork, speak Mandarin and express their loyalty to the Communist Party and President Xi.
After initially denying the existence of re-education camps, Beijing acknowledged it had opened 'vocational education centres' in Xinjiang aimed at preventing extremism by teaching Mandarin and job skills.
The latest remarks defending the establishments came from Wang Yi, who is also the Chinese State Councillor.
He was meeting the press with Egypt's Foreign Minister Sameh Shoukry during a visit to Cairo yesterday, reported Xinhua News Agency.
Mr Wang said that the state-led 'training system' rescued those who had been eroded by extreme thoughts and eradicated terrorism from its source.
He described the campaign as being a 'completely legal' and 'widely recognised' preventative method to curb terrorism.
Mr Wang stressed that Xinjiang, an autonomous province, had been ravaged by 'thousands of terrorist attacks' as well as extreme thoughts in the years before, causing 'thousands of innocent residents to be killed'.
He indicated that the programme had run for around three years, during which time no terrorist attacks happened in the region.
All 'trainees' have graduated from the centres, found jobs through the help of the government and are now living a peaceful life, according to Mr Wang.
He brushed off criticism against his government's clampdown on religious freedom, alleging that China is providing better facilities to believers than many Muslim countries.
Mr Wang claimed that the number of mosques in Xinjiang had reached 24,000, or one for every 530 Muslim residents.
He concluded his speech by blasting 'Western forces' which have condemned Beijing's policy in Xinjiang. He said the opposing countries happened to be the ones that 'respect Islamic civilisation the least, constantly start war in the Middle East and cause casualties among Muslim populations'.
'The aim of their attack on China is to cause chaos in Xinjiang and restrain the overall development of China,' Mr Wang said.
Beijing said last month that it would continue 'training' residents in the province.
The statement, made by the governor of Xinjiang, came after explosive government document leaks had detailed surveillance and control of the region's Uighur population.
In November, the New York Times obtained 403 documents on Beijing's crackdown on mostly Muslim ethnic minorities in the region, including unpublished speeches by Chinese President Xi Jinping who urged officials to show 'absolutely no mercy' against extremists.
Rights groups and foreign media have reported that official documents and satellite images show the facilities are equipped and run like prisons.
https://www.dailymail.co.uk/news/article-7869157/China-claims-Muslim-concentration-camps-contributed-greatly-counter-terrorism-cause.html
------
Indonesia: Islamic school's herbal medicine project helps environment
The Annuqayah Islamic boarding school in Madura has been involved in various environmental protection projects. The school has now initiated a program to develop herbal medicine through local methods.
https://www.dw.com/en/indonesia-islamic-schools-herbal-medicine-project-helps-environment/av-51942895
------
Demak regent restricts visits during sunset to respect Islamic prayer
Thu, January 9, 2020
Demak regent H.M. Natsir started the new year by issuing a letter prohibiting social visits during maghrib (sunset prayer) and isya (evening prayer) in the Central Javan regency.
Signed on Jan. 2, the letter was sent to the local offices of the Indonesian Military, the National Police, mass organizations, religious figures, civil servants and state-owned enterprise employees around the regency.
The letter said it was a follow-up to a previous one that had called on residents to turn off their televisions during maghrib (sunset prayer) so that they could focus on their prayers. The latest letter added that visits, weddings, funerals and other activities were now prohibited during the hours.
The changes were met with resistance from other institutions. Demak Legislative Council Deputy Speaker Nur Wahid said that the prohibition would hinder silaturahmi (social bonds) in the community.
"Speaking from a religious perspective, such action is not good because Islam tells people to maintain as many silaturahmi as possible," he said as quoted by kompas.com.
Nur said the regional administration should instead create more programs to interact with the public if they wanted to increase people's awareness of their programs.
"It would be better if the administration provided more facilities for religious studies instead of pressuring the public with such a policy," Nur said. (dpk)
https://www.thejakartapost.com/news/2020/01/09/demak-regent-restricts-visits-during-sunset-to-respect-islamic-prayer.html
------
Indonesia asks Japan to invest in islands near waters disputed with China
Jan 10, 2020
JAKARTA: Indonesia's President Joko Widodo on Friday asked Japan to step up investment in fisheries and energy in some of its South China Sea islands following a stand-off with China in waters that China claims in the area.
Widodo made the request for Japan to consider economic opportunities in the Natuna islands during a visit to Jakarta by Japanese foreign minister Toshimitsu Motegi, the President's office said in a statement.
"I want to invite Japan to invest in Natuna," he told Motegi, adding that Japan was one of Indonesia's major economic partners.
Widodo visited Natuna on Wednesday to assert Indonesia's sovereignty over the cluster of islands and the waters around them, after reports Chinese coastguard and fishing vessels had entered Indonesia's exclusive economic zone several times since last month.
China has not claimed the Natuna islands themselves but says it has nearby fishing rights within a self-proclaimed Nine-Dash Line - a line on Chinese maps that it says shows its territory and waters.
The line loops far south from China and includes most of the South China Sea, but it is a claim that is not recognised internationally. Vietnam, the Philippines, Brunei, Malaysia and Taiwan have rival claims in the South China Sea.
Indonesian foreign minister Retno Marsudi told reporters Widodo had asked Japan to invest in fisheries, energy and tourism in Natuna.
"We also agreed to strengthen coastguard coordination," he said.
Indonesia had stepped up air and sea patrols in the area and summoned China's ambassador over the appearance of the ships. An Indonesian military spokesman said the vessels left the area after Widodo's trip.
China says it is in contact with Indonesia through diplomatic channels to resolve differences and uphold stability in the region.
Motegi, speaking through a translator after a meeting with Marsudi, did not refer to China but said Japan was wary about the situation in the South China.
"We shared a serious concern regarding efforts to change with force the status quo unilaterally and we confirmed continuing close collaboration," he said.
Japan last year gave Indonesia 100 billion rupiah ($7.26 million) to build a fish market in Natuna, which will be named Tsukiji after the famous Tokyo market, media reported.
Construction of the market in Natuna, and markets on other Indonesian islands, will begin this year, Motegi said.
https://timesofindia.indiatimes.com/world/rest-of-world/indonesia-asks-japan-to-invest-in-islands-near-waters-disputed-with-china/articleshow/73184727.cms
------
India
Kerala: Muslim organizations divided over Suleimani's killing
Jan 10, 2020
KOZHIKODE: Muslim community in Kerala is divided over the killing of Quassim Suleimani, the commander of Iran's Quds Force who was murdered by the US forces in Iraq last Friday.
While majority of the Salafis hailed killing of Suleimani, others believes that the murder is an attempt by the US to foment trouble in the Middle East.
In an article published in 'Vichinthanam', Kerala Nadvathul Mujahideen (KNM) state secretary A I Abdul Majeed Swalahi said the murder is a huge blow to Iran's attempt to export Shia agenda in other countries.
"Suleimani is Iran's general but his activities are mainly in other countries," Swalahi told TOI.
The article says Suleimani is the one who exported Iran-sponsored terrorism to Syria, Lebanon, Iraq and Yemen. He was killed while trying to implement the dream project of Iran in Iraq, said Swalahi in the article.
Suleimani was heading the Shia project in the Arab-Islamic world by interfering into internal conflicts of the Arab world. Swalahi accused Suleimani of helping Shia militant groups and exploiting every opportunity for 'Shiaization.'
"Suleimani's death will be a blow to the Hezbollah in Lebanon, Houthis in Yemen and al-Ikhwan al-Muslimin (Muslim Brotherhood) in Egypt. Iran has been pumping millions of dollars to pursue the Shia interests in Iraq, Lebanon and Yemen and there was dissent in the country against these attempts," he said.
"Suleimani's hands are stained with the blood of infants in Yemen and Syria; he is not to be hailed as a hero," Swalahi said, adding that with his death Iran's attempts to interfere in the political affairs of other countries to implement the Shia agenda will be temporarily halted.
P Koya, national executive member of Popular Front of India (PFI), said that the Salafis have taken a stand against Suleimani because of their influence of Saudi Arabia. "Suleimani was a brave fighter. Saudi Arabia and Iran may have their own national interests, but that cannot be a reason for demonizing the general," he said.
Jama'at-e-Islami thinks that it would be improper to brand Suleimani a terrorist. "He is the general of the army of a country. If he is a terrorist, then the generals of the armies of every country that wages war should be treated so," said Sheikh Muhammad Karakkunnu, secretary of Jama'at-e-Islami.
"It is baseless to say that Suleimani had some truck with Muslim Brotherhood, which is basically a Sunni organization," he said.
"The allies of the US, including Israel, have distanced themselves from the attack on Suleimani. They are persuading America to withdraw from a showdown in view of the deteriorating economic situation in the world," he added.
https://timesofindia.indiatimes.com/city/kochi/muslim-organizations-divided-over-suleimanis-killing/articleshow/73179240.cms
------
No need for CAA, NPR, NRIC, say over 100 ex-bureaucrats in open letter
Jan 10, 2020
Dear Fellow Citizens of India,
Over the past few weeks, many of you have been understandably agitated over the enactment of the Citizenship Amendment Act, 2019 ("CAA"). Your fears have been compounded by the contradictory and confusing statements made by spokespersons of the Government of India on the implementation of the National Register of Indian Citizens ("NRIC"), Though that government now seeks to delink the National Population Register ("NPR") from the NRIC, we, the Constitutional Conduct Group, comprising former civil servants from the All-India and Central Services committed to the Constitution of India, consider it our duty to inform you that the three issues are linked, acquaint you with the facts regarding the NPR, NRIC and the CAA and emphasise why these measures need to be resolutely opposed. For easy comprehension, we are listing the issues pointwise:
There is no need for the NPR and NRIC
Both the NPR and NRIC exercises flow out of the amendments in 2003 to the Citizenship Act, 1955 ("1955 Act") and the Citizenship (Registration of Citizens and Issue of National Identity Cards) Rules, 2003 ("2003 Rules") framed by the then NDA government in 2003. The NPR has nothing to do with the Census of India, which is conducted every ten years and is next due in 2021. While the Census collects information about all residents of India without listing their names, the NPR is a list of names of all those who have lived in India for over six months, regardless of their nationality. A Population Register will contain the list of persons usually residing within a specified local area (village/town/ward/demarcated area).
The NRIC will effectively be a subset of the Population Registers for the entire country. The 2003 Rules provide for verification of the details in the Population Register by the Local Registrar (normally a taluka or town functionary) who will separate out cases of doubtful citizenship and conduct further enquiries. After carrying out enquiries in respect of residents whose citizenship status is suspect, the Local Registrar will prepare a draft Local Register of Indian Citizens, which would exclude those not able to establish, through documentary proof, their claim to be citizens of India.
It is at this stage that the experience of the citizens of Assam can cause apprehensions in the minds of those who are required to establish their citizenship, whether or not they profess any religion. The NPR 2020, unlike the NPR 2010, asks not only for the names of the parents of the resident, but also seeks to also record their dates and places of birth. A person who is not able to furnish these details for his/her parents or, for that matter, for himself/herself, could well be classified a "doubtful citizen".
The 2003 amendments to the 1955 Act (vide Sections 3 (b), 3 (c) and 14A) and the consequent introduction of the 2003 Rules seem to indicate an undue obsession about illegal migrants, without any factual basis. We fail to understand the need for a nationwide identification of "illegal migrants", which is what the NRIC in effect amounts to, when census statistics over the past seven decades do not show any major demographic shifts, except in certain pockets in some areas of North-Eastern and Eastern India adjoining our neighbouring countries.
We are apprehensive that the vast powers to include or exclude a person from the Local Register of Indian Citizens that is going to be vested in the bureaucracy at a fairly junior level has the scope to be employed in an arbitrary and discriminatory manner, subject to local pressures and to meet specific political objectives, not to mention the unbridled scope for large-scale corruption. Added to this is the provision for objections to the draft Local Register from any person. The Assam NRC exercise has thrown up the dangers of such a large-scale exercise: lakhs of citizens have been made to spend their life's savings running from pillar to post to establish their citizenship credentials. Worrying reports are already coming in of people in different parts of India rushing in panic to obtain the necessary birth documents. The problem is magnified in a country where the maintenance of birth records is poor, coupled with highly inefficient birth registration systems. Errors of inclusion and exclusion have been a feature of all large-scale surveys in India, the Below Poverty Line survey and the Socio-Economic Caste Census being prime examples. The recently completed NRC exercise in Assam has been equally error-ridden and has led to major discontent. Indeed the State Government itself, with the BJP in power, has rejected its own NRC data, an extremely ludicrous scenario.
The provisions of the CAA, coupled with rather aggressive statements over the past few years from the highest levels of this government, rightly cause deep unease in India's Muslim community, which has already faced discrimination and attacks on issues ranging from allegations of love jihad to cattle smuggling and beef consumption. That the Muslim community has had to face the brunt of police action in recent days only in those states where the local police is controlled by the party in power at the centre only adds credence to the widespread feeling that the NPR-NRIC exercise could be used for selective targeting of specific communities and individuals.
Added to the inconvenience that the NPR would put the common person through is the unnecessary expenditure on the NPR exercise, when data which is now to be gathered is already available through the Aadhaar system: these include name, address, date of birth, father/husband's name and gender. Most Indian citizens are already covered by Aadhaar. The purpose of gathering a lot of the additional data (over and above the Aadhaar details) is unclear and will only give rise to the reasonable apprehension that the bona fide citizen could be enmeshed in an interminable, costly bureaucratic exercise if his/her citizenship status comes under doubt.
Our group of former civil servants, with many years of service in the public sphere, is firmly of the view that both the NPR and the NRIC are unnecessary and wasteful exercises, which will cause hardship to the public at large and will also entail public expenditure that is better spent on schemes benefiting the poor and disadvantaged sections of society. They also constitute an invasion of the citizens' right to privacy, since a lot of information, including Aadhaar, mobile numbers and voter IDs will be listed in a document, with scope for misuse.
Why authorise widespread setting up of Foreigners' Tribunals and detention camps?:
The Foreigners (Tribunals) Amendment Order, 2019 (issued on 30 May 2019) has unnecessarily stoked fears that Foreigners' Tribunals can now be set up on the orders of any District Magistrate in India and is the precursor to a widespread exercise to identify "illegal migrants". While the central government may contend that there is no such intention, it was surely impolitic, given the prevailing atmosphere in Assam and elsewhere, to issue such blanket orders delegating powers for constituting Foreigners' Tribunals. The experience with Foreigners' Tribunals in Assam has been, to put it bluntly, traumatic for those at the receiving end. After running the gamut of gathering documents and answering objections to their citizenship claims, "doubtful citizens" have also had to contend with these Tribunals, the composition and functioning of which were highly discretionary and arbitrary. Consequently, a number of citizens lost their lives in the quest for affirming citizenship or have had to suffer the indignity of incarceration in detention camps.
There have also been media reports, not denied by the Government of India, that orders for setting up detention camps have been given to all state governments. We are frankly bemused by the Prime Minister's recent statement that no such camps are in existence, when reports have documented the construction of such camps in states as far apart as Goalpara in Assam and Nelamangala in Karnataka and the intention to construct a detention centre in Navi Mumbai in Maharashtra. The Government of India has not come out with any statistics to show that the "illegal migrants" problem in India is so severe that it requires the large-scale construction of detention camps all over the country.
The constitutional and moral untenability of the CAA:
We have our grave reservations about the constitutional validity of the CAA provisions, which we also consider to be morally indefensible. We would like to emphasise that a statute that consciously excludes the Muslim religion from its purview is bound to give rise to apprehensions in what is a very large segment of India's population. A formulation that focused on those suffering persecution (religious, political, social) in any country in the world would not only have calmed local apprehensions but would also have been appreciated by the international community. In its current formulation, the CAA does not even mention the word "persecuted", probably because using this word in the context of Afghanistan and Bangladesh would have marred India's relations with these countries. Given that the Government of India has powers to grant citizenship after a migrant has completed eleven years in India, it would be instructive to know whether the Government of India has cleared all pending cases of "illegal migrants" till end-2008. Since the discretion to grant citizenship and to exempt individuals/groups from the purview of the Passport Act, 1920 and the Foreigners Act, 1946 lies entirely with the Government of India, this discretion could have been exercised on a case by case basis by the Government of India without any need to go through the exercise of the CAA and mentioning specific communities from specific countries.
What has given rise to grave apprehensions about the intentions of the Government of India has been the rash of statements by Ministers of the Government of India in recent times, linking the NRIC and the CAA. The Prime Minister's statement at a public meeting in Delhi on 22 December that the CAA and the NRIC are not linked contradicts the averments of his Home Minister on repeated occasions in various fora. In such a welter of conflicting and confusing utterances, it is hardly surprising that the ordinary citizen is left bewildered and is overcome by unknown fears, more so when government has not entered into any dialogue on this issue. At a time when the economic situation in the country warrants the closest attention of the government, India can ill afford a situation where the citizenry and the government enter into confrontation on the roads. Nor is it desirable to have a situation where the majority of State Governments are not inclined to implement the NPR/NRIC, leading to an impasse in centre-state relations, so crucial in a federal set up like India. Above all, we see a situation developing where India is in danger of losing international goodwill and alienating its immediate neighbours, with adverse consequences for the security set-up in the sub-continent. India also stands to lose its position as a moral beacon guiding many other countries on the path to liberal democracy.
We, therefore, urge our fellow citizens to insist, as we do, that the Government of India pay heed to the voice of the citizens of India and take the following steps at the earliest:
Repeal Sections 14A and 18 (2) (ia) of the Citizenship Act, 1955, pertaining to the issue of national identity cards and its procedures and the Citizenship (Registration of Citizens and Issue of National Identity Cards) Rules, 2003 in its entirety.
Withdraw the Foreigners (Tribunals) Amendment Order, 2019 and withdraw all instructions for construction of detention camps.
Repeal the Citizenship Amendment Act, 2019.
SATYAMEVA JAYATE
CONSTITUTIONAL CONDUCT GROUP
(106 signatories, as below)
1. Anita Agnihotri, IAS, (Retd.) Former Secretary, Department of Social Justice Empowerment, GoI
2. Salahuddin Ahmad, IAS (Retd.), Former Chief Secretary, Govt. of Rajasthan
3. V.S. Ailawadi, IAS (Retd.), Former Vice Chairman, Delhi Development Authority
4. S.P. Ambrose, IAS (Retd.), Former Additional Secretary, Ministry of Shipping & Transport, GoI
5. Anand Arni, R&AW (Retd.), Former Special Secretary, Cabinet Secretariat, GoI
6. Mohinderpal Aulakh, IPS (Retd.), Former Director General of Police (Jails), Govt. of Punjab
7. N. Bala Baskar, IAS (Retd.), Former Principal Adviser (Finance), Ministry of External Affairs, GoI
8. Vappala Balachandran, IPS (Retd.), Former Special Secretary, Cabinet Secretariat, GoI
9. Gopalan Balagopal, IAS (Retd.), Former Special Secretary, Govt. of West Bengal
10. Chandrashekhar Balakrishnan, IAS (Retd.), Former Secretary, Coal, GoI
11. Sharad Behar, IAS (Retd.), Former Chief Secretary, Govt. of Madhya Pradesh
12. Madhu Bhaduri, IFS (Retd.), Former Ambassador to Portugal
13. Meeran C Borwankar, IPS (Retd.), Former DGP, Bureau of Police Research and Development, GoI
14. Ravi Budhiraja, IAS (Retd.), Former Chairman, Jawaharlal Nehru Port Trust, GoI
15. Sundar Burra, IAS (Retd.), Former Secretary, Govt. of Maharashtra
16. R. Chandramohan, IAS (Retd.), Former Principal Secretary, Transport and Urban Development, Govt. of NCT of Delhi
17. K.M. Chandrasekhar, IAS (Retd.), Former Cabinet Secretary, GoI
18. Rachel Chatterjee, IAS (Retd.), Former Special Chief Secretary, Agriculture, Govt. of Andhra Pradesh
19. Kalyani Chaudhuri, IAS (Retd.), Former Additional Chief Secretary, Govt. of West Bengal
20. Anna Dani, IAS (Retd.), Former Additional Chief Secretary, Govt. of Maharashtra
21. Surjit K. Das, IAS (Retd.), Former Chief Secretary, Govt. of Uttarakhand
22. Vibha Puri Das, IAS (Retd.), Former Secretary, Ministry of Tribal Affairs, GoI
23. P.R. Dasgupta, IAS (Retd.), Former Chairman, Food Corporation of India, GoI
24. Nareshwar Dayal, IFS (Retd.), Former Secretary, Ministry of External Affairs and former High Commissioner to the United Kingdom
25. Pradeep K. Deb, IAS (Retd.), Former Secretary, Deptt. Of Sports, GoI
26. Nitin Desai, IES (Retd.), Former Secretary and Chief Economic Adviser, Ministry of Finance, GoI
27. Keshav Desiraju, IAS (Retd.), Former Health Secretary, GoI
28. M.G. Devasahayam, IAS (Retd.), Former Secretary, Govt. of Haryana
29. Sushil Dubey, IFS (Retd.), Former Ambassador to Sweden
30. K.P. Fabian, IFS (Retd.), Former Ambassador to Italy
31. Prabhu Ghate, IAS (Retd.), Former Addl. Director General, Department of Tourism, GoI
32. Arif Ghauri, IRS (Retd.), Former Governance Adviser, DFID, Govt. of the United Kingdom (on deputation)
33. Gourisankar Ghosh, IAS (Retd.), Former Mission Director, National Drinking Water Mission, GoI
34. S.K. Guha, IAS (Retd.), Former Joint Secretary, Department of Women & Child Development, GoI
35. Meena Gupta, IAS (Retd.), Former Secretary, Ministry of Environment & Forests, GoI
36. Ravi Vira Gupta, IAS (Retd.), Former Deputy Governor, Reserve Bank of India
37. Wajahat Habibullah, IAS (Retd.), Former Secretary, GoI and Chief Information Commissioner
38. Deepa Hari, IRS (Resigned)
39. Sajjad Hassan, IAS (Retd.), Former Commissioner (Planning), Govt. of Manipur
40. Siraj Hussain, IAS (Retd.), Former Secretary, Department of Agriculture, GoI
41. Kamal Jaswal, IAS (Retd.), Former Secretary, Department of Information Technology, GoI
42. Jagdish Joshi, IAS (Retd.), Former Additional Chief Secretary (Planning), Govt. of Maharashtra
43. Najeeb Jung, IAS (Retd.), Former Lieutenant Governor, Delhi
44. Rahul Khullar, IAS (Retd.), Former Chairman, Telecom Regulatory Authority of India
45. K. John Koshy, IAS (Retd.), Former State Chief Information Commissioner, West Bengal
46. Ajai Kumar, IFoS (Retd.), Former Director, Ministry of Agriculture, GoI
47. Arun Kumar, IAS (Retd.), Former Chairman, National Pharmaceutical Pricing Authority, GoI
48. Brijesh Kumar, IAS (Retd.), Former Secretary, Department of Information Technology, GoI
49. P.K. Lahiri, IAS (Retd.), Former Executive Director, Asian Development Bank
50. Subodh Lal, IPoS (Resigned), Former Deputy Director General, Ministry of Communications, GoI
51. S.K. Lambah, IFS (Retd.), Former Special Envoy of the Prime Minister of India
52. P.M.S. Malik, IFS (Retd.), Former Ambassador to Myanmar & Special Secretary, MEA, GoI
53. Harsh Mander , IAS (Retd.), Govt. of Madhya Pradesh
54. Lalit Mathur, IAS (Retd.), Former Director General, National Institute of Rural Development, GoI
55. Aditi Mehta, IAS (Retd.), Former Additional Chief Secretary, Govt. of Rajasthan
56. Shivshankar Menon, IFS (Retd.), Former Foreign Secretary and Former National Security Adviser
57. Sonalini Mirchandani, IFS (Resigned), GoI
58. Sunil Mitra, IAS (Retd.), Former Secretary, Ministry of Finance, GoI
59. Deb Mukharji, IFS (Retd.), Former High Commissioner to Bangladesh and former Ambassador to Nepal
60. Shiv Shankar Mukherjee, IFS (Retd.), Former High Commissioner to the United Kingdom
61. Pranab S. Mukhopadhyay, IAS (Retd.), Former Director, Institute of Port Management, GoI
62. Sobha Nambisan, IAS (Retd.), Former Principal Secretary (Planning), Govt. of Karnataka
63. P.G.J. Nampoothiri, IPS (Retd.), Former Director General of Police, Govt. of Gujarat
64. Surendra Nath, IAS (Retd.), Former Member, Finance Commission, Govt. of Madhya Pradesh
65. P.A. Nazareth, IFS (Retd.), GoI
66. Amitabha Pande, IAS (Retd.), Former Secretary, Inter-State Council, GoI
67. Alok Perti, IAS (Retd.), Former Secretary, Ministry of Coal, GoI
68. R.M. Premkumar, IAS (Retd.), Former Chief Secretary, Govt. of Maharashtra
69. T.R. Raghunandan, IAS (Retd.), Former Joint Secretary, Ministry of Panchayati Raj, GoI
70. N.K. Raghupathy, IAS (Retd.), Former Chairman, Staff Selection Commission, GoI
71. V.P. Raja, IAS (Retd.), Former Chairman, Maharashtra Electricity Regulatory Commission
72. C. Babu Rajeev, IAS (Retd.), Former Secretary, GoI
73. K. Sujatha Rao, IAS (Retd.), Former Health Secretary, GoI
74. M.Y. Rao, IAS (Retd.)
75. Satwant Reddy, IAS (Retd.), Former Secretary, Chemicals and Petrochemicals, GoI
76. Julio Ribeiro, IPS (Retd.), Former Adviser to Governor of Punjab & former Ambassador to Romania
77. Aruna Roy, IAS (Resigned)
78. Manabendra N. Roy, IAS (Retd.), Former Additional Chief Secretary, Govt. of West Bengal
79. Deepak Sanan, IAS (Retd.), Former Principal Adviser (AR) to Chief Minister, Govt. of Himachal Pradesh
80. G. Sankaran, IC&CES (Retd.), Former President, Customs, Excise and Gold (Control) Appellate Tribunal
81. Shyam Saran, IFS (Retd.), Former Foreign Secretary and Former Chairman, National Security Advisory Board
82. S. Satyabhama, IAS (Retd.), Former Chairperson, National Seeds Corporation, GoI
83. N.C. Saxena, IAS (Retd.), Former Secretary, Planning Commission, GoI
84. Ardhendu Sen, IAS (Retd.), Former Chief Secretary, Govt. of West Bengal
85. Abhijit Sengupta, IAS (Retd.), Former Secretary, Ministry of Culture, GoI
86. Aftab Seth, IFS (Retd.), Former Ambassador to Japan
87. Ashok Kumar Sharma, IFS (Retd.), Former Ambassador to Finland and Estonia
88. Navrekha Sharma, IFS (Retd.), Former Ambassador to Indonesia
89. Pravesh Sharma, IAS (Retd.), Former Additional Chief Secretary, Govt. of Madhya Pradesh
90. Raju Sharma, IAS (Retd.), Former Member, Board of Revenue, Govt. of Uttar Pradesh
91. Rashmi Shukla Sharma, IAS (Retd.), Former Additional Chief Secretary, Govt. of Madhya Pradesh
92. Har Mander Singh, IAS (Retd.), Former Director General, ESI Corporation, GoI
93. Padamvir Singh, IAS (Retd.), Former Director, LBSNAA, Mussoorie, GoI
94. Satyavir Singh, IRS (Retd.), Former Chief Commissioner of Income Tax, GoI
95. Sujatha Singh, IFS (Retd.), Former Foreign Secretary, GoI
96. Tirlochan Singh, IAS (Retd.), Former Secretary, National Commission for Minorities, GoI
97. Jawhar Sircar, IAS (Retd.), Former Secretary, Ministry of Culture, GoI, & former CEO, Prasar Bharati
98. Narendra Sisodia, IAS (Retd.), Former Secretary, Ministry of Finance, GoI
99. Manoj Srivastava, IAS (Retd.), Former Commissioner, Departmental Enquiries (Chief Secretary rank)
100. Sanjivi Sundar, IAS (Retd.), Former Secretary, Ministry of Surface Transport, GoI
101. Parveen Talha, IRS (Retd.), Former Member, Union Public Service Commission
102. Thanksy Thekkekera, IAS (Retd.), Former Additional Chief Secretary, Minorities Development, Govt. of Maharashtra
103. P.S.S. Thomas, IAS (Retd.), Former Secretary General, National Human Rights Commission
104. Geetha Thoopal, IRAS (Retd.), Former General Manager, Metro Railway, Kolkata
105. Hindal Tyabji, IAS (Retd.), Former Chief Secretary rank, Govt. of Jammu & Kashmir
106. Ramani Venkatesan, IAS (Retd.), Former Director General, YASHADA, Govt. of Maharashtra
http://www.milligazette.com/news/16853-no-need-for-caa-npr-nric-say-over-100-ex-bureaucrats-in-open-letter
------
Supreme Court's verdict on curbs imposed in J&K: Key points
Jan 10, 2020
NEW DELHI: Hearing a petition challenging the suspension of internet in Jammu and Kashmir following the abrogation of Article 370 on August 5 last year, the Supreme Court on Friday passed a series of orders directing the government to review its decisions. Here are the key points of the apex court's verdict —
The court said internet services are intrinsic to the right to free speech and cannot be suspended without providing reason and duration.
The government should review within seven days all orders directing suspension of internet services.
The Court also ordered the restoration of all government and local body websites where abuse of internet is minimal.
The apex court also ordered the J&K administration to restore internet services in all institutions providing essential services like hospitals, educational centres.
The SC said mere expression of dissent or disagreement against a government decision cannot be a reason for internet suspension.
Whenever the government decides to suspend the internet, it must give a detailed reason for the decision to allow aggrieved persons to challenge it in an appropriate court.
https://timesofindia.indiatimes.com/india/supreme-courts-verdict-on-curbs-imposed-in-jk-key-points/articleshow/73183602.cms
------
We're going through difficult times, says CJI Bobde on anti-CAA stir
TNN | Jan 10, 2020, 01.15 AM IST
We're going through difficult times, says CJI Bobde on anti-CAA stirWe're going through difficult times, says CJI Bobde on anti-CAA stir
NEW DELHI: The Supreme Court on Thursday said the country was going through a difficult period due to violent protests against the Citizenship (Amendment) Act and requested all concerned to desist from aggravating the situation.
When advocate Vineet Dhanda requested a bench of CJI SA Bobde and Justices BR Gavai and Surya Kant to list a PIL by Puneet K Dhanda seeking to declare CAA constitutional and make it mandatory for all states to implement it, the CJI said, "As it is, there is a lot of violence. You (Dhanda) may create more trouble (with your plea). We are going through a difficult period. These are difficult times. Suggest methods to create peace."
The CJI said, "Your petition is different. This is the first time we are hearing of a petition which tells the SC to declare a law constitutional." Ordinarily, the SC scrutinises the validity of a law and declares it either constitutional or unconstitutional.
However, the bench posted the petition for hearing on Friday though it has scheduled hearing on 60 other petitions challenging the validity of the Citizenship (Amendment) Act on January 22.
On December 18, the SC had entertained a large number of petitions seeking quashing of changes in the Citizenship Act designed to fast-track citizenship for Hindus, Christians, Sikhs, Buddhists, Parsis and Jains from Pakistan, Afghanistan and Bangladesh. The petitioners said the non-inclusion of Muslims in the CAA provisions rendered it anti-secular and also violated the right to equality. On December 16, the SC had refused to be "bullied" by activist lawyers into taking up petitions alleging police excesses against students at Jamia Millia Islamia and Aligarh Muslim University.
CJI SA Bobde-led bench had said, "We are not saying who is responsible, police or students. We are saying rioting must stop. We have enough experience as judges to know how rioting starts and what are protesters' rights. We cannot decide in this kind of atmosphere. All the rioting must stop. What is this vandalising of public property? We will take cognisance in a cool frame of mind. We are not going to be bullied like this to hear the matter. We want all violence to stop if you want the court to intervene." On December 17, the Supreme Court had asked the petitioners to take their grievances to the their respective high courts.
https://timesofindia.indiatimes.com/india/conviction-rate-in-ipc-crimes-at-50-for-1st-time-since-1988/articleshow/73180110.cms
------
T.N., Kerala hunt for suspected Islamic ultras
JANUARY 10, 2020
Duo killed an SSI in Kanniyakumari
Preliminary investigations into the gunning down of special sub-inspector of police Wilson, 57, at Padanthaalumoodu checkpost in Kanniyakumari district on Wednesday night, point to the involvement of suspected Islamic extremists.
With the help of CCTV images, the police identified the assailants as A. Abdul Shameem of Thiruvithaancode and M. Thoufique of Malik Dinar Nagar in Kottar, Kanniyakumari.
Police sources said Shameem was involved in the murder of Hindu Munnani activist Suresh Kumar in Chennai in June 2014.
He was arrested with some others but released on bail in December 2019. He went underground thereafter.
Tamil Nadu Director General of Police J.K. Tripathy and ADGP, Law and Order, K. Jayanth Murali, who arrived in Kerala on Thursday, had an hour-long meeting with Kerala police chief Loknath Behera and ADGP, Law and Order, Sheikh Darvesh Saheb.
The Kerala Police released the police photographs of the suspects and footage from the surveillance cameras. They also announced a reward for information leading to the capture of the two men.
Mr. Tripathy later visited the crime spot here in the afternoon. "Efforts are on to nab the assailants," he told journalists before leaving to pay his last respects to the slain police officer, whose body was buried with police honours around 3.30 p.m.
Police said the assailants were seen entering a mosque after the shooting and might have fled in a vehicle parked behind the mosque. A surveillance camera later picked them up at Parassala in Kerala.
Though it was initially stated that the police officer was shot dead by the occupants of a car when he checked the vehicle, CCTV footage collected from the spot showed that the assailants, who came to the Padanthaalumoodu check-post on foot, entered the check-post around 9.25 p.m. and opened fire at Wilson at point-blank range. The officer sustained bullet injuries in the head, chest and the leg and died on the spot.
"It categorically proves that the assailants had intentionally killed the police officer," an officer privy to the ongoing investigation said.
Meanwhile, the Karnataka police with the help of their Tamil Nadu counterparts, had nabbed a person from Ambasamudram and two others from Tenkasi in connection with a case registered in Bengaluru.
An officer said, "The killing of Wilson is an obvious attempt to send strong signals to the Tamil Nadu Police as few of their accomplices have been nabbed. A police team recently searched the houses of Shameem and Thoufique and grilled their family members to get more information about the duo. So it's an attempt to threaten the police force," the police officer suspected.
Meanwhile, a special team from Kanniyakumari district searched the house of S. Al Kabir, 28, at Vazhukkodai in Tirunelveli Town around 4 a.m. on Thursday and questioned his wife Nilofer for a while as Kabir, who is running a car seat stitching unit, was not at home. She told the police that Kabir, who left the home two days ago, had not returned.
"Since Kabir reportedly has links with the trio nabbed by the Karnataka police, we are looking for him," the police said.
SSI Wilson from Paruththivilai near Marthandam had returned to work only on New Year's day after a two month medical absence following an accident in October 2019. "Since he was due to retire from service in May, he was posted at the check-post," sources in the police said.
https://www.thehindu.com/news/national/tn-kerala-hunt-for-suspected-islamic-ultras/article30531069.ece
------
Pakistan
Pakistan asks UN to 'act decisively' to prevent a 'disastrous war' with India
January 10, 2020
Pakistan has asked the United Nations Security Council and UN Secretary General Antonio Guterres to "act decisively" to prevent a "disastrous war" between Pakistan and India.
In a video shared by APP on Friday, Pakistan's ambassador the UN while addressing the UNSC said: "Pakistan requests the Security Council and [...] the secretary general to act decisively to prevent a disastrous war between Pakistan and India, to call for an end to the grave human rights violations in occupied Jammu and Kashmir and to enable the Kashmiri people to exercise their right of self-determination."
As the UNSC held a debate on Thursday on upholding the UN Charter, Akram informed the security council of the situation in occupied Kashmir.
"It is now over 150 days that 8 million in the Kashmir Valley have been kept under a cruel curfew and a communications blackout by an Indian occupation force of 900,000 troops.
"All Kashmiri leaders remain in jails across India. Thousands of young boys have been abducted, arbitrarily detained, tortured and maimed.
"Women subjected to sexual harassment, humiliation and intimidation, and all protest violently suppressed," he said, adding that the Pakistani delegation had shared a dossier of reports by journalists and observers which "vividly illustrate the climate of fear and the reign of terror" imposed by India on Kashmiris.
The lockdown in the occupied region has crossed 150 days with the security and communication clampdown now in its fifth month.
With international pressure mounting to restore freedoms, Indian authorities claim they have 'eased' some restrictions, such as lifting roadblocks and restoring landlines and some mobile phone services. The scenario for 12.5 million Kashmiris, however, is far from normal.
Pakistan's representative to the UN said that signals from India of "aggressive intent" towards the country are also "unmistakable".
He cited examples of such instances, including the issuance of new political maps by India which lay claim to occupied Jammu and Kashmir as well as Azad Jammu and Kashmir (AJK) and Gilgit Baltistan.
Additionally, Akram said India's foreign minister had "boasted" that they would one day take physical control of the territory.
He noted India's ceasefire violations along the Line of Control as well as the new Indian army chief's claims regarding a right to a preemptive attack against Pakistan.
"Pakistan does not want war with India but as we demonstrated last February, if attacked Pakistan will respond resolutely and effectively," he said.
In reply, India's ambassador to the UN Syed Akbaruddin lashed out at Pakistan and criticised the UN body, NDTV reported.
"My simple response to Pakistan is even though it is late, neighbour, heal thyself of your malaise," he was quoted as saying.
"It is increasingly acknowledged that the Council faces crises of identity and legitimacy, as well as relevance and performance. The globalisation of terror networks, the weaponisation of new technologies, the inability to counter those resorting to subversive statecraft are showing up the shortcomings of the Council," Akbaruddin added.
https://www.dawn.com/news/1527484/pakistan-asks-un-to-act-decisively-to-prevent-a-disastrous-war-with-india
------
Sikh girl tells court she married Muslim man on her free will; does not want to go home
January 10, 2020
LAHORE: Jagjeet Kaur of Nankana Sahib told the Lahore High Court on Thursday that she married a Muslim guy, Muhammad Hassaan, of her free will after converting to Islam anddid not want to go back to her family.
She was earlier brought to the court from Darul Aman under strict security arrangements to attend hearing of a petition by her brother seeking determination of her age as the petitioner claimed that his sister was not major legally.
Justice Syed Mazahar Ali Akbar Naqvi also allowed petitioner Manmohan Singh to have a meeting with his sister in the court.
After the meeting, Kaur told the court that her brother tried to persuade her to go back home but she did not want to go with him. The girl, who was given Muslim name Ayesha, further said she married Hassaan of her free will and wanted to continue the marriage.
Singh claimed that her sister was under pressure and she needed to be given more time to make a final decision.
The investigating officer in case of abduction lodged against Kaur's husband also asked the judge to adjourn the hearing saying the law and order situation was getting tense in the area for many days.
The judge adjourned further hearing till January 23 and sent the girl back to Darul Aman. The petitioner through a counsel contended in the petition that his sister was below 16 years of age and was not major to get married. He said accused Hassaan kidnapped his sister with the intention of rape.
However, a report submitted on a previous hearing by medical superintendent of Mayo Hospital said the age of the girl was above 18 years. Local Sikh community had resorted to protests after Ms Kaur married Hassaan against the will of her family. A session court had sent her to Darul Aman while her husband faced the case of her alleged abduction lodged by the girl's family.
https://www.thenews.com.pk/print/596262-sikh-girl-tells-court-she-married-muslim-man-on-her-free-will-does-not-want-to-go-home
------
Pakistani President, PM, FM condoles with Iran over tragic plane crash
January 9, 2020
AhlulBayt News Agency (ABNA): The President and Prime Minister of Pakistan have extended condolences to the government of Islamic Republic of Iran over the loss of precious lives in tragic airplane crash in Tehran.
Foreign Ministry in a statement said that our thoughts and prayers are with the bereaved families and all those who have lost their loved ones.
"The President and Prime Minister of Pakistan have expressed their profound grief and sorrow over the loss of so many precious lives in the tragic crash of Ukrainian International Airlines passenger plane in Tehran," it said.
The statement said the leadership, government and people of Pakistan offer their sympathies and condolences to the governments and people of Ukraine, Iran, Canada, Sweden, Afghanistan, Germany and the UK, whose nationals were reportedly on board this flight.
A Boeing 737 passenger plane belonging to the Ukrainian airliner crashed near Imam Khomeini Airport early on Wednesday shortly after it took off. All 179 people on board the plane were killed.
https://en.abna24.com/news//pakistani-president-pm-fm-condoles-with-iran-over-tragic-plane-crash_1000921.html
------
Pakistan court concludes cross examination of prosecution witnesses against Hafiz Saeed, aides
Jan 9, 2020
LAHORE: Cross examination of prosecution witnesses in terror financing case against Mumbai terror attack mastermind Hafiz Saeed and his three close aides before an anti-terrorism court in Pakistan concluded on Thursday.
The anti-terrorism court-I indicted Saeed and his close aides - Hafiz Abdul Salam, Muhammad Ashraf and Zafar Iqbal - on terror financing charges on December 11.
"Lawyers of Saeed and his close aides completed the cross examination of the prosecution witnesses in the anti-terrorism court-I Lahore, on Thursday," a court official told PTI after the hearing which lasted for more than six hours.
He said that the prosecution had produced a good number of witnesses against Saeed and others.
ATC judge Arshad Hussain Bhutta directed the defence lawyers – Naseeruddin Nayyar and Muhammad Imran Fazal Gul – to present its witnesses from Friday, the official said.
The court adjourned the hearing till Friday.
Separately, the ATC-II held the hearing against Jamaat-ud-Dawah (JuD) spokesperson Yahya Mujahid and Hafiz Abdur Rehman Makki in the terror financing case against them and recorded the statements of the witnesses.
The ATC-II adjourned the hearing of this case till January 14.
On Wednesday, the revenue department officials were among witnesses who testified against Saeed and others.
The revenue officials had submitted the record of the JuD centres, seminaries and mosques in Lahore. The witnesses told the court about Saeed's collections of funds for terror financing.
Strict security measures were taken in and outside the court premises during the appearance of the JuD leaders. Journalists had not been allowed to enter the court premises to cover the court proceedings against Saeed and others since they were indicted on December 11.
The CTD had registered 23 FIRs against Saeed and his accomplices on the charges of terror financing in different cities of Punjab province and arrested him on July 17. He is held at the Kot Lakhpat jail in Lahore.
Saeed-led JuD is believed to be the front organisation for the LeT which is responsible for carrying out the 2008 Mumbai attack that killed 166 people, including six Americans.
The US department of the treasury has designated Saeed as a specially designated global terrorist, and the US, since 2012, has offered a $10 million reward for information that brings Saeed to justice.
The US has also welcomed Saeed's indictment, urging Islamabad to ensure a full prosecution and expeditious trial of the charges against him.
The indictment followed growing international pressure on Pakistan to stop terrorist groups from collecting funds in the country and to take immediate action against those still involved in terror activities.
https://timesofindia.indiatimes.com/world/pakistan/pakistan-court-concludes-cross-examination-of-prosecution-witnesses-against-hafiz-saeed-aides/articleshow/73178046.cms
------
NA approves Zainab Alert Bill two years after uproar over Kasur killings
Fahad Chaudhry
January 10, 2020
The National Assembly on Friday approved the Zainab Alert, Recovery and Response Bill, 2019, exactly two years after the body of nine-year-old Zainab Ansari, a rape-murder victim, was found in Kasur in 2018.
The bill was presented by Human Rights Minister Shireen Mazari in June last year.
Zainab's rape and murder in 2018 had sparked outrage and protests across the country after she was found dead in a trash heap in Kasur on January 9.
Her case was the twelfth such incident to occur within a 10 kilometre radius in the city over a 12-month period.
The heinous nature of the crime had seen immediate riots break out in Kasur — in which two people were killed — while #JusticeforZainab became a rallying cry for an end to violence against children.
In August 2019, a parliamentary committee deferred the passage of Zainab Alert Bill with directions to the government to rationalise the "extreme" punishment proposed for sexual assault against children.
All members of the committee, except a few, had opposed rigorous imprisonment until death for sexual assault of children. Others had said that rigorous imprisonment with a death sentence was a fitting punishment for individuals sexually assaulting minor children.
Under the bill passed on Friday, the maximum sentence handed down to perpetrators of child sexual abuse will be life imprisonment with a fine of Rs1 million while the minimum sentence will be 10 years.
Further, a helpline will also be established to report missing children while an agency, for issuing an alert for missing children, will also be set up.
The bill also proposes taking action against police officials who cause unnecessary delay in investigating such cases, adding that those who fail to respond to the alert within two hours may also face action.
However, according to the bill, the act only extends to Islamabad Capital Territory.
This is because the National Assembly's powers are limited as the the bill involves the Pakistan Penal Code and the Criminal Code of Procedures.
Therefore, the bill will have to be taken up in provincial assemblies in order to be passed at a provincial level.
Speaking during the session, Federal Planning, Development and Reforms Minister Asad Umar said that all cases involving the kidnapping, rape and murder of minor children will be required to complete investigations within three months.
Taking to Twitter, Umar expressed the hope that the bill is also passed in the Senate, adding that protecting the country's minor children should be the responsibility of the country's lawmakers as well of the state.
Once the bill is passed by the Senate, it will pave the way for setting up Zainab Alert Response and Recovery Agency where missing child cases will be reported and which will generate an automatic alert.
Kasur killings
In the last few years, Kasur has been rocked by multiple incidents of abuse, rape and killing of children.
In 2015, Kasur's Hussain Khanwala village had attracted worldwide attention when a child pornography ring was busted. Hundreds of video clips had emerged showing a gang forcing dozens of minor boys and girls to perform sexual acts and filming them. The gang had also used the videos to blackmail families of the children and extorted millions in cash and jewellery from them.
Last year, once again, the Punjab district came into the limelight after police in September found remains of three minor boys who they suspected were murdered being sexually assaulted.
At the time, Mazari had said it was "shocking to see continuing stories of child abuse victims surfacing in Kasur".
In a series of tweets, she had said the government's Zainab Alert Bill has been pending with the National Assembly Standing Committee on Human Rights chaired by PPP Chairperson Bilawal Bhutto-Zardari "for months now".
Mazari had said her ministry had written to the standing committee to forward the bill to NA but it had not been done so far, terming the situation "frustrating procedures of unnecessary delays in human rights non-political legislation".
https://www.dawn.com/news/1527486/na-approves-zainab-alert-bill-two-years-after-uproar-over-kasur-killings
------
No record of cabinet's approval over filing of treason case against Musharraf, LHC told
Rana Bilal
January 10, 2020
The Lahore High Court (LHC) on Friday posed questions regarding the legality of the treason case filed against former dictator Pervez Musharraf and the formation of the special court that conducted the trial and handed death sentence to the retired general after finding him guilty.
A three-member bench, comprising Justice Syed Mazahar Ali Akbar Naqvi, Justice Mohammad Ameer Bhatti and Justice Chaudhry Masood Jahangir, was hearing a set of petitions filed by Musharraf challenging multiple actions against him, including conviction in high treason, the establishment of the trial court and filing of the complaint by the government.
Barrister Ali Zafar, who has been appointed as the court's amicus curea in the case, said that the case against Musharraf seemed to have been filed on the behest of the then prime minister, Nawaz Sharif, as there is record of the matter being on the agenda of any of the cabinet meetings held at the time.
"A case under Article 6 cannot be filed without the cabinet's approval," Barrister Zafar insisted. The court asked if the matter was on the agenda of any cabinet meeting, to which Zafar responded in the negative.
"None of the cabinet meetings were held on the matter," Barrister Zafar said.
"This was history's most important matter; can the cabinet discuss it without it being an agenda item?" the bench asked.
Justice Bhatti pointed out that during a recent case pertaining to the extension and reappointment of the army chief, the strength of the cabinet was discussed.
"But in Pervez Musharraf's case, the cabinet's approval or its role cannot be seen," the judge said. Justice Bhatti was referring to a recent case pertaining to the tenure of the army chief heard by the Supreme Court, where the bench had inquired how many members of the federal cabinet had approved Prime Minister Imran Khan's decision to extend the tenure of Army Chief Gen Qamar Javed Bajwa.
"On June 21, 2013, the attorney general sent a summary to the prime minister that a case be prepared against Pervez Musharraf under Article 6," Barrister Zafar told the court. "The interior secretary was given the authority to file a complaint on December 29, 2013."
"The case that was prepared was not in accordance with the law, neither was the formation of the special court in accordance with the law," Zafar said and added: "The complaint against Pervez Musharraf was not filed by the lawful authority; the law was violated here as well. According to the law, the cabinet has to nominate the relevant authority which would file the complaint."
Justice Naqvi also inquired how the judges who heard the treason case were appointed.
"On what basis were the judges appointed to the special court?" he asked. "Was there a written communication regarding the appointment of judges to the special court or was everything [decided] over the telephone?"
"The Ministry of Law and Justice wrote a letter to the Supreme Court registrar [asking] for names of judges to form the special court [bench]," the counsel for the federal government told the court.
"When the formation of the court [that heard the case] is wrong and illegal then all its steps and decisions will be considered illegal," Zafar said.
The court also discussed the charges levelled against Musharraf and the manner in which the trial was conducted.
"The federal government constituted the special court but did not decide how the criminal proceedings will be held," Barrister Zafar said. "After the 18th Amendment [in] Article 6, it was imperative to amend the 1973 and 1976 laws pertaining to treason."
Zafar said that though a new offence was added in Article 6, its manner of punishment was not decided.
"The charge sheet which was filed does not mention Article 6 at all," Justice Naqvi noted.
"The special court indicted [Musharraf] on the first day the case was heard," Zafar told the court. "The Supreme Court did not define the relation [of the action] with Article 6 but termed it as an unconstitutional step."
The court asked the federal government to submit a summary of the formation of the special court and directed the state's lawyer to present arguments on Monday. The hearing was adjourned until Monday.
A special court of Islamabad had on December 17 handed down death penalty to Musharraf with a two to one majority after six years of hearing the treason case against him. The case was filed by the PML-N government in 2013.
Musharraf, in his petition, had asked the LHC to set aside the special court's verdict for being illegal, without jurisdiction, unconstitutional, in violation of Articles 10-A, 4, 5, 10 and 10-A of the Constitution. He sought suspension of the verdict till the decision of the petition.
https://www.dawn.com/news/1527488/no-record-of-cabinets-approval-over-filing-of-treason-case-against-musharraf-lhc-told
------
Pakistan, Russia agree to launch joint efforts to restore peace in region
January 10, 2020
Following the escalation in tensions between the United States and Iran, Pakistan and Russia have agreed to launch joint efforts to restore peace in the region, Radio Pakistan reported on Friday.
In a phone call between Foreign Minister Shah Mahmood Qureshi and Russian Foreign Minister Sergei Lavrov, the two leaders discussed issues relating to the escalation of tensions in the Middle East as well as the overall situation in the region, the report added.
As Qureshi and Lavrov agreed to make joint efforts for regional peace, Pakistan's foreign minister told his Russian counterpart that the increasing tensions could cause a "severe blow" to regional peace, adding that both sides have to show restraint in order to de-escalate the situation.
According to Radio Pakistan, Qureshi "made it clear that Pakistan will neither be a party to any new conflict in the region nor will its land be used against any regional or neighbouring country".
Meanwhile, Qureshi on Friday met with the newly appointed Iranian ambassador to Pakistan Syed Mohammad Ali Hosseini during which they discussed tensions between US and Iran as well as the situation of peace and stability in the region.
On Wednesday, United States and Iran came to the brink of war after Iran launched missile attacks on US-led forces in Iraq, in retaliation for the US drone strike on Iranian commander Qasem Soleimani whose killing has raised fears of a wider war in the Middle East.
The situation de-escalated after US President Donald Trump, while delivering a televised address on Wednesday, extended an olive branch to the "people and leaders" of Iran to work together for "shared priorities". In the same breathe, he announced more "punishing" economic sanctions against Tehran.
Following the escalating regional tensions, Prime Minister Imran Khan had instructed Qureshi to visit Iran, Saudi Arabia and the United States and meet with respective foreign ministers, and the US secretary of state.
Meanwhile, Chief of Army Staff Gen Qamar Javed Bajwa called upon all concerned parties in the dangerously escalating conflict between US and Iran to "avoid rhetoric in favour of diplomatic engagement".
Yesterday, reiterating his offer for mediation between US and Iran, Prime Minister Imran said that Pakistan would not become part of anyone else's war but would try to resolve differences between warring states.
https://www.dawn.com/news/1527491/pakistan-russia-agree-to-launch-joint-efforts-to-restore-peace-in-region
------
Pakistan moves US court to stop over $6bn fine in Reko Diq case
Anwar Iqbal
January 10, 2020
WASHINGTON: Pakistan has asked a US federal court to pause an Australian copper company's bid to enforce a $6 billion arbitral award while it looks to have the award nixed, reports Law360, a New York-based legal publication.
The company — Tethyan Copper Co. Pty Ltd — won the award last summer following a dispute over the rejected Reko Diq mining project in Balochistan.
Pakistan argued in a federal court in Washington that the enforcement could have "devastating consequences for its political and economic stability", said the author, Caroline Simson.
In a brief submitted in the court on Friday, Pakistan argued that Tethyan "shouldn't be allowed to proceed with the litigation while it looks to annul the award based on "numerous substantive and procedural errors".
Australian firm won the award last summer following dispute over the Balochistan mining project
The report noted that the award is the second largest ever to be issued by the International Centre for Settlement of Investment Disputes (ICSID) and equals 2 per cent of Pakistan's annual gross domestic product and 40 per cent of its total liquid foreign reserves.
ICSID is an international arbitration institution established in 1966 for legal dispute resolution and conciliation between international investors and is part of and funded by the World Bank Group, headquartered in Washington.
Pakistan said in the brief that its economy was already facing "significant challenges and weaknesses" and that enforcing the award would effectively negate a $6 billion loan it received from the International Monetary Fund last year to stabilise its government and economy.
Pakistan also pointed out that ICSID's secretary general provisionally stayed enforcement of the award after registering the annulment bid in November, adding that the benefits of pausing the litigation are "overwhelming".
"[A] stay not only avoids the possibility of conflicting results between this court's determination of enforcement and the ICSID's determination to annul the award [...] but it also eliminates the time and expense associated with an appeal and any subsequent litigation," Pakistan argued.
The brief claimed that the tribunal wrongly disregarded international law limiting the amount of damages available for lost profits and that it relied on a novel damages calculation method "without authorisation or explanation" that resulted in a number billions of dollars higher than a traditional model would, Law360 reported.
Pakistan argued that the "discounted cash flow approach", used for awarding Tethyan, failed to properly account for certain risks and uncertainties in the project.
Also, the calculated damages were based on a projected 56-year operating period for the mine even though no lease or permits for the project were ever issued by Pakistani authorities, the brief added.
Pakistan informed ICSID that the proposed project was based on agreements that were invalid under Pakistani law and, therefore, Tethyan Copper couldn't seek any damages.
Attorneys for the parties could not immediately be reached for comment on Monday.
The Chilean copper miner Antofagasta plc won the award last July in arbitration that arose out of Pakistan's 2011 denial of a mining lease for the Reko Diq project.
https://www.dawn.com/news/1527356/pakistan-moves-us-court-to-stop-over-6bn-fine-in-reko-diq-case
------
PM Imran launches country's 'largest' skills development programme for youth
January 09, 2020
Prime Minister Imran Khan on Thursday inaugurated Pakistan's largest skills development programme titled 'Hunarmand Jawan'.
Speaking at the ceremony, Prime Minister Imran said that this programme will put Pakistan on the road to success.
"I need you all to understand that there is no such thing as 'happily ever after', that only exists in fairy tales. In real life, there are ups and downs and smart people make sure that they use the time when they are in difficulty to propel themselves towards success later," the prime minister said, while explaining the basis on which the programme was created.
"I believe barkat has not come to this country because a small number of people kept becoming richer while everyone else suffered. This is not how enlightened societies work. In such societies equal opportunities are given to everyone. What is the American dream model? It ensures that anyone who works hard will be able to lift themselves up and create a better future for themselves."
Describing the Hunarmand Programme, the prime minister said that his government is actively working to revive dormant industries and to provide youth with modern skills.
"Under this programme, we initially aim to train 500,000 youth. One thing that I am very proud of is that the first 70 skill centres we create will be in madarssahs, so that the children who have always been neglected are able to acquire skills that will help them step up in the real world. I am proud of my government for being the first to work for these youth, no one has ever done that before.
"In the next phase, 300 smart training centres will be created, where our students will have access to international teachers so that our country can achieve global standards. Thirdly, all of these skill centres will have national accreditation, to ensure that there is healthy competition between them and they all strive to better themselves."
The prime minister also said that more money will be allocated for this programme in the future and it will be ensured that Pakistan's youth has the skills required to work hard and secure their better future. He also congratulated Federal Minister for Education and Professional Training Shafqat Mehmood on coming up with an extensive skills programme for the country.
Earlier, the prime minister explained how his government has been trying to eliminate poverty in the country and raise peoples' standard of living.
"We have decided to make sure that this country functions on principles that elevate the standard of living of our underprivileged population. We have started the Ehsas programme, under which we have allocated Rs7 billion for the Utility Store Network, to ensure that people are given quality rations in affordable prices.
We have also started to develop a network of langars (soup kitchens) to ensure that no one in this country goes hungry. The network is still being developed and more and more areas in the country will soon be covered.
"Other than that, we have the Panagah programme, under which we started forming shelters last year to ensure that people do not have to brave extreme weathers and live on the street. Today, in the kind of cold we are experiencing, police have been instructed to patrol the streets and bring homeless people to these shelters," said the PM.
"With the Sehat Insaf Card, families now have medical insurance. Earlier, if a single member of any family had to go through cancer, it caused financial instability for everyone in the family. The family had to sell everything to ensure that that one member could have treatment. It caused financial devastation. Lastly, under the Apna Ghar programme, we are providing the common man the opportunity to own a house. This has never been done in this country before. Only the rich could afford to do it before. There is a case pending in court regarding land leases and as soon as that case is resolved, we will start work on building houses on that land."
The Hunarmand programme
The Hunarmand programme is aimed at the economic emancipation of youth by providing them quality professional training.
According to Radio Pakistan, the four-year programme will cost approximately Rs30 billion and will provide easy loans, capacity building and internships for the youth.
Addressing a pre-launch meeting, Prime Minister Imran called the programme an asset for the nation.
"The programme will help the youth in securing better job opportunities and contribute towards national development," the report quoted him as saying.
In the first phase of the programme, 170,000 young Pakistanis will receive skills-based training; 50,000 of these individuals will receive training in advanced areas of technology, including artificial intelligence, robotics and cloud computing.
On the other hand, another 50,000 of the total will be trained by the Technical Education and Vocational Authority in areas such as plumbing and mechanics, while the remaining 20,000 will be given apprenticeships, the report maintained.
Additionally, 75 smart classrooms will be established to ensure easy access to education as well as providing training at 70 madrassahs. In addition, five "Centres of Excellence" will be set up in collaboration with friendly countries, the report added.
https://www.dawn.com/news/1527249/pm-imran-launches-countrys-largest-skills-development-programme-for-youth
------
Arab World
King Salman affirms Saudi Arabia's solidarity with Australia over bushfire crisis
January 10, 2020
RIYADH: King Salman called Australian Prime Minister Scott Morrison on Thursday to express his solidarity with the country during its bushfire crisis.
He confirmed the Kingdom's readiness to provide assistance so Australia could overcome the disaster.
The king also expressed his condolences to the prime minister and families of the deceased, wishing the injured a speedy recovery.
He said Saudi Arabia and its people shared the pain of Australians.
Morrison expressed his thanks and appreciation to King Salman and to the Saudi people for their empathy.
The catastrophic bushfires have killed at least 26 people and destroyed more than 2,000 homes.
https://www.arabnews.com/node/1610846/saudi-arabia
------
'The Perfect Candidate,' a Saudi movie to debut in German language
RAWAN RADWAN
January 10, 2020
JEDDAH: Following a series of successful releases by Saudi filmmakers over the past few years, Haifa Al-Mansour's latest film will be screened in Germany, dubbed into German — a first for any Saudi film.
Supported by the Saudi Film Council, "The Perfect Candidate" or "Die Perfekte Kandidatin" is the producer's latest comedic drama, made with German producers Gerhard Meixner and Roman Paul of Razor Film Produktion. The film will make its debut in Germany on March 12, 2020.
While most countries show foreign language films in their original version with added subtitles, Germany, as well as many European countries, has dominated the foreign movie scene by providing dubbed versions for their audience, an ideal method of conveying messages to bridge the gap between the "foreign" and "familiar."
"Thanks to Haifa Al-Mansour and other Saudi artists, together with the opening of the country, Saudi Arabia is a rising star in the German cultural scene," said Holger Ziegeler, German consul general in Jeddah, to Arab News.
"A few years ago, "Barakah Meets Barakah" (a film by Saudi filmmaker Mahmoud Sabbagh) from Jeddah made it into German cinemas with subtitles and it's the next step that a movie from Saudi Arabia will now be released in German cinemas in the German language. I congratulate the co-producers on this decision and, knowing the story of the movie, I am certain that it will have huge success in Germany," he said.
Dr. Mohamed Hegazy, a Cairo-born doctor who was raised in Jeddah, and is continuing his medical studies in Freiburg, Germany, agreed with the consul general, telling Arab News that the German people were keen to know and understand Saudi society more.
"Dubbed films grab people's attention more in Germany. The audience will get to see a different side of Saudi society, one that is not known to them and will fix previous misconceptions if they have any," he said.
Having lived in Freiburg for eight years now, he sees that there is much more acceptance of independent films, as they allow glimpses of different cultures through different lenses.
"I took a class on film 2014 in Berlin. There I learnt that German cinema really appreciates the human story above all else. They celebrate the very sentiments that make us human," Afnan Linjawi, a Saudi screenwriter and 2014 German Academic Exchange Service (DAAD) student told Arab News. "They are also very proud of their language and everything there is always translated into German.
"I think having Al-Mansour's movie screened in German is just a testimony of her success. She made a commercially viable film out of an underdog story of a Saudi woman, a topic that was often categorized as a 'humanitarian' or 'independent' genre."
Linjawi recommends international viewers watch films in their original language to be able to experience the authenticity behind the films, adding that the Saudi cultural bureau in Germany should host a special screening of the film in Arabic, subtitled in German.
"The Perfect Candidate" tells the story of Dr. Maryam, played by Mila Alzahrani, who is determined to advance her career but is prohibited from traveling abroad for a medical conference without her guardian's consent. The film addresses several issues, from female empowerment to breaking cultural norms in an ever-growing and changing society.
Al-Mansour portrayed the women in the film as leaders taking matters into their own hands, progressing toward development on both an economic and social scale.
"Through her journey, I wanted to show an optimistic view of the role women can play in Saudi society and the contributions they can make toward forging their own destinies," said Al-Mansour in her director's comment on the Venice Biennale website.
"The subtext of the film focuses on the need to celebrate and honor our strong cultural and artistic traditions, and to let them guide the efforts to develop and modernize the country," she continued.
The film initially screened at the Venice Film Festival on Aug. 28, 2019, and it also screened at several others including Toronto, Zurich, London and Busan in Korea.
It was selected for the Golden Lion Award at the 76th Venice International Film Festival as well as Saudi Arabia's entry for the Best International Feature Film in the 92nd Academy Awards.
https://www.arabnews.com/node/1610816/saudi-arabia
------
Custodian of the Two Holy Mosques congratulates Prime Minister of Kingdom of Spain on occasion of his swearing in as PM
2020/01/10
Riyadh, January 09, 2020, SPA --The Custodian of the Two Holy Mosques, King Salman bin Abdulaziz Al Saud, has sent a congratulatory cable to Pedro Sanchez, on the occasion of his swearing in as Prime Minister of the Kingdom of Spain.
In his own name and on behalf of the people and government of the Kingdom of Saudi Arabia, the king expressed best wishes for the prime minister and people of Spain.
https://www.spa.gov.sa/viewfullstory.php?lang=en&newsid=2021020
------
Qatar's Islamic financial services
January 10, 2020
Growth prospects of Qatar's Islamic financial services (IFS) sector are closely tied to the "continued expansion" of the country's economy, which is expected to "remain buoyant" as its natural gas exports persist, a new report has shown. The continued expansion of the GCC's Shariah-compliant assets is being driven by a number of ongoing regional developments, including the 2022 FIFA World Cup, which is hosted by Qatar, and the stabilisation of energy prices, Oxford Business Group (OBG) has said in a report. The Islamic finance industry has been an important component of the nation's financial system since the early 1980s, when the first shariah-compliant bank opened its doors for business, OBG said in its 2019 report. Islamic financial services have been growing at a "strong" pace over recent years, with shariah-compliant assets expanding at a compound annual growth rate (CAGR) of 11% between 2012 and 2017, outpacing their conventional counterparts. In early 2019, a total of four Islamic banks were licensed by the Qatar Central Bank (QCB), between them accounting for around 25% of Qatar's banking sector assets, according to the Ministry of Finance. They have driven the development of the IFS industry and hold the largest share of its assets, worth around QR348bn ($95.6bn) as of September 2018. Takaful (Islamic insurance) and non-bank financial institutions accounted for around 1.3% of total IFS assets in 2017. A total of five takaful and re-takaful companies are licensed by the QCB, and their activities have established the country as the second-largest Shariah-compliant insurance sector in the GCC. Sukuk (Islamic bonds) accounted for around 18% of total IFS assets in 2017, thanks in large part to the government's issuance of sovereign sukuk, which dominate the market with just over 71% of total issuances.—Gulf News
https://pakobserver.net/qatars-islamic-financial-services/?utm_source=rss&utm_medium=rss&utm_campaign=qatars-islamic-financial-services
------
Fears Dakar Rally could overshadow Hail racing event
MOHAMMED AL-KINANI
January 10, 2020
HAIL: As the dust settled after Dakar Rally competitors on Thursday roared into Hail, there were fears that the world-famous race could overshadow the Saudi city's own prestigious motoring event.
Hail, and its population of more than 1.2 million people, has played host to the Hail Nissan International Rally — the first of its kind to be staged in Saudi Arabia — since 2006.
The international event, run in the Kingdom's northern desert, was approved by the Paris-based International Automobile Federation (FIA) in 2008 and over the years has been a major tourism money-spinner for the Hail region.
But there were mixed feelings among motor racing fans in the city over the future of the event in Hail when up against the competition of the Dakar Rally.
Private sector worker, Mansour Al-Khateeb, told Arab News that the Dakar Rally would add value to Hail's international race.
"When the competitors come here and see the attractive landscape of the Nafud Desert, they won't hesitate to take part in the Hail rally in its future editions, especially if they know that it has become an international racing event."
Al-Khateeb added that Hail's 1,300-km rally had gained global popularity through the participation of a large number of local and international contestants.
"In addition to the FIA, the Hail rally organizers have also succeeded in getting unlimited support from various local authorities including the General Sports Authority (GSA) and the Saudi Commission for Tourism and National Heritage."
He pointed out that the Dakar Rally was an addition to the city and would serve as an important advertising campaign for Hail on different levels.
But Abdurrahman Al-Shammari, a retired Health Ministry employee, felt the Dakar event could represent a threat to the future of the Hail rally. "I fear Dakar occurring in Hail could negatively influence the popularity of the Hail rally on an international level." He suggested the Hail rally should be part of the Dakar in one of its stages — a race within a longer rally, especially with the two competitions taking place in the same period of the year.
"Top local drivers are taking part in the Dakar, and this can affect their participation in the Hail rally. Unless the officials of the Saudi Arabian Motor Federation (SAMF) discuss this idea or a similar one with the Dakar organizers, the Hail rally is feared to gradually lose its glow," Al-Shammari added.
https://www.arabnews.com/node/1610811/saudi-arabia
------
Europe
Kosovo Muslim faces terror charges over Soleimani posting
9 January 2020
PRISTINA, Kosovo (AP) - A Kosovo court on Thursday ordered an ethnic Albanian Muslim to be remanded in custody pending trial for allegedly inciting terrorism, over a social media posting on last week's U.S. killing of a top Iranian general.
The court in the capital, Pristina, accepted a prosecutor´s request to detain Ikballe Berisha Huduti for one month, ruling that she posed a flight risk.
Her lawyer refused to comment on the case.
If convicted, she could face a minimum one-year jail sentence or a fine.
Berisha Huduti was arrested Tuesday following a comment posted on her Facebook page a day after Iranian Gen. Qassem Soleimani was killed in Baghdad, The posting lamented his death, calling for "only a little patience for the oppressed Muslim people, wherever you are."
The Islamic Community of Kosovo, a mostly Muslim country, denounced the postings. The country's leadership had expressed immediate backing for the U.S. actions against Iran.
Kosovo is very supportive of Washington following the U.S-led NATO airstrikes in 1999 that ended a bloody Serb crackdown on Kosovo's ethnic Albanian separatists.
https://www.dailymail.co.uk/wires/ap/article-7869603/Kosovo-Muslim-faces-terror-charges-Soleimani-posting.html
------
Kosovo's former president, Grand Mufti among the world's 500 most influential Muslims
Gazeta Express
9 Janar 2020
Former president of Kosovo, Atifete Jahjaga and Grand Mufti Naim Ternava, are ranked among the world's 500 most influential Muslims by the Royal Islamic Strategic Studies Centre, from Jordan, Gazeta Express reports.
In the 2020 edition, Grand Mufti Ternava is ranked among the most influential leaders for his role in creation of the Inter-Religious Council Organization for Interfaith Relations, whereas Jahjaga has been ranked in this list for her political role.
"Jahjaga was Kosova's youngest and first woman president from 2011 until 2016. After earning a law degree from the University of Prishtina in 2000, she continued her studies in the UK and the USA. She then served in various governmental positions including the rank of Major General for the Kosovo Police," it is stated in the report.
Ternava is recognised in this list as the leading religious figure in Kosovo, which emerged after an ethno-religious war resulted in widespread loss of life and destruction. "Ternava is a key figure in the attempts of the country's Muslim population to overcome the horrors of war. He was instrumental in the creation of the Inter-Religious Council Organization for Interfaith Relations," the Royal Islamic Strategic Studies Centre said. /GazetaExpress/
https://www.gazetaexpress.com/kosovos-former-president-grand-mufti-among-the-worlds-500-most-influential-muslims/?__cf_chl_captcha_tk__=9564c5c84769f863464e3d761a864436a19338c4-1578638903-0-Af-HARzxiA4wU2fHsU0T-Rfmq9oh6cqB5crcWqdpqRu0dXCaSNUaErHk-ubtWdBCf5CplxgxzWy9SdljvGP0ZCQqUfnt3Daxf3JNimVXucgVSGsQY0CwMDmaJ0tHLuaZTtj79HbzxoX4qwaKyUW3kGLs5WSgvdv2AdVJwi2n4HGkhagIYEX_fWQQ7n0XUVZOnQB2EP-nZVpAT69Tx-1uahPmP5zsChg_gwqy_nGEeAc6xzhM17W1frXdR27QHI2FVnS-XygRUAqQFzvGl4cwmRNPjsR1Z30M2-G04LICny9KRTIXea5zuuAOHP9vbe15U45ThNYT2ftKZcNJreUtripE1kFwt2sdt87coVzbaT0zm0HBVu_Obwj8uwhqMvbuxnmyDEhZiCE28Ym-CjIqB3L2mDA7UxZ7R5s5NwvX6faWVpknbeIbWBJPguAPSFCn9TT6YjnmKHV60S6BpctHzFY
------
Pope calls for dialogue, restraint amid growing US-Iran tensions
January 9, 2020
AhlulBayt News Agency (ABNA): Pope Francis called on Sunday for dialogue and restraint two days after the martyrdom of a top Iranian military commander by the United States.
Speaking at the Sunday Angelus prayer at the Vatican, the pope did not mention by name but spoke of a terrible air of tension that could now be felt in many parts of the world.
"I call on all sides to keep the flame of dialogue and self-restraint alight and ward off the shadow of hostility," he said.
"War only brings death and destruction."
On Friday a U.S. drone strike on a convoy at Baghdad airport martyred Iranian military commander General Qassem Soleimani, drawing promises of harsh revenge by Tehran.
https://en.abna24.com/news//pope-calls-for-dialogue-restraint-amid-growing-us-iran-tensions_1000929.html
------
EU's official: No-deal is more harmful for Britain than EU
Jan 9, 2020
BRUSSELS: The European Union's chief Brexit negotiator said Thursday that if Britain wants as much access as possible to the bloc's market after it leaves, it won't have unfettered freedom to subsidize its industry.
Michel Barnier also insisted that the state aid rules in any future trade deal would be more stringent than with nations like Canada or Japan, simply because of the physical proximity of the departing EU nation.
"If the UK wants an open link with us for the products — zero tariffs, zero quotas — we need to be careful about zero dumping at the same time," Barnier told a conference in Stockholm.
"I hope that this point is, and will be correctly understood by everybody. We will ask necessarily certain conditions on state aid policy in the UK," Barnier said, adding that if that is not the case, access to the lucrative EU market will be negatively affected.
The EU has been stressing the need for a level playing field in the upcoming trade deal negotiations, meaning that access will be strictly linked to commitments to social welfare and environmental standards, among others. On Thursday, he stressed the need for state aid limits too.
As a member state, Britain was bound by strict state aid rules enforced by the powerful European Commission to make sure there would be no unfair competition among EU nations in its vast single market. Third countries aren't immediately bound by such strictures.
Britain has decided to leave the EU by Jan. 31, partly because it doesn't want to be tied down by EU rules, which it feels impedes its sovereignty. But negotiating a trade deal will still involve many compromises on rule setting.
Barnier also insisted that Britain's goal to have a full free trade deal by the end of the year was unrealistic.
"We cannot expect to agree on every aspect of this new partnership," Barnier said, adding "we are ready to do our best in the 11 months."
During a transition period ending Dec 31, a new relationship between the EU and the UK will be negotiated. Full trade covers everything from fisheries to the airline industry to medicines, but the EU insists to deal with all these issues in one year is a pipe dream.
British Prime Minister Boris Johnson has insisted he won't agree to any more delays — a vow that has set off alarm bells among businesses, which fear that means the country will face a "no-deal" Brexit at the start of 2021.
https://timesofindia.indiatimes.com/world/europe/eus-official-no-deal-is-more-harmful-for-britain-than-eu/articleshow/73172983.cms
------
Finally, British MPs prepare to seal Brexit deal
Jan 9, 2020
LONDON: After years of bitter arguments, British MPs will on Thursday finally approve the terms of Brexit, paving the way for the UK to leave the EU on January 31.
The House of Commons will complete its scrutiny of a bill ratifying Prime Minister Boris Johnson's European Union divorce deal, drawing a line under an extraordinary period of political chaos.
For much of the time since the 2016 Brexit referendum, MPs have been deadlocked over how, when and even if Britain should end almost half a century of European integration.
But Johnson's victory in last month's general election brought an abrupt end to the turmoil, giving his Conservatives a parliamentary majority with which to push Brexit through.
MPs gave their initial approval to the EU Withdrawal Agreement Bill before Christmas, and the government set aside three days this week for detailed scrutiny.
But few MPs even bothered to turn up on Tuesday and Wednesday, while the government easily saw off opposition attempts to amend the text.
In a striking contrast to much of last year, when every Brexit vote risked bringing down the previous government and eventually did, Commons approval on Thursday is now a done deal.
The Brexit bill must still be passed by the unelected House of Lords and the European Parliament, but this is expected before January 31.
All eyes are now on another major challenge: the negotiation of a new relationship between Britain and the EU, its largest trading partner.
The Brexit deal covers separation issues such as EU citizens' rights and Britain's financial settlement, and sets out an 11-month transition period in which to agree a wider partnership.
Brussels warns the current deadline of December 31 is extremely tight, and has given London the option to ask for more time.
But Johnson insists there will be no extension of the transition period, saying that Britain must be free of EU rules as soon as possible.
Ahead of talks with Johnson on Wednesday, European Commission President Ursula von der Leyen said it would be "basically impossible" to agree everything within London's timeframe.
"We will have to prioritise," she said in a speech to the London School of Economics university, warning of "tough talks ahead".
In response, Johnson's office indicated that it could accept a partial trade deal.
London did not want the EU's long-standing policy that "nothing is agreed until everything is agreed" - intended to stop one side cherry-picking bits of a deal they like -- to define the coming negotiations, a spokesman said.
"We are very clear we want to get on in terms of negotiating a deal," he said.
https://timesofindia.indiatimes.com/world/uk/finally-british-mps-prepare-to-seal-brexit-deal/articleshow/73168410.cms
------
North America
Advancing India-US ties crucial for America: Congressman Engel
Jan 10, 2020
WASHINGTON: Describing India-US relationship as one of the most important ties for America, a powerful Congressman said that strengthening and advancing this partnership is his country's top strategic goal.
Congressman Eliot Engel, chairman of the house foreign affairs committee, said this in his address at a Capitol Hill event on Thursday to bid farewell to outgoing Indian ambassador to the US Harsh Vardhan Shringla.
Engel said that Shringla, who now heads to New Delhi to take charge as the country's next foreign secretary later this month, would play an important part in helping America to achieve this goal.
Engel in an exception let house foreign affairs Committee room in Rayburn House building be the venue for the farewell for an outgoing foreign envoy at the US Capitol.
"I regard the relationship between the US and India as one of the most important relationships the US has. As chairman of the house foreign affairs committee, I will continue to do everything in my power to strengthen the relationship between India and the US," Engel said.
"We (India and the US) have so much in common," he said in his farewell remarks at the prestigious congressional room, which is the venue for all House hearings on foreign affairs issues. It was also the venue for the congressional hearing on Kashmir in October.
"The very strong Indian American diaspora we have here in the US helps not only enrich the US but helps bring our the two countries together," Engel said in his remarks. "We will keep working together to strengthen the bilateral ties between the two countries," he said.
The farewell reception was hosted by Ranju Batra, chair, Diwali Foundation US and Ravi Batra, chair, National Advisory Council South Asian Affairs.
New York-based attorney Ravi Batra thanked Engel for allowing this special reception for an outgoing ambassador inside the house foreign affairs committee, which he said is symbolic of the strength and the vitality of the bilateral relationship. The reception was addressed by other influential Congressmen, including Brad Sherman, Indian American Raja Krishnamoorthi, Pete King and Jim Vargas.
Noting that he arrived in this country exactly a year ago on January 9, Shringla said this has been an eventful and result-oriented year for India-US ties. "We had very significant engagement with Congress. We've been given every encouragement by our friend in Congress, particularly by Chairman Engel," he said.
"We have a debt of gratitude to you for being so understanding of some of the issues that are part of our relationship. I'm happy that because of your encouragement, we made a lot of progress in initiatives that are important to us. You'll also be happy to know that as we speak, ambassador Ken Juster, the US Ambassador to India is in Jammu and Kashmir visiting that part of our country," he said.
The foreign secretary-designate said that India will continue to be fully engaged with the US Congress because as a democracy, it understands what it means to be engaged with the elected representatives of the people in the US.
"And if you want to forge a close relationship with the US, we have to have a close relationship with Congress, we have to be able to be in touch to that, we can inform them of what is happening are, we can encourage them to take steps to bring our relationships closer and it's with their oversight that the relationships can thrive and prosper," Shringla said.
India's consul general in New York, Sandeep Chakravarthy was also present at the farewell reception, which was attended among others by eminent members of the Indian American community.
https://timesofindia.indiatimes.com/world/us/advancing-india-us-ties-crucial-for-america-congressman-engel/articleshow/73184261.cms
------
Trump turns to those he has scorned for help on Iran
Jan 10, 2020
WASHINGTON: As tensions fester with Iran, President Donald Trump finds himself turning to the very people and entities he's spent three years dismissing or alienating: NATO, Western allies and US intelligence agencies.
Trump, who once said that US spy agencies should "go back to school," is now highlighting the intelligence services' work that led to the fatal air strike against Iran's most powerful general. "There's some dripping irony, but nobody thinks all of a sudden he loves us," said Marc Polymeropoulos, a recently retired 26-year CIA veteran who held assignments in the Mideast, Europe and Eurasia.
Also, after three years of dismissive comments about NATO and other European allies, Trump says he wants them to help more in the Middle East. He even suggested a new possible name of "NATOME" to add emphasis on the Middle East.
Following his order to kill Iranian Gen. Qassim Soleimani, and the dangerous aftermath of Iran launching missiles at US military installations, Trump said he would like to see more NATO troops in the Middle East because the problems there are international in scope.
His latest entreaty is also the freshest test of whether he can bend other nations and international alliances to his will and convince them to join with him after years of letting many of those relationships wither.
"I think NATO should be expanded and we should include the Middle East, absolutely...Right now the burden is on us and that's not fair," Trump said Thursday.
Trump noted how the US had crushed Islamic State militants, eliminated their control of territory and killed IS leader Abu Bakr al-Baghdadi. "We did Europe a big favor," he said.
How receptive US allies in Europe will be to working with the Trump administration on Mideast issues, particularly Iran, remains unclear, especially given how nations like France were dedicated to the Iran nuclear agreement that Trump abandoned.
"Trump has nothing in the bank with the Europeans. There's no goodwill. There's no sense of trust _ no sense that they can rely on him," said Derek Chollet, senior adviser for security and defense policy at The German Marshall Fund of the United States. "They are not going to be looking to do Donald Trump a favor."
Chollet, who likened the US fatal strike on Soleimani to taking a "baseball bat to the hornet's nest," also said Trump has not been specific _ at least not publicly _ about what he wants Europe to do. Help him negotiate a new nuclear deal with Iran? Sanction or punish Iran? Provide troops in the Middle East so he can pull US forces out?
"There is no evidence that I'm aware of that European leaders are going to sign on to Trump's agenda," Chollet said. "If he pulls US forces out of the Middle East, the idea that the Europeans are going to fill the vacuum _ there's no evidence that will happen."
Since Soleimani was killed, secretary of state Mike Pompeo has engaged in a brisk round of telephone diplomacy. He's spoken to officials from China, Britain, Germany, France, Pakistan, Afghanistan, Russia, Saudi Arabia, Iraq, Turkey, Israel, India, Qatar, Belarus, Ukraine, Bahrain, the United Arab Emirates and the United Nations. All the calls were about Iraq and Iran, along with other issues.
In a call with NATO secretary general Jens Stoltenberg Thursday, Pompeo reiterated Trump's call for NATO to become more involved in the Middle East. The State Department said the two agreed NATO could contribute more to regional security and the fight against international terrorism.
Ted Galen Carpenter, a defense and foreign policy analyst at the CATO Institute, said Trump's call for greater NATO involvement is "not a terribly realistic expectation but it is consistent with Trump's ongoing demand for greater burden sharing by US allies."
"He seems to have forgotten the European anger over his decision to cancel the Iran nuclear agreement," Carpenter said.
European nations have worked to keep the Iran nuclear deal on life support after Trump pulled the US out of the agreement. Kenneth Pollack, a former CIA intelligence analyst and expert on Middle East politics and military affairs, said he thinks Iran will be careful about ramping up its nuclear program too much, but that the killing of Soleimani has likely changed Tehran's mindset.
"A very important element of why Iran signed the Iran deal in 2015 was because they concluded that the US was not going to attack them. Bush didn't. Obama didn't. They thought they didn't need a nuclear weapon to deter the US," said Pollack, who is now at the American Enterprise Institute.
"I think this has suddenly changed Tehran's calculus _ that Trump is so aggressive and unpredictable and ignorant _ that they will look at this and say `You know what? We need a nuclear weapon."
Trump, who says he is not interested in ousting the Iranian regime, reinstated economic sanctions on Iran after withdrawing from the deal. He said it gave Tehran too many economic benefits without doing enough to prevent Iran from eventually developing a nuclear weapon.
Britain, France, Germany, the European Union, China and Russia have remained in the 2015 pact, but Iran has abandoned its remaining commitments under the deal, although Iran President Hassan Rouhani said Thursday that Tehran would continue to cooperate with UN inspectors.
Vice President Mike Pence said Thursday that in coming days Trump will be asking the Europeans again to scrap the 2015 Iran nuclear pact. But even if Trump is successful in getting Iran to the negotiation table, nuclear talks take time, the presidential election is looming and Iranian military commanders are threatening further retaliatory strikes that would make talks unlikely.
Behnam Ben Taleblu, a senior analyst on Iranian security and political issues who speaks Farsi, said despite losing its charismatic and capable military general, Iran remains resolute. "That means Washington, more so than ever before, is going to need a regional approach to dealing with Iran," said Taleblu with the Foundation for Defense of Democracies in Washington.
Britain said in a statement Thursday that it stands by the nuclear deal and urged Iran to return to full compliance. German foreign minister Heiko Maas said Trump appears to be open to negotiations on Iran's ballistic missiles and the nuclear accord, but that "at the moment, everyone is accusing each other of not abiding by the obligations of the treaty."
https://timesofindia.indiatimes.com/world/us/trump-turns-to-those-he-has-scorned-for-help-on-iran/articleshow/73183253.cms
------
Trump: Killing Iran's Soleimani was delivering 'American justice'
Friday, 10 Jan 2020
The US President, Donald Trump once again praised the last Friday's drone strike by US forces on Baghdad's airport, killing a top Iranian military leader, Major-General Qassem Soleimani, the head of Iran's Quds forces.
At the campaign rally in Toledo, Ohio, Trump spent a lengthy part of his stump speech defending his order to kill Suleimani and rejecting criticism from Democrats who say he overstepped his authority with the US military's drone strike against the commander of Iran's military al-Quds force at Baghdad airport a week ago, Guardian reported.
He accused Suleimani of organizing violent protests by Iran-backed groups at the US embassy in Baghdad earlier this month. Trump, who frequently trumpets his support of the US military, said that if he had not sent US troops to protect the embassy, the demonstrators might have broken in and killed Americans or taken them hostage, a repeat of the 2011 storming of a US diplomatic facility in Benghazi, Libya, in which the US ambassador was killed.
"Last week the United States once again took the bold and decisive action to save American lives and deliver American justice," he said.
Trump's appearance at the arena in Toledo was his first campaign rally of the 2020 election year, a sign of how critical the state is to his winning a second four-year term in office next November. Trump won Ohio in 2016 by 8 percentage points, flipping a state that had gone for Democrat Barack Obama in 2008 and 2012.
Trump and his top advisers have said Suleimani was masterminding "imminent" attacks against American targets in the Middle East, but have drawn criticism for not providing more detail to back up the claim.
"Suleimani was actively planning new attacks and he was looking very seriously at our embassies, and not just the embassy in Baghdad, but we stopped him and we stopped him quickly and we stopped him cold," Trump said.
Qassim Soleimani was a mastermind of Iran's intelligence service who had established several Shiite militia groups and networks to fight for his country's interest outside Iran's border.
Following the death of Soleimani, Iran's leaders warned the United States for an act of revenge.
Iran launched dozens of ballistic missiles on two military bases in Iraq, housing US forces on Wednesday morning; Iran immediately claimed they have killed at least 80 Americans, which was later refused by the US president, Donald Trump.
https://www.khaama.com/trump-killing-irans-soleimani-was-delivering-of-american-justice-987897575/
------
Michigan imam eulogizes Soleimani for backing Syria against US, 'Zionists'
9 January 2020
An imam in Michigan eulogized Qassem Soleimani, praising him for propping up the Assad regime against what he called efforts by the United States and the "Zionists" to destabilize Syria.
Soleimani, who was killed in Baghdad on January 3 in an American airstrike, oversaw Iran's support for militias and terror groups in his capacity as head of the Islamic Revolutionary Guard Corps' Quds Force. He has been blamed by the US for the deaths of hundreds of American soldiers during the Iraq War.
In a sermon following Soleimani's death that same day, Sheikh Ibrahim Kazerooni of Dearborn, Michigan, recited a prayer of mourning for Soleimani and Abu Mahdi al-Muhandis, an Iraqi paramilitary commander who was also killed in the strike
"Who was this general? His presence brought hope to the marginalized and to those who were afraid, and it brought hatred and fear to the enemies of Islam – particularly the United States," Kazerooni said of Soleimani.
"He was instrumental in keeping the government in Syria intact against all attempts and the billions of dollars that were spent on arms and guidance that were given by the United States, Zionists, and everybody else [in order] to destabilize and turn Syria into a dysfunctional state," he added, according to a transcript of his remarks by the Middle East Media Research Institute.
Kazerooni also called the killing of Soleimani and Muhandis a "cowardly and heinous act" and cited Islamic scripture saying "there is either martyrdom or victory."
"Let's wait and see what happens next," he said.
While Kazerooni praised Soleimani for his backing of Syria, an Afghani lawmaker said the Iranian general was responsible for the deaths of thousands of her countrymen there who were fighting in Iran-backed militias.
"It is clear to everybody that Soleimani was a man who committed numerous crimes in Afghanistan. He brought about the deaths of at least 5,500 young Afghans, in the framework of the so-called Fatemiyoun Division in Syria. 1,200 men are still missing," MP Belquis Roshan said in a video posted to Facebook, according to MEMRI.
She also said she was "ashamed" that Hamid Karzai, the former president of Afghanistan, condemned the killing of "such people."
https://www.timesofisrael.com/michigan-imam-eulogizes-soleimani-for-backing-syria-against-us-zionists/
------
Dearborn imam eulogizes Soleimani, calls his killing a 'cowardly and heinous act'
(January 9, 2020 / MEMRI) Iraqi-American Sheikh Ibrahim Kazerooni of the Islamic Center of America in Dearborn, Mich., said in a Jan. 3 sermon that America's killing of Iranian general Qassem Soleimani and Iraqi Shi'ite militia leader Abu Mahdi al-Muhandis earlier that day was a "cowardly and heinous act," and that the only countries celebrating his death were the United States, Israel and Saudi Arabia.
He led a prayer for the souls of Soleimani and al-Muhandis, and told the congregation that Soleimani had "brought hope to the marginalized [and] hatred and fear to the enemies of Islam, particularly the United States."
Soleimani, he said, had been instrumental in keeping the Syrian regime in power, despite "American and Zionist" attempts to destabilize it.
He added that the slain general also was working to defend Iraq against Islamic State alongside the Popular Mobilization Forces, and in ultimately defeating ISIS in Iraq, which Kazerooni described as the "extended arm of American foreign policy."
He cited several examples from Islamic literature that speak of martyrdom as a virtuous act and added: "Let's wait and see what happens next."
https://www.jns.org/dearborn-imam-eulogizes-soleimani-calls-his-killing-a-cowardly-and-heinous-act/
------
Africa
Muslim World League to launch "Islamic Jurispudence Award"
JANUARY 10, 2020
The Supreme Council of the Muslim World League (MWL) has announced the launching of the MWL's "Islamic Jurisprudence Award," and the "Holy Makkah Document" prize, with a total value of SR1 million ($260,000).
This was announced during the 44th session of the meeting of the Supreme Council of the MWL, which was attended by representatives of 82 countries.
The meeting is considered the most important event in the Islamic world, gathering a cross section of all Muslim people. Its objective is to support the Organization of Islamic Cooperation (OIC) in its goal to bridge the gap and strengthen ties between Muslim countries. The council also condemned "the interference of some countries in the internal affairs of Arab countries, or their attempts to occupy parts of their lands under various pretexts," condemning Turkish intervention in Libya. It praised the "sincere efforts of Muslim countries to reinforce unity," and thanked Saudi Arabia's King Salman and Crown Prince Mohammed bin Salman for promoting joint Islamic action, and peace efforts around the world. The chairman of the council, Sheikh Abdul Aziz bin Abdullah Al-Sheikh, grand mufti of the Kingdom of Saudi Arabia in his speech praised the role of the Kingdom in caring for the causes of Muslims, and working to establish unity. The secretary-general of the MWL, Sheikh Dr. Mohammed bin Abdul Karim Al-Issa, stated: "From this Holy Land, and with this noble gathering, we praise King Salman and Crown Prince Mohammed bin Salman for their great Islamic and humanitarian efforts, especially in serving the Two Holy Mosques, the Holy Qur'an, Sunnah, their advocacy of Islamic and just causes, and confronting extremism and terrorism. He revealed that the crown prince was behind the concept of the "Holy Makkah Document," and its sponsor in all phases. Al-Issa stated that the council would hand out two awards. Its own award would be "annual, aimed at rewarding the Muslim scholar who rendered great services to the Ummah, and was distinguished in his jurisprudence and capacity to meet new challenges, while having enlightened thinking." The winner will receive a medal and SR500,000. He also noted the launching of the "Holy Makkah Document" award, which will be granted to individuals and institutions who have promoted the document on a global scale, or prepared a research study on it. The award will also be a medal and SR500,000. The secretary-general also announced the increase in numbers of members of the Jurisprudence Academy to accommodate leading scholars of the Islamic Ummah, taking into account their prominent scientific qualifications, in line with the regulations of the MWL
https://www.vanguardngr.com/2020/01/muslim-world-league-to-launch-islamic-jurispudence-award/
------
Sudan eliminates Qur'an learning for younger pupils
January 9, 2020
Sudan will stop kindergarten and nursery school children from learning the Qur'an under reforms which are being brought into place during the next academic year, the Director of the National Centre for Curricula and Educational Research, Dr Omar al-Qairi, has announced.
The large-scale changes will be mostly observed in the educational system of kindergarten, according to an audio recording heard by the editor of the Sudanese news outlet Matarees.
In the audio, Al-Qairi is heard explaining that the restructuring will consist of dividing kindergarten into two phases; the first will comprise children aged between three to four years old and will entail "games only".
The second phase will see pupils taught the alphabet in both Arabic and English.
Qur'an learning will be eliminated from kindergarten as a whole, Al-Qairi said, adding that it will be brought onto the curriculum in primary school.
Pre-school and kindergarten students will instead practice and memorise nationalist songs which instil in them love for their country. Poets have been commissioned to compose the new patriotic material, he explained.
Meanwhile, the government has stopped Radio Al-Furqan, which airs the Qur'an, from broadcasting.
In a statement, the radio hosts said: "Depriving millions of listeners who have become accustomed to listening to the radio programme that is now a part of their lives is a great injustice, as it contradicts the principle of freedom that raises concerns about this government."
"Silencing the voice of the Qur'an deprives people of goodness, and in it also challenges the book of God Almighty and is an insult to those who believe in it, and those who hear it throughout the day and night through Radio Al-Furqan."
https://www.middleeastmonitor.com/20200109-sudan-eliminates-quran-learning-for-younger-pupils/
------
Tunisia Packages Offered By 'First' Muslim-Friendly Ota
09 JAN 2020
BY FRANKI BERRY
Rihaala and Serendipity Tailormade have teamed up with five hotels, resorts and beach clubs in the country to offer services such as a modest swimwear beach and alcohol-free bars.
The properties offered include One Resort Aqua Park in Monastir, The Orangers Beach Resort and Bungalows in Hammamet and The Pearl Resort and Spa in Sousse.
"With its beautiful sandy beaches, friendly people, superb resorts and favourable exchange rate, Tunisia has a lot to offer the UK's Muslim and family travel markets. With new air services being launched, including easyJet flights to Hammamet, there has never been a better time to visit," said Nabeel Shariff, Rihaala and Serendipity Tailormade's founder.
The companies have also launched a social media campaign using #ihearttunisia to support the country as a destination.
"By offering attractive holiday packages tailored to this lucrative segment, we not only hope to reinvigorate the destination's tourism industry after a tough few years, but establish Tunisia as a halal-friendly holiday hotspot to rival stalwarts like Turkey, introducing Muslim travellers to a new and exciting travel experience."
Packages lead in at £599pp or £2,394 for two adults and two children, all-inclusive with return direct flights on a seven-night basis.
https://www.ttgmedia.com/news/news/tunisia-packages-offered-by-first-muslim-friendly-ota-20741
------
URL: https://www.newageislam.com/islamic-world-news/iranian-ameri-says-killed-iranian/d/120760
New Age Islam, Islam Online, Islamic Website, African Muslim News, Arab World News, South Asia News, Indian Muslim News, World Muslim News, Women in Islam, Islamic Feminism, Arab Women, Women In Arab, Islamophobia in America, Muslim Women in West, Islam Women and Feminism