New Age Islam News Bureau
17 October 2020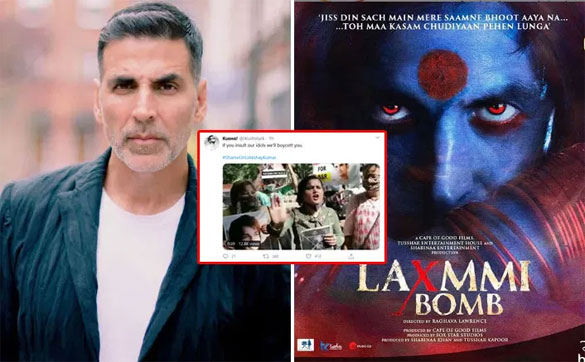 Shame On You Akshay Kumar' Trends As Netizens Demand To BAN Laxmmi Bomb For Promoting Love Jihad
----
• Mathura District Court To Hear Plea to Remove Mosque At Krishna Janmabhoomi
• Different Islamist Political Parties Stage Demonstration in Dhaka against Rape, Adultery
• Thirteen Army men among 20 Killed in In Two Separate Attacks In Baluchistan And North Waziristan in Pakistan
• Shariah Compliance Expert Says Cryptocurrencies Are Legit Commodities
• Egyptian Outcry Stops Concert by Singer Saad Lamjarred Accused of Rape
• Arab League, Europeans Condemn Israel's Approvals for New Settler Homes in Occupied West Bank
• Mali: Rights Groups Concerned After Jihadists Released in Prisoner Swap
India
• Netizens Are Now Targeting Akshay Kumar's Next Release Laxmmi Bomb for Promoting Love Jihad after the Tanishq Ad
• Mathura District Court To Hear Plea to Remove Mosque At Krishna Janmabhoomi
• Army restores grave of Pakistan officer
• Pakistan Law Mantri Attends Virtual Meet Hosted By India
• Six Lashkar affiliates arrested, vehicles seized: IGP Kashmir
• Terrorist killed in encounter with security forces in Jammu and Kashmir's Anantnag
--------
South Asia
• Different Islamist Political Parties Stage Demonstration in Dhaka against Rape, Adultery
• Pakistan's proxy war strategy exposed in Helmand offensive by the Taliban, reports Afghan media
• First VP Saleh is Handed Over Central Security Responsibility
--------
Pakistan
• Thirteen Army men among 20 Killed in In Two Separate Attacks In Baluchistan And North Waziristan in Pakistan
• Heavy US Military Equipment Transport Convoy Attacked In Pakistan
• Thousands gather for anti-government protest in Pakistan
• PM stays defiant, says no NRO for opposition
• Nawaz's security ramped up in London
• Punjab IGP's decision to transfer CIA SP demoralises force
• Rally urges apex court to take notice of 'move to occupy Sindh's islands'
--------
Southeast Asia
• Shariah Compliance Expert Says Cryptocurrencies Are Legit Commodities
• Indonesia's state Islamic bank merger to form $15 billion mega entity
• Malaysia's king urges talks to end uncertainty as political power struggle drags on
--------
Arab world
• Egyptian Outcry Stops Concert by Singer Saad Lamjarred Accused of Rape
• For Iraq's Persecuted Yazidis, Return Plan Is Fraught With Risk
• Lebanon's General Security chief in US for talks on American hostages in Syria
• High-level US delegation heading to UAE, Bahrain, Israel for historic business summit
• US-backed SDF forces set free 100s of Daesh terrorists in Syria's Hasakah
• Israel's arsenal of nuclear, chemical warfare poses greats risk to Middle East peace: Syria UN envoy
• Any transaction that benefits Israel not permissible: Iraq's Ayatollah Sistani
• Iraq's Hashd Sha'abi fighters, govt. forces foiling Daesh infiltration bids on Syria border: Military official
• US drone strike kills 2 senior Al Qaeda operatives in Syria
--------
Mideast
• Arab League, Europeans Condemn Israel's Approvals for New Settler Homes in Occupied West Bank
• FM Zarif: Iran Ready to Help Azerbaijan, Armenia Settle Differences
• Iranian Ports' Activities Not Disrupted by Recent Cyberattack
• Karabakh Conflicting Sides Warned over Misfire at Iran's Borders
• Iran's missiles need to be addressed to curb Tehran's ambitions in region: Study
• Turkey's Erdogan and Ukraine's Zelenskiy sign military agreements
• European powers condemn Israel settlement approvals in Palestine
--------
Africa
• Mali: Rights Groups Concerned After Jihadists Released in Prisoner Swap
• Sudanese Officials Discuss Normalization with Israel Ahead Of US Deadline: Report
• Dozens of soldiers, insurgents reported killed in Somalia clashes
• US emails reveal Algeria's collusion with terrorist groups in Sahara & Sahel
• Islamic militants in Somalia kill eight army soldiers, official says
• Twenty killed in northern Burkina Faso attacks, says government
--------
North America
• Pompeo Seeks Reversal of Turkey's 'Provocative' North Cyprus Move To Reopen Varosha
• Tyrant on steroids: Trump hits Iran with threats, sanctions and profanity
• Self-described neo-Nazi pleads guilty in plot to attack historic Colorado synagogue
Compiled by New Age Islam News Bureau
URL: https://www.newageislam.com/islamic-world-news/netizens-now-targeting-akshay-kumars/d/123178
--------
Netizens Are Now Targeting Akshay Kumar's Next Release Laxmmi Bomb for Promoting Love Jihad after the Tanishq Ad
16 October 2020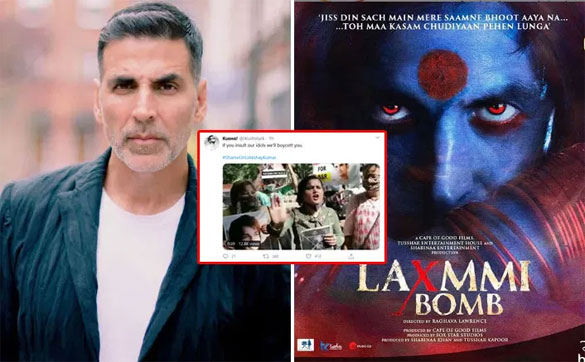 Shame On You Akshay Kumar' Trends As Netizens Demand To BAN Laxmmi Bomb For Promoting Love Jihad
----
Amid the ongoing debate on the recent Tanishq ad being boycotted and taken down for promoting Love-Jihad, netizens have now shifted their target to Akshay Kumar's next release Laxmmi Bomb. The film is a remake of the Tamil movie MUNI 2: Kanchana and Akshay Kumar will be seen portraying the role of a transgender.
In the trailer of the film, Akshay's character is named Asif and Kiara Advani's character is named Priya. On the basis of these names, people judged that the movie is promoting inter-faith marriage and called for its ban.
Some Twitterati also targeted the lead actor of the film, Akshay Kumar, hence, the hashtag #ShameOnYouAkshay is trending on social media. People went further to target the producer of the film Shabina Khan and complained about her being a Kashmiri separatist.
One Twitter user wrote "Shabina Khan is a Kashmiri separatist. Aasif (Akshay) is possessed by the ghost of transgender Laxmi that wears a red saree and carries Trishul. The official teaser has Ma Laxmi in the backdrop. In non-ghost life, Aasif's girlfriend is Priya. #ShameOnUAkshayKumar"
Kamaal Rashid Khan, a self-proclaimed critic of Bollywood also took to Twitter to call for the ban of the movie. He wrote, "#Laxami is a Goddess, Devi, and #AkshayKumar is mocking her by his film #LaxmiBomb! Public must boycott it to teach him a lesson, So that he doesn't do such a big blunder in the future. It's India not Canada. Yahan Devi Devtaon Ki puja Ki Jati Hai Mazaak Nahi Banaya Jata!"
https://www.outlookindia.com/website/story/entertainment-news-after-tanishq-ad-netizens-are-now-targeting-laxxmi-bomb-for-promoting-love-jihad/362331
--------
Mathura District Court To Hear Plea To Remove Mosque At Krishna Janmabhoomi
Oct 17, 2020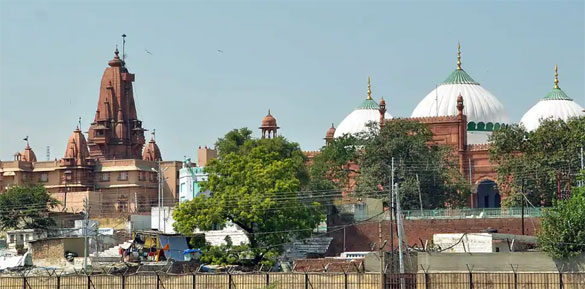 A view of Sri Krishna Janmabhoomi temple and Shahi Idgah mosque, in Mathura
-----
The Mathura district court on Friday admitted an appeal against the dismissal of a civil suit seeking ownership of the 13.37-acre Sri Krishna Janmabhoomi land and removal of a 17th century Shahi Idgah mosque.
The appeal filed on Monday by a lawyer and five others on behalf of the deity 'Lord Sri Krishna Virajman', claimed that the mosque is built exactly where Lord Krishna was born.
Additional district judge Chhaya Sharma, while rejecting the petition on September 30, had cited the Places of Worship Act, 1991 as the reason. According to the law, the religious character of any place of worship built before August 15, 1947 cannot be changed. The law had also barred any legal proceedings to change the character of any religious place. But it had left out the Babri dispute case from its ambit. tnn
One of the petitioners and lawyer Ranjana Agnihotri, who was present in the Mathura court on Friday, said that after the dismissal of the civil suit on September 30, she along with the five others filed an appeal before the district judge. On Friday, district and sessions judge Sadhna Rani Thakur issued notices to UP Sunni Central Waqf Board, Committee of Management, Trust, Shahi Masjid Idgah, Shree Krishna Janmabhoomi Trust, Mathura, Shree Krishna Janmasthan Sewa Sansthan and others. The next date of hearing is November 18, she said.
The suit, filed by Lucknow resident Ranjana Agnihotri and five others, including a Delhi resident, claims that the mosque is exactly where Krishna was born and they have sought the ownership of the entire 13.37-acre land. It also sought cancellation of a compromise decree between the governing body of the temple complex and the management trust of the mosque in 1968.
https://timesofindia.indiatimes.com/india/up-court-to-hear-plea-to-remove-mosque-at-krishna-janmabhoomi/articleshow/78712168.cms
--------
Different Islamist Political Parties Stage Demonstration in Dhaka against Rape, Adultery
Oct 17, 2020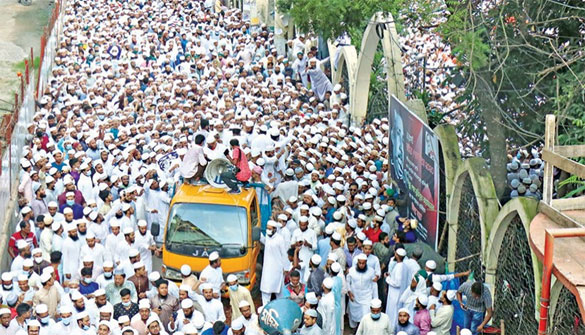 Islamists hold a rally in front of the Baitul Mukarram National Mosque in Dhaka on Friday protesting at the rampant rape incidents in the country. — New Age photo
-----
Different Islamist political parties on Friday staged demonstration in the capital after Jumma prayers to press home their demands to prevent rape and adultery in the country.
Thousands of leaders and activists of Samomona Islami Dalsamuho and Dhaka city unit of Bangladesh Islami Shashantantra Andolan held separate rallies and brought out processions from Baitul Mukarram National Mosque after their prayers at the mosque.
Immediately after the Jumma prayers, Samomona Islami Dalsamuho brought out a procession from the northern gate of the mosque and held a rally near Kakrail where police intercepted their procession.
Presided over by Jomiyote Ulamaye Islam Bangladesh secretary general Nur Hossain Kashemi, the rally was also addressed, among others, by Islami Oikya Andolan amir Mohammad Isha Sahedi, Khelafate Majlish secretary general Ahmed Abdul Quader, Bangladesh Khelafat Andolan nayebe amir Mojibur Rahman Hamidi, Muslim League organising secretary Asaduzzaman Asad.
The six-point demand placed during the rally include — ensuring public execution of capital punishment to prevent rape and adultery, strict action against pornography, controlling drugs, stopping obscene presentation of women, neutral implementation of law and keeping the justice system out of political and administrative influence and including the teachings of the Quran and Hadith in the national curriculum.
The Dhaka city unit of Islami Shashantantra Andolan held a protest rally at the northern gate of the national mosque immediately after offering Jumma prayers.
Presided over by the organisation's Dhaka south city unit president Imtiaz Alam, the rally was addressed by the organisation's senior nayebe amir Syed Muhammad Faizul Karim as chief guest.
https://www.newagebd.net/article/119192/islamic-parties-stage-demo-in-dhaka-against-rape-adultery
--------
Thirteen Army men among 20 Killed In In Two Separate Attacks In Baluchistan And North Waziristan in Pakistan
Oct 16, 2020
ISLAMABAD: Terrorists killed 20 people, including 13 personnel of Pakistan army, in two separate attacks in Baluchistan and North Waziristan on Thursday.
In the first attack, six army personnel, including a captain, were killed in a bomb attack in Razmak area of the country's north-western North Waziristan tribal district.
The Inter-Services Public Relations (ISPR), the army's media arm, said a convoy of security forces was attacked with an improvised explosive device (IED), resulting in the death of an officer, Capt Umar Farooq, and five soldiers. The latest incident occurred four days after two soldiers were killed and three injured in an attack on a security post in Shawal valley of North Waziristan.
In the second ambush on Thursday evening, which occurred hours after the attack in North Waziristan, terrorists targeted a convoy of oil and gas workers escorted by paramilitary troops in Ormara town in Baluchistan's Gwadar district, killing 14 people, including seven soldiers. Terrorists had targeted the workers of the state-run Oil & Gas Development Company Ltd (OGDCL).
ISPR said militants had also sustained heavy losses in the exchange of fire. Seven Frontier Corps (FC) soldiers and seven private security guards were killed in the attack.
"The terrorists attacked the convoy from the mountains near Ormara on the Balochistan-Hub-Karachi coastal highway and heavy exchange of fire took place. The convoy was returning to Karachi from Gwadar," a top police official in Gwadar said.
He said it was a planned attack and the militants had prior information about the convoy going to Karachi.
"They were waiting for the convoy. Despite the FC and security guards losing their lives, the other FC personnel managed to safely get the convoy away from the spot near Oramara," the official said.
Gwadar port is the focal point of the $60 billion China-Pakistan Economic Corridor (CPEC) development projects and a number of officials of the state-owned institutions and foreigners work at the port city under heavy security cover.
Earlier this month, the Pakistani Taliban had claimed responsibility for a roadside bombing in North Waziristan that targeted a military vehicle, killing three soldiers and wounding four.
Pakistan's border areas served as a base for the Pakistani Taliban and other militant outfits. The army claimed it cleared the region of insurgents, though occasional attacks have continued, raising fears the Pakistani Taliban are regrouping.
https://timesofindia.indiatimes.com/world/pakistan/13-armymen-among-20-killed-in-twin-terror-attacks-in-pakistan/articleshow/78709240.cms
--------
Shariah Compliance Expert Says Cryptocurrencies Are Legit Commodities
by Kevin Helms
October 16, 2020
A shariah compliance expert, the current chairman of the Shariah Advisory Council at Malaysia's central bank and a shariah board member at many financial companies, says that cryptocurrency is a legit commodity that can be exchanged.
Cryptocurrency and Shariah Compliance
Cryptocurrency adoption and investments remain low in Muslim countries as people are still unsure of its compliance with Islamic law. At the SCxSC Fintech Conference 2020 last week, Datuk Dr. Mohd Daud Bakar, an expert in shariah compliance, said that investors need more time to understand cryptocurrency from the shariah perspective.
Bakar is currently the chairman of the Shariah Advisory Council at the central bank of Malaysia, Securities Commission of Malaysia (SC), and the Labuan Financial Services Authorities. He is also a shariah board member at a number of financial institutions, including the Accounting and Auditing Organisation for Islamic Financial Institutions, Morgan Stanley (Dubai), Bank of London and Middle East (London), Noor Islamic Bank (Dubai), Jadwa-Russell Islamic Fund (Saudi Arabia), and Salama Islamic Insurance.
In Malaysia, the SC Shariah Advisory Council has declared that it is permissible for Muslims to invest in and trade cryptocurrencies, including bitcoin, on government-registered crypto exchanges.
Bakar explained that cryptocurrency is not regarded as legal tender, but it is a legit commodity that can be exchanged within the market, as long as it is not backed by "ribawi items," like gold and silver, the Malaysian Reserve reported. The publication quoted him as saying:
It is a medium of exchange, and we cannot stop people to use commodities as medium of exchange. It is as good as buying an e-ticket or commodities in the market.
"This new development can open up so many interesting areas in Malaysia, in which crypto can be deemed as investment assets where people can buy and hold for trading," he elaborated.
Bakar added that the Securities Commission of Malaysia has also made it possible for companies to issue coins as a method of raising capital, subject to certain restrictions through its fatwa resolution.
"Moving forward, the potential of this currency is great as it comes with the growing digital economy of the world," he noted. "We can even develop our own stablecoin quite easily without any difficulty by the government and respective jurisdiction … We can have the coin backed by certain commodities, ventures or projects."
https://news.bitcoin.com/shariah-compliance-cryptocurrencies-legit-commodities/
--------
Egyptian outcry stops concert by singer Saad Lamjarred accused of rape
16 October 2020
A concert by Moroccan singer Saad Lamjarred, who has been repeatedly accused of rape, has been cancelled in Egypt after a social media outcry, reflecting a growing resolve to speak out against sex crimes.
The popular Arab artist, whose 2015 song "Lamaallem" has been viewed 860 million times on YouTube, was arrested on rape charges three times since 2010 in the United States and France.
For all the latest headlines follow our Google News channel online or via the app.
Neither Lamjarred nor his business manager were immediately available for comment. Lamjarred has previously denied all charges and the first two cases have been dismissed.
"It is already cancelled," Magdy El Hawary, head of the Cairo Show theatre, which was organising the concert in the Egyptian capital, told the Thomson Reuters Foundation.
He declined to give any further details.
Lamjarred, 35, was first arrested in 2010 on suspicion of raping a woman in New York, and for a second time in 2016 in the French capital, Paris, where he spent six months in jail before being released on bail.
He was arrested for a third time in 2018 in southern France when another woman said he raped her in a hotel.
When the hashtag #cancelcairoshow started trending on social media this week, online ticket sales and adverts for the December show in Cairo were taken down.
"When you platform men like this, you tell every woman in your cast, crew, and audience that her life and safety don't matter," said one Twitter user, Rosaline Elbay.
"This is disgraceful"
A 2017 Thomson Reuters Foundation poll found Cairo to be the most dangerous megacity for women, and a United Nations' survey in 2013 found that 99 percent of women had experienced harassment in Egypt, a country where women have long felt disadvantaged.
Egypt passed a law in August giving victims the automatic right to anonymity in a bid to encourage more women to report sexual assault in the conservative Muslim-majority nation.
"How come they invited an alleged rapist?" asked Nadeen Ashraf, founder of the #MeToo-style Instagram account Assault Police, which has emboldened hundreds of Egyptian women to speak out about violence and exposed two sex assault cases this year.
"The company should have conducted research on the singer before inviting him to Egypt since we are now having a #MeToo moment and are calling for eliminating violence against women."
https://english.alarabiya.net/en/News/middle-east/2020/10/16/Egyptian-outcry-stops-concert-by-singer-Saad-Lamjarred-accused-of-rape
--------
Arab League, Europeans condemn Israel's approvals for new settler homes in occupied West Bank
16 October 2020
Arab League and top European diplomats have denounced Israel's approval of thousands of new settler units across the occupied West Bank, less than a month after the United Arab Emirates (UAE) and Bahrain signed agreements to normalize relations with the Tel Aviv regime, which in return pledged to freeze its plans to annex swathes of the occupied territory.
Secretary-General of the Arab League, Ahmed Aboul Gheit, in a statement on Thursday censured Israeli officials over giving the green light for the construction of the structures after an eight-month lull in settlement expansion.
He emphasized that the Israeli settlement expansion activities remain a formidable obstacle to implementing a so-called two-state solution to the Israeli-Palestinian conflict.
"Netanyahu administration's insistence on pressing ahead with settlement expansion to satisfy the extreme right-wing reflects its rejection of a solution to the conflict, and even its commitment to eliminate any chances for achieving peace in the future," Aboul Gheit said.
"The international community should assume its responsibilities regarding the Netanyahu administration's attempts to resume settlement activities, especially since there are indications that other settlement construction plans are being prepared to be announced soon," the Arab League chief pointed out.
Aboul Gheit added he had discussed the matter with the UN Special Coordinator for the Middle East Peace Process, Nickolay Mladenov, during a recent meeting.
Separately, Mladenov condemned on Thursday Israel's approval of thousands of new settlement housing units in the occupied West Bank.
"On October 14 and 15, Israeli authorities advanced nearly 5,000 housing units, most of which are in outlying locations deep inside the occupied West Bank. Settlement construction is illegal under international law and is one of the major obstacles to peace," he said in a statement.
The high-ranking UN official then called on Israeli authorities to immediately cease all settlement-related activities.
Moreover, senior European diplomats on Friday condemned Israel's decision to approve thousands more settlement units in the occupied West Bank, calling it a "counterproductive" move that undermines regional peace efforts.
"The expansion of settlements violates international law and further imperils the viability of a [so-called] two-state solution to bring about a just and lasting peace to the Israeli-Palestinian conflict," a joint statement from the foreign ministers of Germany, France, Britain, Italy and Spain read.
"As we have emphasized directly with Israel, this step furthermore undermines efforts to rebuild trust between the parties with a view to resuming dialogue," the top diplomats said, demanding the immediate cessation of settlement construction activities in the Palestinian lands.
The ministers said pushing ahead with more settlements would be a "counterproductive move" in light of normalization agreements reached between Israel, the UAE and Bahrain.
Israeli prime minister Benjamin Netanyahu signed US-brokered normalization deals with the Emirati Foreign Minister Sheikh Abdullah bin Zayed Al Nahyan and Bahrain's Foreign Minister Abdullatif bin Rashid al-Zayani during an official ceremony hosted by President Donald Trump at the White House on September 15.
Palestinians, who seek an independent state in the occupied West Bank and Gaza, with East Jerusalem al-Quds as its capital, view the deals as betrayal of their cause.
More than 600,000 Israelis live in over 230 settlements built since the 1967 Israeli occupation of the Palestinian territories of the West Bank and East Jerusalem al-Quds.
Since Trump took office in December 2016, Israel has stepped up its illegal settlement construction activities in defiance of United Nations Security Council Resolution 2334, which pronounced settlements in the West Bank and East Jerusalem al-Quds "a flagrant violation under international law."
All Israeli settlements are illegal under international law as they are built on occupied land.
https://www.presstv.com/Detail/2020/10/16/636527/Arab-League-Europeans-condemn-Israel%E2%80%99s-approvals-for-new-settler-homes-in-occupied-West-Bank
--------
Mali: Rights Groups Concerned After Jihadists Released in Prisoner Swap
By Sirwan Kajjo, Modibo Dembele
October 15, 2020
WASHINGTON - Rights groups are voicing concerns over the release of 200 jihadist militants in a recent prisoner exchange in Mali.
The militants were freed by the government earlier this month in exchange for the release of four people, including a French aid worker, two Italian nationals and a prominent Malian opposition leader, who had been held captive by an al-Qaida-affiliated group in northern Mali.
While local rights groups have welcomed last week's release of the four individuals, they also believe that freeing a large number of "presumed terrorists" could pose a further threat to Mali's stability and undermine the country's judicial system.
This release "means that the fundamental rights of those murdered by jihadists in Mali have been violated, while (their relatives) were waiting for justice to take its course," said Aguibou Bouare, president of the National Human Rights Commission in Mali.
"These people were released even though they have committed crimes," he told VOA, adding, "Not complying with the rule of law, gives birth to impunity."
Mali has been struggling to contain a growing Islamist insurgency that began as a separatist uprising in the north in 2012, which was later taken over by jihadists. The conflict has also spread to central Mali and neighboring countries such as Burkina Faso and Niger.
The violence has killed thousands of people and forced hundreds of thousands to flee their homes.
Accountability for abuses
Adotei Akwei, deputy director for advocacy and government relations at Amnesty International, said while they have been urging governments around the world to release prisoners because of the overcrowding and the risks presented by coronavirus pandemic even before the recent releases in Mali, they also have been advocating for accountability for those responsible for human rights abuses.
"We are concerned over the possible release of persons who need to be held accountable, or else there will be no incentive to change behavior by those released or by the captors," he told VOA.
Moctar Mariko, president of the Malian Human Rights Association, said Malian authorities should make real efforts "to free other civilians and military personnel kidnapped or detained by jihadists in order to avoid this selective discrimination and double standards justice towards hostages."
He told VOA that releasing jihadist militants this way "would encourage and increase cross-border crime," adding that, "Those individuals will still commit robbery, make improvised explosive devices and continue their organized crimes against peaceful citizens."
Skilled militants released
Experts say some of the jihadists freed in the recent prisoner swap are battle-hardened fighters with years of combat experience.
"We have identified some of them who are seasoned commanders that could perform important functions in the near future," said Heni Nsaibia, a researcher at the conflict monitoring group Armed Conflict Location and Event Data project (ACLED).
"There is a high probability that these militants would go back to the insurgency, taking into consideration that the government's hold of the northern and central parts of Mali is very tenuous," he told VOA.
Militants have a history of kidnappings in Mali targeting prominent local leaders and foreign nationals, experts say, to extort concessions from the Malian and foreign governments.
For example, Sophie Petronin, the French aid worker released in the prisoner exchange, was kidnapped by Islamist militants in 2016 in northern Mali where she had been working to assist orphaned children.
The recent release of jihadists "essentially incentivizes this type of behavior, specifically among these groups who are quite highly skilled and trained, and have experience in conducting kidnappings," said Ryan Cummings, director of Signal Risk, a security risk management firm based in Cape Town, South Africa.
"It does certainly send a message out to jihadist groups in the region that 'if you engage in kidnapping for ransom and extortion, you will be rewarded, and concessions will be provided over the longer term,'" he told VOA.
Opportunity for reconciliation?
Some experts say the release of these jihadists could be a sign for a negotiated political process between the central government in Bamako and jihadist groups. Others, however, believe that jihadist militants are less inclined to engage in a dialogue with the government.
"I'm not sure that jihadists would particularly embrace a dialogue with the Bamako government, unless it conferred a sort of short-term tactical advantage," said John Campbell, a senior fellow for African policy studies at the Council on Foreign Relations in Washington.
Earlier this year, former Malian President Ibrahim Boubacar Keita, who was ousted in August in a bloodless military coup, had expressed his readiness to hold talks with Islamist militants, particularly those affiliated with the al-Qaida-linked Jama'at Nasr al-Islam wal Muslimin (JNIM), an alliance of several jihadist groups.
Campbell, a former U.S. ambassador to Nigeria, said there are mainly two reasons that JNIM would not participate in any negotiation with Malian authorities.
"The first one is a very long history of Bamako breaking promises in its talks with various northern groups, not just jihadis but also particularly Tuareg groups," he told VOA, noting that the other reason is "there is now a military dominated government in Bamako."
"I think the new government would be less trustworthy than the previous one from a northern perspective," Campbell added.
And from the military perspective, analyst Cummings said, initiating peace talks with jihadist militants is not realistic at this point.
"If anyone is not to be interested at this stage in peace with jihadists, it would be senior members of the military who have been — for lack of a better word — the primary victims of jihadist violence in the country," he said.
This week, suspected Islamist militants carried out multiple attacks in central Mali, killing at least 25 people, including 12 civilians and 13 soldiers.
https://www.voanews.com/extremism-watch/mali-rights-groups-concerned-after-jihadists-released-prisoner-swap?utm_source=iterable&utm_medium=email&utm_campaign=1624027_
--------
India
Army restores grave of Pakistan officer
Oct 17, 2020
NEW DELHI: In a step to "reinstate the honour of a fallen enemy soldier", the Indian Army has restored the grave of a decorated Pakistani officer killed during a clash along the Line of Control (LoC) almost half-a-century ago.
Major Mohd Shabir Khan was killed in a fierce clash with troops of the 9 Sikh Regiment in Naugam sector along the LoC on May 5, 1972. Pakistan awarded him its third highest military decoration, the 'Sitara-e-Jurat' medal, recognising his gallantry.
In keeping with the best military traditions, the 2 Maratha Light Infantry battalion of the Indian Army, which was later deployed in the forward location, had constructed a grave for the fallen Pakistani officer there.
"The grave had got badly damaged due to vagaries of weather and incessant shelling over time. The grave has now been restored. A fallen soldier, irrespective of the country he belongs to, deserves respect and honour in death. The Indian Army stands by this belief," an officer said on Friday.
The Indian Army had treated the bodies of Pakistani soldiers with full respect during the Kargil conflict in 1999, though Islamabad sought to portray them as "irregulars" or militants. "We kept alive these ethics and values during Kargil. We returned the bodies of their soldiers whenever they were accepted by Pakistan. The rest were buried with proper honours," said General V P Malik (retired), the then Army chief.
The restoration of the grave comes at a time when the 778-km long LoC is extremely volatile, with heavy cross-border shelling being exchanged between the two armies.
https://timesofindia.indiatimes.com/india/army-restores-grave-of-pakistan-officer/articleshow/78714190.cms
--------
Pakistan Law Mantri Attends Virtual Meet Hosted By India
Oct 17, 2020
NEW DELHI: Ahead of the Shanghai Cooperation Organisation (SCO) Council of Heads of Government meeting, which India plans to host on November 30, the government on Friday held a virtual meeting of the law/justice ministers of SCO member-states that also saw the participation of Pakistan.
India invited Pakistan for the meeting and the latter participated in the event which was addressed by law minister Ravi Shankar Prasad. The event is seen as a precursor to the heads of government summit for which India will soon be sending out invites, including one to Pakistan PM Imran Khan. Prasad highlighted the initiatives taken by the government for providing affordable and easy access to justice for all.
While maintaining that there could be no bilateral dialogue with Pakistan until the latter put an end to cross-border terrorism, the government also made it clear that it won't shy away from working together with Pakistan at a multilateral forum like the SCO.
In fact, India had said in January this year that Khan would be invited for the meeting in keeping with the SCO charter. The government had said last month that it is expanding and enriching India's imprint on the organisation by assuming the chairmanship of the SCO's Council of Heads of Government later this year.
https://timesofindia.indiatimes.com/india/pakistan-law-mantri-attends-virtual-meet-hosted-by-india/articleshow/78712523.cms
--------
Six Lashkar affiliates arrested, vehicles seized: IGP Kashmir
Oct 16, 2020
SRINAGAR: Police busted a Lashkar-e-Taiba module and arrested six affiliates involved in a series of attacks — from August 14 to October 5 — on security forces along the national highway, IGP (Kashmir Range) Vijay Kumar said on Friday. The six vehicles used in these strikes were also seized.
On August 14, ultras attacked a team of J&K Police and Sashastra Seema Bal personnel at Nowgam, Srinagar, killing two cops besides snatching an Insas rifle, the IGP said at a press conference at Pantha Chowk police station here.
"On September 21, terrorists attacked a road-opening party (RoP) at New Bypass. On September 25, a CRPF party was attacked in Chadoora in which one paramilitary trooper was killed and his weapon snatched. Again on October 5, an RoP of CRPF was attacked in Taingan Bypass in which two CRPF personnel were killed and four injured," Kumar said.
Several teams were constituted by West Zone Police, Srinagar, to solve the attacks. "Raids were conducted in Chadoora, Budgam, Nowgam and other areas in Srinagar district. Around 9-10 suspects were identified and detained by these teams and subjected to sustained interrogation during which they confessed about their involvement with terrorists, following which the arrests were made. Sleuths were able to identify the links through human intelligence," the IGP said.
During the raids, police also discovered a particular house in Srinagar's Barazulla area used as a hideout by terrorists. The six Lashkar affiliates were identified as Waseem Ahmed Ganai and Suhail Shabir Ganai from Chadoora; Shakir Ahmed Dar from Kakapora in Pulwama; Faisal Mushtaq Ganai, Umar Nisar and Sahil Nisar from Nowgam in Srinagar. Six vehicles — including three four-wheelers and three motorbikes — were seized from them, IGP Kumar added.
https://timesofindia.indiatimes.com/india/six-lashkar-affiliates-arrested-vehicles-seized-igp-kashmir/articleshow/78709990.cms
--------
Terrorist killed in encounter with security forces in Jammu and Kashmir's Anantnag
Oct 17, 2020
Edited by Kanishka Sarkar
A terrorist was killed in a gunfight with security forces in Jammu and Kashmir's Anantnag on Saturday, police said.
The forces recovered an AK-47 from him during the joint operation in the Larnoo area of the district. More details are awaited.
On Wednesday, two unidentified terrorists were killed in an encounter with security forces in Shopian district of the Union territory. Security forces had launched a search operation in the district's Chakura area based on inputs about the presence of terrorists there.
https://www.hindustantimes.com/india-news/encounter-breaks-out-in-jammu-and-kashmir-s-anantnag/story-onCTSuRys6gQX8oYK0S0IM.html
--------
South Asia
Pakistan's proxy war strategy exposed in Helmand offensive by the Taliban, reports Afghan media
Oct 16, 2020
HELMAND (AFGHANISTAN): Pakistan's 'running with the hare and hunting with the hound' policy lays exposed in the recent onslaught of the Taliban offensive in Helmand province, as per TOLO news.
According to reports, foreign fighters from Pakistan-based Jaish-e-Mohammed and Lashkar-e-Taiba are supporting the Taliban in the battle.
Tolo News quoted Yasin Khan, provincial governor of Helmand as saying, "There is the presence of Al Qaeda, Jaish-e-Mohammad, Lashkar-e-Taiba, and terrorists from Central Asia; they have collaborated with the Taliban..."
"The Taliban has provided safe havens to the fighters associated with Al Qaeda, Jaish-e-Mohammed and Lashkar-e-Taiba. These terrorist organisations are providing military and bomb-making training to the Taliban fighters," he added.
According to the news channel, Taliban launched a simultaneous attack over Greshk, Nawa, Nahr-e-Saraj, Nad-e-Ali, and Lashkargah cities of Helmand province.
It claims Pakistan's strategy of proxy war is quite evident from the moves it makes. On one hand, its delegate lends a dove hand at the peace process negotiated in Doha, while on the other it keeps on watering the aspirations of Taliban and other terrorist organisations in Afghanistan to have control over the geopolitics of the region.
The violence unleashed in Helmand has forced thousands of Afghan civilians to leave their homes, and also left many injured or killed, including women and children.
Meanwhile, United Nations Assistance Mission in Afghanistan, the Afghan Independent Human Rights Commission and the US Embassy in Kabul have called on the Taliban to swiftly end their attacks on Lashkargah, reported TOLO news.
https://timesofindia.indiatimes.com/world/south-asia/pakistans-proxy-war-strategy-exposed-in-helmand-offensive-by-the-taliban-reports-afghan-media/articleshow/78703414.cms
--------
First VP Saleh is Handed Over Central Security Responsibility
By Mohammad Haroon Alim
17 Oct 2020
Following the rise in crime in Kabul, President Ghani handed over security responsibility to his first deputy, Amrullah Saleh, for several weeks.
First Vice President Amrullah Saleh wrote on his Facebook page Friday night that he would take over security responsibility for Kabul from Saturday, based on the presidential orders.
He added, "I have no words of compassion or expediency against the criminals in my dictionary in the way of enforcing the law to ensure the security of the people".
A list of major criminals in Kabul had been prepared and called on the people to help the security forces, VP Saleh wrote.
People should cooperate and provide information to LAW enforcement in any way possible.
This comes at a time when crime in central Kabul has peaked over the past few months and people are becoming victims of various criminal offenses every night.
Earlier, President Ghani also expressed his concerns over the deteriorating security situation in Kabul, adding that 300 more security cameras would be installed in the city in the coming future.
https://www.khaama.com/first-vp-saleh-is-handed-over-central-security-responsibility-8678576/
--------
Pakistan
Heavy US Military Equipment Transport Convoy Attacked In Pakistan
By Mohammad Haroon Alim
17 Oct 2020
A transporting convoy carrying U.S military's equipment and armed vehicles was attacked in the Khyber Pakhtunkhwa area of Pakistan on Friday.
According to reports, unknown gunmen attacked the carrier convoy while transporting US military vehicles and supplies from Afghanistan to Pakistan in the Bara area of Khyber Pakhtunkhwa on Friday.
The carrier convoy was reportedly attacked by unknown gunmen and many of the Tanks caught fire because of the clashes.
This is despite the fact that after the US-Taliban peace deal, the Americans are shifting all its military equipment, tanks, and other military accessories to Pakistan every day through the Torkham border.
This action also provoked reactions from the Afghan government and the public, government officials say this act is a violation of the security agreement with Afghanistan, what should remain with the Afghan defense forces are being transferred to Pakistan.
U.S officials have not yet commented based on the incident.
https://www.khaama.com/u-s-military-equipment-transport-convoy-attacked-in-pakistan-888776/
--------
Thousands gather for anti-government protest in Pakistan
By Asad Hashim
16 Oct 2020
Islamabad, Pakistan – Thousands gathered in the central Pakistani city of Gujranwala to protest the government of Prime Minister Imran Khan, as an opposition alliance kicked off a campaign it hopes will be able to take advantage of rising prices and other frustrations to overthrow the government.
The Pakistan Democratic Movement (PDM), an alliance of 11 opposition parties, including the Pakistan Muslim League's Nawaz faction (PML-N), the Pakistan People's Party (PPP), and the Jamiat Ulema Islam's Fazl faction (JUI-F), held its first major public demonstration on Friday after being formed last month.
Important leaders from each of those main opposition parties addressed the gathering, including PML-N chief Nawaz Sharif, PPP chairman Bilawal Bhutto Zardari, and JUI-F chief Fazl-ur-Rehman.
Sharif spoke live via video link from London, capital of the United Kingdom, where he has resided since leaving Pakistan on medical bail as he continues to appeal corruption convictions issued by an Islamabad court.
He accused the country's army chief, General Qamar Javed Bajwa, of toppling his government, pressuring the judiciary, and installing Khan in the 2018 elections.
"General Qamar Javed Bajwa, you packed up our government, which was working well, and put the nation and the country at the alter of your wishes," Sharif said in comments that were censored on all Pakistani television channels, based on government orders.
'Throw them out'
Maryam Nawaz, his daughter, also addressed the gathering of thousands who made their way to Gujranwala from across Punjab province, home to more than half of Pakistan's 207 million people, and other regions.
"Governments should come from your votes and go from your votes as well. And no one should have the power to take those chosen by you and throw them out of office. And if they do this, then you should have the power to throw them out of office," she said.
The government has dismissed the protests as a sideshow, with Information Minister Shibli Faraz challenging the opposition to fill the stadium where it is to be held.
"The way they have systematically destroyed institutions and placed people in positions to serve them, this is why the economy has been destroyed," Faraz said earlier on Friday, addressing the country's Senate.
"This country has seen itself become poorer and the institutions become weaker as they got richer."
The PDM alliance's campaign, launched after its formation on September 20, has been marked by how it has taken blunt aim at the country's military, which has directly ruled the country for roughly half of its 73-year history and is accused of poll rigging to bring Prime Minister Khan to power.
On Friday, that same candidness – rare in Pakistani political discourse – was on show at the rally.
"We want there to be an end to corruption, for that you will need to have one law for every Pakistani," said PPP chief Bilawal Bhutto Zardari.
"To end corruption, we need to have across the board accountability… If there is an accusation, then there should definitely be an investigation on a former prime minister or a president. But if there is an accusation against a general or a judge, then we must investigate that as well."
He also referred to "historic highs in poverty [and] inflation", blaming Khan's government.
Anti-corruption campaign
Khan's Pakistan Tehreek-e-Insaf (PTI) was elected to power after a general election in July 2018 where the opposition alleged there had been widespread rigging during the vote-counting process, as an online results system broke down on election night.
They have also alleged an anti-corruption campaign by the country's independent National Accountability Bureau inordinately targeted PML-N and PPP candidates ahead of the polls.
Sharif was removed as prime minister in 2017 after the Supreme Court ruled he had lied on a wealth declaration, and the former premier was convicted and sentenced to 10 years in prison on corruption charges days ahead of the July 2018 election.
Following his election, Khan has made that anti-corruption campaign a centrepiece of his rule, with large numbers of opposition politicians either jailed, facing trial or under investigation for corruption.
Those arrested in the last two years include former three-time Prime Minister Sharif, PPP co-chairman and former President Asif Ali Zardari, Sharif's daughter Maryam, former prime minister Shahid Khaqan Abbasi, and several other key opposition leaders from the PML-N and PPP.
Several of those arrested have since been released on bail, although authorities arrested Sharif's younger brother Shehbaz, a key leader of the PML-N, on corruption charges days after the PDM was formed. He remains in custody.
Critics, including rights groups and the opposition, say the anti-corruption drive has been one-sided, mainly targeting Khan's political opponents while leaving members of his governing party or their allies largely untouched.
"The [anti-corruption watchdog] seems reluctant in proceeding against people on one side of the political divide … while those on the other side are being arrested and incarcerated for months and years without providing any sufficient cause," read a Supreme Court verdict in a corruption case in July.
Food prices soar
Khan has dismissed this criticism, arguing on Friday the opposition is only holding protests to attempt to secure concessions in the corruption proceedings against them.
The PTI's rule has also been marked by narrowing media freedoms, with coverage of opposition figures or criticism of the military heavily restricted.
Following the speech by Sharif at the PDM's formation event on September 20, Khan's government issued orders that news media channels were no longer permitted to carry statements by him or any other political leaders who are currently wanted on corruption charges.
Khan's government remains largely popular, buoyed by its handling of the coronavirus pandemic, which has seen Pakistan register a relatively low death toll, with 6,718 dead and 321,877 cases since the outbreak began.
In recent weeks, however, it has faced a fresh challenge, with rising inflation across the country, particularly for food staples such as flour, pulses and vegetables.
In October, Pakistan's Bureau of Statistics clocked year-on-year consumer inflation at 9.04 percent, with prices of essentials such as potatoes and tomatoes rising by more than 50 percent.
https://www.aljazeera.com/news/2020/10/16/thousands-gather-for-anti-government-protest-in-pakistan
--------
PM stays defiant, says no NRO for opposition
Syed Irfan Raza
17 Oct 2020
ISLAMABAD: In an obvious reference to the first show of power by the opposition's newly forged alliance in Gujranwala, Prime Minister Imran Khan on Friday again ruled out the possibility of giving the former any concession even though in that case he would be able to comfortably complete his term in office.
"It is easy for me to give them [opposition leaders] NRO to rule quietly in the rest of my tenure, but I will not give them any such concession," the prime minister said while addressing a ground-breaking initiative in Pakistan's medical device industry.
The facility — 'N-ovative Health Technologies' — at National University of Science and Technology (NUST) has started mass production of cardiac stents and angioplasty balloon catheters for general public at affordable prices.
Inaugurates facility for mass production of cardiac stents, angioplasty balloon catheters for public at affordable prices
The prime minister said the path of progress was not easy one as one had to make difficult decisions to meet this goal. "All dacoits are uniting and it is easy for me to pick an easy way by giving them NRO so that I can deliver speeches freely in parliament without any hindrance of the opposition. But I will not choose this path," he added.
ARTICLE CONTINUES AFTER AD
Mr Khan said the entire government system had "fractured" and he was trying to change the mindset of government departments. "Making profits is considered a crime in the country. However, the country cannot progress without wealth creation," he added.
He said there was no coordination among government departments as the vision of the nation had blurred. "We have no clarity as a result the country could not go ahead."
Prime Minister Khan said that with a large number of heart patients in the country, the achievement of NUST was significant in provision of medical treatment with an exponential price difference, besides facilitating the financially weaker sections of society. He expressed satisfaction that NUST is setting the precedent of an academia-industry link-up which, he said, was extremely important in exploring the benefits of knowledge and innovation in true spirit.
He said that excelling in the field of science and technology could be no difficult for a country which developed its nuclear capabilities; however, the "fracture mindset" was the main reason behind such lagging. "We, as nation, need to set ahead clear goals with all institutions and government departments working in unison for their achievement," he said.
The prime minister said increasing exports and wealth creation were the vital targets in order to avoid approaching the International Monetary Fund and referred to the examples of China and Turkey that focused on exports for economic stability. The government, he said, was encouraging local and foreign investments to stimulate a business boom in Pakistan.
Mr Khan termed overseas Pakistanis the country's "biggest asset" and emphasised the importance of creating an enabling environment to benefit from their investment and expertise. He said the government's top priority was to create a knowledge economy to tap the full potential of the world's second youngest population.
Minister for Science and Technology Fawad Chaudhry said Pakistan had achieved yet another success in the field of medical equipment in production of best quality, safe and cost-effective cardiovascular devices. Terming it a trend-setting initiative in a country like Pakistan, he expressed the hope that other industrial groups would also follow the same trail and help revolutionise the medical device industry.
A cardiac stent is used to treat narrowed or blocked coronary arteries. It can also be used to improve blood flow immediately following a heart attack. Pakistan's first coronary stent system has features, including low recoil, superior cobalt chromium alloy, optimum crossing profile and crush resistance, and excellent bio-compatibility.
https://www.dawn.com/news/1585457/pm-stays-defiant-says-no-nro-for-opposition
--------
Nawaz's security ramped up in London
17 Oct 2020
KARACHI: For the first time, the Sharif family has taken substantial measures to beef up the security of former prime minister and PML-N supreme leader Nawaz Sharif. The move comes weeks after Mr Sharif's fiery speech against the government and his criticism of the military establishment's alleged interference in political matters. It also coincides with Mr Sharif's return to active politics.
On Thursday, four local bodyguards were reported to have reached Hasan Nawaz's office at Stanhope House, from where Nawaz Sharif addressed the Pakistan Democratic Movement rally in Gujranwala via a video link.
Throughout the day, the privately hired guards were stationed close to the office, where nearly three party workers had gathered.
Family sources insist arrangements not connected to PTI protests
Back at the Sharif residence at Avenfield, privately hired guards with vehicles bearing the sign "dog security unit" were seen during the day. Two guards with sniffer dogs were stationed on Dunraven Street, where Avenfield House is situated. The same guards earlier stood outside the gate of their residence with the bodyguards.
The visible presence of security outside his home and the office premises spurred speculations that the Sharif family has hired guards in case a security incident takes place in the situation that PTI activists stage a protest in London.
Led by Sahibzada Jahangir, who is the spokesperson for Prime Minister Imran Khan on trade and investment in the UK and Europe, PTI activists gathered outside Stanhope Place in the afternoon carrying anti-PML-N posters and shouting slogans against Nawaz Sharif. They were met with strong anti-Imran Khan and anti-PTI sloganeering by PML-N activists. Workers from both parties heckled each other but maintained a non-violent protest.
Mr Jahangir told Dawn that he is approaching the office premises to protest against Nawaz Sharif with "200 people" who will follow the UK government's Covid-19 protocols.
Under these guidelines, no more than six people can gather outside. However, by the evening, PTI activists outside Stanhope House were a few dozen in number.
Interestingly, they carried Pakistan flags instead of the PTI's party flag and also held placards which called on Nawaz Sharif to "stop spitting venom on Pak army".
Supporters of both parties flouted coronavirus protocols, as masks were placed on chins and distancing was not observed.
Officers of the Met Police arrived at the spot around 4pm and asked the crowd to maintain social distancing. As the workers ignored the police's requests, officers formed a line in the middle of the street to separate the activists from rival parties. The crowd held up traffic on the narrow street and irked nearby residents with their loud sloganeering.
Sharif family sources said the security arrangements for Mr Sharif have been in place for weeks and are not connected to these PTI protests. One source said the family feels Mr Sharif's security is of utmost importance, but did not offer any more comment on the significant increase in the PML-N supreme leader's security detail.
https://www.dawn.com/news/1585465/nawazs-security-ramped-up-in-london
--------
Punjab IGP's decision to transfer CIA SP demoralises force
Asif Chaudhry
17 Oct 2020
LAHORE: Apparently in a bid to avoid confrontation with Lahore CCPO Umar Sheikh, IGP Inam Ghani has transferred Crime Investigation Agency (CIA) SP Asim Iftikhar following his clash with Mr Sheikh during a meeting held here on Thursday.
The senior police officers were expecting that the IGP would mediate between the two officers and restore the confidence of others working in Lahore under the command of the CCPO.
Significantly, many important positions in Lahore are now vacant at a time when the movement of the opposition political parties is gaining momentum, creating a potential risk of any untoward incident. Most important is the slot of SSP Operations Lahore after the transfer of Faisal Shahzad who was posted as DPO Okara, a senior officer told this reporter.
Similarly, he said, the slot of SP Security and SP anti-riot force were also vacant for the last many months and it was for the first time that the Lahore police department was functioning without these three highly important police officers.
The SP security plays an important role to supervise the VIP and VVIP movements and prepares security plans. The anti-riot SP's absence during the agitation of the opposition parties is taken as 'weak command' of the Punjab and Lahore police.
The official said that one of the major reasons was that most of the police officers had refused to work under the command of the Lahore CCPO due to his 'aggressive behaviour'.
On Friday, the IGP transferred Asim Iftikhar and posted him SP Headquarters Traffic Police Punjab vice Tariq Aziz who was appointed SP Legal Police Training College, Chuhng against an existing vacancy. After the transfer of the SP CIA Lahore, it was the fifth slot (all SPs) which has fallen vacant in Lahore besides three slots of sub divisional police officers (SDPOs).
The transfer of Mr Iftikhar has come when he and the CCPO Lahore engaged in heated arguments during a meeting held at the Punjab Safe City Authority in the wee hours of Thursday. During the meeting, Umar Sheikh had issued order for the arrest of Asim Iftikhar and later proposed to the IGP to place him under suspension "for not obeying his order in letter and spirit".
An interesting aspect is that Mr Sheikh has been calling official meetings late in the night which last till early morning since he has assumed his charge as the Lahore CCPO. Calling official meetings with strict direction to attend at any cost at 'the odd time' has shattered the family and personal lives of the police officers.
The senior officer said Thursday's unpleasant incident would be considered a 'dark one' in the history of the Lahore police whose senior police officers are going through humiliation, mental torture and harassment. He said following the incident some senior police officers had suggested to the IGP to resolve the issue amicably at his level being 'commander of the Punjab police force'. They also gave him reference of other incidents in which the CCPO had his subordinate officers arrested and sent them behind the bars after lodging cases.
Unfortunately, he said, the IGP neither spoke to the CCPO to treat his subordinates politely nor did he hold an inquiry to bring facts to the public. He said it was the time the IGP led the 'demoralised Lahore police' by holding a 'crucial' meeting to resolve the issues. Instead, Inam Ghani, in a smart move, issued transfer orders of the SP CIA Lahore, giving a message to the other police officers to follow the instructions of Mr Sheikh, he said.
"Severely punishing the subordinates is neither new nor difficult," another senior police officer commented. He said motivating and encouraging them to work and produce results while risking their lives was a tough and difficult assignment.
"That is the area where qualities of a senior police officer (a reference to the CCPO Lahore) as a true leader of force are tested," he said.
https://www.dawn.com/news/1585519/punjab-igps-decision-to-transfer-cia-sp-demoralises-force
--------
Rally urges apex court to take notice of 'move to occupy Sindh's islands'
17 Oct 2020
HYDERABAD: Peasants, scholars, literati and activists of several Sindhi nationalist groups on Friday took out a rally under the aegis of the Porhiyat Mazahimat (Peasants' Resistance) against establishment of the Pakistan Islands Development Authority (PIDA) by the federal government for development of islands located off Karachi's coast.
The rally started from Shahbaz Building Chowk and culminated in front of the local press club, where the participants held a sit-in. They demanded withdrawal of the PIDA ordinance and urged the apex court to take suo motu notice of the matter.
Sindh Taraqqi-pasand Party (STP) leader Hoat Khan Gadehi told the rally that the Pakistan Peoples Party (PPP) must get a resolution adopted in the Sindh Assembly against the ordinance. "The federal government has attempted to occupy islands of Sindh and Balochistan," he claimed, and said that no such move would be accepted. This peaceful protest would continue, he added.
Sindh United Party (SUP) leader Roshan Buriro said that this rally reflected conscience of the people of the province who, he remarked, "will not accept any attack on Sindh's integrity".
Mr Buriro claimed that construction activity on the twin islands had started before the ordinance was issued. He also claimed that local communities had been displaced while Bengalis and Burmese were busy fishing there.
"Although the PPP has the mandate to rule over Sindh, it will not be allowed to work against Sindh and its resources," he said, adding that the people of Sindh would protect all its resources.
The SUP leader warned that if the lawmakers belonging to the Grand Democratic Alliance (GDA) "betrayed" Sindh, the masses would not forgive them. He said the GDA should also join the agitation.
Jeay Sindh Qaumi Mahaz (JSQM) leader Deedar Sham criticised all moves to usurp resources of Sindh and remarked that the province had been made "a colony of Punjab".
He was of the view that stronger forces were occupying the islands due to weakness of the people of Sindh. "We, the people of Sindh will have to show unity to protect the resources and integrity of our province," he stressed.
Human Rights Commission of Pakistan (HRCP) Sindh coordinator Imdad Chandio said the federal government must understand the reaction of Sindhi people, who could not tolerate any attack on its geography, heritage and resources.
He said if PPP did not stand up to support the people of Sindh, it would be forgotten in history.
Dr Akash Ansari said that those who were auctioning Sindh's resources were sadly mistaken to believe that people of Sindh were sleeping. "They must understand that things and conditions have drastically changed from the past; today's youth are well aware of their rights," he said, adding that the federal government could not occupy these resources in collusion with the Sindh government.
Writer Jami Chandio said that the islands were property of Sindh and not a single inch of the province's property would be handed over to the investors involved.
He noted that it was due to the pressure from the masses that forced the Sindh government to rescind its earlier decision.
https://www.dawn.com/news/1585436/rally-urges-apex-court-to-take-notice-of-move-to-occupy-sindhs-islands
--------
Southeast Asia
Indonesia's state Islamic bank merger to form $15 billion mega entity
October 14, 2020
Indonesia is pushing ahead with a years-long plan to merge the Islamic units of its state-owned lenders, which could form an entity with $15 billion of assets.
PT Bank Mandiri, PT Bank Negara Indonesia and PT Bank Rakyat Indonesia signed a conditional deal on Monday to combine their Shariah-compliant units. The merged entity's assets could reach 390 trillion rupiah ($26 billion) by 2025, from up to 225 trillion rupiah by end of 2020, as its scale helps it better compete with non-Islamic lenders.
The resulting bank "will raise Indonesia's profile on the global stage and revive the domestic Shariah economy," said Hery Gunardi, vice president director at Bank Mandiri.
"The merged entity will also look at global sukuk that can be sold in the Middle East."
Indonesia, home to the world's largest Muslim population, has sought to form a mega Islamic bank since at least 2015, taking on an earlier plan shelved by Malaysia, which has the largest Shariah-compliant capital market in the world. Indonesia dropped and revived the plan multiple times as many local banks considered whether to become part of the merger.
PT Bank BRI Syariah will be the surviving entity as part of the current deal, which is set to be completed by February 2021.
https://www.business-standard.com/article/international/indonesia-s-state-islamic-bank-merger-to-form-15-billion-mega-entity-120101400050_1.html
--------
Malaysia's king urges talks to end uncertainty as political power struggle drags on
16 October 2020
Malaysia's King Al-Sultan Abdullah on Friday called on politicians not to drag the country through more political uncertainty and urged them to resolve issues through negotiations and constitutional means.
The king's comments come amid a power struggle over the premiership between Prime Minister Muhyiddin Yassin and opposition leader Anwar Ibrahim, just seven months after another wrangle led to Muhyiddin forming the government.
For all the latest headlines follow our Google News channel online or via the app
Anwar met the king this week to prove he has the majority to form a government with the help of defectors from the current administration. But further meetings at the palace were cancelled due to movement restrictions to control the spread of the novel coronavirus.
The latest bout of uncertainty comes as Malaysia grapples with an economy battered by the coronavirus and a new surge in infections.
In a statement from the palace, the king advised lawmakers to "display maturity" and urged them to resolve problems through negotiations and legal processes enshrined in the constitution.
"Regarding the latest developments in the country's political situation, His Majesty advised the people, especially politicians, to come together to ensure that the country is never again dragged into political uncertainty while we are all still faced with various problems and a difficult future due to
the threat of the COVID-19 epidemic," the palace said.
The king plays a largely ceremonial role but he can appoint a prime minister who in his view is likely to command a majority. New governments are usually elected in Malaysia but the palace plays a role in certain instances.
The king appointed Muhyiddin as prime minister this year after the unexpected resignation of Mahathir Mohamad in February, whose government collapsed due to infighting.
Mahathir, who is now in the opposition, and five other lawmakers from his party each submitted motions of no confidence in Muhyiddin's leadership on Friday.
Separately, Anwar was summoned to give a statement to the police over a list of lawmakers said to be backing his bid for the premiership which went viral on social media.
Anwar said it was a "malicious" attempt to pressure him to reveal the identities of his supporters.
https://english.alarabiya.net/en/News/world/2020/10/16/Malaysia-s-king-urges-talks-to-end-uncertainty-as-political-power-struggle-drags-on
--------
Arab world
For Iraq's persecuted Yazidis, return plan is fraught with risk
16 October 2020
The Yazidis of northern Iraq, an ancient religious minority brutally persecuted by ISIS, want nothing more than peace, security and a better life in their hometown of Sinjar - but they want it on their terms.
Many there distrust a new security and reconstruction plan unveiled this week by the Baghdad government and Kurdish regional authorities which hailed it as a "historic" agreement.
For all the latest headlines follow our Google News channel online or via the app.
"The deal could pacify Sinjar - but it might also make the situation even worse," said Talal Saleh, a Yazidi in exile in nearby Kurdistan.
The Yazidis have suffered since ISIS marauded into Sinjar in 2014, one of the Sunni extremist group's conquests that shocked the West into military action to stop it.
ISIS viewed the Yazidis as devil worshippers for their faith that combines Zoroastrian, Christian, Manichean, Jewish and Muslim beliefs.
It slaughtered more than 3,000 Yazidis, enslaved 7,000 women and girls and displaced most of its 550,000-strong community.
Since ISIS was driven out of Sinjar by US-backed Kurdish forces in 2015, the town and its surrounding areas are controlled by a patchwork of armed groups including the Iraqi army, Shia Muslim militia, and Yazidi and Kurdish militants with different loyalties.
The government plan would enforce security and allow the return of tens of thousands of Yazidis afraid to go back because of a lack of security and basic services, according to the office of Iraqi Prime Minister Mustafa al-Kadhimi.
But many Sinjar natives feel the plan is vague, dictated by Baghdad and the Kurdish capital of Erbil. They say it has not included them and entails security reforms that could mean more division and violence.
"The PKK and their Yazidi allies are not just going to leave Sinjar without a fight," Saleh said.
The security arrangements include booting out the PKK, a Kurdish separatist group that has fought a decades-long insurgency in Turkey and bases itself in northern Iraq.
It would also drive out PKK "affiliates", an apparent reference to a Yazidi force of hundreds of fighters.
Escape
The PKK with Yazidi volunteers helped thousands of Yazidis escape the ISIS onslaught to Syria after the Iraqi army fled many areas of Nineveh province and Erbil's peshmerga forces retreated.
The peshmerga returned to help recapture Sinjar with US air support.
The PKK is under attack by Turkish forces in Iraq and exists uneasily alongside the peshmerga and the Iraqi army.
The army and the Popular Mobilisation Forces (PMF), Iraq's state paramilitary body dominated by Shi'ite militias, would oversee the ejection of the PKK, according to a copy the plan seen by Reuters.
Some locals fear this could split up families where siblings sometimes belong to different militias, forces and groups. The Yazidis also have their own force in the PMF, separate to the Yazidi PKK affiliate.
"There are about six political groups in Sinjar now. Brothers belonging to the same family each join different parties," said Akram Rasho, another displaced Yazidi in Kurdistan.
Baghdad and Erbil defend the plan.
"This is a good step to solve problems," said Kurdistan government spokesman Jotiar Adil.
Sinjar has also been caught up in a territorial dispute between Baghdad and Erbil since a failed Kurdish bid for full independence in 2017.
Under the plan for Sinjar, the Baghdad and Erbil governments would choose a new mayor and administrators and appoint 2,500 new local security personnel.
Supporters of the PKK suspect those would include returning Yazidis affiliated with the peshmerga.
At a demonstration against the deal in Sinjar on Sunday, Yazidi tribal leader Shamo Khadida shouted, "Sinjar belongs to its people and we are the people."
Others distance themselves from the politics and simply want to see delivery of services on the ground.
"If actual efforts are made to improve our situation, the people of Sinjar will find agreement," said Rasho.
https://english.alarabiya.net/en/News/middle-east/2020/10/17/For-Iraq-s-persecuted-Yazidis-return-plan-is-fraught-with-risk
--------
Lebanon's General Security chief in US for talks on American hostages in Syria
Joseph Haboush
16 October 2020
Lebanon's General Security chief Abbas Ibrahim is in Washington for several issues related to US hostages in Syria, with reports suggesting he may have new information on journalist Austin Tice.
For all the latest headlines follow our Google News channel online or via the app.
Last year, Ibrahim helped release US citizen Sam Goodwin and Canadian citizen Kristian Lee Baxter from the Syrian regime's custody in separate operations.
"He was invited by the family of Sam Goodwin who wanted to thank him for his efforts in securing their son's release from Syria," a senior diplomat told Al Arabiya English.
Ibrahim is no stranger to negotiations on hostages. He shuttled back and forth in 2019 between Beirut and Tehran to help facilitate the release of Nizar Zakka, a Lebanese citizen who is also a permanent US resident.
Iran's Islamic Revolutionary Guards Corps (IRGC) kidnapped Zakka in 2015 in Tehran after receiving an official invite from the state for a conference.
Pictures Friday showed Ibrahim meeting with Goodwin's family in Washington.
On Thursday night, the NSC tweeted a picture of National Security Adviser Robert O'Brien meeting with Goodwin's family in Washington. O'Brien said the US remained "committed to those still held captive."
However, on Friday, Lebanese and Arab media reports suggested Ibrahim was also carrying new information to the US administration on Austin Tice, an American journalist who was captured in Syria in 2012.
US President Donald Trump has previously said that Tice was still alive.
The Trump administration and the State Department were unable to comment on Ibrahim's visit.
An official Lebanese source confirmed to Al Arabiya English that Ibrahim was invited by Goodwin's family to Washington.
"He will also have meetings with officials while he is in Washington, but he was not dispatched by the Lebanese state," the source said.
The source added that Ibrahim would likely discuss US prisoners in the region, considering his background and close ties with several security agencies in the Middle East.
https://english.alarabiya.net/en/News/middle-east/2020/10/16/Lebanon-s-General-Security-chief-in-US-for-talks-on-American-hostages-in-Syria
--------
High-level US delegation heading to UAE, Bahrain, Israel for historic business summit
Joseph Haboush
16 October 2020
A high-level US delegation will head to the United Arab Emirates, Bahrain and Israel this weekend to follow up on the Abraham Accords signed last month, including the first-ever direct commercial flight from Tel Aviv to Manama, the Treasury Department said Friday.
Secretary of Treasury Steve Mnuchin will lead the delegation that will travel to the region from Oct. 17 to Oct. 20 "to support expanded economic cooperation under the Abraham Accords signed by the three countries last month."
For all the latest headlines, follow our Google News channel online or via the app.
The statement revealed that Mnuchin and the delegation would join Israeli officials on the first direct commercial flight to Bahrain from Israel. "The historic flight will depart Tel Aviv and arrive in Manama, where the US and Israeli delegations will participate in meetings with senior Bahraini officials," the Treasury Department said.
Following this, the delegation will head to Abu Dhabi, where Mnuchin will participate in the first Abraham Accords Business Summit. "The US and Israeli delegations will return to Israel on the first-ever direct commercial flight from Abu Dhabi to Tel Aviv," the statement said.
https://english.alarabiya.net/en/News/middle-east/2020/10/17/High-level-US-delegation-heading-to-UAE-Bahran-Israel-for-historic-business-summit
--------
US-backed SDF forces set free 100s of Daesh terrorists in Syria's Hasakah
16 October 2020
US-sponsored and Kurdish-led militants affiliated with the so-called Syrian Democratic Forces (SDF) have released hundreds of people detained on suspicion of having collaborated with the Daesh Takfiri terrorist group.
The 631 detainees were freed on Thursday from the Alaya detention facility on the outskirts of Qamishli city, located 680 kilometers (420 miles) northeast of the capital Damascus.
They had been held on terrorism charges and were the first batch released in an amnesty deal announced recently by the Kurdish-led forces.
The SDF forces hold tens of thousands of people suspected of links to Daesh and other terror outfits. Most of the detainees are Syrian and Iraqi nationals.
They also hold hundreds of foreign terrorists, whose respective countries refuse to take them back home and their fate has become a diplomatic hot potato.
"All those who were freed are Syrians," Amina Omar, co-chair of the so-called Syrian Democratic Council, said at a news conference in Qamishli.
Those who were freed on Thursday had served at least half of their sentence and were found to have no blood on their hands, she asserted.
The US has long been providing the SDF with arms and militant training, calling them a key partner in the purported fight against Daesh.
Many observers and experts, however, see the support in the context of Washington's plans to cement its foothold in Syria and loot crude oil reserves in the war-ravaged Arab country.
The US looting of Syrian oil was fist confirmed during a Senate hearing exchange between South Carolina Republican Senator Lindsey Graham and US Secretary of State Mike Pompeo in late July.
On July 30 and during his testimony to the Senate Foreign Relations Committee, Pompeo confirmed for the first time that an American oil company would begin work in the northeastern Syria, which is controlled by the SDF militants.
The Syrian government has denounced in the strongest terms the agreement inked to plunder the Arab country's natural resources, including Syrian oil and gas, under the sponsorship and support of the administration of US President Donald Trump.
https://www.presstv.com/Detail/2020/10/16/636514/US-backed-SDF-forces-set-free-100s-of-Daesh-terrorists-in-Syria-Hasakah
--------
Israel's arsenal of nuclear, chemical warfare poses greats risk to Middle East peace: Syria UN envoy
17 October 2020
Syria's Permanent Representative to the United Nations, Bashar al-Ja'afari, says Israel poses the biggest threat to peace and stability in the Middle East region by possessing chemical and nuclear weapons in its arsenal, calling on the international community to force the regime into opening its nuclear sites to the UN atomic watchdog's inspectors.
"The Israeli occupying regime's arsenal of biological, chemical and nuclear weapons is the biggest threat to the Middle East peace and security. Such armaments have posed a great challenge to global efforts to promote nuclear disarmament and non-proliferation over the past decades, and continue to do so," Ja'afari said at a meeting of the UN General Assembly First Committee on Disarmament and International Security on Friday.
He stressed the need for pressure on the Israeli regime to force it into joining the Non-Proliferation Treaty (NPT), and agreeing to let the International Atomic Energy Agency (IAEA) inspectors into its nuclear sites.
Ja'afari said Syria calls on all UN member states to support attempts aimed at declaring the Middle East a region free from weapons of mass destruction, including nuclear, chemical and biological munitions.
"Everyone knows that Syria is a signatory to the Non-Proliferation Treaty since 1968, and signed the Biological Weapons Convention (BWC) in 1972 as well as the Chemical Weapons Convention (CWC) in 2013 respectively. Syria has also welcomed bids and initiatives seeking to establish a zone free of nuclear weapons and other weapons of mass destruction (WMD) in the Middle East," the Syrian diplomat pointed out.
"Back in 2003, Syria submitted a draft resolution on the establishment of a Middle East zone free of nuclear weapons and all other weapons of mass destruction. The US delegation, however, threatened at the time to cast a veto to block the resolution," Ja'afari said.
He underlined that Syria strongly condemns any use of weapons of mass destruction, including chemical warfare, by any party and under any circumstances, noting that Damascus has not and will not use any chemical weapons because it doesn't possess any such munitions after signing the CWC.
Israel is believed to have the Middle East's only nuclear arsenal with 200 warheads.
Western governments and their allies have never stopped pointing the finger at Damascus whenever an apparent chemical attack takes place.
Syria surrendered its stockpile of chemical weapons in 2014 to a joint mission led by the United States and the Organization for the Prohibition of Chemical Weapons (OPCW), which oversaw the destruction of the weaponry. It has also consistently denied using chemical weapons.
On April 14, 2018, the US, Britain and France carried out a string of airstrikes against Syria over a suspected chemical weapons attack on the city of Douma, located about 10 kilometers northeast of the capital Damascus.
Washington and its allies blamed Damascus for the Douma attack, an allegation roundly rejected by the Syrian government.
https://www.presstv.com/Detail/2020/10/17/636566/Israel-arsenal-of-nuclear-chemical-warfare-poses-greats-risk-to-Middle-East-peace-Syria-UN-envoy
--------
Any transaction that benefits Israel not permissible: Iraq's Ayatollah Sistani
17 October 2020
Iraq's prominent Shia cleric Grand Ayatollah Ali al-Sistani has advised against trading goods that bring about benefits to the occupying Israeli regime.
The top Iraqi cleric was asked whether it is allowed to sell goods to or buy them from the companies that allocate part of their income to supporting Tel Aviv.
"It is not permissible to trade Israeli products and [engage with] the companies that we are sure to be effectively backing Israel," Ayatollah Siatani's office said on its website.
In recent years, a campaign boycotting Israeli products has been growing rapidly worldwide, causing heavy losses to the regime's firms.
The Boycott, Divestment, and Sanctions (BDS) movement was initiated in 2005 by over 170 Palestinian organizations and later turned international. The movement is meant to initiate "various forms of boycott against Israel until it meets its obligations under international law" and end its decades-long occupation of Palestinian lands.
The BDS, which was inspired by the South African anti-apartheid movement, has claimed several successes in isolating Israel and promoting the Palestinian cause.
https://www.presstv.com/Detail/2020/10/17/636575/Iraq-Ayatollah-Sistani-Israel-trade
--------
Iraq's Hashd Sha'abi fighters, govt. forces foiling Daesh infiltration bids on Syria border: Military official
17 October 2020
A high-ranking Iraqi military official says fighters from Popular Mobilization Units, better known by the Arabic word Hashd al-Sha'abi, alongside national security forces are effectively thwarting infiltration attempts of the Daesh Takfiri terrorists on the western border with Syria.
Brigadier General Yahya Rasoul, a military spokesman for Iraqi Prime Minister Mustafa al-Kadhimi, the commander-in-chief of the armed forces, said qualitative and pre-emptive operations by both Hashd al-Sha'abi and security forces are underway along the frontier to prevent possible infiltrations in various spots.
"The forces continue to set up several ambushes along the border. Our units have been able in the past to arrest a number of smugglers and terrorists," he added.
"The forces arrested infiltrators from Daesh terror cells with foreign nationalities, including Syrian nationals. Pre-emptive and qualitative operations are of paramount importance and rely on considerable intelligence," Rasoul pointed out.
"The focus of our forces has been on collection of top-secret intelligence to capture terrorists along the border with Syria. Sometimes, we target dens and hideouts where Daesh terrorists are trying to take refuge in the depths of the desert. Surveillance towers and thermal cameras are monitoring all movements along Iraq-Syria border round the clock," the senior Iraqi military official pointed out.
"The Iraqi-Syrian frontier is 605 kilometers long, and is controlled by Iraqi border guards, Hashd al-Sha'abi fighters as well as Iraqi army units in various areas. The forces continue to secure the border line under the directives of the commander-in-chief of the armed forces, and under the supervision of the Minister of Defense [Juma Inad] and the Chief of Staff of the Army [Lieutenant General Abdul Amir Rashid Yarallah]," Rasoul said.
Hashd al-Sh'abai fighters have played a major role in the liberation of Daesh-held areas to the south, northeast and north of the Iraqi capital Baghdad, ever since the terrorists launched an offensive in the country in June 2014.
Back in November 2016, the Iraqi parliament approved a law giving full legal status to the fighters. It recognized the PMU as part of the national armed forces, placed the forces under the command of the prime minister, and granted them the right to receive salaries and pensions like the regular army and police forces.
https://www.presstv.com/Detail/2020/10/17/636576/Hashd-Sha%E2%80%99abi-fighters,-security-forces-stopping-Daesh-infiltration-attempts-on-Iraq-Syria-border--Official
--------
US drone strike kills 2 senior Al Qaeda operatives in Syria
16 October 2020
The U.S. military carried out a drone strike Thursday, killing two senior Al Qaeda operatives in northwest Syria.
"U.S. forces conducted a strike against Al Qaeda in Syria in the vicinity of Idlib, Syria, Oct. 15. AQ-S continues to present a threat to America and our allies," Maj. Beth Riordan, a spokesman for U.S. Central Command said in a statement to Fox News.
Officials say the strike was carried out by the U.S. military's elite Joint Special Operations Command.
It's the first drone strike by the U.S. military against Al Qaeda in Syria since mid-September.
The U.S. military has been using a new missile to kill terrorists in the past year dubbed the "flying Ginsu" for the knives released by the specially modified Hellfire missile carried on MQ-9 Reaper drones. The missile does not carry a high explosive warhead greatly reducing collateral damage and killing innocent civilians. The GPS-guided "Ginsu" missile falls from the sky with enough force to shred through car roofs and human flesh while terrorists are traveling by car. Anyone nearby has a greater chance to live due to the lack of explosive in the missile.
It's not clear if this type of missile was used Thursday, officials say.
Idlib is the same area in Syria where nearly a year ago President Trump approved a raid by U.S. Special Operations forces to kill ISIS leader Abu Bakr al-Baghdadi.
The names of the Al Qaeda leaders killed were not immediately known.
Idlib is home to some of the last remaining opposition fighters who have been battling Syrian President Bashar al-Assad's forces for nearly a decade. Over 400,000 civilians have been killed since the civil war began in 2011.
Roughly 500 American troops remain deployed in eastern Syria to help Kurdish fighters of the Syrian Democratic Forces stamp out the remnants of ISIS after its caliphate was wiped out last year
In a new report released Thursday, Human Rights Watch accused Russian and Syrian forces of deliberately carrying out attacks against civilians in Idlib including schools, hospitals and marketplaces.
The report accused Russia of covering up their attacks on civilians.
https://www.foxnews.com/world/us-drone-strike-kills-2-senior-al-qaeda-operatives-in-syria?utm_source=iterable&utm_medium=email&utm_campaign=1624027_
--------
Mideast
FM Zarif: Iran Ready to Help Azerbaijan, Armenia Settle Differences
Oct 16, 2020
During the phone talk on Thursday, Zarif reaffirmed Iran's principled stances and said that Azerbaijan's territorial integrity should be respected.
He, meantime, voiced Iran's readiness to help achieve sustainable peace and solution to the dispute within the framework of the regional initiative by Iran, Turkey, and Russia, as well as Minsk Group.
The Azeri foreign minister, for his part, elaborated on the latest battlefield developments in the Karabakh region.
The Iranian and Azeri foreign ministers also emphasized the importance and role of a regional initiative in resolving the several-decade-old crisis.
Iran has repeatedly asked for a settlement of the conflict and urged the cessation of hostilities in Nagorno-Karabakh.
The dispute over Nagorno-Karabakh started in 1988 and led to military conflict in 1992.
Two days ago, Armenian and Azeri foreign ministers through Russia's mediation agreed on a ceasefire but the violation of the ceasefire suggests the truce agreement is fragile.
Armenia and Azerbaijan resumed clashes on the border between the two countries on September 27 blaming each other for the violence.
Nagorno-Karabakh has been a bone of contention between the two countries over the past decades.
In 1994, following four years of military conflict between the two countries, some European and regional governments stepped in to end the territorial dispute between Baku and Yerevan, and a ceasefire was finally established through the mediation of the Minsk Group of the Organization for Security and Cooperation in Europe (OSCE). But international efforts to resolve the conflict peacefully have so far been unsuccessful.
More than 20 days into the Caucasian military conflict, the clashes are on the rise despite the ceasefire that was singed earlier in the week.
The agreement to pause hostilities in order to exchange prisoners and the bodies of those killed was approved by the foreign ministers of Armenia and Azerbaijan in marathon talks in the Russian capital last Friday.
The talks were the first diplomatic contact between the two former Soviet republics since the recent escalation that broke out in late September. About 500 people have been reported killed.
Karabakh is internationally recognized as part of Azerbaijan, but it has been held by ethnic Armenian separatists backed by Armenia since 1992 when they broke from Azerbaijan in a war that killed some 30,000 people.
https://en.farsnews.ir/newstext.aspx?nn=13990725000347
--------
Iranian Ports' Activities Not Disrupted by Recent Cyberattack
Oct 16, 2020
"All the activities of the Organization are underway with no disruption," A statement released by the Ports and Maritime Organization of Iran (PMOI) said on Friday.
"Technical measures have been adopted by the PMOI's IT experts to strengthen online services and prevent any pause in the loading and unloading operations," the statement added.
The statement rejected the allegations that the recent cyber-attack was successful, describing such claims as part of a psychological war against Iran.
Iran's information security agency, MAHER, said in a Wednesday statement that it had issued notices to various government departments demanding them to be prepared for potential cyberattacks.
However, it said that the notices did not mean that addressed government departments had been actually targeted by such attacks.
"The incidence of the major cyberattack was merely related to two government organizations and responsible authorities are dealing with the issue," said the statement.
The cyber security agency also said that some government departments had independently decided to cut some of their services to carry out technical tests, a move which it said had come only "out of precaution".
"Though from the view point of MAHER this measure was not deemed necessary," it said.
Iran's cyber space has been the target of some high-profile and malicious activities in recent years and the government has blamed them on the United States and the Israeli regime.
Some of those cyberattacks have sought to influence routine but sensitive activities across the Iranian nuclear and energy infrastructure or disrupting the country's core communication networks.
A large-scale distributed denial-of-service (DDoS) attack that took place in early February was dealt with swiftly as authorities were able to restore the network to normal within several hours.
The General Staff of the Iranian Armed Forces in a statement in August warned that any level of cyber threats against the country will be responded firmly and decisively.
"Armed forces of the Islamic Republic of Iran do not initiate any conflict in cyberspace as in the physical space. They regard the policy included in this instrument as a framework for their actions in confronting any threat in cyberspace," the statement said.
"It is clear that the Armed forces of the Islamic Republic of Iran reserve the right to react to any threat at any level in a firmed and decisive manner if any of the policies included in the present instrument may be violated by any state, group, or any other person or entity supported, controlled or directed by any state," it added.
https://en.farsnews.ir/newstext.aspx?nn=13990725000349
--------
Karabakh Conflicting Sides Warned over Misfire at Iran's Borders
Oct 16, 2020
"Unfortunately, worrying news have been reported on the issue, which is not acceptable at all," Khatibzadeh said on Thursday.
"The security of the Iranian citizens living in border areas is the redline for our armed forces and in case of repeated shelling, the Islamic Republic of Iran will not remain indifferent," he went on to say.
On Tuesday, an official in East Azarbaijan had said that a missile fired by the warring sides in Karabakh conflict has hit Heris County, 70 kilometers Northeast of Tabriz.
East Azarbaijan Deputy Governor- General Aliyar Rastgou said that a missile fell on the farmlands of Aqa-Alilou village in Heris County.
He expressed pleasure the missile blast did not cause any casualties or financial losses.
Earlier on Tuesday, Deputy Governor-General of the Northwestern province of Ardabil Behrouz Nedayee had also said that a drone crashed in the farmlands of the border County of Parsabad.
20 days into the Caucasian military conflict, the clashes are on the rise despite the ceasefire that was singed earlier in the week.
In relevant remarks early this month, the Iranian foreign ministry had repeated the country's warning to Azerbaijan and Armenia to avoid misfire during military clashes between the two neighbors.
"The Islamic Republic of Iran is seriously and with high sensitivity monitoring the moves at the bordering areas of Iran and declares that any aggression against our country's territories by any party engaged in the (conflicts in the) region will not be tolerated and we seriously warn all sides to show necessary caring in this regard," Foreign Ministry Spokesman Saeed Khatibzadeh said.
He reiterated the need for respecting Azerbaijan's territorial integrity, watching for civilians' lives, stopping clashes and starting serious and timed talks, adding that Iran is ready to help achievement of the aforesaid goals.
Deputy Commander of Iran's Law Enforcement Forces Brigadier General Qassem Rezayee had also late in September warned Armenia and Azerbaijan which have been engaged in clashes to avoid misfire at Iranian bordering areas.
https://en.farsnews.ir/newstext.aspx?nn=13990725000082
--------
Iran's missiles need to be addressed to curb Tehran's ambitions in region: Study
Yaghoub Fazeli
17 October 2020
The UN arms embargo on Iran is set to expire Sunday despite US efforts to extend it, giving the regime the freedom to purchase military equipment. This will compound the danger its current missile program already poses in the Middle East.
The embargo is due to expire on October 18, as agreed under the 2015 nuclear deal among Iran, Russia, China, Germany, Britain, France and the United States that seeks to prevent Tehran from developing nuclear weapons in return for sanctions relief.
For all the latest headlines follow our Google News channel online or via the app.
After failing to pass a resolution to extend the embargo, the US triggered a "snapback" of all sanctions on Iran. However, 13 out of 15 council members expressed their opposition to a return of all UN sanctions on Tehran because there was no consensus in the body.
The US administration has repeatedly argued that should the embargo fail to be extended, it would strengthen Iran's capability to further arm its proxies in the region and eventually destabilize the Middle East.
Washington also believes that Iran's ballistic missile program is used by the regime to further its influence in the region and is not for "peaceful" purposes as Tehran claims.
The Iranian regime has repeatedly over the years claimed that its missile program was for "peaceful purposes" and for defense only and refused to even negotiate curbing the program.
A study by the Riyadh-based think tank International Institute for Iranian Studies (Rasanah) stated that nuclear deal alone was not enough to curb the dangers posed by Tehran to the region. It highlighted Iran's capabilities when it comes to missile production.
"Iran can produce hundreds of sophisticated, reverse-engineered improvised missiles. Through black-market or top-secret unannounced purchases, Tehran is suspected of building a missile force capable of evading the radars of its neighbors with speed and in-flight maneuverability. Considering the short flight duration between its adversaries, the threats from Iran's government to the region cannot diminish with the existing nuclear deal as it does not cover Iran's missile capability," the study said.
Iran also has a long history of arming and financially supporting its network of proxies – Shia militias across the Middle East – to further its influence in the region.
"Iran's reliance on its missile force makes it highly probable that it will face a high degree of escalation and pay severe retribution. It has [therefore] successfully managed threats by deploying its missiles via its proxies in Lebanon, Iraq, and Yemen," the study adds.
"Iran found great potential in projecting its influence and power through the use of non-state armed actors, civil society groups, emerging media platforms, unmanned aerial vehicles and missile forces."
"Reverse-engineered or locally assembled missiles" have been smuggled to Hezbollah in Lebanon, the Houthis in Yemen, and Shia militias in both Syria and Iraq.
"Drones have worked well for Iran, from Yemen to Iraq and Syria to Lebanon. A sanction-stricken country like Iran, without its many missiles and numerous drones, cannot project power and implement deterrence measures thousands of kilometers away."
After the embargo is lifted "Iran's arms shopping list will include missile defense systems, fighter jets and submarines."
https://english.alarabiya.net/en/News/middle-east/2020/10/17/Iran-s-missiles-need-to-be-addressed-to-curb-its-ambitions-in-region-Study
--------
Turkey's Erdogan and Ukraine's Zelenskiy sign military agreements
16 October 2020
Turkey and Ukraine signed military cooperation agreements in Istanbul on Friday, deepening a defense partnership seen as an effort to counterbalance Russia's dominance in the Black Sea region.
Ukrainian President Volodymyr Zelenskiy and Turkey's Recep Tayyip Erdogan oversaw the signing of a "goodwill" agreement concerning the defense industry and a "military framework agreement," officials said, although details of the agreements were not immediately known.
For all the latest headlines follow our Google News channel online or via the app.
"Turkey sees Ukraine as a key country for the establishment (of) stability, security, peace and prosperity in the region," Erdogan said following the signing ceremony between the two Black Sea nations that have been enhancing military ties in recent years.
Zelenskiy said the agreements pave the way for "new opportunities."
"Cooperation in the defense industry is important for the development of our strategic partnership and I am happy that we are strengthening it today," he said, speaking through an interpreter.
Last year, Ukraine reached an agreement for the purchase of Turkish-made drones. The two countries are also reportedly engaged in discussions to develop an aircraft engine.
The signing of the agreements comes as the conflict in the Caucasus over Nagorno-Karabakh is putting a strain on Turkey's relations with Russia. Turkey has backed Azerbaijan in the dispute, while Russia has a military base in Armenia and a security pact requiring Moscow to intervene if its ally is attacked.
In a delicate balancing act, Russia also has sought to maintain warm ties with Azerbaijan and avoid upsetting relations with Turkey.
Although Ankara and Moscow have developed strong economic ties and are accommodating mutual interests in Syria and Libya, the two have an often uneasy relationship and remain geopolitical rivals.
Erdogan on Friday reiterated Turkey's refusal to recognize Russia's annexation of Ukraine's Crimean Peninsula.
"Turkey has not recognized Crimea's illegal annexation and it never will," Erdogan said.
Zelenskiy meanwhile, presented Erdogan with a state medal for his support for Ukraine's "territorial integrity."
https://english.alarabiya.net/en/News/middle-east/2020/10/16/Turkey-s-Erdogan-and-Ukraine-s-Zelenskiy-sign-military-agreements
--------
European powers condemn Israel settlement approvals in Palestine
16 October 2020
European powers on Friday condemned Israel's decision to approve thousands more settlements in occupied Palestinian territory, calling it a "counterproductive" move that undermines regional peace efforts.
For all the latest headlines follow our Google News channel online or via the app.
"The expansion of settlements violates international law and further imperils the viability of a two-state solution to bring about a just and lasting peace to the Israeli-Palestinian conflict," said a joint statement from the foreign ministers of Germany, France, Britain, Italy and Spain.
"As we have emphasized directly with the government of Israel, this step furthermore undermines efforts to rebuild trust between the parties with a view to resuming dialogue," they said, urging an immediate halt in settlement construction.
The ministers said pushing ahead with more settlements would be a "counterproductive move in light of the positive developments of normalization agreements reached between Israel, the United Arab Emirates and Bahrain."
The UAE and Bahrain had in mid-September set aside decades of enmity with Israel to sign a US-brokered deal to normalize ties.
Western powers had hoped the deals would bring regional stability and give a boost to hopes for peace.
But the Palestinians have branded the shift by the Gulf nations as "betrayal."
https://english.alarabiya.net/en/News/world/2020/10/16/European-powers-condemn-Israel-settlement-approvals-in-Palestine-
--------
Africa
Sudanese officials discuss normalization with Israel ahead of US deadline: Report
Joseph Haboush
15 October 2020
Officials in Sudan are discussing plans to normalize relations with Israel after Washington gave Khartoum a deadline to respond in exchange for economic relief and eased sanctions, CNN reported Thursday.
Citing two senior Sudanese officials, CNN said that a meeting was taking place in Sudan after the US issued a 24-hour deadline to agree to peace with Israel.
For all the latest headlines, follow our Google News channel online or via the app.
According to the report, Sudan would have its international debt reduced along with the potential to be removed from Washington's list of state sponsors of terrorism.
Aid worth approximately $600 million in food and medicine would be given to Sudan under the deal. Additionally, $3 billion in debt due to the US in the next fiscal year would be slashed, CNN reported.
The State Department referred questions to the White House. The White House did not respond to a request for comment at the time of publication.
Last month, Sudanese Prime Minister Abdalla Hamdok said his country did not want to link its removal from the US terrorism list to a deal with Israel.
Israeli Prime Minister Benjamin Netanyahu said he met with Sudanese Gen. Abdel-Fattah Burhan in February to begin the process of normalization.
Read more: Saudi Arabia has always envisioned normalization with Israel would happen: FM
And with a struggling economy trying to rebound from decades of sanctions due to former Islamist ruler Omar al-Bashir, Sudan desperately needs economic aid from the international community.
After the United Arab Emirates and Bahrain signed peace deals with Israel last month, US President Donald Trump said several Arab countries wanted to follow suit.
It was reported that Sudan, Oman and Morocco were closing in on such deals, but this has not happened.
On September 23, the US ambassador to the United Nations said another Arab country would sign a peace deal with Israel in the "next day or two."
The comments came almost a month after US Secretary of State Mike Pompeo flew to Khartoum and discussed peace with Israel.
The Trump administration has stepped up its efforts in recent months to warm ties between Tel Aviv and the Arab world, which have long been critical of Israel over the Palestinian cause.
On Thursday, Saudi Arabian Foreign Minister Prince Faisal bin Farhan said the Kingdom had always envisioned that normalization with Israel would happen.
"We have always envisioned that normalization [with Israel] would happen, but we also need to have a Palestinian state and a Palestinian-Israeli peace plan," Prince Faisal said.
https://english.alarabiya.net/en/News/middle-east/2020/10/16/Sudanese-officials-meeting-on-Israel-peace-ahead-of-US-deadline-Report
--------
Dozens of soldiers, insurgents reported killed in Somalia clashes
16 October 2020
Dozens of soldiers and insurgents were killed in two days of fighting between Somali government forces and al-Shabaab militants northwest of the capital Mogadishu, a witness told Reuters on Friday.
Somalia's state news agency Sonna said the military had killed about 50 fighters from the al Qaeda-allied Islamist group. No immediate account of the battle was available from the militants.
For all the latest headlines follow our Google News channel online or via the app
Hussein Ali, a farmer in the Afgoye area, told Reuters he and other civilians had been trapped in the crossfire during two nights of fighting.
"The Somali government transported dozens of dead bodies. Likewise, al-Shabaab took dozens of their bodies. They both suffered blows," he said, adding he had counted at least 20 bodies on both sides.
Sonna, the state news agency, said that among the insurgents killed was a commander it identified as Osman il Fidow. "Al Shabaab buried its dead bodies in another village called Bulo Yarey," it said.
Neither the Somali military nor al-Shabaab could be reached for comment. Both sides often give sharply different figures of fatalities in skirmishes.
Al-Shabaab has been fighting for more than ten years to dislodge the country's central government and establish rule based on its strict interpretation of Islam's sharia law.
The group frequently carries out gun assaults and bombings of both military and civilian targets and has also carried out attacks on regional targets, especially in neighboring Kenya.
https://english.alarabiya.net/en/News/world/2020/10/16/Dozens-of-soldiers-insurgents-reported-killed-in-Somalia-clashes
--------
US emails reveal Algeria's collusion with terrorist groups in Sahara & Sahel
October 15, 2020
The Algerian junta, with its future constitution, seeks to muzzle its civil society and to divert attention from its internal problems by extending its influence beyond its borders through destabilizing neighboring countries.
Reports about these destabilizing attempts and about Algeria's connections with the terrorist groups roaming in the Sahel-Sahara region made the headlines from time to time.
These connections came under the spotlight again this week when on October 12, 2020, Secretary of State Mike Pompeo published, at the injunction of President Donald Trump, on the State Department website , the private server emails of Hillary Clinton while she was heading the same department under the Obama administration.
One of these emails received on January 18, 2013, confirms, if need be, that the Algerian regime is in collusion with terrorist groups operating in the Sahara and the Sahel.
Excerpts from the 2013 report revealed that Algeria was in contact with Mokhtar Belmokhtar and struck with him a secret understanding following the abduction of the Algerian consul in Gao (Mali) and six members of his diplomatic mission in April 2012.
Under this agreement, Algeria would have reportedly asked Belmokhtar to concentrate «his operations in Mali, and occasionally, with the encouragement of the Algerian DGSE, attack Moroccan interests in the Sahara».
The Sahel and certain African regions have actually been held hostage by terrorist groups mandated by the Algerian security services.
Algeria's involvement in Mali, Libya and the Moroccan Sahara, and the support of some countries bribed by the despot regime, show clearly the animosity of this corrupt regime.
The jihadist group Al Mourabitoune linked to Al Qaeda, and whose leader is none other than the sinister Algerian terrorist Mokhtar Belmokhtar, illustrates the danger that this regime still poses to the entire region.
An accomplice of senior Algerian officers, Mokhtar Belmokhtar had created Al Mourabitoune group, funded by the Algerian junta. This organization has been the spearhead of the Algerian Realpolitik in the Sahel and in the region.
Another Algerian jihadist, Abdelmalek Droukdel, aka Abou Moussab Abdelwadoud, had been trained by military security and was the historical leader of the jihad in the Maghreb and commander of several jihadist groups in the Sahel. He was killed on June 3, 2020 by French special forces in Talhandak, northwest of the Malian town of Tessalit.
Meanwhile, several humanitarian observers continue to denounce the direct or indirect interference of the Algerian regime in African and Latin American countries.
https://northafricapost.com/44565-us-emails-reveal-algerias-collusion-with-terrorist-groups-in-sahara-sahel.html?utm_source=iterable&utm_medium=email&utm_campaign=1624027_
--------
Islamic militants in Somalia kill eight army soldiers, official says
October 15, 2020
MOGADISHU, Somalia — Somalia's militant rebels have killed at least eight soldiers in an ambush in the country's south, said a military official.
Two other soldiers are missing after an attack on a military convoy traveling between the towns of Afoye and Wanlaweyn in Lower Shabelle region, Col. Ahmed Hassan said Thursday.
Somalia's al-Shabab, which is linked to al-Qaida, has claimed responsibility for the attack. The militant group said it killed at least 25 soldiers, a claim dismissed by the Somali military.
Al-Shabab fighters often attack troops traveling on the major roads between the Somali capital, Mogadishu, and nearby regions.
The latest attack comes after Somalia's intelligence agency said it seized nearly 80 tons of sulfuric acid, preventing the chemical from being smuggled into territory held by al-Shabab, which would have used it to make explosives. Several people involved in the smuggling have been arrested, according to the intelligence agency.
https://www.stripes.com/news/africa/islamic-militants-in-somalia-kill-eight-army-soldiers-official-says-1.648687?utm_source=iterable&utm_medium=email&utm_campaign=1624027_
--------
Twenty killed in northern Burkina Faso attacks, says government
OCTOBER 15, 2020
OUAGADOUGOU (Reuters) - Armed groups have killed about 20 people in attacks on three villages in northern Burkina Faso, the government said in a statement on Thursday.
The attacks on the villages of Demniol, Bombofa and Peteguerse took place on Wednesday, the communications ministry said, 10 days after gunmen killed 25 displaced people near the town of Pissila, about 140 kilometres (87 miles) to the southeast.
Burkina Faso has descended into chaos in the last few years as Islamist groups with links to al Qaeda and Islamic State exploit ethnic grievances and government neglect of the arid north.
This year alone, hundreds of people have been killed in dozens of attacks on civilians. Over 1 million people are displaced, more than one in every 20 inhabitants, according to the United Nations.
Burkina is scheduled to hold presidential elections in November, but experts have raised concerns that displaced people will not be able to vote, especially in parts of the centre and north where the government appears to hold little control.
https://www.reuters.com/article/uk-burkina-security/twenty-killed-in-northern-burkina-faso-attacks-says-government-idUSKBN2702NM?utm_source=iterable&utm_medium=email&utm_campaign=1624027_
--------
North America
Pompeo seeks reversal of Turkey's 'provocative' North Cyprus move to reopen Varosha
16 October 2020
US Secretary of State Mike Pompeo voiced deep concern about Northern Cyprus' reopening part of a beachfront resort abandoned since Turkey invaded the island in 1974, calling it provocative and seeking its reversal, the State Department said on Friday.
Pompeo made the comments in a call with Cypriot Foreign Minister Nikos Christodoulides, the Department said, referring to Turkish Cypriot authorities partial reopening of the beach town of Varosha, a former resort area fenced off and abandoned in no-man's land since the 1974 invasion divided the island.
For all the latest headlines follow our Google News channel online or via the app.
"The Secretary expressed deep concern and noted such a move was provocative and inconsistent with UN Security Council Resolutions 550 and 789 and not conducive to a return to settlement talks," State Department spokeswoman Morgan Ortagus said in a statement.
"The Secretary urges a reversal of the re-opening," she added. "The United States continues to support a comprehensive settlement to reunify the island as a bizonal, bicommunal federation, which would benefit all Cypriots and the entire region."
An affluent neighborhood of high rise hotels, residences and shops, Varosha's 39,000 Greek Cypriot residents fled in the second wave of an invasion mounted by Turkey in 1974 triggered by a brief Greek inspired coup. It was sealed off by the Turkish military, and effectively left to rot.
https://english.alarabiya.net/en/News/world/2020/10/16/Pompeo-seeks-reversal-of-Turkey-s-provocative-North-Cyprus-move-to-reopen-Varosha
--------
Tyrant on steroids: Trump hits Iran with threats, sanctions and profanity
16 October 2020
By Yuram Abdullah Weiler
In a vile vomit of verbiage, Trump has "F-bombed" Iran while speaking on a nationally syndicated radio program. In addition, the tyrant on steroids, with the help of his sadistic secretary of state, has caused suffering among Iranians through the "maximum pressure" regimen of draconian sanctions. The Leader of the Islamic Revolution, Ayatollah Khamenei in condemning the renegade US president rightly remarked, "Only miscreants like you are capable of taking pride in such atrocity."
In an interview on right-leaning Rush Limbaugh's radio program, Trump spoke in the most vulgar of language in a rant filled with baseless braggadocio, claiming that if he is re-elected (May Allah forbid and blot out his name from history) he would have "a great deal with Iran within one month." Pressed by Limbaugh for details, Trump claimed the deal would be "on no nuclear weapons." Proceeding with his rant, Trump, in his delusionary world view, sees Iran as the source of terrorism. Of course, Iran is and has been the main resistance force fighting against the US-Zionist-Saudi terrorist axis, but nevertheless, the US autocrat insisted that terrorism is down because of him. "Iran is bust because of me," he insisted, elaborating, "because of sanctions and other things."
At this point, the daft would-be US dictator went into bellicose bluster overdrive. Claiming that Iran knows that if it would do anything against the US, which by the way, it already has, Trump would make the Islamic Republic "pay a thousand-fold problem," claimed that the US has "strength in weapons that we never had before," and also that "Iran knows that." Stooping to a new low by a so-called US president, Trump unleased an F-bomb on national radio. "They've been put on notice," Trump exclaimed. Then changing from third to second person plural with respect to Iran, he vulgarly threatened, "If you f*** around with us, you do something bad to us, we are going to do things to you that have never been done before and they understand that."
Earlier in August, Trump and his minions made a feeble attempt at the United Nations Security Council to invoke the sanctions snapback mechanism in Resolution 2231, which endorsed the JCPOA, but without success. Secretary of State Mike Pompeo presented the absurd argument that while the US had withdrawn from the so-called Iran nuclear deal, it nevertheless still maintained the status of a party to the agreement and, due to Iran's "significant non-compliance," was demanding all international UN sanctions be reimposed. The other members demurred, pointing out that the US has forfeited its status as a signatory when it withdrew from the agreement and therefore had no right to make such a demand.
Team Trump's real objective was to prevent the expiration on October 18 of the arms embargo against Iran imposed by the Security Council Resolution 1747 in 2007. However, 13 of the 15 members of the august body expressed their disapproval of reimposing the international sanctions, openly ridiculing the US position. Chinese Foreign Minister Wang Yi stated unequivocally that the US, having withdrawn from the JCPOA, "has no right to demand the Security Council to activate the rapid reinstatement of sanctions mechanism." Ignoring the reality of a stunning rebuke, Pompeo unabashedly announced, "The return of sanctions today is a step toward international peace and security," as if his mission had been a stunning success.
So now, this ex-reality TV star president has imposed additional sanctions so broad in scope that virtually no humanitarian goods can flow into Iran. In this latest orgy of sanctions, the Trump regime has ordered 18 additional Iranian banks to be added to the US. Treasury's hit list of specially designated nationals and blocked persons. US Secretary of the Treasury Steve Mnuchin, in consultation with US Secretary of State Mike Pompeo, no doubt both salivating over the prospect of inflicting additional misery on the Iranian people, carried out Trump's order with alacrity. Whether these sanctions are the mere flailing of a lunatic US president who knows he is about to lose an election or his sadistic expression of appreciation to regional allies for recent arms deals, the result is the same for the Iranian people: increased difficulty in acquiring needed drugs and medical equipment to fight COVID-19.
Reportedly Trump himself has had a brush with COVID-19. After conceding a positive test result in the early morning hours on October 2, he was rushed by helicopter to Walter Reed Military Hospital in Bethesda, Maryland near Washington, DC and given the ultimate in boutique medical care. In the course of treatment, the morbidly obese president was given a variety of therapeutic drugs, among which was the steroid Dexamethasone, an inexpensive medication used to treat a variety of ailments from arthritis to thyroid disorders, including cancer. Dexamethasone was found to reduce the risk of death due to COVID-19, and, since 80 percent of deaths due to the disease occur in patients who are 65-years-old and above, Trump, aged 74, was given the steroid. Unfortunately, the drug is not recommended for patients with mild symptoms, as Trump allegedly had, and, in fact, it has been shown to induce harmful psychological changes, among them delusions of grandiosity and feeling "on top of the world."
Apparently, dexamethasone is similar to a natural hormone secreted by the adrenal glands, and has an effect similar to epinephrine, also known more commonly as adrenaline. Thus, it is entirely possible that Trump's burst of bombastic bravado threatening Iran is nothing but a reaction to the glucocorticoid steroid dexamethasone, which may have adversely amplified his well-established pattern of excessively arrogant and impulsive behavior. Prescribing such therapy for someone who already is an acutely arrogant autocrat would seem to be as illogical as dispensing sildenafil to a serial rapist. In either case, a rational being would not expect to see a less contemptible pattern of comportment, nor be surprised to witness an increase in abhorrent activity.
So Donald Trump, desperate for some diplomatic breakthrough with Iran to tout in order to resuscitate his ailing reelection bid, has resorted to obscenity-laced threats and more sanctions. This is a rather clear admission that the despot's "maximum pressure" campaign to force Iran into negotiating anew has failed. Furthermore, Supreme Leader Ayatollah Khamenei had pointed out in a speech in July on the occasion of Eid al-Adha that negotiating with the US would be harmful to Iran. Addressing the pressing issue of sanctions, he advised Iranians, "The only cure for sanctions is reliance on internal capabilities. We should preserve all present capabilities and strive to find new ones." And, of course, as the Islamic Republic becomes increasingly self-reliant, the US economic sanctions become increasingly ineffective.
Feigning compassion, the editors of the prestigious New York Times in an opinion editorial on Tuesday, October 13 called upon the tyrant on steroids in the White House to "show mercy" towards Iran while the coronavirus pandemic surges. "Under the Trump administration," the editors wrote, "being Iranian is crime enough." The writers cannot be blind to the fact that, with 215,000 deaths in the US due to COVID-19 and the numbers ever increasing, Trump has well demonstrated his complete inability to show mercy even towards his oppressed fellow Americans. How could this psychopath possibly show mercy towards Iranians?
*Yuram Abdullah Weiler is a former engineer educated in mathematics turned writer and political critic who has written dozens of articles on Islam, social justice, economics, and politics focusing mainly on the Middle East and US policies. His work has appeared on Tehran Times, Mehr News, Press TV, Iran Daily, IRIB, Fars News, Palestine Chronicle, Salem-News, Khabar Online, Imam Reza Network, Habilian Association, Shiite News, Countercurrents, Uruknet, Turkish Weekly, American Herald Tribune and Hezbollah. In addition, he has frequently appeared as a guest commentator on Press TV, Al Etejah, and Alalam. A dissenting voice from the "Belly of the Beast", he currently lives in Las Cruces, New Mexico USA. Weiler wrote this article for Press TV website.
https://www.presstv.com/Detail/2020/10/16/636545/%E2%80%8B%E2%80%8B%E2%80%8B%E2%80%8B%E2%80%8B%E2%80%8B%E2%80%8BUS-tyrant-on-steroids-hits-Iran-with-threats,-sanctions
--------
Self-described neo-Nazi pleads guilty in plot to attack historic Colorado synagogue
ByIvan Pereira
16 October 2020
A self-described neo-Nazi pleaded guilty Wednesday in federal court to federal hate crime and explosives charges for plotting to blow up an historic synagogue in Colorado last year.
Richard Holzer, 28, admitted to prosecutors that he intentionally targeted the congregants of Temple Emanuel, a synagogue in Pueblo, Colorado, and wanted to "get that place off the map," U.S. Attorney Jason R. Dunn's office said in a news release.
Undercover FBI agents foiled the plan in November 2019, before Holzer, who described himself as a Neo-Nazi and a white supremacist, could carry out his plot against the synagogue, which is listed in the National Register of Historic Places.
"This is the most important work that we can do -- protecting our communities by stopping an attack before it occurred," Dunn said in a statement.
The attorney general's office said the details of Holzer's plea deal meet the federal definition of domestic terrorism, "as they involved criminal acts dangerous to human life that were intended to intimidate or coerce a civilian population."
Undercover agents made contact with Holzer through a Facebook account after he was observed using social media to promote white supremacy ideology and acts of violence. Prosecutors said he frequently visited Temple Emanuel to observe Jewish congregants.
During one of those visits, Holzer told an undercover agent that he wanted to do something that would send a message to the Jewish community that they weren't welcome in Pueblo, the attorney general's office said.
Prosecutors said Holzer sent an undercover agent a picture of himself holding automatic weapons and declared that he wanted to start a racial holy war.
During a meeting with undercover agents, the suspect expressed hatred of Jews and coordinated with the agents to obtain explosives.
"Holzer told the undercover agents that he wanted to 'get that place off the map,'" the attorney general's office said.
On Nov. 1, the agents met with Holzer and provided him with inert pipe bombs and other explosives, according to prosecutors.
"Before taking custody of the explosives, Holzer removed a copy of 'Mein Kampf' from his bag and told the undercover agents that 'this is a move for our race,'" the attorney general's office said.
Holzer admitted that he planned to set off the explosives hours later, but the plan was foiled when agents arrested him, the attorney general's office said.
Sentencing is scheduled for Jan. 20. Holzer faces up to a maximum of 40 years in person for all of the charges.
https://abcnews.go.com/US/neo-nazi-pleads-guilty-plot-attack-historic-colorado/story?id=73638600&utm_source=iterable&utm_medium=email&utm_campaign=1624027_
--------
URL: https://www.newageislam.com/islamic-world-news/netizens-now-targeting-akshay-kumars/d/123178
New Age Islam, Islam Online, Islamic Website, African Muslim News, Arab World News, South Asia News, Indian Muslim News, World Muslim News, Women in Islam, Islamic Feminism, Arab Women, Women In Arab, Islamophobia in America, Muslim Women in West, Islam Women and Feminism