New Age Islam News Bureau
5 Jan 2018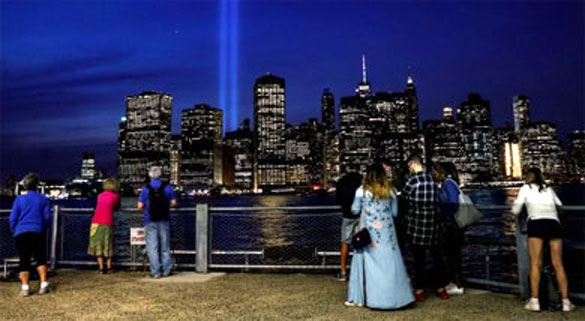 Fifteen of 19 men who hijacked four jets in the 2001 attacks were Saudis. (AP photo/File)
-----
• Muslims Divided Over Darul Uloom Deoband's Fatwa against Marrying Bankers
• Civil Society 'Barred' From Holding Vigil for Salman Taseer
• Saudi Arabia: No Evidence Shows It Had A Hand in 9/11 Attack
• Islamic State Vows to Topple Rival Hamas in Gaza, Threatens Attacks on Israel
• Mahathir: I Did Not Label Muftis as Kafir
India
• Muslims Divided Over Darul Uloom Deoband's Fatwa against Marrying Bankers
• Kerala Govt Orders Controversial School to Close for Teaching Extremist Ideas to Students
• US decision to suspend security aid to Pakistan has nothing to with release of perpetrators of Mumbai attack
• Pakistan releases fresh Jadhav video; cheap trick, says India
• BSF claims heavy damage to Pakistan, three posts destroyed
--------
Pakistan
• Civil Society 'Barred' From Holding Vigil for Salman Taseer
• Separate Deptt on 'Seerat-un-Nabi' To Be Set Up At AIOU
• US Places Pakistan on Watch List for 'Severe' Religious Freedom
• JuD to send legal notice to Defence Minister Khurram Dastgir
• PPP to fight religious extremists
• Imran Khan says he opposed joining US War on Terror
• US owes Pakistan $9 billion in reimbursements from the war on terror, says defense minister
• US suspends security assistance to Pakistan
• TTP terrorists involved in attack on Major Ishaq killed in DI Khan: ISPR
• NAP being implemented to eliminate terrorism, extremism: Musadik
• US puts Pakistan on religious freedom watch list
--------
Arab World
• Saudi Arabia: No Evidence Shows It Had A Hand in 9/11 Attack
• Private Museums Open in Madinah to Promote Islamic Heritage
• Daesh Sinai branch urges killing of all Hamas members
• US Preparing Kurds to Confront Syrian Army
• Army Kills 2 Takfirists, Demolishes Hideouts in Sinai
• More than half of Iraq's displaced return home
• Al-Nusra Front's Main Stronghold in Northern Hama Blown Up by Army
• Al-Nusra Front Withdraws from Several Regions in Southeastern Idlib
• Syrian Army Repels Al-Nusra Terrorists' Offensive in Southern Hama
• Tens of Terrorists, 3 Field Commanders Killed in Eastern Damascus
• Protests put spotlight on Iran's vast and shadowy Syria war
--------
Mideast
• Islamic State Vows to Topple Rival Hamas in Gaza, Threatens Attacks on Israel
• Yemen's Houthis fail in their bid to launch missile on Saudi Arabia
• Hezbollah leader ridiculed after he reveals $1300 monthly salary from Iran
• Israeli forces raid refugee camp in West Bank, injure 10 Palestinians
• Saudi-led strike kills 11 in Yemen's Hudaydah
• Israel begins implementing plan to force out 38,000 African migrants
• Iranian forces dismantle terrorist group in NW province: Intelligence Ministry
• France warns US, Saudi, Israeli against hostile comments on Iran events
--------
Southeast Asia
• Mahathir: I Did Not Label Muftis as Kafir
• AJ Pharma to Turn Malaysia into Halal Vaccine Hub
• Recent IS Video Meant To Preempt Global Anti-Terror Meet
• Easier to implement Islamic laws under Najib, says Hadi
• PH collaborates with Indonesia on Islam Education
• Jakarta offers Philippines Islamic education as antidote to extremism
--------
South Asia
• Hekmatyar Confirms Contacts with the Taliban Group
• Daesh Bomb Attack Kills 11 in Afghan Capital
• Why Even Burma's Democracy Activists Don't Stick Up For the Rohingya
• Langadu: A case of ethnic cleansing in Bangladesh
• Scheduled repatriation of Rakhine refugees on track
• 2,700 people infected with diphtheria in Rohingya refugee camps
• 5 Taliban militants killed, 3 wounded in Faryab airstrikes
--------
North America
• Trump Administration to Announce Specific Actions against Pakistan
• American Islamist Charity Openly Partners with Designated Terrorists
• Joshua Boyle claims Taliban-linked captors tried to recruit him
• US imposes sanctions on Iranian missile firms
• US suspends security assistance to Pakistan
• Study finds Canada 'obsessed with Islamophobia'
--------
Europe
• French Wives of Extremists 'Should Face Trial in Syria'
• Tribunal rules against total secrecy over UK drone strikes against jihadists
• Russia denies seven military planes destroyed in militant attack
--------
Africa
• State Department Designates 3 Al Qaeda Figures as Global Terrorists
• Over 30 Loggers 'Abducted By Boko Haram' In Nigeria
• Mauritanian MPs protest US embassy move to Jerusalem
Compiled by New Age Islam News Bureau
URL: https://www.newageislam.com/islamic-world-news/muslims-divided-darul-uloom-deoband/d/113828
--------
Muslims Divided Over Darul Uloom Deoband's Fatwa against Marrying Bankers
Jan 05, 2018
Lucknow (Uttar Pradesh) [India], Jan 5 (ANI): The Muslim Personal Law Board" All India Muslim Personal Law Board (AIMPLB) on Friday condemned the prominent Islamic seminary Darul Uloom Deoband's new fatwa directing Muslims not to marry into families earning money through banking and related jobs drawing income from interests.
"A large number of Muslims are working in the banking sector. Issuing a Fatwa asking Muslims not marry people employed in the banking sector is wrong. People who issued this Fatwa must review this because it will lead to further rift and confusion in the Muslim society. There is no need to issue a fatwa on such things", AIMPLB executive president Khalid Rasheed Firangi Mahali told ANI.
The edict was issued after a person asked Darul Ifta if he should marry his daughter to a man whose father worked in a bank.
Darul Ifta had stated that as per an Islamic law, earnings through interest and any transaction involving interest particularly investment is 'haram' (forbidden).
Islam also forbids business in alcohol, narcotics, school, and weapons as well as any business undertaken with the motive of earning maximum profits, the Islamic seminary informed.
Many Islamic scholars and clerics have upheld the fatwa, contending that the religious body's stand was in line with the Islamic law.
"Darul Uloom Deoband is correct in its decision. One should avoid having any social bonds with such a person because everything including his lifestyle would be connected with 'haraam', and then it would be harmful to the person religiously, socially as well as individually", Majlis Ittehad-e-Millat General Secretary Othar Osmani told ANI.
Muslim scholar and Islamic researcher Maulana Nadimul Vajdi said that if a person, knowingly or unknowingly, has indulged in 'haram' earning, the person concerned should quit the job and find another one in which the income was not considered forbidden under the Islamic law. (ANI)
http://www.theweek.in/news/india/muslims-divided-fatwa-marrying-bankers-darul-uloom-deoband.html
--------
Civil society 'barred' from holding vigil for Salman Taseer
January 05, 2018
LAHORE: The police and district administration on Thursday stopped the organisers and civil society members from holding a vigil to mark the death anniversary of slain Punjab governor Salman Taseer.
Institute for Peace and Secular Studies executive director Diep Saeeda said the civil society had planned to hold a vigil to mark death anniversary of Salman Taseer at Liberty Chowk and had written to the police and deputy commissioner to provide adequate security for the event. She said they needed security because in 2015 members of some religious party had attacked the vigil and tore the banners, portraits and posters and thrashed the activists. She said no one from the police and district administration authorities had responded to her request for the security.
She said she was about to leave for Liberty Chowk when 10 to 15 policemen approached her office in Garden Town and detained her. At the same time, she added, some policemen visited her house in Johar Town and set up a picket outside.
Diep, who had been leading a vigil for Salman Taseer since his assassination, said the policemen had restrained her from leaving the office to hold the vigil. She said police were of the view that there was threat to the vigil.
Model Town SP Operations Shakir Ahmed denied having any knowledge of the police action. However, he added, the district administration had not given permission to the organisation to hold the vigil.
https://www.dawn.com/news/1380902/civil-society-barred-from-holding-vigil-for-salman-taseer
--------
Saudi Arabia: No evidence shows it had a hand in 9/11 attack
4 January 2018
NEW YORK: Saudi Arabia's lawyers say a judge should reject a New York lawsuit by victims of the Sept. 11 attacks trying to hold the Kingdom to blame.
The lawyers said in a Manhattan federal court filing Thursday the plaintiffs lack evidence despite a new law by Congress enabling claims against Saudi Arabia. Other lawsuits against Saudi Arabia were rejected before Congress passed a 2016 law allowing the litigation.
The lawyers wrote that Congress "did not license plaintiffs to proceed against Saudi Arabia without plausible allegations and competent evidence to support their case." The plaintiffs seek unspecified damages.
Fifteen of 19 men who hijacked four planes in the 2001 attacks were Saudis.
The 9/11 Commission report found "no evidence that the Saudi government as an institution or senior Saudi officials individually funded" the attacks Al-Qaeda masterminded.
http://www.arabnews.com/node/1219306/saudi-arabia
--------
Islamic State Vows to Topple Rival Hamas in Gaza, Threatens Attacks on Israel
January 04, 2018
Rikar Hussein
The Islamic State terror group has released a new video from its Sinai Peninsula branch, in which it threatens to target rival Hamas in the Gaza Strip.
IS is accusing the Palestinian militant group of cracking down on jihadists and not taking a stronger stance against the U.S. decision to recognize Jerusalem as Israel's capital.
In the 22-minute, undated video, titled "Community of Abraham," IS accuses Hamas of attempting to ease tensions with the West, and encourages its followers to attack Hamas targets across Gaza.
"The apostate Hamas gang group has taken advantage of the grand place of Al Aqsa mosque, which God has placed in the hearts of Muslims to accomplish political gains, even if the blood of Muslims was a price for those worldly gains," said the video's unknown narrator, referring to Islam's third-holiest site, which is in Jerusalem.
"Their struggle changed from jihad to dismiss the Zionists in the land of Muslims to a struggle for the control of Gaza," the Arabic-speaking narrator says in the video that surfaced Wednesday on the social media site Telegram.
For their part, Hamas leaders downplayed the IS threats and dismissed the video as a "Zionist production."
Hamas spokesperson Salah al-Bardawil on Thursday accused Israeli intelligence of being behind the video in order "distort the resistance."
"It is naive to engage in the analysis of this issue as an ideological one," al-Bardawil wrote in a tweet. "It is necessary to quickly deal with it as a security issue linked to the occupation."
Long history of IS-Hamas enmity
The enmity between IS and Hamas is not new.
While both groups are designated as terrorist organizations by the United States and Israel, IS sees Hamas as a nationalist movement that does not adhere to the strict interpretation of Islam. It has accused Hamas of trying to moderate itself to work with the U.S.-backed Palestinian faction Fatah, in order to appeal to the West.
The two groups are also at odds over the role of Iran and the Lebanese Shiite group Hezbollah in the conflict between Israel and the Palestinians.
Hamas in the past has publicly announced it was receiving weapons and money from Tehran. IS, which has been engaged in a fierce battle against the Iranian-backed Shiite militias in Iraq and Syria, sees this as a betrayal of the Sunni sect.
The IS video begins with a clip of U.S. President Donald Trump's announcement last month that the U.S. will recognize Jerusalem as Israel's capital. IS claims Hamas' attempts "to disband Islamic law" enabled the U.S. to make such a decision.
"They have betrayed the entirety of Muslims," the narrator says.
The video goes on to criticize Hamas' new manifesto released in May, saying Hamas watered down its anti-Semitic language and offered to moderate its position toward Israel, distancing itself from Islamist groups in a bid for international recognition.
"We have been informed that the group of unbelievers in Gaza has declared war on God and turned its sword against those who order the rule of God," a black-clad IS member, referred to as Abu Kazem al-Maqdisi, said in the video.
He accused Hamas of cooperating with Israel to crack down on jihadists sympathetic to IS in Gaza and work with the Egyptian government to obstruct the activities of IS branch in neighboring Egypt.
"They attempt to besiege the jihadists on the land of Sinai through direct security cooperation with [the Egyptian President Abdel-Fattah] el-Sissi's intelligence forces," al-Maqdisi added.
IS in Egypt
The Islamic State branch in Sinai surfaced in November 2014 after the militant group Ansar Bait al-Maqdis pledged allegiance to IS leader Abu Bakr al-Baghdadi. Since then, the group has overpowered smaller militant factions close to al-Qaida and has become the most brutal jihadist group in Egypt.
The group is responsible for the death of hundreds of Egyptian civilians and security personnel in the country's northeast and has claimed responsibility for bringing down a Russian plane in October 2015, killing all 224 people on board
https://www.voanews.com/a/islamic-state-hamas-gaza-israel/4193407.html
--------
Mahathir: I Did Not Label Muftis as Kafir
January 4, 2018
PETALING JAYA: Dr Mahathir Mohamad has denied calling the country's muftis as "kafir" (apostates or infidels).
This was over their silence on a claim made by current PAS president Abdul Hadi Awang 37 years ago that those who did not join the Islamist party are kafir.
The PPBM chairman, in a letter to Utusan Malaysia yesterday, said the Malay language daily had misinterpreted his assertion on the matter made during his speech at the PPBM annual general meeting in Shah Alam on Dec 30.
"What I had said was that if the muftis did not reject PAS' allegation and the 'Amanat Haji Hadi' that Muslims who cooperated with kafirs would become kafir, the muftis would then also be kafir for not stating their rejection to this.
"A mufti is not just any person. Muftis are responsible for advising the royalty and the people on the Islamic religion," he said in the letter made available to the media today.
"It is their responsibility to give their opinion on whether the allegation by PAS and Hadi was true or not," he added, claiming that Hadi's speech had distorted the facts among Muslims.
"The fact is if non-PAS people, including me, can be considered to be kafir, then the muftis also can be said to be kafir for not joining PAS."
On Dec 30, Utusan had reported Mahathir's speech with the headline "Tragedi Memali: Dr Mahathir gelar mufti kafir" ("Memali tragedy: Dr Mahathir labels muftis as kafir").
Mahathir, who was prime minister from 1981 to 2003, had said that if the muftis had stood up and intervened, the violent clash which saw 18 people being killed in the village of Memali in Kedah in 1985 could have been averted.
The violence had erupted when the villagers tried to protect religious preacher and local PAS leader Ibrahim Mahmud, also known as Ibrahim Libya, from arrest under the Internal Security Act (ISA) for alleged deviant teachings.
In October, Mahathir, 92, had claimed that the "Amanat Hadi", the speech delivered by Hadi in Kampung Banggol, Kuala Terengganu, on April 7, 1981, had contributed to the Memali incident, leading to 14 villagers and four police officers losing their lives. Mahathir had asked what right Hadi and PAS had to denounce ("mengkafirkan") those who did not join their party as infidels.
Hadi's speech had among other things questioned Muslims who joined Umno. He had said that anyone who died opposing the Umno government would be considered a martyr.
In his letter yesterday, Mahathir said the muftis had failed to make their stand on what Hadi had said although they were willing to refute deviant teachings of other personalities like Arqam Ashaari and Ayah Pin.
He said many Muslims had become so obsessed with the claim by Hadi and PAS that some accused their parents of being kafir.
Mahathir said Hadi's diatribe against Umno and condemnation of Umno Malays as kafir had resulted in PAS members rejecting Umno imam during prayers. They would then hold separate prayers with their own imam.
PAS members even built their own mosques, refused to eat meat slaughtered by Umno supporters, rejected the validity of marriages officiated by Umno kadi and buried their dead in separate burial grounds.
Members of the same family who are Umno followers were shunned by those who supported PAS.
Mahathir, 92, said although muftis should not be involved in politics, it was their responsibility to clarify if a politician's views, such as that expressed by Hadi, was actually based on Islam.
"Till today, there has been no opinion or clarification made by the muftis," he said.
http://www.freemalaysiatoday.com/?p=858572
--------
India
Kerala Govt Orders Controversial School to Close for Teaching Extremist Ideas to Students
January 4, 2018
Thiruvananthapuram: The Kerala government has ordered closure of a controversial private school in Ernakulam district for teaching objectionable and extremist content to children.
Peace International school allegedly taught their students extremist ideology, encouraging their students to give up their lives for Islam.
A case was registered against the school in 2016 for teaching objectionable content to the students and for promoting enmity among different groups on the basis of religion.
The school first came under the scanner after 21 people went missing from the state to reportedly Join ISIS. Abdul Rasheed, one of the 21 missing, is suspected to be the person who lead this group and co-ordinated them. He was working with the Peace International School and his wife Yasmin Ahmad, also missing, had earlier taught at the school.
For instance, in a second class textbook, students are asked if they are willing to give their life for Islam. M M Akbar, an Islamic preacher and MD of the school, is currently in Qatar. Police are trying to bring him back to the state.
The textbook was compiled by Burooj Realization, an Islamic education institution based in Mumbai, and police have arrested two publishers in the case. There are also allegations that the organisation has links with controversial preacher Zakir Naik.
The government's move came after the police department and the education department submitted reports stating that objectionable content is being taught to students and that the school should be closed.
Apart from this, the investigation found that the school did not follow NCERT, CBSE OR SCERT textbooks.
http://www.news18.com/news/india/kerala-govt-orders-school-to-close-for-teaching-extremist-ideas-to-students-1622953.html
--------
US decision to suspend security aid to Pakistan has nothing to with release of perpetrators of Mumbai attack
Jan 5, 2018
WASHINGTON: The Trump administration's decision to suspend over $1.1 billion security assistance to Pakistan has nothing to do with Islamabad not taking action against Mumbai terror attack mastermind Hafiz Saeed, a US official has said.
"We have certainly expressed our concern about the mastermind of the 2008 Mumbai attacks being let out of house arrest in Pakistan. To my knowledge, that has nothing to do with that," State Department spokesperson Heather Nauert told reporters at her daily news conference.
Nauert was responding to a question if the suspension of security assistance was related to Hafiz Saeed, the Mumbai attack mastermind who was released by Pakistan on November last year.
"There is a $10 million reward out for information leading to his re-arrest, the person who is the mastermind of the Mumbai attacks who was let go in Pakistan. So we've been very clear about our displeasure with that individual being let go, and that's why we like to remind people that there is a $10 million Rewards for Justice program out for him," Nauert said.
A senior State Department official told reporters that the US continues to have conversation with Pakistan not only on Haqqani network, and Taliban, but also on India-centric terrorist groups like Lashkar-e-Taiba and Jaish-e-Mohammed.
"We can't continue to have a relationship that has a business as usual with Pakistan. This conversation is not new to this administration. There have been concerns about Pakistan's issue of sanctuaries for the Haqqani network and the Taliban. But we have concerns about their nuclear programme. We have concerns about the ability of anti-Indian groups like Lashkar-e-Taiba and Jaish e Mohammed to fundraise and operate," the official who spoke on anonymity said.
Hafiz Saeed who was recently released from house arrest is among the issues that have been a feature of America's conversation with Pakistan for many years.
"This administration felt that we needed to take additional steps to underscore that we're not going to be able to continue the relationship on autopilot. We can't continue a status quo relationship. We need to be able to move beyond these challenges and put our relationship on a more solid footing," the official said.
Responding to a question, the official disputed the general impression coming out of Pakistan that it will not rearrest Hafiz Saeed as being demanded by the US.
"I have not seen them say they're not going to take any of these steps. What the Pakistani government has objected to is our characterisation of the situation on the ground. But I have never heard the Pakistani government say they're not going to re-arrest Hafiz Saeed or they're not going to prosecute him," the official said.
The Pakistani's have clearly indicated that they are unhappy with the public rhetoric of the Trump administration.
"What I would say to that is we had a number of months where we have had very serious conversations and private discussions with them and have not seen the responsiveness that we need. And at some juncture they knew that we were going to take additional steps if they did not respond to the requests that we made to them," the State Department official said.
Full report at:
https://timesofindia.indiatimes.com/india/us-decision-to-suspend-security-aid-to-pakistan-has-nothing-to-with-release-of-perpetrators-of-mumbai-attack/articleshow/62374564.cms
--------
Pakistan releases fresh Jadhav video; cheap trick, says India
Jan 5, 2018
NEW DELHI/ ISLAMABAD: India on Thursday accused Pakistan of carrying out cheap propaganda on imprisoned Kulbhushan Jadhav, demanding that Islamabad should carry out its "international obligations on consular relations". India's reaction came after Pakistan put out yet another video of Jadhav in which he claims on camera that he had not been tortured by Pakistan and instead accused an Indian diplomat of "yelling" at his mother and wife after their meeting with him on December 25.
"The Indian person or diplomat accompanying my mother and wife started yelling at them as soon as they stepped out of the meeting," Jadhav was shown as saying in the video shared by Pakistan's foreign office with reporters during a weekly press briefing. "I have something very important to say here to the Indian people, the government and the Indian navy: I am a commissioned officer in the Indian Navy and my commission is not over," Jadhav was heard as saying.
"I saw fear in the eyes of my mother and my wife. Why should there be fear? Whatever has happened has happened. There shouldn't be fear in the eyes of my mother and my wife," he said. India dismissed it as a "propagandist exercise" by Pakistan, using a death row convict to put out coerced statements on video.
MEA spokesperson Raveesh Kumar said, "Pakistan is simply continuing its practice of putting out coerced statements on video. It is time for them to realise that such propagandistic exercises simply carry no credibility." Jadhav is heard saying, "During the meeting, it looked like my mother had been beaten and brought here on a plane."
Full report at:
https://timesofindia.indiatimes.com/india/pakistan-releases-fresh-jadhav-video-cheap-trick-says-india/articleshow/62373330.cms
--------
BSF claims heavy damage to Pakistan, three posts destroyed
by Arun Sharma
January 5, 2018
BSF Sources claimed its personnel on Wednesday night gunned down nearly a dozen Pakistan Rangers and destroyed three posts in Sialkote across the international border opposite Samba and Hiranagar. The action came in retaliation to the killing of BSF head constable R P Hazra in firing from the Pakistan side.
Inspector General of BSF for Jammu Frontiers, Ram Awtar, confirmed the forces inflicted 'heavy casualties'' on the Pakistan side and also destroyed three Pakistani posts from where the Rangers had been firing mortar shells. "While I cannot confirm at the moment as to how many Rangers have been killed on the Pakistan side, but yes, they have suffered heavy damage with respect to life and property,'' he said after paying tributes to the R P Hazra here on Thursday noon.
Full report at:
http://indianexpress.com/article/india/bsf-claims-heavy-damage-to-pakistan-three-posts-destroyed-5012215/
--------
Pakistan
Separate deptt on 'Seerat-un-Nabi' to be set up at AIOU
Jan 05, 2018
A separate department on ' 'Seerat-un-Nabi' will be set up soon at Allama Iqbal Open University (AIOU) to promote the message and teaching of the last prophet, Hazrat Muhammad (Peace be upon Him).
There will be two other exclusive departments in the University to work on Islamic Economic and Interfaith harmony. The University's statuary body has already approved the new additions, this was announced by the Vice Chancellor Prof. Dr. Shahid Siddiqui while inaugurating a two-day national conference on Islamic research-editing , with special reference to the community-related issues and their solution.
The conference was presided over by the Chairman Council of Islamic Ideology Dr. Qibla Ayaz, while Dr. Abdul Quddus Shuaib of Bhawalpur Zakari University was the key-note speaker on the occasion. They spoke in detail about various aspects of Islamic teaching and the research work, being conducted in this connection.
It was organized by the University's department of Arabic and Islamic Studies. The event was largely attended by scholars and researchers from various Universities. The speakers included Dr. Tahir Ali Shah, Director Academician, Higher Education Commission.—INP
https://pakobserver.net/separate-deptt-seerat-un-nabi-set-aiou/
--------
US places Pakistan on watch list for 'severe' religious freedom
Jan 05, 2018
WASHINGTON DC: The US State Department has placed Pakistan on a special watch list for "severe violations of religious freedom," it said on Thursday, days after the White House said Islamabad would have to do more to combat terrorism and receive US aid.
The State Department also said it had re-designated 10 other nations as "countries of particular concern" under the International Religious Freedom Act for having engaged in or tolerated egregious violations of religious freedom.
The re-designated countries were China, Eritrea, Iran, Myanmar, North Korea, Sudan, Saudi Arabia, Tajikistan, Turkmenistan and Uzbekistan.
"These designations are aimed at improving the respect for religious freedom in these countries."
US President Donald Trump has criticised Pakistan for not doing more to combat terrorism, and his administration has informed members of Congress that it will announce plans to end "security assistance" payments to the country.
Full report at:
https://www.pakistantoday.com.pk/2018/01/04/us-places-pakistan-on-watch-list-for-severe-religious-freedom-violations/
--------
JuD to send legal notice to Defence Minister Khurram Dastgir
Jan 05, 2018
LAHORE: Jamaatud Dawa (JuD) Spokesman Yahya Mujahid on Thursday said that the party will send a legal notice to Federal Minister Khurram Dastgir's over his 'misleading' comment pertaining to the ban on charity activities of the party.
Dastgir had said: "The actions against JuD were linked to ongoing Operation Raddul Fasaad and not taken due to mounting pressure from the US, and action is being taken that 'terrorists cannot open fire on school children anymore'."
In a bid to refute the claims of the defence minister, the JuD spokesperson said that the JuD was the first to support Operation Raddul Fasaad. He accused the minister of speaking the language of US President Donald Trump and Indian Prime Minister Narendra Modi.
"Efforts are being made to please external lords by taking condemnable propaganda against those forces that have actively played role in Pakistan's defence, he claimed in a statement.
Yahya further said, "World knows who is behind the steps against JuD and Filah-e-Insaniat Foundation (FIF). Our rulers feel shame to mention the involvement of India in terrorist activities like Peshawar and terrorism of Kulbhushan Jadhav.
The JuD spokesperson accused the current government of being a security risk to the country. He said: "Those who played their ploy to malign Pakistan's national security institutions through conspiracies such as Dawn Leaks have finally met their fate but still seem to have learnt no lessons. Now, when America is threatening openly and inciting India to take action against Pakistan, the Pakistani rulers are engaged in the sycophancy of India and America. Promoting external agenda, damnable plots are being made to destroy the environment of unity and solidarity in the country."
Full report at:
https://www.pakistantoday.com.pk/2018/01/04/jud-to-send-legal-notice-to-defence-minister-khurram-dastgir/
--------
PPP to fight religious extremists
January 05, 2018
ISLAMABAD - Former Pakistan President Asif Ali Zardari on Thursday said the Pakistan People's Party will fight religious extremists and not allow them to usurp political power in the name of religion.
In a message on the eve of the 90th birth anniversary of Zulfikar Ali Bhutto, Zardari said that political ideals of the PPP's founding chairman that all political power belonged to the people had inspired and will continue to inspire generations to come.
"I call upon the democracy-loving people to rededicate themselves to this ideal and not permit religious extremists to usurp power in the name of religion," he said.
"Standing tall as a beacon of light and inspiration Zulfikar Ali Bhutto awakened the people and gave them hope," he said.
Zardari said Bhutto illumined the path for the coming generations. "No one can rob him of his great achievements," he added.
Bhutto, he said, restored the nation's confidence, lifted the spirits of the people and gave them the gifts of a unanimous democratic constitution and a strengthened national defense.
Full report at:
https://nation.com.pk/05-Jan-2018/ppp-to-fight-religious-extremists
--------
Imran Khan says he opposed joining US War on Terror
Jan 04 2018
ISLAMABAD: Pakistan Tehreek-e-Insaf (PTI) chairman Imran Khan is one the most active politicians on Twitter. However, he often fires away a tweet not realising that people still remember what he said in the past, even if he himself does not.
On Wednesday and Thursday the PTI chairman posted on twitter claiming he had opposed Pakistan becoming a part of the US-led War on Terror. He posted: "From the start I had opposed Pak becoming part of US-led so-called "War on Terror". Now, after suffering 70k dead, over $100 bn loss to economy, when we had nothing to do with 9/11, constant "do more" US taunts & after nation has been humiliated by Trump, GoP saying the same."
Known by many of his critics as Mr U-turn, for having changed his position on multiple issues, multiple times, Imran Khan forgot that after 9/11 he had, in fact supported Pervez Musharraf and lauded the decision to join the War on Terror.
Full report at:
https://www.geo.tv/latest/175281-imran-khan-says-he-opposed-the-joining-us-war-on-terror
--------
US owes Pakistan $9 billion in reimbursements from the war on terror, says defense minister
5 January 2018
ISLAMABAD: Pakistan's Parliamentary Committee on National Security (PCNS) held a consultative meeting on Thursday to discuss the country's response to recent criticisms by US officials, including President Donald Trump.
"Everyone needs to be united on the issue since it is a matter of the country's survival," said National Assembly Speaker Ayaz Sadiq while chairing the PCNS meeting, which was briefed by Foreign Minister Khawaja Asif and Defense Minister Khurram Dastagir. National Security Adviser Nasser Khan Janjua, Minister for Parliamentary Affairs Sheikh Aftab Ahmed and key opposition leaders also attended the meeting.
Opposition leader Syed Khursheed Shah demanded that all defense institutions and representatives of the Finance Ministry should participate in the follow-up session that will be held next week.
"We cannot make decisions based on emotions. The next session should review the military and financial situation of the country," Shah said, adding that the situation needed careful examination before the country could frame a measured response.
Briefing the media after the meeting, Pakistan Tehreek-e-Insaf (PTI) leader Shah Mehmood Qureshi said US pressure has regional implications and Pakistan needs to weigh its options.
"We have to look at the situation in the Middle East, at relations between the US and Iran, and the border that Pakistan shares with Iran," he said.
"We have to consider these things as they are part of the larger picture upon which our response must be formulated."
Meanwhile, Dastagir said the US owes Pakistan $9 billion in reimbursements from the war on terror.
Trump harshly criticized Pakistan on Twitter on the first day of 2018, accusing it of taking billions from the US and giving "nothing but lies & deceit."
He said Pakistan is playing a double game by sheltering terrorists that the US is trying to eliminate in Afghanistan.
His tweet came a few days after a media report that Pakistan's intelligence had denied US officials access to a terrorist linked to the Haqqani network, who was apprehended during the rescue operation of an American-Canadian family in October 2017.
The Trump administration has intensified its criticism of Pakistan since a court in November released Hafiz Saeed, who is accused of the 2008 Mumbai attacks.
The US is offering $10 million to anyone who can provide information that leads to his arrest and prosecution.
The Trump administration warned on Tuesday it could withhold $255 million in assistance to Pakistan.
Harris Nawaz, a defense analyst and retired army officer, said the US is scapegoating Pakistan to cover up its own failures in Afghanistan.
"They failed to bring peace and stability in the war-ravaged country. Forty-six percent of Afghan territory is under Taliban control, and they continue to embarrass the Pentagon and the State Department through a string of attacks," Nawaz told Arab News.
"The US couldn't satisfactorily train Afghan troops despite spending a great deal of money, and they feel stranded in Afghanistan due to their own wrong policies," he said.
"Another reason for US coercion is to derail the China Pakistan Economic Corridor project, which is vital for Pakistan to achieve economic prosperity."
The US is not sympathetic to Pakistan because "it's a Muslim, nuclear-armed state that's acquiring economic strength and gradually coming out of the clutches of the IMF (International Monetary Fund) and the World Bank," Nawaz added.
Full report at:
http://www.arabnews.com/node/1219151/world
--------
US suspends security assistance to Pakistan
Jan 05, 2018
WASHINGTON/ISLAMABAD: The United States has suspended nearly all security aid to Pakistan, the Trump administration announced on Thursday, in a sign of its frustration with the country's refusal to "do more" against terrorist networks.
The suspension includes Coalition Support Funds (CSF) for Pakistan, which is provided by the Pentagon to help pay the costs of Pakistan's counterterror operations.
Pakistan insists that there are no facilitators of terrorist groups on its soil, and reiterates stance on the US's repetitive demand for the country to "do more".
"Today we can confirm that we are suspending security assistance only to Pakistan at this time," State Department spokeswoman Heather Nauert said at a press briefing.
The State Department official added that Pakistan could receive the suspended funding if it takes decisive actions against terrorism.
"The suspension is a freeze, and does not reflect intent to reprogram funds at this time," The New York Times reported citing internal government talking points.
Heather Nauert did not provide an estimate of the total aid funds affected, but said it would be a very significant figure.
Nauert added, "There may be some exceptions that are made on a case-by-case basis if determined to be critical to national security interests."
'DOUBLE GAME'
The announcement to suspend military assistance to Islamabad has come after Washington accused Pakistan of playing a "double game" on fighting terrorism and warned Islamabad it would have to do more if it wanted to maintain US aid.
The Trump administration had delayed $255 million in State Department aid. The United States has provided Pakistan more than $33 billion in aid since 2002.
US Ambassador to the United Nations Nikki Haley said Tuesday that Washington would withhold $255 million in assistance to Pakistan.
US President Trump began his new year by accusing Pakistan of giving Washington "nothing but lies and deceit", announcing that the country will not get any aid in future.
President Trump tweeted that Islamabad thinks of US leaders "as fools".
He said Washington had "foolishly given Pakistan more than $33 billion in aid over the last 15 years". In turn, he claimed that Pakistan had given "safe haven to the terrorists we hunt in Afghanistan, with little help".
"No more," he added, in what seems to be the latest iteration of Washington's "do more" mantra.
PAKISTAN RECORDS PROTEST
Pakistan responded to Trump's intimidating tweet with one voice, as it lodged a strong protest by summoning US Ambassador David Hale to the Ministry of Foreign Affairs and serving him a demarche over the US president's tweet.
"David Hale was informed that all the state institutions stood united over Trump's threats. The envoy was informed that there was no truth in the allegations levelled by the US president. The envoy was also told that there was no truth in US president's assertion about US aid to Pakistan and that Pakistan had taken all these allegations seriously," well-placed sources had informed Pakistan Today.
Foreign Minister Khawaja Asif said the United States was shifting its frustration towards Pakistan after its failure in Afghanistan. "Pakistan is fully committed to safeguard its territory," he added.
Unfortunately, Asif said, the US had given Pakistan nothing but invective and mistrust. "US forces based in Afghanistan also overlooked safe havens of the banned Tehreek-e-Taliban Pakistan (TTP) which has killed thousands of Pakistanis," he added.
The US president's latest tweet follows in the aftermath of an increasingly tense back-and-forth between Washington and Islamabad after Trump announced the administration's latest national security strategy.
During the announcement, the US president was quick to remind Pakistan of its obligation towards helping America because it receives "massive payments" from Washington every year.
"We have made clear to Pakistan that while we desire continued partnership, we must see decisive action against terrorist groups operating on their territory. And we make massive payments every year to Pakistan. They have to help," the US president said.
NO FACILITATORS OF TERRORIST GROUPS IN PAKISTAN
Responding to President Trump's assertion about US funding to Pakistan, Gen Asif Ghafoor had asserted last week that the aid Pakistan received from the US was "reimbursement for the support we gave to the coalition for its fight against Al Qaeda. Had we not supported the US and Afghanistan, they would never have been able to defeat Al Qaeda".
The military spokesman had insisted that there are no facilitators of terrorist groups in Pakistan, reiterating Islamabad's stance on the US's repetitive demand for the country to "do more".
"The armed forces are working with friends and want to continue doing so, but there can be no compromise on our national honour. We do not want a conflict with our friends, but will ensure the security of Pakistan," Maj Gen Ghafoor said in what is perhaps the strongest-ever reaction from Islamabad since US functionaries and statements recently began alluding to the possibility of unilateral action, amidst an ongoing row over alleged terrorist sanctuaries.
Commenting on blaming Pakistan for inaction against the Haqqani network, Ghafoor had said: "Blame for inaction against [the] Haqqani network might have been relevant owing to our capacity issues till Zarb-e-Azb".
However, he added, the army went into North Waziristan indiscriminately and took action against the Haqqani Network as well. "The effect of any operation does not appear at that time. What we do today or this year, the impact will be felt in subsequent years and months."
Full report at:
https://www.pakistantoday.com.pk/2018/01/05/us-suspends-security-assistance-to-pakistan/
--------
TTP terrorists involved in attack on Major Ishaq killed in DI Khan: ISPR
Jan 05, 2018
RAWALPINDI: Security forces in an intelligence-based operation in Kulachi tehsil of Dera Ismail Khan on Thursday killed two terrorists involved in an attack that resulted in the martyrdom of Major Ishaq in November last year, says a statement released by military's media wing Inter-Services Public Relations.
Tehreek-e-Taliban Pakistan (TTP) commander Zahir Shah and his accomplice were killed while four other terrorists were apprehended in the IBO, the ISPR statement said, adding that these terrorists were again on the mission of planting an improvised explosive device (IED) in the area.
Security forces were tracing the attackers based on intelligence lead and successfully found them, concluded the ISPR statement.
Major Ishaq, 28, embraced martyrdom during a clash with terrorists in Kulachi area on November 22, when the army raided the house of TTP commander Zahir Shah in Musa Zai Mohllah. During the firing, a soldier got injured and Major Ishaq ran to rescue him, injuring himself as a result. The major later succumbed to his injuries.
Meanwhile, the Frontier Constabulary, Balochistan, apprehended 15 suspects, including eight terrorists involved in an attack on police, in intelligence-based operations in Zhob, Sibbi, Dera Murad Jamali, Mach and Killi Ismail areas.
Full report at:
https://www.pakistantoday.com.pk/2018/01/04/ttp-terrorists-involved-in-attack-on-major-ishaq-bite-the-dust-in-di-khan-ispr/
--------
NAP being implemented to eliminate terrorism, extremism: Musadik
JAN 5TH, 2018
SHOAIB UR REHMAN
ISLAMABAD:Special Assistant to the prime minister on Media Affairs, Dr. Musadik Malik Thursday said Pakistan Muslim League Nawaz (PML-N) government was implementing National Action Plan (NAP) in true spirit to eliminate terrorism and extremism from the country.
A number of combined operations were conducted under NAP throughout the country and many elements were arrested in that regard, he said talking to a private news channel.
He said more than 150,000 people were arrested in the operations. Musadik said 15,000 to 20,000 were the people apprehended for misusing loud-speaker. He said 7,000 to 9,000 was the figure of arrested people for hate speeches.
To a question, he said former prime minister Muhammad Nawaz Sharif was consistently presenting his stance as he had been talking of rule of law and supremacy of vote of people in the country.
Pakistan was moving towards right direction, however, he said, more efforts were needed to further strengthen the system.
Full report at:
https://www.brecorder.com/2018/01/05/390760/nap-being-implemented-to-eliminate-terrorism-extremism-musadik/
--------
US puts Pakistan on religious freedom watch list
JANUARY 5, 2018
WASHINGTON DC: The US State Department has placed Pakistan on a special watch list for 'severe violations of religious freedom', it said on Thursday, days after the White House said Islamabad would have to do more to combat terrorism and receive US aid.
"In far too many places around the globe, people continue to be persecuted, unjustly prosecuted, or imprisoned for exercising their right to freedom of religion or belief," a statement issued by the State Department read. "Today, a number of governments infringe upon individuals' ability to adapt, change, or renounce their religion or belief, worship in accordance with their religion or beliefs, or be free from coercion to practice a particular religion or belief."
The State Department also said it had re-designated 10 other nations as 'countries of particular concern' under the International Religious Freedom Act for having engaged in or tolerated egregious violations of religious freedom.
The re-designated countries were China, Eritrea, Iran, Myanmar, North Korea, Sudan, Saudi Arabia, Tajikistan, Turkmenistan and Uzbekistan. They were re-designated on December 22. "The protection of religious freedom is vital to peace, stability, and prosperity," the department said in the statement. "These designations are aimed at improving the respect for religious freedom in these countries."
Full report at:
https://dailytimes.com.pk/174483/us-puts-pakistan-religious-freedom-watch-list/
--------
Arab World
Private museums open in Madinah to promote Islamic heritage
5 January 2018
YUSUF MOHAMMED
MADINAH: Since the Saudi Commission for Tourism and National Heritage (SCTH) began issuing licenses to private museums, several have opened in Madinah.
In Dar Al-Madinah Museum, visitors and researchers can learn about the life of the Prophet Muhammad (peace be upon him), Islamic civilization and Madinah's urban culture.
It is "the first and largest specialized museum of the history and cultural heritage of Madinah and the landmarks of the prophet's life," Hassan Taher, executive director, told Arab News.
The museum, which has four main halls, publishes specialized periodicals on Madinah's history and landmarks, and holds seminars and forums in this field.
The hall on the prophet's life includes a collection of rare paintings and images of Madinah, and unique collections from Islamic history.
Another hall contains an open courtyard where visitors can enjoy nature and Madinah's ancient architecture.
The museum has "a highly skilled, informed cadre capable of communicating with the public based on documented sources and real scientific references," Taher said.
The team includes speakers of seven languages, including Arabic, English, Turkish and Urdu, he added.
Visitors include Madinah residents, Umrah and Hajj pilgrims, official delegations, families, university students and schools from outside and inside the city, he said.
The museum is located on King Abdul Aziz Road in Madinah Knowledge Economic City. It is open Saturday to Thursday from 9.00 a.m. to 8.00 p.m. The entry fee is SR25 ($6.70).
http://www.arabnews.com/node/1219401/saudi-arabia
--------
Daesh Sinai branch urges killing of all Hamas members
5 January 2018
CAIRO: Daesh's Sinai branch said it executed one of its members for collaborating with the Palestinian Hamas movement, and called for the killing of all Hamas members and anyone cooperating with it.
The "judge" of the Sinai Province terrorist organization described Hamas as an "apostate" group because of its security cooperation with Egypt, its prevention of fighters from moving from Gaza to the Sinai, and its arrests of many Daesh members in Gaza.
Sinai Province said in a video posted on its Telegram account that Mohammed Al-Sa'idi, its second in command, sentenced Moussa Abu Zmat, a Daesh "soldier" from Gaza, to death because he smuggled weapons and equipment for Hamas to and from the territory.
The judge, known as Abu Kazem Al-Maqdisi, announced the death sentence in a video broadcast on Jan. 3.
He said the executioner, Mohammed Al-Dujani from Gaza, is considered a "repentant." Al-Dujani is the son of Anwar Al-Dujani, a prominent Hamas member.
Following the posting of the video, Al-Dujani family repudiated Mohammed and accused him of committing "an act that violates the law of God."
Al-Maqdisi described Palestinian movement Fatah as "secular" and "infidel," and called for the killing of all its members.
The video starts with US President Donald Trump's announcement of his recognition of Jerusalem as Israel's capital, followed by Israeli Prime Minister Benjamin Netanyahu saying the city has been the capital for 70 years, and Hamas political leader Ismail Haniyeh declaring his party's commitment to democracy and legislative elections.
Sinai Province also claimed responsibility for the killing of an Egyptian policeman last Wednesday.
A security source said Capt. Mahmoud Abdul Azim Abu Taleb was slain while dismantling a 50-kg explosive device in western Arish.
The spokesman of the Egyptian armed forces, Col. Tamer Al-Rifa'i, said the third army, in cooperation with the air force, killed two terrorists and captured two others in central Sinai in the last few days.
Ahmad Kamel Al-Behiri, a security and terrorism affairs researcher at Al-Ahram press establishment, warned of an increase in "lone-wolf" attacks by Daesh in the Nile Valley and Delta.
Meanwhile, Egyptian authorities have executed 19 people since Dec. 26. Fifteen of them were convicted of attacking troops and police in the Sinai, while four Muslim Brotherhood members were convicted of exploding a device and killing three cadets at the Military Academy in Kafr El-Sheikh in April 2015.
Egyptian President Abdel Fattah El-Sisi warned of the use of "brutal force" against terrorists following the killing of more than 300 people in an attack on a mosque in the northern Sinai.
Egypt's Cabinet approved a bill to establish the Supreme Council to Confront Terrorism and Extremism.
Full report at:
http://www.arabnews.com/node/1219371/middle-east
--------
US Preparing Kurds to Confront Syrian Army
Jan 04, 2018
The Arabic-language al-Hadath news website reported that the US forces delivered a new cargo of weapons, including mid-range missiles, to the SDF through the border passage between Syria and Iraq, Simalka, last Sunday.
It added that given the field information in regions controlled by the Kurds and the fact that the ISIL has lost a major part of its military power on the Eastern bank of the Euphrates river, delivering weapons to the Kurdish forces is possibly aimed at preparing them for battle against the Syrian army or the Turkish army and its affiliated militants who are involved in the Euphrates Shield military operation in Syria.
The news website, meantime, added that Washington might also be after trade objectives through the military aid to the Kurds so that it will receive a large amount of inexpensive oil for selling its weapons to the Kurds in line with attempts to create a federal system in Northern Syria.
Also, the developments in Eastern Syria indicate that Washington is seeking new strategies for battle in Syria to attain its goals after the terrorist groups were defeated by the Syrian army in different fronts and wants to display the Kurds as the number one enemy of Damascus by provoking the SDF commanders to utter harsh words which create more tension.
A number of SDF gunmen were killed or wounded in the fight against the Ankara-backed militants in Northeastern Aleppo on Monday.
The Turkey-backed Thowar al-Shoyoukh Battalion affiliated to the Free Syrian Army stormed the positions of the SDF in al-Tokhar near the al-Sajor River near the town of Manbij in Northeastern Aleppo and managed to prevail over their strongholds.
A number of the SDF fighters were killed and tens of others were wounded in the clashes.
Full report at:
http://en.farsnews.com/newstext.aspx?nn=13961014000325
--------
Army kills 2 takfirists, demolishes hideouts in Sinai
January 4, 2018
In cooperation with the Egyptian Air Forces, Egypt's Third Field Army killed two high-risk takfirists (those who abide by an extremist Islamic ideology) and arrested another two in Central Sinai over the past few days said the official spokesperson of the Armed Forces Tamer al-Refai, on Thursday.
Refai added that the army demolished two hideouts used by the takfirists, and confiscated a 4×4 vehicle and a motorcycle.
In an unrelated confiscation, the army also seized a store containing large quantity of drugs, Refai added.
Full report at:
http://www.egyptindependent.com/army-kills-2-takfirists-demolishes-hideouts-in-sinai/
--------
More than half of Iraq's displaced return home
January 05, 2018
BAGHDAD - More than half of Iraqis displaced by conflict to other parts of the country have returned to their homes, the UN migration agency said on Thursday.
At the end of December, more than 3.2 million displaced Iraqis had gone home while 2.6 millions still lived away, the International Organization for Migration said.
Iraqi forces have regained large swathes of the country from the Islamic State group since the militants seized them in 2014, sending tens of thousands running for their lives. In December, Baghdad declared victory over IS after a three-year war against the militants that caused tens of thousands more to flee.
"The retaking of areas by the Iraqi forces is significant, as is the improvement of security," said IOM communications officer Sandra Black. Nearly one third are reported to have returned to houses that have been significantly or completely damaged, she said. Around 60 percent went back to housing that was only moderately damaged.
Other infrastructure has also been affected in the fighting, with residents in some areas reporting no water or power supply.
More than one million Iraqis have returned home to the Sunni-majority western province of Anbar, from which Iraqi forces expelled the last militants late last year.
Full report at:
https://nation.com.pk/05-Jan-2018/more-than-half-of-iraq-s-displaced-return-home
--------
Al-Nusra Front's Main Stronghold in Northern Hama Blown Up by Army
Jan 04, 2018
The Syrian army's artillery and missile units launched heavy attacks against the positions and moves of al-Nusra Front in al-Latamineh and Kafr Zita in Northern Hama which borders Idlib province.
Meantime, the Syrian fighter jets pounded the terrorists' bases and moves in several points in Northern Hama.
During the operations, several al-Nusra positions, including its main stronghold in Wadi al-Anz in the Western parts of the town of al-Latamineh were smashed completely and tens of militants were killed and wounded.
Military sources confirmed on Wednesday that the Syrian army troops have thus far freed over 65 regions in their operations against the Al-Nusra Front in Northeastern Hama and Southeastern Idlib in their push towards the Abu al-Dhohour airbase.
The sources reported that the army men pushed Al-Nusra back from the village of Um al-Khalakhil North of the village of Rasm Sham al-Hawa.
Full report at:
http://en.farsnews.com/newstext.aspx?nn=13961014000699
--------
Al-Nusra Front Withdraws from Several Regions in Southeastern Idlib
Jan 04, 2018
The army troops continued to advance in Southeastern Idlib on Thursday, regaining control of the villages of Um Sahrij and al-Daribiyeh as well as Um Sahrij train station in the Northern parts of the village of Rajm al-Mushrif.
The Syrian army soldiers inflicted heavy damage on the terrorists during clashes.
Field sources reported on Wednesday that the Syrian army troops have launched a fresh operation to capture a strategic region in Southeastern Idlib.
The sources said that the army men have launched a fresh operation against terrorists to capture the key region of Sinjar after imposing full control over al-Zarzur, Sham al-Hawa and Um al-Khalakhil in Southeastern Idlib.
Full report at:
http://en.farsnews.com/newstext.aspx?nn=13961014000345
--------
Syrian Army Repels Al-Nusra Terrorists' Offensive in Southern Hama
Jan 04, 2018
The army units engaged in fierce clashes with a group of al-Nusra terrorists who had launched an offensive from the town of Hor Benafseh against the army positions in the same town in Southern Hama on Thursday.
The Syrian army soldiers warded off the attack after killing and wounding all militants and destroying their military equipment.
Meantime, a field source confirmed that the al-Nusra launched the offensive to prevent the army's further advances in Northeastern Hama and Southeastern Idlib.
Military sources confirmed on Wednesday that the Syrian Army troops have thus far freed over 65 regions in their operations against the Al-Nusra Front in Northeastern Hama and Southeastern Idlib in their push towards the Abu al-Dhohour airbase.
The sources reported that the army men pushed Al-Nusra back from the village of Um al-Khalakhil North of the village of Rasm Sham al-Hawa.
Full report at:
http://en.farsnews.com/newstext.aspx?nn=13961014000431
--------
Tens of Terrorists, 3 Field Commanders Killed in Eastern Damascus
Jan 04, 2018
Field sources reported that tens of terrorists were killed in clashes with the Syrian army forces near the Vehicles Management Center near the town of Harasta in Eastern Damascus.
Meantime, the news websites affiliated to the terrorist groups confirmed killing of 28 members, including Abu Mohammed bin Laden, the military commander of al-Nusra Front (Tahrir al-Sham Hay'at or the Levant Liberation Board), Khalid Ibrahim al-Khouli, the field commander of Ahrar al-Sham and Muslim Abu Ahmed, another terrorist commander.
In a relevant development on Wednesday, the entire members of a group of terrorists of Al-Nusra Front were killed after their attack on the Syrian Army troops' positions was repelled in Eastern Damascus, field sources reported.
The sources reported that a group of Al-Nusra terrorists that were planning to penetrate into a government building in the town of Harasta in Eastern Ghouta were hit hard in the army soldiers' ambush operation.
The sources said that the entire 40 members of the group were killed in the ambush.
Full report at:
http://en.farsnews.com/newstext.aspx?nn=13961014000268
--------
Protests put spotlight on Iran's vast and shadowy Syria war
5 January 2018
BEIRUT: In demonstrations across Iran, chants are going up against the military's vast and shadowy war in Syria, one of Tehran's closest allies and a frontline state in its confrontation with its archenemy, Israel.
Although the protests have focused on economic issues, demonstrators have also voiced strong opposition to the government's policy of sending young Iranians to fight and die in Syria while spending billions of dollars on the military when they say the priority should be working to provide jobs in Iran and control the rising cost of living.
Their slogans include, "Leave Syria, think about us!" and "Death to Hezbollah!" the Iranian-backed Lebanese militant group that has been a key instrument of Tehran in Syria's war.
Syria saw its own domestic demonstrations morph into anti-government protests in 2011. They were met with a brutal crackdown by President Bashar Assad's security services, sending the country into civil war.
But as cracks appeared in Assad's military, with soldiers refusing to fire on protesters and defecting to the opposition, Iran and later Russia stepped in to support their ally.
Iran's theocratic leadership has cast the effort as a religious war for Shiite Islam, an epochal struggle to defend the shrine of the Prophet Muhammad's daughter in Damascus from Sunni jihadis, and to deal a crippling blow to what it says is a US-Israeli conspiracy to destroy Syria. But it is motivated by geopolitical concerns, too. Syria, bordering both Israel and Lebanon, is a key node to Iran's network of deterrence against Israel.
Tehran needs Damascus as both a conduit to and sponsor of Hezbollah, Iran's vanguard force in the region.
Today, Iran's military and an array of regional militias under its command operate with wide latitude in the war against rebels and Daesh militants in both Syria and Iraq. It is also invested in the Gaza Strip and is accused of supporting Shiite rebels in Yemen.
Military sacrifice
Across Iran, banners honoring the young men who have died fighting in Syria hang over public spaces as a reminder of the sacrifice that has been paid.
Imams memorialize the dead at Friday prayers, and media outlets pay tribute to the "martyrs" who have died "defending the holy shrine" of Muhammad's daughter, Sayyida Zeinab, in the Syrian capital.
In September, Iran's supreme leader, Ayatollah Ali Khamenei, prayed over the casket of 25-year-old Mohsen Hojaji at a funeral broadcast nationwide, followed by a large rally in Tehran — moves crafted to stir patriotism in a country growing weary of the military venture in Syria. An image of Hojaji depicted him being welcomed into heaven by the third Shiite saint, Hussein, Muhammad's grandson.
Iran has not disclosed how many of its soldiers have been lost in Syria, but Mohammad Ali Shahidi, the head of the Martyr's Foundation of the Islamic Revolution, which supports veterans and families of the dead, says more than 2,000 men have been killed, though roughly half of those are foreigners from Afghanistan and other nations fighting under militias organized by Tehran.
In November, the semi-official Fars news agency reported the death of an Iranian brigadier general in Boukamal, a Syrian town overlooking one of the country's main crossings into Iran. Fars said the general was killed by a mortar shell in a battle with Daesh militants.
That same battle was directed by the Iranian Revolutionary Guard Corps' own Maj. Gen. Qassem Soleimani, who was shown in videos published on social media addressing fighters in Farsi. He had under his command Shiite fighters from Hezbollah and Iraq's Popular Mobilization Forces' militias, as well as Syrian army forces and Iran's Revolutionary Guard.
Syrian rebels say the Revolutionary Guard has directed several major battles on behalf of Assad's forces and has bases from the south of the country to the north.
Iran spends more than $12 billion annually on its military, according to the Stockholm International Peace Research Institute. It is understood to spend millions more on subsidies and exports to Syria, which has seen its economy shattered by the war.
The protests now shaking Iran erupted after President Hassan Rouhani's latest budget proposal disclosed cuts to local subsidies while preserving privileges for the military and religious institutions.
Hezbollah and others
Iran and Assad have depended on Hezbollah to do some of the toughest, special forces assignments in the Syrian war. But Tehran has also organized militias from Afghanistan, called the Fatimiyoun, and Pakistan, called the Zeynabiyoun, to fight in Syria. It promises Afghan refugees living in Iran wages and citizenship in exchange for a tour of duty in Syria.
Syrian rebels say they are battling not just Syrian government soldiers, but Lebanese, Iraqi, and Afghani fighters, too. And Associated Press reporters have seen the flags of Afghan and Lebanese militias flying over military points outside Aleppo, Syria's largest city.
Syria's rebels, boosted by calls for global jihad, are supported by scores of foreign fighters of their own.
Human Rights Watch says Iran's Revolutionary Guard has recruited Afghan refugee children as young as 14 to fight in Syria, identifiable by their tombstones in Iran. It says Iranian media memorialized child soldiers and hailed Iranian fighters as young as 13 in the Syria battle.
Iran also leans heavily on the battle-hardened fighters of Iraq's state-sanctioned Popular Mobilization Forces, which has been instrumental to defeating Daesh militants on both sides of the Syria-Iraq border and opening a corridor of Iranian influence that runs from Tehran to Baghdad to Damascus to Beirut.
As in Iran, there is a risk in Lebanon and Iraq of popular blowback against a grinding military effort in Syria that has stretched on for nearly seven years.
When Lebanese authorities pulled down illegal vendor stalls in a Hezbollah stronghold in south Beirut in October, residents took to the streets to excoriate Hezbollah's leadership for failing to stand up for them, despite their sacrifices over Syria.
Full report at:
http://www.arabnews.com/node/1219446/middle-east
--------
Mideast
Yemen's Houthis fail in their bid to launch missile on Saudi Arabia
4 January 2018
The Arab Coalition's spokesperson in Yemen, Colonel Turki al-Maliki, has said that Houthi militias failed to launch a ballistic missile targeting Saudi Arabia last Friday. Al-Maliki added that a total of 86 missiles have been launched at Saudi Arabia by the Houthis since the beginning of the Yemeni crisis.
Addressing a press conference, al-Maliki said that the Houthis continue to recruit children and putting them on the frontlines which should be considered as a grave breach in human rights.
The spokesman also criticized the UN humanitarian coordinator in Yemen, Jamie McGoldrick's recent report saying that it lacks information, adding that McGoldrick "needs to focus on his work."
He said that coalition raids continue to target militia checkpoints and weapon warehouses, adding that the raids succeeded in terminating locations where Houthi ballistic missiles are being kept in Sanaa. He went on to present pictures of caves and hiding spots of Houthi weapons and missiles.
Al-Maliki added that the militia is planting mines in commercial naval passages, but have failed to plant them on Saudi Arabian borders. He stressed that all air, sea and land ports in Yemen are still open to receive relief.
https://english.alarabiya.net/en/News/gulf/2018/01/04/Arab-Coalition-Yemen-s-Houthis-fail-to-launch-missile-attack-on-Saudi-Arabia.html
--------
Hezbollah leader ridiculed after he reveals $1300 monthly salary from Iran
5 January 2018
Activists in Lebanon ridiculed the announcement, during an interview with a TV station, by Hezbollah Secretary General Hassan Nasrallah that his monthly salary, from Iran, was $1300.
Nasrallah, who tried yesterday to deflect the condemnation of Iranians shouting in the streets against Tehran's funding of the Hezbollah militia while more than half of the Iranian people live below the poverty line, refused to disclose the amount paid to his militia from Iran.
https://english.alarabiya.net/en/News/middle-east/2018/01/05/Hezbollah-leader-ridiculed-after-he-reveals-1300-monthly-salary-from-Iran.html
--------
Israeli forces raid refugee camp in West Bank, injure 10 Palestinians
Jan 4, 2018
At least 10 Palestinians have sustained injuries after Israeli forces stormed a refugee camp in the occupied West Bank.
According to Palestinian media reports, Israeli troops raided the Dheisheh refugee camp, which lies just south of Bethlehem, on Thursday, triggering clashes with the locals.
Israeli forces fired live rounds as well as rubber-coated steel bullets to disperse the local residents.
Witnesses also said that Israeli forces detained about 10 Palestinians across the occupied West Bank.
The West Bank and the Gaza Strip has been the scene of tensions since December 6, when US President Donald Trump announced in a dramatic policy shift that Washington was recognizing Jerusalem al-Quds as the "capital" of Israel.
The declaration angered Palestinians and triggered warnings across the world. The UN resoundingly rejected that policy shift in a General Assembly vote.
Full report at:
http://www.presstv.com/Detail/2018/01/04/547813/Israel-Palestine-West-Bank-Dheisheh-refugee-camp
--------
Saudi-led strike kills 11 in Yemen's Hudaydah
Jan 4, 2018
At least 11 people have lost their lives in an airstrike by a Saudi-led military coalition against a residential locality in Yemen's western province of Hudaydah.
According to a report by Yemen's Arabic-language al-Masirah television network, the Saudi-led strike directly hit a restaurant in the Zabid district of Hudaydah on Wednesday, also wounding nine people.
The deadly airstrike followed a similar one that targeted a civilian vehicle in the Monabbih district of the northern province of Sa'ada a day earlier, killing seven people.
The report added that Saudi-led warplanes also carried out multiple airstrikes against Jarahi district in Hudaydah and Bab Najran in Sa'ada. Airstrikes were also conducted on the Nahdin and Nehm districts of the west-central province of Sana'a. There were, however, no immediate reports about the number of possible casualties and the extent of damage caused.
The most recent mass casualties from such air raids were caused in the southwestern province of Ta'izz, where Saudi-led airstrikes killed or injured over 120 people in a market on December 26.
On Tuesday, the Yemeni Ministry of Health reported that the Saudi-led military coalition had either killed or wounded some 35,000 Yemenis during the ongoing war, which Riyadh started almost three years ago.
Saudi Arabia has also imposed an embargo on Yemen since it started the war in March 2015 in an attempt to reinstate a former regime that had been friendly to Riyadh and to eliminate the Houthi Ansarullah movement, which took over state matters after that regime resigned.
The offensive has, however, achieved neither of its goals despite the spending of billions of petrodollars and the enlisting of the cooperation of Saudi Arabia's regional and Western allies.
Full report at:
http://www.presstv.com/Detail/2018/01/04/547800/Yemen-Hudaydah-airstrike-Saada
--------
Israel begins implementing plan to force out 38,000 African migrants
Jan 4, 2018
Israel has started the implementation of a plan to force tens of thousands of African migrants out of the occupied territories, threatening to detain those who refuse to leave.
"This plan will get underway today," Prime Minister Benjamin Netanyahu said at a cabinet meeting on Wednesday.
Based on the plan, nearly 38,000 migrants, mainly Eritreans and Sudanese, who entered Israel illegally will have until the end of March to leave, otherwise they will be arrested.
Moreover, the Holot open facility in Israel's desert south, which currently holds 970 people is set to be closed.
The plan, initially approved by the cabinet in November, has drawn concerns from the UN refugee agency.
The new regulation currently makes exceptions for women, children, parents of children and victims of human trafficking, but such exemptions are temporary.
Israel has made arrangements to send the Sudanese and Eritreans migrants to Rwanda and Uganda over concerns that they may face danger if they return home.
Activists and migrants, however, oppose the decision, saying Israel is trading the migrants with other countries against their will.
Large numbers of African migrants started coming to Israel though Egypt's Sinai Peninsula in 2007. Those arrested at the Egyptian border were jailed in the Negev desert in southern Israel.
On release, the migrants settled in an area south of Tel Aviv, but their presence caused harsh criticism among Israeli residents in southern Tel Aviv and right-wing politicians.
In August, Netanyahu pledged to "return south Tel Aviv to the citizens of Israel," saying the Africans were "not refugees but illegal infiltrators."
In September, Israeli daily Haaretz reported that Israel detains hundreds of African asylum seekers without trial every year, with the approval of its top authorities.
Official figures show that the Israeli regime has put a total of 311 African refugees behind bars without trial in the 15 months before September 2017.
Full report at:
http://www.presstv.com/Detail/2018/01/04/547798/Israel-migrant-Africa
--------
Iranian forces dismantle terrorist group in NW province: Intelligence Ministry
Jan 4, 2018
Iranian security forces have dismantled a terrorist group and arrested its members in the country's northwestern province of West Azarbaijan, the Intelligence Ministry says.
The ministry issued a statement on Thursday, saying the terrorist group "which had infiltrated into Iran with the aim of fueling the recent unrest" were put under surveillance in the city of Piranshahr.
The terrorist group engaged in armed confrontation with Iranian security forces on Wednesday, during which they used a local woman as a human shield and killed three Iranian security forces, the statement added.
One terrorist was killed and several others were injured during the operation. A number of their weapons and explosives as well as a notebook containing guidelines for creating unrest were seized, according to the statement.
The so-called Democratic Party of Iranian Kurdistan (DPIK), an outlawed group based in northern Iraq, claimed the attack on its Twitter page.
Iran's northwest has repeatedly witnessed attacks by terrorist and anti-Islamic Republic elements.
Full report at:
http://www.presstv.com/Detail/2018/01/04/547808/Iran-IRGC
--------
France warns US, Saudi, Israeli against hostile comments on Iran events
Jan 4, 2018
French President Emmanuel Macron has warned the US, Israel and Saudi Arabia against making belligerent statements on the recent developments inside Iran, calling on them to tone down their rhetoric which, he said, could lead to "war."
"The official line pursued by the United States, Israel and Saudi Arabia, who are our allies in many ways, is almost one that would lead us to war," Macron told reporters on Wednesday.
The French president warned that for some countries, such a hostile policy is a "deliberate strategy."
Macron underlined the need to maintain "permanent dialog" with Iran in an attempt to balance ties with Tehran while seeking channels to "increase international pressure" on the Islamic Republic.
"Otherwise, we end up surreptitiously rebuilding an 'axis of evil,'" referring to the term used in 2002 by the then US president, George W. Bush, to call Iran, Iraq and North Korea in an attempt to rally support for launching a military campaign abroad under the pretext of fighting terror.
Macron further warned that the US and its allies risk engaging in a "conflict of extreme brutality" by sticking to their current hostile policies against Iran.
Last week, a number of peaceful protests began in several areas across the country, with the participants calling on authorities to address their economic issues.
Those gatherings were, however, overshadowed when armed elements and vandals showed up among ordinary protesters and began to launch attacks on public property, police stations and religious sites.
The original protesters soon left the streets upon calls by the authorities so security forces could deal with the rioters and sporadic violence, which continued in some towns and cities for several days.
Over a dozen people have been killed in the violence, according to state media reports. Since Wednesday, Iranian cities have been the scene of large pro-establishment rallies in condemnation of the deadly unrest.
The US and Israel were quick to come out in support of the violence and cheered the rioters, who set fire to buildings, broke their windows and attempted, in some cases, to storm police and military sites.
Trump, who had previously called Iranians a "terrorist" nation, posted several tweets to express his support for protests in Iran. In a tweet on Tuesday, the US president said, "The [Iranian] people have little food, big inflation and no human rights. The US is watching!"
US Ambassador to the UN Nikki Haley announced on Tuesday that Washington would call on the United Nations to hold an emergency meeting over the situation in Iran. The 15-nation body let down that call.
Iranian officials slammed Trump's insulting tweets, urging him to avoid interfering in the Islamic Republic's internal affairs.
Israel's Prime Minister Benjamin Netanyahu praised the unrest, claiming the Iranian government "finally falls, Iranians and Israelis will be great friends once again."
Saudi Arabia has also been pursuing an open warmongering policy toward Iran. Earlier in 2017, Crown Prince Mohammed bin Salman threatened to move the "battle" to Iran.
He accused Iran of seeking to take over Islamic holy sites in Saudi Arabia, telling The New York Times, "We will not wait for the battle to be in Saudi Arabia. Instead, we will work so that the battle is for them in Iran."
Iranian authorities have said enemy hands are at work behind the scenes to incite unrest in Iran.
Secretary of Iran's Supreme National Security Council Ali Shamkhani has said certain countries are waging a "proxy war" against the Islamic Republic via social media and the Internet.
The Saudi regime, alone, has created around 27 percent of the new hashtags created by foreigners against Iran in the course of the violence over the past days, Shamkhani said.
Among the elements active on the scene of riots in Iran are those with the France-based MKO terrorist organization.
Iranian President Hassan Rouhani urged Paris in a phone call with Macron to take immediate actions against the MKO, the most hated terrorist group among the Iranians because of its dark history of assassinations and bombings, and for siding with former Iraqi dictator Saddam Hussein in his eight-year war against Iran in the 1980s.
Rouhani has said Iranians are free to criticize and hold protests to express their views according to law, but the manner of expressing such criticism must help improve Iran's conditions.
Full report at:
http://www.presstv.com/Detail/2018/01/04/547783/iran-France-protest
--------
Southeast Asia
AJ Pharma to turn Malaysia into halal vaccine hub
January 4, 2018
KUALA LUMPUR, Jan 4 — Malaysia is set to become a hub for halal vaccines with the completion of formulation and fill-finish facilities built by AJ Pharma Holding Sdn Bhd, a subsidiary of Saudi-based AJ Vaccines Group, in the first quarter of 2018.
AJ Vaccines Group Chairman Dr Tabassum Khan said the company is currently dealing with some regulatory issues which should be resolved within the next few weeks.
"We will make an announcement soon. We are trying to make Malaysia the hub for Asia Pacific and the Middle East for these halal vaccines, most probably in January or February," he said in an interview with local business radio station BFM today.
AJ Vaccines produces and sells vaccines from its production site in Copenhagen, Denmark.
Tabassum said the facilities with a gross development value of RM330 million would be located in Bandar Enstek, Negeri Sembilan and would employ between 400 and 500 people.
He said that the company acquired a global vaccine business in Denmark in February last year and brought the technology to Malaysia.
"We are currently developing vaccines for the Malaysian market and also for export markets such as Indonesia and Europe. The ratio is about 25:75 per cent," he said.
The vaccines will not only cater for the Muslim market, but also non-Muslim, Tabassum said, adding that the company expects the halal vaccine market to be worth between US$1.3 billion and US$1.4 billion by 2020.
AJ Vaccines is a part of the Al-Jomaih Group, which focuses on investments in the healthcare and biotechnology sectors in Malaysia and the region.
The group is among the top 10 conglomerates in Saudi Arabia, with a revenue about US$3 billion in the kingdom. — Bernama
http://www.themalaymailonline.com/malaysia/article/aj-pharma-to-turn-malaysia-into-halal-vaccine-hub#POsSwb5cDPiHAwdr.97
--------
Recent IS video meant to preempt global anti-terror meet
Zam Yusa
January 5, 2018
PETALING JAYA: The recent Islamic State (IS) propaganda video, featuring executions by Southeast Asian militants, could be an attempt to "preempt" an upcoming international conference on counter-terrorism in Malaysia, an official said.
The video, which featured Malaysian Muhammad Aqif Heusen Rahizat, Megat Shahdan Abdul Samad, of Singapore and a yet-to-be-identified militant, emerged exactly a week before the Putrajaya International Security Dialogue (PISD) that starts officially today. Themed "Wisdom and Moderation in Combating Terrorism", the dialogue is being organised by the home ministry in collaboration with Rabitah Al-Alami Al-Islami (World Muslim League), a non-governmental organisation based in Saudi Arabia.
The official, who declined to be named because he was not authorised to speak to the media, said the video might well have been such an attempt.
"Definitely, the terrorists were trying to garner support from citizens in the region through the video," the official told FMT.
"What the conference, which will be widely covered by the media, will delve into is the antithesis to the violent extremist ideology that the militants hold.
"The panellists and speakers will be going into the theories of violent extremism prevention but the militants, on the other hand, have actually shot dead prisoners.
"I think, to them, actions speak louder than words and they think their action-based propaganda will be more appealing to the masses.
"But they should know that the dialogue would be followed by action and close cooperation among the countries, officials and experts taking part in the event to counter their ideology."
Ministers and deputy ministers from 20 countries, including Saudi Arabia, Australia, Britain, France and Indonesia, are expected to present their respective country statements at the dialogue.
The conference will also discuss Islam as an instrument of moderation and security as well as various aspects of extreme violence prevention efforts, the very opposite to the ideology of the terror group.
About 1,000 local and foreign participants are expected to attend the dialogue.
They include senior officials from the diplomatic missions in Kuala Lumpur, representatives of NGOs, academicians, senior government officials and students from higher education institutions.
"The dialogue is aimed at promoting Malaysia as a modern and progressive country at the forefront in combating terrorism and extremism.
Full report at:
http://www.freemalaysiatoday.com/?p=858701
--------
Easier to implement Islamic laws under Najib, says Hadi
January 4, 2018
PETALING JAYA: PAS President Abdul Hadi Awang has criticised former prime minister Dr Mahathir Mohamad for "insulting" Islam and sidelining Islamic laws while he was in power.
Hadi added that under Prime Minister Najib Razak's administration, however, it was much easier to introduce and implement Islamic laws.
"During Dr Mahathir's time, Islam was insulted. He went as far as to say that covering the aurat was not religious but cultural. He didn't want us to carry out our duties as Muslims," Berita Harian quoted him as saying.
The statement was made following Mahathir's latest attack on Hadi, whom he accused of working with Umno to split the opposition's votes in the coming general election.
The Pakatan Harapan chairman said Hadi had abandoned his own principle about not working with Umno.
"Najib is kafir (infidel), according to PAS. And according to them when you work with a kafir, you also become kafir.
"Now he is working with a kafir, and at one time with DAP. Hadi is kafering himself," Mahathir had said.
Hadi did not elaborate on this part of Mahathir's remarks, except to say he hoped the former prime minister would "repent".
"He's going overboard but let him repent on his own. He's already an old man," Hadi was quoted as saying.
According to Hadi, PAS's "mature politics" has resulted in several Islamic laws being implemented.
Full report at:
http://www.freemalaysiatoday.com/?p=858422
--------
PH collaborates with Indonesia on Islam Education
January 4, 2018
The Philippines is in talks with Indonesia on incorporating the latter's quality Islamic education in the country's education system, which seeks to help in addressing and preventing radicalism brought by terrorists.
Welcoming the opportunity, Foreign Affairs Secretary Alan Peter Cayetano cited Indonesia's excellence in Islam education.
"Indonesia is one of the models for the kind of Islamic education that the Philippines and ASEAN can look into to counter the rise of extremism," Cayetano said in a statement on Wednesday.
According to him, the Philippines and Indonesia share the same goal in preventing terrorist attacks similar to the Marawi siege.
"Our Indonesian friends do not want to see another Marawi happening and are offering to help us counter radicalization through education," he said.
Full report at:
http://www.canadianinquirer.net/2018/01/04/ph-collaborates-with-indonesia-on-islam-education/
--------
Jakarta offers Philippines Islamic education as antidote to extremism
By Bong S. Sarmiento
5th January 2018
INDONESIA, the world's largest Muslim country, has offered to help the Philippines fight violent extremism through Islamic education to avoid a repeat of the Marawi siege that displaced over 400,000 civilians last year.
Indonesia's Foreign Minister Retno Marsudi pledged Jakarta's assistance to Manila in the fight against Islamic extremism during an official visit this week in Davao City, the hometown of President Rodrigo Duterte.
Marsudi led the launching of the Islamic education cooperation program with the Philippines at Madrasa Al Munawwara, the first accredited Islamic school in the Philippines since 1996.
She said in a statement that Jakarta will grant 100 scholarships each year to students of Islamic schools in Mindanao to study in Indonesia as part of her country's effort to fight Islamic extremism.
The scholarship includes international transport, tuition fee and living costs.
Philippine Foreign Affairs Secretary Alan Peter Cayetano welcomed Indonesia's offer to share its best practices in Islamic education as part of efforts to address and prevent extremism, not just in the country but also across Southeast Asia.
"Indonesia is one of the models for the kind of Islamic education that the Philippines and Asean can look into to counter the rise of extremism," Cayetano said.
"Our Indonesian friends do not want to see another Marawi happening and are offering to help us counter radicalisation through education," he added.
Muslim-Filipino extremists, backed by foreign fighters from neighbouring Indonesia and Malaysia, attacked Marawi City on May 23 to establish an Islamic state. The militants stood their ground against government forces in a five-month skirmish that left the city in shambles.
The Marawi siege triggered Duterte to place all of Mindanao under martial law, which was extended until Dec 31 this year by Congress upon the request of the president who said threats from the extremists remain despite the end of the war in Marawi.
Cayetano said the Philippine government is looking forward to working not only with Indonesia but also with other like-minded Islamic countries in defeating the threat. He noted that Jakarta's offer was among the initiatives taken up during the tripartite meetings against extremism held last year in Manila among the Philippines, Indonesia, and Malaysia.
During her visit to Davao, Marsudi also paid a courtesy call on Duterte, during which the leaders agreed to elevate cooperation on trade, maritime security, education, and in eradicating terrorism.
Duterte told her he wanted to intensify maritime security in cooperation with Indonesia as foreign and local terrorists continue to enter and exit the country despite the military efforts to go after these elements.
The president was referring to the sea backdoor between Indonesia's Sulawesi provinces and Sarangani town in Davao Occidental.
The Jakarta-based Institute for Policy Analysis of Conflict (IPAC) earlier said some of the 20 Indonesian militants who fought alongside the Maute Group in Marawi may have slipped through the Sulawesi Sea (called Celebes Sea in the Philippines) in going to Mindanao.
"It is likely that a few have found their way to Marawi," IPAC said in a 29-page report issued last year.
In December 2015, IPAC cited that a boat hired by an Indonesian militant operative from General Santos City in Mindanao smuggled firearms to North Sulawesi, passing through the Celebes Sea.
General Santos City is about eight hours by sea from Sarangani town in Davao Occidental, the country's border with Indonesia's Sulawesi provinces.
"In three to four hours by pump boat, we can be at the nearest Indonesian territory," Cesar Hadir, an Indonesian descendant married to a Filipina on Sarangani town, told Asian Correspondent.
Hadir said the Indonesians who have settled on the island-municipality of Sarangani are simple farmers and fishermen.
Full report at:
https://asiancorrespondent.com/2018/01/jakarta-offers-philippines-islamic-education-antidote-extremism/#uAuJ0Ssr5cD1wVXC.97
--------
South Asia
Hekmatyar confirms contacts with the Taliban group
Jan 04 2018
The leader of Hezb-e-Islami Gulbuddin Hekmatyar confirmed contacts with the Taliban group in a bid to encourage the group to participate in peace talks.
Hekmatyar informed regarding his party's contact with the Taliban as he was speaking during a press conference in Kabl today.
He said the Hezb-e-Islami strongly supports peace process and will stand with those who are willing to join peace process.
However, he did not say if any developments have been made in his efforts to encourage the group to participate in peace talks.
In other parts of his speech, Hekmatyar urged the political figures and parties to participate in talks in a bid to find a solution for the ongoing violence and crisis.
The Hezb-e-Islami leader further added that the political parties should adopt the strategy of political rivalry rather encouraging armed rivlaries.
According to Hekmatyar, his party is not supporting the repeat of the bitter past experiences and the political figures must refrain from provocative remarks.
He also added that certain individuals and circles are attempting to spark religious discrimination and chaos among the people.
Hekmataryar also added that he will prevent the collapse of the current regime and any attempts to bring changes in it, insisting that any changes should be brought through legal ways and with the consent of all parties involved.
https://www.khaama.com/hekmatyar-confirms-contacts-with-the-taliban-group-04190
--------
Daesh bomb attack kills 11 in Afghan capital
Jan 4, 2018
A bomb explosion claimed by the Daesh terrorist group has killed at least 11 people and injured 25 others in Afghanistan's capital, Kabul, officials say.
The bombing took place on Thursday, when an attacker detonated his explosives near a group of security personnel who were carrying out an operation against illegal drugs and alcohol dealing.
Wahid Majroh, a spokesman for the Ministry of Public Health, denied Daesh claims that the attack had killed and wounded around 80 people.
Interior Ministry spokesman Najib Danish said immediately after the bombing that at least 20 people had lost their lives in the attack.
According to police officers at the scene of the blast, the bomber was hiding his explosive vest under a police or army uniform and was able to get close to the officers undetected.
"Kabul police forces were there to prevent a possible protest when a suicide bomber approached them and detonated his suicide vest," Kabul police spokesman Bashir Mujahid said.
The attack was carried out about a week after another Daesh-claimed mass killing in Kabul, when a bombing attack on a Shia cultural center and the nearby office of a media outlet killed at least 41 people and wounded more than 80 others.
Daesh has claimed responsibility for a number of similar attacks in Afghanistan over the past two years. The Takfiri group has been seeking to expand its presence in Afghanistan after losing the territories under its control in Iraq and Syria.
Engulfed by long-running violence, many parts of Afghanistan remain plagued by militancy despite the presence of thousands of foreign troops.
Full report at:
http://www.presstv.com/Detail/2018/01/04/547858/Afghanistan-Daesh-blast-Kabul
--------
Why even Burma's democracy activists don't stick up for the Rohingya
By Richard Cockett
January 4, 2017
The Yangon School of Political Science, squashed into an upper floor of a grimy old apartment block, is almost as hard to find as the liberalism that it tries to teach. Inside, the head of the school, U Myat Thu, concedes that the small foundation he has created to nurture "tolerance, liberal individualism and freedom of conscience" suddenly finds itself out of step with the times. Beyond the walls, the rest of the country has largely given itself up to the easy certainties of prejudice, hatred and ignorance.
Yet Myat Thu has spent many years as a member of National League of Democracy (NLD), the party co-founded by Aung San Suu Kyi in 1988 to challenge the murderous military regimes that hijacked Burma in the early 1960s. He thought, like many other members of the opposition, that he was fighting for those hallowed values of a liberal, tolerant and open society. In November 2015, his devotion finally seemed to have been vindicated when the NLD won a landslide majority in a historic general election, ushering in Suu Kyi as the de facto leader of the country.
He was hopeful. But a great deal has happened since then — above all, the military-led ethnic cleansing campaign that has terrorized hundreds of thousands of Burma's ethnic Rohingya minority into fleeing the country. "It's horrible, and people have no feelings for them at all, no sympathy at all."
Sadly, he is right. But what most worries him is that none of his fellow political warriors in the NLD have spoken out in the same way. Indeed, merely his use of the R-word marks him out in contemporary Burma as something of a hero of our time. The term "Rohingya" is officially banned, and so cowed are most people by this edict that almost no one uses it in private conversation, either.
Myat Thu believes that one reason for the NLD's silence is that party members have for so long taken their cue from the top. If Suu Kyi is not going to say anything about the Rohingya, then they aren't going to, either. In this sense, he, and others, wonder whether the NLD was ever the human-rights-based democratic movement that its Western supporters took it to be. Today it looks more as if it was merely a Suu Kyi fan club all along. Now that she is in power, nobody seems interested in advancing the values that the NLD was supposed to have stood for. "The process of democratization has stopped," laments Myat Thu.
Anti-Muslim prejudice has a long history in Burma. The British encouraged millions of South Asians, many of them Muslims, to emigrate to Burma during the colonial period to run and exploit the latest addition to the empire. Burmans bitterly resented this, particularly the consequent loss of cultural and political control even in the Burman heartlands. By the eve of World War II, Yangon, the political and commercial capital, was an Indian-majority city.
The independence movement, and radical politics in general, thus became as much an anti-Muslim and anti-foreigner struggle as it was a specifically anti-British one. Suu Kyi herself is only one NLD activist to have written eloquently about the existential threat that Burman Buddhists felt from the unwelcome, uncontrolled influx of Indian Muslims, particularly when the men, relatively privileged in the colonial pecking order, started marrying Buddhist women.
These same fears dominate political discourse in Burma today, and they are as deeply embedded in the NLD as anywhere else. When the Rohingya issue first flared up before the 2015 election, some local party committees started to expel their Muslim members — despite orders to the contrary from NLD leaders. Animus against Muslims is widespread. The militant, xenophobic Buddhist monks who have whipped up most of the anti-Muslim and anti-Rohingya rhetoric in the country regard Rakhine state as the "Western Gate," the first bastion against the oncoming Muslim hordes of South Asia. The Rohingya breached that bastion and have to be pushed out again. It is a view shared by many Burman Buddhists.
Furthermore, although NLD activists still use a lexicon of human and political rights, as Suu Kyi sometimes does, the Rohingya can effectively be excluded from this because they are not citizens of Burma. Notoriously, they were not granted citizenship in the old military regime's deeply flawed 1982 Citizenship Act, despite the fact that many of them had been living in Rakhine state since precolonial times. Often, young NLD supporters, sounding very progressive, tell me that they want to extend the same democratic and political rights to all "citizens" of Burma, but it does not seem to occur to them that this should include the Rohingya, as they are not citizens. Too often, I suspect that this is an easy excuse, masking deeper, rather less progressive sentiments. Maybe it is just ignorance, but they seem to forget all too easily that the Citizenship Act was designed by the military regime — their enemy — to divide and rule. Now many in the NLD seem happy enough to play the same game.
Full report at:
https://www.washingtonpost.com/news/democracy-post/wp/2018/01/04/why-even-burmas-democracy-activists-dont-stick-up-for-the-rohingya/?utm_term=.d8e4e8fbe394
--------
Langadu: A case of ethnic cleansing in Bangladesh
January 05, 2018
Mrittika Kamal
"We (indigenous peoples) can only live in Bangladesh if we convert to Islam and become Bengalis through marriage," says Subroto Chakma (pseudonym), a victim of the Langadu arson attack in Rangamati, standing in front of the ruins of his village.
Shoikot Chakma (pseudonym), another victim, questions how it is possible to return to their day-to-day lives when the people responsible for such devastation have received no punishment for their crime: "How can you co-exist with them after this? You can feel everyone watching you when you go to the marketplace. There is this constant tension. You feel out of place in your birthplace, in your homeland where your forefathers have lived for generations."
400 families lost their homes in three villages—Tintilla, Baittapara and Manikjorchhora—after local Bengali political settlers burnt down at least 224 houses and shops following the death of a Bengali man, Nayan. It is unfortunate that the Chakma community of Langadu have been victims of such violence; but what is more unfortunate is the lack of government support following the incident which took place on June 2, 2017.
After July 12, the victims have received no relief from either the government or other sources. More than six months have passed, but the victims are still homeless.
Initially, about two-third of the affected families left Langadu; many of them expressed that they would not return. To them, returning to a pile of ashes did not seem like much of an option. The remaining victims took refuge in schools, temples and other people's houses in Langadu. Later on, the internally displaced families realised that they were not safe in any part of the Chittagong Hill Tracts. So they have returned to the ashes where once their homesteads stood and are trying to find some means of survival.
Winter is here, but there are no walls to protect the families of Langadu from the wind and no roofs above their heads either. Some families have attempted to put something together by gathering scraps from the ruins with the two or three bundles of corrugated tin they received as aid.
The government has promised to rebuild their homes, but there is very little progress in that avenue. Recently, the government issued a tender for building houses at Langadu. But Moni Shankar Chakma of the Parbatya Chattagram Jana Samhati Samiti (PCJSS) expresses concern over the designs approved for building the houses of Langadu victims. "They do not follow the traditional style of houses of the Chakma community," he regrets.
Rebuilding Chakma houses in a non-traditional manner is a part of the state-supported mainstreaming process of the indigenous peoples of CHT. Policy makers do not include the chief of indigenous community circles, political representatives of the indigenous peoples or indigenous leaders, or specialists of the rights of indigenous peoples in the decision making processes.
The victims of Langadu are demanding that the government give financial compensation for the loss incurred in the arson attack instead of building them houses. Unfortunately, their voices are not being heard; the victims are being oppressed yet again by government paperwork and procedure.
In addition, the government is not taking into account the number of family members of each household, type of house, number of rooms or amount of loss faced by victims on a case-by-case basis. Hence, a family of 23 members that lost a four-room house is receiving the same compensation as a family with three members that lost a two-room house. People who were living in the houses as tenants lost all their personal belongings, but are not receiving any compensation whatsoever. Besides, no compensation has been provided for rebuilding the three institutions that were affected—the regional office of the PCJSS, the Multi-purpose Community Centre and Para Kendra, an educational institution.
The victims do not have proper shelter or warm clothing to face the winter either. Each family (often consisting of three generations) has received two quilts from the government and one from Chittagong University. This is how we, the civil society and mass people, along with the government, are supporting the victims of arson attack in Langadu.
When what is lost cannot be quantified in numbers
The people of Langadu have lost Guno Mala Chakma in the fire of Langadu. She was burned alive in the fire, repeating the history of bloodshed of her people. It may never be possible to rebuild the local indigenous peoples' trust in the Bengali settlers, security forces and the government. The damage done in the incident is beyond repair.
Adreeta Chakma (pseudonym) says, "The man who often had tea at your house, or whose boat you used to cross the river on everyday, or from whom you bought your groceries—the man who was your friend, your colleague, your associate a few days ago, is suddenly burning your house down. How can you trust anyone anymore?"
Nipa Chakma (pseudonym) expresses that they are feeling extremely insecure in the shelters they made from the ruins of Langadu. "If we hear any noise at night, we fear that we are going to be attacked at any moment," she says.
It is difficult for most of us living outside the CHT region to understand the situation of the indigenous peoples, political Bengali settlers, security forces and the government. The history of internal conflict in the CHT region officially ended with the signing of the Peace Accord in 1996, but there has not been satisfactory progress in the implementation of the Peace Accord even after 20 years of its signing. In this context, incidents like Langadu are exceptionally dangerous as they tap into the core of the frustration and insecurity of the indigenous peoples in CHT.
According to Barrister Raja Devasish Roy, "If one-sided communal attacks like Langadu continue, it might lead to armed conflict in the long run. Communal attacks like Langadu are not new incidents, but the government and people have failed to take any lessons from these experiences."
Barrister Roy adds that it is evident that the security forces could not maintain impartiality. The day before the incident took place, they assured the indigenous people that no violence would occur; yet there is proof of members of the security forces participating in a public meeting and procession concerning the death of Nayan, where the indigenous peoples were referred to as "pahari santrashi" or "terrorist hill people". In fact, the local indigenous peoples have complained to Barrister Roy that men of the security forces were seen among the attackers in Tintilla and/or Baittapara villages. Also, when 40–50 Chakma youths gathered in Manikjorchhora for self-defence, at one point the security forces pointed their guns at the local Chakma people. However, at no point did the Chakma population of Langadu observe the security forces pointing their guns at the Bengali population or attempt to stop the arson. The Bengali settlers finally backed down when the local Chakma people united against the arsonists. Barrister Roy comments that if the Chakma youth did not take action that day, the attack could have spread to Langadu-Baradam and Mahajanpara.
Ushaton Talukdar MP states, "After incidents like this, we repeatedly fail to identify why these attacks have happened and those behind these happenings. We should assess the failures of the state and the society in these matters and address those. The reality is, despite the attack at Langadu, the indigenous peoples and the Bengali settlers have to co-exist there. We have to find a way in which peaceful coexistence is possible. If the people of CHT can live in a congenial environment, putting their differences aside, then prosperity is possible in terms of production, employment and education."
The victims of Langadu approached the local police station with four cases, but the police accepted only one. Kishore Chakma filed a case with 98 identified and 300-400 unidentified individuals. Among the accused, Md Juyel, Md Saiful Islam, Md Khalilur Rahman Khan, Md Faruk Ahammod, Md Rasel and Md Chan Miya (Chandu) are roaming free without bail. Md Saiful Islam and Md Khalilur Rahman Khan have absconded.
Dr Mesbah Kamal, Professor of the Department of History at University of Dhaka, "So far the findings of the investigations conducted on communal attacks in the CHT area have not been made public. Nor have the people responsible for the attacks been brought to justice. Human Rights Commission (HRC) has conducted an investigation on the Langadu incident, but we can see no visible action taken based on the report. The full report of the HRC investigation should be published as well."
The indigenous peoples of CHT want to co-exist with the local Bengali people in peace, but incidents like Langadu make it difficult to do so. On May 4, 1989, Langadu was attacked in a similar fashion following the killing of the local Bengali chairperson; more than 30 people were victims of the mass murder. History repeated itself when Langadu burned once again last June, again followed by the death of a Bengali man. A procession of about 3,000–4,000 people carrying the dead body of Nayan turned into a communal attack. Whether the murder of Nayan was committed by a Chakma or not cannot determine the fate of hundreds of Chakma families. The death of Nayan or any individual cannot be an excuse for anyone to take part in the ethnic cleansing process of the CHT.
Those displaced by the arson incident returned to rebuild their lives on the forsaken land of Langadu. Their basic needs of shelter, food, clothing, education and health are not being met. The victims are surviving on potatoes. The children do not have proper educational materials. The government has provided them with books, but they do not have stationery, school bags or other necessities. The people of Langadu are now living amidst ruins in the cold winter, and with the constant reminder that they have been abandoned by the state and society.
Full report at:
http://www.thedailystar.net/star-weekend/human-rights/langadu-1514965
--------
Scheduled repatriation of Rakhine refugees on track
05 JAN 2018
MYANMAR and Bangladesh stepped up their efforts to start the repatriation of hundreds of thousands of Rakhine Muslim refugees in Bangladesh border camps later in the month, officials from both countries said.
Win Myat Aye, Myanmar minister for social welfare, relief and resettlement, said reception desks have been set up in order to ensure the orderly processing of the returning refugees.
After the processing, the refugees can stay in half-way homes before they are sent back to their original places of residence, the minister said.
Minister Win Myat Aye expressed hope that legitimate Muslim Rakhine residents would take advantage of the two governments' joint efforts to bring them back to their homes.
"We can't do repatriation if they [refugees] are not willing to return back here," he told The Myanmar Times on Wednesday. "Our responsibility is to take care of them when they return. We can't do anything if they are not returning."
Bangladesh Refugee Relief Commissioner Mohammad Abul kalam said it has received the forms from Myanmar needed to collect individual data from the refugees and would start gathering data from potential returnees starting next week.
"Hopefully, we can start collecting data sought in the repatriation form after Sunday," Kalam, told Benar News, a Radio Free Asia (RFA) affiliated online news service.
Kalam said his office will employ staff to collect the data and will not distribute the forms among the refugees.
"We have already formed a nine-member technical committee to collect the data about the potential returnees. The committee includes members from the home ministry, disaster management ministry, bureau of statics and other relevant departments of the government," said Kalam, who is also the leader of the technical committee.
"We maintain a database of the Myanmar nationals entering Bangladesh. We will match the data collected with the database before handing the filled forms over to the Myanmar," he said.
The actual repatriation will begin after Myanmar authorities verify the data including names, ages, genders, parents, children and home villages of the returning refugees.
Bangladesh officials expect to hand over about 100,000 Rohingya in the first phase, according to the RFA report
Over 650,000 people, Mostly Muslim residents, from the troubled northern Rakhine State fled to Bangladesh since August in the aftermath of the clashes between the Myanmar armed forces, locally known as Tatmadaw, and fighters of the Arakan Rohingya Salvation Army (ARSA), which the government labeled as a terrorist organisation.
The new round of violence erupted on August 25 when ARSA fighters launched simultaneous attacks against more than two dozen government security outposts in the area, prompting a counter insurgency operations that killed hundreds of people.
In November last year, Myanmar and Bangladesh signed a memorandum of understanding to start the repatriation of the refugees as the situation in the northern Rakhine State began to stabilise.
The United Nations and international human rights groups have accused the government of systematic persecution of the Muslim minority population in the northern Rakhine State, which the Myanmar leaders have vehemently denied.
Full report at:
https://www.mmtimes.com/news/scheduled-repatriation-rakhine-refugees-track.html
--------
2,700 people infected with diphtheria in Rohingya refugee camps
January 05, 2018
Rohingya refugees are at the risk of suffering from a possible outbreak of diphtheria, said a WHO report published last month
Diphtheria may be making a comeback in Bangladesh as at least 2,700 cases of patients suspected to be infected with the bacteria-borne disease have been reported at the Rohingya refugee camps in Cox's Bazar.
"So far, 2,700 diphtheria infected people have been identified; of them, 27 patients, including children, have already died," Md Nikaruzzaman, upazila nirbahi officer of Cox's Bazar's Ukhiya upazila, where one of the refugee camps is located, told the Dhaka Tribune on Thursday.
In a report published on December 12, the World Health Organization (WHO) said the Rohingya refugees were at the risk of suffering from a possible outbreak of diphtheria.
A total of 250,607 Rohingyas have been administered with the diphtheria vaccinations at the camps.
Locals living around the camp areas have also been brought under diphtheria vaccinations. So far, 30,000 locals have been vaccinated.
According to WHO, diphtheria is a bacteria-borne illness, spread through direct physical contact or from breathing in the aerosolized secretions from coughs or sneezes of infected individuals.
Full report at:
http://www.dhakatribune.com/bangladesh/nation/2018/01/04/2700-people-infected-diphtheria-rohingya-refugee-camps/
--------
5 Taliban militants killed, 3 wounded in Faryab airstrikes
Jan 04 2018
At least eight Taliban insurgents were killed or wounded during the airstrikes in northern Faryab province of Afghanistan.
The 209th Shaheen Corps of the Afghan army said the latest airstrikes were carried out on Taliban hideouts in Pashtun Kot district.
According to the Shaheen Corps, at least five Taliban insurgents were killed and three others were wounded during the raids.
The anti-government armed militant groups including the Taliban insurgents have not commented regarding the reports so far.
The Shaheen Corps said last week that Afghan Air Force (AAF) has intensified airstrikes in northern Faryab province of Afghanistan in response to the growing threats of the terror groups who are attempting to expand insurgency in northern parts of the country.
Faryab is among the relatively volatile provinces in northern parts of the country where the anti-government armed militants are actively operating in a number of its districts.
Full report at:
https://www.khaama.com/5-taliban-militants-killed-3-wounded-in-faryab-airstrikes-04191
--------
North America
Trump administration to announce specific actions against Pakistan
Jan 4, 2018
WASHINGTON: The White House has said it would announce specific actions against Pakistan this week to force it to crack down on terrorists on its soil, reflecting president Donald Trump's tough stance against the country over the issue.
The remarks by White House Press Secretary Sarah Sanders came after Trump accused Pakistan of giving nothing to the US but "lies and deceit"+ and providing "safe haven" to terrorists in return for $33 billion aid over the last 15 years.
"They can do more to stop terrorism and we want them to do that," Sanders said.
The White House said it would likely announce actions to pressure Pakistan within days.
"We'll continue to keep you posted as those decisions are finalised," Sanders said.
"In terms of specific actions, I think you'll see some more details come out on that in the next 24 to 48 hours..." Sanders told reporters on Tuesday during a news conference in which she asked Pakistan to step up its actions against terrorists and militant groups operating from its soil.
Fox News reported that the announcement in this regard is expected Thursday.
However, there was no response from the White House on the timing and nature of such an announcement.
On Monday, in his first tweet of the year, Trump said that the US has "foolishly" given Pakistan more than $33 billion in aid+ over the last 15 years.
A day later, the White House said that it was suspended $255 million financial security assistance to Pakistan as mandated by Congress in its 2016 budget.
US ambassador to the UN Nikki Haley also accused Pakistan of playing a "double game"+ by claiming to support the US-led war against terrorism while providing a haven to terrorist groups.
Pakistan has expressed "deep disappointment" over the US statements, saying the accusations strike with "great insensitivity" at the trust between the two countries.
Pakistan's Foreign Minister Khawaja Asif in a tweet challenged President Trump's claim+ that the US has given Pakistan more than $33 billion dollars as aid over the last 15 years, saying verification by an audit firm would prove the US president wrong.
https://timesofindia.indiatimes.com/world/us/trump-administration-to-announce-cuts-in-security-assistance-for-pakistan/articleshow/62360040.cms
--------
American Islamist Charity Openly Partners with Designated Terrorists
Jan 05, 2018
In December, the Muslim American charity, Helping Hand for Relief and Development (HHRD), organized a conference to honor 'World Disability Day' at a government-managed college in the Pakistani city of Timergara.
This seems like a noble cause. But Islamist groups often use noble causes to advance their agenda. And HHRD is one such Islamist group.
Sponsors of the HHRD event in Pakistan included the Falah-e-Insaniat Foundation (FIF), the charitable wing of Lashkar-e-Taiba, the terrorist organization responsible for the 2008 Mumbai attacks. In 2016, FIF itself was designated a terrorist organization by the U.S. Treasury Department.
Another organization present at the HHRD conference was the Milli Muslim League, a political party recently launched by Lashkar-e-Taiba founder, Hafiz Muhammad Saeed, on whom the U.S. government has placed a $10 million bounty.
ut HHRD didn't stop at Pakistan's most infamous terrorist network. Its conference also included Al Khidmat, the charitable arm of the South Asian Islamist movement Jamaat-e-Islami. In 1971, during the Bangladeshi Liberation War, Jamaat-e-Islami fighters murdered thousands of Bangladeshis in cold blood. In 2006, JI's own website announced that Al Khidmat had transferred $100,000 to the Palestinian terror group Hamas for their "just Jihad."
HHRD does not merely invite Al Khidmat to its conferences. Al Khidmat openly boasts of the support it receives from HHRD.
In fact, HHRD appears to have been working with both Al Khidmat and Hafiz Saeed's designated terrorist group, the Falah-e-Insaniat Foundation, for many years. A 2009 HHRD report mentions both organizations, and a Pakistani newspaper report reveals both HHRD and the Falah-e-Insaniat Foundation were working on the same projects.
Founded in 2005, HHRD reports receiving funding from the British government, the World Health Organization and prominent American charitable foundations such as Microsoft, Cisco, PepsiCo, and Dell.
HHRD operates as a self-described "sister organization" of the Islamic Circle of North America (ICNA), a prominent American Islamist group that has publicly identified itself as a Jamaat-e-Islami organization. HHRD and ICNA even share the same logo.
ICNA's conferences, the largest in the American Muslim calendar, include prominent Jamaat-e-Islami officials such as Yusuf Islahi, who reportedly claims that Jews were responsible for the 9/11 attacks.
Counter-terrorism analyst Abha Shankar recently noted that HHRD is working with ICNA and Al Khidmat to establish a hospital in the Pakistani city of Karachi. Shankar discovered that the Al Khidmat official leading the project is "closely tied to the U.S.-designated Kashmiri terrorist organization, Hizbul Mujahideen (HM) and its leader Syed Salahuddin."
HHRD's dalliances with these violent Islamist networks are not limited to Pakistan. For many years, HHRD has regularly organized fundraising evenings and events at the Islamic Center of New England (ICNE), which is notorious for its regular promotion of extremist clerics. The former imam of ICNE was Hafiz Masood, the brother of the very same Lashkar-e-Taiba leader, Hafiz Muhammad Saeed. Today, Masood serves as a spokesperson for one of his brother's terrorist organizations in Pakistan.
Ten years ago, federal investigators uncovered an enormous network of terrorism-financing organizations centered around a Hamas group named the Holy Land Foundation. That led to the last major federal prosecution of terror finance networks in America.
Full report at:
https://www.rabwah.net/american-islamist-charity-openly-partners-designated-terrorists
/
--------
Joshua Boyle claims Taliban-linked captors tried to recruit him
Candice Malcolm
January 4, 2018
Joshua Boyle was offered a position within the Taliban-linked network that held him and his family for five years and at one point rebelled against and planned to kill his captors, he claims.
This information came to light in exclusive correspondence Boyle sent to the Sun in the weeks following his return, shedding light on his experiences with his captors as well as his personal worldview.
Boyle and his wife Caitlan Coleman were kidnapped in 2012 and held hostage by the Haqqani Network (HN), an offshoot of the Taliban, while travelling in Afghanistan. They were held captive for five years, during which time they had three children.
Boyle's story has recently taken a new twist: the former hostage now faces fifteen charges, among them eight counts of assault, two counts of sexual assault, two of unlawful confinement and one count of administering a noxious substance. None of the allegations have been proven in court.
However, before his latest troubles became public, Boyle spent a fair amount of time speaking with media outlets including the Sun about his captivity in Afghanistan.
"My problem with the Haqqani Network pre-date my capture," wrote Boyle, rejecting the idea that this terrorist group is made up of devout Islamists.
"It's not about ideology for the HN, they're just ghetto trash gangbangers, drug dealers, carjackers who realize they can throw on a black turban, memorise (sic) the Quran," added Boyle.
"Abu Hajjar, the commander whom I speak of, only knew Surah al-Asr and Surah al-Kauthar, that's a total of six sentences," said Boyle, referring to sections of the Quran.
"They're just religious hypocrites, criminal miscreants and warmongers," he said of his disillusionment and disappointment with this terrorist cell.
Boyle told the Sun that HN tried to recruit him, and offered him a position within their organization – an invitation Boyle claims to have rejected.
"And that's why I laughed and informed them I'd rather be beheaded than join their group, despite four repeated offers/demands that I had to join them … culminating in the death of my daughter."
Boyle says that his wife was the victim of a forced abortion while in captivity, a war crime under international law, an allegation the Taliban denied in a rare public rebuttal to a western media news story.
"From that point forward, it was clear we were at war and there were no more attempts to recruit; I imagine a three-day prison uprising in which we gained control of a portion of the compound and held our own with knives against their Kalashnikovs probably enforced the idea that I wasn't just being coy, I really was willing to kill them," said Boyle.
Boyle sent twelve emails and four text messages to the Sun between Oct. 28 and Dec. 20. Some came with the subject line "off the record." But this request was never confirmed or agreed to by the Sun. The correspondence was initiated by Boyle and not in response to any interview request.
He requested that the so-called prison uprising be off the record, stating that, "things like the prison uprising are scheduled to be on the record in the public domain at a specific point." He did not further elaborate.
Based on the lack of a confidentiality agreement and the significant public interest and questions around the Boyle case the Sun decided to publish his emails.
"I know you probably have a bias that I'm foaming at the mouth, or crazy, cunning sociopath or whatever it is that you've imagined me to be," wrote Boyle in an email on Oct. 28. "(I) really don't care what the media thinks about me," he said.
Boyle encouraged the Sun to reach out to his wife for an interview, a request she ignored. Upon connecting on Facebook, however, it could be seen that Coleman was involved in a group called "Toronto Muslim Homeschoolers."
When asked if Boyle had converted to Islam, he refused to answer, stating only "I still identify as a pacifist."
When asked what Boyle discussed in his now controversial meeting with Prime Minister Justin Trudeau, and who set up the meeting, Boyle again refused to explain.
"I'd love to gossip more about Trudeau, but unfortunately I'm a stickler for journalistic integrity; same reason the CBC is actually blacklisted from the family."
Boyle's eccentric media appearances, his self-aggrandizing statements and his style of grooming resembling a Taliban tribesman, all beg the question of why Boyle would bring his pregnant wife into the Taliban-held region of Afghanistan in the first place. Throughout his emails, Boyle refused to discuss his motivations for travelling to Afghanistan, preferring to discuss his own views on the Middle East as well as the death of his unborn child.
"It is indeed classified as a Crime Against Humanity, even by Canada … which will bring us to an interesting Chapter II in the Boyle Story," he said.
Full report at:
http://torontosun.com/opinion/columnists/malcolm-joshua-boyle-claims-taliban-linked-captors-tried-to-recruit-him
--------
US imposes sanctions on Iranian missile firms
5 January 2018
The United States imposed sanctions Thursday on five Iranian companies it alleges are working on part of the illegal ballistic missile program.
Treasury Secretary Steven Mnuchin linked the measure to recent anti-government protests, arguing that Iran ought to spend more on public welfare rather than banned weapons.
"These sanctions target key entities involved in Iran's ballistic missile program, which the Iranian regime prioritizes over the economic well-being of the Iranian people," Mnuchin said.
"As the Iranian people suffer, their government and the IRGC fund foreign militants, terrorist groups, and human rights abuses," he added.
"The United States will continue to decisively counter the Iranian regime's malign activity, including additional sanctions targeting human rights abuses.
"We will not hesitate to call out the regime's economic mismanagement, and diversion of significant resources to fund threatening missile systems at the expense of its citizenry."
The five designated companies are all subsidiaries of Iran's Shahid Bakeri Industrial Group (SBIG).
Under the sanctions, any assets that the firms hold in places under US jurisdiction will be frozen and US citizens are forbidden from doing business with them.
And, perhaps more importantly, foreign institutions who work with the companies could be locked out of the US financial system -- a risk that European banks, for example, would be loath to take.
Earlier, the State Department had warned that Iranian officials involved in the arrest or killing of protesters would be held to account.
"We condemn in the strongest possible terms the deaths to date and the arrests of at least one thousand Iranians," spokeswoman Heather Nauert said.
"We have ample authorities to hold accountable those who commit violence against protesters, contribute to censorship, or steal from the people of Iran," she said.
"To the regime's victims, we say: 'You will not be forgotten.'"
Popular unrest flared in Iran last month and at least 21 people are known to have died in clashes between demonstrators and the Islamic republic's security forces.
Washington, a long-standing foe of Tehran, has stood up for the protesters' right to be heard, and Nauert has now gone further in endorsing what she said were their demands.
"We support these legitimate aspirations of the Iranian people, and call on the government to allow the free exchange of ideas and information," she said.
"All of us should be able to enjoy the same basic economic and political freedoms, including the right to peaceful demonstration."
Full report at:
https://english.alarabiya.net/en/News/world/2018/01/05/US-imposes-sanctions-on-Iranian-missile-firms.html
--------
US suspends security assistance to Pakistan
Jan 4, 2018
The United States says it is suspending national security assistance to Pakistan, claiming Islamabad is not acting seriously enough against militants.
The State Department announced the decision on Thursday, saying it reflected the Trump administration's frustration that Islamabad has not done more against the Taliban militants and its affiliated factions, including the Haqqani network.
"Today we can confirm that we are suspending security assistance only to Pakistan at this time," State Department Spokesperson Heather Nauert announced at a press briefing.
"Pakistan has the ability to get this money back in the future, but they have to take decisive action," she said.
Although Pakistan "certainly has been helpful in some instances," she said, "they are not taking steps they need to take to fight terrorists."
The department did not give any specific information about a total dollar amount for the cutoff, but, a US official, who spoke on condition of anonymity, said "it's worth of $255 million."
The aid suspension will cover transfers of military equipment as well as reimbursements for Pakistani counterterrorism operations.
Earlier this year, Washington suspended a separate $255 million in so-called foreign military assistance, financing purchases of US military hardware, training and services.
Meanwhile, a Pakistani military official has already warned that any action by Washington would be met with a response.
General Asif Ghafoor said Islamabad would not compromise on national interests and prestige.
Tensions between the two countries have escalated since US President Donald Trump accused Pakistan of providing a safe haven for terrorists.
"The United States has foolishly given Pakistan more than 33 billion dollars in aid over the last 15 years, and they have given us nothing but lies and deceit, thinking of our leaders as fools," said Trump on Monday.
Pakistani Foreign Minister Khawaja Asif responded that his government was preparing a response that "will let the world know the truth."
Full report at:
http://www.presstv.com/Detail/2018/01/04/547860/US-Pakistan-terrorists-taliban-
--------
Study finds Canada 'obsessed with Islamophobia'
04/01/18
A study published last week by Gatestone Institute's Judith Bergman reveals a prevailing atmosphere of denial and avoidance characterizing Canada's relationship with Islam.
Entitled Canada: Obsessed with "Islamophobia", Bergman's report concludes that the current government seems not to believe that Islamic terrorism in Canada even exists. According to the report, the Royal Canadian Mounted Police guide is premised on the belief that radicalization occurs because of perceptions of "injustice", not because of jihad, with Islamic groups not even being mentioned.
"The message is that terrorism is 'diverse' and has nothing to do with Islam," according to the report. "However, Public Safety Canada's list of terrorist entities contains 54 terrorist groups, 46 of which are Islamic terrorist groups.
"While worried about graffiti, Canadian authorities appear far less concerned about deterring Canadian imams from preaching jihad, Jew-hatred, and the murder of Jews to their Muslim congregations, despite Jews being approximately twelve times more likely to be targeted for hate crimes than Muslims are. For anti-Muslim graffiti, you go to jail for five months, but inciting an entire congregation to kill Jewish citizens does not even merit prosecution," Bergman writes.
"Meanwhile, the war on free speech in Canada grinds on: Ottawa Public Library cancelled the screening of 'Killing Europe', a documentary about, ironically, among other things, the death of free speech in Europe. Ottawa Public Library deemed this content not suitable for Canadians -- apparently snowflakes, not allowed to know about the rise of migrant rape crime, anti-Semitism, far-leftist violence and other irritants in Europe," the study says.
Canada's population numbers 36 million people, with approximately 330,000 Jews and slightly more than 1,000,000 Muslims.
Bergman writes, "Canadian Prime Minister Justin Trudeau recently labelled a question about putting returning ISIS jihadists in jail from Opposition Leader Andrew Scheer, part of a pattern of 'Islamophobia'. (How can that be, if ISIS supposedly has 'nothing to do with Islam'?)
"Trudeau said that Canada needed to ensure that resources would be 'in place to facilitate disengagement from violent ideologies, in particular [for] children who return from conflict zones [and] require tailored solutions... we're also there to help them to let go of that terrorist ideology.'
"'The Prime Minister,' said Scheer during the debate, 'is using a broad spectrum that includes poetry and podcasts, and all kinds of counselling and group hug sessions. When,' he asked, 'will the Prime Minister take the security of Canadians seriously and look for ways to put these ISIS fighters in jail?'
"Trudeau's response was to accuse Scheer of Islamophobia:
Full report at:
https://www.israelnationalnews.com/News/News.aspx/240251
--------
Europe
French wives of extremists 'should face trial in Syria'
4 January 2018
PARIS: Female French extremists arrested in Kurdish-held parts of Syria should face justice there so long as they can be guaranteed a fair trial, the French government said on Thursday.
Debate has been swirling in France over the fate of women who went to Syria to marry extremist fighters and now find themselves in custody, not least following heavy defeats for the Daesh group.
This week Emilie Konig, a 33-year-old Muslim convert from Brittany who became a notorious terrorist recruiter, became the latest of a string of European women to plead publicly for repatriation.
But French government spokesman Benjamin Griveaux indicated there are no plans to bring her home.
If "there are legal institutions capable of guaranteeing a fair trial assuring their right to a defense," women arrested in Kurdish-held Syria should be "judged there," Griveaux told RMC radio.
"Whatever crime may have been committed — even the most despicable — French citizens abroad must have a guaranteed right to a defense," he added. "We must have confirmation of that."
Konig, who features on UN and US blacklists of dangerous militants, was arrested last month and is being held in a Kurdish camp with her three young children along with several other French women.
"They have been arrested, and as far as we know they did not surrender of their own accord," Griveaux said. "They were arrested in combat."
Konig's lawyer Bruno Vinay argued Wednesday that France must repatriate her under its "international commitments."
A policeman's daughter who converted after meeting her first husband, Konig set off for Syria in 2012, leaving her first two children in France to join her new partner, who was later killed.
She frequently appeared in propaganda videos and French intelligence intercepted messages to her contacts at home urging them to attack French institutions or the wives of soldiers.
Some 30 French terrorists, both men and women, are currently in the custody of Kurdish and Iraqi forces, according to a source close to the investigation.
Of some 5,000 EU extremists believed to have gone to fight, around a third have returned home, according to the Soufan Center, a US-based NGO that conducts research on global security.
So far, France, Germany and Britain have tackled returnees on a case-by-case basis.
The Syrian Kurds' representative in France told AFP that authorities in their territory, covering swathes of north and northeast Syria, were ready to either take the women to court or send them home with their children.
"With France, an allied country, we can come to an agreement that works out well, bearing in mind that the priority is that these terrorists are held accountable for their crimes," Issa said.
No foreign national has yet appeared in court in Kurdish-held areas, Issa added, adding that their forces on the ground have some 1,300 "terrorists" in custody including foreigners.
Kurds currently hold just under a third of Syrian territory — including the Raqqa region, Daesh's former "capital" — while the regime holds around a half, following the multi-sided civil war which has raged since 2011.
France is part of the US-led international military coalition that has been carrying out air strikes against Daesh.
http://www.arabnews.com/node/1219016/world
--------
Tribunal rules against total secrecy over UK drone strikes against jihadists
January 04, 2018
The government's power to block requests for information on national security grounds has been significantly curtailed by a tribunal ruling over targeted killings of British jihadists abroad, reported The Guardian.
Although attempts to obtain the legal advice given to the prime minister before RAF drone strikes in Syria in 2015 were dismissed, the court said officials could not rely on a blanket ban preventing the release of all relevant details.
The upper tribunal administrative appeals chamber decision, handed down shortly before Christmas, said freedom of information requests in such sensitive policy areas should be subject instead to qualified exemptions in which security concerns are balanced against wider public interests.
The tribunal also criticised the Information Commissioner's Office for accepting assurances by government departments that the material was all exempt from FOI applications. The ICO, it emerged, had not even read the documents in the case.
The challenge was brought by Rights Watch (UK) after RAF drone strikes against two British citizens, Reyaad Khan and Ruhul Amin, which prompted accusations that officials were operating a US-style "kill list".
At the time, the prime minister, David Cameron, described the attack as a "new departure" and said he had relied on legal advice from the attorney general, Jeremy Wright QC, which assured him it was "entirely lawful". Later that year, UK and US forces cooperated on an airstrike that killed Mohammed Emwazi, nicknamed "Jihadi John", the Islamic State extremist held responsible for killing several western hostages.
The day after the attack on Khan and Amin, Rights Watch (UK) submitted a freedom of information request for the legal advice, or a summary of it, to be published.
Since then, Wright has given some further details about the legal context in which such decisions are made.
"Specific" advance evidence of a terror plot threatening UK interests is not legally necessary before launching pre-emptive drone strikes against suspects overseas, Wright said last year.
The legal threshold for self-defence was not being "watered down", he stressed, adding that not knowing the target, type or time of a terrorist attack should not prevent military action.
In the upper tribunal hearing, the government argued that section 23 of the Freedom of Information Act 2000 provided an absolute exemption on handing over any information passing through the security agencies.
The upper tribunal rejected that argument, saying any advice should be "disaggregated" and considered under other exemptions provided for by the act.
It declared: "Although we accept that the disaggregated information … can be said to relate to [the security agencies], parliament did not intend such information to be covered by the absolute section 23 exemption."
Parts of the legal advice, such as the government's interpretation of international law, should be subject to a public interest test, the tribunal said.
Yasmine Ahmed, the executive director of Rights Watch (UK), said: "This is a significant pushback against the government's expansive claims of secrecy that would have allowed it to claim absolute secrecy and suppress information that had merely passed through the hands of the security services, corroding the public's right to information.
"The government [is] on notice: referencing the security services or them having sight of information does not hand public bodies a blank cheque to veto scrutiny of their actions, and they cannot do so and expect the information commissioner, courts and public to acquiesce."
Full report at:
https://nation.com.pk/04-Jan-2018/tribunal-rules-against-total-secrecy-over-uk-drone-strikes-against-jihadists
--------
Russia denies seven military planes destroyed in militant attack
Jan 4, 2018
Russia has denied media reports that seven of its military planes had been destroyed in a militant assault on a base in northwestern Syria.
In a statement on Thursday, Russia's Defense Ministry said only two servicemen were killed in shelling by foreign-sponsored Takfiri militants operating in the Arab country.
The ministry said the report in Russia's Kommersant business daily that seven military planes had been "practically destroyed" in the attack on the Hmeimim base in coastal province of Latakia was "fake".
"As darkness fell, the Hmeimim air base was subjected to sudden mortar shelling from a mobile group of militants. As a result of the shelling, two servicemen were killed," the statement said.
According to the ministry, security around the base was being stepped up after the mortar attack which came after a Russian helicopter crashed in Syria due to a technical fault, killing two pilots.
Russia has been offering military assistance to Syria since September 2015 upon a request from the government in Damascus, which has been fighting a foreign-backed militancy for years.
Russian President Vladimir Putin made a surprise visit to Syria last month where he ordered the start of a pullout of Russian troops and held talks with Syrian President Bashar al-Assad.
A group of Russian troops deployed to Syria has recently returned home as part of Russia's partial withdrawal from the war-torn country.
The crews of Tupolev Tu-22M3 long-range bombers also returned to an operational airfield in North Ossetia and later flew to their permanent bases.
Full report at:
http://www.presstv.com/Detail/2018/01/04/547828/Russia-Syria-Latakia-Kommersant-Bashar-alAssad-Putin
--------
Africa
State Department designates 3 al Qaeda figures as global terrorists
January 4, 2018
The State Department has added three commanders from al Qaeda's branches in Yemen, Somalia, and North Africa to the US government's list of specially designated global terrorists.
One of the jihadists is responsible for planning the Mar. 2015 Bardo Museum attack in Tunis, according to Foggy Bottom. Another serves as Shabaab's deputy emir.
State listed the three al Qaeda figures as Wanas al-Faqih from al Qaeda in the Islamic Maghreb (AQIM), Abukar Ali Adan from Shabaab (al Qaeda's branch in East Africa), and Muhammad Al Ghazali from al Qaeda in the Arabian Peninsula (AQAP). The three al Qaeda branches wage insurgencies in their respective regions while continuing to plot terrorist attacks elsewhere, including against Western interests.
Wanas al-Faqih
Al-Faqih "is an AQIM associate who planned the March 18, 2015 Bardo Museum attack in Tunis, Tunisia that killed at least 20 people," State says.
The US government's decision to finger al-Faqih for the Bardo Museum massacre is noteworthy, as there has been some confusion concerning responsibility for the operation.
The Islamic State quickly claimed responsibility for the murders.
The eighth issue of the group's Dabiq magazine provided a brief overview of the plot. Dabiq's editors wrote that a pair of Tunisian jihadists "were sent on their mission after having trained with their brothers in Libya and having declared their bay'ah [oath of allegiance]" to Abu Bakr al Baghdadi's self-declared caliphate. "They returned to Tunisia, bravely advanced towards the security quarter in Tunis, entered the museum – located across from the Tunisian parliament – and poured terror on the kuffār inside, killing more than 20 of them and injuring a dozen others," Dabiq's editors added. That same issue of the group's propaganda rag included an interview with Boubaker al-Hakim, a veteran jihadist who was implicated in high-profile assassinations inside Tunisia. Al-Hakim praised the Bardo gunmen and called on Islamic State supporters to follow in their footsteps.
In Feb. 2016, the US targeted Noureddine Chouchane, a Tunisian, in an airstrike in Libya. Chouchane was an Islamic State facilitator who shuttled fighters between North Africa and elsewhere. The Tunisian government had identified Chouchane as a suspect in the assault on Bardo Museum.
However, Tunisian authorities also blamed members of the Uqba bin Nafi Battalion, a wing of AQIM, for the Bardo slayings. Al-Faqih has long had ties to the group. In Apr. 2015, for instance, al-Faqih eulogized Uqba bin Nafi Battalion leader Lokman Abu Sakhr, swearing that the Tunisian jihad would outlive Sakhr. Tunisian officials had implicated Sakhr in the Bardo killings as well. In separate messages, al-Faqih has also called for additional attacks inside Tunisia.
The Islamic State poached members from AQIM and its front groups in order to swell its ranks in North Africa. So, it is possible that the Bardo Museum terrorists were initially part of AQIM and its Uqba bin Nafi Battalion, but decided to defect to Baghdadi's cause.
Abukar Ali Adan
State described Adan as the "deputy leader of al-Shabaab" but provided no other details on him. Research by FDD's Long War Journal shows that Adan fits the profile of a rising star in al Qaeda's East African branch.
Adan's career can be traced back to Mar. 2010, when he was identified in a Reuters report as Shabaab's "chairman" along the border with Kenya. In May of that same year, he was reported to be Shabaab's leader for the southern city of Kismayo. At that time, Kismayo was controlled by Shabaab and was a central hub for the jihadists' economic and military operations in southern Somalia.
As the emir for Kismayo, Adan wielded significant power, which he used to recruit and expand Shabaab's footprint. In Dec. 2011, Adan said that teachers and students were obligated to participate in Shabaab's jihad against the government and the West.
Adan continued to rise within the ranks of Shabaab's top leadership. In July 2012, a BBC Monitoring report identified Adan as the emir of the Lower and Middle Juba regions, the two southernmost provinces in Somalia where Shabaab's insurgency has been anchored. He answered directly to Sheikh Godane, Shabaab's previous emir, at the time.
By 2014, Adan had entered Shabaab's top leadership circle. According to the International Crisis Group, Adan served as the "overall Al-Shabaab military/militia head." As the head of its military, Adan would be one of the most powerful figures within Shabaab. Traditionally, Shabaab's military emir also serves as the group's deputy emir.
Muhammad Al Ghazali
State also provided few details on Ghazali. He is described as "a senior member of AQAP who is involved in internal security and training of the group's operatives."
As a leader within AQAP's internal security branch, Ghazali would be involved in rooting out "spies," as well as suppressing dissent from rival jihadist groups such as the Islamic State.
Bill Roggio is a Senior Fellow at the Foundation for Defense of Democracies and the Editor of FDD's Long War Journal. Thomas Joscelyn is a Senior Fellow at the Foundation for Defense of Democracies and the Senior Editor for FDD's Long War Journal.
https://www.longwarjournal.org/archives/2018/01/state-department-designates-3-al-qaeda-figures-as-global-terrorists.php
--------
Over 30 loggers 'abducted by Boko Haram' in Nigeria
January 05, 2018
KANO - At least 31 loggers are believed to have been abducted by Boko Haram militants after they went missing in northeast Nigeria , security sources said.
The alleged kidnapping took place just days after 30 troops vanished following a raid on a military base in the same region amid a surge in bloody violence. Sources told AFP the loggers , mostly in their twenties, had left the town of Gamboru on the border with Cameroon Tuesday morning to fetch firewood in a Boko Haram hotspot.
Nigerian army says it rescued another Chibok girl
The Nigerian army said on Thursday it rescued one of the kidnapped Chibok girls amid a wave of deadly Boko Haram kidnappings and bombings rocking the country's northeast.
Trending: Trumps tweet: Military to be included in next parliamentary committee meeting
The army said troops found Salomi Pugo in the remote Pulka region of Borno state near the Cameroon border, without giving further details.
The abduction of more than 200 Chibok schoolgirls in 2014 by Boko Haram brought global attention to the Islamist insurgency sweeping through northeast Nigeria .
"Troops of Operation Lafiya Dole deployed in Pulka today rescued one of the Chibok girls abducted by Boko Haram terrorists earlier in 2014," Colonel Onyema Nwachukwu said in a statement.
"Currently the girl, who was intercepted in the company of another young girl, Jamila Adams, about 14 years old with a child, are in the safe custody of troops and receiving medical attention."
News of the rescue comes after weeks of relentless attacks by Boko Haram in the northeast, including the abduction of 30 loggers and a suicide bombing that claimed 14 lives at a mosque in Gamboru in Borno state earlier this week.
At least 30 soldiers are also missing following a Christmas Day attack on a military base in neighbouring Yobe state in which five troops were killed, according to military and militia sources.
In the aftermath of the Chibok kidnapping, dozens of the girls managed to escape.
Since then, others have been freed in hostage deals struck between Boko Haram and the Nigerian government, but many are still in captivity and some are feared dead.
Since 2009, the Boko Haram insurgency has spread from Nigeria into neighbouring Niger, Chad and Cameroon and affiliated itself with Islamic State jihadists.
Full report at:
https://nation.com.pk/05-Jan-2018/over-30-loggers-abducted-by-boko-haram-in-nigeria
--------
Mauritanian MPs protest US embassy move to Jerusalem
04 January 2018
Mauritanian MPs on Wednesday evening staged a demonstration outside the U.S. embassy in Nouakchott to protest the U.S. government's recent recognition of Jerusalem as Israel's capital.
Lawmakers, from both Mauritania's ruling party and the opposition, waved banners reading "Jerusalem is the eternal capital of Palestine" while chanting slogans against the "illegitimate" U.S. move.
On Dec. 6, U.S. President Donald Trump announced his decision to recognize Jerusalem as Israel's capital, drawing widespread protest and condemnation from across the Arab and Muslim World.
Full report at:
http://www.worldbulletin.net/africa/197516/somali-prime-minister-replaces-three-cabinet-ministers
--------
URL: https://www.newageislam.com/islamic-world-news/muslims-divided-darul-uloom-deoband/d/113828
New Age Islam, Islam Online, Islamic Website, African Muslim News, Arab World News, South Asia News, Indian Muslim News, World Muslim News, Women in Islam, Islamic Feminism, Arab Women, Women In Arab, Islamophobia in America, Muslim Women in West, Islam Women and Feminism