New Age Islam News Bureau
9 May 2018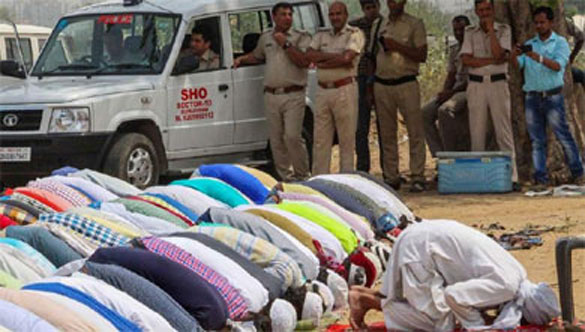 Representational Image (Photo: Getty Images)
----
• Muslims, Activists Seek Space for Namaz in Gurugram
• Lal Masjid's Notorious Cleric to Address Friday Sermon after Three Years
• Tala Barfak District Has Reportedly Fallen Into the Hands of Taliban
• Iranian-Backed Shi'ite Militia Chief Aims to Lead Iraq
• 'US to Ensure Rights of American Muslims Are Protected'
• Sweden Allows Mosque to Call For Prayer
India
• Muslims, Activists Seek Space for Namaz In Gurugram
• 'Katha Shatak'- An Innovative Story Writing Contest On Hindu-Muslim Co-Existence
• Dargah Aala Hazrat Issues Fatwa, Asks Indian Muslims Not To Support Jinnah
• Gurgaon DC on Public Namaz Reading: Hindu, Muslim Groups Must Work Together And Recommend Solution
• J-K: Four militants among 11 held during Army raids in Baramulla
--------
Pakistan
• Lal Masjid's Notorious Cleric to Address Friday Sermon after Three Years
• Every TV Channel Must Telecast Azan Five Times: IHC
• Pakistan, Kingdom Of Saudi Arabia Educational Institutions Can Solve Muslim World Issues: Shiekh Nasir
• Pakistan Confirms Participation in Trilateral Peace Conference
• Paigham-e-Pakistan: The Strong Peace Narrative that Attracts the Support of Extremist Ulema
• US embassy official arrested in Islamabad
• Peshawar corps commander visits Torkham to improve ties with Afghanistan
• Quetta Safe City project will help curb terrorism: Bizenjo
• Human rights worsened due to unaccountable de-facto state: Farhat
--------
South Asia
• Tala Barfak District Has Reportedly Fallen Into the Hands of Taliban
• Myanmar Should Be Referred To ICC for Crimes against Rohingya: Rights Groups
• Two Islamist militants sentenced to death for killing liberal professor in Bangladesh
• Myanmar Probe of Rohingya Attacks: China Resists UK Push at UNSC
• Civilians suffer heavy casualties in Taliban mortar attack in Nangarhar
• ISIS fundraiser arrested by NDS Special Forces in Nangarhar province
--------
Mideast
• Iranian-Backed Shi'ite Militia Chief Aims to Lead Iraq
• Erdogan Vows To Quit When 'Enough'
• Russia Underlines Commitment to Iran N. Deal, Regrets US Decision to Withdraw
• US flag set ablaze as Iran says it has 'no obligation to honour nuke deal'
• Houthis mobilize in Sanaa after Arab coalition targets presidential office
• Saudi FM: Iran-planned Houthi attacks do not affect kingdom's stability
• Israel puts army on alert in Golan Heights as Trump quits from JCPOA
• Dozens more suspects arrested across Turkey over affiliation to Gulen network
• Abbas urges Latin America not to follow in US footsteps on embassy relocation
--------
North America
• 'US to Ensure Rights of American Muslims Are Protected'
• Rohingya Advocates Urge Ottawa to Consider Resettling Muslim Refugees
• Reactions to Trump's JCPOA withdrawal from inside the US
• US media cautious over Trump's Iran decision
--------
Europe
• Sweden Allows Mosque to Call For Prayer
• Germany, France Reiterate Commitment to Iran Nuke Deal
• Russian arms deal sours US-Turkey relations
• British Baker Challenges Islamophobia One Cake at a Time
• Morocco: A Breeding Ground for Spain's Jihadi Terrorists?
• Russian helicopter crashes in Syria, killing both pilots
--------
Arab World
• Muslim Minority Communities Meet in UAE to Talk Challenges
• Iraq's Sunnis Voting Without Hope in First Election since Islamic State
• Hezbollah Victory in Lebanon's Parliament Shakes US, Allies
• Iran used accord to sow discord, says Saudi Arabia
• Tahrir Al-Sham Hay'at Drives Rival Terrorists out of More Regions in Northwestern Syria
• Syrian Army Strikes Terrorist Centers in Hama, Idlib, Aleppo Provinces
• Ankara-Backed Militants Killed in Infighting among Rival Groups in Northern Syria
• Egypt refers 555 ISIS Sinai suspects to trial
• Riyadh 'supports and welcomes' Trump's JCPOA move: Saudi Foreign Ministry
• Syrian air defences down two Israeli missiles close to Damascus
--------
Southeast Asia
• Malaysia's Crucial Election and Its Islamic Sideshow
• Indonesian court deals blow to banned hard-line group
• 5 officers, 1 inmate dead in Indonesia detention centre riot
• Indonesian Pastor Sentenced to 4 Years in Prison for Evangelizing to Muslim Cab Driver
• Amnesty International urges govt to release blasphemy convict
--------
Africa
• Al-Shabaab Militants Kill 9 Kenyan Soldiers
• Libya's Haftar announces offensive to capture Derna
• Two killed as bomber targets checkpoint in eastern Libya
• Uganda: DPP Withdraws Charges Against 19 Muslims Accused of Treason
• Somalia: Kenya Arrests Couple Linked to Al Shabaab
Compiled by New Age Islam News Bureau
URL: https://www.newageislam.com/islamic-world-news/muslims-activists-seek-space-namaz/d/115192
--------
Muslims, Activists Seek Space for Namaz In Gurugram
May 8, 2018
Muslims and members from the civil society on Tuesday met Gurugram Divisional Commissioner D. Suresh and sought open space for Namaz and an amicable solution to the situation arising from the activities of rightwing outfits.
A meeting was called to plan a response to the ongoing campaign by the Sanyukt Hindu Sangharsh Samiti to disrupt open air Friday Namaz in Gurugram.
The delegation demanded that the administration protect those offering of Namaz at current locations and sought short-term and long-term solutions to the issue.
"Reclaiming Waqf Board land and plots is a long process. As a short-term solution, the administration must ensure peaceful Namaz at current locations which are over 100 in number," said Ishrat Thameem, a management consultant.
Documentary filmmaker Rahul Rao and Saba Diwan, who were also part of the group, said there were just 15 mosques in the city while the population of Muslim community was in Lakhs.
"There is a need to build more mosques. The locals are anguished and disturbed over the turn of events in the past few days and want the administration to resolve it amicably," said Roy.
They also demanded that the authority must direct the Town and Country Planning department to provide government plots to build mosques.
Officer D. Suresh said the administration would be more vigilant and firm on troublemakers. He appealed to Muslims to show restraint.
"Those suspected of creating trouble are being identified," the officer said.
Controversy erupted on April 20 when some locals objected to the namaaz, alleging that some people offering the prayers chanted 'Pakistan Zindabad' and 'Hindustan Murdabad'.
Later, six persons were arrested after a FIR was filed for allegedly disrupting the Muslim prayers at a ground in Sector 53 and threatening those offering prayers. They got bail on April 29 on technical grounds.
http://www.business-standard.com/article/news-ians/muslims-activists-seek-space-for-namaz-in-gurugram-118050801205_1.html
--------
Lal Masjid's Notorious Cleric to Address Friday Sermon after Three Years
May 9, 2018
Lal Masjid's patron-in-chief Maulana Abdul Aziz is going to address the Friday sermon at the mosque on May 11, after a hiatus of over three years.
According to a statement issued by the Shuhada Foundation of the mosque, the notorious cleric last addressed a Friday sermon at the mosque in December 2014, expressed hope that the capital city administration will not forbid him from addressing as he was the legal 'Khateeb' of the mosque, and he had been acquitted by the courts in all cases against him in January last year.
The Islamabad Capital Territory (ICT) administration, however, stated earlier that Maulana Abdul Aziz had ceased to be the Khateeb of the mosque after the orders of his appointment were withdrawn in 2004, following a fatwa he issued against the army and its operation in Waziristan.
Last year, authorities prohibited Maulana Abdul Aziz from presiding over a conference to mark the 10th anniversary of Lal Masjid operation, declaring it as an 'unregistered entity' and Aziz had already been deposed as the khateeb.
The foundation had at that announced that the conference would be a major step towards "the implementation of Sharia in the country."
In a similar situation, a conference was held by the deposed cleric on March 24, 2017, but all roads leading to the Lal Masjid were blocked by the government on that day.
Earlier in March this year, the Supreme Court (SC) rejected a plea filed by Lal Masjid cleric Abdul Aziz seeking the imposition of Sharia law in the country.
The Lal Masjid operation was launched in 2007, after militant (male and female) students residing inside Lal Masjid killed a Pakistan Rangers personnel posted outside the mosque on July 3, 2007. Female students had taken refuge at the Children Library under the banner of Jamia Hafsa.
The operation was launched by the army commandos in the early hours of July 10 and was completed on July 11.
A number of cases were registered against Aziz in the aftermath of the operation.
https://www.pakistantoday.com.pk/2018/05/08/notorious-lal-masjid-cleric-to-address-friday-sermon-after-three-years/
--------
Tala Barfak district has reportedly fallen into the hands of Taliban
May 08 2018
The control of the Tala Barfak district in northern Baghlan province has reportedly fallen into the hands of the Taliban group.
The provincial council chief Safdar Mohsini confirmed that the Taliban militants took control of the district this afternoon.
The Baghlan governor confirms that their contacts with the district administrative chief, police chief, and other officials have come to an halt.
However, he did not confirm the fall of the district into the hands of the Taliban militants.
This comes as reports emerged earlier suggesting that heavy clashes are underway in the ourskirts of the district.
In the meantime, the Taliban group spokesman Zabiullah Mujahid claims that the fighters of the group have fully taken control of the district from the government forces.
https://www.khaama.com/tala-barfak-district-has-reportedly-fallen-into-the-hands-of-taliban-05106/
--------
Iranian-backed Shi'ite militia chief aims to lead Iraq
MAY 8, 2018
BAGHDAD (Reuters) - If Hadi al-Amiri triumphs in Iraq's election on Saturday it would be a crowning achievement for the dissident turned Shi'ite militia leader who spent more than two decades fighting Saddam Hussein from exile in Iran.
Leader of the Badr Organization that was the backbone of the volunteer forces fighting Islamic State, Amiri hopes to capitalize on his success on the battlefield in what is expected to be a tight three-way race for the premiership.
Victory for Amiri would be a win for Iran as the 63-year-old militia leader has forged close ties with Iraq's Shi'ite neighbor - but he would also have to balance Tehran's interests in Iraq with Washington's often competing goals.
The winner of the election will face the daunting task of rebuilding Iraq after the devastating three-year war against the ultra-hardline Sunni militants, as well as fighting the corruption that consumes much of the OPEC member's oil revenue.
Like the other frontrunners, incumbent Haider al-Abadi and former prime minister Nuri al-Maliki, Amiri has pledged to restore state institutions and provide badly needed health and education services.
Amiri's own record in government, a four-year stint as transport minister, was undistinguished.
Instead, Amiri aims to exploit his leading role in the Popular Mobilization Forces, the mainly Shi'ite, Iranian-backed militias that rallied to confront the self-declared Islamic State caliphate in Iraq four years ago.
"His lucky star rose in 2014. Amiri the unconvincing minister vanished and the guerrilla commander re-emerged when the Shi'ites of Iraq needed him most," said a Shi'ite scholar and expert in former Shi'ite opposition movements.
OLD FRIENDS
Amiri's Iranian connections forged during long years in exile, particularly his ties with Iran's Islamic Revolutionary Guard Corps, were central to his rise to prominence, first challenging and finally helping defeat IS.
The Guards trained and armed the Popular Mobilization forces set up in response to a fatwa from Iraq's top Shi'ite cleric, Grand Ayatollah Ali Sistani.
As leader of the Badr Organization, Amiri, a Farsi speaker, was often seen discussing offensives in Iraq with the Guards' commander of foreign operations, Qassem Soleimani.
The numerous photos from the battlefront of Amiri with Soleimani in military fatigues, embracing and looking euphoric after evicting IS fighters, have personalized an old friendship.
Portraits of Iranian Supreme Leader Ali Khamenei are also a fixture in Badr offices, a reminder of the days when the group was the armed wing of Iraq's Shi'ite opposition, based in Iran.
Born in the mixed Sunni-Shi'ite province of Diyala east of Baghdad, Amiri fled to Iran in his 20s after studying economics in Baghdad. Sentenced to death by Saddam, Amiri made Iran his second home for more than two decades.
Then, like Maliki and Abadi, he returned from exile after the 2003 U.S.-led invasion which overthrew Saddam.
Amiri embedded Badr members in key security positions purged of Saddam's Baath Party officers but showed his pragmatic streak by avoiding clashes with U.S. forces during their eight-year occupation.
Opponents accuse his Badr organization of assassinations and widespread abuses against Sunnis detained in secret prisons run by the group following the U.S.-led invasion.
Kareem Nuri, Amiri's media adviser and a candidate on his list, denied the accusations saying they were designed to "distort the reputation of Badr".
BALANCING ACT
Despite his close ties with Iran, Amiri has kept communication open lines with American diplomats in Baghdad, which would be a help were he to win given the continued military and economic importance of the United States to Iraq.
The United States retrained and assisted Iraqi government forces led by Abadi. It has provided billions of dollars in aid to the cash-strapped government and has actively encouraged Gulf and other foreign investors to help rebuild the country.
U.S.-led coalition forces also operated in the same area as tens of thousands of Shi'ite militiamen during the war against Islamic State which culminated last year with the capture of Mosul. Despite the anti-American rhetoric of several militia leaders - other than Amiri - there were no major incidents.
"The Americans are able to work with Amiri and there is no reason to believe he will take Iraq to Iran unless he is forced to choose between the two," said one Western diplomat.
That difficult choice could fall on Iraq's next prime minister, however, if U.S. President Donald Trump decides to reimpose sanctions on Iran lifted after a 2015 deal restraining its nuclear program.
Amiri says under his leadership Iraq would seek relations with all neighbors and not be dependent on Iran.
"Our hearts are open and hands are stretched, we want Iraq to be the master of the region, the center around which others will revolve. Iraq's stature cannot allow it to be a tail for this country or that country," he said.
'TIME HAS COME'
His opponents are skeptical, saying his historic loyalty to Tehran means his actions will be dictated by Iranian interests.
They also question the image he is projecting of an outsider and military commander not involved in the political mismanagement, corruption and nepotism plaguing the country.
Critics point to his performance as transport minister from 2010 to 2014, including an incident in 2014 when he forced a passenger plane flying to Iraq to turn back in mid-air to collect his son who had missed the departure from Beirut.
Iraq's road, railroads and airports didn't improve under his watch, even though the government earned tens of billions of dollars from extra oil when crude was above $100 a barrel.
Amiri's campaign has sought to position him above the country's sectarian divisions and political failings, stressing his role in the Popular Mobilization forces, which some Sunni fighters joined too.
"I am a Popular Mobilization commander and it is normal that I'm running on (Amiri's) list," said Yazan al-Jubouri, a Sunni standing for parliament in Salahuddin province north of Baghdad.
The logo of Amiri's "Fateh", or Conquest, list of candidates is a golden lion's head on a green background, to project an image of strength and security as well as his Islamic ideology.
His slogan is simple: "Iraq's time has come."
https://www.reuters.com/article/us-iraq-election-amiri/iranian-backed-shiite-militia-chief-aims-to-lead-iraq-idUSKBN1I91NL
--------
'US to Ensure Rights of American Muslims Are Protected'
May 8, 2018
Abu Dhabi: The American Muslim community is an integral part of the US whose rights will continue to be defended said an American official during the International Conference on Muslim Minorities in Abu Dhabi on Tuesday.
"Protecting and promoting religious minorities is a foundational tenet of the US, it's established in our constitution domestically and it's part of our international obligations," said Dr Knox Thomas, special advisor for Religious Minorities in the Near East and South/Central Asia at the US Department of State.
"Inside the US our Muslim community is an integral and historic part [of the country]. My colleagues at the domestic agencies work to ensure that American Muslims like all Americans have their civil rights protected and that they're part of national conversations," he added.
"We're not a perfect country either, and so the Department of Justice (DoJ) when necessary aggressively prosecutes acts of violence, threats, assaults and vandalism targeting American Muslims and other religious minorities," he said.
Dr Thomas added that the DoJ would ensure that American Muslims are treated equally by law to practice their religion freely.
"The DoJ and Homeland Security make sure that everyone is treated equally regardless of their faith, and the DoJ has taken actions to ensure that American Muslims have a right to wear distinctive religious dress such as hijabs."
Dr Ali Al Nuami, member of the UAE Executive Council and chairman of the Abu Dhabi Department of Education and Knowledge, spoke on the importance of Muslim minorities integrating within their societies.
"We hope this conference will be the beginning of a new inception of serving Muslims across the globe in a way that will create a brighter future for their children.
"The presence of the Muslim community in the western world has become a real basic component within these societies and so therefore we need to move towards discussing issues of identity and nationality," he added.
https://gulfnews.com/news/uae/society/us-to-ensure-rights-of-american-muslims-are-protected-1.2218511
--------
Sweden allows mosque to call for prayer
May 09, 2018
STOCKHOLM - Swedish police on Tuesday granted a mosque permission to hold a weekly call for prayer, triggering divisions among politicians and the public five months ahead of elections in a country which has taken in waves of asylum seekers in recent years.
The police permit, which is valid for a year, has caused concern among some politicians that it will exacerbate cultural tensions, while others maintained a neutral stance of the September 9 general election.
"Call to prayer will not strengthen integration in (the southern city of Vaxjo), but it will rather risk pulling the city further apart," city council Anna Tenje of the conservative Moderates told TT news agency.
But Sweden's Social Democrats Prime Minister Stefan Lofven said that ending segregation goes hand in hand with tackling unemployment and making sure schools and neighbourhoods have high standards.
"The entire society in Sweden is built on having different religions," he told TT.
According to a poll conducted by the social research company SIFO and published by the private broadcaster TV4 in March, 60 percent of respondents said they wanted to ban the Islamic call to prayer from mosques in Sweden.
The police said in their statement that the mosque in Vaxjo will be allowed to hold the Islamic call to prayer, the Adhan, every Friday for three minutes and 45 seconds.
Leader of the Christian Democrats Ebba Busch Thor, who contested the decision, said "people shouldn't have to hear it in their homes."
The police said the volume of the mosque's speakers was not allowed to exceed a certain level so as not to risk disturbing households nearby. They added the decision was based on the nation's public order laws and not on religion.
Vaxjo's mosque is the country's third to be allowed to hold a call to prayer, following one in a Stockholm suburb and another in the nation's southeast.
Avdi Islami, a spokesman for the Muslim community in Vaxjo, said thousands of Muslims visit the mosque every year and likened the prayer calls to ringing church bells.
"We have a society in which we are different...it's therefore better to think of the differences as making us stronger," he told TT.
It's difficult to know exactly how many Muslims there are in Sweden, but the Swedish Agency For Support To Faith Communities estimate the number to be at 400,000.
As the far-right Sweden Democrats are on the rise, with around 20 percent in support according to the latest polls, the main issues during the election campaign are expected to be health care, education and immigration.
Sweden has registered around 400,000 asylum requests since 2012, or one for every 25 inhabitants, a record in Europe.
https://nation.com.pk/09-May-2018/sweden-allows-mosque-to-call-for-prayer
--------
India
'Katha Shatak'- An Innovative Story Writing Contest on Hindu-Muslim Co-Existence
May 8, 2018
PUNE: City-based Hamid Dalwai Islamic Research Institute recently organised an innovative story writing contest.
The institute had called for stories based on people's personal experience about Hindu-Muslim co-existence in the society and received hundreds of stories narrating how the two communities are living peacefully with each other in the society even celebrating their festivals together.
The first story is based on Saloni Chavan's experience with her Muslim neighbour family. Saloni, who lives in Pune's Gorapade Peth area is a B.Com second year student. She is a Hindu, but ever since she was 6 months old, she is part of her neighbour Nisar and Marium Shaikh's family. Saloni in her story wrote that she is an integral part of Shaikh family.
"I am so much niggled in the family that I proudly tell friends that I have two mothers and two fathers."
The institute has decided to publish the 100 selected stories in a book format titled 'Katha Shatak'.
Rajendra Bahalkar, Secretary, Hamid Dalwai Islamic Research Institute said, "There are several misconceptions about Muslims in our society. There is a need for allaying these misconceptions from the minds of people. So, we have designed this story writing project on peaceful co-existence of Hindu and Muslims. Though these are the small stories but its impact will be big."
https://timesofindia.indiatimes.com/city/pune/katha-shatak-an-innovative-story-writing-contest-on-hindu-muslim-co-existence/articleshow/64084591.cms
--------
Dargah Aala Hazrat issues fatwa, asks Indian Muslims not to support Jinnah
May 9, 2018
Even as the row continues in Aligarh Muslim University, famous Dargah Aala Hazrat of Bareilvi Muslim sect has issued a fatwa against the Pakistan's founder Muhammad Ali Jinnah directing Muslims in the country not to support him.
In a reply to a question asked by Bakhtiar Khan of Bibiganj, Bareilly, the Spokesperson of Dargah Aala Hazrat Maulana Shahbuddin said that "Jinnah was responsible for the partition of the country and no Muslim in India should stand in support for him."
"Jinnah is a part of enemy nation Pakistan, not India. His portraits should be removed not only from Aligarh Muslim University but from everywhere," said Maulana Shahabuddin while issuing a fatwa against Jinnah. Earlier, General Secretary of Jamiat-e-Ulama-Hind Maulana Mohammad Madani had echoed similar sentiments asking agitating students to remove portrait of Jinnah from the AMJUSU Hall to end the row.
An executive member of the All-India Muslim Personal Law Board (AIMPLB) and Imam of Lucknow Idgah Maulana Khalid Rashid Farangi Mahali had stated that Jinnah was responsible for the division of the country and as such his portrait should be removed from the AMU campus. The controversy over the portrait of Jinnah at AMUSU Hall had begun when the BJP MP from Aligarh Satish Gautam had shot off a letter to the AMU Vice-Chancellor asking him to remove the picture the Pakistan's founder.
On May 2, activists of the Hindu Yuva Vahni, ABVP and Hindu Yuva Vahini had burnt an effigy of Jinnah outside AMU main gate and tried to enter the campus forcibly. It resulted into retaliation from the AMU students. Police had to fire teargas shells and resort to lathicharge to disperse the agitated mob from both sides. Over a dozen students had sustained injuries in the police action. Since then the Muslim University students are holding dharna at the gate after boycotting classes.
Full report at:
http://www.dnaindia.com/india/report-dargah-aala-hazrat-issues-fatwa-asks-indian-muslims-not-to-support-jinnah-2612906
--------
Gurgaon DC on public namaz reading: Hindu, Muslim groups must work together and recommend solution
May 8, 2018
Days after the Hindu outfits based in Gurgaon obstructed the Muslims from reading their customary Friday namaz in the open, the representatives of the Muslims community along with a group of residents on Tuesday morning met the divisional commissioner in Gurgaon.
After the meeting, the divisional commissioner said that both the Hindu outfits and representatives of the Muslim community should form small committees and recommend solution to the ongoing namaz issue. The DC directed both the groups to meet again on Wednesday.
The Gurgaon based Hindu outfits, however, have warned the district administration to find an alternative to the issue within a week and also fulfill their other demands. If failed to find a solution within a week's time, the group has threatened to actively stop Friday prayers again next week.
The Divisional Commissioner of Gurgaon had earlier asked the Haryana Waqf Board to identify its properties where namaz can be read — instead of Friday prayers being held at vacant plots and parks across the city. The board responding to the order requested the removal of illegal encroachments from 19 of its properties and provide police protection so that mosques that stand on these can be reconstructed, restored and used for namaz.
A letter in this regard by the Haryana Waqf Board to the DC stated, "Today, Gurgaon is progressing at a fast pace, people are coming from outside to earn their bread and butter. The population here is increasing, which includes Muslims. Gurgaon already has very few masjids, and people have illegally occupied masjids in nearby villages. Because of this, Muslims have to read Friday namaz in parks and open grounds since there is no space provided for this."
Full report at:
http://indianexpress.com/article/india/both-groups-work-together-and-recommend-solution-gurgaon-dc-on-public-namaz-reading-5168138/
--------
J-K: Four militants among 11 held during Army raids in Baramulla
by Mir Ehsan
May 9, 2018
A week after three youths were shot dead outside a shop at a point-blank range in Baramulla town, a joint team of the Army and state police arrested four militants and seven overground workers (OGWs) during separate raids in north Kashmir's Baramulla district.
On May 1, Asif Ahmad Sheikh (23), Haseeb Ahmad Khan (18) and Mohammad Ashgar (21), residents of Kakar Hamam area, were shot dead outside a shop in Iqbal Market by at least three unidentified gunmen. Though no militant outfit claimed responsibility for the civilian killings, the police had initially suspected LeT militants — two local and one Pakistani — were behind it.
Full report at:
http://indianexpress.com/article/india/j-k-four-militants-among-11-held-during-army-raids-in-baramulla-5169081/
--------
Pakistan
Every TV channel must telecast Azan five times: IHC
SHAHID RAO
May 09, 2018
ISLAMABAD - The Islamabad High Court Tuesday directed that every television channel will be bound to telecast five times Azan, saying no one would be allowed to ridicule the Islamic teachings.
A single bench of IHC comprising Justice Shaukat Aziz Siddiqui issued these directions while hearing a petition against the violation of the code of conduct for morning shows and Ramazan transmission by some TV channels.
During the hearing, Justice Siddiqui remarked that no one would be permitted to telecast 'Circus' and 'Neelaam Ghar' during Ramazan.
The petition was moved by Muhammad Waqas Malik Advocate saying that according to the Article 2 of the constitution of Pakistan, Islam shall be the religion of the state. Furthermore, the petition said, it is in the constitution that the state shall enable the people of Pakistan to live their lives according to the teachings of Islam.
The IHC bench asked the Pakistan Electronic Media Regulatory Authority (PEMRA) that out of 117 TV channels, how many broadcast Azan. The court directed the PEMRA to submit a detailed report in this regard.
A Director General Operations of PEMRA appeared before the court and submitted guidelines for the Ramazan transmission and said that they are issuing these guidelines to all channels.
Justice Siddiqui remarked that for Muslims, Azan is the biggest breaking news while no channel broadcasts Azan. At the time of Azan, he said the TV channels keep playing music, dance and advertisements.
So much so that even the PTV has stopped broadcasting Azan, he added. He added that if this has to happen, remove word "Islamic" from the name of Pakistan. State is responsible for the protection of Islamic values and culture, he remarked.
Then, the court asked where the legal counsel for the Pakistan Broadcasters Association (PBA) is? It was informed to the court that the PBA counsel is on leave. At this, the court remarked that tell PBA counsel that no excuse will work in this Ramazan.
In the petition of Waqas Malik, he prayed to the court to direct the respondents to keep a check on TV channels and bar them from airing obscene clips, immoral TV ads and airing foreign contents.
Later, the court adjourned the hearing till today.
https://nation.com.pk/09-May-2018/every-tv-channel-must-telecast-azan-five-times-ihc
--------
Pakistan, Kingdom Of Saudi Arabia Educational Institutions Can Solve Muslim World Issues: Shiekh Nasir
08th May 2018
ISLAMABAD, (UrduPoint / Pakistan Point News - 8th May, 2018 ) :Educational institutions of pakistan and Kingdom of Saudi Arabia (KSA) can help in solving the issues of Muslim world. This was stated by Shiekh Hamd Bin Nasir who was heading a high level delegation from KSA to visit International Islamic University Islamabad (IIUI), a press release said on Tuesday.
The six members delegation discussed bilateral academic cooperation with IIUI leadership. The delegation was welcomed by IIUI Rector, Dr Masoom Yasinzai, President IIUI Dr Ahmed Yousif Al-Draiweesh, Vice Presidents, Deans, DGs and Directors.
"We are open for meaningful and practical cooperation with universities of Muslim world" said head of the Saudi delegation. He added that IIUI would be a gateway to the mutual cooperation between both countries in the field of education.
He hailed the role of IIUI in promotion of education.
IIUI Rector, Dr Masoon Yasinzai apprised the delegation about the vision of university and told that IIUI is providing ambassadors to Muslim world who own the attributes of Islamic values.
He maintained that university is keen to disseminate message of peaceful co-existence and peace. IIUI President, Dr Ahmed Yousif Al-Draiweesh briefed the delegation about the university faculties and constituent units.
He said IIUI is keen for linkages with universities across the world. He told that university was pursuing its goal of internationalization, while more than two thousand foreign students were acquiring education at the university.
Dr Al-Draiweesh added that around 50 teachers hailing from KSA, Sudan, Egypt and other countries were teaching at the university. The delegation members included Muhammad bin Ahmad, Ibrahim bin Saleh, Abdul Aziz bin Abdullah and Mr.
Full report at:
https://www.urdupoint.com/en/pakistan/pakistan-kingdom-of-saudi-arabia-educational-338454.html
--------
Pakistan Confirms Participation in Trilateral Peace Conference
May 08, 2018
Pakistan on Tuesday confirmed its participation in the trilateral religious conference starting in Indonesia on May 11 in an effort to discuss a peaceful solution to the ongoing war against terrorism in Afghanistan.
Qibla Ayaz, the chairman of Pakistan's Council of Islamic Ideology (CII), told VOA that Pakistani religious scholars will take part in the upcoming trilateral meeting in Indonesia.
"Pakistan is sending a 20-member-delegation of religious scholars belonging to different sects of Islam to this conference to build trust and to play its role to build peace in the region, especially in Afghanistan," Ayaz said.
Ayaz also applauded the initiative by the Indonesian government of organizing an "extraordinary conference" that involves three Muslim-majority countries and is meant to find a solution to the war in Afghanistan.
Earlier last week, Afghanistan had also praised Indonesia's efforts for its "sincere efforts in Afghan peace process".
Afghanistan, Indonesia and Pakistan will participate with a 20-member delegation of prominent Islamic scholars and a joint statement condemning terrorism will be issued at the end of the conference.
The trilateral meeting was initiated by Afghanistan after it sought Indonesia's support to convene the conference and to persuade Pakistani religious scholars to attend it in a bid to promote peace between the two countries.
The leaders of Indonesia, the largest Muslim-majority country in the world, have expressed hopes that the trilateral meetings will help to reach on a "mutual agreement, or a fatwa (edict)" that will persuade Taliban to denounce violence and to hold peace talks with the Afghan government.
Indonesia's Vice President Jusuf Kalla earlier this week said that through hosting the Ulema (Islamic Scholars) conference Indonesia could play its part in reaching out a political settlement between Afghan government and Taliban.
"We hope to resolve the conflict in Afghanistan, we still a problem there," Kalla had said on Saturday.
Analysts in Washington believe the conference might contribute towards peace efforts but they cast their doubt on a possible breakthrough.
"The aim of the trilateral conference is to reach an agreement and extend support for a political settlement between the Afghan government and the Taliban insurgents. Given that the Taliban enjoys broad support from the Pakistani clerical circles who will be attending this conference," Ahmad Khalid Majidyar, director of the Iran Observed Project at the Middle East Institute in Washington, told VOA.
"The event will help to build and understanding between clerics in Afghanistan and Pakistan but ultimately it's unlikely to result in a breakthrough in potential peace talks," Majidyar added.
Religious Scholars and the Taliban
Afghanistan accuses that hardline Pakistani religious scholars openly support Taliban and believe a joint statement against terrorism from prominent Islamic clerics will persuade Taliban to come on the peace talk table.
Taliban, on the other hand, have already denounced the proposed meeting and issued a statement in March that urged the scholars to boycott the conference in Indonesia.
"In order to give a legal face to the illegitimate Kabul administration and in the series of propaganda and deceptive 'Peace Process' efforts, this time around the enemies of our religion, country and independence want to fool internationally respected scholars and Islamic countries by convening a gathering of Islamic Scholars in the city of Jakarta, Indonesia or in another country," warned the statement issued by the insurgent group.
Taliban, currently, holds 407 Afghan districts and there has been a spike in attacks by the group lately that has claimed nearly 1,000 civilian lives in the first quarter of 2018.
Taliban's statement came as a response to Afghan High Peace Council (HPC) announcement about an international conference in March with a focus on Pakistani hardline religious clerics who support Taliban and their activities in Afghanistan.
"We are hoping that those Pakistani religious scholars like Maulana Fazal-ur-Rehman and Maulana Sami-ul-Haq, who see the war in Afghanistan as legitimate jihad, would participate in the conference," Sayed Ehsan Taheri, Afghan High Peace Council spokesperson had told VOA at the time.
The HPC's announcement came after more than 1,800 Pakistani clerics had issued an Islamic decree, or fatwa, that categorically condemned and denounced the suicide bombings and other acts of terrorism as "un-Islamic" and "against the teachings of the religion".
Full report at:
https://www.voanews.com/a/pakistan-confirms-participation-in-trilateral-peace-conference-in-indonesia/4385116.html
--------
Paigham-e-Pakistan: The Strong Peace Narrative that Attracts the Support of Extremist Ulema
May 7, 2018
By Visal Saleem
Paigham-e-Pakistan Fatwa has categorically refuted all the extremist ideologies which call for armed rebellion against the state and its institutions on the pretext of Shariah, sectarian differences and Jihad. 1829 learned scholars of Islam including renowned Muftis and heads of all the federations of madaris prepared this Fatwa and its authenticity has been confirmed by all the Ulema making it a consensus of whole scholarship of Islam in Pakistan. Some of The Muftis like Taqi Usmani who endorsed this Fatwa have been qualified Muftis for decades and their hundreds of students are also leading Ulema in the country. In addition, the heads of federations of madaris have also been in this sacred job for many years. Therefore, indeed, the unanimity of Ulema for this Fatwa is an extra-ordinary achievement for us all. However, some deviated individuals are still insisting upon their ignorance and they are expressing their unqualified opinions against the unanimous Fatwa.
Every one holds different perspective, thinks from his own point of view with a right to speak and criticize too moreover there will be conflicting incidents and grievances in the past towards some Ulema. Ulema gathered with an objective of promoting peace for the prosperity of Pakistan and nation by removing sectarian differences. In this regard, some people are questioning the support of Maulana Aurangzeb Farooqi for Paigham-e-Pakistan, who has been known as an extremist scholar in the past. Instead of criticizing Maulana Farooqi, everyone should extend a positive approach, as his support for a peace narrative is also a strong indicator of change in his thinking. Similarly, some western journalists are not happy with the participation of Maulana Fazl-ul Rehman Khalil in building peace narrative in Pakistan and they highlight his previous connections with extremist outfits. Keeping Pakistan's national interest in mind, the positive intentions of Ulema and Scholars should also be encourage, therefore, instead of recalling bitter memories from past, everyone should play its vital role in building consensus and unity among each other. Due to these minor sectarian differences, our society has already paid a huge price of losing precious lives and encumbered Pakistan development and growth in every way.
Since 1980s Sunni-Shia strife has seen a major upturn leading to thousands of deaths in Pakistan. The reason behind the increased sectarianism is conspiracies by outside forces to divide Muslims. 5th generation war against Pakistan is on full swing with impossibility of direct invasion by inimical forces. Enemies of Pakistan are now using the strategy of dividing and creating hatred among nation by promoting sectarian violence and animosity thus trying to split the essence of unity and peace leading to destruction and killing of Muslims. Unfortunately some vulnerable individuals are tools in their hands and serving their cause, forgetting the teachings of Hazrat Muhammad (PBUH) that all Muslims are brothers. For their vested interests, some proponents of sectarianism turned their eyes from the unanimous fatwa, given by Ulema from all school of thoughts against sectarianism, extremism and terrorism with the full support of government.
Sunni Shia conflict is diminishing our society that affected the whole nation. At the right time, joint declaration and unanimous Fatwa in form of Paigham-e-Pakistan refuted all sorts of extremist ideologies by focusing on obliteration and eradication of sectarian violence. Paigham-e-Pakistan is a national narrative aimed at eliminating hatred, extremism, terrorism and sectarian differences and use of force to impose self-styled Shariah in the country. The essence of this national narrative is the way forward towards a society based on tolerance, harmony, peace and unity.
On the other hand, all the respected Ulema should also remain firm in their Nobel cause of spreading peace and unity by removing sectarianism. In fact all Ulema should keep their morale high by accepting challenges in their way as a motivational force to urge their commitment, devotion and dedication more for achieving their aspiration of serving humanity, Islam and Pakistan in their utmost capacity. Criticizing blindly and revoking previous grievances is a merely a way of enhancing more demolition and commotion leading to more grumble and grips. This is by no way a way of showing a positive concern and loyalty towards Pakistan as every stance uttered sloppily leaves a massive impact on Pakistan and its image.
It must be understood that distinguished Muftis and Ulema from all sects and heads of all the federations of madaris prepared the fatwa and issued unanimous declaration in order to strengthen the ties and agreed on removing sectarian conflict and grievances. Paigham-E- Pakistan itself is a struggle to unite all religious institutions and scholars, thus, criticism on Ulema is mere disregard of learned scholars of Islam and deviation from true religion. Unanimity of Ulema for this national Fatwa is a great mile stone achieved, however, few individuals with vested interest are still poking in its way to success. Nation should understand the conspiracies to weaken the Muslims by creating sectarian differences in order to split the unity and oneness among Muslims and then ruling by using phenomena of ''Divide and Rule". Therefore, instead of criticism on the efforts to unite the nation as one, everyone should play its role in building peace and harmony by ignoring minor differences and grievances that are intentionally exaggerated by the outside forces to tarnish the image of Pakistan and Islam. We all are Muslims and Islam is a universal religion, therefore, it is the utmost responsibility of every Muslim whether Shia or Sunni to safeguard Islam and Pakistan from hostile propaganda.
Full report at:
https://moderndiplomacy.eu/2018/05/07/paigham-e-pakistan-the-strong-peace-narrative-that-attracts-the-support-of-extremist-ulema/
--------
US embassy official arrested in Islamabad
Munawer Azeem
May 09, 2018
ISLAMABAD: The chief security officer (CSO) of the US embassy was arrested for alleged abetment in a crime and assaulting and harassing the police.
The Kohsar police arrested the suspect from the parking area of the district and sessions court Islamabad, an official told Dawn. He had allegedly threatened and assaulted the police officials besides trying to help a US diplomat escape from police custody after a fatal traffic accident.
On April 8, US Defence and Air Attaché Col Joseph Emanuel jumped the red light on Margalla Road and hit two young men riding a motorcycle. One of them died and his pillion rider was injured.
The CSO reached the spot - Zoo Chowk - and threatened the police officials for holding the diplomat. Besides, he also put up resistance against the police to help the diplomat escape, said the police.
Investigating officer of the case Inspector Arshad Ali told Dawn that the victim's father had lodged a complaint with the police against the CSO. In response, an inquiry was conducted which found the CSO guilty. Later, he was nominated in the FIR already registered in the case.
Assistant Inspector General of Police (operations) Asmatullah Junejo told Dawn that the victim's father had also complained to the inspector general of the police that the CSO came to the Kohsar police station with armed men and harassed and threatened the police and took away the diplomat along with him.
Full report at:
https://www.dawn.com/news/1406469/us-embassy-official-arrested-in-islamabad
--------
Peshawar corps commander visits Torkham to improve ties with Afghanistan
MAY 9, 2018
KHYBER AGENCY: The Corps Commander Peshawar Lieutenant General Ahmad Butt, along with Inspector General of the Frontier Corps (IGFC) Major General Waseem Ashraf and Commissioner Peshawar Shahab Ali Shah, paid a visit to Torkham border on Tuesday to inspect operating departments at the border.
They visited the terminals of Federal Investigation Agency (FIA), National Logistic Cell (NLC) and Immigration counter where they were briefed by the relevant officials of the departments.
Later, the officers met Afghan border forces at the zero point of the border and exchanged a gesture of goodwill.
During a media briefing, Khyber Agency Political Agent (PA) Islam Zeb said that the officers successfully negotiated with the Afghan side to improve trade relations between the two countries.
He revealed that, during the meeting, the officers decided to enforce quarantine restrictions on perishable goods including food items, imports from Afghanistan via Torkham were declared null and void and the custom office at Torkham was ordered to boost the clearance process to facilitate trade process.
Full report at:
https://dailytimes.com.pk/237653/peshawar-corps-commander-visits-torkham-to-improve-ties-with-afghanistan/
--------
Quetta Safe City project will help curb terrorism: Bizenjo
MAY 8, 2018
QUETTA: Balochistan Chief Minister Abdul Quddus Bizenjo on Tuesday said that the Quetta Safe City project and barriers across the Pak-Afghan border will help curb terrorism from the country.
CM Bizenjo visited Panjpai area near Mastung along the Pak-Afghan border, where he was briefed about the border control and protection by the authorities.
Speaking to the media during his visit, Bizenjo said that keeping a close eye on Pak-Afghan border is vital since terrorists penetrate into Pakistan's territory through the border and carry out attacks in Quetta and rest of the country.
"It is extremely essential to place barriers along the Pak-Afghan borders. Unfortunately, due to some issues with Afghanistan, the barriers have not been placed," he said.
Full report at:
https://dailytimes.com.pk/237498/quetta-safe-city-project-will-help-curb-terrorism-bizenjo/
--------
Human rights worsened due to unaccountable de-facto state: Farhat
May 09, 2018
Karachi - An underlying reason for the shrinking space for human rights is the rise of an all too powerful de-facto state which is not accountable to any one and the shrinking space of the de-jure state which is accountable to the parliament and the people but has no powers to deliver. This was stated by former Senator Farhatullah Babar at a seminar on 'aligning politics with human rights' held under auspices of PILER in a Karachi hotel on Tuesday.
"As a result the freedom of expression had suffered most. New threats including self censorship, taking off air channels, blocking publication of articles and preventing circulation of newspapers in cantonments without recourse to legal channels and without even the knowledge of information and Interior Ministries or Pemra was hall mark of new curbs by invisible elements," he added.
He said some people brandishing guns and other holding religious books had threatened freedom of expression.
"The rule of law has been undermined and today we have elements who are above the law, there are outlaws and there are in laws treated above law and called for an accountability mechanism applicable to all, whether politicians, members of Parliament, civil bureaucracy, President, Prime Minister, generals and judges," he added.
Excluding generals and judges from accountability net had undermined the very credibility of accountability, which in turn undermined rule of law and the ensuing lawlessness, he said. He called upon political parties to include human rights in their manifestos as well as develop a minimum Charter of Human Rights .
He said there is freedom to abuse politicians, condemn 18th Amendment, and parrot state's narrative but no freedom to present alternate narrative. He said that the bull in China shop of distorted civil-military relations was the Pak-India relations and the security establishment driving the foreign policy.
While holding on to our position on Kashmir it should be possible to seek normalization in other areas. The Afghan policy must also be reviewed and the jihad project abandoned to promote human rights agenda. He proposed setting up of a national register of crimes against women and the appointment of a special public prosecutor to try cases of violence against women.
In reply to a question, he said that the army always wanted to rewrite the civil-military equation and this was acknowledged by a former army chief general Jehangir Karamat while commenting on the LFO (legal framework order) of Gen Musharraf. But this rewriting of the equation had gone far too far to ridiculous lengths and must be corrected if Pakistan was to be a progressive democratic state where human rights and liberties were respected as a matter of right and not as charity in return of parroting state's security narrative, he said.
Full report at:
https://nation.com.pk/09-May-2018/human-rights-worsened-due-to-unaccountable-de-facto-state-farhat
--------
South Asia
Myanmar should be referred to ICC for crimes against Rohingya: Rights groups
May 9, 2018
Human rights groups have urged the UN Security Council to refer Myanmar to the International Criminal Court (ICC) for crimes against humanity, including the military's atrocities against the persecuted Rohingya Muslims in the northwestern state of Rakhine.
The four rights groups, Amnesty International, Human Rights Watch, the Global Center for the Responsibility to Protect and Fortify Rights, made the request a week after a team of UN Security Council envoys concluded a visit to Myanmar and Bangladesh.
The council team met Rohingya in Bangladesh for the first time to hear the sufferings of some 700,000 Muslim refugees, who have escaped a campaign of violence, rape and arson by Myanmar's military, which began some nine months ago.
Associate director of international justice at Human Rights Watch Param-Preet Singh said now that the Security Council "has heard directly from Rohingya refugees about the horrors inflicted by Myanmar's army, the need to hold those responsible to account should be clear."
"Myanmar's repeated and implausible denials of responsibility for atrocities and its longstanding culture of impunity mean that the International Criminal Court is the only real hope for victims to see justice," she added.
"Time and again Myanmar authorities have shown themselves to be completely unwilling to even acknowledge the crimes… let alone take steps to bring those responsible to book," she said, adding that "the clock is ticking to act."
Head of the Asia-based group Fortify Rights Matthew Smith said the ICC should also investigate "mounting evidence" of genocide against Rohingya Muslims.
He said the organization has gathered dozens of names of alleged perpetrators that go "straight to the top within the Myanmar armed forces."
Genocide is known as the "crime of crimes." The United Nations defines the term as acts committed with intent to destroy a particular group under a convention signed decades ago.
The UN human rights chief Zeid Ra'ad al-Hussein once vowed that those behind the atrocities against the Rohingya people would face genocide charges in court in the future.
Myanmar's military has been committing killings, making arbitrary arrests, and carrying out mass arson attacks to destroy houses in predominantly-Rohingya villages in Rakhine.
The country's de facto leader Aung San Suu Kyi, who consistently denied the allegations, told the council members that if evidence of violations was provided to her, the Myanmar authorities would undertake a "proper investigation," according to Britain's Ambassador to the United Nations Karen Pierce.
Myanmar's government has long been provided with evidence by Human Rights Watch and other international monitors. The government had for years refused to allow UN investigators to enter Rakhine.
The Nobel Peace Prize winner Suu Kyi is under pressure by the international community for failing to use her position to prevent crimes against the Rohingya.
http://www.presstv.com/Detail/2018/05/09/561099/Myanmar-Rohingya-ICC
--------
Two Islamist militants sentenced to death for killing liberal professor in Bangladesh
08th May 2018
Two Islamist militants were sentenced to death and three others jailed for life by a special court today for brutally hacking to death a liberal professor near his home in northwestern Bangladesh.
Operatives of Jamaatul Mujahideen Bangladesh (JMB), said to be inclined to the Islamic State, hacked professor AFM Rezaul Karim Siddiquee to death using machetes near his house in Rajshahi city on April 23, 2016.
Maskawat Hossain of Bogura and Shariful Islam, a student of Prof Siddiquee's English department of state-run Rajshahi University, were sentenced to death by the special court, a prosecutor told PTI.
He said Speedy Trial Tribunal Judge Shirin Akhter simultaneously sentenced three other militants -- Rahmat Ullah of Nilphamari, Abdus Sattar of Rajshahi and Sattar's son Ripon Ali -- to life imprisonment.
The mastermind of the murder, Shariful Islam, is on the run.
Karim was known for his love for music and philanthropic activities.
According to US-based SITE Intelligence Group that monitors global terror activities, Islamic State claimed responsibility for Karim's murder for "calling to atheism", a claim rejected by Bangladesh authorities.
The verdict came as police in recent years intensified investigations into a series of clandestine attacks on secularists and liberal intellectuals, bloggers and minorities including gay activists against the backdrop of growing criticism for failure to track down the assailants.
In 2014, another Rajshahi University teacher AKM Shafiul Islam was similarly murdered.
Though his murder was initially claimed by radical group 'Ansaral Islam', police later ruled out that possibility, saying he was murdered due to personal rivalry.
But some years ago, two more professors of the Rajshahi University had been killed.
In 2015, four prominent secular bloggers were killed with machetes.
Bangladesh's secular writer and physicist professor Jafor Iqbal was the last such target in March this year when he narrowly survived an attack on the campus of the state-run Shahjajal Science University in northeastern Sylhet.
Full report at:
http://www.newindianexpress.com/world/2018/may/08/two-islamist-militants-sentenced-to-death-for-killing-liberal-professor-in-bangladesh-1812016.html
--------
Myanmar Probe of Rohingya Attacks: China resists UK push at UNSC
May 09, 2018
China is resisting a British push at the UN Security Council for a statement calling on Myanmar to try those responsible for attacks on the Rohingya, according to a draft seen by AFP yesterday.
Back from a visit to Myanmar and Bangladesh last week, the Security Council is holding negotiations on a statement that would spell out how to address the crisis from the forced exodus of 700,000 Muslim Rohingya from Myanmar.
Britain last week circulated a text that stressed the importance of "credible and transparent investigations" of human rights violations and urged Myanmar to hold those responsible for the violence to account.
China, a supporter of Myanmar's former ruling junta, on Monday put forward an amended statement that dropped all mention of investigations or accountability.
Myanmar has come under international scrutiny since a military campaign launched in August drove more than 700,000 Rohingya from their homes in northern Rakhine state.
China's draft statement stresses "the need to address the root causes of the issue" and calls for investment in Rakhine state to "achieve stability through development."
Diplomats said Britain, backed by France and the United States, had rejected the proposed changes by China and negotiations were continuing.
The 15 ambassadors last week met with traumatised refugees living in overcrowded camps in Bangladesh and toured burned-out villages in Rakhine state.
The council adopted a statement in November that called on Myanmar to rein in its military, but there has been no resolution, a stronger measure that China would likely block as one of the veto-wielding permanent members.
Myanmar has said the military operation in Rakhine is aimed at rooting out extremists and has rejected accusations from the United Nations, Britain, France and the United States of "ethnic cleansing."
Full report at:
https://www.thedailystar.net/backpage/myanmar-probe-rohingya-attacks-china-resists-uk-push-unsc-1573480
--------
Civilians suffer heavy casualties in Taliban mortar attack in Nangarhar
May 09 2018
At least 21 civilians were killed or wounded in mortar attack by the Taliban militants in eastern Nangahrar province of Afghanistan.
According to the local officials, the incident took place on Tuesday afternoon at around 5 am local time in Bati Kot district.
The provincial government media office in a statement said a mortar round fired by the Taliban militants landed in Hafiz Godai area, leaving at least two civilians dead.
The statement further added that the attack also left at least 19 civilians who have been shifted to the hospital in Jalalabad city.
According to the provincial government, the health condition of those wounded in the attack have been reported as stable and are currently being treated in the hospital.
The anti-government armed militant groups including Taliban militants have not commented regarding the report so far.
Full report at:
https://www.khaama.com/civilians-suffer-heavy-casualties-in-taliban-mortar-attack-in-nangarhar-05108/
--------
ISIS fundraiser arrested by NDS Special Forces in Nangarhar province
May 08 2018
A key ISIS group leader who was collecting funds for the terror group has been arrested during an operation of the Special Forces of Afghan Intelligence, National Directorate of Security (NDS), in eastern Nangahrar province.
The provincial government media office in a statement said the detained individual has been identified as Jawid who is originally a resident of Rodat district of Nangarhar.
The statement further added that Jawid was living in Hayatabad of Peshawar before he was appointed as the fundraiser by the terror group in Nangarhar province.
The NDS Special Force also arrested another militant identified as Zabiullah in connection to terrorist related activities in this province.
According to the provincial government, Zabiullah originally hails from Khogyani district and was living in Kabul.
Zabiullah had recently visited Nangarhar to carry out a targeted assassination attack on instructions of the terrorist groups, the statement added.
The provincial government also added that the two suspects have confessed to their crimes and are currently in the custody of the security forces.
Full report at:
https://www.khaama.com/isis-fundraiser-arrested-by-nds-special-forces-in-nangarhar-province-05105/
--------
Mideast
Erdogan vows to quit when 'enough'
May 09, 2018
ISTANBUL - President Recep Tayyip Erdogan on Tuesday vowed he would step down if his people decided it was "enough", prompting opponents to propel the word in Turkish to the top of worldwide Twitter trends.
Erdogan will on June 24 contest a presidential election, seeking a new mandate to extend his 15 years in power which began when he became premier in 2003 and continued with his move to the presidency in 2014. His ruling party is confident of victory in the polls but the country remains highly polarised between supporters of Erdogan and those who oppose him with equal passion.
Speaking to his party in Ankara, Erdogan said his foes "have just one care - to destroy Recep Tayyip Erdogan." "If one day our nation says 'enough', then we will move to the side," he said, referring to himself in the first person plural. Erdogan said the Turkish people had until now always given the right response to those who sought to destroy him, recalling the failed 2016 coup against his rule.
Predicting victory in the election, he added: "God willing, I believe we will, together with our nation, on June 24 once again give a well deserved lesson to this team of destruction."
Opponents rapidly seized on the word he had used in Turkish for "enough" - "tamam" - and turned it into the top Twitter trend not just in Turkey but around the world with over 450,000 tweets by the afternoon.
Some simply tweeted the word in bold letters with spaces - T A M A M - while others added slogans. "Just please go now," wrote one user.
Others just wrote the word TAMAM as many times as they could within Twitter's character limit, or made fancy shapes with its letters.
The word was also rapidly seized upon by Erdogan's rivals who will face him in the June 24 poll and seek to force a run-off.
"Time's Up!" (in Turkish "Vakit TAMAM!") tweeted Muharrem Ince, the candidate of the main secular opposition Republican People's Party (CHP).
"T A M A M," tweeted Meral Aksener, the leader of the newly-formed nationalist party the Iyi (Good) Party.
"Enough, God Willing" ("T A M A M Insallah") added Temel Karamollaoglu, leader of the conservative Saadet (Felicity) Party who is also to run against Erdogan.
Denounced by his opponents as an authoritarian leader and throwback to the Ottoman sultans, Erdogan boasts of having brought Turkey to a new level of economic prosperity and foreign policy influence under his rule.
While there is strong hostility to him on the Aegean coast, some Kurdish areas and parts of Istanbul and Ankara, he retains widespread and massively enthusiastic support in the Anatolian core of the country.
https://nation.com.pk/09-May-2018/erdogan-vows-to-quit-when-enough
--------
Russia Underlines Commitment to Iran N. Deal, Regrets US Decision to Withdraw
May 09, 2018
"We are deeply disappointed with US President Donald Trump's decision to unilaterally withdraw from the implementation of obligations under the Joint Comprehensive Plan of Action (JCPOA) on the Iranian nuclear program and to re-impose national US sanctions against Iran," the ministry said in a statement on Tuesday.
Russia also pointed out that the US decision sharply violated the international laws, noting, "There are and there may be no grounds for undermining the JCPOA. The plan fully proved its efficiency. It effectively copes with all the goals set for it. Iran strictly sticks to its commitments, which is regularly confirmed by the IAEA (International Atomic Energy Agency). We are fully supporting and welcoming that."
The Russian foreign ministry added that Moscow was open for further cooperation with other JCPOA parties and for continued dialogue and cooperation with Tehran.
Earlier in the day, US President Donald Trump announced the United States will no longer remain part of the JCPOA and promised to re-impose the highest level of economic sanctions against Iran.
Meantime, Russia's Permanent Representative to International Organizations in Vienna Mikhail Ulyanov said that the US decision was a major setback to the nuclear nonproliferation regime.
"The move has significantly undermined the efforts aimed at strengthening of the nuclear nonproliferation regime. One more time it has been confirmed that Washington uses the statements of the nonproliferation nature in order to achieve its own geopolitical goals, which are often very disputable," Ulyanov said on Tuesday.
Moreover, according to the diplomat, the issues of the North Korean nuclear activities and the Tuesday decision of Trump to withdraw from the JCPOA were interconnected, specially taking into account the fact that the US move was made ahead of the meeting between the leaders of the United States and North Korea.
"That's why, the United States had chosen the path of destroying the existing agreement on Iran and at the same time it had complicated the search of solutions to the nuclear problem of the Korean Peninsula," Ulyanov said on Tuesday.
"In this situation Tehran has shown wisdom, refrained from unwise response (to the US move) and announced about the readiness to study the issue of continuation of the nuclear deal without the United States, but with Russia, China and the three European states. That's why the diplomatic efforts will continue in the near future and it is obvious that they would be very intensive," the Russian envoy added.
However, Moscow is ready to cooperate with the United States on the Iran-related issues, but such interaction could be rather complicated because of the US position, Russia's Permanent Representative to International Organizations in Vienna said.
"Russia is always ready to work to achieve positive results. At the same time I have a feeling that the contacts with the United States could face a number of problems, because of the US position," the envoy said, answering a question if Russia is ready to cooperate with the United States and other partners in order to achieve a new solution to the crisis related to Iran.
After Trump's declaration, Iranian President Hassan Rouhani said it has ordered his atomic chief to stay on alert to resume suspended nuclear activities, stressing that Tehran will stay in the Joint Comprehensive Plan of Action (JCPOA) with other signatories if only other parties to the deal ensure all its interests and economic merits.
While stressing that Trumps decision was a historical experience for Iran, Rouhani noted that the US president has a history of undermining international treaties. Rouhani also noted that Iran would remain in the nuclear deal without the US' presence for the next few weeks to see results of negotiations with Europeans.
Rouhani added that he has ordered the Atomic Energy Organization of Iran (AEOI) to be prepared for resuming nuclear enrichment at the industrial level.
"I have ordered AEOI to go ahead with adequate preparations to resume enrichment at the industrial level without any limit," he said.
He further added that from now on everything depends on Iran's national interests.
"Trump's decision was the beginning of a psychological war against Iran, our heroic people will not be affected by this psychological attack," said Rouhani.
Rouhani also noted that from now on the JCPOA is between Iran and the five remaining countries, but stressed that Iran would stay under the deal if all its interests are met.
He further noted that the Iranian Foreign Ministry would be negotiating with European countries, Russia, and China in the coming weeks.
Also, Foreign Minister Mohammad Javad Zarif responded to Trump's move, referring to it as "unlawful", while adding that the outcome of further diplomatic efforts will determine Iran's response.
In response to US persistent violations and unlawful withdrawal from the nuclear deal, as instructed by President Rouhani, I'll spearhead a diplomatic effort to examine whether remaining JCPOA participants can ensure its full benefits for Iran. Outcome will determine our response.
"In response to US persistent violations & unlawful withdrawal from the nuclear deal, as instructed by President Rouhani, I'll spearhead a diplomatic effort to examine whether remaining JCPOA participants can ensure its full benefits for Iran. Outcome will determine our response," he tweeted.
The European Union, France, Britain and Germany have expressed regret over Trump's decision about the deal.
Full report at:
http://en.farsnews.com/newstext.aspx?nn=13970219000229
--------
US flag set ablaze as Iran says it has 'no obligation to honour nuke deal'
9 May 2018
Iran's parliament speaker said President Donald Trump's decision to pull out of a 2015 international nuclear deal was a violation of an agreement that would isolate the United States, state television reported on Wednesday.
"Trump's abandoning of the nuclear deal was a diplomatic show ... Iran has no obligation to honor its commitments under the current situation ... It is a threat to peace and security ... I am not sure whether the European signatories of the deal will fulfill their promises," Ali Larijani said.
"It is obvious that Trump only understands the language of force."
Trump on Tuesday pulled the United States out of the deal, raising the risk of conflict in the Middle East, upsetting European allies and casting uncertainty over global oil supplies.
Meanwhile, Iranian lawmakers lit a paper US flag on fire at parliament on Wednesday.
Lawmakers held the impromptu demonstration the day after Trump's decision. They also burned a piece of paper representing the nuclear deal.
The chant "Death to America" long has been used in Iran since its 1979 Islamic Revolution. It also has been common to hear it within parliament.
However, Wednesday's demonstration reflected public anger in Iran after Trump's decision.
Iran's 2015 nuclear deal imposed restrictions on its nuclear program in return for the lifting of most U.S. and international sanctions.
However, the deal came with time limits and did not address Iran's ballistic missile program or its regional policies in Syria and elsewhere. Trump has repeatedly pointed to those omissions in referring to the accord as the "worst deal ever." Proponents of the deal have said those time limits were meant to encourage more discussion with Iran in the future that could eventually address other concerns.
Many Iranians are worried about what Trump's decision could mean for their country.
The Iranian rial is already trading on the black market at 66,000 to the dollar, despite a government-set rate of 42,000 rials. Many say they have not seen any benefits from the nuclear deal.
Full report at:
https://english.alarabiya.net/en/News/middle-east/2018/05/09/Iran-says-it-has-no-obligation-to-honor-nuke-deal-as-US-flag-set-ablaze.html
--------
Houthis mobilize in Sanaa after Arab coalition targets presidential office
8 May 2018
The Houthis have mobilized their fighters in Sanaa after the Arab coalition targeted the office of the presidency on Monday.
Local sources said the Houthis set several security checkpoints in the capital and deployed their members in several important and vital streets.
They also tightened security on hospitals where those killed and wounded by the air strike were transferred and kept completely silent about their identities. Coalition spokesman Colonel Turki al-Malki had said the airstrikes targeted first and second rank Houthi leadership.
The Houthis have said that six people were killed and denied that they included any high-ranking officials.
Two airstrikes targeted the presidential palace's office in the city's central Tahrir district in front of the Central Bank building.
The first one targeted the building's fence and hit the power generator there while the second one hit the building itself.
Ambulances rushed to the scene and militiamen deployed around the building and closed all roads leading to it.
Full report at:
https://english.alarabiya.net/en/News/gulf/2018/05/08/Houthis-mobilize-in-Sanaa-after-Arab-coalition-targets-presidential-office.html
--------
Saudi FM: Iran-planned Houthi attacks do not affect kingdom's stability
8 May 2018
Saudi Foreign Minister Adel al-Jubeir said on Monday that Houthi attacks planned by Iran do not affect the kingdom's stability.
"The Iranian-planned Houthi attacks, which are strongly denounced by the international community, reveal their terrorism and never affects our stability and development," Jubeir said on Twitter.
The spokesman of the Arab coalition forces in Yemen, Col. Turki Al-Malki, said earlier on Monday that the Houthi militia was violating international and humanitarian law by exploiting educational, diplomatic and religious institutions in the war.
He also played a video showing Houthi gunmen enter a mosque and ascend to its minaret to position their snipers and target people.
Full report at:
https://english.alarabiya.net/en/News/gulf/2018/05/08/Saudi-FM-Iranian-planned-Houthi-attacks-do-not-affect-kingdom-s-stability.html
--------
Israel puts army on alert in Golan Heights as Trump quits from JCPOA
May 8, 2018
Israel has instructed local authorities to "unlock and ready (bomb) shelters" in the occupied Golan Heights as US President Donald Trump announces JCPOA departure.
In its statement released on Tuesday, Israel's military further announced that its missile systems had been deployed and that its troops were put on high alert, after claiming the presence of "irregular activity of Iranian forces in Syria".
The announcement came shortly before announced his decision to withdraw from the Joint Comprehensive Plan of Action (JCPOA.)
Following the announcement Israeli Prime Benjamin Netanyahu announced that the Tel Aviv regime "fully supports" Trump's "bold" withdrawal from Iran deal.
"For months now, Iran has been transferring lethal weaponry to its forces in Syria, with the purpose of striking at Israel," Netanyahu said. "We will respond mightily to any attack on our territory," he further claimed.
Israel seized the Golan Heights from Syria during the 1967 Six-Day War and has continued to occupy two-thirds of the strategically-important territory ever since, in a move that has never been recognized by the international community.
Full report at:
http://www.presstv.com/Detail/2018/05/08/561075/israel-golan-heights-missiles
--------
Dozens more suspects arrested across Turkey over affiliation to Gulen network
May 8, 2018
Turkish police forces have arrested dozens more people on suspicion of affiliation to a movement led by the US-based opposition cleric Fethullah Gulen, whom the Ankara government accuses of having masterminded the July 2016 coup attempt against President Recep Tayyip Erdogan.
Security officials, speaking on condition of anonymity, said 13 soldiers on-duty were arrested in the western province of Balikesir on charges of serving as the group's "covert imams" – a term used to refer to the senior members of the Fethullahist Terrorist Organization (FETO).
Three more soldiers were arrested in the central province of Tokat.
The sources added that the rest of the suspects were civilians.
Additionally, a court in the southeastern Sanliurfa province handed down prison sentences, ranging from 2.5 to 12 years, to three people for their membership in FETO.
During the botched putsch, a faction of the Turkish military declared that it had seized control of the country and the government of Erdogan was no more in charge. The attempt was, however, suppressed a few hours later.
Ankara has since accused Gulen of having orchestrated the coup. The opposition figure is also accused of being behind a long-running campaign to topple the government via infiltrating the country's institutions, particularly the army, police and the judiciary.
Additionally, the Ankara government has outlawed his movement, and has branded it as the Fethullah Terrorist Organization.
Gulen has denounced the "despicable putsch" and reiterated that he had no role in it.
"Accusations against me related to the coup attempt are baseless and politically-motivated slanders," he said in a statement.
The 77-year-old cleric has also called on Ankara to end its "witch hunt" of his followers, a move he said is aimed at "weeding out anyone it deems disloyal to President Erdogan and his regime."
Turkish officials have frequently called on their US counterparts to extradite Gulen, but their demands have not been taken heed of.
Turkey, which remains in a state of emergency since the coup, has been engaged in suppressing the media and opposition groups suspected to have played a role in the failed coup.
Tens of thousands of people have been arrested in Turkey on suspicion of having links to Gulen and the failed coup. More than 110,000 others, including military staff, civil servants and journalists, have been sacked or suspended from work over the same accusations.
Full report at:
http://www.presstv.com/Detail/2018/05/08/561051/Dozens-more-suspects-arrested-across-Turkey-over-affiliation-to-Gulen-network
--------
Abbas urges Latin America not to follow in US footsteps on embassy relocation
May 8, 2018
In Venezuela, Palestinian President Mahmoud Abbas has called on Latin American states not to copy the contentious decision by the US to relocate its embassy from Tel Aviv to Israeli-occupied Jerusalem al-Quds.
"We hope that some countries across Latin America won't go moving their embassies to Jerusalem, because that is against international law," Abbas said during a meeting with Venezuelan President Nicolas Maduro in Caracas on Monday.
The Palestinian president also hailed Maduro's rejection of the dramatic shift in Washington's policy on Jerusalem al-Quds, saying, "It's a position that most countries have made."
Last December, US President Donald Trump announced that Washington was recognizing Jerusalem al-Quds as the "capital" of Israel and planning to move the American embassy to the ancient city. The announcement sparked condemnations worldwide.
Israel lays claim to the whole Jerusalem al-Quds, but the international community views the city's eastern sector as occupied land and Palestinians consider it as the capital of their future state.
Elsewhere in his remarks, Abbas, said, "We reaffirm our interest in having serious negotiations with Israel based on the international resolutions and laws and the importance of forming an international multilateral instrument and to continue working so that Palestine is accepted as a full country in United Nations."
The UN General Assembly upgraded Palestine's status from "non-member observer entity" to "non-member observer state" in November 2012. The Palestinian national flag was also hoisted for the first time at the UN headquarters in New York in September 2015.
Maduro, for his part, said that Venezuela "decisively and actively" supports the Palestinian cause and rejects the US bid to take Jerusalem al-Quds away from history, "an illegal decision that is not recognized by United Nations mandates."
He further urged additional support for Palestine and its people in their struggle for statehood.
Maduro also expressed hope for the resumption of Israeli-Palestinian negotiations, which would lead "to the return of Palestinian territory and their right to exist."
The US is scheduled to move its embassy to Jerusalem al-Quds on May 14, followed two days later by Guatemala. Paraguay is also expected to emulate the embassy relocation by the end of May.
Full report at:
http://www.presstv.com/Detail/2018/05/08/561001/Jerusalem-Mahmoud-Abbas-Venezuela
--------
North America
Rohingya advocates urge Ottawa to consider resettling Muslim refugees
May 9, 2018
When more than half a million Rohingya fled their villages in Myanmar last year and crossed into Bangladesh by foot and by boat, Anwar Arkani's three sisters were among them.
Mr. Arkani, who came to Canada in 1998 after living as a refugee for a decade in Bangladesh and Thailand, knows that the situation for Rohingya in refugee camps and shelters is bleak. He saw that firsthand when he visited one of those camps last fall to distribute food.
But for his sisters and their children, the prospect of returning to Myanmar is even worse.
"My sister's daughter says she will take poison if she has to go back," Mr. Arkani said. "There is no absolute guarantee that they will be safe, they would rather die here."
Mr. Arkani, who is the president of the Rohingya Association of Canada, is one of the approximately 300 Rohingya Muslims living in Canada today – a close-knit community that is deeply concerned about the safety of their relatives in Bangladesh and Myanmar.
The Rohingya, a mostly Muslim ethnic group, have been denied citizenship in Myanmar since 1982 despite centuries-old roots in the country's Rakhine state, rendering them stateless.
The current crisis in Myanmar has been described as "a textbook example of ethnic cleansing" by United Nations human-rights chief Zeid Ra'ad Al Hussein. Myanmar has denied these allegations.
The most recent violence in Rakhine state began in August, 2017, after Rohingya insurgents attacked police posts and an army base. Myanmar's military responded with a violent crackdown, triggering an exodus of Rohingya to neighbouring Bangladesh.
Last month, Canada's special envoy to Myanmar, Bob Rae, released a report urging the federal government to lead an international effort to investigate "clear evidence" of crimes against humanity. He issued a series of recommendations, including urging Canada to "signal a willingness" to welcome Rohingya refugees from Myanmar and Bangladesh. He also called for $150-million in Canadian funding over four years.
Foreign Affairs Minister Chrystia Freeland toured the Kutupalong-Balukhali camp in Bangladesh last week, decrying the atrocities committed against Rohingya people and pledging a "strong commitment" from the Canadian government. But she did not announce any new money as recommended by Mr. Rae.
The Bangladeshi government reached an agreement last fall with Myanmar that will see the return of more than 500,000 refugees to Rakhine state. The aim of this deal was to repatriate all the refugees to Myanmar within two years.
In January, that repatriation was postponed amid fears that refugees would be forced to return against their will. It is still unclear when a new return date will be set.
Gloria Nafzinger, a refugee-rights and country campaigner with Amnesty International Canada, said current conditions in Myanmar are not conducive to repatriation. The underlying issues causing displacement, such as lack of citizenship rights and access to health care and education, need to be addressed first, Ms. Nafzinger said.
"We continue to see people fleeing the region to this day," she said.
"There's no question that they cannot be guaranteed any kind of safety and life living in dignity with opportunity for livelihood at this point in time."
Instead, she said the Canadian government should consider creating a family-reunification program for Canadian Rohingya who have family in Bangladesh, Myanmar or other countries.
"Canada could and should be looking into family-linked cases of refugees, people who have families that they could sponsor and look for better ways for reunification of families who have been separated," Ms. Nafzinger said.
Mr. Rae's report made 17 recommendations, including that Canada should welcome Rohingya refugees and encourage other countries to do so.
His report also called on Canada to establish an independent investigation into the violence while also investing more than half a billion dollars in humanitarian and development efforts in Myanmar and Bangladesh.
Jean-Nicolas Beuze, the United Nations refugee agency's representative in Canada, said at the time that resettlement is not a priority for the Rohingya, as most want to eventually return to Myanmar when it is safe for them to do so.
While Canada became the first country to resettle members of the long-persecuted ethnic-minority group between 2006 and 2010, the federal government has said there are currently no plans to resettle Rohingya refugees.
Immigration Minister Ahmed Hussen has previously said Canada cannot resettle any of the Rohingya refugees currently in Bangladesh because the country does not issue exit visas to Rohingya refugees. In January, an assistant to Mr. Hussen said current discussions are focused on assessing prospects for the return of the refugees to Myanmar. He added that resettlement of the Rohingya is not an option right now as Canada supports the secure return of the refugees to their homes with full political and social rights.
Mr. Arkani says the Canadian government should look into bringing in Rohingya refugees living in limbo within refugee camps in countries where exit visas are not an issue.
"They can bring Rohingya refugees from India, they can bring refugees from Thailand, from Indonesia and Malaysia."
https://www.theglobeandmail.com/canada/article-rohingya-advocates-urge-ottawa-to-consider-resettling-muslim-refugees/
--------
Reactions to Trump's JCPOA withdrawal from inside the US
May 8, 2018
US Democratic lawmakers censure President Donald Trump and Republicans for Washington's withdrawal from Iran nuclear deal, calling on the American people to "vote them all out" over the measure.
"Trump and his Republicans will go down in history as the party that destroyed our country's credibility, ruined our global reputation, and made the world a more dangerous place — all to sabotage President Obama's legacy. Vote them all out. Every single one," the Democratic Congressional Campaign Committee (DCCC) tweeted immediately after Trump announced the US withdrawal from the deal.
While, California Democratic lawmaker Adam Schiff described Trump's decision as a mistake of "historic proportions," Senate Democratic Whip Dick Durbin warned that the president's decision will pose more threats to the entire the Middle East.
"Decision to withdraw from Iran deal will undermine our national security, increase prospect of a nuclear Iran or a conflict with them, and cause the world to conclude America doesn't keep its word. Scuttling the deal without a Plan B is not a strategy, but a dangerous abdication," Schiff said.
Senior Democratic Senator Bob Menendez on the Senate foreign relations committee warned that abandoning Iran's deal will jeopardize the security of the US and Israel and harms US relations with its allies.
"With this decision President Trump is risking US national security, recklessly upending foundational partnerships with key US allies in Europe and gambling with Israel's security," Menendez pointed out.
Chris Murphy, a Democrat member of the Senate foreign relations committee, described Trump's announcement as "terrible news," saying "Pulling out of the Iran deal is like a soccer player deliberately kicking the ball into their own team's goal."
"There is nothing but downside for the US, especially since Trump has zero plan for what comes next," he added.
Senior Democratic legislator on the Senate Intelligence Committee Mark Warner issued a statement, warning against creating rift between the US and its allies.
"Simply withdrawing the United States from the JCPOA will not benefit the American people and US national security: it will only succeed in driving a wedge between us and our allies, whose help we need to enforce any future sanctions regime against Iran," he said. "Withdrawing from this agreement makes the United States, and the world, less secure," Warner pointed out.
House Minority Leader Nancy Pelosi described Tuesday a "sad day for America's global leadership" and warned that "Trump Administration's dangerous and impulsive action is no substitute for real global leadership."
Even some lawmakers on the Republican front also criticized Trump for abandoning the deal.
Ohio Republican representative Mike Turner, who is also a senior member of House Armed Services Committee, lashed out at Trump for abandoning the JCPOA without any proof.
"Without proof that Iran is in violation of the agreement, it is a mistake to fully withdraw from this deal," Turner said in a statement.
Republican Maine Senator Susan Collins also said she preferred that the US would "remedy" the "flaws" in the nuclear deal with its allies rather than walking away from the accord.
Independent US Senator Bernie Sanders expressed concern that Trump's "reckless decision" would lead to another open-end war for the US.
"After 17 years of war in Afghanistan and 15 years of war in Iraq, the American people do not want to be engaged in never-ending wars in the Middle East. I am deeply concerned that that is exactly where President Trump is taking us with regard to Iran," Sanders (pictured above) said . "President Trump's speech today was the latest in a series of reckless decisions that move our country closer to conflict."
"Trump's decision isolates the United States from our most important European allies who all continue to support the agreement and have consistently said that it is in their own national security interests to see it upheld," Sanders added.
The Vermont senator warned that abandoning the JCPOA would "seriously harm" Washington's future non-proliferation negotiations, including with North Korea, adding "Why would any country in the world sign such an agreement with the United States, and make the touch concessions, if they thought that a reckless president might simply discard that agreement a few years later?"
Senate Minority Leader Chuck Schumer told reporters he did not see any reason for US withdrawal from the deal, noting,
"There are no reports that Iran has violated the agreement."
US Ambassador to Germany Richard Grenell called on German businesses to immediately halt their operations in Iran.
"As @realDonaldTrump said, US sanctions will target critical sectors of Iran's economy," Grenell tweeted. "German companies doing business in Iran should wind down operations immediately,"
Germany is one of Iran's key trading partners, with the country's exports to the Islamic Republic exceeding $3.1 billion in 2016, showing a 26-percent growth compared with 2015.
There were also those who threw their support behind the US withdraw from the international agreement, backed by the UK, Russia, Germany, France and China.
Among them was the former CIA chief, who asserted that the US campaign against Iran is "broader" than the nuclear issue and it will include efforts to end Iran's ballistic missile program and the country's growing influence across the Middle East.
In a tweet after Trump's announcement, US Secretary of State Mike Pompeo pledged to work with Washington's allies to find a "real, comprehensive and lasting solution" to what he called "the Iranian threat."
US Vice President Mike Pence (pictured below) bragged about Washington's preparedness to work with its allies to reach a new deal that "prevents Iran from ever becoming a nuclear power."
He falsely claimed that the JCPOA "virtually guaranteed Iran's ability to start producing nuclear weapons by 2025."
The US and its allies can "combine tough-minded American diplomacy and strong economic pressure" to reach a new deal, Pence said.
US House Speaker Paul Ryan also said that, "From the beginning, the Obama-era Iran Deal was deeply flawed."
Ryan added that he would have preferred to fix the agreement rather than abandon it and expressed regret over the fact that the US "could not reach an understanding with our European partners" to do that.
The Wisconsin Republican lawmaker (pictured below) said Washington would use the period before re-imposing sanctions against Iran to work with its allies to reach a consensus over Iran.
The Republican Jewish Coalition, which has long been lobbying against Iran's deal, hailed Trump's "bold foreign policy" and said that the decision "renewed hope for a truly long-term nuclear-free Iran." "Iran continues to be an existential threat to Israel, and continues to menace Israel directly and through its proxies (such as Hezbollah)," the group said in its statement.
The Treasury Department said there will be "certain 90-day and 180-day wind-down periods" after which the sanctions will be in "full effect," including sanctions against Iran's oil sector, metal trades and transactions with its central bank.
The Treasury said sanctions will also be re-imposed on aircraft exports to Iran and the country's efforts by Tehran to acquire US dollars.
US Treasury Secretary Steve Mnuchin (pictured below) told reporters that licenses for airplane manufacturers Boeing and Airbus to sell passenger jets, parts and services to Iran will be revoked after a 90-day period.
"The Boeing and (Airbus) licenses will be revoked… Under the original deal there were waivers for commercial aircraft, parts and services and the existing licenses will be revoked," Mnuchin said.
Boeing agreed in December 2016 to sell 80 aircraft worth $17 billion to Iran Air, including 15 Boeing 777-300ER long-range jets.
A new survey conducted by SRSS among 1,015 Americans from May 2 to May 5 showed that 63 percent of respondents wanted the US to remain part of the Iran nuclear deal.
While 29 percent said Washington should exit from the accord, eight percent did not have an opinion.
Forty-six percent of the respondents also disapproved the way Trump is managing relations with Iran.
Russia and China, as the other signatories to the JCPOA, have warned against efforts to scrap the landmark accord and pledged to continue to honor their commitments under the deal.
The International Atomic Energy Agency has been monitoring Iran's compliance with its commitments under the JCPOA and has consistently verified the Islamic Republic's compliance.
Full report at:
http://www.presstv.com/Detail/2018/05/08/561073/US-iran-nuclear-Democrats
--------
US media cautious over Trump's Iran decision
09 May 2018
The American press expressed concern Tuesday over President Donald Trump's decision to pull the U.S. out of the Iranian nuclear deal, warning of repercussions.
The Washington Post led with the headline "Trump announces plans to pull out of Iran nuclear deal despite pleas from European leaders".
The newspaper said that as part of the pullout, "a decision to immediately reinstate all nuclear-related sanctions would be the most extreme step Trump could take now".
The New York Times said the long-anticipated announcement on Iran's nuclear deal "plunges America's relations with its European allies into deep uncertainty" and "raises the prospect of increasing tensions with Russia and China".
The Wall Street Journal said Trump had dismantled his predecessor's most prominent foreign policy initiative and went against the wishes of some of America's closest allies.
Saying that Trump would impose "the highest level of economic sanctions" on Iran, the journal noted that sanctions "snapped immediately back into effect".
Even Fox News, with its pro-Republican and pro-Trump bias, observed that "Trump for months had left open whether he would move to scrap the pact, and his apparent decision to re-impose sanctions has rattled European allies".
The liberal NBC News said the decision has "raised fears that Tehran might respond by resuming its frozen weapons program".
"The move also raises two important questions for the Trump administration and the international community: Whether Iran will respond by resuming its quest for nuclear weapons -- and whether reneging on the Iran pact might affect North Korea's willingness to cut a denuclearization deal of its own with the president."
The Los Angeles Times called the decision "more severe than diplomats had expected and sent shock waves around the globe".
They said it is not clear how the other countries following the deal will negotiate the web of U.S. sanctions.
Ignoring pressure from the U.S.'s closest European allies, Trump on Tuesday pulled the U.S. out of the landmark nuclear agreement that world powers struck in 2015 with Iran.
Trump opted not to extend sanctions relief on Iran ahead of a May 12 deadline, vowing instead to re-impose nuclear-related economic penalties.
The 2015 nuclear agreement placed unprecedented restrictions on Iran's nuclear program in exchange for billions of dollars in relief from international sanctions, but Trump has consistently railed against it since he began his bid for America's highest office, repeatedly calling it the "worst deal" he has ever seen.
Full report at:
http://www.worldbulletin.net/america-canada/201874/us-media-cautious-over-trumps-iran-decision
--------
Europe
Germany, France reiterate commitment to Iran nuke deal
08 May 2018
Germany and France will remain committed to the nuclear agreement with Iran, even after a possible move by U.S. President Donald Trump to scrap the deal next week, foreign ministers of both countries said on Monday.
Speaking at a joint news conference in Berlin, German Foreign Minister Heiko Maas stressed that the 2015 nuclear deal with Iran has made the world safer.
"We don't see any viable alternative to limitations and control mechanisms for Iran's nuclear nuclear program, as stipulated in the agreement," Maas said.
"We fear that a failure of this might lead to an escalation and we might return to the period before 2013. That would be in no one's interest," he added.
Trump has repeatedly called the agreement "one of the worst negotiated agreements" he has ever seen. He has threatened to pull the U.S. out of the deal and has to make a decision on whether he will do so by a May 12 deadline.
French Foreign Minister Jean-Yves Le Drian stressed that France and Germany are determined to preserve the Iranian nuclear deal.
"This agreement is the right way to ensure that Iran will not develop a nuclear bomb," he said.
"This agreement must be maintained, irrespective of the U.S. decision," he stressed.
In July 2015, the EU and the P5+1 group of countries -- China, Germany, France, Russia, the U.K. and U.S. -- signed with Iran the nuclear deal, also known as the Joint Comprehensive Plan of Action (JCPOA).
World powers agreed to lift some of the economic sanctions imposed on Iran in return for the latter agreeing to rein in its nuclear program.
http://www.worldbulletin.net/europe/201855/germany-france-reiterate-commitment-to-iran-nuke-deal
--------
Russian arms deal sours US-Turkey relations
By NICOS PANAYIOTIDES
MAY 9, 2018
That Turkey, a Nato ally, is at odds with the US is something that is more than obvious. The deteriorating relations between Ankara and Washington are manifested by a number of issues, ranging from disagreements about the Kurds' role in the fight against Islamic State and violations of the domestic rule of law to strategic decisions considered by the Americans to be against their interests.
Specifically, Ankara's strategic decision to buy the S-400 missile system from Russia was viewed from the very beginning as a hostile move, since Turkey – from 1952 a crucial Nato member in the Middle East – would not only procure technology incompatible with Nato defense systems but obtain it from Russia in a period of tense geopolitical relations between East and West over a number of issues.
Washington warned President Recep Tayyip Erdoğan that if he proceeded with this purchase, he would jeopardize the planned F-35 fighter deal. More specifically, in late April, three US senators introduced a measure aimed at blocking the transfer of Lockheed Martin F-35s to Turkey. The senators questioned Erdogan's domestic governance and foreign policy orientations and decisions.
Angered by the American move, Ankara told Washington that it will answer with countermeasures if the US cancels or freezes the F 35 deal. As Turkish Foreign Minister Ahmet Tsavusoglu said, "Such a decision on the part of Washington is illogical and inappropriate for the spirit of an alliance such as the North Atlantic Treaty Organization."
In order to understand the dynamics that shape the recent confrontation between the US and Turkey, we must see and analyze Ankara's actions from a geopolitical perspective. One should answer the question, why is Ankara – a Nato ally – distancing itself from the West and moving towards Russia?
According to Michalis Kontos, assistant professor of international relations at University of Nicosia, "Under Mr Erdogan, especially since 2010, Turkey has developed an ambitious agenda for an enhanced regional (if not global) great power role. The locomotive of Ankara's aspirations is the country's Muslim character and AKP's version of political Islam, which is being used as a leverage to increase its influence over Muslim populations in the Middle East."
For this agenda, he added, to unfold according to Ankara's planning, the main prerequisite is a decrease in Western influence over the country and, generally, in the region. This imperative is dictated by a complex web of interdependence that includes Turkey's relations with the United States, the EU, Israel, other Middle Eastern regional powers (such as Iran and Saudi Arabia), as well as with Muslim governments with different cultural characteristics and geopolitical viewpoints (ie the Bashar Al Assad regime in Syria and Egypt under Abdel Fatah Al Sisi).
Kontos maintained that while this was playing out, American reluctance to maintain its regional primacy, which was mainly manifested after the mass military withdrawal from Iraq in 2011 and after failing to respond to the alleged use of chemical weapons by the Assad regime in 2013 (despite president Barack Obama's declaration of a "red line" a few months before), created perceptions of a regional power deficit that could be filled by Russia and regional powers, such as Turkey and Iran. Kontos stressed that Russia came to the fore in the Middle East after 2012, amidst the formation of a new regional balance of power. Its military intervention to save the waning Syrian regime in 2015 was a catalyst that transformed regional relations and alliances in the Middle East. Despite initial strains over the future of the Assad regime, Turkey and Russia found themselves in the middle of a significant convergence of interests.
Kontos was asked by Asia Times to elaborate further on this. He pointed out that this convergence was stimulated by mutual economic interests (ie natural gas sales from Russia to Turkey and the establishment of a Russian-built nuclear production plant in southern Turkey). He observed that convergence with Moscow provided Ankara with an opportunity to question (or renegotiate the terms of) Western dominance in the Middle East, the Balkan Peninsula and even Africa, in favor of a more active and respectable Turkish role.
At the same time, he said, "Moscow foresaw its own opportunity to question Nato's unity and credibility in times of strain with the alliance, especially over Ukraine and Eastern Europe."
Mr Kontos concluded that If Turkey leaves Nato (in real or nominal terms), this development would suggest a major power redistribution at the global level, similar to that caused by the détente between the United States and the People's Republic of China in 1972. "Only this time the favored part would be Russia. The S-400 case is just an episode of a broader strategic game, which provides a good explanation of the American negative stance on the matter."
Full report at:
http://www.atimes.com/russian-arms-deal-sours-us-turkey-relations/
--------
British Baker Challenges Islamophobia One Cake At A Time
May 08, 2018
LONDON: Ali Imdad is drizzling almond oil into a delicious-smelling dessert ready for the after-work crowd that will pile into Milk Cafe later to enjoy a slice of cake infused with flavours from across the Muslim world.
Like Imdad, who was born and raised in the UK, the backbone of each recipe is British, but the essence of his cakes comes from the East, bringing the culinary traditions of his Pakistani heritage and other countries across the Islamic world to the trendy London borough of Hackney where, he hopes, they will inspire a different dialogue about what it means to be Muslim.
Imdad, 30, who was runner-up on the popular Great British Bake Off TV show, says he wants to encourage a "more wholesome" perception of Islam in the UK through his pop-up cafe, which is entering the final phase of a successful four-week run.
"Muslims historically haven't just focused on religion," says Imdad, citing the impact of Islamic culture on the arts, sciences and literature as well as cuisine. "Food has been integral to Muslims since the dawn of Islam, but people are surprised to hear that it was Muslims who brought orange juice here."
Growing up in the "very Asian community" of the Alum Rock suburb of Birmingham, Imdad never considered his Muslim identity. "I didn't really think about what being Muslim meant, it was just something I was." Never having reason to question his place in society, he felt "just as British as the next person."
But after 9/11 he noticed a shift. On the bus, he would overhear people discussing his religion and on more than one occasion he was asked to explain the Taliban's motives. "For the first time I felt like the other."
In the charged political climate since Britain's decision to leave the European Union, Imdad said that he has encountered more instances of Islamophobia, from racial slurs to ripping off women's hijabs, than he cares to remember.
"We're on dangerous territory," he said, concerned by the "increasing acceptance" toward anti-Islamic sentiment, popularised by certain prominent politicians and academics who are "welcoming far-right hate speech."
When an anonymous letter was circulated last March naming April 3 as "Punish a Muslim Day" and calling for attacks against Muslims, he decided to act. He posted a tweet on social media saying that although "hatred doesn't scare me" that "my mum is sitting reading the Qur'an and praying for safety ... That she feels she has to pray to stay safe just for being a Muslim. When did we go back to the 1930s again?"
He said that he felt a responsibility to "call them out." After the Manchester bombing in May last year he noticed a surge in Islamophobic comments over social media. "As a Muslim you need to defend other Muslims," he said, explaining that for him as a baker, it was about creating an environment where people could discover the culinary culture of Islam.
"It's a more subtle approach toward introducing people to the different cultures of Islam, they can come and discuss the religion, or just enjoy the food and see, through my desserts, how Muslims have contributed to world cuisine."
"We're real foodies," he says, slicing a tray of brownies into thick wedges for his most popular recipe, which infuses dates, figs and chocolate into the popular English pudding. His menu, which also stars a delectable Moroccan-inspired orange and pomegranate drizzle cake and a Pakistani-themed chai-spiced chocolate sphere, aims to reflect the diversity of the Muslim world.
"I want to remind people that there isn't a single Muslim culture; there are cultures within the Muslim field and my desserts aren't just Muslim desserts, they're from Malaysia, Morocco, Egypt, Iran, Pakistan, Egypt and beyond."
There's only so much that can by achieved with a menu of cakes — however inspired the recipes — and Imdad is the first to acknowledge this, but he feels that an "accessible", "grassroots" approach is what's lacking in efforts to combat the rising tide of Islamophobia in Britain.
"There are plenty of people talking on our behalf at the political level, but not everybody is interested in politics … this is for people who want to talk about Islam in terms of the history, or the food, or the culture, rather than discussing terrorism, bombs or wars."
His latest recipe, which is emitting a mouthwatering perfume from the bowl as we speak, was dreamed up on the train here as he sifted through the memories of a visit to Egypt 10 years ago. Although it is the first time he has made it, he is sure that the flavours — almond cake infused with cinnamon syrup and a vanilla and ginger gelato, will work and conjure up his experience of Egypt for his customers.
Imdad said that it is a subtle, but powerful platform: "Everyone's interested in food and what better way to bring everyone together?" Back at home Alum Rock, he said that he is conscious of the deepening divisions in British society.
"When I was younger there used to be quite a few white families living there, but now, 20 years later, they're all gone, I don't remember the last time I saw a white face there."
Full report at:
http://www.arabnews.com/node/1299016/food-health
--------
Morocco: A Breeding Ground for Spain's Jihadi Terrorists?
By Sana Elouazi
May 8, 2018
The think tank, which analyses world events and trends from a Spanish, European, and global perspective, explored the prevalence of Moroccans suspected of engaging in Islamist terrorism activities in Spain between 2013 and 2017 in a study entitled "Moroccans and second generations among the jihadists in Spain."
Elcano's 2013-2017 database on jihadists in Spain reveals that approximately 46 percent of the 233 people arrested or killed for alleged involvement in terrorism related activities in Spain are Moroccan nationals. Those of Spanish nationality represent nearly 37.9 percent, while the rest are made up of 19 other nationalities.
The figures also show that six out of ten people in this study are second generation descendants of Moroccan immigrants, who were radicalized and recruited in the Iberian country by various Islamist cells or networks.
According to the report's authors, Fernando Reinares and Carola Garcia-Calvo, the majority of those detained for suspected terrorism offences came from provinces and cities located in the northern Rif region of Morocco, and they blame the spread of jihadism on the Rif's economic woes and substandard social conditions.
The study further notes that Spain's north African enclaves of Ceuta and Melilla are the biggest hub of jihadist activity on Spanish territory. The cities are the birthplace of almost 73 percent of all detainees who were convicted of jihadist terrorism or who died in suicide attacks in Spain in the time period studied.
Further, the authors postulate that jihadists' involvement in terrorist activities comes in response to spatial segregation and social marginality as well as, unemployment, illiteracy, delinquency, and the lack of urbanization, which denotes an effective absence of state authority in both cities.
In mainland Spain, Catalonia, especially Barcelona, was also recognized as a jihadi hotspot. Of all foreign jihadists arrested across Spain, 14.3 percent were detained within this metropolitan area.
The Spanish think thank recognizes that Catalonia is increasingly known as a centre of extremism, with nearly one third of ISIS-linked arrests in Spain made there. Furthermore, Spanish authorities identified the region as a "major Mediterranean centre of radical Islamist activity" and a "magnet for terrorist recruiters," such as al Qaeda and Ansar al-Islam.
The study notes that four out of 10 jihadists sentenced or killed in Spain in the selected time period had resided in Catalonia.
Extremism thwarted in the homeland
Although a large majority of the jihadists in Spain are currently Moroccans or second generation descendants of Moroccan immigrants, the authors indicate that it is easier for someone of Moroccan origin to engage in terrorist activities if he/she resides in Spain than in Morocco, due to Morocco's relative success in containing its own domestic jihadism threat.
In the aftermath of the 2003 suicide bombings that occurred in multiple locations in Casablanca, Morocco has devoted considerable resources to preventing t violent Islamism at home by implementing a mixture of tight security measures, in-depth intelligence gathering, and religious reforms.
Morocco strengthened security at borders and implemented anti-terrorism laws, imposing heavy jail terms (up to 20 years) and fines on people returning from the Islamic State battlefields in Syria and Iraq. Morocco's counter-terrorism strategy may make it difficult for jihadi groups to operate in the country.
Issandr el-Amrani, North Africa director at the International Crisis Group, told the Financial Times last year that "Morocco has been very successful at driving deep underground any major al Qaeda or ISIS group."
"There hasn't been a single successful attack since the formation of ISIS [in 2014]. Moroccan jihadis have largely gone to fight abroad, rather than stay at home because the security lockdown is too pervasive," el-Amrani said.
However, the prevalence of Moroccan expats among the perpetrators of high-profile attacks sparked concerns in recent years that the country is becoming a breeding ground for jihadists.
Elcano claims this "implies that an existing problem in Morocco is projected on our country [Spain]," recalling that eleven of the twelve suspected accomplices in the Barcelona and Cambrils attacks which killed fifteen people on August 17, 2017, were Moroccan-born or of Moroccan descent, and the twelfth was from the Spanish enclave of Melilla, according to Spanish authorities.
Abdelhak Khiame, head of Morocco's Central Bureau of Judicial Investigations, believes the reasons for radicalization are far from being related to the jihadis' birthplace but rather to the environment in which they were raised. Khiame told the BBC two years ago that the radicalisation of Moroccan youths in Europe was "due to factors in the countries where they live."
"Yes, these people have Moroccan roots but they were born, grew and acquired values from Western countries," he said.
Full report at:
https://www.moroccoworldnews.com/2018/05/245988/morocco-a-breeding-ground-for-spains-jihadi-terrorists/
--------
Russian helicopter crashes in Syria, killing both pilots
May 09, 2018
MOSCOW - A Russian helicopter crashed in Syria late on Monday killing both pilots, Moscow's defence ministry said in a statement carried by news agencies. "A Russian Ka-52 helicopter crashed while on a routine flight over the eastern regions of the Syrian Arab Republic. Both pilots were killed," the statement said, quoted by the TASS news agency. It added that the incident "may have been due to a technical malfunction" and that a rescue team recovered the bodies. The incident is the Russian army's second deadly crash in Syria in less than a week. On May 3, a Russian fighter jet crashed after taking off from an airbase, killing both pilots.
https://nation.com.pk/09-May-2018/russian-helicopter-crashes-in-syria-killing-both-pilots
--------
Arab World
Muslim minority communities meet in UAE to talk challenges
May 8, 2018
ABU DHABI, United Arab Emirates — The United Arab Emirates hosted the start of a two-day forum on Tuesday for Islamic community leaders from countries around the world where Muslims are minorities.
Several hundred people attended the forum in the UAE's capital of Abu Dhabi to network and discuss challenges around issues of Islamophobia, integration and extremism.
Muslim community leaders attending the summit came from countries as far as Venezuela and Vietnam, where Muslims are minorities. The forum also hosted speakers from international organizations, like the United Nations, and members of other faiths, such as Buddhism and Christianity, to deepen discussions on pluralism and tolerance.
With more than half a billion Muslims living in countries where they are a minority, spokesperson for the International Muslim Communities Conference, Fawziya Al-Ajamawi, said it's important to combat misunderstandings and portray Islam "as a religion of forgiveness and love."
"The biggest issue we face in Europe is the growth of Islamophobia and the fear of Islam and Muslims because, daily, the news shows stories of bombings and terrorist activities," she said.
"We are trying to correct this picture that taints the image of Muslims," Al-Ajamawi added.
Canadian attendee, Muhammad Robert Heft, said the conference in Abu Dhabi was an opportunity to meet other Muslim community leaders from different backgrounds and walks of life to understand the issues they face.
"I think it's important to sort of get outside your bubble and box. I mean I'm in Toronto, Canada so when you come to a place like this, you get a lot more and a wider perspective about what's happening in life, especially outside of, you know, my circle," he said.
Heft said he converted to Islam 20 years ago at the age of 25. He is now founder and president of Paradise Forever, an organization that works with Muslim converts in Canada and is funded by UAE Vice President and Dubai ruler Sheikh Mohammed bin Rashid Al Maktoum. He's counseled Canadian converts to Islam who are at risk or have been radicalized.
He said one of the challenges Muslim minorities face when living abroad is integration without compromising one's religious principles.
"It's finding that balance," Heft said. "Let's try to find that common ground and live and let live."
Nurdine Aiuba Dauda came to the conference from Mozambique. He says he memorized the Quran by age 15 and studied Arabic and Islam in Sudan and Saudi Arabia. He now preaches in mosques and works with Muslim youth in his home country, where Christianity is also widely practiced.
He says the challenges facing Muslims in Mozambique include poverty, unemployment and access to education.
"There aren't enough universities and high schools. There are youth who study under trees," he said.
Al-Ajamawi, the conference spokesperson, says the inaugural forum is just the start of what could be an annual event to bring together leaders of Muslim minority communities.
Meanwhile, Turkey, which tolerates and even supports some Islamist groups like the Muslim Brotherhood that the UAE has outlawed, hosted its own summit for Muslim minorities last month with President Recep Tayyip Erdogan addressing attendees and urging unity in the face of religious extremism and anti-Muslim hate crimes.
https://www.washingtonpost.com/world/middle_east/muslim-minority-communities-meet-in-uae-to-talk-challenges/2018/05/08/ad1dd480-52e4-11e8-a6d4-ca1d035642ce_story.html?noredirect=on&utm_term=.b9a8c59b0656
--------
Iraq's Sunnis Voting Without Hope in First Election Since Islamic State
May 8, 2018
TIKRIT/MOSUL, Iraq (Reuters) - At the gates of Tikrit under a giant billboard of a Shi'ite militia commander, hundreds of Iraqi Sunni Arabs wait in the scorching sun for hours to be searched before being let into the city that was once the power base of Saddam Hussein.
Treated as Islamic State sympathizers by Iraq's Shi'ite dominated security forces and militias, the Sunnis near Tikrit say they feel disillusioned and alienated ahead of a May 12 election to elect a new prime minister.
Under Saddam, power was concentrated within Iraq's minority Sunni community but the tables turned in 2003 with the U.S.-led invasion that toppled the dictator and ushered in Shi'ite dominance, and a cycle of bloodletting and revenge.
Six months after the defeat of Islamic State, Iraq's Sunni Arabs are at their lowest point yet.
Almost 2.3 million remain displaced, while others linger in prisons or without work in half-ruined cities - all collectively suspected of ties to the hardline Sunni militants.
Shujaa Mohammed, 35, a former army bomb disposal expert from Tikrit, said he went to Baghdad when Islamic State seized the city in 2014, offering to help the authorities fight back.
"The commanders said you're from Tikrit, you're all Islamic State. I told them: 'Check our records and punish us if we are'. They just stopped paying our salaries," said Mohammed, who plans to put a large X over the entire ballot paper on Saturday.
Despite the widespread disillusionment, many Sunnis say they do want their voices heard, even if that means spoiling their ballots or backing a candidate they have no faith in.
Interviews with dozens of voters, candidates and local officials in three Sunni provinces suggest the community is planning to turn out in high numbers on Saturday though few believe the election will do much to improve their fate.
"I will vote, but I don't have hope that anything will change," said Ghufran, a 25-year-old pharmacist in Mosul who declined to give her full name for fear of reprisals.
DEFYING THREATS
Ghufran is one of thousands to have returned since Mosul was retaken from Islamic State in July, despite the difficulties of living among "rubble and checkpoints".
Even before Islamic State seized it 2014, Mosul had been a stronghold for Islamist militants who threatened to kill anyone who voted in the first elections after Saddam's fall.
Falah Mohammed braved the intimidation to work on the election in 2010, but stayed away in 2014 after Islamic State threatened his family.
This time he will defy the latest threats from Islamist militants who have warned Sunnis not to vote, despite having lost control of the city.
"The climate of fear is over," said 41-year-old Mohammed, who, like many of his neighbors, will vote despite his disdain for the candidates. "It's our duty to vote."
The determination to vote in the absence of a belief anything will change was echoed across Mosul, the capital of Nineveh province where more than 900 candidates from over 30 electoral lists are running for just 31 parliamentary seats.
Sunnis have long complained about rampant discrimination at the hands of Shi'ite-led governments and security forces since 2003, though some concede there have been improvements since Prime Minister Haider al-Abadi took over four years ago.
Unlike his predecessor Nuri al-Maliki, who was seen as overtly sectarian, Abadi has some support among Sunnis who credit him with freeing them from Islamic State and could endorse his re-election bid.
"We don't trust the current politicians but I'd vote for Abadi. He liberated Mosul," said Fatouma Badran, 40, in the Hammam al Alil refugee camp south of the city.
Abadi's Victory Alliance list is the only one running in all 18 provinces. He has been campaigning across Iraq and his visits to Sunni heartlands have been well received.
Others in Mosul, such as 31-year-old Ali Fares, say they could never vote for the leaders they blame for recklessly battering their city in the battle to oust Islamic State.
"They all destroyed Mosul," said Fares in a makeshift tea shop in the heart of the Old City. "Instead of spending millions of dinars on campaign posters, they should rebuild houses."
DISPLACED VOTERS
Many of those displaced by war have spent months or years in camps, but some live in informal settlements, as their former homes are no long habitable, or their areas not yet secure.
In a charred, multi-story garage full of blown-up cars in Tikrit, hundreds have set up their own informal camp, where families are divided by simple hanging sheets.
Here, not everyone wants to vote. Rahman Mohsen, a 47-year-old former taxi driver, said he returned home to Baiji after Islamic State was driven out but his house had burnt down.
So he came to Tikrit instead and ended up in the garage, and is angry with politicians for not doing more to help.
"We only see them during elections, after elections we never see them again. Not a single official has visited us. The children have developed scabies and lice," he said pointing to one of his young sons with a visible bald spot. "We survive on charity ... thank God, at least there is a ceiling."
In the Amriyat al-Falluja (AAF) complex west of the capital Baghdad, the only things more abundant than tents are campaign posters - though most families in the camp are using the structures displaying the candidates to hang their laundry.
Jamal Khalaf plans to vote for a candidate who he says helped camp residents with much needed supplies. But, like most people interviewed by Reuters in the camp, he hasn't got a voting card and believes this will bar him from participating.
"Islamic State punished those who had voting cards so we got rid of them," he said. Khalaf said it would cost him 20,000 Iraqi dinars ($16) to hire a car to go and get a new voting card, money he and thousands of others in camps do not have.
Camp residents are allowed to vote through a system called "conditional voting" where they only need to show documents that confirm their identity and that they live in the camp, but many were unaware of the process.
Voters in camps and rural communities across the mainly Sunni provinces of Anbar, Salahuddin and Nineveh also said several Shi'ite militias had threatened to press terrorism charges against their youths unless specific candidates won.
Another problem for the Sunnis is that unlike Iraq's Kurds and Shi'ite Arabs, they lack a strong national leadership or party structure meaning the electoral base of their politicians is largely provincial or tribal in nature.
In some regions, such as Tikrit, that vacuum is felt particularly acutely.
"Since the occupation in 2003 we have not had any representative from Tikrit in the provincial council or parliament. Because Saddam was from Tikrit. They say in Baghdad we ruled Iraq for 35 years and it's enough," said Najeeb Saeed, a 46-year-old street trader.
Sunnis mostly did not engage in the political process after 2003. Some considered it born out of an illegal occupation while many would-be leaders were banned for belonging to Saddam's Baath party.
Many feel the Sunni politicians who have engaged in politics since the fall of Saddam are collaborators, just out for personal gain.
Full report at:
https://www.usnews.com/news/world/articles/2018-05-08/iraqs-sunnis-voting-without-hope-in-first-election-since-islamic-state
--------
Hezbollah Victory in Lebanon's Parliament Shakes US, Allies
May 09, 2018
Hezbollah and its political allies won more than half the 128 seats, giving the resistance movement the power to block any attempt by its foreign and domestic opponents to force the group to disarm.
Lebanon's Interior Ministry has announced the names of the winning candidates in Sunday's parliamentary elections. According to the vote count, Hezbollah and its allies namely will form the majority in parliament. The group's allies include the Amal Movement led by Parliament Speaker Nabih Berri and the Christian Free Patriotic Movement founded by President Michel Aoun.
Lebanese Prime Minister Saad al-Hariri, an ally of Washington and Riyadh, had also announced that his party has lost a third of seats in the parliamentary elections, stressing that the international community should look at the results of Lebanon's election in a "very positive way".
Before the official results were announced, supporters of the major parties started celebrating, driving through Beirut and other cities in cars decked out with party flags and firing guns in celebration.
The secretary general of the Lebanese Hezbollah resistance movement Sayed Hassan Nasrallah has lauded ensuring an atmosphere of calm and security for the country's general elections as a national achievement, describing the results as a major victory for the resistance group.
Nasrallah has hailed the vote results as "a great moral and political victory for Hezbollah, which protects the country", emphasizing that Hezbollah needs a strong representation in the parliament in order to fight corruption, honor its promises and build Lebanon.
"The United States and some Persian Gulf states resorted to smear campaign in a bid to poison public opinion towards Hezbollah. Their efforts, however, ended in failure," he pointed out.
Nasrallah has also warned against threats being made by Israeli officials against Syria, Lebanon and the Islamic Republic of Iran, stressing that they were worrisome for Middle East nations.
Hezbollah maintains Lebanon's most powerful military force and has deployed thousands of its forces to neighboring Syria to fight against terrorist groups such as ISIL and al-Nusra Front along with the army of President Bashar al-Assad.
Full report at:
http://en.farsnews.com/newstext.aspx?nn=13970219000208
--------
Iran used accord to sow discord, says Saudi Arabia
May 09, 2018
RIYADH: Saudi Arabia has welcomed President Trump's decision to withdraw the United States from the nuclear agreement with Iran, saying it would work with the United States and the international community to address Tehran's nuclear programme as well as its ballistic missile programme and support of militant groups in the region.
"Iran used economic gains from the lifting of sanctions to continue its activities to destabilise the region, particularly by developing ballistic missiles and supporting terrorist groups in the region," said a foreign ministry statement.
It confirmed "the need to deal with the danger that Iran's policies pose to international peace and security through a comprehensive view that is not limited to its nuclear programme but also includes all hostile activities" in the region.
Full report at:
https://www.dawn.com/news/1406516/iran-used-accord-to-sow-discord-says-saudi-arabia
--------
Tahrir Al-Sham Hay'at Drives Rival Terrorists out of More Regions in Northwestern Syria
May 08, 2018
Tahrir al-Sham gunmen struck Faylaq's base in the town of Jarbanoush in Northern Idlib and captured it.
Tahrir al-Sham's attack came after one of its members was assassinated by unknown raiders' gun fire in Jarbanoush.
Tahrir al-Sham drove Faylaq members from Jarbanoush and set up new checkpoints in the region.
In a similar development last month, Syria's Tahrir Front stormed the positions of Tahrir al-Sham in Western Aleppo and managed to capture five villages and towns, including the towns of Taqad and Ajel.
Also, the Front kept its gunmen on alert in the town of al-Abzamou in Western Aleppo and the town of Tal Adah in Northern Aleppo.
Full report at:
http://en.farsnews.com/newstext.aspx?nn=13970218001161
--------
Syrian Army Strikes Terrorist Centers in Hama, Idlib, Aleppo Provinces
May 08, 2018
The army's artillery and missile units opened heavy fire at the movements and positions of the Al-Nusra in the towns of al-Latamina and Kafr Zita and their outskirts and in the villages of al-Sayyad, Latmin, al-Zakah and al-Arba'een in Northern Hama and Tal Aas region in Southern Idlib.
Also, other units of the army engaged in fierce clashes with the terrorist group in Tal Mosayebeen region in Northern Aleppo and near Mariwadah in Southern Aleppo.
The Al-Nusra's positions and military hardware were destroyed and a number of its gunmen were killed or wounded in the army attacks.
Field sources reported on Monday that the Syrian Armed forces targeted terrorists' positions in Northern Hama regularly to pave the ground for an imminent large-scale operation in the region,.
The sources said that the army's artillery and missile units as well as the Air Force were pounding terrorists' strongholds, headquarters and supply routes of the militants, to weaken their defense capabilities ahead of a large-scale operation by the government forces in Northern Hama.
Full report at:
http://en.farsnews.com/newstext.aspx?nn=13970218001026
--------
Ankara-Backed Militants Killed in Infighting among Rival Groups in Northern Syria
May 08, 2018
The Kurdish-language Hawar news reported that Soqour al-Jabal and Sultan Murad terrorist groups, affiliated to the Turkish army, exchanged heavy fire in al-Qandoureh region in Jarabulus, leaving casualties on both warring sides.
Also, Hawar news said that the infighting in Afrin region is due to rival militants' differences over distribution of assets they have looted from civilians' houses and shops.
In the meantime, the Russia-run Humeimim airbase cautioned of stealing and looting civilians' assets in Afrin region, and underlined that control of Afrin region should be handed over to the Syrian government.
Hawar news quoted well-informed sources in Shih region in Afrin as reporting on Saturday that the army took into captivity a sum of 3,000 civilians in several villages in Shih and transferred them to the village of Mirkan in Mobata region.
Hawar news further said that some of the jailed civilians were transferred to the village of Qarmitlaq and some others were sent to Turkey to be kept in detention centers there.
It further said that the captured civilians were tortured severely by the army and its allied militants, adding that the Turkish soldiers were shooting around blindfolded captives to scare them.
In the meantime, a local source on Bolboleh region said that the Ankara-backed militants forced villagers in Khalika to leave their houses to replace them with almost 2,000 militants and their family members that had left Douma region in Damascus province under an evacuation agreement with the Syrian Army.
Full report at:
http://en.farsnews.com/newstext.aspx?nn=13970218001110
--------
Egypt refers 555 ISIS Sinai suspects to trial
8 May 2018 Text size A A A
Egypt's public prosecutor has referred to military trial 555 people accused of belonging to a branch of the ISIS group in the Sinai Peninsula, a judicial official said Tuesday.
The 555 were alleged to have formed 43 cells as part of Wilayat Sinai, "whose elements carried out 63 terrorist operations", the official said, referring to the group that pledged allegiance to ISIS.
They were accused of murder and the attempted killing of officers and personnel of the armed forces and police in North Sinai province.
Out of the 555, 216 would appear in court, while 339 would be tried in absentia, according to the official.
In the latest verdict, a military court sentenced 36 people to death in April on accusations they were involved in attacks against churches, requesting the opinion of Egypt's grand mufti, as required by law.
The opinion of Egypt's highest religious authority is solicited whenever a death sentence is passed, but it is not legally binding.
The attacks, claimed by ISIS, killed at least 80 people.
Egypt has been hit by significant militant attacks in recent years, especially after Muslim Brotherhood president Mohamed Morsi was toppled following mass protests against his rule.
On February 9, the military launched an operation against ISIS's affiliate in North Sinai.
Full report at:
https://english.alarabiya.net/en/News/middle-east/2018/05/08/Egypt-refers-555-ISIS-Sinai-suspects-to-trial.html
--------
Riyadh 'supports and welcomes' Trump's JCPOA move: Saudi Foreign Ministry
May 8, 2018
Saudi Arabia has said it "supports and welcomes" US President Donald Trump's decision to pull out from the Joint Comprehensive Plan of Action (JCPOA.)
"The kingdom supports and welcomes the steps announced by the US president towards withdrawing from the nuclear deal... and reinstating economic sanctions against Iran," said a statement released by the Saudi Arabian Foreign Ministry on Tuesday.
The statement further claimed Iran was "taking advantage of the revenue generated by the lifting of the sanctions to destabilize the region."
Riyadh's allies in the Persian Gulf, the United Arab Emirates and Bahrain, also issued statements voicing support of Trump's decision.
Israeli Prime Benjamin Netanyahu announced that the Tel Aviv regime "fully supports" Trump's "bold" withdrawal from Iran deal.
"For months now, Iran has been transferring lethal weaponry to its forces in Syria, with the purpose of striking at Israel," Netanyahu said. "We will respond mightily to any attack on our territory," he further claimed.
Earlier in the day, Trump announced his decision to withdraw the United States from Iran's nuclear deal with the world powers and re-impose sanctions against the Islamic Republic.
Trump said that after consulting with US "friends" across the Middle East, his country would "not be held hostage to nuclear blackmail."
The announcement came despite massive efforts by the European allies of the US to convince Trump to stay in the 2015 deal, known JCPOA, reached between Iran and the P5+1, five permanent members of the UN Security Council – the US, France, Britain, Russia and China – plus Germany.
Full report at:
http://www.presstv.com/Detail/2018/05/08/561079/saudi-arabia-us-trump-jcpoa
--------
Syrian air defences down two Israeli missiles close to Damascus
May 8, 2018
Israeli missiles have targeted Syrian army positions in the Kisweh area south of the capital city Damascus.
According to Syrian state news agency SANA on Tuesday, Syrian air defenses downed two Israeli missiles in the Kisweh region.
The attack took place shortly after Israel instructed local authorities in the "unlock and ready (bomb) shelters" in occupied Golan Heights as US President Donald Trump's announced the US' departure from the JCPOA.
"I am announcing today that the United States will withdraw from the Iran nuclear deal," Trump said Tuesday in a televised address from the White House. "This was a horrible one-sided deal that should have never, ever been made."
In April Syria announced that several of its military bases located in the provinces of Hama and Aleppo have come under missile fire.
Over the past few years, the Israeli military has launched sporadic attacks against various targets on Syrian soil, in assaults slammed by Syria as attempts to boost terrorist groups who have been suffering heavy defeats on the battlefield with Syrian government forces.
Full report at:
http://www.presstv.com/Detail/2018/05/08/561077/syria-israel-missile-trump
--------
Southeast Asia
Malaysia's Crucial Election and Its Islamic Sideshow
Sharaad Kuttan
May 9, 2018
There are four major conversations that underscore Malaysian politics today and will shape the outcome of the upcoming general election.
The first is leadership, well telegraphed in the media, which pits Najib Razak – the incumbent of six years from the Malay nationalist party UMNO – against Mahathir Mohammed, the 92-year-old former prime minister whose two decade-long administration put the country on the world map. Mahathir is the candidate of the united opposition Pakatan Harapan.
The second is the perception about the role of government in the lives of citizens and whether the raft of subsidies, currently being dismantled, should remain large or should diminish in order to keep this manufacturing, export-orientated economy on an even keel.
The third is the place of the relatively less populated, but resource-rich states of Sabah and Sarawak in the country's East that feel they have been neglected because in the electoral calculus they became "safe deposits" for the peninsular-based party of Najib Razak and the coalition he leads, Barisan Nasional, or National Front.
Finally, and arguably the most crucial for the fabric of Malaysia's Muslim dominated but significantly multi-ethnic and multi-racial society, is the Islamic political imaginary – i.e. how those wanting a greater role for their religion, plan to push that agenda in this constitutionally secular country.
The leading voice in this conversation is the Malaysian Islamic Party, known by its acronym PAS, which governed the northern peninsular state of Kelantan for decades before joining the federal opposition coalition to create the most formidable challenge to the National Front, which has controlled Malaysia since independence in 1957.
However, after two successful electoral cycles in which it joined forces with other anti-establishment political parties to capture two of the most economically advanced states in the federation, securing the backing of urban voters and crafting a common policy platform calling for institutional reform and the end of endemic corruption, PAS broke away from the main opposition force, Pakatan Rakyat, as it was known.
PAS is now playing a high stakes game in which it openly aspires to be "kingmaker" and therefore determine the shape of governance and public policy from a minority position, a strategy that some could argue is perfectly democratic.
While critics point to the many theories as to why the PAS leadership would abandon its erstwhile partners in the democratic movement – some alleging millions have been paid to party leaders, or personal rivalries – one needn't have to look further than the vision of a full Islamic polity and Malaysia's unique political calculus to understand the actions and strategies of PAS.
In the broad conversation about Islam and its relation to politics that exists in Malaysia, PAS stands committed to the parliamentary process. This contrasts sharply with those like the local chapter of Hizbut Tahrir, who say that god's law cannot be subordinated to the parliamentary process, and, on the other end of the spectrum, those who argue that it is enough for Islamic principles to infuse governance – a position that satisfies more religiously orientated secularists.
PAS is also committed to the ethno-nationalist Malay agenda despite its assertions that there cannot be race-discrimination by a truly Islamic administration. This is, in part, a reflection of the history and social base of the party as one of the oldest political movements in modern Malaysia.
Under the leadership of the late Nik Aziz, long time chief minister of Kelantan, PAS kept its distance from UMNO. Proximity never helped it electorally and the party also had theological justification for its political cooperation with non-Muslim based and non-religious orientated Muslim parties.
With his recent passing, those eager to cooperate with UMNO on the basis of ethnic-unity gained the upper hand, and took the party in a very different direction.
While a PAS splinter party, with many charismatic Islamists leaders, has remained with the federal opposition, the departure of the mother party from the opposition coalition raises important questions about the desirability of Islamists to associate their struggle with the broader challenge of democratisation.
The sources of the political conundrum for Islamists lies in the formation of the current federal opposition configuration, which began with the crisis in the ruling party in the late 1990s following the Asian financial crisis.
However, after two successful electoral cycles in which it joined forces with other anti-establishment political parties to capture two of the most economically advanced states in the federation, securing the backing of urban voters and crafting a common policy platform calling for institutional reform and the end of endemic corruption, PAS broke away from the main opposition force, Pakatan Rakyat, as it was known.
PAS is now playing a high stakes game in which it openly aspires to be "kingmaker" and therefore determine the shape of governance and public policy from a minority position, a strategy that some could argue is perfectly democratic.
While critics point to the many theories as to why the PAS leadership would abandon its erstwhile partners in the democratic movement – some alleging millions have been paid to party leaders, or personal rivalries – one needn't have to look further than the vision of a full Islamic polity and Malaysia's unique political calculus to understand the actions and strategies of PAS.
In the broad conversation about Islam and its relation to politics that exists in Malaysia, PAS stands committed to the parliamentary process. This contrasts sharply with those like the local chapter of Hizbut Tahrir, who say that god's law cannot be subordinated to the parliamentary process, and, on the other end of the spectrum, those who argue that it is enough for Islamic principles to infuse governance – a position that satisfies more religiously orientated secularists.
PAS is also committed to the ethno-nationalist Malay agenda despite its assertions that there cannot be race-discrimination by a truly Islamic administration. This is, in part, a reflection of the history and social base of the party as one of the oldest political movements in modern Malaysia.
Under the leadership of the late Nik Aziz, long time chief minister of Kelantan, PAS kept its distance from UMNO. Proximity never helped it electorally and the party also had theological justification for its political cooperation with non-Muslim based and non-religious orientated Muslim parties.
With his recent passing, those eager to cooperate with UMNO on the basis of ethnic-unity gained the upper hand, and took the party in a very different direction.
While a PAS splinter party, with many charismatic Islamists leaders, has remained with the federal opposition, the departure of the mother party from the opposition coalition raises important questions about the desirability of Islamists to associate their struggle with the broader challenge of democratisation.
The sources of the political conundrum for Islamists lies in the formation of the current federal opposition configuration, which began with the crisis in the ruling party in the late 1990s following the Asian financial crisis.
https://thewire.in/world/malaysia-general-election-islamic-sideshow
--------
Indonesian court deals blow to banned hard-line group
May 9, 2018
An Indonesian court has rejected a lawsuit from a hard-line Muslim group appealing against its disbandment by the country's the Law and Human Rights Ministry.
The ruling was yet another nail in the coffin of Hizb ut-Tahrir Indonesia (HTI), which openly advocated the setting up of a caliphate in Indonesia.
Hizb ut-Tahrir was ordered disbanded on July 17 last year under a newly introduced law regulating mass organizations.
In its ruling on May 7, the Jakarta Administrative Court agreed with the government that the activities of the group were against the national secular ideology of Pancasila or Five Principles.
"We reject the petition of Hizb ut Tahrir and it must not conduct any activities from now on," said Tri Cahya Indra Permana, head of the judicial panel.
He said evidence proved beyond doubt that HTI was looking to undermine the state ideology, citing a "caliphate conference" the group organized in 2013.
The HTI was not [an Islamic] congregation but a political party," the panel said.
More than 800 group members following the hearing outside the court responded angrily to the ruling, shouting "caliphate, caliphate, caliphate."
HTI chairman Rochmat S. Labib said the group's activities were in line with Islamic teaching.
"We are very disappointed with the decision," Labib told ucanews.com, and accused the court of committing a big mistake because it is clear that establishing a caliphate is part if Islamic teaching.
"Caliphate is part of Islam and it is in the Quran," he said.
Abu Jibril, a Muslim cleric, agreed.
"A caliphate is part of Islamic teaching and we have an obligation to teach that", he said.
Muhammad Junaidi, a company employee in Jakarta said he welcomed the ruling.
"I disagree with presence of this organization. Indonesia is a multi-religious and multi-ethnic country he said when asked his thoughts.
Azas Tigor Nainggolan, from the human rights desk of the Indonesian bishops' Commission for Justice, Peace and Pastoral for Migrant-Itinerant People said HTI violated the mass organization law, which obliges organizations to respect the state philosophy.
"In future, the government should be careful when approving the establishment of mass organizations so that they do not threaten national security," he said.
It was not clear May 8 whether HTI would appeal the ruling in the Constitutional Court.
Meanwhile, police have dropped a defamation charge against controversial Muslim cleric, Muhammad Rizieq Shihab.
The leader of Islamic Defenders Front (FPI) — Indonesia's most notorious hard-line group — was accused of insulting the country's secular ideology Pancasila and the country's founding father the late president Soekarno.
Soekarno's daughter, Sukmawati Soekarnoputri, filed a lawsuit against Shihab in January last year.
He was accused of saying in a sermon that in Soekarno's Pancasila, "God is placed in the ass," when God should be in the head.
Police said there was not enough evidence to charge him.
Petrus Selestinus, a Catholic and chairman of a lawyers' group set up to defend Pancasila, expressed disappointment at the decision, saying it will encourage groups looking to undermine secularism in Indonesia.
"The termination of this case will provide fresh fuel for hardliners to act arbitrarily," he said
Shihab, who fled to Saudi Arabia more than a year ago, is still wanted in Indonesia on a pornography charge related to lewd text messages allegedly exchanged between him and a woman who was not his wife.
Full report at:
https://www.ucanews.com/news/indonesian-court-deals-blow-to-banned-hard-line-group/82248
--------
5 officers, 1 inmate dead in Indonesia detention centre riot
May 9, 2018
Five officers and one prisoner were killed in a riot at a police detention center in a city near Indonesia's capital that authorities allege was earlier being targeted by Islamic militants, an official said today.
The riot happened in Depok, on Jakarta's southern outskirts, where four days earlier police arrested three Islamic militants they say planned to attack the headquarters and other police stations in the same town.
The Islamic State group's Amaq News Agency published a report saying the fighting that broke out at the prison late Tuesday was between its fighters and the counterterrorism squad.
A counterterrorism investigator said in a text message that six officers had been taken hostage by the inmates, and five of them were killed. One other officer was still being held captive.
Four police officers were injured and were being treated at a hospital, said the investigator, who did not want to be named because he was not authorized to speak to reporters.
Earlier in the day, national police spokesman Muhammad Iqbal told reporters outside the headquarters of the elite Mobile Brigade police in Depok that some people from both sides were injured, but didn't give a number and refused to provide more details.
Unconfirmed reports said the riot began when some terrorist detainees tried to grab weapons from guards on the counterterrorism squad.
"It was just triggered by a trivial thing, about food from families," Iqbal said. The inmates reportedly pushed an iron trellis until broken before taking long-barreled weapons and breaking through the ammunition room inside the detention building. That led to a shootout between the inmates and counterterrorism officers.
The rioting happened four days after the arrests of three Islamic militants who planned to attack the headquarters and other police stations in the same town.
Indonesia, the world's most populous Muslim nation, has carried out a sustained crackdown on Islamic militants since the 2002 Bali bombings by Jemaah Islamiyah network that killed 202 people, mostly foreigners.
Full report at:
http://www.business-standard.com/article/pti-stories/5-officers-1-inmate-dead-in-indonesia-detention-center-riot-118050900412_1.html
--------
Indonesian Pastor Sentenced to 4 Years in Prison for Evangelizing to Muslim Cab Driver
May 8, 2018
An Indonesian court sentenced a Protestant pastor to four years in prison and slapped him with a hefty fine on Monday simply because he shared his faith with a taxi driver.
The Jakarta Post reports that a district court in Tangerang, Java, issued the four-year sentence and a fine equivalent to $3,565 to Rev. Abraham Ben Moses, a well-known former Muslim apologist.
Moses, who was arrested last December, was detained after a video was widely circulated that showed him sharing his faith with a Muslim taxi driver.
According to Voice of the Martyrs, Moses can be heard in the video speaking about the Muslim prophet Muhammad and his teaching on marriage. In the video, he is also reportedly shown asking the driver to accept Christ.
Because of the video, Muhammadiyah, one of Indonesia's largest Islamic organizations, filed a blasphemy complaint against Moses.
According to the Jakarta Post, the presiding judge, Muhammad Damis, stated that Moses was convicted under an Electronic and Information Transactions Law on grounds that he spread information that was intended to incite hatred on the basis of religion.
Moses' legal team will reportedly file an appeal.
"The sentence is too heavy for the defendant," Maxie Ellia, one of the evangelist's lawyers, said, according to the Jakarta Post.
According to the United States-based watchdog group International Christian Concern, the sentencing was praised by Muhammadiyah.
"This decision should be appreciated and should serve as a valuable lesson for all parties," Muhammadiyah official Pedri Kasman was quoted as saying.
Indonesia, where eight out of 10 citizens are Muslim, ranks as the 38th worst country in the world when it comes to Christian persecution, according to Open Doors USA's 2018 World Watch List.
In a video testimony shared by Voice of the Martyrs earlier this week, Moses stated from prison that the "strength that I get is from Jesus who strengthens me."
"He is a very good friend. He never leaves us. His promise is 'Yes' and 'Amen,'" Moses said through his translator. "He will take care of you and your whole family."
Other Christians have also been victimized by the nation's blasphemy law. Most notably, former Jakarta Gov. Basuki Tjahaja Purnama, a Christian also known as "Ahok," was accused of blasphemy during the middle of his re-election campaign after a doctored video emerged in the fall of 2016. He was sentenced last May to two years in prison.
"The Indonesian government should revisit the country's blasphemy law, as it is increasingly being exploited by radical Muslim groups to target individuals who they find to be offensive and theologically 'out-of-line,'" ICC Regional Manager Gina Goh said in a statement. "To honor religious freedom as enshrined in Indonesia's constitution, the government must respect all religions and stop criminalizing Christians when they are merely exercising their right to free speech."
Open Doors USA, which is a prominent persecution watchdog organization, reports that the situation for Christians in the past several years in Indonesia has "deteriorated."
Full report at:
https://www.christianpost.com/news/indonesian-pastor-sentenced-to-4-years-in-prison-for-evangelizing-to-muslim-cab-driver-223768/
--------
Amnesty International urges govt to release blasphemy convict
May 8, 2018
Amnesty International has urged the government to release Alnoldy Bahari, a farmer from Pandeglang regency in Banten, who was sentenced to five years in prison and ordered to pay Rp 100 million (US$ 7,150) by Pandeglang District Court on April 30 for blasphemy.
In November last year, Alnoldy was reported by his neighbors who accused him of insulting Islam and spreading hate speech on Facebook.
The offending statements included "I am a Muslim and I truly testify that there is no god but Allah. I have seen Allah, have you?" and "If a fake Muslim cleric has entered the political realm, then Quranic verses are not absolute truth anymore".
He was arrested in December 2017 and charged with blasphemy under Article 156(a) of the Criminal Code, and Article 28(2) of the Electronic Information and Transaction (ITE) Law.
"Having only peacefully expressed his right to freedom of thought, conscience and religion, Alnoldy Bahari is a prisoner of conscience and must be immediately and unconditionally released," Amnesty International said in an official release on Tuesday.
Amnesty International called on the authorities to immediately and unconditionally release Alnoldy and all other individuals who have been detained solely for peacefully exercising their human rights and also to repeal or amend all blasphemy provisions set out in laws and regulations, which violate the rights to freedom of expression and thought, conscience and religion.
"Also, ensure that judges and prosecutors are aware of Indonesia's international human rights obligations and the need for the application of national law to be consistent with them," it further said.
Amnesty International recorded that 11 people were convicted for blasphemy in 2017 either under the ITE Law or the Criminal Code. Alnoldy was the first to be convicted in 2018.
Full report at:
http://www.thejakartapost.com/news/2018/05/08/amnesty-international-urges-govt-to-release-blasphemy-convict.html
--------
Africa
Al-Shabaab militants kill 9 Kenyan soldiers
08 May 2018
Al-Shabaab militants from Somalia have killed nine Kenyan soldiers along the porous Kenyan-Somali border, officials revealed Monday.
The soldiers were on a patrol in Dobley, a Somali town, on their way back when their vehicle was blown up by an Improvised Explosive Device (IED) on Sunday.
Kenyan President Uhuru Kenyatta on Monday vowed that Kenya would continue its fight against the Somali-based al-Qaeda affiliated al-Shabaab militant group.
"Earlier today, I was appalled and saddened to learn that we had lost nine young patriots to a cowardly terrorist attack."
Two soldiers who were injured were taken to a local hospital before being flown to the Kenyan capital for specialized treatment.
http://www.worldbulletin.net/africa/201859/al-shabaab-militants-kill-9-kenyan-soldiers
--------
Libya's Haftar announces offensive to capture Derna
08 May 2018
Khalifa Haftar, commander of Libyan forces backed by the Tobruk-based parliament, has announced the launch of a military offensive to capture Libya's northeastern city of Derna.
Derna was captured by the Shura Council of Mujahideen after the expulsion of Daesh from the city in 2014.
In a speech delivered late Monday at the Tobruk parliament to mark the fourth anniversary of the Al-Karama military offensive, Haftar said: "We declare zero-hour to liberate the city of Derna."
"I gave strict instructions to my forces to protect civilians… and abide by international humanitarian law," the general affirmed.
Four years ago, Haftar's forces surrounded the city of Derna in a bid to capture it from the Shura Council of Mujahideen, which is described as "terrorists" by pro-Haftar forces -- a designation dismissed by the council.
"Peace efforts in Derna have reached a deadlock after more than three years," Haftar added.
Haftar went on to attribute the deadlock to "terrorist gangs" in the city, affirming that "they aim to separate the city from the [rest of the] country".
Full report at:
http://www.worldbulletin.net/africa/201862/libyas-haftar-announces-offensive-to-capture-derna
--------
Two killed as bomber targets checkpoint in eastern Libya
May 8, 2018
A bomber has attacked a checkpoint in eastern Libya held by militiamen loyal to military commander General Khalifa Haftar, killing at least two people, including a civilian.
General Al-Mabruk Sahban, a senior security official, said the attacker also killed a fighter from Haftar's self-styled Libyan National Army (LNA) when the vehicle they were driving exploded at a roadblock 90 kilometers east of Sirte.
Earlier in the day, security services had discovered another car bomb in the troubled area.
It was not immediately clear what group was responsible for the Tuesday attack.
The attack comes a day after Haftar announced the start of an offensive to "liberate" the city of Derna, which is controlled by terrorist groups linked to al- Qaeda and a coalition of extremists.
In March, the Daesh Takfiri terrorist group claimed responsibility for two attacks against LNA checkpoints that killed at least 10 people.
Last week, the terrorist group claimed an attack in Tripoli against Libya's electoral commission that claimed the lives of at least 14 people.
Haftar, a general under former strongman Muammar Gaddafi, became a major figure in Libya's politics after Gaddafi's fall and death in 2011. He has consistently opposed a government in Tripoli, which is backed by the United Nations. The 75-year-old has been backed by countries to the east of Libya, including Egypt, while governments like Algeria and Tunisia back the internationally recognized government which dominates the western territories of the oil-rich North African country.
Full report at:
http://www.presstv.com/Detail/2018/05/08/561059/Libya-Haftar-LNA
--------
Uganda: DPP Withdraws Charges Against 19 Muslims Accused of Treason
7 MAY 2018
By Godfrey Ssali
Kampala, Uganda — The Director of Public Prosecutions Mike Chibita has dropped treason charges against nineteen Muslim suspects who have been on remand at Luzira prison since 2014.
According to a withdrawal letter dated March 23, 2018, DPP says he is no longer interested in prosecuting the suspects and asked presiding High Court Judge Wilson Masalu Musene to set them free.
State Prosecutor Thomas Jatiko also dispelled fears that the suspects will be re-arrested soon after being released.
This was after nine witnesses had testified against the accused persons but the State refused to close its case, prompting the withdraw of charges against them.
Justice Masalu had now discharged all of them.
The nineteen suspects include a woman Aisha Nakasibante a sister in-law to Ugandan Austrian based cardiologist Dr. Aggrey Kiyingi .
They have been facing two counts of treason and concealment of treason, in which prosecution had alleged that they contrived a plot to over throw the government of Uganda by use of fire arms between years; 2013 and 2015 at various places in Uganda, Dubai , Kenya and Tanzania.
Full report at:
http://allafrica.com/stories/201805080188.html
--------
Somalia: Kenya Arrests Couple Linked to Al Shabaab
8 MAY 2018
Police have arrested a couple suspected to be financiers and logistical operatives for the al-Shabaab terror group.
Yassin Abdille Hussein aka Abu Sumeiya and his wife Fartun Mohammed Guleid were arrested in Eastleigh, Nairobi.
The two are also believed to be accomplices of a key al-Shabaab operative in Mandera, Abdiweli Mohamed Guleid alias Abdiweli Kamaure.
Kamaure is the mastermind behind the November 2014 Mandera bus attack where the militants killed all the non-Muslims on board the Mandera-bound bus.
The couple, from the Marehan clan, emigrated from Gedo region in Somalia and has been operating in Kenya using fake documents.
Police reports indicate that the two have various businesses whose finances are channelled to support al Shabaab activities.
The 42-year-old Hussein is a contractor who mainly operates his renovation trade in South B and parts of Eastleigh.
His wife Fartun Mohammed Guleid, 41, is a sister to Kamaure.
An inquiry into how they were able to open businesses and operate in the country under false documentation is still ongoing.
Initial reports confirm that the two have been channeling funds to Kamaure for over five years now.
Police said Kamaure joined al Shabaab in 2007 and is currently the deputy Governor of Gedo Region serving under al Shabaab head Sheikh Abdirahman Fillow.
He is said to be instrumental in the coordination of attacks by Alshabaab in Bulla-Hawa, Mandera and along the border of Mandera and Somalia.
He also also believed to be behind the deployment of militants to kill teachers and quarry workers in Mandera County.
Kamaure has also been in charge of some of the attacks by the group in Wajir.
Five wanted terrorists from Wajir identified through a police press statement last week are said to be operating under Kamaure's command.
They are Kullow Yarrow Abdi, Mohamed Ahmed Yarrow, Ahmed Dabar, Mohamed Mohamud Abdullahi and Adan Yussuf Sheikh.
Kamaure is also in charge of a recruitment cell that preys on disillusioned youth from Mandera and Wajir Counties.
He radicalizes them and facilitates their travel to Somalia for training and thereafter their return to the country where they carry out attacks.
Their targets include security Installations and vehicles and other critical infrastructure in the North Eastern and Coastal region.
Security agencies are urging the public to volunteer information that will lead to the arrest of these individuals.
The security agencies have also expressed delight at the quick action of local leaders and the public for their commitment to the fight against terrorism in the country.
Full report at:
http://allafrica.com/stories/201805080938.html
--------
URL: https://www.newageislam.com/islamic-world-news/muslims-activists-seek-space-namaz/d/115192
New Age Islam, Islam Online, Islamic Website, African Muslim News, Arab World News, South Asia News, Indian Muslim News, World Muslim News, Women in Islam, Islamic Feminism, Arab Women, Women In Arab, Islamophobia in America, Muslim Women in West, Islam Women and Feminism