New Age Islam News Bureau
13 Aug 2018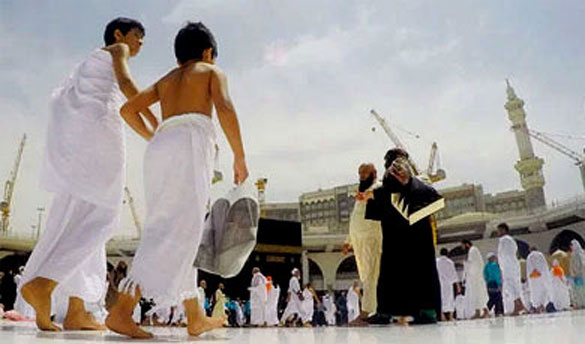 Two brothers among thousands of pilgrims perform the Tawaf. (Social media/Shutterstock)
------
• Hajj: How the True Face of Islam in Unity Is Reflected In This Once-In-A-Lifetime Journey
• Only Nizam-e-Mustafa Guarantees Strong, Prosperous Pakistan: Jamaat-e-Islami
• Triple Talaq: Withdraw Bill or Send It to Select Parliamentary Committee to Seek Opinions of Islamic Scholars, Says AIMPLB Official
• Five Men Sentenced To Death for Bangladesh 1971 War Crimes
• Report Details Horror of UAE Torture Chambers In Yemen
Arab World
• Hajj: How the True Face of Islam in Unity Is Reflected In This Once-In-A-Lifetime Journey
• Saudi Authorities Arrest another Professor in Widening Crackdown on Dissent
• Explosion at weapons depot kills 69 people in Syrian town
• Egypt police arrest six over failed church attack
• Syrian Army Completes Siege on ISIL's Last Stronghold in Sweida
• Tahrir Al-Sham Arrests More Pro-Peace Activists in Northern Syria
• Terrorist Positions in Hama Damaged in Syrian Army Artillery Attack
• Egypt Hands Muslim Brotherhood Leader Badie another Life Sentence
• Egypt Says 12 'Terrorists' Killed In Sinai Shootout
• Saudi Arabia accuses UN Security Council of 'inaction' against Houthis
--------
Pakistan
• Only Nizam-e-Mustafa Guarantees Strong, Prosperous Pakistan: Jamaat-e-Islami
• Imran's Policies to Be Based on Jinnah's Ideology: PTI Leader
• 331 MNAs Take Oath in Swearing-In Ceremony for National Assembly
• PTI moves to mend fences with opposition
• Saudi King, Crown Prince Mohammad Felicitate Imran Khan
• Election on women's seats brings in new, old faces
• No anti-Pakistan content in Afghan textbooks: writers
• One dead, 9 injured in Chaman IED blast
• Imran wants good relations with regional countries: Naeem
• Plea alleges JUI-F's Fazl of disrespecting Pakistan's ideology
--------
India
• Triple Talaq: Withdraw Bill or Send It to Select Parliamentary Committee to Seek Opinions of Islamic Scholars, Says AIMPLB Official
• Those Who Create Hatred against Muslims Are Not Aware Of Islamic History: Acharya Pramod Krishnam
• Marathas May Join Hands With Dhangars, Muslims To Press For Quota
• UP Cleric Asks Muslim Students Not To Eat Anything at Govt Schools, Apologises Later
• Two held in Hyderabad for Islamic State link, one tried to leave for Syria twice
• Muslim speakers call for greater inclusion of community in national security issues
• Civilian shot dead by terrorists in J&K's Pulwama district
--------
South Asia
• Five Men Sentenced To Death for Bangladesh 1971 War Crimes
• Myanmar Tells BD to Stop Aid to Rohingya Muslims
• Afghan forces and Taliban suffer heavy casualties in Faryab clashes
• Afghanistan sends Special Forces to Ghazni as Taliban keep up attacks
• Uzbekistan confirms meetings with Taliban reps
• Arrested and Killed: Inside the Bangladesh Prime Minister's War On Drugs
--------
Mideast
• Report Details Horror of UAE Torture Chambers In Yemen
• Netanyahu Demands 'Total' Gaza Ceasefire
• Yemeni Army Liberate Al-Durahmi in Hodeidah, Capture 100 Houthis
• Iranian forces tasked with protecting Khamenei 'deploy on Iraq border'
• Yemen: Five Houthis killed in al-Bayda amid clashes in south Hodeidah
• Netanyahu: Arab rally in Tel Aviv threatened Israel's existence
• Pieces of US-made bomb found at site of Saudi raid on Yemeni school bus: Report
--------
Europe
• Muslim Council Urges PM to Avoid Boris Johnson 'Whitewash'
• Splits deepen over British minister Johnson's burqa comments
• Islamophobic attacks on Muslim women spike after Johnson comments
• Johnson trying to reach out to fascists, racists: Expert
--------
Southeast Asia
• China Has Prevented 'Great Tragedy' In Xinjiang, State-Run Paper Says
• Perak official: Pakatan support for Malays, Islam and BM goes without saying
• Court decision in Bumiputera Christian's 'Allah' case deferred to allow engagement
• Saudi ambassador to Indonesia meets with 40 pilgrims invited by King Salman
--------
Africa
• Nigeria: Shi'ites, Threat to National Security - Islamic Scholars
• Three 'terrorists' killed, five detained in Jordan raid
• Jordan king vows to defeat terrorism after militant shoot-out
--------
North America
• Activist Disrupts Event for Muslim US House Candidates
• How Qatar is funding a high-profile lobbyist to influence US Senate elections
• US ambassador urges UK to ditch support for Iran nuclear deal
Compiled by New Age Islam News Bureau
URL: https://www.newageislam.com/islamic-world-news/hajj-how-true-face-islam/d/116117
--------
Hajj: How the True Face Of Islam In Unity Is Reflected In This Once-In-A-Lifetime Journey
August 13, 2018
RIYADH: Hajj is an epic experience that can truly change a person through a spiritual cleansing that is profound. Islam came to eliminate racism and tribalism, and in due process slavery. Hajj reflects the true face of Islam in unity, as all Muslims, regardless of their nationality or status, wear the same cloth before Allah.
This is reflected in the extremely simple clothing: Men wear two white cloths that cover their bodies, while women wear a long robe with and headscarf. (The face should be bare when performing Hajj.)
One of the aspects of Hajj is to cleanse our souls from all earthly possessions and luxuries that cling to one's heart, reminding us that we shall return to the ground from which we were created.
A vast sea of people can be witnessed walking in unison to perform the rituals. It is a place free of discrimination and filled with appreciation.
In a small spot in Makkah, close to 3 million stand in prayer before Allah, to repent from sins and gather blessings from the Almighty. At that moment when they stand together atop Arafat Mountain, it really does feel like it's a small world after all.
Togetherness, humility
Many have described their Hajj experience as life-changing. It is not easy to perform, but after completing it, it leaves you spiritually charged and more actively aware.
Hussam bin Ahmed, an organizer for one of the Hajj campaigns, speaks about how there's a sense of togetherness and humility that unites pilgrims. "The company I work with serves 150 pilgrims yearly, and this is an honor and responsibility I take seriously," he told Arab News.
"Every year we receive a large number of Hajj pilgrims, some quite famous, and every year, they surprise us with their humbleness and servitude. Many people perform Hajj (to get) spiritually close to Allah, but also to serve the pilgrims. Hajj is a time that shows the true face of Islam, where people come together and help one another. Pilgrims stand hand in hand and help one another in brotherly affection."
"It's beautiful when you see pilgrims from all over the world, who don't even speak the same language, communicate through kindness. All during Hajj we see the true face of Islam, the higher purpose of us in life in its humanitarian aspect," said Bin Ahmed.
In Hajj, the societal image of Islam is reflected in the inherited traditions since the time of Prophet Ibrahim. All forms of racism dissolved in those rituals.
The claims and the rituals were limited to words, deeds and even intentions. The chiefs did not wear clothing that distinguished them from their soldiers. Performing Hajj is a religious and moral message to the world.
Taking time to reflect on Hajj, Sheikh Adel Al-Kalbani told Arab News: "The millions of pilgrims send a message to the whole world in their discipline and in the ethics of their gathering throughout the days and nights.
A small spot that attracts millions of all the nationalities of the world. Not only that, but greetings of peace are said to one another, and if one is need, then others are hastily at their aid."
He continued, saying: "These huge masses that have good intentions and are determined to repent: It is the greater good of communities, when millions travel each year for the greatest intent, which is 'self-forgiveness.' The forgiveness of the past and reconciliation in the future."
"Hajj season is the greatest channel Muslims have to raise awareness and show the tolerance of Islam and show a different picture than that which is shown of extremism. After Hajj, Muslims from all countries in the world return to their homes and are determined to resume a new life of coexistence with others."
Moreover, Al-Kalbani says: "The Prophet (peace and blessings of Allah be upon him) said: 'Whoever performs Hajj and does not commit sin, nor disputes unjustly (during Hajj), then he returns from Hajj as pure and free from sins as on the day on which his mother gave birth to him'."
In the service of Islam
The Hajj security officers are quite exceptional, going above and beyond to make sure that pilgrims from all over the world are safe and comfortable, putting them and their needs before their own. During the 11th Hajj Is Worship and Civilized Behavior campaign, Prince Khaled Al-Faisal said: "I've been watching the security's performance during Hajj season since I was appointed the governor of Makkah, and I grow prouder each year of what they do to serve Islam, Saudi Arabia and humanity."
Performing Hajj reminds us of our humanitarian duties toward one another: That we are all one. After completing this spiritual cleansing, pilgrims continue this belief throughout their lives, as it has been engrained in them for the better.
http://www.arabnews.com/node/1355341/saudi-arabia
--------
Only Nizam-e-Mustafa Guarantees Strong, Prosperous Pakistan: Jamaat-e-Islami
August 13, 2018
LAHORE: Jamaat-e-Islami (JI) Pakistan Ameer Senator Sirajul Haq has said that the Islamic system is the only guarantee to make Pakistan strong and prosperous.
Addressing the concluding session of the JI Central Shoora at Mansoora on Sunday, Sirajul Haq said that Pakistan was established with a clear goal and objective that human beings should not be sovereign over fellow human beings and the system of life given by Allah should be supreme in this land.
However, he said that for the last seventy years, the same coterie had been ruling the country which was in fact the continuation of the East India Company. The ruling group had not only deprived the country of its ideology but had also of its geographical territory, he added.
The JI chief said that the JI was committed to safeguarding the country's ideology as well as its geographical territory and it would work out a long term planning for the security and the progress of the country.
To achieve this goal, he said, the JI would approach the people in different walks of life who wanted to safeguard the Islamic identity of the country. Besides, he said, the JI would invite the leaders of different Islamic movements in the world who were also keen for the strength and the progress of an Islamic Pakistan.
Sirajul Haq said that the country's young generation was a great asset for the JI and it would unite the youth in order to utilize their talent for the development of the country. He was sure that a grand Islamic revolution was the destiny of Pakistan.
He said the Nizam-e-Mustafa was the only way to solve the problems facing the country. He said the Islamic system was not the issue of the JI or the religious parties, it was the demand of the entire nation. He said that all those who were dreaming of a secular and liberal Pakistan would be badly disappointed.
The JI chief further said that the religious forces would protect the Islamic provisions of the constitution as also the law of the Khatm-e-Nubuwwat.
https://www.pakistantoday.com.pk/2018/08/12/only-nizam-e-mustafa-guarantees-strong-prosperous-pakistan-siraj/
--------
Triple talaq: Withdraw bill or send it to select parliamentary committee to seek opinions of Islamic scholars, says AIMPLB official
Aug 13, 2018
Bhopal: A senior All India Muslim Personal Law Board functionary on Sunday said the triple talaq bill should either be withdrawn or sent to the select committee of Parliament and the opinion of Islamic scholars be sought on it.
The Muslim Women (Protection of Rights on Marriage) Bill 2017, which was passed by the Lok Sabha in December 2017, could not be taken up on the last day of the Monsoon Session in the Rajya Sabha on 10 August due to lack of consensus among political parties on the issue.
"Our stand on the triple talaq bill is clear. Either the Centre should withdraw this bill or it should be sent to the Select Committee (of Parliament). The Select Committee should take the opinion of scholars of Islamic law," Mohammed Umrain Mahfooz Rahmani, secretary and social media desk in-charge of the AIMPLB, said in Bhopal on Sunday.
He said "in the entire world" the opinion of a community is taken whenever a law related to them is enacted.
"In our country, the (Muslim) community was not consulted before such a move. They are trying to impose their opinion," Rahmani claimed.
Speaking at a press conference in Bhopal, he also claimed that amendments regarding the provision of bail for men found guilty under the provisions of the triple talaq bill were "inadequate" and would not benefit women.
The Union Cabinet had on 9 August cleared some amendments to the draft Muslim Women (Protection of Rights on Marriage) Bill, 2017, including adding a bail provision to it.
Replying to a query on unfurling the national flag and singing the national anthem at madrassas, Rahmani said "this was out of the AIMPLB's purview".
He said the AIMPLB would extend its social media desk across the country and this would include the use of platforms like Facebook, Twitter, WhatsApp, YoutTube and Telegram.
Social media would be used to clear misconceptions that are being created regarding Islam, he said.
Rahmani was in the city to chair a meeting of information technology experts.
https://www.firstpost.com/india/triple-talaq-withdraw-bill-or-send-it-to-select-parliamentary-committee-to-seek-opinions-of-islamic-scholars-says-aimplb-official-4951551.html
--------
Five men sentenced to death for Bangladesh 1971 war crimes
2018-08-13
DHAKA, Aug. 13 (Xinhua) -- A special tribunal in Bangladesh capital Dhaka sentenced five men to death on Monday for crimes against humanity during the country's war of independence in 1971.
The International Crimes Tribunal, led by its Chairman Justice Shahinur Islam, found the suspects Md Esahaque Shikder, Abdul Gani, Md Awal, Md A Sattar Pada and Solaiman Mridha guilty of the charges brought against them.
The charges include rape, murder, confinement and torture of unarmed civilians.
According to the investigation agency of the war crimes tribunal, the accused were involved with the Muslim League and Al-Badr, an auxiliary force of the then Pakistani occupation army, in the country's Patuakhali district, some 204 km south of Dhaka.
All the accused, who are in police custody, were taken to the tribunal for verdict delivery at 10:30 a.m. local time Monday.
The verdict stated that the five convicts should be hung until they were dead.
In line with law, the death row convicts have the opportunity to appeal the decision at the Supreme Court within a month of the verdict.
After returning to power in January 2009, Prime Minister Sheikh Hasina, daughter of Bangladesh's independence hero Sheikh Mujibur Rahman, established the first tribunal in March 2010, almost 40 years after the 1971 war.
Five opposition Bangladesh Jamaat-e-Islami party leaders -- Mir Quasem Ali, Motiur Rahman Nizami, Abdul Quader Molla, Muhammad Kamaruzzaman and Ali Ahsan Mohammad Mujahid -- have already been executed for the 1971 war crimes.
Apart from them, Salaudin Quader Chowdhury, leader of ex-Prime Minister Khaleda Zia's Bangladesh Nationalist Party (BNP), was also executed for war crimes.
Muslim-majority Bangladesh was called East Pakistan until 1971. The government of Hasina said about 3 million people were killed in the war.
http://www.xinhuanet.com/english/2018-08/13/c_137387009.htm
--------
Report details horror of UAE torture chambers in Yemen
Aug 13, 2018
Over 49 detainees have been tortured to death in clandestine prisons run by the UAE in southern Yemen where brutal interrogation techniques, including physical and psychological torture, are used by Emirati forces, a report says.
The report provided by Yemeni military figures, who worked with the Saudi-led war coalition against Yemen, and obtained by Al Jazeera revealed that detainees in UAE-run jails in southern Yemen were subjected to sexual abuse by Emirati army personnel and their Yemeni surrogates.
The forces subjected the inmates to rape and electrocution in the genitals, chest and armpits, it said, adding some prisoners were physically assaulted and insulted while being hung in midair.
The sources also recounted other examples of horrors in the UAE-controlled prisons, saying electric cables were used alongside wooden bats and steel poles during interrogation sessions.
Some of the detainees were subjected to sleep deprivation while being confined to narrow spaces with poor hygienic conditions and limited air ventilation, according to the report.
This form of torture was accompanied for some of the inmates by sessions where their skins were lashed with whips and their injuries were subsequently covered in salt. Others, it said, had industrial nails inserted into their fingers and toenails.
According to the report, more than 49 people were tortured to death and five gravesites were used to bury the deceased.
On June 20, the Associated Press reported that Emirati officers had been torturing and sexually assaulting hundreds of captives at UAE-run prisons in southern Yemen. According to the report, the UAE runs a network of at least 18 secret prisons.
A month later, Amnesty International also reported that the UAE and its allied local militia had been torturing captives at a network of clandestine prisons in southern Yemen.
According to the new report obtained by Al Jazeera, the number of UAE-run secret prisons is 27, including sites in Hadramout, Aden, Socotra, Mayyun Island, as well as a facility in Eritrea where the UAE maintains a military base.
Saudi Arabia and some of its vassal states, including the UAE, launched a brutal war against Yemen in March 2015 in an attempt to reinstall a former Yemeni regime which had been an ally of Riyadh.
The offensive initially consisted of a bombing campaign but was later coupled with a naval blockade and the deployment of ground forces into Yemen. Neither the war nor the blockade has been mandated by the United Nations.
Beside killing more than 14,000 people and causing famine across Yemen, the Saudi war has taken a heavy toll on the country's infrastructure, destroying many hospitals, schools, and factories.
The UN has said that a record 22.2 million Yemenis are in need of food aid, including 8.4 million threatened by severe hunger.
Several Western countries, the United States and Britain in particular, supply Saudi Arabia and its allies in the aggression with advanced weapons and military equipment as well as logistical and intelligence assistance.
https://www.presstv.com/Detail/2018/08/13/571033/Yemen-UAE-prisons-torture
--------
Arab World
Saudi authorities arrest another professor in widening crackdown on dissent
Aug 12, 2018
Saudi authorities have arrested another university professor in the conservative oil-rich kingdom as part of a widening crackdown led by Crown Prince Mohammed bin Salman against Muslim preachers and intellectuals.
The rights group Prisoners of Consciousness, which is an independent non-governmental organization advocating human rights in Saudi Arabia, announced in a post on its official Twitter page on Sunday that Shaikh Nasser al-Omar, a former professor at the Faculty of Fundamentals of Religion at Riyadh-based Imam Muhammad ibn Saud Islamic University had been detained and his Twitter account suspended.
The post added that Saudi officials had earlier imposed a travel ban on the academic.
Separately, Saudi officials have arrested Shaikh Ahmed al-Emari, a professor of Quranic studies at the Medina-based Taibah University, on charges of contact with political dissident, Shaikh Safar al-Hawali.
Abdulaziz Abdullatif, a member of the academic board at the same Saudi university, had been detained nearly a year ago.
Human rights activists say Saudi authorities have put more than 16 university professors and lectures behind bars since last September, and in most cases have not leveled any charges against them.
Saudi Arabia has lately stepped up politically-motivated arrests, prosecution and conviction of peaceful dissident writers and human rights campaigners.
Saudi officials have also intensified security measures in the Shia-populated and oil-rich Eastern Province.
Eastern Province has been the scene of peaceful demonstrations since February 2011. Protesters have been demanding reforms, freedom of expression, the release of political prisoners, and an end to economic and religious discrimination against the oil-rich region.
The protests have been met with a heavy-handed crackdown by the regime with security forces increasing security measures across the province.
Over the past years, Riyadh has also redefined its anti-terrorism laws to target activism.
In January 2016, Saudi authorities executed Shia cleric, Sheikh Nimr Baqir al-Nimr, who was an outspoken critic of the policies of the Riyadh regime. Nimr had been arrested in Qatif in 2012.
https://www.presstv.com/Detail/2018/08/12/570986/Saudi-authorities-arrest-another-professor-in-widening-crackdown-on-dissent
--------
Explosion at weapons depot kills 69 people in Syrian town
Aug 12, 2018
A monitoring group says at least 69 people, including 17 children, have lost their lives and dozens of others sustained injuries when a powerful explosion ripped through a weapons depot in Syria's militant-held northwestern province of Idlib.
Rami Abdel Rahman, the head of the so-called Syrian Observatory for Human Rights (SOHR), said the blast occurred in a residential building in town of Sarmada near the border with Turkey, and caused two buildings to collapse.
Abdel Rahman highlighted that the death toll was expected to further rise as scores of people remained trapped under rubble and tens of people remain unaccounted for.
The Observatory added that the ammunition depot belonged to an arms dealer working with the Hay'at Tahrir al-Sham, commonly referred to as Tahrir al-Sham, terrorist group, and was situated in the Bab al-Hawa neighborhood of Sarmada.
An unnamed civil defense source from the so-called White Helmets team told AFP that women and children were among the dead.
But rescue workers have pulled out "five people who were still alive," the source added.
Most of Idlib is controlled by Tahrir al-Sham Takfiri terrorists, but Daesh terror group also has sleeper cells in the area.
A series of explosions and assassinations, mainly targeting high-ranking militant commanders and members of terror outfits, have rocked the province in recent months.
While Daesh has claimed responsibility for some attacks, they are mostly the result of infighting among rival militant groups.
Around 2.5 million people live in Idlib province, and half of the residents have been displaced by foreign-sponsored militancy in other parts of Syria.
Roadside bomb injures over dozen civilians in Hama
Elsewhere in the west-central province of Hama, at least 14 civilians were injured when a roadside bomb targeted their vehicle.
SOHR said the explosion occurred as a passenger bus was traveling along a road near al-Tuwayni village in the Qalaat al-Madiq sub-district of the province.
Syria has been gripped by foreign-backed militancy since March 2011. The Syrian government says the Israeli regime and its Western and regional allies are aiding Takfiri terrorist groups wreaking havoc in the country.
On May 21, the General Command of the Syrian Army and Armed Forces announced in a statement that complete security was restored to Damascus and its countryside after al-Hajar al-Aswad district and al-Yarmouk camp were totally purged of Daesh terrorists.
Full report at:
https://www.presstv.com/Detail/2018/08/12/570968/Explosion-at-weapons-depot-kills-18-civilians-injures-dozen-in-militantheld-Syrian-town
--------
Egypt police arrest six over failed church attack
August 13, 2018
CAIRO : Egyptian authorities have arrested six suspected members of a "terrorist cell" behind a failed suicide attack on a church in the outskirts of Cairo, the interior ministry said Sunday.
A suicide bomber attempted to attack the Virgin Lady Church in the Shobra el-Kheima district on Saturday but blew himself up before reaching his target, officials said. Authorities said an explosive device hidden beneath his clothing detonated as he retreated due to the heavy police presence around the church.
The police identified the bomber as Omar Mohamed Ahmed. They said he was part of a "terrorist cell", but did not specify which group it belonged to.
After searching the assailant's residence, police said they found evidence on co-conspirators and plans to carry out further attacks.
The interior ministry listed by name six members of the "terrorist cell" who had been arrested.
Christian sites of worship across Egypt have been repeatedly targeted in attacks claimed by the Islamic State group.
A string of bombings on Coptic churches in Cairo, Alexandria and the Nile Delta city of Tanta in 2016 and 2017 killed at least 80 people.
Coptic Christians make up about 10 percent of Egypt's predominantly Sunni Muslim population of some 96 million.
Full report at:
https://nation.com.pk/13-Aug-2018/egypt-police-arrest-six-over-failed-church-attack
--------
Syrian Army Completes Siege on ISIL's Last Stronghold in Sweida
Aug 13, 2018
The army engaged in fierce clashes with ISIL in Eastern Badiyeh and captured several points, deploying forces at al-Ruhbah region.
The army men in Minqar al-Ruhbah have arrived at the positions of their comrades coming from al-Zalaf Dam flank and laid siege on ISIL in al-Safa region that is the last main base of the terrorists in Sweida.
ISIL has suffered heavy casualties and its military hardware has sustained major damage in recent clashes in the region.
The army is reinvigorating its combat capabilities around al-Safa because of the rough geography of the region which has made it hard to surmount.
On Sunday, the army soldiers continued hunting ISIL in Badiyeh near the border with Damascus province, and moved towards Arz al-Baydha and al-Ruhba after imposing full control over Tal Mant al-Hasaan.
The army troops have now cut off the entire supply lines of ISIL towards Toloul al-Safa, and laid siege on the terrorists in the region that is their last main stronghold.
The government soldiers further restored security to the entire Eastern Sweida's provincial border with Damascus.
Full report at:
http://en.farsnews.com/newstext.aspx?nn=13970522000229
--------
Tahrir Al-Sham Arrests More Pro-Peace Activists in Northern Syria
Aug 12, 2018
Tahrir al-Sham arrested more than 80 young men and tribal elites in Idlib and Northern Hama, accusing them of cooperating with the Damascus government and Russia's Reconciliation Center for Syria.
Tahrir a-Sham has transferred the arrested men to an unknown destination, threatening that it will execute the pro-peace activists if their links to the Damascus government are proved.
Abdullah Mohammad al-Muhaysini, the former commander and Saudi Mufti (religious leader) of Tahrir al-Sham Hay'at had previously announced that execution of pro-peace activists in Northern Syria is the best way to counter the Syrian government.
Last week, the Arabic-language website of Sputnik quoted local sources as reporting that Tahrir al-Sham along with almost twenty foreign experts embarked on carrying out excavations in Sheikh Mansour region near the town of Saraqib in Idlib province, adding that the terrorists set up a security belt around the excavation site, preventing residents from approaching the site.
It further said that the terrorists stole hundreds of historical artifacts from Idlib in recent days, adding that excavation operations were increased after the establishment of the de-escalation zone since the beginning of the last year.
The report said that the town of Sarmada near the border with Turkey was turned into the main bazaar for trading historical artifacts and weapons.
It went on to say that the looted artifacts were transferred to Turkey by Tahrir al-Sham and were sold to the country's traders.
Full report at:
http://en.farsnews.com/newstext.aspx?nn=13970521000951
--------
Terrorist Positions in Hama Damaged in Syrian Army Artillery Attack
Aug 12, 2018
The artillery and missile units pounded the positions of al-Turkistani Islamic Party, affiliated to Tahrir al-Sham, near the towns of Zeizoun and Qalaidin and in al-Ghaab Plain in Northwestern Hama, destroying several key positions and inflicting heavy casualties on the militants.
The army then expanded the scope of its attacks and also opened fire at militants' strongholds in Western Jisr al-Shughour in Western Idlib.
In the meantime, local sources reported that Abdul Rahim al-Abdu, a commander of the terrorists, and a number of his militants were killed after a guided missile of the army targeted terrorists' military vehicle along a road connecting Jisr al-Shughour and al-Sarminiyeh regions in Western Idlib.
On Saturday, the artillery and missile units pounded the bases of al-Turkistani Islamic Party, the non-Syrian terrorists affiliated to Tahrir al-Sham, along the Eastern strip of al-Ghaab Plain in the villages of Tal Waset, al-Mansoureh and al-Ziyarah in Northwestern Hama, destroying the bases and inflicting heavy casualties on the foreign militants.
Other artillery units opened heavy fire at Tahrir al-Sham positions in the small towns of Kafr Naboudeh and Tal al-Sakhar in Northwestern Hama, inflicting major losses on the terrorists.
Terrorists of Kata'eb al-Izzah also suffered heavy casualties and their military hardware sustained major damage after the artillery units targeted their positions in the small towns of Ma'arkaba and al-Latamina in Northern Hama.
Full report at:
http://en.farsnews.com/newstext.aspx?nn=13970521000900
--------
Egypt hands Muslim Brotherhood leader Badie another life sentence
12 August 2018
An Egyptian court has sentenced five people, including the head of the outlawed Muslim Brotherhood, to life in prison on violence-related charges.
It's the latest of several life sentences for Mohammed Badie, who has also been sentenced to death in separate trials since his 2013 arrest.
Charges have included inciting violence and planning attacks against the state.
The Cairo Criminal Court on Sunday sentenced four others to 10-15 years imprisonment on the same charges, related to the killing of seven people in 2013.
The verdicts can be appealed.
https://english.alarabiya.net/en/News/middle-east/2018/08/12/Egypt-hands-Muslim-Brotherhood-leader-Badie-another-life-sentence.html
--------
Egypt says 12 'terrorists' killed in Sinai shootout
12 August 2018
Egyptian security forces have killed "terrorists" in a shootout in the north of the Sinai Peninsula, where ISIS is active, an interior ministry source said Sunday.
The Egyptian army has since February been conducting a major operation focused on Sinai to wipe out ISIS extremists.
The deadly exchange of fire took place in the coastal city of El-Arish after the authorities received information that "terrorist elements" were hiding in the area, the source said.
Twelve militants were killed in the shootout, the source said, without reporting any casualties among security forces or specifying when the incident took place.
Guns, ammunition and explosive devices were discovered at the scene, the source said.
Extremists launched an insurgency in Sinai after the 2013 military overthrow of Egypt's Islamist president Mohamed Morsi, who was forced out by the military in the face of mass protests against his rule.
Full report at:
https://english.alarabiya.net/en/News/middle-east/2018/08/12/Egypt-says-12-terrorists-killed-in-Sinai-shootout.html
--------
Saudi Arabia accuses UN Security Council of 'inaction' against Houthis
12 August 2018
Saudi Arabia's Ambassador to the UN Abdallah al-Mouallimi presented an urgent letter to the UN Security Council which said that the Arab coalition considers the operation which targeted Saada governorate last Thursday as a legitimate military action according to the rules of humanitarian law. The operation was targeted at Houthi militia leaders responsible for recruiting children and putting them in battle fields. It was aimed at a senior weapons trainer and another trainer of sniper units.
Al-Mouallimi confirmed that the Arab coalition referred the incident to the Arab Coalition's Joint Incident Assessment Team (JIAT). FULL STORY
The Saudi letter also criticized the UN Security Council's inactions toward the Houthi militias' violations of UN Resolutions, especially Resolutions 2216 and 2231, permitting Iran to arm the Houthis who benefited from a growing stockpile of ballistic missiles, drones and naval mines, threatening regional stability and maritime navigation in the Red Sea and the Bab al-Mandeb strait.
Saudi ambassador to the United States, Prince Khalid bin Salman, said on Friday that one of the leaders of the Iranian Revolutionary Guards, Brigadier General Nasser Shabani, admitted with all brazenness that the Iranian regime ordered its followers - the Houthis - to hit Saudi tankers in the Red Sea.
"There should be no more doubt about the Iranian regime's menacing role in Yemen and disregard for human suffering and the environment," Prince Khalid tweeted.
Shabani had also said that the Houthi militias in Yemen and Lebanese Hezbollah militias "represented Iran's depth in the region."
Prince Khalid attached a screenshot of the original article where Shabani made his statements to his tweet.
In a statement published by Iranian Fars news agency quoting Brigadier General Second Class Naser Shabani, the operations deputy of "Sarallah Base" (Tehran), as saying on Tuesday: "We asked the Yemenis (Houthis) to attack the two Saudi oil tankers, and they did that."
Few minutes later, the news agency deleted the post which is tantamount to an Iranian confession of backing the Houthi militias.
Full report at:
https://english.alarabiya.net/en/News/gulf/2018/08/12/Saudi-Arabia-accuses-the-Security-Council-of-inactions-against-the-Huthis.html
--------
Pakistan
Imran's Policies To Be Based On Jinnah's Ideology: PTI Leader
August 13, 2018
ISLAMABAD: Pakistan Tehreek-e-Insaf (PTI) leader Fawad Chaudhry has said all the policies of Imran Khan would be based on the ideology of Quaid-e-Azam Muhammad Ali Jinnah in the best interest of Pakistan.
Imran Khan, after becoming the prime minister, would fulfill all the promises and pledges he had made to the nation during the election campaign, he said while talking to a private news channel.
Being the prime minister, he said, Imran Khan would not tolerate corruption of even a single penny. Not a single incident of corruption was reported against the last PTI government of Khyber Pakhtunkhwa (KP), which is a great achievement for the party, he added.
He said PTI leader Jahangir Tareen had declared all his assets and his case was totally different from that of Nawaz Sharif.
Fawad Chaudhry said that Imran Khan is holding consultations to amend the accountability laws. The opposition parties would be taken on-board on all the national issues, he added.
He said that China is the all-weather friend. The China-Pakistan Economic Corridor (CPEC) would be completed, however, changes could be made in its projects with the consensus of two countries, he added.
https://www.pakistantoday.com.pk/2018/08/12/imrans-policies-to-be-based-on-jinnahs-ideology-fawad/
--------
331 MNAs take oath in swearing-in ceremony for National Assembly
August 13, 2018
The first session of the 15th National Assembly is underway in Islamabad during which 331 members of the lower house of the parliament took oath after their election in the July 25 countrywide polls.
Outgoing NA Speaker Ayaz Sadiq administered the oath to the MNAs-elect in the 342-member house.
Prime minister-in-waiting and Pakistan Tehreek-i-Insaf (PTI) chairman Imran Khan and other prominent political leaders, including PML-N president Shahbaz Sharif, PPP chairman Bilawal Bhutto-Zardari and former president Asif Ali Zardari, are present in the assembly for the oath-taking.
TV footage showed the PTI chief shaking hands with Bilawal, who is entering NA for his maiden term.
The session commenced with the MNAs-elect standing up for the national anthem. This was followed by the recitation of the Holy Quran.
The speaker then read out the procedure for the election of the new speaker and deputy speaker.
The MNAs-elect then stood up as Sadiq administered the oath of office to them. The MNAs were then asked to proceed to the speaker's desk to sign the roll of members. Being first in the alphabetical order, PPP co-chairman Asif Zardari was the first to be called to sign the roll.
After administering the oath to the MNAs, the speaker will prorogue the NA session until August 15, when the new speaker and deputy speaker of the assembly will be elected. The nomination papers for the same will be submitted tomorrow.
Strict security measures have been taken to avoid any untoward incident during the proceedings and irrelevant persons have been barred from entering the house.
Sessions are also set to begin in the provincial assemblies of Sindh, Khyber Pakhtunkhwa and Balochistan for the MPAs-elect to take oath.
The PTI has already nominated former speaker of Khyber Pakhtunkhwa Assembly Asad Qaiser for the office of NA speaker and he would face Syed Khursheed Shah of the PPP, a joint candidate of the 11-party alliance, Pakistan Alliance for Free and Fair Elections.
Similarly, PTI chairman Imran Khan will be contesting against PML-N president Shahbaz Sharif for the office of the prime minister.
After the issuance of notifications of the returned candidates on the reserved seats for women and minorities by the Election Commission of Pakistan (ECP) on Saturday, the PTI has 158 members in the National Assembly.
The PTI's tally has reached 158 members after the joining of nine independents and bagging 33 seats reserved for women and minorities.
Out of the 60 reserved women seats, the PTI has clinched 28, followed by the Pakistan Muslim League-N (PML-N) with 16 seats, Pakistan Peoples Party (PPP) nine seats, Muttahida Majlis-i-Amal (MMA) two seats and one seat each by Balochistan Awami Party (BAP), Balochistan National Party (BNP), Grand Demo­cratic Alliance (GDA), Mut­tahida Qaumi Movement (MQM) and Pakistan Muslim League-Q (PML-Q).
Similarly, out of the 10 reserved seats for minorities, the PTI has won five, followed by two each by the PPP and PML-N and one by the MMA.
If the votes of the PTI and its allied parties are counted, the total comes to 184 in the house of 339. In addition to this, four independent MNAs-elect are also poised to support the PTI and, therefore, the total number of the members belonging to the PTI and its allies comes to 188. But the PTI will still not be facing a weak opposition as the strength of its arch-rival PML-N and its allies also comes to 151.
Full report at:
https://www.dawn.com/news/1426761/331-mnas-elect-take-oath-as-first-national-assembly-session-underway
--------
PTI moves to mend fences with opposition
Amir Wasim
August 13, 2018
ISLAMABAD: Just a day before the inaugural session of the National Assembly, the Pakistan Tehreek-i-Insaf (PTI) in a reconciliatory mood reached out on Sunday to the two major opposition parties — the Pakistan Muslim League-Nawaz (PML-N) and the Pakistan Peoples Party (PPP) — with the desire to establish a "working relationship" while recognising the parliamentary might of the joint opposition.
A PTI delegation comprising Asad Qaiser, Fawad Chaudhry, Pervez Khattak, Shafqat Mehmood and Omar Ayub Khan first called on the outgoing speaker of the National Assembly Sardar Ayaz Sadiq of PML-N and then met PPP leaders in Islamabad.
The PTI delegation later also visited Balochistan House to discuss the government formation with Balochistan National Party (BNP) chief Akhtar Mengal.
PTI information secretary Fawad Chaudhry told Dawn that they had met the leaders of the opposition parties on the directive of PTI chairman Imran Khan, as they knew that it would be difficult for them to run the affairs of the parliament smoothly without the cooperation of the opposition. He said the PTI knew that it would have to take the opposition parties along in the house to carry out its legislative agenda.
Responding to a question, the PTI leader confirmed that both the PML-N and the PPP raised the issue of the alleged rigging in the recent general election. "We have asked all the parties to come up with their complaints about the election process and the PTI is ready to resolve the matter," he said.
He claimed that PTI's gesture was appreciated by leaders of both the PPP and the PML-N.
Another purpose of the meetings was to formally invite the leadership of the opposition parties to the oath-taking ceremony on Aug 18. He said the PTI delegation delivered invitation for Shahbaz Sharif to Mr Sadiq and for PPP chairman Bilawal Bhutto-Zardari and former president Asif Zardari to the PPP leaders including Syed Khursheed Shah and leader of opposition in Senate Sherry Rehman.
Sources in the PTI told Dawn that the party had requested Mr Shah to withdraw from the race for the office of the National Assembly speaker. However, they said, the PPP refused to do so.
Mr Shah is a joint candidate of 11 opposition parties.
The sources said the PTI leaders were also interested to know about the strategy of the opposition parties, which had announced to lodge a strong protest inside and outside the parliament during the inaugural session of the National Assembly against the alleged rigging in the polls.
When contacted, Ms Rehman said they had told the PTI that the PPP would play a positive and a responsible role of the opposition in the parliament. She said they had told the PTI leaders that they would not do the opposition the way the PTI had done in the previous assembly though "we are committed to play the role of a strong opposition".
PPP secretary general Farhatullah Babar said no decision regarding the participation of the party's chairman or co-chairman in the prime minister's oath taking ceremony had been taken so far. He said they would take a decision after discussing the matter within the party.
Talking to the reporters after their meeting with PML-N's Ayaz Sadiq, the PTI delegation said they wanted to move forward with "mutual consultation" and wanted to develop a "working relationship" with all the parliamentary parties.
PTI's Asad Qaiser, who has been nominated as the candidate for the office of the NA speaker, said the PTI wished to cooperate with other parties in order to counter economic and other challenges being faced by the country.
Mr Chaudhry said the PTI government would try to remove reservations held by opposition parties over the July 25 elections. He said the PPP and the PML-N were the "most respectable" parties of the country. He claimed that the PTI welcomed their decision of using the parliamentary forum for raising their concerns.
The PTI information secretary called for unity among the parties for tackling the serious economic and security issues.
About the PML-N's complaints against the accountability process, Mr Chaudhry said the process would continue in accordance with the law and he believed that no party should oppose it.
Ayaz Sadiq, who will administer oath to the newly-elected MNAs today (Monday), said the proceedings of the house would be held in accordance with the law and Constitution.
Later, PML-N's spokesperson and former information minister Marriyam Aurangzeb declared that the PTI delegation had met Mr Sadiq in his capacity as the outgoing speaker and not as a PML-N representative.
TV channels quoted her as saying that so far no meeting had taken place between the PTI and the PML-N leaders.
Responding to Ms Aurangzeb's remarks, Mr Chaudhry said they had met Mr Sadiq in both capacities as the NA speaker as well as PML-N leader. He said they had delivered the invitation for prime minister's oath-taking ceremony to Mr Sadiq for PML-N president Shahbaz Sharif.
After the issuance of notifications of the returned candidates on the reserved seats for women and minorities by the Election Commission of Pakistan (ECP) on Saturday, the PTI has 158 members in the National Assembly.
The PTI has already nominated former speaker of Khyber Pakhtunkhwa Assembly Asad Qaiser for the office of NA speaker and he would face Syed Khursheed Shah of the PPP, a joint candidate of the 11-party alliance, Pakistan Alliance for Free and Fair Elections.
Similarly, PTI chairman Imran Khan will be contesting against PML-N president Shahbaz Sharif for the office of the prime minister.
PPP discusses strategy
To discuss the strategy for Monday's session of the National Assembly, a meeting of the parliamentary group of the PPP was held at Zardari House.
Sources said that PPP chairman Bilawal Bhutto-Zardari asked the party members in the meeting to ensure their presence in the parliament and do issue-based politics. Mr Bilawal said that since he was going to the parliament for the first time, he wanted to see the party playing a role of positive opposition.
An official handout later issued by the PPP quoted the party chairman as telling the newly elected members of the National Assembly that the PPP was resolute in its ideology and its slogan: "We will fulfil the promise made by Shaheed Mohtarma Benazir Bhutto to save Pakistan."
The PPP would raise the issues of people in the parliament, he said, adding that the party would tread the path of democracy and continue to fight for the rights of people.
Addressing the gathering, former president Asif Zardari said the PPP would continue to strengthen democracy. He added that the PPP would follow its manifesto from the opposition benches. He said the party had achieved excellent results in Sindh and "now we need to focus on Punjab, KP and Balochistan".
Full report at:
https://www.dawn.com/news/1426680/pti-moves-to-mend-fences-with-opposition
--------
Saudi king, crown prince Mohammad felicitate Imran Khan
August 13, 2018
ISLAMABAD: Pakistan Tehreek-i-Insaf (PTI) chairman Imran Khan continued to receive messages of felicitation from world leaders as Saudi King Salman bin Abdul Aziz Al-Saud congratulated him on his party's victory in the last month's general elections.
State-run news agency APP on Sunday quoted the Saudi Press Agency as saying that the Saudi king conveyed to the prime minister-in-waiting best wishes from the kingdom and its people for the progress and prosperity of the people of Pakistan.
Saudi Crown Prince Mohammad bin Salman also felicitated the PTI chairman and expressed good wishes and prayed for the progress and prosperity of Pakistan.
Ambassador of Saudi Arabia to Pakistan Nawaf bin Said Al-Malki was the first diplomat to have met Mr Khan even when the poll results were still pouring in.
Later Mr Khan also received a number of diplomats from various countries at his Banigala residence.
During his meeting with Iranian Ambassador to Pakistan Mehdi Honardoost, the PTI chief had offered mediation between Iran and Saudi Arabia to resolve differences between the two countries.
Welcoming the offer, the Iranian envoy had termed the situation in the region sensitive and said: "Iran will welcome any proposal from Pakistan aimed at bringing peace to the region."
Later, Iranian President Hassan Rouhani telephoned Mr Khan to personally congratulate him on his party's success in the July 25 elections and expressed willingness to further improve bilateral relations. He had also extended an invitation to Mr Khan to visit Iran after taking the oath as prime minister, which was reportedly accepted by the latter.
Earlier, acting US Ambassador to Pakistan John Hoover along with a delegation had also called on the PTI chief and discussed with the latter issues of mutual interest.
Expressing Pakistan's desire to see complete stability in Afghanistan, Mr Khan had said that he had always stressed the need for a political solution to the Afghan problems. The PTI chief asserted that war and use of power was not a solution to Afghanistan's problems and that stability in the war-torn country would prove to be in the best interests of not only the United States and Pakistan but also the region.
The ambassadors of Japan, European Union and Russia had also met Mr Khan and showed their readiness to cooperate with the future PTI-led government in Pakistan.
Last week, Indian High Commissioner Ajay Bisaria also called on Mr Khan at his Banigala residence. During the meeting, Mr Khan had reportedly pushed for the "resumption of talks between Pakistan and India". He had also expressed the hope that the Saarc conference would soon be held in Islamabad.
Mr Khan had received telephone calls from a number of world leaders, including Indian Prime Minister Narendra Modi and Afghanistan President Ashraf Ghani.
Full report at:
https://www.dawn.com/news/1426678/saudi-king-crown-prince-mohammad-felicitate-imran-khan
--------
Election on women's seats brings in new, old faces
August 13, 2018
KARACHI: A close look at the list of those elected on seats reserved for women shows that some MNAs-elect belong to politically influential families while others are new faces who will be contributing to the lawmaking business first time.
Traditionally, political parties consider the women for reserved seats whose family members have remained active in politics. The Pakistan Tehreek-i-Insaf (PTI), however, made a departure from this practice by mostly nominating office-bearers of the party's women wing, claims party spokesperson and MPA-elect Jamal Siddiqi in Karachi.
Since the PTI emerged as the largest party in the lower house of parliament, it clinched 28 out of the 60 seats reserved for women. The Pakistan Muslim League-Nawaz (PML-N) got 16 seats, Pakistan Peoples Party (PPP) secured nine seats and Muttahida Majlis-i-Amal (MMA) two, while the Balochistan Awami Party, Balochistan National Party, Grand Democratic Alliance, Muttahida Qaumi Movement and Pakistan Muslim League-Q won one seat each.
Punjab
Dr Shireen Mazari of the PTI, a graduate from London School of Economics, is the daughter of ex-bureaucrat Ashiq Mazari. A defence analyst and CEO of Strategic Technology Resources, Ms Mazari served as PTI's MNA from 2013 till this year.
Munaza Hassan, the first president of the PTI's women wing and the chief polling agent for Imran Khan in NA-95 (Lahore) in 1997 polls, also remained MNA on a reserved seat in 2013-18.
Andleeb Abbas, the PTI's Punjab communication director, earlier abortively ran for a Senate seat on a PTI ticket in March.
Asma Qadeer, who has been working for the PTI for the past 20 years, has been elected to parliament for the first time. Dr Nausheen Hamid, who served as PTI's MPA in 2013-18, Javaria Zafar and Rukhsana Naveed have also been elected to the NA for the first time.
Kanwal Shauzab, who had contested for a Senate seat, is the president of PTI women wing of north Punjab, while Sobia Kamal Khan is senior vice president of PTI's central Punjab chapter. Rubina Jamil is chairperson of the PTI's Punjab women education wing. Maleeha Ali Bokhari is party's adviser on legal and parliamentary affairs. A corporate lawyer committed to pro bono publico, Ms Bokhari is a member of the PTI core committee.
Fauzia Behram, who had served as PPP's MPA thrice, joined the PTI in 2015.
Tashfeen Safdar is the granddaughter of former president Chaudhry Fazal Elahi and the daughter of ex-MPA Chaudhry Safdar.
Wajiha Akram was defeated by former minister Danyal Aziz on a general seat from Narowal in the 2013 elections.
PML-N's Marriyum Aurangzeb is the former federal information minister, while her mother Tahira Aurangzeb has been twice elected as MNA. PML-N's Shaista Pervaiz Malik is the wife of ex-federal commerce minister Pervaiz Malik. Ayesha Rajab Baloch is the widow of twice-elected MNA from Faisalabad Rajab Ali Khan. Former finance minister of Punjab Ayesha Ghaus Pasha is the wife of former federal finance minister Hafeez Pasha. PML-N's Zahrah Wadood Fatemi, the wife of former special assistant on foreign affairs, served as MNA. Kiran Imran Dar was elected to the National Assembly in 2015 when PML-N member Ayesha Raza Farooq resigned.
Romina Khursheed Alam and Shaza Fatima Khwaja served as PML-N's MNA in 2013-18.
Musarrat Asif Khwaja is the wife of former defence minister Khawaja Asif. Zeb Jafar is the daughter of former NA deputy speaker Chaudhry Jafar Iqbal.
Samina Matloob is making her debut in the parliamentary politics.
Shahnaz Saleem Malik, a practising lawyer, had been elected to the Punjab Assembly in 2002 on a PML-N ticket.
Seema Mohyuddin has earlier served as an MNA in 2013 on a PML-N ticket.
PML-N's Maiza Hameed, a cousin of Zeb Jafar, served as MNA in 2013-18.
PPP's Hina Rabbani Khar, a LUMS graduate, served as the youngest female foreign affairs minister from 2011 to 2013.
Farrukh Khan is the PML-Q's women wing president. She earlier resigned from the party in 2013 in protest against nominations for reserved seats.
Sindh
Seven MNAs have been elected on PPP tickets — Shagufta Jumani, Shazia Marri, Musarrat Naz Baloch, Shahida Rehmani, Mehreen Razzaq Bhutto, Dr Shazia Sobia Aslam Soomro and Shamim Ara Panhwar.
Shagufta Jumani, who belongs to Hyderabad, has been active in politics since her student days. This is the fourth time that she has been elected on a reserved seat.
Mehreen Razzaq Bhutto has also been elected for a third time. She is married into the Jilani family of Khairpur district.
This is the second time that Dr Shazia Sobia Aslam Soomro has been elected to the National Assembly.
Shamim Ara Panhwar will be serving as an MNA for the first time though she remained a member of the Sindh Assembly in the past.
Shazia Marri has been in active parliamentary politics for quite long. She has also served as information minister in PPP's provincial government in 2008. Ms Marri also won a seat of the National Assembly in the July 25 election by defeating a candidate of the Grand Democratic Alliance Kishin Chand Parwani from NA-216 (Sanghar-II).
Ghazala Saifi is vice president of the PTI's women wing in the province while Saima Nadeem is president of the PTI's women wing in Karachi.
Kishwar Zehra, a founding member of the then Mohajir Qaumi Movement in 1984, has returned to the parliament for a third consecutive time since 2008.
Khyber Pakhtunkhwa
Out of eight MNAs elected from Khyber Pakhtunkhwa on reserved seats for women, six belong to the PTI. They are Nafeesa Khattak, Sajida Begum, Naureen Farooq Ibrahim, Shandana Gulzar, Uzma Riaz Jadoon and Zille Huma.
Nafeesa Khattak is the sister-in-law of ex-chief minister Pervez Khattak (widow of his brother). Sajida Begum is the niece of Pervez Khattak (daughter of his other deceased brother Ikramullah Khan). Naureen Farooq Ibrahim is the wife of Sardar Farooq Ibrahim of Azad Jammu and Kashmir. She remained president of the PTI's women wing in KP.
Shandana Gulzar is the daughter of the late Gulzar Khan, a disgruntled PTI MNA who had not tendered resignation during the 2014 sit-in in Islamabad.
Uzma Riaz Jadoon, who belongs to Abbottabad, and Zille Huma, a resident of Peshawar's Hayatabad, will be new entrant to NA.
MMA's Shahida Begum has remained MNA twice on reserved seats in 2002 and 2013.
Begum Tahira Bukhari served PML-N's MNA from 2013 to 2018.
Balochistan
Aliya Kamran is the wife of Kamran Murtaza, former president of the Supreme Court Bar Association.
BAP's Rubina Irfan is the wife of Dr Irfan Karim, who belongs to the family of Khan of Kalat Mir Ahmed Yar Khan. Ms Rubina comes from Zehri tribe. In 2002, she was elected to the provincial assembly on a PML-Q ticket. She also remained a senator until 2015.
Shahnaz Naseer, a gynaecologist from Mastung, is a retired professor of the Bolan Medical College. Her husband, Dr Naseer Ahmed Baloch, was a former health director of Balochistan.
Munnawra Munir Baloch was elected as a member of Quetta Metropolitan Corporation on a PTI ticket on a reserved seat in 2014.
Full report at:
https://www.dawn.com/news/1426683/election-on-womens-seats-brings-in-new-old-faces
--------
No anti-Pakistan content in Afghan textbooks: writers
Sher Alam Shinwari
August 13, 2018
PESHAWAR: Noted Afghan research scholars and writers have dispelled the impression that anti-Pakistan content is being taught in Afghanistan school textbooks and reaffirmed that no such stuff is ever included in syllabus at any level against neighbouring countries as Kabul wants to establish peaceful relations with the entire world.
The senior Afghan writers, who were recently in Peshawar for attending a Pashto literary conference at Bara Gali Summer Camp of University of Peshawar, spared some time and talked to this scribe on several issues.
Dispelling the impression that anti-Pakistan contents were being taught in Afghan schools, they said that no such stuff was part of the Afghan school curriculum. They said that Afghan textbooks were focused on peace, universal human values and good relations with neighbours.
"If Kabul and Islamabad encourage exchange of delegates comprising academicians and literati, such negative propaganda will soon sink and new ways will get a chance to creep in for further cementing mutual ties," they said. Lal Bacha Azmoon, known Pashto writer and adviser to Afghan President Dr Ashraf Ghani on culture, said that school textbooks taught children love for land, indigenous culture, humanism and hate against war, not against any state.
"Our textbooks should preach and teach peace, universal human values, interfaith harmony and respect for views of others towards a just and progressive society. Many of my colleagues and I have been in Pakistan for several decades, how we can encourage academicians to teach our children to grow up with hate against our immediate neighbours including Pakistan," he said.
However, Mr Azmoon said that 'history' could not afford to hide facts for long. "Pakhtuns in Afghanistan and Pakistan both share the same issues and challenges brought in by world power players to their region. Our poets and writers promote peace and mutual love in their writings," said Mr Azmoon.
Prof Asif Sameem, prominent scholar and adviser to culture minister in Kabul, said that no effort to create rift between people living across the Durand Line would be successful as Pakhtuns of Afghanistan, Khyber Pakhtunkhwa, tribal districts and Balochistan had inseparable social, historical and cultural ties.
"No one can find even a single line in our books being taught at any level. At times sour relations between Kabul and Islamabad should not trickle down to our academic institutions," he said.
Syed Mohiyuddin Hashmi, an expert on textbooks, said that Kabul had no such evil intention to include hate literature in school syllabus against its neighbours including Pakistan. "It is the responsibility of academicians to minimise animosity level and educate even state organs to encourage people-to-people contact for durable political stability, developing trade, communication and strengthening cultural ties. Teaching of hatred serves no purpose," he added.
Habibullah Rafi, another senior Afghan scholar, said that academicians and literati were never in the habit of fanning hate against Pakistan. "Yes at political level as per volatile situation between Kabul and Islamabad, exhibition of harsh and unfriendly attitude though unfortunate is a fact but making it part of school textbooks has never been in the imagination of our academics. Books should only teach peaceful coexistence with neighbours," he added.
Full report at:
https://www.dawn.com/news/1426715/no-anti-pakistan-content-in-afghan-textbooks-writers
--------
One dead, 9 injured in Chaman IED blast
Syed Ali Shah
August 12, 2018
At least one person was killed and nine others, including three Frontier Corps (FC) personnel, were injured in a blast in Balochistan's Chaman city on Sunday, DawnNewsTV reported.
Police said unidentified miscreants allegedly targeted a vehicle carrying FC personnel in the Mall Road area of Chaman. The suspects had reportedly planted improvised explosive device (IED) in a motorcycle parked on the roadside.
The injured were rushed to Civil Hospital Chaman for medical treatment where a state of emergency was imposed to treat the injured.
The impact of the blast broke the windows of nearby shops and vehicles.
Police, Levies and Frontier Corps officials have cordoned off the site of the blast.
A similar blast occurred in Chaman on July 20 this year leaving at least five people injured and nearby shops and cars damaged.
Chaman Station House Officer Gul Muhammad said a vehicle belonging to a law enforcement agency (LEA) was the target of the blast.
Full report at:
https://www.dawn.com/news/1426584/one-dead-9-injured-in-chaman-ied-blast
--------
Imran wants good relations with regional countries: Naeem
August 13, 2018
ISLAMABAD: Pakistan Tehreek-e-Insaf (PTI) senior leader Naeemul Haq has said that PTI chief Imran Khan wants good relations with all countries of the region including India, Afghanistan and Iran.
Talking to a private news channel, he said that China and Saudi Arabia are good old friends from Pakistan and PTI would further strengthen its cordial relations with these countries.
He said top priority of Imran Khan would be eradicating poverty from the whole region and bring development.
PTI wants all issues of the region, including Kashmir should be resolved, he added.
Naeemul Haq said that Imran Khan wants to promote trade with the regional countries for bringing development and prosperity.
He said that Pakistan would make economic development in the country through its relations with these countries.
Also, he said that the party has decided to put an end to physical torture carried out at police stations after assuming power in next few days.
The PTI leader said the China-Pakistan Economic Corridor (CPEC) is a mega project which would open new avenues of development and prosperity in the western part of the country.
Full report at:
https://www.pakistantoday.com.pk/2018/08/13/imran-wants-good-relations-with-regional-countries-naeem/
--------
Plea alleges JUI-F's Fazl of disrespecting Pakistan's ideology
August 13, 2018
A petition was filed to lodge a case against Jamiat Ulema-e Islam-Fazl (JUI-F) chief Maulana Fazlur Rehman, alleging him of disrespecting the ideology of Pakistan, media reports said.
Petitioner Mohammad Ramzan, a resident of Lahore's Ravi Link Road, on Sunday lodged a plea to register case against Fazl over alleged treason.
The petitioner claimed that the MMA chief was guilty of disrespecting Pakistan's ideology as he announced not to celebrate Independence Day.
The plea further stated that the JUI-F chief used foul language when referring to Pakistan Army and Chief Justice of Pakistan Justice Saqib Nisar. The plea demand registration of case against Rehman under Article-6 of the constitution.
The petitioner also accused police of absconding legal action and warned officials, warning to move court if the plea was not entertained.
A few days ago, Fazl's remarks regarding the Independence Day celebrations had become controversial. JUI-F Secretary General Maulana Abdul Ghafoor Haideri had later clarified that the statement of JUI-F chief was misconstrued as he had never said against anything about celebrations of 72nd Independence Day and made it clear that his party would be marking the day with national zeal and fervour.
Full report at:
https://www.pakistantoday.com.pk/2018/08/12/plea-alleges-jui-fs-fazl-of-disrespecting-pakistans-ideology/
--------
India
Those Who Create Hatred against Muslims Are Not Aware Of Islamic History: Acharya Pramod Krishnam
August 12, 2018
New Delhi: Islam is the religion of love, integrity, culture and brotherhood. Those who create hatred against Islam and Muslims are not aware of the history of Islam. Such people are neither loyal to their religion nor to their country. Acharya Pramod Krishnam expressed these views on the occasion of jashn-e-deedar-e-haram programme held for Hajj pilgrims.
Acharya asked Maulana Ansar Raza to convey his salaam at the Holy site and pray for that the cosmopolitan culture of the country should remain unharmed. He said the India which people see on television is not the real India; if one wants to see the real India he should see jashn-e-deedar-e-haram where an Acharya has come to congratulate hajj aspirants for their Holy pilgrimage. He said the Prophet (pbuh) did not come for only a single religion or tribe, but he came as Rahmatullil Aalameen (Mercy to the Worlds).
https://www.siasat.com/news/those-who-create-hatred-against-muslims-are-not-aware-islamic-history-acharya-pramod-krishnam-1391336/
--------
Marathas May Join Hands With Dhangars, Muslims To Press For Quota
August 13, 2018
The Sambhaji Brigade, one of the outfits under the Maratha Kranti Morcha, is planning to raise the reservation demand jointly with the Dhangar and Muslim communities that have also raised the pitch for quota. The organisation said that the chorus demanding reservation will help get justice as it will lend strength and weight to the voices.
"We have been discussing the issue among ourselves. A consensus is emerging that if we raise our voices jointly in association with the Dhangar and Muslim communities, it will have a greater impact," said Santosh Shinde, the president of the Pune unit of Sambhaji Brigade. "It will be called the Maratha-Muslim-Dhangar reservation conference."
The organisation plans to hold a joint conference early next month. "We are looking for discussions among leaders, intellectuals and thinkers from the Maratha, Dhangar and Muslim communities on how to go about achieving the goal of reservation. We are confident that there will be several solutions that would come up during the discussion," Shinde said.
"We will hold the reservation conference in Pune first and then, it will happen at the state level," Shinde said.
He added that the intention is to invite all other Maratha organisations for the conference. "We are holding discussions with other Maratha organisations as well and have received a positive response. We expect all other organisations to join hands."
He said leaders in Pune will soon take up the issue with the leaders of the Dhangar and Muslim communities. "We have spoken to some leaders informally and there has been a positive response. We will soon speak to them formally and finalise the schedule for the conference," Shinde said.
Welcoming the initiative, Dhangar community leader Prakash Shendge said: "It is a good idea to jointly raise the demand. The Maratha community is demanding OBC reservation, whereas the Dhangar community is being denied the Scheduled Tribe (ST) status just because of a typographical error. Dhangars in Maharashtra are the same as those who are called Dhangad elsewhere in the country. Dhangads are listed as Scheduled Tribe."
Dhangar is a shepherd community and most of the members live in western Maharashtra and Marathwada. They make up about a crore of Maharashtra's roughly 11.25 crore population (9 per cent).
In Maharashtra, Dhangars are currently on the list of the Vimukta Jati and Nomadic Tribes (VJNT).
Stating that the Dhangar community has backed the Maratha demand for reservation, Shendge said that along with the Sambhaji Brigade, other Maratha outfits should also be ready to join hands. "We are ready to hold preliminary discussion on where the reservation conference can be planned. If all Maratha organisations also come forward, then it will become a powerful voice," he said.
MIM MLA Imtiaz Jaleel said the Muslim community is ready to jointly raise the demand. "We have already extended our support to the Maratha community on the reservation demand. If there is a proposal to jointly raise the demand with the Dhangar and Muslim communities, we welcome it. It will certainly be a powerful voice and help the three communities get justice," he said.
Full report at:
https://indianexpress.com/article/india/marathas-may-join-hands-with-dhangars-muslims-to-press-for-quota-5303570/
--------
UP cleric asks Muslim students not to eat anything at govt schools, apologises later
Aug 12, 2018
AGRA: An Aligarh-based Muslim cleric, who had announced on Friday that Muslim students should not "eat" anything, given in the government mschools had to eat his own words following widespread criticism.
The cleric, Maulana Humaid, made the announcement during the Friday prayers from the mosque after some students of a government school fell ill after consuming "deworming" tablets given to them. The incident had happened at Nagla Narayan Singh primary school.
Though no official complaint was lodged, the cleric faced lot of criticism from parents and other members of the community, forcing him to apologize. The cleric told media persons on Sunday that his statement had been misunderstood.
The cleric's announcement, which incidentally, came just a day after the death of a 12-year-old girl, Chandani Shaikh in Mumbai after consuming iron and folic acid tablet on August 6 during the national immunisation programme, had sparked a scare in the Muslim- dominated areas. As a result, only 81 of the 171 students came to school on Saturday and of these only 20 had their "mid-day" meals.
Headmaster of the school. Urmesh Chauhan said, "on Saturday, the cook told me that students were not ready to eat anything and when I asked him the reason, I was shocked to know that about the cleric's announcement from the mosque.
She added that she immediately informed the village Pradhan, Devendra Singh about it. Singh contacted the police after he failed to get in touch with the cleric.
Later, the cleric himself contacted the village Pradhan and apologised for the announcement. Singh said, "We have not given any police complaint as we don't want to aggravate this matter". He said that 35% Muslims and 65 percent Hindus are living in this village and there was no point of precipitating the matter.
Full report at:
https://timesofindia.indiatimes.com/city/agra/up-cleric-asks-muslim-students-not-to-eat-anything-at-govt-schools-apologises-later/articleshow/65378826.cms
--------
Two held in Hyderabad for Islamic State link, one tried to leave for Syria twice
August 13, 2018
A 24-year-old man, who had tried twice earlier to reach Syria to fight for the Islamic State (IS), was among two persons arrested Sunday by the National Investigation Agency (NIA) in Hyderabad for allegedly planning to carry out the terror group's activities in India, including recruitment.
NIA officials identified the two as Abdullah Basith, who was caught in 2014 and 2015 before he could leave India for Syria (see page 9), and his associate Mohammed Abdul Qhadeer, 19. Basith was nabbed for "conspiring to further the activities of IS (and) carry out terrorist acts in India".
Both are part of a group of eight men from Hyderabad who are being questioned by NIA on suspicion of planning to carry out subversive activities at the behest of IS handlers, officials said. The Indian Express had reported on August 9 that NIA had raided seven locations in Hyderabad and apprehended the eight on the basis of "suspicious" online activity.
This is the first time in almost 10 months that suspects from India have been arrested for their alleged association with the IS. The arrests are being viewed by the security establishment as a signal of the continued attraction of the outfit despite its dream of a Caliphate having been defeated in the Middle East.
In October last year, Kerala Police booked five men on similar charges — the NIA took over that case in December 2017. So far, the NIA has arrested 78 men for their alleged association with the IS.
"Initial questioning has brought out the involvement of accused Abdullah Basith, Mohd Abdul Qhadeer and other associates in pledging their allegiance to the proscribed terrorist organization IS to carry out terror activities in India," Alok Mittal, NIA IG, said.
According to the NIA, Basith is from Hafeezbaba Nagar while Qhadeer is a resident of Chandrayangutta, both in Hyderabad. "They were placed under arrest today to ascertain the details of the ongoing conspiracy and their role in furthering the ISIS ideology to carry out terrorist acts in India," Mittal said.
According to NIA, Basith was part of a group of four men from Hyderabad that tried to leave for Syria via Bangladesh in 2014 but was apprehended in Malda while trying to cross the border. At the time, Hyderabad Police had counselled the youth and handed them over to their parents after a warning.
Basith, however, made a second attempt to leave in December 2015, along with his cousin Syed Hussaini and an associate from 2014 Maaz Hassan Farooqui. The group was apprehended at Nagpur airport while trying to leave for Srinagar from where they planned to go to Pakistan-occupied Kashmir and on to Afghanistan. They were placed under arrest by Hyderabad Police, which filed a charge sheet at a local court on December 22, 2017 — the trial is on.
"We had to place him under arrest again as he had not been cooperating during interrogation and his online activity suggested that he and his associates were planning to carry out subversive activities. Given his history of association with the IS and his refusal to mend his ways despite several warnings, his activities could not be ignored any longer," said an officer involved with the investigation.
In the past, sources said, Basith is suspected had been in touch with key Islamic State recruiter Adnan Hassan Damudi, who had been deported from Dubai in 2016. According to sources, Damudi had sent Rs 54,000 to Basith to help him and his associates escape to Bangladesh in 2014 from where he had promised to help them reach Syria via Turkey.
According to NIA investigators, Damudi was alleged to have recruited close to a dozen Indians since his stay in Dubai from 2012 and had helped send some of them to Syria. Sources said he was among the few in direct touch with chief IS recruiter for India, Yousuf-al-Hindi — later identified as former Indian Mujahideen operative from Bhatkal, Shafi Armar.
In June 2017, the US put Armar on the list of Specially Designated Global Terrorists and imposed financial sanctions against him. His brother Sultan Armar was reported by IS-related websites to have died fighting in Kobane in 2015.
Damudi is on trial while two of his associates, J&K-born Azhar Al Islam and Mumbai-born Farhan Sheikh, who were deported from Dubai along with him, have pleaded guilty and were sentenced to seven years of rigorous imprisonment.
"Basith and several of the others were under surveillance since 2014. However, their online activity recently suggested that they were in touch with someone from abroad and were planning to execute an attack," said a security official.
Full report at:
https://indianexpress.com/article/india/two-held-for-is-link-one-tried-to-leave-for-syria-twice-5303605/
--------
Muslim speakers call for greater inclusion of community in national security issues
August 12, 2018
New Delhi, Aug 12 (PTI) Speakers at a conference hosted by a Muslim students' organisation in Delhi today called for greater inclusion of the community in matters related to the national security.
The Muslim Students Organisation of India (MSOI) hosted the day-long conference to appeal for strengthening of the national security policy.
Syed Muhammad Qadri, the chief speaker at the conference and former MSO president, lamented what he said was a wrong perception being created of Muslims.
"A perception is being created in the country most of the time that Indian Muslims are not responsible citizens, whereas our claim is that the inclusion of Muslims in the national security policy will be an accurate assessment of the role of Muslim youth towards national unity.
"Why do we need to join the ISIS or other organisations? Our ideal is not Osama Bin Laden but Khwaja Garib Nawaz and will continue to be be till eternity," he said.
Qadri urged youngsters present at the programme to fight the forces involved in weakening the nation and be inspired by the sacrifices made by people during the freedom struggle.
Shahnawaz Ahmad Malik Warsi of Aligarh Muslim University, Kerala centre, said the challenges facing human rights and social justice in the country are being taken seriously in society.
"Making Muslims and Dalit community an unnecessary target of hatred and communalism is a matter of concern. Efforts should be made to maintain social harmony and to discuss Sufi spiritual experiments designed for this purpose," he added.
Shujaat Ali Qadri, MSOI president, said the Indian Muslim youth, majority of which belong to the Sufi community, have undying love and respect for the country.
Full report at:
https://www.indiatoday.in/pti-feed/story/muslim-speakers-call-for-greater-inclusion-of-community-in-national-security-issues-1312625-2018-08-12
--------
Civilian shot dead by terrorists in J&K's Pulwama district
Aug 13, 2018
SRINAGAR: Terrorists shot dead a civilian after abducting him from his house in Pulwama district of Jammu and Kashmir, police said on Monday.
"Terrorists in Murran area of Pulwama last night barged inside the house of Gulzar Ahmad Bhat (24) son of Abdul Gani Bhat and abducted him," a police official said.
The official said police recovered Bhat's bullet-riddled body from a nearby field.
"Police have registered a case and initiated investigation, which suggest involvement of local terrorists Zahoor Thokar and Showkat Dar of the Hizbul Mujahideen outfit," he added.
Full report at:
https://timesofindia.indiatimes.com/india/civilian-shot-dead-by-terrorists-in-jks-pulwama-district/articleshow/65381207.cms
--------
South Asia
Myanmar tells BD to stop aid to Rohingya Muslims
August 13, 2018
DHAKA: Myanmar has asked Bangladesh to stop providing aid to 6,000 Rohingya Muslims stranded on the border between the two countries since a military crackdown prompted a mass exodus of the Muslim minority last year, the foreign ministry in Dhaka said.
The group refused to enter Bangladesh in the months during and after Myanmar's military campaign, which drove 700,000 other Rohingya across the frontier in an act the United Nations, United States and other western countries have condemned as ethnic cleansing.
They are now stuck in a narrow "no mans land" relying on international aid sent by Bangladesh. Myanmar called for the aid to be halted in talks between Bangladeshi Foreign Minister A.H. Mahmood Ali and Myanmar's top diplomatic envoy, Kyaw Tint Swe, in Myanmar's capital Napyidaw on Friday, the foreign ministry said late on Saturday.
"Myanmar particularly requested Bangladesh to stop providing humanitarian assistance to those people... and proposed to arrange supply of humanitarian assistance from Myanmar side," the ministry said.
Bangladesh made no commitment but "responded positively" to Myanmar's proposal to conduct a survey of the no mans land area, the ministry said. A Myanmar minister on a visit to the strip of land earlier this year warned the Rohingya refugees that they will face "consequences" if they do not take up a Myanmar offer to return.
Dil Mohammed, a Rohingya community leader among the group on the border, told AFP the latest pressure from Myanmar to vacate the no mans land area would add to their hardship. "There will be uncertainty whether Myanmar will regularly provide us with food and humanitarian assistance. If Bangladesh stops helping us from their side, we will have a huge problem," he said.
Kyaw Tint Swe, a minister in the office of Myanmar's de facto leader Aung San Suu Kyi, also made a new pledge to speed up implementation of a repatriation deal agreed with Bangladesh in November.
https://www.thenews.com.pk/print/354365-myanmar-tells-bd-to-stop-aid-to-rohingya-muslims
--------
Afghan forces and Taliban suffer heavy casualties in Faryab clashes
Aug 13 2018
The Afghan forces and the Taliban militants have suffered heavy casualties during the clashes in northern Faryab province of Afghanistan.
The 209th Shaheen Corps of the Afghan Military in the North confirmed that sporadic clashes continue between the two sides in Ghormach district.
According to a statement released by Shaheen Corps, at least 13 militants were killed and at least 11 others have sustaind injuries during the clashes so far.
The statement furhter added that five Afghan forces also lost their lives during the clashes while at least 7 others sustained injuries.
Shaheen Corps also confirmed that the Afghan forces have retreated from one of their outposts and sporadic clashes continue close to Chinese Camp.
This comes as the local officials had earlier claimed that 17 soldiers have lost their lives during the clashes while several others have sustained injuries.
The security situation in Faryab province has deteriorated sharply during the recent years amid growing insurgency activities by the anti-government armed militant groups.
Full report at:
https://www.khaama.com/afghan-forces-and-taliban-suffer-heavy-casualties-in-faryab-clashes-05755/
--------
Afghanistan sends special forces to Ghazni as Taliban keep up attacks
Aug 13, 2018
The Afghan government has deployed Special Forces units to the strategic city of Ghazni, which has been the scene of intense fighting with the Taliban militants seeking to capture the strategic southeastern city.
President Ashraf Ghani announced the decision in a tweet in the early hours of Monday, saying "in order to consolidate operational gains, further reinforcements should be dispatched to the province [of the same name] on urgent basis."
Ghani's spokesman Haroon Chakhansuri also said in a Twitter message that the president had made the decision overnight following an emergency meeting on Sunday.
He said discussions were held on the issue with provincial governor, military officials and police forces.
Early on Friday, the militants began their attacks on Ghazni, which sits on a key road between the capital, Kabul, and Kandahar, Afghanistan's second-largest city.
Intense fighting has been underway since then, with both the government and the militants claiming to be in control.
The militants have damaged a telecommunications tower in the city, making it difficult to get news of what exactly is happening in the provincial capital.
Many people escaping the embattled city, however, described widespread destruction and bloodshed in the town.
The Afghan television station, Tolo News, also broadcast shaky phone footage apparently showing multiple fires raging across the blacked-out center.
Officials said the Taliban were using civilians as human shields in an attempt to prevent the security forces from launching airstrikes in the area.
"The militants know our forces will not attack civilians so they are using young men as human shields to walk around the city and set buildings on fire," Reuters quoted one official as saying.
According to one security official, about 100 soldiers and police have been killed and many wounded as of Sunday.
He also said the casualties on the Taliban side have also been heavy, adding that about 50 militants were killed by an air strike late on Sunday.
The number of civilian casualties is not known yet. Officials at the Interior Ministry said at least 15 civilians had been killed and more than 400 wounded in the fighting.
But according to witnesses, who have made their way to Kabul, there were many bodies scattered in the streets.
The government has now come under intense criticism for its response to the crisis.
Officials in the city have been warning for months that the city could fall to the militants.
Many people on social media were calling on the president to resign.
"The whole of Ghazni province is on fire. President Ashraf Ghani must resign!" read a typical comment on Facebook.
According to Afghan officials, US Special Forces units were on the ground helping to coordinate air strikes and ground operations. US military headquarters in Kabul has, however, not confirmed.
Full report at:
https://www.presstv.com/Detail/2018/08/13/571042/AfghanistanGhazniTaliban
--------
Uzbekistan confirms meetings with Taliban reps
Aug 12, 2018
Representatives from Afghanistan's Taliban militant group have held talks with senior officials in Uzbekistan, reportedly discussing a range of issues including transport, power lines, and the prospect of peace in war-torn Afghanistan.
Media reports said on Saturday that a delegation representing the Taliban had visited Uzbekistan from August 6 to 10 at the invitation of Uzbek officials.
In a terse announcement, the Uzbek Foreign Ministry's website confirmed the visit, saying, "The sides exchanged views on the prospects of the peace process in Afghanistan."
The Taliban claimed that during the four-day visit in the Uzbek capital of Tashkent, Taliban political chief Sher Mohammad Abbas Stanikzai met with Uzbek Foreign Minister Abdulaziz Kamilov as well as the country's presidential envoy for Afghanistan, Ismatilla Irgashev.
In a statement to the Associated Press, Suhail Shaheen, a spokesman for the Taliban's political office, claimed that the bilateral talks had covered everything from international troop withdrawal from Afghanistan to peace prospects and possible Uzbek-funded development projects that could include railway lines and electricity.
The development came months after Uzbek President Shavkat Mirziyoyev offered to host peace negotiations between the Afghan government and the Taliban militant group.
"We stand ready to create all necessary conditions, at any stage of the peace process, to arrange direct talks between the government of Afghanistan and Taliban movement," Mirziyoyev told an international peace conference in the Uzbek capital in March.
Backed by the international community, the Tashkent conference endorsed Kabul's offer of direct talks without any preconditions and with the ultimate goal of reaching a comprehensive peace agreement with the militants.
But the Taliban have so far ignored Afghan President Ashraf Ghani's offer of unconditional peace negotiations even though their representatives met US officials in Qatar last month and are to hold another meeting next month.
Uzbekistan is seen as a possible peace broker between the Afghan government and the Taliban, favoring good relations with Kabul and contacts with the Taliban political office in Doha.
The Taliban were ousted from power in 2011 following a US invasion and ongoing occupation of the country. The militant group has, however, been involved in widespread militancy, killing thousands of civilians as well as Afghan and American forces.
Full report at:
https://www.presstv.com/Detail/2018/08/12/570939/Afghan-Taliban-Uzbekistan-talks
--------
Arrested and killed: inside the Bangladesh prime minister's war on drugs
AUGUST 13, 2018
DHAKA (Reuters) - Bangladesh police arrested Riazul Islam as he was walking home from his in-laws' house. At 3:15 a.m., he was shot dead in a sandy field beside a set of railroad tracks north of Dhaka.
Police say he was killed in a gunfight with other drug dealers, and they recovered 20 kg of marijuana from the site. His parents say the officers extorted money from them and then killed him.
"I knew my son was in police custody. All of a sudden my son was dead. I couldn't believe it. The police took money and they still killed him," said his mother, Rina Begum.
Bangladesh is the newest frontline in state-backed drug crackdowns in Asia, and Islam is one of more than 200 people shot dead by police in Bangladesh since May, when Prime Minister Sheikh Hasina announced the campaign.
Critics say the crackdown reflects Hasina's increasingly authoritarian rule ahead of a general election, due by December. That was also shown in its response to recent student demonstrations over road traffic deaths, including the use of rubber bullets and the arrest of a prominent photographer.
Hasina emphasized that the police and intelligence agencies would now tackle the drug problem in the same tough way they had countered violent extremism in recent years.
Such campaigns can be popular with voters as has been shown by President Rodrigo Duterte's bloody drug war in the Philippines.
Hasina's office did not respond to questions about whether the drugs campaign was a populist ploy.
Bangladesh's drug war - tmsnrt.rs/2Mx0jzz
MOUNTING DEATH TOLL
The bodies appeared rapidly after Hasina's pronouncement. And, just like the Philippines, the killings appeared to follow a script: suspects died in "gunfights", typically at night, and weapons and drugs were found nearby.
In more than a third of the 211 killings recorded by Dhaka-based human rights group Odhikar since mid-May, the suspects were arrested before they were killed.
The police are overseen by Home Minister Asaduzzaman Khan, who denied the police were executing suspects.
"Our law enforcement people don't kill, they don't execute anyone. It is impossible. If they do so they will be fired at that moment," he told Reuters. "It is not a lawless country."
After Islam was arrested, according to the police report, officers took the "top terror" of the neighborhood to the field beside the railroad tracks to draw in and arrest other drug dealers. The other dealers "sensed" the officers' presence and began firing randomly, and "to save life and government property", the officers fired back.
"Roni [Islam] was shot and fell down. He died on the spot," according to the report, which said two officers were wounded.
Islam's autopsy report, read to Reuters by a hospital official, noted that a single bullet entered his head near his left ear and exited near his right. Each of the two officers were treated for small areas of tenderness and swelling on one of their hands, according to records at another hospital.
None of the six witnesses in the police report saw Islam die, they told Reuters.
One of the six, handyman Mohammad Bappy, who lives at the edge of the field where Islam was shot, snapped photos of Islam's dead body. One of the pictures shows blood on the ground beneath Islam's head.
"There was no gun," he said. "If there had been a gunfight we would have heard lots of firing from two sides. That didn't happen."
Kamal Hossain, the officer in charge of the operation, said drug use leads to crime and arrests don't work.
"They come out on bail and they do the same thing, selling and using drugs," he said. "Every drug dealer should be killed. Then drugs can be controlled."
LITTLE DATA
The U.N. High Commissioner for Human Rights, U.S. ambassador to Bangladesh and the European Union have all expressed concern about the killings of drug suspects in Bangladesh.
After a government official in the southern city of Teknaf was gunned down by Rapid Action Battalion police in May, the state-funded National Human Rights Commission sent a letter to the ministry in charge of the police to remind it of human rights.
But Hasina pressed on.
"Drugs destroy a country, a nation and a family," she told parliament in June. "We will continue the drive, no matter who says what."
Most of the killings took place in May, when there were 129 as the campaign began, but then dropped to 38 in June before picking up to 44 in July.
Drugs have long been a concern for the Bangladesh government, which bans consumption of alcohol by Muslims, who make up the vast majority of the population.
But it's not clear how much drug use has grown or even how many people use drugs. Asked for figures, Bangladesh's narcotics deputy intelligence chief said there were none.
"We have no government statistics or non-government statistics about users," Nazrul Islam Sikder said, adding: "But we guess 7 to 8 million."
Drug seizures data from the Department of Narcotics Control suggests the drug trade has grown, but much of the increase happened three years ago, long before Hasina launched the crackdown. The data shows a dramatic increase in methamphetamine or "yaba" pill seizures beginning in 2015.
No one believes the official accounts of the killings, said Rashid Alam, a 50-year-old manager of a garment factory near the field where Islam was shot, but he is more concerned about the scourge of drugs use for communities.
"We understand he is a drug dealer and the police shot him," he said. "That kind of death is okay. Good job, really."
Critics of Hasina say the crackdown is meant to show voters she is responding to popular concerns and to strike fear in political opponents ahead of the election. According to media reports, some of those killed were activists of the opposition Bangladesh National Party.
For Ashrafuzzaman Zaman, liaison officer of the Hong Kong-based Asian Human Rights Commission, the politics of the drug crackdown are clear.
"You kill 200 people and you make 150 million afraid: today or tomorrow you can also be one of them. That is the message the government is giving to the people," he said.
Hasina's office did not respond to the allegations from her critics.
But Home Minister Khan denied the campaign was a cover to target opposition politicians, and said no drug offender is treated differently from another.
Full report at:
https://www.reuters.com/article/us-bangladesh-drugs-killings/arrested-and-killed-inside-the-bangladesh-prime-ministers-war-on-drugs-idUSKBN1KX0V4
--------
Mideast
Netanyahu demands 'total' Gaza ceasefire
12 August 2018
Israeli Prime Minister Benjamin Netanyahu on Sunday demanded a "total" ceasefire from Gaza's Hamas rulers in his first public comments on another deadly flare-up between the two sides.
There have been efforts by UN officials and Egypt to secure a long-term truce between Israel and Hamas, though Israeli officials have not commented on them.
Since July, there have been three major flare-ups of violence.
"We are in the midst of a campaign against terror in Gaza," Netanyahu said at the start of a cabinet meeting. "It will not end with one blow.
"Our demand is clear: a total ceasefire. We shall not be satisfied with less than that," he added.
"Until now we have destroyed hundreds of Hamas military targets and with every round of attacks the Israel Defence Forces exact another heavy price from Hamas."
Netanyahu has come under political pressure to act more strongly against Hamas, though both sides are reluctant to start a fourth war between them since 2008.
Israel has also sought an end to kites and balloons carrying firebombs over the Gaza border fence to burn Israeli farmland.
An informal truce reached on Thursday night has largely held despite the deaths of three Palestinians since then from Israeli army fire during border protests and clashes.
Thursday saw extensive Israeli air strikes in retaliation for the launching of more than 180 rockets and mortar rounds by Hamas and its allies beginning on Wednesday night.
Three Palestinians were killed in the Israeli strikes, including a mother and her 18-month-old daughter, while seven Israelis were wounded by Palestinian rocket fire as hundreds took refuge in bomb shelters.
It was one of the most serious escalations since the 2014 Gaza war and followed months of rising tensions.
At least 168 Palestinians have been killed since Gaza border protests and clashes began on March 30, with most succumbing to Israeli fire during demonstrations. Others have died in air strikes.
Over the same period, one Israeli soldier has been shot dead by a Palestinian sniper.
https://english.alarabiya.net/en/News/middle-east/2018/08/12/Netanyahu-demands-total-Gaza-ceasefire.html
--------
Yemeni army liberate al-Durahmi in Hodeidah, capture 100 Houthis
12 August 2018
Yemen's army liberated completely the al-Durahmi district south of Hodeidah province following intense clashes with the Houthi militia, according to the website of the Yemeni Ministry of Defense.
The deputy operations commander of the second brigade of al-Amaliak, Colonel Ahmed al-Hujaili, said that the Yemeni National Army launched a fierce attack on the city of Durahmi from several axes, managing to liberate it completely from the Houthis.
Col. al-Hujaili said that the fighting resulted in huge casualties among the Houthi militia in addition to the capturing of 100 Houthi militants, while the Yemeni legitimate army confiscated weapons and ammunition.
He explained that the army was able to cut the supply lines of the Houthi coup militias coming from the Directorate of Beit al-Faqih and from other areas.
https://english.alarabiya.net/en/News/gulf/2018/08/12/Yemeni-army-liberate-al-Durahmi-in-Hodeidah-captured-100-Houthis-.html
--------
Iranian forces tasked with protecting Khamenei 'deploy on Iraq border'
13 August 2018
Iranian paramilitary forces deployed members of its "Al-Sabreen Brigade," usually tasked with protecting Iran's Supreme Leader Ali Khamenei, on the Iraqi-Iranian borders, Kuwaiti newspaper Al-Jarida reported on Sunday.
According to the daily, Khamenei issued a direct order to deploy these forces which directly report to his office without referring to the Revolutionary Guards' command, although the Quds Force is known to be charge of protecting Iranian borders and manages Iraqi militias in Iraq and in Syria.
Around 1,200 members from Al-Sabreen Brigade were deployed in addition to around 10,000 troops from the Revolutionary Guards' special forces, according to the report.
Forces to protect Khamenei are usually deployed in the areas he wants to visit, the daily said, adding that it's not clear whether Khamenei wants to visit the border areas or go to Iraq ahead of Ashura which will be marked in September.
If Khamenei visits Iraq, it will have come after the unprecedented tension between Baghdad and Tehran after the Iraqi government announced its commitment to implementing American sanctions against Iran.
The daily added that if Khamenei leaves Iran, it will be his first foreign trip since assuming the supreme leader post in 1989.
Full report at:
https://english.alarabiya.net/en/News/middle-east/2018/08/13/Iran-forces-tasked-with-protecting-Khamenei-deploy-on-Iraq-border-.html
--------
Yemen: Five Houthis killed in al-Bayda amid clashes in south Hodeidah
12 August 2018
A Yemeni military source reported on Sunday that five Houthi members were killed during two separate operations by Yemeni Popular Resistance supporting the legitimate army in al-Zaher district in al-Bayda governorate.
The source added that two members of the Houthi militias were killed by sniper bullets, while three others killed in an ambush by the Popular Resistance near a position where the militias are stationed in al-Zaher district.
In another military development, the Yemeni army forces in the west coast front continue their military operations against the Houthi militias to regain control of the center of the al-Durahmi district, after they succeeded in pushing the militias out of positions surrounding the district.
Full report at:
https://english.alarabiya.net/en/News/gulf/2018/08/12/Yemen-Five-Houthis-killed-in-al-Bayda-amid-ongoing-clashes-south-Hodeidah.html
--------
Netanyahu: Arab rally in Tel Aviv threatened Israel's existence
Aug 13, 2018
Israeli Prime Minister Benjamin Netanyahu says the flying of Palestinian flags at a protest rally against the controversial "Jewish state" law in Tel Aviv posed a threat to the existence of Israel.
Tens of thousands of Arabs marched through Tel Aviv on Saturday, shouting 'Equality' and 'Apartheid will not pass' in Arabic and Hebrew and waving Palestinian flags in protest against the new law passed last month.
"Yesterday we received unequivocal evidence of defiance to the existence of Israel and the necessity of the Nation-State Law," Netanyahu said at a cabinet meeting on Sunday.
"We saw flags of the PLO [Palestinian Liberation Organization] in the heart of Tel Aviv. In the heart of Tel Aviv!" Netanyahu asserted. "We heard slogans in Arabic including 'By blood and fire we will clear Palestine'."
Arabs make up roughly a fifth of Israel's population of close to nine million and they have long complained of inequality and discrimination in their former homeland where they are treated as second-class citizens.
The new law adopted by the Israeli Knesset in July declares Israel exclusively for Jews, in what has been denounced as an "apartheid" an "racist" measure by many activists and political leaders around the world.
The legislation defines occupied Jerusalem al-Quds as the "capital" of Israel, downgrades the status of the Arabic language and encourages expansion of Israeli settlements.
On Saturday, a record number of Palestinians rallied in Tel Aviv after performing their evening prayers, chanting "We are not second class!" and carrying banners that read in both Arabic and Hebrew, "Nation-State Law - Official Apartheid."
"Many of the demonstrators want to repeal the Law of Return; they want to abolish the anthem and the flag, and turn Israel into a Palestinian state. It's clearer now more than ever that the Nation-State Law is needed to ensure the future of Israel as a Jewish state," Netanyahu said.
Saturday's rally was the second by Arabs in Israel since the adoption of the contentious law. Last month, hundreds of Arabs protested in the Mediterranean port city of Haifa to vent their anger at the measure.
A week earlier, tens of thousands of Israeli Druze gathered in central Tel Aviv to protest the controversial law. The protesters on August 4 accused the Tel Aviv regime of racism and discrimination against other ethnic communities.
Among world leaders, Turkey's President Tayyip Erdogan has said the new law showed that Israel is "the most Zionist, fascist and racist" entity in the world, where the spirit of Adolf Hitler has re-emerged.
Full report at:
https://www.presstv.com/Detail/2018/08/13/571017/Netanyahu-protests-threat-Israel
--------
Pieces of US-made bomb found at site of Saudi raid on Yemeni school bus: Report
Aug 13, 2018
The Saudi-led coalition has likely used a US-made bomb in its deadly airstrike on a bus carrying Yemeni schoolchildren, a local journalist reports, amid growing international criticism of Washington's lucrative arms sales to the Riyadh regime and its allies.
Photos shared by journalist Nasser Arrabyee show pieces of a Raytheon Mark 82 general-purpose free-fall bomb apparently recovered from the scene, RT reported Monday.
Arrabyee tweeted the shocking photos on Saturday, two days after Saudi-led warplanes targeted the Yemeni school bus in Sa'ada Province, killing at least 51 civilians, mostly children, and injuring almost 80 others.
The images have not been independently verified yet; however, this is not the first time that Mark 82 pieces have been found at the site of Saudi-led air raids against civilian targets since the onset of the military campaign in early 2015.
The MK-82, a 500-pound (227kg) bomb produced by American company General Dynamics, also made headlines when it used by Saudi warplanes in a 2016 attack on a funeral in the capital Sana'a. That attack claimed over 140 lives and injured 525 others.
Washington is a major exporter of arms to Saudi Arabia, but the Pentagon claimed last week that it might be impossible to tell where the bomb used in Thursday's attack came from.
US Central Command spokesman Maj. Josh Jacques told Vox that "we may never know if the munition [used] was one that the US sold to them. We don't have a lot of people on the ground."
The US military said in early 2018 that the Central Command does not track how Riyadh uses Washington-supplied planes and munitions.
Defying pressure from human rights groups, the United States has continued to supply weapons to Saudi Arabia. President Donald Trump announced $110 billion worth of new arms sales to Riyadh back in 2017.
A report in March by the Stockholm International Peace Research Institute (SIPRI) revealed the US had increased its arms sales by 25 percent over the past five years, with the Middle East serving as the destination for around half of those weapons. It also classified Saudi Arabia as the world's second biggest arms importer.
The "beautiful" US-made military equipment, as referred to by President Trump, and a wide range of other arms provided to Saudi Arabia by Western powers, have paved the way for the regime and its coalition allies to massacre nearly 15,000 people in the course of the war.
The US-backed military offensive has also pushed the impoverished nation to the verge of starvation and destroyed the majority of its hospitals, bridges, schools, and other infrastructure.
Full report at:
https://www.presstv.com/Detail/2018/08/13/571025/Saudi-airstrike-American-bomb-yemen
--------
Europe
Muslim Council urges PM to avoid Boris Johnson 'whitewash'
August 13, 2018
The UK's largest Muslim organisation is calling on Theresa May to ensure the inquiry into Boris Johnson's burka comments is not a "whitewash".
According to the Guardian, the Muslim Council of Britain will tell the prime minister "no-one should be allowed to victimise minorities with impunity".
Mr Johnson is facing an investigation after saying women in burkas looked like "letter boxes" or "bank robbers".
The Muslim Council of Britain's letter, seen by the Guardian, said it was "hopeful" that the party "will not allow any whitewashing of this specific inquiry currently in process".
The council previously said the support shown to Mr Johnson from Tory MPs had "shone a light on the underbelly of Islamophobia" within the party.
The organisation added that it had received Islamophobic hate mail referring to former foreign secretary Mr Johnson's comments.
Meanwhile, the Tell Mama project, which monitors anti-Muslim violence, reported an increase in incidents of abuse aimed at women wearing the niqab or hijab over the past week.
'Nothing to say'
Mr Johnson - who returned home from his holiday in Italy over the weekend - has not yet responded to the row.
In his latest column in Monday's Daily Telegraph - one week on from his original comments about the Muslim full-face veil - Mr Johnson did not mention the issue but instead chose to write about housing.
Earlier, he refused to answer the questions of journalists waiting outside his Oxfordshire home, saying he had "nothing to say about this matter" except to offer out cups of tea.
The Conservative Party launched its disciplinary investigation after receiving dozens of complaints about Mr Johnson's remarks.
Mrs May and Conservative chairman Brandon Lewis have called on him to apologise.
But others - including Brexiteer backbencher Jacob Rees-Mogg and comedian Rowan Atkinson - have expressed support.
According to a ComRes poll for the Sunday Express, 53% of people who responded believe Mr Johnson should not be disciplined for his comments.
The complaints against him are being looked at by an investigating officer, who can dismiss them if they are found to be obviously trivial, lacking in merit or unable to be fairly investigated.
Should they be upheld, the complaints will then be looked at by an independent panel which could refer Mr Johnson to the party's board, which has the power to expel him.
On Friday, in a separate investigation into a complaint, the UK's equalities watchdog said Mr Johnson's remarks were "inflammatory and divisive" and his comments risked "vilifying Muslim women".
https://www.bbc.co.uk/news/uk-45165840
--------
Splits deepen over British minister Johnson's burqa comments
August 12, 2018
LONDON: Former British foreign minister Boris Johnson returned from his summer holiday to face both criticism and support over his remarks about burqas, amid deepening divisions in Britain's ruling Conservative Party on Sunday.
Johnson, seen as the biggest threat to Prime Minister Theresa May's struggling leadership, has become a lightning rod for discontent within the party after a newspaper column in which he said Muslim women who wear burqas look like letter boxes or bank robbers.
The comments came in a piece arguing against a ban on the Islamic full-face veil, but have been criticised as Islamophobic. Others saw the remarks as colourful rhetoric that strikes a chord with many Britons.
May has scolded Johnson, stirring anger amongst those of his supporters who see him as the focal point for resistance to her proposed "business-friendly" Brexit plan. The party has also launched an investigation into his remarks.
Under the headline "Boris sparks cabinet war" the Sunday Times said four unnamed senior ministers were dismayed at May's handling of the situation.
"They have managed to engineer a total disaster," one minister was quoted as saying. "Trying to silence Boris is stupid, especially when the majority of people agree with him."
Johnson resigned from the cabinet last month in protest at May's Brexit plan, setting himself up as a talisman for the many Conservatives who want a more radical departure from the European Union.
Meanwhile, May has struggled to hold her cabinet together on Brexit and faces a testing few months in which she hopes to secure a deal on leaving the EU, face the party's unhappy grassroots, and win a crucial vote in parliament.
Johnson's burqa remarks were defended by, amongst others, Donald Trump's former political strategist Steve Bannon, who told the Sunday Times that his overall message had been lost because of a "throwaway line".
Bannon has previously called on Johnson to challenge May's leadership.
But a Conservative member of the upper house of parliament and former government polling adviser, Andrew Cooper, accused Johnson of "moral emptiness" and populism over the remarks.
"The rottenness of Boris Johnson goes deeper even than his casual racism & his equally casual courting of fascism. He will advocate literally anything to play to the crowd of the moment," Cooper said on Twitter.
Johnson, who has made clear that he does not intend to apologise, returned to Britain on Saturday. He declined to answer reporters' questions.
Full report at:
http://www.freemalaysiatoday.com/category/world/2018/08/12/splits-deepen-over-british-minister-johnsons-burqa-comments/
--------
Islamophobic attacks on Muslim women spike after Johnson comments
Aug 12, 2018
A watchdog monitoring hate crimes in Britain have announced that several Muslim women have been attacked since earlier this week after former foreign minister Boris Johnson wrote a controversial article and compared women wearing burqa to "letterboxes" and "bank robbers."
Tell Mama said Sunday that at least five women had been subject to Islamophobic insults by men in London and Luton since Johnson triggered a public row over wearing burqa in his opinion piece in the Daily Telegraph on August 5.
The watchdog said all women who had been insulted wore niqab, a veil used to cover face as recommended by the religion. It said the verbal attacks were directly linked to Johnson's description in the article of women wearing burqa, a full-body veil, to letter boxes.
One such attack happened on August 8 in London before two women were targeted the next day in the capital. Another women experienced verbal abuse because of her niqab on Friday while there had been another incident on August 9 in Luton, a town around 50 kilometers from London.
One of the victims said she had been called letter box when she was boarding a train in London's Tower Hamlets neighborhood.
"Over the weekend, I went on a trip with a group of women and a male passenger allowed us to board the train first ... One of the women was wearing a niqab and she was the last one to get on the train. The man laughed and said: 'Hold on, you forgot the letterbox'" wrote Rabina Khan in the Independent newspaper.
Tell Mama said it had recorded no case involving Muslim women being insulted for their veil in the week before Johnson wrote his opinion piece.
Johnson has refused to apologize for the comments which many say were part of his deliberate attempt to reach to the British far-right. The former mayor of London is believed to be seeking to replace incumbent Prime Minister Theresa May if she fails to reach a deal with the European Union on United Kingdom's departure from the bloc.
Full report at:
https://www.presstv.com/Detail/2018/08/12/570998/Britain-hate-crime-Johnson-burqa-comments
--------
Johnson trying to reach out to fascists, racists: Expert
Aug 11, 2018
An expert tells Press TV that former British foreign minister Boris Johnson's insulting comments about Muslim women wearing burqa was a deliberate attempt to reach out to the racists and fascists in the United Kingdom.
Masoud Shadjareh, head of the Britain-based Islamic Human Rights Commission, said Saturday that Johnson had a political objective to realize with a this week commentary in the Daily Telegraph in which he likened women wearing burqa to letter boxes and bank robbers.
"This was a calculated statement, he is not a fool, he knows he is being provocative," said Shadjareh, adding, "He has calculated that there are more Islamophobes, there are more xenophobes in our society in the United Kingdom and indeed in Europe than there are Muslims, than there are people who want to create harmonical society."
He said there are many people in the UK, Europe and in the Western world who are moving towards fascism, saying Johnson is trying to pander to these ideologies.
"So therefore by saying things like this you (are) actually addressing and talking to your own constituency, a group of fascists, racists who want to create a xenophobic society and they will come out and support you," he said.
Shadjareh said the general expectation was that the UK Conservative Party should have brought Johnson to "disrepute" as his statement about Muslim women had done the same to the party.
"The Conservatives as a government has just given a lip service of sort of saying that his statement is provocative rather than dealing with it as Islamophobe and xnophebic," said the analyst.
Shajareh said if Johnson had used a similar language against other minorities like members of the Jewish community, the Conservatives would have dealt with him in a much different way. He said such duplicity in dealing with provocative and offensive remarks is a sign that Islamophobia has effectively penetrated the establishment in Britain.
Full report at:
https://www.presstv.com/Detail/2018/08/11/570862/Johnson-burqa-comments-Islamophobia-expert-view
--------
Southeast Asia
China Has Prevented 'Great Tragedy' In Xinjiang, State-Run Paper Says
AUGUST 13, 2018
BEIJING (Reuters) - Massively stepped-up security in China's restive far western region of Xinjiang has helped prevent "great tragedy", a state-run newspaper said on Monday, in the country's first response to a critical United Nations report on the situation there.
A U.N. human rights panel said on Friday that it had received many credible reports that 1 million ethnic Uighurs in China are held in what resembles a "massive internment camp that is shrouded in secrecy".
China has said that Xinjiang faces a serious threat from Islamist militants and separatists who plot attacks and stir up tensions between the mostly Muslim Uighur minority who call the region home and the ethnic Han Chinese majority.
Hundreds have died in unrest there in recent years.
In joint editorials in its Chinese and English versions, the widely-read Global Times tabloid said criticism of the rights record in Xinjiang was aimed at stirring trouble there and destroying hard-earned stability.
China's security presence there has prevented Xinjiang from becoming another Syria or Libya, it added.
"There is no doubt that the current peace and stability in Xinjiang is partly due to the high intensity of regulations. Police and security posts can be seen everywhere in Xinjiang," the paper wrote.
"But it's a phase that Xinjiang has to go through in rebuilding peace and prosperity and it will transition to normal governance."
Maintaining peace and stability there is in the basic interest of people in Xinjiang and all of China, it added.
"The turnaround in Xinjiang's security situation has avoided a great tragedy and saved countless lives, thanks to powerful Chinese law and the strong ruling power of the Communist Party of China," the paper wrote.
"What the West has been hyping has destroyed numerous countries and regions. When the same evil influence was spreading in Xinjiang, it was decisively curbed."
Xinjiang has "no room for destructive Western public opinions", and all steps must be taken to ensure its stability, it said.
"Peace and stability must come above all else. With this as the goal, all measures can be tried. We must hold onto our belief that keeping turmoil away from Xinjiang is the greatest human right."
China's Foreign Ministry has not yet responded to a request for comment on the United Nations report.
https://www.reuters.com/article/us-china-rights-un/china-has-prevented-great-tragedy-in-xinjiang-state-run-paper-says-idUSKBN1KY01B
--------
Perak official: Pakatan support for Malays, Islam and BM goes without saying
13 August 2018
IPOH, Aug 13 — The Pakatan Harapan (PH) federal government prioritises matters concerning the Malay community, Islam and the national language just as it does other issues affecting the country, said Perak state executive councillor Abdul Aziz Bari said.
Responding to PPBM member Tan Sri Rais Yatim's remarks describing the pact's position on the three matters as unclear, Abdul Aziz said this was not the case at all.
"Hence, the question of PH not placing importance on Bahasa Melayu, Islam and the royalty does not arise at all," he added.
Rais made the remarks in an interview published by Utusan Malaysia yesterday.
Full report at:
https://www.malaymail.com/s/1661906/perak-official-pakatan-support-for-malays-islam-and-bm-goes-without-saying
--------
Court decision in Bumiputera Christian's 'Allah' case deferred to allow engagement
12 August 2018
KUALA LUMPUR, Aug 12 — The High Court has deferred its decision in a Sarawakian native Christian's lawsuit over her constitutional rights to religion and to non-discrimination, as well as the government's ban of the word "Allah" in Christian publications. Lawyer Annou Xavier, who represents Jill Ireland Lawrence Bill, confirmed that tomorrow is no longer fixed for the delivery of the decision in his client's case.
"The decision tomorrow converted to case management. This is to enable parties to engage so as to try to resolve the matter.
"We now have a new administration which is people-friendly and willing to engage with the rakyat," he told Malay Mail when contacted.
The High Court in Kuala Lumpur had initially fixed March 22 as the decision date, but had deferred it to August 13.
Senior federal counsel Shamsul Bolhassan, who represents the home minister and the government in the case, had in March told Malay Mail that the date was shifted to August 13 as the Attorney-General's Chambers needed to get "fresh instructions" from the government.
Jill Ireland filed her lawsuit about 10 years ago after the Home Ministry seized eight compact discs (CDs) containing the word "Allah" meant for her personal use at KLIA upon her return from Indonesia.
Following the May 11, 2008 seizure, Jill Ireland filed for judicial review in August the same year against the home minister and the government of Malaysia.
The High Court had in July 2014 ruled that the Home Ministry was wrong to seize the CDs and ordered that they be returned, but did not address the constitutional points then.
Jill Ireland finally received her CDs in September 2015, pursuant to the Court of Appeal's June 2015 directive for the Home Ministry to return the discs. However, the Court of Appeal had also sent the constitutional issues back to the High Court to be heard.
The constitutional issues in Jill Ireland's case were heard by High Court judge Datuk Nor Bee Ariffin on October 19 and November 15 last year.
Jill Ireland is seeking several court orders, including a declaration that it is her constitutional right to have access to Christian publications in the exercise of her rights to practise religion and right to education, as provided for by the Federal Constitution's Article 11 on the freedom of religion.
The Sarawakian native of the Melanau tribe is also seeking a court declaration that the Constitution's Article 8 guarantees her equality before the law and protection from discrimination on grounds of religion in the administration of law ― specifically the Printing Presses and Publications Act 1984 and the Customs Act 1967.
Jill Ireland is also asking the court to declare the Home Ministry's December 5, 1986 circular to ban the word "Allah" in Christian publications as unconstitutional and unlawful, arguing among other things that the government has failed to prove such use was a threat to public order.
Full report at:
https://www.malaymail.com/s/1661742/court-decision-in-bumiputera-christians-allah-case-deferred-to-allow-engage
--------
Saudi ambassador to Indonesia meets with 40 pilgrims invited by King Salman
August 12, 2018
JAKARTA: Forty Indonesians, including an orphaned teenager and the secretary general of Indonesia's largest Muslim organization, have been personally invited by King Salman to perform Hajj this year.
Saudi Ambassador to Indonesia Osama bin Mohammed Al-Shuaibi invited the party of pilgrims — which includes six women and two journalists — to his official residence in central Jakarta on Sunday morning prior to their departure for the Kingdom in the afternoon.
"The invitations were sent out to those who have contributed positively to the Muslim community," Al Shuaibi said through a translator.
Muhammad Izhar Assahmy, a 17-year-old student from Al Irsyad Islamic boarding school in East Java, and Husaini Muhtadi Azri, a 16-year-old who is a student at Al Aziziyah Islamic boarding school in Lombok, West Nusa Tenggara were among this year's privileged pilgrims.
Azri, an orphan, said he will pray for his parents when he performs the Hajj rituals in the holy sites.
"I hope I can perform the Hajj well in accordance to the manasik I have been practicing," Assahmy told Arab News.
Five Islamic course lecturers and the rector of the Institut Teknologi Sepuluh Nopember (ITS) in Surabaya, East Java, were also among the pilgrims.
"I was told that the campus received some invitations from King Salman to perform the hajj and that I was invited. This is really a blessing for me," one of the lecturers, Choirul Mafhud, told Arab News.
Al-Shuaibi said this is the first time that journalists have been included in the roster of pilgrims invited by the king.
"About 80 percent of (the party) have never gone on Hajj before. The remaining 20 percent have performed Hajj, but they have been invited (by the king) to show his appreciation of their role for Islam in Indonesia," the ambassador said.
Muhammad Zaitun Rasmin, the deputy secretary general of the Indonesian Council of Ulema (MUI) is one of those who has previously performed Hajj. He went to university in Madinah.
"I have now been invited in my capacity as the chairman of the Southeast Asian ulema association and this is the first time I have been invited by the king," Rasmin said.
The group will go spend a fortnight in Jeddah before going to Makkah and Madinah, he said.
"We hope we return as Hajj mabrur and this invitation from the king will strengthen Saudi Arabia's relations with Indonesia," Rasmin said.
Helmy Faishal Zaini, secretary general of Nahdlatul Ulama (NU), Indonesia's largest Muslim organization said he was invited along with NU chairman Said Aqil Siradj, but that the latter had to decline due to family matters.
"I think the spirit of the king's invitation is to maintain cooperation and understanding between Saudi Arabia and Indonesia as well as to develop a closer bond between Muslims in both countries," he told Arab News.
Full report at:
http://www.arabnews.com/node/1355236/world
--------
Africa
Nigeria: Shi'ites, Threat to National Security - Islamic Scholars
12 AUGUST 2018
By Maryam Ahmadu-Suka
Kaduna — Islamic scholars from northern region on Sunday met in Kaduna to look at activities of the Sheikh Ibrahim El-Zakzaky-led Islamic Movement in Nigeria (IMN), popularly called 'Shi'ites', saying IMN remains a security threat to the country.
The scholars stated this at the book presentation on the "Fallacy of Shi'ites beliefs," authored by fiery professor, Prof. Umar Labdo of the Maitama Sule University (formerly Northwest University), Kano and organised by the Mahdi Foundation and the International Institute of Islamic Research and Development.
They equally condemned what they described as "excesses" of the IMN in the north and alleged that the sect had manipulated the Holy Quran to suit themselves.
Secrerary-General, Jama'atu Nasril Islam (JNI), Dr. Khalid Aliyu Abubakar, said the only way to check the excesses of the Shi'ites is through the acquisition of knowledge in order to dislodge them.
"We have come to the end of this important presentation. If there is knowledge, we can change the excesses of the Shi'ites," Khalid said.
The book reviewer from the Ahmadu Bello University, Zaria, Prof. Salisu Shehu Abubakar, expressed grave concern that the Shi'ites had manipulated the Quran to suit themselves.
He called on Muslims not to allow Shi'ite members occupy any position of authority in the land.
"We have heard that they have directed their members to collect their Permanent Voter Cards. We must all ensure that all Muslims collect their own (PVC) too," he said.
On his part, the Emir of Hadejia, Adamu Abubakar Maje, who was represented by Galadima Hadejia, Alhaji Usman Abdullaziz, said the emirate council would support any move to curtail IMN's extremism.
Reacting to the claims by the scholars, spokesperson of the IMN, Ibrahim Musa said any gang-up by any group against them would fail.
He added, "This gathering is also an attempt to justify the Zaria massacre of December 2015 and the subsequent victimisation of IMN members, which in reality is unjustifiable."
https://allafrica.com/stories/201808120187.html
--------
Three 'terrorists' killed, five detained in Jordan raid
August 12, 2018
AMMAN: Jordanian security forces have killed three "terrorists" and arrested five others during a raid after an officer was killed in a bomb blast near the capital, the government said Sunday.
Three members of the security forces also died in Saturday's raid, which came after the home-made bomb exploded under a patrol car at a music festival.
A joint unit of special forces, police and army troops raided a house in the town of Salt northwest of Amman in search of a suspected "terrorist cell", government spokeswoman Jumana Ghneimat said.
Three members of the security forces were killed in a shootout with gunmen holed up in a building, she said.
"The suspects refused to surrender and opened heavy fire toward a joint security force," Ghneimat said in a statement.
The suspects also "blew up the building in which they were hiding, and which they had booby-trapped earlier", she said.
In an update early Sunday Ghneimat said that the three bodies as well as automatic weapons were found under the rubble of the building, a four-storey block of apartments.
She added that two other "terrorists" were arrested, bringing the total number of people detained in Salt since Saturday to five.
There was no immediate claim of responsibility for Friday's bomb blast, which also wounded six other members of the patrol in Al-Fuhais, a mostly Christian town west of Amman.
The identities of the suspects were not known.
One of the members of the security forces wounded during the raid was in "critical condition", Ghneimat said
"A clean-up operation is still under way," she said, adding that units of the civil defence were at the scene to assess the damage at the building and sift through the rubble.
Ghneimat urged civilians to stay away, warning that "it could totally collapse at any minute."
Medical sources said that 11 people were wounded during the raid, including members of the security forces and civilians.
Women and children were among those hurt, they said, without giving further details.
Jordanian television broadcast footage of the partially collapsed building and security forces conducting search operations.
Ambulances, bulldozers and police cars were deployed around the building in the Naqab al-Dabour residential neighbourhood in Salt, the footage showed.
The government set up a crisis cell to follow the developments, the state-run Petra news agency reported.
Prime Minister Omar al-Razzaz, who chaired the meeting, vowed Saturday that Jordan would "not be complacent in the hunt for terrorists."
Bomb blasts targeting security forces are rare in Jordan, although the tiny desert kingdom has had to struggle with a rise in Muslim fundamentalism in recent years.
Jordan has played a key role in the US-led coalition fighting the Islamic State group in neighbouring Syria and Iraq, using its air force against the jihadists and allowing coalition forces to use its bases.
Full report at:
https://www.nst.com.my/world/2018/08/400671/three-terrorists-killed-five-detained-jordan-raid
--------
Jordan king vows to defeat terrorism after militant shoot-out
August 13, 2018
AMMAN: King Abdullah of Jordan said his country would hold all those accountable for undermining the security of the Kingdom and the safety of its citizens after four security officers were killed in a shoot-out.
Jordanian forces laid siege to a building in a residential part of Salt on Saturday night in search of those responsible for a bomb attack on a police van on Friday.
The raid on the apartment in a four-story residential block followed a bomb blast on Friday under a police patrol car at a music festival in the town of Al-Fuhais, west of Amman, that killed a police sergeant and injured six other people.
A joint unit of special forces, police and troops raided the building in Salt on Saturday in search of a terrorist cell. The militants opened fire, and three terrorists and three officers died in the shoot-out. A fourth officer died in hospital on Sunday.
The terrorists "blew up the building in which they were hiding, and which they had booby-trapped earlier," said government spokeswoman Jumana Ghneimat. The rest of the building was later demolished. Five suspected terrorists were arrested during the raid, and all those involved are thought to be Jordanians from Salt.
King Abdullah said Jordan would "strike mercilessly and forcefully" against those who sought to harm the country.
"This cowardly terrorist act, and any act that targets the security of Jordan, will only add to our unity, strength and determination to wipe out terrorism and its criminal gangs," he told a meeting of security officials.
"Jordanians are stronger when they face such events, and they are more enthusiastic to clean our country and the region and protect our religion.
"Our goal is always to break the back of terrorism and we will not depart from this goal despite the sacrifices," he said.
Prime Minister Omar Al-Razzaz, who chaired the meeting, said Jordan would "not be complacent in the hunt for terrorists."
Jordan was hit by a string of attacks in 2016, including a shooting rampage by Daesh in Karak that killed 10 people. "This time the situation is more complicated," security analyst Maj. Gen. Fayez Dweiri told Arab News.
"They went after security forces and not civilians. Also it is clear that the terrorists were expecting the reaction of the security forces, and we saw how they blew up the building they were trapped in.
"This is a big challenge, it requires a revision to the security situation and an increase in monitoring some of these lone wolf cells."
Dweiri said: "I know that in the past 18 months Jordanian security stopped a number of potential attacks, but they didn't make their actions public. Daesh is not in Jordan but there are a few dormant cells and they must be followed and monitored."
The attack bore all the hallmarks of Daesh, said Hassan Abu Hanieh, an expert on Islamist radicalism. "Al-Qaeda and other militant groups have said they are no longer attacking Jordan, so the only party with an ideological position that supports attacking Jordan is Daesh," he said.
"What has happened in the past few years is the decentralization of Daesh, they are no longer bound in the execution of their attacks to any central power. Their weakness and loss of their land control has resulted in numerous revenge attacks."
Hanieh said he believed Daesh had not admitted the attack because members of the terror cell were captured alive.
The Jordanian government also appeared to have learned from previous experience, and provided regular news and updates, observers said. Radio presenter Mohammad Ersan said the difference was noticeable.
"Jumana Ghnaimat, the government spokesperson, was literally producing updates every 15 minutes, and this played a big role in shutting down the possibility of unnecessary and harmful rumors," he said.
Amer Al-Sabaileh, an independent security and geopolitical analyst, told Arab News Jordanians should prepare for a new wave of terror as the Syrian conflict winds down.
"These acts of terror are not many, but they are different," he said. "They are targeting the security forces, and this is also the first time inside Jordan that individuals have blown up a building and blown themselves up, and ambushed security forces.
"Why is this important? We are dealing with Jordanians who have returned with experience from abroad. They could have attacked civilians but they wanted to attack what they consider tyrant forces, which are illegitimate in their eyes."
Full report at:
http://www.arabnews.com/node/1355111/middle-east
--------
North America
Activist disrupts event for Muslim US House candidates
August 13, 2018
MINNEAPOLIS – A conservative activist disrupted a campaign event for Minnesota state Rep. Ilhan Omar and Michigan congressional candidate Rashida Tlaib.
Laura Loomer was part of a group that confronted Omar and Tlaib at the Holy Land deli in Minneapolis on Saturday night.
Loomer told the Star Tribune she's been traveling the country investigating Muslim candidates for office.
Tlaib won a Democratic primary last week that set her up to become the first female Muslim member of Congress. Omar, a Minneapolis Democrat, became the nation's first Somali-American state lawmaker. She's running for the U.S. House seat held by Democrat Keith Ellison.
Omar didn't immediately response to a request for comment Sunday.
Loomer was arrested in New York in June after storming the stage of a production of Shakespeare's "Julius Caesar" that has a character resembling Donald Trump who's assassinated.
http://www.foxnews.com/us/2018/08/12/activist-disrupts-event-for-muslim-us-house-candidates.html
--------
How Qatar is funding a high-profile lobbyist to influence US Senate elections
13 August 2018
Qatar is funding a high-profile lobbyist to influence the upcoming US Senate elections in November, according to US media reports this week.
Michael Soliman is the New Jersey Democrat's Bob Menendez campaign chairman, and since 2015, Soliman has also lobbied the senator and other members of Congress on behalf of the government of Qatar, arranging meetings for the country's ambassador to the U.S. and raising issues important to Qatar's relationship with Washington, according to the US government watchdog Campaign Legal Center.
Should Menendez defeat Republican Bob Hugin in November and Democrats take control of the Senate, the senator would be poised to chair the Foreign Relations Committee — it said.
Menendez is seeking a third six-year term after overcoming federal corruption allegations last year, and
his campaign has paid Soliman's consulting firm $105,000 since 2015, according to the Inquirer.
Qatar, spent $24 million on lawyers and lobbyists in the U.S. last year.
While it is legal for Soliman to hold the campaign and lobbying roles simultaneously, but some ethics experts say the arrangement poses conflicts of interest and many questions.
"There is a blurring of lines between responsibility to the candidate and responsibility to their client," said Meredith McGehee of the Campaign Legal Center, a nonprofit watchdog in Washington. "Very little of that is a responsibility to the public."
Steve Sandberg, a spokesperson for the Menendez campaign, admitted that Menendez met Qatari dignitaries, according to the report.
Ethics experts said that Soliman's campaign and lobbying roles could fan fears of Qatar influence.
Meredith McGehee of the Campaign Legal Center, was quoted by Philly as confirming that it is unusual for a top campaign adviser to be registered as a representative of a foreign principal.
Menendez has survived a high-profile corruption trial last year when a judge acquitted him of some of the charges, and the Justice Department dropped its case.
The Senate Ethics Committee has reprimanded Menendez in April, writing in a letter that his conduct "risked undermining the public's confidence in the Senate."
Menendez has maintained he did nothing wrong in accepting gifts and advocating for the interests of a Florida doctor, saying he acted out of friendship, according to many US media outlets.
The Philly said that since 2015, Soliman has arranged meetings with members of Congress and various Qatari officials, including the ambassador to Washington, foreign affairs minister, and attorney general, according to records filed with the Justice Department by Mercury Public Affairs, the international consulting and lobbying firm where Soliman is a partner.
The Qatari Embassy in Washington first signed a contract with Mercury in 2015 for a rate of $155,000 a month, according to the site.
Since then, the parties have renewed the contract for at least $100,000 a month, records show, it added.
More than a half-dozen lobbyists at Mercury have worked for Qatar, which has a lot at stake.
Also records show Soliman has discussed legislation with Menendez's chief of staff and asked Foreign Relations Committee staff about such issues as Menendez's view on Syria policy and authorization for use of military force.
According to a July disclosure, his most recent contact with Menendez's staff came in May, when Soliman worked to arrange a meeting between the senator and the Qatari ambassador, the site added.
Full report at:
https://english.alarabiya.net/en/News/world/2018/08/13/How-Qatar-is-funding-a-high-profile-lobbyist-to-influence-US-Senate-elections.html
--------
US ambassador urges UK to ditch support for Iran nuclear deal
Aug 12, 2018
US Ambassador to Britain Woody Johnson has urged the UK to drop out of the 2015 Iran nuclear deal and follow the lead of President Donald Trump who left the "flawed" agreement in May.
Trump announced on May 8 that he would abandon the Joint Comprehensive Plan of Action (JCPOA), a landmark nuclear deal between Iran and six world powers – the US, the UK, France, Russia, China and Germany.
The move did not go down well with the other signatories, who have made it clear that they would stay in.
In an article for The Sunday Telegraph, the American envoy called on the government of British Prime Minister Theresa May to reconsider its support for the nuclear deal and side with Washington.
"America is turning up the pressure and we want the UK by our side. It is time to move on from the flawed 2015 deal," he said.
"We are asking global Britain to use its considerable diplomatic power and influence and join us as we lead a concerted global effort towards a genuinely comprehensive agreement."
Under the JCPOA, Iran agreed to limit parts of its peaceful nuclear program in exchange for the removal of all nuclear-related sanctions.
On Monday, Trump ordered all nuclear-related sanctions that were removed under the deal to be reinstated immediately.
The first phase of the unilateral sanctions came into effect on Tuesday, targeting Iran's purchase of US dollars, trade in gold and other precious metals as well as its automotive sector.
A second batch of bans will be re-imposed in November with the aim of curtailing Iran's oil exports and shipping sectors.
Johnson wrote in his article that British businesses should cut all trade ties with Iran and help the US form a "united front."
"The President has been explicit: any businesses which put their own commercial interests in Iran ahead of the global good will risk serious consequences for their trade with the United States," he said.
Joining Russia and China, who have thrown their full weight behind the accord, Britain, France and Germany said in a joint statement last week that they "deeply regret" the re-imposition of US sanctions because the Iran deal was "working and delivering on its goal."
Full report at:
https://www.presstv.com/Detail/2018/08/12/570990/US-Woody-Johnson-UK-Iran-deal-JCPOA-Trump-sanctions
--------
URL: https://www.newageislam.com/islamic-world-news/hajj-how-true-face-islam/d/116117
New Age Islam, Islam Online, Islamic Website, African Muslim News, Arab World News, South Asia News, Indian Muslim News, World Muslim News, Women in Islam, Islamic Feminism, Arab Women, Women In Arab, Islamophobia in America, Muslim Women in West, Islam Women and Feminism