New Age Islam News Bureau
3 Oct 2017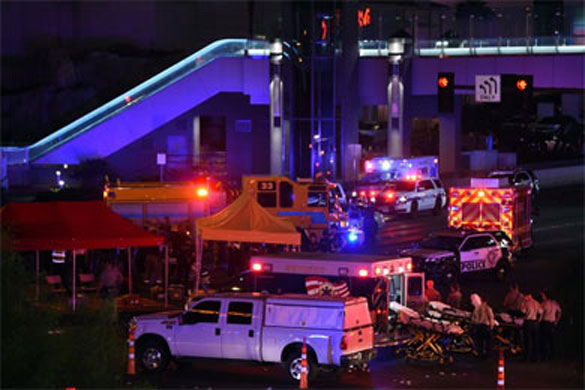 Emergency workers in Las Vegas after the mass shooting on Sunday. Credit Ethan Miller/Getty Images
------
• False ISIS Connections, Nonexistent Victims and Other Misinformation in the Wake of Las Vegas Shooting
• Pakistani Christian on Death Row, Asia Bibi, among Nominees for Sakharov Prize
• Multiple Terrorist Bomb Attacks Kill 15 People in Damascus
• Rohingya Muslims Could Go Back To Burma, Says Burmese Minister
• Mustafa Akyol Book's Outlawed Prior to His Detention
North America
• False ISIS Connections, Nonexistent Victims and Other Misinformation in the Wake of Las Vegas Shooting
• 'Lone Wolf': Our Stunning Double Standard When It Comes To Race and Religion
• Islamic State claims Las Vegas mass shooting
• 58 Dead, 500 Injured in Las Vegas Shootout, ISIS Says 'Attacker Recently Converted to Islam'
• Muslim advocates, legal org file suits over travel ban
• How two moms and a teacher are helping Toronto celebrate Islamic Heritage Month
• US Army to install Israeli equipment on Abrams tanks
--------
Europe
• Pakistani Christian on Death Row, Asia Bibi, among Nominees for Sakharov Prize
• More Than 20% of Countries Have Official State Religions – Survey
• Russian security services bust 'Islamic State cell' in Moscow region
• Marseille attacker nabbed days before rampage
• Ranks of World's Refugees Swell as Asylum Space Shrinks: UN
• French police work to identify Marseille knifeman
--------
Arab World
• Multiple Terrorist Bomb Attacks Kill 15 People in Damascus
• At Least 45 Killed In US Airstrike in Syria's Raqqah: Local Reports
• FSA Spokesman Says Hamza Bin Laden's Presence In Syria Doubtful
• Amnesty deplores Saudi Arabia's 'execution spree'
• Capacity of Two Holy Mosques to Expand Manifold
• Syrian Army Wards off Terrorists' Heavy Offensives in Eastern Homs
• Syria: Chief Commander of Tahrir Al-Sham Terrorist Organization Resigns
• Eastern Syria: Senior Terrorist Commander Killed in Drone Attack
• Syrian Army Drives Terrorists out of Two More Regions in Eastern Hama
• Terrorists' Command Centers Destroyed in Syrian Armed Forces' Attacks in Deir Ezzur
• Infighting, Disunity Intensifying among Terrorist Groups in Northern Syria
• Saudi court acquits Binladin Group over deadly Mecca crane collapse
• Syrian forces repel Daesh attack on army posts in Homs: SANA
• Iraq's Hashd al-Sha'abi forces retake 18 villages near Hawijah
--------
South Asia
• Rohingya Muslims Could Go Back To Burma, Says Burmese Minister
• Hekmatyar Oppose Closing Taliban Office in Qatar, Support Legitimate Demands of Group
• Sri Lanka Arrests Buddhist Monk for Attacking Rohingya Refugees at UN Safe House
• Local Muslims, Sikhs join hands to contribute for Rohingya kitchen
• Prominent Taliban leader killed in Afghan forces ambush in Kapisa province
--------
Southeast Asia
• Mustafa Akyol Book's Outlawed Prior to His Detention
• Indonesian Muslim Reps to Visit Japan and Show What Islam Nusantara Is Like
• Islamists Fearing 'Communist Revival' Rally on Jakarta's Streets
• Indonesia: Militants, Opposition Unite To Attack President Widodo
• Indonesia considering banning LGBT characters from national television shows
--------
Pakistan
• People of All Faiths Free To Pursue Their Religious Obligations: Pak President
• 'I Saw Bodies Hanging From the Trees': Swat Militancy Survivor Recalls Horrors of Taliban Rule
• 'Unopposed' Nawaz Sharif re-elected PML-N president after rushed legislation
• Mystery shrouds Rangers 'seizing' Judicial Complex
• Islamabad, Kabul stress working for better future
• Three killed in Swat blast and firing
• Pakistan, China vow to continue efforts for Afghan peace
• Five 'Terrorists' Killed in an Operation Launched by Punjab's Counterterrorism Department
--------
India
• Use of Terrorism As Instrument of State Policy Cannot Be Tolerated: India To UN
• Radical Muslim Outfit, Popular Front of India, Faces Ban
• 'India's Prime Minister Is a Terrorist,' Says Pakistan's Foreign Minister
• J&K: Two infiltration bids foiled, 5 terrorists gunned down
• Terrorists attack BSF camp in Srinagar; 4 securitymen injured
• New flight services launched between Mazar-e-Sharif and Delhi
• Terror funding case: NIA probe rivals' conspiracy, says J&K MLA Engineer Rashid
--------
Mideast
• Palestinian Prime Minister Visits Gaza in Move to Reconcile With Hamas
• Arab Coalition Strike Kills Houthi Commanders in Yemen's Harad
• Iran, Iraq hold exercises near Iraqi Kurdistan
• Kurdish Referendum Helps Boost Takfiri Terrorism: Iranian Official
• Five civilians killed in Yemen air raid, says govt official
• Any change in borders spreads insecurity, instability in region: Rouhani
• Iran, Turkey back Iraq's integrity, voice opposition to Kurdish secession
• Israeli court sentences Palestinian man to 2 life terms in prison
--------
Africa
• African Migrants to Yemen Tortured For Ransom: UN
• 17 dead in protests in Cameroon English-speaking areas
• Police chief at airport in Somalia's Puntland shot dead
Compiled by New Age Islam News Bureau
URL: https://www.newageislam.com/islamic-world-news/false-isis-connections-nonexistent-victims/d/112754
--------
False ISIS Connections, Nonexistent Victims and Other Misinformation in the Wake of Las Vegas Shooting
By LINDA QIU
OCT. 2, 2017
Rumors and conspiracies have proliferated in the aftermath of the Sunday night shooting at a Las Vegas music festival that left at least 59 dead. Viral falsehoods include: false allegations about the gunman, a person of interest and Nevada's gun control laws. More below.
Social media users falsely identify the gunman
Before the police named Stephen Paddock as the gunman, some bloggers and social media users incorrectly pointed to a man named Geary Danley as the "murderer." In a now deleted post, the right-wing blog The Gateway Pundit called Mr. Danley "a far left loon" and noted that he had followed several pages dedicated to liberal politics on Facebook.
All of these claims are untrue.
The unfounded rumors appear to have originated on the anonymous messaging board 4chan.
And now his name and photos are being circulating by far-right Twitter accounts, accusing him of being a "neo-liberal" and "alt-left' pic.twitter.com/D1UDGOkag1
— Ryan Broderick (@broderick) Oct. 2, 2017
Unfounded connection to ISIS
ISIS claimed responsibility for the attack and said the gunman had recently converted to Islam. But an FBI spokesman has said there is no proof so far that Mr. Paddock had any ties to international terrorist groups.
Still, some social media accounts spread the unfounded claims that Mr. Paddock has been radicalized.
The New York Times reporter Rukmini Callimachi, who has covered ISIS for several years, noted on Twitter that the organization has incorrectly claimed responsibility for two recent attacks, casting further down on any assertion of an ISIS connection.
7. But it's also the case that ISIS has had two major mistakes in recent months. This summer, they claimed an attack on a resort in Manila
— Rukmini Callimachi (@rcallimachi) Oct. 2, 2017
Additionally, Graeme Wood, who has reported on ISIS for The Atlantic, noted that Mr. Paddock was a gambler and had committed suicide, actions that are at odds with ISIS' ideology.
Facebook and Twitter users have connected Marilou Danley, a woman whom law enforcement officials initially described as a "companion" of the gunman, with a viral video to suggest that she knew in advance the shooting would happen and was perhaps complicit in it. In the video, an unnamed concertgoer recounted her experience with two people who she said had told a group, "You're all going to die," before being escorted out of the concert.
There is no evidence in the video that Ms. Danley had been identified by the witness. The police have since said that Ms. Danley was out of the country at the time of the shooting and is no longer a person of interest.
As has become common in the aftermath of an event with unidentified victims, social media has been a tangled web of users expressing legitimate concern for missing loved ones and pranksters polluting social streams with fakery.
Several news outlets have done a fine job flagging fakes that include pranksters repurposing the photos of a German soccer player, a murder suspect in Mexico, a porn star and random social media stars. In a telling exchange, Gianluca Mezzofiere of Mashable reached out to the operator of one Twitter account sharing misinformation and reported the following:
Mashable reached out to the troll to ask why he's spreading misinformation during such a critical time.
"I think you know why," he replied. "For the retweets :)"
When Mashable pointed out that it's unethical to spread misinformation when people are desperately looking for their missing family and friends, he just said: "You are right I'm sorry."
"Jack Sins" said he chose TheReportOfTheWeek (aka Reviewbrah) just because he's a meme and tweeted Johnny Sins because he "is a living legend."
Some inaccurate claims have popped up in post-shooting debates over gun control. Some are asserting that automatic weapons are "already illegal" in Las Vegas.
That's not exactly true. To start, it's not yet known what kind of weapons Mr. Paddock used. Police reports suggest he had at least 10. The rapid pace at which he fired has led to informed speculation that at least one weapon may have been fully automatic, like a machine gun. But nothing had been confirmed by the time these messages were posted to social media.
Also, while it's true that a provision of the Firearm Owners Protection Act of 1986 banned civilian purchases of machine guns across the country, the provision also grandfathered in weapons that were made and registered before May 19, 1986. In response to a recent Freedom of Information Act request, the Bureau of Alcohol, Tobacco, Firearms and Explosives counted some 175,000 transferable machine guns in the national registry as of December 2015.
Several states, like Iowa and Hawaii, have restrictions on the possession of machine guns in addition to the 1986 law. But there are none in Nevada, according to the National Rifle Association, where "it is lawful to possess, purchase or sell a machine gun or silencer that is legally registered and possessed in compliance with all federal laws and regulations."
Are you seeing other questionable information about the shooting in Las Vegas? If so, please send us an email at factcheck@nytimes.com
Get politics and Washington news updates via Facebook, Twitter and in the Morning Briefing newsletter.
https://www.nytimes.com/2017/10/02/us/politics/viral-claims-and-rumors-in-the-las-vegas-shooting.html?mtrref=www.google.co.in&gwh=4EEBAA130AE0DB339A134CA22348F3F1&gwt=pay
--------
Pakistani Christian on Death Row, Asia Bibi, among Nominees for Sakharov Prize
October 02, 2017
BRUSSELS -- Members of the European Parliament (MEPs) have presented their nominations for this year's Sakharov Prize for Freedom of Thought -- including Asia Bibi, a Christian woman sentenced to death in 2010 under Pakistan´s blasphemy law.
Polish MEP Anna Fotyga of the conservative ECR group in the European Parliament said on October 2 that Bibi's "behavior in prison, the dignity she has shown during all these years is the best proof of her being able to represent the dignity of a defender of human rights in the face of the worst fate."
Fotyga spoke at a joint meeting of the foreign affairs, development, and human rights committees in Strasbourg.
Bibi has been on a death row for almost seven years and her appeal to Pakistan's Supreme Court has been postponed to an undetermined date.
She was convicted and sentenced to hang after an argument with a Muslim woman over a bowl of water. Her supporters maintain her innocence and insist it was a personal dispute.
Under Pakistan's blasphemy laws, anyone found guilty of insulting Islam can be sentenced to death. Rights groups say blasphemy laws are often abused to carry out personal vendettas, mainly against minority Christians.
Bibi is among six nominees for the European Parliament's prestigious Sakharov Prize, which honors individuals and organizations defending human rights and fundamental freedoms.
The others nominees are Guatemalan human rights defender Aura Lolita Chavez Ixcaquic; Selahattin Demirtas and Figen Yuksekdag, co-chairs of a pro-Kurdish party in Turkey; a group of people representing the Venezuelan opposition; the Swedish-Eritrean prisoner of conscience Dawit Isaak; and Pierre Claver Mbonimpa, a human rights defender from Burundi.
On October 10, the European Parliament's foreign affairs and development committees are scheduled to vote on a shortlist of three finalists and the laureate is to be announced on October 26. The award ceremony will take place at the parliament in Strasbourg in December.
https://www.rferl.org/a/eu-pakistan-sakharov-prize-nominess-bibi/28769933.html
--------
Multiple terrorist bomb attacks kill 15 people in Damascus
Oct 2, 2017
At least 15 people have been killed and scores injured after multiple terrorist explosions hit a southern neighborhood of Syria's capital Damascus, state media say.
The explosions occurred in al-Midan neighborhood in the city on Monday after a number of terrorists detonated their explosive vests in front of a police station in the area.
Russia's RIA news agency, citing its correspondent who was reporting from the scene, noted that the dead included five policemen and 10 civilians.
RIA also quoted a source in the Syrian security services as saying that the attacks had been carried out by four bombers.
Meanwhile, al-Mayadeen TV channel also reported that four militants had carried out the attack.
The Arabic-language al-Watan newspaper reported that the attacks took place near a police station in Midan neighborhood of the Syrian capital city.
Syrian Interior Minister Mohammad al-Shaar said in comments broadcast by the state television that armed militants carrying out the attack were targeting the police station and clashed with police officers there.
One attacker blew his explosives at the main entrance of the station and another one detonated his explosives on the first floor, the minister added.
There was no immediate claim of responsibility for the Damascus attacks, however, previous terrorist attacks in the Syrian capital were claimed by terrorists from Daesh and al-Nusra Front Takfiri groups.
http://www.presstv.ir/Detail/2017/10/02/537217/Syria-explosion-terrorits-Damascus-alMidan
--------
Rohingya Muslims Could Go Back To Burma, Says Burmese Minister
Oct 3, 2017
A Burmese minister on Monday proposed taking back hundreds of thousands of Rohingya Muslims who fled to Bangladesh after a military crackdown, according to Dhaka's top diplomat.
However, no details of the planned repatriation were given by Bangladesh Foreign Minister A.H Mahmood Ali, and there was widespread scepticism over whether any of the Muslim Rohingya now in Bangladesh would return.
Half a million have arrived over the last five weeks after militant attacks in Burma's Rakhine state sparked violent reprisals.
The United Nations has said the attacks carried out by the Burmese military could amount to ethnic cleansing in the Buddhist-dominated country.
The talks between Mr Mahmood Ali and Burma's Minister of the Office of State Counselor Kyaw Tint Swe came as UN representatives were allowed to access Rakhine for the first time since the crisis erupted on August 25.
UN officials, diplomats and aid groups were taken on a one-day visit organised by Burmese authorities.
They were flown by helicopter to Maungdaw, epicentre of the violence. Mr Mahmood Ali held what he called "friendly" talks in Dhaka with the representative of Burma's civilian leader Aung San Suu Kyi.
"Myanmar has made a proposal to take back the Rohingya refugees," the minister told reporters, using another name for Burma.
"The two sides have agreed to a proposal to set up a joint working group to coordinate the repatriation process."
Ms Suu Kyi, who has been severely criticised for her failure to curb the military crackdown, said last month that Burma would take back "verified" refugees.
This would be done according to criteria agreed in 1993, when tens of thousands of Rohingya were repatriated, she said.
The Bangladesh minister gave no timeframe for repatriation and did not say whether Burma would also take back 300,000 Rohingya refugees who fled to Bangladesh during earlier violence.
He said refugees would be verified by the joint working group, but without UN involvement.
"Bangladesh has proposed a bilateral agreement [with Burma] to help implement the repatriation," he said.
There was no immediate comment from Ms Suu Kyi's representative, who was to return to his country on Monday.
Burma denies the Rohingya minority citizenship even though many have lived there for generations. It considers the Muslims illegal migrants from Bangladesh.
http://www.telegraph.co.uk/news/2017/10/02/rohingya-muslims-could-go-back-burma-says-minister/
--------
Mustafa Akyol book's outlawed prior to his detention
October 3, 2017
KUALA LUMPUR, Oct 3 — Turkish writer Mustafa Akyol's book was banned by the Home Ministry before he was detained last week by Malaysian Islamic authorities for a talk on the commonalities between the Abrahamic religions.
A federal government gazette dated September 26 announced that Akyol's book, Islam Without Extremes: A Muslim Case For Liberty, has been prohibited.
The gazette was signed by Home Minister Datuk Seri Ahmad Zahid Hamidi on September 6, under the Printing Presses and Publications Act 1984
The Malay translation of the book, Islam Tanpa Keekstreman: Berhujah Untuk Kebebasan, was similarly banned.
The reason given was reportedly because the book may "alarm the public" and was "prejudicial to public interest".
On September 24, Akyol spoke at a roundtable discussion at the Royal Selangor Golf Club about apostasy and gave a public lecture at the Renaissance Hotel here about the relevance of democracy.
The journalist was later detained by the police on an order by the Federal Territories Islamic Affairs Department (Jawi), but was later released after former Turkish president Abdullah Gul pulled some strings with a Malaysian royalty.
Organiser Islamic Renaissance Front founder Dr Ahmad Farouk Musa was summoned to appear at the Shariah court yesterday for allegedly "abetting" Akyol, who was accused of giving a religious talk without accreditation.
http://www.themalaymailonline.com/malaysia/article/mustafa-akyol-books-outlawed-prior-to-his-detention#ET7vQiIu3cSOmHpd.97
--------
North America
'Lone wolf': Our stunning double standard when it comes to race and religion
By Khaled Beydoun
October 2, 2017
In what police call the deadliest attack in modern American history, 64-year-old Stephen Paddock opened fire on concertgoers at a country music festival in Las Vegas on Sunday.
Despite the scale of the attack and Paddock's being armed with more than 10 rifles, Las Vegas Sheriff Joe Lombardo immediately dismissed any ties to terrorism, classifying Paddock, a white male from a rural town 80 miles from Las Vegas, as a "local individual" and a "lone wolf."
We have yet to determine whether Paddock was motivated by anyone or anything, so many are tiptoeing around terms such as "terrorist." But if Paddock were Muslim, his status as a local individual would be entirely irrelevant, and the motive of "Islamic terrorism" or "jihad" would likely be immediately assumed, even without any evidence.
The Las Vegas shooting raises several questions linked to race and religion and how they figure into our imagining and policing of terrorism. President Trump has ushered in the third phase of the war on terror, and his brazen "clash of civilization" rhetoric around U.S. anti-terrorism policy and programming has fixated on Muslims.
Trump continues to carry forward counter-radicalization policing — the signature anti-terrorism program installed by former president Barack Obama — which seeks to identify and arrest "homegrown" Muslim radicals. Like Paddock, Dylann Roof, who killed nine churchgoers in Charleston, S.C., in 2015, was described as a "lone wolf."
But why is one person "homegrown" while someone else is a "lone" or "local wolf"? An extensive list of exemptions has become available to white culprits of mass violence, most notably "lone wolf" or "insane," and the Las Vegas shooting adds the status of being "a local individual" to the roster.
Certainly, many of the Muslim Americans pursued as prospective radicals in Minneapolis, Boston, Los Angeles or Washington, D.C. — cities where counter-radicalization programs are robustly enforced — are tied to specific communities. They, too, are local.
However, being brown, black and Muslim marks them as being perpetually foreign before the eyes of the state and local law enforcement tasked with the responsibility to pursue and prosecute homegrown Muslim radicals. While Muslim identity is often attached to possible collective action and foreignness, whiteness seems inextricably tied to the presumption of individuality and indigenousness.
In an April segment of "Fox & Friends," co-host Jon Scott alleged that Showtime's "Homeland" had a "political agenda" by challenging the trope that Muslim violence is driven by a violence inherent to the faith and tied to foreign terrorist actors. "Do we remember who the bombers of the Boston Marathon were?" Scott asked. "I mean, just an aside to the Muslim community, if you don't want to be portrayed in a negative light, maybe don't burn people alive and set off bombs and things like that." Pete Hegseth added: "Yeah, and point out the radicalism, and say that's not me."
Time and again, following a terrorist attack involving a (nominal or bona-fide) Muslim individual, Muslim Americans are expected to disavow and condemn the attack. The burden of collateral and collective guilt has become a central component of the modern Muslim American experience, which they are saddled with as a consequence of private and popular Islamophobia.
However, no one expects white men to apologize on behalf of all other white men, even though 63 percent of mass shootings since 1982 have been committed by their demographic. While Muslim identity is often tied to terrorism suspicion, whiteness swiftly disconnects individuals like Paddock from other white Americans from any responsibility to disavow, condemn or apologize on behalf of "one of their own."
Double standards and a conflation of terrorism with one group are not only a mirror of popular stereotypes, but also a reflection of core baselines in our legal system. They are messages that command us, as a society, to instantly seek vengeance and justice in the name of our country when the culprits of terrorism are Muslims, but retreat from any political analysis or finger-pointing when the culprits are white.
While we focus on Muslim boogeymen both near and far, we neglect hateful, armed white terrorists right here at home.
Khaled A. Beydoun is an associate professor of law at the University of Detroit Mercy School of Law and author of "American Islamophobia: Understanding the Roots and Rise of Fear" (forthcoming).
https://www.washingtonpost.com/news/acts-of-faith/wp/2017/10/02/lone-wolf-our-stunning-double-standard-when-it-comes-to-race-and-religion/?utm_term=.ea41c764abc1
--------
Islamic State claims Las Vegas mass shooting
Oct 2, 2017
CAIRO: The Islamic State group on Monday claimed responsibility for the mass shooting in Las Vegas, saying the perpetrator was "a soldier" who had converted to Islam months ago, without providing any evidence to support the claim.
Authorities have yet to identify a motive for the shooting, and said initially there was no evidence of any connection to international terrorism.
The group's Aamaq news agency released two brief statements hours after the shooting at a country music concert that killed at least 50 people and wounded at least 400. It was the deadliest mass shooting in modern US history.
IS did not name the suspected shooter, but said he had "executed the operation in response to calls to target countries of the coalition" batting the extremist group in Iraq and Syria.
Police have identified the shooter as Stephen Craig Paddock, 64, of Mesquite, Nevada, and have said he killed himself after the shooting. Sheriff Joseph Lombardo said authorities believe it was a "lone wolf" attack, and the US Homeland Security Department said there was no "specific credible threat" involving other public venues in the US.
The IS group often claims attacks by individuals inspired by its message but with no known links to the group. However, it is not known to have claimed any attacks that were not at least loosely linked to it.
Before Sunday, the deadliest mass shooting in modern US history took place in June 2016, when a gunman opened fire at a gay nightclub in Orlando, Florida, killing 49 people. The gunman, Omar Mateen, had pledged allegiance to IS and it claimed the attack.
Full report at:
http://timesofindia.indiatimes.com/world/us/islamic-state-claims-las-vegas-mass-shooting/articleshow/60913998.cms
--------
58 Dead, 500 Injured in Las Vegas Shootout, ISIS Says 'Attacker Recently Converted to Islam'
October 2, 2017
Las Vegas, Oct 2: The death toll in the mass shooting incident of Las Vegas climbed to 58 on Monday, whereas, the number of injured victims soared to above 500. While the probing officials have ruled out the angle of religious extremism, terror outfit Islamic State (ISIS) said the shooter was affiliated to them.
The attacker, who killed himself minutes before the Las Vegas metropolitan police barged into his room on the 32nd floor of the Mandalay Bay Resort, was identified as Stephen Paddock. Apart from his name suggesting a belief system which is dissimilar to the militants of ISIS, the preliminary investigation failed to find any evidence which could link him to any international extremist group.
ISIS, however, in its propaganda news agency al-Amaq, said Paddock had recently switched his faith. "The Las Vegas attacker converted to Islam a few months ago," it stated.
The terror strike was carried out by him in "response to the calls to target states of the coalition", it added. By 'coalition', Amaq referred to the US-led group fighting against ISIS and al-Nusra front in the Middle East and West Asia.
The claim of ISIS was contradicted by Las Vegas police sheriff John Lombardo. During the press briefing in the early hours of the day, Lombardo said, "Our investigation has found that he was not linked to the terror network."
US President Donald Trump, while addressing the nation after the deadly attack in Las Vegas, extended his "warmest condolences" to the bereaved families. Trump said the government would strongly stand behind the victims of the attack, calling it "an act of pure evil".
The President ordered the national institutions to waive the flag at half-staff to honour the demise of victims. He would also be visiting the University Medical Centre here on Wednesday, to meet the injured victims undergoing treatment.
The attack in Las Vegas, carried out late night on Sunday, was the deadliest shooting incident in the United States following the June 2016 shootout in Pulse gay club in Orlando. 49 people were injured in the attack perpetrated by a radicalised Muslim gunman.
The shooting incident also brings to centrestage the gun ownership debate in the US, with a mass section of the society seeking changes in the Second Amendment which allows citizens to buy and use weapons such as automatic guns with no license. The debate is likely to draw flak towards Trump, who has backed the pro-gun lobby since the beginning of his presidential run.
Full report at:
http://www.india.com/news/world/las-vegas-shooting-58-dead-over-500-injured-islamic-state-says-attacker-recently-converted-to-islam-2510458/
--------
Muslim advocates, legal org file suits over travel ban
By Juliet Linderman 
October 2, 2017
BALTIMORE — A coalition of Muslim and Iranian-American advocates and a nonpartisan legal institute filed the first lawsuits against the Trump administration's new travel restrictions for citizens of eight countries, including Iran, that were announced late last month.
The suits were filed Monday in federal courts in New York and Maryland.
The Trump administration in September announced the most recent restrictions, which affect citizens of Chad, Iran, Libya, North Korea, Somalia, Syria, and Yemen — and some Venezuelan government officials and their families. They are to go into effect Oct. 18.
One lawsuit, filed Monday night in U.S. District Court for the Southern District of Maryland on behalf of the Iranian Alliance Across Borders and six individuals, argues that restricting travel for citizens of predominantly Muslim countries violates the U.S. Constitution.
A second suit, filed hours earlier in the U.S. District Court for the Southern District of New York on behalf of the Brennan Center for Justice at New York University, seeks to compel the State Department to comply with a Freedom of Information Act request and turn over documents submitted to the White House by the Department of Homeland Security detailing the information-sharing practices of foreign countries and justifying the decision to exclude travelers from select countries.
The U.S. Department of Justice did not immediately respond to a request for comment Monday. The White House referred questions to the State Department, which declined to comment on ongoing litigation.
President Donald Trump on Sept. 24 issued a proclamation outlining the new travel restrictions. Administration officials said the latest version is the result of a lengthy process, based on an objective assessment of each country's security situation and willingness to share information with the U.S.
It was the administration's third measure to limit travel after a broad ban that sparked chaos at U.S. airports in January and numerous challenges in courts across the country. The administration later issued a temporary order after suffering legal setbacks on the earlier attempt at restrictions.
The Iranian Alliance Across Borders lawsuit is filed against Trump, acting Secretary of Homeland Security Elaine Duke, acting Commissioner of U.S. Customs and Border Protection Kevin McAleenan, acting Director of U.S. Citizenship and Immigration Services James McCament, Attorney General Jeff Sessions and Secretary of State Rex Tillerson. The suit argues that simply adding two countries that are not majority-Muslim to the list is only "an effort to disguise the Proclamation's targeting of Muslims." Such discrimination violates the First Amendment and the Immigration and Nationality Act, the suit says. The group is asking for a nationwide injunction to stop the restrictions from going into effect.
"Despite President Trump's attempts to cloak this latest iteration of his Muslim ban in religiously neutral garb by invoking a national security review and including North Korea and Venezuela, the purpose and effect of the Proclamation remain unchanged: to keep Muslims from entering the United States."
The prior ban included Sudan but didn't include Chad, North Korea or Venezuela. The new measures range from an indefinite ban on visas for citizens of Syria to more targeted limitations. Iranians, for example, will not be eligible for immigrant, tourism or business visas but remain eligible for student and cultural exchange visas if they undergo additional scrutiny.
Johnathan Smith, legal director for Muslim Advocates, an organization representing the plaintiffs in both lawsuits, said the complaints take issue with both the impact of the travel restrictions and the process by which they were developed.
"You can't ignore the fact that this ban affects heavily Muslim countries, and the fact that they attempt to obscure that bias by adding two countries — North Korea and Venezuela — that don't have a Muslim majority doesn't negate the fact that at its core, this policy is about blocking entry of Muslim individuals into the United States," Smith said. "In addition to the challenge of constitutionality to the program, it's equally important to bring some transparency, some light, some sunshine to these processes so all Americans can see what's happening and make their own judgments and assessments about what the White House and federal agencies are doing."
Full report at:
https://www.washingtonpost.com/local/muslim-advocates-legal-org-file-suits-over-travel-ban/2017/10/02/55899010-a7ea-11e7-9a98-07140d2eed02_story.html?utm_term=.63f0489096af
--------
How two moms and a teacher are helping Toronto celebrate Islamic Heritage Month
By FATIMA SYED
Mon., Oct. 2, 2017
Bilal Moore, 16, went to school for the first time this year. Previously he was home-schooled by his mom, who has some vocational training in education, and he took some virtual learning classes. His mom worried at the lack of multicultural education in the Toronto District School System—she worried that he wouldn't have a full education that included his Islamic heritage.
"I learnt about my heritage at home, but I know a lot of my friends who are in school who have felt like they don't really know a lot about their history," said Moore. "They know more about other people's history over theirs because they grew up here and went to the schools here."
Moore has never seen any mention of Muslim contributions in the textbooks he has now. He lists the things his history class never talks about: Algebra was invented by Muslims; coffee, too.
"They don't even know that the zero was invented by Muslims," he exclaims, excitedly.
But a new initiative will address this as TDSB celebrates Islamic Heritage Month for the month of October.
Islamic Heritage Month has been a federally designated event since 2007, (Ontario made it official last year), but little has been done to mark it. This realization brought together two mothers and a TDSB educator, who have created a poster of 12 Muslim Canadians who have made significant contributions to Canadian life, a resource guide for educators to use to plan events and classes during the month, and a series of events to help raise awareness.
The poster will be placed in all 580 schools in the TDSB, and viewed by 250,000 students. Some of the names are recognizable: Minister of Immigration, Ahmed Hussen; the first refugee elected to office, Maryam Monsef, Ontario's Attorney General, Yasir Naqvi, and the Mayor of Calgary, Naheed Nenshi. Others include Toronto Maple Leafs hockey player, Nazem Kadri, the Raptors In-Arena Host, Mark Strong, and the first hijab-wearing news anchor, Ginella Massa.
"There's a whole spectrum of who identifies as Muslim," said Nazerah Shaikh, a co-chair of the initiative. "It's important for all kids to see themselves, among teachers, among professionals and to be inspired to aspire to something."
Shaikh and her co-chair, Haniya Sheikh, are moms of Muslim children and parent representatives to the TDSB. Their project has been entirely grassroots, beginning by contacting friends who contacted their friends. The discussions took place on the social media platform WhatsApp, and the designing and writing took place on Google Docs.
Educators, parents, community members, Islamic schools and TDSB officials created lists of over 100 books, movies, music, art projects, poets, artists, athletes—which they collated in an all-encompassing resource book with a primer on Islam and Muslim Canadians for educators. All of it was vetted by TDSB officials.
"We have educators who don't know very much about Muslims and what they believe in," said Qaiser Ahmad, the head of guidance at Albert Campbell Collegiate, and another member of the team. "We wanted teachers to have an authentic resource that could be used and drawn upon when they were doing their curriculum work."
"I think Islam and Muslims are the most misunderstood population right now in 2017," said Shaikh. "This is a really nice, friendly way to create a cultural dialogue, a cultural understanding, and to help address ignorance.
"That's the whole beauty of heritage months, whether it be Islamic, Jewish, Black," she said. "It creates a wonderful setting for that dialogue to help our neighbours understand more about their own neighbours."
Sheikh's children have heard Islamaphobic slurs around the playground when they were as young as nine years old. Shaikh, who grew up in the U.S, is unsettled by the negativity trickling into Canada after the election of U.S. President Donald Trump.
Three months into their project, the shooting at the Quebec Mosque happened, making the resource book and the month-long events even more important. Shaikh and Sheikh were on a conference call just as the news broke. Thousands of volunteer hours later, they launched the book and the poster at the Aga Khan Museum on Sept. 25 in the presence of an excited Muslim community and representatives from all three levels of the government.
"One of the things we know, from the feedback we get from our students, is that they do so much better when they see themselves reflected in the curriculum that's in front of them," said Jim Spryopoulos, executive superintendent for equity and engagement at the TDSB. "And we know we have a lot of learning to do. This resource book is a start."
In the book, there's a letter Einstein wrote to Kemal Ataturk, founder of the Republic of Turkey in 1933. He asks Attaturk to take the Jews into Turkey and help them escape the violence of the Nazis. "We don't remember this. And the fact that we have that letter in our guidebook somehow, that's phenomenal," said Ahmad.
"It's going to help," said Moore, who will perform at an Islamic musical event during the month.
Full report at:
https://www.thestar.com/news/2017/10/02/how-two-moms-and-a-teacher-are-helping-toronto-celebrate-islamic-heritage-month.html
--------
US Army to install Israeli equipment on Abrams tanks
Oct 2, 2017
The US Army will install Israel's Trophy active-protection system on its third-generation main battle tanks, M1A2 Abram, making it the first foreign army to use the system which is designed to detect and neutralize incoming projectiles.
The Pentagon said it made the approval following "an urgent material" request by the army, Israeli media reported on Monday.
The system has a total of four radar antennae and fire-control radars which track incoming projectiles such as anti-tank guided missiles and rocket-propelled grenades. The Trophy fires a shotgun-type blast to neutralize the threat once it is detected.
A Michigan-based company got the contract to install the system on an Armor Brigade Combat Team's M1A2 SEPv2 at a cost of close to $10 million. The process is expected to be completed by the end of March 2019.
The US army is likely to use the tanks equipped with Israeli active protection systems in the Middle Eastern countries such as Iraq and Syria where it has deployed thousands of troops purportedly to fight against Daesh terrorists.
The US and Israeli militaries have a close cooperation and often sell and supply weapons to each other.
During Israel's 2014 war of aggression on the Palestinians living in the Gaza Strip, the US military supplied the majority of military equipment to Israeli forces.
According to an Israeli rights group, 63 percent of the Palestinian fatalities caused in Israel's war on Gazans were civilians.
Full report at:
http://www.presstv.ir/Detail/2017/10/02/537241/US-Army-to-install-Israeli-equipment-on-tanks
--------
Europe
More than 20% of countries have official state religions – survey
3 October 2017
More than one in five countries has an official state religion, with the majority being Muslim states, and a further 20% of countries have a preferred or favoured religion.
A slim majority (53%) of counties has no official or preferred religion, and 10 (5%) are hostile to religion, according to a report by the Washington-based Pew Research Center.
Most of the 43 countries with state religions are in the Middle East and North Africa, with a cluster in northern Europe. Islam is the official religion in 27 countries in Asia and sub-Saharan Africa as well North Africa and the Middle East.
Thirteen countries – including nine in Europe – are officially Christian, two (Bhutan and Cambodia) have Buddhism as their state religion, and one (Israel) is officially a Jewish state. No country has Hinduism as its state religion.
The Pew report says: "In some cases, state religions have roles that are largely ceremonial. But often the distinction comes with tangible advantages in terms of legal or tax status, ownership of real estate or other property, and access to financial support from the state. In addition, countries with state-endorsed (or 'established') faiths tend to more severely regulate religious practice, including placing restrictions or bans on minority religious groups."
The report adds: "In a few cases, a country's official religion is primarily a legacy of its history and now involves few, if any, privileges conferred by the state. And a few other countries fall at the other end of the spectrum, making their official religion mandatory for all citizens."
Christianity is the favoured faith in 28 of the 40 countries with a preferred religion. More than half of the total provide funds or resources for religious education programmes that largely benefit the preferred religion, and a third provide funding or resources for religious buildings.
In 10 countries, the state either tightly regulates religious institutions or is actively hostile to religion. They include China, Cuba, North Korea, Vietnam and several former Soviet republics. According to Pew, these are "places where government officials seek to control worship practices, public expressions of religion and political activity by religious groups".
https://www.theguardian.com/world/2017/oct/03/more-than-20-percent-countries-have-official-state-religions-pew-survey
--------
Russian security services bust 'Islamic State cell' in Moscow region
October 2, 2017
Russia's intelligence agency on Monday said it had arrested members of an Islamic State 'cell' which was preparing terror attacks. The FSB said in a statement it had "thwarted the illegal activities of … the international terrorist organisation Islamic State" on September 30, by detaining all members of a cell in the Moscow region.
It said they were all from Muslim-majority republics in the Caucasus but took orders from "foreign emissaries" pledging allegiance to the IS. The group was planning "significant" terror acts in Russia, including in densely populated places and on public transport, the statement said, without specifying the number held. Two home-made explosives as well as guns and grenades were found during raids on their homes. Russian officials regularly claim foiling terror plots. In August, the FSB said it had arrested four IS members who were planning suicide attacks in Moscow shopping malls.
Full report at:
http://indianexpress.com/article/world/russian-security-services-bust-islamic-state-cell-in-moscow-region-4871178/
--------
Marseille attacker nabbed days before rampage
Oct 3, 2017
MARSEILLE - The man who stabbed two young women to death in Marseille in an attack claimed by the Islamic State group used seven different identities and had been arrested just days earlier, French prosecutors said Monday.
Authorities said the killer, who was shot dead by anti-terror troops after Sunday's attack outside the southern city's main train station, had used a Tunisian passport last week under the name of a 29-year-old with the first name Ahmed.
But investigators are seeking to confirm his identity as the attacker - who had a history of petty crime but was not on a jihadist watch list - used seven aliases, anti-terror prosecutor Francois Molins told reporters in Paris.
Molins said "the method of the attacker" was in line with calls from the Syria-based terror group to followers in the West to strike vulnerable targets, such as train stations.
The IS group's propaganda agency Amaq claimed the killer was one of its "soldiers", but a source close to the investigation told AFP no solid evidence linked him to the jihadists.
The attack in France's second-biggest city followed a string of stabbings around Europe claimed by or blamed on Islamist radicals.
The man killed two 20-year-old cousins, one of them a "brilliant" medical student who was studying in the city, according to Aix-Marseille University chief Yvon Berland.
Her cousin, a nursing student from the eastern city of Lyon, was visiting her for the weekend.
Molins confirmed that witnesses heard the attacker shout "Allahu Akbar" (God is greatest) as he lunged at the women with a 20-centimetre (eight-inch) knife before threatening soldiers, who shot him dead.
The attacker's fingerprints showed he had had seven brushes with the law since 2005 - most recently when he was arrested last Friday in Lyon for shoplifting.
He presented the Tunisian passport to police, saying he was divorced, used "hard drugs", and had no fixed address.
The shoplifting charges were dropped for lack of evidence, and local authorities "were not able to take a decision to deport him," Molins added.
Police evacuated Marseille's ornate Saint Charles station after the attack, temporarily halting all train traffic on some of France's busiest lines.
"I was on the esplanade just in front of the station," Melanie Petit, an 18-year-old student, told AFP. "I heard someone shout 'Allahu Akbar' and I saw a man who seemed to be dressed all in black."
French President Emmanuel Macron tweeted Sunday that he was "deeply angered by this barbaric act".
Full report at:
http://nation.com.pk/international/03-Oct-2017/marseille-attacker-nabbed-days-before-rampage
--------
Ranks of World's Refugees Swell as Asylum Space Shrinks: UN
Oct 3, 2017
Geneva. More than 2 million people fleeing wars or persecution have joined the ranks of the world's refugees this year, but often face more restrictive asylum policies, including in Europe and the United States, the top United Nations refugee official said on Monday (02/10).
They include 650,000 from South Sudan and 500,000 Muslim Rohingya who have escaped violence in Myanmar for Bangladesh over the past five weeks, many of the latter stateless, United Nations High Commissioner for Refugees Filippo Grandi said.
"So far in 2017, more than 2 million people have fled their countries as refugees," Grandi told the UNHCR Executive Committee, which opened a week-long meeting in Geneva.
"They often arrive sick, traumatized and hungry, in remote border locations, in communities affected by poverty and underdevelopment. Many have urgent protection needs - children separated from their families, men, women, girls and boys exposed to sexual and gender-based violence," he said.
At the end of last year, 17.2 million refugees fell under UNHCR's mandate, but some of them have returned and others have been resettled, and there is no updated total. An additional 5 million Palestinian refugees are cared for by UNRWA.
Grandi voiced concern that the refugee issue has been increasingly instrumentalized in local and national policies.
"International cooperation has been replaced by fragmented responses, resulting in restrictive immigration and asylum measures, even in countries with their own histories of exile and migration, and a proud tradition of welcome," he said.
Border closures, measures to limit entry, restrictive asylum procedures, indefinite detention in appalling conditions, and offshore processing had regrettably increased, he said, decrying "rising xenophobia."
"We have observed the protection environment deteriorate in many parts of the world, including in industrialized countries – in Europe, in the United States, in Australia," Grandi said.
Nearly 1.2 million refugees need resettling globally to third countries, he said.
"It is therefore an issue of major concern that fewer than 100,000 resettlement places are expected to be available this year – a drop of 43 per cent from 2016," he said.
Traditionally, the United States has taken the largest number of refugees deemed most vulnerable under UNHCR's resettlement program involving about 10 Western receiving countries. Syrian and Congolese refugees led those resettled last year.
Full report at:
http://jakartaglobe.id/international/ranks-worlds-refugees-swell-asylum-space-shrinks-un/
--------
French police work to identify Marseille knifeman
02 October 2017
French investigators are working to identify the knifeman who stabbed two women to death at the main train station in the southern French port city of Marseille on Sunday, Paris chief prosecutor Francois Molins said Monday.
The attacker was shot dead by soldiers patrolling in the station as part of Operation Sentinel -- a nationwide security operation aimed at "protecting against and dissuading" attacks on French soil.
Terrorist group ISIL claimed responsibility for the attack on Sunday night.
The chief prosecutor said the attacker had a criminal record but was not known to French intelligence services and was not on their terror watch list.
Molins told a news conference that investigators are trying to determine the identity of the attacker, who is known to police under seven different aliases for robbery and drug-related crimes.
He added the suspect was arrested on Friday Sept. 29 for shoplifting in Lyon but was later released. During his detention, he presented a Tunisian passport identifying his as Hamed. A, born in 1987.
Investigators are trying to determine the authenticity of the document.
Molins explained the man -- when arrested -- presented himself as divorced, unemployed, homeless and as a heavy drug user.
Full report at:
http://www.worldbulletin.net/europe/194571/eu-commission-reiterates-catalan-poll-was-not-legal
--------
Arab World
At least 45 killed in US airstrike in Syria's Raqqah: Local reports
Oct 3, 2017
At least 45 people have been killed in the US' latest airstrike in Syria.
According to local sources on Monday, the civilians were killed after US' jets targeted the al-Touse'eiyah district in the city of Raqqah.
The incident comes just one day after the so-called Syrian Observatory for Human Rights reported that more than 3,000 people, including nearly 1,000 civilians, have been killed during the past month.
The US-led coalition has been conducting airstrikes against what are said to be Daesh targets inside Syria since September 2014 without any authorization from the Damascus government or a UN mandate.
The military alliance has repeatedly been accused of targeting and killing civilians. It has also been largely incapable of achieving its declared goal of destroying Daesh.
The Syrian Ministry of Foreign Affairs and Expatriates, in two separate letters sent to UN Secretary General António Guterres and rotating President of the UN Security Council Amr Abdellatif Aboulatta on August 24, stated that the US-led coalition was perpetrating war crimes and crimes against humanity through aerial bombardment of residential neighborhoods.
http://www.presstv.ir/Detail/2017/10/03/537270/syria-us-raqqah-airstrike-civilians
--------
FSA spokesman says Hamza Bin Laden's presence in Syria doubtful
2 October 2017
Recent reports on the presence of Osama Bin Laden's son, Hamza, has proven to be inaccurate, the spokesman for the northern front of the Free Syrian Army confirmed to Al Arabiya.
Earlier in the day, several British media outlets ran stories suggesting Hamza, 28, was being hunted in a "kill or capture" mission by Joint Coalition Special Operations Unit which includes UK special forces.
Colonel Ahmed al-Hammadi told Al Arabiya that what was being raised on the subject at the present time was "nothing more than mere analyses and does not amount to information from facts on the ground".
The spokesman, however, did not rule out the potential role of the Iranian regime in the transfer of Hamza bin Laden, who has lived with his family for several years in Iran.
"There are terrorist groups and countries that facilitate the transfer and movement of extremists to and from Syria," he said.
British tabloid Daily Mail published a report on Monday suggesting Hamza bin Laden was being hunted by SAS forces after intelligence suggested he has moved to Syria after being holed up in Pakistan for years after his father's capture and death.
https://english.alarabiya.net/en/News/middle-east/2017/10/02/FSA-confirms-to-Al-Arabiya-Osama-Bin-Laden-s-son-presence-in-Syria-doubtful.html
Saudi Arabia condemns Bahrain bombing that left five police officers injured
3 October 2017
An official source at the Saudi Foreign Ministry condemned the terrorist bombing in the Bahraini capital of Manama, leaving several police officers injured.
Full report at:
https://english.alarabiya.net/en/News/gulf/2017/10/03/Saudi-Arabia-condemns-Bahrain-bombing-that-left-five-police-officers-injured.html
--------
Amnesty deplores Saudi Arabia's 'execution spree'
Oct 2, 2017
A Saudi Arabian citizen has been executed in Riyadh, bringing to 100 the total number of the people beheaded by the kingdom since the beginning of the year.
According to the SPA, the man was executed over the murder of another Saudi citizen on Monday. Amnesty International has slammed what it refers to as Saudi Arabia's "execution spree."
"This sets the country firmly on track to remain one of the most prolific executioners on the planet," said Amnesty's Lynn Maalouf.
"If the Saudi authorities are truly intent on making reforms, they must immediately establish an official moratorium on executions as a first step towards abolishing the death penalty completely," she added.
Saudi Arabia carried out 153 executions across the kingdom last year. In the most stunning case of executions in 2016, Saudi Arabia executed Sheikh Nimr al-Nimr on January 2 along with 46 other people in defiance of international calls for the release of the prominent Shia cleric and other jailed political dissidents in the kingdom.
Saudi Arabia carried out 158 executions, including 71 foreign nationals, in 2015. This number of executions in terms of annual basis in Saudi Arabia has been unseen since 1995.
Saudi officials execute convicts by sword and then dangle their corpses from a helicopter to make sure the public could see the result of the execution.
Full report at:
http://www.presstv.ir/Detail/2017/10/02/537267/saudi-execution-amnesty-maalouf
--------
Capacity of two Holy Mosques to expand manifold
Oct 3, 2017
According to Saudi Gazette Saudi Arabia's sovereign wealth fund is establishing two new companies to increase the number of pilgrims that the Kingdom can host at Two Holy Mosques.
The Kingdom's Public Investment Fund said the companies — Rou'a Al-Haram and Rou'a Al-Madinah — will develop residential and commercial areas around the Grand Mosque in Makkah and the Prophet's Mosque in Madina.
The fund said on Monday that the new companies will help the Kingdom accommodate more than 30 million people expected to visit Makkah every year and 23 million visitors a year to Madina by 2030.
The companies will develop 150,000 hotel rooms in both cities near the holy sites.
In Makkah, the first phase of the company's projects will cover an area of 854,000 square meters, delivering 115 buildings of various architectural designs. It will have 70,000 new hotel rooms, accommodating 310,000 visitors per day, as well as develop around 9,000 residential units, 360,000 square meters of commercial space and prayer areas designated for more than 400,000 worshipers.
The Rou'a Al-Madinah project will develop an area of 1.3 million square meters, adding 80,000 new hotel rooms with 500 residential units and prayer areas to accommodate 200,000 worshippers per day.
The company's activities will include the development of hotel, commercial and residential projects, as well as the development of cultural centers and museums to enrich Madina's religious, cultural and historical offerings.
The company will broaden opportunities for investment and private sector participation through the development of strategic partnerships.
The project will also take into consideration the sacred nature of the Prophet's Mosque, and create a comprehensive system for pedestrian passages separated from the movement of vehicles.
The projects will create around 200,000 job opportunities, with an estimated annual contribution to GDP of SR7 billion.
Initial preparation work is currently underway, with construction due to start in 2018. The first phase of the project is anticipated to be launched in 2023.
The Rou'a Al-Haram project construction will start in 2018 and by 2024 the project will be operational.
It will create 160,000 job opportunities and contribute SR8 billion annually to the Kingdom's GDP by 2030.
Full report at:
http://nation.com.pk/international/03-Oct-2017/capacity-of-two-holy-mosques-to-expand-manifold
--------
Syrian Army Wards off Terrorists' Heavy Offensives in Eastern Homs
Oct 02, 2017
The army men, supported by warplanes, engaged in fierce clashes with a group of ISIL terrorists in the depth of Badiyeh (desert) in the third Station region towards the town of al-Sukhnah and in al-Mahzam region Southwest of al-Sukhnah, and managed to fend off the militants' attacks.
A large number of terrorists were killed and at least seven military vehicles were damaged in the clashes.
Earlier reports said that the Syrian and Russian fighter jets targeted ISIL's positions and movements in Eastern Hama and Homs, killing tens of terrorists.
The warplanes bombed heavily ISIL's supply lines repeatedly in the villages of al-Akash, Abu Hanaya, Rasm al-Abd and Southeast of the town of Aqayrabat in Eastern Hama.
Also, the fighter jets targeted ISIL's movements and strongholds in the villages of al-Kharijeh, al-Hardaneh and Admeh in Eastern Hama.
In the meantime, the bombers hit ISIL's movements and defense lines East of the town of al-Sukhnah in Eastern Homs.
Full report at:
http://en.farsnews.com/newstext.aspx?nn=13960710001021
--------
Syria: Chief Commander of Tahrir Al-Sham Terrorist Organization Resigns
Oct 02, 2017
ahrir al-Sham Hay'at's statement said that Abu Jaber al-Sheih has resigned from his post and Abu Mohammad Joulani, the top commander of Al-Nusra, has been appointed as the new general commander of Tahrir al-Sham Hay'at.
Joulani was deputy chief commander and military commander of Tahrir al-Sham Hay'at.
Joulani was also chief Commander of Al-Nusra Front.
The statement added that Abu Jaber has been appointed as head of Tahrir al-Sham Hay'at Council.
Militant-affiliated websites in Syria disclosed last week that Abu Mohammad Joulani was significantly involved in the assassination of several commanders of the terrorist group in recent years.
The websites reported that Abu Mohammad Joulani was behind the assassination of Jeish al-Fatah military commander Abu Hajar Homsi nom de guerre Abu Omar Saraqeb, adding that Abu Omar Saraqeb had revealed his intension for cutting relations with Joulani to join Ahrar al-Sham.
The websites added that Yunis Sha'eib now de guerre Abu al-Hassan Taftnaz was killed in an assassination after he foiled some of the plans of Joulani in the Al-Nusra Front.
They went on to say that Joulani had orchestrated assassination of several commanders of ISIL, including Abu al-Faraj al-Mesri and Abu al-Faras Souri, that had defected ISIL and joined Al-Nusra and had criticized Joulani harshly several times.
Full report at:
http://en.farsnews.com/newstext.aspx?nn=13960710000838
--------
Eastern Syria: Senior Terrorist Commander Killed in Drone Attack
Oct 02, 2017
The websites reported that Abu Islam al-Kazakhi from Kazakhstan was killed along with his wife in an air raid by a drone in the town of al-Ashareh.
Al-Kazakhi was a notorious commander of the ISIL in the region.
In a relevant development on Saturday, the army troops warded off ISIL's attacks on their defense lines on the Eastern bank of the Euphrates River in Deir Ezzur's countryside and inflicted tens of casualties on the terrorists.
The army soldiers started battle with ISIL and repelled the terrorists' offensives on the pro-government forces' positions in Marat and Mazloum region on the Eastern bank of the Euphrates River and on the Cardiology Hospital on the Western bank of the river.
Full report at:
http://en.farsnews.com/newstext.aspx?nn=13960710000761
--------
Syrian Army Drives Terrorists out of Two More Regions in Eastern Hama
Oct 02, 2017
The army men managed to take back the villages of Rasm al-Abd and Rasm al-Abayekeh in Eastern Hama.
The army's engineering units have now started defusing landmines and bombs planted by the ISIL in the newly-captured regions.
Relevant reports said on Sunday that the army repelled an attack by the ISIL aimed at retaking the strategic town of al-Souha in Eastern Hama after the terrorists failed to capture the government troops' military positions in areas surrounding the town.
The ISIL terrorists were pushed back from the surrounding areas of Souha after engaging in several hours of clashes with the Syrian government forces.
Meantime, the Syrian and Russian fighter jets pounded the ISIL's movements and military positions in the Eastern countryside of Salamiyah, inflicting heavy losses and casualties on the ISIL terrorists.
http://en.farsnews.com/newstext.aspx?nn=13960710000692
--------
Terrorists' Command Centers Destroyed in Syrian Armed Forces' Attacks in Deir Ezzur
Oct 02, 2017
The army's artillery units and the fighter jets pounded ISIL's positions in the villages of Khusahm, al-Janineh, al-Hosseiniyeh, Huweija Sakar region, the neighborhoods of al-Huweiqa, al-Jabileh, Sheikh Yasin and Kanamat, destroying several command centers and a number of military vehicles and killing scores of terrorists.
The army aircraft also pounded ISIL's strongholds in the village of Albu Leil and the town of Mouhassan in Eastern Deir Ezzur, killing a number of terrorists and destroying several positions and a large volume of military hardware.
In the meantime, the army soldiers clashed fiercely with ISIL along two roads connecting al-Khusahm to Hatlah Foqani and Bu Amr regions in Northeastern and Eastern Deir Ezzur, killing and wounding a number of terrorist.
In a relevant development on Saturday, the army troops warded off ISIL's attacks on their defense lines on the Eastern bank of the Euphrates River in Deir Ezzur's countryside and inflicted tens of casualties on the terrorists.
The army soldiers started battle with ISIL and repelled the terrorists' offensives on the pro-government forces' positions in Marat and Mazloum region on the Eastern bank of the Euphrates River and on the Cardiology Hospital on the Western bank of the river.
Full report at:
http://en.farsnews.com/newstext.aspx?nn=13960710000424
--------
Infighting, Disunity Intensifying among Terrorist Groups in Northern Syria
Oct 02, 2017
The websites reported that Kata'eb Ibn Tamimeh, deployed in the town of Dar al-Izzah in Western Aleppo, announced in a statement that it has defected from Al-Nusra.
The websites said that the terrorist group's defection from Al-Nusra came after reports surfaced about Al-Nusra's attempts to assassinate commanders of the militant groups, disarm Kata'en Ibn Tamimeh and arrest the terrorist group's gunmen, including Osama Shanaq, the group's administrative official.
Kata'eb Ibn Tamimeh engaged in fierce clashes with Al-Nusra in Dar al-Izzah and took control over the region after cutting relation with Al-Nusra.
Other militant-affiliated websites in Syria disclosed last week that Top Commander of Al-Nusra Front Abu Mohammad Joulani was significantly involved in the assassination of several commanders of the terrorist group in recent years.
The websites reported that Abu Mohammad Joulani was behind the assassination of Jeish al-Fatah military commander Abu Hajar Homsi nom de guerre Abu Omar Saraqeb, adding that Abu Omar Saraqeb had revealed his intension for cutting relations with Joulani to join Ahrar al-Sham.
The websites added that Yunis Sha'eib now de guerre Abu al-Hassan Taftnaz was killed in an assassination after he foiled some of the plans of Joulani in the Al-Nusra Front.
They went on to say that Joulani had orchestrated assassination of several commanders of ISIL, including Abu al-Faraj al-Mesri and Abu al-Faras Souri, that had defected ISIL and joined Al-Nusra and had criticized Joulani harshly several times.
Full report at:
http://en.farsnews.com/newstext.aspx?nn=13960710000589
--------
Saudi court acquits Binladin Group over deadly Mecca crane collapse
Oct 3, 2017
A court in Saudi Arabia has acquitted the Binladin Group of responsibility for the deadly crane collapse in the holy city of Mecca back in 2005.
The group was cleared of charges against it on Monday based on claims made by its defense group that it was not capable of predicting the severe storm which caused the crane to fall.
On September 11, 2015, a huge construction crane collapsed into Mecca's Grand Mosque, killing more than 100 pilgrims and injuring over 200 others in the lead-up to the annual Hajj pilgrimage.
The company is run by the Bin Laden family, which has close ties with Saudi Arabia's ruling family. Known as the second largest construction company in the world after French firm Vinci Construction, the Jeddah-based conglomerate was founded in 1931 by Sheikh Mohammed bin Laden, the father of al-Qaeda's slain leader Osama bin Laden. In the 1990s, Osama bin Laden was purportedly disowned by the family.
Full report at:
http://www.presstv.ir/Detail/2017/10/03/537277/saudi-binladin-group-crane-acquitted
--------
Syrian forces repel Daesh attack on army posts in Homs: SANA
Oct 2, 2017
Syrian forces have thwarted a major attack by Daesh Takfiri terrorists against military positions in the Arab country's central province of Homs, killing a large number of the terrorists in the process.
According to Syria's official news agency, SANA, army forces tracked down a seven-car convoy belonging to Daesh terrorists as it was traveling along a road in al-Mokharram area southwest of al-Sukhnah town. Syrian troops, supported by Air Force fighter jets, then targeted the convoy, leaving scores of terrorists dead and injured.
Separately, Syrian military aircraft bombarded Daesh fortifications in the eastern town of al-Muhasan and city of Mayadin, located about 44 kilometers southeast of Dayr al-Zawr.
The terrorists' positions were also struck in two villages known as Lower Buqros and Tayyebat al-Shamiyah.
Additionally, Syrian jets targeted Daesh outposts in the village of Faidha bin Muwaina', situated 85 kilometers southwest of Dayr al-Zawr, killing a number of Daesh terrorists and destroying their armored vehicles as well as mortar launchers.
Daesh overran large parts of Dayr al-Zawr Province, including its many oil fields, in mid-2014 as it seized swathes of land in Syria and neighboring Iraq.
Full report at:
http://www.presstv.ir/Detail/2017/10/02/537236/Syrian-army-forces-repel-Daesh-militant-attack-in-Homs
--------
Iraq's Hashd al-Sha'abi forces retake 18 villages near Hawijah
Oct 2, 2017
Iraqi fighters from Popular Mobilization Units have regained control over more than a dozen villages near town of Hawijah as they engage in joint military operations with army troops to purge Daesh Takfiri terrorists from their last bastion in the country's oil-rich northern province of Kirkuk.
The media bureau of Iraq's Badr Organization announced in a statement that the pro-government forces, commonly known by their Arabic name as Hashd al-Sha'abi, had establish full control over 18 villages, including Abdul Aziz, Sayyed Hassoun, al-Saan, Mulla Nasif, Tar al-Hamar, Kordarah, Tal Khadija, Al-Fashka, al-Sakhour and Dukmat.
The statement added that Hashd al-Sha'abi fighters had also recaptured Heynas air base.
Meanwhile, a local source, requesting anonymity, told Arabic-language al-Sumaria television network that a high-ranking Daesh commander had been killed in fierce clashes with Hashd al-Sha'abi fighters.
The source identified the slain terrorist as Abu Bilal al-Masri, better known by the nom de guerre, al-Hummer. He was reportedly adept at using rocket-propelled grenades to target the Iraqi military's Humvees.
Mass grave of army, security personnel found south of Hawijah
Separately, pro-government Hashd al-Sha'abi fighters and members of the Federal Police force have discovered a mass grave south of Hawijah.
The grisly discovery was made on the outskirts of the recently-liberated al-Zarban village. The grave contained the remains of dozens of army and police conscripts.
Daesh torches oil wells near Hawijah
In a separate development, Daesh terrorists have set fire to three oil wells near Hawijah, located 45 kilometers west of Kirkuk.
Military and oil officials said on Monday that security forces were using bulldozers to control the fires started by the militants two days earlier.
Officials said the fires had been brought under control at one of the wells, while the other two are still burning, adding that it would take about three days to put them out.
Oil officials from the state-run North Oil Company said it was still too risky to send its crew members in to assess damage at the wells as terrorists may have left landmines and hidden bombs.
Daesh Takfiris torched the oil wells in the early hours of Saturday in a bid to slow the advance of Hashd al-Sha'abi fighters toward Hawijah.
"Terrorists are trying to use the rising smoke to avert airstrikes while retreating from the area towards Hawijah," army colonel, Mohammed al-Jabouri said.
Iraqi Prime Minister Haider al-Abadi on September 29 announced the start of the second phase of an offensive to liberate Hawijah from the grip of Daesh Takfiris.
Full report at:
http://www.presstv.ir/Detail/2017/10/02/537215/Iraqi-Hashd-alShaabi-forces-retake-19-villages-near-Hawijah-from-Daesh
--------
South Asia
Hekmatyar oppose closing Taliban office in Qatar, support legitimate demands of group
Oct 02 2017
The leader of Hezb-e-Islami Gulbuddin Hekmatyar has opposed with the bid to close the Taliban office in Qatar as he insisted that his party supports the legitimate demands of the group.
Hekmatyar made the remark during a meeting with the trial elders of Hood Khel in his office on Sunday.
He said we want t the government that the office remain in its place and the peace process with the group should be launched in a serious manner.
According to Hekmatyar, those who are attempting to extend the war in Afghanistan and stand against peace and reconciliation, have became hopeless.
He once again reiterated his previous claims regarding the individuals and groups who had paved the way for civil war, emphasizing that with the return of him, the individuals and groups have failed to implement their conspiracies.
This comes as reports emerged earlier suggesting that the US President Donald Trump has stepped up efforts and pressures on President Mohammad Ashraf Ghani for the closure of the Taliban office in Qatar, a move which is apparently aimed at increasing pressures on the group as part of the new US strategy to combat terrorism and eliminate their sanctuaries from the region.
Sources privy of the development have said President Trump has discussed the issue with Afghan counterpart President Ghani.
The sources have told The Guardian newspaper that a decision is expected from President Ghani soon as he may likely agree with the closure of the Taliban's political office in Doha.
The decision was reportedly taken as several years have passed since the office was opened but no positive results were obtained.
http://www.khaama.com/hekmatyar-oppose-closing-taliban-office-in-qatar-support-legitimate-demands-of-group-03562
--------
Sri Lanka arrests Buddhist monk for attacking Rohingya refugees at UN safe house
Oct 02, 2017
A Buddhist monk was on Monday arrested in Sri Lanka for leading a mob that allegedly attacked a group of Rohingya Muslim refugees, including 16 children, in a UN- run safe house and demanded their deportation to Myanmar.
Akmeemana Dayarathana was arrested after he reported this morning to record his statement at the police's Colombo Crime Division. He and another monk was asked to report to the police on Sunday following the arrests of four others.
They were accused of storming a house of Rohingya refugees in a suburb here last week.
Dayarathana was later produced before the court which remanded him into custody till October 9.
Dozens of monks from Sri Lanka's majority Buddhist community led a mob that barged into a UN-run safe house for Rohingya Muslims and attacked them, claiming that they were terrorists and should be sent back to Myanmar.
The attack on the refugee centre, which housed 31 Rohingya refugees, was led by Dayarathana's radical Sinhale Jathika Balamuluwa (Sinhalese National Force), which uploaded videos of the attack on their Facebook page.
The police had to relocate the Rohingya Muslims to a safe location in Boossa in the south of the country following the attack.
The arrests came after the government ordered a crackdown on the mob following the attack.
The refugees had arrived in Sri Lanka five months ago after the Navy found them drifting in a boat off the country's north coast.
Earlier, a woman was among two persons arrested in Sri Lanka for allegedly attacking a group of Rohingya refugees from Myanmar.
In 2008 and 2012, two groups of Rohingya refugees had been rescued from the seas and accorded UNHCR facilities before being repatriated.
Full report at:
http://www.hindustantimes.com/world-news/sri-lanka-arrests-buddhist-monk-for-attacking-rohingya-refugees-at-un-safe-house/story-YxyXYdYpvS3zRlvI0UhYEI.html
--------
Local Muslims, Sikhs join hands to contribute for Rohingya kitchen
Oct 3, 2017
In a humanitarian gesture to Rohingya refugees taking shelter in Bangladesh, members of the local Muslim community have contributed Rs 9.32 lakh, which also include a contribution of Rs 1 Lakh from Pritpal Singh, Mukh Sewadar of Gurdwara Dukh Niwaran Sahib.
The money will be donated to Khalsa Aid, a voluntary body, which has been running a langar (community kitchen) for the Rohingya refugees in Bangladesh.
In a function held at Jama Masjid here today, the Shahi Imam of Punjab, Habib-ur-Rahman, felicitated the functionaries of Khalsa Aid for their noble gesture towards humanity. Speaking on the occasion, the Shahi Imam said atrocities being inflicted upon the Rohingyas were an attack on human kind, which the entire world ought to condemn unequivocally. He said Islam religion had always preached communal amity, brotherhood and to extend all possible assistance to victims of excesses irrespective of their caste, creed or religion.
Full report at:
http://www.tribuneindia.com/news/ludhiana/local-muslims-sikhs-join-hands-to-contribute-for-rohingya-kitchen/476481.html
--------
Prominent Taliban leader killed in Afghan forces ambush in Kapisa province
Oct 02 2017
A prominent local leader of the Taliban group has been killed in an ambush of the Afghan national defense and security forces in northeastern Kapisa province of Afghanistan.
The 201st Silab Corps of the Afghan National Army in the East said the Taliban leader killed in the ambush has been identified as Qari Zabiullah.
The officials of the Silab Corps of the army said Qari Zabi was killed in the vicinity of Qarabagh area of Tagab district.
The officials further added that the security forces laid an ambush against Qari Zabi late on Sunday night that resulted into his killing.
According to the Silab Corps officials, no one else including the security personnel sustained any casualties during the ambush and clash.
The anti-government armed militant groups have not commented regarding the report so far.
The anti-government armed militant groups in Kapisa continue to destabilize the province amid rampant insurgency led by the Taliban in the key northern and eastern provinces.
Full report at:
http://www.khaama.com/prominent-taliban-leader-killed-in-afghan-forces-ambush-in-kapisa-province-03563
--------
Southeast Asia
Indonesian Muslim Reps to Visit Japan and Show What Islam Nusantara Is Like
Oct 3, 2017
Jakarta. Leaders of Islamic boarding schools and representatives from the two largest Islamic organizations in Indonesia, Nahdlatul Ulama, or NU, and Muhammadiyah, are set visit Japan on Tuesday (03/10), as part of two exchange programs to strengthen relations between Indonesia and Japan, and to showcase a distinctly Indonesian brand of Islam.
"Even though cooperation between Indonesia and Japan is largely focused on the economy, citizen exchange between the two countries also plays an important role," deputy chief of mission at the Embassy of Japan in Indonesia, Kozo Honsei, said on Monday.
Honsei added both programs aim to strengthen understanding between the people of Japan and Indonesian Muslims.
The first program, which will bring leaders from Indonesian Islamic boarding schools to Japan, has been held every year since 2004 with a total number of 148 participants.
The second program, held under the aegis of the Asean-Japan East Asia Network of Exchange for Students and Youths (Jenesys), is sending 10 youth representatives from NU and another 10 from Muhammadiyah to Japan.
All 30 participants will be taken on trips to cultural and government institutions, and will experience living with Japanese families.
"Participants will be able to deepen their understanding about Japanese culture and tradition. We hope the people of Japan will also better understand Indonesia, as well as Islam in this country," Honsei said.
Indonesia and Japan will celebrate their 60th year of formal diplomatic relations next year, and Honsei expressed hopes that the exchange programs will contribute to not only better people-to-people relations but also increase cooperation between the two countries.
Imam Pituduh, a representative from NU, said his organization will also invite Japanese leaders to Indonesia to learn more about Islam in the country soon through its "Reinventing Islam Nusantara" program, also with hopes that the exchange will continue the close relations between NU and Japan.
http://jakartaglobe.id/news/indonesian-muslim-reps-visit-japan-show-islam-nusantara-like/
--------
Islamists Fearing 'Communist Revival' Rally on Jakarta's Streets
Oct 3, 2017
Islamist groups, who said they feared a "communist revival," rallied in front of the House of Representatives building in Jakarta on Friday (29/09). They also protested against a regulation in lieu of law, nicknamed Perppu Ormas, issued by the government earlier this year that has the power to disband organizations deemed to be anti-Pancasila — Indonesia's official five-tenet state ideology — or anti-Constitution. The crowd on Friday was estimated to number around fifty thousand people.
http://jakartaglobe.id/eyewitness/islamists-fearing-communist-revival-rally-jakartas-streets/
--------
Indonesia: Militants, Opposition Unite To Attack President Widodo
October 3, 2017
By Ryan Dagur
Islamic-based opposition parties have joined forces with militants in accusing President Joko Widodo of choking freedom of expression and pandering to communists.
They demanded the government get rid of a decree issued in July that gives it the right to disband mass organizations it considers a threat to national stability.
The accusations came as representative of parties that included the Prosperous Justice Party (PKS), the National Mandate Party and the Great Indonesia Movement Party, led by Widodo's arch-rival Prabowo Subianto, welcomed about 15,000 protesting Islamic hardliners outside the national parliament on Sept. 29.
They accused Widodo of trying to suppress Islam through the decree while at the same time allowing the revival of the Indonesian Communist Party (PKI).
They cited the move to disband pro-Caliphate group, Hizbut Tahrir in July. The hard-line group is challenging the decree in the courts.
The allegations stem from mudslinging ahead of the 2014 presidential election in which Widodo was accused of being the son of former Communist Party members.
The accusations came to the fore again in September when Indonesian police and Muslim groups broke up a forum in Jakarta to discuss events during a deadly purge on communists more than 50 years ago.
About 500,000 were thought killed following the murders of several generals, blamed on Chinese communists.
"Widodo is pursuing an anti-Islam democracy," rally organizer, Slamet Maarif, told ucanews.com.
"The decree attacks us as Muslims to fight for what we want," he said after the rally.
Abdul Amin, a protester from Tangerang in Banten Province, said he had come with hundreds of his friends out of anger at Widodo.
"He prefers to defend communist groups and pressure us," he said.
Calling Widodo a pro-communist president, Hizbut Tahrir spokesman, Ismail Yusanto, said the president was attacking the teachings of Islam.
"How can it be in Muslim-majority countries, that a Caliphate is forbidden," he said.
Jazuli Juwaini from PKS joined the hardliner in calling the decree contrary to the spirit of democracy.
"We agree with them, and we will fight against the decree," he said.
A Great Indonesia Movement Party spokesman said, "the decree will silence critical voices."
"As citizens, we are guaranteed by law to express opinions," Fadli Zon said.
Commenting on accusations that the government is pro-communist, he said, communism must not be allowed back in the country.
Hardliners, and opposition parties in turn are being accused of using the communist and religious issues to undermine Widodo ahead of the 2019 presidential election.
Analysts predict the election will be a two-horse race between Widodo and Subianto.
Wiranto, the Coordinating Minister for Political, Legal and Security Affairs said he was confused by the protesters' demands.
Full report at:
http://www.eurasiareview.com/03102017-indonesia-militants-opposition-unite-to-attack-president-widodo/
--------
Indonesia considering banning LGBT characters from national television shows
Oct 3, 2017
Indonesia is debating a law that would ban LGBT characters from national television shows, in the latest move in a sweeping crackdown on gay rights in the world's largest Muslim nation.
The Jakarta Post reports that the proposed ban has been added to a broadcasting bill currently passing through the country's House of Representatives. Outlawed content would include programmes featuring any lesbian, gay, bisexual or transgender "behaviour."
The new restrictions reportedly have broad cross-party support.
"We can't allow LGBT behaviour on TV. It is against our culture," said legislator Supiadin Aries Saputra of the NasDem party.
"We have to ban it early before it becomes a lifestyle. It's dangerous and can ruin the morality of the younger generation."
Under the new bill, all shows would need to be screened, including adverts and documentaries, to ensure compliance.
"I am sure there are still more creative ways to entertain people [instead of showing LGBT behaviour]," Hanafi Rais from the National Mandate Party told The Post, while justifying the new law.
It is legal to be gay in Indonesia, apart from in the province of Aceh, where Sharia law is enforced. In May two men were publicly caned there after being caught having a consensual sexual relationship.
However, the LGBT community has come under increasing pressure from conservative forces across the country. In May police raided a gay sauna in the capital, Jakarta, arresting 141 men using loosely defined pornography laws.
Meanwhile the influential Family Love Alliance [AILA] has been pushing for Indonesia to outlaw any premarital sex. To do so would effectively ban LGBT relationships as same-sex marriage has not been legalised.
Rights groups are raising their voices in opposition to the proposed law. "The policy is obviously rooted in homophobia," Surpiyadi Widodo Eddyono, executive director of the Institute for Criminal Justice Reform, told Vice News.
Full report at:
http://www.telegraph.co.uk/news/2017/10/03/indonesia-considering-banning-lgbt-characters-national-television/
--------
Pakistan
People of All Faiths Free To Pursue Their Religious Obligations: Pak President
October 03, 2017
KARACHI - President Mamnoon Hussain has said that the law and order situation in the country has improved significantly owing to better planning and efforts, and people of all faiths and schools of thought were free to perform their religious obligations. The president made the remarks here at a meeting with the Head of the Dawoodi Bohra community, Dr Syedna Mufaddal Saifuddin, who called on him here along with his delegation at the State Guest House on Monday.
The President said all provinces, including the Sindh has played an important role in restoring law and order in the country and termed it a very important step forward towards country's progress and development.
He said religious harmony was part of government's basic policy and said there can be no compromise on it.
President Mamnoon Hussain lauded the religious teachings of leader of the Bohra community. He also recalled that this year Dr Saifuddin addressed a Majlis at Ashura Moharram and expressed the hope that his teachings would foster better relations amongst people of all faiths and enhance fraternity and brotherhood.
The head of the Bohra Community Dr Syedna Mufaddal Saifuddin said thousands of members of the community were in Karachi this year from all over the world; including those from India, for the Ashura.
He was appreciative of the measures taken by the government for facilitating the community.
http://nation.com.pk/karachi/03-Oct-2017/people-of-all-faiths-free-to-pursue-their-religious-obligations
--------
'I Saw Bodies Hanging From The Trees': Swat Militancy Survivor Recalls Horrors Of Taliban Rule
Sadia Qasim Shah
October 03, 2017
SAIDU SHARIF: Like many Swatis, Khursheed Alam lovingly called Spin Dada by his relatives is getting on with his life with a smile but his left arm hanging down uselessly is a constant reminder of the horrific event that changed his life forever.
He lost not only his arm but also 18 of his relatives as he along with other elders gathered in a mosque were attacked by militants in 2008 when militancy was at its peak in Swat valley.
"We had just gathered in a mosque to form a peace committee when a militant came in to inform us that his commander wanted to talk to us. Next thing we know was a militant barging in and firing at us indiscriminately," said Khursheed Alam hailing from Biha village of Matta tehsil, which remained a stronghold of the banned militant outfit, Tehreek-i-Taliban Swat.
The injured were not allowed to leave for around two hours despite severe injuries. The militants killed 14 people, while eight people, including Khursheed, were injured in the attack.
"When militants left taking some people as hostage, I came out and what I saw was so horrible that I cannot forget it till this day.
"I saw some bodies were hanging from the trees. Some were beheaded. Eyes were gouged out of some," said Khursheed Alam as his face grew ruddier and tears welled up in his hazel eyes that have the witnesses' horror. He quickly camouflaged it with a smile.
The world knows about Malala Yousafzai, who was shot by the Taliban militants in the head for raising voice for the girls' education, but there are many resilient Swatis, who are a living example of resilience and bravery and are striving to live a normal life and earn livelihood for their children.
"The day I was shot I was taken to a Peshawar hospital for treatment. I have spent Rs2,000,000 on my treatment and have undergone several operations," he said sharing his ordeal.
Khursheed Alam left the valley as the militancy reached the point where the government had to launch an operation, Rah-i-Rast, against militants.
He and his family stayed away from the valley for 13 months and stayed in Peshawar and Charsadda as a displaced family, while militants had a hay day eating away all the fish from his farm. He lost fish worth around Rs3,000,000 as militants liked to have trout fish for free.
"Militants ate all the fish as trout is very tasty you know. They called it war booty and destroyed my farm completely," he said smilingly who left around more than 20,000 fish but found only 85 when he returned to a destroyed trout fish hatchery after 13 months.
But the big-hearted man said he didn't care for that financial loss but it was the health one should value more.
His paralysed arm is the reason he cannot work as a seaman like many other Swatis anymore. Many Swatis are working on ships and earn handsome amount from this occupation.
"I had been a seaman all my life earning around $1,200-$1,300 a month and traveling around the world but I cannot do that with my one arm useless now," he said yet without any bitterness.
Khursheed Alam said he was a fighter and life went on.
He was happy that the USAID helped him rehabilitate and reconstruct his fish farm and hatchery, which is the source of his livelihood.
Full report at:
https://www.dawn.com/news/1361422/another-symbol-of-resilience-from-swat-valley
--------
'Unopposed' Nawaz Sharif re-elected PML-N president after rushed legislation
Javed Hussain
October 03, 2017
Ousted prime minister Nawaz Sharif was elected the president of PML-N unopposed on Tuesday, reclaiming his position as the head of his namesake party.
PML-N leader Dr Tariq Fazal Chaudhry submitted Sharif's papers for party president in the Election Commission of Pakistan (ECP) while no one other candidate from the party contested the election.
The commission will formally announce Sharif as the party president in a meeting of PML-N's general council taking place today.
On Monday, the PML-N took full advantage of its position as the ruling party as President Mamnoon Hussain signed the controversial Election Act 2017 into law hours after it was bulldozed through the National Assembly amid pandemonium on the opposition benches.
The law was passed to allow the party to re-elect the disqualified former prime minister as party chief, on the eve of a party convention called for the express purpose of electing Nawaz Sharif to the post.
The party also reposed its complete confidence in Sharif's leadership when members of its Central Working Committee (CWC) also approved an amendment to the party constitution, removing the bar on disqualified members from contesting the election to any party office.
The bill was cleared by the lower house within minutes amidst ugly scenes, as opposition members gathered around the speaker's pod­ium, chanting slogans, tearing up copies of the bill and flinging them towards the dais.
Full report at:
https://www.dawn.com/news/1361446/unopposed-nawaz-sharif-re-elected-pml-n-president-after-rushed-legislation
--------
Mystery shrouds Rangers 'seizing' Judicial Complex
03-Oct-17
by Masood Rehman
ISLAMABAD: An odd situation emerged at the Judicial Complex, where former prime minister Nawaz Sharif appeared before an accountability court hearing graft references filed against him by the National Accountability Bureau (NAB), on Monday when Islamabad district administration and the police deputed for the security of the accountability courts was sidelined and Rangers took over the control of the venue.
Former prime minister Nawaz Sharif accompanied by his political secretary Senator Asif Kirmani, legal team and other political aides - Leader of the House in Senate Raja Zafarul Haque and federal ministers Ahsan Iqbal, Dr Tariq Fazal Chaudhry, Daniyal Aziz, Talal Chaudhry, Khawaja Saad Rafique, Senator Pervez Rasheed and MNA Maiza Hameed - reached the Judicial Complex at 8:35 am.
While Nawaz and his political secretary along with the legal team were allowed entry into the Judicial Complex, all other leaders of the PML-N, media persons and lawyers were barred from entering the premises.
On the last hearing of Nawaz Sharif's case on Sep 26, media was barred from covering the proceedings. However, after that hearing the accountability court registrar and district administration after due consultation with the media representatives had prepared a list and about 28 media persons, one from each media outlet, were issued passes to cover the proceedings on October 2.
Besides, a list of Nawaz Sharif's aides was also prepared by the court's registrar and the district administration who would be allowed to enter the courtroom along with Nawaz Sharif to witness the proceedings.
However, on Monday no one was allowed to enter the Judicial Complex by the paramilitary troops. At 7:00 am, when the security of the Judicial Complex was in the hands of the district administration and police, some media persons were allowed to enter the Judicial Complex.
However, at 8:00 am, all of a sudden Rangers appeared on the scene and took control of the Judicial Complex. The media persons who were inside the complex were forced to get out. On the insistence of media persons that they were allowed by the district administration and court registrar to cover the proceedings, a Rangers personnel said, "We don't know what is the court … you people just go out." Another tense situation emerged at about 9: 30 am when Interior Minister Ahsan Iqbal tried to enter the Judicial Complex and Rangers personnel did not allow him.
The minister asked the Rangers personnel to tell their commander, who was reportedly inside the court, to come out and tell him on whose orders they were holding the security of the complex.
The minister was kept on waiting for about 15 minutes and after that he was told by the Rangers personnel that their commander, Brig Asif, was not present inside. The interior minister got furious and lashed out at the Rangers for barring entry of the PML-N leaders, media persons, lawyers and supporters of Nawaz Sharif.
While admonishing an assistant commissioner at the spot, the minister asked him to sort the matter out and submit him a report, adding, "This is not a banana republic this is a constitutional republic."
Speaking to media, the minister said courts are always an open space, where lawyers, litigants and even any citizen can enter and witness the proceedings. He said closed trails are conducted only during the martial law regimes. In democracy, he said, trials are always open and transparent.
The minister said that security of the complex was under the control of district administration and it had also prepared a list of the names of media persons and PML-N leaders and supporters who would be allowed to enter the court. However, he said, Islamabad chief commissioner informed him in the morning that Rangers had suddenly appeared and taken over the security of the Judicial Complex. He said he did not know on whose orders the para-military troops had taken over in the presence of police and district administration.
He said Rangers were deployed under the command of the chief commissioner, however it was strange that on whose orders they took over the control.
He said the chief commissioner informed him that when he asked the Rangers officials that a plan had been prepared in advance which would be followed regarding entry into the court premises, the Rangers official in command refused to accept the plan and said they would follow the orders they had received and would not allow anyone except Nawaz Sharif to enter the court.
The minister said he was forced to take notice of the situation because Rangers is a force that is subordinate to the Interior Ministry and when they are deployed, they are supposed to work under the command of the civil administration.
He said since Rangers had violated orders of the civil administration, thus a high-level inquiry would be held and it would be determined who challenged the writ of the government. He said disciplinary action would be taken against the responsible and delinquent officials. He also threatened to resign saying, "I cannot be a puppet interior minister." "Whose orders the paramilitary force was following when the ministry he heads did not issue any such orders to the force," he asked.
The minister said there will be one law and one government, adding no state within state will be allowed. He said he also brought the issue to the notice of the prime minister and has directed the district administration to submit a report.
Later, at 12: 20 pm, when the court proceedings were near to end, a Rangers official came out to talk to PML-N leaders Daniyal Aziz and Maiza Hameed. In his brief talk, he asked them that they could enter the court, but the PML-N leaders refused to enter, saying their other leaders had gone back and it was no use going in when the hearing had already ended. Meanwhile, Nawaz Sharif came out of the court and left for the Punjab House, where he is staying.
Later, a delegation of reporters met accountability court judge Muhammad Bashir and apprised him about ban on their entry. The judge told the reporters that he did not pass any orders regarding barring entry of the media persons.
Full report at:
http://dailytimes.com.pk/pakistan/03-Oct-17/mystery-shrouds-rangers-seizing-judicial-complex
--------
Islamabad, Kabul stress working for better future
October 03, 2017
ISLAMABAD - Pakistan and Afghanistan have agreed on taking pragmatic steps towards a better future and decided to bring to an end the acrimony in their relationship.
"Both sides emphasised that we must forget the past and work hard for a better future," said a joint declaration issued after a meeting between Army Chief General Qamar Javed Bajwa and Afghan President Ashraf Ghani held in Kabul on Sunday.
The ISPR DG, the ISI DG, the DGMO, Foreign Secretary Tehmina Janjua and the Pakistan's Ambassador to Afghanistan were also present on the occasion.
From Afghan side Afghan second Vice President, first Deputy Chief Executive Officer, second Deputy Chief Executive Officer, the NSA, the NDS chief, the Defence and the Interior Ministers, Afghanistan Ambassador to Pakistan, and the Afghanistan Army chief attended the meeting.
The Pakistani delegation on the occasion expressed support for an Afghan-led peace process in the war-torn country.
According to an ISPR statement, upon arrival the COAS was received by Afghanistan Army chief and was presented a guard of honour.
Later, the COAS held one-on-one meeting with President Ashraf Ghani at the Presidential Palace followed by delegation-level talks.
Ghani said that Afghanistan and Pakistan were friendly countries and together both should move towards an enduring peace and stability.
During the meetings, issues of common interest came under discussion.
Both sides reviewed the prevailing security environment in the region in general and the state of bilateral relationship in particular.
An exchange of views and perspectives spanned full range of Pak-Afghan relationship.
Issues related to long-term peace, cooperation against common threats, coordination between respective counter-terrorism campaigns to restrict space for non-state actors, intelligence sharing, trade and commerce, and people-to-people contacts were discussed.
The COAS offered Pakistan's complete support in achieving shared interests in the war against terrorism including training and capacity building of Afghan National Security Forces.
Both sides agreed on the framework for working towards peaceable environment conducive to political process essential for an enduring Afghan peace and regional stability.
Full report at:
http://nation.com.pk/national/03-Oct-2017/islamabad-kabul-stress-working-for-better-future
--------
Three killed in Swat blast and firing
October 03, 2017
SWAT - A man was killed and two others injured in a remote-controlled blast on Monday. The blast targeted a Peace Council member Ahmed Zeb car in the Ghat area of Malam Jabba. Zeb;s car was targeted when he was travelling with his father and two other people to Mingora from his home. Zeb's father was killed and the two others were seriously wounded in the attack. Separately, two people, including a woman were killed when armed men opened fire on a car in Nokhara area of Swat. Police said the incident occurred due to a family dispute.
http://nation.com.pk/national/03-Oct-2017/three-killed-in-swat-blast-and-firing
--------
Pakistan, China vow to continue efforts for Afghan peace
October 03, 2017
ISLAMABAD - Pakistan and China have agreed to continue efforts for peace in Afghanistan through political and economic means.
The agreement was reached during a meeting between Prime Minister's Adviser on National Security Nasser Khan Janjua and Chinese Ambassador Sun Weidong, who called on him here on Monday to bid farewell at the end of his tenure in Pakistan.
The two sides discussed matters of mutual interest pertaining to the overall security situation in the region.
Both sides agreed that the China-Pakistan Economic Corridor (CPEC) was the flagship project strengthening ties between the two countries.
Janjua suggested that China should consider having its major industrial base in Balochistan where both the countries could co-produce and co-manufacture, and also have an easy access to world market. He appreciated the role of China in Afghanistan. Janjua also appreciated the role of Ambassador Sun in consolidation of friendly relations between the two countries. The Chinese envoy stressed that his country supported the relationship based on mutual respect that upholds territorial integrity and favours cooperation and partnership to create a win-win situation for all.
http://nation.com.pk/national/03-Oct-2017/pakistan-china-vow-to-continue-efforts-for-afghan-peace
--------
Five 'Terrorists' Killed in an Operation Launched by Punjab's Counterterrorism Department
October 03, 2017
LAHORE - At least five terror suspects were killed in an operation launched by Punjab's counterterrorism department near Ravi Bridge late Saturday night.
Another three accomplices of the suspects managed to escape during the shooting. A CTD spokesman said they also seized AK-47 assault rifles and explosives during the "intelligence-based operation" conducted near Ravi Bridge in the Sanda police precincts. He said the terror suspects belonged to a banned outfit and they were plotting major attacks in Lahore during Muharram. Investigators were working to ascertain identities of the dead. The bodies were moved to the morgue for autopsy. The CTD team raided a house as they received credible information that some terrorists were hiding in a house near Ravi Bridge.
As the police cordoned off the area, the terrorists opened fire on the counter terror operatives, who also retaliated aggressively.
When the fire was stopped, five terrorists were found dead while their three other accomplices managed to flee during gunfire that lasted for a considerable time.
Full report at:
http://nation.com.pk/lahore/03-Oct-2017/five-terrorists-killed
--------
India
Use of terrorism as instrument of state policy cannot be tolerated: India to UN
October 3, 2017
India has told the UN that use of terrorism as an instrument of state policy cannot be tolerated as it urged the world body that the war against terror has to be unrelenting and fought across all fronts. "Use of terrorism as an instrument of State Policy cannot be tolerated. Those who have taken recourse to it have invariably suffered themselves proving the age old dictum that those who play with the sword, shall also perish by it," Yedla Umasankar, legal adviser and first secretary at the Permanent Mission of India to the UN said.
Addressing a UN committee on "Measures to Eliminate International Terrorism", Umasankar said that the fight against terrorism has to be unrelenting and fought across all fronts. "The international community cannot afford selective approaches in dealing with terrorist groups or in dismantling the infrastructure of terrorism. We must step up our collective efforts with real time cooperation among member states to confront the scourge of terrorism squarely and decisively," the Indian diplomat said.
India also rued that several resolutions of the UN Security Council asking countries to take action to prevent and suppress terrorist acts and refrain from providing any form of support, to entities or persons involved in terrorist acts, including by suppressing recruitment of members of terrorist groups and eliminating the supply of weapons to terrorists are not be implemented. India, remains deeply concerned about the issue of financing terrorism, officials said.
India strongly condemned direct or indirect financial assistance given to terrorist groups or individual members thereof by countries or its machineries, to pursue their activities, including in defending the criminal cases involving terrorist acts against them. "We have been in the forefront of global counter-terrorism efforts and are part of all major global initiatives, including the Financial Action Task Force (FATF)," Umasankar said.
Amidst calls for the draft comprehensive convention to eliminate terrorism to be finalised, he pointed out that even though India had brought a proposal for a comprehensive convention against terrorism before the General Assembly in 1996, the UN had so far been unable to adopt it due to the issues of definition over who was a terrorist. Narrow geopolitical interests continued to stand in the way of meaningful progress on discussions of that convention, he said.
Chinese delegate Shi Xiaobin insisted that counter-terrorism efforts must strictly comply with international law. "In the fight against terrorism, we must uphold the purposes and principles of the UN Charter, respect the sovereignty, independence and territorial integrity of the countries concerned, and abide by the rules of international law regarding the use of force and crime punishment," he said.
China urged the General Assembly to accelerate its efforts to conclude and adopt the Comprehensive Convention on International Terrorism, in order to further improve the international legal framework in this regard. China, which has been repeatedly blocking India's effort to designate Mumbai terrorist attack mastermind Hafeez Saeed, he said over the past year, has engaged in consultations and interactions with more than ten countries in the area of counter-terrorism and security.
It has also exchanged views with our interlocutors on issues such as international and regional counter-terrorism situation and bilateral counter-terrorism cooperation. According to Xiaobin, China played an active part in the establishment of the BRICS Counter-Terrorism Working Group, attended its first meeting, and played host to its second meeting.
"The first China-Russia-India informal meeting on counter-terrorism was held in Beijing," he said.
http://indianexpress.com/article/india/use-of-terrorism-as-instrument-of-state-policy-cannot-be-tolerated-india-to-un-4872067/
--------
Radical Muslim Outfit, Popular Front of India, Faces Ban
Bharti Jain
Oct 3, 2017
NEW DELHI: In a move that could lead to a ban on the controversial Popular Front of India, the home ministry held a series of meetings last week to review the terror cases involving its cadre which are being probed by National Investigation Agency and police forces of Kerala, Karnataka and Tamil Nadu.
PFI, which claims to be an NGO, could face action under the Unlawful Activities (Prevention) Act if the home ministry concludes that it is sufficiently linked with cases of jihadi terror and promotes Islamic fundamentalism. PFI has denied terror links and accused NIA of levelling wrong allegations.
Home ministry sources said there is enough material against PFI, including a dossier from NIA detailing role of its cadres in six terror cases probed by and inputs from states where the organisation's members face allegations of religious extremism, terror and 'forced' conversions to justify a ban.
"The debate really is whether to ban PFI as an 'unlawful association' as was done in the case of televangelist Zakir Naik's NGO Islamic Research Foundation, or proscribe it as a full-fledged 'terrorist' outfit," said a home ministry officer. NIA has found links between PFI and the banned Students Islamic Movement of India.
PFI leader P Koya told TOI earlier that the outfit believed in identity politics but did not work on sectarian lines. He denied any PFI role in terror cases.
NIA recently added to its dossier that originally cited four terror cases involving PFI cadres — chopping of a professor's hand in Kerala's Idukki district, a training camp in Kannur where NIA seized swords and ingredients for making IEDs, murder of RSS leader Rudresh in Bengaluru and the Islamic State Al-Hindi Module case in which IS-inspired youth from Kerala and Tamil Nadu planned to target prominent people and places in south India.
Two more cases involving alleged PFI cadres were cited — that of Hadiya alias Akhila Asokan's "forced" conversion and the 2017 ISIS/Daesh Chennai case where linkages to PFI have surfaced.
On Thursday and Friday, the home ministry brass, NIA officials and legal teams met to discuss drafting of the notification banning PFI. "The legal teams have been asked to choose words carefully while drafting the notification. The move can be challenged in court and top lawyers could argue against the ban. Our case must stand judicial scrutiny," said an officer.
NIA's dossier on PFI claims it pursues a strategy aimed at communalising Indian polity, enforcing Taliban brand of Islam, heightening existing social divisions and maintaining a trained bank of volunteers for various actions.
Full report at:
http://timesofindia.indiatimes.com/india/radical-muslim-outfit-faces-ban/articleshow/60917635.cms
--------
'India's Prime Minister Is a Terrorist,' Says Pakistan's Foreign Minister
Oct 3, 2017
Shailaja Neelakantan |
NEW DELHI: The war of words between India and Pakistan has taken an ugly turn with the latter's foreign minister calling Prime Minister Narendra Modi a "terrorist".
Pakistan's foreign minister Khawaja Asif was responding to Union minister Sushma Swaraj's recent comment at the UN that his country is a "pre-eminent export factory for terror."
Asif hit back at India in an interview yesterday with Pakistan's Geo TV.
"At the (UN) General Assembly, Sushma Swaraj accused us of exporting terror, while in fact, it is a terrorist who is Prime Minister of her country, his (the PM's) hands have the blood of murdered Muslims in Gujarat," said Asif.
"A terrorist party is ruling India, the RSS rules India," added Asif.
However, just last week, Asif himself admitted that allowing terrorists like Mumbai attacks mastermind Hafiz Saeed operate in the country with impunity is a "liability" for Pakistan.
"Saeed, LeT, they are a liability, I accept it, but give us time to get rid of them, we don't have the assets to deal with these liabilities," said Asif at the Asia Society in New York.
He also laid the blame for the creation of people like Saeed, on the US.
"Don't blame us for Saeed, these people were your darlings 20 years ago, they were being dined and wined in the White House. Now you say go to hell, Pakistan," said Asif.
Pakistan has been at the receiving end of a lot of international censure lately. After US President Donald Trump savaged Pakistan in August for providing "safe havens to agents of chaos, violence and terror", several other countries did the same.
In September, India convinced Japan to condemn Pakistan-based terror groups Lashkar-e-Toiba (LeT) and Jaish-e-Muhammed (JeM) in an India-Japan joint statement. The 2008 Mumbai terror attacks were masterminded by Saeed and carried out by LeT operatives. And the JeM's Masood Azhar was the mastermind of last year's terror attack in Pathankot.
India also got other BRICS countries to name these groups at a summit in China earlier this month. The BRICS statement, called the 'Xiamen Declaration', mentioned the Taliban, al-Qaida and the Haqqani Network, in addition to the LeT and the JeM.
Full report at:
http://timesofindia.indiatimes.com/india/indias-prime-minister-is-a-terrorist-says-pakistans-foreign-minister/articleshow/60919819.cms
--------
J&K: Two infiltration bids foiled, 5 terrorists gunned down
Oct 2, 2017
SRINAGAR: The Army on Monday foiled two infiltration bids along the Line of Control (LoC) in Jammu and Kashmir, killing five terrorists, officials said.
The infiltration bids from Pakistan-occupied Kashmir (PoK) were made in Rampur sector in Baramulla district and Tangdhar sector in Kupwara district.
"An infiltration bid was foiled today by alert soldiers along the LoC in Tangdhar sector of Kupwara district," a defence spokesman said here.
He said three terrorists were gunned down and weapons were recovered from them.
The search operation was still underway.
Earlier, the Army foiled an infiltration bid by terrorists in Rampur sector.
An army official said the soldiers noticed some suspicious movement near the LoC and challenged the suspects.
"An exchange of fire took place between the sides," he said, adding bodies of two terrorists were recovered during a search operation, which was continuing till last reports came in.
Full report at:
http://timesofindia.indiatimes.com/india/two-infiltration-bids-foiled-5-terrorists-gunned-down/articleshow/60913800.cms
--------
Terrorists attack BSF camp in Srinagar; 4 securitymen injured
Oct 3, 2017
SRINAGAR: Terrorists on Tuesday carried out a suicide attack on a BSF camp+ located near Srinagar International airport leaving three jawans and a policeman injured.
"A body suspected to be that of a terrorist was found. The identity is yet to ascertained," Director General of Police SP Vaid said.
"Three BSF jawans and a policeman were injured. Firing is ongoing," according to BSF officials.
The attack took place at 4am and exchange of firing was going on between the terrorists and security forces, they said.
The terrorists are holed up inside the building campus of the 182nd Battalion camp, BSF officials said.
Airport operations have been suspended as the security forces were fighting militants who had breached into the 182 battalion headquarters of BSF located in Gogoland, police said.
This battalion is entrusted with security of runway of the Srinagar airport.
Adjacent to the camp is the old Srinagar air field which is been run by the Indian Air force.
Full report at:
http://timesofindia.indiatimes.com/india/terrorists-attack-bsf-camp-in-srinagar-3-jawans-injured/articleshow/60918641.cms
--------
New flight services launched between Mazar-e-Sharif and Delhi
Oct 2, 2017
NEW DELHI: A new flight service connecting Mazar-e-Sharif, a strategically-important Afghan city, with Delhi was on Monday launched, reflecting resolve of the two countries to boost connectivity despite Pakistan posing hurdles.
Officials in the ministry of external affairs said flight services linking Herat, another key city of Afghanistan, with Delhi will be launched this week.
Mazar-e Sharif, located in North Afghanistan, is the second largest Afghan city while Herat in the Western region is the third largest city in the war-ravaged country.
Currently, Air India and SpiceJet operate direct flights from India to Kabul.
Reflecting growing congruence in their ties, India and Afghanistan had launched a dedicated air freight corridor service in June. The freight corridor was launched as Pakistan has been creating hurdles for transport of goods between India and Afghanistan through it.
Kam Air - a privately owned airline by the Kamgar Group, will operate two flights a week from Mazar-e-Sharif on Mondays and Wednesdays and from Herat on Fridays and Tuesdays, the Indian Consulate in Mazar-e-Sharif said in a release.
Today's flight was inaugurated by Mohammad Afzal Hadeed, chairman of the Provincial Council of Balkh Province, and Manjish Grover, Consul General of India in Mazar-e Sharif.
Speaking on the occasion, Grover said that there has been a demand for a direct flight to Delhi from Mazar from visa seekers for long and Afghan people in the Northern provinces who travel to India for medical treatment will benefit from it.
He said the flight services will lead to easier trade and commerce from North Afghanistan with India.
Hadeed termed it a landmark day for Mazar-e Sharif saying direct flights will ease travel and trade with India for people in the Northern Provinces and bring the two nations even closer.
Full report at:
http://timesofindia.indiatimes.com/india/new-flight-services-launched-between-mazar-e-sharif-and-delhi/articleshow/60912628.cms
--------
Terror funding case: NIA probe rivals' conspiracy, says J&K MLA Engineer Rashid
October 3, 2017
Kashmiri independent legislator Engineer Rashid, who has been summoned by the NIA for questioning in connection with a terror-funding case, said it is a "conspiracy hatched by my political opponents".
MLA Rashid is the first mainstream politician to be summoned by the NIA in connection with the case. He will be questioned on Tuesday. "I have no doubt that I will come out of this with my head held high. But this is a humiliation… I am an elected representative. It is an assault on my dignity and credibility,'' Rashid said. "I was an engineer with the J&K government's Project Construction Corporation for around 15 years before contesting elections. No one can ever raise a finger at me."
The NIA hasn't given any specific reason for summoning him.
Full report at:
http://indianexpress.com/article/india/terror-funding-case-nia-probe-rivals-conspiracy-says-jk-mla-engineer-rashid-4871889/
--------
Mideast
Palestinian prime minister visits Gaza in move to reconcile with Hamas
Oct 3, 2017
The West Bank-based Palestinian prime minister crossed into the Gaza Strip on Monday in a move towards reconciliation between the mainstream Fatah party and Hamas, a decade after the Islamist group seized the territory in a civil war.
Rami al-Hamdallah said at a welcome ceremony his unity government would begin assuming control of Gaza's administrative affairs, as well as "security responsibilities and responsibility for crossings and borders".
Hamas, considered a terrorist group by Israel and the West, made its dramatic step towards unity last month, disbanding its Gaza shadow government, after Egypt, Saudi Arabia and the United Arab Emirates imposed an economic boycott on its main donor, Qatar, over alleged support of terrorism. Qatar denies the allegation.
Under previous understandings, some 3,000 Fatah security men would be integrated gradually into a Gaza police force overseen by an Interior Ministry headed by Hamdallah.
That deployment would still leave Hamas's armed wing -- analysts say it has at least 25,000 well-equipped fighters -- the dominant power in the Palestinian enclave of 2 million people.
"We return to Gaza in order to conclude reconciliation and national unity and end the painful impacts of divisions and to rebuild Gaza brick by brick," said Hamdallah, who is an independent.
Forces loyal to Palestinian President Mahmoud Abbas lost control of Gaza in fighting with Hamas in 2007.
Hamas's reversal is the most significant step towards Palestinian reconciliation since the unity government was formed in 2014. It failed to function in Gaza - where Israel and Hamas have fought three wars since 2008 - because of disputes between Hamas and Fatah over its responsibilities.
In his first comments after Hamdallah and his entourage entered Gaza, Abbas told Egyptian TV station CBC in an interview that his sanctions on the enclave would be lifted after the unity government takes control.
"Everything must be in the hands of the Palestinian Authority, it must be the one to control the crossing points (in and out of Gaza)," he said, adding that there could be only one regime setting laws and enforcing them.
Analysts said narrowing internal divisions could help Western-backed Abbas counter Israel's argument that it has no negotiating partner for peace with the Palestinians.
A Hamas police honor guard and hundreds of Palestinians, many of them waving Palestinian flags, awaited Hamdallah outside the Hamas-controlled checkpoint, down the road from Israel's Erez border crossing through which the prime minister and his motorcade passed.
"It is a day of Eid, a national holiday," said Abdel-Majid Ali, 46. "We hope this time reconciliation is for real."
Nickolay Mladenov, the U.N. special coordinator for the Middle East peace process, wrote on Twitter: "The road ahead will be long and hard, but momentum of reconciliation and peace should not be missed."
CABINET MEETING
The unity drive also marked a return to prominence of exiled former Gaza security chief Mohammed Dahlan, once one of Hamas's fiercest enemies and now a leading figure in regional efforts to pull the territory back into the Palestinian mainstream.
Dahlan, based since 2011 in the United Arab Emirates, is behind an influx of cash to prop up Gaza and detente between Hamas and Arab states including Egypt, which hosted reconciliation talks.
Michael Oren, deputy minister for diplomacy in Israeli Prime Minister Benjamin Netanyahu's cabinet, said a key issue for Israel was whether Hamas, which is dedicated to Israel's destruction, would retain its weapons.
"If it does, then it's a non-starter for Israel," he said.
The U.S. was watching developments closely with the aim of improving humanitarian conditions in Gaza, Jason Greenblatt, U.S. President Donald Trump's Middle East envoy, said on Twitter, but insisted the new administration must abandon violence.
"The United States stresses that any Palestinian government must unambiguously and explicitly commit to nonviolence, recognition of the State of Israel, acceptance of previous agreements and obligations between the parties, and peaceful negotiations," Greenblatt wrote.
Both Israel and Egypt maintain a partial blockade of Gaza, citing security concerns.
In public remarks at a lunch with Hamdallah, Hamas leader Ismail Haniyeh appeared to be uncompromising about any accommodation with Israel, calling for the establishment of a Palestinian state "on the full Palestinian soil with Jerusalem as its capital and the return of refugees to their lands and homes".
On Tuesday, the Palestinian unity cabinet will meet in Gaza.
"The agenda is crowded with ideas and projects," Culture Minister Ehad Bseisso said.
In addition to setting a date for holding presidential and parliamentary elections, rival factions will have to resolve the issue of the fate of the 40,000 to 50,000 civil and military staff Hamas had hired since 2007.
http://nation.com.pk/international/03-Oct-2017/palestinian-prime-minister-visits-gaza-in-move-to-reconcile-with-hamas
--------
Arab coalition strike kills Houthi commanders in Yemen's Harad
3 October 2017
An airstrike by the Saudi-led coalition in Yemen killed five high-profile Houthi militia commanders in Jabal al-Nar, east of Harad, northwest of Yemen.
According to Yemeni military sources, they were killed on Sunday evening.
One of the prominent men killed is Haidar Radman, the commander of the "Jizan axis" as Houthi militias describe it. He is a prominent Houthi chief and a student of the Houthis' late founder Hussein al-Houthi and a former bodyguard. He's participated in all six wars which the Houthis fought and in border confrontations with the Saudi kingdom.
Among those killed are Abu Hassan al-Ahwas, the commander of the rapid intervention group in Harad, and Abu Mohammed al-Hakem, the customs supervisor at the Harad front.
The Houthis have lost some field commanders in the past few days. Those killed include Ammar Abu Kharfasha, a high-ranking central security figure in Hajjah, Mohammed Ali Hassan Hajj, a recruiter, Najib Salah, a religious reference and dozens others. They were all killed in the Midi and Harad fronts.
https://english.alarabiya.net/en/News/gulf/2017/10/03/Arab-coalition-strike-kills-Houthi-commanders-in-Yemen-s-Harad.html
--------
Iran, Iraq hold exercises near Iraqi Kurdistan
Oct 3, 2017
SULAIMANIYAH - Iranian and Iraqi forces conducted joint military exercises on Monday near the border with Iraq's autonomous Kurdistan region, a Kurdish official said, following tensions over the Kurds' independence vote.
Iraqi Kurds voted 92.7 percent in favour of independence on September 25 in a non-binding referendum held in defiance of the central government, which hit back in retaliation.
Following the vote, Iraq, Iran and Turkey - which all have sizeable Kurdish minorities - took a series of measures to isolate Iraqi Kurdistan, including the suspension of international flights to and from its two main airports.
"Iraqi and Iranian units began exercises at 11:00 am (0800 GMT) with tanks and infantry only 250 metres (yards) from the border," Shwan Abu Bakr, the Kurdish customs chief at the Bashmakh border post, told AFP.
"Iraqi forces are dressed in black and there is a large number of Iranian forces," he said, the black uniforms indicating that the Iraqi forces were from the country's elite Counter Terrorism Service.
The Iranian military on its website announced joint military exercises with units of the Iraqi army involving armour and artillery units as well as drones and other aviation. It appeared the manoeuvres were the first joint military exercises between Iran and Iraq since Iran's 1979 Islamic revolution.
An Iranian military official announced on Saturday that the two countries would hold a joint military exercise in response to the referendum.
Baghdad declared the ballot illegal and suspended flights in retaliation.
Turkey and Iran, which fear the vote will embolden their own sizeable Kurdish minorities, also threatened action against the Iraqi Kurds.
On Saturday Iranian armed forces spokesman Masoud Jazayeri told reporters the exercises would be held "in the coming days along the shared border". The decision to carry out the exercises followed a high-level meeting of Iranian commanders where "the territorial integrity and unity of Iraq and the illegitimacy of the independence referendum in northern Iraq were stressed again," he said.
Iraqi soldiers last week also took part in a Turkish military drill close to the Iraqi frontier.
The referendum was held in the three provinces of Iraqi Kurdistan and in several disputed areas under Kurdish control.
Iraqi authorities have demanded that Kurdish forces withdraw from disputed areas and that Kurdish authorities hand over control of the region's airports and border posts.
The Iraqi government on Monday demanded Kurdish authorities stop "provocations" in disputed territories.
Prime Minister Haider Al-Abadi's office insisted the Kurdistan region halt movements of its peshmerga security forces and return Baghdad's control over areas Arbil claimed after a 2014 advance by the Islamic State group.
"The region must stop the escalation and provocation in areas seized by it," spokesman Saad al-Hadithi said in a statement.
Hadithi told AFP that Kurdish forces had declared that they would remain in several disputed areas and were continuing movements in the province of Nineveh that were meant to be "temporary".
"These movements have to cease," he said.
Officially comprising Arbil, Dohuk and Sulaimaniyah provinces, Iraqi Kurdistan also claims other territory including oil-rich Kirkuk province - a dispute that is a major source of contention with Baghdad.
Full report at:
http://nation.com.pk/international/03-Oct-2017/iran-iraq-hold-exercises-near-iraqi-kurdistan
--------
Kurdish Referendum Helps Boost Takfiri Terrorism: Iranian Official
Oct 2, 2017
A senior Iranian official says the recent secession plebiscite held in Iraq's semi-autonomous Kurdistan region will help boost Takfiri terrorism across region while jeopardizing the interests of both the Iraqi and Kurdish people.
"Holding the referendum in Iraq's Kurdistan will help the Western-Zionist-Arab front supporting Takfiri terrorism achieve its objectives and is definitely in contradiction to the interests of the Iraqi people, particularly the Kurds," Secretary of Iran's Supreme National Security Council (SNSC) Ali Shamkhani said in a meeting with Turkish Chief of General Staff Hulusi Akar in Tehran on Monday.
He slammed the reckless and irresponsible approach adopted by some officials in the Iraqi Kurdistan Region, warning that lack of due attention to security exigencies of Iraq would divert attention away from the fight against Takfiri terrorism as the main threat to the region.
The SNSC secretary stressed the importance of bolstering cooperation among Iraq, Turkey and Iran with the purpose of preventing developments in the Iraqi Kurdistan Region from negatively affecting the operations to clear the country of remaining Daesh terrorists.
The Turkish chief of general staff, for his part, said his country strongly supported the central government in Iraq and the country's territorial integrity.
Akar added that cooperation among Tehran, Ankara and Baghdad would thwart all divisive plans in the region.
The Kurdistan Regional Government (KRG) held a non-binding referendum on September 25 on secession from the central government in Baghdad in defiance of Iraq's stiff opposition.
Major regional and international parties have also voiced serious concern over the secessionist move, saying it would compound the problems of the country, which is already busy with counter-terrorism operations against Daesh terrorist group.
Iran and Turkey had warned that the controversial vote could lead to further instability in the entire Middle East, a region already ravaged by numerous conflicts and terror threats.
Addressing reporters following a meeting with Akar earlier in the day, Chief of Staff of the Iranian Armed Forces Major General Mohammad Baqeri said Tehran and Ankara had "common and similar" positions on the recent independence referendum held in the Kurdistan region and believed that it was unacceptable.
Iran and Turkey also believe that Iraq's territorial integrity must be preserved, he added.
Full report at:
http://www.presstv.ir/Detail/2017/10/02/537246/Iran-Turkey-Iraq-Kurdistan-Ali-Shamkhani-Hulusi-Akar-referendum
--------
Five civilians killed in Yemen air raid, says govt official
Oct 3, 2017
Five civilians were killed and eight wounded on Monday in an air raid on a rebel-held town in south Yemen, an official said, days after the United Nations agreed to investigate war crimes in the country.
Speaking to AFP on condition of anonymity, the government official said the raid targeted the Barh district in the southern province of Taez, which is largely controlled by Yemen's Saudi-backed government.
Barh, however, is held by the country's Shia Houthi rebels, who are allied with Iran.
The rebel-run Saba news agency said Saudi Arabia was behind the raid. Saudi officials did not comment on the news on Monday.
Allied with former president Ali Abdullah Saleh, the Houthis for years have been locked in a war with the government of President Abedrabbo Mansour Hadi, in turn supported by an Arab military coalition led by Saudi Arabia.
More than 8,500 people have been killed and nearly 49,000 wounded since the Saudi-led coalition joined the Yemen war in 2015.
The UN Human Rights Council last week agreed to send war crimes investigators to Yemen, overcoming strong resistance from Saudi Arabia.
The United Nations has warned more than 17 million Yemenis now face dire food shortages.
Full report at:
http://nation.com.pk/international/02-Oct-2017/five-civilians-killed-in-yemen-air-raid-says-govt-officiali
--------
Any change in borders spreads insecurity, instability in region: Rouhani
Oct 2, 2017
Iran's President Hassan Rouhani has stressed the need to bolster central governments in Syria and Iraq, saying that any change in geographical borders will cause insecurity and instability to spread across the region.
Rouhani made the remarks in a meeting with Turkish Chief of General Staff Hulusi Akar in Tehran on Monday.
Stressing the necessity of strengthening the central governments in Syria and Iraq in order to maintain the two countries' territorial integrity, facilitate the war on terror and prevent alterations in geographical borders, Rouhani said, "Any change in geographical borders will cause insecurity and instability to spread throughout the region."
He added that fighting terrorism and safeguarding geographical borders in the region were the most important goals that Iran and Turkey sought to achieve through development of cooperation and bilateral relations.
The Iranian chief executive emphasized that Iran and Turkey, as two important countries and the pillars of stability in the region, could play an influential role in resolving regional issues if they stood by each other.
Mentioning terrorism, insecurity and instability as common threats facing Iran and Turkey in the region, Rouhani said, "To do away with these threats and in line with the common interests [of the two countries], all-out relations and cooperation must further develop between Tehran and Ankara."
"The armed forces of Iran and Turkey can establish constructive relations in order to repel regional threats through further expansion of cooperation and exchange of experience," Rouhani pointed out.
For his part, the Turkish chief of general staff said his country respected territorial integrity of all regional countries, including Syria and Iraq, and expressed Ankara's readiness to develop cooperation with Iran in the fight against terrorism.
Akar arrived in Tehran late Sunday at the invitation of Chief of Staff of the Iranian Armed Forces Major General Mohammad Baqeri, who visited Ankara in mid-August, the first by an Iranian chief of staff since the 1979 Islamic Revolution. The Turkish military official's trip is taking place ahead of a scheduled visit by Turkish President Recep Tayyip Erdogan to Iran.
Full report at:
http://www.presstv.ir/Detail/2017/10/02/537256/Iran-Turkey-Hassan-Rouhani-Hulusi-Akar
--------
Iran, Turkey back Iraq's integrity, voice opposition to Kurdish secession
Oct 2, 2017
The military brass of Iran and Turkey have voiced their opposition to the separation of Iraq's Kurdish region and expressed support for the country's territorial integrity.
Chief of Staff of the Iranian Armed Forces Major General Mohammad Baqeri on Monday held talks and attended a joint press conference with Turkish Chief of General Staff Hulusi Akar, who arrived in Tehran Sunday night ahead of a scheduled visit by Turkish President Recep Tayyip Erdogan to Iran.
Addressing reporters following the meeting, Baqeri pointed to common threats against Iran and Turkey and said the two countries have "common and similar" positions on the recent independence referendum held in the Kurdistan region and believe that it was unacceptable.
Tehran and Ankara also believed that Iraq's territorial integrity must be preserved, he added.
In defiance of Iraq's stiff opposition, the Kurdistan Regional Government (KRG) held a non-binding referendum on September 25 on secession from the central government in Baghdad.
Official results showed 92.73 percent of voters backed the secession. Turnout was put at 72.61 percent.
Major regional and international parties have voiced serious concern over the secessionist move, saying it would compound the problems of the country, which is already busy with counter-terrorism operations against Daesh terrorist group.
Iran and Turkey had warned that the controversial vote could lead to further instability in the entire Middle East, a region already ravaged by numerous conflicts and terror threats.
Deputy Chief of Staff of Iran's Armed Forces Brigadier General Massoud Jazayeri said on Saturday Iran and Iraq would hold joint military exercises along their border with the Kurdistan region in the coming days in line with Tehran's policy to support Baghdad's central government, after the recent controversial independence referendum in the semi-autonomous region.
Elsewhere in the presser, Baqeri said he had held discussions with his Turkish counterpart on the latest achievements made by the Iraqi and Syrian armed forces in the campaign against Daesh and expressed hope they would help Damascus and Baghdad to restore security to their countries.
"We also held negotiations about [ways] to counter terrorism in the region and [promote] the two countries' border security and made good decisions," the top Iranian commander pointed out.
He also noted that the Iranian and Turkish armed forces would boost cooperation in training troops, hold joint military exercises and share experience on border security.
Baqeri paid an official three-day visit to Turkey in mid-August at the head of a high-ranking politico-military delegation. It was the first visit by an Iranian chief of staff of the Armed Forces to Turkey.
Iran, Turkey vow to boost military cooperation: Akar
Oct 3, 2017
The top Turkish commander, for his part, said Iran and Turkey agreed to continue the fight against terrorism and increase security in border areas and added that the two countries would boost military cooperation.
Full report at:
http://www.presstv.ir/Detail/2017/10/02/537221/Iran-Iraq-Turkey-Kurdistan-Mohammad-Baqeri-Hulusi-Akar-terrorism
--------
Israeli court sentences Palestinian man to 2 life terms in prison
Oct 2, 2017
A court in Israel has given two life terms in prison to a Palestinian man accused of killing an Israeli policeman some three years ago.
The Ofer military court in the occupied West Bank claimed on Monday that it had found guilty Ziad Awad of purported killing of Baruch Mizrahi, an off-duty Israeli police, by shooting at his vehicle in the vicinity of the occupied West Bank city of al-Khalil (Hebron) in April 2014, giving him two back-to-back life sentences.
Awad, a member of the Palestine resistance movement of Hamas, is also accused of allegedly wounding Mizrahi's wife and their child in the process. The court also sentenced Awad to pay compensation of 275,000 shekels ($77,000).
The same court also sentenced on Monday Awad's son Izz al-Din to serve 20 years in prison and to pay 325,000 shekels in damages for helping his father's alleged plan and carry out the purported attack.
Some 6,500 Palestinians are currently being held in Israeli jails, over 500 of them arbitrarily, according to figures provided by the Palestinian prisoners' rights group Addameer in January. Palestinian inmates complain that they have been subjected to assault and torture at Israeli prisons.
The occupied Palestinian territories have witnessed new tension ever since Israeli forces introduced restrictions on the entry of Palestinian worshipers into the al-Aqsa Mosque compound in East Jerusalem al-Quds in August 2015.
Over 300 Palestinians have lost their lives at the hands of Israeli forces since the beginning of October 2015.
The Tel Aviv regime has tried to change the demographic makeup of Jerusalem al-Quds over the past decades by constructing settlements, destroying historical sites and expelling the local Palestinian population. Palestinians say the Israeli measures are aimed at paving the way for the Judaization of the city.
Full report at:
http://www.presstv.ir/Detail/2017/10/02/537262/Palestine-Israel-life-term-Ziad-Awad-Hamas-attack-West-Bank
--------
Africa
African migrants to Yemen tortured for ransom: UN
Oct 3, 2017
DUBAI - Migrants making their way from the Horn of Africa to Yemen are frequently abducted and tortured by "criminal gangs", the UN Migration Agency warned on Monday.
Despite a war that has killed thousands and pushed Yemen to the brink of famine, some 6,000 migrants enter the country every month, according to the UN's International Organization for Migration (IOM). They often come from Ethiopia and Somalia, hoping to make their way overland to the more prosperous Gulf countries to find work. Many are abducted by criminal gangs upon arrival in Yemen and tortured for ransom, according to IOM. "A common technique is to call the migrant's family while allowing burning plastic from an empty water bottle (to) drip on a migrant's skin causing burns and excruciating pain," said IOM director general William Lacy Swing.
"Families usually pay up quickly and the migrants continue their journey often to be extorted repeatedly by different gangs before reaching their destination."
Dozens of migrants have died in the journey to Yemen this year alone.
In August, at least 50 Somali and Ethiopian migrants were deliberately drowned off Yemen by smugglers who appeared to have spotted the coastguard stationed along the coast of Shabwa in the Arabian Sea, according to the United Nations.
In March, a helicopter opened fire on a boat carrying more than 140 passengers off Yemen's Red Sea coast, killing 42 civilians and wounding 34.
Unconfirmed reports say the majority of the passengers were migrants.
The United Nations has said the attack was almost certainly carried out by the Saudi-led coalition, in an operation it said was a violation of international humanitarian law.
The UN Human Rights Council last week agreed to send war crimes investigators to Yemen, where more than 8,500 people have been killed and nearly 49,000 wounded since 2015, when an Arab coalition led by Saudi Arabia joined the government's fight against rebels allied with Iran.
At least 17 million Yemenis now face dire food shortages. Another 2,100 people have died in a cholera epidemic which erupted in April and could infect as many as 900,000 people this year, according to the International Committee of the Red Cross.
http://nation.com.pk/international/03-Oct-2017/african-migrants-to-yemen-tortured-for-ransom-un
--------
17 dead in protests in Cameroon English-speaking areas
Oct 2, 2017
Cameroon's military is heavily deployed in the country's English-speaking regions and few people are on the streets after 17 people were killed over the weekend in protests in support of independence for some Anglophone regions.
Tens of thousands of English-speaking Cameroonians hoisted flags Sunday to show they want independence from the country's French-speaking majority, defying security forces and bans for gathering in some areas.
Security forces shot dead 17 people in Cameroon during gatherings on the 56th anniversary of the incorporation of Anglophone regions into Cameroon, according to Amnesty International. The group expressed worry over the government's "ongoing campaign to silence any form of dissent." The Northwest province on Friday banned meetings and travel for 72 hours.
The rights group called on security forces to cease unnecessary violence and called on protesters to be peaceful.
"The worrying escalation witnessed over the weekend has now reached a crisis point. The use of excessive force to silence protests in the west and southwest regions of Cameroon is not the solution," said Ilaria Allegrozzi, Amnesty International's Lake Chad researcher. "All deaths related to these protests must be promptly and effectively investigated."
Local media had reported at least a dozen people killed in the English-speaking northwest and southwest regions, some shot by military helicopters, while at least 40 others were arrested, according to local media. Six soldiers were attacked and severely wounded, reports said.
No declarations were made by separatists, but protests have been ongoing since late last year with the country's English-speaking population saying it is discriminated against by the majority French-speaking population.
Social media platforms such as WhatsApp have been blocked in the English-speaking regions and residents express fear about restrictions imposed by the government.
In Yaounde and all major towns in the French-speaking regions, political parties, lawmakers and the government organized rallies denouncing the separatist groups.
Lawmaker Tabe Tando from Cameroon's English-speaking southwest region read a declaration at a mass rally organized by Cameroon's senate and national assembly in Yaounde.
"The members of parliament condemn outright any action aimed at destabilizing our beloved and beautiful country. Reaffirm their attachment to a Cameroon which is one and indivisible as enshrined in the constitution. Express their brotherly solidarity to the populations of the northwest and southwest regions, victims of the unscrupulous acts of enemies of the fatherland and peace," it said.
Some experts called for dialogue to avoid ongoing tensions.
Schools have been closed in the northwest and southwest since November when lawyers and teachers called for a strike to stop what they believe is the overuse of the French language. Violence erupted when separatists joined in and started asking for complete independence.
Full report at:
http://www.presstv.ir/Detail/2017/10/02/537254/Cameroon-protest-military-tensions-Amnesty-International-negotiation-violence
--------
Police chief at airport in Somalia's Puntland shot dead
Oct 2, 2017
A policeman has shot dead the chief of security at an airport in Somalia's semi-autonomous Puntland region and also his bodyguard, police say.
The assailant's motive for killing Colonel Abdisalan Sanyare Owke and his bodyguard at the airport in Galkayo, a city in Puntland, was not immediately clear.
Police detained the assailant and have begun an investigation of the incident that took place on Monday, said Mohamed Jama, another police officer working at the airport.
Somalia has been mired in conflict since 1991, but Puntland has been spared most of the violence. It has a dispute with the neighboring semi-autonomous region of Galmudug that has in the past resulted in fighting.
Full report at:
http://www.presstv.ir/Detail/2017/10/02/537248/Somalia-police-Puntland-airport-security-Galkayo-Shabab-militants
--------
URL: https://www.newageislam.com/islamic-world-news/false-isis-connections-nonexistent-victims/d/112754
New Age Islam, Islam Online, Islamic Website, African Muslim News, Arab World News, South Asia News, Indian Muslim News, World Muslim News, Women in Islam, Islamic Feminism, Arab Women, Women In Arab, Islamophobia in America, Muslim Women in West, Islam Women and Feminism