New Age Islam News Bureau
26 Feb 2018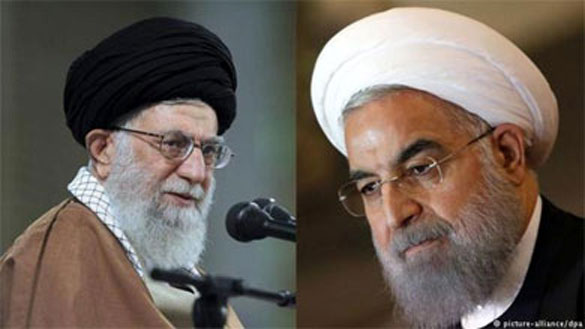 The budget allocated for religious institutions in the coming year is set to increase by 10 percent, which will give them $550 million. (Al Arabiya)
-----
• Darul Uloom Backs Saudi Fatwa on Ringtone
• KP Government in Pakistan under Criticism for Aiding Controversial Darul Uloom Haqqania
• Rouhani Criticizes Khamenei's Large Budget Meant To 'Islamize' Science
• Will Kabul's Quest for Taliban Office Closure Help Peace?
• Dinner Celebrates Unity between Muslim and Jewish Communities
India
• Darul Uloom Backs Saudi Fatwa on Ringtone
• Kerala Islamic Preacher Wanted For Inciting Communal Enmity Held
• NIA to seek Interpol Red Corner notice against Pakistan diplomat wanted in 2014 terror plot
• Kashmir: Pakistan and India exchange artillery fire amid escalation in dispute
• China's ocean observatory in Maldives sparks fresh security concerns
• J&K: Terrorists open fire, flee with cop's rifle
• J&K: Terrorists kill 2 cops in two separate attacks; DGP says its proxy war
--------
Pakistan
• KP Government in Pakistan under Criticism for Aiding Controversial Darul Uloom Haqqania
• Government Crackdown on Hafiz Saeed Polarises Pakistan
• Western route to change fate of KP's southern districts: Fazlur Rehman
• Masood asks world to send peacekeepers in Kashmir
• Pakistan may find itself on FATF blacklist after June
• New law on Sikh marriages on the anvil
• Pak-Afghan track II dialogue begins today
--------
Mideast
• Rouhani Criticizes Khamenei's Large Budget Meant To 'Islamize' Science
• Muslim Scholars Demand Uprising Over US Embassy Opening In Al-Quds
• Saudi Arabia: Iran's missile support for Houthis could spread to al-Qaeda
• Iranian Shias, Sunnis safeguarding nat'l security, borders: Senior MP
• Iran says will respect UN ceasefire, but continue attacks on 'terrorist' areas
• Syria to be cleared of terrorists in a few months: Iran general
• Israel's Tax, Land Measures Force Closure of Palestine's Iconic Church
--------
South Asia
• Will Kabul's Quest for Taliban Office Closure Help Peace?
• 14 Militants Killed In Helmand and Farah Airstrikes
• Key Taliban figure Mullah Gul Mohammad among 3 killed in Faryab clash
• Myanmar: Nationalists Disrupt Pro-Muslim Event
• Rohingya exodus still growing, six months into crisis
• Bangladesh High Court Defers Judgement on Khaleda Zia's Bail Petition
• Bangladesh: 3 activists of banned outfit Jamaat-ul-Mujahideen Bangladesh detained
--------
North America
• Dinner Celebrates Unity between Muslim and Jewish Communities
• Quebec's Islamophobia Has Gone Down an Eerily Familiar Path
• Our long war with jihadist terrorism started this way, exactly 25 years ago
• Victims of first WTC terror bombing still tormented as the attack is overshadowed by 9/11
• Eminent journalist sheds light on difficulties faced by Muslims in US
--------
Africa
• Tuareg Militias Battle Islamic State-Loyal Militants in Northern Mali
• State Denies Arresting Al Shabaab Returnees, Vows to Rehabilitate Them
• Somalia: Police Place Sh10 Million Bounty on Five Al Shabaab Suspects
• Muslim students 'attack' Buhari over NASU strike
• Cameroon:At least 5 killed by Boko Haram
--------
Arab World
• Jeish Al-Islam Militants Continue Attacks on Syrian Army despite UN Ceasefire
• Militants in More Regions Join Peace Agreement with Syrian Army
• Syrian Child, 3, Dies after Suffocating In Eastern Ghouta 'Chlorine Attack'
• US airstrikes kill at least 29 civilians, injure many more in Syria's Dayr al-Zawr
• Turkish Army Enters Strategic Region in Afrin
• Terrorists Sustain Tens of Casualties in Air Raids in Hama
• Syrian Army Assaults Al-Nusra in Some Districts in Eastern Damascus
--------
Europe
• France to Create 1500 Places in Prison to Isolate Jihadist Inmates
• Germany, France Urge Russia to Pressure Syria for 'Immediate' Ceasefire
• Swiss man planned terror attack in France
• UK police say no sign blast in Leicester was linked to terrorism
• Syria's PYD ex-leader arrested in Prague on Turkey's request
• Europe wants Egypt to drop death penalty
--------
Southeast Asia
• Malaysia: When Greetings Are an Insult
• Top court to hear who has power to decide four Sarawakians' conversion out of Islam
• Judges made mistake in Ahok's case: Lawyer
Compiled by New Age Islam News Bureau
URL: https://www.newageislam.com/islamic-world-news/darul-uloom-backs-saudi-fatwa/d/114417
--------
Darul Uloom backs Saudi fatwa on ringtone
Pankul Sharma
Feb 26, 2018
BAREILLY: The Darul Uloom Deoband seminary has supported the fatwa issued by Saudi Arabian clerics against using Quran ayats (verses) as ringtones on mobile phones, terming the practice as un-Islamic.
Mufti Arif Qasmi of fatwa cell at Darul Uloom told TOI, "The phone caller may be in the toilet at time the call is made. In such a state, hearing Quran ayats and azaan (call for prayer) as ringtone or caller tune is quite un-Islamic. Whether it is Arabia, India or any other part of the world, Islam is the same everywhere, so a fatwa issued in Arabia is no less important here."
This is not the first time that Islamic clerics have issued a fatwa against using Quranic verses as ringtone on mobile phones. In 2009, clerics from a Kanpur-based organization, Jamia Ashraf-ul-Madaris, had issued the same diktat.
Qasmi said, "If a person is in the toilet and heard Quranic ayats after the mobile phone rang, it would be a sin. Besides, most of the time, people answer calls midway, leaving the verses incomplete, which is again un-Islamic as an incomplete verse, sometimes, has a completely different meaning."
According to Qasim, using verses as door bell was equally un-Islamic as using them in ringtones. "The other day, someone asked me that Hindu people also use bhajans and shlokas as ringtone, but they don't see any harm in that. I replied that I can't comment about other religions. But as far as Islam is concerned, using verses as ringtone goes against the sacred nature of the Quran," he added.
https://timesofindia.indiatimes.com/city/bareilly/darul-uloom-supports-fatwa-by-saudi-muftis-against-using-quranic-verses-as-ringtone/articleshow/63069328.cms
--------
KP Government in Pakistan under Criticism for Aiding Controversial Darul Uloom Haqqania
February 25, 2018
Mohammad Habibzada
The provincial government of Pakistan's northwest Khyber Pakhtunkhwa province came under sharp criticism for giving an Islamic seminary an estimated Rs.28million ($2,500,000) in aid.
The government, led by Pakistan Tehreek-e-Insaf, used government funds to support Darul Uloom Haqqania, a religious seminary. Pakistani religious schools have long been blamed for producing extremists.
"Government is supporting extremist elements — this will not help any move to curb militancy in the country. And if Pakistan is blamed for supporting militants, this proves it," Syed Alam Mehsud, president of nationalist party Wolesi Tehreek, told VOA.
The same provincial government provided Rs.300million ($2,700,000) to the same religious school last year.
The Khyber Pakhtunkhwa government responded to the criticism, asserting that financial aid is necessary to improve the religious schools and equip them to teach modern science.
The move has been criticized on multiple platforms, including the social and political arena. Some critics suspect the Pakistan Tehreek-e-Insaf-led government is using public funds for personal political gain.
It is believed that Taliban leaders, including former Afghan Taliban leader Mullah Omar, attended Darul Uloom Haqqnia, run by Maulana Samiul Haq.
During an interview with Reuters, Haq called Omar "one of his best students."Haq is also known as the "Father of the Taliban." In a 2013 interview with Reuters, he supported the Afghan Taliban.
"Give them just one year, and they will make the whole of Afghanistan happy," he said.
Pakistan-based madrasas
The Afghan government has long blamed Pakistani madrasas (religious schools) for producing extremists, and charge that the increase in violence in Afghanistan has roots in the schools.
"The reason that terrorism still exists in Afghanistan, although Afghan forces have killed thousands of them, are the madrasas on the other side of the Durand Line (the border line separating the two countries) that produce terrorists," General Mohammad Radmanish, a spokesperson for Afghan Defence Ministry, told VOA.
Radmanesh added there are an estimated 10,000 religious schools operating in Khyber Pakhtunkhwa alone, some of which, he claimed, train militants for jihad in Afghanistan.
Afghan officials have long accused Pakistan of turning a blind eye to terrorist groups that train on its soil to carry out terror attacks across the border in Afghanistan. The claim that Pakistan is selective in its crackdown on terror groups.
Pakistan denies these allegations and maintains that its military operations have targeted militants of all kinds.
"Military-led counterterrorism operations have targeted terrorists indiscriminately, including Haqqanis, at a heavy cost of blood and treasure," Pakistan army spokesperson Major-General Asif Ghafoor told VOA following an announcement last year of the Trump administration's proposal to suspend hundreds of millions of dollars in military assistance to Pakistan.
Pakistan under scrutiny
Pakistan has three months to convince the Financial Action Task Force (FATF) that the country is complying with international anti-terrorist financing regulation to avoid being placed on a global terrorist-financing watch list.
In an attempt to demonstrate compliance with FATF regulation, Pakistan amended its anti-terrorism law early February. The change authorized the government to blacklist charities linked to Islamist leader Hafiz Saeed.
Saeed has been wanted by the United States since 2012 for planning the 2008 Mumbai terrorist attacks.
The list also includes Saeed's Jamaat-ud-Dawa (JuD) and its subsidiary, the Falah-e-Insaniat Foundation (FIF), which according to experts, serves as the front organizations for Lashkar-e-Taiba.
Pakistani authorities announced a new program aimed at preventing billions of dollars in public donations to charities from ending up with banned militant groups.
The "Safer Charity" initiative announced two weeks ago urges people to use caution and donate to responsible humanitarian organizations. The move comes amid concerns that some militant organizations are using front organizations to collect money allegedly for humanitarian work.
According to government officials, people in Pakistan donate up to $4.5 billion annually to help the poor and needy as part of fulfilling the religious obligation of almsgiving, or Zakat.
The new program urges citizens to ensure the groups to whom they are donating have not been banned by the government.
https://www.voanews.com/a/provincial-government-in-pakistan-under-criticism-for-aiding-controversial-school/4270068.html
--------
Rouhani Criticizes Khamenei's Large Budget Meant To 'Islamize' Science
25 February 2018
Iranian President Hassan Rouhani criticized the large budget allocated to Iran's Supreme Leader Ali Khamenei's 'Islamisation of Science' project.
Rouhani said during a speech on Saturday at the 31st round of the Khawarizmi International Festival that spending this much money on religious institutions contributes nothing to the development of the country.
"We have no Islamic car industry, nor Islamic physics or chemistry," he said.
He also described efforts to add Islamic principles to science as failed.
According to the Khabar Online website, the Iranian president called for "scientific interaction worldwide and freedom of scientific research." He said in a speech that "adding the Quran on the car dashboard does not make it an Islamic car," while criticizing the idea of "dividing sciences into Islamic and non-Islamic".
He added that searching for the explanations of any science in the Quran or religion and trying to link their origin with religious verses is not correct.
The Iranian president criticized the budget allocated to the 'Islamization of science' project saying that much of the money spent on attempts to add an 'Islamic touch' to science. However, he said that algebraic algorithms and mathematics cannot be classified as Islamic or non-Islamic through Islamization and large spending.
"Science is not linked to ideology. We have different perspectives in the country, but we cannot say that biosciences belong to the fundamentalists and mathematical sciences belong to the reformists. Science knows no boundaries, meanwhile some want to make physics and chemistry Islamic and spent a lot of money and time on doing so… Algebra is algebra and mathematics is mathematics," Rouhani said.
Meanwhile, the supreme leader, Ali Khamenei, strongly opposes the teaching of social sciences at universities, where he repeatedly called for the teaching of 'Islamic sciences' instead.
The budget allocated for religious institutions in the coming year is set to increase by 10 percent, which will give them $550 million.
The budget allocated for religious assets has increased by 26 percent during Rouhani's era, in addition to the allocation of special budgets to be spent on institutions promoting the principles of the Vilayat-e-Faqih (the guardianship of the Islamic Jurist).
About $75 million was allocated to the al-Mustafa International University, which is a religious university that provides education for international students inside Iran and abroad.
A further $23 million is given to the Khamenei's Revolutionary Guard representative, to spend on the publicity of the 1979 revolution and spiritual celebrations. It is also used to direct and promote the political vision and ideas of the revolution and to support pro-Iranian militias in the region.
https://english.alarabiya.net/en/News/gulf/2018/02/25/Rouhani-criticizes-Khamenei-s-allocated-budget-to-Islamize-Science.html
--------
Will Kabul's quest for Taliban office closure help peace?
Tahir Khan
FEBRUARY 26, 2018
ISLAMABAD: Afghanistan National Security Adviser Hanif Atmar has said in reported comments that his government has started talks with Qatar to close Taliban political office in the oil-rich Gulf state as he thinks the office has'"not facilitated peace negotiations'.
Frustration of the Kabul administration at the Taliban's unwillingness to join the intra-Afghan dialogue is genuine, but Mr Atmar's remarks could be seen as a deviation from the Afghan leaders' longstanding quest for a Taliban address that is available in Doha.
Afghan government needs to take confidence building measures to encourage the Taliban to come to the negotiation table.
Recognition of the Taliban political office will be one of the major CBMs. Similarly, Taliban should also show seriousness towards the political process as their fighting sheds Afghan blood, and their attacks inflict huge damage to the country.
Closure of the office means a move to put up the shutters on political process and leaving the lone option of war open. Every security assessment report, including those recently released by the American watchdog SIGAR and the BBC show that the Taliban now control more areas and are active in nearly 70 percent of Afghanistan.
The closure of the office in Doha will weaken the government's claim of seeking reconciliation just days ahead of a key meeting of the 'Kabul Process', which will be attended by nearly 30 countries, the UN and international organizations. Peace and reconciliation with the Taliban is one of the major items on the agenda, according to a Pakistani official, who is privy to the process and attended the first meeting the Kabul Process in June last year.
If the office is closed, Kabul will deprive several countries of interaction with the political envoys, and insurgents will use it as a propaganda tool that the government has closed doors for reconciliation.
Taliban had freed lone US soldier Bowe Bergdahl in 2014 after nearly six-month secret talks through Qatar office in a swap for the release of five senior Taliban Guantanamo prisoners.
In January, the Taliban confirmed that their five political negotiators from Qatar office traveled to Pakistan to discuss options for peace process. The statement had also mentioned that political envoys shared proposals with the leadership about talks with Pakistan, China and Qatar. Diplomats from several countries, including China, Russia, Japan, European countries and UN have been visiting the Qatar office since it has been opened. International aid organizations coordinate their activities, especially visits of their officials to the Taliban-controlled areas with the Taliban political representatives in Qatar.
The Taliban had opened the office in 2013, but the Qatari government closed it just days later over objections by then President Hamid Karzai on the plea that the Taliban used their white flag and plaque of the Islamic Emirate, the name they had used during 1996-2001 rule of Afghanistan. Although the office was closed, the Taliban political envoys remained stationed in Qatar. Taliban officials familiar with the opening of the office told Daily Times earlier that they opened office in Qatar after over a year of consultations with the United States and the Afghan government.
Opening of the office in Qatar was Taliban's own choice, and it approved by then Taliban supreme leader Mullah Omar, according to Taliban officials. Taliban had other options available to open office but they preferred Qatar as it had not been involved in Afghanistan's internal affairs.
Hours after Afghan media reported Atmar's statement on the possible closure of the Taliban office earlier last week, a senior US official in Kabul said he was unaware of any such move.
"I am not familiar with the closing of that office or anything around that either. Sorry."
Atmar's statement came days after Taliban in an open letter to the American people and Congressmen offered peace negotiations to the Trump's administration.
On January 30, Trump had ruled out talks with the Taliban and declared to 'finish' them after a string of Taliban-claimed attacks killed nearly 125 people and injured about 300 others in Kabul.
This is not the first time that calls have been made to shut the Taliban office. The Guardian reported in October last year that US President Donald Trump was pushing Afghan President Ashraf Ghani to close a Taliban mission in Qatar. The Taliban had angrily reacted to the reports that any such move would kills chances of political process. "In 2013, a Political Office for negotiations was officially inaugurated in the Qatari capital of Doha following a series of meetings with American officials. But before any negotiations could commence, Kabul again protested under excuse of office name and flag and the US accepted their view," the Taliban said, while commenting on reports about details of the Trump-Ghani meeting in September. The statement issued by the Taliban office in Qatar said that opening of the political office was a message to those 'invading countries' who accused the Taliban of lacking a programme and intention towards finding a peaceful solution and due to their concentration on war.
https://dailytimes.com.pk/207517/will-kabuls-quest-taliban-office-closure-help-peace/
--------
Dinner Celebrates Unity between Muslim and Jewish Communities
By Rick Dandes
Feb 23, 2018
LEWISBURG — Bucknell's Jewish and Muslim students came together Friday night in a show of unity at the University's second annual solidarity dinner.
Manning Martus, president of Hillel, a Jewish campus organization, added that there has been the impression among some students on campus that Muslims and Jews "weren' necessarily getting along. It's nice to have this event to show that we are here altogether and we can enjoy each other's company and learn more about each other's religion."
Omar El-Etr, a third-year student from Alexandria, Egypt, said having a solidarity dinner such as this was important in bringing Jews and Muslims together. "We [Muslims] are usually a marginalized group in terms of religion. So we feel that this event is very important to show our solidarity towards each other and support towards each other. Events like this have completely changed my perspective about Jews."
El-Etr said, "I had no idea how things would be here at Bucknell. As a practicing Muslim, I needed to know where I could pray, for instance. That's why it's so important having a Muslim chaplain. And now we have Brother Mouhamadou."
The solidarity dinners began last year as a reaction to a spike in hate crimes against Muslims and Jews in the United States. "The idea behind having the formal dinner," said Rabbi Chana Leslie Glazer, "was to affirm our support for each other's dignity and humanity."
This second-year event was organized equally between Glazer, Hillel, and Brother Mouhamadou Diagne, chaplain for the Muslim community.
Having a shared event like this is important, Diagne said "because there are a lot of commonly shared experiences, to both Muslims and Jews that naturally warrants solidarity. Our faiths are not that different in my opinion. We value a lot of similar things. I also think this is a time when we need to display a united front."
There are groups around the country that have formed a practice of having Jews and Muslims pray together publically, to actually show that this is possible, Glazer added.
Before the formal dinner, there was a Jewish Sabbath prayer service, followed immediately by a Muslim Maghrib prayer service.
http://www.dailyitem.com/news/local_news/dinner-celebrates-unity-between-muslim-and-jewish-communities/article_3284ce26-a51d-5d36-8cb4-a5e45e960a87.html
--------
India
Kerala Islamic Preacher Wanted For Inciting Communal Enmity Held
February 26, 2018
ISLAMIC PREACHER and managing director of Peace International School M M Akbar, wanted in connection with a case in Kochi for allegedly inciting communal enmity through textbooks at his schools, was arrested in Hyderabad on Sunday.
According to police, Akbar, who is also the founder-director of Niche of Truth, an organisation engaged in propagating Islam, had been living in the West Asia after fleeing the country following the first arrests in the 2016 case. He was detained by immigration officials at Hyderabad's Rajiv Gandhi International Airport Sunday afternoon while he was en route to Qatar from Melbourne.
He was detained on the basis of a lookout circular issued by Kerala Police. "We had issued a lookout notice for Akbar. He was detained at Hyderabad airport today afternoon. Officials from Ernakulam (North) Police Station have taken custody of him," said Biji George, In-charge Assistant Commissioner (Special Branch) of Kochi Police. "A case against Akbar regarding promoting enmity had been registered. He was arrested in that connection."
In October 2016, the Kochi city police registered the case against Peace International School after it found offensive content in textbooks meant for Class III students at the school. Subsequently, an FIR under Section 153 A (promoting communal enmity) of the IPC was lodged against Akbar and the publishers of the textbooks.
"Earlier, we had arrested three persons associated with the publisher, Mumbai-based Burooj Realization. They are now on bail. Akbar left India after police arrested the representatives of the publishing house," said K Lalji, Assistant Commissioner, Kochi Police, who is probing the case.
The Peace Education Foundation, which runs 13 CBSE-affiliated schools, has been under the lens of investigating agencies after two dozen Kerala youths went missing, allegedly to join Islamic State in June 2016. Prominent among the missing, Abdul Rasheed of Kasaragod, had been a lead trainer at the school.
Rasheed's wives, Aysha and Yasmin Ahmed, also worked at various schools under the Foundations. Ahmed was nabbed at Delhi airport, when she was travelling to Kabul, allegedly to join the IS.
http://indianexpress.com/article/india/kerala-islamic-preacher-m-m-akbar-arrested-for-promoting-enmity-among-communities-5077935/
--------
NIA to seek Interpol Red Corner notice against Pakistan diplomat wanted in 2014 terror plot
February 25, 2018
The National Investigation Agency (NIA) has reportedly initiated the process for securing an Interpol Red Corner notice against Pakistani diplomat in a 2014 terror case. The decision was taken after Amir Zubair Siddiqui was chargesheeted last week for allegedly conspiring to launch terror strikes on the US and Israeli consulates in southern India, news agency PTI reported.
NIA officials told PTI that the paperwork for the issuance of the Red Corner notice against Siddiqui was being completed and would be sent soon to the Interpol headquarters based in Lyon in France soon.
During his stint as a visa counsellor at the Pakistan High Commission in Colombo, Siddiqui had allegedly conspired to carry out terror strikes in India. He had to be repatriated to Islamabad after India mounted pressure on Sri Lanka about his alleged activities targeting the country.
The conspiracy, said to be hatched by Pakistan's ISI, to carry out terror strikes in south India was exposed after Sri Lankan resident Sakir Hussain's arrest in April 2014, when he was in the process of scouting the two consulates. Before pleading guilty to the terror charges levelled against him by the NIA, Hussain had named Siddiqui in the case. Hussain is currently serving a prison sentence and his jail term will end next year.
Hussain had carried out reconnaissance of the US consulate in Chennai and the Israeli consulate in Bangalore to facilitate a terror strike similar to 26/11. For this, two terrorists were to be flown in from the Maldives. He was arrested after the NIA was handed over evidence by the US authorities. The documents handed over by the US to India established communication between Hussain and 'Shahjee', a Pakistani national introduced to the accused allegedly by a Pakistani diplomat working with its mission in Sri Lanka.
Full report at:
http://indianexpress.com/article/india/nia-to-seek-interpol-red-corner-notice-against-pakistan-diplomat-wanted-in-2014-terror-plot-report-5077469/
--------
Kashmir: Pakistan and India exchange artillery fire amid escalation in dispute
Fayaz Bukhari
India and Pakistan have exchanged artillery fire in the disputed Kashmir region, forcing hundreds of people to flee, police in Indian Kashmir said – raising fresh doubts about a 15-year-old ceasefire between the nuclear-armed rivals in the area.
It was not clear what triggered the latest fighting on Saturday in the Uri sector on the so-called Line of Control (LoC) that divides the mostly Muslim Himalayan region.
But tension has been running high since an attack on an Indian army camp in Kashmir this month in which six soldiers were killed.
India blamed Pakistan for the attack and said it would make its rival pay for the "misadventure".
Police superintendent Imtiaz Hussain said artillery shells fired by the Pakistani army fell in the Uri area and hundreds of villagers had fled from their homes.
Indian forces returned artillery fire, an Indian officer said, the first time the heavy guns had been used since a 2003 ceasefire along the disputed frontier.
The two armies have been exchanging intermittent small arms and mortar fire over the past couple of years as relations have deteriorated.
Mr Hussain said Pakistani authorities made announcements from a mosque advising villagers living close to the LoC on the Indian side to flee, saying the situation was bad.
About 700 people were sheltering at a school in Uri, he said.
India and Pakistan have twice gone to war over Kashmir since independence from Britain in 1947. The neighbours both claim the region in full but rule it in part.
Pakistan's foreign ministry condemned the firing and said in a statement 17 Pakistani civilians had been killed by Indian fire along the LoC this year.
India accuses Pakistan of orchestrating a separatist revolt in Indian-controlled Kashmir.
Full report at:
http://www.independent.co.uk/news/world/asia/kashmir-india-pakistan-ceasefire-nuclear-hindus-muslims-islam-terrorism-uri-asia-latest-a8227491.html
--------
China's ocean observatory in Maldives sparks fresh security concerns
Sachin Parashar
Feb 26, 2018
NEW DELHI: A Joint Ocean Observation Station which China is looking to establish in the Maldives could prove to be another security challenge for the Indian government with the Maldivian opposition leaders claiming that the observatory will also have a military application with provision even for a submarine base.
The observatory location in Makunudhoo, the westernmost atoll in the north (not far from India), will allow the Chinese a vantage point of an important Indian Ocean shipping route through which many merchant and other ships pass, said political sources in Male. It will be uncomfortably close to Indian waters and test red lines with regard to ties with Maldives.
Indian officials confirmed that an official agreement titled Protocol on Establishment of Joint Ocean Observation Station between China and the Maldives was finalised last year around the time the countries also controversially signed a Free Trade Agreement (FTA). They, however, said they'll have to check the specifics of the agreement before offering a comment.
With both China and Maldives sharing few details of the project though, a leader of the main opposition MDP party said the challenge for India is to ensure that the observation station doesn't turn out to be another significant addition to Beijing's alleged 'String of Pearls' encirclement of India and one that undercuts India's traditional security ties with Maldives.
The problem for India is that the observatory sounds worryingly similar to the one which Beijing announced for South China Sea (SCS) last year. The SCS observatory is meant to signify to the world, not least to the US, Chinese control of SCS waters.
Strategic affairs expert Brahma Chellaney said India should treat the Maldives as a red line issue and that it should warn the Maldivian and Chinese governments that it will not brook such an ocean observation center.
The Maldives crisis, however, does not offer easy choices for India and any move to lean too hard on the current government can further destablise the situation and increase the possibilty of civil unrest. The international community it keenly looking at India's response to Maldives and the China card in its backyard. So far India has insisted President Abdulla Yameen restore democratic functioning but side stepped urgings that it should intervene militarily.
"The underwater ocean observation center in the South China Sea will be dual purpose, with civilian and military applications. China's supposed plan to build such a center in the Maldives would effectively open a Chinese maritime front against India, in the same quiet way that China opened a Himalayan front against India in the 1950s," said Chellaney.
Sources here said that India at some stage, like it did with the FTA, will have to seek a clarification from Male as to what the observatory was all about. Former Maldives President Mohamed Nasheed told TOI in an interview last month that China had already acquired 17 islands in the Maldives and that there was not enough clarity about Chinese activities on these islands.
For the past couple of years, reports that China is looking to build a port in the southern part of the country - in Laamu atoll – have had Maldives agog. While the Abdulla Yameen government has denied it, it hasn't helped the government's cause that people from the Gadhoo island (Laamu atoll) have been evacuated and the Chinese have been found building roads in that region. As TOI had pointed in an earlier report too, this island sits at the entrance to the one-and-a-half degree channel which is a major international shipping passage that crosses the Maldives.
Yameen last week extended Emergency in the Maldives paying little regard to India's call for restoration of the democratic process or to even his own prosecutor general who described the extension as against the Constitution.
Strategically placed next to some of the most important shipping lanes in the world, the Maldives considers itself instrumental in facilitating China's OBOR in the Indian Ocean region. For India though, Chinese investments and projects are marked by a lack of transparency and commercial loans which come at concessional rate but which is offset by the inflated cost of projects.
"All major procurements contracted to Chinese companies are at 2-3 times the actual cost. There's no disclosure of sovereign guarantees given by Yameen to commercial loans given by Chinese banks," said an opposition leader, adding that islands were leased to China for a fraction of estimated value. A case in point is the strategically located Feydhoo island which was leased for only $ 4 million.
Full report at:
https://timesofindia.indiatimes.com/india/chinas-ocean-observatory-in-maldives-sparks-fresh-security-fear/articleshow/63072040.cms
--------
J&K: Terrorists open fire, flee with cop's rifle
M Saleem Pandit
Feb 26, 2018
SRINAGAR: At least one dozen terrorists were on the prowl in Srinagar, while two policemen were killed in two separate terror strikes — one near the Charar-e-Sharief shrine in central Kashmir's Budgam district and another outside the house of a Hurriyat Conference member at Soura here — on Sunday, an official said.
The city was on high alert following reports of around one dozen armed terrorists had sneaked into Srinagar. Security forces launched checking of vehicles and frisking of individuals on the streets. Intelligence agencies have also informed security forces that there are armed terrorists waiting to enter the state from across the LoC to carry out attacks on security and government installations.
Budgam SSP Tejinder Singh said terrorists opened fire at a policeman, identified as Kultair Singh, guarding the Charar-e-Sharief shrine and fled with his service rifle. He later died of his injuries at the military hospital. "Kultair Singh suffered injuries and was rushed to a military hospital where he died, the SSP said.
Srinagar SPP Imtiyaz Ismail Parray said terrorists killed the police guard on duty at the house of Fazal Haq Qureshi, a Hurriyat member, and fled the spot with his service rifle. "The policeman has been identified as Farooq Ahmad Yatoo. Qureshi was injured in a terror attack in 2009, leaving him paralyzed," Parray said.
Full report at:
https://timesofindia.indiatimes.com/india/2-cops-killed-dozens-of-terrorists-on-prowl-in-srinagar/articleshow/63070928.cms
--------
J&K: Terrorists kill 2 cops in two separate attacks; DGP says it's proxy war
Feb 25, 2018
SRINAGAR: Two policemen were shot dead by terrorists on Sunday in two separate attacks, including one at a police post near the revered Chrar-e-Shareef shrine and another outside the residence of a Hurriyat leader, in the Kashmir Valley, officials said.
Terrorists fired upon a police post near the shrine of Sufi saint Sheikh Noor-ud-Din Noorani in the Chrar-e-Shareef area in Budgam district this afternoon, an official said.
A Constable, Kultar Singh of Jammu and Kashmir Armed Police's 13th Battalion, suffered injuries. Singh was shifted to a hospital where he succumbed to injuries, the official added.
In the second incident, Constable Farooq Ahmed was killed when militants attacked a police post set up to outside the residence of Hurriyat leader Fazal Haq Qureshi, in the Soura area of Srinagar, a police official said.
Qureshi was injured in a militant attack in December 2009, he added.
The area has been cordoned off and a hunt is on to nab the assailants, the officials said.
Jammu and Kashmir DGP SP Vaid expressed his pain at the "martyrdom" of the two policemen.
Full report at:
https://timesofindia.indiatimes.com/india/jk-terrorists-kill-2-cops-in-two-separate-attacks-dgp-says-its-proxy-war/articleshow/63070039.cms
--------
Pakistan
Government crackdown on Hafiz Saeed polarises Pakistan
MOHSIN SALEEM ULLAH
Feb 25th 2018
Pakistan's Bin Laden is trying to game the system by putting up independent candidates in elections
For the world, he is the most wanted man, the founder and chief of the banned Lashkar-e-Taiba (LeT) and Jamaat-ud-Dawa (JuD), a frontal charity organisation to conceal LeT's militant activities. The LeT is accused of organising mass killing of hundreds in the deadly Mumbai attacks in 2008 and is responsible for carrying out terrorist activities in India.Pakistan's recent policy shift in passing a decree banning the operations of religious seminaries and outlets under LeT's banner has surfaced to preclude the threat of international sanctions ahead of a Financial Action Task Force (FATF) meeting due this week in Paris. The organisers of FATF have coerced the home government to issue an Anti-terrorism Ordinance 2018; none other than President Mamnoon Hussain issued it as he introduced an amendment to the Anti-terrorism Act, 1977. However, it's been nearly 10 years since the US Treasury Department declared Hafiz Saeed as a global terrorist. After a long delay, Islamabad designated him the same at home this month."I wish the recent State action against a few of the extremist entities—the self-styled religio-political groups, along with their seminaries and charity foundations—had been taken much earlier; and not as a self-serving expedient move just before the FATF meeting. Let us hope it is not a case of too little too late," Tahira Abdullah, a Pakistani human rights defender and peace activist, told National Herald."Since Pakistan is so fragmented over definitions of religious violent extremism and jihadism, it is not at all surprising to see the mixed reaction to the state action,"Abdullah added.Hafiz Muhammad Saeed has spent much of the last decade facing home detention imposed by the government, nearly 10 months after Mumbai attacks. But he was proven innocent through Lahore High Court's full-release verdict in 2017. Despite having a $10 million American bounty on his head, he remains free to move within the country. And to many, he is a hero and an acclaimed leader, who has campaigned against Indian presence in Kashmir. He is the first face of Islam that comes to mind in Pakistan. His followers love how he has mocked multiple US efforts which have failed to capture him and the sheer audacity with which he continues to hold large public gatherings. However, to others, he remains an Islamist militant and a contemporary to Osama bin Laden's ideology, thus earning him the title of "Pakistan's bin Laden."During Hafiz's detention, JuD's move to step into politics by forming political party Muslim Milli League (MML), and the subsequent court verdict which set him free of all terrorism charges, had raised eyebrows across the world. Things couldn't have been more dramatic, with Saeed gearing to contest elections to gain political strength in the 2018 election, at a time when the US is asking Pakistan "to do more" to curb extremist voices and in the light of Donald Trump's New Year "Lies and Deceit" tweet and overt threats to cut aid. And to many, he is a hero and an acclaimed leader, who has campaigned against Indian presence in Kashmir. He is the first face of Islam that comes to mind in Pakistan. His followers love how he has mocked multiple US efforts which have failed to capture him and the sheer audacity with which he continues to hold large public gatherings.Back in 2017, the Election Commission of Pakistan had rejected MML's application to enlist as a political party on the summary forwarded by the interior ministry, upon the recommendation received from intelligence agencies and the foreign office. Notwithstanding, MML candidates contested by-elections in National Assembly—120 (Lahore) and National Assembly—4 (Peshawar) in September 2017, as independents. The home constituency of former PM Nawaz Sharif saw Pakistan Muslim League–Nawaz (PML-N)'s vote-share significantly dropping in favour of the MML candidate."We are happy to see the drop in religious votes of PML-N in NA-120 (Sharif's constituency) and our independent candidate garnering a significant number, despite government's best efforts at upsetting our plans by not registering our political party because the ousted Prime Minister has got his personal and political interest vested in India. He has strong ties with Indian Prime Minister Narendra Modi who has been involved in barbaric persecution against Muslims in India. These forces will never want to see us in power," Nadeem Awan, JuD spokesperson told National Herald.In recent months, Islamist political groups have been more vocal in mainstream politics. The MML and Tehreek Labaik Ya Rasool Allah (TLY) staged a protest in Islamabad to demand death sentences for PML-N ministers and complete dismissal of Parliament on pretext of change in words of oath taken by the legislators on the finality of prophethood, a development which has worried major political parties in Pakistan. The PML-N had continued to enjoy the Islamist vote , prior to the advent of MML and TLY. Its support from right-wing conservatives is waning."Political history tells us that religious parties don't have much of a vote bank. In the national elections, people love to vote for moderate political parties such as PML-N. I believe that it is the democratic right of every person to contest elections. Majority of Pakistani people are tolerant and they reject extremist ideologies. Our focus must be to promote tolerance and positive values in the society. In this regard, I would like to mention Mahatma Gandhi's Ahimsa vision. He was a true friend of humanity who sacrificed his life," said Dr Ramesh Kumar, Member of National Assembly and patron-in-chief of Pakistan Hindu Council.If candidates from such Jihadist groups end up in Parliament, there will be no chance to redress relations with India, because all efforts will go in vain. Pakistan has already suffered due to missed economic opportunities and the condition will only worsen.He added "Although, political parties of Pakistan differ from each other on various issues, I think that is true for every democratic society. To ensure a peaceful, progressive and prosperous Pakistan, we need to focus on real issues that affect people."If candidates from such Jihadist groups end up in Parliament, there will be no chance to redress relations with India, because all efforts will go in vain. Pakistan has already suffered due to missed economic opportunities and the condition will only worsen. These Jihadists don't limit themselves to Kashmir but collaborate with militant groups to foment insurgency all over and blatantly target minorities in Pakistan.Furthermore, once in Parliament, Jihadists like Hafiz Saeed will be able to streamline their militant activities targeting India, thus isolating Pakistan more internationally. Militant organisations, swearing allegiance to Hafiz Saeed, have multiple times admitted to supporting jihad to unify Kashmir with the rest of Pakistan. This refutes the very notion of holding bilateral talks to settle the dispute.
https://www.nationalheraldindia.com/international/government-crackdown-on-hafiz-saeed-polarises-pakistan
--------
Western route to change fate of KP's southern districts: Fazlur Rehman
Feb 26, 2018
DI KHAN: Jamiat Ulema-e-Islam-Fazlur Rehman (JUI-F) Chief Maulana Fazlur Rehman on Sunday said that a new era of development would start in southern districts of Khyber Pakhtunkhwa after the completion of the western route of China Pakistan Economic Corridor (CPEC).
He expressed the views during his visit to the under-construction western route in Rehmani Khel Yarak area. On the occasion, he also discussed various aspects of the western route with National Highway (NHA) Director Project Farid Ullah Khan.
He said the western route was a dream, which has been realized today. After completion, it would change the fate of the area as the people would be able to do business with the entire world.
He alleged that an industrial zone was to be set up in DI Khan but unfortunately the provincial government had shifted it to Rashakai district of Nowshera.
Full report at:
https://www.pakistantoday.com.pk/2018/02/25/western-route-to-change-fate-of-kps-southern-districts-fazlur-rehman/
--------
Masood asks world to send peacekeepers in Kashmir
Feb 26, 2018
LONDON: Azad Jammu Kashmir (AJK) President Masood Khan has said that the Indian-held Kashmir – the paradise on earth – is on fire and the world community is not sending any firefighters or peacekeepers to extinguish the raging fires there.
Addressing a convention, hosted by the Pakistan High Commission, of lord mayors, mayors and councilors here in the British capital, he said that this was no accidental fire, but Indian forces were the arsonists who would not let any firefighter enter into the region and extinguish the fires.
"The world is busy appeasing India and the arsonists instead of sending peacekeepers to the region because they say they have their economic interests tied with that country." He said that Jammu Kashmir was the most obscure conflict in the region where thousands of people are killed, maimed, tortured, and incarcerated every year.
Unlike other conflicts, Kashmir has little visibility on the international radar screen and Kashmir was also the least reported conflict, the Kashmiri leader said. He said that the UN Security Council and the UN secretary-general, instead of hiding behind bland statements, should intercede to take full cognizance of the situation in the disputed Kashmiri state and stop massacres, killings, and illegal detentions.
He asked that India would never agree to the UN secretary-general's good offices but why should the secretary-general be deterred by India's non-compliance? Has the UN not intervened in South Sudan, Mali, Central African Republic, Yemen, and Libya, without waiting for the consent of the parties to the conflict, he asked.
President Masood said that the UN Security Council should, instead of acting as a bystander in the Kashmir issue, should take full cognizance of the matter and play its rightful role. He appealed to the British public representatives to raise the visibility of the Kashmir issue in the parleys in the legislative bodies, conventions and conferences.
He said that this could be done by raising questions on the floors, moving resolutions, and holding events on the sidelines. He said that Pakistan should stop talking to India on Kashmir because of three reasons: Kashmir is an international, not a bilateral, issue; secondly, India has closed all doors for bilateral dialogue; and thirdly, the rounds of bilateral engagement so far have proved to be a mirage and totally unproductive.
He said that the real pressure for the solution of the Jammu Kashmir issue would come from the international forums and global civil society. He clarified that Jammu Kashmir never was and never would be an integral part of India. "That's a falsehood coined by India, which it cannot sustain or justify, as is evident from the situation on the ground," he said.
President Masood underlined that Kashmir was a trilateral issue between Pakistan, India and the Kashmiri people and the Kashmiris were the most important party in this dispute because they have to decide their political future in accordance with the UN Security Council resolutions.
He said that India wants to resolve the Jammu Kashmir through the use of unbridled and brutal state terrorism; whereas Pakistan believes in dialogue, diplomacy and the rule of law as written into the UN Charter. He said that Kashmiris were not terrorists but were waging a peaceful movement for the libertarian of their own homeland.
Full report at:
https://www.pakistantoday.com.pk/2018/02/25/masood-asks-world-to-send-peacekeepers-in-kashmir/
--------
Pakistan may find itself on FATF blacklist after June
Anwar Iqbal
February 26, 2018
WASHINGTON: Pakistan may find itself on the blacklist of a global financial watchdog if it does not prepare a comprehensive action plan to eradicate terrorist financing by June, official sources told Dawn.
The 37-nation Financial Action Task Force (FATF) held its plenary meeting in Paris last week where it placed Pakistan on a watchlist of the countries where terrorist outfits are still allowed to raise funds.
On Friday, the group issued an updated grey list, along with a statement announcing the decisions taken at the plenary session, and Pakistan was not on the list. Officials in Islamabad interpreted this as a "breather", although it's more of a technical detail.
The grey list identifies the "jurisdictions with strategic anti-money laundering/countering the financing of terrorism deficiencies for which they have developed an action plan with the FATF". Pakistan has not yet worked out the proposed plan with the FATF and that's why it's not on the list.
The FATF carries out an in-depth study of the financial system of a country – known as "mutual evaluation" – as part of the process to avoid blacklisting. The next evaluation starts in April, which may take 18 months, and will be followed by another 12 months of analysis. A mutually agreed action plan for overcoming "strategic deficiencies" would become operative at the end of evaluation.
Between now and June, Pakistan will have to work out the details of the evaluation process with the FATF and a failure to do so could trigger another process, which may push Pakistan on the blacklist of wilful violators.
Usually, the FATF waits for a mutual evaluation report before starting the listing process but in Pakistan's case, the group took an unprecedented step when it agreed to debate a US proposal, backed by Britain, France and Germany, to nominate Pakistan as a country having "strategic deficiencies" in "countering financing of terrorism".
"The move was against the understanding given to Pakistan that Islamabad will be asked to work with the FATF on an action plan, before the listing process starts," an official source told Dawn.
The Paris plenary held its first meeting on Pakistan on Feb 20 where China, Turkey and Saudi Arabia, which was representing the Gulf Cooperation Council (GCC) as it's not a full member, opposed the move to place Pakistan on the watchlist. But the US pushed for an unprecedented second discussion on Pakistan, held on Feb 22.
By then, Washington had convinced Riyadh to give up its support to Pakistan in return for a full FATF membership. This left only two – China and Turkey – in the Pakistan camp, one less than the required number of three members to stall a move.
At this stage, the Chinese informed Islamabad that they were opting out as they did not want to "lose face by supporting a move that's doomed to fail", another official source told Dawn. "Pakistan appreciated the Chinese position and conveyed its gratitude to Turkey for continuing to support Islamabad against all odds," the source added.
After the Feb 20 meeting, Foreign Minister Khawaja Asif sent out a celebratory tweet, saying that Pakistan had won a three-month reprieve.
Hours after the tweet, US State Department Spokesperson Hea­ther Nauert indicated at a news briefing in Washington that Islamabad's celebrations were premature. She said the Paris plenary was not over yet and it would hold another meeting on Pakistan on Feb 22, as it did.
She also mentioned Hafiz Saeed and his activities while detailing US complaints against Pakistan and the sources that spoke to Dawn after the Feb 22 meeting said that indeed Hafiz Saeed and his "charities" were top on the list of the groups that the FATF wanted Pakistan to act against.
Pakistan did make some laws before the Paris meeting that would allow it to act against these groups but apparently that was not enough to convince the FATF.
Pakistan was first put on the FATF grey list in 2012 but was removed in 2015, after the FATF certified that Islamabad had done enough to counter terror financing.
Full report at:
https://www.dawn.com/news/1391835/pakistan-may-find-itself-on-fatf-blacklist-after-june
--------
New law on Sikh marriages on the anvil
Intikhab Hanif
February 26, 2018
LAHORE: A new draft of law regulating the marriages of Sikh community in Punjab is being made to replace the one already introduced in the Punjab Assembly by Sikh MPA Sardar Ramesh Singh Arora.
The new law will actually replace the Anand Mangi Act, 1909 which had become almost irrelevant after the migration of Sikhs to India in 1947. It is being introduced for the first time in Pakistan by the MPA of a small Sikh community whose members are running business in different cities including Lahore, and have even joined government service, one is a traffic warden and another an information officer in the DGPR.
According to the draft bill, all marriages between Sikh persons, whether solemnised before or after this act, shall be registered with a union council. A duly completed and signed Sikh Marriage form shall be submitted to the marriage registrar and notified to the union council within 30 days of the date of marriage.
Each union council shall grant licence to one or more persons for the purposes of entering and registering Sikh marriages in the marriage registry.
A party to a Sikh marriage seeking to dissolve the marriage shall do so by submitting a signed written notice to the chairman and shall at the same time provide a copy of the said written notices to his or her spouse. Within 30 days of the receipt of a written notice, the chairman shall constitute an arbitration council.
Within 90 days of the receipt of the written notice, the arbitration council shall meet in order to provide an opportunity to both parties to be heard to bring about reconciliation.
The chairman's powers on the dissolution of a Sikh marriage shall be limited to issuing a dissolution decree in accordance with this act.
Upon dissolution, either party to a Sikh marriage may make an application to a court for financial relief in the form of an order for maintenance or lumpsum payment for themselves and or any dependent child.
Full report at:
https://www.dawn.com/news/1391761/new-law-on-sikh-marriages-on-the-anvil
--------
Pak-Afghan track II dialogue begins today
FEBRUARY 26, 2018
ISLAMABAD: Pakistan and Afghanistan will begin a track-II dialogue in Islamabad on Monday to explore ways for improvement in relations between the two neighboring countries.
A 12-member Afghan delegation arrived in Islamabad on Sunday to take part in the dialogue, 'Pakistan-Afghanistan Track 1.5/ II initiative, titled 'Beyond Boundaries,' Islamabad-based the Center for Research and Security Studies (CRSS) said in a statement. The CRSS and Safewrold, a UK-based independent international organisation, have jointly arranged the three-day dialogue, which will take place amid signs of improvement in relations as both governments have now launched bilateral dialogue on key areas.
Both sides will hold discussion on a wide range of issues including peace and security, consequences of latest deadly terrorist attack in Afghanistan in January 2018, Pak-Afghan economic ties and regional economic connectivity, issues that directly affect Pak-Afghan trade and bottlenecks and result in losses to businesses and traders in particular and the refugees.
The Afghan delegation includes advisor to Chief Executive on Trade and Regional Cooperation Mozammil Shinwari, members of parliament Elay Ershad, and Rangina Kargar, for Taliban ambassador to Pakistan Abdul Hakeem Mujahid, Co-Chairman and President of Pakistan and Afghanistan Joint Chambers of Commerce and Industries Khan Jan Alokozai, former governor Nangarhar Saleem Khan Kunduzi, Representative to the Chief Executive Abdullah Abdullah on Migration Affairs Sekander and Deputy of Provincial Assembly of Nangarhar Lal Mohammad Durrani.
The delegates will also hold meetings with Pakistani ministers and officials in the foreign ministry besides holding talks with university students in Islamabad.
Both sides will review policy recommendations of previous meetings and review political and other significant developments in Pak-Afghan relations – both negatives and positives – between now and the last meeting held in Kabul in December.
Pakistani delegation includes member of the National Assembly Shazi Marri, Senator Shibli Faraz, former Secretary of Defense, Lt General (Retd) Asif Yasin Malik, former police chief of Balochistan Shoaib Suddle, former ambassadors Qazi Humayun, Mian Sanaullah and Seema Ilahi Baloch, senior political analyst Zahid Hussain and TV anchor Rehman Azhar.
Full report at:
https://dailytimes.com.pk/207462/pak-afghan-track-ii-dialogue-begins-today/
--------
Mideast
Muslim scholars demand uprising over US embassy opening in al-Quds
Feb 25, 2018
An international organization of Muslim scholars headquartered in Qatar has called for a "public and official uprising" against a recent decision by the United States to move its embassy to occupied Jerusalem al-Quds in May.
"We call for a Palestinian, Arab and Islamic uprising against this American aggression," Secretary General of the International Union of Muslim Scholars (IUMS), Ali al-Qaradaghi, said in a statement on Sunday.
He added, "Jerusalem al-Quds is the cause of [our Muslim] nation and abandoning it or changing its identity will be a disgrace."
Qaradaghi further described the US decision to move its embassy from Tel Aviv to Jerusalem al-Quds as a "declaration of war on Muslims and a step to legitimize an illegitimate occupation."
On Saturday, the Palestinian Islamic resistance movement, Hamas, strongly condemned the Washington's move, terming it as "provocative" for all Muslim and Arab nations.
The measure to relocate the US embassy concurrent with the 70th anniversary of Nakba Day (Day of Catastrophe), when hundreds of Palestinians were forcibly evicted from their homeland by Israeli regime forces back in 1948, is a naked [act of] aggression against the Palestinian nation, the Hamas spokesman, Abdullatif al-Qanou, told Press TV in an exclusive interview in Gaza City.
He added, "It is also a provocative move against all Muslims and Arabs, and a clear attack against sites revered by both Muslims and Christians. Hamas believes that such a decision would fail to change the status quo of al-Quds."
US State Department spokeswoman Heather Nauert said on Friday that Washington planned to open its embassy in Jerusalem al-Quds in May.
The occupied Palestinian territories have witnessed a new wave of tension ever since Trump announced his decision on December 6 last year to recognize Jerusalem al-Quds as Israel's capital and relocate the US embassy in Israel from Tel Aviv to the occupied city.
The dramatic shift in Washington's policy vis-à-vis the city triggered demonstrations in the occupied Palestinian territories, Iran, Turkey, Egypt, Jordan, Tunisia, Algeria, Iraq, Morocco and other Muslim countries.
On December 21, the UN General Assembly overwhelmingly voted in favor of a resolution that calls on the US to withdraw its controversial recognition of Jerusalem al-Quds as Israeli "capital."
In an attempt to avert the resolution, Trump had warned that "we're watching," threatening reprisals against countries that backed the measure, which had earlier faced a US veto at the UN Security Council.
Israel, however, rejected the world body's resolution while thanking Trump for his decision to move the US embassy from Tel Aviv to Jerusalem al-Quds.
On January 18, the US reneged on a pledge to contribute $45 million to the UN Relief and Works Agency for Palestine Refugees in the Near East (UNRWA), which supports more than 5 million registered Palestinian refugees and their descendants.
The announcement to cut aid to Palestinian refugees came after the US president made a threat to cut off aid to the UN's Palestinian refugee agency.
In a series of tweets on January 2, Trump said that the US paid "the Palestinians hundreds of millions of dollars a year" and yet got "no appreciation or respect."
"But with the Palestinians no longer willing to talk peace, why should we make any of these massive future payments to them?" he asked.
http://www.presstv.com/Detail/2018/02/25/553578/Muslims-scholars-demand-uprising-over-US-embassy-opening-in-alQuds
--------
Saudi Arabia: Iran's missile support for Houthis could spread to al-Qaeda
25 February 2018
Iran's support for Houthi militias in Yemen could see ballistic missile expertise escape into the hands of terrorist groups such as al-Qaeda and ISIS, the Saudi ambassador to Yemen said this week
In comments reported by The Telegraph, Mohammad Al Jabir said "Iran is not just sending weapons, they are transferring the knowhow in ballistic missiles to Yemenis."
He said the expertise "could perhaps be transferred to the militia in Syria, maybe to al-Qaeda, maybe to Isil," using another acronym for ISIS.
"In Yemen there are tribes where maybe one is a Houthi, but another from your family is al-Qaeda. You can transfer the knowhow, maybe not now but after one, two or three years," he added.
Full report at:
https://english.alarabiya.net/en/News/gulf/2018/02/25/Saudi-Arabia-Iran-s-missile-support-for-Houthis-could-spread-to-al-Qaeda.html
--------
Iranian Shias, Sunnis safeguarding nat'l security, borders: Senior MP
February 25, 2018
A senior Iranian lawmaker said in southeastern province of Sistan-Baluchestan that Shia and Sunni Muslims are united in safeguarding the Islamic Republic's security and borderlines together.
Addressing a local gathering in Iranshahr, Head of Parliament National Security and Foreign Policy Commission Aladdin Boroujerdi described the Islamic Republic a 'strong tree' against which the US and its allies 'can't do a damn thing'.
He added that US President Donald Trump made his first official visit to Saudi Arabia to loot the Islamic World's oil and sell American weaponries aimed at massacring more than 10,0000 innocent Yemeni people.
The lawmaker said that Iran is fighting against the Takfiri terrorists in Iraq and Syria at the request of their central governments.
Boroujerdi stressed that the US is seeking to reorganize the ringleaders of terrorist group of ISIS and relocating them in other Islamic countries, Afghanistan in particular.
They are trying to encoutner Islam and shatter the Islamic Ummah's unity, he said.
Full report at:
http://en.abna24.com/news/iran/iranian-shias-sunnis-safeguarding-natl-security-borders-senior-mp_883393.html
--------
Iran says will respect UN ceasefire, but continue attacks on 'terrorist' areas
25 February 2018
Iran said attacks would continue on rebel-held areas near Damascus, where clashes were reported on Sunday between insurgents and government forces despite a UN resolution demanding a 30-day truce across Syria.
They said the attacks would continue on areas near Damascus "held by the terrorists", the Tasnim news agency quoted its chief of staff as saying.
Warplanes and artillery hit some towns in the eastern Ghouta enclave, said residents, rescuers, and the Syrian Observatory for Human Rights. The Observatory, a UK-based war monitoring group, said Sunday's bombing was less intense than the attacks over the past week.
Rebels said they clashed with government forces on several frontlines in the early hours of Sunday. There was no immediate comment from the Syrian military.
Iranian General Mohammad Baqeri, whose government backs Syrian President Bashar al-Assad, said Tehran and Damascus would respect the UN resolution.
Baqeri said Iran and Syria would adhere to it. But "parts of the suburbs of Damascus, which are held by the terrorists, are not covered by the ceasefire and clean-up (operations) will continue there," Tasnim quoted him as saying.
Several previous ceasefires have unraveled quickly in the seven-year war in Syria, where Assad's military has gained the upper hand with the help of Iran and Russia, its key allies.
Full report at:
https://english.alarabiya.net/en/News/middle-east/2018/02/25/Iran-says-will-respect-UN-ceasefire-but-continue-attacks-on-areas-held-by-terrorists-.html
--------
Syria to be cleared of terrorists in a few months: Iran general
Feb 25, 2018
Iran's top military commander says both Tehran and Damascus will comply with a month-long Syria ceasefire declared by the UN Security Council, but that attacks will continue in the Damascus suburbs held by terrorists.
The UN Security Council unanimously passed a resolution on Saturday, demanding a 30-day ceasefire across Syria to allow for humanitarian aid deliveries and medical evacuations.
Amendments were made to exclude Daesh, al-Qaeda and al-Nusra Front along with "individuals, groups, undertakings and entities" associated with the terrorist groups from the ceasefire.
Iran's Chief of Staff Major General Mohammad Baqeri said Sunday the architects of the ceasefire had it passed at the UN in order to forestall the Syrian army's eradication of terrorists in the Damascus suburbs.
"This time again, like in the past, those who do not want security and peace in Syria took up the banner of ceasefire in order to support terrorists after they saw the Syrian army and government were cleansing the Damascus suburbs," he said.
Nevertheless, "we will adhere to the ceasefire resolution; Syria will also adhere. Parts of the suburbs of Damascus, which are held by the terrorists, are not covered by the ceasefire and clean-up (operations) will continue there," he added.
The Syrian army is trying to drive out terrorists from Eastern Ghouta which has become a festering ground for foreign-backed terrorist groups to launch mortar attacks on the Syrian capital.
Baqeri said, "The Syrian army seeks to clear the land of terrorists in order to provide security for the people in Damascus, but so far 1,200 mortar shells have been fired at the city, disrupting people's security and peace."
As for the UN Security Council resolution on Sunday, he said, "The West and supporters of the terrorists insisted that this ceasefire be put in place."
"With the joint work which was done by Syria and its friends as well as the opponents of terrorists and those fighting them, including Iran and Russia, the resolution was moderated a bit in order to continue the fight on known terrorists such as Nusra Front," Baqeri said.
The UN resolution also allows the Syrian government to continue operations against terrorists in Idlib Province, the country's largest remaining militant stronghold.
Baqeri said, "Certain areas were specified to allow the ordinary people to continue their lives but this does not mean the terrorist front will remain there and in the next few months, the entire Syrian territory will be cleaned up."
Full report at:
http://www.presstv.com/Detail/2018/02/25/553547/Iran-Syria-Mohammad-Baqeri
--------
Israel's tax, land measures force closure of Palestine's iconic church
Feb 25, 2018
In a rare move, church leaders in Palestine have closed the Church of the Holy Sepulchre in the Old City of Jerusalem al-Quds to express dissent against new Israeli tax measures and a proposed property law which they say is an attack on Christians in the Holy Land.
In a press conference in front of the old church, built where Christians believe Jesus was crucified, buried and resurrected, Theophilos III, the Patriarch of Jerusalem, Francesco Patton, the Custos of the Holy Land, and Nourhan Manougian, the Armenian Patriarch of Jerusalem, announced the closure in a joint statement on Sunday.
"As a measure of protest, we decided to take this unprecedented step of closure of the Church of the Holy Sepulchre," the church leaders said in the statement, which was read out in front of the large wooden doors of the building. The statement added that the closure, which began at around noon (1000 GMT), would continue until further notice.
Recently, the municipality of Jerusalem al-Quds canceled a tax exemption it had granted to church-owned commercial property in the city, which in part made the christian officials shut the iconic church in protest.
"This reminds us all of laws of a similar nature which were enacted against the Jews during dark periods in Europe," the church leaders said, adding the measure would harm their work, which includes not only religious but also social services to those in need.
Furthermore, Israeli lawmakers have proposed a bill that would allow the regime to expropriate land in Jerusalem al-Quds sold by churches to private real estate companies in recent years.
Church officials, however, say such a law would make it more difficult for them to find buyers for church-owned land-sales that contribute to operating costs of their religious institutions.
"This abhorrent bill ... if approved, would make the expropriation of the lands of churches possible," said the statement.
Outside the Church of the Holy Sepulchre, puzzled pilgrims and tourists voiced disappointment at finding its doors shut.
Meanwhile, Saeb Erekat, the secretary general of the Palestine Liberation Organization (PLO), said the move "should be a reminder of the need to end the Israeli occupation."
Full report at:
http://www.presstv.com/Detail/2018/02/25/553606/Palestine-Israel-Church-Sepulchre
--------
South Asia
14 militants killed in Helmand and Farah airstrikes
Feb 26 2018
At least 14 militants were killed in a series of airstrikes in southern Helmand and western Farah provinces of Afghanistan.
The Ministry of Defense of Afghanistan (MoD) said at least ten of the militants were killed in Bala Bolok district of Farah while 14 more were wounded.
According to MoD, at least four others were killed in an airstrike in Nahr-e-Saraj district of Helmand province.
A vehicle and a motorcycle belonging to the insurgents were also destroyed in the same airstrike, MoD added.
The anti-government armed militant groups including the Taliban insurgents have not commented regarding the report so far.
Both Farah and Helmand provinces are among the relatively volatile provinces in South and West of Afghanistan.
The anti-government armed militant groups often carry out insurgency activities in some districts of the two provinces.
The latest deadly attack by the Taliban group in Farah province was carried last week after a group of insurgents launched a coordinated attack on a army base that resulted into the martyrdom of 18 soldiers.
https://www.khaama.com/14-militants-killed-in-helmand-and-farah-airstrikes-04547
--------
Key Taliban figure Mullah Gul Mohammad among 3 killed in Faryab clash
Feb 25 2018
At least three Taliban insurgents including a key figure of the group identified as Mullah Gul Mohammad were killed during a clash with the Afghan forces in northern Faryab province.
The 209th Shaheen Corps of the Afghan National Army in the North said the latest clash took place in Aab Garmak area of Ghormach district.
The source further added that six others including Qari Bilal were wounded during the clash.
According to the Shaheen Corps, the militants belonged to a terrorist group leader Mullah Ziauddin.
The Afghan forces and the ordinary civilians have not suffered any casualty during the clash, the Shaheen Corps added.
The anti-government armed militant groups including the Taliban insurgents have not commented regarding the report so far.
This comes as the anti-government armed militant: groups have been attempting to expand their foothold and insurgency in the northern provinces.
At least nine Taliban insurgents were killed during the operations of the Afghan National Defense and Security Forces in northern Baghlan province of Afghanistan.
Full report at:
https://www.khaama.com/key-taliban-figure-mullah-gul-mohammad-among-3-killed-in-faryab-clash-04543
--------
Myanmar: Nationalists disrupt pro-Muslim event
25.02.2018
Some 50 nationalists on Sunday disrupted a news conference in Myanmar's largest city, Yangon, which was organized by a group of Buddhist monks who have been pressing the government to take action against an anti-Muslim monk.
The nationalists including 20 monks barged into an apartment in Kyauktada Township where members of the Anti-False Buddhist Doctrine Committee were scheduled to meet the journalists.
"We cancelled today's event as we don't want to see it turning into a fight," Min Thunya, the committee's founder monk, told Anadolu Agency on the phone.
The committee, which was formed last April, has been campaigning against Wirathu, an ultra-nationalist monk in Mandalay, the country's second largest city.
Wirathu had welcomed the January 2017 assassination of Ko Ni, a prominent Muslim lawyer and top legal adviser to the ruling party.
A district court in Yangon charged Kyi Lin, the gunman, and three alleged co-conspirators for murder.
Earlier this month, a group of nationalists appeared at the court hearing wearing T-shirts with the phrase 'Eat Well' written on them -- which in the local language reads as a threat -- to show support for the suspects.
The committee has sped up their campaign against Wirathu after he appeared in a short video where he used the phrase 'Eat Well'.
"If he considers himself a Buddhist monk, he should act accordingly. No Buddha teaching supports any killing," Min Thunya said.
"We know it is difficult for the government to take action against Wirathu as he is prominent among nationalists. But we want to remind the government that our country will not achieve anything without the rule of law," he added.
Full report at:
http://aa.com.tr/en/asia-pacific/myanmar-nationalists-disrupt-pro-muslim-event/1073575
--------
Rohingya exodus still growing, six months into crisis
February 26, 2018
Suzauddin Rubel and Shafiqul Alam - Hundreds of desperate Rohingya Muslims are still pouring over the Myanmar border into Bangladesh every week, bringing harrowing accounts of torture and murder, six months after a military crackdown sparked the massive refugee crisis .
One of the recent arrivals, Nur Mohammad, said his village in Myanmar's Rakhine state was surrounded by Buddhist vigilantes for days before they were allowed to leave.
"The Moghs (Buddhists) torched our houses, kept us confined and starving," Mohammad said. "Villages are razed to the ground. We walked for days through mountains to reach here."
Thirty-year-old Enayetullah was among the 200 Rohingya who crossed the Naf river into Bangladesh on Friday.
Most of his neighbours had left earlier, part of a 700,000-strong Rohingya exodus since August 25, leaving behind desolate and burned-out villages. "We stayed all these months hoping the situation will be fine. But in recent weeks, security forces have taken away our young men. If they abduct 10, only one returns," Enayetullah told AFP.
Enayetullah also accused Myanmar security forces of torching his shop, prompting him and his three brothers to flee their home in Mognapara village near the town of Buthidaung.
The military crackdown in the north of Rakhine has been termed "ethnic cleansing" by the United Nations and the United States.
While Bangladesh and Myanmar talk of repatriating the refugees, the influx continues. Some days 200 people cross the border, on others a few dozen make the perilous journey. More than 2,500 have entered the overflowing camps in Bangladesh so far in February.
Hundreds of Rohingya villages have been torched in the crackdown, according to refugees and monitoring groups. Human Rights Watch said Friday that another 55 villages have been razed since November.
The Rohingya have been systematically stripped of their legal rights in mainly Buddhist Myanmar in recent decades and face rampant discrimination. Myanmar denies seeking to eradicate the minority but refuses to give UN investigators access to an area where thousands of Rohingya are believed to have been killed.
In November Bangladesh and Myanmar signed an agreement to repatriate some 750,000 Rohingya over two years. Last week Dhaka sent a list of 8,000 names to Myanmar for verification.
- No going back -
But Rohingya leaders bluntly refuse to return. The UN says anyone who goes back must be a volunteer, while Myanmar shows no sign of accepting the Rohingya as full citizens.
"If they send us back, we'll be tortured or killed. We would rather be killed here in Bangladesh. Here, at least I'll get a Muslim burial," said Mohammad Elias, whose group has staged protests against repatriation in recent weeks.
According to the UN, since the repatriation deal was signed on November 23, nearly 70,000 Rohingya have arrived in Bangladesh throug different routes in and near Cox's Bazar district.
"Those who came in recent days said they were tortured," Mainuddin Khan, Teknaf town police chief, told AFP.
Some Rohingya who remained in Rakhine's three main Muslim districts said the situation has improved in parts of the region, but life in the empty villages was unbearable.
Maun Maung Tin, a Rohingya from Maungdaw, said it was impossible to buy or sell goods and they were afraid to complain to authorities.
"The new refugees say that they feel unsafe, threatened and harassed at home, in villages that are often abandoned," said Kate Nolan, coordinator for Doctors Without Borders (MSF) in Bangladesh.
Aid agencies say there is still a critical risk of life-threatening diseases in the overcrowded camps in Bangladesh, where most refugees live in flimsy tarpaulin-and-bamboo huts.
A new threat looms with the cyclone season that starts in April. The massive storms have killed hundreds of thousands along the coast in the past five decades. "We are concerned about the nature of the shelters, how robust they are and if they are really prepared and equipped for the heavy rains," said MSF's Nolan.
Bangladesh's refugee commissioner Mohammad Abul Kalam admitted a challenge lies ahead, saying authorities have to "shift 200,000 refugees" from the camps before the monsoon."It will be a big challenge for us to find sufficient places to be used as cyclone shelters for this huge number of people," he told reporters Sunday.
Despite the cyclone risk, the Rohingya say they are unwilling to go back.
Full report at:
https://nation.com.pk/26-Feb-2018/rohingya-exodus-still-growing-six-months-into-crisis
--------
Bangladesh High Court Defers Judgement On Khaleda Zia's Bail Petition
February 26, 2018
DHAKA: Bangladesh's High Court deferred the judgement on imprisoned ex-prime minister and main opposition Bangladesh Nationalist Party (BNP) chief Khaleda Zia's bail petition, saying it would decide after receiving necessary papers from the lower court which has sentenced her.
The 72-year-old three-time former prime minister was given a five-year jail term by Dhaka's Special Court on February 8 in connection with the embezzlement of 21 million taka (about USD 250,000) in foreign donations meant for the Zia Orphanage Trust, named after her late husband Ziaur Rahman, a military ruler-turned-politician.
"The two-judge bench said it would issue the order on the bail petition after receiving the case documents from the trial court" which is expected to reach the High Court in the next two weeks, a high court official told reporters.
The February 8 verdict virtually shook the country's political scenario ahead of the general elections while the BNP, the main opposition party outside Parliament, alleged that it was politically motivated to debar Ms Zia from contesting elections, an allegation denied by Prime Minister Sheikh Hasina-led government.
The High Court had earlier this week accepted for hearing her bail petition along with prayers, challenging her conviction and ordered authorities concerned to forward the case records in 15 days.
Political analysts feared that the BNP was now exposed to a political wilderness after Ms Zia's conviction, which is likely to disqualify her for elections unless she could obtain a different direction from the Supreme Court.
Ms Zia, however, appears to be seeking to contest the next polls set for December this year.
BNP's secretary general Mirza Falhrul Islam Alamgir earlier last week told a protest rally that the party would not take part in polls discarding Ms Zia and "no national election will be held without BNP Chairperson Khaleda Zia".
But Prime Minister Sheikh Hasina said her government could do nothing if the BNP again decides to boycott the polls over its leader's imprisonment but elections would be held in due time.
In a separate hearing, a court extended the bail of Ms Zia until today in a graft case.
Judge MD Akhteruzzaman of the Special Judge Court-5 here passed the order extending the bail after Ms Zia's barrister Moudud Ahmed submitted a petition seeking an extension of her bail in the Zia Charitable Trust graft case.
The Zia charitable graft case, filed in August 2011, accuses four persons including Ms Zia of abusing power to raise funds for the trust from unknown sources.
The three others are: Harris Chowdhury, political secretary of then prime minister Zia between 2001 and 2006; Ziaul Islam Munna, Assistant Private Secretary (APS) to Harris; and Monirul Islam Khan, APS of former Dhaka city mayor Sadeque Hossain Khoka.
The corruption case is one of dozens pending against Ms Zia, who has been a rival of Prime Minister Sheikh Hasina for decades. The charges against her had already led to her boycotting polls in 2014, which triggered widespread protests at the time.
Full report at:
https://www.ndtv.com/world-news/bangladesh-high-court-defers-judgement-on-khaleda-zias-bail-petition-1817097
--------
Bangladesh: 3 activists of banned outfit Jamaat-ul-Mujahideen Bangladesh detained
Sahidul Hasan Khokon
February 26, 2018
Three activists of the banned outfit Jamaat-ul-Mujahideen Bangladesh (JMB) were detained from Rajshahi, the northern district of Bangladesh, said Assistant Commander of Rapid Action Battalion (RAB)-5 Major Ashraful Islam.
The detainees are identified as 45-year-old Shariful Islam alias Sharif, 43-year-old Jakaria Hossen alias Jakkar and 35-year-old Ataur Rahman alias Ahsan Gazi. All are active members of the banned militant outfit Jamaat-ul-Mujahideen Bangladesh, RAB sources said.
The three militants were arrested from a granary mill in Jamira village, but more than five militants manged to flee.
RAB-5 Commander Lt Col Muhammad Mahbubul Alam at a press conference Sunday said that members of RAB conducted a drive to arrest the militants after being informed that the JMB members were planning to carry out extremist activities at Puthia upazila.
Two pistols, eight rounds of bullets, four hand bombs, gun-powder and other materials used in making-bombs were seized, said Colonel Mahbubul.
Full report at:
https://www.indiatoday.in/world/story/bangladesh-3-activists-of-banned-outfit-jamaat-ul-mujahideen-bangladesh-detained-1177581-2018-02-26
--------
North America
Quebec's Islamophobia Has Gone Down An Eerily Familiar Path
02/25/2018
While I was out promoting my latest book in October, I received news that the Quebec Liberal government had just passed an odious piece of legislation, Bill 62, which forces Quebeckers to uncover their faces while giving and receiving public services. The law followed on the heels of the equally repugnant Secular Charter, which died when the previous PQ government was defeated despite the widespread popularity of the Charter itself.
Both measures were introduced under the guise of protecting the religious neutrality of the state, but the farcical nature of this argument was laid bare when both governments refused to consider removing the giant cross which graces the Quebec National Assembly where the legislation was passed. The cross, they argued, represents Quebec's "heritage."
Exactly no one was fooled by this sophistry, which laid bare what was really at play — Islamophobia.
As I saw this naked bigotry play out in real time, many of the arguments sounded eerily familiar. I had just spent more than a decade bringing to light a previously unknown episode that helped deceive the Nazis into ending the Final Solution at the end of the war and may have saved as many as 300,000 Jews.
As a backdrop to these events, I explored how the fate of millions was sealed when country after country closed their doors to the Jews of Europe. It is difficult to pinpoint a worse offender than Canada, which admitted fewer Jews before the war than any developed nation. Although this shameful record was driven by the country's notoriously anti-Semitic immigration chief, Frederick Blair, Prime Minister Mackenzie King could have easily opened the doors to Hitler's refugees with one stroke of his pen. But, as King confided to his diary in 1938, "I fear we would have riots if we agreed to a policy that admitted numbers of Jews."
King was undeniably a racist himself, but he had also publicly expressed sympathy for the Jews of Europe. And yet it was clear that he assumed one province in particular was in no mood to welcome the refugees. Quebec had become notorious for a movement of radical anti-Semitism that publicly vilified Jews as alien outsiders who threatened the fabric of Quebec and Canadian society. Because of this dark period, the province is often unfairly portrayed as a bastion of bigotry even though the rest of Canada was hardly more tolerant at the time.
In many Toronto neighbourhoods, for example, real estate covenants prevented homeowners from renting or selling to Jews or people of colour. But Quebec was distinct in its intolerance for one reason in particular. As the Québecoise historian Esther Delisle revealed in her 1992 book, The Traitor and the Jew, it wasn't everyday Quebeckers who were fanning the flames of bigotry, but the so-called intellectuals. Among the worst offenders were the academics and the secular nationalists — including a young Pierre Trudeau — and newspapers such as Le Devoir which supported the Achat Chez Nous boycott of Jewish businesses.
Fast forward three quarters of a century to the passage of an odious piece of legislation targeting Muslim women who wear the veil. It would be easy to once again portray Quebec as a bastion of intolerance and xenophobia except for one shocking statistic. A recent Global News poll reveals that a staggering 68 per cent of Canadians outside Quebec would support a similar face-covering ban in their own province.
Once again, however, there was a factor that made Quebec's bigotry distinct from the rest of Canada, as I discovered on a recent visit to my hometown of Montreal. I was astonished to hear supposedly progressive Montrealers — French and English — defend Bill 62 on the grounds that it protected Muslim women from oppression. Having never actually met a woman who wears the niqab, they confidently pronounced that these women are forced by their husbands to don the oppressive garb and the legislation was therefore necessary on the grounds of feminism.
"The niqab, burka has no place — not even on the bus. It is not a religious sign. It's a political symbol of the enslavement and de-empowerment of women that is supported by the most repressive regimes on the planet," argued the Quebec political scientist Andre Lamoureux, despite the fact that many niqab-wearing women have explained that they chose to wear the veil over the objections of their husbands. Most of the apologists for this law, of course, are also happy to smugly condemn U.S. President Donald Trump for his notorious Muslim immigration ban, despite the fact that Bill 62 is arguably worse because it represents an assault on the constitutional rights of our own citizens. To be fair, many progressive Quebeckers have also condemned the new law, but not loudly enough to prevent its passage.
The Holocaust was a unique event and I would never invoke a comparison of history's darkest chapter to any modern phenomenon. But when intellectuals of the 1930s demonized the Jews as outsiders, it served to dehumanize them and thus made it easy to ignore the subsequent genocide. Today, as we witness the dehumanization of Muslims — portrayed by the right as terrorists and by the left as oppressors of women — it is no wonder that the Muslim Rohingya are being slaughtered in Burma right before our eyes while the world reproaches the perpetrators with words but fails to intervene.
http://www.huffingtonpost.ca/max-wallace/in-the-name-of-humanity-islamophobia-holocaust_a_23369480/
--------
Our long war with jihadist terrorism started this way, exactly 25 years ago
By Peter Bergen
February 25, 2018
Eight years before the devastating attacks of September 11, 2001, America witnessed an ambitious terror plot that also targeted the twin towers of the World Trade Center.
It was a quarter of a century ago this week, on February 26, 1993, when a group of jihadist terrorists, some of whom had trained in Afghanistan, tried to bring down the towers and to kill the many thousands of Americans working there.
The terrorists drove a van packed with explosives into a basement parking garage at the Trade Center and detonated a bomb. The bomb didn't succeed in bringing down the Twin Towers, but it killed six people, injured many others and alerted Americans to a new kind of terrorism threat.
The FBI moved quickly to arrest many of the Trade Center plotters and they were tried and convicted in federal court and given lengthy sentences.
The Bureau also put an informant inside a second group of jihadist terrorists who were planning additional attacks against Manhattan landmarks, including the United Nations and the Holland and the Lincoln tunnels. They were arrested and also convicted.
The spiritual leader of the terrorists targeting Manhattan, Sheik Omar Abdel Rahman, aka "the Blind Sheik," was also arrested. He died in an American prison last year.
The campaign of terrorism directed against targets in New York City in the early 1990s provided the impetus for a relatively small group of counterterrorism specialists at the FBI and CIA to start focusing on a shadowy network of jihadists who were part of an organization called al-Qaeda and its leader, a wealthy Saudi named Osama bin Laden.
Yet America was still vulnerable to the nightmare of 9/11, no doubt because the tactic of turning passenger planes into weapons was anticipated by few.
Hints of what was to come
The group of jihadist terrorists who carried out the 1993 Trade Center attack prefigured much of what would come later. The leader of the 1993 operation was Ramzi Yousef, whose uncle, Khalid Sheikh Mohammed, was the operational commander of the 9/11 attacks.
A number of the 1993 terrorists had fought in the wars in Afghanistan that began in the 1980s, out of which was forged al-Qaeda.
And one of the 1993 conspirators was a US citizen, which prefigured the continuing threat we face today from "homegrown" America terrorists inspired by ISIS, a group that is an offshoot of al-Qaeda.
As we mark the 25th anniversary of the Trade Center bombing it's worth considering where we are in the long war that began that day.
Four waves of terrorism
The American political scientist David Rappaport pointed out shortly after the 9/11 attacks that there have been four "waves" of revolutionary terrorism in the past century or so, each one of which has burned itself out after several decades.
First, was the anarchist wave. In 1920, not far from the eventual location of the Trade Center, outside the J.P. Morgan bank at 23 Wall Street, anarchists blew up a wagon loaded with explosives, killing 38 people. You can still see the gouges in the limestone facade of the building, caused by the bombing almost a century ago.
The next wave of terrorism was the anti-colonial wave typified by the Jewish militant groups that forced the British out of Palestine shortly after World War II and the militants who forced the French out of Algeria in the early 1960s.
Then came the leftist wave that began in the 1960s that included terrorist groups such as the Baader-Meinhof Gang in Germany and the Weather Underground in the United States.
Finally, came the religious wave that began in 1979 with the overthrow of the Shah of Iran by Ayatollah Khomeini and his followers. This revolution made a great impression on Osama bin Laden as it demonstrated that religious militants could overthrow Western-backed autocrats.
This wave of Islamist religious revolutionary violence continues to this day. Its latest iteration is ISIS, and while the terrorist army has been largely defeated in Iraq and Syria, the political conditions that produced ISIS largely remain in place. They include the sectarian civil war that is roiling the Middle East from Yemen to Syria to Iraq and that pits Shia militias backed by Iran against Sunni groups such as al-Qaeda.
And they also include the collapse of governance in large chunks of the Middle East following the Arab Spring that has engendered failed states from Libya to Yemen. Those states are the weak hosts in which parasitical terrorist groups such as ISIS thrive. It is from this toxic mix that we are likely to see the son of ISIS emerge. The long war that began with the first Trade Center attack 25 years ago continues with no end in sight.
Full report at:
https://edition.cnn.com/2018/02/25/opinions/1993-world-trade-center-attack-opinion-bergen/index.html
--------
Victims of first WTC terror bombing still tormented as the attack is overshadowed by 9/11
February 25, 2018
On the morning of Feb. 26, 1993, Michael Macko bundled into his father's gold Nissan Pathfinder and together they set out for lower Manhattan.
Macko, then 29, worked at a special events company. His father William, 57, was a Port Authority mechanic stationed inside the World Trade Center.
The Mackos barely spoke during the ride from New Jersey.
Michael listened to music through his Walkman headphones while his father tuned in to the car radio.
"My dad liked to listen to sports radio or talk radio, which I hated," Michael said.
After they pulled into a parking garage below the twin towers, Michael said goodbye to his father.
He never saw him again.
Roughly six hours later, a truck bomb detonated in the garage — killing six people, including William Macko, and injuring more than 1,000 others.
Even 25 years later, the thought of that final ride with his dad brings the younger Macko to tears.
"I wish now that I had just taken off the headphones and had a conversation with him," the Bayonne, N.J., man told the Daily News, his voice halting and pierced with sobs.
"I try to regret very few things in my life. That is one that I do."
The first terror attack at the World Trade Center has gone largely forgotten by those whose lives were not directly affected.
lost their fathers or the workers who suffered grievous injuries, the incident still haunts them in ways large and small.
The 1993 bombing both foreshadowed and was later overshadowed by the 9/11 attacks eight years later.
The terror strikes were carried out at the same location and financed by the same group, Al Qaeda.
The assault by air was far more catastrophic, toppling the twin towers and killing nearly 2,800 people.
In the ensuing years, the 1993 family members' grief was complicated by feelings that their loss was being overlooked. They found themselves fighting for compensation and even recognition of their loved ones' deaths.
The federal government moved quickly to set up a compensation fund for the victims of the 2001 terror strike.
The September 11th Victim Compensation Fund doled out more than $7 billion to victims' family members and injured survivors. The average payout — $2 million.
But not a penny was made available to those whose lives were upended by the 1993 terror bombing.
"The bottom line is that more should have been done to commemorate, care for and compensate the victims and survivors of the 1993 World Trade Center attack," said Sen. Chuck Schumer (D-N.Y.). "Over time, by working with the families, some of those wrongs have been righted, but some work remains unrealized."
A pitched legal battle broke out pitting some of the city's finest personal injury lawyers against the Port Authority.
More than 600 survivors, businesses and families of the dead claimed the bistate agency was negligent in failing to heed the multiple warnings that the public parking garage was vulnerable to attack.
Among the evidence they pointed to was a 1985 report, written by the Port Authority's security experts, warning that the subterranean garage was susceptible to an attack by a "time bomb-laden vehicle."
A jury ruled in favor of the victims in 2005. But the state's highest court ultimately reversed the decision, determining that the Port Authority was not liable for damages.
The majority of plaintiffs had already reached a settlement by then, though a handful wound up with nothing.
To the ire of some of the plaintiffs' lawyers, Port Authority honchos largely emerged unscathed.
"The people who made the terrible decisions that resulted in death and destruction — they went on to get big jobs with big money and big pensions," said lawyer Louis Mangone, who represented a seriously injured survivor.
Adding insult to injury for some, New York law barred Port Authority workers or their relatives from suing their employer.
These families, which included the Mackos, only had access to the more modest payouts available through workers' compensation.
Michael's mother was diagnosed with throat and neck cancer nine months after the attack.
He made it his mission to get recognition for the victims and compensation to help his mother pay for her medical care.
Macko was only half successful — the victims are honored at the National September 11 Memorial & Museum. But congressional gridlock blocked his family and others from collecting money through the 9/11 compensation fund.
"I don't want to sound bitter or that anyone owes us anything, but the sting of unfairness is there," said Macko, who lost his mother in 2011.
The 1993 terror strike followed almost the exact blueprint security officials warned about years earlier.
Jersey City-based jihadists drove a rented van loaded with 1,500 pounds of explosives into lower Manhattan and parked it in the garage beneath the Vista Hotel, which was connected to both towers.
The terrorists were long gone when the bomb went off minutes later, at 12:18 p.m., ripping open a crater roughly 150 feet wide and five stories deep.
Architect Mike Rapp was inside the World Trade Center, performing a survey for a beefed-up command center, when the bomb detonated one floor below.
The floor went out from under him, pancaking down and dropping Rapp three stories into a "massive dark hole."
"There were cars exploding underneath me," recalled Rapp, now 59. "There were flames shooting up between these concrete slabs."
Rapp found himself teetering on a section of concrete — his right ankle and leg crushed, his left knee broken, his pelvis fractured.
Incredibly, water from a broken main was shooting directly in his direction, providing a sort of liquid cocoon amid the intensifying flames.
"Thank God," Rapp said. "The whole time I was being protected."
Rapp was ultimately rescued by a group of firefighters who carried him to safety after fashioning an ax handle into a splint for his dangling lower leg.
Stephen Knapp's father wasn't so lucky.
Knapp, a day shy of his 18th birthday, watched the carnage from a classroom at Stevens Institute of Technology in Hoboken, N.J., just across the Hudson River.
Only later did he find out that his father Stephen Knapp Sr., a chief Port Authority mechanical supervisor and Vietnam veteran, didn't make it out alive.
"You go through different stages — shock and sadness, then anger," said the younger Knapp. "I guess now I just see sadness in the whole thing."
The plot's mastermind, Ramzi Yousef, was sentenced to a life term plus 240 years.
"Yes, I am a terrorist, and proud of it," Yousef told the judge at his January 1998 sentencing. "You are butchers, liars and hypocrites."
Now 49, he's serving his time at a federal Supermax prison in Colorado known as the "Alcatraz of the Rockies."
Defense lawyer Bernard Kleinman described Yousef as "more thoughtful" and "more religious" than he was in the 1990s.
Kleinman is barred from sharing Yousef's thoughts with the public, but he noted that his client has, intriguingly, written an extensive essay denouncing ISIS.
"He has condemned a number of the attacks committed by ISIS," including the Islamic State-inspired truck attack on West St. in lower Manhattan last October, Kleinman said.
But does Yousef regret orchestrating the first World Trade Center attack? "I wouldn't say that he necessarily has regrets," Kleinman said.
As warden of the Florence ADX prison from 2002 to 2005, Bob Hood visited Yousef on a regular basis.
"One of the most respectful inmates I've ever had," Hood said. "But he's very influential. He's like the Charlie Manson of the (federal) system. He has a lot of charisma. If you put him around other inmates, he would just have to talk and they would listen."
Yousef remains locked up in ADX's most secure unit — "a prison within a prison within a prison," in the words of Hood — where he spends at least 23 hours a day in a 7-by-11-foot cell.
He has no contact with other prisoners. His food trays are delivered by unseen guards who pass them through a slot between two steel doors.
"It's a clean version of hell," Hood said.
Macko, for his part, spends little time thinking about Yousef.
But he does remember trudging to the city morgue to collect his father's remains in the days after the attack.
He keeps one of his father's belongings in a drawer inside his bedroom.
Full report at:
http://www.nydailynews.com/new-york/victims-1993-wtc-terror-bombing-tormented-article-1.3841905
--------
Eminent journalist sheds light on difficulties faced by Muslims in US
26 Feb 2018
DOHA: Award-winning journalist and author Lawrence Pintak delivered a lecture at NU-Q on the difficulties endured by American Muslims under the Trump administration.
Pintak, founding dean and professor of the Edward R Murrow College of Communication at Washington State University, has written extensively about America's complex relationship with Islam since 1980.
In his session at NU-Q, he addressed the rise of violence and hate crimes towards American Muslims in recent years, attributing this increase to skewed media coverage, the rise of extremism, and shift to the far-right in American governance.
"American Muslims have pushed back against the negative narrative for many years. They became very active after 9/11, however, the rise of Donald Trump and the rise of ISIS was in many ways the perfect storm," said Pintak. "The idea that ISIS suddenly had roots in the U S and American Muslims began to carry out acts of terrorism on American soil undermined the argument that they were different [from Muslims in other countries] because suddenly they weren't and that changed the whole narrative and moved the ground under the American Muslim community," he added.
Pintak explained that American Muslims were not the only minorities affected by the increased hate crime in the U S over the last couple of years. "African Americans, Hispanics, Latinos, Indians, Asians and Arabs, were also being targeted after the 2016 elections," said Pintak.
"The good news," he added, "is that people are speaking out about the discrimination they have faced, and as a result there has been a groundswell of support for American Muslims."
While Pintak said that violence towards Muslims was much worse in 2016 than it was in 2011, he also pointed to statistics from a recent study that showed a rise in tolerance among Americans toward Islam as a religion.
"In 2017, around 70 percent of Americans had a favourable view towards American Muslims," said Pintak.
Pintak is also a member of the advisory board for The Media Majlis at Northwestern University in Qatar, which will be the first museum in the Arab world dedicated to the exploration of content on media, journalism, and communication.
Full report at:
https://www.thepeninsulaqatar.com/article/26/02/2018/Eminent-journalist-sheds-light-on-difficulties-faced-by-Muslims-in-US
--------
Africa
Tuareg militias battle Islamic State-loyal militants in northern Mali
February 25th, 2018
Two Tuareg militias in northern Mali, the Imghad and Allies Self Defense Movement (GATIA) and the Movement for the Salvation of Azawad (MSA), have battled militants loyal to the Islamic State over the past few days. The jihadists are under the leadership of Abu Walid al Sahrawi, the leader of the so-called Islamic State in the Greater Sahara (ISGS).
GATIA, which is a largely pro-Mali militia, released a statement on Feb. 23 reporting that its forces, alongside the forces of MSA, conducted a joint operation in the In-Delimane area of the Gao region against militants under the leadership of Abu Walid al Sahrawi. According to the Tuareg militia, six jihadists were killed or captured while one vehicle originally belonging to the Nigerien military was recovered.
The MSA, which is largely pro-Tuareg autonomy but allied to GATIA, released the same statement, promising more joint operations against the jihadists will occur. Clashes between the GATIA-MSA alliance and the jihadists also reportedly happened today. Strikes and operations against the jihadist group will likely continue to occur as long as Sahrawi's militants operate in the region. Many unconfirmed ISGS attacks on Tuareg militias in the Gao region have been reported for months.
While not mentioned in the statements, French special forces have been taking part in the operations alongside the Tuareg groups. RFI reports that the operations, which began on Feb. 22, were aimed at killing or captured Sahrawi, but he reportedly fled the area.
The In-Delimane region of Gao, the site of the clashes between the Tuaregs and jihadists, was also the location of a deadly improvised explosive device (IED) ambush on French troops last week. Two French soldiers were killed and a third was wounded by an IED while on a patrol near the locale. While the ISGS is known to operate there, al Qaeda's Group for Support of Islam and Muslims (JNIM) claimed the attack.
The Islamic State-loyal forces led by Abu Walid al Sahrawi, referred to as "Islamic State in the Greater Sahara" (ISGS), has been linked to several attacks in the Tillabery region of Niger, the Sahel region of Burkina Faso, and in the Gao region of Mali. This includes last October's ambush in Niger which killed four US Special Forces soldiers and a suicide bombing on French troops in the Gao region earlier this year.
ISGS formed out of the former Movement for Oneness and Jihad (MUJAO), which merged with forces loyal to Mokhtar Belmokhtar to form Al Murabitoon in 2013. Two years later, Abu Walid al Sahrawi, a former MUJAO spokesman, left with several fighters from the former MUJAO, and pledged allegiance to Abu Bakr al Baghdadi of the Islamic State.
ISGS gained little publicity from Islamic State central, with its pledge of allegiance only being acknowledged in an Amaq video a year later. Nevertheless, the group continues to operate in the Sahel with loyalty to the Islamic State. Defections from al Qaeda's JNIM, as well as from the jihadist faction Katibat Salahadin led by Sultan Ould Bady, to ISGS have been reported.
https://www.longwarjournal.org/archives/2018/02/tuareg-militias-battle-islamic-state-loyal-militants-in-northern-mali.php
--------
State denies arresting al Shabaab returnees, vows to rehabilitate them
Feb. 26, 2018
The government has denied claims that its arresting al Shabaab returnees and undermining human rights.
This is after youth from the Coast started disappearing, with lobby groups hinting at extrajudicial killings.
Mombasa county commissioner Evans Achoki on Friday said returnees will be integrated.
"We will not harass them. The government is ready to welcome and listen to those willing to surrender. We will ensure they are rehabilitated," he said.
He was speaking during 'The Mombasa Action Plan' workshop organised by Haki Africa in partnership with other civil society groups. MAP focuses on preventing and countering violent extremism.
Haki Africa director Yusuf Aboubakar said use of brutal force by the state pushes youth to extremism.
"Iraq, Syria, Britain, Northern Ireland and Spain faced terrorism because of such violation. Respect human rights and succeed in the war on terror," he said.
Police been conducting massive swoops to arrest terror suspects, netting innocent people too. The authorities have however denied the claim.
Achoki said the police operation will go on but in a more professional manner and targetting arrest with a view to prosecute.
Mombasa Deputy Governor William Kingi said spying on the Muslim community by security agencies is worrying, while leaders accused the government of collectively blaming the Muslim community for violence.
The region has experienced attacks on churches and passenger buses.
Full report at:
https://www.the-star.co.ke/news/2018/02/26/state-denies-arresting-al-shabaab-returnees-vows-to-rehabilitate-them_c1719809
--------
Somalia: Police Place Sh10 Million Bounty on Five Al Shabaab Suspects
24 FEBRUARY 2018
Police have offered a Sh10million bounty on the heads of five wanted terror suspects.
They are; Issack Alio Mohamed Intallo aka Okolla (commander), Mumina Erobe, Hareth Hillow, Kusow Yarrow and Abdiwahab Osman.
Okolla is a Kenyan Somali based al Shabaab operative who hails from Mandera county.
He has been on the governments' watch list of the 35 al Shabaab youth who had been recruited by IS to aid the Somali-based terror group in carrying out attacks in Kenya.
Police sources say Okolla is an al Shabaab commander and an IED expert.
He is suspected to be behind a series of IED attacks in the Northern Kenya and the coastal region.
His main targets, police say are security personnel and destruction of the Safaricom Masts in the respective regions.
"It has been observed that the recent terror attacks are preceded by an attack on the Communication mast, so as to cut off communication during the attack and thus inhibiting calls for reinforcement," police Intel read.
Okolla is despised among his Gurreh clansmen because his terror activities know no boundaries.
In 2016, Okolla's group of al Shabaab militia carried out the attack in Sheikh Barrow area along the Fino-Lafey road that led to the death of a Gurreh woman.
Locals say he has recruited many youths from his Gurreh clan to join al Shabaab.
He is the son of the late Alio Mohamed Intallo and Hawa Saldo a housewife in Elwak.
He was born in Elwak, Mandera County and he is from the Gurreh Clan.
Police say Hareth Hillow, Kusow Yarrow, Mumina Probe and Abdiwahab Osman are his accomplices who play a key role in assisting him to cause havoc in the country.
Police have now placed a Sh 2 million bounty on each of the five.
Full report at:
http://allafrica.com/stories/201802250036.html
--------
Muslim students 'attack' Buhari over NASU strike
February 25, 2018
By Chijioke Jannah
The Muslim Students Society of Nigeria, MSSN has criticised President Muhammadu Buhari for his alleged silence about university workers' strike.
The university workers' strike has led to the disruption of academic activities in some Federal Universities
However, in a statement during the weekend which was released by its National President, Dr Saheed Ashafa, the Muslim students' group accused the presidency of ignoring the workers.
The statement read in part:
"The presidency is not giving priority to the strike action and it is sending a bad perception about this administration.
"In the first place, the strike is avoidable and needless. It is unpalatable to the hearing that a country like Nigeria still pays low attention to workers' welfare.
"The poor attention and undue silence of the Federal Government over the ongoing strike embarked upon by members of NASU, SSANU and NAAT are condemnable and highly demoralizing.
"It is understandable that children of majority of those leading the education agencies and ministries that should engage the striking workers are studying abroad, but that should not mean that the sons and daughters of the Nigerian masses should be made to suffer for developing interest in education.
"It is understandable that children of majority of those leading the education agencies and ministries that should engage the striking workers are studying abroad, but that should not mean that the sons and daughters of the Nigerian masses should be made to suffer for developing interest in education.
"As we speak, some of our universities smell and stink, others have their libraries, health centres, powerhouses and other strategic facilities shut down. Students now live on university campuses like they are in the jungle.
Full report at:
http://dailypost.ng/2018/02/25/muslim-students-attack-buhari-nasu-strike/
--------
Cameroon:At least 5 killed by Boko Haram
Feb 26, 2018
At least five people were killed on Saturday in an attack attributed to Jihadist group Boko Haram between the villages of Bourvare and Goumouldi in the extreme north of Cameroon.
Bourvare is a Cameroonian village near Nigeria. The village of Goumouldi is located less than 5 kilometres from the Kerawa border crossing at the border with Nigeria.
Last Thursday, three other people were also killed in Kordo city, in the extreme north of the country.
On the night of 20-21, reports say the vicinity of Assigahsia, also in the Far North region, had been attacked by the elements of Boko Haram who also killed five people, injured five others and burned down houses before returning to their homes in neighbouring Nigeria.
http://www.africanews.com/2018/02/25/cameroonat-least-5-killed-by-boko-haram/
--------
Arab World
Jeish Al-Islam Militants Continue Attacks on Syrian Army Despite UN Ceasefire
Feb 25, 2018
The artillery and missile units, deployed in Jobar region in Eastern Ghouta, opened heavy fire at a bomb-laden suicide vehicle of terrorist groups and destroyed its before the vehicles could manage to drive towards Damascus city.
The terrorists' suicide vehicle was detonated and its driver (suicide attacker) was also killed.
Jeish Al-Islam's attack came after the UN Security Council called for the immediate cessation of hostilities under Resolution 2401.
Repeated attacks of the terrorist groups, including the Al-Nusra that has been excluded from the UN ceasefire call, on residential areas in Damascus and other government-controlled regions have caused the army to storm the regions that are under Al-Nusra's control in Eastern Ghouta to end attacks on civilians.
Several media outlets reported earlier today that the Syrian Army troops launched an assault on a number of Al-Nusra-held districts in Eastern Ghouta and seized control over several key positions.
The Syrian media outlets reported that the army has started an attack against the Al-Nusra Front terrorists in Harasta region.
They added that the army men, backed up by the artillery units, stormed terrorists' positions in al-Ajmi neighborhood in Harasta and the farms near the town.
The sources said that the army started their operation from the direction of al-Zariqah, the Air Defense Battalion Base and Harazma region and seized control over several regions near the air-defense base.
The English-language website of the AMN said that the army has advanced against the terrorists in a region between Harazma and Tal (hill) Farzat, taking control over several points near the air-defense battalion base.
In the meantime, a military source pointed to the ongoing collapse of the terrorist front after the army men crossed the terrorists' defense lines, including entanglements in al-Zariqah flank in Eastern Ghouta, adding that the terrorists are on retreat.
Also, the Arabic-language al-Hadath news reported the army's advances against the terrorists in Eastern Ghouta, adding that the terrorist groups had fired 15 rockets at residential areas in al-Dhahiyah neighborhood in Damascus city earlier today and the assault came in reprise.
On Saturday, the United Nations Security Council in an unanimous vote approved a resolution demanding a 30-day ceasefire across Syria to allow aid access to the population. Yet, the UN resolution has excluded the ISIL, Al-Nusra and other Al-Qaeda groups from the ceasefire.
The initial draft, prepared by Kuwait and Sweden, stipulated that the ceasefire must begin 72 hours after the resolution is passed.
Chief of Staff of the Iranian Armed Forces Major General Mohammad Hossein Baqeri declared on the sidelines of a forum in Tehran on Sunday that Tehran and Damascus will remain committed to the 30-day UN-brokered ceasefire in Syria.
Yet, he reminded that "the ceasefire does not include certain parts of Damascus outskirts which are held by terrorists and the purge operation will continue in them".
He noted that the Western front and supporters of the terrorists insisted on the ceasefire, but the UN Security Council resolution was eventually modified by the friends of Syria and fight against the infamous terrorist groups, including Al-Nusra Front continues.
General Baqeri explained that certain regions have been specified for people to continue their daily life, adding that "the entire Syrian territories will be cleansed in the next few months".
http://en.farsnews.com/newstext.aspx?nn=13961206001626
--------
Militants in More Regions Join Peace Agreement with Syrian Army
Feb 25, 2018
The Russian ministry said that representatives of militants in 17 more regions in Hama province have endorsed peace with the Syrian Army in the last 24 hours, adding that the total number of towns, villages and regions that have thus far joined the nationwide reconciliation plan stands at 2,386 now.
Dissident-affiliated websites reported earlier this month that reconciliation talks were underway between Damascus and representatives of militant groups over affiliation of more regions in Eastern Qalamoun region to the nationwide peace plan.
The news websites reported that preliminary agreement was reached for the implementation of a peace plan in Eastern Qalamoun after the representatives of militants, the Syrian Army commanders and a sum of civilians met in the town of al-Rahibeh.
The websites said that the agreement was comprised of eight paragraphs, including exit of arms and military hardware from al-Rahibeh, demilitarization of the region, reviewing militants' pardoning and return of state institutions to the region.
http://en.farsnews.com/newstext.aspx?nn=13961206000951
--------
Syrian child, 3, dies after suffocating in Eastern Ghouta 'chlorine attack'
26 February 2018
A child died and at least 13 other people suffered breathing difficulties after a suspected chemical attack on a besieged Syrian rebel enclave Sunday, a medic and a monitor said.
The Britain-based Syrian Observatory for Human Rights said 14 civilians had suffered breathing difficulties after a regime warplane struck the village of Al-Shifuniyah in the Eastern Ghouta region.
One child died and a woman was in a critical condition, said Rami Abdel Rahman, head of the Observatory which relies on multiple sources on the ground in Syria for its reports.
Yaqub, a doctor who treated those affected, told AFP he suspected "chemical weapons, probably a chlorine gas attack".
He said a three-year-old had died of asphyxiation.
"Most of the patients have chlorine odour from their clothes and their skin. Many have dyspnea and skin and eye irritations," he said in English.
Rebels accused Damascus of using chlorine gas, but Moscow, a staunch ally of President Bashar al-Assad's regime, accused his opponents of using "toxic substances" to make it appear that they had been deployed by regime forces.
Damascus, which has repeatedly denied using chemical weapons, has been accused of several chlorine gas attacks in recent weeks, including two in January in eastern Ghouta, a rebel stronghold on the edge of the capital which has been battered by regime strikes since mid-February.
Recent reports of regime chemical attacks have prompted France to warn of strikes in Syria, after similar remarks by an official in Washington.
Regime ally Russia accused rebels of carrying out the attack.
They "prepare a provocation, using of toxic substances to accuse government forces of using chemical weapons against the civilian population," the defence ministry said.
The Observatory reported 21 cases of suffocation in Eastern Ghouta on 22 January. Residents and medical sources said they suspected a chlorine attack.
A similar attack targeted the outskirts of Douma on January 13, the monitor said.
The Syrian regime has denied possessing chemical weapons.
The reports came a day after the United Nations demanded a ceasefire to end one of the most ferocious assaults of Syria's civil war.
Full report at:
https://english.alarabiya.net/en/News/middle-east/2018/02/26/Syrian-child-3-dies-after-suffocating-in-Eastern-Ghouta-chlorine-attack-.html
--------
US airstrikes kill at least 29 civilians, injure many more in Syria's Dayr al-Zawr
Feb 25, 2018
At least 29 civilians have been killed in the US-led coalition's latest airstrikes in Syria's eastern Dayr al-Zawr province.
According to Syria's official SANA news agency on Sunday, the separate airstrikes targeted residential areas in al-Sha'afa and Dharat Allouni villages.
The number of those killed is expected to rise as dozens of people were also injured, some of whom are in critical condition.
The London-based Airwars organization, which tracks civilian deaths in US-led airstrikes, reported earlier this year that a total of 5,961 civilians had been killed as a result of such attacks in Iraq and Syria.
The so-called Syrian Observatory for Human Rights reported on November 23 last year that 2,759 civilians, including 644 minors and 470 women, had been killed in US-led aerial attacks against civilian areas in Syria over the past 38 months.
The US and its allies have been bombarding what they call Daesh positions inside Syria since September 2014 without any authorization from the Damascus government or a UN mandate.
The strikes, however, have on many occasions resulted in civilian casualties and failed to fulfill their declared aim of countering terrorism.
Full report at:
http://www.presstv.com/Detail/2018/02/25/553615/us-syria-dayr-al-zawr-airstrike
--------
Turkish Army Enters Strategic Region in Afrin
Feb 25, 2018
The Arabic service of Sputnik news agency quoted a field source as saying on Sunday that the Ankara-backed militants, supported by heavy artillery fire of the Turkish army, have occupied major parts of Jandaris in Afrin.
Field sources also said that the Ankara-supported militants have gained control over the villages of Maskouteh and Samalkan as well as the village of Meidan Akbas in Rajou region and the village of Bandar Lik in Shangal region.
In a relevant development, a Kurdish media outlet reported on Sunday that over 40 Turkish military men and Ankara-backed militants were killed and a large volume of their equipment were destroyed in Operation Olive Branch against the Kurds in Afrin region in Northwestern Aleppo.
Hawar news reported that a sum of 35 Turkish forces and allied militants were killed and several more were wounded in clashes between the forces of Operation Olive Branch and the Kurdish fighters near the village of Umra in Shera region, adding that a military vehicle of the Turkish forces was also destroyed.
Hawar news further said that the Kurdish fighters stormed the Turkish soldiers and their affiliated militants near the town of Jandaris, killing 6 army men and militants and wounding several more.
Full report at:
http://en.farsnews.com/newstext.aspx?nn=13961206001588
--------
Terrorists Sustain Tens of Casualties in Air Raids in Hama
Feb 25, 2018
The Arabic-language al-Watan daily reported that the warplanes bombed Al-Nusra's strongholds in the towns and villages of al-Latamina, Kafr Zita, Latmin, al-Arba'een and al-Zahah in Northern Hama.
The fighter jets further carried out bombardments against terrorists' positions in a region between the villages of al-Howays and al-Huweija in al-Ghaab plain in Western Hama.
Local sources reported that tens of terrorists were killed and dozens more militants were wounded in the attacks that also inflicted major damage on terrorists' vehicles and equipment.
Field sources reported on Monday that the Syrian Army's artillery units and Aircraft pounded the positions and movements of the Al-Nusra Front in Northern and Southwestern Hama, inflicting major losses on the militants.
The Syrian Air Force carried out a number of heavy bombardments against the Al-Nusra positions and movements in the villages and towns of Kafr Zita, al-Zaka and al-Khowein in Northern Hama, killing a number of terrorists and destroying their vehicles.
Full report at:
http://en.farsnews.com/newstext.aspx?nn=13961206001179
--------
Syrian Army Assaults Al-Nusra in Some Districts in Eastern Damascus
Feb 25, 2018
The Syrian media outlets reported that the army has started an attack against the Al-Nusra Front (Tahrir al-Sham Hay'at or the Levant Liberation Board) terrorists in Harasta region.
They added that the army men, backed up by the artillery units, stormed terrorists' positions in al-Ajmi neighborhood in Harasta and the farms near the town.
The sources said that the army started their operation from the direction of al-Zariqah, the Air Defense Battalion Base and Harazma region and seized control over several regions near the air-defense base.
The English-language website of the AMN said that the army has advanced against the terrorists in a region between Harazma and Tal (hill) Farzat, taking control over several points near the air-defense battalion base.
In the meantime, a military source pointed to the ongoing collapse of the terrorist front after the army men crossed the terrorists' defense lines, including entanglements in al-Zariqah flank in Eastern Ghouta, adding that the terrorists are on retreat.
Also, the Arabic-language al-Hadath news reported the army's advances against the terrorists in Eastern Ghouta, adding that the terrorist groups had fired 15 rockets at residential areas in al-Dhahiyah neighborhood in Damascus city earlier today and the assault came in reprise.
On Saturday, the United Nations Security Council in an unanimous vote approved a resolution demanding a 30-day ceasefire across Syria to allow aid access to the population. Yet, the UN resolution has excluded the ISIL, Al-Nusra and other Al-Qaeda groups from the ceasefire.
The initial draft, prepared by Kuwait and Sweden, stipulated that the ceasefire must begin 72 hours after the resolution is passed.
Chief of Staff of the Iranian Armed Forces Major General Mohammad Hossein Baqeri declared on the sidelines of a forum in Tehran on Sunday that Tehran and Damascus will remain committed to the 30-day UN-brokered ceasefire in Syria.
Yet, he reminded that "the ceasefire does not include certain parts of Damascus outskirts which are held by terrorists and the purge operation will continue in them".
He noted that the Western front and supporters of the terrorists insisted on the ceasefire, but the UN Security Council resolution was eventually modified by the friends of Syria and fight against the infamous terrorist groups, including Al-Nusra Front continues.
Full report at:
http://en.farsnews.com/newstext.aspx?nn=13961206001035
--------
Europe
France to create 1500 places in prison to isolate jihadist inmates
By Rory Mulholland
24 February 2018
Paris: France will create 1500 prison places for Islamist extremists in order to isolate and prevent them from converting other prisoners as part of a plan to stop young people becoming terrorists.
"This Islamist radicalisation threatens our society," Édouard Philippe, the French prime minister, said on Friday as he unveiled the plan.
It includes measures for dealing with the hundreds of French men, women and their children who have returned from the battlefields of Syria and Iraq or are expected to do so.
Schoolteachers will get training on how to spot signs of radicalisation, and local authorities will be told to improve their scrutiny of the growing number of private Islamic schools.
Mr Philippe travelled to the northern city of Lille to present the programme which includes 60 measures and puts the emphasis on prevention.
It is the third programme in fewer than four years to try to prevent and control the phenomenon - which many other European states are also grappling with - of disaffected young people turning to radical Islam and sometimes to terror.
It aims to draw lessons from past failures, after a three-year wave of terror attacks claimed by Islamic State of Iraq and the Levant (ISIL) across France that killed more than 2450 people and injured hundreds more.
"This is a plan of mobilisation," said the prime minister. "It's a battle the state alone cannot fight."
A total of 512 people are currently in prison for terrorism offences in France and a further 1139 prisoners have been flagged as being radicalised. Mr Philippe said he would create 1500 places in separate prison wings for radicalised inmates, with 450 of them to be ready by the end of this year.
https://www.smh.com.au/world/europe/france-to-create-1500-places-in-prison-to-isolate-jihadist-inmates-20180224-p4z1kj.html
--------
Germany, France urge Russia to pressure Syria for 'immediate' ceasefire
25 Feb 2018
The German and French leaders have urged Russia to exert "maximum pressure" on Syria for an "immediate" implementation of a UN ceasefire in the war-ravaged country, according to the German government.
German Chancellor Angela Merkel and French President Emmanuel Macron stressed in a telephone call with Russian President Vladimir Putin "that it is crucial that the (UN) resolution be implemented quickly and comprehensively," Ms Merkel's office said in a statement.
The UN Security Council demanded a 30-day truce across Syria yesterday, as one of the deadliest air assaults of the seven-year war pounded the rebel enclave of Eastern Ghouta, outside Damascus.
German Chancellor Angela Merkel and French President Emmanuel Macron stressed in a telephone call with Russian President Vladimir Putin "that it is crucial that the (UN) resolution be implemented quickly and comprehensively," Ms Merkel's office said in a statement.
"They call on Russia in this context to exercise maximum pressure on the Syrian regime to achieve an immediate suspension of air raids and fighting."
The statement said Ms Merkel, Mr Macron and Mr Putin had all welcomed the UN resolution on an at least 30-day ceasefire "particularly to allow humanitarian aid into and evacuations out of the war zone".
Ms Merkel and Mr Macron stressed that a ceasefire could be "the basis to advance efforts toward a political solution in the context of the UN-led Geneva peace process".
"Germany and France continue to be willing to work with Russia and other international partners toward this goal," Ms Merkel's office added.
Syrian regime forces were engaged in heavy fighting with rebels in southern areas of opposition-held Eastern Ghouta today, a monitor said.
The clashes on the edges of Eastern Ghouta killed at least 13 members of pro-regime forces and six fighters from the Jaish al-Islam rebel group, the Britain-based Syrian Observatory for Human Rights said.
"Violent clashes are taking place in the Al-Marj area, which is a frontline" of the rebel-held enclave near Damascus, Observatory head Rami Abdel Rahman said.
"They are the most violent clashes to take place since the beginning of the month," he added.
Mohamed Alloush, a key figure in the Jaish al-Islam, tweeted that the rebels were "resisting" against bids by regime forces to enter the region.
More than 500 civilians have been killed in a bombing campaign launched a week ago by regime forces on Eastern Ghouta.
According to the Observatory and a Syrian pro-regime newspaper, the clashes are aimed at paving the way for a ground offensive by government forces against Eastern Ghouta.
Meanwhile, Iran said that attacks will continue on Damascus suburbs held by "terrorists", but elsewhere Iran and Syria will respect the UN ceasefire demands in order to allow aid access and medical evacuation, Iranian news agencies reported.
"We will adhere to the ceasefire resolution, Syria will also adhere. Parts of the suburbs of Damascus, which are held by the terrorists, are not covered by the ceasefire and clean-up (operations) will continue there," the semi-official news agency Tasnim quoted Iran's military chief of staff General Mohammad Baqeri as saying.
"As the text (of the UN resolution) says, parts of the suburbs of Damascus, which are specifically controlled by the terrorists of the Nusra Front and other terrorist groups, are not subject to ceasefire," Mr Baqeri said, according to state news agency IRNA.
Earlier, the UN Secretary General, Antonio Guterres, called for the immediate implementation of the ceasefire.
Mr Guterres said "efforts to combat terrorism did not supersede an "absolute obligation", he said, by all sides to protect civilians.
The two major rebel factions in Eastern Ghouta welcomed the UN resolution.
In separate statements, Jaish al-Islam and Failaq al-Rahman, pledged to protect aid convoys that come into the besieged rebel enclave near Damascus.
Full report at:
https://www.rte.ie/news/world/2018/0225/943342-macron-merkel-to-meet-putin-about-ceasefire-in-syria/
--------
Swiss man planned terror attack in France
FEB 25, 2018
The 27-year old was the leader of the Swiss-French jihadist group which was dismantled last November and was planning a second attack on the French city of Nice.
The NZZ am Sonntag newspaper reported on Sunday that it had obtained confidential documents from the French law enforcement authorities that shed light on the man's intentions. He had planned a second attack in Nice using grenades or a vehicle to mow down crowds.
The French-Swiss man with Bosnian roots coordinated the preparations for the terrorist attack using the encrypted online messaging service Telegram. His chief responsibility was to obtain weapons for the group.
The Islam convert first came on the authorities' radar because of domestic violence charges. His wife, a 23-year old Colombian woman was also involved in the planning of attacks external linkin both France and Switzerland, according to Swiss Public Television SRF. According to the NZZ am Sonntag, the terror suspect from the French-speaking canton of Vaud acted in consultation with an internationally wanted Swiss jihadist who is currently still a fugitive.
https://www.swissinfo.ch/eng/weapons-procurer_swiss-man-planned-terror-attack-in-france/43926448
--------
UK police say no sign blast in Leicester was linked to terrorism
26 February 2018
British police said on Sunday there was no immediate indication that an explosion that destroyed a convenience store and a home in the central English city of Leicester was linked to terrorism.
"Incident will be the subject of a joint investigation with the fire service," the local police force said on Twitter. "At this stage there is no indication this is terrorist related."
Ambulance officials said they took four patients to hospital after an explosion destroyed a convenience store and a home in the central English city of Leicester.
Full report at:
https://english.alarabiya.net/en/News/world/2018/02/26/UK-police-responding-to-major-incident-in-city-of-Leicester.html
--------
Syria's PYD ex-leader arrested in Prague on Turkey's request
Feb 25, 2018
A former leader of Syria's Democratic Union Party, a major Kurdish group known as the PYD, has been arrested in the Czech capital on Turkey's request.
Salih Muslim, a former co-chair of the PYD, was detained on Saturday in Prague under an Interpol red notice that was based on Turkey's request for his arrest.
Sources close to the PYD leadership said Muslim was attending a conference in Prague and authorities reportedly arrested him after a Turkish participant took a photograph of him. The source said Muslim went to the conference, which is held every six months to discuss the Middle East situation, based on an invitation from Czech authorities.
Czech police would not elaborate on details of the arrest and only said that a 67-year-old foreigner had been arrested at the request of Turkey's Interpol.
Turkey promised a reward of $1 million for Muslim's arrest in early February when authorities placed the Kurdish politician on Ankara's most-wanted list. Muslim still holds huge sway over the PYD even after his resignation from the party's leadership. Turkey's Anadolu news agency said a request was being prepared for extradition of Muslim from Czech Republic.
Turkey has fiercely opposed the rising clout of the Kurds in northern Syria, saying the expansion of territories under their control to the east of Euphrates could pose serious security threats to the Turkish borders. Turkey says the PYD and its militant wing, known as the YPG, is an arm of the PKK, an outlawed Kurdish militant group which has been waging a war on Turkish government for the past decades.
Full report at:
http://www.presstv.com/Detail/2018/02/25/553565/Prague-arrest-Turkey-Syria-Kurdish-politician
--------
Europe wants Egypt to drop death penalty
Hagar Hosny
February 25, 2018
CAIRO — The European Parliament issued a resolution Feb. 7 condemning the use of the death penalty by the Egyptian government. It urged the government to issue a stay of execution for those on death row and to review all cases of pending death sentences to ensure respect for fair trial standards.
On Jan. 29, a memo was addressed to the UN secretary-general by 13 Egyptian human rights nongovernmental organizations (NGOs) calling for the United Nations to immediately intervene with the Egyptian government to suspend the imminent execution of 26 Egyptians and to urge President Abdel Fattah al-Sisi to replace the death penalty with another sentence. The NGOs also called on the Egyptian government to voluntarily suspend the death penalty in any new cases, in preparation for the abolition of this penalty.
Mohamed Zaree, the director of the Cairo Institute for Human Rights Studies, told Al-Monitor that calls for the abolition of the death penalty relate to the fact that it cannot be reversed in cases where it is later discovered the accused was innocent. "The state must abolish the death penalty and replace it with freedom-depriving penalties such as 25 years or life imprisonment," he said.
The Egyptian Initiative for Personal Rights (EIPR) published its Position on the Death Penalty on Oct. 10, 2017. It stated, "More than 100 crimes are punishable by death under Egyptian laws. These include 35 crimes set forth in the Penal Code, such as harming domestic and foreign national security and harming individuals, and another 10 crimes included in the anti-drug law. Most of the crimes punishable by death are found in the Code of Military Justice, which sets forth at least 41 capital crimes. In addition, the counterterrorism law of 2015 sets forth at least another 15 crimes punishable by death by hanging."
In a phone conversation with Al-Monitor, Zaree said, "Death sentences have been issued against a large number of defendants in recent times, mostly in military trials that lack integrity. The aim of any punishment is to achieve public deterrence and to rehabilitate the offender. This can only be achieved through freedom-depriving sanctions."
A report issued by EIPR on Jan. 31 stated, "Criminal courts sentenced 260 defendants to death in 2017 for 81 cases, of whom 224 are in custody."
Hafiz Abu Saada, a member of the National Council for Human Rights, told Al-Monitor that it is difficult to abolish the death penalty now in light of the terrorist attacks witnessed by Egypt. He noted, however, that the death sentence could be limited to the most dangerous crimes.
In 2017, Egypt was shaken by seven major terrorist attacks that killed dozens of civilians and police and army members.
Abu Saada added, "It is also necessary to take the appropriate sufficient time before issuing death sentences. In cases of terrorist crimes, only those who actively participated in the crimes should be handed the death sentence and not everyone who joins a terrorist group."
Commenting on the timing of the European Union resolution, he pointed out that it coincided with the campaign against the death penalty launched by the 13 local NGOs, asserting that this resolution is not binding on Egypt and will not affect Egyptian-EU relations. "The repercussions of Egypt retaining this penalty would be felt on its image abroad," he said.
Of note, Europe is one of Egypt's biggest importers and one of its major donors, with the total amount of ongoing EU assistance to Egypt reaching around $1.6 billion.
In a press statement issued Feb. 11, member of parliament Alaa Abed, the head of the parliamentary Human Rights Committee, responded to the demands for the abolition of the death penalty, saying, "Egypt has not signed the 1989 Second Optional Protocol to the International Covenant on Civil and Political Rights, aiming at the abolition of the death penalty. This means that the death penalty would be in line with the rules of international law, which allows the use of the death penalty to the most serious crimes and in a public trial."
He explained that the application of the death penalty is in accordance with the principles of Islamic law, which is a source of legislation in Egypt, noting that over the past three years the death penalty has been used only against 81 people, while the remaining judgments are not final.
Article 2 of the Egyptian Constitution of 2014 states that Islam is the religion of the state and that the principles of Islamic law are the main source of legislation.
In this context, Mohammad al-Shahat al-Jundi, an Islamic Sharia professor at Al-Azhar University and a member of the Islamic Research Council, told Al-Monitor, "Islamic law clearly specifies that the death penalty aims to achieve punishment in murder cases." He quoted the Quran's Surah al-Baqarah verse 179, which states, "People of understanding, there is life for you in retribution that you may guard yourselves against violating the law."
Jundi added, "Islamic law resolves every doubt in favor of the accused. If there is 1% doubt of innocence, the judge must take this into account and issue a softer sentence against the accused instead of the death penalty. The death penalty cannot be abolished under Islamic law, instead, efficient legal guarantees could be provided in favor of the accused, such as a reducing the number of crimes punishable by death."
The former head of Cairo's criminal court, Rifat al-Sayed, ruled out the possibility of Egypt dropping the death penalty and replacing it with softer penalties under the pretext of the possibility of a false judgment.
In a telephone conversation with Al-Monitor, he said, "There are guarantees set forth by the criminal legislator in Egypt. These procedural guarantees aim to ensure the correctness of judicial rulings ordering the death penalty and to minimize the possibility of mistakes."
Sayed explained, "The death penalty is issued by virtue of a unanimous decision of three judges in the Criminal Court. This judgment is then challenged by the Public Prosecution before the Court of Cassation. Also, the nonbinding opinion of the country's grand mufti must be obtained on every issued death sentence. When the judgment is pronounced, a memo shall be sent from the Ministry of Justice to the president of the republic for ratification, or for reducing the sentence or obtaining amnesty."
He added, "These guarantees reduce to almost nonexistent the possibility of a false judgment. The implementation of the death penalty is in accordance with the provisions of Islamic law. This approach is followed by most Muslim countries. Also, some foreign non-Muslim countries still uphold the death penalty."
Full report at:
https://www.al-monitor.com/pulse/originals/2018/02/egypt-campaign-abolish-death-penalty-eu-resolution-ngos-.html
--------
Southeast Asia
Malaysia: When greetings are an insult
February 26, 2018
Malaysia has no shortage of problems to iron out. There's a financial scandal that has shocked the world hanging over the government. Unemployment is climbing and the cost of living has ballooned. Its clout as an Asian tiger economy has evaporated.
But what were they talking about in the run up to the Lunar New Year or Chinese New Year on Feb. 16? According to the Chinese Zodiac calendar, the Year of the Dog takes over from the previous Year of the Rooster.
The government's decision to take out a full-page advertisement featuring a barking rooster to mark the occasion put the simmering culture wars back at the heart of Malaysia's identity crisis.
The official attempt to play down canine symbols, to appease some Malaysian Muslims who view dogs as unclean animals, was met with derision. The ministry, which ran the advert, quickly apologised for the "technical error." It fooled few.
Earlier media reports noted that Malaysian businesses were avoiding using any symbols of the dog in their premises to avoid offending the Muslim majority. The ministry's ill-advised attempt to satisfy all — even if it made no sense — only encapsulated the discord in the multi-ethnic nation.
The cultural quagmire the government found itself in is also a sign of the reshaping of the political landscape. Ethnic Chinese make up about a quarter of the country's population. They, together with moderate Malaysians, are dismayed by Malaysia's descent into a prejudiced, narrow-minded society.
If there is anyone to blame for the fracturing of Malaysian society it is perhaps Prime Minister Najib Razak. His administration has allowed intolerance to gain strength through divisive government policies and by staying silent on social issues.
Najib, when he came to power in 2009, indicated he was all for reform. He was cautiously welcomed. Malaysians were eager for change following years of near dictatorial rule by Dr Mahathir Mohamad, the prime minister from 1981 to 2003.
Alarmingly however, they saw instead the growing influence of Islamic hardliners as the political fortunes of the Najib-led Barisan National alliance government suffered a series of setbacks.
The past few years has seen Malaysia drift toward an increasingly conservative Islam reflective of Saudi Arabia. The current prime minister often boasts about the close ties his administration has with that country.
Last year Muslim hardliners criticized a gold-medal winning gymnast's attire, called for a ban on a beer festival, and derided calls by liberals for social justice and women's rights.
In September, news broke of a laundromat service that was only opened to Muslims. After a backlash, the owner of the business said he was merely being a good Muslim by providing a service untainted by non-Muslims. The business owner apologized and removed the 'Muslims only' sign from his shop after being rebuked by the Sultan of Johor, but not without gaining some support from some who saw some justification for his business.
Silence over racially divisive policies have nurtured intolerance. The lessons of the 1980s, when radical Indonesian preachers Abu Bakar Bashir and Hambali set up extremist networks in Malaysia, have not been learned. Today, the government welcomes Zakir Naik, a preacher banned in the UK and India for promoting intolerance, for talks in Malaysia, while it arrests moderates such as Turkish writer Mustafa Akyol.
Some Malaysians have again played down the significance of the Chinese New Year advert cock-up. But, if anything, the incident has shown that Malaysia is continuing down a less tolerant, more conservative path, unfriendly to unbelievers and suspicious of everyone not conforming to a fundamentalist way of life.
Mariam Mokhtar, a Malaysian columnist, writing about the issue said: "The glaring mistakes over the CNY greeting, when images of dogs are omitted, cannot be blamed on Islamic fundamentalism. They occurred because of sheer incompetence. We take no pride in our work. We do not value proofreading. We do not check our facts before making them available for public consumption.
"Religious sensitivities, like Islam viewing dogs as unclean animals, have nothing to do with the mistakes made in the CNY messages we have seen over the last few weeks. The cock-ups boil down to incompetence and the pervasive monoculturalism of our public institutions.
"In the Malay dominated government workplace, there are no Chinese, or very few of them, who can be called upon, to offer simple advice on cultural norms. We lack racial integration.
"The all-Malay culture and poor work ethic, combined with sheer incompetence, stupidity, ignorance and irresponsibility, have all contributed to giving a dog a bad name in the government workplace," she wrote.
Intolerance has grown in Malaysia because the government, through its Muslims-first policies, has allowed its majority Muslim population to believe they have the right to discriminate against others. This problem will remain as Malaysian society struggles with the basic symmetry of tolerance.
Perhaps, as some argue, the recent brouhaha over the advert and other slights against the non-Muslim communities in the country can be put down to sheer incompetence. However it would be a mistake to it brush off as such. Malaysia, whether it accepts it or not, is in the midst of culture wars instigated by the government's divisive policies. To see it as anything else is naive.
https://www.ucanews.com/news/malaysia-when-greetings-are-an-insult/81620
--------
Top court to hear who has power to decide four Sarawakians' conversion out of Islam
BY IDA LIM
February 26, 2018
KUALA LUMPUR, Feb 26 — The Federal Court is scheduled to hear today the joint appeal of four Sarawakians who want to know if it is the civil or the state Shariah courts which can decide on their bid to convert out of Islam.
The hearing is part of the many years of waiting by the four who just want their identity card and official records to reflect the fact that they are now practising Christians.
Conversion for marriage
Three of the Sarawakians affected were initially non-Muslims who converted to Islam to marry, but have since returned to Christianity.
In multiracial and multireligious Malaysia, intermarriage is not unheard of, but those who want their marriage to Muslims recognised under local laws are required to convert to Islam.
Sarawak's Islamic Family Ordinance 2001 — which applies to all Muslims in the state — deals with void marriages under Section 9(1) and bluntly states: "No person shall marry a non-Muslim."
In the case of Jenny binti Peter @ Nur Muzdhalifah Abdullah who is of Melanau ethnicity, her parents were Christians and she was raised as one. She converted to Islam in 2002 to marry a Muslim man, but returned to the religion of her birth after her divorce in 2006.
Salina Jau binti Abdullah who is of Kayan/Kenyah ethnicity too became a Muslim in early November 1992 before marrying a Muslim man the same month. She decided to return to Christianity after divorcing in 2010.
Mohd Shafiq Abdullah, born Tiong Choo Ting and who is of Chinese-Bidayuh heritage converted to Islam in 1996 to marry a Muslim woman. He returned to Christianity after his wife died in 2007.
Despite the fact that the three are currently living as non-Muslims, they have not been able to get the government's recognition of the change in their religious status.
All three have taken efforts to follow the law, including signing statutory declarations or sworn statements to declare that they wish to renounce Islam and by informing the Sarawak Islamic Religious Department (JAIS) of their intention to do so.
The three had even completed the counselling sessions that JAIS asked them to attend as part of the process to renounce Islam, deciding after counselling to leave Islam.
The Department of Syariah Judiciary Malaysia (JKSM) had in 2014 told Malay Mail that the process of leaving Islam includes counselling sessions where a reconciliation committee will persuade a person to repent and remain as a Muslim.
According to the Court of Appeal judgment in their cases, Jenny was told after counselling that she could leave Islam but did not receive the report from JAIS that would allow her to officially do so, while Salina Jau was also told she had completed all that was required by JAIS to leave Islam. Mohd Syafiq was denied by JAIS a certificate of completion of counselling despite attending as requested.
With no response from JAIS to their written requests for a Letter of Release from Islam, the three each filed in 2015 a lawsuit in the civil courts against the JAIS director, the Majlis Agama Islam, the National Registration Department (NRD) director-general and the state government.
They are seeking a declaration that they are Christians; an order to compel the Sarawak Islamic authorities to issue a letter of release from Islam and an order to compel the NRD to drop the word "Islam" from their identity cards and records and amend their religious particulars at the national registry to Christianity.
Sarawakian who converted out of Islam
Unlike the earlier trio, Syarifah Nooraffyzza Wan Hosen had converted to Christianity in October 2009 despite being born a Malay to parents who are Muslims. On July 26, 2011, the Sarawakian applied for a name change in her identity card, according to the Court of Appeal judgment in her case.
The NRD had then written to tell her that she had to first get a letter of release from Islam from the JAIS director's office, which she did in August 3, 2011 but did not get a response then.
In July 2012, she was told during a visit to the JAIS director's office that she had to go to the Shariah court and attend counselling sessions as part of the process to renounce Islam. But the sessions did not take place and her lawyer's bid to get a list of the conditions for renouncing Islam was not successful.
Syarifah Nooraffyzza then filed in 2014 a lawsuit in the civil courts against the same four respondents, seeking similar reliefs as well as a court order to compel the NRD director-general to change her name to Vanessa Elizabeth.
Legal roadblocks
Despite their efforts, all four Sarawakians have faced setbacks in the civil courts to date.
On January 5, 2015, the High Court dismissed Syarifah Nooraffyzza's application for leave to have her lawsuit heard. The same court also similarly refused the leave applications filed by the trio respectively on September 21, 2015.
The Court of Appeal on April 19, 2016 and August 17, 2016 dismissed Syarifah Nooraffyzza's appeal and the trio's appeals against the High Court rulings. Without the court's leave, the four's lawsuits where they are seeking to be officially recognised as non-Muslims cannot be heard.
At both the High Court and Court of Appeal, the presiding judges ruled that it is the Shariah courts that have the jurisdiction to decide on apostasy cases and not the civil courts.
'Deadlock'
This is despite the Sarawak Shariah Court saying in a March 10, 2015 letter that none of the state laws empower it to deal with declarations of leaving Islam as required by the NRD, with the letter further concluding that it therefore did not have the jurisdiction to issue the Letter of Release from Islam.
The Court of Appeal had acknowledged the "deadlock" that the three Sarawakians were placed in with the Sarawak Shariah court's letter, but said it was bound by Federal Court decisions that it is for the Shariah courts to decide on whether someone is a Muslim or not. It suggested that the solution to the trio's predicament may lie in the Sarawak state legislature.
The Court of Appeal in Syarifah Nooraffyzza's case had also cited a similar reasoning of being bound by several Federal Court rulings.
However, lawyers for the Sarawakians had argued in court that the civil High Court has the jurisdiction to hear these apostasy cases as the Sarawak Shariah court does not have the power to decide on these cases.
Full report at:
http://www.themalaymailonline.com/malaysia/article/top-court-to-hear-who-has-power-to-decide-four-sarawakians-conversion-out-o#bHVLRmP8Zj7QcXZd.97
--------
Judges made mistake in Ahok's case: Lawyer
February 26, 2018
More than nine months after being convicted of blasphemy, former Jakarta governor Basuki "Ahok" Tjahaja Purnama has officially challenged his conviction through a case review petition to the Supreme Court.
The preliminary hearing of the petition, which lasted only 10 minutes, was held at the North Jakarta District Court on Monday. The Supreme Court justices will later decide whether or not to grant Ahok's case review petition.
The hearing at the North Jakarta District Court was presided over by Judge Mulyadi, who had previously presided over his trial at the district level.
Speaking to reporters after Monday's hearing, Ahok's lawyer and sister, Fifi Letya Indra, said she believed the North Jakarta District Court had made a mistake in declaring Ahok guilty of blasphemy.
She said the guilty verdict against Buni Yani, a communications lecturer found guilty of tampering with video footage of a speech given by Ahok that was used as evidence to lodge the blasphemy allegations against the former Jakarta governor, was the basis for the case review request.
"The legal argument for our petition is that the judges [at the district level] made a mistake in their verdict [on Ahok], particularly in relation to Buni Yani's verdict." she said, adding that the defense team also had other legal arguments to support their petition.
"We have six to seven points to make."
Ahok was found guilty of blasphemy and sentenced to two years in prison on May 9 following a series of rallies by conservative groups who believe he had commited blasphemy againt the Qur'an when he said some people "were deceived" by other people "using Al-Maidah 51", a Qur'anic verse some clerics say prohibits Muslims from electing a non-Muslim as leader.
He was charged with blasphemy under Article 156a of the Criminal Code, which carries a maximum punishment of five years' imprisonment. According to the 2017 Election Law, a person charged with a felony punishable by five years' imprisonment is barred from running as president or vice president.
The Bandung District Court, meanwhile, sentenced Buni Yani to 18 months in prison for breaching the nation's Cyber Law, on Nov. 14, 2017.
Ahok did not appeal his conviction at the appellate courts, while Buni Yani did. Ahok's verdict is now final and binding and thus eligible for a review.
The prosecutors told reporters after the hearing that the defense team had not brought new evidence to back up their latest legal move.
Ahok's case and Buni Yani's case were not related, prosecutor Sapta Subrata said. "Ahok was guilty of blasphemy, while Buni Yani was guilty of tampering with a video that was not his."
He added that prosecution of Ahok's case did not affect Buni Yani's case and vice versa. "The evidence in Buni Yani's case is part of a speech cited by Buni Yani, it was not used as evidence in Ahok's trial."
The district court's verdict on Ahok was correct, he said.
Judge Mulyadi, however, said that the prosecutors had two to three days to give their response before the case review petition was be sent to the Supreme Court justices.
"We do not have the authority to grant a case review petition. It's the Supreme Court's authority. We just examine the administrative requirements," the judge said.
Security personnel from the Indonesian Military (TNI) and the National Police were seen guarding the North Jakarta District Court on Jl. Gajah Mada in Central Jakarta from Monday morning.
Full report at:
http://www.thejakartapost.com/news/2018/02/26/judges-made-mistake-in-ahoks-case-lawyer.html
--------
URL: https://www.newageislam.com/islamic-world-news/darul-uloom-backs-saudi-fatwa/d/114417
New Age Islam, Islam Online, Islamic Website, African Muslim News, Arab World News, South Asia News, Indian Muslim News, World Muslim News, Women in Islam, Islamic Feminism, Arab Women, Women In Arab, Islamophobia in America, Muslim Women in West, Islam Women and Feminism