New Age Islam News Bureau
10 March 2021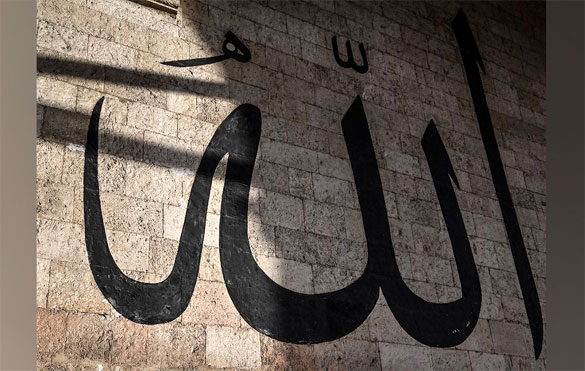 Arabic calligraphy that reads 'Allah' is written on the wall of the old mosque in Edirne on March 8, 2020 AFP
------
• United Nations Censures as Deeply 'Regrettable' a Swiss Vote In Favour Of Banning Face Coverings for Muslim Women
• Afghan Buddha in Virtual Return on Anniversary of Destruction by Taliban
• Gilgit-Baltistan House Passes Joint Resolution for Interim Provincial Status for Region
• US Blacklists Two IRGC Interrogators in First Iran Sanctions under Biden Admin
• Aligarh Muslim University to Set Up Centre of Sufism and Islamic Philosophy
• US Says It Will Not Ease Pressure on Syria after UAE Criticism of Caesar Act
• Iran Nuclear Probe Is Endless Task for IAEA, Grossi Says Don't Politicize Inspections
• Libyan Parliament Votes To Approve Government Headed By PM Abdulhamid Dbeibeh
Southeast Asia
• Christians in Muslim-Majority Malaysia Can Use 'Allah' In Publications
• UNICEF Malaysia: Child Marriage Likely Rose during Covid-19 Pandemic as Schools Closed, Economy Worsened
• Bukit Aman says man who allegedly insulted Islam, converted Muslim woman surrenders
• Extreme Right-Wing Ideology Arrives in Singapore
--------
Europe
• United Nations Censures as Deeply 'Regrettable' a Swiss Vote In Favour Of Banning Face Coverings for Muslim Women
• Pope Francis Thanks Iraqis for Historic Visit, Says They Deserve Peace
• British-Australian Academic Says Iran Tried To Recruit Her as Spy for Freedom
• Islamophobia getting mainstreamed in Europe, say webinar speakers
--------
South Asia
• Afghan Buddha in Virtual Return on Anniversary of Destruction by Taliban
• 31 Taliban Killed in Kandahar, 'Hawz-e-Madad' area fallen to Taliban
• ANDSF surprised '10 Taliban suicide bombers' in an ambush attack
• Local Tajiks on Afghan Border Trained To Defend Against 'Taliban Attack'
• Feni River Bridge To Link Tripura to Bangladesh; Hasina Calls It 'Historic'
• OIC SG discusses prospects of cooperation with Bangladesh
--------
Pakistan
• Gilgit-Baltistan House Passes Joint Resolution for Interim Provincial Status for Region
• End in sight for Imran Khan's 'Naya Pakistan' amid rising inflation in Pakistan
• IHC dismisses PTI petition challenging Gilani's Senate victory
• US blocks delivery of Turkish gunships to Pakistan
• Five 'militants' killed in Mastung operation
• COAS, UK CDS discuss Afghan peace process
--------
North America
• US Blacklists Two IRGC Interrogators in First Iran Sanctions under Biden Admin
• US Citizen Held for 3 Years in Iran Tells Of 'Psychological Torture': I Was A 'Pawn'
• Republicans, Democrats come together to call on Biden to be hard on Iran
• US sanctions two Iranians on allegations of 'human rights violations'
--------
India
• Aligarh Muslim University to Set Up Centre of Sufism and Islamic Philosophy
• Al-Badr commander Abdul Gani Khawaja's killing a big success, says J&K Police
• Zufar Farooqui elected chairman of UP Sunni Waqf Board for third consecutive term
• Delhi High Court stays ED summons to Mehbooba Mufti
• India to buy 30 US armed drones to counter China, Pakistan
• Russia calls meeting to broker peace in Afghanistan; India won't be at table
• Terrorist violence in J-K reduced significantly post abrogation of Article 370, says govt
• State Information Commission blasts Waqf Board for not issuing order on free burials
--------
Arab World
• US Says It Will Not Ease Pressure on Syria after UAE Criticism of Caesar Act
• Top Bahraini Cleric Cautions against Death of Political Inmates, Warns About Instability
• Millions of young Syrians paid heavy toll during 'decade of savage loss': ICRC
• Deteriorating Lebanon concerns US officials after army warns of 'social explosion'
• Saudi Arabia's FM Prince Faisal, Russian FM meet in Riyadh
• Saudi envoy to US blasts Yemen's Houthis: 'They believe they can act with impunity'
• Saudi Arabia's Cabinet says Houthi attacks on Kingdom target global economy
• Crown Prince, Malaysian PM witness signing of 3 agreements
--------
Mideast
• Iran Nuclear Probe Is Endless Task for IAEA, Grossi Says Don't Politicize Inspections
• Israel, Cyprus reach an understanding for settling offshore gas dispute
• Palestine PM urges new US administration to adopt measures against Israeli settlements
• Yemeni ballistic missiles haunt Saudi Arabia, senior Ansarullah official says
• Invaders partially withdraw from Ma'rib amid Yemeni army advances: Report
• Turkey gives life sentences to 5 over 2016 killing of Russian ambassador
--------
Africa
• Libyan Parliament Votes To Approve Government Headed By PM Abdulhamid Dbeibeh
• France to speed up access for researchers to controversial Algeria war files
• At least 39 migrants die, 165 others rescued as two boats sink off Tunisia
• Flights resume between Libya's rival cities of Benghazi, Misrata after seven years
• Brother-in-law of Tunisia's ousted late president gets 10 years for corruption
• At least 39 die as two refugee boats sink off Tunisia
Compiled by New Age Islam News Bureau
URL: https://www.newageislam.com/islamic-world-news/christians-muslim-majority-malaysia-use/d/124506
--------
Christians in Muslim-Majority Malaysia Can Use 'Allah' In Publications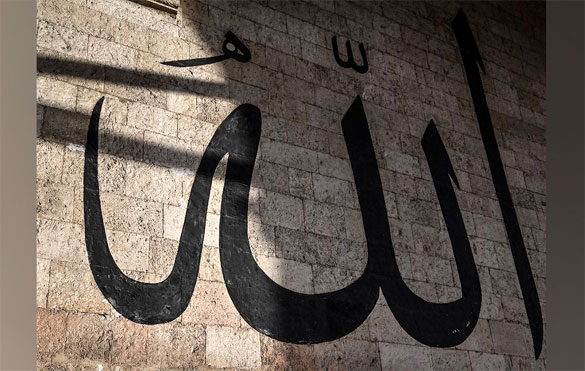 Arabic calligraphy that reads 'Allah' is written on the wall of the old mosque in Edirne on March 8, 2020 AFP
------
Mar 10, 2021
A Malaysian court on Wednesday ruled that Christians in Muslim-majority Malaysia can use the word "Allah" in publications, a court ruled Wednesday, overturning a decades-old ban after a lengthy legal battle that fuelled religious tensions.
The Arabic word for God has long been divisive in Malaysia, with Christians complaining attempts to stop them using it to highlight creeping Islamisation. But some Muslims accuse Christians of overstepping boundaries.
Wednesday's case began 13 years ago when officials seized religious materials in the local Malay language from a Christian woman at Kuala Lumpur airport that contained the word "Allah".
Jill Ireland Lawrence Bill, a member of an indigenous group then launched a legal challenge against a 1986 ban on Christians using the term in publications.
After repeated delays, the Kuala Lumpur High Court finally sided with her, ruling she had the right not to face discrimination on the grounds of her faith.
According to the judge's lawyer, Annou Xavier, the ban on Christians using "Allah" was "unlawful and unconstitutional".
Malaysia's constitution guarantees freedom of religion.
Christians in Malaysia say they have used the word "Allah" for centuries.
But authorities had argued against using the term in non-Muslim literature, saying it could confuse Muslims and entice them to convert.
In another high-profile case in 2014, Malaysia's top court dismissed a bid by the Catholic Church for the right to use the word "Allah" in the Malay-language edition of a church newspaper.
Malaysia has largely avoided overt religious conflict in recent decades, but tensions have been growing.
In 2014 a church was hit with petrol bombs, while Islamic authorities have seized Bibles containing the word "Allah".
In 2017 a Christian pastor was dragged from his car by masked men and kidnapped. He is still missing, with a public inquiry concluding he was probably snatched by "agents of the state".
Less than 10 per cent of Malaysia's 32 million people are estimated to be Christians, coming from mostly ethnic Chinese, Indian or indigenous backgrounds, while 60 per cent are Muslim ethnic Malay.
https://www.wionews.com/world/christians-in-muslim-majority-malaysia-can-use-allah-in-publications-369394
--------
United Nations Censures as Deeply 'Regrettable' a Swiss Vote In Favour Of Banning Face Coverings for Muslim Women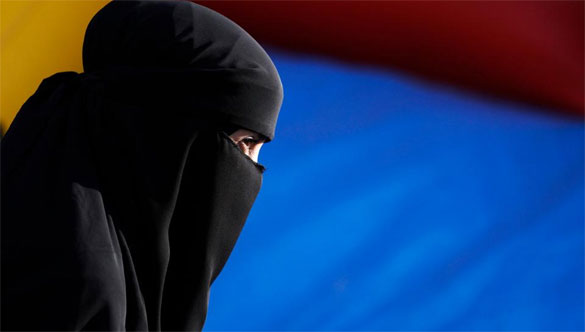 Campaigners from Muslim, feminist, and rights organisations across Switzerland have been handing out flyers, holding social media campaigns, engaging in conversations with friends and colleagues, participating in public debates, and in an effort to sway voters to vote against the ban. (Reuters)
----
09 March 202
The United Nations human rights office (OHCHR) has censured as "deeply regrettable" a Swiss vote in favour of banning face coverings for Muslim women in public places, saying the measure will be discriminatory and problematic from a rights perspective.
In a controversial referendum on Sunday, Swiss voters narrowly approved a bill that bans Muslim women from wearing a burqa, a covering for the whole body, or a niqab, a covering for the face.
The national referendum on the "Burka Ban" was proposed by the right-wing, anti-Muslim party of UDC in Switzerland and approved by 52 percent of voters, despite opposition from the government and the national parliament.
"Switzerland has joined a minority of countries in which the law actively discriminates against Muslim women and this is deeply regrettable," Ravina Shamdasani, a spokeswoman for the OHCHR, said at a regular UN briefing in the Swiss city of Geneva on Tuesday.
Shamdasani said "a legal ban in this regard will unduly restrict women's freedom to manifest their religion or beliefs and has a broader impact on their human rights."
The UN official also said that in cases where women were actually being forced to wear the veil, the ban would punish them for something outside their control and further marginalize them.
"Vague justifications on how the wearing of face coverings would be a threat to safety, health, or the rights of others cannot be considered a legitimate reason for such an invasive restriction of fundamental freedoms," she added.
Shamdasani told reporters at the briefing that the measure was approved "after an advertising campaign with a strong xenophobic tone" and at a time that Muslim women in Europe are already facing increased discrimination, stereotyping, hostility, and in some cases, even physical violence because of their clothing.
The approval put Switzerland on track to join countries that have already enacted similar anti-Muslim measures, such as Germany, Austria, Denmark, France, Belgium, Latvia, and Bulgaria.
Anti-Muslim sentiments have been on the rise across Europe in recent years in the wake of terrorist attacks in the continent. The attacks were carried out by the Daesh sympathizers or the terror group's members who had returned home following their defeat in Iraq and Syria.
Muslim leaders in Europe and around the world have condemned the terrorist attacks.
Moreover, the rise of far-right ideology and the propagation of anti-immigration policies have exacerbated the status of religious minorities in Europe.
https://www.presstv.com/Detail/2021/03/09/646940/Switzerland-veil-ban-Burqa-Ban-UN-rights-office-
--------
Afghan Buddha In Virtual Return On Anniversary Of Destruction By Taliban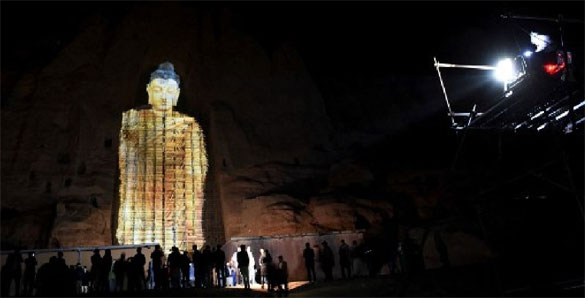 The projection filled the alcove that once housed Salsal -- the 55-meter (155-feet) high statue. "These moments also remind you of what a great treasure we lost," said Gulsoom Zahra, a 23-year-old Bamiyan resident who attended the ceremony. (Image: AFP)
-----
March 10, 2021
BAMIYAN: Twenty years after being blasted out of Afghanistan's rugged central highlands, one of the country's famed Buddha statues made a brief virtual return on Tuesday night as a three-dimensional projection filled the alcove that hosted the statue for centuries.
The projection topped off a day commemorating the des­t­ruction of the two famous Buddha statues by the Tali­ban in March 2001 in central Afghanistan's Bamiyan valley. "We do not want people to forget what a horrific crime was committed here," said Zahra Hussaini, one of the organisers of the "A night with Buddha" event.
After a lantern-lit procession, hundreds gathered at the base of the cliff where the statues once stood alongside a network of ancient caves, monasteries and shrines.
The projection filled the alcove that once housed Salsal — the 55-metre (155-feet) high statue. "These moments also rem­ind you of what a great treasure we lost," said Gulsoom Zahra, a 23-year-old Bamiyan resident who attended the ceremony.
The Taliban drew international revulsion when they blew up the centuries-old figures during their brief, iron-handed rule over the country as they went on a rampage against Afghanistan's rich pre-Islamic cultural heritage.
With its snowy backdrop and clear blue skies, Bamiyan has been one of Afghanistan's few popular destinations for outdoor enthusiasts and history buffs keen to explore the country's archaeological heritage. The commemoration has been clouded by fears the Taliban are on the verge of returning to power after signing a landmark deal with the US that could see international troops exit the country in coming months. Few exp­ect the government's beleaguered security forces to last long against the Taliban's withering onsla­ught without the protection of US airpower and its special forces.
"We also want to express our concern about the future, and what will happen to our historical heritage in the future, and whether history will repeat and the remaining artefacts will once again be left to the mercy of extremist groups," Hussaini added.
https://www.dawn.com/news/1611688/afghan-buddha-in-virtual-return-on-anniversary-of-destruction-by-taliban
--------
Gilgit-Baltistan house passes joint resolution for interim provincial status for region
Mar 10, 2021
ISLAMABAD: The Gilgit-Baltistan legislative assembly unanimously passed a joint resolution on Tuesday demanding that Pakistan Prime Minister Imran Khan and Pakistan's state institutions grant the region interim provincial status.
The resolution, tabled jointly by G-B chief minister Khalid Khurshid Khan and opposition leaders, also demanded representation in the National Assembly and other federal bodies.
The resolution stated that a bill to amend the constitution to declare G-B a provisional province of Pakistan should be passed by Parliament without causing any damage to the country's stance on the Kashmir issue.
A copy of the resolution was also forwarded to the prime minister's office by the GB assembly secretariat.
"The demand for constitutional rights is an unanimous demand of the people of GB, not of an individual/ party only. The unity we've shown on this issue needs to be repeated again at the federal level," KK Khan posted on Twitter.
Pakistan's parliament would have to amend the constitution to grant interim provincial status to Gilgit-Baltistan. A constitutional amendment requires a two-thirds majority in the National Assembly and in the Senate, which is not possible without the support of the opposition parties currently struggling to oust Imran Khan from office.
The Pakistan Democratic Movement (PDM), an anti-government alliance of a dozen opposition parties, has called for a "long march" on Islamabad by the end of this month, vowing that they will not end their sit-in protest before packing off the incumbent government.
Last year, PM Imran Khan had announced during his visit to the region that he would grant provisional provincial status to Gilgit-Baltistan. He had said the decision was taken keeping in mind UNSC resolutions on Jammu and Kashmir.
China also has reportedly been pressing Pakistan to grant G-B constitutional status given that the region is Pakistan's only land link to China's Xinjiang province. The region is at the centre of Beijing's ambitious multibillion-dollar China-Pakistan Economic Corridor, a key constituent of China's Belt and Road Initiative.
Gilgit-Baltistan, formerly known as the Northern Areas, has been the subject of a dispute between India and Pakistan since 1947. India considers it an integral part of its Union Territories of Jammu and Kashmir and Ladakh.
https://timesofindia.indiatimes.com/world/pakistan/gilgit-baltistan-house-passes-joint-resolution-for-interim-provincial-status-for-region/articleshow/81418389.cms
--------
US blacklists two IRGC interrogators in first Iran sanctions under Biden admin
10 March ,2021
Tuqa Khalid and Joseph Haboush
The US State Department blacklisted on Tuesday two of Iran's Islamic Revolutionary Guard Corps (IRGC) interrogators for human rights violations during the 2019 and 2020 protests in Iran, amid an ongoing standoff between Washington and Tehran over reviving the abandoned 2015 nuclear deal.
Secretary of State Antony Blinken announced designating IRGC interrogators Ali Hemmatian and Masoud Safdari for "involvement in gross violations of human rights, namely the torture and/or cruel, inhuman, or degrading treatment or punishment of political prisoners and persons detained during protests in 2019 and 2020 in Iran."
The two Iranian officials and their immediate family members are now barred from entering the United States.
Iran is notorious for its widespread human rights abuses, specifically its violent crackdown during protests against the clerical regime.
Hundreds of Iranians took to the streets in November 2019 to protest against fuel price rises, which then turned into political anti-regime demonstrations. Protests rocked Iran again in January 2020 after the IRGC acknowledged they shot down the Ukraine International Airlines flight PS752 plane in error shortly after takeoff, mistaking it for a missile.
The UN said Iranian security forces used excessive and lethal force, which caused the deaths of over 300 people, including women and children, during the protests.
Thousands were arrested, and the UN said the regime's forces "used physical and psychological torture against detained protesters, including for the purposes of extracting forced confessions."
Some of the detained have been handed long prison sentences, and others have been executed.
Nuclear standoff
This was the first move to impose sanctions on Iran by President Joe Biden's adminsitration.
Other than affirming the new administration's stance on human rights, the State Department's decision could be interpreted as Washington sending Tehran a signal that it will now bow to the latter's pressure amid the impasse over reviving the 2015 Iran nuclear deal.
Since taking office in January, Biden has taken steps, perceived as extending an olive branch to Iran, to revive talks over the nuclear deal which has unraveled since his predecessor Donald Trump pulled the US out of the agreement in 2018.
Biden reversed Trump's determination that all UN sanctions against Iran had been restored and the State Department eased stringent restrictions on the domestic travel of Iranian diplomats in New York.
Yet, Tehran adamantly demanded that all Trump-era sanctions on Iran be lifted before taking any real action to return to the deal. The regime repeatedly made threats of upping their nuclear activities, effectively "turning up the heat" on Biden, trying to get as many concessions from Washington as possible before taking any real action.
Biden has also faced a lot of pressure at home. Lawmakers urged him not to lift sanctions which they say is necessary "leverage" that Washington would appear "weak" if it were to give it up to "appease" Tehran during nuclear negotiations.
Levinson anniversary
The sanctions came on the 14th anniversary of former FBI agent Bob Levinson's abduction. Levinson disappeared on Iran's Kish Island in 2007, although it remains unclear what he was doing.
Blinken demanded answers on Tuesday, saying the case "is not closed."
"We call on the Iranian government to provide credible answers to what happened to Bob Levinson and to immediately and safely release all US citizens who are unjustly held captive in Iran. The abhorrent act of unjust detentions for political gain must cease immediately," Blinken said.
The top US diplomat said the US would "never forget Bob Levinson."
The Trump administration imposed sanctions on two senior Iranian intelligence officials, believed to be involved in Levinson's disappearance and "likely death" as Blinken said Tuesday.
https://english.alarabiya.net/News/middle-east/2021/03/10/US-blacklists-2-IRGC-interrogators-for-rights-abuses-amid-nuclear-standoff-with-Iran
--------
Aligarh Muslim University to set up centre of Sufism and Islamic Philosophy
March 10, 2021
The Aligarh Muslim University (AMU) has proposed to set up a Centre of Sufism and Islamic Philosophy with the aim to provide a platform for inter-religious studies and dialogues at national and international levels, The centre will re-examine the core issues of Islamic Philosophy in its historic-cultural context. It will also revisit the classical Islamic tests to provide a deeper understanding of Islamic thought, culture and civilisation.
"We aim to bring a clear picture of Islam and its relevance in all times. AMU is perhaps the only seat of learning that has three disciplines of Philosophy, namely Indian, Islamic and Western Philosophy," Prof. Latif Shah Hussain Kazmi, Chairman, Department of Philosophy, said. The objective is to propagate secular, humanist, pluralist and liberal ethos of Islam, added Kazmi.
The proposal to set up the Centre of Sufism and Islamic Philosophy has been passed unanimously at the Ordinary Meeting of the Academic Council. "We hope for a better mutual understanding among all religions, a sense of brotherhood with the teaching of the saints," Kazmi added.
The proposed centre also has plans to conduct research in the fields of Sufism, comparative study of Sufism and mystic traditions in other religions such as Hinduism, Christianity and Judaism, etc. "We will encourage research on the various dimensions of Sufism and Islamic Philosophy and the ways of enhancing religious understanding in our country," he said.
The centre also plans to organise inter-faith dialogues, seminars, conferences and extension lectures on Sufism, mysticism and bhakti movement etc.
The concept note of the centre envisages that Islamic Philosophy has remained for long spells of time under a shadow of doubt, criticism and uncertainty. Some thinkers, mostly orientalists, denied its very existence. Those philosophers who tended to deny the very existence of an Islamic Philosophy in view of their social and religious prejudices, misunderstood the very vision and mission of Islam. They consequently maintained that the teachings of Islam are opposed to all free discussion and rational investigation. The only fruits that Islam, according to these philosophers, has borne for its followers have been intellectual despotism, irrationalism and dogmatism, the concept note states.
"The centre would serve as the platform for advanced learning and research investigating the philosophical doctrines of the great Islamic philosophers such as Ab Bakr al Razi, Suhravardi,al Farabi etc. Their philosophical contributions in Islamic framework need to be revisited, explored and re-examined in the light of contemporary philosophical discourse." Prof. Kazmi said.
"Throughout centuries, Sufis travelled across Asia, Africa and Europe. They lived with or co-existed with Jews, Hindus, Buddhists, Confucionists, Christians and Pagans. They were at peace with all of them. These men of God mingled with all human beings irrespective of caste, creed, gender, colour, race and culture," he said.
According to the plan, the centre "will focus on classical, medieval and modern framework that needs to be synthesised into a horizontal framework with science and modern social scientific studies". The centre will offer diploma as well as Bachelors, Masters and Ph.D. degree in Sufism and Islamic philosophy
https://indianexpress.com/article/education/amu-to-set-up-centre-of-sufism-and-islamic-philosophy-amu-ac-in-7221308/
--------
US says it will not ease pressure on Syria after UAE criticism of Caesar Act
09 March ,2021
Joseph Haboush
The United States signaled Tuesday that it would not ease up on its stance toward Syria, hours after the top UAE diplomat implicitly criticized US sanctions that aim to cut off funds to the Assad regime.
Under the Trump administration, Washington enacted the Caesar Act in an effort to prevent foreign entities or nations from taking part in Syrian President Bashar al-Assad's reconstruction plans.
Foreign Minister Sheikh Abdullah bin Zayed made his comments after meeting Russia's foreign minister, Sergei Lavrov. "To keep the Caesar Act as it is today makes this path very difficult for us as a nation and for the private sector," Sheikh Abdullah said.
These sanctions aimed to force Assad to comply with UN Security Council resolutions, specifically UNSCR 2254, which calls for a political transition to end the yearslong war.
As a result of the Assad regime's gross violations and crimes against humanity, including using chemical weapons against civilians, the Arab League suspended Syria's membership in 2011.
"The bigger challenge facing coordination and working with Syria today is the Caesar Act," he said.
In 2018, the UAE reopened its embassy in Damascus. It has been hindered from doing more diplomatically or in terms of reconstruction due to the Caesar Act.
Asked about Sheikh Abdullah's remarks, a US State Department official told Al Arabiya English that the only way to achieve stability in Syria and the region was through a political process "that represents the will of all Syrians."
"We are committed to working with allies, partners, and the UN to ensure that a durable political solution remains within reach," a State Department spokesperson said.
Assad has been accused of blocking humanitarian aid to the Syrian people while using dwindling state funds for personal gains.
"It is imperative for the regime and its supporters to engage seriously in political dialogue and allow humanitarian assistance to reach communities in need in order to achieve a sustainable end to the Syrian people's suffering," the State Department official said.
https://english.alarabiya.net/News/middle-east/2021/03/10/US-foreign-policy-US-says-it-will-not-ease-pressure-on-Syria-after-UAE-criticism-of-Caesar-Act
--------
Iran nuclear probe is endless task for IAEA, Grossi says don't politicize inspections
09 March ,2021
The international probe into Iran's atomic activities may go on for years, according to the official whose efforts to ensure the country doesn't develop a nuclear weapon are inextricably linked with diplomacy to calm spiraling tensions in the Gulf.
International Atomic Energy Agency Director General Rafael Mariano Grossi said that even if Tehran manages to clarify the source of man-made uranium particles detected last year at several undeclared locations, the work of his inspections team won't be finished.
"Additional information may come up," Grossi, 60, said in an interview Tuesday. "In non-proliferation, there is no final, definite clean bill of health."
Grossi will need to deploy the skills he developed as an Argentine diplomat and honed during earlier IAEA stints investigating Iran's past. The agency is pressing on with its work just as Iran and world powers approach a crucial juncture in their attempts to resuscitate a five-year-old accord that was supposed to cap Tehran's nuclear activities in exchange for sanctions relief.
While former President Donald Trump's attempt to kill the deal failed, the US exit in 2018 left the agreement badly hobbled. The administrations of Joe Biden and Iranian President Hassan Rouhani say they want Washington to return to the pact but each is insisting the other side act first.
"These next few months are going to be complex," Grossi said. "They need to see eye-to-eye at a higher political level."
The IAEA and Iran agreed last week to talks in April where technical experts will probe how decades-old uranium particles wound up at a warehouse in Tehran, as well as other locations first flagged by Israeli spies. Iran was previously subject to a 12-year IAEA investigation that only ended after the 2015 deal capped the enrichment needed to produce warheads.
Iran assented to the latest round of investigations after IAEA inspectors made it clear that "this isn't going to disappear" and that stonewalling "may have a deleterious effect," Grossi said.
Short of a new compromise, tensions between Iran, the US and its Arab Gulf allies will surge over the nuclear issue. Recent flashpoints include attacks on shipping and strikes on Saudi oil facilities by Iranian-backed rebels in Yemen.
The original negotiators of the 2015 pact repeatedly warned that war, along with major disruptions to the global economy, was the only alternative to a negotiated settlement.
Safeguarding nuclear material in Iran "is a constant process," said Grossi, while insisting that inspections shouldn't become a pawn in global politics. "Please don't put the IAEA into the tradeables. Inspection work is a prerequisite."
https://english.alarabiya.net/News/middle-east/2021/03/09/Iran-nuclear-deal-Iran-nuclear-probe-is-endless-task-for-IAEA-Grossi-says-don-t-politicize-inspections
--------
Libyan parliament votes to approve government headed by PM Abdulhamid Dbeibeh
10 March ,2021
Libya's parliament voted on Wednesday to approve a government of national unity headed by prime minister Abdulhamid Dbeibeh as part of a UN-backed plan to resolve a decade of chaos and violence with an election in December.
More than 100 members of the divided parliament voted to back his government in a rare session in the frontline city of Sirte, with only a handful voting against.
Its approval represents the biggest opportunity in years for a resolution to Libya's conflict but huge hurdles remain in uniting the country's rival administrations and preparing for fair national elections.
The manner of Dbeibeh's own appointment and the expansive size of his cabinet have drawn criticism in Libya with accusations of corruption and influence peddling that spoilers could leverage to deny his legitimacy.
Libya has been split for years between the UN-recognized Government of National Accord in Tripoli and a rival administration in the east backed by eastern General Khalifa Haftar's Libyan National Army.
https://english.alarabiya.net/News/north-africa/2021/03/10/Libya-conflict-Libyan-parliament-votes-to-approve-government-headed-by-PM-Abdulhamid-Dbeibeh
--------
Southeast Asia
Unicef Malaysia: Child marriage likely rose during Covid-19 pandemic as schools closed, economy worsened
10 Mar 2021
BY THASHA JAYAMANOGARAN
KUALA LUMPUR, March 10 — While much is being done by United Nations Children's Fund (Unicef) stakeholders, youth groups, ministries and watchdogs around the world to end child marriage, the Covid-19 pandemic has posed a serious threat to this progress.
Unicef's findings released on International Women's Day warned that school closures, economic stress, service disruptions, pregnancy, and parental deaths due to the pandemic are putting the most vulnerable girls at increased risk of child marriage worldwide.
Chief of Child Protection at Unicef Malaysia, Sarah Norton-Staal, said this was evident during the pandemic, especially since fewer children attended school and parents' bid for financial survival resulted in them considering marrying their children off as a solution.
Worryingly, Unicef said such changes increase the likelihood of child marriage over the next decade, with possibly up to 10 million more girls exposed as a result of the pandemic.
Even before the Covid-19 outbreak, 100 million girls worldwide were already at risk of child marriage in the next decade, despite significant reductions in several countries in recent years.
"The current data available is not comprehensive and there are issues about registration of marriages, thus trying to ascertain exact numbers and patterns is difficult.
"However, it appears there is an upward trend in particular as a result of the pandemic during the past year," Norton-Staal told a group of panelist and members of the media in an online launch of Unicef advocacy brief towards ending child marriage yesterday morning.
The event was held virtually to acknowledge and renew Malaysia's commitments in ending child marriage in conjunction with International Women's Day and saw participaton by various stakeholders.
These included Malaysia's Women, Family and Community Development Ministry and its Indonesian counterpart, the United Nations Population Fund (UNPFA), the Girl Guides Association Malaysia, the Human Rights Commission of Malaysia, and PACOS Trust, a non-governmental organisation specialising in native affairs.
What is the situation in Malaysia?
In Malaysia, an average of 1,500 children from various religions, ethnicities, and communities marry each year, according to Women, Family and Community Development Minister Datuk Seri Rina Harun who spoke in a pre-recorded video played during the launch.
She said this practice occurred in both urban and rural areas, among Muslim and non-Muslims, Orang Asli or indigenous people, and even amongst migrant and refugee communities.
In 2018, available data showed that 1,856 children were married, of which around 90 per cent were girls. It was also reported that between 2007 and 2017, approximately 15,000 cases were recorded.
"It is a violation of a child's rights with negative implications, on the child's ability to fulfill their potential and future opportunities, not least that of the girl child. The ministry's stand is that children should always be allowed to develop their full potential," Rina said.
"Study has shown that child marriage,can have serious long-term consequences on their health and well-being, including educational and economic opportunities."
Why is child marriage legal in Malaysia and what is the government doing?
According to Norton-Staal, in Malaysia, it is primarily the "exceptions" to the law that allow parents to petition for their children to marry.
Authorities, both civil and religious, tend to approve these requests for "exceptional" marriages, but she argued that these exceptions should not be allowed.
Rina said, however, that Malaysia is committed to addressing child marriage, as seen in the ratification of, the United Nations Convention on the Elimination of All Forms of Discrimination against Women (Cedaw), in 1995 and the subsequent removal of the reservation to Article 16(2) about child marriage in 2010.
The government also ratified the United Nations Convention on the Rights of the Child (CRC) in 1995, in which she said it committed under Article 24(3) "to take all effective, and appropriate measures with a view to abolishing traditional practices prejudicial, to the health of the children."
She also said In recognition of the importance of this issue, in January 2020, the government introduced a six-year National Strategy Plan in Handling the causes of child marriage.
Legislative reforms alone not enough
Amending laws alone will not end child marriage but conditions, attitudes and behaviour must also change, according to Unicef.
According to its country representative, Dr Rashed Mustafa Sarwar, the legislative issue is only one part change and there are many other factors and solutions that need to be stepped up.
"It requires a multicultural and multilevel mindset change in protecting a child from marriage. It must be our own unique effort (society and stakeholders), to end child marriage in Malaysia.
"That will bring gender equality..." he said adding 90 per cent of child marriage compromised females.
Rina also echoed addressing child marriage in Malaysia is a shared responsibility involving many stakeholders
"Child marriage is deeply rooted in society, and economic circumstances, which makes it is very difficult for individuals, or families, to end the practice on their own.
"Change has to take place across many levels of society. The best interests of children must be the motivating factor to garner support and push for reform on all fronts," she said.
During the launch, seven areas were highlighted as contributing to child marriage: legislation that allows or facilitates child marriage; lack of access to sexual reproductive health education information and services; low household income and poverty; lack of access to education and poor school attendance; lack of access to parenting support; social norms that condone child marriage; and lack of legal status or rights for children affected by migration.
Unicef said reforms in these areas would have the most effect in preventing child marriage.
https://www.malaymail.com/news/malaysia/2021/03/10/unicef-malaysia-child-marriage-likely-rose-during-covid-19-pandemic-as-scho/1956392
--------
Bukit Aman says man who allegedly insulted Islam, converted Muslim woman surrenders
09 Mar 2021
KUALA LUMPUR, March 9 — Police have arrested a local man for allegedly insulting Islam and converting a Muslim woman.
Bukit Aman Criminal Investigation Department director Datuk Huzir Mohamed said the 29-year-old suspect was detained at 12.05pm today after surrendering himself at Bukit Aman.
"Also seized were an Oppo A5S mobile phone and a SIM card belonging to the suspect.
"We have also received police reports and are investigating the case under Section 4(1) of the Sedition Act 1948, Section 298 of the Penal Code, Section 505 (c) as well as Section 233 of the Communications and Multimedia Act 1988," he said in a statement today.
He said an application for a remand order on the suspect would be made tomorrow under Section 117 of the Criminal Procedure Code for further investigation.
He said police are now identifying and tracing if any other individuals were involved in the case.
"Police also urge the public to be smart and prudent social media users as well as not to use the platform to cause anger or disrupt the harmony in the country.
"Stern action will be taken, without compromise, against any individuals who purposely threaten public peace and safety," he said.
Recently, a three-minute-and-26-second video clip, which went viral and received thousands of views among netizens, showed a man admitting to converting the Muslim woman, who is believed to be his wife. — Bernama
https://www.malaymail.com/news/malaysia/2021/03/09/bukit-aman-says-man-who-allegedly-insulted-islam-converted-muslim-woman-sur/1956387
--------
Extreme Right-Wing Ideology Arrives in Singapore
By Kenneth Yeo Yaoren and Amalina Abdul Nasir
March 10, 2021
In January, Singapore's Ministry of Home Affairs announced the arrest of a 16-year-old boy under the nation's Internal Security Act (ISA). The Secondary 4 student was the first detainee to be inspired by extreme right-wing ideologies and the youngest person to be handled under ISA on terrorism-related charges. The unprecedented arrest highlighted the need for Singapore's approach to violent extremism to find ways of dealing with extremist ideologies beyond militant Islamism.
The 16-year-old protestant Christian was reportedly self-radicalized online and motivated by a strong sense of antipathy towards Islam and fascination for violence. He was particularly inspired by the New Zealand Christchurch attacks that took place in March 2019, and decided to replicate the attack at two local mosques on the same day, March 15, to commemorate the second anniversary of the carnage. His consumption of Islamic State (IS) propaganda reaffirmed his anti-Muslim sentiments when he "came to the erroneous conclusion that IS represented Islam, and that Islam called on its followers to kill non-believers."
The youth's detention became the center of eight questions filed by members of the Singapore Parliament. During a February 16 parliamentary session, the government indicated that Singapore is constantly fortifying its measures and policies to meet the evolving threat of terrorism, including stricter measures on procurement of offensive weapons and firearms. Even so, these improved hard preventive measures must be accompanied by improved soft countering measures like rehabilitation policies.
While the fundamentals of inter-religious harmony remain stable and robust in multicultural Singapore, authorities know that this state of affairs cannot be taken for granted. Hence, while the arrest of the country's first far-right extremist was novel, the anti-Muslim sentiments he displayed were not exactly a bolt out of the blue. The Centre for Research on Islamic and Malay Affairs (RIMA) has observed an increase in anti-Muslim sentiments posted on local social media, and is seeing more instances of microaggressions and discrimination towards the city-state's Muslim community. This observation corresponds with a 2019 Institute of Policy survey which revealed that while majority of Singaporeans felt that "people of different faiths can get along when living close together," some 15 percent of Singaporeans find Muslims "threatening."
To take some concrete examples, in 2016, three madrasah students on their way to school were attacked by a Chinese man. The following year, the word "terrorist" was scrawled across the picture of a woman wearing a hijab outside an MRT station. Just last year, a 19-year-old Temasek Polytechnic student was detained for making "alarming and offensive posts" against Muslims on his social media account. He claimed to have dreamt about going on a shooting spree and massacring Muslims with an AR-15 assault rifle. Such incidents suggest that far-right extremism, fueled by anti-Muslim prejudice, is potentially as significant a challenge as the Islamist extremism with which Singapore has long been familiar.
Singapore's Preventing and Countering Violent Extremism (P/CVE) efforts are shaped by its encounter with the terrorist group Jemaah Islamiyah (JI), and the continuous exchange of intelligence and expertise with its neighboring countries. Singapore's rehabilitation program was only formulated in the early 2000s following a series of arrests involving militants from JI.
In 2003, the Singapore government set up the Religious Rehabilitation Group (RRG) out of an urgent need to "address the misinterpretations of several Islamic concepts such as jihad and bai'ah (pledge of allegiance)." The RRG's main objective is to rehabilitate detained JI members and their family members through various forms of counseling. RRG's mission has since expanded to include "self-radicalized individuals and those in support of IS," and the group also conducts outreach programs designed to educate the public. The group's efforts have grown in tandem with the heightened terror activities and growing IS network within Southeast Asia. Given the nature of the threat, Singapore's P/CVE efforts have mostly been focused on addressing Islamist radicalization.
To further mitigate the Islamist jihadist threat, Singapore rolled out an initiative to mobilize the nation called SGSecure, which aims to to help Singaporeans identify the terrorism threat and the actions they can take during an attack.
Today, pro-Islamic State groups like the Jamaah Ansharut Daulah (JAD), Mujahideen Indonesia Timur (Mujahideen of Eastern Indonesia, or MIT), Abu Sayyaf Group (ASG), and Bangsamoro Islamic Freedom Fighters (BIFF) continue to dominate the terrorist landscape in Southeast Asia. However, the recent arrest in Singapore highlights the need for security agencies to look beyond the region and prepare for threats which have largely appeared in the West so far. These include extreme right-wing ideology, or XRW for short.
Violent XRW gained traction in 2011 after Anders Behring Breivik massacred 77 people at a conference for young people in Oslo, Norway. His manifesto, entitled "2083 – A European Declaration of Independence," detailed disturbing Islamophobia and linked the acceptance of diversity to the purported genocide of European culture. However, contemporary XRW sentiments gained popularity in Europe after the Muslim refugee migration in 2014. This diversified the culturally homogeneous region and increased social polarization. Populist xenophobic sentiments have since come to dominate the political narratives in many countries.
Breivik remains the paragon of violent Islamophobia, racism, and xenophobia. His manifesto, a bible to many XRW groups, inspired the March 15, 2019 Christchurch massacre and the August 4, 2019 . The arrested 16-year-old Singaporean was reportedly influenced by Brenton Tarrant, the perpetrator of the Christchurch massacre, a potent illustration of the transferability of extreme ideologies between the different socio-cultural contexts of Singapore and the West.
The continuously evolving threat of terrorism and extremism requires that Singapore broadens the scope of its counterterrorism and P/CVE policies. Such policies can be formulated by analyzing the similarities between jihadi and XRW terrorism.
Research has shown that most extremist groups, regardless of ideology, share similar narrative elements. Deeper appreciation of the shared attributes of jihadi and XRW terrorism can aid Singapore in developing a more holistic counterterrorism and P/CVE strategy.
The fundamental premise of both jihadi and XRW terrorists is the assumption that their existence is threatened by the mere presence of an "Other" and that the survival of their culture is dependent on the destruction of it. This is reflected in Al Qaeda's ideologue Abu Mus'ab al-Suri's "Call to Global Islamic Resistance," which preached about the injustice against Muslims and the threats from the "Crusader West." Al-Suri concluded that militant jihad is, thereby, an obligation of all Muslims aimed at the defense and survival of the religion.
In the same vein, Breivik's manifesto delineated his idea of "White Replacement Theory," in which he claimed that "western" identity is under siege by the waves of immigration of non-whites from non-European countries that would eventually replace white Europeans in Europe. Breivik asserted that the "pacifist indoctrination" of liberals would render white European Christians "simply unable to defend themselves." Hence, he argued that violence is "justified" because of the threat to "white" people.
Consequently, for terrorists of both sides, it is very natural to adopt a binary world view to justify violence against the other. Jihadist terrorists divide the world into dar al-Islam (the land of peace) and dar al-harb (the land of war). Moreover, through the concept of al-Wala wal-Bara (loyalty and disavowal), they looked at people as either mukmin (faithful) or kuffar (infidels).
Similarly, XRW is fueled by anti-minority sentiments including antisemitism, Islamophobia, and xenophobia. Hope not Hate, a U.K.-based advocacy group, has reported that XRW groups in Europe are increasingly willing to explicitly champion openly racist policies. This trend has also been reflected in many far-right responses to the Black Lives Matter protests in the United States.
Such violence and language of hate fuels the reciprocal radicalization, the cycle of increasing violence and hate between two competing groups primarily driven by vengeance. In fact, both groups have used language to glorify violence against the "out-group." Jihadi terrorists honor suicide bombers as Shaheed (martyr), while XRW venerates their terrorists as "heroes" or "saints."
While the ideological motivations of terrorism have diversified, the broad underlying narratives remain the same. Hence, P/CVE practices such as religious rehabilitation should be broadened more effectively to address a wider array of ideological motivations. Fortunately, Singapore is not starting from ground zero. Singapore's policies which encourage social mixing and cross-cultural community initiatives to foster racial and religious harmony have served as the first line of defense against extremist narratives.
Moreover, the accumulated experience of religious counselors in RRG could be an asset for religious counselors of other faiths in rehabilitating their flock who have come under extremist influence. Through the RRG, best practices about religious rehabilitation could be shared and adapted to meet the needs of different communities. More specifically, patterns of self-radicalization, common elements in extremist narratives as outlined above, and challenges encountered during counseling sessions could be shared between religious counselors to improve the counseling capacity of all faith groups collectively.
Religious scholars and prospective religious counselors can also leverage existing institutions to strengthen trust and confidence between Singapore's various faith communities. Community networks like the Inter-Racial and Religious Confidence Circles can facilitate such trust building and the exchange of knowledge. Such fellowship could also be used to raise awareness about the presence of extremist ideologies and narratives within and between communities, and more importantly, how to refute them.
While Singapore's counterterrorism and P/CVE policies have evolved in accordance with the Islamist jihadist threat in the region, the recent discovery of an attempted XRW attack signals that far right extremism – until recently deemed to be a solely Western phenomenon – may be taking root closer to home.
As the threat of terrorism diversifies, it is imperative for Singapore to broaden the scope of its counterterrorism and P/CVE practices. Capitalizing on the common narrative structures of jihadi and XRW terrorism, Singapore should consider fortifying its public education efforts with counter-terrorism and P/CVE frameworks that are flexible enough to cope with a range of diverse extremist ideologies.
https://thediplomat.com/2021/03/extreme-right-wing-ideology-arrives-in-singapore/
--------
Europe
Pope Francis thanks Iraqis for historic visit, says they deserve peace
10 March ,2021
Pope Francis thanked the people of Iraq on Wednesday for allowing him to make his historic trip to the country, saying Iraqis deserve to live in peace.
In his weekly audience, the 84-year-old pope reflected on the packed three-day program that saw him travel throughout Iraq last weekend, offering encouragement to persecuted Christians and extending a hand to Shiite Muslims.
"After this visit, my soul is filled with gratitude -- gratitude to God and to all those who made it possible," he said, citing political and religious leaders.
These include top Shiite cleric Grand Ayatollah Ali Sistani, "with whom I had an unforgettable meeting".
He said he heard first-hand of "wounds still open" from the destruction wrought on Iraq's Christian communities, which have been decimated after decades of conflict.
"And at the same time, I saw around me the joy of welcoming Christ's message," he said.
"The Iraqi people have the right to live in peace. They have the right to rediscover the dignity that belongs to them."
He condemned the "monster" of war, adding: "I ask myself, who sells arms to terrorists? Today, who sells them to terrorists?
"They are waging wars in other places as well, in Africa, and it's a question that I want an answer to."
But he noted that Iraqis "are trying hard to rebuild. The Muslims are inviting the Christians to return and together they are restoring churches and mosques. Fraternity is there."
https://english.alarabiya.net/News/world/2021/03/10/Pope-Francis-thanks-Iraq-for-historic-visit-says-they-deserve-peace-
--------
British-Australian academic says Iran tried to recruit her as spy for freedom
10 March ,2021
A British-Australian academic who spent two years imprisoned in Iran has claimed Tehran tried to recruit her as a spy in exchange for her freedom.
In her first media interview since returning to Australia last November, Middle East scholar Kylie Moore-Gilbert said Iranian officials asked her "many times" to work as a spy.
She was arrested in 2018 and sentenced to 10 years in jail for espionage, an allegation she has denied.
"I knew that the reason that they didn't engage in any meaningful negotiations with the Australians was because they wanted to recruit me. They wanted me (to work) for them as a spy," she told Sky News Australia on Tuesday.
Moore-Gilbert also said she was beaten during her detention and suffered "psychological torture" from spending seven months in solitary confinement.
"It is so damaging. I would say I felt physical pain from the psychological trauma I had in that room," she said.
"It is a two-by-two meter box -- there is no toilet, there is no television, there is nothing whatsoever."
She said at times she "felt broken" by the experience of prison and had suicidal thoughts.
"I felt if I have to endure another day of this -- if I could I would just kill myself. But of course I never tried and I never took that step," she said.
Moore-Gilbert also criticized the Australian government's approach to her case, which involved keeping it quiet from the media while negotiating behind the scenes for her release.
"I think had my ordeal been made public, there's no way I would have got 10 years," she said.
"But there was no spotlight, there was no attention... And there was nobody to hold them to account."
Moore-Gilbert added that "much greater attention" was paid to her health and wellbeing once her detention made headlines.
She was arrested by the Islamic Revolutionary Guard Corps after attending an academic conference in the holy city of Qom in central Iran.
She was released reportedly in a swap for three Iranians linked to a botched plot to kill Israeli officials in Bangkok.
https://english.alarabiya.net/News/middle-east/2021/03/10/British-Australian-academic-says-Iran-tried-to-recruit-her-as-spy-for-freedom-
--------
Islamophobia getting mainstreamed in Europe, say webinar speakers
March 10, 2021
ISLAMABAD - Speakers at a webinar here on Tuesday warned that Islamophobia was rapidly getting mainstreamed in Europe and it was time that leaders of Muslim countries urgently and proactively engage with the European leadership to address the problem.
They were speaking at a webinar hosted by Islamabad Policy Institute, an Islamabad based think tank, to discuss the growing number of Islamophobic incidents in Europe.
The speakers worried that the tacit support extended to Islamophobic organisations and individuals by the European governments was helping them advance their agenda and project Islam and Muslims as a threat to the European societies.
Massoud Shadjareh, chairman of the United Kingdom based Islamic Human Rights Commission, said Islamophobia was becoming a "culture" in Europe and such attitudes towards the Muslims were being reinforced by governmental policies, actions of political figures, and the security machinery targeting the followers of Islam.
"Attacks such as pulling the veils off Muslim women, spitting on people and calling Muslims 'terrorists' are becoming common. Recently Islamophobic elements are prevailing in the media," he maintained.
Speaking about the history of Islamohobia in Europe, the human rights campaigner said, though the phenomenon was very old, but events of 9/11 "legalised such sentiments." Policies to counter terrorism, adopted by the European governments, had singled out Muslims and Islam as a threat and acted against them. This provided enabling conditions for Islamophobic sentiments to flourish.
IPI Researcher Mobeen Jafar Mir, who presented his paper on Islamophobia on this occasion, while agreeing with Shadjareh's assessment said that use of provocative phrases by European leaders further helped in spread of the anti-Islam and anti-Muslim sentiments.
"Islamophobia gets intense when popular leaders also use controversial terms. Like German Chancellor Angela Merkel's using the term 'Islamic Extremism' and French President Emmanuel Macron's usage of words like 'Islamic Separatism'," he maintained.
"Similarly, Islamophobia is also whipped up through works of conservative think tanks, like, Policy Exchange and the Centre for Social Cohesion, now merged with the Henry Jackson Society, which normalise the anti-Muslim discourse," Mobeen added.
Islamophobic Groups like Stop Islamisation of Denmark and English Defense League, Mobeen claimed, enjoyed the backing of their respective governments. Their anti-Islamic rhetoric was later translated into national foreign policy discourse, he said.
IPI Executive Director Professor Sajjad Bokhari, speaking on the occasion, said that there was "a clear and present danger" that anti-Muslim sentiments in Europe could inflame further because of poor governance and economic losses suffered by those societies due to mishandling of Covid-19 pandemic. The problem, he said, had "far-reaching political and humanitarian impact."
"Leaders, representatives, academics and religious scholars from the Muslim world must come forward and play a constructive role in stemming the rise tide of Islamophobia," he added.
https://nation.com.pk/10-Mar-2021/islamophobia-getting-mainstreamed-in-europe-say-webinar-speakers
--------
South Asia
31 Taliban Killed in Kandahar, 'Hawz-e-Madad' area fallen to Taliban
09 Mar 2021
The Ministry of Defense says at least 31 Taliban including five of their Leaders were killed in clashes between Afghan national defense and security forces and Taliban militants in Herat province.
MoD in a released statement said Tuesday, that ANDSF backed by Air support has launched a clearance operation in Zawal district of Herat province.
According to MOD, 31 Taliban insurgents were killed alongside five of their leaders and further 16 Taliban fighters were wounded during the operation.
The statement added that massive premises under the Taliban have been cleared and an AK47, a PK machine gun, and two motorbikes belonging to the group were seized.
21 Taliban planted landmines aimed at harming civilians and government security forces were also discovered and defused in the same region.This comes as Local sources in Kandahar province say that the "Hawz-e-Madad" area in the Zherai district of the province has fallen to Taliban fighters.Provincial council members told the media, that following the fall of the "Hawz-e-Madad" area Taliban have destroyed some parts of the Kandahar-Helmand Highway, the group have also destroyed three culverts by blowing them up with explosives.
Younesi also said that the Taliban blocked the highway to the Traffic, transport trucks, and passenger vehicles are using sideroads in the area to reach their destinations.
On the other hand, Jamal Naser Barakzai, a police spokesman for the Kandahar police HQ denied the fall of the area to the Taliban but added that the Taliban group have setup checkpoints on some parts of the Kandahar-Helmand highway in the Haw-e-Madad area.
The recent violence erupts despite peace efforts in Doha, Qatar.
https://www.khaama.com/mod-31-taliban-killed-in-kandahar-hawz-e-madad-fell-to-taliban-5646666/
--------
ANDSF surprised '10 Taliban suicide bombers' in an ambush attack
10 Mar 2021
A statement on Wednesday said that 10 Taliban suicide bombers were ambushed by ANA forces in the Almar district of Faryab province.
The ministry's bulletin added, that the Taliban planned to target Afghan national defense and security forces in Almar district last night with a vehicle loaded with explosives.
In the preventive operation conducted three suicide bombers were hit and seven other Taliban affiliates were reported injured.
Earlier in a separate incident, Afghan national defense and security forces backed by air support targeted Taliban fighters in the capital of Almar, killing 12 Taliban insurgents and wounding four others.
In another warring incident at least 2 ANA soldiers were wounded in an explosion in eastern Nangarhar province on Wednesday morning, security sources reported.
The incident happened at around 9:00 am local time in PD8 of Jalalabad city when a military vehicle struck a roadside bomb.
Security officials have not yet commented on the incident.
So far no group including the Taliban has claimed responsibility for the attack.
This comes as the security situation escalates to extreme violence across the country and the Taliban fighter and the government forces clashes face to face in various parts of the region.
https://www.khaama.com/andsf-surprised-10-taliban-suicide-bombers-in-an-ambush-attack-535777333/
--------
Local Tajiks On Afghan Border Trained To Defend Against 'Taliban Attack'
March 09, 2021
SHURO-OBOD, Tajikistan -- Villagers in southern Tajikistan along the border with war-torn Afghanistan have been told they should be prepared "to take up arms" if militants try to enter the region.
Local authorities in the Tajik district of Shamsiddin Shohin have held meetings with residents -- including army reservists and hunters -- to discuss the situation, Governor Pochokhon Zarifzoda says.
"In coordination with the police and intelligence departments, we've registered all hunters who live in the border areas. They will have to take up arms to defend our country. In fact, all of us will have to take up weapons if the situation dictates," Zarifzoda said in an official meeting on March 6.
Similar warnings are being issued in other Tajik districts near the mountainous border, which is marked by the Panj River.
Authorities, however, have not provided any details about their plans to train the men who they say could be given weapons to help defend the border.
It comes as fighting between the Afghan National Army and the Taliban and other insurgent groups has intensified in areas close to Tajikistan in recent months. Adding to concerns in Dushanbe, Afghan officials have warned that there are many Tajik nationals fighting with the militants.
In very rocky, mountainous terrain of brush and cliffs, much of the 112-kilometer border between Shamsiddin Shohin and northeastern Afghanistan is considered one of the most difficult parts of the frontier for Tajik border troops to control.
As in many Tajik border villages, people in Shamsiddin Shohin are used to hearing the sound of gunfire coming from Afghanistan and even fear being struck by a stray bullet or artillery shell.
Two weeks ago, several bullets and shells fired from Afghanistan landed in the backyards of two residential houses and a school in the nearby village of Ruzvai in the Darvoz district.
Tajik villagers narrowly missed being hit by gunfire from an exchange between Afghan government forces and the Taliban during a night of fighting on February 24 in Afghanistan's Nusai (Darwaz) district.
The following day, Nusai Governor Zainalabedin told RFE/RL there had been at least two Tajik citizens among the militants killed in the clashes. He identified them as Muhammad Yunus and Huzaifa.
It's unlikely the names will provide any clues for Tajik authorities as many Central Asian militants who fight abroad usually get new nicknames, which are often Arabic-style.
Zainalabedin called on Dushanbe to cooperate in the fight against the militants and Tajik nationals who the governor described as affiliates of the Taliban and the Islamic State group.
Afghan officials put the number of Tajik militants fighting in Afghanistan at around 200, but it's not possible to verify that number.
Border Reinforcement
Dushanbe has long been concerned about the concentration of militants -- including insurgents from Central Asia -- in Afghanistan near the 1,360-kilometer border the countries share.
In December, Tajikistan deployed additional troops along the border after reports emerged that a group of Tajik militants had helped the Taliban overrun an Afghan district several days before.
Some 10 minutes of footage on social media purportedly showed Tajik insurgents fighting against Afghan forces in Maymay, which borders Tajikistan.
The video showed several fighters killing men in Afghan National Army uniforms and civilian clothes while setting a building on fire. Some of the insurgents can be heard speaking a distinct Persian dialect that is spoken in Tajikistan.
RFE/RL cannot verify the authenticity of the video, which Afghan politician Latif Pedram said depicted a militant attack on Maymay in November 2020.
Pedram, a native of the area, also published a list of names he described as insurgents from Tajikistan who took part in the Maymay raid.
Within days, security services in Tajikistan identified at least 15 Tajik citizens who appeared on the video or had their names included in the lists and statements shared by Afghan officials in connection with the Maymay fighting.
Afghan officials say the Tajik insurgents who took part in that raid belong to Jamaat Ansarullah, a militant group founded in Afghanistan by Tajik national Amriddin Tabarov in 2010. Tabarov was killed by Afghan forces in July 2015.
https://www.rferl.org/a/tajiks-afghan-border-training--taliban-attack/31142093.html
--------
Feni river bridge to link Tripura to Bangladesh; Hasina calls it 'historic'
Mar 10, 2021
NEW DELHI: India and Bangladesh on Tuesday inaugurated a bridge over the river Feni connecting Tripura to Bangladesh even as a new World Bank study said transport connectivity between the two South Asian neighbours would increase national income by as much as 17% in Bangladesh and 8% in India.
Inaugurating the bridge virtually, PM Modi said, "Agartala will become the closest city in the country to an international sea port." Describing it as historic, Bangladeshi PM Sheikh Hasina said, "Opening of any bridge is testimony to Bangladesh's continued commitment to support our neighbour India in strengthening connectivity in the region... the bridge will also help Bangladesh's trade with Nepal and Bhutan."
A World Bank report also found that improved connectivity could yield a 297% increase in Bangladesh's exports to India and a 172% increase in India's exports to Bangladesh.
https://timesofindia.indiatimes.com/world/south-asia/feni-river-bridge-to-link-tripura-to-bangladesh-hasina-calls-it-historic/articleshow/81421674.cms
--------
OIC SG discusses prospects of cooperation with Bangladesh
09 Mar 2021
Secretary-General of the Organisation of Islamic Cooperation (OIC) Yousef A Al-Othaimeen and state minister for foreign affairs Shahriar Alam had a meeting in Jeddah on Monday, reports news agency UNB.
During the meeting, the two sides reviewed areas and prospects of close cooperation between the OIC and Bangladesh, according to OIC headquarters.
They praised the good level of existing cooperation and consulted on ways to foster coordination on the issue of the Muslim Rohingya in Myanmar, following the visit conducted last week to Bangladesh by a delegation from the OIC General Secretariat to take stock of the situation of Rohingya refugees on the ground.
The Secretary-General renewed the OIC's appreciation for Bangladesh for hosting Rohingya refugees and for the efforts exerted by the Bangladesh government, under the leadership of Sheikh Hasina, to provide those refugees with care and support.
https://en.prothomalo.com/bangladesh/oic-sg-discusses-prospects-of-cooperation-with-bangladesh
--------
Pakistan
End in sight for Imran Khan's 'Naya Pakistan' amid rising inflation in Pakistan
MAR 10, 2021
With political turmoil in Pakistan worsening with every passing day, the end seems to be in sight for Prime Minister Imran Khan's 'Naya Pakistan' courtesy rising inflation in the country.
According to Imad Zafar, a political commentator for various media outlets and think tanks, the Prime Minister is finding it tough to steer the country out of its political and economic crisis.
Khan won a vote of confidence from the National Assembly (NA). Khan needed that vote to confirm his majority in the lower house of parliament after his party suffered an embarrassing defeat in the Senate at the hands of the Pakistan Democratic Alliance, a coalition of opposition parties.
Zafar pointed out that not only did the PDM manage to get ex-prime minister Yousaf Raza Gillani elected to the Senate, defeating the incumbent finance minister Hafeez Shaikh, but it also managed to secure a majority in the upper house.
"Though Khan somehow managed to thwart the crisis for the time being by getting a vote of confidence from the NA, for sure the storm is not over for him. The rising inflation and increasing poverty in the country are only making his Naya Pakistan (New Pakistan) project a nightmare for the masses," Zafar wrote for The Asia Times.
He added, "Such is the state of affairs that even the military establishment is unable to run the country from behind the scenes."
The frustration of the elite, he said, was evident on the day of the vote of confidence, when parliamentarians of the Pakistan Muslim League-Nawaz (PML-N) were attacked by a mob of supporters of the ruling Pakistan Tehreek-e-Insaf (PTI).
"Imran Khan is trying everything possible to stay in power. The question remains, however, how he will survive the onslaught of the opposition at a point when the establishment is about to ditch him and is looking for a new puppet to rule the country on its behalf," the commentator wrote for the Asia Times.
He added, "For Khan the game is almost over, as perhaps a few generals will still support him, but he does not enjoy the unconditional support from the establishment that he had after his relaunch in politics in 2011. So probably he knows this is his first and last time to enjoy power, so he is trying everything to stay in charge."
The question is how long a few generals will be able to save him from the inevitable, as the growing anger in the masses about inflation, unemployment, and economic turmoil is growing with the passage of time, Zafar said further.
He pointed out that this is "perhaps the first time" that the doctrine of the military establishment to rule the country indirectly has backfired, and it has happened in only two and a half years.
"Though the majority of the mainstream media was behind the hybrid regime, still the opposition managed to produce counter-narratives through international media and digital news platforms, and the inability of Khan and his backers to manage the economy and governance doomed the Naya Pakistan project," he said.
Zafar added, "The endgame has started, and the interesting thing is that Khan cannot even get rid of the government until both Sharif and Zardari agree to topple him."
This comes as Pakistan's financial debt continues to mount because the Imran Khan government received USD 6.7 billion in gross foreign loans in the first seven months of the current fiscal year, including a new commercial loan of USD 500 million from China last month.
According to The Expresss Tribune, Ministry of Economic Affairs reported that during the July-January period of fiscal year 2020-21, the government obtained USD 6.7 billion in external loans from multiple financing sources. The gross loans were higher by 6 per cent or USD 380 million over the same period of the last fiscal year.
Pakistan's foreign debt and liabilities have mounted by USD 3 billion or 2.6 per cent during the six months period ended in December last year, the central bank's data reported in February.
https://www.hindustantimes.com/world-news/end-in-sight-for-imran-khan-s-naya-pakistan-amid-rising-inflation-in-pakistan-101615341506313.html
--------
IHC dismisses PTI petition challenging Gilani's Senate victory
Tahir Naseer
March 10, 2021
The Islamabad High Court (IHC) on Wednesday dismissed a petition filed by PTI's Ali Awan challenging the Senate victory of former prime minister Yousuf Raza Gilani.
During today's proceedings, the court also rejected a plea to disqualifying the former premier's son, MPA Ali Haider Gilani
Earlier this week, the Pakistan Democratic Movement (PDM) formally nominated Gilani as its candidate for the office of the Senate chairman.
Gilani caused a major upset by defeating Finance Minister Dr Abdul Hafeez Shaikh in the March 3 Senate poll on a general seat from Islamabad.
IHC Chief Justice Athar Minallah announced the verdict after listening to the arguments. During the hearing, the PTI MNA told the court that the party wished to bring transparency to the electoral process.
However, the IHC CJ remarked that the party had approached the Election Commission of Pakistan (ECP) in this regard, adding that there were "alternative forums" to address their grievances. "The election process is currently ongoing and, under the Election Act, you have other forums [for addressing your grievances]," he said.
"Tell us how the court can ignore these forums and hear this writ petition," the chief justice asked. "You are levelling allegations of selling votes. Some of your own are included in this," he remarked.
"The court has faith in Parliament and has always respected parliamentarians." The chief justice added that it was everyone's responsibility to abide by the law. "Your case is pending in the ECP. Use that forum first," the judge told the PTI MNA.
"You are a good and respectable public representative, why have you brought such a petition," he questioned, adding that "this writ petition is not admissible on this occasion." "It is not appropriate to bring political issues to the court unnecessarily," the judge said.
The development comes a day after the ECP rejected a petition filed by the PTI seeking to stop the issuance of the notification for Gilani's victory.
The ECP asked the PTI to file an amended petition and make the lawmakers, who it alleged had been bribed, a party to it.
The petition filed last week by ruling PTI lawmakers Farrukh Habib, Maleeka Bokhari and Kanwal Shauzab had asked the ECP not to issue the notification regarding the opposition candidate's victory in Senate elections.
The petitions had been filed on the basis of a leaked audio clip of Sindh Minister Nasir Hussain Shah purportedly bargaining with four PTI lawmakers for their votes in Senate elections and a video of Gilani's son, Ali Haider Gilani, in which he was explaining to some PTI MNAs the techniques to waste their votes and purportedly offering money and development funds.
https://www.dawn.com/news/1611736/ihc-dismisses-pti-petition-challenging-gilanis-senate-victory
--------
US blocks delivery of Turkish gunships to Pakistan
Anwar Iqbal
March 10, 2021
WASHINGTON: The United States has prevented Turkey from supplying 30 locally-made attack helicopters to Pakistan, diplomatic sources in Washington told Dawn.
According to Bloomberg News, Turkey's presidential spokesman Ibrahim Kalin told reporters on Monday that "the US has blocked Turkey's helicopter sale to Pakistan, which will likely lead to Islamabad buying it from China."
The ATAK T-129 is a twin-engine, tandem seat, multi-role, all-weather attack helicopter based on the Agusta A129 Mangusta platform and is equipped with American engines.
The US is holding up export clearance for the LHTEC engine.
The blockade could "cause more harm" to US interests, Mr Kalin added.
Turkey and Pakistan signed a $1.5 billion deal for the Turkish-made helicopter gunships in July 2018. But the delivery date was pushed back after the Pentagon refused to issue the Turkish company an export license for the engines.
The Turkish official mentioned the US blockade while briefing journalists on the impact of US sanctions on Turkey, triggered by Ankara's decision to buy S-400 missiles from Russia.
He said Turkey was forced to buy Russian missiles because Washington had refused to supply Patriot air defence missiles systems to Ankara on favorable terms. The sanctions are designed to deter any country from signing military deals with Russia and restrict US loans and credits to a defaulter.
Developed by Turkish Aerospace Industries (TAI) in partnership with a European firm, Agusta-Westland, the ATAK T-129 helicopter is designed for advanced attack and reconnaissance missions in hot and high environments in both day and night conditions.
The United States announced the first blockade in July 2019, days before a meeting between the former US president, Donald Trump, and Prime Minister Imran Khan in Washington.
In January 2020, the head of Turkey's Defence Industries (SSB) said that Ankara and Islamabad had extended the delivery deal by another year to ensure a smooth delivery. The agreement gives Pakistan the option to buy the Chinese Z-10 helicopters should the Turkish deal not materialize.
Reports in the Turkish media said that the Turkish-built T-129 ATAK helicopter was still on the Pakistan Army shopping list.
In August 2020, Turkey hired a Washington law firm to lobby with the US administration and Congress for securing an export license which will help complete its biggest ever defence deal with Pakistan.
The US firm Greenberg Traurig and its subcontractor were paid a monthly retainer of $25,000 to lobby for the deal.
The latest blockade, however, is likely to force the two allies to cancel the deal, persuading Islamabad to look for other options.
US officials in Washington were contacted for comments on the announcement made in Ankara but did not respond.
https://www.dawn.com/news/1611685/us-blocks-delivery-of-turkish-gunships-to-pakistan
--------
Five 'militants' killed in Mastung operation
Saleem Shahid
March 9, 2021
QUETTA: The counter-terrorism department (CTD) during an operation in Mastung district on Monday killed five suspected militants belonging to a banned organisation.
According to a spokesperson, CTD personnel raided a hideout of the militants in the Splinji area of Mastung district, some 40km from here, in the early hours of Monday morning.
He said a large quantity of arms, ammunition and explosives had been seized.
The spokesperson said that during interrogation of some arrested members of the group, the CTD officials received information that some other militants were at the hideout in Mastung district and that they were planning a major terrorist attack in Quetta.
Acting promptly after receiving information about the presence of the milit­a­­n­­ts, the CTD personnel surro­unded the hideout and ord­ered the militants to surrender. But the militants opened fire on the CTD personnel from inside the hideout. An exchange of fire between the CTD personnel and the militants continued for some time before five of the militants were killed and some others managed to escape taking the advantage of darkness.
According to the spokesperson, the slain militants have been identified as Shah Nazar, Arif Marri, Yousuf Marri, Samiullah Pirkani and Jamil Ahmad Pirkani.
"All the five men belonged to the banned Baloch Liber­ation Army (BLA) and they were involved in the killing of several innocent people in Balochistan," he said.
He added that the militants were involved in a number of terrorist attacks, including a grenade attack on labourers on Samungli Road, a bomb attack on Azad Khan Marri in Hazarganji and a grenade attack on security forces in Quetta.
The weapons found in the hideout included three Kalashnikovs with 100 rounds of ammunition, 10kg of explosives, three detonators, two explosive rods, two grenades, a remote control device and 13 batteries.
The spokesperson claimed that the CTD personnel also found information from the hideout about some other members of the group hiding in Quetta. An operation would soon be conducted to arrest them, he added.
https://www.dawn.com/news/1611519/five-militants-killed-in-mastung-operation
--------
COAS, UK CDS discuss Afghan peace process
MARCH 10, 2021
Chief of the Army Staff (COAS) General Qamar Javed Bajwa and Chief of Defence Staff, United Kingdom Army, General Sir Nicholas Patrick Carter discussed Afghan peace process on Tuesday, said the Inter-Services Public Relations (ISPR).
According to the military's media wing, General Sir Nicholas Patrick Carter called on General Qamar Javed Bajwa at General Headquarters (GHQ). The statement said that matters of mutual interests including Afghan peace process, security and defence cooperation as well as evolving global geo-strategic environment were discussed during the meeting.
The visiting dignitary acknowledged Pakistan's continuous efforts for peace and stability in the region and pledged to further enhance bilateral relations between both countries, said the ISPR.
The visit of the UK general comes a day after US Special Representative for Afghanistan Zalmay Khalilzad and Commander Resolute Support Mission in Afghanistan General Austin Scott Miller called on Chief of Army Staff General Qamar Javed Bajwa.
According to the ISPR, the US delegation greatly appreciated Pakistan's role in the Afghan peace process. The military's media wing said that matters of mutual interest, regional security and ongoing Afghan reconciliation process were discussed in the meeting.
Director General Inter-Services Intelligence (ISI) Lt Gen Faiz Hameed, Pakistan Special Envoy on Afghanistan Muhammad Sadiq and PM Special Assistant on National Security Dr Moeed Yusuf were also present in the meeting.
Khalilzad's visit, first under the Biden administration, came against the backdrop of desperate attempts by the US to seek a political end to the war in Afghanistan. Khalilzad flew from Doha where he held talks with the Afghan Taliban.
https://dailytimes.com.pk/732628/coas-uk-cds-discuss-afghan-peace-process/
--------
North America
US citizen held for 3 years in Iran tells of 'psychological torture': I was a 'pawn'
09 March ,2021
Xiyue Wang, a US citizen who had been held in Iran for three years on spying charges, told Al Arabiya in an exclusive interview, Iranian interrogators told him they wanted to use him as a "pawn" and described the "psychological torture" he endured.
"I was thrown into solitary confinement in a very tight cell for 28 days. I was questioned every day for hours. I experienced a lot of psychological torture," Wang said.
Human rights organizations have long accused the Iranian regime of arbitrary arrests, forced confessions and inhumane prison conditions.
"There were etches on the wall of the cell, one of them was written in English saying: 364 days of imprisonment. That's when I broke collapsed immediately," Wang said.
Wang, a Princeton University graduate student, was convicted on espionage charges and sentenced to 10 years in prison in 2017. His family and the university have always said he was in Iran for research into a history degree and denied spying.
"In 2016, I was studying the Persian language in Tehran and researching Iranian archival materials. A few hours before my return to the US, members of the… intelligence called me, claiming to be the police. They asked me to bring my electronics and answer some questions," Wang said.
"In the beginning, there were no charges and it seemed like routine questioning by authorities."
International diplomats, lawyers and relatives of detainees say Iran has a history of arresting Westerners, especially dual nationals, mostly on spying charges.
"The interrogator told me that he wanted to use me as a pawn to finalize a deal with the US for the return of Iranian prisoners [held in the United States] and to retrieve frozen funds in Washington," Wang said.
"You have to confess to being a spy or you'll go back to solitary confinement until you do. If you don't, you will not see your wife and son ever again," he added.
Iran released Wang in 2019 during a rare prisoner swap between Tehran and Washington at a time of heightened tensions under the administration of former US President Donald Trump.
Switzerland facilitated the swap. The country represents US diplomatic interests in Iran, since Washington and Tehran cut diplomatic ties shortly after the 1979 Islamic Revolution.
https://english.alarabiya.net/News/middle-east/2021/03/09/US-citizen-held-for-3-years-in-Iran-tells-of-psychological-torture-I-was-a-pawn-
--------
Republicans, Democrats come together to call on Biden to be hard on Iran
Joseph Haboush
09 March ,2021
Almost 150 members of Congress - Republicans and Democrats - have signed a letter imploring President Joe Biden not to ignore Iran's militias and ballistic missile program in any new deal with Tehran.
The letter addressed to Secretary of State Antony Blinken comes amid increased efforts by the Biden administration to negotiate the failed JCPOA, an acronym for the Iran nuclear deal, with Iran.
It is one of the first efforts to garner bipartisan support as the split between Biden's Democratic party and Republicans continues to grow.
The letter, first reported by ABC News, calls for an all-inclusive deal, unlike the original deal signed under the Obama administration in 2015. Iran's "malign behavior," according to the letter, needed to be included.
Iran has several proxies and militias throughout the Middle East, including Lebanon's Hezbollah, Iraq's Popular Mobilization Unit (PMU) and Yemen's Houthis.
Mike Waltz, a Republican Congressman, said the bipartisan consensus was clear. "Halting the Iranian Regime's nuclear program, ballistic missile program, funding of terrorism, and release of political prisoners all must be included in any future negotiations," he tweeted.
Last month, Republican lawmakers called on Biden not to lift sanctions on Iran - a demand by Tehran before renegotiating with the US.
In December, 150 Democrats signed a letter backing Biden's plans to rejoin the JCPOA.
Congressman Anthony Brown, a Democrat, told ABC News that Iran policy was "not a numbers game. "This letter provides a real opportunity for the administration to see that there's a significant number of members that would support a balanced approach -- a bipartisan, balanced approach," he said.
https://english.alarabiya.net/News/middle-east/2021/03/09/US-foreign-policy-Republicans-Democrats-come-together-to-call-on-Biden-to-be-hard-on-Iran
--------
US sanctions two Iranians on allegations of 'human rights violations'
09 March 2021
The United States has imposed sanctions on two Iranians for what it calls "violations of human rights."
US Secretary of State Antony Blinken announced the sanctions against Ali Hemmatian and Masoud Safdari in a statement released Tuesday.
"We will continue to consider all appropriate tools to impose costs on those responsible for human rights violations and abuses in Iran. We will also work with our allies to promote accountability for such violations and abuses," Blinken claimed. "The United States will continue to support the rights of people in Iran and demand the Iranian government treat its people with respect and dignity."
The US regularly repeats allegations that Iran is violating human rights.
Tehran has time and again argued that Iran's Judiciary is independent and committed to due process in accordance with the applicable laws as well as Iran's obligations under relevant international instruments.
Washington has for long been abusing the human rights mechanisms to interference in Iran's internal affairs.
https://www.presstv.com/Detail/2021/03/09/646944/-US-State-Dept-imposes-sanctions-on-two-Iranians
--------
India
Al-Badr commander Abdul Gani Khawaja's killing a big success, says J&K Police
By Mir Ehsan
MAR 10, 2021
Jammu and Kashmir police have identified the militant killed in the Sopore encounter on Tuesday night as Abdul Gani Khawaja, chief commander of Al-Badr, and termed his killing as a big success. Operation was launched at Tujjer Sharief on Tuesday night after receiving a specific input, leading to the elimination of Albadr chief, said police.
"During the search operation, as the presence of a terrorist was ascertained, he was given an opportunity to surrender, however, he fired indiscriminately upon the joint search party, which was retaliated, leading to an encounter," the police spokesman said, and added that one terrorist was killed in the encounter and his body was retrieved from the site.
"The killed terrorist has been identified as Abdul Gani Khawaja alias Skinder, resident of Khawaja Mohalla Kralgund, chief of proscribed terrorist outfit Al- Badr."
Police said Khawja was involved in several terror cases including attacks on security forces and civilians, besides being the main recruiter.
"Dozens of cases have been registered against him in north Kashmir, which include grenade blast at the bus stand in Sopore, in which 19 civilians sustained injuries on 28-10-2019; rifle-grenade attack at police post Warpora, in which two police personnel got injured on 21-03-2019; attack upon joint naka party of police/ CRPF at Bismillah Colony, Model Town Sopore, in which four CRPF personnel got seriously injured and one among them, while being evacuated to hospital, succumbed to injuries. In the incident, one civilian identified as Bashir Ahmad Khan got also killed by the bullets fired by terrorists on 01-07-2020; attack on CRPF Naka Party at Ahad-Baba Crossing, Noorbagh, Sopore, in which 3 CRPF personnel were killed at 2 got seriously injured on 18-04-2020; killing of one civilian namely Danish Manzoor Najar @ Ishfaq S/O Manzoor Ahmad Najar, R/O Edipora Bomai, Sopore on 06-06-2020 and an attack on police party from Police post Warpora at Warpora Chowk, in which one SPO and one civilian were killed and one SPO got injured on 04-03-2020."
Police spokesman said that he was also involved in providing arms and ammunition to over ground workers of the terrorist organisation for carrying out subversive activities in the area.
"He was operating in the areas of North Kashmir including Langate, Upper/Lower Qaziabad, Handwara, Sopore, Zainageer, Tujjar, Barahampora etc," he said.
He added that incriminating materials, including arms and ammunition were recovered from the site of encounter. "All the recovered materials have been taken into case records for further investigation and to probe his complicity in other terror crimes."
IGP Kashmir, Vijay Kumar termed the killing of Al-Badr chief a big success and said it was achieved without any collateral damage.
https://www.hindustantimes.com/india-news/albadr-commander-abdul-gani-khawaja-s-killing-a-big-success-says-j-k-police-101615341052384.html
--------
Zufar Farooqui elected chairman of UP Sunni Waqf Board for third consecutive term
09th March 2021
LUCKNOW: Zufar Farooqui has been elected to head the UP Sunni Central Waqf Board (UPSCWB) for the third time in a row here on Tuesday. Farooqui defeated his nearest rival Imran Mabood Khan by one vote. Khan was supported by Samajwadi Party.
While Farooqui got six votes, advocate Imran Mabood Khan got five in a close contest. All 11 members of the board voted to elect the chairman.
UP Sunni Central Waqf Board tends to have 11 members of whom three are nominated by the state government and the rest eight are elected.
Last Friday, the board had elected 8 members unopposed followed by the nomination of three members by the state government on Saturday.
Two sitting MPs, 2 sitting MLAs, 2 Bar Council members, two Muttalvis, one social activist, one Islamic Scholar, and an officer of joint secretary level together form the UP Sunni Central Waqf Board.
In the election for the broad members, only Sunni Muslims can contest.
The government-nominated members of the Board are social worker Sabeeha Ahmed, Sunni cleric and principal of Darul Uloom Firangi Mahal Maulana Naeem-ur-Rehman Siddiqui, and UP Department of Health and Family Welfare's joint director Dr Tabassum Khan.
The other members on the Board are its chairman Zufar Ahmad Farooqui, Indo-Islamic Cultural Foundation (IICF) Trust member Adnan Farrukh, Samajwadi Party MP from Moradabad ST Hasan, BSP MP from Amroha Kunwar Danish Ali, SP MLA from Isauli (Sultanpur) Abrar Ahmad, SP MLA from Gopalpur (Azamgarh) Nafees Ahmad, and lawyers Imran Mabood and Abdul Razzaq.
The last time the Board was appointed as per the Waqf Act of 1995 on April 1, 2015, for a five-year term. Amid the pandemic, the state government had extended its term by six months twice.
https://www.newindianexpress.com/nation/2021/mar/09/zufar-farooqui-elected-chairman-of-up-sunni-waqf-board-for-third-consecutive-term-2274437.html
--------
Delhi High Court stays ED summons to Mehbooba Mufti
Mar 10, 2021
NEW DELHI: The Delhi high court on Wednesday gave an interim stay on summons issued by the Enforcement Directorate to former Jammu and Kashmir chief minister Mehbooba Mufti, her counsel said.
The matter came up for hearing before a division bench of Justices Siddharth Mridul and Hairam Bhambhani.
The court asked the ED to not press for her personal appearance and posted the matter for March 19.
The PDP leader had challenged the validity of the summons issued by the ED for appearing before it on March 15 without specifying the case for which she was being investigated. She asked the court to quash the summons, her counsel S Prasanna said.
https://timesofindia.indiatimes.com/india/delhi-high-court-stays-ed-summons-to-mehbooba-mufti/articleshow/81426922.cms
--------
India to buy 30 US armed drones to counter China, Pakistan
Mar 10, 2021
NEW DELHI: India plans to buy 30 armed drones from the US to boost its sea and land defences as tensions persist with neighbours China and Pakistan, according to officials with knowledge of the matter.
India will approve next month the $3 billion purchase of 30 MQ-9B Predator drones manufactured by San Diego-based General Atomics, the officials said, asking not to be identified speaking with the media. The deal would add to India's military capabilities as the drones it has now can only be used for surveillance and reconnaissance.
India is emerging as a strategic defence partner for the US, particularly in countering Chinese influence in the Indian Ocean and some areas of Southeast Asia. Prime Minister Narendra Modi's government is in the midst of a 10-year, $250 billion military modernization.
Spokespeople from India's defence ministry and General Atomics didn't respond to requests for comment. Pentagon officials didn't respond to a request for comment either.
US defence secretary Lloyd Austin is expected to visit India this month, according to local media, while President Joe Biden will soon join counterparts from India, Japan and Australia in the first-ever meeting of the "Quad" bloc. The leaders will meet virtually on March 12, according to an announcement posted on the Indian government's website, which said they would discuss issues including supply chains, maritime security and climate change.
The MQ-9B drone can fly for about 48 hours and carry a payload of about 1,700 kilograms (3,700 pounds). It will give the Indian Navy the ability to better monitor Chinese warships in the southern Indian Ocean, and equip the army to engage targets along the disputed India-Pakistan border in the Himalayas.
Last year, India leased two unarmed MQ-9 Predators as border tensions with China threatened to spin into a full-blown conflict. In the end they weren't deployed after the Air Force expressed apprehension about drones manned by US personnel flying over the border.
https://timesofindia.indiatimes.com/india/india-to-buy-30-us-armed-drones-to-counter-china-pakistan/articleshow/81422330.cms
--------
Russia calls meeting to broker peace in Afghanistan; India won't be at table
Mar 10, 2021
NEW DELHI: After the US, Russia has stepped in and called a peace conference in Moscow on March 18 with the Afghan government and Taliban representatives, and including Pakistan, China and the US.
Afghan President Ashraf Ghani and chairman of the High Council for National Reconciliation (HCNR) Abdullah Abdullah are invited, HCNR spokesperson Faraidoon Khawzon said.
"Politicians from Afghanistan, including President Ghani and Abdullah Abdullah as well as envoys from other states and representatives of the Taliban are expected to take part in the Moscow meeting on March 18 to discuss the Afghan peace process," Khawzon was quoted as saying. However, the Afghan government is yet to decide whether it will attend.
India is not a part of this grouping, although in a previous meeting, India had sent two former diplomats.
The Moscow conference comes after several weeks of hectic outreach by Russia's special envoy Zamir Kabulov, who was in Pakistan in the last week of February to shore up Pakistani support to get Taliban to the table.
The US has put forward two proposals — one, to hold a peace meeting among regional stakeholders Russia, China, Pakistan, Iran, India and the US along with Afghanistan under UN auspices; two, a peace conference between the Afghan government and the Taliban in Turkey.
The US proposal of an interim government has already had the Afghan leadership up in arms. Vice President Amrullah Saleh has ruled out compromise on putting up an interim government without elections. This was one of the proposals by US secretary of state Anthony Blinken to Ghani on Sunday.
India is yet to spell out the details of its own participation at the UN-led conference.
https://timesofindia.indiatimes.com/india/russia-calls-meeting-to-broker-peace-in-afghanistan-india-wont-be-at-table/articleshow/81421405.cms
--------
Terrorist violence in J-K reduced significantly post abrogation of Article 370, says govt
March 9, 2021
The Centre on Tuesday said the terrorist violence in Jammu and Kashmir has reduced significantly after the abrogation of Article 370 in August 2019 and cited a decline in terror incidents in the Union Territory in 2020 in comparison to 2019.
Union Minister of State for Home G Kishan Reddy said in the Lok Sabha that 244 terror incidents were reported in Jammu and Kashmir in 2020 in comparison to 594 in 2019, while 221 terrorists were killed in 2020 in comparison to 157 in 2019.
Till February 2021, 15 terror incidents occurred in the Union Territory in which eight terrorists were killed, he said in a written reply.
The minister said 33 security personnel and six civilians were killed in Jammu and Kashmir in 2020 and 27 security personnel and five civilians were killed in 2019.
"After the abrogation of Article 370, the number of terrorist incidents in Jammu and Kashmir has reduced significantly," he said.
Reddy said the central government has adopted a policy of zero tolerance towards terrorism and has taken various measures, such as strengthening of security apparatus, strict enforcement of law against anti-national elements, intensified cordon and search operations to effectively deal with the challenges posed by the terrorist organisations.
The security forces also keep a close watch on persons who attempt to provide support to terrorists and initiate action against them, he said.
https://indianexpress.com/article/india/terrorist-violence-in-j-k-reduced-significantly-post-abrogation-of-article-370-says-govt-7221277/
--------
State Information Commission blasts Waqf Board for not issuing order on free burials
By Syed Hurairah
9th March 2021
Hyderabad: Many months after Telangana State Waqf Board Chairman Mohammed Saleem took a strong stand against mutawallis (caretakers) and managing committees which charge exorbitant fee for burials, it took the Telangana State Information Commission (TSIC) to call his bluff. It was during a recent hearing that the TSIC realised that neither Saleem, nor the board had issued anything in writing, and only oral statements were made on social media platforms.
The fact that no written orders or guidelines were issued, or even a board resolution was passed came to the knowledge of the TSIC after submissions of a Right to Information Act activist and the Public Information Officer of the board were made.
The activist, identified as Karim Ansari had filed a set of questions in which he requested a copy of the 'government order', if one exists, on free burials, as announced by Saleem. Another question dealt with the nature of the important qabrastan (Muslim cemetery) Daira Mir Momin, named after Mir Momin Astarabadi, one of the architects of Hyderabad.
"From the perusal of the reply furnished by the PIO, it is observed that there are oral instructions by the chairman in social media not to charge additional expenditure and there is no G.O. for allotment of graveyards, whereas as per submission of the appellant [Mr Karim Ansari] there is a G.O. of Telangana Government to allot graveyards free of cost. The PIO could not give proper reply as to whether there is any G.O/guideline issued by the Government, the Commission is of the opinion that there is no proper supervision by the Waqf officials in all the Muslim graveyards in the State and the local people are taking advantage of situation and collecting huge amounts," the order copy stated.
But the Commission does not stop at these damning observations in the order. It adds that there is a 'need to streamline the system' and put a complete halt to exorbitant charges for burials as it is a matter of larger public interest.
The Commission then goes a step further by directing the PIO to pursue the matter with the Chief Executive Officer Shahnawaz Qasim. "In view of the above submission by the PIO, the Commission directs the PIO to pursue the matter with the CEO and furnish to the appellant within 30 days from the date of receipt of this order, the factual position on the renewal of the managing committee and also the G.O. / guideline about charging of fee for allotment of graveyards to the public and submit compliance to this commission," the order stated, adding that Qasim should take personal interest in the issue.
For the past several months, the issue of affordable burials has been raised in several forums many. It is indeed strange that Saleem, who is a former law maker, has only issued oral instructions, even threatening mutawallis with stringent action if they charge families of deceased for grave space. In the absence of any written order, or resolution, enforcement of this plan will remain a pipe dream.
Saleem recently purportedly showcased his performance on the occasion of the completion of four years in office. Free burials clearly are not one of his achievements.
https://www.siasat.com/state-information-commission-blasts-waqf-board-for-not-issuing-order-on-free-burials-2106642/
--------
Arab World
Top Bahraini cleric cautions against death of political inmates, warns about instability
10 March 2021
Bahrain's most prominent Shia cleric Sheikh Isa Qassim has warned about the death of political dissidents in the Manama regime's prisons and demanded their immediate release, stressing that their confinement would lead to instability in the Arab country.
Sheikh Qassim was quoted by the Arabic-language Bahrain Mirror news website as making the remarks in a series of tweets on Tuesday, saying the Bahraini regime should prevent from the death of political prisoners and not allow cemeteries to be filled with their dead bodies since the country would no longer have stability.
فلتحذر حكومة البحرين أن يخرج السجناء نعوشاً على الأكتاف وجثثا تمتلئ لها القبور، فلا يبقى للوطن استقرار.
— آية الله الشيخ عيسى قاسم (@ayatollahqassim) March 9, 2021
"The release of political prisoners and all prisoners of political movement is necessary for justice and will be a serious introduction to reform if it happens," Sheikh Qassim said in another tweet.
Bahrain's most prominent Shia cleric said no serious solution or successful reconciliation would be accepted without the release of prisoners and that the success of the solution is linked to the release of all prisoners of conscience as well as top leaders and figures of the popular political movement, which was launched in Bahrain in 2011 to protest the suffering of the people under the Al Khalifah regime and to call for radical reforms in the government.
"The alternative punishment system is not a solution and it is similar to the open prisons system," he added. "The solution lies in giving freedom to all prisoners of conscience. Do it quickly for the sake of the whole nation."
The popular uprising in Bahrain began in mid-February 2011, as recurring demonstrations throughout the years demanded that the ruling Al Khalifah family relinquish power.
However, the regime has brutally suppressed dissent, and has arrested, injured and killed thousands of people in the Persian Gulf country. Saudi Arabia and the United Arab Emirates have also helped the Manama regime in its ruthless crackdown.
The February 14 Youth Coalition, a movement named after the date of the beginning of the Bahraini uprising, called last month for the formation of a coalition consisting of all political groups as well as the people of the Arab country to overthrow the country's political system.
In a statement, the movement called for unity to bring about "fundamental changes" in the country's political system, describing such reforms as the most important and legitimate demand of the Bahraini people.
https://www.presstv.com/Detail/2021/03/10/646954/Bahrain-Sheikh-Isa-Qassim-political-prisoners-stability
--------
Millions of young Syrians paid heavy toll during 'decade of savage loss': ICRC
Jennifer Bell
10 March ,2021
As the crisis in Syria moves into its second decade, a survey commissioned by the International Committee of the Red Cross highlights the heavy price paid by young Syrians.
The humanitarian charity surveyed 1,400 Syrians between the ages of 18-25 based in Syria, Lebanon and Germany.
Across the three countries, young people spoke of families and friendships torn apart, immense economic hardship and worry, frustrated ambitions, missed milestones and the profound psychological toll of years of relentless violence and disruption.
A decade of loss
"This has been a decade of savage loss for all Syrians. For young people in particular, the last ten years have been marked by loss of loved ones, loss of opportunities and loss of control over their future," said Robert Mardini, the ICRC's Geneva-based director-general.
"The survey is a somber snapshot of a generation who lost their adolescence and young adulthood to the conflict," he added.
In a country where more than half the population are under the age of 25, the survey is a glimpse of what millions have endured over the last ten years.
It found that in Syria, almost one in two young people (47 percent) said a close relative or friend had been killed in the conflict. One in six young Syrians said at least one of their parents was killed or seriously injured (16 percent). A further 12 percent had themselves been injured in the conflict.
It also found 54 percent had lost contact with a close relative. In Lebanon this rises to almost seven in ten.
In total, 62 percent reported having to leave their homes, either within Syria or abroad, while nearly half had lost their income because of the conflict (49 percent), and nearly eight in ten (77 percent) reported struggling to find or afford food and necessities. In Syria, this rose to 85 percent.
The survey found 57 percent reported missing years of education, if they went at all, while one in five reported postponing marriage plans because of the conflict.
Rami Asfar, 29, left his hometown Hama to move to Aleppo during the conflict. He said the decision to leave was one he will never forget.
"This war changed my life completely. I'm changed where I live, my ambitions, all my plans. I even changed my university major. I've been forced to find better conditions in these bad ones."
Ahmad, originally from Homs and living in Lebanon, says his situation is worsening by day.
"I had more money when I was 10 years old than now when I am 24. I have nothing of my personal belongings I used to have at home. I used to have my own wardrobe, desk and computer."
Iman Shebli, 26, lived in Lebanon with her family for several years before moving to Barcelona to study.
"I started from zero. People around me told me it is difficult to find a job because of economic problems and the coronavirus situation," she said.
In the survey, economic opportunities and jobs top young Syrians' list of what they need most, followed by healthcare, education and psychological support. Women have been particularly hard-hit economically, with almost 30 percent in Syria reporting no income at all to support their family.
Young Syrians in Lebanon report humanitarian assistance among their top needs.
Mental health impact
The conflict's impact on mental health is also clear. In the past 12 months, young people in Syria have experienced sleep disorders (54 percent), anxiety (73 percent), depression (58 percent), solitude (46 percent), frustration (62 percent) and distress (69 percent) because of the conflict.
In all three countries, young Syrians said access to psychological support was one of the things they needed most.
Fabrizio Carboni, the ICRC's Geneva-based regional director for the Near and Middle East, said: "These young people are now facing their second decade of this agonizing crisis."
"What is so poignant about their situation is that, having lost much of their childhood and teenage years to the violence, this generation will likely shoulder much of the responsibility and work of reconstruction. Their children's lives will be marked by this conflict, too."
The conflict in Syria has been breathtakingly brutal for civilians, characterized by destruction of cities and towns on a vast scale, massive internal displacement and a refugee crisis that has reverberated across the world. In the past year, millions of people have been pushed deeper into poverty by the worst economic crisis since the conflict began, compounded by the impact of sanctions and the global COVID-19 pandemic. Some 13.4 million people (out of roughly 18 million) need humanitarian assistance.
Despite everything, most young Syrians surveyed said they are optimistic about the future.
Their hopes and ambitions for the next decade are universally recognizable: safety and stability, a chance to have a family and a well-paid job, affordable and accessible healthcare and services, and an end to the upheaval and conflict.
https://english.alarabiya.net/News/middle-east/2021/03/10/Millions-of-young-Syrians-paid-heavy-toll-during-decade-of-savage-loss-ICRC
--------
Deteriorating Lebanon concerns US officials after army warns of 'social explosion'
08 March ,2021
Joseph Haboush
US officials are growing increasingly concerned over the deteriorating situation in Lebanon, with fears over a security incident rising and the country's army chief warning of a social "explosion."
Lebanon has been without a fully functioning government since last August and the country's politicians remain at loggerheads over the formation of a new cabinet.
The US State Department previously told Al Arabiya English that it was "closely" monitoring the situation in Lebanon while also calling for a credible government to be formed quickly.
However, as the situation continues to deteriorate and no solution appears imminent, skepticism is growing across the diplomatic arena.
"No one should expect the people [Lebanese officials] in charge of saving the situation to act any differently than they have for decades," a Western diplomatic source, speaking on condition of anonymity, told Al Arabiya English.
The political elite has been in power for years. Those who have stepped out of the political scene or died have been succeeded by their sons or other family members.
Despite this, the security situation has been calm for the most part with nationwide protests ongoing for the last week since the Lebanese pound dipped to record lows.
But comments made by the Lebanese Army chief on Monday were concerning.
"Soldiers are suffering and they're hungry. To the country's officials I ask, where are you going and what are you planning to do?" General Joseph Aoun said, during a speech at the army's headquarters.
Gen. Aoun further criticized the country's ruling elite as not caring about the army or "the suffering of members of the military."
He also lashed out at continuous budget cuts for the army in the annual state budget. As the currency has lost almost 80 percent of its value compared to 2019, many soldiers are now earning what is equivalent to around $80 per month.
Ranking commanders and officers have seen their salaries become worth less than $500 per month. "I want to ask them [politicians], do you want an army or not? Do you want the army to remain on its feet or not?" Gen. Aoun asked.
Security sources told Al Arabiya English that there was a significant increase in the number of soldiers requesting to be furloughed in the next few months, while more senior commanders were demanding early retirement.
And as the morale of the army - seen as one of the key pillars of Lebanon's stability over the years and a key US ally in the fight against terrorism - declines, the less likely they are to listen to the orders of the country's rulers.
Aoun, the army chief, made this clear on Monday when he said "political smear campaigns" would not succeed and that he would not permit any interference in the army's affairs.
Aram Nerguizian, a senior advisor at the Carnegie Middle East Center, warned that Lebanon "appears to have entered the unknown in terms of civil-military relations," following the army general's speech.
The Pentagon did not respond to Al Arabiya English's request for comment.
https://english.alarabiya.net/News/middle-east/2021/03/09/Lebanon-crisis-US-officials-concerned-over-security-situation-in-Lebanon-after-army-chief-warning
--------
Saudi Arabia's FM Prince Faisal, Russian FM meet in Riyadh
10 March ,2021
Saudi Arabia's foreign minister on Wednesday said the Kingdom would take deterrent action to protect its oil facilities, following attacks by Yemen's Iran-backed Houthis on energy sites.
Prince Faisal bin Farhan also said in a news conference with Russian Foreign Minister Sergei Lavrov in Riyadh, that the Kingdom would continue to cooperate with Russia in the OPEC+ framework.
https://english.alarabiya.net/News/gulf/2021/03/10/Saudi-Arabia-s-FM-Prince-Faisal-Russian-FM-meet-in-Riyadh-
--------
Saudi envoy to US blasts Yemen's Houthis: 'They believe they can act with impunity'
Joseph Haboush
10 March ,2021
Saudi Arabia's ambassador to the United States on Wednesday lashed out at the Iran-backed Houthis for their "egregious terrorist attacks" against the Kingdom, warning the international community that the Yemeni militia group believes it can act with impunity.
"We are exercising extreme restraint in the face of a daily barrage of weaponized drones and ballistic missiles," Princess Reema Bandar said in a statement posted to the Saudi Embassy in Washington's website.
Princess Reema's comments come as the Houthis have escalated their attacks on Saudi Arabia in recent weeks, specifically following the Biden administration's decision to remove the group from its terror list.
Critics of US President Joe Biden's decision have said that the Houthis feel emboldened, which has led to an uptick of its offensive on Marib, one of the last government strongholds in the north.
Saudi Arabia has repeatedly voiced its willingness to end the war in Yemen through a political solution.
Washington has also lauded Riyadh's productive stance in expressing an interest in ending the years long war.
Nevertheless, the Houthis continue their daily targeting of Saudi Arabia using bomb-laden drones and ballistic missiles.
"The Kingdom is committed to ending the war in Yemen through a political resolution, but on the other side of this conflict is a group driven by the extremist ideology of the Iranian regime," the Saudi ambassador said.
She added: "The Houthis continue to show callous disregard for the suffering of our Yemeni brothers and sisters. Quite simply, by their actions, they show they are not interested in the type of serious dialogue it will take to end the nightmare in Yemen."
Princess Reema reiterated Saudi Arabia's commitment to working with Biden's recently appointed special envoy for Yemen and the UN's special envoy, Martin Griffiths.
US Special Envoy Timothy Lenderking is in the region for the second time since being appointed, shortly after Biden took office. He has met with Houthi officials directly, and through various diplomatic channels, sources familiar with his meetings have said.
But the recent Houthi attacks on Saudi Aramco facilities are becoming a direct threat to the stability of global energy supplies, Princess Reema said. The attacks are also "affecting the entire global economy and endangering the lives of Saudi workers in Aramco and thousands more from 80 different nationalities, including Americans," she noted.
As for Iran and its support for the Houthis, the Saudi ambassador called on the international community to help end the smuggling of Iranian weapons into Yemen.
https://english.alarabiya.net/News/gulf/2021/03/10/Saudi-envoy-to-US-blasts-Yemen-s-Houthis-They-believe-they-can-act-with-impunity-
--------
Saudi Arabia's Cabinet says Houthi attacks on Kingdom target global economy
10 March ,2021
Saudi Arabia's Cabinet said on Tuesday the recent attacks by Yemen's Houthis on the Kingdom's oil facilities targeted the world economy, state news agency SPA reported.
"The Cabinet considered the two terrorist attempts to target Ras Tanura port and the residential area in the city of Dhahran as flagrant violation of all international laws and norms, and to the extent that such treacherous and cowardly attempts target the Kingdom, they actually target in a greater degree the world economy," the statement read.
The Saudi authorities said on Sunday Iran-backed Houthis fired an explosive-laden drone at the Ras Tanura Port, site of a refinery and the world's biggest offshore oil loading facility.
And shrapnel from a ballistic missile launched towards the Kingdom fell near a residential area in the city of Dhahran, used by the world's biggest oil company, Saudi Aramco.
A Ministry of Energy spokesperson said both attacks did not result in any injury or loss of life or property.
The attacks drove Brent crude prices above $70 a barrel to their highest since January 2020, while US crude futures touched their loftiest since October 2018.
The Saudi Cabinet "followed the measures taken by the Kingdom to protect its national capabilities and gains in a way that preserves the security of world energy, stop terrorist attacks to guarantee the stability of energy supplies, oil exports security and guarantee free maritime navigation and international trade," SPA reported.
The Houthi attacks are the latest in a series of escalated cross-border aerial assaults on the Kingdom by the Iran-backed militia in Yemen.
In 2019, Saudi Arabia, the world's top oil exporter, was shaken by a big missile and drone attack on oil installations just a few km (miles) from the facilities hit on Sunday, which Riyadh blamed on Iran, a charge Tehran denies.
That attack, which was claimed by the Houthis but which Riyadh said did not originate from Yemen, forced Saudi Arabia to temporarily shut more than half of its crude output, causing a huge price spike.
https://english.alarabiya.net/News/gulf/2021/03/10/Saudi-Arabia-s-Cabinet-says-Houthi-attacks-on-Kingdom-target-global-economy
--------
Crown Prince, Malaysian PM witness signing of 3 agreements
March 09, 2021
RIYADH — Crown Prince Muhammad Bin Salman, deputy prime minister and minister of defense, met with the visiting Prime Minister of Malaysia Muhyiddin Yassin here Tuesday.
During the meeting, the Crown Prince and the prime minister reviewed bilateral relations, aspects of cooperation and opportunities for strengthening them in various fields, in addition to discussing developments in the region.
Following the meeting, the Crown Prince and the Malaysian prime minister witnessed a signing ceremony of three agreements between the two countries.
Minister of Foreign Affairs Prince Faisal Bin Farhan Bin Abdullah and Malaysian Minister of Foreign Affairs Hishammuddin Hussein each signed for their respective country. The meeting was attended by a number of officials.
Earlier, during his stay in Madinah, Yassin visited the headquarters of the International Exhibition and Museum of the Prophet's Biography and Islamic Civilization in this holy city.
The Malaysian prime minister expressed his thanks to and appreciation of the Custodian of the Two Holy Mosques King Salman and Crown Prince for the efforts made by the leadership of the Kingdom of Saudi Arabia in serving the two holy mosques, and the Prophet's biography and Islamic civilization.
Al Bakri lauds deep relations between
Kuala Lumpur, Riyadh, in all fields
In Kuala Lumpur, the Malaysian Minister of Islamic Affairs Dr. Dhul-Kifl Mohammad Al Bakri lauded Tuesday the deep-rooted relations binding Malaysia and Saudi Arabia, pointing to its historical profoundness through decades, at all levels, including religious, economic and commercial ties.
In a press statement to the Malaysian news agency, Al Bakri said that the visit of the Malaysian Prime Minister to the Kingdom reasserts the significance of bilateral relations between Kuala Lumpur and Riyadh, indicating that these relations have recently experienced an intensive activity in visits' exchange, at the top level, in the two countries.
He also explained that the relations between Malaysia and Saudi Arabia are based on mutual cooperation, expressing appreciation of the efforts exerted by the Saudi government to best serve Islam and Muslims, all over the world. — SPA
https://saudigazette.com.sa/article/604266
--------
Mideast
Israel, Cyprus reach an understanding for settling offshore gas dispute
09 March ,2021
Israel and Cyprus have reached an understanding over gas reserves straddling their maritime border, the Cypriot energy minister said on Tuesday, in a key step towards resolving a nine-year impasse over offshore spoils.
Development of the Aphrodite gas field in Cypriot waters has been held up because a small part of it stretches into Israel's maritime zone and another gasfield there. The Cypriot field was first discovered in 2011.
Cypriot energy minister Natasa Pilides said she and her Israeli counterpart Yuval Steinitz had agreed upon a framework to resolve the issue, and guidelines would be passed on to the companies involved in the project.
"The framework will be set out in a joint letter which is being prepared. We are both very satisfied we are now at this point after nine years of discussion," Pilides told reporters as Steinitz, who was in Cyprus to sign a memorandum of understanding on another project, prepared to depart the island.
Steinitz said there was a 'fair chance' of an eventual resolution. "Nothing is certain, but there is a good chance that this might lead us to a solution of this little but significant obstacle in the wonderful relations and cooperation between Cyprus and Israel on energy and on many other issues," he said in comments carried by the semi-official Cyprus News Agency.
Cyprus had in 2019 signed a 25-year concession with Noble Energy, Shell and Delek Drilling for exploitation of the Aphrodite field.
Israel had maintained an agreement was required before work started because part of Aphrodite overlapped on to the Israeli side.
Companies on the Cypriot side would enter talks with those on the Israeli side to resolve how the Israeli companies would be compensated, Steinitz's office said in a statement. If the companies did not reach agreement within 180 days it would be referred to an international expert who would try to resolve it for another 180 days.
Should there be no agreement by then, the issue would return to a state level, the statement said.
The Aphrodite field holds an estimated 4.1 trillion cubic feet of gas. At stake was about 10 percent of the deposit, which is a fraction of the gas already discovered in Israel.
Cyprus, Israel and Greece on Monday signed an accord to create a subsea power cable which will cross the Mediterranean and link their electricity grids.
https://english.alarabiya.net/News/middle-east/2021/03/09/Israel-Cyprus-reach-an-understanding-for-settling-offshore-gas-dispute
--------
Palestine PM urges new US administration to adopt measures against Israeli settlements
10 March 2021
Palestinian Prime Minister Mohammad Shtayyeh has called on the administration of new US President Joe Biden to make good on its opposition to Israel's settlement expansion across the occupied West Bank and take concrete measures to tackle the expansionism.
Speaking at the opening of the weekly cabinet meeting in Ramallah on Tuesday, Shtayyeh said the uptick in Israeli settlement construction activities amid the global coronavirus pandemic undermines international efforts to keep alive the prospect for the establishment of an independent State of Palestine.
He also condemned Israeli authorities' decision to evict Palestinian families from their homes in the Sheikh Jarrah neighborhood of occupied East Jerusalem al-Quds, calling on international human rights organizations to urgently intervene to stop the eviction.
The senior Palestinian official then urged world states to condemn the Tel Aviv regime's land expropriation plans, and compel Israel to stop them immediately.
Last October, the Israeli magistrate court of Jerusalem al-Quds ruled to evict 12 of the 24 Palestinian families in Sheikh Jarrah and to give their homes to Israeli settlers.
The court also ruled that each family must pay 70,000 shekels ($20,000) in fees to cover the settlers' legal expenses.
The families were given 30 days to file an appeal, but most expressed little hope for a ruling in their favor, saying the Israeli judiciary is no more than an instrument of the Israeli occupation policy of forcibly displacing and erasing the Palestinian presence in al-Quds.
More than 600,000 Israelis live in over 230 settlements built since the 1967 Israeli occupation of the Palestinian territories of the West Bank and East Jerusalem al-Quds. All Israeli settlements are illegal under international law.
According to human rights groups, acts of violence by Israeli settlers against Palestinians and their property are a daily occurrence throughout the occupied West Bank.
Elsewhere in his remarks, Shtayyeh praised the International Criminal Court's (ICC) decision to open a war crimes investigation in the occupied Palestinian territories, stating that ICC chief prosecutor Fatou Bensouda courageously took the step despite constant challenges.
He noted that the Palestinian Authority will spare no efforts in its cooperation with the ICC, and will provide The Hague-based organization with all necessary documents and data to bring the perpetrators of crimes to account.
Bensouda said in a statement on March 3 that her inquiry will be conducted "independently, impartially and objectively, without fear or favor."
The Palestinian Authority welcomed the prosecutor's announcement.
It is "a long-awaited step that serves Palestine's tireless pursuit of justice and accountability, which are indispensable pillars of the peace the Palestinian people seek and deserve," the PA foreign ministry said in a statement.
Hamas resistance movement also praised the ICC's move.
"We welcome the ICC decision to investigate Israeli occupation war crimes against our people. It is a step forward on the path of achieving justice for the victims of our people," Hazem Qassem, a Hamas spokesman, told Reuters news agency.
"Our resistance is legitimate and it comes to defend our people. All international laws approve legitimate resistance," Qassem noted.
Last month, the ICC confirmed that the territories occupied by Israel in the 1967 Arab–Israeli War were subject to its jurisdiction.
Israel occupied East Jerusalem al-Quds, the West Bank, and the Gaza Strip — territories the Palestinians want for their future state — during the six-day war in 1967. It later had to withdraw from Gaza.
Palestine was accepted as an ICC member in 2015, three years after signing the court's founding Rome Statute, based on its "observer state" status at the United Nations.
https://www.presstv.com/Detail/2021/03/10/646975/Palestine-PM-urges-new-US-administration-to-adopt-measures-against-Israeli-settlements
--------
Yemeni ballistic missiles haunt Saudi Arabia, senior Ansarullah official says
10 March 2021
A member of the politburo of Yemen's Houthi Ansarullah movement says homegrown ballistic missiles that the armed forces use in their defense campaign against Saudi Arabia's military aggression have turned into a nightmare for the kingdom.
Speaking in an interview with Lebanon-based al-Mayadeen television news network on Tuesday, Ali al-Qahoum said the military capabilities of Yemeni armed forces and their allies were susbtantially growing.
"After six years of aggression against Yemen, the House of Saud has failed to achieve any of its objectives in the face of the Yemeni nation's steadfastness and resilience," Qahoum said.
He said Yemeni army troops and allied Popular Committees fighters have proven that "they have a wide array of options on the battle ground and can reach strategic facilities," adding, "Yemeni ballistic missiles have become a nightmare for the enemies."
Qahoum then addressed Saudi authorities, saying, "You will never be able to break down the resistance of Yemeni people, and they possess a great deal of options and surprises."
"If Saudi Arabia presses ahead with its aggression and tyranny, our blood won't be cheap and the kingdom must accept the justice of an eye for an eye and a tooth for a tooth," the senior Ansarullah official said.
Death of senior Saudi military cmdr. cloaked in mystery
Separately, the recent death of a high-ranking Saudi military commander has been shrouded in mystery.
While some sources claim that Major General Ali Zafer al-Shahri, commander of King Abdullah Air Base in Saudi Arabia's southern port city of Jeddah, died after falling down the side of a mountain, others say he succumbed to injuries sustained during a recent missile and drone strike by Yemeni forces on targets deep inside Saudi territory.
An unnamed close member of Shahri's family later denied reports he had lost his life while climbing, saying the Saudi commander had died in a Jeddah hospital.
UAE setting up airbase on Yemeni island of Perim
Meanwhile, the United Arab Emirates (UAE) is reportedly establishing a military base on the strategic Perim volcanic island, also called Mayyun in Arabic, which lies off the southwestern coast of Yemen and in the Strait of Mandeb.
The Qatar-based Al Jazeera television news network reported that UAE's construction activities on the Perim island comes at the same time that the Persian Gulf state is dismantling its Assab military base in the Horn of Africa nation of Eritrea.
The UAE withdrew all structures and military equipment from the Assab base, situated, only some 70 kilometers (40 miles) from Yemen, to the Yemeni island between December 28 last year and March 2, according to the report.
The report added that the UAE has built an airstrip as long as 1,800 meters on Perim island, and transferred all its combat and surveillance drones from Assab base to the new site.
Backed by the US and a number of other Western states, Saudi Arabia and a number of its regional allies launched the war on Yemen in March 2015, with the goal of bringing the government of former president, Abd Rabbuh Mansur Hadi, back to power and crushing the popular Ansarullah movement.
The Yemeni armed forces and allied popular groups have, however, gone from strength to strength against the Saudi-led invaders, and left Riyadh and its allies bogged down in the country.
https://www.presstv.com/Detail/2021/03/10/646963/Yemeni-ballistic-missiles-haunt-Saudi-Arabia,-senior-Ansarullah-official-says
--------
Invaders partially withdraw from Ma'rib amid Yemeni army advances: Report
09 March 2021
Saudi Arabia and the United Arab Emirates have reportedly implemented a partial withdrawal from Ma'rib amid decisive advances by the Arab country's armed forces in the west-central province.
Riyadh has pulled out its forces from Ma'rib, while Abu Dhabi has taken out its United States-made Patriot missile systems, Sultan al-Arada, Ma'rib's governor loyal to Yemen's former Saudi-backed administration, told Yemeni media on Tuesday.
Yemen's army is in the middle of liberation operations in the provincial capital of the same name, he added, but said the Saudi-backed militants loyal to the ex-government would try to stand in their way.
The coalition began invading Yemen in March 2015 to restore power to the former government, who used to rely excessively on Riyadh's support. The officials had fled the impoverished country earlier amid a power struggle, refusing a call by the Houthi Ansarullah movement to stay behind and negotiate a solution.
The war has killed tens of thousands of Yemenis and rendered the country into the scene of the world's worst humanitarian crisis. Yemen's armed forces that comprise its Army and Popular Committees have, however, never laid down their arms in the face of the invaders and their allied militants.
Over the past three weeks, the Yemeni army, backed popular forces, have been engaged in a new phase of operations aimed at ridding Ma'rib of the presence of the aggressors and their mercenaries.
The push has been received positively by the province's tribes, which have begun to lend them a hand. The tribal leaders recently held a meeting in the capital, Sana'a, insisting on the need for the expulsion of the "terrorists that have been brought to Ma'rib from outside to further the goals of their masters."
Latest reports suggest that the Yemeni forces have been closing in on the city and are now only kilometers away from the oil-rich province's capital.
Also on Tuesday, Lebanon's al-Akhbar daily published a report, detailing the latest stage of the army's advances.
According to the report, Yemeni soldiers have been taking control of strategic spots, including villages and military positions, across the western and north-western fronts around the provincial capital over the past 24 hours.
The paper said the victories indicated the military strength of the army and the Popular Committees. The military prowess, it said, had enabled the forces to overcome the areas' rough and desert terrains at the same time as they were under the constant fire of Saudi and Emirati warplanes.
Yemen's defenders, it added, have engaged in fierce clashes with forces tied to the former government in Ma'rib's Sirwah District, overcoming the enemy.
This is while the Saudi-led coalition and its mercenaries are being backed by extremist militias and Takfiri Daesh elements that receive Riyadh's support in return, al-Akhbar added.
Amid the advances, the coalition's warplanes carried out as many as 16 airstrikes against Sirwah, targeting the ammunition dumps there.
The Yemeni armed forces are also nearing the Sahn al-Jin military camp in Ma'rib that hosts the former government's defense ministry, said the daily.
https://www.presstv.com/Detail/2021/03/09/646933/Yemen-Saudi-Arabia-United-Arab-Emirates-partial-withdrawal-Ma-rib-defense-forces-advances
--------
Turkey gives life sentences to 5 over 2016 killing of Russian ambassador
09 March 2021
A Turkish court has handed down life sentences to five individuals in the 2016 assassination of the then-Russian Ambassador Andrei Karlov in Ankara, local media reports say.
Turkey's NTV broadcaster, citing judicial sources, said on Tuesday that seven others were also convicted of membership in an armed terrorist group, an apparent reference to a movement formed by the US-based opposition cleric Fethullah Gulen.
Former intelligence agent Vehbi Kursad Akalin was given an aggravated life sentence for leaking information on Karlov to the movement.
The suspects were accused of links to the gunman, who was killed by Turkish forces shortly after he murdered Karlov at a photo exhibition in the Turkish capital in December 2016.
After carrying out the murder, the assailant went on a rant caught on camera, which saw him bawling "Don't forget Aleppo, don't forget Syria!"
Turkey then blamed the movement led by Gulen, an arch-foe of President Recep Tayyip Erdogan, for the murder. The movement denies the claim.
The assassination, condemned by the Turkish and Russian leaders as an attempt to disrupt Ankara-Moscow ties, came amid cooperation between the two countries over the Syrian conflict.
President Erdogan at the time called Karlov's murder a "provocation especially aimed at disrupting the normalization process of Turkey-Russia relations."
Tensions over Syria dominated Ankara's relations prior to the assassination of the ambassador — especially when Turkey shot down a Russian warplane near the Turkish-Syrian border in November 2015. But Erdogan apologized for the incident in 2016, and relations had begun to improve between Moscow and Ankara since then.
Ankara also accuses Gulen of orchestrating a failed coup to topple Erdogan in 2016 and refers to the cleric's movement as the Fetullah Terrorist Organization (FETO).
The coup attempt was suppressed within a couple of days.
Gulen has denounced the "despicable putsch" and said he had no role in it.
Turkish officials have frequently called on the US to extradite Gulen, but their demands have been ignored.
https://www.presstv.com/Detail/2021/03/09/646935/Russia-Turkey-Andrei-Karlov-killing
--------
Africa
France to speed up access for researchers to controversial Algeria war files
09 March ,2021
France said on Tuesday that researchers will get easier access to classified government files more than 50 years old, especially those pertaining to the Algerian war, still a highly controversial chapter of French history.
President Emmanuel Macron has ordered the archives services to speed up access to documents that qualify for declassification up to 1970, his office said in a statement, "notably documents relating to the Algerian war."
French heritage laws say official documents must be released to researchers and the public after 50 years.
But an inter-ministerial order from 2011 says that the process is not automatic. Instead, each document must be formally declassified before it becomes accessible, a slow process that has effectively kept much information under wraps.
The decision to speed things up comes after Macron's admission last week that French forces "tortured and murdered" Algerian freedom fighter Ali Boumendjel in 1957 during his country's war for independence.
In July last year, Macron had tasked French historian Benjamin Stora with assessing how France has dealt with its colonial legacy.
In January, however, Macron stoked outrage when he refused to issue an official apology for abuses committed during the occupation of Algeria.
Stora's report made a series of recommendations, including creating a "memory and truth commission" that would hear testimony from people who suffered during the war.
Macron's office said the president was aware of complaints from historians about difficulty getting access to files which, even after being technically declassified, are meticulously checked page by page for sensitive military secrets before being handed over.
Le Parisien newspaper said the process was "not only long, but also arbitrary," and said documents would now be made available in batches rather than page by page.
Macron's office said it was working on a new draft law, to be ready next year, making archive access easier while protecting the nation's official secrets.
Algeria's government has welcomed Macron's moves towards greater transparency, but still wants the full truth about more than 2,200 people it says disappeared during the 1954-1962 war.
It also wants light to be shed on French nuclear testing in the Sahara desert in the 1960s, but files about the tests fall under the French state's nuclear policy and therefore classified top secret.
https://english.alarabiya.net/News/north-africa/2021/03/09/France-to-speed-up-access-for-researchers-to-controversial-Algeria-war-files-
--------
At least 39 migrants die, 165 others rescued as two boats sink off Tunisia
09 March ,2021
At least 39 migrants died when two boats sank off Tunisia on Tuesday as they tried to cross the Mediterranean to the Italian island of Lampedusa, the Tunisian defense ministry said.
The coastguard rescued 165 others, and searches for more survivors are still ongoing off the coast of Sfax, ministry spokesman Mohamed Zekri said.
All the dead migrants were from sub-Saharan Africa, he added.
In 2019, about 90 African migrants drowned when their boat capsized off the Tunisian coast after setting off for Europe from neighboring Libya, in one of the worst such disasters that Tunisian authorities have had to deal with.
The number of Tunisian migrants landing on Italian shores soared five fold to 13,000 in 2020, a human rights group said, attributing the rise to economic hardship in Tunisia.
https://english.alarabiya.net/News/north-africa/2021/03/09/At-least-14-migrants-die-139-rescued-as-two-boats-sink-off-Tunisia
--------
Flights resume between Libya's rival cities of Benghazi, Misrata after seven years
09 March ,2021
Flights between the eastern Libya city of Benghazi and the western city of Misrata were restored Tuesday after a near seven-year absence, the latest tentative step toward national reconciliation.
An Afriqiyah Airways plane that took off from Benghazi touched down at Misrata airport at around 9:00 am (0700 GMT), the national airline said.
Residents welcomed the arriving plane "with much joy," added the airline, which is programming four flights per week between the two cities.
For all the latest headlines follow our Google News channel online or via the app.
Afriqiyah Airways was founded by former Libyan President Muammar Gaddafi, who was toppled and killed in a NATO-backed uprising in 2011.
Libya has been in chaos ever since, with the main cleavage in recent years pitting forces loyal to a Tripoli-based Government of National Accord (GNA) against an administration in the east loyal to general Khalifa Haftar who heads the Libyan National Army (LNA).
A ceasefire in October last year and the selection last month of a prime minister designate – approved by both main regional fiefdoms – has brought hope that a new interim government can lead the country to elections in December.
Alongside setting up a unified government, the October ceasefire also provided for the reopening of key air and land routes.
Discussions are underway on reopening the main road linking the east and west, and de-mining operations have taken place in recent weeks, notably around the city of Sirte, where the front line has been located for much of the past year.
https://english.alarabiya.net/News/north-africa/2021/03/09/Libya-conflict-Flights-resume-between-Libya-s-rival-cities-of-Benghazi-Misrata-after-seven-years
--------
Brother-in-law of Tunisia's ousted late president gets 10 years for corruption
09 March ,2021
A Tunisian court has sentenced Belhassen Trabelsi, the brother-in-law of ousted late President Zine al-Abidine Ben Ali, to ten years in jail for corruption, the state run news agency TAP reported on Tuesday.
The court also sentenced Sami Fehri, the owner of El Hiwar TV, to eight years in prison in the same case.
The court fined the two men 40 million dinars ($14.51 million) for using state television resources for the benefit of a private company and transferring advertising revenues to their company.
https://english.alarabiya.net/News/north-africa/2021/03/09/Brother-in-law-of-Tunisia-s-ousted-late-president-gets-10-years-for-corruption
--------
At least 39 die as two refugee boats sink off Tunisia
10 March 2021
At least 39 migrants died when two boats sank off Tunisia on Tuesday as they tried to cross the Mediterranean to the Italian island of Lampedusa, the Tunisian defense ministry said.
The coastguard rescued 165 others, and searches for more survivors are still ongoing off the coast of Sfax, ministry spokesman Mohamed Zekri said. All the dead migrants were from sub-Saharan Africa, he added.
The coastline near the Tunisian port city of Sfax has become a major departure point for people fleeing conflict and poverty in Africa and the Middle East and seeking a better life in Europe.
In 2019, about 90 African migrants drowned when their boat capsized off the Tunisian coast after setting off for Europe from neighboring Libya, in one of the worst such disasters that Tunisian authorities have had to deal with.
The number of Tunisian migrants landing on Italian shores soared fivefold to 13,000 in 2020, a human rights group said, attributing the rise to economic hardship in Tunisia.
https://www.presstv.com/Detail/2021/03/10/646964/At-least-39-die-as-two-refugee-boats-sink-off-Tunisia
--------
URL: https://www.newageislam.com/islamic-world-news/christians-muslim-majority-malaysia-use/d/124506
New Age Islam, Islam Online, Islamic Website, African Muslim News, Arab World News, South Asia News, Indian Muslim News, World Muslim News, Women in Islam, Islamic Feminism, Arab Women, Women In Arab, Islamophobia in America, Muslim Women in West, Islam Women and Feminism