New Age Islam News Bureau
2 May 2017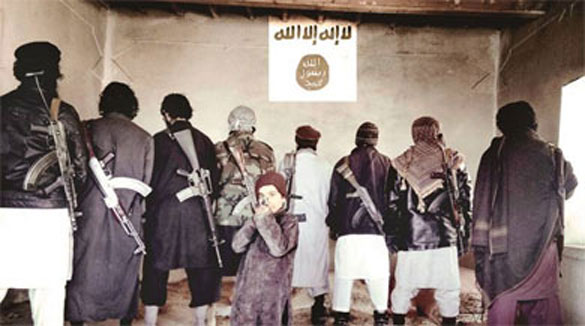 Image sent by Yahiya on Telegram, purportedly of Islamic State members who moved to Afghanistan from Kerala. Yahiya wrote that the child belonged to another nationality.
-----
• An Islamic State Diary: Days before Report of His Death, He Wrote: 'Not a Fly Has Been Affected'
• Pope Francis Tells Egyptian Christians to Show Extremism Only In Love of Others
• Hamas Document Accepts Palestinian State with 1967 Borders
• PAS Bid to Limit PM's Post to Muslims Demeaning, Unconstitutional
India
• An Islamic State Diary: Days before Report of His Death, He Wrote: 'Not a Fly Has Been Affected'
• Here's A Coimbatore Mosque That Is Re-Using The Ablution Water To Recharge Groundwater
• India: Assam Mob Kills Two Muslim Men Over 'Cow Theft'
• Indian soldiers might have walked into a death trap by Pakistani forces
• India draws red line on Kashmir to Erdogan: Bilateral, about terror
• Pakistan resorting to proxies against India, Afghanistan: Experts
• Terrorists try to loot cash van; kill 5 cops, 2 security guards in J&K's Kulgam
• Four held for bid to kidnap Muslim leader
--------
Arab World
• Pope Francis Tells Egyptian Christians to Show Extremism Only In Love of Others
• Syrian Army Gains Control over Al-Nusra's Biggest Base in Al-Qaboun
• Kurdish-Led SDF Further Advancees in Raqqa, Kills 48 ISIL Terrorists
• Details emerge about ISIS cell members involved in the Prophet's Mosque attack
• Attack in Cairo kills three policemen, injures five
• US Airstrikes in Raqqa Leave Tens of Civilians Dead, Wounded Again
• 3 Notorious FSA Commanders Killed in Dara'a
• Syrian Army Regains Control of Strategic Regions in Eastern Homs
• Homs: Over 2,000 Militants, Family Members Leave Al-Wa'er
• Major attack likely to regain control over old Mosul
• Who are the three most influential terrorists in the Jeddah cell?
-------
Mideast
• Hamas Document Accepts Palestinian State with 1967 Borders
• Saudi Forces Bomb Houthi and Saleh Militia Locations in Yemen's Harad
• "Respect International Law" – UN Experts Urge Iran to Stop Executions of Two Men Sentenced To Death as Children
• Erdogan seeks to send Trump stern message on Syrian Kurds
• Iran big winner from region's turmoil: Arab league head
• Yemen: Tensions between Houthis and Saleh become public
• Iranian, Syrian armed forces vow to boost cooperation
• Yemeni snipers kill three Saudi troopers in retaliatory attack
• Al-Qaeda says fighting alongside US-, Saudi-backed militia in Yemen
--------
Southeast Asia
• PAS Bid to Limit PM's Post to Muslims Demeaning, Unconstitutional
• PAS Chief Thanks Federal Govt for Paving Way for Tabling Of Shariah Bill
• Muktamar ends with Hadi warning not to 'toy' with Islam
• Has Malaysian IS leader Muhammad Wanndy been killed?
• Indonesia seeks to globalise its tolerant brand of Islam
--------
South Asia
• 130 Insurgents Killed In Afghan Forces Operations, MoDClaims
• US Drone Strike Kills Eight Taliban Insurgents
• Back to the roots: Islamic romance novels set hearts aflutter in Bangladesh
• US to grant 2,500 more visas for Afghans under $1 trillion deal
• Release of 69 Hezb-e-Islami prisoners delayed
• UN mission in Afghanistan welcomes Hekmatyar's return to Afghanistan
• NATO welcomes full implementation of peace agreement with Hezb-e-Islami
--------
Europe
• Russian Center: Syrian Peace Plan Signed by Militants in 1,475 Regions
• UN Rights Chief Slams Turkey's Post-Coup Purge, Warns Egypt over Crackdown
• UN human rights expert condemns "defamatory" Iran press report
• Sweden probes 'arson attack' on mosque
• France Attacks Islamic Army Base in Burkina Faso
--------
North America
• Over 350 Civilians Killed In US-Led Strikes against ISIS: Pentagon
• Muslim American Airlines Flight Attendant Claims Co-Workers Repeatedly Called Him Terrorist
• I'm Grateful for These Unsung Straight Allies of LGBTQ Muslims
• U.S. must stand up for religious freedom
--------
Pakistan
• Work on CTD Plan for Deradicalisation of Militants Begins This Month
• Mashal's Murder: Political, religious parties demand speedy trial
• Musharraf predicts PMLN and PPP to win 2018 election
• Pakistan, China finalising long-term plan for CPEC
--------
Africa
• Dozens of Civilians Killed In Central African Republic – Report
• Moroccan Christians Speak Out, Demand Their Right to Worship
• Tunisia says 2 extremists killed in security sweep
• UN airlifts aid to Congolese refugees in Angola
• • Near Miss: Lessons from the ISIS Plot to Blow up the U.S. Embassy in Nigeria
Uganda: Councillor Ssegirinya Holds 'Salt' Prayers to Curse Middle East Employers
Compiled by New Age Islam News Bureau
URL: https://www.newageislam.com/islamic-world-news/an-islamic-state-diary-days/d/110994
--------
An Islamic State Diary: Days before Report of His Death, He Wrote: 'Not a Fly Has Been Affected'
May 2, 2017
Last Saturday, his family was told that he was dead. Until a week before, however, he was sending messages to the The Indian Express. Since September 2016, he sent several messages over eight months on Telegram, the encrypted app, revealing rare details of life inside the Islamic State's affiliate in Afghanistan, blending the political with the personal. Of his journey, from Palakkad in Kerala to Nangarhar in Afghanistan. From the birth of his child to his wish to die for the "caliphate".
In his messages, sprinkled with references to the Quran and the Hadith, Bestin Vincent alias Yahiya, who left last May to "join the caliphate" along with his brother Bexen and their families, did not provide location details or the identities of those who accompanied him. The Indian Express could not independently confirm the validity of his claims.
In the latest message, on April 22, the 26-year-old Christian convert to Islam wrote about the Mother Of All Bombs dropped by the US in the area nine days before. "Hahah!!! We doubt that even a fly has been affected by it," he wrote. With an audio clip attached, purportedly of fighter jets flying overhead, Yahiya wrote that he wasn't present at the site, but his "brothers" were having tea nearby when the bomb fell at Shadal in Achin, about 35 km southeast of Jalalabad, the capital of Nangarhar.
Two days ago, an activist from Kerala was informed by Ashfak Majeed K P, one of the 21 people from Kerala who had left for the Islamic State last year, that Yahiya had been killed in US bombings. Yahiya's father — Vincent Francis, a 55-year-old Gulf returnee — is waiting for the final word.
Edited excerpts from Yahiya's messages:
'ARE YOU GOING TO ISLAMIC STATE?'
"We managed to leave homes without creating any doubt, got visas from (the) embassy after the interview though all were aware of Islamic State and its threat. Passed through immigration of different airports though some were doubted and questioned. Some Murtad Shia (a Muslim who has rejected Islam) asked us, 'Are you going to Islamic State?'
"We made ourselves into different groups, and gave different transits for each group towards one destination in different dates within (a) specified period of time, so as to reach the destination before anyone could track us.
"(Every moment of his journey was) good, especially those critical situations at immigration in the airports and interviews at embassies where Allah blinded their (officials') eyes and covered their hearts.
"The way we dressed, the stories we made up trying our best to avoid telling lies, each and every situation is worthy of mentioning."
LEAVING PARENTS BEHIND
"Separation from home was easy because by heart, we had already separated ourselves due to their rejection of the truth… So we left them (parents) to fulfil His command and to fight in his cause and to kill and to get killed… now you tell me we left our family because we hate them or is it because we really love them?"
POLICE RAIDS, 'Rs 1 LAKH PER HEAD'
"…the munafiqun (Muslims unsympathetic to the faith) tried their best to keep us in track with police, helping the kuffar (non-believers) against Muslims. They managed to arrange all details including our pictures and give to the police in order to track us. Some of us were questioned regarding Islamic State but they couldn't get enough evidence by the help of Allah. The police threatened us with whatever they could gather but they were fooled easily.
"(Police and the intelligence agencies) questioned some of brothers. They raided our house twice. They threatened us with imprisonment. They kept watching our movements. Some police were appointed to watch our backs. But then finally what happened?… Allah is the best of planners… Not just routes, they (intelligence agencies) even failed to find out about some brothers who migrated.
"…we took precautions from our side, like avoiding talking about it on phone, or keeping anything related to it. Neither we discussed it with anyone, even to our close friends whom we thought that they wouldn't come with us. Neither we disclosed the time and places of departure even to brothers among us, so that even if one gets caught, then he wouldn't be able to disclose information regarding others…
"If I mention it (the cash raised for the journey) here, then police would go behind that, searching its source etc. Minimum it was Rs 1 lakh per head. When the plan was ready, then the next issue was finance. But Allah made it easy. Some had nothing. Literally zero…
"(He had to lie to his parents to arrange cash) though not a direct lie. I said I'm going to do a business… Jihad is a business with Allah where we sell our wealth and our lives for Islam and Allah gives back jannah (paradise). What a transaction."
1 MONTH TO REACH IS
"… it took me around one month to reach the khilafah (caliphate) from my home. Most of the days, it was just me and my wife…
"(The) first barrier was to get visa from (the) embassy. They refused to give visas. Then crossing immigration at the airports, then immigration of place of destination… one brother was stopped by officers, others were questioned thoroughly due to the looks and names and places of visit… They questioned him but finally they allowed him.
"(Halfway to their destination) there was no message from transporter, we had to act as tourists and make up stories, avoiding lies, because lying is not a character of a good Muslim."
'YOU MIGHT BE GOING TO THE PARK?'
"We divided us into groups. And all were supposed to leave India before a specified time. So when first group reached the border, we were waiting for the transporter. After few days, he called us and told the route is blocked. He said we cannot use that way for some weeks because the rival army has been stationed on the way. Even our transporter didn't know what to do. Thus we were struck. And our visa validity was for a limited period. So we asked the groups who were yet to start the journey to wait for a while… But within (a) few days, Allah opened another easy way.
"(Once he was stranded with his pregnant wife) in a tourist area. So when people asked us why you came to this area, we said we thought it was a tourist place. But two days passed, three and four and five days passed — still there was no instruction from the transporter to proceed further. We kept changing hotels in two days until there was only one good hotel left. Finally we moved from that place.
"At one point, we were separated into 3-4 groups as we had to pass through one same checkpoint. So the first group said they are going to (for eg: a park), so officers noticed all are Indians and they allowed. The second group too had reached the same check point some days later and they too gave the same reason. When the last group reached the checkpoint, it was same officer and he recognised that all are Indians… that stupid (officer) asked (the) brothers, 'You might be going to (the park), isn't it?"
BIRTH OF A CHILD
In a message sent on October 8, Yahiya, referring to himself as Bestin wrote: "One more baby girl born a few days back – to Bestin (His 33-year-old elder brother Bexen had his first child sometime in July or August).
"Our children were born in the land of Islam. That is one of the greatest blessing… here, relation between husband and wife, children and parents are 100%… Less the luxuries, more the relations.
"(During the pregnancy and delivery there was medical assistance) but not like in Kerala. Allah blessed (his and his brother's wives) with good health and quick recovery. In one week, they started household work… We slaughtered a goat for the people around us. During the pregnancy period, other families and neighbours wouldn't allow us to cook. They brought food most of the times."
FIRST SNOWFALL
"Since the beginning of winter, days are short and nights are long. So time passes by quickly. But everyone has been assigned with many duties from the Ameer (chief of the group). First time we are living in a place where there is snowfall… very cold and snowing… All are thrilled to experience snowfall right in front of our homes."
http://indianexpress.com/article/india/an-islamic-state-diary-days-before-report-of-his-death-he-wrote-not-a-fly-has-been-affected-4636352/
--------
Pope Francis tells Egyptian Christians to show extremism only in love of others
By Christopher Lamb
April 29, 2017
CAIRO (RNS) Pope Francis has urged members of Egypt's embattled Christian minority to show extremism only in forgiving those who wrong them and to avoid the temptation of acting like a "Pharaoh" by ignoring the needs of their neighbors.
On Saturday (April 29), the second and final day of his trip to Cairo — a brief but momentous visit taking place against the backdrop of Islamic radicalism — Francis focused his attention on the country's tiny Catholic population, kicking off the day with a high-spirited Mass celebrated in Latin and Arabic.
But even at this liturgy the specter of brutal attacks against the Catholic and Coptic believers who total just 10 percent of Egypt's 92 million-strong population loomed as the pontiff reiterated the message that true religion has nothing to do with violence.
It was a message that he had also delivered in stark terms in a landmark address the day before to Islamic leaders at Cairo's famed Al-Azhar center.
"True faith is one that makes us more charitable, more merciful, more honest and more humane," Francis told the 15,000-strong crowd during his homily at the Air Defense stadium. "It gives us the courage to forgive those who have wronged us, to extend a hand to the fallen, to clothe the naked, to feed the fallen.
"God is pleased only by a faith that is proclaimed by our lives, for the only fanaticism believers can have is that of charity," he said. "Any other fanaticism does not come from God and is not pleasing to him."
He added that Christians should be willing to "protect the rights of others" with the "same zeal with which we defend our own."
The pope was greeted at the stadium with cheers and a flurry of balloons and he waved at the crowds from an open-top golf cart to the sound of Handel's "Hallelujah" chorus and an Italian hymn, "Laudato Si'."
That phrase is from a prayer by the pope's namesake, St. Francis of Assisi, and it is also the title of the pope's historic encyclical on climate change and the environment.
Francis of Assisi is something of a patron saint of the environment and he is known in Egypt for traveling to the country 800 years ago on a peace mission to meet with Islamic military leader Sultan al-Kamil during the Crusades.
At Saturday's Mass, a deacon sang the Gospel passage in Arabic in a chant that was both melodic and almost haunting. Helicopters flew overhead and those attending the Mass had to pass through airport-style security to enter the stadium.
And in what was a first for a papal Mass, a drone was spotted flying close to the altar, although it was not believed to be part of the security measures and raised no alarms.
Egypt's Coptic Catholics number around 272,000, are made up of seven different branches and, as the pope explained, constitute a "small flock" in comparison to the 9 million-strong Christian population largely made up of Coptic Orthodox, a community that dates back to biblical times.
While technically equal under the country's laws, Christians suffer from discrimination and are increasingly under persecution; 45 people were killed and scores injured when two Coptic Orthodox churches were attacked by Islamic extremists on Palm Sunday, just three weeks before the pope's visit.
But rather than listening to the prophets of "destruction and condemnation," the pope called on Egyptian Catholics to be a "sign of hope" in their homeland so, "like the engine of a train," they can be a driving force as "builders of bridges and agents of dialogue."
In a speech given later at the Coptic Catholic seminary — a formation center for priests — the Argentine pontiff warned believers against falling into seven temptations, including gossiping, individualism, complaining and comparing themselves with others. Another of the seven failings, he said, was to become like an ancient Egyptian emperor. Francis said that those who acted as though they were "Pharaoh" led them to ignoring their neighbors.
"Here the temptation is to think we are better than others, and to lord it over them out of pride; to presume to be served rather than to serve," Francis explained.
Egypt's Christians were largely supportive of the 2011 coup by President Abdel-Fattah el-Sissi that overthrew the Muslim Brotherhood's Mohammed Morsi, the country's first democratically elected president.
Critics argue this has led to a rise in extremism, with terrorists of the Islamic State group, or ISIS, finding a fertile recruiting ground among disaffected brotherhood members.
After the Palm Sunday attacks, the president declared a state of emergency in the country and ensured heavy security was in place throughout the papal visit.
In Francis' remarks at different venues on Friday, he not only called on Islamic leaders to join him in condemning violence carried out in God's name but he also called for respect for religious liberty and human rights in a speech in front of el-Sissi.
"History does not forgive those who preach justice, but then practice injustice," Francis said.
The Rev. Oliver Borg Olivier, a Jesuit priest from Malta who has lived in Egypt for 22 years, said the country felt more secure after el-Sissi's rise, and that was essential for tourism, a key industry. But he rejected the idea that Christians and Muslims were in conflict with each other.
"There is no divisions between Christians and Muslims in the places where we live," Olivier explained before the Mass started. "We lived in (apartments), a Christian community with Muslim neighbors, and we would invite each other to our feasts."
After his afternoon meeting at the seminary, the 80-year-old pope was driven to Cairo International Airport to board the plane back to Rome, landing in the Eternal City on Saturday evening.
(Christopher Lamb, Vatican correspondent for The Tablet of London, traveled with the pope to Egypt)
http://religionnews.com/2017/04/29/pope-francis-tells-egyptian-christians-to-show-extremism-only-in-love-of-others/
--------
Hamas document accepts Palestinian state with 1967 borders
May 2, 2017
DOHA - The Palestinian Islamist movement Hamas unveiled Monday a new policy document easing its stance on Israel after having long called for its destruction, as it seeks to improve its international standing.
The document notably accepts the idea of a Palestinian state in territories occupied by Israel in the Six-Day War of 1967. It also says its struggle is not against Jews because of their religion but against Israel as an occupier.
However, Hamas officials said the document in no way amounts to recognition of Israel as demanded by the international community.
"...Hamas considers the establishment of a fully sovereign and independent Palestinian state, with Jerusalem as its capital along the lines of the 4th of June 1967, with the return of the refugees and the displaced to their homes from which they were expelled, to be a formula of national consensus," it says.
The movement's leaders have long spoken of the more limited aim of a Palestinian state in the West Bank and the Gaza Strip without explicitly setting it out in its charter. But after years of internal debate, the new document formally accepts the idea of a state in the territories occupied by Israel in the Six-Day War of 1967.
Hamas, which controls the Gaza Strip, remains deeply divided from Fatah, the more moderate party of Palestinian president Mahmud Abbas based in the occupied West Bank.
Hamas's announcement comes ahead of Abbas's first face-to-face meeting with US President Donald Trump in Washington on Wednesday.
The new document was posted online as exiled Hamas leader Khaled Meshaal was due to hold a press conference on it in Doha. The press conference was also being broadcast live in the Gaza Strip.
http://nation.com.pk/international/02-May-2017/hamas-document-accepts-palestinian-state-with-1967-borders
--------
PAS Bid to Limit PM's Post to Muslims Demeaning, Unconstitutional
BY JULIA CHAN AND TARRENCE TAN
May 2, 2017
KUALA LUMPUR, May 2 ― The PAS proposal for a religious prerequisite to become prime minister violates the guarantee to equality and has no practical basis, according to constitutional experts.
They further disputed the Islamist party's claim that a Muslim prime minister was necessary to safeguard Islam's position as the religion of the federation, saying this was already a duty of the Yang diPertuan Agong and the Malay Rulers.
"The position of Islam is also protected by the Constitution itself under numerous provisions. You don't need to have a requirement that the PM is Muslim to ensure Islam is protected," said civil liberties lawyer Syahredzan Johan.
"It is disappointing that a national party like PAS would seek such an amendment while the nation is clearly built in the spirit of unity and togetherness."
PAS resolved during its annual assembly on Sunday to urge the prime minister to amend the Federal Constitution and include a stipulation that the position must go to a Muslim lawmaker.
The constitution in its current form is silent on any such religious requirement; it states only that the prime minister must command the confidence of the majority of elected MPs.
Syahredzan also pointed out that the country's prime ministers were already exclusively Malay-Muslim men as a result of communal politics.
"But, we should strive to break away such racial and religious barriers for the future, not reinforce them. Such an amendment would only be regressive."
Sabah-based civil liberties lawyer Tengku Fuad Ahmad pointed out that such an amendment would violate other areas of the constitution, such as those concerning the freedom of religion as well as equality before the law.
He also questioned how such an amendment would be received in East Malaysia that is home to significant non-Muslim populations, and which has entrenched rights from the Malaysia Agreement 1963 as well as the two Bornean states' individual agreements with the federation.
"Regarding Sabah and Sarawak, no amendments that affect the rights of Sabah and Sarawak citizens and their rights pre-Malaysia day can be made without the consent of the heads of state according to Article 161E," Tengku Fuad said.
Article 161E of the Federal Constitution states that the provisions dealing with the safeguards for the constitutional position of Sabah and Sarawak can be amended with the concurrence of the Governors of these states.
"It can also be argued that the amendment offends the basic structure of the Constitution and Parliamentary democracy as a whole which could be liable to be struck out by the Federal Court," the lawyer added.
For constitutional law professor Dr Abdul Aziz Bari, introducing a requirement for the prime minister to be Muslim would be an affront to the community as it would suggest they needed handicaps unavailable to others.
He also said the notion was undemocratic as it would limit some sections of the country from participating fully in the country's governance.
"It is also politically incorrect for PAS to do so. The Malays don't need a handicap, it is an insult to the Malay abilities," he said to Malay Mail Online when contacted.
http://www.themalaymailonline.com/malaysia/article/experts-pas-bid-to-limit-pms-post-to-muslims-demeaning-unconstitutional
--------
India
Here's a Coimbatore mosque that is re-using the ablution water to recharge groundwater
April 27, 2017
Are you thinking of new ways to save water when your state is suffering from a water shortage?
Masjidhul Ihsaan mosque at Karumbukkadai is doing its bit to recharge groundwater using the ablution water.
They have adopted the method used by the NGO Siruthuli which works for water conservation.
Speaking to The News Minute, Abdul Hakkim, Public Relations Secretary, Jamaath-e-Islami Hind (JIH), "Everyday Muslims do five times prayer. They wash their face, hands and legs every time before prayer, usually all the water goes to the drainage. We were thinking of ways how to save this water. Everyday about 500 litres of water is used up that way," he said.
Talking about the method, he said, "Similar to rain water harvesting, we have set up structures to purify the waste water so that the groundwater gets recharged. We have two pits of that are 10 feet and 5 feet wide and the water from the mosque is let into the pit," he said.
They are planning to extend the plan to 100 mosques. "We have already started in two mosques. He said that around 10,000 litres of water is being consumed per week in mosques across the city for ablution purpose.
He also added that more mosques like Athar Jamath mosque at Oppanakkara Street, Masjidhul Huda at Karumbukkadai, Qurathul Aiyn mosque at RS Puram are also interested in adopting the same method.
http://www.thenewsminute.com/article/here-s-coimbatore-mosque-re-using-ablution-water-recharge-groundwater-61112
--------
India: Assam Mob Kills Two Muslim Men Over 'Cow Theft'
1 May 2017
Police in India say two Muslim men have been lynched by a mob which accused them of trying to steal cows for slaughter.
The killings in the north-eastern state of Assam are the latest in a series of attacks blamed on religious tensions over the treatment of cows.
Hindus consider cows sacred and killing them is illegal in several states.
A Human Rights Watch report last week said at least 10 Muslims had been killed over the issue since May 2015.
A night patrol with India's cow protection vigilantes
Indian leader rebukes cow vigilantes
'You may as well kill us': Human cost of India's meat 'ban'
The victims of Sunday's attack in Assam's Nagaon district have been identified as Abu Hanifa and Riyazuddin Ali, police said.
"They were chased and beaten with sticks by villagers who said the two men were trying to steal cows from their grazing field," news agency AFP quoted senior police official Debaraj Upadhyay as saying.
"By the time we took them to the hospital at night they had succumbed to their injuries."
A murder case has been registered and two people have been detained for questioning, police said.
Full report at:
http://www.bbc.com/news/world-asia-india-39769172
--------
Indian soldiers might have walked into a death trap by Pakistani forces
May 2, 2017
JAMMU/NEW DELHI: The Indian Army patrol, whose two members were killed and their bodies mutilated by Pakistani special forces on Monday, might just have walked into a death trap laid by the enemy, official sources said.
The incident in Krishna Ghati sector along the Line of Control in Jammu and Kashmir occurred when a joint team of the Army and the BSF had gone to check the veracity of an intelligence report that landmines had been planted by Pakistani troops on the Indian side.
As they were looking for landmines, the patrol was taken by surprise by Pakistan's Border Action Team (BAT) which had laid an ambush over 250 metres deep inside the Indian territory.
While the Pakistani troops attacked two forward posts with rockets and mortar bombs, the BAT personnel lay in wait for their targets. The Indian Army patrol too came under fusillade of gunfire, resulting in the death of two soldiers.
The BAT personnel quickly moved in and mutilated the bodies of the two fallen soldiers, official sources said in New Delhi.
It was still not known if landmines had indeed been planted in the area.
KK Sharma, the Director General of BSF, one of whose personnel was killed in the attack and decapitated, met Union home secretary Rajiv Mehrishi and briefed him on the incident.
"It was a pre-planed operation by Pakistan army. They had pushed in the Border Action Team over 250 metres deep inside Indian territory and set up the ambush for a long period to carry out the attack," a senior officer said in Jammu.
"Their target was a patrol party of 7-8 members, which had come out of a post," the officer said, adding that as the posts were engaged, the patrol team members ran for cover.
Two troopers--one of the Army and another of BSF-- were targeted by the BAT.
Head Constable Prem Sagar of 200th Battalion of the BSF and Naib Subedar Paramjeet Singh of 22 Sikh Regiment of the army were killed and their bodies mutilated.
The BAT is specifically employed for trans-LoC action.
In Pakistan, the SSG (special services group) forms the core of the BAT. Its primary task is to dominate the LoC by carrying out disruptive actions in the form of surreptitious raids.
There have been several BAT attacks in the past in which jawans have been beheaded or their bodies mutilated.
On October 28, 2016, militants attacked a post and killed an Indian Army soldier and mutilated his body close to the Line of Control (LoC) in the Machil sector.
In January 2013, Lance Naik Hemraj was killed and his body mutilated by BAT. It also beheaded Lance Naik Sudhakar Singh. Constable Rajinder Singh of the BSF suffered injuries in the attack.
Full report at:
http://timesofindia.indiatimes.com/india/indian-soldiers-might-have-walked-into-a-death-trap-by-pakistani-forces/articleshow/58464018.cms
--------
India draws red line on Kashmir to Erdogan: Bilateral, about terror
May 2, 2017
A day after Turkey's President Recep Tayyip Erdogan advocated a "multilateral dialogue" to settle the Jammu and Kashmir question, Prime Minister Narendra Modi on Monday said that both sides have agreed to work together to strengthen cooperation "bilaterally" and "multilaterally" to effectively counter terrorism. While Kashmir was not mentioned in the prepared statements by either Modi or Erdogan, India drew the red line that Kashmir is a "bilateral" issue between India and Pakistan and that it sees the dispute through the prism of "cross-border and state-sponsored terrorism" being perpetrated by Pakistan in the Valley.
Asked if Erdogan mentioned mediation on J&K during his meeting with Modi, MEA spokesperson Gopal Baglay said: "Our position is very clear and it was mentioned to them that Kashmir is an integral part of India. Terrorism was discussed in detail and they were told that in Kashmir, we have been victims of cross-border and state-sponsored terrorism. We have been ready to talk to Pakistan bilaterally on not just Kashmir but also terrorism and other outstanding issues. And we are ready to hold talks on Kashmir bilaterally, as stipulated in Shimla Agreement and Lahore declaration."
Asked what the Turkish president's response, he said, "They listened very carefully with care and attention". After the bilateral talks, which lasted over two hours, Erdogan condemned the Naxal attack on CRPF personnel on April 24 in Sukma and "terrorism", but did not mention Kashmir or the attacks in J&K. "I wholeheartedly condemn the attack in Sukma. We can relate to your pain and suffering," he said.
The only veiled reference to Kashmir and Pakistan was when Modi said, "We also shared perspectives on developments in our region." Erdogan said India would always have Turkey's full solidarity in the fight against terrorism. He said terrorist organisations want to launch their propaganda over the suffering of people and are willing to create a future for themselves out of their victims' pain — a reference to Fethullah Gulen's organisations.
"We live in times where our societies face new threats and challenges every day. The context and contours of some of the existing and emerging security challenges globally is our common concern," said Modi. "In particular, the constantly evolving threat from terrorism is our shared worry. I held an extensive conversation with the President on this subject. We agreed that no intent or goal, no reason or rationale can validate terrorism."
"The nations of the world, therefore, need to work as one to disrupt the terrorist networks and their financing and put a stop to cross-border movement of terrorists. They also need to stand and act against those that conceive and create, support and sustain, shelter and spread these instruments and ideologies of violence. The President and I agreed to work together to strengthen our cooperation, both bilaterally and multi-laterally, to effectively counter this menace," said Modi, trying to make a point about the role of Pakistan, Turkey's close ally, in cross-border terrorism in India.
According to the joint statement issued on Monday, "The two leaders reiterated their strong condemnation of and resolute opposition to terrorism in all its forms and manifestations, wherever committed and by whomever and declared that there could be no justification for terrorism anywhere. Both sides urged all countries and entities to work sincerely to disrupt terrorist networks and their financing, and stop cross-border movement of terrorists."
The statement also said that both leaders "strongly condemned the use of double standards in addressing the menace of terrorism and agreed to strengthen cooperation in combating terrorism both at the bilateral level and within the multilateral system. In this regard, they called for early conclusion of negotiations on the Comprehensive Convention on International Terrorism."
The contentious issue of Turkey's support to both India and Pakistan for membership of the Nuclear Suppliers Group (NSG) was also not mentioned by either of the leaders. While Turkey has insisted on a criteria-based approach — much like China — it is one of the few countries to draw an equivalence between India and Pakistan's NSG applications.
In this regard, there was no signal of support to India on NSG in the joint statement. Modi thanked Erdogan for Turkey's support for India's membership of the MTCR and "applications to join the Nuclear Suppliers Group" and Wassenaar Arrangement. Erdogan also raised the issue of alleged Gulenist presence in India. "I know India will take necessary measures to expel FETO from her territory once and for all," he said, with Modi listening in. While the Turkish side has been raising the issue since last July, Indian officials have said they have "noted" their concerns but have not acted on it so far.
"As far as Turkish concerns of FETO… they were mentioned to us. Any organisation in India, whether Indian or foreign, has to work within the parameters of our law and norms and regulation," said Baglay. The two sides also discussed economic ties. The two leaders have set a target of US $10 billion, up from the existing US $6 billion, by 2020.
"President (Erdogan) and I are clear that the strength of our economies presents an enormous opportunity to expand and deepen commercial linkages between our countries. I also feel that at the level of the two governments, we need to approach the entire landscape of business opportunities in a strategic and long-term manner. Our bilateral trade turnover of around $6 billion does not do full justice to convergences in our economies. Clearly, the business and industry on both sides can do much more," said Modi.
Full report at:
http://indianexpress.com/article/india/india-draws-red-line-on-kashmir-to-erdogan-bilateral-about-terror-4636322/
--------
Pakistan resorting to proxies against India, Afghanistan: Experts
May 2, 2017
WASHINGTON: Afghanistan's relationship with India is "unacceptable" to Pakistan, which is using proxies like the Haqqani network and Taliban against its neighbours, eminent experts have told US lawmakers.
During a Congressional hearing, Seth Jones, Director of International Security and Defence Policy Centre at the Rand Corporation said that Pakistan has resorted to proxy organisations to further its foreign policy goals.
"Pakistan has resorted to proxy organisations to further its foreign policy goals both in places like Jammu and Kashmir against Indians and in Afghanistan and that means support to organisations like the Haqqani Network and Taliban, so it's a proxy war," Jones said in response to a question from Congressman Ted Poe.
He also acknowledged that Afghanistan is India's "strongest" regional ally which is "unacceptable" to Pakistan.
"India is an enemy while the Afghan government is an ally of the Indian government," Jones said last week.
The Pakistani government views everything through the lens of fighting India, Bill Roggio, editor of Long War journal said during the hearing organised by the House Foreign Affairs Subcommittee on Terrorism, Non-proliferation.
"Unfortunately some of these jihadist groups that have spawned from the Pakistani efforts to fight India have come back to bite Pakistan. Until the Pakistani government and leaders and military intelligence, come to grips with this, this problem is going to exist," Roggio said.
Poe, who chaired the Congressional hearing on Afghanistan and Pakistan said that in recent years the US has given over $33 billion in form of aid to Pakistan.
"Pakistan directly or indirectly supports the Haqqani Network, in theory. That network as we mentioned earlier, has killed more Americans in the region than any other terrorist group. To me that is something that we should not accept. We should not accept sending money to a country that supports a terrorist group that kills Americans. I think there is a real problem with that," Poe said.
Poe alleged that Taliban is still based in Pakistan and it came as no surprise when a US drone strike killed Taliban leader Mullah Mansoor in south-western Pakistan in May, 2016.
"The list of evidence of Pakistan's support for terrorist goes on and on. We remember that when al-Qaida leader and America's most wanted terrorist Osama bin Laden was killed, he was found in Pakistan," he said.
"I believe Pakistan is playing us, they launch what they called counter-terrorism operations in the tribal areas bordering Afghanistan, but quickly became clear they were only targeting the Pakistani Taliban and not Afghan Taliban," he said.
Speaking about the Islamic State militant group, he said: "ISIS announced the establishment of Afghan affiliate in January, 2015 and is entrenched itself in the eastern part of the country. ISIS' presence in Afghanistan further complicates the country's tourist landscape".
Full report at:
http://timesofindia.indiatimes.com/india/pakistan-resorting-to-proxies-against-india-afghanistan/articleshow/58471006.cms
--------
Terrorists try to loot cash van; kill 5 cops, 2 security guards in J&K's Kulgam
May 1, 2017
NEW DELHI: At least five policemen and two security guards were killed after suspected terrorists attacked a cash van outside Jammu and Kashmir bank's Kulgam branch in south Kashmir, police said.
"The unidentified gunmen today made an unsuccessful attempt to loot a cash van of J&K bank. Thanks to the police personnel on duty," a senior police official said.
The slain men have been identified as ASI Bashir Ahmed, Selection Grade Constable Farooq Ahmed and Constables Muhammad Qasim, Muhammad Yusuf and Ashfaq Ahmed and J&K Bank security guards Javed Ahmed and Muzaffar Ahmed.
"A search operation has been launched to nab the attackers," he said, adding, "The van had deposited cash in the Neehama village branch of the bank and was returning to Kulgam town when it came under attack."
"Terrorists have also decamped with four INSAS and one AK 47 rifle," he said.
Full report at:
http://timesofindia.indiatimes.com/india/kulgam-attack-5-cops-2-security-guards-killed/articleshow/58460597.cms
--------
Four held for bid to kidnap Muslim leader
MAY 02, 2017
The Coimbatore city police on Monday arrested four persons for alleged attempt to kidnap a Muslim leader-cum-businessman for ransom.
According to the police, the four-member gang had plotted to kidnap the leader for ransom to be used for six accused who are in judicial custody for murdering rationalist and Dravidar Viduthalai Kazhagam functionary H. Farook in March this year.
Chitty Babu of Madurai, Jinnah, Nowfal and Shabihoor Rahman of Coimbatore were arrested by Ukkadam police on Monday under Sections 364 (Kidnapping or abducting in order to murder) and 120B (Criminal conspiracy) of the Indian Penal Code.
"The men were detained by the police on suspicion. A knife and adhesive tape in their possession raised suspicions. During interrogation, they confessed to their kidnap plan.
They wanted money to engage a lawyer for the six accused in Farook murder case," said S. Lakshmi, Deputy Commissioner of Police (Law and Order).
Investigation on
Ms. Lakshmi said that investigation was on to find involvement of more people in the kidnap attempt. The accused were produced before court and remanded in custody on Monday.
Abdul Munaf, Jaffar, Akram Sindhaa, Anshad, Sadam Hussain, and Shamsudheen are the six accused in Farook murder case whom the four-member gang knew.
The police on Monday deputed Personal Security Officers for the protection of the leader, a resident of Kottaidemedu.
The leader, also a dealer of a Chennai-based chemical firm, occupies important positions in Sunnath Jamath Federation of Coimbatore District and Coimbatore District Sunnath Jamaath Islamic Movement.
Sources said investigation would also cover the stand taken by the leader on the murder of Farook.
"I was present at the press conference (on March 20) called by the Coimbatore District United Jamaath and the Federation of All Organisations after Farook's murder and we vehemently condemned the murder," he said.
Full report at:
http://www.thehindu.com/todays-paper/tp-national/tp-tamilnadu/four-held-for-bid-to-kidnap-muslim-leader/article18349435.ece
--------
Arab World
Syrian Army Gains Control over Al-Nusra's Biggest Base in Al-Qaboun
May 01, 2017
The Syrian army forces seized back control of Abdul Qani Bajeqni school as one of the biggest and most important al-Nusra bases in the district and a number of other adjacent blocks.
They also advanced in the Western parts of al-Qaboun's power plant and regained military control of the main street in al-Qaboun.
The Syrian soldiers killed a large number of terrorists during the operations.
Military sources confirmed on Sunday that the Syrian army troops are only a kilometer away before they can shake hands in regions just to the West of al-Qaboun district and lay siege on two main terrorist bastions.
The sources said that recent advances of the government forces in the Eastern part of al-Qaboun district have enabled the army men to almost encircle the militants in the Western direction of al-Qaboun, and complete the siege on terrorist-held region in al-Qaboun district from the North and Tishrin district from the South.
The sources pointed out that the siege of the terrorists in al-Qaboun and Tishrin means that militants' continued battle would amount to mass suicide as all their routes to the outside world have now been cut off.
They underlined that withdrawal of forces from al-Qaboun and Tishrin whose tunnels have been mostly destroyed in the army attack will also be very dangerous for the militants.
Base on field reports, the army units plan to continue their advances from South to the South-East towards Abdul Qani Bajeqni school which is the largest and the most important base of al-Nusra in the Eastern countryside of Damascus.
http://en.farsnews.com/newstext.aspx?nn=13960211000955
--------
Kurdish-Led SDF Further Advancees in Raqqa, Kills 48 ISIL Terrorists
May 01, 2017
The SDF forces heavily clashed with ISIL militants in al-Tabaqa city in Western Raqqa, gaining control over the three districts of Bu Issa, Hassou and al-Salam.
They also killed 48 ISIL members and held 5 others captive.
The SDF also seized a large number of weapons, ammunitions and equipment, including 3 tanks, 2 BMP vehicles and several Grad missiles.
Also, the SDF forces had managed to drive the terrorists out of six more neighborhoods in al-Tabaqa city on Sunday.
The SDF fighters engaged in fierce clashes with the ISIL in al-Tabaqa city yesterday and seized control over the neighborhoods of al-Mahaj, Abu Eish, Assyrian church, al-Kasarah and al-Mashar.
In the meantime, 14 ISIL terrorists were killed in several cases of sporadic clashes between the Kurdish fighters and the ISIL in Central part of al-Tabaqa.
Also, the SDF engaged in heavy fighting with ISIL in al-Tabaqa city on Saturday and managed to take control of the neighborhoods of al-Nababeleh, al-Zahra and al-Wahab, killing 23 militants.
Full report at:
http://en.farsnews.com/newstext.aspx?nn=13960211000980
--------
Details emerge about ISIS cell members involved in the Prophet's Mosque attack
1 May 2017
Further information has been released regarding the identified members of a terrorist cell believed to be responsible for a number of attacks in Saudi Arabia.
The group has been named as the "Harazat cell" after the name of the town they operated in, located in Jeddah.
The Saudi interior ministry revealed information about Hussam al-Juhani, who became a leading member of an extremist organization in 2003 and supported al-Qaeda and ISIS.
He was first arrested between 2005 and 2007 and then in 2017 for joining the terrorist organization of ISIS.
Juhani joined ISIS with the help of Ibrahim al-Zahrani. He accepted Zahrani's suggestion and was questioned by the organization's operations mediator in Syria about his age, date of arrest, wife, financial and family status, and other questions.
Juhani was in direct contact with the operations' mediator in Syria. He was supposed to be an "evident" member in charge of transferring weapons and explosive belts to the organization's members.
He was asked to pledge allegiance to ISIS in a written statement. He was placed under the command of Khalid al-Sardani, who was known within ISIS as Amir al-Hijaz.
Hussam Saleh Samaran Al-Juhani was arrested in an apartment in al-Naseem District in Jeddah, where he had logistical ties with a rest house in Harazat. The house was used as a shelter and a laboratory for the manufacture of explosive belts and devices.
Terrorists Khalid Ghazi Hussein al-Sarwani and Nadi Marzouq Khalaf al-Madhyani al-Anzi, blew themselves up when they were raided by the security forces.
Further to the ongoing investigations carried out by the security authorities on the activity of this cell, the authorities found that this cell was directly involved in other terrorist crimes.
The investigations proved that the cell was involved in the terrorist operation that targeted worshipers at the Prophet's Mosque last year, by providing the suicide bomber, Naer Musallam Hammad al-Nujaidi – a Saudi national – with the explosive belt.
The suicide bomber blew himself up when security men prevented him from entering the Prophet's Mosque; 4 security men were martyred and 5 others were wounded.
It was also proven that this terrorist cell was involved in the terrorist operation that took place in the parking lot of Dr. Sulaiman Fakih Hospital in Jeddah last year.
Full report at:
https://english.alarabiya.net/en/News/gulf/2017/05/01/Who-were-the-ISIS-members-in-Harazat.html
--------
Attack in Cairo kills three policemen, injures five
May 2, 2017
Militants killed three policemen and injured five others in a shooting in Cairo late on Monday, the interior ministry said on Tuesday.
Attacks on security forces are common in Egypt's northern Sinai, where the country is battling an Islamist insurgency, but targeted assaults in Cairo are rare and the shooting comes amid a campaign by militants to spread violence to the country's mainland.
The militants drove by and shot down police stationed at an intersection of the ring road, a busy Cairo expressway, in the city's eastern neighborhood of Nasr City, the statement said.
Full report at:
http://nation.com.pk/international/02-May-2017/attack-in-cairo-kills-three-policemen-injures-five
--------
US Airstrikes in Raqqa Leave Tens of Civilians Dead, Wounded Again
May 01, 2017
The US-led coalition fighter jets targeted al-Tabaqa city in Western Raqqa, killing 10 civilians, including two women, and injuring 18 others.
The Syrian media said Sunday that 14 civilians, including five members of a family, were killed in the US-led coalition air raids in the cities of Raqqa and al-Tabaqa.
The Syrian TV reported that 8 civilians, including five members of a family, were killed in the US-led coalition warplanes' attacks on two neighborhoods of al-Mansoureh and al-Wahab in al-Tabaqa.
In the meantime, six more civilians were killed in the fighter jets' raid on Raqqa city, the TV report added.
Reports also said that five civilians were killed and several more were wounded in the coalition warplanes' attacks on the village of al-Sweidiyeh Kabirh in Western Raqqa in the recent days.
In relevant developments last Tuesday, the coalition warplanes targeted a vehicle carrying civilians near al-Tabaqa city in Western Raqqa, killing all the civilians on board, including several children.
Full report at:
http://en.farsnews.com/newstext.aspx?nn=13960211000878
--------
3 Notorious FSA Commanders Killed in Dara'a
May 01, 2017
Media sources affiliated to the dissidents reported that the local council commander in the town of Basir al-Tahrir named Ahmad al-Hariri was killed along with two other comrades when his car exploded on the road linking the towns of al-Soura and al-Qariya.
Also, Qassem al-Mojali and Bashar al-Ayan al-Hariri, the commanders of the FSA-affiliated Amoud Houran brigade, were also killed during the car explosion.
In a relevant development on Saturday, the ISIL terrorist group struck the positions of the Osoud al-Sharqiya, a US/ Jordanian-backed FSA branch, in Northern Damascus near the border with Homs province, local sources said, adding that a number of militants from both sides have been killed in the clashes.
The sources said that ISIL launched a fresh assault on the positons of Osoud Al-Sharqiya terrorist group in a border region between the provinces of Homs and East Qalamoun.
The ISIL attack came after a fortnight of encroaching FSA gains against the terrorist group which where aimed at expelling it in the direction of Homs province and lifting the siege on East Qalamoun.
So far, ISIL has managed to take control over Manqourah, Zibedah, Dab' and Daba' and, consequentially, the Osoud Al-Sharqiya group has been forced onto the defensive for the time being.
Full report at:
http://en.farsnews.com/newstext.aspx?nn=13960211000572
--------
Syrian Army Regains Control of Strategic Regions in Eastern Homs
May 01, 2017
The victory was gained after heavy clashes with the ISIL in Eastern Homs and inflicting tens of casualties and damages on the terrorists.
The Syrian air force, artillery and missile units also heavily pounded the ISIL positions in the region.
According to field sources, clashes still continue in al-Mokhram region in Eastern Homs.
The Syrian Army troops' continued advances in Eastern Homs forced the ISIL to start pulling forces back from more territories, leaving behind a number of dead members and destroyed equipment.
The army soldiers engaged in a fresh round of clashes with ISIL in energy-rich regions in Eastern Homs on Sunday and captured al-Sha'er communication station, al-Sha'er factory, Qara al-Baak region, Thaniyat al-Raz mount, Wells 103, 108,110 and 112 near the main well, 105, in al-Sha'er oilfield.
Tens of ISIL militants were killed and tens of their vehicles were damaged in the attacks.
Reports said on Sunday that the army soldiers stormed ISIL's defense lines and drove the terrorists back from the villages of al-Tadmuriyeh, Jubab Hamd, Rajm al-Qasr, Rajm al-Darqam, al-Rajm al-Aali and al-Rajm al-Madareji.
The army units further took control of the hills of al-Rarkas and al-Elam that overlook the villages of Um al-Sahrij and al-Moshayrifeh al-Janoubi.
Full report at:
http://en.farsnews.com/newstext.aspx?nn=13960211000481
--------
Homs: Over 2,000 Militants, Family Members Leave Al-Wa'er
May 01, 2017
In the 7th phase of the evacuation deal in al-Wa'er which is supervised by the Syrian Red Crescent and the Russian security and police authorities, a sum of 2,041 people, including 460 militants, left the district for Idlib on 52 buses.
The last phase of the evacuation plan in al-Wa'er district will be implemented mid May.
Local sources confirmed on Sunday that a sum of 350 gunmen and their family members have left al-Wa'er district for the militant-held regions in Idlib within the framework of the 7th phase of the evacuation deal in the district.
The sources said that 100 gunmen, mainly from Ahrar al-Sham and Al-Nusra Front (also known as Fatah al-Sham Front or the Levant Liberation Board), and 250 of their family members left al-Wa'er district for Idlib on 8 buses under the supervision of the Russian monitoring troops.
Full report at:
http://en.farsnews.com/newstext.aspx?nn=13960211000272
--------
Major attack likely to regain control over old Mosul
1 May 2017
Iraqi forces resumed battle on Monday to try to regain control over parts of Mosul amid expectations that the battle to reclaim the city's old area would be completed soon, sources on the ground have said.
According to Major Ziad al-Zubaidi, the Iraqi army is targeting areas with heavy artillery close to Mosul while the coalition's air force continued its air raids targeting ISIS locations. A source added that armed men have detonated four car bombs in the past 24 hours. Federal police also announced the killing of dozens of ISIS members in the last few hours as a result of intensive air strikes.
Major Al-Zubaidi said the security force source said that the Iraqi military units are expected to launch a large-scale offensive to recover the remainder of the old area within the next 48 hours. The forces are now close to the liberation of al-Nuri Mosque and its famous Hadba Minaret.
The Iraqi army chief, Osman al-Ghanmi, added that "the right side of Mosul will be completely restored before Ramadan, and the Iraqi forces will execute the liberation of the city within three weeks at the most."
Full report at:
https://english.alarabiya.net/en/News/middle-east/2017/05/01/Expectations-of-a-major-attack-in-Iraq-to-restore-the-old-Mosul-.html
--------
Who are the three most influential terrorists in the Jeddah cell?
1 May 2017
On Sunday, the Saudi interior ministry identified three main members of the Harazat terror cell, which was responsible for last year's attacks on the Prophet's Mosque in Jeddah.
Major General Bassam Attia said Khaled al-Sarawani, Nadi al-Anzi and Hussam al-Juhani are the most influential members of the terrorist cell that was uncovered in Jeddah. Khaled al-Sarawani was arrested in 2008 and was charged for providing shelter to terrorist members.
The organization nicknamed Sarawani as the Prince of Hijaz. He was an extremist who was influenced by what is happening in Iraq and Afghanistan. ISIS asked Hussam al-Juhani to pledge allegiance to the leadership of the organization in a written statement sent over the Telegram application linking him to Khaled al-Sarawani.
Husam al-Juhani supported al-Qaeda and was first arrested between 2005 and 2007 and then in 2017 for joining the terrorist organization of ISIS.
Juhani joined ISIS with the help of Ibrahim al-Zahrani. Their relation evolved and Juhani was questioned by the organization's operations mediator regarding the date of his release and his financial status, and other questions.
Juhani was in direct contact with the operations' mediator in Syria. He was supposed to be a marked member in charge of transferring weapons and explosive belts to the organization's members.
Marzouq al-Anzi, who blew himself up, was the owner of the "Monasseroun" (meaning supporters) account that has helped hacking dozens of Saudi citizens' accounts on Twitter through an automated application.
The names of the 3 terrorists were linked to other brutal crimes related to the terrorist operation targeting the Prophet's Mosque and the other one that took place in the parking lot of Dr. Soliman Fakeeh Hospital in Jeddah.
Full report at:
https://english.alarabiya.net/en/News/gulf/2017/05/01/Who-are-the-three-most-influential-terrorists-in-the-Jeddah-cell-.html
--------
Mideast
Saudi forces bomb Houthi and Saleh militia locations in Yemen's Harad
1 May 2017
Saudi forces fired sporadic shells at Harad, one of the fort sites of the Houthi militias and the guards of the ousted President Ali Abdullah Saleh.
Al Arabiya's correspondent reported that after the militias tried to approach the ends of Harad to launch more missiles, Saudi forces targeted their locations after identifying them via an electronic surveillance system and aimed at them through artillery to kill at least eight Houthi militias, according to military sources.
https://english.alarabiya.net/en/News/gulf/2017/05/01/Saudi-forces-bomb-new-Houthi-locations.html
--------
"Respect international law" – UN experts urge Iran to stop executions of two men sentenced to death as children
GENEVA (28 April 2017) – Iran must abide by its obligations under international human rights law and stop carrying out death sentences passed on persons who committed offences when children, say a group of United Nations rights experts* calling for an immediate halt to the execution of two persons, who were sentenced when they were both under 18.
"We are dismayed by the unprecedented rise in the number of cases of execution of juvenile offenders in Iran," the experts said. "The psychological suffering inflicted on adolescents kept languishing for years in prison under a death sentence is appalling, and amounts to torture and ill treatment."
"These executions must be halted immediately and the death sentences quashed. We also call on Iran to commute without delay all such sentences imposed on children," they stressed.
One of the two persons, Mehdi Bohlouli was 17 years old when he was sentenced to death in 2001 by a court in Tehran, for the fatal stabbing of a man during a fight. His execution had been scheduled to take place on 19 April, some 15 years after his conviction, but was halted just a few hours earlier. It is not yet clear if or when the sentence will now be carried out.
The other person, Peyman Barandah, was 15 when he was sentenced to death in 2012, also for the fatal stabbing of a teenager. His execution has been scheduled for 10 May. There is no word about a possible reprieve.
"These two cases bring the total of juvenile offenders scheduled for execution that we have become aware of in Iran since January to six. They include the cases of two young persons whose executions was carried out," the experts noted.
They express concern that the cases may be only the tip of the iceberg: "Taking into account that at least 90 people were on death row at the beginning of April for crimes committed under the age of 18, the exact number of those executed or at risk of execution is likely to be much higher."
In 2013, Iran amended its Islamic Penal Code and opened the possibility of juveniles sentenced to death to be allowed retrials. Later, assurances were given in 2016 by Iran to the UN Committee on the Rights of the Child that this amendment would apply systematically for all juveniles who are currently on death row.
"These promises have not been fulfilled: Some of the young men executed recently were not even aware of the possibility of retrials, and the requests made by Mehdi Bohlouli and Peyman Barandah for retrial were simply rejected by the Supreme Court," said the experts, adding that in numerous other cases, like that of Hamid Ahmadi and Sajad Sanjari, the courts had simply sentenced juvenile offenders to death again after retrials.
"The unprecedented rise in capital punishment for offences committed while below age of 18 in Iran constitutes conclusive proof of the failure of the 2013 amendments to stop the execution of individuals sentenced to death as children," the experts emphasized.
The reason for the failure, they said, lies within the amendments themselves, which allow judges to pronounce alternative sentences after retrial only if they assess that a child was not mature enough or did not sufficiently understand the nature of the crime.
However, the experts pointed out that by ratifying both the International Covenant on Civil and Political Rights and the Convention on the Rights of the Child, Iran has committed itself to protecting and respecting children's right to life as well as to outlaw the death penalty for all those under the age of 18.
"Any assumption that a girl over nine years old or a boy older than 15 can be considered mature enough to be sentenced to death, infringes on the very basic principles of juvenile justice and violates both treaties," the experts stressed.
"Furthermore, any death sentence undertaken in contravention of a Government's international obligations, notably its duty to establish a juvenile justice system in line with international human rights standards, is unlawful and tantamount to an arbitrary execution," they concluded.
(*) The experts: Ms. Asma Jahangir, Special Rapporteur on the situation of human rights in the Islamic Republic of Iran, Ms. Agnes Callamard, Special Rapporteur on extrajudicial, summary or arbitrary executions; and Mr. Benyam Dawit Mezmur, Chairperson of the Committee on the Rights of the Child.
The Special Rapporteurs are part of what is known as the Special Procedures of the Human Rights Council. Special Procedures, the largest body of independent experts in the UN Human Rights system, is the general name of the Council's independent fact-finding and monitoring mechanisms that address either specific country situations or thematic issues in all parts of the world. Special Procedures' experts work on a voluntary basis; they are not UN staff and do not receive a salary for their work. They are independent from any government or organization and serve in their individual capacity.
Full report at:
http://www.ohchr.org/EN/NewsEvents/Pages/DisplayNews.aspx?NewsID=21547&LangID=E
--------
Erdogan seeks to send Trump stern message on Syrian Kurds
May 2, 2017
By launching air strikes against Syrian Kurdish fighters and threatening more action, Turkish President Recep Tayyip Erdogan is seeking to send a tough message to Donald Trump in the hope of bringing about a major U-turn in US Syria policy.
Turkey last week bombed targets of the Kurdish Peoples' Protection Units (YPG) in Syria, earning the wrath of its NATO ally Washington and on Sunday Erdogan warned more action could be imminent.
"We can come unexpectedly in the night," said Erdogan. "We are not going to tip off the terror groups and the Turkish Armed Forces could come at any moment."
The YPG has been seen by the United States as the best ally on the ground in the fight against Islamic State (IS) group jihadists in Syria and Trump has inherited a policy from Barack Obama of actively supporting the group.
But Ankara says the YPG is a terror outfit and the Syrian branch of the Kurdistan Workers' Party (PKK), who have waged an insurgency since 1984 inside Turkey that has left tens of thousands dead.
- 'Sign of impatience' -
Analysts say the dispute will be the number one issue when Erdogan meets Trump for the first time as president on May 16 in the United States. Failing to resolve the problem could seriously harm US efforts to destroy IS in Syria.
"The strikes are manifestly a sign of impatience by Turkey and part of a long line of appeals telling the US to stop supporting the YPG," said Jean Marcou, professor at Sciences Po Grenoble and associate researcher at the French Institute of Anatolian Studies.
Since Trump's election, Turkey had indicated it wanted a "change in US policy on the YPG support. But in reality Erdogan has obtained nothing for now," he said.
The cooperation between Washington and the YPG, which saw the United States send a limited number of forces to work with the group, led to bitter tensions between Ankara and Washington in the dying months of the Obama administration.
The US backed the formation of the Syrian Democratic Forces (SDF), dominated by the YPG but also including Arab fighters, yet Ankara contends it is merely a front from the Kurdish group.
In an unusual move after days of border clashes between the Turkish army and YPG that followed the air strikes, the US sent military vehicles to the Syrian side of the frontier to carry out patrols in an apparent bid to prevent further fighting.
Erdogan said the sight of American flags in the convoy alongside YPG insignia had "seriously saddened" Turkey.
- 'Tensions help IS survival' -
The Turkish president, fresh from winning the controversial April 16 referendum on enhancing his powers, has indicated that the rewards for Washington in breaking up with the YPG could be high by spurring Turkish involvement in a joint operation to take the IS fiefdom of Raqa.
Together the United States can "turn Raqa into a graveyard for Daesh (IS)," Erdogan said on Saturday.
But Ankara has made clear it will have nothing to do with any operation involving the YPG and analysts say Turkey could even be a threat to a Raqa operation if it is not included.
"Washington was reluctant to launch the Raqa operation before Turkey's April 16 referendum to avoid potential complications with Ankara," said Aykan Erdemir, senior fellow at the Foundation for Defense of Democracies.
He said the Turkish air strikes -- which were combined with strikes against the PKK in Iraq -- brought "another unanticipated challenge" to coalition efforts against the jihadists.
"Tensions among coalition members have been one of the key factors for the Islamic State's continued survival," he said.
- 'Singular dilemma' -
The International Crisis Group (ICG) said in its latest report on the Syria crisis that the US had "a singular dilemma" on the future of its relationship with the YPG
It said the YPG "is indispensable" to defeat IS but there is also "no avoiding the fact" that the US is backing a force "led by PKK-trained cadres in Syria while the PKK itself continues an insurgency against a NATO ally."
Full report at:
http://nation.com.pk/international/01-May-2017/erdogan-seeks-to-send-trump-stern-message-on-syrian-kurds
--------
Iran big winner from region's turmoil: Arab league head
1 May 2017
Arab League chief Ahmed Abul Gheit warned Monday that Iran and Israel were the main beneficiaries of turmoil across the Arab world, which he described as the worst he has ever seen.
"I have never seen anything worse than what we are now seeing," Abul Gheit said at the Arab Media Forum in Dubai.
"Iran is enjoying what the Arab world is going through. There are those in Iran who are watching and waiting for us to destroy ourselves."
Ties between Iran and Arab states have grown increasingly tense in recent years, with Tehran backing Syrian President Bashar al-Assad, Yemen's Shiite Houthi militia and armed Shiite groups in Iraq.
Israel also stood to benefit from conflicts across the region, Abul Gheit said.
Also read: Iran's presidential candidates square off in first ever live TV debate
"Israel was under enormous pressure to find a solution with the Palestinians," he said.
"If I were the prime minister ... I would have thought these were the happiest days for Israel."
Full report at:
https://english.alarabiya.net/en/News/middle-east/2017/05/01/Iran-big-winner-from-region-s-turmoil-Arab-league-head.html
--------
Yemen: Tensions between Houthis and Saleh become public
1 May 2017
The head of the so-called Higher Political Council in Sana'a, Saleh al-Samad, canceled a decision taken by the head of the Houthi militia government to appoint Hisham Sharaf as foreign minister in the militia government to take the authority of the Minister of Planning and International Cooperation.
A direct clash between the Houthi leader, President of the Supreme Political Council Saleh al-Samad and the leader of the conference Abdul Aziz bin Habtoor, who is loyal to the ousted Ali Abdullah Saleh, head of the non-recognized government.
The dispute was mainly about the planning and international cooperation portfolio that was offered to Yasser al-Awadhi, who rejected the post, what made Bin Habtoor to appoint Minister of Foreign Affairs of the coup government Hisham Sharaf to fulfill the authority of the Ministry of Planning along with Foreign Affairs one.
Bin Habtoor took this decision to make the Foreign affairs and planning Ministry belong to his party.
Full report at:
https://english.alarabiya.net/en/News/gulf/2017/05/01/Yemen-Tensions-between-Houthis-and-Saleh-become-public.html
--------
Iranian, Syrian armed forces vow to boost cooperation
May 1, 2017
The military top brass of Iran and Syria have denounced the attacks by the Israeli regime and US against the Arab country and vowed to boost their cooperation.
Chief of Staff of the Iranian Armed Forces Major General Mohammad Baqeri and his Syrian counterpart, General Ali Abdullah Ayoub, held talks in Tehran on Monday.
Baqeri said the Syrian Army and nation have put up brave resistance in the face of crimes by Takfiri terrorists and regional aggression and intervention.
He commended the recent major achievements by the Syrian Army and nation in fully liberating the city of Aleppo from the control of terrorists and releasing the people in the Shia-populated villages of al-Fua'a and Kefraya from the captivity of terrorists.
The Iranian military official further condemned the US and Israeli regime's recent airstrikes against Syria, saying, "By maintaining their unity and national solidarity as well as holding Syrian-Syrian talks, the Syrian people must be prudently vigilant about foreign plots aimed at creating rifts in this country."
Ayoub, for his part, said Iran's military advisory support for his country had played a decisive role in the continuation of the Syrians' resistance and their major victories against terrorists and the Israeli regime.
Iran has been providing military advisory support to Syria as well as Iraq in their campaign against terrorism at the request of the two countries' governments.
The Syrian military official added that independent countries across the world hail the Islamic Republic's wise policies on supporting peace and stability in the region and the Muslim world and respecting the sovereignty and unity of regional states.
Full report at:
http://www.presstv.ir/Detail/2017/05/01/520196/Iran-Syria-US-Israel-Mohammad-Baqeri-Ali-Abdullah-Ayoub-Armed-Forces
--------
Yemeni snipers kill three Saudi troopers in retaliatory attack
May 1, 2017
Yemeni army soldiers, backed by fighters from allied Popular Committees, have shot dead three Saudi troopers in the kingdom's southwestern border region of Jizan, in retaliation for the Riyadh regime's military campaign against the crisis-hit country.
Yemeni forces shot and killed two Saudi troopers at al-Farizah military base of the region, located 967 kilometers southwest of the capital Riyadh, on Monday evening, Arabic-language al-Masirah television network reported.
Earlier in the day, three civilians sustained injuries when Saudi military aircraft carried out an airstrike against a residential neighborhood in Ar Rahidah town of the southwestern Yemeni province of Ta'izz.
Two civilians were also killed and four others wounded when Saudi warplanes struck an area in the Maqbanah district of the same Yemeni province.
Separately, Yemeni soldiers and their allies lobbed a barrage of artillery rounds at a gathering of Saudi-sponsored militiamen loyal to the resigned Yemeni president, Abd Rabbuh Mansur Hadi, in the Mawza' district of Ta'izz Province.
An unnamed military official told Yemen's official Saba news agency on Monday that the attack had left dozens of mercenaries killed or wounded.
Moreover, Yemeni forces targeted a Saudi reconnaissance drone as it was flying over the Midi district in Yemen's northwestern province of Hajjah.
Full report at:
http://www.presstv.ir/Detail/2017/05/01/520208/Yemen-Saudi-Jizan-airstrike-Taizz-Hajjah
--------
Al-Qaeda says fighting alongside US-, Saudi-backed militia in Yemen
May 1, 2017
The leader of al-Qaeda's branch in Yemen says his forces have often fought alongside US- and Saudi-backed militia and supporters of former Yemeni president Abd Rabbuh Mansur Hadi against the Yemeni army and the popular Houthi Ansarullah movement.
Qasim al-Rimi, the ringleader of Al-Qaeda in the Arabian Peninsula (AQAP), made the remarks to the terrorist group's media arm al-Malahem from an undisclosed location in war-torn Yemen on Sunday, adding that his militants had teamed up with an array of other "factions," including Salafist groups and the "Muslim Brotherhood," who are both key militias on Hadi's side.
The AQAP is perceived as the most active branch of the al-Qaeda terrorist group and has been considered by the Pentagon as the most dangerous offshoot of the global terror network. Washington has already offered a $5million prize for al-Rimi's capture.
Since March 2015, Saudi Arabia has been heavily bombarding Yemen as part of a brutal campaign against its impoverished southern neighbor in an attempt to reinstall Hadi, a staunch ally of Riyadh, and crush the Houthis, who are in control of large parts of Yemen including the capital Sana'a.
The militia fighting for Hadi, who initially fled the country to Riyadh, managed to capture Aden in July 2015 with the military help of the Saudi regime after it fell to the Houthis in September 2014.
Since then, Hadi, along with his supporters and militiamen, has turned the port city into their base, calling it the country's temporary capital, and have gone hand-in-hand with the Saudi war machine against his own people. The brutal Saudi aggression has so far claimed the lives of more than 12,000 Yemenis.
The AQAP has taken advantage of nearly two years of the Saudi military campaign and the resulting chaos and breakdown of security in Yemen to tighten its grip on the southern and southeastern parts of the Arab country.
Washington also carries out drone airstrikes in Yemen alongside the Saudi military aggression against the impoverished conflict-ridden country, claiming to be targeting AQAP terrorists; however, local sources say civilians have been the main victims of the attacks.
UN warns about possible Saudi attack on Yemeni port
The UN's high commissioner for human rights, Zeid Ra'ad al-Hussein, warned on Monday that the world body was continuously receiving alarming signs that the so-called Saudi-led coalition could attack the key port city of Hudaydah, causing humanitarian suffering and loss of life.
"The UN is concerned about the humanitarian repercussions of such an attack in terms of inflaming the humanitarian crisis even further, let alone our concerns about loss of civilian life were there to be a large-scale attack on the port," he told a press conference in Geneva, Switzerland.
Full report at:
http://www.presstv.ir/Detail/2017/05/01/520183/Yemen-AlQaeda-AQAP-Qasim-alRimi-Saudi-Arabia-US-UN-Houthis-Hadi-Hudaydah
--------
Southeast Asia
PAS chief thanks federal govt for paving way for tabling of Shariah Bill
May 1, 2017
ALOR SETAR, May 1 ― PAS president Datuk Seri Abdul Hadi Awang today expressed his gratitude to the federal government for making way to PAS to present the Syariah Courts (Criminal Jurisdiction) (Amendment) Bill 2016 or Bill 355 in Dewan Rakyat recently.
Abdul Hadi said that what happened was a historic event for PAS and the good deed of the government would be remembered by the party forever.
"We (PAS) thank the government which has provided a valuable path for PAS to table the motion. We will never forget this matter forever.
"We have succeeded in expressing our conscience in Parliament and the decision to suspend proceedings in Parliament allowed us to explain the bill to the people," he said in a speech to adjourn the 63rd PAS General Assembly (Muktamar) at Kota Sarang Semut here today.
He said what happened in Parliament when the bill was tabled reflected the shallowness of some Members of Parliament, especially from the opposition.
"We saw cheap moral behaviour including among non-Muslims who objected to the tabling by screaming and shouting rude words and this is not a characteristic of Members of Parliaments who were picked by the people. Because they were angry with PAS for upholding Islam, PAS was obstructed in such a manner, "he said.
He also mentioned that PAS was not merely a transit party for certain parties to be used for their own self-interests.
"Do not use PAS as a transit party for a temporary stop only to move on when our 'air-condition' is faulty," he said.
In his speech, Abdul Hadi also urged the Registrar of Societies (ROS) to review the operations of all political parties in the country as there were some which were seen to be disrespectful of matters which were enshrined in the Federal Constitution including questioning the position of Islam.
In a press conference later and when answering the question if his gratitude to the government pointed to a PAS-Barisan Nasional cooperation, Abdul Hadi said PAS would cooperate with any political party which is concerned about the welfare of the people and and did not contravene Islam. ― Bernama
http://www.themalaymailonline.com/malaysia/article/pas-chief-thanks-federal-govt-for-paving-way-for-tabling-of-shariah-bill
--------
Muktamar ends with Hadi warning not to 'toy' with Islam
Robin Augustin
May 1, 2017
ALOR SETAR: The 63rd PAS muktamar (general assembly) ended today with party president Abdul Hadi Awang issuing a fierce warning to all elected representatives in Malaysia not to "toy" with Islam.
He also extinguished all hope of straight fights between opposition parties and Barisan Nasional (BN) when he brushed aside Pakatan Harapan (PH) component parties, saying they were small compared to PAS, and with too few divisions and branches.
In his wrapping-up address, the Marang MP hit out at individuals who he said only wanted to use PAS for their own agenda.
"In the past they said they will 'agree to disagree' with us. But (it turned out that) they just wanted to use us for their own agenda," he said, in likely reference to DAP and PKR which had cooperated with PAS in Pakatan Rakyat before the coalition was terminated in June 2015.
MPs from DAP and PKR were also vocal in objecting to Hadi's tabling of a motion on his private member's bill to amend the Syariah Courts (Criminal Jurisdiction) Act 1965 (Act 355), which seeks to increase shariah punishments, in the Dewan Rakyat on April 6.
"How can we agree with people who want to go against Islam?"
Hadi also called on the Registrar of Societies to check if political parties in the country were holding true to the Federal Constitution.
"Do they really respect Islam as the official religion? Do they really respect the Malay rulers? Do they really respect Bahasa Melayu as the official language? Do they really respect the special rights of the Bumiputeras?" he said in his speech at the Kedah PAS Complex at Kota Sarang Semut near here.
Warning all legislators that they had taken an oath to uphold Islam as the religion of the federation, he said PAS would continue its vision of upholding Islam, which included pursuing the amendment of Act 355.
He thanked the BN federal government for giving way to him to table the proposed amendments and said the Islamist party would never forget the cooperation they received in this matter.
At a press conference later, Hadi reiterated that PAS would not allow itself to be used as a stepping stone for the schemes of any party or individual.
He said PAS members implicated in such misdemeanours had either been sacked or had left the party of their own accord.
Asked whether the gratitude he expressed to the federal government meant PAS was open to cooperating with BN in the near future, he said the party has been consistent that it would cooperate with anyone regarding the welfare of the people and would oppose anyone in matters that went against Islam.
"As an example, we have objected to the Law Reform (Marriage and Divorce) (Amendment) Act 2016 because it was not suitable with the realities of Malaysia," he said.
Asked if PAS would enter into discussions with PH to ensure straight fights with BN in the 14th General Election, Hadi said it was unlikely as PAS had a strong foundation.
"We can't have discussions on (empty) air. We can't do business on air. We have 165 divisions, we have 7,000 branches.
"They (PH parties) don't have divisions, they don't have branches," he said.
"So we set up Gagasan Sejahtera," he said, referring to the "third bloc" formed with Parti Ikatan Bangsa Malaysia (Ikatan) and Barisan Jemaah Islamiah Se-Malaysia (Berjasa).
Full report at:
http://www.freemalaysiatoday.com/category/nation/2017/05/01/muktamar-climaxes-in-hadi-warning-not-to-toy-with-islam/
--------
Has Malaysian IS leader Muhammad Wanndy been killed?
May 1, 2017
PETALING JAYA: Muhammad Wanndy Mohamed Jedi, the Islamic State (IS) terror group's principal coordinator for Malaysia, is said to have died following a drone attack in the Raqqa district of Syria.
According to a report in the New Straits Times, an announcement of the 27-year old's demise in the small town of Ma'adan was apparently made by his wife Nor Mahmudah Ahmad on her Facebook page on Saturday.
"My dear fighter, finally it's your time to go," she was quoted as saying in the posting.
"I will remain here and take care of the responsibilities you have left behind… Although my heart has not been as strong as I expected, I accept it as fate."
The report also cited sources involved in monitoring Malaysians fighting alongside the IS in Syria as saying that the accuracy of the information given was still being substantiated.
The source reportedly said it could be a ploy to mislead people into thinking Wanndy was no longer alive, and also claimed that the style of writing in the posting did not match that of his wife's.
Wanndy, who hails from Durian Tunggal in Malacca, had recently posted on Facebook grave accounts of his personal experiences with violent confrontations in Syria, especially with enemy fighters from the Kurdistan Workers' Party (PKK).
The NST report said one of the postings which he appeared in, showed him holding the head of a PKK soldier who was decapitated.
Wanndy has been listed by the US as a high-profile target for law enforcement agencies worldwide.
He was reportedly linked to the bombing of the Movida club in Puchong on June 28 last year, said to be the first attack by IS in Malaysia.
The police named him as the man who gave orders to carry out the attack. Eight people watching a European football match at 2.15am at the pub were injured.
However, Wanndy was quoted by Astro Awani in July as saying he did not issue instructions to the two men arrested in connection with the blast.
He nevertheless vowed to avenge those who have been "persecuted" by Malaysian authorities, by launching large-scale attacks here.
Earlier this year, the US Treasury's Office of Foreign Assets Control (OFAC) imposed a sanction on him and his Indonesian comrade Muhammad Bahrun Naik Anggih Tamtomo.
The NST had earlier reported that Wanndy was wanted under the Specially Designated Global Terrorists list (SDGT) alongside the world's most notorious terrorists.
He had been sourcing funding and providing operational support for the terror group, apart from recruiting fighters.
On April 22, a report in Channel News Asia quoted a businessman whose daughter is also with IS in Syria as saying that Wanndy worked there as a guard and was not a fighter.
He claimed that Wanndy was more active on the Internet for the IS than on the ground.
On April 26, The Star reported that IS chiefs were losing faith in Wanndy's ability to extend the terror network's reach to Malaysia via recruitment and attacks.
Full report at:
http://www.freemalaysiatoday.com/category/nation/2017/05/01/has-malaysian-is-leader-muhammad-wanndy-been-killed/
--------
Indonesia seeks to globalise its tolerant brand of Islam
May 2, 2017
JAKARTA (NYTIMES) - The imposing, 6-foot-tall painting is a potent symbol of modern Indonesian history: the country's founding father, Sukarno, cradling a dead, barefoot rebel killed by Dutch colonial forces amid rice fields and smoldering volcanoes in late-1940s Java.
The fighter's bloodied shirt draws immediate attention - but so does a necklace dangling from the body: a Christian cross, worn by the independence martyr for the world's most populous Muslim-majority nation.
The 2006 painting has become the symbol of a global initiative by the Indonesian youth wing of Nahdlatul Ulama, the largest mass Islamic organisation in the world, that seeks to reinterpret Islamic law dating from the Middle Ages in ways that conform to 21st-century norms.
Among other things, it calls for a re-examination of elements of Islamic law that dictate relations between Muslims and non-Muslims, the structure of government and the proper aims and conduct of warfare.
Leaders of Nahdlatul Ulama's youth wing, known as Ansor, say that elements of syariah, which Muslims consider divine law, are being manipulated by groups like the Islamic State in Iraq and Syria group and Al-Qaeda to justify terrorist attacks around the world, invoked to rally fighters to battle in the Middle East and elsewhere, and distorted by movements that seek to turn Islam into a political weapon.
"The classical Islamic perspective is dominated by views that position non-Muslims as enemies or, at best, as suspicious figures not worthy of trust," H. Yaqut Qoumas, Ansor's chairman, said in an interview.
"Fiqh," or the body of jurisprudence that applies Shariah to everyday life, "explicitly rejects the possibility of non-Muslims enjoying equal rights with Muslims in the public sphere, including the right to occupy certain positions," he said.
"This classical Islamic perspective continues to possess an extraordinarily powerful authority in the eyes of most Muslims, and is regarded as standard, orthodox Islam."
Some interpretations of classical Islamic law teach that Muslims have a duty to seek out and fight Christians, Jews and followers of Zoroastrianism until they either convert to Islam or submit to its rule and pay a head tax.
These interpretations have been enthusiastically adopted by the Islamic State.
Also, some interpretations of classical Islamic law, and of certain passages in the Quran, forbid Muslims from having non-Muslim political leaders. Medieval Islamic jurisprudence, still regarded as valid by some, is used to justify slavery and the execution of prisoners.
Some predominantly Muslim countries have been moving to reinterpret Islamic law within their borders, with some sending delegations to a 2016 international conference of scholars, religious leaders and clergy members in Morocco on protecting the legal rights of religious minorities living among them.
The Indonesian initiative, however, aims to directly approach governments around the world, both Muslim-majority and otherwise, as well as at the United Nations, to achieve a global consensus on reforming what it views as archaic interpretations of Islam. "The challenge we face is not confined to religious views that emerged through an intellectual process conducted a thousand years ago. We are also confronted by religious and political authorities whose institutions are deeply intertwined with these views, and thus continue to inculcate such teachings among each new generation of Muslims," Yaqut said.
Nonetheless, some Islamic scholars and experts note that because there are so many diverging interpretations of Islamic law and the Quran, it would be difficult to reach an international consensus on reforms.
"There's a whole library of interpretations of jihad - Muslims must fight non-Muslim states to expand territory, for example," said Ruud Peters, an emeritus professor of Islamic law at the University of Amsterdam.
"But since the 19th century, there have been interpretations followed by many Muslim states to only defend against attack from non-Muslim states."
Another problem, scholars and experts said, is the cultural differences among predominantly Muslim countries in interpreting Islamic law. Indonesia, in South-east Asia, for example, practices one of the most liberal forms of Islam in the world, while simultaneously having a secular government and constitution, with full rights for Christians, Hindus, Buddhists and other religious minorities.
Full report at:
http://www.straitstimes.com/asia/se-asia/indonesia-seeks-to-globalise-its-tolerant-brand-of-islam
--------
South Asia
130 Insurgents Killed In Afghan Forces Operations, MoDClaims
May 01 2017
The Ministry of Defense of Afghanistan (MoD) claims at least 130 insurgents were killed during the counter-terrorism operations in the past 24 hours.
A statement by MoD said, The Afghan National Defense and Security Forces conducted joined offensive operations in order to protect lives and properties of people in the past 24 hours, also defeating the insurgents in different parts of the country that as a result, 130 insurgents including 46 Daesh affiliates and a local commander of Taliban were killed, 24 wounded and 3 others arrested.
The statement further added, joint operation of the Defense Security Forces was held by supporting of the artillery and air forces in Nangarhar , Kunar , Kapisa , Parwan , Paktia , Ghazni , Kandahar , Urozgan , Zabul ,Herat , Balkh , Kundoz , Faryab , Baghlan , Takhar , Badakhshan and Helmand provinces.
"During these operations, in Dehrawod and Trenkot districts of Urozgan , 30 Taliban insurgents killed and 4 wounded , in Achin , Chaparhar and Khogyano districts of Nangarhar , 56 insurgents including 46 Daesh affiliates were killed , 2 wounded , 4 hideouts and a vehicle destroyed , in Tagab district of Kapisa , 16 insurgents killed also , enemy's camp destroyed , in Nahrsaraj district of Helmand , 11 insurgents killed including a local commander of Taliban , 13 wounded , 22 vehicles loaded of ammunition destroyed," the statement added.
MoD further added "Similarly , in Moqor and Andar districts of Ghazni , 6 insurgents killed and 4 wounded , in Watapor district of Kunar , 5 insurgents killed , in Shahjoi district of Zabul , 2 insurgents killed and 1 wounded ,in Zebak district of Badakhshan , 4 insurgents killed and a vehicle destroyed , in Gozra district of Herat , 3 terrorists arrested with a vehicle , in Bagram district of Parwan , 1000 KGs of Ammonium Nitrate along with some other explosives confiscated."
According to MoD, the Afghan National Army as nation's defense forces, are ready to give sacrifice to ensure peace and security for people and has strong determination to eliminate terror groups.
The anti-governmemt armed militant groups including the Taliban insurgents have, not commented regarding the reports so far.
http://www.khaama.com/130-insurgents-killed-in-afghan-forces-operations-mod-claims-02695
--------
US drone strike kills eight Taliban insurgents
May 02, 2017
NANGARHAR - At least eight Taliban insurgents were killed in an airstrike conducted by the US forces in eastern Nangarhar province of Afghanistan, the local security officials said Monday.
The militants were targeted in the vicinity of Chaparhar district, home to several Taliban and ISIS militants. A clash was also broke out between the Taliban insurgents and ISIS militants in Chaparhar district yesterday which left more than 30 militants dead or wounded from the both sides.
At least two civilians including a child were also killed and five others including children were wounded during the clash.
In the meantime, the security officials in Nangarhar are saying that four ISIS militants including a senior leader of the group were killed during the operations of the Afghan forces in Pekha area of Achin district on Sunday. The anti-government armed militant groups including the Taliban insurgents have not commented regarding the report so far.
Nangarhar is among the relatively calm provinces in eastern Afghanistan but the anti-government armed militant groups have recently increased their insurgency activities in some parts of the province during the recent years.
Both the Afghan and US forces conducted regular strikes against the loyalists of the terror group in this province. The increased raids, usually involving drone strikes, by the US forces followed a broader role granted by the Obama administration earlier last year.
Order to release 70 prisoners
of Hezb-e-Islami
President Ashraf Ghani has signed a decree for the release of the first batch of Hezb-e-Islam prisoners. The first batch of the prisoners to be released from the jails will include over 70 inmates.
The officials in ARG Palace said last month that the release of Hezb-e-Islami prisoners will kick off as the per the peace agreement and with the return of the party's leader Gulbuddin Hekmatyar.
President Ghani also chaired the National Security Council meeting late in February and instructed the relevant authorities to take immediate steps in implementation of the peace deal with Hezb-e-Islami.
Full report at:
http://nation.com.pk/national/02-May-2017/us-drone-strike-kills-eight-taliban-insurgents
--------
Back to the roots: Islamic romance novels set hearts aflutter in Bangladesh
May 02, 2017
Kasem bin Abubakar was told nobody would buy his chaste romance novels about devout young Muslims finding love within the strict moral confines of Bangladeshi society.
And yet his tales of lovers whispering sweet nothings between calls to prayer sold millions in the 1980s and proved to be a huge hit among young girls from Bangladesh's rural, conservative heartland.
Now his work is undergoing something of a renaissance as Bangladesh slides from the moderate Islam worshipped for generations to a more conservative interpretation of the scriptures.
"Girls write me love letters with ink dipped in their own blood. Some were desperate to marry me" Abubakar told AFP, recounting his surprise at young women making a traditional gesture of intense devotion to a greying author.
His debut novel Futonto Golap (The Blossomed Rose), written more than three decades ago, has spawned an entire genre of fiction tinged with Islamic values.
Abubakar was inspired to take up the pen in the late 1970s, when as a bookseller he lamented that most novels were obsessed with the cosmopolitan lifestyles of modern, elite Bangladeshis. These secular tales were a world removed from the largely rural and pious village existence lived by the majority of Bangladesh's 160 million people, and Abubakar sensed a gap in the market ripe for his fiction.
'Mullah novels don't sell'
"He tapped into a new readership that nobody thought existed before," said Bangladeshi journalist Qadaruddin Shishir.
"In rural villages, Abubakar's novels are the best gift a young lover can give to his fiancee."
Abubakar wrote The Blossomed Rose – a story about two mismatched young Muslims seeking consent for marriage from their families – in 1978, but it took almost a decade for a publisher to even look at it.
"They told me 'mullah novels' don't sell," he said.
Eventually, he sold the copyright to a publisher for a mere 1,000 Taka (USD$12.50), and became an overnight sensation.
Since his breakthrough, Abubakar has written dozens of works, most revolving around the mosque, veiled women and wayward youth abandoning so-called corrupt lifestyles after finding religion.
Secular activists fear creeping conservatism could unwind many of the gains made by the impoverished nation in improving school attendance and gender equality.
An ever-increasing number of students attend madrassas, or religious boarding schools, in Bangladesh, where Abubakar's books have found "become a favourite", said fellow author Syed Mazharul Parvez.
"They can relate to these stories and are comfortable with the settings and language their protagonists speak," he said.
Inspiring new writers
Abubakar has inspired a new generation of Bangladeshi writers who are finding success with their own contemporary brand of Islamic fiction.
Popular writers like Abdus Salam Mitul, Kawser Ahmed and Abdul Alim ecohed Abubakar in their own tales of "piety, conservative attitudes and decency", said Abubakar's son Mohammad Saifullah, a Dhaka-based publisher.
Mitul in particular shot to fame in the 2000s with his own story about a burqa-clad girl reminiscent of Abubakar's breakthrough The Blossomed Rose.
"I think a lot of people still think it was written by my father. But it was Mitul's work and it sold tens of thousands of copies," Saifullah said.
Aspiring author Abdul Alim said Abubakar's works had motivated his own plotlines – moral tales that in the end showed "Islam has answers" for society's ills.
"He is such a talented story teller. He showed us the way," Alim said of Abubakar.
For Abubakar, his fans keep him busy even two years into retirement. At a bookstore recently, the octogenarian signed autographs for his readers, many women in full-face veils clutching his titles.
Full report at:
http://www.hindustantimes.com/books/back-to-the-roots-islamic-romance-novels-set-hearts-aflutter-in-bangladesh/story-P137iQ6XhvT029CNJrY8NK.html
--------
US to grant 2,500 more visas for Afghans under $1 trillion deal
May 02 2017
The United States government will grant 2,500 more visas for the Afghan nationals have worked with the US military in Afghanistan, it has been reported.
The Afghan nationals will be granted with the visas under the deal that concluded on Sunday worth around $1 trillion.
This comes as the US government had approved 1,500 more visas for the Afghan nationals under the National Defense Authorization Act which was passed in late 2016.
However, reports emerged later suggesting that the US embassy in Kabul has run out of visas and has stopped scheduling interviews for the applicants.
"It's both a moral and practical imperative that Congress approve additional visas. Thousands of Afghans have put themselves, and their families, at risk to help our soldiers and diplomats accomplish the U.S. mission and return home safely," Democratic Senator Jeanne Shaheen quoted by Reuters said.
The Senate Armed Services Committee last year opposed to extend or authorizing new visa for the Afghan Special Immigration Visa Program.
Full report at:
http://www.khaama.com/us-to-grant-2500-more-visas-for-afghans-under-1-trillion-deal-02697
--------
Release of 69 Hezb-e-Islami prisoners delayed
May 02 2017
The release of 69 prisoners belonging to Hezb-e-Islami has been delayed due to issues sparked between the party and the Afghan government.
Officials of Hezb-e-Islami said the prisoners were due to be released on Monday but the process was delayed after the Afghanistan Independent Human Rights Commission interfered with the release of the prisoners.
The acting head of Hezb-e-Islami office Nader Afghan told reporters that the Independent Human Rights Commission's interference resulted into the blockage of the release of 13 key members of the party.
He said the names of the 13 key ISIS members were not on the list as they had visited the Pul-e-Charkhi and Bagram prison to receive the prisoners after their release.
This comes as sources in the presidential palace said Monday that President Mohammad Ashraf Ghani has signed a decree for the release of the first batch of Hezb-e-Islami prisoners, consisting almost 70 people.
The peace agreement between Hezb-e-Islami and the Afghan government was signed in September last year, months after negotiations between the Afghan High Peace Council and the Hezb-e-Islami delegation.
Full report at:
http://www.khaama.com/release-of-69-hezb-e-islami-prisoners-delayed-02696
--------
UN mission in Afghanistan welcomes Hekmatyar's return to Afghanistan
May 01 2017
The United Nations Assistance Mission in Afghanistan welcomed the conclusion of peace agreement between the Afghan government and the Hez-e-Islami led Gulbuddin Hekmatyar, saying UNAMA is encouraged by steps towards peace in Afghanistan.
A statement by the UN mission in Afghanistan said "UNAMA supports the efforts by Afghanistan's National Unity Government to engage all those interested in establishing an equitable peace and renouncing violence for good."
The statement further added "The agreement with Hezb-i-Islami Gulbuddin demonstrates the preparedness of Afghanistan's government to seek peace with armed anti-government elements, and UNAMA looks forward to its full implementation and to other armed actors joining a peace process."
"A credible peace process must remain owned and driven by Afghans, who will build a future together," the statement said, adding that "The UN welcomes agreements that will contribute to a reduction of violence in Afghanistan and allow Afghans to live in peace with each other."
UNAMA also added "After decades of war in Afghanistan, the UN sees all steps towards reconciliation, inclusive peace and a lasting end to the conflict as positive, but remains mindful of the issues around transitional justice and the importance of upholding human rights."
The peace agreement between Hezb-e-Islami and the Afghan government was signed in September last year, months after negotiations between the Afghan High Peace Council and the Hezb-e-Islami delegation.
Full report at:
http://www.khaama.com/un-mission-in-afghanistan-welcomes-helmatyars-return-to-afghanistan-02694
--------
NATO welcomes full implementation of peace agreement with Hezb-e-Islami
May 01 2017
The North Atlantic Treaty Organization (NATO) welcomed the full implementation of peace agreement between the Afghan government and Hezb-e-Islami led by Gulbuddin Hekmatyar.
NATO Senior Civilian Representative to Afghanistan Cornelius Zimmermann said "NATO welcomes the Afghan government's continued steps towards full implementation of its peace agreement with Hizb-e Islami. This is a positive indication of the Afghan government's ongoing commitment to the restoration of peace and stability in Afghanistan."
Zimmermann further added "In moving forward, it is critical that all parties continue to abide by the terms of this important peace agreement which is a critical step to peace for all Afghans."
"It is vital that Hizb-e Islami's stated renunciation of violence and commitment to the rule of law be matched by action," he said.
The NATO Senior Civilian Representative also added "NATO continues to support an inclusive, Afghan-led and Afghan-owned peace and reconciliation process, in which armed groups cease violence, break ties with international terrorist groups and respect the Afghan constitution and human rights, in particular the rights of women and minorities."
Full report at:
http://www.khaama.com/nato-welcomes-full-implementation-of-peace-agreement-with-hezb-e-islami-02693
--------
Europe
Russian Center: Syrian Peace Plan Signed by Militants in 1,475 Regions
May 01, 2017
"The number of populated localities that joined the reconciliation process in Syria has increased to 1,475," the Russian Reconciliation Center for Syria said.
It added that "negotiations to join the cessation of hostilities agreement are underway with armed opposition units in the provinces of Aleppo, Damascus, Hama, Homs and Quneitra".
"According to the report, the number of armed groups that pledged their commitment to the acceptance and commitment of the conditions of the cessation of hostilities in line with the ceasefire agreement of 27 February 2016 has not changed, and stands at 143," the statement said.
In addition, 65 militant groups agreed to stop fighting and to join the cessation of hostilities agreement that came into force at midnight of 30 December 2016 in line with the truce agreement achieved in an effort to find a complex solution to the conflict in Syria.
http://en.farsnews.com/newstext.aspx?nn=13960211000505
--------
UN rights chief slams Turkey's post-coup purge, warns Egypt over crackdown
May 1, 2017
The UN rights chief has criticized Turkey's large-scale dismissal of officials and mass arrests of people in the wake of the July 15 coup attempt, while warning Egypt about consequences of its heavy-handed crackdown on dissent.
"It is highly unlikely that the suspensions and detentions will have met due process standards," Zeid Ra'ad al-Hussein told reporters in the Swiss city of Geneva on Monday.
The UN rights chief addressed the detention of Turkish media members, saying, "Journalism is not a crime in Turkey, it is an issue the government must pay deep attention to."
The remarks came two days after Turkey's Justice Ministry released a decree with the names of 3,975 dismissed officials, some 1,000 of whom formerly worked for the ministry and 1,000 others were employed by the army.
Some 100 pilots were among the sacked army personnel, while the names of about 500 state-employed academics were also included in the decree.
Turkey had earlier suspended over 9,000 members of the country's police force and sacked 1,000 for alleged links to Fethullah Gulen, a US-based Turkish cleric and opposition figure, whom Ankara blames for the failed coup. Gulen has strongly condemned the coup bid and has denied any involvement in it.
Over 240 people were killed and more than 2,100 others injured in the botched putsch against President Recep Tayyip Erdogan.
Tens of thousands of people, including military personnel, judges and teachers, have been suspended, dismissed or detained as part of the post-coup crackdown.
On November 24, 2016, the European Parliament adopted a non-binding motion with 479 votes in favor, 37 against and 107 abstentions, calling for "a temporary freeze of the ongoing accession negotiations with Turkey."
Egypt crackdown 'facilitates radicalization'
The UN rights chief also denounced the Egyptian government's heavy-handed crackdown on political dissidents and pro-democracy campaigners, warning that such measures would foster radicalization and extremism in the North African country.
"A state of emergency, the massive numbers of detentions, reports of torture, and continued arbitrary arrests - all of this we believe facilitates radicalization in prisons," Zeid said.
He added that national security must be a priority for every country, but "not at the expense of human rights."
On Sunday, the Cairo Criminal Court upheld a death sentence in absentia against Wagdi Ghoneim, a leader of the banned Muslim Brotherhood movement, on charges of establishing a "terror group," which allegedly incited violence against security forces.
On April 2, the court issued a preliminary death sentence against Turkey-based Ghoneim and announced that it was awaiting endorsement of the verdict by Egypt's Grand Mufti, Shawki Allam, who must review all death sentences according to the country's penal code.
The Egyptian government has been cracking down on opposition since the country's first democratically-elected president, Mohamed Morsi, was ousted in a military coup led by former army chief and current President Abdel Fattah el-Sisi in July 2013.
Rights groups say the army's clampdown on Morsi's supporters has led to the deaths of over 1,400 people and the arrests of 22,000 others, including some 200 people, who have been sentenced to death in mass trials.
Full report at:
http://www.presstv.ir/Detail/2017/05/01/520191/UN-rights-chief-coup-Erdogan-Egypt-Sisi-Morsi
--------
UN human rights expert condemns "defamatory" Iran press report
GENEVA (24 April 2017) – The United Nations Special Rapporteur on the situation of human rights in the Islamic Republic of Iran, Asma Jahangir, has denounced a report published by the Iranian News Agency (IRNA) alleging that she was planning to undertake a visit to Saudi Arabia in order to defame the authorities in Tehran.
The report also suggested that Ms. Jahangir intended to carry out the mission on behalf of military interests. But the Special Rapporteur has condemned and vehemently denied the news item.
"I am appalled by this fabricated and malicious news story which is clearly aimed at compromising my integrity and independence, both of which are recognized internationally," said Ms. Jahangir.
"Anyone who has a substantive disagreement with a Special Rapporteur's assessment can always express their doubts. However, it is unacceptable for mandate holders to be subjected to defamation campaigns when discharging their duties, which are established by the United Nations Human Rights Council," she stressed.
"These accusations unfortunately reinforce the assessment I made in my first report to the UN Human Rights Council about the climate of fear which exists in Iran, where similar methods are used to silence those expressing dissenting opinions," she added.
The Special Rapporteur reiterated that campaigns of vilification would neither put her on the defensive nor compromise her independence in reporting the challenges faced by Iranians with regard to their rights, dignity and freedoms.
Ms. Asma Jahangir (Pakistan) was designated as the Special Rapporteur on the situation of human rights in the Islamic Republic of Iran by the Human Rights Council in September 2016 Ms. Jahangir was elected as President of the Supreme Court Bar Association of Pakistan and as Chairperson of the Human Rights Commission of Pakistan. Over the years, she has been recognized both nationally and internationally for her contribution to the cause of human rights and is a recipient of major human rights awards. She has worked extensively in the field of women's rights, protection of religious minorities and in eliminating bonded labour. She is a former Special Rapporteur on summary executions, and on freedom of religion.
Full report at:
http://www.ohchr.org/EN/NewsEvents/Pages/DisplayNews.aspx?NewsID=21524&LangID=E
--------
Sweden probes 'arson attack' on mosque
May 2, 2017
STOCKHOLM - Sweden's largest mosque was badly damaged overnight in a suspected arson attack, police said Monday.
"Flames were engulfing the outer facade" of the Imam Ali Islamic Centre in the northern Stockholm suburb of Jakobsberg, a police spokesman said, although there were no reports of any injuries.
"It seems it was set ablaze from the outside," the TT news agency quoted police spokesman Lars Bystrom as saying, adding an investigation was under way to determine if the motive was political.
"This is Sweden's largest Shia mosque with thousands of faithful... They are really concerned," mosque spokesman Akil Zahari told broadcaster SVT. Several mosques in Sweden have been the target of arson attacks in recent years but few perpetrators have been caught. In April last year, a 31-year-old man identified through CCTV footage was jailed for three years for racially-aggravated arson after admitting setting fire to a mosque in the southwestern town of Boras.
Swedish anti-racism campaigners protested in January 2015 after a trio of arson attacks on mosques in the Nordic country.
In Stockholm, residents are still coming to terms with an April 7 truck attack which killed five people.
Full report at:
http://nation.com.pk/international/02-May-2017/sweden-probes-arson-attack-on-mosque
--------
France Attacks Islamic Army Base in Burkina Faso
May 2, 2017
Bamako, May 1 (Prensa Latina) French army forces stationed in Mali attacked an Islamic group that began operations in Burkina Faso a few weeks ago, according to a statement by public media.
It would be the first French military action against the unknown Ansar Islam Islamic armed group (Islam Followers), whose headquarters is supposed to be located in the Foulare forrest, close to Ouagadougou, the capital of Burkina Faso.
Since last year, this tiny landlocked nation has been subjected to minor armed actions, but with a tendency to increase, including an attack on Ouagadougou areas months ago, as a result of which dozens of civilians were killed.
Full report at:
http://plenglish.com/index.php?o=rn&id=12355&SEO=france-attacks-islamic-army-base-in-burkina-faso
--------
North America
Over 350 civilians killed in US-led strikes against ISIS: Pentagon
May 2, 2017
According to The Independent, at least 352 civilians have been killed in US-led strikes against Isis targets in Iraq and Syria since operations began in 2014, the Pentagon has said.
The Combined Joint Task Force, in its monthly assessment of civilian casualties from the US coalition's operations against the jihadi group, said it was still assessing 42 reports of civilian deaths.
It added that 45 civilians were killed between November 2016 and March 2017. It reported 80 civilian deaths from August 2014 to the present that had not previously been announced. The report included 26 deaths from three separate strikes in March.
The military's official tally is far below those of other outside groups. Monitoring group Airwars said more than 3,000 civilians have been killed by coalition air strikes.
Included in Sunday's tally were 14 civilians killed by a strike in March that set off a secondary explosion, as well as 10 civilians who were killed in a strike on Isis headquarters in the same month.
"We regret the unintentional loss of civilian lives ... and express our deepest sympathies to the families and others affected by these strikes," the Pentagon said in a statement.
The report did not include findings from an ongoing investigation into a 17 March strike targeting Isis fighters in the Iraqi city of Mosul. That strike resulted in more than 100 civilian deaths, according to reports from residents. Last month, the U.S. acknowledged coalition planes conducted a strike "at the location corresponding to allegations of civilian casualties," but did not confirm the reports of high civilian casualties.
Coalition officials have declined to give a time frame as to when the investigation into the incident will be complete.
The 17 March strike sparked outrage in Iraq and beyond with calls from local government officials as well as the United Nations for greater restraint in the fight against Isis for Mosul. The United Nations reported nearly 2,000 civilians have been treated for trauma since the fight for western Mosul began in February following the formal launch of the operation to retake the city in October 2016.
Iraqi forces declared Mosul's eastern half "fully liberated" in January, but have since struggled to retake the city's western side. Claustrophobic terrain and tens of thousands of civilians being held by the extremists as human shields have bogged Iraqi and coalition forces down.
The US began the campaign of air strikes against Isis in 2014 after the extremists pushed into Iraq from Syria, overrunning Mosul and large swaths of Iraq's north and west. Since then Iraqi forces have slowly clawed back territory. Now a cluster of western Mosul neighbourhoods are the last significant urban terrain under Isis control in Iraq.
http://nation.com.pk/international/01-May-2017/over-350-civilians-killed-in-us-led-strikes-against-isis-pentagon
--------
Muslim American Airlines Flight Attendant Claims Co-Workers Repeatedly Called Him Terrorist
May 1, 2017
A Muslim flight attendant has filed a lawsuit against American Airlines, claiming his co-workers repeatedly called him a terrorist.
NJ.com reports Farkhan Mahmood Shah, of Edison, New Jersey, filed the lawsuit in Superior Court in Middlesex County.
According to the lawsuit, Shah, who is of Pakistani descent, claims his co-workers said he was part of the Taliban and Hezbollah and that even one flight attendant allegedly tried to convert him to Christianity.
American Airlines spokesman Matt Miller told NJ.com that the company is looking into the lawsuit.
"American does not tolerate discrimination of any kind," Miller said.
NJ.com reports that Shah, who began working at American Airlines as a flight attendant in 1999, first reported the alleged harassment in 2008. He claims that after he reported the harassment, he started noticing there were erroneous marks on his record for lateness and missing work.
The lawsuit states that in 2013 Shah brought up the errors on his record and was allegedly told they would be fixed, but were never corrected.
According to NJ.com, Shah says in the lawsuit that he and his co-workers were having a conversation about the Sept. 11 terror attacks, when one of the workers allegedly said, "It was the Muslims and that Muslims are evil."
In the lawsuit, Shah said he responded to his co-workers by stating that some said the 9/11 attacks were an inside job and that the Islamic State of Iraq and Syria was created by the CIA, after watching a Hillary Clinton clip.
Shah claims that his comments were reported to supervisors and he was placed on a "watch list" by American Airlines weeks later. The lawsuit also states that FBI agents went to his Edison home.
Full report at:
Shah is seeking damages, attorney fees and other relief in the lawsuit.
http://philadelphia.cbslocal.com/2017/05/01/muslim-flight-attendant-lawsuit/
--------
I'm Grateful For These Unsung Straight Allies Of LGBTQ Muslims
Junaid Jahangir
05/01/2017
Sometimes atheists, feminists and LGBTQ rights activists create a new orthodoxy when they demean those who do not share their views. In their critiques they also dictate how allies should think and when they should talk. Battling others for being judgmental and lacking compassion, they become the very embodiment of what they oppose.
Not all traditionally conservative people are judgmental, sexist or homophobic. They may reject a worldview without God and traditional rules of ethical conduct while being compassionate neighbours and friends.
Disagreement is part of the human experience. Therefore, belittling allies in aggressive tones, dictating their conduct and thought process as if we were the fonts of wisdom by virtue of being oppressed is unwarranted.
Muslim activist Amanda Quraishi aptly captures this new culture of constant haranguing as follows:
"The problem with giving a shit about anything is that as soon as people see that you do, they start complaining that you don't give enough of a shit ... or that you should be giving more of a shit about something else. This never happens to people who give no shits at all."
In order to resist this toxic culture of demeaning others we have to harness the spirit of simple gratitude. Here is a list of unsung straight Muslim allies who have stood by the LGBTQ Muslim community against Islamophobia, homophobia and transphobia in their respective capacities.
1) Ayman Fadel
Muslim activist Ayman Fadel has carefully reviewed our Journal of Homosexuality article and the book Islamic Law and Muslim Same-Sex Unions. He caught errors that escaped our eyes and painstakingly edited and formatted our text. Post-Orlando, he promoted our book, suggesting that Muslim communities should keep it in their libraries.
adel is very intellectually honest and an excellent human being. In his blog "My Journey from Homophobe to Less Bad of a Human!", he wrote:
"I knew how to pray, fast, read the Qur'an and abstain from pork and alcohol, but I did not know to avoid insulting people. ... I wish I could claim that through repentance and study and prayer I changed, but it was actually a non-Muslim friend who told me that the next day she would be identified in the student newspaper at University of Virginia as a leader of an LGBT group on campus. She was worried what I'd think, no doubt because she had heard me spouting off with anti-gay slurs. I immediately told her it would not change my affection for her in the least."
2) Laury Silvers
Muslim academic Laury Silvers helped co-found the religiously plural, gender-equal and LGBTQ-affirming prayer space in Toronto known as the el-Tawhid Juma Circle. She has participated in several dialogues and initiatives on Muslim LGBTQ concerns and contributed to a chapter in the book, "Struggling in Good Faith: LGBTQI Inclusion from 13 American Religious Perspectives."
She includes discussions on sexual minorities in the courses she teaches at the University of Toronto. This year, she invited me to speak to her class. She often asserts:
"LGBTQ Muslims have been in the forefront of supporting Muslim women's rights. ... Yet they are often left out of our telling of that history. ... Too many progressive Muslim women (and men) see LGBTQ Muslims as the third rail in 'progress' because either they make them feel uncomfortable or they are afraid of alienating more conservative elements."
"Dads with hennaed beards and dark sadjah marks have turned out to be some of the most fervent supporters."
-- Nakia Jackson
3) Nakia Jackson
Muslim activist Nakia Jackson is a proud mother of an autistic son. She has been quite active on issues pertaining to Muslim women, black Muslims, LGBTQ Muslims and their intersections. She has led prayers in gender equal and LGBTQ affirming Muslim spaces on the basis on what she calls "shared authority." Supporting a bisexual Muslim on coming out, she wrote:
"Be prepared to be surprised. Wine-drinking Muslim moms have proven to be curiously homophobic or biphobic. Dads with hennaed beards and dark sadjah marks have turned out to be some of the most fervent supporters of their gay, lesbian, bisexual and transgender children."
4) Ani Zonneveld
Ani Zonneveld of U.S.-based Muslims for Progressive Values has been a staunch ally of LGBTQ Muslims. She works relentlessly on the issue and has offered affirming resources along with officiating Muslim same-sex unions.
5) Shahla Khan Salter
A single mother and a lawyer, Shahla Khan Salter of Canada based Universalist Muslims has marched in Pride parades, offered reflection for Pride service and continues to offer her unstinted support to LGBTQ Muslims. Writing against bullying of LGBTQ students, she mentioned:
"In Muslim communities, we may not all agree on whether same-sex sexual relations are permissible. Certainly discord on this issue is not unique to Muslims. But all that schools are doing to promote tolerance must not be undone in the name of religion. There is no room for hatred and intolerance in any religion -- and in my humble opinion, especially in Islam."
One hopes that as the LGBTQ Muslim community matures, they will remember and honour these courageous straight Muslim allies.
6) Khaleel Mohammed
Imam Mohammed developed and taught a course in Muslim sexuality at San Diego State University. He has given several presentations on LGBTQ concerns in Islam and has offered "methods of arguing against the fundamentalist interpretations of proscription."
Full report at:
http://www.huffingtonpost.ca/junaid-jahangir/lgbtq-muslim-allies_b_16311356.html
--------
U.S. must stand up for religious freedom
May 1, 2017
In late April, the U.S. Commission on International Religious Freedom released its annual report on conditions for religious liberty abroad.
Among the countries we reported on is Russia, where the nation's highest court recently issued a chilling decision allowing the government to ban all operations of the Jehovah's Witnesses.
This ruling, horrifying on its own, was the latest dramatic example of how violations of religious freedom have worsened in recent years. From administrative harassment to arbitrary imprisonment to extrajudicial killings, Russia's government continues to perpetrate violations in a systematic, ongoing and egregious way.
The United States needs to send an unmistakable message. We urge the U.S. State Department to do so by designating Russia a "country of particular concern" under the 1998 International Religious Freedom Act. We should recognize President Vladimir Putin's government for what it is — one of the most serious violators of religious freedom in the world.
For years, Russia has vigorously applied its anti-extremism law, with Muslims and Jehovah's Witnesses often targeted. The law, which does not require the use or threat of violence for prosecution, is so vague as to permit the persecution of virtually any kind of expression — religious, political or otherwise — that the government opposes. The law has enabled authorities to ban thousands of items from both of these groups, including a Jehovah's Witnesses children's book, "My Book of Bible Stories."
A year ago, the Kremlin began deploying that law against the Jehovah's Witnesses in an appalling new way. In March 2016, the Ministry of Justice warned the Jehovah's Witnesses that the organization was in danger of losing its legal right to exist in Russia due to questions of "extremism." Subsequently, authorities were captured on videotape planting banned "extremist" material in prayer halls belonging to the Witnesses. Based on this so-called evidence, the Ministry of Justice suspended all activity of the Jehovah's Witnesses.
And now, with Russia's Supreme Court having recently ruled for the Justice Ministry, the Jehovah's Witnesses are legally abolished in Russia. It is the first time that Russia has legally banned a centrally administered religious organization.
This is but one example — though a stark one, to be sure — of how Russia's religious freedom conditions have gone from bad to worse. Other examples range from an anti-blasphemy statute enacted in 2013 to the Yarovaya amendments enacted last July. including a measure targeting groups that place a premium on sharing their faith with others. The measure makes it illegal to preach, teach, and publish religious content anywhere other than government-approved sites. More brutally, in the North Caucasus, Russian security forces regularly carry out arrests, kidnappings, disappearances and killings of people suspected of links to "nontraditional" Islam.
Moreover, Russia has spent the last three years imposing its homegrown religious repression on Crimea and parts of eastern Ukraine.
It has used its anti-extremism laws as a pretext for persecuting Crimean religious minorities, and authorities have conducted repeated raids on Muslim homes and mosques. In September, Russia's Supreme Court upheld the banning of the Mejlis, the representative body of the Muslim Crimean Tatars, as extremist.
Pro-Russian authorities also have harassed Crimean churches that operate independently of the Russian Orthodox Church's Moscow Patriarchate, which the Kremlin has made into a de facto state church, forcing some leaders to leave the peninsula. In January 2016, authorities ordered the Ukrainian Orthodox Church's Kyiv Patriarchate to vacate its last prayer space in Crimea's capital of Simferopol, and in December they shuttered a Pentecostal church in Bakhchisaray.
Full report at:
http://www.columbiadailyherald.com/opinion/20170501/us-must-stand-up-for-religious-freedom
--------
Pakistan
Work on CTD plan for deradicalisation of militants begins this month
May 2, 2017
KARACHI: The Sindh police's Counter-Terrorism Department (CTD) has decided to execute a comprehensive plan that its team had prepared for deradicalisation of militants from this month, it emerged on Monday.
A core team comprising forensic psychiatrist and psychologist, facilitator or mediator, religious scholar and a CTD official has already been established for this purpose, sources said.
A few young suspected militants, who are in custody for indulging in 'minor' activities, were selected for a pilot project in the first phase of the deradicalisation plan, said Sindh CTD chief Additional Inspector General of Police Dr Sanaullah Abbasi.
He said a number of sessions with those youngsters would be held possibly at the CTD office in Garden police headquarters and if need be, such sessions might be held at their residences.
Multipronged approach to be used to determine what drives individuals towards militancy
He disclosed that the militants had gone for training to Afghanistan but were persuaded by their families to abandon militancy. So far evidence of their involvement in 'organised militant activities' had not been found by the law enforcement agencies, he added.
In fact their families had approached the CTD to help deradicalise the youths. If this pilot project succeeded, it would be applied on a large scale, he added.
Additional IGP Abbasi said a qualified forensic psychiatrist working abroad had voluntarily offered his services for the process. He added that a non-governmental organisation, which had some experience in deradicalisation, was also helping the CTD to this effect.
They were planning to seek help of the private sector as far as financing of this project was concerned.
The CTD chief said that a host of reasons such as personal, family ties, social, ideological and cultural factors would be taken into consideration for the process. A joint team might try to approach the persons with tendency of militancy from different angles such as mental health approach and religious interpretative approach, he explained.
Once the CTD felt that the person had been deradicalised, they would take the decision to allow him to move back into society. But such person would be kept under watch by his family, local religious scholar/prayer leader and CTD official to monitor his behaviour.
Such religious scholars or prayer leaders would be taken into confidence and requested by the CTD to hold regular sessions with the deradicalised person preferably on a weekly basis to monitor his behaviour, he added.
Furthermore, such persons would be asked to remain in touch with the CTD office every week initially and if need be, further sessions would be held with him by core team members as well.
About the role of core team members, Additional IGP Abbasi said core team members particularly the psychiatrist/psychologist would help them in dealing with possible mental health issues of the militants. He believed that there was a dearth of professional forensic experts in the country, therefore, the CTD had sought help from qualified psychiatrists who had worked abroad.
The CTD chief said that a mediator or facilitator was likely to help them in uncovering the underlying interests of the person inclined towards militancy, besides his expertise would be used to develop a rapport or trust with the militants.
Such facilitator would be required to utilise different methods to alter the mindset of the militant and try to direct his energy towards some productive work.
"The facilitator shall also detect and resolve any conflict the militant may be facing with his family that caused him to alienate himself from them and subsequently seek support from any organisation," said Additional IGP Abbasi.
Regarding the role of the religious scholar or prayer leader, the CTD chief said that the religious representative would be asked to talk with the militant about interpretation of different religious texts and traditions, which were usually misinterpreted by militant groups.
Full report at:
https://www.dawn.com/news/1330452/work-on-ctd-plan-for-deradicalisation-of-militants-begins-this-month
--------
Mashal's Murder: Political, religious parties demand speedy trial
May 02, 2017
SWABI - Speakers at a jirga of political and religious parties on Monday unanimously demanded a speedy trial in Mashal murder case and punishment to all those involved in the incident.
Leaders of political and religious parties and members of the civil society and welfare bodies participated in the gathering held at Haqqani Library.
The gathering was organised by Mashal Forum, a body working for education of youngsters in the district.
Mashal, who belonged to Zaida city of the district, was brutally killed over alleged blasphemy at Abdul Wali Khan University Mardan by a violent mob on April 13.
Qaumi Watan Party (QWP) Central Information Secretary Salim Khan Advocate said that Mashal was targeted under a well-planned strategy because he had exposed all those involved in wrong practices at the university.
"Mashal, a brilliant son of the soil was vocal and said the right thing without any fear or hesitation, no matter if it was against any person," he said.
"The investigation conducted by police has made it clear that Mashal was not involved in any blasphemy," Salim said.
Former MNA Bushra Gohar said that the act of terrorism was conducted at the campus of the university which was built in the name of Khan Abdul Wali Khan.
"They killed the mashal (lamp) of education at the university," she said.
In the same breath, Bushra Gohar said that they did not want to create an atmosphere of rivalry between the people of Mardan and Swabi.
However, she questioned that why some leaders and people supported the murderers. MNA Usman Khan Tarakai said that Pakistan Tehreek-e-Insaf Chairman Imran Khan had assured Mashal's parents that those who planned his murder or participated in the brutal killing would be punished and made an example for the future generations.
"This is the policy of our party and we are committed to ensure justice," he said.
Ameer Rehman, district Nazim who is also the President of Awami National Party (ANP) said that their party leadership sticks firmly to the non-violence philosophy of Khan Abdul Ghaffar Khan.
Those who violate this philosophy would no longer remain part of the party, he said.
The JI district Amir Mehmoodul Hassan said that Mashal's killing was an act against humanity. The people who brutally killed him, what proof did they have against him, he asked. If not, why he was killed, he added.
He demanded that the provincial government should include in investigation the entire staff of the university and police officials.
The latter have their office just a few yards away from the university campus but despite that the violent mob gathered and killed Mashal, and the police force failed to protect him, he said.
MNA Aqibullah said that those involved in the killing and in the conspiracy need to be exposed. Mashal was killed under the garb of blasphemy by a violent mob, he said. Such incidents should not be repeated in future, he demanded.
Muhammad Iqbal, Mashal's father said that he did not want son or daughter of another father become a victim like his son, Mashal, in the campus of the university which is a place of acquiring education.
"I appeal to the brilliant people of the district to support me in this hour of great tragedy of my life," he said.
"It has become clear from the investigation that my son never committed blasphemy," Iqbal said.
Full report at:
http://nation.com.pk/national/02-May-2017/political-religious-parties-demand-speedy-trial
--------
Musharraf predicts PMLN and PPP to win 2018 election
May 01, 2017
PAKISTAN
LONDON: Former military ruler and head of All Pakistan Muslim League (APML) General (rtd) Pervez Musharraf predicted that Pakistan Muslim League-Nawaz and Pakistan Peoples Party are set to win 2018 elections unless a grand alliance of various parties is made to defeat these two parties.
Musharaf said that there was a 90% chance that PPP and PMLN will win elections from their traditional strongholds, including from possibly KP, if a third force is not formed to mount a challenge.
He said Imran khan alone cannot defeat PMLN and PPP because he has no plan.
The former president assured Imran Khan that he was not interested in taking over the office of prime minister.
At the press conference, Pervez Musharraf was accompanied by officer bearers of his party including European Organiser and former party president UK Afzaal Siddiqui, President APML-UK Tebraiz Aurah and Media Secretary Shaan Abidi.
"Imran Khan has done a lot to raise awareness on Panama case and other issues and deserves credit for that but he needs new thinking and rise above himself and look beyond. I say openly I have no desire to become the prime minister of Pakistan; I have the best understanding of Muslim ummah and Pakistan. I am not insecure and I can guarantee that I am ready to shake hand with Imran Khan and for that matter anyone on this planet who is against PPP and PMLN."
When asked when he will return to Pakistan, Musharraf said that he was trying to get his cases resolved through courts but would return once there is mass public support behind him.
The former president said he is avoiding Pakistan because there's no point in returning if his freedom of movement is restricted.
He said that Tabdeeli was needed in Pakistan because the country faces existential internal and external threats.
"Our economy is going down. Pakistan's debt has crossed 70 billion rupees. We were about to be declared defaulted in 1999. I took Pakistan forward. I gave confidence to Pakistan. Everybody today wants to leave Pakistan, those in Pakistan are in a bad shape and I have the right solutions," he said.
Pervez Musharraf said that former Indian prime ministers, Manmohan Singh and Atal Bihari Vajpayee, were good people and wanted to normalise relations with Pakistan but Narendra Modi's intentions are against Pakistan.
He said that India's institutions are fundamentally against Pakistan.
"India realises that there is no military solution in respect to Pakistan, so they are looking for non-military solutions by strangulating Pakistan's economy, weakening Pakistan army, isolating Pakistan internationally and internally destabalising Pakistan. This is what India's strategists are saying."
On the question of Raheel Shareef taking up position as head of Saudi-led military alliance, Pervez Musharraf said that it was a 'sensitive matter' and was being seen in many circles in 'sectarian terms'.
Full report at:
https://www.geo.tv/latest/140146-PMLN-and-PPP-to-win-2018-election-if-grand-alliance-not-formed-Musharraf
--------
Pakistan, China finalising long-term plan for CPEC
May 2, 2017
ISLAMABAD: Pakistan and China are working towards early finalisation of a Long-Term Plan (LTP) for the China-Pakistan Economic Corridor (CPEC), a Chinese diplomat confirmed on Monday.
There are expectations that it could be finalised during the Belt and Road summit being hosted by China on May 14 and 15. Pakistan is participating in the summit.
The LTP, which covers the projects to be undertaken till 2030, has been behind the timeline set for its adoption. Currently, short-to-medium term projects are being pursued under CPEC, which relate to energy, infrastructure and connectivity. The LTP, officials say, defines the overall direction, ideas and goals of cooperation from present till 2030.
Earlier, Political and Press Counsellor at the Chinese Embassy Jian Han, speaking at a roundtable conference on 'OBOR and CPEC from the Prism of China-Pakistan Bilateral Relations' organised by the Strategic Vision Institute (SVI), had said that the LTP "would set the focus for CPEC construction in future".
CPEC project director Hassan Daud Butt on the occasion said that Pakistan had already shared the draft LTP with China's National Development and Reform Commission (NDRC) for approval and consideration for signing during the Belt and Road summit.
Mr Butt was also hopeful that Pakistan and China would soon conclude agreements for financing and construction of the Gwadar International Airport and East-Bay Expressway.
A Chinese diplomat separately told Dawn that PC-1 for both projects had been approved and an agreement was now being negotiated by the two governments.
Industrialisation phase
At the seminar, the CPEC director said that the project was set to enter the industrialisation phase.
ine economic zones have been identified to be set up in different parts of the country. Currently feasibility studies are being undertaken and financial agreements are expected to be concluded by the next Joint Cooperation Committee meeting to be held later this year.
Full report at:
Published in Dawn, May 2nd, 2017
https://www.dawn.com/news/1330502/pakistan-china-finalising-long-term-plan-for-cpec
--------
Africa
Dozens of Civilians Killed In Central African Republic – Report
2 May 2017
DAKAR - Armed groups in Central African Republic have killed at least 45 civilians in apparent reprisal strikes over the past three months, Human Rights Watch (HRW) said in a report on Tuesday.
The violence pitted armed groups against one another in the central province of Ouaka, which is at the border of the mainly Muslim north and the mainly Christian south of the country.
"As factions vie for power in the Central African Republic, civilians on all sides are exposed to their deadly attacks," said Lewis Mudge, Africa researcher at the U.S-based human rights watchdog.
Central African Republic has seen violence since 2013, when a mainly Muslim rebel coalition called the Seleka ousted President Francois Bozize and went on looting and killing raids, prompting Christians to form self-defence militias.
The Seleka and other groups have since splintered, prompting further violence even as the country held a democratic election won by President Faustin-Archange Touadera who was sworn in in March 2016.
One witness to the recent attacks, identified only as Clement, said advancing fighters from the Fulani Union for Peace in Central Africa (UP) shot four of his children dead including a seven-month-old baby during an attack in March.
Killings by the rival Popular Front for the Renaissance of Central African Republic (FPC) were also reported.
HRW based its tally on interviews with residents in the town of Barbaric in April. It said the overall figure was likely higher since dozens of people are still missing.
The United Nations which has a 13,000 safe-keeping mission in the former French colony has sought to disperse fighters with air strikes in Ouaka as they advanced on the town of Barbaric. The United States has imposed sanctions on militia leaders.
Still, the violence persists. Medical charity MS said last month it is the worst seen in a years-long conflict and reported mutilations and summary executions.
http://www.enca.com/africa/dozens-of-civilians-killed-in-central-african-republic-report
--------
Moroccan Christians Speak Out, Demand Their Right to Worship
By Saad Eddine Lamzouwaq
May 1, 2017
In an article published by the Agence France-Presse (AFP), a group of Moroccan Christians spoke about their experiences as converts and outlined their demands as a religious minority.
Moroccan and Christian
"I am Moroccan before I am a Christian", said Rachid, a Moroccan Christian pastor.
Rachid receives Moroccans converted to Christianity in his apartment in Ait Melloul near the city of Agadir, South Morocco.
Along with another pastor, Mustapha, he leads the afternoon prayers where he preaches the word of God.
Making his conversion in 2004, Rachid said he took interest in Christianity while still a teenager.
Through the internet he got in touch with a preaching website from which he received a Bible.
"I read it fully, and then I studied it and took part in trainings. At the age 24 I was baptized in an apartment in Casablanca," said Rachid.
Mustapha's conversion happened much earlier. In 1994 he turned to Christianity to "fill a spiritual void." The 46 years old pastor revealed he had been a member of the Islamist "Justice and Charity" movement.
"I got weary of the contradictions of Islam. I got interested in Christianity and started exchanging messages with a religious center in Spain. Then, I made my decision and converted," said Mustapha. He too became a pastor thanks to a course by correspondence with a US Christian institution.
Tough Choice
Becoming a Christian in a Muslim majority country is a difficult choice, and converts must face the reactions of their relatives and friends.
Mustapha explained he had to hide his faith for a long time before he came out in a video uploaded on the internet.
"Members of my family turned their back on me. At work, I was sidelined. My children got harassed at school," he said.
Seeking Recognition
Aspiring to lead a public religious life like the Muslim majority of the kingdom, Moroccan Christians have recently united in a representative body and began a dialogue with the National Council of Human Rights (CNDH).
"We are asking for the right to give our children Christian names, worship in churches, be buried in Christian cemeteries and marry according to our religion," said Mustapha who acts as the body's spokesperson.
Thorny Issue
While Morocco hasn't released official statistics about its Christian population, according to the US State Department, there are between 2000 and 6000 converts living in the kingdom.
Morocco enjoys an international image as promoting tolerance and inter-faith dialogue. Judaism is hailed as an integral part of Morocco's history and culture and a component of the national identity, but converting to Christianity is often looked upon unfavorably by Moroccans.
Full report at:
https://www.moroccoworldnews.com/2017/05/215356/moroccan-christians-speak-demand-right-worship/
--------
Tunisia says 2 extremists killed in security sweep
01 May 2017
A extremist linked to Al-Qaeda in the Maghreb blew himself up and another was shot dead on Sunday during an operation by Tunisian security forces, the national guard said.
The operation took place in the central town of Sidi Bouzid when a house was raided in a security sweep after weeks of surveillance, he said.
"Units had discovered contacts between the Okba Ibn Nafaa Battalion (a group connected to Al-Qaeda) and people inside Sidi Bouzid."
An AFP correspondent said security forces surrounded a house in the Ouled Chebli district and shots were heard.
During the assault, one extremist "was hit and blew himself up", Chibani said.
The other man killed had also been wearing an explosives belt but was shot dead before he could detonate it.
Chibani said the group had been planning "terrorist operations during Ramadan", the holy Muslim fasting month that begins at the end of May.
Another three people suspected of links with the group were detained and security forces were hunting for other suspects.
Prime Minister Youssef Chahed later told reporters the two men killed had been wanted, and "praised the courage" of the security forces.
"The struggle against terrorism is both a national priority and a priority for the government of national unity," he said.
"The security situation is under control, but the threat is always there."
Since its 2011 revolution, Tunisia has experienced an increase in extremist attacks that have cost the lives of dozens of members of the security forces and also 59 foreign tourists.
Full report at:
http://www.worldbulletin.net/africa/188790/safricas-zuma-quits-rally-after-being-jeered
--------
UN airlifts aid to Congolese refugees in Angola
01 May 2017
UN airlifted aid for Congolese refugees in Angola who fled from the clashes in their country, UNHCR said in a statement on Sunday.
At least 11,000 people fled from Democratic Republic of Congo to Angola in the past few weeks following clashes between Kamuina Nsapu militiamen and government security forces, killing over 400 people.
Angola is currently hosting 25,000 Congolese refugees, according to UNHCR figures.
''A plane carrying relief items has arrived in Luanda, Angola, to assist over 11,000 people who fled a recent surge of violence in the Democratic Republic of Congo,'' the UN refugee agency said.
The aircraft departed from Dubai, carrying 3,500 plastic sheets as well as 100 plastic rolls to provide shelter during the rainy season, 17,000 sleeping mats, 16,902 thermal fleece blankets, 8,000 mosquito nets, 3,640 kitchen sets, 8,000 jerry cans and 4,000 plastic buckets.
"UNHCR is also procuring food locally to support the most vulnerable persons including children, pregnant women and elderly," said Sharon Cooper, UNHCR Regional Representative for Southern Africa, in a press release.
Full report at:
http://www.worldbulletin.net/africa/188791/safricas-zuma-quits-rally-after-being-jeered
--------
Near Miss: Lessons From the ISIS Plot to Blow Up the U.S. Embassy in Nigeria
05.02.17
CALABAR, Nigeria—In the middle of last month, the country's spy agency, Department of State Services (DSS), reported that it had thwarted plans by five "ISIS-linked Boko Haram members" to attack the embassies of the United States and the United Kingdom in the Nigerian capital, Abuja.
You might have missed those headlines: They're the kind that show up for a few minutes on the crawl at the bottom of the screen on news networks, then just disappear. Thwarted plots and failed attacks don't grab the world's attention. But they can tell us a lot about groups that have the strategy and skills to carry out major attacks, and just need a little more luck to deliver an atrocity.
The five men named in the DSS statement—Isa Jibril, Jibril Jibril, Abu Omale Jibril, Halidu Sule, and Amhodu Salifu—had "perfected plans" to attack the embassies, according to the intelligence agency. The suspects were arrested during raids on March 25 and 26 in Abuja and central Benue state.
The area in which they operate and the information that led to their capture leaves no question about whom they work for: what might be called the new face of Boko Haram.
As the world was beginning to think last year that the infamous terror group might be defunct after losing much of the territory it once controlled and facing a leadership crisis, a man named Abu Musab al-Barnawi, a loyalist of the so-called Islamic State, announced that he had taken over the Nigerian organization.
Al-Barnawi's emergence split the terror group into two factions, in fact. The other is controlled by long-time Boko Haram leader, Abubakar Shekau, best known for kidnapping the Chibok girls three years ago, and for using women and even children as suicide bombers. Shekau is no longer recognized by ISIS, and his militants do not normally operate beyond Nigeria's northeast region and the Lake Chad Basin.
Importantly, al-Barnawi's father Mohammed Yusuf founded Boko Haram back in 2002 with Shekau as his deputy. And now al-Barnawi's group, with ISIS backing, is developing a reach far outside the arid northeast hinterland. It may want to carry out international operations. Certainly it wants to target foreigners, and the alleged plot against the U.S. and U.K. embassies fits into that picture.
Al-Barnawi's first message as Boko Haram leader, delivered about eight months ago, was a clear warning to Western nations whose charities he accused of trying to win converts away from Islam in northeast Nigeria.
"They strongly seek to Christianize the society," he said in an interview published last August on the Islamic State site al-Nabaa and translated by SITE Intelligence Group. "They exploit the condition of those who are displaced under the raging war, providing them with food and shelter and then Christianizing their children."
Al-Barnawi also accused U.S. and French forces of targeting the group's members in neighboring Niger, and promised to fight any Western influence in the region.
Abu Musab al-Barnawi is the wali or governor of what's called the Islamic State West Africa Province or ISWAP, as his faction of Boko Haram wants to be known. (ISIS has recognized at least 10 "provinces" outside of Iraq and Syria: Libya has three, Saudi Arabia has two, Egypt, Algeria, Yemen, Saudi Arabia, and Nigeria have one, and one stretches across the borders of Afghanistan and Pakistan.)
In Nigeria, whoever works in the name of ISIS answers to al-Barnawi.
The five men officials picked up have their base in Nigeria's north-central region where there are also active militants from Ansaru, another terror group, which broke away from Boko Haram in 2012 and is best known for targeting foreigners. It is suspected of being behind the kidnapping of an American missionary in 2015. And its founders are accused by the government of being behind the 2011 bombing of a UN building in Abuja where at least 24 people were killed.
Like al-Barnawi and his loyalists, when Ansaru broke away from Boko Haram it claimed that Shekau and his fighters were "inhuman" for killing innocent Muslims as well as for targeting defectors. In fact, the emergence of al-Barnawi as ISWAP leader has been described by some insiders and experts as a coup by Ansaru against Shekau.
As recent events in northeastern Nigeria show, al-Barnawi and Ansaru's leader, Mamman Nur, have formed tactical and possibly a strategic bond. Both men, operating under ISWAP, have reached out to villagers in the mainly Muslim region assuring them that civilians will not be harmed as long as they do not cooperate with the Nigerian military, according to a report published by AFP.
This sounds like al-Barnawi trying to assure fanatics that he's a man that keeps his promises, following his inaugural statement last August not to target Muslims.
ISWAP has rather focused its attacks on Nigerian troops. In the last few months, nearly two dozen soldiers have been killed in the northeast including seven in February, four in March, and 11 last month. About 14 soldiers are reportedly missing, and their fate unknown. Like the promise he made not to attack Muslims, which he wants everyone to believe he's keeping, these attacks are a fulfilment of the threat the leader of the group made in the same August address that he'll target government troops.
The "Islamic State" as a whole is a terror organization that is known to carry out most of its threats. Before recent attacks in France and the U.K., there were warnings of potential strikes.
ISIS affiliates, too, try not to make empty threats. The terror organization's troops in the Sinai Province, carried out their recent attacks on Coptic churches in Egypt on Palm Sunday after they released a video on Feb. 19 warning that they would bomb many churches.
ISWAP wants to be seen to be exactly the same as other affiliate groups, and an attack on the U.S. and U.K. embassies would be proof he keeps his word.
So, why did the alleged plot fail?
An official of the DSS tells The Daily Beast privately that it was uncovered after the agency arrested Nasiru Sani (popularly known among jihadists as Osama) on March 15 in Bauchi, 455 kilometers south of Maiduguri, the birth place of the jihadist group.
Sani, one of the first members of Boko Haram, escaped from Bauchi Central Prison in northeastern Nigeria in October 2010, months after he was arrested, and had been hiding in Maiduguri since then. He was picked up on his return to the city he fled from. The militant is believed to be among the jihadists who broke away from Shekau to join al-Barnawi, and information he gave played a part in the arrest of the five men.
"He had been on our radar for years," the DSS official said. "He's told us a lot about the group's current operations."
Sani's capture, and the arrest of the five militants, may have halted a potential terrorist attack on foreigners, but the mode of operation of the group they work for makes it very difficult to completely stop their terror plots.
ISWAP is a completely different group under al-Barnawi than it was under Shekau. While Shekau focused his jihad on gaining territories, al-Barnawi and his Ansaru allies prefer to create cells across northern Nigeria that can be used to carry out attacks at any time.
The terror leader's flexibility has proven to be ISWAP's key strength. As African and Eurasian Affairs analyst Jacob Zenn notes in an article for The Jamestown Foundation, al-Barnawi sees that "relying too much on territory, such as Shekau's bases in Sambisa, is a risk because the military can overrun and capture it."
Full report at:
http://www.thedailybeast.com/articles/2017/05/02/near-miss-lessons-from-the-isis-plot-to-blow-up-the-u-s-embassy-in-nigeria
--------
Uganda: Councillor Ssegirinya Holds 'Salt' Prayers to Curse Middle East Employers
1 MAY 2017
By Ibrahim a Manzil
Jocular Kawempe North Kampala Capital City Authority councillor Muhammad Ssegirinya has today perfected the 'bush prayers', a tradition started by his comrade-in-comical politics Mubarak Munyagwa (FDC, Kawempe South MP).
In an early morning video, Mr Ssegirinya is seen in the company of other individuals wearing the traditional Muslim men head gear, absorbed in prayers cursing tormentors of Uganda's overseas labourers.
Mr Munyagwa controversially made the infamous "edduwa ya Kamulali," translated to mean the hot pepper supplication, where he burnt the choking plant, praying amid the fuming smoke.
His student Mr Ssegirinya has instead replaced pepper with salt, asking God to descend his wrath on the Arab employers whom he accuses of torturing Ugandan employees.
Recently, Mr Ssegirinya claimed to have travelled to the United Arab Emirates, where he commiserated with Ugandans he said are under-going extreme abuse and exploitation.
When Mr Munyagwa said his hot pepper sprayer last year, it earned him a shouting match with the Kibuli based Muslim establishment spokesperson Sheikh Nooh Muzaata.
Mr Ssegirinya organized his controversial prayer to coincide with the International Labour day celebrations, which he said was unnecessary to celebrate in Uganda given what he termed as the suffering endured by Uganda's workers in Middle East.
Dr Abdulhafiz Walusimbi, a Sharia expert at the Islamic University in Uganda dismissed Mr Ssegirinya's duwa as having no legal basis in Islam.
"Such kinds of duwa are not acceptable in Islam because the Prophet Muhammad's way of supplication was very normal, this salt duwa has no legal basis in Islam," he said.
He added that the method employed by the cheeky politician is "intimidating but illegal."
The acting chairperson of Uganda Association of External Recruitment Agencies (UAERA), Ms Lillian Keene Mugerwa, recently told the Parliamentary Committee on Gender that up to 65,000 Ugandans are doing odd jobs in the Middle East.
This is 15,000 higher than the number that was working there one year ago.
Most of them are working as either cleaners, waiters/waitresses, drivers, tailors, construction and factory workers or security guards.
Full report at:
http://allafrica.com/stories/201705020163.html
--------
URL: https://www.newageislam.com/islamic-world-news/an-islamic-state-diary-days/d/110994
New Age Islam, Islam Online, Islamic Website, African Muslim News, Arab World News, South Asia News, Indian Muslim News, World Muslim News, Women in Islam, Islamic Feminism, Arab Women, Women In Arab, Islamophobia in America, Muslim Women in West, Islam Women and Feminism