New Age Islam News Bureau
25 Jan 2019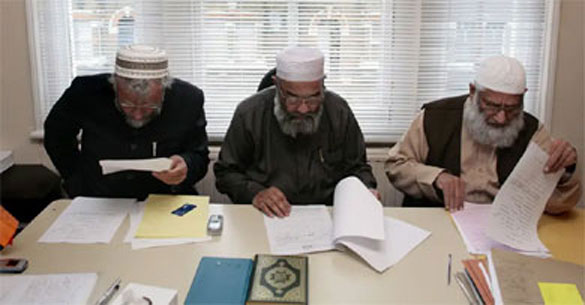 A measure adopted by the 47-nation international organisation raised concerns about the role of sharia councils in family, inheritance and commercial law ( AFP/Getty )
------
• Amnesty Slams Sisi's Egypt as 'Open-Air Prison' For Critics, Urges End to Crackdown on Dissent
• Council of Europe Calls for Muslim Couples in UK to Legally Have To Register Marriage before or During Islamic Ceremony
• Ahok, Jakarta's Former Governor, Released After Jail Term for Blasphemy
• No Cultural, Religious Repression of Uighur Muslims in Xinjiang: Pakistan Diplomat
• A Co-Founder of the Taliban Mullah Baradar to Lead Taliban in Talks with US
• Tiranga Yatra Triggers Row At Aligarh Muslim University
• Turkey's Islamist Push into South Asia Aided by American Proxies
Arab World
• Amnesty Slams Sisi's Egypt as 'Open-Air Prison' For Critics, Urges End to Crackdown on Dissent
• Filmmaker Helps Bring Heroic True Story of Saudi Royal, Teenager Faisal, To Silver Screen
• Mass-Grave of Syrian Army Forces Slain by Ankara-Backed FSA Found in Raqqa
• 'Syria's Assad revokes multiple entry visas for European Union diplomats'
• People of Raqqa Set Fire at US-Backed Forces' Bases
• Dozens killed in failed ISIS counterattack in east Syria: Monitor
• 3 killed, dozens injured as bombing spree hits militant-held towns in northwest Syria
--------
Europe
• Council of Europe Calls for Muslim Couples in UK to Legally Have To Register Marriage before or During Islamic Ceremony
• UN Expert to Lead International Inquiry Into Khashoggi Murder
• Bosnian Muslims anger Serbs with name change plan, EU calls for calm
• US, UK say Venezuela's Maduro 'illegitimate', Russia and Turkey express support
• Barclays was basically dead without Qatari cash, London court told
--------
Southeast Asia
• Ahok, Jakarta's Former Governor, Released After Jail Term for Blasphemy
• How Political Islam Is Shifting Indonesia's Relations with Australians
• Najib aiming for comeback as PM like Dr M, says Malaysian MP
• Indonesia's president toys with releasing a terrorist ideologue
• Malaysian royals elect new king after surprise abdication
--------
Pakistan
• No Cultural, Religious Repression of Uighur Muslims in Xinjiang: Pakistan Diplomat
• Pakistani Jew Flying To Israel Echoes In Senate
• Sahiwal incident can't be equated with Model Town's, says Qadri
• Pakistan SC to Hear Review Petition in Aasia Bibi Blasphemy Case Next Week
• Nawaz Sharif uses Ghalib's poetry to explain his condition in jail
• Cabinet approves merger of all media regulatory bodies
• 'SOS' call from Chinese embassy keeps law enforcers on their toes
• Taliban-US talks 'making headway'
--------
South Asia
• A Co-Founder of the Taliban Mullah Baradar to Lead Taliban in Talks with US
• Coalition Forces kill prominent Taliban leader in Helmand province
• 5 senior Taliban leaders killed in Faryab operations
• UN says new Myanmar curbs threatening 50,000 Rohingya
• UN expert visits Bangladesh Rohingya 'relocation' island
• 3 suicide bombers including two Pakistanis arrested in Nangarhar
• Scores of militants killed in Afghan, Coalition Forces operations
--------
India
• Tiranga Yatra Triggers Row At Aligarh Muslim University
• I Did Not Cry When I Heard He Is No More: Wife of Ashoka Chakra Awardee Nazir Wani
• Sabarimala Protests: Renaissance Panel to Include Muslim, Christian Outfits
• Hindu leader asks pope to help Indian nuns in rape case
• Sheikh Hasina greets Narendra Modi on Republic Day
• Mumbai ATS accuses Muslim youth of planning a chemical attack
• Kozhikode twin blasts case: NIA arrests absconding accused on his return from Saudi Arabia
• NIA arrests 2006 Kozhikode blasts accused from Delhi airport
--------
Mideast
• Turkey's Islamist Push into South Asia Aided by American Proxies
• Israeli Court Freezes Arafat Property in East Jerusalem
• Israel deploys 'Iron Dome' after Syria warns of retaliatory strike on Ben Gurion airport
• Israeli settler charged with manslaughter for killing Palestinian mother
• Arab Coalition: Houthis blocking passage of four aid ships since 34 days
• Turkey's Erdogan offers support for Venezuela's Maduro
• UN envoy to travel to Turkey for probe into Khashoggi murder
• Yemeni nation determined to withstand Saudi-led oppression: Houthi
• Hamas turns down Qatari funds over Israel's change of conditions
• Russia, Turkey vow to continue joint anti-terror fight in militant-held Idlib
• Turkey says it has capacity to create 'safe zone' in Syria alone
--------
Africa
• Member of Sudan intelligence service killed in clash with army troops - statement
• As protests rage, Bashir welcomes support from South Sudan
• Sudan police clash with anti-govt. protesters amid calls for Bashir's resignation
• Cameroon Mobilizes Military Following Boko Haram, Separatist Attacks
--------
North America
• Muslim group targeted by terror plot calls for suspects to face full weight of law
• Iran, Turkey, Russia warn US against meddling in domestic affairs of Venezuela
• 2 US terror militia members admit role in attack on Minnesota mosque
• US and Britain plan talks on Yemen with Saudi Arabia and UAE
• Washington's Syria envoy due in Turkey for talks on secure zone
Compiled by New Age Islam News Bureau
URL: https://www.newageislam.com/islamic-world-news/amnesty-slams-sisi-egypt-open/d/117562
--------
Amnesty Slams Sisi's Egypt as 'Open-Air Prison' For Critics, Urges End to Crackdown on Dissent
Jan 24, 2019
Amnesty International warns that Egyptians are facing an unprecedented crackdown on freedom of expression under President Abdel Fattah al-Sisi's administration, saying the North African state has today turned into an "open-air prison" for dissidents.
Under the Sisi administration, "Egypt has been converted into an open-air prison for critics," Amnesty said in a statement on Thursday, on the eve of the country's National Police Day, adding, "The space for dissent "is being crushed out of existence."
January 25 also marks the start of the 2011 revolution, which led to the ouster of former dictator, Hosni Mubarak.
"Today, it is more dangerous to openly criticize the government in Egypt than at any other time in the country's recent history," Najia Bounaim, Amnesty's North Africa Campaigns director said.
Amnesty further said Egyptian authorities had arrested at least 113 people in the course of 2018 for "peacefully expressing their views."
As army chief, Sisi led a military coup against the country's first-ever democratically-elected president Mohamed Morsi -- which had come to power following Mubarak's ouster -- and overthrew him on July 3, 2013.
Human rights groups have regularly criticized Sisi's government for cracking down on opposition activists and supporters of Morsi's Muslim Brotherhood movement, which has been banned in the country.
They say the army's crackdown on the Brotherhood and its supporters has resulted in the deaths of over 1,400 people. About 22,000 others have been arrested, including more than 200 people who have been sentenced to death in mass trials.
Amnesty further said, "Over the past year, people who dared to criticize the government have been arrested and sent to prison, often held in solitary confinement or subjected to enforced disappearances simply for posting their opinions on social media, giving media interviews, denouncing sexual harassment and even for supporting certain football clubs. In some cases, those arrested had done nothing at all."
It also launched an online campaign dubbed "Egypt: Open air prison for critics" in an effort to pile pressure on the Cairo administration to end the crackdown on dissent.
Sisi -- who was re-elected in March 2018 for a second four-year term in the absence of any serious competition -- recently denied in an interview with CBS that the country held any political prisoners.
https://www.presstv.com/Detail/2019/01/24/586699/Egypt-crackdown-Amnesty-International-Sisi
--------
Council of Europe calls for Muslim couples in UK to legally have to register marriage before or during Islamic ceremony
Jan 24, 2019
Muslim couples getting married in the UK should be legally required to civilly register their union before or during the Islamic ceremony, the Council of Europe has said.
Raising concerns about the role of sharia councils in family, inheritance and commercial law, the human rights organisation made up of 47 member states, called for obstacles stopping Muslim women from accessing justice to be removed.
A resolution called on British authorities step up measures to provide protection and assistance to those who are in a vulnerable position and run awareness campaigns which teach Muslim women about their rights.
"Although they are not considered part of the British legal system, Sharia councils attempt to provide a form of alternative dispute resolution," it says.
It adds: "Whereby members of the Muslim community, sometimes voluntarily, often under considerable social pressure, accept their religious jurisdiction mainly in marital and Islamic divorce issues, but also in matters relating to inheritance and Islamic commercial contracts.
"The assembly is concerned that the rulings of the Sharia councils clearly discriminate against women in divorce and inheritance cases."
The Council also called on member states to protect human rights regardless of religious practices and voiced concern about the "judicial" activities of "Sharia councils" in the UK.
Specialist lawyers say many Muslim couples do not follow Islamic ceremonies with civil marriages – a requirement under by the 1949 Marriage Act.
Last February, a Home Office commissioned experts review into the application of sharia law concluded that Muslims in the UK should undergo a civil marriage as well as a religious ceremony to make sure women are protected under the law.
The measure was needed to lessen "discriminatory practices" in the councils, the report said. However, it added that abolishing Sharia councils was "not viable" and they were "fulfilling a need in some Muslim communities".
The review found that the vast majority of people using sharia councils were women seeking an Islamic divorce but very few council members were women.
Citing a number of examples of "bad practice", the report said some had been inappropriately questioned on personal relationship matters. Women had also been invited to make concessions to their husbands in order to secure a divorce.
In one instance a forced marriage victim was asked to attend a council at the same time as her family, it said. Evidence indicated the proportion of Muslim couples who do not have a civil marriage was "high and increasing", it added.
However, in a landmark ruling at the High Court in August, the Honourable Mr Justice Williams found a woman was entitled to maintenance from her husband after they split, even though they had only undergone a "nikah" ceremony and had not formally registered their marriage.
The Council of Europe's new resolution welcomed the recommendations put forward in last year's Home Office review.
It also called on the UK to ensure councils operate within the law "especially as it relates to the prohibition of discrimination against women, and respect all procedural rights".
British authorities should work with Muslim communities, womens organisations and other non-governmental organisations to promote gender equality and women's empowerment, it said.
It also set a deadline of June 2020 for the UK to report back on reviewing the Marriage Act, which would make it a legal requirement for Muslim couples to undergo civil marriages – which is currently required for Christian and Jewish marriages.
Responding to the resolution, a Home Office spokesperson said: "Sharia law does not form any part of the law in England and Wales. Regardless of religious belief, we are all equal before the law. Where Sharia councils exist, they must abide by the law.
"Laws are in place to protect the rights of women and prevent discrimination, and we will work with the appropriate authorities to ensure these laws are being enforced fully and effectively."
https://www.independent.co.uk/news/uk/home-news/council-of-europe-sharia-law-muslims-couples-marriage-women-protection-a8743341.html
--------
Ahok, Jakarta's Former Governor, Released After Jail Term for Blasphemy
24 Jan 2019
Jakarta's former governor Basuki Tjahaja Purnama, best known as "Ahok", has been released from prison after serving out his controversial two-year sentence for insulting Islam.
The Indonesian politician was controversially jailed in May 2017 after a court found him guilty of blasphemy for a comment he made while campaigning for re-election.
Last year a movie documenting his life, "A Man Called Ahok" was released in Indonesian cinemas, igniting rumours he plans to resume his political career upon his release.
He walked free from the high-security Mako Brimob detention facility in Depok, West Java, early Thursday morning after receiving more than three months' in remissions.
Ahok – who in a recent letter from prison asked his supporters to refer to him by his initials "BTP" rather than his Chinese nickname – was met by outside the prison by supporters clad in red, blue and white shirts, chanting "BTP, BTP, BTP".
The jailing of the former governor – who an anomaly in Indonesian politics as a minority Christian and Chinese – was widely condemned by rights groups, with critics saying the sentence was a blow to religious tolerance and free speech, while others suggested the Indonesian judiciary had succumbed to mob rule.
Doctored footage of Ahok's comments – which made it appear he had directly insulted the Qur'an rather than the conservative Islamic clerics citing it – spread quickly in 2017, sparking huge Islamist-inspired political protests that have had a lasting impact on the politics of the world's largest Muslim-majority nation.
The straight-talking politician did not appeal against his sentence, but strangely state prosecutors did – saying it was harsher than the sentence they had recommended.
But in a recent letter posted on his official Instagram account, Ahok said he would serve his time all over again.
"If we could go back in time and someone asked which would you choose [Going to prison or winning the election] I would say I choose to be imprisoned at Mako to study for two years, so that I could maintain self-discipline for the rest of my life," he wrote, "If I were re-elected, I would have become more arrogant, rough, and I would have hurt people."
Ahok became Jakarta's governor in April 2014, inheriting it as then-deputy governor after Joko Widodo was elected president. He lost the gubernatorial race three years later.
Figures close to Ahok say he has voiced support for the re-election of Widodo in the upcoming April vote, even though the incumbent's running mate Ma'ruf Amin, an elderly Islamic cleric, testified against him in the 2017 blasphemy trial.
To his fans Ahok was a politician who worked hard to improve the capital, tackling corruption, revamping public space, and reducing chronic floods and traffic, but his policy of forced evictions also angered many.
Often considered abrasive, in an interview with the Guardian he once jokingly referred to himself as the "Godfather of Jakarta". During his time in prison Ahok has kept a low profile.
https://www.theguardian.com/world/2019/jan/24/ahok-jakartas-former-governor-released-after-jail-term-for-blasphemy
--------
No Cultural, Religious Repression of Uighur Muslims in Xinjiang: Pakistan Diplomat
Jan 24, 2019
BEIJING: A senior Pakistani diplomat on Thursday put up a staunch defence of the controversial education camps in China's volatile Xinjiang province where thousands of Uighur Muslims have been reportedly detained, saying there is no forced labour or cultural and religious repression in the region.
China recently took diplomats from 12 countries with large Muslim populations, including India and Pakistan, to its Xinjiang province where tens of thousands of members of the minority Uighur Muslims have been interned in education camps.
"During this visit, I did not find any instance of forced labour or cultural and religious repression," Mumtaz Zahra Baloch, the Charge d'affaires, Pakistan's Embassy in China, told the state-run Global Times on Thursday.
"The imams we met at the mosques and the students and teachers at the Xinjiang Islamic Institute told us that they enjoy freedom in practicing Islam and that the Chinese government extends support for maintenance of mosques all over Xinjiang," said Baloch, who visited Xinjiang as part of delegation of diplomats.
"Similarly, I did not see any sign of cultural repression. The Uighur culture as demonstrated by their language, music and dance is very much part of the life of the people of Xinjiang," she said.
Asked about the security situation in Xinjiang, which has been "beset by terrorism", Baloch said, "We learned that the recent measures have resulted in improvement of the security situation in Xinjiang and there have been no incidents of terrorism in recent months."
"The counter-terrorism measures being taken are multidimensional and do not simply focus on law enforcement aspects.
Education, poverty alleviation and development are key to the counter-terrorism strategy of the Chinese government," she said.
Xinjiang's regional government invited diplomatic envoys as well as representatives from Russia, Kazakhstan, Kyrgyzstan, Uzbekistan, Tajikistan, India, Pakistan, Indonesia, Malaysia, Afghanistan, Thailand, and Kuwait following reports about detention of thousands of Uighur and other Muslims in massive education camps.
The UN's Geneva-based Committee on the Elimination of Racial Discrimination last year said that it was alarmed by "numerous reports of ethnic Uighurs and other Muslim minorities" being detained in Xinjiang region and called for their immediate release.
Estimates about them "range from tens of thousands to upwards of a million," it had said.
China defended the camps, saying they are re-education camps aimed at de-radicalising sections of the Uighur population from extremism and separatism.
The US and several other countries besides UN officials have expressed concern over the camps.
China has been carrying out massive crackdown on the East Turkistan Islamic Movement (ETIM) in Xinjiang province, where Uyghurs who formed majority in the region were restive over the increasing settlements of Han community.
Pakistan and several other Muslim countries faced criticism about their silence over China's crackdown on Muslims in Xinjiang.
China has about 20 million Muslims who are mostly Uighurs, an ethnic group of Turkic origin, and Hui Muslims, who are of the Chinese ethnic origin. While Uighurs lived in Xinjiang, bordering Pakistan-occupied Kashmir, Hui Muslims resided in Ningxia province.
A recent report in the Global Times said China passed a five-year plan to 'sinicize Islam' in a bid to make it compatible with its version of socialism.
"This is China's important act to explore ways of governing religion in modern countries," the report said.
Baloch said the delegation was given full and open access to the three centres that they visited in Kashgar and Hotan.
"The training program includes teaching of national common language (Chinese), law and constitution and vocational skills. The students also participate in recreational activities like sports, music and dance. We witnessed several skill classes being offered in these centres," she said.
"During the visits to these centres, we had the opportunity to interact with both the management and the students. We observed the students to be in good physical health. The living facilities are fairly modern and comfortable with separate dormitories for men and women. They are being served halal food," she said.
She said the Uighur language is being used in official establishments, airports, subway stations, police stations or hotels.
"Even the copies of the Koran that we saw in the mosques and the Islamic centre were translated into the Uighur language. The most visible sign of protection of Uighur culture by the government is the government-run bilingual kindergarten schools where children learn Putonghua as well as Uighur language and culture from a very young age," she said.
https://timesofindia.indiatimes.com/world/pakistan/no-cultural-religious-repression-of-uighur-muslims-in-xinjiang-pakistan-diplomat/articleshow/67675590.cms
--------
A Co-Founder of the Taliban Mullah Baradar to Lead Taliban in Talks with US
January 25, 2019
KABUL: A co-founder of the Taliban was appointed as the leader of its political office in Qatar on Thursday to strengthen its hand in peace talks with the United States as they try to establish a mechanism to end the 17-year Afghan war.
Mullah Abdul Ghani Baradar, who was released from a prison in Pakistan in October last year, has been authorised to lead the political team and take decisions, two Taliban sources in Afghanistan said.
The Taliban issued a statement to announce Baradar's appointment and a reshuffle in their team to put senior leaders into key positions as the talks with US officials gain momentum.
"This step has been taken to strengthen and properly handle the ongoing negotiations process with the United States," the Taliban said in statement.
US special peace envoy Zalmay Khalilzad's meeting with the Taliban representatives, which was originally due to run over two days, entered its fourth day on Thursday.
It was not clear whether the talks were to continue on Friday, or how soon Baradar could join the talks.
"Baradar will soon fly to Qatar. He has been given the new position be­cause the US wanted senior Tali­ban leadership to participate in peace talks," a senior Taliban official said.
Read more: Diplomatic circles see Khalilzad behind Baradar's release
Baradar, who coordinated the insurgent group's military operations in southern Afghanistan, was arrested in 2010 by a team from ISI and the US Central Intelligence Agency.
His release, according to security experts, was part of high-level negotiations led by Khalilzad with the Taliban.
Diplomatic efforts to end the United State's longest running conflict intensified last year after the appointment of the Afghan-born Khalilzad to lead direct talks with the Taliban. He has held at least four meetings with the Taliban representatives.
https://www.dawn.com/news/1459623/mullah-baradar-to-lead-taliban-in-talks-with-us
--------
Tiranga Yatra Triggers Row At Aligarh Muslim University
Jan 24, 2019
ALIGARH: Aligarh Muslim University has served a show-cause notice to a student leader over a 'tiranga yatra' through the campus, saying it was held without permission and triggering a row.
The university said it followed procedure and believed that the motorcycle procession was meant to polarise students on the campus.
But the leader from the BJP's student wing alleged bias and said he would complain to the human resource development ministry.
Bharatiya Janata Party spokesperson GVL Narasimha Rao also criticised the University's stand.
Ajay Singh, a grandson of BJP MLA Dalveer Singh, was served notice Wednesday for the procession taken out a day earlier.
The participants said the 'tricolour procession', which began from the campus gates and ended at the sports ground, was part of the Republic Day celebrations.
The notice sent by AMU proctor Mohsin Khan said the procession was held during working hours hours after compelling students to leave their classes.
It added that a large number of "outsiders", including anti-social elements participated in it.
The proctor said the AMU has made it mandatory to seek official permission for any procession as a precautionary step to maintain peace on the campus.
An AMU spokesman said the university is holding a week-long celebration to mark Republic day.
"But Ajay Singh's motorcycle procession was politically motivated and a ploy to polarise the student community under the garb of a so-called tiranga yatra," he said.
The Akhil Bharatiya Vidyarthi Morcha (ABVP) leader, however, alleged that the AMU authorities had no objections when students raised slogans against the killing of a Kashmiri terrorist or protested against reservation for the economically weaker sections in government jobs and educational institutes.
"But they have a problem when we take out a 'tiranga rally' with slogans like Bharat Mata ki Jai," Singh charged.
The AMU was shaken by a controversy last year over a picture of Pakistan founder Muhammad Ali Jinnah, displayed on the walls of the student union office.
The university had then said Jinnah's portrait had been put up there along with those of others who had been granted life membership of the union.
https://timesofindia.indiatimes.com/india/tiranga-yatra-triggers-row-at-aligarh-muslim-university/articleshow/67676494.cms
--------
Turkey's Islamist Push into South Asia Aided by American Proxies
JANUARY 24, 2019
Turkey's strong backing of the Muslim Brotherhood (MB) has been extensively catalogued, but not much has been written about the country's support for the Jamaat-e-Islami (JI), the Brotherhood's ideological cousin in South Asia that also has an active presence in North America.
JI's role in advancing the Islamist agenda of Turkey's ruling Justice and Development Party (AKP) was highlighted by a senior aide to President Recep Tayyip Erdogan in a video interview last year. JI and the MB are "soft power proxies" that helped bolster Turkey's role as leader of a global caliphate "defending oppressed and victimized Muslims," Yasin Atkay told the pro-government Hilal TV.
Islamist ideologue Maulana Syed Abdul Ala Maududi created the JI in 1941, when Lahore, Pakistan was part of British India. In addition to advancing a rigid interpretation of Islam, the Islamist movement has provided an ideological platform and recruiting base for terrorist groups in South Asia.
Turkey advocates actively on behalf of the JI. Erdogan, for example, denounced the 2016 hanging of JI Bangladesh leader Motiur Rahman Nizami as "neither fair governance nor a democratic mentality." He also described the Islamist leader as a "mujahid [holy warrior]."
JI's leadership also openly applauds Turkey's Islamist leader and regime. After Erdogan was reelected president in June, for instance, JI Pakistan chief Siraj ul Haq called him "a great leader of the Muslim world." Another JI leader described Turkey as "the hope of the Ummah [world community of Muslims]."
Turkey under the Islamist AKP has become a key sponsor of JI-affiliated organizations in Bangladesh and Pakistan as well as the Islamist movement's proxy groups in North America.
The Union of NGOs of the Islamic World (UNIW) is a key agency used by the Turkish government to sponsor and coordinate JI activities, an Investigative Project on Terrorism (IPT) investigation finds.
The Istanbul-based organization was established in 2005 with the AKP's blessing and boasts 340 NGOs from 65 countries, including in the United States. Through a global network of Islamist organizations, UNIW seeks to revive the global Muslim ummah and stand up to the U.S.-led world order. Its stated mission is "to create an ummah consciousness" among its members and seek unity among Muslim nations "against to [sic] the western world which want to weaken the Islamic World by their dirty tricks and try to separate it from each other although they are unions among themselves."
The network's membership roster includes leading Islamist and terror-tied organizations such as the Humanitarian Relief Foundation (IHH), World Assembly of Muslim Youth (WAMY), Zamzam Foundation (Somalia), Islamic Relief (UK), International Islamic Relief Organization (IIRO), and others. By sponsoring and coordinating developmental projects, providing humanitarian assistance, and addressing alleged violations of human rights and freedoms in the Muslim world, the umbrella group seeks to defend "Islamic culture and values" and assist in finding "solutions of the problems relating to the Islamic world collectively."
Helping Hand for Relief and Development (HHRD) and Kashmir American Council (KAC) are U.S.-based UNIW members and work closely with the umbrella group.
Like UNIW, Helping Hand was founded in 2005. It is the charitable arm of the Islamic Circle of North America (ICNA), a JI front group headquartered in Jamaica, N.Y. Helping Hand regional partners have been found to have ties to U.S.-designated terrorist entities, including Falah-i-Insaniyat Foundation (FIF), Hizbul Mujahideen (HM) and its leader Syed Salahuddin.
Under Salahuddin's leadership, HM launched several terrorist attacks, including an April 2014 explosives attack in the Indian state of Jammu and Kashmir that injured 17 people. FIF is closely tied to the Pakistan-based terrorist group Lashkar-e-Tayyiba (LeT) that was responsible for the 2008 Mumbai terror attacks.
ICNA is the most prominent of JI's proxy groups in North America. ICNA listed "[t]he successful introduction of the concept of Iqamat as-deen [Establishment of the Religion] in North America" in an August 1999 article in its flagship publication, Message International, and succeeded in "planting the seeds of the Islamic movement in this continent."
The issue features an interview by former JI leader Qazi Hussein Ahmed in which he emphasizes the role of Islamic movements in creating "an Islamic society, an Islamic government and an Islamic state."
A Bangladeshi war crimes tribunal convicted ICNA's former vice president and New York chapter leader Ashrafuzzman Khan in 2013. Khan was tried in absentia and sentenced to death. The tribunal found Khan was the "chief executor" of a death squad known as Al-Badr, which was a militant offshoot of JI.
The Kashmiri American Council, meanwhile, was funded and directed by the Pakistani government. KAC's executive director Syed Ghulam Nabi Fai served 16 months in prison after pleading guilty in December 2011 for conspiring to act as an agent of the Pakistani government without registering under the Foreign Agents Registration Act (FARA).
Fai received $3.5 million from Pakistan's intelligence service, the ISI, to influence American policy toward Kashmir. He used KAC as a front for his illegal lobbying activities. Documents seized from Fai's home show he worked with the ISI "for years before the KAC was even founded."
Fai has a long association with the JI. He was introduced to the Islamist movement through a local Jamaat leader while attending college, ProPublica reported in 2011.
Later while studying in Saudi Arabia, Fai met with the imam of Ka'aba that houses the most sacred site in Islam, He invited the imam to attend a JI-sponsored conference in Kashmir.
"It really revolutionized the whole thinking of the people of Kashmir: We are not alone," Fai said in the ProPublica report.
Fai and the imam of Ka'aba were instrumental in the spread of Wahhabi Islam in Kashmir, Pakistan journalist Arif Jamal told ProPublica. Jamal investigated Fai's role for a book on Kashmir's "shadow war." Wahhabi Islam, which is an austere form of Islam that insists on a literal interpretation of the Quran, soon replaced Kashmir's famed Kashmiriyat—the state's centuries-old tradition of indigenous secularism.
Fai, who now advocates for the Kashmir issue through the World Kashmir Awareness Forum, also serves as a UNIW board member. He has spoken at UNIW conferences, most recently at the December 2017 international NGO fair in Istanbul. At the event, Fai was seen talking with UNIW's Ali Kurt and Al Khidmat Foundation President Abdus Shakoor. Al Khidmat is JI Pakistan's charitable wing.
Shakoor, who serves on UNIW's board, was previously ICNA's secretary general.
Turkish government-run organizations and media agencies participate in conventions ICNA co-hosts with the Muslim American Society (MAS). MAS was established in 1993 as the Brotherhood's arm in the United States. The UNIW website, in fact, claims to have organized the 2018 ICNA-MAS convention last spring in Baltimore.
The conventions also serve as a platform to advance Turkey's Islamist agenda. Erdogan's daughter, the vice chair of the Women and Democracy Association (KADEM) Sumeye Erdogan Bayraktar, spoke at the 2016 convention. Bayraktar's speech, "Overcoming the problems the ummah face: Turkish model," described the Islamist AKP as a "liberation movement that took its power from the people and the values they upheld." She accused Turkey's "minority establishment elite" for modernizing "a mostly religious society through top-down policies." And she claimed the "Turkish establishment elite had a very hollow understanding of secularism which summed up to a system of discrimination pressure and exclusion of all that had to do with religion while celebrating, promoting and imitating all that was Western."
The AKP that has ruled Turkey under Erdogan's leadership since 2002 has been responsible for widespread suppression of civil society and press freedoms especially since the 2016 coup attempt to overthrow the government.
The JI and similar Islamist organizations are "violent theocratic groups that have committed violent acts against minority Christians, Hindus, Buddhists, and Ahmadi Muslims," U.S. Rep. Jim Banks, R-Ind., said last month during a Hudson Institute panel discussion on JI's dangerous Islamist agenda in Bangladesh and Pakistan. The IPT participated in the event. Banks mentioned a recently introduced bipartisan resolution that called on the United States Agency for International Development (USAID) and the State Department "to halt all partnerships and funding arrangements" with the JI.
In light JI's violent Islamist agenda, Turkey's sponsorship of its activities in Bangladesh and Pakistan and those of its proxy groups in the U.S., not only stymies efforts to bring security and stability in South Asia, but also frustrates U.S. efforts to rein in rising Islamism at home.
http://moderntokyotimes.com/turkeys-islamist-push-into-south-asia-aided-by-american-proxies/
--------
Arab World
Filmmaker Helps Bring Heroic True Story of Saudi Royal, Teenager Faisal, To Silver Screen
January 24, 2019
JEDDAH: There are film stars and there are real-life heroes. Combine the two on the silver screen and a blockbuster is in the making.
"Born a King" is the remarkable true story of a 13-year-old Saudi prince dispatched to Britain on a high-stakes diplomatic mission to secure the formation of his country.
Teenager Faisal, who was later to become king of Saudi Arabia, is the young hero sent by his father to lead negotiations in London with the fate of his nation resting on his shoulders.
Set in 1919, this extraordinary new movie was partly shot in Riyadh, and was co-produced by Saudi-born American filmmaker Todd Albert Nims.
Arab News caught up with Nims during the Winter Enrichment Program (WEP) at King Abdullah University of Science and Technology (KAUST) and spoke to him about his role in the production.
Nims said he was inspired to take part in filming the story of King Faisal the child.
"It is an important story to be told, especially at this young age, a 13-year-old boy going on this diplomatic mission, where the fate of the country hangs in the balance. It is quite unique.
"I felt this was not just a story that I would enjoy, but one that international audiences and Saudi Arabians would too," he said.
The film tells how Prince Faisal (played by Abdullah Khaleel) negotiates with some of the pre-eminent figures of the age, including Lord Curzon and Winston Churchill, while forming a friendship with Princess Mary who helps guide him through the corridors of power.
"The main shooting (of the film) started in 2016 and was completed by the end of that year," said Nims. However, additional filming was required over eight weeks in London and three weeks in Riyadh, and he said "Born a King" was now being prepared for cinema release.
Anticipation of the release has created a major stir on social media, with a one-minute trailer going viral.
Nims said that one of the greatest challenges faced by the film's producers was finding a cast that looked like the main characters.
"The majority of the cast playing Saudis are from Saudi Arabia," he said. "But it took about a year to do the Saudi casting... The film includes hundreds of participants from the Kingdom.
"Trying to find an 'Abdul Aziz' was the most difficult because he was 6 feet 4 inches tall with huge hands, so trying to find an actor that is that tall or very tall was almost impossible. Also, finding a Saudi actor for the part, in a country where the film industry is still developing, was really difficult.
"It was a similar problem casting the young Faisal. To act at the age of 13 is tough already and to find someone who looks the same (was difficult), because they are actual historical figures," Nims added.
"It was a huge film to bring (together); many people from different nationalities all working together but speaking different languages such as English, Arabic and Spanish. It was a challenge."
Nims has a production company of his own in Riyadh called Empty Quarter Entertainment and is currently working on a new horror movie in the south of the Kingdom.
He is also behind a film called Joud that tells the story of Saudi Arabia and its culture and will be screened in cinemas throughout the country.
http://www.arabnews.com/node/1441446/saudi-arabia
--------
Mass-Grave of Syrian Army Forces Slain by Ankara-Backed FSA Found in Raqqa
Jan 24, 2019
The Arabic-language website of Sputnik news agency quoted a military source in the town of al-Tabaqah in Western Raqqa as saying that a mass-grave containing the Syrian army soldiers was discovered in the village of Sharidah al-Qarbiyah.
He added that 7 corpses have been taken out of the mass-grave so far, noting that they were slain by the so-called Free Syrian Army (FSA) terrorists in 2013.
Meantime, a medical source said that based on preliminary tests, the Syrian soldiers had gone under torture before being killed.
http://en.farsnews.com/newstext.aspx?nn=13971104000548
--------
'Syria's Assad revokes multiple entry visas for European Union diplomats'
Jan 24, 2019
Syria's President Bashar al-Assad has revoked multiple entry visas for European Union diplomats and officials traveling regularly to Damascus, senior EU diplomats say.
Three senior EU diplomats, speaking on condition of anonymity, said on Thursday that they believed the move was an attempt to make European governments and the bloc re-open their diplomatic missions in the Syrian capital.
"This is a measure that hits diplomats and staff of European government embassies and the European Union institutions," commented an EU diplomat.
The European Commission later confirmed that the Syrian government had suspended the visas.
"Yes, that is true," the commission's spokeswoman, Maja Kocijancic, said at a briefing, adding that the Bashar al-Assad government has "suspended multiple entry visas. In that context, we are continuing as the EU, in contact with member states, to do whatever we can to avoid it having an impact on the important work we are doing on the ground."
The EU has used the Lebanese capital Beirut as its diplomatic base while shuttering most embassies in Damascus ever since foreign-sponsored militancy broke out in Syria in March 2011.
The bloc imposed a fresh round of economic sanctions on the Damascus government on Monday, saying that it would not shift its policy until a political transition away from Assad was underway.
The EU slapped sanctions on Syria's state-run Scientific Studies and Research Center (SSRC) as well as five of its staff over what it calls the use of chemical weapons.
New batch of Syrian refugees return to homeland from Lebanon
Separately, hundreds of Syrian refugees returned on Thursday to their homeland from various areas in neighboring Lebanon.
The return of refugees took place under the supervision of Lebanon's General Security in cooperation with the Office of the United Nations High Commissioner for Refugees.
Refugees returned home using buses sent by Syrian authorities and arrived at al-Dabbousia and Jdeidet Yabous border crossings.
The refugees underwent medical checks and polio vaccines were administered to children. They were then transferred to Syria's central provinces of Homs and Hama in addition to areas on the outskirts of Damascus.
On Sunday, Lebanese President Michel Aoun urged world powers to "make all efforts" to help the repatriation of Syrian refugees as Damascus forces continue to liberate the country from the clutches of foreign-sponsored Takfiri terrorist groups.
"Lebanon calls on the international community to make all efforts possible and provide suitable conditions for a safe return of displaced Syrians," Aoun told an Arab economic summit in Beirut, noting that Lebanon would suggest solutions for safe refugee returns in the meeting's final statement.
More than one million Syrian refugees are registered with the UN refugee agency, UNHCR, in Lebanon.
Full report at:
https://www.presstv.com/Detail/2019/01/24/586679/Syrias-Assad-blocks-access-to-Damascus-for-EU-envoys-Diplomats
--------
People of Raqqa Set Fire at US-Backed Forces' Bases
Jan 24, 2019
Media activists in Raqqa reported on Thursday that hundreds of residents of the town of al-Mansoureh in Southwestern Raqqa staged massive protest rallies against the SDF and set fire at some of their checkpoints and bases in the town.
They added that the protest rallies were held after a young resident of the region was killed by the SDF during forced recruitment operations.
The sources said that similar rallies were also held in the towns of Hanideh, al-Safsafeh and Mazra'at al-Safsafeh region, adding that the residents surrounded the US-backed forces' strongholds.
Meantime, the SDF sent a large number of forces and military equipment from Raqqa city and the town of al-Tabaqah to al-Mansoureh, wounding a number of civilians with bullet fire to disperse the angry crowd.
Residents of Raqqa and Hasaka have many times held uprising against the US occupiers and their allies in Raqqa region.
Also, last month, a large number of people poured into the street in a key town in Northeastern Hasaka, calling for the withdrawal of the US and Turkish troops and their allied militants from their region.
SANA reported that a large number of civilians, social activists and parties in the town of Qamishli took to the streets, opposing occupation of the region by the US and Turkish troops.
It further said that the protestors condemned a visit by the former French Foreign Minister to al-Jazeerah region controlled by the SDF, calling for independence of the Syrian parties from the US policies and asking for their affiliation to Damascus again.
Full report at:
http://en.farsnews.com/newstext.aspx?nn=13971104000429
--------
Dozens killed in failed ISIS counterattack in east Syria: Monitor
25 January 2019
ISIS made an aborted attempt to retake a village from US-backed forces in eastern Syria Thursday, a monitor said, leaving 50 fighters dead on both sides.
The failed assault came a day after the Syrian Democratic Forces (SDF), who are backed by the US-led coalition, took the village of Baghouz from ISIS.
On Thursday, the group launched a counterattack including at least three suicide bombers wearing explosive belts against SDF fighters, the Syrian Observatory for Human Rights said.
Sixteen SDF and 34 ISIS fighters were killed in the assault aimed at retaking the village near the Iraqi border, the Britain-based monitor said.
A further "21 ISIS fighters were taken prisoner as they tried to open up a gap" in defenses and make an escape towards Iraq, Observatory chief Rami Abdel Rahman said.
The SDF have since September been whittling away at a pocket of territory on the eastern banks of the Euphrates River in the eastern province of Deir Ezzor.
The latest advance by the US-backed group has left the last diehard ISIS fighters holed up in scattered farmhouses near the Euphrates.
Thousands of people, mostly women and children, have fled into SDF-held territory in recent days, according to the Observatory.
ISIS overran large swathes of Syria and neighboring Iraq in 2014, declaring a "caliphate", but they have since lost almost all of it to various offensives.
Full report at:
https://english.alarabiya.net/en/News/middle-east/2019/01/25/Dozens-killed-in-failed-is-counterattack-in-east-Syria-Monitor-.html
--------
3 killed, dozens injured as bombing spree hits militant-held towns in northwest Syria
Jan 24, 2019
A string of bomb attacks have stricken several towns in northwestern Syria, killing three people and injuring nearly a dozen others.
The blasts took place on Thursday after explosive-laden motorbikes were detonated, Reuters reported, citing a resident and witnesses.
They said the fatalities included a woman, a child, and a young man, who died after one device exploded near a public park at the heart of the city of al-Bab, north of Aleppo. The explosion also wounded at least eight others.
Three people were also injured in the nearby towns of Qabasin and al- Ghandurah by similar blasts.
On Wednesday, two explosive devices were detonated in the city of Afrin. Turkey-backed militants there accused the Kurdish People's Protection Units (YPG) of carrying out the blasts.
There was no immediate comment from the YPG.
Turkey, which has been maintaining a military presence in northern Syria, without a Damascus permission, to push the militants back from the vicinity of its border, associates the YPG with the Kurdistan Workers' Party (PKK) militant group.
Also on Thursday, a car bomb went off in Syria's capital Damascus, inflicting material damage but causing no casualties.
The incident took place in the city's al-Adawi neighborhood just north of the central Old City district on Thursday, the official Syrian Arab News Agency SANA reported.
"A witness said the blast occurred near a hospital and security forces were examining a blown-up blue car in the street," Reuters reported.
The so-called Syrian Observatory for Human Rights, based in the UK, claimed that the explosion had occurred near the Russian embassy, lightly wounding four people.
On Sunday, a bomb exploded near a highway at the edge of Damascus and authorities arrested one attacker. The Observatory alleged at the time that the attack had taken place near a military intelligence office, killing and wounding an unspecified number of people.
Syria's foreign-backed militancy has claimed thousands of lives, but has largely been warded off over the past three years with the help of Damascus' allies, Russia and Iran.
The Syrian government says the Israeli regime and its Western and regional allies are aiding Takfiri terrorist groups wreaking havoc in the country.
However, admissions have been trickling in from some of those same countries that the government of President Bashar al-Assad has regained control of the country.
Full report at:
https://www.presstv.com/Detail/2019/01/24/586686/Syria-bomb-capital-Damascus
--------
Europe
UN expert to lead international inquiry into Khashoggi murder
JANUARY 25, 2019
The United Nations special rapporteur on extrajudicial, summary or arbitrary executions told Reuters on Thursday she will travel to Turkey next week to head an "independent international inquiry" into the murder of Saudi journalist Jamal Khashoggi.
Khashoggi, a columnist for the Washington Post and a critic of Crown Prince Mohammed bin Salman, was killed and dismembered by Saudi agents at its consulate in Istanbul on Oct 2, provoking an international outcry.
Earlier on Thursday, Turkish Foreign Minister Mevlut Cavusoglu said it was time for an international investigation and that President Tayyip Erdogan had ordered preparations to be made.
"I will be heading an independent international inquiry into the killing of Saudi journalist Mr. Jamal Khashoggi, commencing with a visit to Turkey from 28 January to 3 February 2019," independent UN investigator Agnes Callamard said in an email reply to Reuters in Geneva.
Callamard said that she would evaluate the circumstances of the crime, and "the nature and the extent of states' and individuals' responsibilities for the killing".
"My findings and recommendations will be reported to the UN Human Rights Council at the June 2019 session," she said.
The inquiry was being conducted at her request and three experts would accompany her, with forensic expertise amongst other skills, she said, declining to name them for now.
There was no immediate word on whether the team had sought access to Saudi Arabia.
A Saudi public prosecutor's spokesman said last year that 21 Saudis were taken into custody in relation to the case, 11 of whom have been indicted and referred to trial. Earlier this month the prosecutor said it was seeking the death penalty for five of the 11 detained suspects.
Callamard, a French academic who is director of the Columbia Global Freedom of Expression initiative at Columbia University in New York, reports to the UN Human Rights Council in Geneva and has a global mandate to investigate executions.
https://dailytimes.com.pk/347804/un-expert-to-lead-international-inquiry-into-khashoggi-murder/
--------
Bosnian Muslims anger Serbs with name change plan, EU calls for calm
25 Jan 2019
SARAJEVO: A Muslim party said it would launch a legal bid to change the name of Bosnia's Serb region, enraging all Serbian parties in the volatile country and prompting calls for calm from the European Union.
The largest Bosnian Muslim party, SDA, said on Wednesday the name Republika Srpska (Serb Republic) discriminated against Bosniaks and Croats there, and it would challenge it in the constitutional court.
Under the 1995 Dayton peace accords that ended Bosnia's 1992-95 war, the country is split into two highly autonomous regions, the Serb-dominated Serb Republic and the Federation dominated by Muslim Bosniaks and Croats, linked via a weak central government.
SDA leader Bakir Izetbegovic said the legal challenge was a response to "intensified attacks on Bosnia and its integrity" by Bosnian Serb nationalist leader Milorad Dodik.
Dodik, who heads the Serb SNSD party, said the initiative was anti-constitutional and that Serbs will halt their work in the central government.
"If the appeal is accepted, we will call a special session of the Republika Srpska National Assembly at which we will decide about the future status of the RS (Serb Republic)," Dodik said after meeting other Serb politicians. He currently chairs Bosnia's inter-ethnic three-man presidency as its Serb member.
The EU delegation in Bosnia issued a statement saying: "We call on all political parties to refrain from political manoeuvres aimed at distracting attention from the real issues facing Bosnia.
"Polarising statements and actions ... will not facilitate the formation of new authorities at a crucial moment for the country's EU path," the delegation added.
Bosnia is hoping to become an EU candidate later this year.
Bosnia's international peace overseer Valentin Inzko said the name challenge "in the midst of discussions on government formation is irresponsible and counterproductive, and further undermines the trust between constituent peoples and their political representatives".
Following parliamentary and presidential elections in October, a dispute between Serb, Croat and Bosniak presidency members over Bosnia's integration into NATO has delayed the formation of the central government.
Full report at:
https://www.channelnewsasia.com/news/world/bosnian-muslims-anger-serbs-with-name-change-plan--eu-calls-for-calm-11164186
--------
US, UK say Venezuela's Maduro 'illegitimate', Russia and Turkey express support
24 January 2019
The United States and Britain said on Thursday that Venezuela's Nicolas Maduro is not legitimate, while Russia and Turkey expressed their support to the legal authorities.
US Secretary of State Mike Pompeo warned Venezuela's Nicolas Maduro not to use force against mass demonstrations and urged further international support for the self-declared acting president.
"The time for debate is done. The regime of former president Nicolas Maduro is illegitimate," Pompeo said.
"His regime is morally bankrupt, it's economically incompetent, and it is profoundly corrupt, and it is undemocratic to the core," he said.
Britain said Nicolas Maduro was "not the legitimate leader of Venezuela" and that London would support the presidential claim made by opposition leader Juan Guaido.
"The United Kingdom believes Juan Guaido is the right person to take Venezuela forward. We are supporting the US, Canada, Brazil and Argentina to make that happen," Foreign Secretary Jeremy Hunt said in a statement.
Russian President Vladimir Putin on Thursday called his Venezuelan counterpart Nicolas Maduro and expressed support, the Kremlin said.
"The President of Russia expressed support for the legitimate authorities of Venezuela in the context of a domestic political crisis that has been provoked from the outside," it said.
Putin said that any intervention by other countries "violates the fundamental norms of international law," according to the statement.
Turkish President Recep Tayyip Erdogan phoned Venezuelan President Nicolas Maduro to offer support, and said he was shocked that Washington had backed the opposition leader's move to declare himself interim leader.
Full report at:
https://english.alarabiya.net/en/News/world/2019/01/24/US-UK-say-Venezuela-s-Maduro-illegitimate-Russia-and-Turkey-express-support.html
--------
Barclays was basically dead without Qatari cash, London court told
January 24, 2019
LONDON: Richard Boath, an ex-Barclays boss on trial on fraud allegations, said the bank would be "basically dead" without a Qatari cash injection in 2008, a prosecutor said on Thursday.
The Serious Fraud Office prosecutor told the trial of Barclays' ex-chief executive John Varley and three former senior executives that Qatar had played hardball as the British bank struggled to shore up its balance sheet during the financial crisis.
"Without £1 billion, at the very least, from Q (Qatar) we are basically dead," Boath told his Barclays line manager on May 28, 2008, in a communication read out in Southwark Crown Court by prosecutor Edward Brown on the second day of the case.
Former CEO Varley, Roger Jenkins, Tom Kalaris and Boath deny conspiring to commit fraud by false representations when Barclays raised more than £11 billion ($14 billion) from investors in 2008, allowing it to avert a British state bailout.
Prosecutors allege the bankers hid from public documents around £322 million in secret fees paid to the Qatari investors as they fought to meet their tough demands.
Jenkins, former chairman for the Middle East of the BarCap business, was the "gatekeeper for Qatar", Brown said, adding that when the Gulf state said it might invest at least £1 billion in May 2008, there was initial delight at Barclays.
"Made my day. Know we have to get it over the line, but it's a great starting point for the conversation," Varley told Bob Diamond, the American executive who later replaced him as CEO, around May 13, 2008 in communications read out in court.
But this was short-lived after Qatar asked first for a fee of 3.75 percent in return for investing - substantially above the 1.5 percent Barclays was offering other investors - before settling on 3.25 percent, the prosecution alleged.
Trying to structure this deal proved a headache, Brown added, because all investors had to be offered the same terms.
The case hinges in part on whether so-called advisory services agreements were for genuine services to be provided by Qatar or a means for Barclays to pay extra fees it demanded.
Transcripts of telephone and email conversations between Barclays executives at the time show the bankers debating the bank's vulnerable condition and the need to get the Qatari investment at all costs, the prosecution alleged.
"They've got us by the balls because the price is so low," Boath told a senior colleague, referring to Qatar's tough stance and the bank's low share price.
Some of the executives also joked about the possibility of going to jail if the Qatari deal did not play by the rules.
Full report at:
http://www.arabnews.com/node/1441316/business-economy
--------
Southeast Asia
How Political Islam Is Shifting Indonesia's Relations with Australians
By James Massola
25 January 2019
Jakarta: On paper, the two men couldn't be much more different.
Basuki Tjahaja Purnama, widely known as Ahok, is an ethnically-Chinese Christian former governor of Jakarta who was released from jail on Thursday after serving nearly two years for blasphemy.
The other man, Abu Bakar Bashir, is an 81-year-old firebrand cleric and spiritual leader of the Bali bombers who is much better known to Australians.
Bashir was set for a shock early release from jail on Wednesday, though that move was scotched at the last minute after Indonesian President Joko Widodo faced a significant backlash from moderate supporters.
The release of Ahok and ongoing detention of Bashir has dominated Indonesian news for the last week, and played out against the back drop of simultaneous Presidential and parliamentary election campaigns which will conclude on April 17.
Viewed through Australian eyes, it may seem that the week's events can be neatly summed up as delivering a victory for the forces of modernity and moderation in Indonesia and a blow to the more conservative, hardline forces.
It isn't as simple as that.
Indonesia's state ideology, Pancasila, emphasises pluralism and tolerance.
But Islamist groups are playing an increasingly influential role in the political system of Australia's near-northern neighbour and that trend shows no sign of abating.
The country's blasphemy laws, used so effectively against Ahok, have become weaponised.
Just in the last year a woman was jailed for complaining the call to prayer from her local mosque was too loud; the daughter of the country's first president Sukarno was threatened with jail for allegedly insulting the Prophet in a poem (she delivered a grovelling apology); and a Christian student in Sumatra was jailed for a Facebook post that insulted the Prophet. These are just some examples.
At the same time, graves with Christian crosses on them were desecrated earlier this month in central Java and the local government in the town of Surakarta caved to public pressure to erase a mosaic (which was designed by a Muslim) that critics argued was shaped like a cross and therefore was offensive.
And while the President made a plea for tolerance during his state of the nation address last August, his selection of ageing Muslim cleric Ma'ruf Amin to be his vice presidential running mate highlights - as the would-be release of Bashir does - just how nervous the popular politician is that conservative Islamic forces will line up against him and help ensure his opponent Prabowo Subianto is elected.
Some commentators have suggested the protestations of Australian Prime Minister Scott Morrison over Bashir's release played a significant part in Widodo's change of heart (though the Prime Minister, to be fair to him, has claimed no credit).
They are kidding themselves.
Canberra is still in bad odour in Jakarta because of last year's Israeli embassy move thought-bubble, the much-hyped free trade deal is still on ice and vice presidential candidate Amin, current vice president Jusuf Kalla and senior cabinet minister Luhut all suggested Australia should simply butt out on the Bashir matter.
The embassy brouhaha is just the latest speed bump in a relationship that is often fraught - the live cattle ban, boat turn-backs and the execution of two members of the Bali Nine are examples from the last decade.
It was primarily domestic politics and domestic disquiet - from nationalist forces inside the government defending Pancasila, and from moderate supporters of the President who swiftly took to social media to complain - that caused Widodo to backflip and decide he couldn't, after all, bend the rule of law to release Bashir and suit his own need to appeal to conservative Muslim voters.
And as a supporter of the opposition put it neatly on Facebook, before Widodo reversed course on the release, "I'm happy Bashir is being released but I'm not changing my vote from Prabowo".
In other words, there was little political dividend for Widodo in backing the release of Bashir even before he backflipped.
Instead Widodo succeeded in both temporarily alienating his base of moderates and nationalists and then infuriating the more conservative voters he was attempting to pander to.
Meanwhile Ahok, in a lengthy letter penned on the eve of his release, said he was happy to have lost his bid for re-election as governor in April 2017, and to have served his time in jail as it had made him a better, less arrogant person.
No where was there a suggestion of anger or regret from Ahok that he had been unfairly jailed for commenting on a verse in the Koran.
In the short term, the Ahok and Bashir cases are a reminder that Jakarta politics will remain febrile until the presidential election is held - so Canberra should tread carefully.
And in the longer term, they are a reminder the growing influence of political Islam in Indonesia means we will need to recalibrate our understanding of our northern neighbours.
https://www.brisbanetimes.com.au/world/asia/how-political-islam-is-shifting-indonesia-s-relations-with-us-20190125-p50tmg.html
--------
Najib aiming for comeback as PM like Dr M, says Malaysian MP
25 JANUARY, 2019
KUALA LUMPUR ― Former Malaysian prime minister Najib Razak is taking a leaf from Dr Mahathir Mohamad's playbook to stage his political comeback as prime minister, according to Democratic Action Party (DAP) adviser Lim Kit Siang.
The Iskandar Puteri MP said Mr Najib has taken on a major role for Barisan Nasional (BN) in the Cameron Highlands parliamentary by-election as its "campaigner-in-chief" after stepping down as its chairman, overshadowing the current leaders, because of his designs to regain Putrajaya.
"Dare Najib deny that he is in fact asking the voters of Cameron Highlands to spearhead a 'Save Najib' campaign to culminate in a Barisan Nasional victory in 15th General Election and his return as Prime Minister?"
"Najib's motive in the Cameron Highlands by-election is clear ― to use a BN victory in Cameron Highlands as a launching pad for a national 'Save Najib' campaign, culminating in the next general election in 2023 for Najib to stage a political comeback and like Tun Mahathir to become the Prime Minister in Malaysia for a second time," Mr Lim said in a statement on Friday (Jan 25).
Dr Mahathir first served as prime minister from 1981 to 2003 under Barisan Nasional (BN). He returned to active politics nearly 15 years later and became prime minister for a second time after winning the Langkawi parliamentary seat in GE14.
The DAP adviser, dubbed the "minister of Najib affairs" by the former prime minister himself, has said the Cameron Highlands vote tomorrow is really a fight between Pakatan Harapan candidate M. Manogaran and Mr Najib, rather than with the Orang Asli pensioned policeman named Ramli Mohd Noor the BN is fielding.
He noted that Mr Najib has not made clear that he would not strive for the prime ministership again after losing it in last year's general election. Instead, Mr Najib has posted a video clip on Facebook where he and a group belted out a revised version of Singaporean group Black Dog Bone's 1978 hit Hati Ku Luka Lagi, painting himself a victim of political persecution by Pakatan Harapan ahead of his trial over the 1Malaysia Development Berhad grand heist.
Mr Lim also pointed out that Mr Najib had promised to become a prime minister "of all Malaysians" when he rose to the post in 2009, but has been flashing the racial card in the Cameron Highlands campaign, yesterday dismissing PH's ethnic Indian candidate as incapable of protecting the interests of Malay Muslims in the country — unlike BN and PAS.
"Is Najib saying that a Muslim Prime Minister is not capable of defending the interests of non-Muslim Malaysians? Why can't non-Muslim political leaders defend the interests of Muslim Malaysians?
"When and why has Najib developed such a forked tongue and propensity for hypocrisy?
Weren't the former MPs for Cameron Highlands Malays and Muslims?" Mr Lim challenged.
The Cameron Highlands by-election was called after the Election Court voided Datuk C. Sivarraajh's victory in the May 9 election last year on the basis of bribery.
The constituency has been held by BN's Indian component party MIC since it was created in 2003, but in a first, the coalition decided to field a candidate of another ethnicity and chose Mr Ramli.
Full report at:
https://www.todayonline.com/world/najib-aiming-comeback-pm-dr-m-says-malaysian-mp
--------
Indonesia's president toys with releasing a terrorist ideologue
Jan 24th 2019
Abu bakar basyir founded Jemaah Islamiah, the group responsible for Indonesia's deadliest terrorist attack. In 2002 bombs ripped through two nightspots packed with revellers on the island of Bali, killing 202. Between 2003 and 2009 ji staged four more large bombings in Indonesia, claiming more than 50 lives. Many of its members are dead or behind bars, including Mr Basyir, its chief ideologue, who was sentenced to 15 years in prison in 2011 for financing a terrorist training camp.
On January 18th, however, Indonesia's president, Joko Widodo, known as Jokowi, said that the 81-year-old preacher would be released early on "humanitarian" grounds, owing to poor health. Yusril Mahendra, a legal adviser to Jokowi, said the decision was proof that the president is not hostile to devout Muslims.
Jokowi, a Muslim himself, is standing for re-election in April. His political opponents have long smeared him as troublingly irreligious. To counter those claims, Jokowi has chosen Ma'ruf Amin, a prominent 75-year-old cleric, as his running-mate this time. Other conservative figures have been put on the government payroll in an attempt to quell their criticism. Many saw Jokowi's decision to free Mr Basyir as another attempt to appease the Islamists—even though there was no great clamour for his release.
But Mr Basyir has never renounced violent extremism. He refuses to accept pancasila, Indonesia's founding principles, which enshrine democracy and a degree of freedom of religion—normally a precondition for convicted terrorists seeking clemency. Mr Basyir's son said that his father would resume preaching if released. Sidney Jones, an expert on Indonesian militants, thinks Mr Basyir's status would be elevated if he were set free: "It would send a message that promoting violence, rejecting democracy and spreading hatred of non-Muslims are all forgivable."
Full report at:
https://www.economist.com/asia/2019/01/26/indonesias-president-toys-with-releasing-a-terrorist-ideologue
--------
Malaysian royals elect new king after surprise abdication
January 24, 2019
Members of Malaysia's royal families on Thursday elected Sultan Abdullah Sultan Ahmad Shah as the new king, following the unexpected abdication of the previous monarch.
Sultan Abdullah, 59, ruler of the central state of Pahang, will formally take over the throne on Jan. 31 for a five-year term, the keeper of the rulers' seal said in a statement.
Malaysia is a constitutional monarchy with the king assuming a largely ceremonial role, including acting as custodian of Islam in the Muslim-majority country. The king's assent is needed for the appointment of a prime minister and various senior officials.
Malaysia's nine royal households take turns to provide a king, who is chosen through a vote in a Council of Rulers, made up of the nine households, most of which are led by a sultan.
The king is elected for a five-year term.
The head of the Pahang royal family was next in line in take over from the former king, Sultan Muhammad V, who is the head of the state of Kelantan.
Sultan Muhammad abdicated this month after just two years on the throne, the first time a monarch had stepped down before completing their tenure.
No reason was given for his decision, which came after images purporting to show him getting married in Russia appeared on social media in December. Posts identified his new wife as Oksana Voevodina, who won a Miss Moscow contest in 2015.
The new king, Sultan Abdullah, succeeded his ailing father as ruler of Pahang last week.
His ascent to the Pahang throne, was seen as a sign that he would take over as the new monarch.
Full report at:
https://www.thejakartapost.com/seasia/2019/01/24/malaysian-royals-elect-new-king-after-surprise-abdication.html
--------
Pakistan
Pakistani Jew flying to Israel echoes in Senate
January 25, 2019
ISLAMABAD: Prime Minister Imran Khan came under criticism in the Senate on Thursday for reportedly allowing a Pakistani Jew to travel to Israel on a Pakistani passport in which it is clearly written that "it is valid for all the countries except Israel". On a point of public importance, former chairman Senate Mian Raza Rabbani said that a Pakistani citizen who is a Jew, had been allowed by the Foreign Office to travel to Israel after the Prime Minister Secretariat approved the case. The News had carried the story about Fishel Khalid, 31.
Rabbani contended that the Jew, who is a Pakistani passport holder, had been allowed to travel to Israel despite the fact that the green passport is not valid for Israel, adding, "If so, the PM Office permitted him, as claimed by the Foreign Office and some weeks back, there was a tweet, an Israeli plane landed at Islamabad, stayed for few hours and then left".
Given the situation and a categorical travel ban to Israel, Rabbani questioned that if there was any such move that Pakistan was contemplating upon softening its position towards Israel, at least the parliament needed to know about it.
Rabbani said, "we have been saying this all along that this parliament is the only place where such major policy decisions and policy shifts, if they are taking place [as] I'm still giving the benefit of doubt to the story, but it needs to be confirmed".
He dubbed the issue as highly sensitive and said that it was clearly mentioned that how the Foreign Office and Prime Minister Office had given their nod, allowing the local Jew to travel to Israel.
Rabbani contended that if there was a shift in Pakistan's foreign policy towards appeasement or there was some back channel diplomacy, which is opened with Israel, the parliament should at least be taken into confidence.
He emphasised, "if the foreign policy of the country is not formulated in the parliament, where else it should be framed? The foreign minister had claimed that foreign policy will be formulated here but we know that it is not framed at the Foreign Office".
Rabbani said that if the foreign policy was not framed at the Foreign Office, the government should at least take the parliament into confidence if it was going to take such a huge strategic change with regard to the foreign policy.
He called on the Chairman Senate Sadiq Sanjrani to seek a reply from the Foreign Office regarding the controversy, on which the Chairman sought a written clarification from the Ministry of Foreign Affairs.
On this occasion, the Leader of the House, Shibli Faraz seconded Rabbani's observations, saying there was a restricted clause in the passport, which does not allow a Pakistani national to travel to Israel. He also said there was a need to know under which rule, the Foreign Ministry allowed the Jew to travel to Israel.
To a calling attention by Senator Kabir Shahi for reducing the size of Public Sector Development Programme (PSDP) from Rs950 billion to Rs675 billion, the Minister for Planning and Development Khusro Bakhtiar said that in the first PSDP of this government, which would be approved in next fiscal budget in June, Balochistan would be given top most priority.
The minister said that 2017-18 development plan was of Rs800 billion and not of Rs950 billion where Balochistan had some share, which was reduced as fiscal deficit target for 2017-18 of the previous year was 4.6 of the GDP but the government left it at 6.6 percent; hence their budgetary deficit went up by Rs750 billion from the target they had set.
In order to please Balochistan and other parts of the country, during the last month of their government's five-year tenure, he added, the previous government of Pakistan Muslim League Nawaz (PML-N) placed 373 unapproved projects in the PSDP which, if undertaken, could have cost Rs2 trillion to complete the projects.
He went on to say that the contradiction of the previous PML-N government was self-explanatory as it had placed Rs2 trillion projects and allocation was Rs55 billion, which if continued, had taken 40 years to complete these projects.
"And the total allocation for Balochistan was Rs7.4 billion. We took a policy decision as we'd no resources and our fiscal deficit had gone up due to which we took a policy decision to streamline things and dropped all the unapproved projects," he added.
In October 2018, after dropping the projects, he added, the government wrote to all the concerned ministries to prioritise all projects which had been dropped, as it will be included in budget 2019-20.
He maintained that uplift of Balochistan is the top priority of PTI government, adding the previous government had allocated Rs7.4 billion which was a peanut, and the government will announce ten times
more development schemes for Balochistan in the next budget.
About government's priorities for uplift of Balochistan, he said that Western Corridor, DI Khan-Zhob and Quetta-Zhob road projects are some of the major projects which were taken in the 7th Joint Coordination Committee (JCC) held in December last year.
He said that Rs17 billion will be given to lay transmission lines in Makran division and Gwadar coast in the next budget, adding Awaran road which has been under construction since 1990 is also a priority of the government.
The minister said that water is one of the major issues for the backwardness of Balochistan, for which an integrated programme in collaboration with the provincial government will be launched to complete Kachhi Canal project on which Rs80 billion have so far been spent.
Referring to a meeting with Pakistan Space and Upper Atmosphere Research Commission (SUPARCO) – the national space agency – he said that the agency has been directed to identify points through satellite imagery for construction of 100 dams for water catchment.
He said the government is going to launch a programme to run 30000 tube wells in the province to overcome the lines and transmission losses.
Leader of Opposition Raja Muhammad Zafarul Haq and Raza Rabbani stopped State Minister for Revenue Hammad Azhar from responding to some of the issues raised by the opposition senators, saying the minister could only conclude the debate on the mini-budget bill.
This agitated Shibli Faraz, who rose to insist there was no such rule, which bars a minister from speaking during a debate on the money bill. Terming some of the points raised by opposition lawmakers as propaganda against the mini-budget, he said the minister should respond to them on the spot or else it will tarnish the image of the government.
Taking part in debate on the mini-budge, Senator Usman Khan Kakar of PkMAP said that finance minister had benefited the multinational companies and he was promoting their agenda. He said a man who spent his whole life serving multinational companies, had no idea of the country's economy, due to which he was presenting mini-budget after every three months which should stop, as it just to crush the poor man.
The treasury lawmakers were all praise for the mini-budget, saying the fragile economy which they had been inherited, had finally taken off due to prudent polices of the government. Senator Faisal Javed said that the measures, which the PTI had taken to boost the economy, will bear fruit in years to come.
https://www.thenews.com.pk/print/423349-pakistani-jew-flying-to-israel-echoes-in-senate
--------
Sahiwal incident can't be equated with Model Town's, says Qadri
January 25, 2019
LAHORE: Pakistan Awami Tehreek (PAT) chief Tahirul Qadri has come down hard on those responsible for the Model Town incident, saying they are trying to confuse the incident with the Sahiwal killings to conceal their crimes.
In a statement on Thursday, he said the Sahiwal incident was reprehensible and those responsible for it must face the music, however, it was beyond doubt that the Sharif brothers were planners of Model Town incident and they used police as a tool. He said Shahbaz Sharif had created a lot of hurdles in the impartial investigation into the Model Town incident as heirs of victims were not allowed to file first information reports, cases were registered against the witnesses under the Anti-Terrorism Act and they were intimidated; forensic survey of crime scene was never held and Shahbaz Sharif even concealed Justice Baqar Naqvi commission report.
Mr Qadri said before this report, on June 17, 2014, Shahbaz Sharif had bragged during a press conference that he would resign if Justice Baqar Naqvi commission had him responsible while the commission held him and his government fully responsible.
"An anti-terrorism court summoned IG Mushtaq Sukhera, DIG Rana Abdul Jabbar and other police officers in the Model Town case but former chief minister rewarded them with promotions and posting of their choice. They were not even transferred as punishment."
Full report at:
https://www.dawn.com/news/1459609/sahiwal-incident-cant-be-equated-with-model-towns-says-qadri
--------
Pakistan SC to Hear Review Petition In Aasia Bibi Blasphemy Case Next Week
Jan 25, 2019
ISLAMABAD: The Supreme Court of Pakistan will hear next week a review petition against its decision that overturned the conviction of Aasia Bibi, a Christian woman who had spent nearly a decade on death row for false blasphemy accusation. A three-member bench headed by the newly appointed Chief Justice Asif Saeed Khosa will take up the plea on Tuesday.
The apex court had cleared Bibi of all blasphemy charges in October last year and ordered authorities to release her from prison. The incumbent chief justice was also part of the three-member bench that had ordered Bibi's release. Her acquittal, however, sparked countrywide protests led by Khadim Hussain Rizvi, an extremist leader of Tehreek-i-Labbaik Pakistan, an Islamist party. The protests were called off after the TLP reached an agreement with the government, the foremost condition of which was to place Bibi's name on the Exit Control List, to prevent her from leaving Pakistan. The government also agreed not to oppose any review petitions filed against the SC verdict. On November 1, a review plea was filed by Qari Muhammad Salam at the Lahore registry of the SC to reconsider its decision.
Full report at:
https://timesofindia.indiatimes.com/world/pakistan/pakistan-sc-to-hear-plea-in-aasia-bibi-blasphemy-case-next-week/articleshow/67681078.cms
--------
Nawaz Sharif uses Ghalib's poetry to explain his condition in jail
January 25, 2019
Pakistan's jailed former prime minister Nawaz Sharif used prominent Urdu poet Mirza Ghalib's poetry to explain his condition when the Pakistan Muslim League-Nawaz leaders visited him in the Kot Lakhpat jail in Lahore on Thursday.
Sharif, 69, who is serving a seven-year imprisonment in Lahore's Kot Lakhpat jail, was rushed to a hospital Tuesday after he complained of heart related complications. He was later discharged from the hospital and taken back to jail following the medical tests. The Jail administration has fixed Thursday as meeting day for visitors.
When the visitors asked him about his heath, the incarcerated PML-N supreme leader said, "Un ke dekhey se jo ajati hai munh par rounaq, Woh samajhtey hain ke beemar ka haal achcha hai," Geo News reported.
Sharif said he is not shown any list of visitors by jail administration. "I welcome anyone who comes here," he was quoted by Geo News as saying.
During his conversation with the PMLN leaders, Sharif said he took measures for economic development and betterment of the country but the current situation saddens him.
The three-time former prime minister said he left no stone unturned for China-Pakistan Economic Corridor for Pakistan's prosperity, adding that it would be great loss to the country if the CPEC is halted.
Full report at:
https://indianexpress.com/article/pakistan/nawaz-sharif-uses-ghalibs-poetry-to-explain-his-condition-in-jail-5554536/
--------
Cabinet approves merger of all media regulatory bodies
Syed Irfan Raza
January 25, 2019
ISLAMABAD: The federal cabinet on Thursday approved formation of the Pakistan Media Regulatory Authority (PMRA) that envisages merger of all bodies regulating media, including the print and electronic media.
In a separate meeting that was also attended by Chief of the Army Staff Gen Qamar Javed Bajwa, the government approved a new visa regime under which nationals of about 60 countries would be granted visa on arrival at Pakistani airports.
Against the backdrop of the tragic incident in Sahiwal in which three members of a family were killed in a police operation, Prime Minister Imran Khan decided to revamp Punjab police on the pattern of Khyber Pakhtunkhwa police.
Media body
With the formation of PMRA, the Pakistan Electronic Media Regulatory Authority (Pemra) and the Press Council of Pakistan (PCP) would be merged into the new organisation.
At a press conference, Information Minister Fawad Chaudhry said that not only the electronic media, but also print and "cyber media" would come under the umbrella of PMRA.
He said the government believed that there should be one regulatory authority to look after all the media, and the same laws should apply across the board.
Explore: Curbs on media?
The minister, however, said the government would take the opposition and all bodies representing journalists on board while making rules for the new regulatory body.
Some critics claim that after putting electronic media in crisis by cutting down the rates of their advertisements, the government wants to rein in the print media.
Visa on arrival
Mr Chaudhry said the government had decided to relax the visa rules for 60 countries whose nationals would be given Pakistani visas on arrival. "Such a massive change in the country's visa regime has never taken place in the past," he added.
He expressed the hope that the step would help increase foreign investment and improve ties with other countries. "We are going to open Pakistan to foreign journalists, businessmen, tourists and investors," he added.
In a separate decision, the cabinet approved application of the Pakistan Essential Services (Maintenance) Act, 1952 to all classes of employment under the Pakistan International Airlines Company Limited, Pakistan Security Printing Corporation and Security Papers Limited. The step has been taken to improve performance of the organisations.
The cabinet also approved a summary allowing a 10 per cent increase in the pension of senior citizens.
The meeting also approved the reconstitution of Pemra's council of complaints in Lahore and Balochistan.
For the Prime Minister's Naya Pakistan Housing Project, the cabinet approved supplementary grant for release of funds to the Pakistan Mortgage Refinance Company Limited, equal amount of $58 million obtained from World Bank as fist tranche of credit line of $140m for the company.
For revamping of Punjab police, Mr Khan decided to revisit the Police Act and turn 100 police stations in the province into "model police stations".
Full report at:
https://www.dawn.com/news/1459636/cabinet-approves-merger-of-all-media-regulatory-bodies
--------
'SOS' call from Chinese embassy keeps law enforcers on their toes
Munawer Azeem
January 25, 2019
ISLAMABAD: After receiving a SOS call from the embassy of China, which a police officer said was unjustified, the capital police, paramilitary troops and the army along with emergency and rescue officials reached the premises within minutes.
However, once in the embassy located in Diplomatic Enclave, the law enforcement agencies were informed that the alarm had been sent out only to check the response time and preparedness of the departments.
A senior police officer, who requested anonymity, was of the view that the embassy cannot check the response time and preparedness of the law enforcement agencies or send out such an alarm.
"Panic buttons are installed in embassies to seek help in a disaster or emergency situation, not to check our preparations or performance," the officer maintained.
Besides, he added, there was no need for checking the preparedness of the law enforcement agencies and the rescue department since a mock exercise had already been conducted in the Chinese embassy last month.
The mock exercise conducted in the embassy in December was planned by a senior police officer and the diplomats had been informed about it in advance, he said.
At around 3:15pm on Thursday, alarms installed at the offices of senior police officers and paramilitary troops started ringing, another officer said. Shortly afterward, a massage was aired through the police communication system about the SOS call from the embassy.
The Quick Response Force reached the embassy within three minutes, he said. Officers of the police commandoes, Anti-Terrorism Force, Bomb Disposal Squad, Counter-Terrorism Force, Rangers, Special Branch, Crime Investigation Department, Crime Investigation Agency and the Islamabad Traffic Police reached the embassy within 20 minutes,
Besides, officials from 111 Brigade also reached the embassy, he said.
When the officials and the rescue teams cordoned off the enclave, the embassy staff informed them that the SOS call was made to check the response of the departments concerned.
A mock exercise was conducted there and later the teams returned to their stations, said the officer.
A police spokesman said an emergency call was made by the Chinese embassy to check the response of the police to tackle any untoward situation. Soon after the call, he added, the law enforcement agencies reached the spot.
"The purpose of this rehearsal was to check preparations of law enforcers to tackle an untoward situation."
He said officials of the Chinese embassy thanked the personnel while DIG (security) Waqar Ahmed Chohan appreciated the performance of the law enforcement agencies for responding quickly.
Chinese embassy spokesman Yang Ming could not be contacted for comments.
Full report at:
https://www.dawn.com/news/1459557/sos-call-from-chinese-embassy-keeps-law-enforcers-on-their-toes
--------
Taliban-US talks 'making headway'
Tahir Khan
JANUARY 25, 2019
Political envoys of Afghan Taliban and US made progress in peace talks in Qatar on fourth day on Thursday and a Taliban official was hopeful of 'a deal coming very soon'.
Both sides are involved in talks since Monday in Doha. US peace envoy Zalmay Khalilzad leads an 11-member delegation and in-charge of Taliban political office in Qatar Sher Abbas Stanekzai is heading an eight-member team of political envoys, a Taliban official told Daily Times. "The Americans are urging the Taliban to commit that they would not allow Afghan soil to pose threat to the US and other countries in the future and we will undertake it will not happen," he further said.
Sources familiar with the peace negotiations say Pakistan has played a key role in revival of US-Taliban talks that faced some problems in the recent weeks. This is for the first time that the US-Taliban talks have entered the fourth day and sources privy to the negotiations have attached much hopes to the ongoing round.
Pakistan is also participating in the ongoing talks, Foreign Office spokesman Dr Faisal confirmed on Thursday. "Yes Pakistan is present in Qatar," he said at a weekly briefing, when asked if Pakistan is participating in the talks. "Pakistan's role and position is very clear: all matters should be resolved through political dialogue and negotiations," he added.
Mullah Baradar:
The Taliban leadership council has appointed senior leader Mullah Abdul Ghani Baradar as head of the political office, in a move aimed at winning support of the military commanders and foot soldiers for peace process with the US.
Pakistan freed Mullah Baradar, the former deputy chief of the Taliban, in October last year 'in line with its commitment to facilitate peace process in Afghanistan'.
Foreign Office spokesman Dr Faisal had stated at that time that Baradar was freed on request from the US peace envoy.
Full report at:
https://dailytimes.com.pk/347825/taliban-us-talks-making-headway/
--------
South Asia
Coalition Forces kill prominent Taliban leader in Helmand province
24 Jan 2019
The coalition forces have killed a prominent Taliban leader during an operation involving airstrike in southern Helmand province of Afghanistan.
According to the informed military sources, a Taliban Improvised Explosive Device (IED) commander Mawlawi Madad was killed during a coalition forces air strike in Garm Ser district, Helmand province January 23.
The statement further added that Mawlawi Madad was the commander of IED operations in the Helmand region of which many of these roadside bombs killed innocent women and children.
"Taking militant fighters off the battlefield will weaken the morale and capabilities of militant groups and their leadership, and provide a safer, more secured environment for the Government of the Islamic Republic of Afghanistan and its people," the sources added.
Helmand is among the volatile provinces in South of Afghanistan. The Taliban militants are active in various districts of the province and often attempt to carry out attacks against the government and security institutions and forces.
https://www.khaama.com/coalition-forces-kill-prominent-taliban-leader-in-helmand-province-03177/
--------
5 senior Taliban leaders killed in Faryab operations
24 Jan 2019
Five senior Taliban leaders including the shadow judge of the group were killed during the operations of the Afghan Special Forces in northern Faryab province of Afghanistan.
The 209th Shaheen Corps of the Afghan Military in the North in a statement said the Taliban leaders were killed along with 56 other militnts during the operations which were conducted with the help of coalition air support.
The statement further added that the operations were conducted in Chinar Shakh, Ghoraha, Khwajah Ziaratgah, and Syedabad Turkmenha areas of Qaisar district.
The senior Taliban leaders killed during the operations have been identified as Mawlavi Khan Agha the shadow deputy district chief of Taliban for Qaisar, Mawlavi Gandom Ali the shadow finance chief of the group for 5 provinces in the North, Mawlavi Hafizullah the shadow judge ofthe group for Qaisar, and Mawlavi Nasir alias Faryabi the local leader of the Taliban in Faryab, the 209th Shaheen Corps said.
Full report at:
https://www.khaama.com/5-senior-taliban-leaders-killed-in-faryab-operations-03173/
--------
UN says new Myanmar curbs threatening 50,000 Rohingya
Jan 24, 2019
The UN says new government curbs on aid activities are affecting at least 50,000 people in Myanmar's beleaguered Rakhine state, where persecuted Rohingya Muslims are mainly based.
Earlier this month, the so-called Rakhine State government blocked non-governmental organizations and UN agencies from travelling to rural areas in northern and central parts affected by conflict.
The United Nations Office for the Coordination of Humanitarian Affairs (OCHA) has circulated its findings on the impact of the curbs among UN officials and non-governmental organizations.
In its findings published by Reuters on Thursday, the UN agency has expressed alarm at the escalating violence in the two Rakhine townships of Kyauktaw and Ponnagyun.
OCHA said the restrictions have forced aid organizations to reduce or stop pre-existing programs, including the provision of healthcare, clean water, school construction and teacher training.
For example, mobile health services provided in 15 villages, totaling around 17,000 people, in Kyauktaw have now been put on hold, it said.
"In Ponnagyun, around 220 health consultations in rural areas of the township have been stopped, including emergency referral services," it added.
According to OCHA, the ongoing violence has forced about 5,000 people to flee their homes and take shelter in communal areas across the region since early January.
"We are currently working to assess the impact that recent access restrictions could have on the delivery of pre-existing and ongoing humanitarian program in the affected townships," UNOCHA spokesman in Myanmar Pierre Peron said.
The United Nations, he said, was "liaising closely with the authorities in Rakhine State, who have now invited humanitarian organizations to individually apply for travel authorizations for specific activities."
On Tuesday, the affected aid groups published a statement expressing "deep concern" about the restrictions.
"Along with most other organisations we do not currently have access to respond to the needs of the conflict-affected and displaced populations," one of them, the Norwegian Refugee Council (NRC), said.
Last week, the United Nations called on the Myanmar government to allow "rapid and unimpeded" humanitarian access to the area.
In August last year, a rights group said government restrictions on lifesaving aid for internally displaced people in northern Myanmar could constitute a war crime.
The latest developments come just months after UN-mandated investigators said Myanmar's military had carried out mass killings and gang-rapes of Muslim Rohingya with "genocidal intent".
The UN investigation team reported that Myanmar's top generals should face prosecution for crimes against humanity and war crimes in Kachin, Rakhine and Shan states.
Rakhine state -- once home to hundreds of thousands of Rohingya Muslims -- has been the scene of successive rounds of violence against the Rohingya following a military crackdown in recent years.
The Rohingya, the world's most persecuted ethnic minority, have been attacked and driven out of their homes in what the UN investigators as well as international rights groups have denounced as "an ongoing genocide".
They have been subjected to a campaign of killings, rape, arbitrary arrests, and arson attacks by the military and Buddhist mobs, mainly between late 2016 and August 2017.
The brutal campaign forced over 700,000 Rohingya Muslims to flee their homes since August 2017 and seek refuge in neighboring Bangladesh. There, they are confined to squalid, overcrowded camps and face forced return to Myanmar.
Rohingya Muslims, who have lived in Myanmar for generations, are denied citizenship and branded illegal emigrants from Bangladesh, which likewise denies them citizenship.
Full report at:
https://www.presstv.com/Detail/2019/01/24/586680/UN-OCHA-Myanmar--Rakhine-Kyauktaw-and-Ponnagyun
--------
UN expert visits Bangladesh Rohingya 'relocation' island
January 24, 2019
A UN Special Rapporteur on human rights visited on Thursday an island off Bangladesh where Dhaka aims to move Rohingya refugees despite worries it will be vulnerable to extreme weather.
Some 750,000 Muslim Rohingyas flooded into Bangladesh in late 2017 after an offensive by Myanmar's military that the United Nations has said could have amounted to genocide, joining 250,000 already there.
Bangladesh is spending USD 280 million transforming Bhashan Char, a muddy silt islet that only emerged from the sea two decades ago, into a camp for some of the refugees.
But the island, in a coastal region where weather has killed hundreds of thousands of people in recent decades, is one hour by boat from the nearest land over a stretch of sea prone to violent storms.
Some of the Rohingya themselves, living in overcrowded and squalid camps in southeastern Bangladesh border district of Cox's Bazar, have expressed unease about moving, while the UN has insisted that any relocation must be voluntary.
Yanghee Lee, the UN rapporteur, visited the island by helicopter accompanied by Bangladeshi foreign ministry officials and was due to inspect the shelters and facilities being built there.
Lee, on a visit also taking in Myanmar's other neighbour Thailand, issued no statement but she was due to give a news conference in Dhaka on Friday, the UN said.
Bangladesh Foreign Minister A.K. Abdul Momen this week said Dhaka was not hiding anything in the island and they would take all interested diplomats once construction work is completed.
"We're very open. We're not in any hide-and-seek. Let's finish the work first," he said.
Plans for the island camp were first floated in 2015 and Bangladesh previously wanted to start moving refugees from to the island last June before the monsoon season began.
Prime Minister Sheikh Hasina was then slated to open the new settlement, built to house 100,000 refugees but behind schedule, last October, but the inauguration was postponed.
A senior disaster management official told AFP in September that nearly three-quarters of the project was complete, with the navy fast-tracking construction of shelters and evacuation centres.
Local authorities have been seeking to reassure refugees that they will be safe on the island, which is off limits to the public and to the media.
Full report at:
https://www.business-standard.com/article/pti-stories/un-expert-visits-bangladesh-rohingya-relocation-island-119012400626_1.html
--------
3 suicide bombers including two Pakistanis arrested in Nangarhar
24 Jan 2019
The Afghan security forces have arrested three suicide bombers including Pakistani nationals during separate operations in eastern Nangarhar province of Afghanistan.
The media office of Nangarhar provincial government in a statement said the suicide bombers were arrested by the operatives of the Afghan Intelligence, National Directorate of Security (NDS).
The statement further added that the NDS operatives conducted operations in Jalalabad city, the provincial capital of Nangarhar and Shinwar district, resulting into the arrest of the three suicide bomebrs.
The suicide bombers were looking to carry out an attack on a key government compound in Nangarhar, the statement by the provincial government added.
The anti-government armed militants including Taliban have not commented regarding the arrest of the suicide bombers so far.
Full report at:
https://www.khaama.com/3-suicide-bombers-including-two-pakistanis-arrested-in-nangarhar-03175/
--------
Scores of militants killed in Afghan, Coalition Forces operations
24 Jan 2019
Scores of anti-government armed militants have been killed during separate operations conducted by the Afghan and Coalition Forces in the past 24 hours.
According to the informed military sources, a coalition air strike in support of Afghan Special Forces killed 4 Taliban fighters in Qaisar district of Faryab province.
The sources further added that Afghan Special Forces conducted a raid in Baraki Barak district of Logar province while a coalition air strike, in defense of soldiers on the ground, targeted and killed 4 Taliban fighters.
Afghan Special Forces conducted a raid in Jaji district of Paktia province killing 2 Taliban fighters, the sources said, adding that Afghan Special Forces conducted a separate raid in Sangin district of Helmand province killing 20 Taliban fighters and destroying 23 IEDs, 1 mortar round and a large amount of home-made explosives. During the raid, 4 pressure plates, 3 remote control initiators and over 1,000 pounds of ammonium nitrate were destroyed.
Full report at:
https://www.khaama.com/scores-of-militants-killed-in-afghan-coalition-forces-operations-03174/
--------
India
I did not cry when I heard he is no more: Wife of Ashoka Chakra awardee Nazir Wani
Jan 24, 2019
NEW DELHI: It was love at first sight for Mahajabeen, wife of Lance Naik Nazir Ahmad Wani, when the two met at a school in South Kashmir around 15 years back.
Nearly one-and-half months after Wani's death in an anti-terror operation in Shopian, Mahajabeen, a teacher and mother of two, says his immense love for her and fearless persona are a source of motivation for her to encourage youngsters to become good citizens.
"I did not cry when I was told he is no more. There was an inner resolve which did not allow me to cry," she said, on a day the government announced the Ashoka Chakra, India's highest peacetime gallantry award, for Wani who hailed from Cheki Ashmuji in Kulgam district of Jammu and Kashmir.
Wani, a militant-turned-soldier who had joined the Army's 162 Infantry Battalion (Territorial Army) Jammu and Kashmir Light Infantry in 2004, will be conferred the award posthumously on Saturday by President Ram Nath Kovind.
"He loved me so much. For me, he was my guiding light. He always encouraged all of us to make people around us happy, to resolve people's problems.
"As a teacher, I am dedicating myself to creating good citizens for my state. Leading the young minds in the right direction is my resolve and I am drawing inspiration for it from my beloved husband -- the best in the world," said Mahajabeen.
Refusing to share much details about their school and college days, Mahajabeen said, "We met at school. It was love at the first sight. He was a great husband, always fiercely protecting us."
Recalling the fateful day of November 25, Mahajabeen said she was at her parents' house when the shocking news came.
"He had telephoned me the previous evening and enquired about our well-being. I had told him to take care of himself. But destiny had something else for him," said Mahajabeen in an interview to PTI.
"He always wanted to make his 162/TA Jammu and Kashmir Light Infantry batellion proud. For him, duty was supreme. He was a source of inspiration for people in our area and community," said Mahajabeen, who is in her late 30s.
On November 25, 38-year-old Wani lost his life in a counter-terror operation against six terrorists in Hirapur village near Batgund, in Shopian.
Under intense hail of bullets from the terrorists, he eliminated the 'district commander' of the Lashkar-e-Taiba (LeT) and one foreign terrorist in a daring display of raw courage, officials said.
In the ensuing gunfight, he was hit multiple times including on his head. He also injured another terrorist before succumbing to his grievous wounds, they said.
Apart from his wife, he is survived by two sons Athar and Shaid.
"He was a brave soldier and a hero right from the beginning. He always served for peace in his home state of Jammu and Kashmir," said a senior Army official.
Wani was a recipient of the Sena Medal for gallantry twice in 2007 and 2018.
"He always had the interest of the nation in his heart. He operated with Rashtriya Rifles units in Kashmir. Throughout his active life he always willingly faced grave potential threats and was a source of inspiration for others," said one of his colleagues.
https://timesofindia.indiatimes.com/india/i-did-not-cry-when-i-heard-he-is-no-more-wife-of-ashoka-chakra-awardee-nazir-wani/articleshow/67677222.cms
--------
Sabarimala protests: Renaissance panel to include Muslim, Christian outfits
by Shaju Philip
January 25, 2019
After organising the women's wall in support of entry of all women at Sabarimala, the CPI(M)-backed Committee for Protection of Renaissance Values on Thursday decided to accommodate Muslim and Christian outfits in it and continue its activities, apparently with an eye on the Lok Sabha elections.
The decision to accommodate Muslim and Christian organisations in the committee — which was hitherto an umbrella organisation of various Hindu outfits — was taken at a meeting, which comes in the wake of Opposition criticism that the women's wall was communal in nature.
Even though the Sabarimala pilgrim season was over last week, the committee on Thursday decided to form units at district and taluk levels. It will conduct mass conventions at district level before March 15.
Chief Minister Pinarayi Vijayan, who presided over the meeting of the committee, said there should be continuation of activities of the committee for the protection of renaissance values. "Protection of renaissance values was necessary for the progress of people. Those who opposed the women's wall tried to weaken the activities meant for protecting renaissance values. Although the wall was termed a communal one, women from all sections participated in it," he said.
Sree Narayana Dharma Paripalana Yogam general secretary Vellappally Natesan, who is president of the committee, said there was an allegation that the campaign for protecting renaissance values had avoided Muslim and Christian organisations. "In Kerala, Christians and Muslims too have contributed for promoting renaissance values. Hence, we decided to welcome them," he said.
Full report at:
https://indianexpress.com/article/india/sabarimala-protests-renaissance-panel-to-include-muslim-christian-outfits-5554456/
--------
Hindu leader asks pope to help Indian nuns in rape case
January 25, 2019
Prominent Indian social activist Swami Agnivesh has sought the intervention of Pope Francis to help five nuns who are facing a church backlash after holding a public protest demanding action against a bishop accused of raping a nun.
Agnivesh, who on Jan. 23 released his detailed letter to the pope, told ucanews.com that the church's moves against the nuns were "in effect a punishment given to them for speaking the truth."
The leader of the Arya Samaj Hindu sect was referring to a case involving Missionaries of Jesus nuns in the southern state of Kerala.
Four nuns, all Kerala natives, came from different parts of India to support their former superior, who filed a police complaint last June accusing Bishop Franco Mulakkal of Jalandhar of raping her multiple times between 2014 and 2016.
In September, the four joined another nun from the congregation's Kerala convent and held a two-week street protest that ended on Sept. 22, a day after the bishop was arrested. They have been staying in Kerala ever since.
The congregation's current superior recently asked the four nuns to return to their respective convents. The nuns alleged it was a tactic to break their unity and weaken the case against the 54-year-old bishop.
The other nun, Sister Neena Rose, has been asked to report to the congregation's headquarters in Jalandhar and meet superior general Regina Kandamthottu on Jan. 26.
Agnivesh, a 79-year-old Hindu scholar known for his stand against India's governing pro-Hindu Bharatiya Janata Party and Prime Minister Narendra Modi, said the nuns were being harassed for their stand for justice.
Expressing confidence in Pope Francis' "robust sense of justice," he said he wanted the pope's intervention to end the harassment.
His letter said it was "indeed shocking that, while the concerned diocese and its religious orders go easy on the alleged rapist, it is targeting those who stood and struggled for justice for the victim."
Agnivesh told ucanews.com that if "justice isn't given to the victim and those nuns supporting her, then I will go to Rome myself and meet the pope in person."
He said that Catholic nuns are much respected in Indian society and he will "mobilize more support in favor of the nuns' continued protest until justice is given to the nuns."
The Catholic clergy needs a serious overhaul in India as there are some bishops who have amassed huge wealth and are acting as dictators, he said.
"There are houses of profit being run by prelates in various parts of the country that are violating the norms of the Catholic Church. As a human being and as a citizen of the country, I have every right to act as a whistleblower," Agnivesh said.
However, Christian groups have objected to Agnivesh's letter to the pope, stating that the Hindu leader has been unnecessarily interfering in the church's internal matters.
"Agnivesh is writing to Pope Francis about something that doesn't come under his domain," said Joseph Dias, general secretary of the Mumbai-based Catholic Secular Forum.
He said the rape case has gone to court while the relocation of nuns is entirely an issue within the congregation. "Why is the Hindu priest trying to correlate them both?" he asked.
As the Catholic Church doesn't interfere with the working of religions including Islam and Hinduism, its system of functioning shouldn't be interfered with either, Dias said.
Bishop Mulakkal was bailed by a Kerala court on Oct. 15 and returned to Jalandhar in the northern state of Punjab.
He has consistently denied all the allegations and claimed that the nun is taking revenge against him for initiating disciplinary action against her violation of her religious vows of obedience and chastity.
Full report at:
https://www.ucanews.com/news/hindu-leader-asks-pope-to-help-indian-nuns-in-rape-case/84363
--------
Sheikh Hasina greets Narendra Modi on Republic Day
Jan 24, 2019
New Delhi: Bangladesh Prime Minister Sheikh Hasina extended wishes to Prime Minister Narendra Modi on the occasion of Republic Day of India.
A press statement released by the Bangladesh High Commission in New Delhi on Thursday quoted Hasina as saying, "Bangladesh and India enjoy excellent bilateral relations not only as closest neighbours but also through sharing a common aspiration for achieving mutual benefits for the people of both countries."
"Common historic, cultural and civilisation roots have resulted in deepening engagements between Bangladesh and India over the years, taking forward our countries towards greater prosperity and development," she said.
Shiekh Hasina-led Awami League-led Grand Alliance swept the 11th Parliamentary polls in the country, on December 30 last year, securing 288 seats out of the 300 seats, while the opposition, including the Jatiya Oikya Front suffered a massive rout, winning only seven seats, in the polls marred by violence and allegations of rigging.
Prime Minister Modi congratulated Hasina for securing a victory in the polls, asserting that India will continue to assist its neighbouring country in its development process like earlier before.
"The Indian premier called Prime Minister Sheikh Hasina at about 10:30am and congratulated her, the Awami League and the people of Bangladesh on securing her party's absolute majority in the national elections held on Sunday," Hasina's Press Secretary Ihsanul Karim was quoted as saying to the Daily Star, a Dhaka-based news newspaper.
Full report at:
https://www.siasat.com/news/sheikh-hasina-greets-narendra-modi-republic-day-1459735/
--------
Mumbai ATS accuses Muslim youth of planning a chemical attack
Jan 24, 2019
Mumbai: Maharashtra Anti-Terrorism Squad (ATS) on Wednesday produced 8 youth in a local magistrate court in Aurangabad on Wednesday, while a minor was produced in juvenile court. The youth were arrested by the National Investigation Agency (NIA) from eight locations in Aurangabad and Mumbra for planning a chemical attack at a forthcoming public event. They were remanded to 14-day custody.
Surprisingly, 4 suspects were arrested from different areas of Mumbra but all were produced before Aurangabad court. Questions have been raised on the move of Aurangabad unit of ATS right from day one. According to sources, the charges are strange that the arrested youths had planned to mix poisonous chemicals with food and water at an upcoming public event. Besides ATS told that the suspects were preparing chemical attacks but were arrested before they executed the plan.
The suspects include 3 siblings Mohsin Sirajuddin Shaikh, Salman Sirajuddin Shaikh and Taqi Sirajuddin Shaikh. The other suspects booked under relevant sections of the Unlawful Activities and Prevention Act (UAPA) Act are Mushahedul Islam, Mohammed Sarfaraz, Mazhar Abdur Rasheed Shaikh, Jamal Nawab, Fahad Ansari and a juvenile. Their ages are between 17 and 24 years.
Full report at:
https://www.siasat.com/news/mumbai-ats-accuses-muslim-youth-planning-chemical-attack-1459697/
--------
Kozhikode twin blasts case: NIA arrests absconding accused on his return from Saudi Arabia
By Deeptiman Tiwary
January 25, 2019
The National Investigation Agency (NIA) has arrested an absconding accused in the 2006 Kozhikode twin blasts case on his arrival from Saudi Arabia. Mohammed Ashar, 34, had fled to Saudi Arabia after the blasts.
The Kozhikode blast was a rare case where the accused informed the city collectorate and the media about the location of the bombs after planting them. The NIA has already filed a chargesheet against eight accused, including Ashar, and two of them have been convicted and sentenced to life imprisonment by a special court.
According to the NIA, Ashar is among the key accused in the twin blasts case that left two injured and had not only helped assemble IEDs but also planted one of the bombs at a bus stand.
"Investigation by NIA had revealed that Mohammed Ashar besides the other absconding accused P P Yusuf were parties to the criminal conspiracy hatched by the prime accused T Naseer, Safas (both convicted) and others to carry out IED blasts in Kozhikode city in protest over the denial of bail to Muslim accused persons involved in the Marad communal riots of 2003 at Kozhikode district. Mohammed Ashar, along with P P Yusuf, had assisted T Naseer in preparing the IEDs and had planted the explosive devices at the bus stands in Kozhikode city. Accused Mohd Ashar had gone to Saudi Arabia in 2007 itself, to evade his arrest," NIA IG Alok Mittal said.
The NIA had taken over the case in 2009 and filed a chargesheet in 2010. According to the chargesheet, on March 3, 2006, local police received phone information from the media that two bombs had been planted at the KSRTC bus stop and Mofussil bus stand in Kozhikode city. The media had been informed about the bombs by the accused themselves after they planted them.
Full report at:
https://indianexpress.com/article/india/kozhikode-twin-blasts-case-nia-arrests-absconding-accused-on-his-return-from-saudi-arabia-5554407/
--------
NIA arrests 2006 Kozhikode blasts accused from Delhi airport
January 24, 2019
The NIA on Thursday arrested a 33-year-old man, accused in the 2006 Kozhikode twin blasts cases, from the Delhi airport after he landed from Saudi Arabia, the agency said. It said Mohammed Ashar, resident of Thalassery in Kannur district of Kerala, had been absconding and was chargesheeted by the National Investigation Agency in 2010. He was arrested on Thursday from the Indira Gandhi International (IGI) Airport, it said.
"The cases pertain to the twin improvised explosive device blasts that occurred at the KSRTC and mofussil bus stands in Kozhikode (Calicut) city on March 3, 2006 causing injuries to two persons besides damage to property," an NIA spokesperson said.
He added that NIA had taken over the investigation of the cases in December 2009 from the state police and had filed a chargesheet against eight accused, including Ashar, in 2010 under sections of the Unlawful Activities Prevention Act, IPC and Explosive Substances Act.
Investigation found that Ashar and the other absconding accused P P Yusuf were "party" to the criminal conspiracy hatched by the prime accused T Naseer, Safas and others to carry out IED blasts in Kozhikode city in protest over the denial of bail to some Muslim accused in the 2003 Marad communal riots case, the agency said.
The NIA claimed that Ashar, along with Yusuf, had "assisted T Naseer in preparing the IEDs and planted the explosive devices at bus stands in Kozhikode city. "Accused Mohd Ashar had gone to Saudi Arabia in 2007 to evade arrest," it said.
Full report at:
https://indianexpress.com/article/india/nia-arrests-2006-kozhikode-blasts-accused-mohammed-ashar-delhi-airport-5553852/
--------
Mideast
Israeli court freezes Arafat property in east Jerusalem
24 January 2019
An Israeli court has seized a Jerusalem property partly owned by late Palestinian leader Yasser Arafat, holding it as collateral against a civil suit for damages against the Palestinian Authority.
A copy of the ruling by the Jerusalem district court made available to AFP on Wednesday named "the estate of the late Yasser Arafat" as respondent.
"A temporary lien is granted on property owned by the respondent," said Tuesday's judgement.
It said any future request to lift the order would be given a fresh court hearing and that the Arafat estate had 30 days to appeal.
Israeli NGO Shurat Hadin requested the lien so the Arafat asset in Israeli-annexed east Jerusalem could serve as collateral for a pending civil claim for damages against the Palestinian Authority (PA), the Palestine Liberation Organization (PLO) and the Arafat estate, by eight families of victims of Palestinian attacks.
"This move is one step closer towards justice for the victims and their families," Shurat Hadin head Nitsana Darshan Leitner said in a statement.
She said that the lien was necessary because if the suit succeeds, collection of damages was likely to be difficult.
"We will not allow a situation in which the Arafat estate can own land in the heart of Jerusalem while avoiding paying damages to his victims," she said.
"Yasser Arafat was the grandfather of modern terrorism, responsible for the murder of thousands of innocent men, women and children."
Arafat, who led both the PA and the PLO, died aged 75 in a French hospital on November 11, 2004, with Palestinians accusing Israel of having poisoned him.
The Israeli government firmly denies the allegation.
His body was exhumed in 2012 for tests but a subsequent French investigation found no proof of poisoning.
Swiss experts, however, said they found high levels of radioactive polonium on his personal effects.
Arafat's nephew, Nasser al-Qidwa, said on Wednesday that the Jerusalem court ruling was "unacceptable."
The property in question covers about 2,700 square meters (29,000 square feet) on the Mount of Olives, overlooking Jerusalem's walled Old City and its Al-Aqsa mosque complex.
Qidwa told a news conference in the West Bank city of Ramallah that Arafat and his brothers owned only a small part of the property placed under lien.
He said the ruling was the work of "raiders and thieves".
https://english.alarabiya.net/en/News/middle-east/2019/01/24/Israeli-court-freezes-Arafat-property-in-east-Jerusalem.html
--------
Israel deploys 'Iron Dome' after Syria warns of retaliatory strike on Ben Gurion airport
Jan 24, 2019
The Israeli military has deployed the so-called "Iron Dome" missile systems in Tel Aviv and other parts of the occupied territories after Syria warned of a retaliatory strike on the Ben Gurion airport if the UN fails to stop the regime's aerial acts of aggression against the Arab country.
In a statement on Thursday, the Israeli military said it had set up an "Iron Dome" battery in the Tel Aviv metropolitan area and others were stationed in the southern parts of the Israeli-occupied territories near the blockaded Gaza Strip, where tensions have been running high with Palestinian protesters.
A number of reservists from the regime's air force have also been called up to man the missile systems.
The announcement came after Syria's UN Ambassador Bashar al-Ja'afari delivered a strong warning to the Israeli regime, which has recently stepped up its air strikes against Syrian soil.
One of the Israeli strikes targeted a civilian international airport near the Syrian capital, Damascus, earlier this week.
Speaking at the UN Security Council meeting on the Middle East on Tuesday, Ja'afari blasted the US, France and Britain -- three of the council's five permanent members -- for providing "unlimited support" to their allies in Tel Aviv and thus emboldening them to act freely in Syria.
The senior Syrian diplomat warned that his country could use its right to respond in self defense to the recent Israeli air raids against the Damascus International Airport by striking Tel Aviv's Ben Gurion airport if the 15-nation council failed to shoulder its responsibilities and act against the regime's aggression.
On Wednesday, Russia -- which has been providing military support to Syria in its counter-terrorism operations -- also urged Israeli to stop its "spontaneous" strikes against Syria under the pretext of attacking Iranian military advisers, who are also in Syria at the request of Damascus on a mission similar to that of Russia.
Damascus repeatedly writes to the UN and its Security Council to brief the world body over illegal military actions that Israel, the US and their allies take against Syria.
According to RT, the Russian Defense Ministry reported that Israeli jets endangered two civilian aircraft while engaging targets in Syria on Christmas Day. It said the regime's F-16s flew in as civilian jets were landing at Beirut and Damascus airports.
In September 2018, a Russian aircraft was mistakenly shot down by Syrian air defense systems, which were responding to a wave of Israeli air raids. Fifteen Russian servicemen lost their lives in the incident, which Moscow blamed on Tel Aviv.
Israel's frequent air raids against Syria are considered as an attempt to prop up the Takfiri terrorist groups that have been suffering heavy defeats at the hands of Syrian government forces.
In a recent interview with The New York Times, Lieutenant General Gadi Eisenkot, the Israeli army's outgoing chief of staff, said that the regime had carried out "thousands" of aerial assaults in Syria in recent years.
Full report at:
https://www.presstv.com/Detail/2019/01/24/586677/Syria-Israel-Iron-Dome-Missile-System
--------
Israeli settler charged with manslaughter for killing Palestinian mother
Jan 24, 2019
Israeli prosecutors have charged an extremist Jewish teenage settler with manslaughter over throwing a rock that killed a Palestinian mother in the northern part of the occupied West Bank in October 2018.
Prosecutors announced the indictment for the 16-year-old teenager from the Mateh Binyamin Regional Council on Thursday, stating that he carried out the attack "under aggravated circumstances," terming his "intentional vandalism of a vehicle as an act of terror."
The attack was "based out of an ideological motive of racism and hostility toward Arabs everywhere," the indictment stated.
"The defendant hurled the rock with great force toward the front windshield of the vehicle with the objective of hurting the passengers and with indifference to the possibility of causing their death," it pointed out.
Aisha Muhammad Talal al-Rabi, 47, a mother of eight children and a local resident of Bidya, located 32 kilometers southwest of Nablus, was killed and her husband suffered injuries after Israeli settlers hurled rocks at their vehicle near the Za'tarah checkpoint in Nablus on October 12 last year. The stone weighed about two kilograms, according to prosecutors.
Israeli authorities arrested five Israeli settlers, who were held on suspicion of involvement in the killing of Aisha, on December 30, 2018. Four of them were later released to house arrest.
Price tag attacks are acts of vandalism and violence against Palestinians and their property as well as Muslim holy sites by Israeli settlers.
Full report at:
https://www.presstv.com/Detail/2019/01/24/586670/Israeli-settler-charged-with-manslaughter-for-killing-Palestinian-mother
--------
Arab Coalition: Houthis blocking passage of four aid ships since 34 days
25 January 2019
The Arab Coalition in Yemen said on Thursday that Houthis have been blocking the passage of four aid ships since 34 days.
The ships heading towards the Hodeidah port carry oil and food aid, said the Coalition, stressing on the fact that preventing the ships from unloading will affect the lives of the Yemeni people.
Al-Salif port has been clear of ships for the past 12 days, and Houthi militias are blocking the entrance of all ships, according to the Coalition.
The Coalition also announced issuing 12 permits for ships heading towards Yemeni ports, in addition to 34 aerial permits and 120 permits for convoy protection.
Full report at:
https://english.alarabiya.net/en/News/gulf/2019/01/25/Arab-Coalition-Houthis-blocking-passage-of-four-aid-ships-since-34-days.html
--------
Turkey's Erdogan offers support for Venezuela's Maduro
24 January 2019
Turkish President Tayyip Erdogan called Venezuelan President Nicolas Maduro and offered his support after a Venezuelan opposition leader declared himself interim president, a spokesman for the Turkish president said on Thursday.
"Our president called and extended Turkey's support to Venezuelan President Nicolas Maduro and said 'My brother Maduro! Stand tall, we stand by you!'," Ibrahim Kalin said on Twitter.
Venezuelan opposition leader Juan Guaido declared himself interim president on Wednesday, winning the backing of Washington and many Latin American nations and prompting socialist Maduro, who has led the oil-rich nation since 2013, to break relations with the United States.
https://english.alarabiya.net/en/News/world/2019/01/24/Turkey-s-Erdogan-offers-support-for-Venezuela-s-Maduro.html
--------
UN envoy to travel to Turkey for probe into Khashoggi murder
Jan 24, 2019
A UN special rapporteur on extrajudicial executions will travel to Turkey next week to head an "independent international inquiry" into the gruesome killing of Saudi dissident journalist Jamal Khashoggi.
Agnes Callamard will evaluate steps taken by governments on the Oct. 2 murder and "the nature and the extent of states' and individuals' responsibilities for the killing," she said in Geneva Thursday.
"My findings and recommendations will be reported to the UN Human Rights Council at the June 2019 session," she added.
Turkish Foreign Minister Mevlut Cavusoglu on Thursday confirmed that the United Nations special rapporteur in the case will visit Ankara soon.
The top Turkish diplomat said President Recep Tayyip Erdogan had ordered preparations to be made to carry the case to an international level.
Speaking at a youth meeting in Istanbul on Monday, Cavusoglu denounced certain Western countries for what it called attempts to whitewash the murder.
"There are Western countries trying to cover this case up. I know the reasons. We know and see what sorts of deals are made. We see how those who spoke of freedom of press are now covering this up after seeing money," he said.
"We, however, will go until the end. We made preparations for an international investigation in the coming days and we will take the necessary steps," Cavusoglu added.
Khashoggi, a US-based Washington Post journalist from Saudi Arabia who had become a critic of Saudi Crown Prince Mohammed bin Salman, was last seen entering the Saudi consulate in Istanbul on October 2.
Turkish judicial officials have said Khashoggi was "strangled" as soon as he entered the Saudi diplomatic mission and his body was then "cut into pieces" under a "premeditated plan".
Evidence has shown that the killing was carried out by a hit squad with close links to bin Salman.
Top Turkish officials have also tied his death to the highest levels of the Saudi leadership, but Riyadh has denied accusations that the prince ordered the murder.
Meanwhile, US President Donald Trump has said he stands by the kingdom's de facto ruler despite pleas from US senators to condemn and punish the prince.
Khashoggi's body remains missing and his death has put the Riyadh regime and bin Salman under scrutiny.
In December 2018, Turkey called for an international investigation into the case. Ankara wants Riyadh to extradite the suspects for trial in Istanbul, a request rejected by Saudi rulers.
Saudi Arabia held an initial hearing into Khashoggi's murder earlier this month, with the public prosecutor requesting the death penalty for five of the 11 suspects detained.
A spokeswoman for the UN's top human rights official, Michelle Bachelet, has recently said the trial is "not sufficient" and does not meet the requirements of an independent and international inquiry.
Full report at:
https://www.presstv.com/Detail/2019/01/24/586694/Khashoggi-UN-Turkey-Agnes-Callamard-Mevlut-Cavusoglu-Saudi-Bin-Salman
--------
Yemeni nation determined to withstand Saudi-led oppression: Houthi
Jan 24, 2019
The leader of Yemen's Houthi Ansarullah movement says his country is determined to stand up to oppressive measures of Saudi Arabia and its regional allies, which are involved in an atrocious military campaign against the impoverished Arab country.
Addressing his supporters via a televised speech broadcast live from the Yemeni capital Sana'a on Thursday evening, Abdul-Malik al-Houthi said, "The honorable people of Yemen have decided to stand against oppression," calling upon Yemenis from all social strata to remain resilient in the face of existing challenges.
"We will continue our steadfastness until the aggression against us ceases. The enemy is doing its utmost because it is extremely frustrated after failure to occupy our country. Our armed forces have built great military capabilities at all levels -- land, sea and air," he said.
"The enemy launched an economic war against us in a bid to exert the maxim level of pressure. It, however, could not break the will of our people," Houthi said, adding, "The enemy seeks to use all methods to weaken the will of our nation in the face of its aggression."
He highlighted that those who chose to pledge loyalty to the Saudi-led military alliance stood with oppressors against the oppressed Yemeni nation.
"Such people are standing on the wrong side and against righteousness. They must give an account on the Day of Judgment for their deeds," Houthi concluded.
He added that "hypocrites and those who committed profoundly evil deeds" followed the schemes drawn up by arrogant powers.
Houthi then warned that "wicked forces" in the Muslim world were hell-bent on distancing people from their moral values.
"Takfiris will pay the price for their wrong choices both in this world and the hereafter. Believers in God have always been drawn against forces of the evil throughout history," the Ansarullah chief pointed out.
Saudi Arabia and a number of its regional allies launched a devastating military campaign against Yemen in March 2015, with the aim of bringing the government of former president Abd Rabbuh Mansur Hadi back to power and crushing Ansarullah.
According to a new report by the Armed Conflict Location and Event Data Project (ACLED), a nonprofit conflict-research organization, the Saudi-led war has so far claimed the lives of around 56,000 Yemenis.
The Saudi-led war has also taken a heavy toll on the country's infrastructure, destroying hospitals, schools, and factories. The UN has already said that a record 22.2 million Yemenis are in dire need of food, including 8.4 million threatened by severe hunger. According to the world body, Yemen is suffering from the most severe famine in more than 100 years.
Full report at:
https://www.presstv.com/Detail/2019/01/24/586692/Yemeni-nation-determined-to-withstand-Saudiled-aggression-Houthi
--------
Hamas turns down Qatari funds over Israel's change of conditions
Jan 24, 2019
The Palestinian Islamic resistance movement, Hamas, says it would not accept a fresh tranche of Qatari funds to the Gaza Strip after the Israeli regime blocked its delivery over unrest along the border between the besieged costal enclave and the occupied territories.
"We refuse to receive the third Qatari grant in response to the (Israeli) Occupation's behavior and attempts to evade the agreement," the deputy Hamas leader in Gaza, Khalil al-Hayya, told journalists on Thursday.
Hayya did not elaborate on the specific conditions that were changed, but said Israel was playing politics with the funds ahead of upcoming legislative elections, which will be held on April 9.
Qatar has delivered $15 million a month into the Gaza Strip under an informal agreement struck in November. The funds to pay salaries of Hamas employees and support impoverished Gazans are in exchange for relative calm along the border fence between the strip and the Israeli-occupied land.
The third tranche had been expected to enter this week but Israeli Prime Minister Benjamin Netanyahu blocked it on Tuesday after an Israeli soldier was slightly injured near the fence.
Later in the day, at least one Palestinian was killed while four others were injured as Israeli forces shelled the Gaza Strip.
Palestinians have held weekly protests on the Gaza border, over the siege of the enclave and the right for refugees to return to their homes they fled during the 1948 creation of Israel.
Nearly 250 Palestinians have been killed by Israeli forces ever since anti-occupation protest rallies began in the Gaza Strip on March 30, 2018. Over 26,000 Palestinians have also sustained injuries.
The Gaza clashes reached their peak on May 14 last year, on the eve of the 70th anniversary of Nakba Day (Day of Catastrophe), which coincided this year with the US embassy relocation from Tel Aviv to occupied East Jerusalem al-Quds.
On June 13, 2018, the United Nations General Assembly adopted a resolution, sponsored by Turkey and Algeria, condemning Israel for Palestinian civilian deaths in the Gaza Strip.
The resolution, which had been put forward on behalf of Arab and Muslim countries, garnered a strong majority of 120 votes in the 193-member assembly, with 8 votes against and 45 abstentions.
The resolution called on UN Secretary General Antonio Guterres to make proposals within 60 days "on ways and means for ensuring the safety, protection, and well-being of the Palestinian civilian population under Israeli occupation," including "recommendations regarding an international protection mechanism."
Full report at:
https://www.presstv.com/Detail/2019/01/24/586689/Hamas-turns-away-Qatari-aid-money-over-Israels-changes-in-conditions
--------
Russia, Turkey vow to continue joint anti-terror fight in militant-held Idlib
Jan 24, 2019
Russian President Vladimir Putin and his Turkish counterpart, Recep Tayyip Erdogan, have agreed to take steps towards stabilizing the situation in Syria's northwestern province of Idlib, the last major militant stronghold in the Arab country.
On Wednesday, Putin and Erdogan held talks in the Russian capital Moscow, where the two leaders pledged to intensify their coordination in Syria.
"We have a shared conviction that we must continue jointly fighting terrorists wherever they are, including in the Idlib zone," the Russian leader said at a joint press conference following their talks.
"We agreed how we'll coordinate our work in the near future," Putin said, describing the talks which included the countries' defense ministers as "effective."
He said the Russian and Turkish defense chiefs had discussed specific action that the two countries would take in Idlib and that the measures, which he did not explain, would now be implemented.
"Unfortunately there are many problems there and we see them," said Putin.
The Russian Foreign Ministry said earlier on Wednesday that the situation in the province where Moscow and Ankara have tried to create a de-escalation zone, remained of "serious concern" and that it was almost under the full control of Nusra Front terrorists.
Putin said Turkey was doing a lot to try to remedy the situation, but that the two countries are required to take more action to "liquidate the actions of terrorist groups."
In September last year, Turkey pledged to disarm and remove terrorists in Idlib when a deal was signed between Ankara and Moscow. That agreement put on hold a Syrian military operation to liberate the region.
Idlib is the last region in the hands of terrorists. Russia and Turkey are on opposite sides of the Syrian war. Moscow supports Damascus in its fight against militant groups fighting the Syrian government while Turkey backs the militants.
US pullout plan 'positive step'
Putin further said if carried out, the withdrawal of US troops from northeastern Syria "will be a positive step, it will help stabilize the situation in this restive area."
The Russian leader also noted that the "US troops are staying in the territory of the Syrian Arab Republic illegally."
"There are no grounds in international legal law for them to stay there. There is no invitation from a legitimate government, nor a decision taken by the United Nations Security Council," he added.
In December, US President Donald Trump abruptly announced that his country had "defeated: Daesh Takfiri terrorists in Syria and would be pulling all 2,000 American forces from the country.
Elsewhere in his remarks, Putin complained about difficulty of forming a UN-sponsored Syrian Constitutional Committee, criticizing France, Germany and Britain for having blocked the proposed make-up of the committee in December.
Putin also said that Moscow was planning a trilateral summit "in the near future" where Russia, Turkey and Iran would discuss the situation in Syria.
He did not give a date for the summit, which will be held as part of the Astana peace process, launched by the three countries in 2017.
The last meeting between Putin, Erdogan and Iran's President Hassan Rouhani took place in the Iranian capital, Tehran, in September last year, with the fate of militant-held Idlib province dominating the agenda.
Erdogan, for his part, said it was of crucial importance that the planned US pullout from Syria will not leave room for terrorist groups to roam freely, adding that Ankara and Moscow would continue to battle terrorist groups in Idlib Province.
He said "cooperation between Russia and Turkey is a touchstone for Syrian peace and stability," adding, "With our Russian friends we intend to strengthen our coordination even more."
Erdogan said Turkey and Russia do not have any disagreements about a Turkish-controlled "security zone" in northern Syria suggested by Trump.
He added that Turkey has the capacity to create the "safe zone" on its own but will not exclude the United States, Russia or others if they are willing to cooperate.
Erdogan said that Ankara was in indirect contact with the Syrian government, without providing details.
Full report at:
https://www.presstv.com/Detail/2019/01/24/586643/Russia-President-Putin-Turkey-Erdogan-Syria-Idlib-terrorists-US
--------
Turkey says it has capacity to create 'safe zone' in Syria alone
January 24, 2019
Turkey has the capacity to create a "safe zone" in Syria on its own but will not exclude the United States, Russia or others if they want to cooperate, Turkish Foreign Minister Mevlut Cavusoglu said on Thursday.
Speaking to broadcaster A Haber, he said Ankara and Moscow were on the same page regarding a Syrian political solution aside from the issue of whether President Bashar al-Assad should stay in office. He added that Turkey was in indirect contact with the Syrian government, without providing details.
http://www.arabnews.com/node/1441001/middle-east
--------
Africa
Member of Sudan intelligence service killed in clash with army troops - statement
24 January 2019
One member of Sudan's National Intelligence and Security Service was killed and several other people were wounded on Wednesday night in a clash between members of the service and army troops in Port Sudan, a security body said in a statement.
The incident in the Red Sea city was the first of its kind between security and military forces since a wave of anti-government protests that has rocked Sudan began on Dec. 19.
The statement came from Major-General Mohamed Moussa Omar, secretary of a committee that oversees security in Sudan's Red Sea province.
https://english.alarabiya.net/en/News/middle-east/2019/01/24/Member-of-Sudan-intelligence-service-killed-in-clash-with-army-troops-statement.html
--------
As protests rage, Bashir welcomes support from South Sudan
24 January 2019
Embattled Sudanese President Omar al-Bashir is receiving words of support from some unlikely places as he faces deadly protests calling for him to step down.
South Sudan won independence from Sudan in 2011 following decades of brutal fighting marked by the mass abduction and enslavement of children, scorched earth ethnic cleansing and famines. Yet now the former arch-enemies describe themselves as the best of friends, bound together by a desperate need for oil revenues and peace to allow them to flow.
"When your interest is so intertwined, you are like a conjoined twin," South Sudan's oil minister, Ezekiel Lul Gatkuoth, told Reuters in the capital of Juba. "For us, the solution is not to remove Bashir, the solution is to improve the economy."
On Monday, Gatkuoth and his Sudanese counterpart jumped over a slaughtered cow, part of a traditional ceremony of welcome marking the start of increased production at Unity Oilfield near the two nations' joint border, where less than a decade ago they fought tank battles against each other.
Some buildings were still pockmarked with bulletholes, and a large dark stain marked a place where a pipeline had been hit.
The north-south rapprochement comes as violent protests ripple across Sudan, demanding an end to soaring prices and Bashir's 30-year rule. But although South Sudan spent decades fighting Bashir, the idea that he might fall worries many of his former foes. South Sudan has just emerged from its own five-year civil war. Some from the south fear chaos in the north could derail their own peace deal, which Sudan helped broker and guarantee.
In return for peace, Sudan gets money. Landlocked South Sudan has most of the oil, but Sudan has the pipeline and port it needs to export it. Sudan receives roughly $9-$11 for each barrel of South Sudan's oil that flows through its pipeline.
The arrangement marks an abrupt departure from years of animosity. "Both (sides) have previously armed rebels against each other," said Alan Boswell, a senior analyst with the International Crisis Group, a think tank. "Times have changed."
Peace talks
South Sudan's civil war broke out two years after independence and has been punctuated by atrocities, famine and failed peace deals. But the latest agreement, signed in September, is largely holding.
That's partly because Khartoum persuaded South Sudanese rebels it had previously backed to sign. East Africa needed the civil war to end. More than a million South Sudanese refugees have fled to Uganda, and more than 850,000 live in Sudan.
Bashir moved the peace talks from Ethiopia to Khartoum, then midwifed an agreement that called for demobilizing, retraining and integrating fighters from all sides.
"Talks went on day and night for three months and the Sudanese were always with us trying to break the deadlock," said Puot Kang Chol, who heads the youth league of the Sudan People's Liberation Movement-In Opposition, which has just been fighting South Sudan's government.
Oil diplomacy
Now, for the first time, South Sudan's leaders trust the north: They know Bashir needs their oil. Sudan even helped fix the south's broken wells, said oil minister Gatkuoth.
"Before, Sudan sought to take advantage of our vulnerabilities," said Majak D'Agoot, who was deputy head of Sudan's intelligence service before independence and then served as South Sudan's deputy defense minister. "But we are now on an equal footing."
Sudan has long battled rebels on its peripheries – in Darfur and elsewhere. But protests igniting the heart of the nation are an existential threat, D'Agoot said. "If you shore up Bashir, the protests will not stop," he said. "Push him out, and the Islamists will move in."
That worries southerners, given Sudan's borders with Egypt and Libya and its proximity to Yemen, all countries where Islamic State has been active, D'Agoot said. South Sudan is largely Christian; Sudan is mostly Muslim. Bashir's attempt to impose Islamic sharia law was one reason the south seceded.
The protests have gathered pace over the past month, but their organizers are not holding out much hope for support from their southern neighbors.
"While Bashir may be their enemy in the past, a lot of changes took place for him to be closer now," said Amjed Farid Eltayeb, activist and spokesman for the Sudan Change Now movement, which is involved in the current protests and seeks democratic transformation in Sudan. "I don't think they will really support his removal from power."
Mindful that a new government in Khartoum might be less friendly, the South Sudanese authorities are careful not to offer any sign of encouragement to the protesters. The government-run Media Council warned local journalists in a letter this month that the protests are "internal issues affecting a friendly nation" and said "the media in South Sudan should not write or broadcast instigative statements and comments about it."
South Sudan's president, Salva Kiir, sent a high-level delegation to Sudan to express solidarity. "Relations between Sudan and South Sudan are at their most cordial since independence," presidential spokesman Ateny Wek Ateny said. "We look forward to continuing to partner with Bashir."
But if Bashir goes, officials were keen to say, the South Sudanese government will work with whoever the Sudanese people choose to lead them. The first thing Juba will watch for is whether the powerful intelligence chief, Salah Abdallah Mohamed Saleh, also known as Salah Gosh, remains.
Full report at:
https://english.alarabiya.net/en/features/2019/01/24/South-Sudan-embraces-old-enemy-Sudan-now-rocked-by-protests.html
--------
Sudan police clash with anti-govt. protesters amid calls for Bashir's resignation
Jan 24, 2019
Sudanese police forces have fired teargas canisters at hundreds of protesters in the capital Khartoum as anti-government demonstrators are mounting pressure on President Omar al-Bashir to step down over price hikes and shortages in the east African nation.
Hundreds of protesters, chanting "Freedom, peace, justice" and "revolution, revolution," were marching on the presidential palace in the capital's Burri district on Thursday when riot police forces confronted them with tear gas.
Sudanese Professionals' Association (SPA), an umbrella group of unions representing doctors, teachers and engineers, had called for protest rallies to be held in 17 places in Khartoum and the country's second largest city of Omdurman, from where demonstrators were told to march towards the palace.
In Burri, crowds of protesters reportedly blocked all roads leading to the district with tree trunks, iron pipes, rocks and burning tires.
According to witnesses, a number of villages along the highway linking Khartoum with the central city of Madani also saw demonstrators taking to the streets.
"Today, the police are using less force but even if they use more force we don't care," said a protester, adding, "We will achieve our mission of overthrowing" the government.
The African country has been jolted by near-daily protests since December 19, in the wake of a move by the government to triple the price of a loaf of bread, which angered people and triggered the demonstrations.
In the initial days of the rallies, several buildings and offices of Bashir's ruling National Congress Party were set alight by protesters. Riot police have so far managed to disperse the rallies, and security agents have arrested several opposition leaders and activists in a clampdown on suspected organizers.
The public display of anger soon spiraled into calls for Bashir, who took power in 1989 through a military coup, to step down, blaming him for the country's problems.
Sudanese authorities have since declared curfews and states of emergency in several states. Residents say police have used live ammunition in some cases to break up the protesters.
The country has been struggling with a growing economic crisis, including a serious shortage of foreign currency. The cost of some commodities, including medicines, has more than doubled and a soaring inflation has hit 70 percent.
The growing lack of food and fuel has been regularly reported across several cities, including Khartoum.
Full report at:
https://www.presstv.com/Detail/2019/01/24/586698/Sudan-police-protest-bashir-bread-shortages-SPA
--------
Cameroon Mobilizes Military Following Boko Haram, Separatist Attacks
24 JANUARY 2019
By Moki Edwin Kindzeka
Cameroon says it is mobilizing troops along the country's northern border with Nigeria and in the western English-speaking regions, following renewed attacks by Boko Haram in the north and separatists in the west.
Cameroon's military calls for troops to assemble at its headquarters in Yaounde ahead of major deployments.
Defense Chief of Staff Lieutenant-General Rene Claude Meka said 2019 will see Cameroon fight for national unity and territorial integrity.
He said they have re-mobilized the military to all trouble spots. Boko Haram, the Nigeria-based Islamist terrorist group, is again recruiting fighters in Cameroon and attacking our northern border, said Meka. Meanwhile, separatists fighting to create an English-speaking state have recruited mercenaries from neighboring countries to destabilize Cameroon, he said.
Cameroon's military says there is a Boko Haram resurgence on its northern border with Nigeria. It reports five attacks across the border and in the Lake Chad basin this month.
Last week three people were reported killed in the border town of Fotokol as troops repelled a Boko Haram attack.
Separatist fighting also intensified in Cameroon's two English-speaking regions in the northwest and southwest. The military said at least 45 rebels have been killed in the first three weeks of the year. Separatists say they are the ones killing the soldiers.
Although the numbers cannot be independently verified, villagers have confirmed fighting has recently increased.
Twenty-seven-year-old Elengu Noella said two of her three children were killed in heavy fighting around the southwestern town of Buea and she has not been able to find her husband.
She said a Catholic Church Hospital ambulance helped her and four other women escape as a battle raged between Cameroon's military and separatists.
Separatists seeking an independent English-speaking state are accused of abducting and killing opponents and trying to make their regions ungovernable.
Defense Minister Joseph Beti Assomo said President Paul Biya also ordered troops to Cameroon's eastern border. He said spill-over from fighting in the Central African Republic has increased criminal activities.
"2019 will not be a bed of roses. We shall continue with various operations in the far north, northwest and southwest regions, reactivation of special operations in the Adamawa region where criminal groups specialized in kidnapping are wreaking havoc and requesting for ransom," he said.
Isaac Sama is a political analyst at Cameroon's Center for Peace and Development. He said while troop deployments to fight foreign invaders is justified, the government should attempt to negotiate with the separatists.
Sama said more and more civilians are displaced by the fighting each time the military attacks the rebels.
"We have practical situations of people who actually died and then those who are in the bushes, they are also in bad conditions. They have no access to anything."
Full report at:
https://allafrica.com/stories/201901240213.html
--------
North America
Muslim group targeted by terror plot calls for suspects to face full weight of law
23 Jan 2019
A Muslim group has called for full prosecutions against the four people accused of plotting an attack on their rural enclave in upstate New York.
The arrests of three Rochester-area men and a 16-year-old who had access to homemade explosives and firearms sent shockwaves through the community of Islamberg, the Muslims of America said in a prepared statement. The small community has been dogged by allegations on rightwing websites that it is a terrorist training camp, and it was the target of a similar plot in 2015.
"It is beyond tragic that our nation continues to fester with Islamophobia, hate and religious intolerance," the group said in a prepared statement. "To bring justice and properly deter similar terrorist plots against our community, we are calling for the individuals charged, as well as their accomplices, to be prosecuted to the fullest extent of the law."
Authorities in suburban Rochester on Tuesday announced weapons possession and conspiracy charges against Brian Colaneri, 20; Andrew Crysel, 18; and Vincent Vetromile, 19. A 16-year-old student at Odyssey Academy in Greece, a Rochester suburb, was charged as an adolescent offender.
Suspects were due in court on Wednesday morning.
It was unclear whether the suspects had lawyers to speak for them yet, and attempts to reach relatives to comment were unsuccessful.
At the time of their weekend arrests, the men, three of whom were in Boy Scouts together, had access to 23 rifles and shotguns and three homemade explosives, Greece police said. Investigators uncovered the plot after a student reported a suspicious comment in a lunchroom on Friday.
The Muslims of America are followers of Sheikh Mubarik Gilani and run 22 communities in North America. The mostly African American settlers of Islamberg first came to upstate New York in the 1980s to escape crime and crowding in New York City.
Police and analysts have dismissed decades-long accusations that the community – 120 miles (190km) south-east of Rochester – is a terrorist training ground.
In 2017, a Tennessee man was convicted on federal charges for what authorities called plans to burn down Islamberg's mosque in 2015. Robert Doggart, now 67, is serving time in federal prison.
https://www.theguardian.com/us-news/2019/jan/23/muslim-terror-attack-plot-islamberg-rochester-new-york
--------
Iran, Turkey, Russia warn US against meddling in domestic affairs of Venezuela
Jan 24, 2019
Iran, Turkey and Russia throw their weight behind the Venezuelan government against a bizarre move by the US-backed opposition leader to proclaim himself "president," warning Washington against interfering in domestic affairs of the South American state.
On Thursday, Iranian Foreign Ministry spokesman Bahram Qassemi said the Islamic Republic "backs Venezuela's nation and legitimate government in the face of any foreign meddling in the country's domestic affairs or any illegitimate and illegal measure such as attempts for a coup or moves against the people."
"We hope that any disagreement and political problem in Venezuela will be resolved by the country's own people and government as soon as possible via legal and peaceful solutions," he added.
On Wednesday, Juan Guaido, the leader of Venezuela's opposition-controlled National Assembly, abruptly declared himself the "interim president," quickly winning the backing of the US and its Latin American allies for his strange move.
Guaido's controversial announcement followed two nights of violent anti-government protests in working-class neighborhoods of the Venezuelan capital, Caracas.
US President Donald Trump was quick to recognize Venezuela's self-proclaimed president, warning that "all options are on the table" if Maduro responded with force against the opposition.
In response, Maduro accused the opposition of seeking to stage a coup with Washington's backing, cutting off relations with the US and ordering all American diplomats to leave Venezuela within 72 hours.
"We've had enough interventionism, here we have dignity, damn it! Here is a people willing to defend this land," he said in a televised address from the presidential palace.
Stand tall, we stand by you: Erdogan to Maduro
Separately on Thursday, Turkish President Recep Tayyip Erdogan voiced solidarity with his Venezuelan counterpart in a telephone conversation.
"Our president called and extended Turkey's support to Venezuelan President Nicolas Maduro and said 'My brother Maduro! Stand tall, we stand by you!'," Turkish presidential spokesman Ibrahim Kalin said on Twitter.
Moreover, Turkish Foreign Minister Mevlut Cavusoglu slammed the US interference in Venezuela's domestic politics.
"The US and some Latin American countries have repeatedly intervened in the internal affairs of Venezuela," he told A Haber TV channel.
Similarly, Russia voiced its support for the Venezuelan government, warning any US against military intervention in the South American state.
Russia: US moves could lead to bloodshed
Russia, in turn, stressed that it would stand by Venezuela to protect its sovereignty, warning that Washington's moves could lead to lawlessness and bloodshed in Venezuela.
The Russian Foreign Ministry said in a statement that events in Venezuela are reaching a dangerous point, and that the US was turning a blind eye to international law.
Interfax cited Sergei Ryabkov, the Russian deputy foreign minister, as saying Moscow would stand with Venezuela to protect its sovereignty and the principle of non-interference in its domestic affairs.
In a statement, the deputy spokesman for UN Secretary General Antonio Guterres said that the UN chief was urging all groups to lower tensions and pursue every effort to prevent an escalation.
"The United Nations firmly rejects any kind of political violence. We underline the urgent need for all relevant actors to commit to inclusive and credible political negotiations to address the challenges facing the country, with full respect for the rule of law and human rights," Farhan Haq said.
Oil-rich Venezuela is mired in economic turmoil, with hyperinflation, power cuts and shortages of basic items. It is also one of the world's highest-crime countries.
Full report at:
https://www.presstv.com/Detail/2019/01/24/586651/Iran-Turkey-Russia-Venezuela
--------
2 US terror militia members admit role in attack on Minnesota mosque
January 25, 2019
ST. PAUL, Minnesota: Hoping to scare Muslims into leaving the US, members of an Illinois militia group rented a truck and drove more than 500 miles (805 kilometers) to bomb a Minnesota mosque, two men admitted Thursday.
Michael McWhorter and Joe Morris said that when they arrived at the Dar Al-Farooq Islamic Center in Bloomington on Aug. 5, 2017, they broke a window and threw a lit pipe bomb and a gasoline mixture inside, causing an explosion, fire and extensive damage. No one was injured in the attack, which happened just as morning prayers were about to begin, shaking members of the local Muslim community.
McWhorter, 29, and Morris, 23, of Clarence, Illinois, each pleaded guilty Thursday to five counts in connection with the mosque attack, the attempted bombing of an Illinois abortion clinic, armed robberies and other crimes.
A third defendant, 47-year-old Michael Hari, whom prosecutors said directed the bombing, remains in federal custody in Illinois.
The plea agreements portray Hari as the ringleader of a militia group called the White Rabbits, which included Hari, McWhorter, Morris and at least five other people. Hari's trial is set for July.
The guilty pleas of McWhorter and Morris came a day before three members of another militia were set to be sentenced for a foiled plot to massacre Muslims in southwest Kansas by blowing up a mosque and apartments housing Somali immigrants. That attack, planned for the day after the November 2016 election, was thwarted after another member of the group tipped off authorities.
In the Minnesota mosque bombing, Hari allegedly picked Dar Al-Farooq because it was far enough away from the White Rabbits' central Illinois hometown that he thought they wouldn't be suspected. He also allegedly believed it was a focal point for terror recruiting, a claim that law enforcement has not substantiated.
Morris' attorney, Robert Richman, said Morris merely followed the lead of Hari, a man he'd known as a father figure since he was 9.
"Hari essentially weaponized Joe Morris," Richman said.
McWhorter's attorney, Chris Madel, said: "Human beings are a lot more complicated than what some people believe, and Michael McWhorter's story has yet to be told."
Morris and McWhorter could each face at least 35 years in prison.
Neither attorney would say whether his client would cooperate or testify against Hari. Messages left with Hari's attorneys in Illinois and Minnesota were not immediately returned.
The plea agreements say the men targeted the mosque to interfere with the free exercise of religion by Muslims and to let Muslims know they were not welcome in the United States.
It's not clear how the White Rabbits became aware of Dar Al-Farooq, but the mosque was in headlines in recent years: Some young people from Minnesota who traveled to Syria to join the Daesh group had worshipped there. Mosque leaders were never accused of any wrongdoing.
Jaylani Hussein, executive director of the Council on American-Islamic Relations in Minnesota, said McWhorter and Morris wanted the Muslim community to be fearful and run away.
"We're not going anywhere," he said.
According to the plea agreements, the men were headed toward Minnesota when Hari told McWhorter and Morris that he had a pipe bomb in the vehicle and they were going to bomb a mosque.
When the three arrived at Dar Al-Farooq, Hari gave Morris a sledgehammer and told him to break a window, the plea agreements say. McWhorter then lit the fuse on the pipe bomb and threw it inside; Morris threw the gasoline mixture.
McWhorter and Morris also pleaded guilty to their roles in a failed attack on a Champaign, Illinois, abortion clinic in November 2017. A pipe bomb that Morris said he and Hari threw into the clinic did not explode.
The plea agreements say Hari, McWhorter, Morris and others also participated in an armed home invasion in Ambia, Indiana, and the armed robberies or attempted armed robberies of two Walmart stores in Illinois.
Morris and McWhorter also admitted to attempting to extort Canadian National Railway by threatening to damage tracks if the railroad didn't pay them money.
Full report at:
http://www.arabnews.com/node/1441531/world
--------
US and Britain plan talks on Yemen with Saudi Arabia and UAE
Joyce Karam
January 25, 2019
The United States and Britain plan to hold a meeting on Yemen with Saudi Arabia and the UAE in Poland next month in a bid to revive faltering peace efforts in the war-torn country.
The meeting was announced by British Foreign Secretary Jeremy Hunt after talks in Washington with US Secretary of State Mike Pompeo, Vice President Mike Pence and National Security Adviser John Bolton on Thursday.
"Agreed with @SecPompeo today that we would host a meeting in February with Saudi Arabia & the UAE to bolster our support for the Stockholm process and agree next steps for further progress on a political settlement for Yemen," Mr Hunt tweeted.
The meeting is expected to take place on the sidelines of a summit on Middle East security and the threat posed by Iran that will be held in Warsaw on February 13 and 14. Foreign ministers from the Gulf Cooperation Council, Egypt, Jordan, Israel and Morocco are expected to attend the summit.
The UAE Embassy in Washington on Thursday confirmed that Sheikh Abdullah bin Zayed, Minister of Foreign Affairs and International Co-operation, would be attending the summit. "The UAE welcomes ongoing US efforts to work with partners to address common challenges," the embassy tweeted.
A US official told The National that there were as yet no specific details to be announced regarding the Yemen meeting in Warsaw. A US statement on Mr Hunt's talks with Mr Pompeo said only that they discussed the next steps in the political process in Yemen and countering Iran's malign behaviour.
The US and Britain are trying to use their political and financial leverage to break the deadlock in Yemen, where Saudi Arabia and the UAE play leading roles in an Arab military coalition supporting the government against the Iran-backed rebels.
A ceasefire agreement for the port city of Hodeidah is faltering more a month after it went into effect. The truce and several confidence-building measures were agreed upon last month in the first direct talks between the government and rebels in Sweden but have yet to be fully implemented.
The UN special envoy for Yemen Martin Griffiths has made successive trips to the region, and was in Sanaa and Riyadh this week to secure the Hodeidah agreement. But a return to violence is threatening to scuttle the whole deal. Last week the convoy of the head of the UN ceasefire monitors was hit by a bullet. The government said the Houthis were behind the shooting.
Full report at:
https://www.thenational.ae/world/mena/us-and-britain-plan-talks-on-yemen-with-saudi-arabia-and-uae-1.817798
--------
Washington's Syria envoy due in Turkey for talks on secure zone
January 24, 2019
James Jeffrey, the United States Special Representative for Syria Engagement, is due in Turkey on Thursday for talks with Turkish officials over the establishment of a so-called "secure zone" in northern Syria.
His visit comes one day after Turkish President Recep Tayyip Erdogan met his Russian counterpart Vladimir Putin in Moscow to discuss co-operation between the two countries in Syria.
Turkey intends to set up a 32-kilometre zone that will keep the People's Protection Units militia away from its border.
Foreign Minister Mevlut Cavusoglu, who announced Mr Jeffrey's visit in an interview with the A Haber news channel, said Ankara could establish a secure zone on its own.
He said Ankara and Washington's views were in line, aside from a couple of points.
He did not say what the differences where, but tensions between Turkey and the US have simmered over the former's plans to launch an offensive against US-backed forces in the northern Syrian city of Manbij. Mr Cavusoglu on Thursday said Turkey and the US had started discussing who would be in the administration of the city.
Speaking on relations with Russia, the foreign minister said Moscow and Ankara were on the same page about a political solution to the conflict in Syria, except about whether President Bashar Assad should stay in power.
Russia and Turkey are on opposite sides of the Syria conflict: Russia provides critical support to the Syrian government, while Turkey has backed rebel groups fighting President Bashar Al Assad's forces.
Despite this, they have worked closely to find a political solution to the seven-year conflict.
After talks in Moscow on Wednesday, Mr Putin and Mr Erdogan vowed to co-ordinate their actions more closely in Syria.
"Co-operation between Russia and Turkey is a touchstone for Syrian peace and stability," Mr Erdogan said at a joint press conference after three hours of talks.
"With our Russian friends we intend to strengthen our co-ordination even more."
"We agreed how we'll co-ordinate our work in the near future," Mr Putin said, calling the talks which included the countries' defence ministers, "effective".
At the start of their meeting in the Kremlin, Mr Putin addressed Mr Erdogan as "dear friend", and said their countries "work on issues of regional security and actively co-operate on Syria".
Mr Erdogan used the same term for Mr Putin and said "our solidarity makes a weighty contribution to the security of the region".
Moscow plans to organise a three-way summit with Turkey and Iran early this year as part of the Astana peace process, launched by the three countries in 2017.
Mr Putin said on Wednesday the next summit would be held "in the near future" in Russia, saying the leaders still needed to agree the time and location with Iran.
Full report at:
https://www.thenational.ae/world/mena/washington-s-syria-envoy-due-in-turkey-for-talks-on-secure-zone-1.817491
--------
URL: https://www.newageislam.com/islamic-world-news/amnesty-slams-sisi-egypt-open/d/117562
New Age Islam, Islam Online, Islamic Website, African Muslim News, Arab World News, South Asia News, Indian Muslim News, World Muslim News, Women in Islam, Islamic Feminism, Arab Women, Women In Arab, Islamophobia in America, Muslim Women in West, Islam Women and Feminism