New Age Islam News Bureau
8 Jan 2020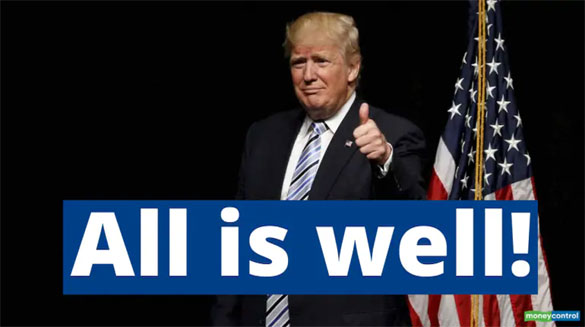 • 'All Is Well', Trump Says After Iran Attack at US Bases in Iraq
• Iran Attacks US Forces In Iraq In Retaliation For Killing Of General Suleimani
• Erdoğan Going About His Quiet Jihad In Jerusalem
• Nigerian University Graduates Arrested For Simply Being Gay in Heinous Sharia Law Police Raid
• A Hindu-Dominated Tamil Nadu Village Picks Muslim Head, Opposing the Citizenship Amendment Act
• Birmingham Muslim School Told Girls That University Was 'Not For Them', Ofsted Report Finds
• Afghan People, Officials Pay Tribute to General Soleimani
• CAIR-NJ Applauds Governor Murphy's Statement on Oppressive Policies toward Muslims in China, Myanmar and India
• Islamic Military Alliance to Combat Terrorism to Sign MoC with OIC
• Another 500 'Non-Compliant' Ngos In Karachi Dissolved To Meet FATF Condition
Compiled By New Age Islam News Bureau
URL: https://www.newageislam.com/islamic-world-news/all-well--trump-says/d/120741
------
North America
• Iran Escalation Shows Trump 'Dangerously Incompetent': Joe Biden
• Danish armed forces say no staff hurt or killed in strike on Iraq air base
• Donald Trump campaign seizes on Soleimani killing
• Killing Of Iran General Risks US Gains against Islamic State
• US: Fans Hail First Muslim Mayor for Cambridge
• Don Jr. Endorses Killing Muslims and Putting Hillary Clinton in Prison Via Assault Rifle, Naturally
• New US Ambassador meets Mufti of Muslim Community in Romania
------
Mideast
• Iran minister tells US: 'Get the hell out of our region' after attacks
• Iran's Islamic Revolutionary Guard Corps Claims Responsibility For Missile Strikes On Iraqi Bases Housing US Troops
• Local Islamic Leader Weighs In On Middle East Turmoil
• Ukrainian airplane crashes near Tehran's Imam Khomeini Int'l Airport
• What Iran's Missile Attack on U.S. Forces in Iraq May Say about the Islamic Republic's Ballistic Capability
• Six Muslim Worshipers Arrested For Disturbances on The Temple Mount
• Kurds free dozens of Islamic State-linked Syrians after assurances from tribal leaders
• Putin visits Turkey to talk Libya, Syria and gas
• Iraq's outgoing prime minister says US troops must leave
------
Africa
• NSE Expands Scope Of Islamic Equity Index
• Angola: Islamic Community Denies Persecution By Angolan State
• US vs Iran: Nigeria's Islamic Supreme Council reacts, issues warning
------
India
• Fear Haunts Muslims at the Centre of India's Violent Protests
• Mumbai's Shia Groups Mourn Qassem Suleimani
• Centre moves SC seeking transfer of pleas challenging CAA pending in different HCs to top court
• Avoid airspace of Iran, Iraq & waters of Persian Gulf, Gulf of Oman: India to its airlines
------
Europe
• Putin spends Orthodox Christmas in Damascus, visits ancient church & historic mosque
• Europeans Shift Troops from Iraq, Warn Fight against Islamic State Is Imperilled Because Of U.S. Actions
• Young Muslims give sweets and company to elderly of two Milton Keynes care homes
• European Islamists' Not-So-Happy Holidays Terrorism Plots
• Five Years After Act of Heroism During Kosher Market Attack, French TV Pays Tribute to Muslim Rescuer Lassana Bathily
• Charity Commission 'assessing' British Islamic charity over Soleimani vigil
• Invoking Islamic Tradition To Save Birds In Lebanon
------
South Asia
• Minister Safi Inaugurates Exhibition of Islamic Manuscripts
• 30 Taliban Militants Killed in Balkh Operations
• Plan Outlining Reforms Implementation Process in Prisons Approved
• President Ghani Assigns Team to Probe PD 11 Incident
• Islamic Finance's Tk 300cr bond gets nod
• Armed Oppositions Killed in Six Provinces: MoD
• On the frontline of the climate emergency, Bangladesh adapts
------
Southeast Asia
• Philippines central bank approves preliminary Islamic banking regulations
• Muslims should unite: Mahathir Mohamad
• Malaysia's CIMB, CIMB Islamic allocate 3 bln ringgit for sustainability-linked loans
• A senior industrialist had a major "anti-Muslim Indian" moment in Thailand
• Malaysian graft buster: Voice clips prove Najib Razak cover-up
• Grab officially launches GrabBike pilot in Malaysia
• Imran to visit Malaysia soon for 'damage control exercise'
------
Arab World
• OIC is the only pan Islamic body for joint work: MWL
• MWL Supreme Council: The Umbrella of Islamic Joint Action is Only under the OIC Umbrella
• Egypt's Muslim president praises bond with Coptic Christians: 'No one can do anything to us'
• Makkah court to examine case of Turk's attempted theft of Islamic artifacts
------
Pakistan
• KP speaker ignores call for BRT forensic audit by assembly panel
• Region cannot afford war, says FM Qureshi after Iran attack on US bases in Iraq
• Supreme Court judge questions NAB's arrest-first policy
• Educational institutions have pivotal role in Muslims unity: Omani Minister
• NA body wants regulatory body for testing services
• Force should not be used to send Afghans back home, says Senate panel
• LDA to outsource buildings inspection after ranking low in World Bank report
------
'All is well', Trump says after Iran attack at US bases in Iraq
Jan 8, 2020
WASHINGTON:WASHINGTON: President Donald Trump insisted "All is well!" on Tuesday after Iran fired surface-to-surface missiles at two Iraqi bases housing US troops. He promised to make a statement to the nation Wednesday morning about the increasingly precarious situation with Iran.
Trump offered no immediate indication of whether he would retaliate, and stayed out of sight Tuesday night as news of the missile strikes emerged.
But he tweeted that an assessment of casualties and damages was under way. The initial outlook, he said, was "So far, so good!"
All is well! Missiles launched from Iran at two military bases located in Iraq. Assessment of casualties & damages… https://t.co/5OSmLxzhin
— Donald J. Trump (@realDonaldTrump) 1578451524000
The Iranian missiles came in retaliation for an American drone strike that killed top Iranian Gen. Qassim Suleimani. Trump and his advisers are under pressure to disclose more details about the intelligence that led to the US strike.
Trump said Tuesday that his decision saved American lives and that members of Congress will get a briefing on the reasons for the US attack.
"They were planning something," he said of the Iranians.
Hours later, Iran struck back, firing the missiles at bases housing US troops and warning the United States and its allies in the region not to retaliate. The White House said the president was monitoring the situation closely and consulting with his national security team.
So far, Trump and top national security officials have justified the airstrike with general statements about the threat posted by Soleimani, who commanded proxy forces outside Iran and was responsible for the deaths of American troops in Iraq.
But the details have been scarce.
"He's no longer a monster. He's dead," Trump said. "And that's a good thing for a lot of countries. He was planning a very big attack and a very bad attack for us and other people and we stopped him and I don't think anybody can complain about it."
Suleimani was targeted while he was at an airport in Baghdad with Abu Mahdi al-Muhandis, a veteran Iraqi militant who also was killed.
Trump said they weren't in Baghdad to discuss vacation plans or visit a "'nice resort," but were there to talk over "'bad business.'"
The lack of detail doesn't sit well with Democrats, who recall how President George W. Bush justified his invasion of Iraq by accusing Saddam Hussein of having non-existent weapons of mass destruction. Lawmakers in recent days have been pressing for more detail to explain why Trump ordered the killing — a decision that previous administrations passed up because of fears it would unleash even more violence.
Suleimani traveled frequently and relatively openly, with visits to Baghdad more frequent in recent months. He also often showed up in Syria, including along the border between Iraq and Syria.
Senate Minority Leader Chuck Schumer and Sen. Bob Menendez, the top Democrat on the Senate Foreign Relations Committee, have called on Trump to declassify the written notification he sent to Congress after the strike. The notification was required under the War Powers Resolution Act of 1973, which requires the president to report to Congress when American forces are sent into hostile situations.
"'The president must come to Congress and present clear and compelling intelligence as to why the strike against Soleimani was absolutely necessary," Menendez said in a speech on the Senate floor. "In the wake of all its misleading statements we must make clear to the administration that the president by himself does not have the authority to launch a war against Iran."
Trump stressed that the strike was in retaliation for Iranian attacks and that the US is prepared to attack again — "'very strongly." He also said that while he eventually wants to pull US troops out of Iraq, now is not the time because it would allow Iran to gain a bigger foothold there.
Trump's top national security officials made several public appearances on Tuesday to further defend the strike.
"We had deep intelligence indicating there was active plotting to put American lives at risk," and Iraqi lives too, said Secretary of State Mike Pompeo.
Asked if the threat was imminent in days or weeks, defense secretary Mark Esper said: "I think it's more fair to say days, for sure."
Esper said the intelligence was precise — "razor thin." He said top Republicans and Democrats in the House and Senate plus the chairmen and vice chairmen of the intelligence committees in both chambers were getting a classified briefing Tuesday afternoon on what led to the decision to kill Soleimani. He said other lawmakers will be provided general details about the attack.
He said Soleimani was in Baghdad to coordinate additional attacks against the US "To somehow suggest that he wasn't a legitimate target, I think, is fanciful," Esper said.
Democratic lawmakers are not yet convinced it was the right decision.
Sen. Dianne Feinstein, D-Calif., called the US strike on Suleimani a mistake and said "I have yet to see how killing this man will prevent Iran from posing an even greater threat against the United States and our interests."
In the wake of the killing, Iran has announced that it will no longer be bound by the 2015 nuclear agreement and vowed to retaliate against the US, its allies and American interests. Iraq's parliament also voted to expel US troops from Iraq, which would undermine efforts to fight Islamic State militants in the region and strengthen Iran's influence in the Mideast.
https://timesofindia.indiatimes.com/world/us/all-is-well-trump-says-after-iran-attack-at-us-bases-in-iraq/articleshow/73148334.cms
------
Iran attacks US forces in Iraq in retaliation for killing of General Suleimani
Jan 8, 2020
BAGHDAD/WASHINGTON: Iran said it launched a missile attack on US-led forces in Iraq in the early hours of Wednesday in retaliation for the US drone strike on an Iranian commander whose killing has raised fears of a wider war in the Middle East.
Tehran fired more than a dozen ballistic missiles from Iranian territory against at least two Iraqi military bases hosting US-led coalition personnel at about 1.30 a.m. local time, the US military said on Tuesday.
Iran's Islamic Revolutionary Guards Corps confirmed they fired the missiles to retaliate for last week's killing of Qassim Suleimani, according to a statement on state TV.
The statement advised the United States to withdraw its troops from the region to prevent more deaths, state TV said.
The Pentagon did not provide reports of casualties in the attack.
"We are working on initial battle damage assessments," Pentagon spokesman Jonathan Hoffman said in a statement, adding the bases targeted were al-Asad air base and another in Erbil, Iraq.
"As we evaluate the situation and our response, we will take all necessary measures to protect and defend US personnel, partners, and allies in the region."
US President Donald Trump, who visited the al-Asad air base in December 2018, has been briefed on reports of the attack and was monitoring the situation, White House spokeswoman Stephanie Grisham said.
"We are aware of the reports of attacks on US facilities in Iraq. The president has been briefed and is monitoring the situation closely and consulting with his national security team," Grisham said in a statement.
US Secretary of State Mike Pompeo and US defense secretary Mark Esper arrived at the White House following news of the attack. It was unclear what response, if any, the United States was planning.
Hours earlier on Tuesday, Esper said the United States should anticipate retaliation from Iran over Friday's killing in Iraq of Soleimani, commander of the elite Quds Force.
"I think we should expect that they will retaliate in some way, shape or form," he told a news briefing at the Pentagon, adding that such retaliation could be through Iran-backed proxy groups outside of Iran or "by their own hand."
"We're prepared for any contingency. And then we will respond appropriately to whatever they do."
Stock markets in Asia fell sharply on news of the rocket attack, while investor safe havens including the Japanese yen and gold shot higher. US crude prices surged almost 5% on worries any conflict could cut oil supplies.
The US Federal Aviation Administration said it would prohibit US civil aviation operators from operating in the airspace over Iraq, Iran, the Gulf and the Gulf of Oman. Singapore Airlines had already diverted all flight routes from Iranian airspace.
'WE WILL TAKE REVENGE'
Suleimani, a pivotal figure in orchestrating Iran's long-standing campaign to drive US forces out of Iraq, was also responsible for building up Tehran's network of proxy armies across the Middle East.
He was a national hero to many Iranians, whether supporters of the clerical leadership or not, but viewed as a dangerous villain by Western governments opposed to Iran's arc of influence running across the Levant and into the Gulf region.
A senior Iranian official said on Tuesday that Tehran was considering several scenarios to avenge Soleimani's death. Other senior figures have said the Islamic Republic would match the scale of the killing when it responds, but that it would choose the time and place.
"We will take revenge, a hard and definitive revenge," the head of Iran's Revolutionary Guards, General Hossein Salami, told throngs who crowded the streets for Soleimani's funeral on Tuesday in Kerman, his hometown in southeastern Iran.
Soleimani's burial went ahead after several hours of delay following a stampede that killed at least 56 people and injured more than 210, according an emergency official quoted by Iran's semi-official Fars news agency.
Soleimani's body had been taken to holy Shi'ite Muslim cities in Iraq and Iran, as well as the Iranian capital, Tehran, before arriving to be buried in the city cemetery's "martyrs section", according to the semi-official news agency ISNA.
In each place, huge numbers of people filled thoroughfares, chanting: "Death to America" and weeping with emotion. Supreme Leader Ayatollah Ali Khamenei wept as he led prayers in Tehran.
Prompted by the strong public backlash over Soleimani's killing on Iraqi soil, lawmakers in Iraq voted on Sunday to demand a removal of all foreign forces from the country.
More than 5,000 US troops remain in Iraq along with other foreign forces as part of a coalition that has trained and backed up Iraqi security forces against the threat of Islamic State militants.
Some 115 German soldiers are stationed in Erbil and all are fine, a spokesman for Bundeswehr operations said.
A NATO official told Reuters it would move some of its several hundred trainers out of Iraq. Canada said on Tuesday some of its 500 Iraq-based forces would be temporarily moved to Kuwait for safety reasons.
US officials have said Suleimani was killed because of solid intelligence indicating forces under his command planned attacks on US targets in the region, although they have provided no evidence.
Ali Shamkhani, secretary of Iran's Supreme National Security Council, said 13 "revenge scenarios" were being considered, Fars news agency reported. Even the weakest option would prove "a historic nightmare for the Americans", he said.
https://timesofindia.indiatimes.com/world/middle-east/iran-fired-more-than-a-dozen-missiles-at-us-forces-in-iraq-pentagon/articleshow/73147429.cms
------
Erdoğan going about his quiet jihad in Jerusalem
Jan 07 2020
Turkish President Recep Tayyip Erdoğan has been pushing forward with efforts that focus on bringing people closer to Islam, with a special emphasis on Jerusalem, the Israel Hayom newspaper said.
Erdoğan has been promoting dawa, or the Islamic cause, also known as "quiet jihad", which is by definition activity that focuses on charity, education, and social assistance in an attempt to bring people closer to Islam, Israel Hayom said.
"They help the Arab population with religious, cultural, community, and social matters, thus strengthening Turkey's influence in Israel, with special emphasis on Jerusalem," the newspaper said.
Relations between Israel and Turkey have steadily cooled since Erdoğan became prime minister in 2003. The Turkish president has championed the Palestinian cause and is a vocal critic of Israel. U.S. President Donald Trump's December 2017 recognition of Jerusalem as the capital of Israel sparked a diplomatic row between Turkey, the United States and Israel.
Turkish NGOs are funnelling money into restoring buildings, especially Islamic monuments, in Jerusalem, as well as the cities of Jaffa and Haifa, Israel Hayom said.
On Jan. 2, Turkey gave a copy of Ottoman archive material to the Palestinian Authority to help Palestinians legally counter Israel's land claims. The move is part of Erdoğan's efforts to spread the Ottoman legacy through several Turkish foundations in Israel, the newspaper said.
https://ahvalnews.com/turkey-israel/erdogan-going-about-his-quiet-jihad-jerusalem
------
Nigerian university graduates arrested for simply being gay in heinous Sharia law police raid
JANUARY 7, 2020
MICHELE THEIL
Recent graduates from the Bayero University Kano, in northern Nigeria, have been arrested for being gay.
Fifteen people were taken into custody during a party by Hisbah, a religious police corps who enforce Sharia law from Islam.
Sharia law "criminalises same-sex intimacy between both men and women".
Deputy commander-general Shehu Tasi'u Is'haq confirmed the arrest of the graduates to Punch Nigeria, saying: "We arrested and transferred the errant students to our correctional centre at our headquarters in Sharada.
"While at our correctional centre, they will be re-oriented and at the close of the day, they will desist from their waywardness and turn a new leaf."
"Islam is opposed to same-sex partners, which is a taboo. As an institution, our responsibility is to correct youth, who are going astray, reminding them that devout Muslims forbid homosexual acts, which will not be tolerated."
Nigeria is not safe for gay people.
The same-sex marriage prohibition act has been in place in Nigeria since 2014. Those in same-sex relationships will be sent to prison under this law.
Other laws in Nigeria criminalise acts of "gross indecency" between men. Nigeria has since been found to be the most dangerous place for LGBT+ tourists and the 139th worst place to live as an LGBT+ person.
Last year, a spokesperson for the Lagos State Police said on Instagram, "If you are homosexually inclined, Nigeria is not a place for you. Leave the country or face prosecution."
Previously, PinkNews has reported on numerous cases of discrimination against and arrests of gay people in Nigeria over the years. The most recent was in November 2019: 47 men plead guilty to charges of public displays of same-sex affection in Lagos.
A Nigerian man was also "flogged 14 times in one day, for being gay in Nigeria," which is a common punishment under Sharia Law for unmarried men who practice sodomy. The punishment for those who are currently or have previously been married is death by stoning.
98% of Nigerian people believe that society should not accept homosexuality, according to the Pew Research Centre.
The director general of Hisbah said in 2018: "We can't allow such despicable acts to find roots in our society. Both Islam and Nigerian laws prohibit same-sex relationships."
https://www.pinknews.co.uk/2020/01/07/nigeria-police-sharia-law-gay-homophobia-hisbah-kano-bayero-university-graduates/?utm_source=feedburner&utm_medium=feed&utm_campaign=Feed%3A+Pinknews+%28Pink+News%29
------
A Hindu-Dominated Tamil Nadu Village Picks Muslim Head, Opposing The Citizenship Amendment Act
Jan 8, 2020
TRICHY: In these times of strife and threats of polarisation on communal lines, a village Panchayat in Pudukottai district stands out as an example of harmony.
Seriyalur Inam in Keeramangalam, which is dominated by Hindus, has elected a Muslim as Panchayat president to express their solidarity with those opposing the Citizenship Amendment Act. Mohammed Jiyavudeen, 45, secured 554 of the 1,360 votes polled in the village which has 60 Muslim votes. "Shankar, who was among the five contestants for the post, came close, receiving just 17 votes less than Jiyavudeen," said K Rajagopal, a villager who supported Jiyavudeen's candidature.
The mutharaiyar and vellalar communities have the biggest vote share, besides people from the scheduled castes (SC).
Seriyalur Inam was among many panchayats in the state where president posts had been auctioned, said C Rajagopal, another villager. The post was auctioned for Rs 10 lakh."We were not in favour of auctioning the post as it would do no good to the local people," he said. S V Kamarasu, a resident of the village, said that citing the auction one of the candidates even got a promise from each family head that they would vote for him. "When the Union government is trying to create a divide among people of different religions by passing the CAA, we, the Hindus in the village, chose to elect a Muslim to keep our panchayat united and secular," he said.
Jiyavudeen said that it was heart-warming when a family head came to him saying that he voted for a Hindu candidate as he had made a promise to him, but made four of his family members cast their votes in favour of Jiyavudeen. Jiyavudeen's standing as a social worker in the village too helped to consolidate his prospects in the election. His extensive work to rehabilitate local people affected by cyclone Gaja had made him popular. Financially stable after having worked in gulf countries for decade, he founded the Seriyalur Inam Youth Development Committee in the village to create livelihood options for farmers devastated by the cyclone.
Jiyavudeen said his first task as panchayat president will be to bring Cauvery river water to the village Ayyankulam tank that is spread across 25 acres. Through the committee, he has been striving to revive a kilometre-long canal to bring the water.
https://timesofindia.indiatimes.com/city/trichy/to-stay-united-a-hindu-dominated-village-chooses-a-muslim-panchayat-head/articleshow/73147052.cms
------
Birmingham Muslim School Told Girls That University Was 'Not For Them', Ofsted Report Finds
Camilla Turner, education editor
7 JANUARY 2020
A Muslim school told girls that university was "not for them", while boys were given first choice on work experience placements, an Ofsted report has found.
Redstone Academy, a private secondary school in Birmingham, "unlawfully segregated" boys and girls and female pupils were treated less favourably, inspectors found.
The independent school in Balsall Heath, which caters for 152 pupils aged 11-16 and charges fees of up to £3,085-a-year, did not provide girls with the same range of extra-curricular activities as boys.
The 13-page report, which rated the school as inadequate, added: "For example, boys can take part in ju-jitsu and football, whereas girls cannot.
"School trips are organised separately for boys and girls. Boys are treated in a preferential way. For example, boys are not required to wear their school uniform, but girls are. One group of pupils told us that a member of staff had told them that 'university is not for females'."
Ofsted found that the school was in breach of its duties under the 2010 Equality Act because it operates a policy of unlawful segregation by sex.
"Boys and girls are unlawfully segregated by sex for all school activities, except for weekly assemblies," the report found.
"Boys enjoy school more than girls. This is because they are treated favourably and have more privileges. Boys have more opportunities to play sport.
"They get to choose the places to go to for work experience first. Some of the girls told us that they do not like this. They said that this was not fair and feel disadvantaged."
Saadat Rasool, the school's headmaster, said he has no intention of defying the law in any way, adding that he has submitted an application to run separate schools for boys and girls.
"We believe the idea that boys are 'given favourable treatment and more opportunities than girls' is just not accurate as all the previous Ofsted reports have noted that provision for boys and girls has been equal and fair," he said.
"We work very diligently to offer the best to both boys and girls at our school - and both are given equal opportunities to be successful in whatever they choose."
Mr Rasool said he believed it is hard for Ofsted inspectors to appreciate the efforts private faith schools in inner-cities expend in educating pupils on a "very limited budget and resources".
He added: "If it turns out that our application for a separate girls' school is formally refused, then we have absolutely no intention to 'defy the law' in any way. "
Since the Ofsted visit, we have gathered together a team to turn the school around so that it can reach its full potential and successfully serve its pupils and meet the expectations of the parents.
"We have already started work on an action plan to make huge improvements in the education we provide. The last thing that we wish to do is to operate outside the law."
https://www.telegraph.co.uk/news/2020/01/07/muslim-school-told-girls-university-not-ofsted-report-finds/
------
Afghan people, officials pay tribute to General Soleimani
January 7, 2020
AhlulBayt News Agency (ABNA): Scores of Afghan officials, politicians, and people attended the Iranian embassy and consulates in Afghanistan to sympathize with the Iranian people and government on the martyrdom of Lieutenant General Soleimani.
Chief Executive of Afghanistan Abdullah Abdullah attended the Iranian embassy in Kabul and extended condolences to the Iranian people and government on the occasion of General Qasem Soleimani's martyrdom.
In Herat Province, former Minister of Water and Energy Mohammad Ismail Khan who was also a well-known Mujahideen leader showed up in the Iranian consulate along with hundreds of people and paid tribute to late General Soleimani.
Ismail Khan described Lieutenant General Soleimani as a "courageous and unique General" who helped Afghan Jihad and Resistance a lot and "stood with Afghan people during days of difficulty".
Former Afghan president Hamid Karzai who attended Tehran Dialogue Forum on Tuesday extended condolences to Iran on the martyrdom of "beloved Commander Qasem Soleimani".
In the last two days, hundreds of Afghan political leaders, religious scholars, university professors, ethnic leaders, businessmen, and former officials commemorated late General Soleimani.
https://en.abna24.com/news//afghan-people-officials-pay-tribute-to-general-soleimani_1000249.html
------
CAIR-NJ Applauds Governor Murphy's Statement on Oppressive Policies toward Muslims in China, Myanmar and India
JANUARY 07, 2020
(SOUTH PLAINFIELD, NJ, 1/7/2020) – The New Jersey chapter of the Council on American-Islamic Relations (CAIR-NJ), today applauded Governor Phil Murphy's Statement on Oppressive Policies Toward Muslims in China, Myanmar and India.
On January 3 New Jersey Governor Phil Murphy issued a statement expressing concern for the oppressive policies toward Muslims in China, Myanmar, and India. In his statement Governor Murphy calls the Uyghur crisis an "egregious violation of their human rights"; the Myanmar crisis "one of the world's most abhorrent state-sanctioned policies of repression and annihilation"; and called for India to abandon its "restrictive and intolerant" citizenship law that "threatens its long and proud history as a secular and diverse democratic nation."
Governor Murphy ends by saying, "It is time for all nations, including ours, to take firm and unequivocal stances against the narrow thinking that is fueling these divisions and embrace the world as it should be -- tolerant, pluralistic, and interconnected."
SEE: Statement by Governor Murphy on Oppressive Policies Toward Muslims in China, Myanmar, and India
https://nj.gov/governor/news/news/562020/approved/20200103b.shtml
Statement by Governor Murphy on Oppressive Policies Toward Muslims in China, Myanmar, and India
https://www.insidernj.com/press-release/statement-governor-murphy-oppressive-policies-toward-muslims-china-myanmar-india/
In a statement, CAIR-NJ Executive Director Selaedin Maksut said:
"As a civil rights organization, we applaud Governor Murphy's recent statement acknowledging and condemning the oppression endured by Muslims in China, Myanmar and India. In the name of justice, we join hand-in-hand with Governor Murphy, standing on the right side of history, calling for our nation and others to unequivocal speak out against the oppression of Muslims globally.
"We are pleased to see Governor Murphy join a growing number of elected officials who are willing to speak truth to power and call out the abhorrent government policies of these nations that have led to the inexcusable suffering of Muslims and other minorities."
CAIR's mission is to protect civil rights, enhance understanding of Islam, promote justice, and empower American Muslims.
La misión de CAIR es proteger las libertades civiles, mejorar la comprensión del Islam, promover la justicia, y empoderar a los musulmanes en los Estados Unidos.
-END-
https://www.cair.com/cair_nj_applauds_governor_murphy_s_statement_on_oppressive_policies_toward_muslims_in_china_myanmar_and_india
------
Islamic Military Alliance to Combat Terrorism to Sign MoC with OIC
08 January 2020
RIYADH: The Islamic Military Alliance to Combat Terrorism will sign on Wednesday a memorandum of cooperation with the Organization of Islamic Cooperation (OIC).
To mark the occasion, the OIC's secretary-general will deliver a lecture on its efforts to combat terrorism.
This strategic partnership comes in the framework of cooperation between the alliance and international organizations.
It aims to contribute to international efforts to maintain peace and security, and to combat all forms of terrorism and extremism, as well as their financing.
https://www.arabnews.com/node/1609891/saudi-arabia
----
Another 500 'non-compliant' NGOs in Karachi dissolved to meet FATF condition
Hasan Mansoor
January 08, 2020
KARACHI: The Sindh government has dissolved another 500 non-governmental organisations for not following the rules and for being dormant for years, bringing the total number of such entities to close to 6,000, it emerged on Tuesday.
According to a notification issued by the provincial social welfare department, so far 5,896 NGOs had been de-registered in three phases and more than 1,200 were being scrutinised.
"All these actions are in pursuance of the implementation of the recommendation No. 8 FATF [Financial Action Task Force] Plan," an official in the provincial government said.
The FATF recommendation required greater scrutiny of the nonprofits and NGOs to ensure effective security mechanism in the country, officials said.
They added Pakistan was assigned by the FATF with 28 recommendations involving issues of terror financing and money laundering.
The Sindh govt is currently carrying out scrutiny of over 1,200 NGOs across the province
The latest notification said: "Pursuant to Sindh cabinet decision, the 500 [more] voluntary social welfare agencies (NGOs) stand dissolved forthwith under Section 10 of the Voluntary Social Welfare Agencies (Registration and Control) Ordinance, 1961."
It said notices were published in leading newspapers requiring all NGOs registered by the respective registration authorities, social welfare ministry under the abovementioned ordinance to furnish their annual audit reports, annual progress reports, election reports, and to get renewal certificates.
"The registration authorities observed that majority of these NGOs or NPOs [non-profit organisations] are reportedly inactive, untraceable and non-responsive," said the notification.
It further said despite publication of notices in newspapers and ample opportunity provided under the law and rules, no response was received from the inactive organisations. "There are reasons to believe that 500 registered agencies have acted in contravention of their own constitutions, provisions of the ordinance and the rules made under."
It said the matter was placed before the Sindh cabinet in its Aug 3, 2019 meeting which decided to delegate its powers to the social welfare secretary to cancel or dissolve the NGOs/NPOs that acted in contravention of their constitutions and the provisions of the ordinance and rules.
The officials said the social welfare department had dissolved 4,396 NGOs in the first phase.
Some 188 of such NGOs were registered in Hyderabad district; 248 in Larkana; 272 in Ghotki; 59 in Tharparkar; 236 in district Malir; 328 in Korangi; 43 in Umerkot; 101 in Mirpurkhas; and 211 in Badin districts.
A total of 56 such NGOs had been registered in Tando Allahyar and Tando Mohammad Khan districts each. The registration of 36 NGOs in Sujawal, 576 in Khairpur, 90 in Sukkur, 228 in Kashmore, 167 in Qambar-Shahdadkot and 133 in district Malir has also been cancelled.
Another 1,000 such entities had been dissolved in the second phase before the recent cancellation of the registration of another 500 NPOs.
Some 400 of the 500 de-registered NGOs were based in Karachi's Central district while the remaining 100 NPOs had their addresses in South district.
The officials said the department was in process of scrutinising the details of another 1,200 NGOs for the same reasons.
"We are scrutinising the details of another 1,200 NGOs and a decision will be made about their fate soon," said a senior official.
More than 10,500 NGOs, or nonprofits, had been registered with the provincial social welfare department alone. Their number has now come down to less than 5,000.
https://www.dawn.com/news/1526874/another-500-non-compliant-ngos-in-karachi-dissolved-to-meet-fatf-condition
------
North America
Iran escalation shows Trump 'dangerously incompetent': Joe Biden
Jan 8, 2020
WASHINGTON: Democratic presidential candidate Joe Biden said Tuesday that President Donald Trump's escalation of tensions with Iran proves him to be "dangerously incompetent" and puts the US on the brink of war.
Speaking in New York, Biden said Trump used a "haphazard" decision-making process to order the killing of Iranian Gen. Qassim Suleimani and has failed to communicate the rationale to Congress or US allies around the world. Biden said Trump instead offered "tweets, threats and tantrums" that prove the Republican president to be "dangerously incompetent and incapable of world leadership."
"Democracy runs on accountability," Biden said, urging Trump to consult with Congress on acts of war, as required by the Constitution. "No one wants war. But it's going to take hard work to make sure we don't end up there accidentally."
The former vice president's remarks were part of his second major foreign policy address of the campaign. This one comes less than a month before the February 3 Iowa caucuses begin Democrats' 2020 voting, with Biden attempting to highlight his international experience in contrast to both Trump and his Democratic competitors.
But the moment presents challenges for the 77-year-old candidate, with nearly five decades in Washington. While his resume is longer than any Democratic presidential rival's, it comes with complications.
Progressives hoping to make the world less militaristic point to Biden's 2002 vote authorizing the US invasion of Iraq, suggesting that muddies his warnings about another Middle Eastern war. Alternately, Trump and Republicans cast Biden as indecisive or weak, seizing on his opposition to the 1991 US mission that drove Iraq out of Kuwait and his reluctance about the raid that killed September 11 mastermind Osama bin Laden in 2011, when Biden was President Barack Obama's No. 2.
Democratic presidential candidate Bernie Sanders, a Vermont senator who voted against President George W Bush's Iraq war powers request, calls it "baggage."
Former Bush and Obama Defense Secretary Robert Gates wrote in his memoir that Biden has been "wrong on nearly every major foreign policy and national security issue" for 40 years.
Biden himself has been inconsistent in his pitch to voters, seemingly confident that searing criticism of Trump and implicit contrasts with less-seasoned Democrats are enough.
"I've met every single world leader" a US president must know, Biden tells voters at some stops. "On a first-name basis," he'll add on occasion.
The Biden campaign's most viral moment was a video last month, titled "Laughed At," showing world leaders mocking Trump at a Buckingham Palace reception held during a NATO summit in London.
Biden told reporters last month that foreign policy isn't in his Democratic opponents' "wheelhouse," even if they "can learn." Demonstrating his knowledge, Biden veered into explaining the chemistry and physics of "SS-18 silos," old Soviet missiles. "It's just what I've done my whole life," he said.
He's since touted endorsements from former Secretary of State John Kerry and members of Congress with experience in military combat and intelligence.
Yet Biden doesn't always connect the dots with an explicit appeal to voters.
In Iowa last weekend, Biden called the Iran crisis "totally of Donald Trump's making," tracing Suleimani's killing back to Trump withdrawing from a multilateral deal in which Iran had agreed to curtail its nuclear program. As he said again Tuesday in New York, the pact "was working, serving America's interests and the region's interests."
Biden told another Iowa audience that Americans need "a president who provides a steady leadership on Day One," but he never discussed his role in the Iran deal or Obama's foreign policy generally.
"Foreign policy, commander in chief is a big deal to people," he said last month, less because of a single issue and more because of Trump.
"They just know something's not right. It's uncomfortable." Biden in July offered what had been his sweeping foreign policy declaration to date, with a speech touting the US as the preeminent world power but one that must lead international coalitions and focus on diplomacy.
He pledged to end "forever wars" but did not rule out military force. He made clear he values small-scale operations of special forces while being more skeptical of larger, extended missions of ground forces.
His advisers believe that reflects most Americans. "They don't want the United States to retreat from the world ... but they also don't want us overextended without any rational strategy or exit plan,'' said Tony Blinken, Biden's top foreign policy adviser, who has worked with him since he was the Democratic leader on the Senate Foreign Relations Committee.
As vice president, Biden was at Obama's side for every major national security decision for eight years. Biden led the administration's efforts to help Ukraine counter Russian aggression and on Iraq as the administration moved to bring the war it inherited there to an end.
But Biden wasn't always in lockstep with Obama on major issues. He was among the advisers who argued against the bin Laden raid.
Biden's explanation has changed over the years, varying from saying he recommended Obama wait for clearer identification of bin Laden at the Pakistan compound where he was killed to later saying he privately told Obama to go ahead. (AP)
https://timesofindia.indiatimes.com/world/middle-east/iran-escalation-shows-trump-dangerously-incompetent-joe-biden/articleshow/73151874.cms
------
Danish armed forces say no staff hurt or killed in strike on Iraq air base
Jan 8, 2020
COPENHAGEN: No Danish soldiers were injured or killed in Wednesday's missile strike on the Al-Asad air base in Iraq, the Danish armed forces said in a post on Twitter.
Denmark has about 130 soldiers at the base as part of the international coalition fighting Islamic State in Iraq and Syria.
Iran launched missile attacks on the Al-Asad air base and another Iraqi facility hosting US-led coalition personnel, in retaliation for the killing of an Iranian commander that sparked fears of a wider war in the Middle East.
https://timesofindia.indiatimes.com/world/middle-east/danish-armed-forces-say-no-staff-hurt-or-killed-in-strike-on-iraq-air-base/articleshow/73150227.cms
------
Donald Trump campaign seizes on Soleimani killing
Jan 8, 2020
WASHINGTON: Donald Trump once warned Barack Obama against "playing the Iran card" to boost his political prospects by starting a war.
Eight years later, Trump is showing no reluctance to capitalize politically on his order to kill a top Iranian general, drawing accusations that he is weaponizing foreign policy for his campaign's own gain.
Trump's campaign has used the killing of Qassem Soleimani, the head of the Islamic Revolutionary Guard's elite Quds Force, as a cudgel against the president's Democratic political rivals and to divert attention from his impending impeachment trial in the Senate.
"Americans want to see their President acting decisively and defending the nation's interests and that's exactly what President Trump did," Trump campaign spokesman Tim Murtaugh said.
"Republicans are good at killing terrorists and this is a reminder of that," added Michael Ahrens, communications director of the Republican National Committee.
The president was expected to amplify those messages on Thursday in Toledo, Ohio, during his first campaign rally since the drone strike last week. Trump's campaign purchased ads on Facebook highlighting the Soleimani killing.
The Pentagon said Soleimani "was actively developing plans to attack American diplomats and service members in Iraq and throughout the region."
But the Trump administration has refused to provide any specific information about the nature or timing of the alleged plots, leaving Trump open to suspicions that the attack was driven, at least in part, by a belief that it might help him in the polls.
Those around the president strongly dismiss any suggestion of political motive. But they have been happy to use the killing to contrast Trump with his Democratic rivals, painting him as a strong leader and accusing Democrats of appeasing Iran with a failed foreign policy approach.
Despite the short shelf life of most Trump news stories, Trump aides recognized immediately that the strike — approved by the president at his private club during his winter break from Washington — could play an outsize role in the upcoming campaign, particularly if Iran retaliates and the region descends into chaos.
The president himself told one confidant after the attack that he wanted to deliver a warning to Iran not to mess with American assets. And he was eager to project an image of strength and replicate the message he delivered late last year after approving the raid that killed Islamic State leader Abu Bakr al-Baghdadi: The U.S. will hunt down its enemies anywhere in the world.
The al-Baghdadi killing has become a staple in Trump's campaign ads and at his rallies, and Soleimani's death was expected to receive similar treatment.
"ANOTHER dead terrorist," declared the subject line of a Sunday campaign email blast, which described Soleimani as a "monster responsible for THOUSANDS of American deaths." The president campaigned on the dual promises of getting tough on Iranian aggression and withdrawing U.S. troops from overseas entanglements — priorities seemingly at odds with one another in the wake of the strike.
Trump has increased the number of troops in the region since he took office, despite his promise to end the "endless wars" in the Middle East.
Trump's foreign policy, dating back to his first campaign, has always had its internal inconsistencies: As much as Trump pushed the drawdown of troops in Iraq and Afghanistan, he promised nightly to "bomb the hell out of ISIS" and has been eager to strike a posture of American military strength.
But Trump aides expressed confidence that the president's supporters would not punish him for prioritizing one over the other, at least in the short term. Instead, they argued that targeting what they called terrorist leaders had little to do with prospects for a protracted ground war.
And they argued that the killing could be used to create their own version of Obama's unofficial 2012 slogan, "Osama bin Laden is dead and General Motors is alive." At the same time, Trump's campaign and White House have tried to use Democratic criticism of the president's killing of Soleimani to paint party members as radical and out of touch.
Two of Trump's rivals, Massachusetts Sen. Elizabeth Warren and Vermont Sen. Bernie Sanders called Soleimani's killing an assassination — a label that implies a political rather than national security motive.
Trump's advisers, meanwhile, are out to make the case that the president continues to tend to the nation's business — in this case, the elimination of a dangerous adversary — while Democrats obsess over impeachment.
https://timesofindia.indiatimes.com/world/us/donald-trump-campaign-seizes-on-soleimani-killing/articleshow/73151787.cms
------
Killing of Iran general risks US gains against Islamic State
By ROBERT BURNS
WASHINGTON (AP) —
President Donald Trump's national security team knew that killing Iran's most powerful general could hurt efforts to mop up and head off any revival of the Islamic State militant group — and that is just what has happened.
Two days after Gen. Qassem Soleimani was killed in a U.S. drone strike in Baghdad, the U.S. troops in Iraq to fight the Islamic State are now focused on their own defense, guarding American bases and the U.S. Embassy from an expected Iranian response. The fight against the militants is now on hold, and a Trump foreign policy achievement is in doubt.
"When we looked at this operation we knew there would be consequences," said Gen. Mark Milley, chairman of the Joint Chiefs of Staff. "We knew there'd be risk." But he said the threat of attack on U.S. interests was too great to not act.
The Islamic State evolved in Syria after U.S. troops withdrew from Iraq in 2011; its fighters swept back across the border in 2014, captured wide swaths of western and northern Iraq and imposed brutal rule over a self-declared "caliphate."
A U.S.-led coalition finally ousted the group from the last of its territory in Syria in March 2019, but thousands of fighters scattered throughout the region and continue to pose a threat.
Defense Secretary Mark Esper agreed on Tuesday that "the suspension of activities in Iraq" against IS was foreseen as a possible outcome of killing of Soleimani.
Two days after a missile launched from a U.S. drone killed the general in Baghdad on Jan. 3, shortly after he arrived, the U.S.-led military coalition in Iraq announced a pause in its years-long partnership with Iraqi forces against IS remnants. The focus shifted to protecting coalition troops and the U.S. Embassy, in anticipation that Iran would try to avenge Soleimani's death by attacking.
Ketti Davison, a retired Army intelligence officer with experience in Iraq, said there is no doubt that the fight against the militants has been undercut.
"The counter-ISIS campaign was already strained," said Davison, an intelligence expert at the Institute for the Study of War. The effort in Syria has been hampered since Turkey invaded northern Syria in October, complicating U.S. cooperation with Kurdish fighters and giving the Russian military a wider role in the country.
Just Tuesday, Russian President Vladimir Putin showed up in Damascus for a meeting with President Bashar Assad. Official statements during the previously unannounced visit made no mention Soleimani, but the timing was conspicuous.
The Iraq campaign also has been sidetracked by recent civil unrest that diverted the attention of Iraqi security forces previously focused on IS.
"The counter-ISIS mission is truly at risk, not just in the short term," Davison said, adding, "It's hard to see how we can stay on the offensive with our Iraqi partners to defeat ISIS in this kind of circumstance." To complicate matters further, the U.S. military presence in Iraq forms the logistical support foundation for U.S. efforts in neighboring Syria.
The U.S. has 650-750 troops in eastern Syria working with a local group known as the Syrian Democratic Forces to continue the fight against the Islamic State. It was unclear Tuesday the extent to which the suspension of U.S. and coalition support operations in Iraq will limit operations in Syria. Esper said he has received no indication from commanders of a "material impact" in Syria.
Trump on Tuesday called Soleimani "a monster" who deserved to be killed, adding that Soleimani was planning "a very big attack." He and others have said U.S. intelligence showed that danger clearly, but they have not provided details.
And in the aftermath, the durability of the defeat of IS in doubt, and the extremist group has new breathing room.
Although the U.S. military during the Obama administration developed and began executing the strategy that eventually eliminated the IS group's hold on large portions of eastern Syria and northern and western Iraq, Trump has insisted he deserves full credit for the territorial defeat. He has made it a feature of his reelection campaign, but national security experts say the group's remnants in Syria as well as Iraq are still a threat and could stage a comeback.
That is why the U.S. and its coalition partners have remained in Iraq. Iran's longtime goal has been to force the U.S. out, giving it a freer hand there.
Rep. Elissa Slotkin, a Michigan Democrat and a former Pentagon and CIA official, said Soleimani was the architect of that Iranian strategy. If the Iraqi government ends up expelling U.S. troops, Soleimani will have achieved his goal, she said.
"If we do indeed get officially asked to leave Iraq, we will need robust diplomacy to outline a plan with the Iraqi government that maximizes pressure on ISIS and allows us time to safely withdraw in a way that doesn't cost the U.S. in blood and treasure," Slotkin said Monday.
Germany, Canada and some other U.S. allies have moved some of their troops out of Iraq, citing an increased security risk, but Esper said he is pleased by the commitments of allied governments to remaining in the counter-IS coalition. He took to Twitter to thank Italy for keeping forces in Baghdad, where tensions are running high.
The U.S. had about 5,200 troops in Iraq before the Soleimani killing, mostly to train and advise Iraqi security forces in their campaign against IS fighters who are attempting to reconstitute. The U.S. troop total is now in flux as some trainers are flown out of the country and additional security forces come in. Those movements led to an international incident Monday when a U.S. officer seemed to announce that U.S. forces were withdrawing, prompting Milley and Esper to address reporters at the Pentagon to deny there was any withdrawal plan.
The Iraqi Parliament on Sunday passed a nonbinding resolution calling for the expulsion of all foreign forces. On Tuesday, Iraq's outgoing prime minister, Adel Abdul-Mahdi, said the United States has no choice but to pull its troops out of the country. Trump, however, told reporters in the Oval Office that he has no intention of withdrawing yet.
https://apnews.com/402a1524b1ba9ea6096790d1d0fb0ce7
------
US: Fans hail first Muslim mayor for Cambridge
James Reinl
08.01.2020
LONDON
The northeastern United States university city of Cambridge elected what has been hailed as the first Muslim mayor in the history of the state of Massachusetts, according to social media postings and local media reports.
Sumbul Siddiqui, a Muslim woman who immigrated to the U.S. from Pakistan as a child, was selected by her peers to serve as mayor, meaning she will chair the city council and school committee, according to The Boston Globe daily and other outlets.
A Twitter account titled Mayor Sumbul Siddiqui and bearing the politician's photograph describes the new dignitary as a "long-time Cambridge resident, attorney, advocate and Cambridge Mayor for the 2020-2021 Term".
On taking her oath of office on Monday, Siddiqui stressed the importance of "service — saying it has defined her life since she came to America from Pakistan as a child", according to Jetpac, a group that works to get more Muslims into politics.
In a tweet, the Boston-based Immigrant Learning Center hailed Siddiqui as the "first Muslim-American mayor in Massachusetts" and said staffers were "overjoyed" that immigrants were being elected into leadership roles.
Would-be Muslim-American politicians often complain that they struggle at the ballot box.
According to her profile on a city website, Siddiqui has an undergraduate degree in public policy from Brown University and a law degree from Northwestern Pritzker School of Law.
"Sumbul moved to the United States at the age of two with her parents and twin brother from Karachi, Pakistan," says the profile. "Her family won a lottery to enter Cambridge's affordable housing system."
Cambridge, which is part of the metropolitan area of Boston, is famous as the home to Harvard University, its leafy campus, the bookstores of Harvard Square and the nearby Massachusetts Institute of Technology (MIT).
https://www.aa.com.tr/en/americas/us-fans-hail-first-muslim-mayor-for-cambridge/1695565
------
Don Jr. Endorses Killing Muslims and Putting Hillary Clinton in Prison Via Assault Rifle, Naturally
Esther Wang
There are few things in life that large failson Donald J. Trump Jr. loves more than guns and the idea of putting Hillary Clinton behind bars. Now, we can add killing Muslims in a holy war to that list.
On Monday, Don Jr. posted a series of Instagram photos in which he's holding an assault rifle complete not only with a magazine decorated with an image of Hillary Clinton behind bars, but an image of the cross—one large cross surrounded by four smaller crosses, or a Jerusalem cross—that was a symbol embraced by Christians during the Crusades. Certainly interesting timing for Don Jr. to be posing proudly with a gun emblazoned with a symbol many associate with a religious war against Muslims!
Lest one missed the symbolism on this firearm, Don Jr. also included a closeup of the rifle, which shares that it's part of the manufacturer Rare Breed Firearms' "Crusader" line.
The Jerusalem cross is not only a symbol of a bygone religious war, as the historian Dan Jones told the Washington Post—Crusade-related symbols have also been embraced by everyone from white supremacists like those who attended the Charlottesville protests as well as mass shooters targeting Muslims. Jones described Don Jr.'s post as "inflammatory," which is certainly one way to put it.
"This is not what you put on a gun unless you're saying Christians have a right to kill people who aren't one of us," University of Notre Dame professor Robin M. Jensen told the Post.
Spike's Tactical, the maker of the "Hillary for Prison" magazine, also sells a "3 Percenter" magazine, a reference to the far-right movement whose members have been involved in plots to bomb mosques and participated in white supremacist rallies, as well as a magazine endorsing waterboarding. In case the beliefs of its makers as well as the gun manufacturer's intended audience aren't obvious, Spike's Tactical also sells a "Crusader" rifle, emblazoned with the Bible verse, "Blessed be the Lord my Rock, who trains my hands for war, my fingers for battle," and which it markets on its website with the phrase, "The war is here. We have a duty to defend our homeland and our way of life." In 2015, when Spike's Tactical debuted that rifle, which a spokesperson explained was "designed to never be used by Muslim terrorists" and I can only assume was thus meant to be used by white supremacist domestic terrorists, it drew immediate condemnation from groups like the Council on American-Islamic Relations.
The Washington Post notes that Don Jr., despite his enthusiasm for guns, is doing quite a few things wrong in his Instagram photo:
https://theslot.jezebel.com/don-jr-endorses-killing-muslims-and-putting-hillary-cl-1840850031
------
New US Ambassador meets Mufti of Muslim Community in Romania
07/01/2020
The new Ambassador of the United States of America in Bucharest, Adrian Zuckerman, who is visiting Constanta on Tuesday, mentioned that he appreciates the status that the Turkish and Tatar communities have in our country, the Muftiate of the Muslim Community in Romania informed.
"This was the first visit conducted by the new American diplomat in Dobrogea, with the purpose to meet the Muslim community and its leaders. During the meeting, the US ambassador appreciated the status that the two Turkish and Tatar historical communities in Romania have and gave assurances that the relations consecrated and consolidated in the past 20 years with the American people, through the US Embassy in Bucharest, will continue. Furthermore, the American diplomat, who has roots in Romania, reiterated during the discussions, the profound respect for the Muslim community in Romania, in its turn with historical roots on these lands, manifesting his interest in developing and conducting joint projects in the future," according to a Facebook post of the Muftiate of the Muslim Community in Romania.
According to the quoted source, the new Ambassador of the United States of America in Bucharest, Adrian Zuckerman, had a meeting in Constanta with the head of the Muslim Community in Romania, Mufti Muurat Iusuf, and with representatives of the Turkish Democratic Union in Romania and the Democratic Union of Turkish-Muslim Tatars in Romania.
"In his visit to Constanta, Ambassador Adrian Zuckerman was accompanied by the Deputy Chief of Mission, Abigail Rupp, a good friend of the Muslim community in Dobrogea," according to representatives of the Muftiate of the Muslim Community.
https://www.stiripesurse.ro/new-us-ambassador-meets-mufti-of-muslim-community-in-romania_1418893.html?__cf_chl_jschl_tk__=5cd1602f00a32a9cb397b5d587d35dc4d8ea34c3-1578467297-0-AbomD_RjpUfVC55SMWpsxsyuUT_zbplNLra7UKgAA-TmvVgfh_thnn9L-Z4_8otKTx6TTAWwzmsJcfbSwgvYqSrwHngwV8Y7_UOxdco-LsKMd2nsHQ-2M2PPXlQkUbDejmPm7axnrtswGteN-WYw6Q9pSCbLjjfSPPJJCvTV2Z2cLrxoYnPFQhyna9Js_1b6Kx2SsUCenxZNHM6Qm7DEuCb1HVmOh1k8DO2E2AvNWCt_N9esbvnXAt8pXOdz4mMbPyehmEsgd29UTZh3C3ZrcBBkyIS4wBG441h_oOzQ-bK5JVSvbxYzZHN4l3JupLhpPGaBPDsQTez_OdCvrAssMoSwYHLM1RPHLtzb4dkcqYnjOo9tzVk_6qUMYydaVFOJ4m7x5du_93DSIqBGMT_iDzPD_jcZbrinWUWwEihw6efm
------
Mideast
Iran minister tells US: 'Get the hell out of our region' after attacks
Jan 8, 2020
After Iran launched missile attacks on US targets in Iraq, the country's telecommunication minister tweeted: "Get the hell out of our region" in Iran's first official reaction to the attacks.
Iran said it launched missile attacks on US-led forces in Iraq in the early hours of Wednesday in retaliation for the US drone strike killing Iran's Quds Force commander Qassim Suleimani.
https://timesofindia.indiatimes.com/world/middle-east/iran-minister-tells-us-get-the-hell-out-of-our-region-after-attacks/articleshow/73147841.cms
------
Iran's Islamic Revolutionary Guard Corps claims responsibility for missile strikes on Iraqi bases housing US troops
JANUARY 07, 2020
Iran's Islamic Revolutionary Guard Corps has reportedly issued a statement claiming responsibility for missile strikes hitting Iraqi airbases housing U.S. troops on Friday.
What are the details?
According to a translation provided by Axios, the IRGC released a statement following the attacks, saying, "The brave soldiers of IRGC's aerospace unit have launched a successful attack with tens of ballistic missiles on Al Assad military base in the name of martyr Gen. Qasem Soleimani...We warn all allied countries of the U.S. that if attacks are launched from bases in their countries on Iran, they will be a target of military retaliation."
The IRGC was expected to retaliate after President Donald Trump ordered the airstrike that killed Soleimani last week. Soleimani, a known terrorist, was head of the IRGC's elite Quds Force.
Sen. Marco Rubio appeared to confirm late Friday that the attack on U.S. facilities in Iraq was, indeed, sent at the hands of the IRGC, tweeting, "I have been briefed on this evenings direct attack by the #IRGC which launched ballistic missiles from Iran's territory against two Iraqi bases hosting coalition forces. A full assessment is underway to determine an appropriate response."
https://www.theblaze.com/news/report-irans-islamic-revolutionary-guard-corps-claims-responsibility-for-missile-strikes-on-us-facilities-in-iraq
------
Local Islamic Leader Weighs In On Middle East Turmoil
January 8, 2020
As the Islamic Republic of Iran threatens harsh vengeance against the United States for killing Qassem Soleimani, head of the Iranian elite Quds military force and one of the most powerful figures in the country, local Islamic leader Mustafa Muhammad said that US President Donald Trump may have miscalculated the severe implications of his action.
"I don't think it was thoroughly thought through in terms of the implications," Muhammad told The Gleaner yesterday after completing prayers at his mosque on South Camp Road in Kingston.
Soleimani was killed last Friday in a US drone strike in Baghdad, Iraq. Hundreds of thousands of people have mourned him in both Iran and Iraq.
Muhammad, who is the president of the Islamic Council of Jamaica (ICOJ), said that Muslims were concerned, like ordinary members of the society, about the perceived danger of an escalation in the Middle East.
He said that some of the cultural sites that President Trump threatened to destroy if Iran attacked US interests had been established centuries ago.
"It is something that you have to be mindful of, and we pray and hope that it will not get beyond what has already happened," he added.
When asked about the Supreme Leader and Iranian cleric's response of harsh revenge against the US for the killing of Soleimani, the local Islamic leader said that Ayatollah Ali Khamenei had no other option but to declare an offensive against the American military. "He could not have gone any other route because if he had called for peace, I am almost sure that the nation would turn against him."
Muhammad said that peace could never have been an option after the assassination of such a powerful and towering figure in Iran. However, despite the bellicose rhetoric being exchanged between the US and Iran, Muhammad is of the view that it will not spill over into an all-out war.
"I strongly believe that they will come to the line and step back," he stated.
Muhammad urged both the US and Iran to "visualise the severity of a clash between them" and make a decision to refrain from engaging in armed conflict.
"To say that the Iranians will not retaliate, I would be living in a dream world, you can only pray and hope that they just talk," he noted.
The ICOJ president indicated that prayer was the greatest weapon for the Muslim community.
"If you have a problem, there is no one greater than Almighty God to take your problems to," he said.
And Muhammad has argued that the action of Trump has united the people of the Iranian state, who, before Soleimani's killing, had carried out widespread protests against the government.
edmond.campbell@gleanerjm.com
http://jamaica-gleaner.com/article/news/20200108/local-islamic-leader-weighs-middle-east-turmoil
------
Ukrainian airplane crashes near Tehran's Imam Khomeini Int'l Airport
Tehran (ISNA) – A Ukrainian passenger plane carrying 176 passengers and crew has crashed a few minutes after taking off from Tehran's Imam Khomeini International Airport.
The Boeing 737-800 operated by Ukrainian International Airlines took off from Imam Khomeini international airport at 6.12am Tehran time and went down about six minutes later.
Spokesman for Imam Khomeini International Airport, Ali Kashani said that the plane bound for Kiev and carrying 167 passengers and 9 crew crashed around Parand, about 60 kilometres south-west of Tehran.
According to the reports, technical problems caused the accident.
"An investigation team was at the site of the crash," Iran's civil aviation spokesman, Reza Jafarzadeh told the Associated Press.
"After taking off from Imam Khomeini international airport it crashed between Parand and Shahriar," Jafarzadeh said. "An investigation team from the national aviation department was dispatched to the location after the news was announced and rescuers are trying to collect the dead".
Most of the passengers were Iranian nationals but there were also foreign nationals on board.
Flight data from the airport showed a Ukrainian 737-800 flown by Ukraine International Airlines took off Wednesday morning, then stopped sending data almost immediately afterward, according to website FlightRadar24. The plane burning in the sky before crashing in a huge explosion.
Ukraine's president, Volodymyr Zelensky offered condolences to the families of the victims and said his government was working to understand the causes of the crash.
https://en.isna.ir/news/98101813884/Ukrainian-airplane-crashes-near-Tehran-s-Imam-Khomeini-Int-l
------
What Iran's missile attack on U.S. forces in Iraq may say about the Islamic Republic's ballistic capability
Jan 8, 2020
Iran fired at least a dozen missiles early Wednesday, local time, at U.S. military bases in Iraq, in an apparent retaliation against the killing of Iranian Maj. Gen. Qassem Soleimani, a top general who led Iran's Islamic Revolutionary Guard Corps.
The Wall Street Journal reported that two military bases, one at Erbil in northern Iraq and another at Al Asad in western Iraq, were struck, but according to early reports, there have been no casualties indicated yet.
The rapid-fire missile attack may mark the first time that the Islamic Republic has directly struck U.S. military or other state targets and acknowledged doing so, according to the Los Angeles Times.
Iranian Foreign Minister Javad Zarif via Twitter had this to say: "Iran took & concluded proportionate measures in self-defense under Article 51 of U.N. Charter targeting base from which cowardly armed attack against our citizens & senior officials were launched."
"This would be the first time since Iran-Iraq War that Tehran has directly launched missiles against a state, rather than at non-state or sub-state entities," wrote Michael Elleman, a senior fellow of nonproliferation and nuclear policy at the International Institute for Strategic Studies, London-based think tank in a Tuesday tweet.
"We do not seek escalation or war, but will defend ourselves against any aggression," Zarif wrote.
It's unclear if the statement will, indeed, conclude rising tensions between Tehran and Washington, as the Pentagon said that damage was still being assessed at the bases. However, military experts said that, if nothing else, the attack may reveal improvements in Iran's ballistic-missile systems.
A Washington Post article described improvements in Iranian ballistic prowess as making a "quantum change," citing precise mid-September attacks by apparent Iranian forces on Saudi Arabian oil facilities as one key sign of its advancements.
"What we've seen in Iran in the past few years is a change from missiles that were mainly political or psychological tools to actual battlefield weapons. This is a quantum change," the Post quoted Fabian Hinz, who works at the Middlebury Institute of International Studies in Monte­rey, Calif, as saying.
Back in the 1980s, Iran's most sophisticated ballistic weaponry consisted of versions of Cold War-era Scud missiles developed by the former Soviet Union, which offered a limited range and low accuracy. It also has used ballistic technologies from China and North Korea, according to reports.
Iran currently has what is described as one of the largest arsenals of ballistic missiles in the world, which can strike targets up to 1,250 miles away, but haven't always been on target. U.S.-led sanctions also have hampered its efforts.
That may have changed.
According to Reuters, Iran has produced highly accurate short-range missiles which it hasn't publicized, quoting Iranian Deputy Defence Minister General Qassem Taqizadeh.
The distance between Tehran and the military bases struck on Wednesday is about 1,000 miles. The challenge for Iran is that other countries have ballistic missiles that could inflict a heavy toll on the Islamic Republic.
Here are some of the ballistic missiles, defined as a means to rapidly and accurately deliver a lethal payload to a target, that Iran can use via Missile Defense Advocacy Alliance:
MDAA says lethal payloads attached to the missiles can include "conventional explosives, biological, chemical or nuclear warheads."
Iran see its missile force as "an integral and indispensable part of their national defense strategy, fulfilling key strike roles traditionally taken by manned aircraft, but beyond the capabilities of an Iranian air force hobbled by many years of sanctions," according to a research report by the Brookings Institution written by Robert Einhorn and Vann H. Van Diepen in March.
Check out the graphic of some of the missiles via the Brookings Institution below:
In the U.S., President Donald Trump offered a uniquely placid response to the attacks via Twitter: "All is well! Missiles launched from Iran at two military bases located in Iraq. Assessment of casualties & damages taking place now. So far, so good! We have the most powerful and well equipped military anywhere in the world, by far! I will be making a statement tomorrow morning."
The president is expected to host a news conference in the morning to discuss the missile strike and the U.S.'s next move.
However, financial markets may remain on edge, with futures for the Dow Jones Industrial YMH20, -0.68% DJIA, -0.42% the S&P 500 index ESH20, -0.36% SPX, -0.28% and the Nasdaq-100 NQH20, -0.51% COMP, -0.03% all trading firmly lower on Tuesday in after-hours trade. Meanwhile, gold GC00, +1.40% was headed deeper toward its highest level since 2013 at $1,593.60 an ounce in electronic trade.
https://www.marketwatch.com/story/what-irans-missile-attack-on-us-forces-in-iraq-may-say-about-the-islamic-republics-ballistic-capability-2020-01-07?mod=home-page
------
Six Muslim worshipers arrested for disturbances on the Temple Mount
By IDAN ZONSHINE
JANUARY 8, 2020
A small number of Muslim worshipers caused disturbances in Jerusalem on the Temple Mount on Tuesday evening.
A spokesperson for the Israeli Police said in a statement that "police patrolling the area responded by dispersing those that were involved in the disturbances and arrested six suspects at the scene.
"Police will continue to maintain the status quo on the temple mount and prevent incidents or disturbances from taking place," the spokesperson added.
Last month, tensions at the Temple Mount began to rise as Jewish activists began praying at the Temple Mount with what appeared to be a silent, tacit consent by the police, in a departure from the decades-old policy forbidding the practice.
A senior Wakf Department official said he was unaware of any change in the status quo on the Temple Mount, but warned that any change would lead to renewed protests and spark a strong response from Arabs and Muslims.
https://www.jpost.com/Arab-Israeli-Conflict/Six-Muslim-worshipers-arrested-for-disturbances-on-the-Temple-Mount-613488
------
Kurds free dozens of Islamic State-linked Syrians after assurances from tribal leaders
QAMISHLI, SYRIA – Syria's Kurds have released 30 Syrians suspected of affiliation to the Islamic State group after guarantees from tribal leaders, a spokesman said Tuesday, adding more should be freed soon.
The Kurdish-led Syrian Democratic Forces (SDF) hold thousands of suspected IS fighters after years of leading the U.S.-backed fight in the country against the jihadi group.
The suspects are mostly Syrian and Iraqi — Iraq was the other key crucible of the conflict with IS — but they also include hundreds of foreigners.
A spokesman for the Kurdish authorities in northeastern Syria said tribal leaders had requested that 300 Syrian detainees be freed, and that 30 were approved and released on Sunday.
"Those being released have no blood on their hands and have not been proven guilty of any crime," the Kurdish region's foreign affairs spokesman Kamal Akef told AFP.
They might have joined the extremist group to earn a living or because they were forced to, he said.
They "are being released with guarantees from the tribal leaders," the official added, without specifying what guarantees are involved.
"In the coming days, some more will be released in waves" to return to the provinces of Deir Ezzor and Raqqa in the east and north of Syria, he said.
Backed by airstrikes by a U.S.-led coalition, the SDF in March last year expelled IS from their last patch of territory in eastern Syria.
Earlier that month, nearly 300 Syrian men were freed after tribal chiefs lobbied for their release, including in Raqqa, the Kurdish authorities said.
At the time, the Syrian Observatory for Human Rights, a Britain-based war monitor, said it was not the first release of IS-linked prisoners, but the number was particularly large.
The Kurds have also said they were releasing hundreds of suspected IS-linked women and children from overcrowded camps for the displaced.
https://www.japantimes.co.jp/news/2020/01/08/world/kurds-free-dozens-islamic-state-linked-syrians-assurances-tribal-leaders/#.XhV5tVUzbIU
------
Putin visits Turkey to talk Libya, Syria and gas
Jan 8, 2020
ISTANBUL: Turkish President Recep Tayyip Erdogan will host Russian counterpart Vladimir Putin on Wednesday to inaugurate a new gas pipeline, with tensions in Libya and Syria also on the agenda.
Putin arrived late on Tuesday after paying a surprise visit to Syria -- his first to Damascus since the war began -- at a moment of acute uncertainty in the Middle East following the assassination of top Iranian general Qassim Soleimani by the United States.
Russia's leader will seek to boost his credentials as a regional powerbroker at the symbolic opening of the TurkStream pipeline, which brings Russian gas to Turkey and southern Europe via the Black Sea.
TurkStream and the Nord Stream pipelines under the Baltic allow Russia to increase gas supplies to Europe without having to rely on Ukraine.
But Moscow's increasing domination of European energy markets has worried the US, which last month sanctioned firms working on TurkStream and the almost completed Nord Stream 2.
The ceremony in Istanbul, due to start at 1200 GMT, reflects a dramatic improvement in ties between Russia and Turkey -- two countries seemingly on the verge of war less than five years ago after Turkey shot down a Russian jet.
They remain on opposing sides in the Syria conflict and could be on a collision course in Libya.
Last week, Turkey sent its first troops to help defend the UN-backed Tripoli government, which is under siege from strongman Khalifa Haftar.
Erdogan says 2,500 Russian mercenaries are among those supporting Haftar -- claims denied by Moscow.
But Russia so far seems unfazed by the Turkish deployment in Libya, said Mariana Belenkaia, of the Carnegie Centre in Moscow.
"The two countries will likely be tempted to share the Libyan burden," she said.
Syria remains a potential powder-keg for Erdogan and Putin's relationship.
Syrian government forces -- backed by Russia -- have ramped up bombardment of the last rebel strongholds in Idlib province in recent weeks, sending hundreds of thousands fleeing towards the Turkish border.
Erdogan has called for a truce in Idlib, following previous temporary halts to the fighting brokered with Russia in late 2018 and updated in August last year.
"Russia's demands are very simple," said Yury Barmin, of the Moscow Policy Group think tank, "Turkey must do more to eliminate terrorist cells in Idlib. The discussions will be around this idea." Improved ties between the two countries have been facilitated by a number of major energy and defence deals -- Russia is building Turkey's first nuclear plant and provided a missile defence system. Putin also earned goodwill in Turkey after his quick support for Erdogan following an attempted coup in July 2016.
The two men have developed a "strong personal relationship", according to Jana Jabbour of Sciences Po university in Paris, who adds that "their economic and energy plans are interdependent".
The TurkStream project, which was temporarily halted during a frosty patch in Russia-Turkey relations, includes two parallel pipelines of more than 900 kilometres (550 miles).
The pipeline links Anapa in Russia to Kiyikoy in northwestern Turkey and has already begun deliveries to Bulgaria. It is being extended towards Serbia, Hungary and Austria.
https://timesofindia.indiatimes.com/world/europe/putin-visits-turkey-to-talk-libya-syria-and-gas/articleshow/73149629.cms
------
Iraq's outgoing prime minister says US troops must leave
Jan 8, 2020
BAGHDAD: Iraq's outgoing prime minister said Tuesday that the United States has no alternative and must pull its troops out of the country, or else face an impending crisis, as the remains of a senior Iraqi militia commander killed in a US drone strike was brought to Iraq from Iran for burial.
Adel Abdul-Mahdi, who resigned in November amid mass anti-government protests, said Iraq wants US troops withdrawal to avoid further escalation as tensions soar between American and Iran.
His comments came just days after the US airstrike killed Iran's top general, shortly after he arrived at Baghdad's international airport. Abu Mahdi al-Muhandis, senior Iraqi commander of an Iran-backed militia, was also killed in Friday's strike. His remains were brought back to Iraq from Iran to be buried in the holy southern city of Najaf.
Thousands of mourners followed the procession from the border, chanting "America is the great Satan." "We have no exit but this, otherwise we are speeding toward confrontation," Abdul-Mahdi said in a prerecorded televised speech following a weekly cabinet meeting.
He said the "historic decision" was necessary, "otherwise we will not be taken seriously."
US troops are present in Iraq based on a request by the government in 2014, when vast swathes of the country were being overrun by the Islamic State group. But now that IS has been largely defeated, Abdul-Mahdi said, the mission has devolved into a US-Iran proxy war.
Iraq was barely starting to recover from the devastating four-year war against IS when mass protests erupted in October against the country's ruling elite, forcing Abdul-Mahdi to resign two months later. He hasn't been replaced.
Referring to the fight against Islamic State extremists, he said: "Iraq did its part to fight in the war, and I see that any harm to Iraq will be harmful to all regional states and the whole world."
Iraq's parliament passed a non-binding resolution to request that the government expel foreign troops from the country on Sunday, in the wake of the US airstrike. The vote was pushed by pro-Iran political factions but appeared to have the support of Shiite lawmakers from rival camps.
The session was boycotted by Kurdish and many Sunni lawmakers who opposed the decision or took issue with elements of the resolution.
Though the death of Soleimani is stoking broader regional tensions and fears of more violence, in Iraq, the killing of al-Muhandis drove a wedge between Iraq and the US.
Officials in Baghdad consider the strike to be a violation of Iraqi sovereignty, as al-Muhandis, who was also the deputy head of the Popular Mobilization Forces, was assassinated on Iraqi soil without their approval or knowledge.
The PMF is an umbrella group of mostly Shiite militias and a component of Iraq's armed forces.
"Politically in Parliament, there is cross-bloc support (to oust US troops)," said Sajad Jiyad, managing director of Bayan Center, an Iraqi think tank.
"Even people nominally pro-US, anti-Iran or neutral are not happy with what the US has done, and believe its a dangerous escalation." "The common denominator is this was an infringement on sovereignty," he said.
Al-Muhandis' remains had been taken to Iran for DNA testing. They were sent back through the Shalamsheh border crossing to his hometown of Basra in southern Iraq before being transferred to the holy city of Najaf for burial late Tuesday.
Thousands of mourners in Basra's city center gathered to receive the body. Many waved banners of the Kataeb Hezbollah, or Hezbollah Brigades, that al-Muhandis founded. The US has blamed the group, which is separate from the Lebanese Hezbollah movement, for a rocket attack in northern Iraq in late December that killed a US contractor. That prompted the airstrike last week.
Amid threats of vengeance from Iran, the US-led military coalition in Iraq had said it was putting the battle against IS militants on hold to focus on protecting its own troops and bases.
A letter leaked to social media from the commander of the US task force to Iraqi military authorities has also caused confusion among officials over the US intentions to withdraw militarily.
A letter from Brig. Gen. William H. Seely III to his Iraqi counterpart dated Monday had said the US-led coalition would be "repositioning forces over the course of the coming days and weeks to prepare for onward movement." Many media outlets initially reported that was formal notice that the US was withdrawing forces on Iraqi soil.
US defense secretary Mark Esper later clarified to reporters that there was no plans for American troops to leave Iraq. Gen. Mark Milley, chairman of the Joint Chiefs of Staff, said the letter had been "an honest mistake." Abdul-Mahdi responded that Iraqi authorities had thought the letter was legitimate when it was received, and were blindsided when US officials said it was sent in error.
"After four to five hours it was said that the letter was wrong," Abdul-Mahdi said. "The letter clearly indicates a withdrawal." "So in the future, what should we do if we get such a request? We should check if it is authentic or not? If we are late, then they will tell us that we are late," he said.
The prime minister's office had immediately sent the letter to the Iraq foreign minister and Iraq's ambassador in Washington and other parties, Abdul-Mahdi said. An initial Arabic translation of the letter had contradicted the English version, he added, and another copy was then resent.
"We have to hold discussions in order to reach the best ways for a withdrawal," he said.
https://timesofindia.indiatimes.com/world/middle-east/iraqs-outgoing-prime-minister-says-us-troops-must-leave/articleshow/73148269.cms
------
Africa
NSE expands scope of Islamic equity index
January 8, 2020
The Nigerian Stock Exchange (NSE) has expanded the scope of the Exchange's Islamic equity index to include all eligible listed stocks in a deft move to enhance the status of the index.
Chairman, Index Governance Committee, Nigerian Stock Exchange (NSE), Mr Abimbola Babalola, said the Exchange has updated the index rules for its NSE Lotus Islamic Index (NSE LII) to make the premier Islamic ethical index to be more representative of the investible universe of Shari'ah compliant stocks as the market expands.
According to him, the Exchange decided to remove the limit on the number of constituents stocks in the NSE LII, starting from January 1, 2020.
The NSE LII consists of companies whose business practices are in conformity with the principles of Shari'ah with the aim of increasing the breadth of the market and creating an important benchmark for investments as the alternative non-interest investment space widened.
The NSE LII like most indices at the Exchange is a price index, which was developed using the market capitalization methodology. The NSE rebalances its indices on a biannual basis -on the first business day in January and in July.
The NSE Lotus Islamic Index (NSE LII) previously consisted of 15 Shari'ah compliant equities which have met the eligibility requirements of a renowned Shari'ah Advisory Board.
The previous constituent stocks included Cadbury Nigeria, Cement Company of Northern Nigeria, Dangote Sugar Refinery, Forte Oil, 11 Plc, Nascon Allied Industries, Unilever Nigeria, MTN Nigeria Communications, Dangote Cement, Jaiz Bank, Nigerian Aviation Handling Company, Nestle Nigeria, Okomu Oil Palm and PZ Cussons Nigeria Plc.
The NSE had in July 2012 launched the NSE Lotus Islamic index (NSE LII) in collaboration with Lotus Capital Limited.
While launching the index, chief executive officer, Nigerian Stock Exchange (NSE), Mr. Oscar Onyema, had described the introduction of NSE LII as a milestone in the rebirth, growth and transformation of the Nigerian capital market.
According to him, with the launch of NSE LII, the NSE has increased the variety of its indices, giving opportunities to investors with varied investment appetite and interests that track the market's indices.
"The NSE Lotus Islamic Index (NSE LII) consists of companies whose business practices are in conformity with the principles of Shari'ah and we believe that it will increase the breadth of the market and create an important benchmark for investments as the alternative non-interest investment space widens.
We are positive that this bold step will bring on board various ethical investors who were previously not sure about the suitability of investing in stocks, to embrace the market –this directly makes our market more accessible and more inclusive," Onyema said.
He outlined that there are several ways investors in the market would benefit from the NSE LII including by the index serving as an important diversification tool for ethically minded investors and portfolio managers both locally and from around the world, who seek to profitably invest in emerging African equities market, serving as a general benchmark for 'ethical' funds and also serving as a basis for creating Mirror Funds, Index Funds, Exchange Traded Funds, Index options and other instruments, which would broaden the range of financial instruments being traded on the NSE.
Chief Executive Officer, Lotus Capital Limited, Mrs Hajara Adeola, had noted that many ethical investors were not sure whether they can invest in the stock market but the introduction of Shari'ah index would be a crucial step to make the market more accessible and inclusive.
"Whilst there are some industries, such as alcohol, "interest based" financial services, to name a few, that are clearly prohibited, there are several companies that are suitable for investment by an ethically minded investor," Adeola said.
According to her, with the advent of the NSE Lotus Islamic Index, more ethically minded investors will be able to easily and safely participate as the NSE Lotus Islamic Index eliminates the research costs, and compliance concerns, an ethical investor was hitherto burdened with when creating an Islamic investment portfolio.
https://thenationonlineng.net/nse-expands-scope-of-islamic-equity-index/
------
Angola: Islamic Community Denies Persecution By Angolan State
Dundo — The Islamic Community based in the eastern Lunda Norte province considered Sunday false the reports that the Angolan State has been persecuting its religious confession.
The statement came from provincial secretary of the Community in Lunda Norte, António Khamisy, when reacting to the statements made by the Justice and Human Rights Delegate, Baptista Miguel.
Baptista Miguel was speaking to the press on reports released by some foreign media outlets and relayed by social media alleging persecution against the Islamic Community in Lunda Norte by the Angolan State.
The official described such information as slanderous and unfounded, stressing that the Community has not been holding worship since November 2018, after the mosques were closed under the "Operation Rescue".
In Lunda Norte, 70 churches were closed down, including mosques, due to their failure to abide by the law - did not held service in inadequate places.
Baptista Miguel, who is also coordinator of "Operation Rescue" in Lunda Norte, said the information reported by foreign press are intended to "damage the image of Angola abroad", explaining that the intention of the Government is to restore the State authority and not to prevent the people from professing their faith.
The official declared that the Right to Worship and Religious Freedom are guaranteed and the Angolan State assures and protects the religious institutions engaged in the activity accordingly with the Law.
In addition to recover the authority of the State, the operation rescue is also intended to retrieve the values of education, order, citizenship, respect for the public good and the neighbour.
https://allafrica.com/stories/202001070593.html
------
US vs Iran: Nigeria's Islamic Supreme Council reacts, issues warning
January 7, 2020
By Seun Opejobi
The Nigerian Supreme Council for Islamic Affairs (NSCIA) on Monday appealed to Muslim youths in the country to exercise restraint over the death of top Iranian military commander, Qassem Soleimani, in Iraq.
In a statement issued in Abuja by Head of Media of the council, Ibrahim Aselemi, the body appealed to the youth not to allow their emotions becloud their judgment but to ensure peace at all times, NAN reports.
NSCIA said the issue between the U.S. and Iran can only be resolved through diplomatic dialogue.
"The attention of NSCIA has been drawn to a planned peaceful protest by some Muslim youths in the country to vent their anger over the killing of Iranian top military commander, Gen. Qasem Soleimani in Iraq.
"Although protests are an integral part of civil democracy all over the world, NSCIA believes that the timing is wrong," the council said.
A US-backed airstrike had killed Soleimani, who is the Revolutionary Guard General and head of the elite Quds Force, at Baghdad International Airport.
Soleimani's killing had sparked rumors of a third world war likely to start between the US and Iran.
DAILY POST also reported that Trump had disclosed that Soleimani was plotting to kill lots of American citizens but was caught in the process.
Also, Iran had threatened to attack the US White House, following warning of retaliation by Trump.
The threat was issued by Iranian MP, Abolfazl Abutorabi during an open session of parliament in Tehran, Iran, the country's Labour News Agency reports
https://dailypost.ng/2020/01/07/us-vs-iran-nigerias-islamic-supreme-council-reacts-issues-warning/
------
India
Fear Haunts Muslims at the Center of India's Violent Protests
Shruti Srivastava and Upmanyu Trivedi
(Bloomberg) -- Ever since his brother was shot dead last month during protests in northern India, Mohammad Imran has lived in fear of getting snatched up by the police.
Along with other residents in Meerut, a town of 1.5 million people in the country's most-populous state of Uttar Pradesh, Imran said nightly raids have become routine following a Dec. 20 protest that turned violent. Five people were killed that day, one of the deadliest incidents so far in nationwide demonstrations against a new religion-based citizenship law.
"We have to stay awake because we are afraid the police might come to pick us up," Imran said on Dec. 29 as he sat by a fire in a narrow lane near the mosque where the violence took place. "We Muslims feel cornered. There is an atmosphere of fear."
Uttar Pradesh -- a state with more people than Russia in which Muslims make up almost a fifth of the population -- has seen some of the most intense clashes over the law. Passed on Dec. 11 in a parliament controlled by Prime Minister Narendra Modi's ruling party, it gives preference to undocumented migrants of all faiths except Islam from neighboring Afghanistan, Pakistan and Bangladesh to seek Indian citizenship.
Demonstrations by the law's opponents, who say it erodes India's secular foundations, continued this week across India. Protests in major cities like the financial capital of Mumbai intensified after masked assailants stormed a New Delhi university Sunday night in a violent attack on students and academics. More demonstrations are planned.
So far the protests have had a limited impact on Indian stocks: Equity investors have been more worried about a U.S.-Iran conflict leading to a spike in oil prices, the country's biggest import. But prolonged demonstrations risk distracting the government at a time when the economy is expanding at the weakest pace since 2013, and threaten to inflame long-simmering religious tensions.
'Toxicity of Hate'
"A protest of this nature is going to further polarize a deeply diverse society on religious lines," said Niranjan Sahoo, a senior fellow at the New Delhi-based Observer Research Foundation who has written books on political polarization. "The toxicity of hate and distrust are sharply visible."
Interviews with more than two dozen people in Lucknow, the state capital, and Meerut, some 88 kilometers (54 miles) away from New Delhi, found many Muslims in Uttar Pradesh -- a state controlled by Modi's ruling Bharatiya Janata Party -- were on edge. Of the 26 people killed nationally in protests so far, 19 have been in the state. More than 1,000 people have also been arrested in Uttar Pradesh, according to police, more than anywhere else in India.
Mohammed Wakeel -- the sole bread earner of the family -- died on Dec. 19 when he left his house to go to a pharmacy in Lucknow. "He got caught in the chaos and was shot in the abdomen," his weeping father Mohammed Sarfuddin said from the family's rented house in the old city, noting his 28-year-old son had not been part of the protests. "My wife has not spoken ever since my son died."
The events on Dec. 20 in Meerut, meanwhile, remain disputed. Local residents say police shot and killed the five protesters, including Imran's brother. "Why would protesters fire at each other even if they had guns and were firing," said Salim Siddiqui, a local activist who lives in Meerut near the site of the protests.
But the authorities have a different view. Imran's brother and the others died from weapons fired by the protesters, according to Akhilesh N. Singh, additional superintendent of police in Meerut. Officers have arrested 38 people in the city since the protests on Dec. 20, he said, while adding that Muslims and other residents don't need to be afraid.
"Police are only interested in arresting the accused," Singh said. "People should be fearless."
Extracting 'Revenge'
The violence in Meerut occurred one day after the state's leader, Hindu monk and a senior member of the ruling party Yogi Adityanath, declared his government would extract "revenge" from those found guilty of damaging public property. His office blamed "criminal and political forces" for the unrest, adding that 250 police officers were injured across the state -- including 62 wounded by bullets fired by protesters. P.V. Rama Shastri, a top police official in Uttar Pradesh, said police only fired weapons in self defense in one district.
"The government took the steps it considered best under the given circumstances," said Mrityunjay Kumar, media adviser to Adityanath, when asked about the violence. He added the Uttar Pradesh government was investigating allegations of police brutality and "will take action if we find that police were misusing their power."
Across the state, police have put up posters of "wanted rioters" using photographs of people wearing Islamic skull caps and some covering their faces with masks. Near one of the posters in Meerut, a snack shop owner who identified himself as a Hindu hailed police for shooting at the protesters, saying they deserved it.
Many people interviewed said they haven't left their homes since the violence erupted. The Muslim neighborhoods most affected are comprised of masons, laborers, shoemakers, and embroiders who earn around 200 rupees (about $3) a day.
'Open War'
"Businessmen don't want to work with us right now," said Mohammad Rasul, who does embroidery work from his house in Hussainabad in Lucknow. Paid on a daily basis, he said customers aren't willing to interact with people residing in his area for fear of getting caught in the controversy.
Harsh Mander, a human rights activist and former bureaucrat who visited the site of the unrest in Uttar Pradesh on a fact-finding mission, said police used excessive force.
"The state is at open war with a segment of its citizens," Mander told a news conference in New Delhi on Dec. 26, citing interviews with victims and his team's assessment from the scenes of the worst violence.
In Meerut, Imran is now worried about supporting his brother's wife and two children on his meager income dealing in household junk. He also doesn't believe police reassurances that the community shouldn't be afraid, pointing to a video circulating in his neighborhood of the Meerut police additional superintendent Singh telling Muslim protesters to go to Pakistan.
"They are abusing a community," Imran said. "What are we supposed to make of this?"
--With assistance from Bibhudatta Pradhan and Vrishti Beniwal.
To contact the reporters on this story: Shruti Srivastava in New Delhi at ssrivastav74@bloomberg.net;Upmanyu Trivedi in New Delhi at utrivedi2@bloomberg.net
To contact the editors responsible for this story: Ruth Pollard at rpollard2@bloomberg.net, Muneeza Naqvi, Daniel Ten Kate
https://www.bnnbloomberg.ca/fear-haunts-muslims-at-the-center-of-india-s-violent-protests-1.1370464
------
Mumbai's Shia groups mourn Qassem Suleimani
Jan 8, 2020
MUMBAI: Several Shia groups in the city held condolence meetings for Iranian General Qassem Suleimani who was killed in a US airstrike in Baghdad last week.
The meetings, which were held at Shia mosques including the Masjid-e-Iranian at Dongri, saw mourners grieve the killing of the "brave" Suleimani, and express outrage at the US, and especially at President Donald Trump.
https://timesofindia.indiatimes.com/city/mumbai/mumbais-shia-groups-mourn-qassem-suleimani/articleshow/73151133.cms
------
Centre moves SC seeking transfer of pleas challenging CAA pending in different HCs to top court
Jan 8, 2020
NEW DELHI: The Centre on Wednesday moved the Supreme Court seeking transfer of petitions challenging constitutional validity of the Citizenship Amendment Act (CAA) pending before different high courts to top court.
A bench headed by Chief Justice S A Bobde said it will hear the transfer petition of the Centre on January 10.
The bench also comprising justices B R Gavai and Surya Kant said, "We are of the prima facie view that high courts should hear the petitions challenging CAA and in case there is a conflict then we may look into it".
Solicitor General G Mehta, appearing for the Centre said, there will be a problem as different high courts may take conflicting views and lawyers will be moving to different states to attend the proceedings.
The top court said lawyers moving to different states for attending hearing in CAA matters is not its priority.
Mehta informed the top court that a petition will be coming before the Karnataka High Court on Thursday.
The top court said it will hear the transfer petition on Friday.
https://timesofindia.indiatimes.com/india/centre-moves-sc-seeking-transfer-of-pleas-challenging-caa-pending-in-different-hcs-to-top-court/articleshow/73150480.cms
------
Avoid airspace of Iran, Iraq & waters of Persian Gulf, Gulf of Oman: India to its airlines
Jan 8, 2020
NEW DELHI: India has "advised" its airlines to avoid overflying the airspace of Iran, Iraq and the waters of the Persian Gulf and the Gulf of Oman, after the US Federal Aviation Administration (FAA) barred its carriers from doing so following Iran's missile attacks on bases housing American troops in Iraq.
A senior official of the Directorate General of Civil Aviation (DGCA) said, "held meetings with concerned airlines to sensitise them for remaining vigilant and taking all precautions, including avoiding" those areas.
This will mean longer travel time for flights that overfly these regions. While Air India has the maximum flights through the region between India and the west, other carriers like IndiGo and SpiceJet also overfly these areas. Some flights were enroute when the FAA notice to airmen (NOTAM) to avoid Iran, Iraq and the waters of the Persian Gulf and the Gulf of Oman was issued.
Flight tracking sites show a Mumbai-London commercial flight among the enroute flights that had to divert after the FAA issued the airspace ban "due to heightened military activities and increased political tensions in the Middle East, which present an inadvertent risk to US civil aviation operations." Tehran targeted bases housing US troops in Iraq with a series of ballistic missiles in the early hours of Wednesday (local time Iraq).
Responses have been sought from airlines on which all of their flights will be impacted and the extra flying time due to the diversion to avoid those areas.
A Singapore Airlines spokesperson said: "In view of the latest developments in the region, all SIA flights in and out of Europe will not be flying over the Iranian airspace. We will continue to monitor the situation closely."
Civil aviation authorities issue these advisories or bans as precautionary move to avoid passenger jets getting inadvertently targeted in conflict zones.
https://timesofindia.indiatimes.com/business/india-business/avoid-airspace-of-iran-iraq-waters-of-persian-gulf-gulf-of-oman-india-to-its-airlines/articleshow/73149346.cms
------
Europe
Putin spends Orthodox Christmas in Damascus, visits ancient church & historic mosque (PHOTOS, VIDEOS)
7 Jan, 2020
Russian President Vladimir Putin spent his Christmas day in Damascus, a city that is closely tied to early Christianity, home to Syria's oldest Orthodox Church and a mosque that keeps the relics of John the Baptist.
Putin's plane touched down in Syria on Tuesday, to everyone's surprise, as the president was last spotted in St. Petersburg the evening before, attending the Orthodox Christmas Eve service.
His unannounced trip included not only talks about fighting terrorism with Syrian President Bashar Assad, but also visits to the city's historic religious sites. After the talks, Putin and Assad took a walk through the center of Damascus, stopping at the Umayyad Mosque, also known as the Great Mosque.
One of the largest and oldest mosques in the world hosts the head of John the Baptist, who is also venerated in Islam as Prophet Yahya. The relic was shown to the Russian leader, responded in the manner of a good guest, presenting the mosque with a 17th-century copy of the Koran.
The two leaders than headed to the oldest Orthodox church in Syria, the Mariamite Cathedral, built during the second century. It's the seat of John X, the Patriarch of Antioch and All the East, who greeted the high-ranked guests.
The Patriarch thanked Putin for sending the Russian military to assist Syria in the fight against the terrorists. Without this help, the church could've now been the headquarters of Islamic State (IS, formerly ISIS) leader Abu Bakr al-Baghdadi or some militant warlord, he said.
John X also described Syria as a tolerant place "where different religions – both Christians and Muslims – coexist peacefully and enjoy the same rights." The Russian president had a gift for him as well, an icon of the Virgin Mary painted in Russia.
After a brief buy busy stay in Damascus, Putin flew to neighboring Turkey, where he is scheduled to hold security and trade talks with President Recep Tayyip Erdogan and attend the ceremonial opening of the 'Turk Stream' gas pipeline.
https://www.rt.com/news/477670-putin-christmas-damascus-church-mosque/
------
Europeans shift troops from Iraq, warn fight against Islamic State is imperiled because of U.S. actions
By Michael Birnbaum and Rick Noack
Jan. 8, 2020
BRUSSELS — U.S. allies said Tuesday that they were reducing and repositioning troops inside Iraq amid fears that Iran will retaliate for the killing of Qasem Soleimani, one of its most senior military officials, in a U.S. airstrike.
Some European diplomats expressed fears that the shifting of troops would diminish their ability to fight the Islamic State.
The killing of Iranian military leader Qasem Soleimani: What you need to read
Here's what you need to know to understand what this moment means in U.S.-Iran relations.
What happened: President Trump ordered a drone strike near the Baghdad airport, killing Maj. Gen. Qasem Soleimani, one of Iran's top military figures and leader of its special-operations forces abroad.
Who Soleimani was: As the leader of the Revolutionary Guard Corps' elite Quds Force, Soleimani was key in training Iran's allies across the region, especially in Iraq. Soleimani's influence was imprinted on various Shiite militias that fought U.S. troops.
How we got here: Tensions had been escalating between Iran and the United States since Trump pulled out of an Obama-era nuclear deal and spiked shortly before the airstrike. On Tuesday, supporters of an Iranian-backed militia, Kataib Hezbollah, breached the gates of the U.S. Embassy in Baghdad, demanding that U.S. troops and diplomats leave the country. The militia supporters were protesting the killing of 25 fighters in U.S. airstrikes. The strikes were carried out in response to the death of a U.S. contractor in a rocket attack against a military base in Kirkuk that the United States blamed on Kataib Hezbollah.
What happens next: Soleimani's killing could be a catalyst for greater violence, experts warned. Iran vowed "severe revenge" in response, while U.S. outposts braced for retaliatory attacks and oil prices rose. The U.S. Embassy in Iraq warned U.S. citizens to leave "immediately."
Want to understand world news better? Sign up for Today's WorldView to get expert analysis on the most important global story of the day every weekday in your inbox. Have questions? Submit them here.
https://www.washingtonpost.com/world/europeans-shift-troops-from-iraq-warn-fight-against-islamic-state-is-imperiled-because-of-us-actions-on-iran/2020/01/07/e2b25a00-3157-11ea-971b-43bec3ff9860_story.html
------
Young Muslims give sweets and company to elderly of two Milton Keynes care homes
Tuesday 07 January 2020
HARRY CHEESEWRIG
The group of volunteers visited Milton Court Care Home and Kents Hill Care Home over the weekend, handing out sweets to both residents and staff.
The visit formed part of the AMYA's wider community and humanitarian activities which it carries out all year round and across the country.
Local youth leader Saeed Nazir says:"Our desire to visit care homes is derived from our faith, which teaches us to respect and care for the elderly.
"Islam emphasises kindness towards those in need and we wish to instil this within our youth through practicing our teachings.
"To serve mankind is part of our faith and we always try our very hardest to undertake community projects, particularly in our local areas.''
''It is a matter of great pride that young British Muslims, under the banner of AMYA, have been serving the good people of Milton Keynes, as well as other areas across the country, for decades''
https://www.miltonkeynes.co.uk/news/people/young-muslims-give-sweets-and-company-to-elderly-of-two-milton-keynes-care-homes-1-9194088
------
European Islamists' Not-So-Happy Holidays Terrorism Plots
Robin Simcox
January 07, 2020
We are just one week into 2020, and already Europe has suffered its first Islamist terrorist attack of the year.
On Friday, a 22-year-old French citizen named in the press as "Nathan C." began stabbing joggers in a park in Paris.
One man died while trying to protect his wife, who was also seriously injured. Another innocent victim was wounded. The attacker fled, but was eventually fatally shot by French police.
At first, the media ascribed the attack to mental health issues. Yet France's anti-terrorism prosecution office has now stated that "[w]hile the troubling psychiatric problems of the individual have indeed been confirmed, the investigations … have allowed us to establish a definite radicalization of the suspect, as well as evidence of planning and preparation carried out before the act."
The attack came in the wake of a series of seeming near misses in Europe over the Christmas season.
On Dec. 11, Danish authorities announced that they had detained about 20 people across the country who were "driven by a militant, Islamist motive." Six of the suspects remain in custody, with at least five of them suspected of having tried to acquire firearms or explosives.
The alleged target was unclear, with a Copenhagen court hearing that the acquisition of firearms was intended "to be used in connection with one or several terror attacks in Denmark or abroad."
Five days later, on Dec. 16, reports emerged that Austrian police rolled up what they believed to be a terrorist plot by three Chechens, possibly targeting a Christmas market in Vienna.
The choice of target would certainly be no shock. A plot targeting a Christmas market in Strasbourg, France, was foiled in 2000.
Another failed in November 2016, when a 12-year-old boy planted a nail bomb that failed to detonate at a Christmas market in Ludwigshafen, Germany. Days later, the Islamic State, also known as ISIS, guided a Tunisian terrorist, Anis Amri, to take a truck and attack a Christmas market in Berlin. Amri killed 12 and injured 48.
Then, in December 2018, Cherif Chekatt killed three and injured 13 at another Christmas market in Strasbourg.
What makes the Vienna case a little more unusual is that the suspected ringleader of the plot was already in prison. A "frustrated traveler," he had tried and failed to get to Syria in October 2015 and again in the spring of 2017. Despite his incarceration, he remained in contact with his alleged accomplices in the plot via cellphone.
Finally, on Dec. 30, British police arrested five men—two in London, two in Peterborough, and one in Manchester—suspecting their involvement in perpetrating an Islamism-inspired plot.
Details remain sketchy, but police did confirm the arrests were not connected to the terrorist attack that occurred in the area of the London Bridge in November, nor connected to festivities planned for New Year's Eve.
Thankfully, most of these alleged plots were disrupted. Furthermore, while there is inevitably a degree of ideological inspiration, ISIS does not seem to have directly planned any of these attacks or alleged plots.
That's good news, and an ongoing consequence of the anti-ISIS coalition's attempts to break ISIS' caliphate and kill or capture its senior leaders.
However, the events in Europe of the past month do show that the drumbeat of Islamist activity across the Continent—while not at the level of cacophony of the period of late 2015 to the fall of 2017—does persist.
https://www.dailysignal.com/2020/01/07/european-islamists-not-so-happy-holidays-terrorism-plots/
------
Five Years After Act of Heroism During Kosher Market Attack, French TV Pays Tribute to Muslim Rescuer Lassana Bathily
JANUARY 7, 2020
Five years after an Islamist terrorist murdered four Jews at a kosher supermarket in Paris during a week that also witnessed a bloodbath at the offices of French satirical magazine Charlie Hebdo, French television has broadcast a documentary about the Malian immigrant worker who helped other shoppers in the store escape to safety.
"Lassana Bathily: A Hero Despite Himself" was broadcast on Tuesday night on France's Channel 2 as the country commemorated the fifth anniversary of the four shooting attacks in the Paris area from Jan. 7-9 2015, which took the lives of 17 people.
Bathily, the subject of the documentary, worked as an assistant at the Hyper Cacher market in eastern Paris that was attacked by Islamist gunman Amedy Coulibaly on Jan. 9.
Bathily, who is a Muslim, bravely ushered terrified customers into a basement storeroom, telling them to remain calm and keep silent. He then made contact with the police outside by sneaking out of the building through a fire escape. Thinking that he was an accomplice of Coulibaly, Bathily was seized by the police, who placed him in handcuffs for the next 90 minutes before he convinced them that he was trying to assist the hostages. Thanks to the information about the store's layout which Bathily provided, police were able to end the siege without further endangering the hostages.
Bathily later reflected, "We are brothers. It's not a question of Jews, of Christians or of Muslims. We're all in the same boat, we have to help each other to get out of this crisis."
In Tuesday's documentary, Bathily reflected on the fact that both he and Coulibaly were of Malian origin.
"I came to France at the age of 15 to join my father and go to work," Bathily said. "Between Amedy Coulibaly and me, the only difference is that he was born in France, whereas I was born in Mali. We speak the same languages, except that he benefited from a French education and me from an African education."
In one part of the film, Bathily visited his relatives in Mali.
"The fact that we were able to go with him to his village in Africa was very important, because we understood how much he had been influenced by his education," Pierre-Olivier François, one of the producers of the documentary, told broadcaster Europe 1. "He has a family and parents who gave him strong values. He says that his religion helped him make the right choices when it was necessary."
Naturalized as a French citizen eleven days after his act of heroism, Bathily presently works in the Paris City Hall's Sports Department.
https://www.algemeiner.com/2020/01/07/five-years-after-act-of-heroism-during-kosher-market-attack-french-tv-pays-tribute-to-muslim-rescuer-lassana-bathily/
------
Charity Commission 'assessing' British Islamic charity over Soleimani vigil
By JACK MENDEL
January 7, 2020
A British-Islamic charity that publicly mourned the death of Iranian General Qasem Soleimani is being scrutinised by the Charity Commission.
The watchdog told Jewish News it is "assessing information" after a video emerged of the vigil outside the Islamic Centre of England in Maida Vale, along with a 'message of condolence' on its website.
The London-based charity reportedly flew the Iranian flag at its headquarters, and funded a candlelit vigil on Saturday, at which mourners held placards featuring Soleimani and Iran's Supreme Leader, Ayatollah Khamenei.
During a short clip posted online, Islamic prayer can be heard, and according to the Mail Online, 25 minutes before the vigil took place a man was arrested to prevent a breach of the peace and for obstructing of officers.
The organisation says its aim is the "advancing the religion of Islam and education, and the provision of social and religious welfare facilities" according to the Commission's website.
This comes after Tehran vowed harsh retaliation after President Trump authorised killing of general Soleimani, as millions took to the streets across Iran to mourn him.
The message of condolence, written by a representative of Ayatollah Khamenei and director of centre, Seyed Hashem Moosavi, refers to the "martyrdom" of Soleimani.
It claims he was "consistently present on the battlefield with the devils and the diabolic powers of the world", and adds that he "fought bravely and sincerely … until his blood was shed at the hands of the most wicked members of human race".
The Charity Commission said: "We are aware of a vigil held by the Islamic Centre of England over the weekend and publications on its website."
We are currently assessing information and will be contacting the charity to seek further information."
The Islamic Centre of England has been approached for comment.
https://jewishnews.timesofisrael.com/charity-commission-assessing-british-islamic-charity-over-soleimani-vigil/
------
Invoking Islamic Tradition To Save Birds In Lebanon
TUESDAY, JAN 7, 2020
BY AZRA RAZA
Helen Sullivan in The New York Times:
Mr. Serhal grew up in Lebanon but studied wildlife management at Oklahoma State University, graduating in 1982, at the height of the Lebanese civil war. His plan was to return and establish a hunting farm in Lebanon. But he abandoned it when, while using binoculars for the first time, he watched as a bobwhite quail hen — a game bird — ushered her chicks from bush to bush. "That gave me the shock of my life," he said. His binoculars revealed a different way of viewing nature: "When you go to the field as a hunter with a gun, you don't see the bird. The minute you flush it, you shoot."
Watching the bobwhite mother protect her chicks, he thought: "I am a criminal."
In 1990, Mr. Serhal completed a stint at the Brooklyn Zoo and, with Lebanon's 15-year civil war ended, returned home. In 1996, he helped establish the Shouf Biosphere Reserve, Lebanon's first national park. But after a few years, he felt the Shouf wasn't working as well as it should. The American model, of land designated and protected by the government, had angered people in the surrounding villages, who had been free to use the area for as long as anyone could remember, to graze livestock and pick wild herbs. Mr. Serhal thought that, instead, hima might be accepted as a traditional concept; it also would include communities and municipalities in the design of the conservation areas. Hima wouldn't be just about protecting nature, Mr. Serhal said; it would be "nature plus people." When S.P.N.L. helped a community design a local hima, the group suggested additional conservation methods, like banning hunting. The first hima was established in southern Lebanon in 2004. Today there are 25; they have been given legal status by the government and cover more land than Lebanon's national parks. Five of the designated hima are also what BirdLife calls "Important Bird Areas," of which there are 15 in the country. Last year, Mr. Serhal was awarded Japan's Midori Prize for Biodiversity, among the world's most prestigious awards for conservation work.
https://www.3quarksdaily.com/3quarksdaily/2020/01/invoking-islamic-tradition-to-save-birds-in-lebanon.html
------
South Asia
Minister Safi Inaugurates Exhibition of Islamic Manuscripts
Wednesday, January 08, 2020
Kabul (BNA) Acting Minister of Information and Culture, Ms. Hasina Safi has inaugurated an exhibition in which the Islamic Manuscripts and Texts were shown, BNA reported the other day.
A ceremony also attended by Deputy Minister of Information and Culture on Cultural Affairs, Prof. Mohammad Rasul Bawari, was held to welcome preparations for the 2024 Kabul the Capital of Islamic Culture, in which Islamic manuscripts and texts have been shown, the agency added.
The acting minister thanked the exhibition which was held by the National Archive staffs and hoped peace and stability restored in the country to hold the great Islamic festival peacefully in 2024, the agency further said. Mohammad Afsar Rahbin, head of the National Archive shared information about the exhibition said up to one hundred manuscripts including those of Quranic ones, poetry literatures, interpretations and texts relating to the Islamic era have been exhibited, said the agency.
http://www.bakhtarnews.com.af/eng/culture/item/41758-minister-safi-inaugurates-exhibition-of-islamic-manuscripts.html
------
30 Taliban Militants Killed in Balkh Operations
Wednesday, January 08, 2020
Mazar-e-Sharif (BNA) The Balkh security officials reported from killing of 30 Taliban militants during air and ground operations in Koshenda, Zari , Charboldak, and Doulatabad districts of that province.
Mohammad Haneef Rezaee spokesman of Shaheen army corps told BNA, in Shahen 219 army corps operation which was launched from a week ago in the mentioned districts, 30 armed Taliban including Habibullah known Khenj top commander of Taliban in Balkh were killed and some were wounded.
Several strongholds of the Taliban in the mentioned districts were destroyed.
T. Yarzada
http://www.bakhtarnews.com.af/eng/security/item/41755-30-taliban-militants-killed-in-balkh-operations.html
------
Plan Outlining Reforms Implementation Process in Prisons Approved
Wednesday, January 08, 2020
Kabul (BNA) Chaired by Second Vice-President Mohammad Sarwar Danesh, a meeting was held to discuss prisons related issues, a statement from his office said Tuesday.
The meeting was held in line with the High Presidential Office instruction 2363 in which the Second Vice-President Mohammad Sarwar Danesh has been asked to investigate the process of reforms implementation in the prisons. The meeting was attended by many of the related organs including ministers of justice and interior, head of National Directorate for Security (NDS) and representatives of other related organs, according to the statement.
VP Danesh said despite good prisons' management and development by the ministry of interior in the past, there were some defections in supplying health services, cultural affairs, meeting justice and judiciary affairs and so on.
The key points of the plan to implement reforms in the prisons, were transferring the authority of the jails from military institution to a civilian one and merging all management and leadership of the entire institutions and sites with freedom denial under a single umbrella for well addressing them.
Meanwhile it was noted that required budgets should be allocated for the places of freedom-deprivation in the prisons, said the statement quoting the Vice-President.
Danesh also instructed the ministry of interior to provide a comprehensive analysis about whether the prisons should be managed by a military or civil organ and submit to the presidential office.
http://www.bakhtarnews.com.af/eng/politics/item/41760-plan-outlining-reforms-implementation-process-in-prisons-approved.html
------
President Ghani Assigns Team to Probe PD 11 Incident
Wednesday, January 8, 2020
Kabul (BNA) President Mohammad Ashraf Ghani in a meeting yesterday with the members of family of the deceased Abdul Satar, elders and influenced figures of Kohdaman and Parwan, Kapisa and Panjshir condoled the death of the deceased Abdul Satar. In the meeting held at Chahar Chenar Palace attended by the first deputy of the State Building electoral team, Amrullah Saleh, representing elders Haji Almas Zahid and Shafiullah, representing the family of the deceased Abdul Satar, spoke and asked for serious investigation of the incident and maintaining justice. After hearing their speeches, President Ghani by expressing sadness over the incident instructed relevant organs to appoint a team for seriously investigation of the incident and share its results with Presidential Office as soon as possible so that necessary decisions and steps were taken in this regard.
http://www.bakhtarnews.com.af/eng/politics/item/41757-president-ghani-assigns-team-to-probe-pd-11-incident.html
------
Islamic Finance's Tk 300cr bond gets nod
January 08, 2020
The stock market regulator has approved a proposal of Islamic Finance and Investment Ltd to raise Tk 300 crore by issuing Mudaraba redeemable non-convertible subordinated bonds.
Banks, corporates, insurance companies, non-bank financial institutions and any eligible investors would be allowed to buy the bond through private placement.
The bond will have a tenure of seven years and the proceeds will be used for business expansion, loan repayment and other purposes. The offer price will be Tk 25 lakh per unit.
https://www.thedailystar.net/business/news/islamic-finances-tk-300cr-bond-gets-nod-1851043
------
Armed Oppositions Killed in Six Provinces: MoD
Wednesday, January 08, 2020
Kabul (BNA) Ten armed oppositions were killed in several clearing operations of defense and security forces in six provinces of the country.
National defense ministry press office reported BNA, the defense and security forces in the last 24 hours conducting 13 offensive operations with support of air forces in Farah, Helmand, Balkh, Nimroz, Ghor and Nangarhar provinces, killed ten armed oppositions, and wounded six others.
Likewise, three other insurgents were arrested and numerous of heavy and light weapons of the insurgents have been destroyed.
T. Yarzada
http://www.bakhtarnews.com.af/eng/security/item/41753-armed-oppositions-killed-in-six-provinces-mod.html
------
On the frontline of the climate emergency, Bangladesh adapts
Sarah Marsh
Wed 8 Jan 2020
In the scorching farmlands of south-west Bangladesh, a single coconut tree stands as a barometer of climate change.
Dulal Mondal, 70, a farmer, points halfway up the tree about two feet off the ground to indicate where the waters came the last time the area flooded.
"Next time if heavy rain comes I don't think water will recede as there is no natural draining or anywhere for it to go," he says.
Mondal lives in the Jessore district of Bangladesh where increased levels of salt in the water, uneven rainfall and flooding are creating great uncertainty for a whole farming community.
Bangladesh is one of dozens of countries on the frontline of the climate emergency. Here global heating is no theoretical calamity of the future, but a very real, present danger.
By 2050, it is predicted that one in seven people in the country will be displaced by climate breakdown. The sea level is projected to rise by 50cm over this time period and Bangladesh may lose approximately 11% of its land. Deadly storms are usually a question of when, not if.
Here, the climate crisis is so palpable that the debate is not about restricting carbon emissions or preventing global warming but about how to adapt to the change and survive in times of unpredictable weather.
For example, Mondal says that where once his peers would farm mainly rice, now they have taken to fishing. They use floating cages, allowing fish to breed in a secure area. Also, if water levels rise, the cages will too, so flooding is less of an issue.
"About 20 to 30 years ago there would be a minimum of two crops per farming family but now because of waterlogging we have no more than one," he says. Each cage is owned by one home and yields about 15,000 taka (£135) in additional income for the families a year. It's also a consistent source of food, which could be vital if natural disaster hits.
"In the last two years there was not too much rain but two years ago we were flooded," Mondal says. "We worry about the future. If there is heavy rainfall the water could remain logged for a long period of time and we would have to take shelter on main road. We would stay there with our remaining belongings."
This farming evolution is just one element of a whole range of climate change adaptive practices taking root across southern Bangladesh, an area long prone to cyclones, rising sea levels and drought.
"What's important is investment in long-term development, to help people adapt to the effects that climate change is having now and help them to not only survive but thrive in their new climate reality," said Adib Hossain, the head of programmes implementation at Practical Action, one of the charities helping to make changes.
In this part of Bangladesh they have helped introduce effective fertilisers to increase crop growth as well as growing fish in cages and vegetation in sacks or beside rivers – a novel farming technique known as a "dyke garden".
The cages are made using cheap materials. Bamboo poles form an outer frame that can float and is covered in netting. They have a top cover to prevent fish jumping and escaping, or being caught by birds. With a capacity of one cubic metre, they hold up to 300 fish at a time. These cages are used for two growing seasons each year.
The fish can be fed on scraps and waste – duckweed, oil cake, kitchen waste, rice bran and snails – and in just a few months they grow to full size.
A woman standing beside Mondal goes down in a small wooden boat and pulls up the mesh cage, within which fish jump up and splutter around. She drops the net and they swim around once more. For the worried farmers in this area, the introduction of these cages has been reassuring, a constant amid a lot of inconsistency.
In the nearby district of South Atulia another innovative technique has been employed. Land here is being used for fishing, with pools of water separated by a cracked mud path and spiky vegetation. Omal Biswas, 48, has three daughters and an adopted son. He used to farm rice once a year and during the monsoon he would fish in freshwater. Now he is able to make more money with dyke gardening techniques, growing vegetables around pools of water used for fishing.
Omal has just harvested a crop, he says. They grow bottle gourd, chillis, indian spinach, red amaranth, sponge gourd, ridge gourd and tomatoes. "Before this technology was used I would yield around 20-25,000 taka a year but last year I harvested 120,000 taka through using different varieties of vegetables and growing more in the year.
"Now I can grow vegetables while fishing but I used to rotate the land. I eat the vegetables too," he adds.
He adds that the additional income helps give them a better quality of life and now he has been able to buy six cows. "The cost of living is rising and the cost of production is increasing so it is a good portion of revenue," he says.
Practical Action isn't the only charity supporting farmers. The National Agriculture Technology Program (NATP 2) by the World Bank has also helped people adopt resilient farming methods.
Farmers have deployed ancient agricultural methods such as floating beds, which involve sowing crops onto floating islands made of the fast-growing water hyacinth. Crops such as cucumbers, gourds and eggplants flourish. Beds are raised so as to lie above the reach of tidal surges. In between, trenches serve as pools to farm fish and ducks.
Others have turned to shrimp farming after land was flooded but Practical Action has helped people do this in a more effective way.
Rubina Khatun is one woman who has benefited from this. "The cyclone affected my family. I swam across flood waters with my two sons and took refuge on the road and sheltered in a shop we own for two months. Then we returned to our home," she says.
Shrimp farming is now a major source of income for her family. The technique used to farm the shrimp more effectively includes using deeper water so the temperature does not change as quickly, and adding a fertiliser made from oil cake, date juice and sugar cane among other things.
Rubina Khatun
'I am not sure what I would do without it now': Rubina Khatun farming shrimp. Photograph: Sarah Marsh
"I am not sure what I would do without it now," Khatun says. "But this type of farming is weather dependent. We need rain. If there is less rainfall salinity increases."
Despite efforts to improve the situation, Bangladesh remains at the mercy of sharp changes in weather patterns. Deep uncertainty persists for millions, even if these newfound techniques are helped to mitigate environmental impact.
"I am worried," Khatun says. "Too much or too little rain, both are problematic."
For her, however, the concept of climate change is a world away. "I can feel it in terms of rain but I am not aware of this. I have heard non-government-organisations talking about it but just as a concept. All I know is shrimp farming is a major source of income out of all the ones remaining, so it's a reassurance."
https://www.theguardian.com/world/2020/jan/08/on-the-frontline-of-the-climate-emergency-bangladesh-adapts
------
Southeast Asia
Philippines central bank approves preliminary Islamic banking regulations
07 JAN 2020
Bangko Sentral Ng Pilipinas, the central bank, has approved preliminary regulations for Islamic banks and Islamic banking units, it said in a statement on Friday (Jan 3).
The preliminary policy initiatives of the central bank came after the Islamic banking law was signed by President Duterte on August 22 and became effective on September 15.
The preliminary regulations are to jumpstart the implementation of the law, said the BSP.
They will allow the establishment of Islamic banks, either full-fledged or Islamic banking windows, to operate in the Philippines.
"Subject to the approval of the Monetary Board, conventional banks, whether domestic or foreign banks, will be allowed to open Islamic banking unit or to establish a subsidiary Islamic bank," said the central bank.
The central bank's existing licensing framework on the establishment of conventional banks and branches will be adopted, as appropriate, with supplementary requirements relevant to Islamic banking operations and Shariah compliance, it added.
Banks must establish their own Shariah advisory boards to ensure Shariah compliance for their institutions.
Philippines has been accelerating the growth of its Islamic economy sectors in the last couple of years.
The Southeast Asian country's interest in Islamic finance is primarily two-fold: to attract Shariah-sensitive foreign investments and capital from Islamic countries, as well as to provide its approximately 10 million domestic Muslim population with an Islamic banking option.
The country also hopes to increase its exports to Muslim-majority countries and has been developing its halal infrastructure to support this goal.
https://www.salaamgateway.com/story/philippines-central-bank-approves-preliminary-islamic-banking-regulations
------
Muslims should unite: Mahathir Mohamad
January 8, 2020
KUALA LUMPUR: Muslim countries should unite to protect themselves against external threats, Malaysian Prime Minister Mahathir Mohamad said on Tuesday after describing the US killing of Iranian military commander Qassem Soleimani as immoral, foreign media reported.
The world's oldest premier, who has in recent months stoked diplomatic tensions by speaking out on issues concerning the Muslim world, also said the USdrone attack on Soleimani was against international laws.
Soleimani's killing in Baghdad last Friday has sparked fears of a broader conflict in the Middle East. Mahathir, 94, said it could also lead to an escalation in "what is called terrorism". "The time is right for Muslim countries to come together," Mahathir told reporters.
"We are no longer safe now. If anybody insults or says something that somebody doesn't like, it is all right for that person from another country to send a drone and perhaps have a shot at me." About 50 people including burqa-wearing women gathered outside the Iranian embassy in the Malaysian capital, Kuala Lumpur, to shout "Down, Down USA".
Mahathir has tried to maintain good relations with Iran despite U.S. sanctions on the Middle Eastern country. An estimated 10,000 Iranians live in Malaysia. Last month, Mahathir hosted Iranian President Hassan Rouhani at a conference of Muslim leaders in Malaysia where they discussed boosting business, trading in each other's currencies and keeping up with non-Muslim countries.
https://www.thenews.com.pk/print/595439-muslims-should-unite-mahathir-mohamad
------
Malaysia's CIMB, CIMB Islamic allocate 3 bln ringgit for sustainability-linked loans
06 JAN 2020
Malaysia's CIMB Bank and CIMB Islamic Bank will allocate 3 billion ringgit ($731 million) for sustainability-linked loans.
The 3 billion ringgit will be allocated to corporate borrowers, CIMB said in a statement on Sunday (Jan 5).
Sustainability-linked loans or financing are similar to other corporate credit facilities except that their interest or profit rates are linked to selected sustainability key performance indicators. These KPIs could be linked to the United Nations' 17 Sustainability Development Goals (SDGs). Companies that achieve their sustainability KPIs benefit from favourable interest or profit rates in the form of rebates.
CIMB's sustainability-linked loans can be channeled to general corporate purposes as well as to 'green' projects, said the bank.
Incentives for CIMB's sustainability-linked loans are available from January 1 to December 31, 2024.
CIMB said its loans are a "catalyst" to urge businesses to embed sustainability considerations in their strategies.
The loans by CIMB are guided by the Sustainability Linked Loan Principles 2019 issued by the Asia Pacific Loan Market Association that advocate best market standards and practices, said the bank.
The principles set out a broad voluntary framework of characteristics based on four core components, which consist of relationship to borrower's overall sustainability strategy, target setting, reporting and review.
($1 = 4.1042 Malaysian ringgit)
https://www.salaamgateway.com/story/malaysias-cimb-cimb-islamic-allocate-3-bln-ringgit-for-sustainability-linked-loans
------
A senior industrialist had a major "anti-Muslim Indian" moment in Thailand
By Sangeeta Tanwar
January 7, 2020
Kishore V Mariwala, a former board member of Indian consumer goods giant Marico, has used his Facebook wall to express his anguish over rising anti-Muslim sentiments in India—especially how it is tarnishing the country's image abroad.
In a post dated Jan. 5, Mariwala recounted a conversation he had with a manager at a sailing company while holidaying in Phuket, Thailand.
A billionaire with a net worth of $1.7 billion, Mariwala currently sits on the board of the non-profit Marico Innovation Foundation. The chemical engineer is also the founder-board member of the Indian Institute of Human Settlements.
His experience suggests Indians are being increasingly viewed as anti-Muslim abroad, especially since protests against the Narendra Modi government's Citizenship Amendment Act (CAA) have grabbed global headlines. The law grants an easier path to Indian citizenship to persecuted religious minorities from Afghanistan, Pakistan, and Bangladesh—but pointedly excludes Muslims.
Mariwala's nephew and Marico chairman, Harsh Mariwala, too, has expressed similar concerns over the ongoing developments in India on social media.
The industrialist's tweet came in the wake of the violence at New Delhi's Jawaharlal Nehru University (JNU) late on Sunday. The students at the central university are part of a growing tribe of protesters against the Narendra Modi government's policies.
https://qz.com/india/1780974/marico-family-member-faced-anti-muslim-indian-image-in-thailand/
------
Malaysian graft buster: Voice clips prove Najib Razak cover-up
Malaysia's Anti-Corruption Commission on Wednesday released a series of audio recordings allegedly revealing former Prime Minister Najib Razak seeking help from Abu Dhabi's crown prince and colluding with a former prosecutor to conceal wrongdoings linked to a massive corruption scandal.
The voice clips marked a new blow to Najib, who has denied any misdeeds in the multimillion-dollar looting of the 1MDB state fund and is on trial for graft after losing office in elections held in May 2018.
Commission chief Latheefa Koya said the nine phone conversations, recorded between January and July 2016, revealed a "clear cover-up and criminal conspiracy" by Najib to stifle investigations, fabricate false evidence and obstruct justice in the 1MDB scandal.
The agency has verified that the clips were genuine but she declined to say how it obtained them. She said the clips will be given to police for further action.
In a July 26, 2016, conversation, Najib purportedly called Abu Dhabi's Crown Prince Mohammed bin Zayed to seek an urgent meeting to resolve an "impasse" over payment between 1MDB and Abu Dhabi's International Petroleum Investment Co.
That came just days after the US Department of Justice said at least $3.5bn had been misappropriated from the fund by people close to Najib, and filed lawsuits to seize allegedly ill-gotten assets linked to 1MDB.
Najib also allegedly asked Mohammed to forge a loan agreement to help his stepson and Hollywood producer Riza Aziz, who was named in the US lawsuit.
Najib said a loan agreement would show the 1MDB money to Riza's production firm Red Granite came from a legitimate source.
"I don't want him to be a victim when he was totally unaware of the source of money," Najib told the prince, according to the phone recordings.
Red Granite later paid US$60 million to drop the US lawsuit but Riza was charged in Malaysia last year for money-laundering.
"We can confirm their absolute authenticity. The contents are shocking; it's a cover-up and subversion of justice," Latheefa said. Najib could not be immediately reached for comment.
Najib set up 1MDB shortly after taking power in 2009 as a way to boost economic development, but it accumulated billions in debts and sparked investigations in the US and other countries.
In another recording on January 5, 2016, then-public prosecutor Dzulkifli Ahmad allegedly told Najib that the 1MDB investigation outcome was detrimental, but that he and then Attorney-General Apandi Ali could handle the matter on the legal side.
On January 26 that year, Apandi held a news conference to clear Najib of any wrongdoing. Dzulkifli was promoted to anti-graft agency chief in August 2016.
Another conversation between Rosmah and Najib revolved around plans to invite representatives from the UAE to settle a financial dispute between 1MDB and IPIC without arbitration.
Latheefa said the agency decided to make the clips public as they were of national interest. She said the release would not be prejudicial to Najib's ongoing trials.
https://www.aljazeera.com/news/2020/01/malaysian-graft-buster-voice-clips-prove-najib-razak-cover-200108031445110.html
------
Grab officially launches GrabBike pilot in Malaysia
Grab today officially launched a six-month pilot of its on-demand motorcycle service in the Klang Valley, Malaysia.
The GrabBike pilot is a part of the government's proof of concept program. Motorcycle riders often face unique problems and dangers on the road that could lead to traffic accidents. Therefore, Grab is committed to providing best practices to raise safety standards for this service, including providing drivers with safety training and practical riding assessments.
"Safety continues to be Grab's main priority. All GrabBike motorcycles are equipped with helmets for driver-partners and passengers, as well as reflective jackets for drivers. As with all Grab rides, both drivers and passengers are covered by personal accident insurance," said Grab Malaysia's country head, Sean Goh, in an official statement.
Grab users can order GrabBike within the Klang Valley, available for travel within a 10-kilometer radius from a passenger's current location. Cash booking for GrabBike rides between 9 PM to 2 AM will be disabled to ensure safety, and Grab will leverage all of its tech-driven safety features like passenger selfie verification, safety center, and driver safety toolkits, into the GrabBike system, the statement said.
The pilot has been available for trial since January 3rd. It aims to evaluate the feasibility and cultural fit of bike-hailing in the local Malaysian context. Other countries that have this service are Indonesia, Vietnam, and Thailand.
Particularly in Indonesia, motorcycle ride-hailing or known as Ojek is a very popular transportation mode as motorcycles can travel smaller roads and move swiftly through traffic. Grab's regional archival Gojek reportedly will also bring this service into Malaysia in January 2020 as it has received approval from the Malaysian Cabinet to operate its motorbike e-hailing service locally. Gojek will likely launch its pilot service in the Klang Valley too, before expanding to other areas in the country.
https://www.techinasia.com/grab-grabbike-pilot-malaysia
------
Imran to visit Malaysia soon for 'damage control exercise'
January 08, 2020
Pakistan Prime Minister Imran Khan is expected to visit Malaysia later this month in what appears to be the part of damage control effort after Islamabad's decision to stay away from the Kuala Lumpur summit last month, a media report said. The Express Tribune said in the report on Tuesday citing official sources as saying that the visit was due since last month Islamabad pulled out of the Kaula Lumpur conference at the 11th hour after Saudi Arabia and other Arab countries voiced their reservations over the gathering of leaders from host Malaysia, Turkey, Iran and Qatar.
The summit was meant to discuss problems facing the Muslim countries and suggest a way forward.
But observers saw it as an attempt by Malaysia and other like-minded countries to create a new Islamic bloc, excluding Saudi Arabia and other Gulf nations.
However, Malaysian Prime Minister Mahathir Mohamad had dismissed such reports.
The official sources said that it was believed Khan would use the visit to explain Mahathir as to why Pakistan pulled out of the summit.
Islamabad is also making efforts to reach out to Turkey.
The sources were confident that the scheduled visit of Turkish President Recep Tayab Erdogan to Pakistan next month would help remove any mistrust between the two countries.
https://www.indiatvnews.com/news/india/imran-khan-pakistan-malaysia-turkey-mahathir-mohamad-damage-control-exercise-577382
------
Arab World
OIC is the only pan Islamic body for joint work: MWL
January 7, 2020
MAKKAH — The Supreme Council of the Muslim World League (MWL) stressed the need for further strengthening the role of the Organization of Islamic Cooperation (OIC) as an umbrella body of the Islamic countries to narrow down gaps and bridge relations between the countries of the Islamic world.
"The joint work of the Islamic Ummah is possible only under the umbrella of the pan Islamic body of OIC," the council stated.
The 44th session of the council, which was held in Makkah on Tuesday, emphasized that the Islamic Ummah is looking forward to more cohesion and cooperation in this critical period. Eminent Islamic scholars, leaders, jurists, intellectuals and thinkers from 82 countries from all around the world attended the session.
The inaugural session started with the speech of the Grand Mufti and Chairman of the council Sheikh Abdul Aziz Al-Asheikh, in which he lauded the Kingdom's great efforts in taking care of the Islamic Ummah's issues and efforts to close its ranks.
The speakers of the session also included MWL Secretary General Sheikh Muhammad Al-Issa, Sheikh Abdullah Bin Bayyah, head of the UAE Fatwa Council, and Africa Scholars Forum President Sheikh Muhammad Al Nahwi.
The MWL council voiced its support to the Makkah Charter, adopted by the Historic Islamic Unity Summit convened by MWL in Makkah last year, and affirmed the need to hold fast to principles of unity and fraternity, and be wary of dangers of disunity and discord.
The council condemned the interference of some countries in the internal affairs of some Arab countries or occupation of any part of their territories under any pretext. It also denounced the Turkish interference in Libya.
The council thanked Custodian of the Two Holy Mosques King Salman and Crown Prince Muhammad Bin Salman for the initiatives of the Islamic joint action and their support for efforts to establish peace and harmony around the world.
The council announced the establishment of the MWL Islamic Jurisprudence Award and the Makkah Charter's Award, with a total value of SR1 million. Al-Issa announced the prizes in a press conference held on the sidelines of the session.
Speaking on the occasion, he lauded the great efforts of Custodian of the Two Holy Mosques King Salman and Crown Prince Muhammad Bin Salman in promoting the Islamic causes and confronting extremism and terrorism.
"This is in addition to the humanitarian actions around the world, as well as the moderate Islamic discourse pursued by the Kingdom, in particular the Kingdom's global platforms to fight extremist thought and Islamophobia."
Sheikh Al-Issa said that the Makkah Charter was the brainchild of the Crown Prince who supported and followed up in all its phases until its adoption," he said, adding that Makkah Charter Award will be granted to individuals and institutions that have played a great role internationally to implement the principles highlighted in the charter or carried out comprehensive studies in this regard.
http://saudigazette.com.sa/article/586477/SAUDI-ARABIA/OIC-is-the-only-pan-Islamic-body-for-joint-work-MWL
------
MWL Supreme Council: The Umbrella of Islamic Joint Action is Only Under the OIC Umbrella
2020/01/07
Makkah, January 07, 2020, SPA -- The Supreme Council of the Muslim World League (MWL) expressed its support for the announcement issued by the Historic Summit of the Islamic Unity held by in Makkah, affirming its support to adhere to the principles of brotherhood and unity.
During the 44th session of the MWL Supreme Council held today in Makkah, the council called for strengthening the role of the Organization of Islamic Cooperation (OIC) as an umbrella for the Islamic countries, stressing that the Islamic Nation is looking forward to more cohesion and cooperation in this critical period.
The Supreme Council also condemned the interference of some countries in the internal affairs of some Arab countries or occupation of any part of their territories under any pretext, denouncing the Turkish interference in Libya.
The MWL Supreme Council also hailed the sincere efforts exerted by the Islamic countries which are keen on the unity of the Islamic ranks, thanking the Custodian of the Two Holy Mosques King Salman bin Abdulaziz Al Saud and His Royal Highness Prince Mohammad bin Salman bin Abdulaziz, Crown Prince, Deputy Prime Minister and Minister of Defense, for the initiatives of the Islamic joint action and their support for peace and harmony efforts around the world.
The 44th session of the MWL Supreme Council announced an establishment of the MWL Islamic Jurisprudence Award and the Makkah Charter's Award, with a total value of SAR1 million.
At the outset of the meeting, Sheikh Abdulaziz bin Abdullah Al Al-Sheikh, Grand Mufti of the Kingdom of Saudi Arabia, Chairman of the Senior Scholars Council, General President of the Scholarly Research and Ifta and Chairman of the Supreme Council of the Muslim World League (MWL), delivered a speech in which he lauded the Kingdom of Saudi Arabia's great efforts in taking care of the Islamic nation's issues and unity.
Sheikh Abdulaziz also thanked the MWL Supreme Council for its activities and programs taking care of the Muslims' affairs.
https://www.spa.gov.sa/viewfullstory.php?lang=en&newsid=2020216
------
Egypt's Muslim president praises bond with Coptic Christians: 'No one can do anything to us'
By Caleb Parke
As Coptic Christians celebrate Christmas on Tuesday, Egyptian President Abdul Fattah el-Sisi commemorated the ties between the Christian minority and Muslims in the Muslim-majority country, saying it has protected them from sectarian strife experienced by its neighbors.
President el-Sisi, who is a practicing Muslim, appeared at the Coptic Christmas Eve Mass on Monday in the nation's largest church, Nativity of the Christ Cathedral. Last year, Coptic Christians celebrated the opening of the cathedral as a "gift" from el-Sisi in the new administrative capital east of Cairo, which he declared as a "message of peace and love to the world."
"God saw fit for us to live in difficult circumstances," he told churchgoers after being welcomed by Coptic Pope Tawadros II. "But as long as we're together ... no one can do anything to us."
Last year, President Trump celebrated el-Sisi's actions as "moving his country to a more inclusive future."
AT PASSION 2020, COLLEGE STUDENTS RAISE OVER $1.2M FOR THIS CAUSE
Coptic Christians, one of the oldest Christian communities in the world, make up roughly 10 percent of Egypt's population. The minority faith faces restrictions in inter-religious marriages and church buildings, and is banned from proselytizing to Muslims.
Coptic Christians have been the target of several attacks since the country began battling an Islamic insurgency in the 1990s, which has continued in the aftermath of the army's overthrow of an elected but divisive Islamist president in 2013 and under el-Sisi.
In Dec. 2016, an ISIS suicide bomber killed 30 people at Cairo's Coptic Cathedral, and the Islamic terror group pledged more attacks on the Christian minority, which it sees as an ally of the West in a war against Islam. Then in April 2017, ISIS killed 45 people using suicide bombers at Coptic churches in two cities on Palm Sunday.
The country's leader said Egypt narrowly avoided a civil war and more violence due to his government's policies and the military's defense against Islamist insurgencies in the Sinai peninsula.
https://www.foxnews.com/world/egypt-muslim-president-christian-christmas
------
Makkah court to examine case of Turk's attempted theft of Islamic artifacts
January 7, 2020
JEDDAH — The Public Prosecution in Makkah has referred the case of the Turkish man, who is accused of trying to steal the antiquities of the Two Holy Mosques, to the Criminal Court in Makkah.
Well-informed sources told Okaz/Saudi Gazette that the findings of the investigation into the attempted theft that happened at the Two Holy Mosques Architecture Exhibition recently, exposed the old Ottoman hostile practice of stealing Islamic antiquities from Makkah and Madinah in a naive attempt.
Investigations showed that the Turkish man tried to sneak into the exhibition premises through toilets during night.
The Turks were infamous for their stealing of Islamic antiquities, especially from the two holy cities, and history testifies that Suleiman Al-Qanuni stole portions of the Black Stone, and Fakhri Pasha stole artifacts from the Prophet's Chamber in Madinah.
Though Turkey claims that it preserved the precious Islamic artifacts from being exploited in Europe, the attempts of Turkey to exploit these monuments for tourism purposes were well exposed from their display in Istanbul.
Istanbul museums such as the Topkapi Museum and the Sokollu Mosque, showcased many artifacts from the Two Holy Mosques.
The Turkish authorities are boasting of displaying the artifacts from the Prophet's Chamber and parts of the Black Stone, without considering the feelings of millions of Muslims who visit Makkah and Madinah annually to find these important Islamic relics in their proper places instead of being taken to the museums in Turkey.
It has manifested from this that Turkish President Recep Tayyip Erdogan and his party are trying to follow the path of their predecessors in their attempt to rob the artifacts of the Two Holy Mosques and smuggling them into Turkey.
The exhibition contains valuable Islamic antiquities and artifacts belonging to the period of the Prophet's Companions, telling the history of the Two Holy Mosques through the ages.
The exhibition in the Umm Al-Joud neighborhood of Makkah is a destination for pilgrims and visitors to the Two Holy Mosques to have glimpses into major artifacts that represent the legacy of the Islamic historical heritage.
http://saudigazette.com.sa/article/586427/SAUDI-ARABIA/Makkah-court-to-examine-case-of-Turks-attempted-theft-of-Islamic-artifacts
------
Pakistan
KP speaker ignores call for BRT forensic audit by assembly panel
January 08, 2020
PESHAWAR: Skirting a question on the alleged anomalies in the Peshawar Bus Rapid Transit (BRT) project in the Khyber Pakhtunkhwa Assembly on Tuesday, Speaker Mushtaq Ahmad Ghani kept pending the query for the new transport minister, who has yet to take the oath of his office.
Speaker Mushtaq Ghani was indecisive about the opposition's demand to constitute a parliamentary committee to carry out a forensic audit of the over Rs66 billion project funded by the Asian Development Bank.
The BRT, the signature project of the Pakistan Tehreek-i-Insaf government, was launched in Oct 2017 but it has yet to be completed.
The BRT question comes up in every session of the provincial assembly as the opposition members voice concern about the government's tactics to avoid debate on the project.
The issue again came under discussion during the question hour in the assembly on Tuesday when Pakistan Peoples Party member Nighat Yasmin Orakzai asked the government to produce details of the deal between the National Accountability Bureau and Calson, one of the three BRT project contractors.
Orders inquiry against KMU VC over dual nationality
Through a written reply, the Peshawar Development Authority, the project's executing agency, expressed ignorance about the deal.
"PDA is unaware about the deal," the reply said.
The opposition members wondered how the PDA could contract a company to execute the bus project without knowing its previous record.
They alleged that the government was intentionally hiding facts about the project as it had provided the house with incomplete information.
PPP MPA Ahmad Kundi said the government should have verified performance security guarantee of any company before signing the work order.
"The department first verifies performance security of the company and then awards a contract," he said.
Opposition Leader Akram Khan Durrani and MPAs Sardar Hussain Babak, Nighat Orakzai and Khushdil Khan advocate sought a ruling from the chair on the issue and demanded the constitution of a parliamentary committee to probe the project.
"Constitute a parliamentary committee today otherwise the opposition will boycott the proceedings," Mr Durrani warned the speaker.
The opposition members stood up and warned that law and parliamentary affairs minister Sultan Mohammad Khan won't be allowed to speak on the project.
They said the law minister did not know about the issue and therefore, the speaker should form a committee in that regard.
Earlier, the law minister said the BRT was the most-discussed project in Pakistan's history and had been probed by all agencies and courts.
He said the Lahore High Court had set aside a case against the company with BRT contract, while its name was removed from the blacklist.
Speaker Mushtaq Ghani turned down the opposition's demand and said the assembly's rules of business didn't allow him (chair) to constitute a parliamentary committee to probe the project.
Minister Sultan came to the speaker's rescue and asked him to keep the question pending until the newly-appointed transport minister took oath of his office.
He said Shah Mohammad Khan had been notified as transport minister but he had yet to take oath.
"The minister-designate will be in position to give complete reply to the opposition," he said.
The speaker while disposing of a calling attention notice through a ruling directed the higher education department to hold an inquiry against Vice-Chancellor of the Khyber Medical University, Peshawar, Prof Arshad Javed, for having dual nationality and hiding facts about his foreign citizenship from the government.
He also directed the department to stop the VC from performing official duties until the completion of the inquiry and produce a report in the house.
PPP MPA Nighat Orakzai through a calling attention notice said the VC also held British nationality and he intentionally hid it from the department.
The lawmaker pointed out that the Supreme Court had declared in a judgment that the Pakistanis with dual nationality could not retain important government positions as they should choose between a government job and a foreign nationality.
Adviser-designate to the chief minister on higher education Khaliqur Rehman Khattak replied that the inquiry report would be sent to the governor, who was also the chancellor of public sector universities in the province, while the department would also check the citizenship of staff members of other universities.
https://www.dawn.com/news/1526951/kp-speaker-ignores-call-for-brt-forensic-audit-by-assembly-panel
------
Region cannot afford war, says FM Qureshi after Iran attack on US bases in Iraq
Naveed Siddiqui
January 08, 2020
Foreign Minister Shah Mehmood Qureshi said on Wednesday that rising tensions in the region due to the situation in the Middle East was not in anyone's interest, adding that the region could not afford war.
On Wednesday, Iran launched missile attacks on United States-led forces in Iraq in the early hours of Wednesday in retaliation for the US drone strike on Iranian commander Qassem Soleimani whose killing has raised fears of a wider war in the Middle East.
"The region cannot afford war. It is not in anyone's interest and will impact the global economy," Qureshi said, according to a statement issued by the foreign minister's spokesperson.
Qureshi added: "The ones who were attacked this morning are still assessing the damage. Initial reports suggest that there has been no loss of human life."
Commenting on Iranian Foreign Minister Javad Zarif's recent statement, Qureshi said it reflected Iran's intent to not escalate tensions.
"The statement reflected the seriousness of the situation and showed restraint. The US should also exercise caution.
"There is still a large majority in the US which is not in favour of war and does not want to thrust the US army into the frontlines," he said.
The foreign minister added he had been in touch with his counterparts in the region. "We are also endeavouring to ensure that tensions in the region remain in check."
Qureshi went on to say that the views expressed by him during the Senate session on Monday were the views of the government.
"It is too premature to say anything for certain as the situation is still precarious. However, Pakistan does not want tensions to escalate. This region cannot witness yet another war," the foreign minister emphasised.
"Such matters need to be resolved through dialogue. The UN security council and the international community needs to play a role in resolving tensions in the region," he said.
'Pakistan will not be party to US-Iran conflict'
On Monday, Qureshi briefed the Senate on tensions in the Middle East, making it clear that Pakistan will not become party to the regional conflict.
Qureshi told the Senate that according to regional experts, the repercussions of the strike that killed Soleimani could be more severe than the 2011 raid that killed Al Qaeda leader Osama bin Laden and the 2019 killing of militant Islamic State group chief Abu Bakr al-Baghdadi.
"The situation in the Middle East is very sensitive, fluid and concerning."
He maintained that Pakistan "does not support any unilateral action and is against the use of force as it never resolves matters".
"Pakistan backs principles of sovereignty and territorial integrity as enshrined in the UN charter," he said, adding that Pakistan urges all parties to exercise maximum restraint.
"I even urged Iran to exercise its traditional wisdom and refrain from any escalatory measures in the larger interest of the region," the minister added.
He said Middle East cannot be pushed into another war. "It will be disastrous and Pakistan will also face the repercussions of such an occurrence," he cautioned.
"Pakistan's soil will not be used against any other state," Qureshi said, adding that Pakistan "will not be party to this regional conflict".
The foreign minister urged the UN Secretary General to play his role in safeguarding the region and "putting out this fire".
"We are constantly monitoring and assessing the situation," Qureshi announced, adding that he has created a task force in the Foreign Office which will keep an eye on this evolving situation on a day-to-day basis and apprise the government and present its recommendations on the issue.
https://www.dawn.com/news/1527018/region-cannot-afford-war-says-fm-qureshi-after-iran-attack-on-us-bases-in-iraq
------
Supreme Court judge questions NAB's arrest-first policy
Nasir Iqbal
January 08, 2020
ISLAMABAD: The performance of the National Accountability Bureau (NAB) came under a cloud when the Supreme Court on Tuesday asked why the anti-graft watchdog sent suspects to jail first and then started looking for evidence.
"Why can't NAB first complete a reference after the collection of evidence and then take the accused into its custody," wondered Justice Mushir Alam.
The observation came during the hearing of a bail application moved by Faisal Kamran Qureshi, an accused in a fraud case. Other members of the bench were Justice Mazhar Alam Khan Miankhel and Justice Syed Mansoor Ali Shah.
Faisal Qureshi was arrested by NAB in April 2019 for allegedly defrauding innocent people to the tune of Rs33 million by acting as a broker. He opened two franchises in Joharabad in the name of a Karachi-based company, Access Global. His wife Sehrish Kamran is a co-accused in the case.
NAB filed a reference in an accountability court against the accused last month. Raj Kumar, another co-accused and owner of Access Global, has already opted for plea bargain after furnishing Rs16.6m.
Wonders why anti-graft watchdog sends suspects to jail first and then looks for evidence
When the case was taken up on Tuesday, Justice Alam wondered why NAB never expedited and completed procedures like holding inquiry and collecting evidence against the accused.
NAB special prosecutor Imranul Haq explained that the bureau always took the accused into custody to prevent any attempt by the accused to tamper with the records. A formal reference had already been furnished before the relevant accountability court and the bureau would try it its level best that the trial was completed as early as possible, he assured the SC bench.
The court, however, disposed of the matter after the accused withdrew his bail petition, though he pleaded that he had faced a similar charge and that he had already paid the due amount — a claim denied by NAB.
On Dec 3, NAB withdrew a set of appeals after it failed to convince the Supreme Court that former Punjab chief minister Shahbaz Sharif had abused his authority in the Ashiyana-i-Iqbal Housing Scheme. Senior counsel Naeem Bokhari, representing the NAB chairman, had pleaded before the apex court, headed by then chief justice Asif Saeed Khosa, that he wished not to press for the three appeals against the Feb 14 Lahore High Court order granting bail to Shahbaz Sharif in the housing scheme scam and his April 10 bail in the Ramzan Sugar Mills case.
The apex court had then also confirmed the bail of Munir Zia, one of the directors of Bismillah Engineering Services Company, with an observation that the intended arrest smacked of bad faith.
The apex court had regretted that the Ashiyana housing project, which on grounds never happened, had kept the courts quite busy. It also granted bail to the housing scheme's project director Bilal Qidwai on surety bonds of Rs1million each and confirmed the bail of Sajjad Bhutta, the executive director of Paragon City.
Likewise in November last year, Islamabad High Court Chief Justice Athar Minallah had observed that the powers to arrest provided under the National Accountability Ordinance 1999 were neither unfettered nor could they be exercised mechanically and in an arbitrary manner. "This is a classic example of the violation of fundamental rights," he had observed in a detailed judgement issued on the post-arrest bail of former managing director of Pakistan State Oil Sheikh Imranul Haq in the LNG terminal case.
In the same case, former prime minister Shahid Khaqan Abbasi is behind bars and former finance minister Miftah Ismail is on bail.
In the judgement, the IHC chief justice had observed: "The violation of fundamental rights guaranteed under the Constitution and the excess or abuse of jurisdiction and powers vested in NAB in depriving a citizen of the valuable right of liberty in an arbitrary manner cannot be ignored…the ouster of the bail provisions in the Ordinance of 1999 does not deprive the petitioner or any other accused of constitutionally guaranteed fundamental rights such as inviolability of dignity and freedom of movement provided under Article 14 and 15 of the Constitution."
Pointing out lack of expertise in probing the white-collar crime, the high court had observed that in several cases investigations were not carried out by the expert fraud examiners or investigators or data mining experts.
https://www.dawn.com/news/1526953/supreme-court-judge-questions-nabs-arrest-first-policy
------
Educational institutions have pivotal role in Muslims unity: Omani Minister
January 7, 2020
ISLAMABAD, Jan 07 (APP):Oman's Minister of Awqaf and Religious Affairs Abdullah bin Mohammed bin Abdullah Al Salmi Tuesday said educational institution posses a pivotal role in unity of Muslim world.
He expressed these views during his visit to the International Islamic University Islamabad (IIUI) where a luncheon reception was held in his honour here at Faisal Masjid campus.
The reception was also attended by the Ambassador of Oman, Federal Minister for Religious Affairs and Interfaith Harmony Noor ul Haq Qadri, IIUI Rector Dr. Masoom Yasinzai, IIUI President Dr. Ahmed Yousif Al-Draiweesh and other important personalities.
Speaking on the occasion, Shiekh Abdullah bin Mohammed bin Abdullah Al Salmi said the cooperation between Pakistani and Omani educational institution on religion was need of the hour.
He also hailed services of IIUI, and thanked IIUI leadership for a warm welcome at university.
IIUI Rector Dr. Masoom Yasinzai said on the occasion that soon IIUI would hold a conference with the cooperation of Omani universities.
He said there were many opportunities available for cooperation between the varsities of both the countries. He also thanked the minister for his visit to IIUI.
Dr. Ahmed Yousif Al Draiweesh said IIUI would be among front ranks to cooperate with the educational institutions of Oman and its ministry for religious affairs.
He apprised about the introduction of university in which he told about IIUI faculties, its vision and future objectives.
At the end, a souvenir on the behalf of university leadership was presented to the minister of Oman.
https://www.app.com.pk/educational-institutions-have-pivotal-role-in-muslims-unity-omani-minister/
------
NA body wants regulatory body for testing services
January 08, 2020
ISLAMABAD: After raising concerns over recent National Testing Service (NTS) paper leaks, a parliamentary committee on Tuesday directed the Establishment Division to work out a proposal for setting up an authority to regulate private testing bodies.
MNA Sahibzada Sibghatullah from Upper Dir during a session of the National Assembly had pointed out alleged malpractices and leakage of papers during tests conducted by the NTS for recruitment of teachers in some districts of Khyber Pakhtunkhwa.
The matter was later referred to the National Assembly Standing Committee on Cabinet Secretariat.
At a meeting of the committee with Syed Aminul Haq in the chair on Tuesday, the MNA said the test in his constituency was cancelled twice because of question paper leaks.
He said because of the abrupt cancellation of the test, the candidates had to face a lot of difficulties.
Officials from the NTS told the committee that an FIR had been registered against unknown people who leaked the papers while an inquiry was underway to identify those involved in the scam.
MNA from Upper Dir tells committee that NTS had to cancel teacher recruitment test twice in his area due to paper leaks
Committee chairman Syed Aminul Haq said mere registration of an FIR that too against unknown people was not a solution. An investigation should be conducted to expose those involved the scam.
The committee gave 45 days to Comsats and the NTS to complete the probe and share its findings with the committee. NTS was initially launched as a project by Comsats.
NTS also faced allegations of paper leaks in Thatta, Sindh, in 2017. The same year, then state minister for science and technology Mir Dostain Khan Domki tendered his resignation, saying when he had launched a probe into corruption scandals in the ministry, including the NTS, all of a sudden a federal minister was given the charge of the ministry. Minister for State for Parliamentary Affairs Ali Mohammad Khan told the committee that cancellation or declaring a paper null and void caused problems to students who deposited fee to appear in such tests.
The minister supported the idea of a body which could keep a check on all private testing bodies.
The committee recommended to the Establishment Division to work out a proposal in this regard.
After committee meeting, MNA Sibghatullah told Dawn that in his constituency the NTS paper for recruitment in the education department was cancelled twice because of paper leaks.
He said later MNA from Chitral Maulana Abdul Akbar and MNA from Buner Sher Akbar Khan also pointed out paper leaks in their constituencies.
Earlier, the committee took up a question moved by Abdul Qadir Patel regarding non-compliance of corporate social responsibility (CSR) by Karachi Nuclear Power Plant. The committee directed the organisation for provision of details about initiatives taken under CSR for people of the area.
The committee members had a consensus that all industrial establishments in the public sector should fulfil their obligations regarding betterment of people living in their areas.
Discussing the progress on infrastructure development projects in Karachi under the execution/management of Sindh Infrastructure Development Company, the committee directed for early completion of the ongoing projects.
The committee also directed that the process for provision of fire tenders and snorkels to the Karachi Metropolitan Corporation should be expedited.
The lawmakers were of the view that completion of the Green Line Mass Transit System would facilitate people of Karachi besides easing traffic load on roads.
https://www.dawn.com/news/1526880/na-body-wants-regulatory-body-for-testing-services
------
Force should not be used to send Afghans back home, says Senate panel
Ikram Junaidi
January 08, 2020
ISLAMABAD: The Senate Functional Committee on the Problems of Less Developed Areas on Tuesday suggested that Afghan refugees should not be forced to return to Afghanistan following a presentation by Chief Commissioner for Afghan Refugees Saleem Khan in which he shared figures about the number of Afghans living in Pakistan.
As many as 2.8 million Afghans are living in Pakistan, with each Afghan family consisting of 7.2 persons and 74 per cent of them born in Pakistan, Mr Khan said in the meeting of the Senate committee, chaired by Pakhtunkhwa Milli Awami Party legislator Muhammad Usman Khan Kakar, held at the parliament house on Tuesday.
"Out of 2.8m Afghans, 1.4m are registered, 850,000 have Afghan residence cards and around half a million have been living without documents. Only 32pc Afghans are in refugee camps and 68pc have shifted out of the camps to different parts of the country," Mr Khan said.
Giving further details, he said that 58pc Afghans were residing in Khyber Pakhtunkhwa, 23pc in Balochistan, 11pc in Punjab, 4.5pc in Sindh and 2.4pc were living in the federal capital.
"Around 82pc Afghans came to Pakistan in 1979-80 and now their third generation is residing in Pakistan," he added.
Independent Senator Haji Momin Khan Afridi who participated in the meeting said the number of Afghans who got married in Pakistan should also be considered.
Mr Kakar, showing his annoyance, said that Pakistani nationality was being given to residents of 15 countries including India and China but it was unfortunate that Pakistan was unwilling to give nationality to those born in Pakistan.
Afghans living in Pakistan were not only working in professions such as in agriculture and mining but providing the country with much needed foreign remittances sent in by their relatives living abroad, added Mr Kakar.
At the end of the meeting, the committee suggested not to send Afghans back to Afghanistan by force and also sought details of Afghan refugee camps in Pakistan.
https://www.dawn.com/news/1526962/force-should-not-be-used-to-send-afghans-back-home-says-senate-panel
------
LDA to outsource buildings inspection after ranking low in World Bank report
Khalid Hasnain
January 08, 2020
LAHORE: After the World Bank ranked Pakistan behind India in dealing with official construction permits in its recent report, the Lahore Development Authority (LDA) has decided to outsource inspection of structures — a key job for swift issuance of certificates after completion of residential, commercial and industrial buildings.
The government also plans to improve other functions – provision of electricity connections and credit and protecting minority investors – on priority following the World Bank's Doing Business 2020 study report.
"We have decided to outsource inspection segment of completed residential, commercial and industrial building structures falling within territorial jurisdiction (controlled area) of the LDA. This is the area where Pakistan ranks at 112 among 190 countries," a senior LDA official told Dawn on Tuesday.
The WB evaluates 190 economies on ease of doing business through nine potential indicators, including starting a business (a general indicator), dealing with construction permits, getting electricity, registering property, getting credit, protecting minority investors, paying taxes, trading across borders, enforcing contracts and resolving insolvency.
According to the WB report, Pakistan improved its ranking to 112 as compared to India's 136. In terms of dealing with construction permits, getting electricity, getting credit and protecting minority investors, Pakistan ranked considerably low at 112, 123, 119 and 28, respectively.
But India's ranking improved on the aforementioned indicators at 27, 22, 25 and 13, respectively among the 190 countries.
The country's ranking on registering property, paying taxes, trading across borders and enforcing contracts improved to 151, 161, 111 and 156, respectively with India standing at 154, 115, 68 and 168, respectively. However, India's ranking in resolving insolvency remained at 52 with Pakistan at 58.
"The WB in various meetings evaluated our procedural model related to buildings' maps approval, revision in plans, construction and completion. They also observed the same model of Sindh Building Control Authority that involves 18 procedures," the LDA official, who requested anonymity, explained.
He said the LDA planned to retain the procedure related to receipt of applications for issuance of building maps/construction. However, inspection of completed structures — which consumes a lot of time — would not be the job of the LDA's town planning wing anymore.
"Under best global practices, there must be a role of the third party to ensure timely disposal of various tasks. That is why we are doing this to give relief to the public," the official said. And the role of the third party could expand subject to success of the current move, he claimed.
https://www.dawn.com/news/1526900/lda-to-outsource-buildings-inspection-after-ranking-low-in-world-bank-report
------
URL: https://www.newageislam.com/islamic-world-news/all-well--trump-says/d/120741
New Age Islam, Islam Online, Islamic Website, African Muslim News, Arab World News, South Asia News, Indian Muslim News, World Muslim News, Women in Islam, Islamic Feminism, Arab Women, Women In Arab, Islamophobia in America, Muslim Women in West, Islam Women and Feminism