New Age Islam News Bureau
16 Oct 2017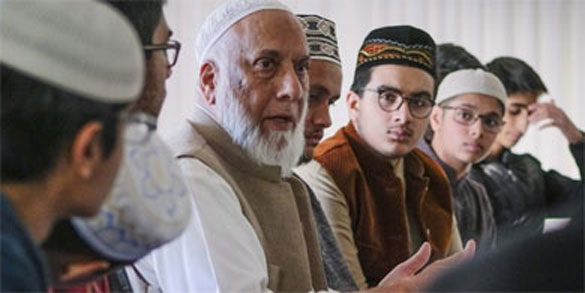 Calgary Imam Syed Soharwardy, founder of Muslims Against Terrorism and the Islamic Supreme Council of Canada, speaking to Muslim youth about anti-radicalization strategies at a mosque in Calgary on Oct. 6, 2017.
----
• Ahmedis Cannot Be Given Religious Liberty like Non-Muslim Minorities: Punjab Law Minister
• 'Salafis Making Lives of Muslims Miserable': Sunni Leader
• Calgary Imam, Teaches Muslim Teens How To Respond To ISIS 'Criminals'
• Bangladeshi Textbook Appears To Endorse Myanmar Propaganda on the Rohingya
• Iraq Says Kurds Brought PKK Fighters to Kirkuk in 'Declaration of War'
Pakistan
• Ahmedis Cannot Be Given Religious Liberty like Non-Muslim Minorities: Punjab Law Minister
• Political And Religious Organisations Urged to Unite for Country's Stability
• Ahmadi issue is a done deal, says PML-N chief Nawaz
• Pakistan tells Afghan Taliban to 'prepare' for political dialogue
• Army captain among four martyred in Kurram blast
• Those talking against army are country's enemies, says Musharraf
• 'JUI-F creating hurdles to Fata-KP merger'
--------
India
• 'Salafis Making Lives of Muslims Miserable': Sunni Leader
• The Hindu-Muslim Marriage Stuck In India's Supreme Court
• 'Cows Taken From Muslim Family at BJP Neta's Behest'
--------
North America
• Calgary Imam, Teaches Muslim Teens How To Respond To ISIS 'Criminals'
• US Muslim Scholar Braves Malaysia Visit Despite Akyol Episode
• California Law Will Bar Cities, Counties from Providing Information for 'Muslim Registry'
• Trump made US look 'foolish' over Iran: Clinton
• Neither Iranians, nor Europeans want to renegotiate nuclear deal
--------
South Asia
• Bangladeshi Textbook Appears To Endorse Myanmar Propaganda on the Rohingya
• Clash Among ISIS And Afghan Forces Leaves 12 Dead, Wounded In Kunar
• Taliban suffer heavy casualties in latest operations in Helmand province
• Myanmar Muslims fear further 'turning of the tide
• Eight dead as Rohingya boat sinks off Bangladesh
• ACJC police officer shot dead by gunmen in Kabul city
• 14,000 lone children among Rohingya refugees
--------
Arab World
• Iraq Says Kurds Brought PKK Fighters to Kirkuk in 'Declaration of War'
• King Salman, Trump Confirm Need to Halt 'Top Terror Sponsor' Iran
• Kurdish leaders reject Baghdad's demand to cancel referendum results
• Egyptian security forces kill at least 24 Daeshis in restive Sinai Peninsula
• Al-Nusra Terrorists Push ISIL back from More Lands in Syria's Hama
• Syrian Air Force Bombs Heavily ISIL's Positions in Southeastern Deir Ezzur
• Nearly 700,000 Iraqis still displaced months after Mosul recapture: NGO
--------
Africa
• At Least 231 Killed In Single Deadliest Attack in Somalia's History
• Gunmen Attack Kenyan School, Kill Six Children
• Attack on mosque kills 20 in Central African Republic
--------
Europe
• Muslim Man Sponsors Synagogue Kiddush to Honor His Late Doctor
• Russia's Putin Slams Hypocrisy, Hidden Goals in War on Terror
• Paris: PKK terror banner hung outside news agency HQ
• We were wrong to boycott Hamas after its election win: Tony Blair
• Morocco arrests 11 suspects linked to ISIS
• UK works hard with US Congress to preserve valuable Iran deal: Johnson
--------
Southeast Asia
• Johor Ruler Warns Muslims against Narrow Thinking
• Zaid: Malay Rulers in Danger When Taliban Run the Country
• Court Refuses Church's Bid, Says Govt's Reasons for 'Allah' Ban Classified under OSA
• Philippine Troops Kill Two Leaders of Pro-Islamic State Alliance: Minister
• G25 takes Home Ministry to court for banning its moderate Islamic book
• Life in Malaysia way better, says Rohingya refugee
• IS militant deported by Malaysia goes missing in Bangladesh
--------
Mideast
• Yemen: Iran Uses Houthi Militias 'Like Puppets' To Destabilize Region
• Trump's Anti-Iran Rhetoric Made under Israeli-Saudi Sway: Larijani
• Muslims in Athens can't wait for city's only mosque to open
• Hollywood Stars to Partake in Turkish Film 'Islamophobia'
--------
Australia
• Muslim Inmates Allege Humiliation and Abuse by Brisbane Prison Staff
Compiled by New Age Islam News Bureau
URL: https://www.newageislam.com/islamic-world-news/ahmedis-be-given-religious-liberty/d/112903
--------
Ahmedis Cannot Be Given Religious Liberty like Non-Muslim Minorities: Punjab Law Minister
By Mahmood Idrees
October 15, 2017
LAHORE – Punjab Law Minister Rana Sanaullah, who is in hot waters due to his alleged pro-Ahmedi statement, has said that political rivals had framed him in the issue.
"My statement was misinterpreted intentionally without knowing its depth," he said, adding that slandering someone is one of the major sins in Islam.
Saying "We call non-Muslims like Christians, Sikh our brothers, but the same cannot be used for Ahmedis", the law minister said that the community cannot be given religious freedom even after declaring it minority like others.
He said that those do not believe in Khatm-e-Nabuwwat could not be declared Muslims, adding that Ahmedis are not allowed to preach Islam by pretending themselves as Muslim.
"I consider Ahmedis more dangerous for Islam and Allah than other minorities," he said.
Sanaullah expressed thsese views during a meeting with a 12-member delegation of Pakistan Ulema Council headed by Punjab region president Hafiz Muhammad Amjad.
The members of the delegation expressed satisfaction over the clarification of the law minister and called him true Muslim and completely believed in finality of Prophet Muhammed (PBUH) in a joint statement.
They also said that the TV program was made controversial intentionally, adding that print media distorted the facts. They also called for staying away the sensitive issue from political rivalry.
At the end, the religious scholars informed the minister about their problems and urged him to make the registration process for Madrasas easy.
https://en.dailypakistan.com.pk/pakistan/ahmedis-cannot-be-given-religious-liberty-like-non-muslim-minorities-sanaullah/
--------
'Salafis Making Lives of Muslims Miserable': Sunni Leader
Oct 15, 2017
KOZHIKODE: Sunni leader Kanthapuram A P Aboobacker Musaliyar has slammed Salafism in Kerala 'for making the lives of Muslims miserable and creating new challenges for the community."
Delivering a keynote address at the annual festival Thathoor Shuhada Makham near here on Saturday, he asked political leaders to keep them in check so that they do not gain acceptance.
Kanthapuram's statement is an apparent reply to IUML leader E T Muhammad Basheer who praised the Salafis for bringing in renaissance into the Muslim community in Kerala.
The rival faction of the Sunnis also had criticised Basheer for saying that it was the Salafis who spread real 'Thouheed' (monotheism) among the Muslims in Kerala.
"Many have a misconception that Salafism is a religious reformation movement, but it is actually a political project that misuses religion," he said.
Their talks on religion in the past were aimed at a consolidation of their politics, he said. "There dangerous arguments were introduced as renaissance, which insults the real renaissance achieved by different groups in Kerala," he said.
"We heard someone saying that the Salafis have brought in enlightenment to Kerala. Let them remember that it is the same movement that caused atrocities and instability in the Middle East," he said.
Kanthapuram said Salafis did not gain upper hand in India because of the resistance put up by other Muslims. People have recognized the real face of Salafis and certain mediators have emerged to salvage them from the deep crisis they are in, he said.
The Sunni leader said it is heartening to see more people coming up to criticise the Salafi bias of certain political parties. This is a recognition for the stand taken by the Samastha Kerala Jam-Iyyathul Ulema, he said.
https://timesofindia.indiatimes.com/city/kozhikode/salafis-making-lives-of-muslims-miserable/articleshow/61086534.cms
--------
Calgary Imam, Teaches Muslim Teens How To Respond To ISIS 'Criminals'
10/15/2017
CALGARY — The tall, slim teenager asks a question that's on the minds of many of the young people gathered around the cloth-covered tables in a small meeting room at a mosque in northeast Calgary.
"If someone from ISIS or ISIL approaches you, how would you respond to them, so that you're not attacked any further?'' wonders Zubair Tariq, 16.
"If they approach, you should be smart enough to know that ISIL/ISIS are very big criminals in the eyes of Islam,'' answers Imam Syed Soharwardy, founder of Muslims Against Terrorism and the Islamic Supreme Council of Canada.
"These people reach out through the internet. These people reach out through a local community. Understand this is not somebody who is a nice Muslim or a good Muslim or a true Muslim. This is someone who is disguised as a Muslim. ISIL is a disguised Muslim.
"They say they are good Muslims but, to us, they are a bunch of thugs and criminals,'' he continues. "They are terrorists.''
Soharwardy met recently with 30 Muslim youth at the Jamia Masjid Gunbad-e-Khizra mosque. It was one of several meetings he does on a regular basis to prevent the radicalization of Canadian Muslim youth.
Soharwardy decided to call another meeting after an attack earlier this month that injured a police officer and civilians in Edmonton. A man stabbed an officer doing traffic control outside a football game and then crashed a cube van into pedestrians downtown. Five people were injured. Police say they seized an Islamic State flag as evidence.
Tariq says he hasn't been contacted directly by anyone seeking to recruit young Canadian Muslims, but he's worried.
"One of my friends was approached ... and he's the same age as me,'' the teen says. "It's scary. If someone approaches you, you don't know how to respond properly unless you talk to your peers.''
Teen Hassaan Rizvi says recruitment by the Islamic State is happening through social media.
"We were sitting in my math class and two of my friends received a WhatsApp link,'' says Rizvi, referring to the popular mobile messaging program. "When opened, it was for recruitment for ISIS. It had the flag and said we are recruiting.
"I said, 'This is not something good so we should close it.' This did happen. They are still recruiting.''
Soharwardy turns the conversation to the Edmonton attack.
Teens feel 'angry' and 'embarrassed'
"When you hear ... a police officer hurt and an ISIS flag found, what do you feel?'' Soharwardy asks.
"Angry,'' says one young man.
"Embarrassed,'' says another.
A report last year on the terrorist threat in Canada said that at the start of 2014 there were more than 130 Canadians who were abroad and suspected of terror-related activities. By the end of 2015, the number had grown to about 180 and the government knew of about 60 extremists who had returned to Canada.
Some of the students at the meeting expressed anger at the backlash they endure every time a terrorist attack happens anywhere in the world.
"I don't understand why the word terrorist or terrorism is stitched to the word Muslim or the name of Islam. Terrorism itself is just an attack on anyone,'' says Shahwali Hameed.
"Terrorism has no religion.''
Aysha Ali believes a lack of understanding causes people to believe all Muslims are terrorists every time an attack occurs.
"It definitely gets worse. They wouldn't blame it on Muslims if it just happened once, but it's happened several times where people like ISIS and ISIL do it in the name of Islam.''
Ibrahim Khan says there appears to be a double standard. He points out nobody is calling the perpetrator in the Las Vegas mass shooting a terrorist.
"He's either mentally damaged or they just call him a shooter. No one calls him a terrorist because he doesn't have a long beard.''
Imam tells teens to open up to parents or teachers
Soharwardy says he believes there are still recruiters and sympathizers Islamic State sympathizers working in Canada and he suggests that will continue until their financial pipeline dries up.
He tells the students that anyone who promotes hatred or committing violent acts is not following the Muslim faith.
"If you see anybody make sure you report to your parents, your teacher, to me,'' he says.
"Let us know right away because we need to defend ourselves and ... remain loyal, faithful, law-abiding citizens of this country.''
http://www.huffingtonpost.ca/2017/10/15/syed-soharwardy-calgary-imam-teaches-muslim-teens-how-to-respond-to-isis-criminals_a_23243899/
--------
Bangladeshi textbook appears to endorse Myanmar propaganda on the Rohingya
October 16, 2017
The mainly-Muslim Rohingya ethnic minority have been in the news for years. They are the world's largest stateless community and often described as the most persecuted minority.
Myanmar denies them citizenship despite having lived in the country for centuries and forces them to live in apartheid-like condition.
There was a strife between the Muslims and the Buddhists in the first half of last century that had continued even after Myanmar's independence in 1948. But matters worsened after a military coup led by Ne Win in 1962.
Naypyitaw describes the minority as 'Bengalis', to imply that they are illegal immigrants from neighbouring Bangladesh.
The latest exodus of more than half a million Rohingya has put the spotlight on the minority again. When Dhaka is trying to build up global pressure on Myanmar to take back its citizens, a Bangladeshi textbook for eighth graders has stirred controversy by apparently supporting Naypyitaw's claim.
A chapter in "Sahitya Konika", a textbook in Bangla by the National Curriculum and Textbook Board (NCTB), appears to claim that Muslims and Hindus living at Maungdaw in Rakhine state are settlers there and that their country of origin is Bangladesh.
The write-up printed as a travel story – "Maungdawr Pathe" (on the way to Maungdaw) – is a compilation of "Aparup Arakan" penned by award-winning litterateur Bipradash Barua who visited many places, spoke to locals and tasted their food.
In a passage, he mentioned a girl running from a kitchen.
"She is a Bangali, wearing a lungi and a blouse. She was speaking in Chittagonian (Chittagong's dialect). She is Jhorna hailing from Raojan upazila in Chittagong. The upazila is near my native village. Another girl was also cooking like her."
On the fifth passage, he said rickshaw is known as paikya in Myanmar.
"Most of the paikya-pullers are Muslims. Almost the entire trades in Maungdaw are dominated by them [Muslims] and also by Hindus. They [both Muslims and Hindus] came from Chittagong after living there for quite a long while," he continued.
But, the exact time period was not mentioned in the story.
The Parliamentary Standing Committee on Foreign Ministry has recently asked the ministry to talk to the Education Ministry to include content into the textbook mentioning the historical background and nationality of the Rohingya.
The committee also suggested the concerned ministry to check the textbooks to see if they contained any controversial content.
"We have proposed the concerned ministries to add article on Rohingya nationalities because Myanmar has been arguing over the issue. Myanmar has always made claims against Bangladesh, even using their textbook," said standing committee member Lt Col Muhammad Faruk Khan.
"Some [Rohingya] teachers, who are refugees in Cox's Bazar, showed us their textbook which mentioned the Rohingya as being of Bangladeshi origin and claiming that Chittagong was their native land," he said.
"As a result, the children are growing up with a sense that they are not Myanmar citizens and that they should be shifted to Bangladesh," he added.
"Arakan included the Chittagong region, but that was 500 years ago. That history should not be used after so long to brand them as Bangladeshis," said Faruk, also a presidium member of Awami League.
"So we felt that our children should learn the actual Rohingya history through the textbook."
Myanmar has long been claiming that Bangladesh is the ancestral homeland of the Rohingya, who migrated to Rakhine state, also known as Arakan.
Bangladesh has always trashed the claim as the Rohingya have been living in Rakhine for hundreds of years and they do not even own property in Bangladeshi territory.
Click here to read more stories on Rohingya crisis 2017
Bipradash Barua, the writer, said he travelled to Maungdaw some 17 years ago.
"I wrote the story as I saw it (during the tour). I authored exactly what I had seen and heard then. And, the write-up is not a research-based one. Rather, it is a travel story," he told BBC Bangla recently.
"I did not count the number of Bangladeshis who had migrated there. I did not collect any estimate on them," he added.
Dhaka University history Professor Syed Anwar Hossain, when contacted, said: "It is true that many people had gone to Arakan from Chittagong and Cox's Bazar. But they left around two centuries ago.
"If the people who had come to the Chittagong Hill Tracts in the 16th century now enjoy Bangladeshi citizenship, why cannot the Rohingya be called Burmese nationals?"
He pointed out that Myanmar did not raise any question in 1962 when its military government accepted the Rohingya as citizens. "They are now trying to make it an issue to kick them out of the country," he added.
When his attention was drawn to Bipradash's story, the historian suggested that it be withdrawn since it may cause confusion in future.
The Parliamentary Standing Committee on Foreign Ministry also suggested the board to remove any controversial content from the textbooks. "We should incorporate accurate information in the textbook about Rakine," said Faruk.
It appears that the NCTB did not think over the story when it was published in 2012, the same year when apparent communal violence displaced thousands of Rohingya in the Rakhine state.
A NCTB official, requesting anonymity, said they were looking into the matter. "The higher authorities could rethink the story given the ongoing Rohingya crisis," he added.
NCTB Chairman Professor Narayan Chandra Saha, attesting to the complexity in the story, told the Dhaka Tribune that "Maungdawr Pothe" was not discussed in any meeting held over the textbook.
"Anybody linked to the textbook publication process did not notice it either," he added.
"The NCTB authorities select articles, poems or prose for textbooks as recommended by the textbook editorial panel comprising noted educationists. Without their suggestion we cannot change the text," he said.
Eleven educationists drafted and edited the book.
One of them, Professor Syed Azizul Haque, said: "Travel stories do not always show concrete data. And, the write-up is actually a diary-based article. We picked the story to give the students an idea of Myanmar as a neighbouring country."
"But NCTB can rethink the story if we find it necessary to keep it in the textbook next year," he said, adding that they were preparing to print textbooks for 2018.
Biprodash claimed that he had not been made aware that his story was selected for the textbook. "Nobody contacted me over the issue while publishing the story," he said.
As many as 536,000 Rohingya have fled to Bangladesh since August 25.
Faced with mounting pressure from human rights bodies and international agencies, Myanmar on Tuesday said it would repatriate Rohingya from Bangladesh after verification in accordance with the 1992 Joint Statement, an agreement signed between Dhaka and Naypyitaw.
http://www.dhakatribune.com/bangladesh/2017/10/16/bangladeshi-textbook-appears-endorse-myanmar-propaganda-rohingya/
--------
Iraq says Kurds brought PKK fighters to Kirkuk in 'declaration of war'
15 October 2017
The Iraqi government accused Kurdish authorities on Sunday of bringing fighters from Turkey's separatist Kurdistan Workers Party (PKK) to the disputed oil-rich city of Kirkuk and said it considered the move a "declaration of war".
In a statement published after a meeting chaired by Prime Minister Haider al-Abadi and attended by top military and security commanders, the government said it will seek to impose its authority over Kirkuk and other disputed areas.
Meanwhile, an aide to Kurdistan region President Barzani has denied any PKK presence in Kirkuk.
https://english.alarabiya.net/en/News/middle-east/2017/10/15/Iraq-says-Kurds-brought-PKK-fighters-to-Kirkuk-in-declaration-of-war-.html
--------
Pakistan
Political and religious organisations urged to unite for country's stability
OCTOBER 16, 2017
LAHORE: The Pakistan Ulema Council (PUC) has urged political and religious organisations of the country to get united by pursuing a moderate way and devise a cohesive and explicit mechanism for security and stability of the homeland, Addressing a press conference on Sunday, PUC Chairman Hafiz Muhammad Tahir demanded the government to expose the elements responsible for making amendment to 'Finality of Prophethood Law'.
"Interviews of Rana Sanaullah at different media organisations have perplexed religious sections across the country and the Punjab government should explain its stance on controversial statements of Rana Sanaullah," he said.
He said that the constitution of Pakistan had categorically defined rights of non-Muslim communities residing in Pakistan and it was the responsibility of the state to ensure rights of minorities living in the country. He also underlined that enemies of Pakistan and Islam were conspiring to create chaos and confrontation in Pakistan and Saudi Arabia to fulfil their nefarious agendas.
"Believing on finality' of Prophethood is part of every Muslim's faith and the way some ruling ministers have trespass with this law is very denouncing, and the act has irritated Muslim communities not only in Pakistan but across the Muslim world. People want to know who is responsible for making interference in sections related to the finality of Prophethood. The federal government should take a stern action against Federal Law Minister Zahid Hamid, Anusha Rehman and other ministers by removing them from their offices," said the PUC chairman.
"Silence on part of the federal government is very irritating and the PUC is coordinating with notable clerics of the country over the issue," he maintained.
Replying to another query, Ashrafi stated that some ministers of incumbent government of Punjab are making endeavors to create division between political and religious organisations of Punjab.
Responding to a query, Ashrafi stated that it was honour and prestige for him that he attended International Qarat Competition as the chief guest in Saudi Arabia. "It is honor and prestige for Pakistan and I am thankful to Khadim-e-Harmain Al-Sharifain, Muhammad bin Salman and Saudi Religious Minister Saleh Al-Sheikh.
Notable office-bearers of the PUC, including Maulana Abdul Hameed Watto, Maulana Asad Ullah Farooq, Haji Muhammad Tayyab Qadri, Maulana Aseed-ur-Rehman, Maulana Qari Mubashar, Maulana Zubair Zahid, Maulana Qari Abdul Hakeem, Maulana Qari Abdul Rasheed, Maulana Islamud Din, Qari Abdul Rasheed, Maulana Asif Muhavia, Maulana Muhammad Siddique and Qari Qamar-ud-Din were also present.
https://dailytimes.com.pk/political-and-religious-organisations-urged-to-unite-for-countrys-stability/
--------
Ahmadi issue is a done deal, says PML-N chief Nawaz
October 16 2017
ISLAMABAD: Former prime minister and Pakistan Muslim League-Nawaz President Mian Nawaz Sharif, while commenting on the controversy surrounding the Khatam-e-Nabuwat clause, said Sunday that the matter should be kept clean from "political filth", as it has already been settled once and for all.
According to a statement issued here by PML-N leader Asif Karmani, Nawaz said the negative views expressed on the matter had nothing to do with his party's ideology and policies. He said that firm belief in the finality of Prophethood (Khatam-e-Nabuwat) was mandatory for being a Muslim and it was the part and parcel of the constitution.
Nawaz said that the mistake in the Election Bill, 2017, was immediately rectified, for which he was thankful to all parliamentary parties.
Earlier, due to a "clerical error", the clause pertaining to Khatam-e-Nabuwat in the nomination form was removed, which was restored immediately following a backlash by the opposition parties.
The ousted premier's statement comes as a belated reaction to the diatribe of Capt (r) Safdar, a senior PML-N lawmaker and Nawaz's son-in-law, against the Ahmadis in the National Assembly last Tuesday. Safdar's rant was met with a strong response on social media, inciting countrywide protests by religious activists.
"The minorities have got complete safety of their lives and belongings, as well as their basic rights. They have all these rights in accordance with the constitution and Islamic teachings," Nawaz said in the statement.
Nawaz said his party had the honour of being the party of Quaid-e-Azam Mohammad Ali Jinnah—who assured all the segments of society of their religious and social freedom in the country. He said that the people of Pakistan thrice chose him as the prime minister and each time he served them without any discrimination of language, colour and creed, adding, "I made sure minorities' rights without discrimination on the basis of religion or faith."
After Safdar's anti-Ahmadi remarks, Prime Minister Shahid Khaqan Abbasi, in a statement, distanced himself for his (Safdar) tirade, and reaffirmed PML-N's commitment to upholding the rights of the minorities. The prime minister called Safdar's tirade an emotional outburst rather than a hate speech, but he did say that such outbursts threaten the stability of society.
Interior Minister Ahsan Iqbal, in reaction to the hate speech against the minority community in the National Assembly, said that Pakistan respected all minorities and that "it is tragic to see hate speech against minorities in National Assembly."
Safdar's speech against the Ahmadis was reportedly to work as a distraction from the recent gaffe—removal of clause pertaining to the finality of Prophethood—made by the ruling PML-N during the Electoral Reforms Bill.
"I demand a complete ban on the recruitment of Ahmadis in the army and other services," Capt Safdar had said while speaking on a point of order, adding that the officials related to the minority group were a "threat to Pakistan's sovereignty, and hence, they should be removed from those positions forthwith".
Later, Punjab Law Minister Rana Sanaullah Khan also came under criticism when he tried to clarify Safdar's remarks about the Ahmadis. In a bid to prove his stance, Sanaullah stirred up a hornet's nest when called the Ahmadis Muslims.
A day later, Sanaullah addressed a press conference to clear his position, where he said the Ahmadi community should stop declaring themselves as Muslims if they want to be treated in the same manner as other religious minority groups in Pakistan.
He said that "let me state it very clearly that, according to Islam and Pakistan's constitution, those who do not believe in Khatam-e-Nabuwwat (finality of Prophethood) are not Muslims." "It is our duty to protect minorities of the country but the Ahmedis will first have to stop claiming to be Muslims. There is no other way around it," Sanaullah said.
Full report at:
https://www.pakistantoday.com.pk/2017/10/15/ahmedi-issue-is-a-done-deal-says-pml-n-chief-nawaz/
--------
Pakistan tells Afghan Taliban to 'prepare' for political dialogue
Tahir Khan
OCTOBER 16, 2017
ISLAMABAD: Pakistan has told the Afghan Taliban leadership to prepare a team for peace negotiations, a Taliban leader familiar with the development confirmed to Daily Times on Sunday.
Pakistani officials conveyed the message to the Taliban leaders in a recent interaction. However, the Taliban leaders have not yet responded to the call.
Taliban had earlier refused to accept Pakistan's call to join the political dialogue when a similar message was conveyed to them in a face-to-face meeting between several senior Taliban leaders and Pakistani officials in March.
Weeks later, Taliban launched their annual Spring Offensive codenamed 'Omari Operations' named after Mullah Akhtar Mansour, who was killed by a US spy aircraft in May last year.
"Although Taliban have yet not responded to Pakistan's appeal, this time Pakistan could go tough on the Taliban if they refuse to come to the negotiation table," a former Taliban minister told Daily Times, requesting anonymity. "There is a possibility that some Taliban members are arrested, expelled or even handed over to Afghanistan if Taliban leadership declines to join the peace process," he further said.
Daily Times has learnt most of the Taliban military commanders, including military chief Ibrahim Sadr, are in southern Afghanistan to lead the war from there. All Taliban leaders, who are considered in Akhtar Mansour's camp, have already left Pakistan and now are in Helmand, Kandahar and Urozgan.
A Taliban official, who had joined fighting in eastern part during Spring Offensive, told Daily Times that Taliban now freely move from one of their stronghold to other and even from the south to the relatively peaceful north where the Taliban have many areas under their control.
Pakistan has pressed the Taliban to join the peace talks amid diplomatic efforts to find out a peaceful solution to the Afghan problem.
Senior Afghan, Chinese, Pakistani and US officials are scheduled to meet in Muscat, Oman, on Monday at the Quadrilateral Coordination Group's meeting, which will be their first sitting after they met in Islamabad in May last year.
The QCG process had been dysfunctional after an American drone killed Taliban chief Akhtar Mansour on May 21 last year, in an attack Pakistan had described as a serious setback to the peace process.
However, now the Americans are believed to have taken the lead to revive the grouping, which is one of the best options available to push for the political negotiations.
Foreign Secretary Tehmina Janjua will be leading Pakistan's delegation in the QCG's consultations. Pakistani and Afghan officials have joined officials from other countries in Muscat at a discussion organised by the International Institute for Strategic Studies and the Near East & South Asia Centre.
Pakistan had earlier insisted that it is not its responsibility to bring the Taliban to the negotiations table and all QCG members should use their influence in this regard.
Pakistani officials now insist that the reconciliation with the Taliban has got further complicated as Russia and Iran are now completely involved in the game and they have strong contacts with both countries. Taliban sources admit Iran has given houses to some Taliban leaders in their Sunni-majority areas.
Russian officials involved in Afghan affairs publicly defend contacts with their former foes to protect their diplomatic missions and nationals in Afghanistan and also to work for peace in the war-ravaged country. The Daesh Khorasan phenomenon is also one of other key factors to bring the Taliban closer to Russia and Iran as both consider the group as a serious threat to them as well as the regional countries.
China, which adopted a low profile in Afghanistan until 2014, has also emerged as an active player in all initiatives including the Russia-led regional peace initiative that focuses on ways to find out peaceful solution to the Afghan conflict.
Turkey, which is part of the US-led invasion forces in Afghanistan, is eyeing a bigger role now and is opening its doors even for the Taliban leaders who intend to seek asylum there. A senior Taliban leader has applied for asylum in Turkey, which recently hosted representatives of a splinter Taliban group for talks with the Afghan govt.
Full report at:
https://dailytimes.com.pk/pakistan-tells-afghan-taliban-to-prepare-for-political-dialogue/
--------
Army captain among four martyred in Kurram blast
OCTOBER 16, 2017
PESHAWAR: Four security personnel including an army captain embraced martyrdom and three others were injured in an improvised explosive device (IED) blast near Kharlachi area of Kurram Agency on Sunday.
According to the Inter-Services Public Relations (ISPR), the security personnel were conducting search operation to arrest the handlers involved in kidnapping of a Canadian national and his wife in Afghanistan.
The Canadian family was rescued by the security forces in Kurram Agency near Pak-Afghan border a few days back.
Soon after the explosion, security forces cordoned off the area and launched a search operation. Three officials were killed instantly while four were reported injured, according to the political administration of the agency.
The bodies of the martyred officials were taken to a hospital to the agency's headquarters, Parachinar. Later, one of the injured, Captain Hasnain, succumbed to his injuries.
The other martyred are Sepoy Saeed Baz, Sepoy Qadir and Sepoy Jumma Gul. Those wounded are Naik Anwar, Sepoy Zahir and Lance Naik Sher Afzal, who were shifted to agency headquarters hospital in Parachinar. The funeral prayers of the martyred were offered at the FC Ground in Parachinar.
Sources said following the incident, the border crossing at Kharlachi was shut down.
Kurram Agency borders three provinces of Afghanistan and witnesses several cross-border attacks.
Full report at:
https://dailytimes.com.pk/army-captain-among-four-martyred-in-kurram-blast/
--------
Those talking against army are country's enemies, says Musharraf
October 16, 2017
KARACHI: All-Pakistan Mus­­lim League (APML) chief and former president retired Gen Pervez Musharraf said on Sunday that those talking against Pakistan and its army were enemies of the country.
In a telephonic address to a rally of his party, he said the army was the protector of the country's borders and it had rendered outstanding services to the nation. The army had not only worked to defend the country but also contributed greatly in its socio-economic sector, he added.
APML workers and supporters marched from Tariq Road to the Quaid-i-Azam's mausoleum near which the rally was held.
Mr Musharraf accused leaders of Pakistan Muslim League-Nawaz of talking against the judiciary and the army for creating chaos in the country.
He said the Supreme Court should take notice of the propaganda of "corrupt politicians" who were trying to defame national institutions.
He said his party and PML-Functional were talking to other like-minded parties to form a platform for jointly contesting the coming general elections in the country. If an alliance of these parties came to power after the election, all corrupt elements in the country would be made accountable.
Full report at:
https://www.dawn.com/news/1364125/those-talking-against-army-are-countrys-enemies-says-musharraf
--------
'JUI-F creating hurdles to Fata-KP merger'
October 16, 2017
PESHAWAR: All Fata Students Forum on Sunday alleged that JUI-F chief Maulana Fazlur Rehman was working on an agenda of someone else to keep the tribal people deprived of their due rights and urged the federal government to ensure merger of the Federally Administered Tribal Areas with Khyber Pakhtunkhwa at the earliest.
Speaking at a press conference at Peshawar Press Club, the forum chairman Farhad Ali said that the JUI-F's recent convention on Fata issues had failed as majority of the participants belonged to settled districts who had nothing to do with the merger issue.
Mr Ali was flanked by Insaf Students Federation president Akhtar Gul, Islami Jamiat Talba focal person Waseem Haider, Khyber Youth Forum's Aamir Afridi and Kuram Students Organisation president Mohammad Saleem.
He appreciated MNAs Shah Jee Gul, Shahabuddin and Sajid Turi and Senator Sajjad Turi for their efforts for the Fata-KP merger. He said that the students of Fata were determined to continue their struggle for implementation of the reforms.
The forum decided that it would intensify the ongoing struggle for merger of the tribal region with KP province. It proposed that a new committee should be constituted to expedite the reforms process in the tribal region.
Mr Ali said that the political leaders were creating hurdles to the reform process for their vested interests, which was unacceptable to them. He said that JUI-F could not deceive the youth in the name of religion anymore.
Full report at:
https://www.dawn.com/news/1364161/jui-f-creating-hurdles-to-fata-kp-merger
--------
India
The Hindu-Muslim marriage stuck in India's Supreme Court
October 16 2017
The decision by an Indian court in May to annul the marriage of a Hindu woman who converted to Islam and married a Muslim man has grabbed headlines in the country, with many referring to it as a strike against "love jihad".
The term was popularised by radical Hindu fringe groups, who accuse Muslim men of participating in a "conspiracy to turn Hindu women from their religion by seducing them".
Marriages between Hindus and Muslims have long attracted censure in conservative Indian families, but the attachment of a deeper, sinister motive to them is a recent phenomenon.
The ruling in the southern Indian state of Kerala came despite the woman claiming that she converted to Islam of her own free will.
An appeal by the couple, Hadiya and Shafin Jahan, is now being heard by the Supreme Court, which has ordered an independent investigation into the matter.
The case has already seen the involvement of the country's National Investigative Agency (NIA) who say they are looking into Mr Jahan's allegedly "radical" views and his suspected links to banned Islamic groups.
Here is what we know about the case so far.
What's it all about?
In January 2016, Hadiya Jahan, 23, previously known by her Hindu name, Akhila Asokan, converted to Islam. She was sharing a house with two Muslim girls who were her classmates.
She was studying in the southern state of Tamil Nadu at the time. Her parents lived in the neighbouring state of Kerala.
Her father, KM Asokan, approached the courts in an effort to locate her because, according to him, she had stopped communicating with her parents while she was away at college.
When her parents found out she had turned to Islam, Mr Asokan petitioned the Kerala High Court, alleging that their daughter had been forcibly converted and was being held against her will.
But Ms Jahan told the court that she chose to convert because she was impressed with her two Muslim housemates praying and practicing Islam. So the court ruled that she was free to do as she chose, since there was no evidence of "illegal confinement" as alleged by Mr Asokan.
But Mr Asokan told the BBC that his daughter had been "brainwashed" by her housemates and people known to them.
"They wanted to send her to Syria," he said. "I got to know about it when she told me over the phone. I recorded that conversation and I filed a case."
Mr Asokan again appealed to the high court in August 2016 claiming that he believed Ms Jahan was going to travel outside of India.
During the hearing of the second case, Ms Jahan had married a Muslim man, Shafin, who she met on a matrimonial website.
This time, a different set of judges ruled in Mr Asokan's favour, annulling the Jahans' marriage and questioning if Ms Jahan's conversion was indeed voluntary.
"This is not a love jihad case. This is a case of forcible conversion,'' Mr Asokan's lawyer, C Ravindran, said. She was forced to convert in January, Mr Ravindran said, but she married only in December.
What did the high court in Kerala say?
The high court in Kerala issued two rulings, one in January 2016 and the other in May 2017. The first ruled in Ms Jahan's favour, dismissing Mr Asokan's petition that his daughter was not acting of her own free will.
But the second ruling questioned Ms Jahan's decision to convert to Islam, observing that "radical organisations" converted "young girls of Hindu religion" on the "pretext of love". The court used language that resembles the popular definition of "love jihad."
The court declared the marriage to be a "sham", citing several reasons, from Ms Jahan's "weak and vulnerable" state "as a girl aged 24 years" to Mr Jahan's alleged radical views to the judges' opinion that a decision about marriage can be taken "only with the active involvement of her parents".
The court also "granted custody" of Ms Jahan to her parents.
"It's the most absurd order you can come across," Dushyant Dave, Mr Jahan's lawyer, told the BBC.
Her father had filed a habeas corpus plea, a writ which requires a person detained by the authorities be brought before a court of law so that the legality of the detention may be examined. So the court's job was done, Mr Dave said, once Ms Jahan appeared before the judges "alive and well".
The order, which drew criticism in the media, also surprised lawyers.
Karuna Nundy, a Supreme Court lawyer, described it as "completely without jurisdiction" because the court seemed to be "attributing false consciousness" to Ms Jahan by assuming that she was not acting of her own free will.
"The high court can't annul the marriage," she added. "That aspect is bizarre."
What's happening with the case?
The case is being heard in India's Supreme Court after Shafin Jahan appealed the high court's verdict.
The Supreme Court refused to overturn the annulment without "inputs from all sides", but questioned whether the Kerala High Court should have annulled the marriage of two consenting adults.
The court also asked the NIA, which investigates terror cases, to probe the Jahans' marriage - while cautioning against the use of labels such as "love jihad".
The NIA has since informed the court that it believes there are other cases where Hindu women were "lured" into converting to Islam, allegedly to recruit them to terror causes.
The agency said it had found a common link between Ms Jahan's case and another case of alleged "forcible conversion". A woman named Sainaba had been a "mentor" to the women in both cases during the time they are believed to have converted to Islam.
Sainaba, according to the NIA, is linked to the Popular Front of India, which is suspected of being a radical Islamic organisation.
But some lawyers argue that the NIA's investigation should have no bearing on the fate of these marriages.
"Even if there is a massive conspiracy to lure women and get them to join IS, it is for the women to decide whether to stay married to the men or not," said Ms Nundy. "Even convicted criminals have a right to be married."
The NIA has not yet responded to the BBC's request for a comment.
What is happening with the couple?
Ms Jahan is living in her parent's house where the court ordered her to go in May 2017.
Mr Jahan said he has tried contacting her but there has been no response yet. He also alleged that he wasn't allowed to enter her parents' house when he tried visiting her.
When Mr Asokan was asked about the allegation that his daughter wasn't being allowed to speak to anyone, he told the BBC, "Whom does she have to meet ? If there are relatives, she can meet them. There is no need for her to meet others."
"It was the court's decision to send my daughter to my house," he added. "So, why are all kinds of people coming to see her? They have to go to the court if they want to meet her. Why am I being troubled?"
Ms Jahan hasn't appeared in court, as she was told they don't want to hear from her yet.
The couple declined to speak to the BBC while the case was ongoing.
http://www.bbc.com/news/world-asia-india-41021373
--------
'Cows taken from Muslim family at BJP neta's behest'
Oct 16, 2017
ALWAR/JAIPUR: The village where 51 cows were reportedly taken away from a Muslim family, were kept by Alwar police in a gaushala that belongs to local BJP leader Shrikishan Gupta.
Meo vilage leaders on Sunday alleged that the police acted under influence of Gupta, the upa-pradhan of Kishangarh-Bas Panchayat Samiti, in snatching the cows and handing them to his gaushala at Bambora. 45-year-old dairy farmer Subba Khan is awaiting the release of his cows.
However, Gupta refuted the charge that the police acted under his influence. "One cow died on Sunday, while another is critical," Gupta told TOI. "Police brought all these cows to my gaushala. I will wait for the official order from local police or SDM to release these," he said. "Khan will have to pay Rs 200 per day per cow towards fodder and maintenance since October 3," he told TOI.
On the other hand, the Meo Panchayat said it will meet Alwar collector and district SP on Monday to demand immediate release of Khan's cows. The Panchayat said it will lodge an FIR against those who forcibly took the cows. "We will meet senior officials on Monday and will demand release of cows as also the suspension of Kishangarh-Bas SHO who is working at the behest of BJP leaders," said Sher Mohammad of Meo Panchayat.
Full report at:
https://timesofindia.indiatimes.com/city/jaipur/cows-taken-from-muslim-family-at-bjp-netas-behest/articleshow/61095356.cms
--------
North America
US Muslim scholar braves Malaysia visit despite Akyol episode
Abdar Rahman Koya
October 16, 2017
PETALING JAYA: A prominent American Muslim scholar invited to speak on Islamic topics in Malaysia this December says he is determined to go ahead with his visit despite last month's arrest of Turkish author Mustafa Akyol by religious authorities in Kuala Lumpur.
However, Nader Hashemi, who heads the Center for Middle East Studies at the Josef Korbel School of International Studies in the University of Denver, said he first had to convince his wife who feared he would suffer the same fate as Akyol.
"I think I can convince her that accepting your invitation is the right thing to do," he told Islamic Renaissance Front (IRF) director Dr Ahmad Farouk Musa, in an email sighted by FMT.
"My Islamic ethics demand that I stand up for truth and justice. I hope my visit can contribute in some small way to the realization of these ideals in Malaysia over time."
Hashemi will be speaking on topics in contemporary Muslim discourse such as democracy, sectarianism and liberal values, during a five-day tour hosted by IRF beginning Dec 14.
The visit will take place some three months after a similar lecture tour organised by IRF featuring Akyol ended with his arrest by the Federal Territory Islamic Religious Department (Jawi), who accused him of violating a law requiring speakers on Islam to be approved by the body.
Asked on the possibility of Hashemi being hauled up under the same charge, Farouk said the nature of the lectures is intellectual and not "religious sermons" for which Jawi's credentials are required under the Syariah Criminal Offences (Federal Territories) Act.
"The religious authorities and the government of the day should not have a monopoly of intellectual discourses in this country," said Farouk, who was also questioned by Jawi recently for hosting Akyol.
"Not only they failed to differentiate the difference between intellectual discourses and religious sermons, they also seemed to force the people to adhere to their insular and dogmatic interpretation devoid of any intellectual substance," added Farouk who is a senior medical lecturer at Monash University.
Akyol, a New York Times columnist attached to the Wellesley College in Boston, was arrested at the Kuala Lumpur International Airport (KLIA) on Sep 25 as he prepared to board a flight to Rome. He later revealed that his 18-hour detention ended following pressure from former Turkish president Abdullah Gul as well as the head of a Malaysian state royalty.
Akyol's trip, his fifth to Malaysia, had stirred protests among several conservative Muslim groups over his views on religious freedom.
Days after his trip, the Malaysian government banned Akyol's book "Islam Without Extremes: A Muslim Case For Liberty", and its Malay edition published by IRF, "Islam Tanpa Keekstreman: Berhujah Untuk Kebebasan", among scores of titles on Islam banned by the Home Ministry, saying they could cause "public alarm" and undermine "public interest".
Hashemi has often promoted the idea of reenergising Muslim political thought through democracy and liberalism, topics that have in the past riled up Muslim groups and Islamic bureacrats in Malaysia.
Hashemi, who has twice visited Malaysia for speaking engagements, is also the author of "Islam, Secularism and Liberal Democracy", the Malay edition of which was published by IRF last year.
http://www.freemalaysiatoday.com/category/nation/2017/10/16/us-muslim-scholar-braves-malaysia-visit-despite-akyol-episode/
--------
California Law Will Bar Cities, Counties From Providing Information for 'Muslim Registry'
OCTOBER 15, 2017
Gov. Jerry Brown signed a closely watched bill on Sunday to block the creation of any so-called Muslim registry should President Trump choose to act on a proposal he repeatedly suggested during his 2016 campaign.
Senate Bill 31 by state Sen. Ricardo Lara (D-Bell Gardens) bars state and local governments from releasing personal information to the federal government for the creation of any religious list, registry or database. It also prohibits them from using resources to create their own lists.
Dubbed the California Religious Freedom Act, the bill coasted through the legislative process this year, the only proposal to gain bipartisan support from a package introduced by majority Democrats to counter Trump's policies.
In authoring the bill, Lara cited an NBC News interview in which Trump, then a presidential candidate, said there "should be a lot of systems," beyond a database, that track Muslims in the country. As evidence the president could follow through on that idea, supporters of SB 31 pointed to the creation of travel bans from seven predominantly Muslim countries.
http://ktla.com/2017/10/15/california-law-will-bar-cities-counties-from-providing-information-for-muslim-registry/
'America I cannot be shamed by you': Muslim MP to boycott US trips in response to Trump travel ban
Mr Husic told colleagues in the House of Representatives that the United States is shutting people out on the basis of faith.
"I think it is wrong, that a nation (that) can promise so much on the basis of freedom, can shut out people on the basis of faith and do it that way. I think it's wrong and against what America stands for," he said in the chamber.
He delivered the speech during a motion about Australia's relationship with the United States and said while he has visited the US every year since 2005, he would be re-thinking future travel there.
President Trump's ban includes restrictions on travel to the US by nationals from Iran, Syria, Yemen, Somalia, Libya, Chad and North Korea.
"I can't see myself going back to America while this is being maintained. I cannot think of people like me and my faith being taken out in front of their children in a line queuing up to visit the States just on the basis of faith."
The son of Bosnian parents, Ed Husic made headlines in 2010 when he became the first Muslim federal MP.
"America, I think the world of you. But I cannot, and people like me cannot be shamed by you.
Full report at:
http://www.sbs.com.au/news/article/2017/10/16/america-i-cannot-be-shamed-you-muslim-mp-boycott-us-trips-response-trump-travel
--------
Trump made US look 'foolish' over Iran: Clinton
Oct 16, 2017
Former US Secretary of State Hillary Clinton says President Donald Trump's move to undermine the 2015 Iran nuclear deal has made America look "foolish and small."
Trump unveiled his new strategy against Tehran on Friday by refusing to certify the agreement, known as the Joint Comprehensive Plan of Action (JCPOA), between Iran and the P5+1 group of countries—the US, the UK, France, Russia and China plus Germany.
Clinton told Fareed Zakaria in a CNN interview on Sunday that the move gave Iran the upper hand, because there was no proof pointing to Tehran's non-compliance.
"If Iran is complying, which all the evidence is, then all of a sudden, instead of working to isolate Iran on every issue, we are giving Iran the spotlight — the aggrieved-party spotlight," she admitted.
"That makes us look foolish and small and plays right into Iranian hands," Clinton continued.
Under the JCPOA, the Islamic Republic agreed to limit certain parts of its peaceful nuclear program in exchange for removal of all nuclear-related sanctions by Washington and its allies in the European Union (EU).
In his speech on Friday, Trump accused Iran of committing "multiple violations of the agreement," a claim repeatedly rebuked by the International Atomic Energy Agency (IAEA), America's EU allies and even officials within his own administration.
Clinton said Trump's decision was a "major mistake" and part of an impulsive pattern that made Washington look unreliable.
"First of all, it basically says America's word is not good," she said, arguing that leaving a multinational agreement makes it difficult for the US to negotiate any future deal with other countries.
Democrats say Trump's Iran strategy 'grave mistake'
180 Democrats ask Trump to certify Iran nuclear deal
The former Democratic presidential nominee, who lost last year's race for the White House to Trump, has been a vocal critic of his new Iran policy.
In a separate interview that was aired on Saturday, she told BBC that the Republican head of state's reasoning was unclear.
"Basically for political reasons or for personal reasons, it's unclear which he is basically throwing open the door to Iran's nuclear program one more time. I think that is very dangerous," Clinton said.
Full report at:
http://www.presstv.com/Detail/2017/10/16/538746/US-Clinton-foolish-Trump-Iran-JCPOA
--------
Neither Iranians, nor Europeans want to renegotiate nuclear deal
Oct 16, 2017
Just like the European allies of the United states, Iranians are also unwilling to reopen the tough nuclear talks that yielded the Joint Comprehensive Plan of Action, says a top senator at the Foreign Relations Committee.
Democratic Senator Chris Murphy made the comments Sunday as top national security aides in the Trump administration were busy calling for calm in the wake of the president's failure to recertify the nuclear agreement.
Any effort to renegotiate the deal is "an absolute fantasy," the Connecticut lawmaker told Fox news, adding that "The Iranians will not renegotiate it, and neither will the Europeans … And so if we were to pull out of this agreement, as the president is threatening, Iran would get everything they want. They would be able to restart their nuclear program, because we would be in violation of the deal. The Europeans would continue to grant them sanctions relief, their economy would continue to grow."
Speaking from the White House on Friday, Trump said he would not recertify that Tehran is complying with the 2015 nuclear agreement.
According to Murphy, Iran is complying with the deal and "the White House is required to tell Congress if they are not, and they've submitted absolutely no submissions."
The president is required by US law to certify every 90 days whether or not Iran is complying with the nuclear deal. He has certified the deal twice since coming to office.
The US Congress has 60 days to decide whether to reimpose economic sanctions against Tehran, removed under the accord.
'Pure insanity'
The Trump administration is, meanwhile, exerting pressure on Tehran by introducing new sanctions against Iran's Islamic Revolution Guards Corps (IRGC).
In a Sunday statement, US Treasury Secretary Steven Mnuchin accused the elite military force of providing support for terrorists, a baseless allegation also pursued in previous US administrations.
"The idea of sanctioning these people is pure insanity," Gordon Duff, a senior editor at Veterans Today told Press TV on Sunday.
During the interview, the analyst further described IRGC as "an organization that's been leading the fight against ISIL (Daesh) and has suffered hundreds of casualties."
Duff added that the IRGC is fighting the "same enemy" that the US alleges to be battling, the Daesh Takfiri group, and is considered to be "on the same side as the United States" in this regard.
'Don't give Iran any opportunity!'
The Trump administration's anti-Iran measures were also echoed Sunday by other officials such as Trump's national security adviser, General H.R. McMaster, who asserted that the JCPOA cannot be used as a "cover" for the pursuit of nuclear bombs, which the US and the Israel regime are both in possession of.
"One of the real problems with this deal is we can't really say with confidence that they're complying," McMaster claimed, accusing Iran of having "walked up to the line" and "crossed the line several times in terms of the restrictions."
"They have to revisit it because otherwise what you do is you just give the Iranians the opportunity to develop a nuclear capability. Their programs can advance and then they can go to industrial scale enrichment of uranium within a very short period of time and then bridge into a weapon, and that is just an unacceptable risk to the world," he further claimed.
Since Trump reneged on the deal, the Unites States' European allies, the UK, Germany and France, have become more vocal in their support of the deal.
McMaster insisted that "the president's not walking away from the deal yet" and wants to see "some real change."
Secretary of State Rex Tillerson also told CBS that Trump seeks "improvement" of the deal.
"If we don't see improvement, there is no sense in staying in, and he has every intention of walking out," he said.
'We should anchor Trump!'
Tehran, meanwhile, has vowed to properly respond to the anti-JCPOA measures, while the International Atomic Energy Agency (IAEA) keeps verifying Tehran's compliance with 2015 accord, also endorsed by Russia and China.
French President Emmanuel Macron said Sunday that he told Trump not to "tear up the deal" as he had vowed during the 2016 presidential campaign.
"After that I told him, let's have a demanding dialogue, let's continue to conduct checks, but let's be much more demanding with Iran on its ballistic activity," he added during his first live TV interview since taking office.
Macron refused to directly respond to a question on whether Trump is "dangerous" or "unpredictable," saying, "I speak constantly to the US president because it's my duty."
"He is the president of the (world's) first power, so it's important to anchor him in this partnership, in this multilateral approach," he said.
Full report at:
http://www.presstv.com/Detail/2017/10/16/538734/Reopening-Iran-nuclear-talks-absolute-fantasy
--------
South Asia
Clash among ISIS and Afghan forces leaves 12 dead, wounded in Kunar
Oct 15 2017
At least twelve people were killed or wounded during a clash between the Afghan security forces and the ISIS militants in eastern Kunar province of Afghanistan.
The 201st Silab Corps of the Afghan National Army (ANA) forces in the East said the incident took place late on Saturday night in the vicinity of Kunar Bain area.
A statement by the Silab Corps said at least eight ISIS militants were killed and four others were wounded during the clashes.
The statement further added that two weapons, eight magazines of ammunition, 2 rocket launcher missiles, 1 communication device set, and 3 mobile phones together with the dead bodies of the two militants were left in the area in the aftermath of the clashes.
The anti-government armed militant groups including the ISIS militants have not commented regarding the report so far.
Kunar, located in eastern parts of Afghanistan, borders the tribal regions of Pakistan and is home to several terrorist groups.
The Afghan Taliban insurgents as well as the Islamic State of Iraq and Syria (ISIS) terrorist group's offshoot, ISIS Khorasan, operate in some of the restive districts of the province.
http://www.khaama.com/clash-among-isis-and-afghan-forces-leaves-12-dead-wounded-in-kunar-03647
--------
Taliban suffer heavy casualties in latest operations in Helmand province
Oct 15 2017
The Taliban insurgents suffered heavy casualties during the latest counter-terrorism operations in southern Helmand province of Afghanistan.
The provincial government in a statement said the latest counter-terrorism operations were conducted in Lashkargah city, Nad-e-Ali, and Kajaki districts.
The statement further added at least 25 Taliban insurgents were killed during the operations and 11 others were wounded.
The operations are jointly being conducted by the Afghan army, Afghan police, and security personnel of the other institutions, the statement added.
According to the provincial government, the Afghan security forces also destroyed a PKM machine gun of the militants along with a mortar, four motorcycles, and two of their hideouts.
The provincial government also added that the security forces have so far managed to clear large swathes of the areas from the militants presence in Lashkargah, Nad-e-Ali, and Kajaki districts.
The anti-government armed militant groups including the Taliban insurgents have not commented regarding the report so far.
Full report at:
http://www.khaama.com/taliban-suffer-heavy-casualties-in-latest-operations-in-helmand-province-03650
--------
Myanmar Muslims fear further 'turning of the tide
October 16 2017
For Tun Kyi, Myanmar is home. He was born and brought up in the country and, like thousands of other Burmese, he was also protesting in the streets for democracy during the military junta's rule. He spent 10 years in prison.
Today, he is playing an active role in the Former Political Prisoners Society of Myanmar. He was one of those Muslims who hoped the community would get its rightful place in society after the end of military rule in 2010.
"The situation changed after the violence in Rakhine state in 2012," he said. "The tide is not just against Rohingya Muslims but also against the Muslim community as a whole."
Mr Kyi's ancestors migrated from India to Buddhist-majority Myanmar, also known as Burma, generations ago.
The clashes between Buddhists and Muslim Rohingyas in western Rakhine state in 2012 drove 140,000 people out of their homes. Most of those displaced, particularly Rohingya Muslims, ended up seeking refuge in neighbouring Bangladesh.
I was invited to a mosque in Yangon during Friday prayers. Hundreds of men, many wearing their Islamic caps, were streaming in and getting ready for prayers.
The discussions I had with some of the worshippers reflected a sense of uneasiness among the community following the latest round of violence in Rakhine.
The violence was triggered after Arakan Rohingya Salvation Army (Arsa) - a Rohingya Muslim militant group - launched simultaneous attacks on Myanmar security check posts in the region on 25 August. The Myanmar military swiftly launched what it described as counter-terrorism operations.
More than half-a-million Rohingya Muslims have since fled the violence, bringing with them reports of rape and extra-judicial killings.
Senior UN officials and human rights groups have described the exodus of Rohingya Muslims as "ethnic cleansing"- a charge vehemently denied by the government of Myanmar.
"The problem there in Rakhine state is terrible," says worshipper Muhammad Yunus. "There are concerns that the violence may spill over to Yangon and other places."
He says that Muslims in other parts of the country are very careful about what they say and do in their day-to-day affairs.
"There are people who were born and raised in Rakhine state now living in Yangon," says Mr Yunus. "They are worried about their family members and relatives back home."
Muslims are believed to constitute about 4.5% of Myanmar's population of 53 million. The estimate also includes Rohingya Muslims, but Muslim community leaders argue that their real population could be twice the official figure.
Various reports point out that Muslims have been living in Myanmar for centuries. Their numbers increased during British colonial rule when many of them either migrated or were brought in from the Indian subcontinent.
Rohingya Muslims - who are linguistically different from Muslims in south and central Myanmar - lived mostly in western Rakhine state.
Islamic community leaders say they are disappointed that despite the numbers there is no single sitting Muslim member of parliament.
The elections in 2015 brought Aung San Suu Kyi's National League for Democracy (NLD) to power, but even the NLD did not field any Muslim candidates.
"We feel that we are being discriminated against in every way, you name it," says Al-Haj U Aye Lwin, the chief convener of the Islamic Centre of Myanmar.
He says that has been the case since 1962 - when the military seized power - and Muslims have been weeded out from important government positions.
"Now you don't find even one junior [Muslim] officer in the police force, let alone the army," says Mr Lwin. He argues that the discrimination mainly emanates from the government and is not so widespread at grassroots level.
Mr Lwin is one of the members of an Independent Advisory Commission, headed by the former UN Secretary-General Kofi Annan, to find solutions to the conflict in Rakhine state.
The commission was set up by Ms Suu Kyi in 2016. It submitted its recommendations on 24 August - a day before the latest round of violence started.
Mr Lwin says Ms Suu Kyi may not be perfect, but "she is our only hope". He argues that the state counsellor has done whatever she could to solve the Rohingya issue.
"If she comes out openly and started to speak for the Muslims, it will be a political suicide for her," he says. "We don't want that to happen."
Full report at:
http://www.bbc.com/news/world-asia-41587478
--------
Eight dead as Rohingya boat sinks off Bangladesh
OCTOBER 16, 2017
The tragedy is the latest to hit Rohingya escaping what the UN has called "ethnic cleansing" by Myanmar authorities.
At least eight people drowned and dozens more are missing after a boat packed with Rohingya fleeing to Bangladesh sank on Monday, the latest victims of a half a million strong exodus sparked by an army crackdown in Myanmar.
The boat was carrying an estimated 50 people when it went down in the estuary of the Naf river that divides the two countries, Border Guard Bangladesh (BGB) area commander Lieutenant Colonel S.M. Ariful Islam told AFP.
Nearly 200 Rohingya have drowned over the last six weeks making the perilous crossing into Bangladesh, many in small wooden fishing boats that are dangerously overloaded.
They are fleeing violence in Myanmar's sectarian-plagued Rakhine state where the United Nations has accused troops of waging an ethnic cleansing campaign against the Rohingya Muslim minority.
Islam said the bodies of the eight confirmed victims had washed up on the river banks, while 21 survivors had swum to safety.
"Eight people were killed. The majority were children," he said, adding the small fishing trawler was overloaded with refugees desperate to escape.
Coast and border guards were conducting a search and rescue operation in the Naf river, he said.
More than half a million Rohingya have arrived in Bangladesh over the last seven weeks to escape a military crackdown that the the UN has said amounts to ethnic cleansing.
The stateless Muslim minority has faced decades of persecution in mainly Buddhist Myanmar.
The latest influx began in late August after attacks by Rohingya militants on police posts in Myanmar.
Another border guard told AFP the boat sank was just 200 yards (metres) from the Bangladesh coast when it sank in rough waters.
Fazlul Haq, a local official, said the boat was owned by a Bangladeshi villager who had made large amounts of money ferrying Rohingya into the country.
He said the small fishing trawlers were highly vulnerable to accidents as they approached the shore, where they are often battered by large waves.
Refugees are often charged exorbitant fees for the trip.
Full report at:
http://www.thehindu.com/news/international/many-killed-scores-missing-as-rohingya-boat-sinks-in-bangladesh/article19869603.ece
--------
ACJC police officer shot dead by gunmen in Kabul city
Oct 16 2017
A police officer of the Anti-Corruption Justice Center (ACJC) was shot dead by unknown gunmen in Kabul city.
The incident took place late on Sunday evening in the vicinity of the 8th police district of the city.
According to the officials in Kabul police commandment, the slain officer has been identified as Lemar and was shot dead near his residence in the city.
The officials further added that the attack was carried out by four individuals who managed to flee the area with the help of the motorcycles after carrying out the attack.
The security forces have launched an investigation in connection to the incident and no suspect has been arrested so far, the officials added.
No individual or group has so far claimed responsibility behind the incident.
This comes as both criminal and terrorism-related incidents are on the rise in the key cities of the country, including Kabul city.
An explosion targeted a vehicle o the police forces in the vicinity of the 3rd police district of the city a day earlier which left at least two policemen wounded.
Full report at:
http://www.khaama.com/acjc-police-officer-shot-dead-by-gunmen-in-kabul-city-03651
--------
14,000 lone children among Rohingya refugees
October 15, 2017
Nearly 14,000 children who have lost one or both parents are among the more than half a million Rohingya refugees who crossed in Bangladesh to escape violence in Myanmar, an official said Sunday.
The UN says 536,000 mainly Rohingya refugees have arrived from Myanmar's strife-torn Rakhine state since August 25, the majority of them children.
Bangladesh's social services department said 13,751 children without a parent or parents were identified in a survey of the crowded refugee camps along its border, where charities warn that a humanitarian crisis is unfolding.
"The majority of them said they lost one or both parents in the violence in Rakhine," Pritam Kumar Chowdhury, a department deputy director, told AFP.
"Others said they didn't know what happened to their parents, and they came to Bangladesh with relatives."
The UN has described the violence in Rakhine as a textbook case of ethnic cleansing, with displaced Rohingya Muslims in Bangladesh describing whole villages being razed, gang rapes and massacres.
Those who survived and fled to Bangladesh include an estimated 320,000 children, one-third of whom are under five years of age.
Bangladesh is building the world's largest refugee camp -- a sprawling three thousand acre (1,200 hectare) settlement -- capable of housing 800,000-plus Rohingya.
Last month a junior minister asked that 200 acres be set aside in the camp for children's facilities.
Chowdhury said an orphanage would be built for unaccompanied minors, and those without a parent would be given extra assistance and familial support.
Full report at:
http://www.thejakartapost.com/news/2017/10/15/14000-lone-children-among-rohingya-refugees-.html
--------
Arab World
King Salman, Trump confirm need to halt 'top terror sponsor' Iran
15 October 2017
Saudi King Salman telephoned US President Donald Trump Saturday evening, in which he affirmed the Kingdom's support and welcome the firm strategy announced by Trump towards Iran and its aggressive activities and support for terrorism in the region and the world.
The king praised the leadership role of the new US administration, which recognizes the magnitude of these challenges and threats, stressing the need for concerted efforts and firm positions on terrorism and extremism against its top sponsor, Iran.
Trump expressed his appreciation for the initiative of King Salman and his support, and stressed the keenness of the US to work with its allies to achieve security and world peace.
The two sides also discussed relations between the two countries and ways of developing them, as well as issues of mutual concern.
https://english.alarabiya.net/en/News/gulf/2017/10/15/King-Salman-Trump-confirm-need-to-halt-top-terror-sponsor-Iran.html
--------
Kurdish leaders reject Baghdad's demand to cancel referendum results
Oct 15, 2017
Kurdish leaders have dismissed the Iraqi government's demand that the Kurdistan Regional Government (KRG) annul the results of last month's independence referendum in the semi-autonomous Kurdistan region.
During a meeting between KRG President Massoud Barzani, Iraqi President Fuad Masum and Hero Ibrahim Ahmed, the widow of deceased former Iraqi President Jalal Talabani, in the Kurdish town of Dokan on Sunday, Kurdish leaders renewed their offer to "resolve peacefully" the crisis with Baghdad.
However, they rejected what they described as "military threats" from Iraqi forces against Kurdish Peshmerga fighters, and pledged to defend the Kurdistan region in case of an offensive, Barzani's aide, Hemin Hawrami, wrote on his Twitter page.
The report came shortly after Mala Karim, a Patriotic Union of Kurdistan (PUK) official, told Arabic-language al-Ghad Press news agency that Iraqi Turkmen fighters from the Popular Mobilization Units (PMU) had taken control of the Kurdish political party's organizational committee headquarters in the ethnically-mixed city of Tuz Khurmatu, located some 88 kilometers south of Kirkuk.
He added that the pro-government PMU forces -- better known by their Arabic name as Hashd al-Sha'abi – had established their control over the building after PUK members evacuated it.
Karim stressed that there was no gun battle between Turkmen fighters and Kurdish forces.
The referendum on secession of the Iraqi Kurdistan Region was held on September 25 despite strong opposition from the central government in Baghdad, the international community, and Iraq's neighboring countries, especially Turkey and Iran.
Following the vote, Baghdad imposed a ban on direct international flights to the Kurdish region and called for a halt to its independent crude oil sales.
On October 12, an Iraqi government spokesman said Baghdad had set a series of conditions that the Kurdistan Regional Government (KRG) needed to meet before any talks on the resolution of the referendum crisis could start.
"The KRG must first commit to Iraq's unity. The local authorities in the [Kurdistan] region … must accept the sovereign authority of the federal government on … oil exports, [as well as] security and border protection, including land and air entry points," the unnamed Iraqi official added.
The remarks came in response to an offer for dialogue made earlier by Kurdish authorities.
Iraqi Prime Minister Haider al-Abadi has already demanded the annulment of the referendum results.
Full report at:
http://www.presstv.com/Detail/2017/10/15/538698/Kurdish-leaders-reject-Baghdads-demand-to-cancel-referendum-results
--------
Egyptian security forces kill at least 24 Daeshis in restive Sinai Peninsula
Oct 15, 2017
Some 24 Daeshis have been killed after they launch attacks on Egyptian military positions in the North Sinai Peninsula.
According to the Egyptian Military on Sunday, the attackers used car bombs and rocket propelled grenades to attack several military outposts south of the border town of Sheikh Zuweid. Some 20 Egyptian security forces were also injured in the attacks which have been claimed by the Daesh terrorist group.
On Friday, the terrorist group also claimed responsibility for another attack on security forces that claimed the lives of at least six soldiers.
Over the past years, militants have been carrying out anti-government activities and fatal attacks, taking advantage of the turmoil caused in Egypt after the democratically-elected president, Mohamed Morsi, was ousted in a military coup in July 2013.
Full report at:
http://www.presstv.com/Detail/2017/10/15/538732/egypt-daesh-sinai-attack
--------
Al-Nusra Terrorists Push ISIL back from More Lands in Syria's Hama
Oct 15, 2017
The websites reported that Al-Nusra terrorists managed to capture the village of Sarha after heavy fighting with the ISIL.
The websites reported that Al-Nusra executed almost 30 ISIL terrorists, who were arrested yesterday after the ISIL killed a number of Al-Nusra fighters in Northeastern Hama.
Local sources confirmed on Saturday that a sum of 35 terrorists were killed in a fresh round of infighting between the ISIL and Al-Nusra Front in Eastern Hama.
The sources reported that 24 gunmen of ISIL and 11 fighters of Al-Nusra were killed in fierce clashes in Eastern and Northeastern Hama yesterday.
They added that a number of militants from both warring factions were also injured in the clashes.
Full report at:
http://en.farsnews.com/newstext.aspx?nn=13960723000679
--------
Syrian Air Force Bombs Heavily ISIL's Positions in Southeastern Deir Ezzur
Oct 15, 2017
The army aircraft pounded ISIL's strongholds in the town of Mouhassan and in the villages of Buqrus Fowqani, East of Buaqrus Tahtani and Bu Leil, killing tens of terrorists and destroying their military vehicles and equipment.
The army troops drove ISIL out of their key stronghold town of al-Mayadeen in Southeastern Deir Ezzur on Saturday.
"The army has purged terrorists from the town of al-Mayadeen and its surrounding regions and managed to impose full control over the town," the army sources said.
They added that the army men were advancing in the Western outskirts of al-Mayadeen to fortify their defense lines.
Full report at:
http://en.farsnews.com/newstext.aspx?nn=13960723001101
--------
Nearly 700,000 Iraqis still displaced months after Mosul recapture: NGO
Oct 15, 2017
An independent humanitarian organization says hundreds of thousands of people are still displaced from Iraq's strategic northern city of Mosul, which served as Daesh terror group's last urban bastion and its de facto capital in the Arab country, months after government forces and their allied fighters liberated it from the clutches of the extremists.
"One year since the start of the battle to retake Mosul from Daesh, some 673,000 Iraqis from the city and its surroundings remain displaced and unable to go back to their destroyed neighborhoods," the Norwegian Refugee Council (NRC) said on Sunday.
"More than half of them may have lost their official civil documents -- from birth certificates to property deeds -- which will make rebuilding their lives even harder," the humanitarian group pointed out.
On July 10, Iraqi Prime Minister Haider al-Abadi formally declared victory over Daesh extremists in Mosul, which served as the terrorists' main urban stronghold in the conflict-ridden Arab country.
In the run-up to Mosul's liberation, Iraqi army soldiers and volunteer fighters from the Popular Mobilization Units, commonly known by the Arabic name Hashd al-Sha'abi, had made sweeping gains against Daesh since launching the operation on October 17, 2016.
The Iraqi forces took control of eastern Mosul in January after 100 days of fighting, and launched the battle in the west on February 19.
"The battle of Mosul is over; but for hundreds of thousands who fled the city, their suffering and despair continues," the NRC's Iraq country director Heidi Diedrich said.
She added, "People we work with are still missing some of the most basic necessities and have no idea if they will ever be able to go back to their homes."
Full report at:
http://www.presstv.com/Detail/2017/10/15/538687/Nearly-700000-Iraqis-still-displaced-months-after-Mosul-recapture-NGO
--------
Africa
At least 231 killed in single deadliest attack in Somalia's history
October 15, 2017
At least 231 people were killed and more than 275 injured in the most powerful bomb blast ever witnessed in Somalia's capital, a senator said on Sunday, making it the deadliest single attack in this Horn of Africa nation. The toll could continue to rise.
Abshir Abdi Ahmed cited doctors at overwhelmed hospitals he visited in Mogadishu a day after a truck bomb targeted a crowded street near key government ministries. Many of the bodies in mortuaries had not yet been identified, he said.
As angry protesters gathered near the scene of the attack, Somalia's government blamed the al-Qaida-linked al-Shabab extremist group for what it called a "national disaster." However, Africa's deadliest extremist group, which often targets high-profile areas of the capital, had yet to comment.
The Mogadishu bombing is one of the deadliest attacks in sub-Saharan Africa, larger than the Garissa University attack in Kenya in 2015 and the US Embassy bombings in Kenya and Tanzania in 1998.
Doctors at Mogadishu hospitals struggled to assist badly wounded victims, many burned beyond recognition. "This is really horrendous, unlike any other time in the past," said Dr Mohamed Yusuf, the director of Medina hospital.
Inside, bleary-eyed nurses transported a man whose legs had been blown off. He waited as surgeons attended to another badly injured patient. Exhausted doctors struggled to keep their eyes open, while screams from victims and newly bereaved families echoed through the halls.
"Nearly all of the wounded victims have serious wounds," said nurse Samir Abdi. "Unspeakable horrors." The smell of blood was strong.
A teary-eyed Hawo Yusuf looked at her husband's badly burned body. "He may die waiting," she said. "We need help." Ambulance sirens echoed across the city as bewildered families wandered in the rubble of buildings, looking for missing relatives. "In our 10 year experience as the first responder in #Mogadishu, we haven't seen anything like this," the Aamin Ambulance service tweeted.
Grief overwhelmed many.
"There's nothing I can say. We have lost everything," wept Zainab Sharif, a mother of four who lost her husband. She sat outside a hospital where he was pronounced dead after hours of efforts by doctors to save him.
The country's Somali-American leader, President Mohamed Abdullahi Mohamed, declared three days of mourning and joined thousands of people who responded to a desperate plea by hospitals to donate blood. "I am appealing all Somali people to come forward and donate," he said.
Mogadishu, a city long accustomed to deadly bombings by al-Shabab, was stunned by the force of Saturday's blast. The explosion shattered hopes of recovery in an impoverished country left fragile by decades of conflict, and it again raised doubts over the government's ability to secure the seaside city of more than 2 million people.
"They don't care about the lives of Somali people, mothers, fathers and children," Prime Minister Hassan Ali Khaire said of the attackers. "They have targeted the most populated area in Mogadishu, killing only civilians." Rescue workers searched for survivors trapped under the rubble of the largely destroyed Safari Hotel, which is close to Somalia's foreign ministry. The explosion blew off metal gates and blast walls erected outside the hotel.
The United States condemned the bombing, saying "such cowardly attacks reinvigorate the commitment of the United States to assist our Somali and African Union partners to combat the scourge of terrorism." It tweeted a photo of its charge d'affaires in Somalia donating blood.
But the US Africa Command said US forces had not been asked to provide aid. A spokesman told The Associated Press that first responders and local enforcement would handle the response and "the US would offer assistance if and when a request was made."
The US military has stepped up drone strikes and other efforts this year against al-Shabab, which is also fighting the Somali military and over 20,000 African Union forces in the country.
The United Nations special envoy to Somalia called the attack "revolting," saying an unprecedented number of civilians had been killed. Michael Keating said the UN and African Union were supporting the Somali government's response with "logistical support, medical supplies and expertise."
The spokesman for UN Secretary-General Antonio Guterres strongly condemned the attack and urged all Somalis to unite against extremism and work together to build a "functional" federal state.
Saturday's blast occurred two days after the head of the US Africa Command was in Mogadishu to meet with Somalia's president, and two days after the country's defence minister and army chief resigned for undisclosed reasons.
Amid the chaos, the stories of victims began to emerge. Amino Ahmed said one of her friends, a female medical student, was killed on the eve of her graduation. The explosion also killed a couple returning from a hospital after having their first child, said Dahir Amin Jesow, a Somali lawmaker.
"It's a dark day for us," he said.
https://www.dawn.com/news/1363995/at-least-231-killed-in-single-deadliest-attack-in-somalias-history
--------
Gunmen attack Kenyan school, kill six children
Oct 14, 2017
Seven people, six of them children, were killed in northern Kenya on Saturday when unknown assailants attacked a school, officials said.
Cattle rustling and clashes over grazing and farming land are relatively common between communities in the East African country's north, and often escalate into revenge attacks.
The region also borders war-torn South Sudan, and arms smuggling is common, with Kenyan police having little control over weaponry crossing the border.
In a report, Kenya's KTN television channel said four boys, two girls and a guard were killed during the attack on Lokichogio School, which it said was carried out by assailants whose identities were yet to be determined.
"The attack ... is a painful reminder of the state of insecurity along the border," Josphat Nanok, Turkana county's governor, said on Twitter.
Full report at:
http://www.presstv.com/Detail/2017/10/14/538575/Kenya-school-children-assailants-alQaeda-militants-clash
--------
Attack on mosque kills 20 in Central African Republic
14 October 2017
More than 20 Muslims were killed in a mosque in Central African Republic's southeast during Friday prayers, community leaders said Saturday.
"The victims were at the mosque when anti-Balaka militants stormed the mosque killing at least 20 worshipers," Abdouraman Bornou, a local community leader said.
The incident took place at the Djimbi Mosque, in the country's southeast.
Ousman Mahamat, a Muslim community leader, said he was outraged at the behavior of some of his countrymen who promote inter-communal hatred.
"We have to double our vigilance. We have killed each other. And in this war there is neither a victor nor vanquished," he said.
"What has just happened in Djimbi is devastating,'' he said.
Since 2013 thousands of people have been killed in sectarian conflict in the country, and thousands have fled their homes to seek refuge in neighboring countries, including Cameroon and Chad.
In a report, Amnesty International has estimated that more than 5,000 people, most of them civilians, have died in sectarian violence in the Central African Republic despite the presence of international forces.
Violence erupted in the central African state in 2013, when Muslim Seleka rebels ousted then-President Francois Bozize, a Christian leader, who had come to power in a 2003 coup.
Full report at:
http://www.worldbulletin.net/africa/194980/attack-on-mosque-kills-20-in-central-african-republic
--------
Europe
Muslim Man Sponsors Synagogue Kiddush To Honor His Late Doctor
October 15, 2017
By Aiden Pink
A British Muslim man sponsored a synagogue kiddush luncheon to honor the late Jewish doctor who treated him, the Jewish Chronicle reported.
The Muslim man, who asked to remain anonymous, paid for the post-prayer spread at the Kingston, Surbiton and District Synagogue in south London to honor Dr. Tim Heymann, his gastroenterologist.
The Muslim man first contacted the synagogue earlier this year in order to reconnect with Heymann, only to discover that the doctor had died of a brain tumor a few months prior.
Since then, the Jewish Chronicle reported, the Muslim man "has become a regular at Shabbat and festival services and is studying Hebrew so he can better understand them."
"My father taught me to respect anyone who did good things for me," he explained. "And I believe in toleration and co-existence among all peoples and religions."
He said that he found the community "warm and friendly" and enjoyed the sound of the Hebrew prayers.
This is the first time a non-Jew has sponsored a kiddush, synagogue chair Sheila Mann said.
"He comes to shul every Shabbat and often says how much he loves attending our services," she said. "He joined us for the whole of the Yom Kippur service and fasted all day. We are delighted to treat him as part of the communal family."
http://forward.com/fast-forward/385189/muslim-man-sponsors-synagogue-kiddush-to-honor-his-late-doctor/
--------
Russia's Putin slams hypocrisy, hidden goals in war on terror
Oct 15, 2017
Russian President Vladimir Putin has criticized double standards and the use of extremists in the fight against terrorism, calling for joint efforts to eradicate the scourge.
Putin made the remarks in an opening address to the 137th Assembly of Inter-Parliamentary Union (IPU) in the Russian city of St. Petersburg on Saturday.
"We are confident that it is necessary to fight against terrorism without double standards, without hidden agendas, without the use of radicals for anyone's political interests and, of course, only by joining hands, only together," he said.
The Russian president also emphasized that "a real partnership" is crucially important for the counter-terrorism battle.
He further noted that "ill-considered foreign interference" has led to instability and a growing terrorist threat in both the Middle East and North Africa.
"Attempts to interfere in the life of sovereign states without understanding and taking into consideration the national features lead only to chaos," Putin said.
Such a conduct, he said, had "resulted in the destabilization of the situation in the Middle East and North Africa, in the escalation of tensions in the region and the growth of terrorist threat."
Based on the UN Charter, he pointed out, every country reserves the right to define its own fate.
Syria reconstruction
Elsewhere in his comments, the Russian leader touched on the reconstruction of Syria, which been grappling with foreign-backed militancy since 2011
He said that the international community should begin mulling over assistance to Syria in the post-war era.
Putin also underlined the importance of the intra-Syrian talks in Kazakhstan's capital, Astana, which have brought representatives from the government in Damascus and opposition groups to the negotiating table and resulted in an agreement on four de-escalation zones across Syria. The negotiations were brokered by Russia, Iran and Turkey.
The safe zones had paved the way for eliminating "the terrorist hotbed" and restoring peace to Syria, Putin said and stressed that Moscow was doing its best to stabilize the military and political situation in the Arab country.
"Over the past two years, the areas controlled by terrorists have shrunk, lots of large populated localities have been liberated and the terrorists' infrastructure has been considerably damaged," he noted.
Full report at:
http://www.presstv.com/Detail/2017/10/15/538647/Russia-Vladimir-Putin-Syria-terrorism
--------
Paris: PKK terror banner hung outside news agency HQ
16 October 2017
A group of supporters of PKK terrorist organization on Sunday hung a poster of its convicted leader from the Paris headquarters of a major news agency.
Following a march with the chanting of slogans and carrying banners showing Abdullah Ocalan, the jailed leader of the terrorist PKK, the protestors stormed into the headquarters of Agence France Presse (AFP).
A banner of Ocalan was then hung from the headquarters balcony.
After over an hour of chanting and a meeting with the agency's editors, the demonstration ended.
There were no apparent security measures taken during the demonstration.
The PKK is classified as a terrorist group by Turkey, the UN, and the EU.
Turkey has long complained that despite the PKK's banned status, European countries allow it to operate with impunity on their soil.
Full report at:
http://www.worldbulletin.net/europe/195018/paris-pkk-terror-banner-hung-outside-news-agency-hq
--------
We were wrong to boycott Hamas after its election win: Tony Blair
October 16 2017
Tony Blair has said for the first time that he and other world leaders were wrong to yield to Israeli pressure to impose an immediate boycott of Hamas after the Islamic faction won Palestinian elections in 2006, reported by The Guardian.
As prime minister at the time, Blair offered strong support for the decision – driven by the George W Bush White House – to halt aid to, and cut off relations with, the newly elected Hamas-led Palestinian Authority unless it agreed to recognise Israel, renounce violence and abide by previous agreements between its Fatah predecessors and Israel. The ultimatum was rejected by Hamas. The elections were judged free and fair by international monitors.
Blair, who became envoy of the Middle East quartet – composed of the US, EU, UN and Russia – after leaving Downing Street, now says the international community should have tried to "pull Hamas into a dialogue". The boycott and Israel's economic blockade of Gaza, which began the following year, are still in force today. A UN report two years ago said the combined effects of the blockade and the three military offensives conducted in Gaza by Israel since 2009 could make the territory "uninhabitable" by 2020. Humanitarian conditions have worsened markedly since the report was written.
Interviewed for a new book Gaza: Preparing for Dawn, out later this month, Blair said: "In retrospect I think we should have, right at the very beginning, tried to pull [Hamas] into a dialogue and shifted their positions. I think that's where I would be in retrospect.
"But obviously it was very difficult, the Israelis were very opposed to it. But you know we could have probably worked out a way whereby we did – which in fact we ended up doing anyway, informally."
Blair did not elaborate on subsequent "informal" dealings with Hamas but he appears to be referring to clandestine contacts between MI6 and Hamasrepresentatives during and possibly after the kidnap of BBC journalist Alan Johnston by an extreme fundamentalist group in 2007. The kidnappers eventually released Johnston after heavy pressure from the Hamas de facto government.
Since leaving his Quartet post, Blair has held at least six lengthy private meetings with Khaled Meshaal, the Hamas political bureau chief until earlier this year, and his successor Ismail Haniyeh, partly to explore a possible long-term ceasefire between Israel and Hamas. But the international block on official contacts with Hamas has eroded western leverage in the region, increased the isolation and suffering of the Gaza public, and helped to drive the faction into the arms of Iran – all without dislodging it from its dominance of Gaza, say critics.
Blair's rare rethink of a key foreign policy issue has surfaced as Hamas and Fatah embark on a new Egypt-brokered effort to end the schism between the two factions after a preliminary reconciliation agreement signed in Cairo last week. The split was triggered by the brief but bloody 2007 civil war in Gaza which left a victorious Hamas in charge of the coastal enclave and President Mahmoud Abbas running the West Bank-based, Fatah-dominated Palestinian Authority
Also interviewed in the book, Jonathan Powell, Blair's former chief of staff at Downing Street, goes further, saying the Quartet strategy was "a terrible mistake". Negotiations with Fatah alone – long promoted by the US – meant that "you have to make a concession to Fatah, then you have to make a new concession to Hamas afterwards. You want to have one negotiation, not two … If you got a united Palestinian team to negotiate with, then life would have been a whole lot easier."
The book also cites internal Whitehall documents from January 2006, obtained under the Freedom of Information Act, which warned immediately after the Palestinian elections against ostracising the new Hamas-led authority. A heavily edited minute from the Department for International Development points out that Israel and Hamas were already co-operating at a municipal level, and suggested it would be difficult in the short-term for Hamas to renounce "its commitment to the destruction of Israel and its support for terrorism". Instead, it suggested that "ultimately Hamas's participation in the realities of political responsibility might bring about Hamas's transformation to a political rather than terrorist organisation".
Full report at:
http://nation.com.pk/international/15-Oct-2017/we-were-wrong-to-boycott-hamas-after-its-election-win-tony-blair
--------
Morocco arrests 11 suspects linked to ISIS
14 October 2017
Moroccan police on Saturday arrested 11 members of an "extremely dangerous terrorist" cell linked to ISIS and seized chemical products used to make bombs, the interior ministry said.
The suspects were active in the neighboring northern cities of Fez and Meknes, in commercial capital Casablanca, as well as in the central town of Khouribga, a statement said.
The ministry said the "extremely dangerous terrorist" cell had planned to carry out attacks in "sensitive areas... in coordination with an affiliate" of ISIS.
Moroccan media broadcast live video footage showing heavily armed and masked members of an elite police unit surrounding a building in Fez.
The ministry said the unit searched an apartment and arrested the "suspected mastermind of the cell and one of his accomplices".
Police also seized firearms, knives, gas canisters as well as "products used to make homemade bombs" and a car carrying "suspicious material" that was near the building, the ministry added.
Morocco has been spared deadly extremist attacks since a 2011 bombing in Marrakesh's famed Jamaa El Fna Square that killed 17 people, mainly European tourists.
Full report at:
https://english.alarabiya.net/en/News/north-africa/2017/10/14/Morocco-arrests-11-suspects-linked-to-ISIS.html
--------
UK works hard with US Congress to preserve valuable Iran deal: Johnson
Oct 14, 2017
UK Foreign Secretary Boris Johnson says the UK government will work hard with the US Cngress to persuade them preserve the Iran nuclear deal after President Donald Trump announced he decided not to certify the landmark agreement which was negotiated by the administration of former president Barack Obama.
Johnson defended the deal as a valuable agreement after Trump refused on Friday to formally certify that Tehran was complying with the deal two years after it was signed between Iran and the five permanent members of the UN Security Council and Germany.
Trump, who did not scarp the agreement in its entirety — as he had pledged since the beginning of his presidential campaign— has now threatened to walk away if the Congress makes no improvements on it during the next 60 days.
He has tasked the Republican Congress with legislating new "trigger points" that if crossed by Tehran, Washington would be allowed to immediately re-impose economic sanctions that were lifted under the nuclear agreement.
Johnson said, "There is now a possibility that in Congress the deal could be unpicked but I think, I must say, that is going to be unlikely because we will work very hard to persuade our friends and partners in the US Congress that we think the deal has value and there are many and there are many people in Congress who want to fix it, not nix it."
He said the Iran deal "is something that took a long time to negotiate. This country, the UK, was a major part of that process over thirteen years."
"It is a good thing for Iran and for the world. As of tonight, the important thing is that Iran nuclear deal is still going, the Americans are still part of it, the sanctions relief continues to be rolled over and it lives to fight another day and that's the important thing," Johnson added.
Full report at:
http://www.presstv.com/Detail/2017/10/14/538585/UK-politics-foreign-policy-Iran-deal-Boris-Johnson-Donald-Trump
--------
Southeast Asia
Johor ruler warns Muslims against narrow thinking
October 16 2017
BATU PAHAT (Johor) • Sultan Ibrahim Sultan Iskandar said Muslims might as well live in caves by themselves if they start to view the sharing of items, such as banknotes and hotel pillows, with non-Muslims as prohibited by the religion.
"If everything is to be prohibited, we might as well live alone in the cave and not live in society," the Johor ruler said on Saturday, as he continued to speak out against a preacher who defended the idea of a Muslim-only laundrette.
Speaking at the convocation ceremony for graduates of Universiti Tun Hussein Onn Malaysia in Batu Pahat in northern Johor, he said putting overzealous constraints would make living in a community impossible.
"When banknotes may have been held by a pork seller or alcohol seller, does the government have to make Muslims-only money?" he said in a video of the speech posted on his official Facebook account.
"Think for yourselves, ladies and gentlemen. What about seats in public places that may have been licked by dogs, or pillows and blankets at hotels that may have came into contact with filth? This never ends."
The issue started when a Muslim man in Muar put up a sign outside his laundrette saying that his machines are for use by Muslims only.
Sultan Iskandar rebuked the man last month, saying: "This is not a Taleban state and as the head of Islam in Johor, I find this action to be totally unacceptable as this is extremist in nature."
The shop owner has apologised and removed the offending signboard.
Another laundrette in northern Perlis state was also found to run a "Muslims only" business. It has now opened its business to all customers after receiving a visit from the Perlis mufti (the state's Islamic chief) and Perlis crown prince.
But government preacher Zamihan Mat Zin has criticised Sultan Iskandar over the issue.
Mr Zamihan, who works for powerful federal Islamic agency Jakim, said Muslims had the right to operate such laundrettes and accused non-Muslims of being unhygienic.
Malaysia's nine Malay rulers last Tuesday referred to the incidents in a rare intervention on public affairs, saying they are concerned that the unity and harmony in Malaysia are being eroded as the nation faces an onslaught of racially controversial issues.
Mr Zamihan was detained last week for investigations into possible sedition. He has apologised to the sultan.
The Johor ruler was not the only one that has been grabbing headlines in the past week. His son, Crown Prince Ismail Ibrahim, has had to defend himself for remarking that Malaysia is "not my country" after the national football team's 0-2 loss to Hong Kong in an Asian Cup qualifier.
Tunku Ismail, who is president of the Football Association of Malaysia, has since said that the comments were a joke.
"After a dialogue of more than an hour regarding football and current issues, only the joke in my last 20 seconds of my dialogue is trending now," he said in a statement posted online.
http://www.straitstimes.com/asia/se-asia/johor-ruler-warns-muslims-against-narrow-thinking
--------
Zaid: Malay Rulers in danger when Taliban run the country
October 16, 2017
PETALING JAYA: Former law minister Zaid Ibrahim today warned that the Malay Rulers could be in danger as "Talibans" do not recognise their position in the country.
In a series of tweets, he said: "Malay Rulers will be in danger when Talibans aided by the corrupt rule this country. Talibans don't believe in hereditary rulers.
"Talibans are those who believe our constitution is haram, man-made, and who pronounce Malays who do not support them as kafirs."
The DAP man then posed a question to Barisan Nasional (BN) component parties, tweeting: "Talibans don't recognise non-Muslims as citizens, having equal rights. Do component members of BN understand this?
"Non-Muslims can live here by their grace and consent. They can have freedom, if permitted by the Taliban. BN components understand this?"
Zaid was likely addressing the "Talibanisation" of Malaysia seen in recent incidents that have dominated headlines in the country.
These include Muslim preacher Zamihan Mat Zin complaining in a video about the Johor Sultan's criticism of a Muslims-only laundrette in Muar. In the same video, Zamihan had also described Chinese Malaysians as unclean.
Full report at:
http://www.freemalaysiatoday.com/category/nation/2017/10/16/zaid-malay-rulers-in-danger-when-taliban-run-the-country/
--------
Court refuses church's bid, says govt's reasons for 'Allah' ban classified under OSA
BY IDA LIM
October 16, 2017
KUALA LUMPUR, Oct 16 ― The High Court today rejected a Sabah church's bid to find out why the government banned the word "Allah" in non-Muslims' publications, saying such government information is classified under the Official Secrets Act (OSA) 1972.
Lawyer Annou Xavier, who represented the Sidang Injil Borneo (SIB) Sabah church, confirmed that the court had dismissed his client's application for discovery of documents.
"One of the reasons is because it is classified as Official Secrets Act (OSA), so the government has classified it as OSA and the document will not be released," he told reporters after the decision was delivered in chambers by High Court judge Datuk Nor Bee Ariffin.
"The other reason is because the court finds it is not necessary for the documents to be disclosed under judicial review application," he added.
Senior federal counsel Shamsul Bolhassan said the judge felt the existing evidence already submitted to the court was adequate for it to decide on the church's lawsuit against the government and Home Ministry, also noting that it felt it is for the government to declassify such information.
"The court said that it is not in a position to ask us to reveal it because it is only for the maker to declassify, not for the court," he told reporters.
"But in this case it is only issue of discovery, so the court feels that discovery in judicial review ― these documents are not necessary. You can go by way of the evidence given as well as the documents which has been tendered, that is sufficient for the court to decide," he added.
The SIB church had last month sought two sets of documents, including documents such as letters and meetings minutes containing the reasons for the government's 1986 ban of the word "Allah" in non-Muslim publications; documents showing confusion among Malaysians or misunderstanding between Muslims and Christians over the use of the word "Allah" in Bahasa Malaysia Christian publications; or showing threats to public order due to non-Muslims' use of the term.
The second set of documents sought was for those where the government had granted approval to import, publish, produce, distribute or own any Christian publications with the word "Allah".
Last month, the SIB church's lead counsel Lim Heng Seng asked the courts to order the government to disclose documents showing why it had banned non-Muslims from using the Arabic word "Allah" in their publications, noting that the Home Ministry had cited its original ban in a 1986 government circular after its 2007 seizure of SIB Sabah's Christian education materials.
Lim had argued that the initial 1986 ban was the "root" behind recurring problems faced by local Bahasa Malaysia-speaking Christians who have been using the word "Allah" for hundreds of years, also telling the court then there was no evidence that local Christians' use of the word "Allah" had caused public disorder.
SIB had also said the documents will be necessary to help the court decide if the government's prohibition of the use of the word "Allah" in non-Muslim publications was constitutional.
Shamsul had last month argued that the documents sought by SIB Sabah cannot be disclosed as they fall under the OSA.
Shamsul had also described the church's application for document disclosure by the government as a "fishing expedition", arguing that it was not relevant when it was not shown that the government's evidence was inaccurate or false.
The court case was sparked off by the August 15, 2007 seizure of SIB Sabah's Sunday school materials at the Low Cost Carrier Terminal airport in Sepang, with the education materials for Christian children then returned on January 28, 2008 under the condition that the front page would be stamped with a "cross" sign and the words " Christian publication".
Full report at:
http://www.themalaymailonline.com/malaysia/article/court-refuses-churchs-bid-says-govts-reasons-for-allah-ban-classified-under#hBV1QSckldbGOApd.97
--------
Philippine troops kill two leaders of pro-Islamic state alliance: Minister
October 16, 2017
Philippine troops killed two leaders of a militant alliance in an operation in southern Marawi City on Monday, the defence minister said, a big boost to a military battling to contain the spread of Islamic State's radical ideology. Isnilon Hapilon, Islamic State's anointed "emir" in Southeast Asia, and Omarkhayam Maute, one of two Middle East-educated brothers at the helm of the militant alliance Dawla Islamiya, were killed as part of an operation based on information from a hostage recently rescued.
"Following their operational plan, they were able to go this morning… they were killed," Defence Secretary Delfin Lorenzana told reporters.
"Yesterday, we were able to get a testimony from a hostage. She was able to confirm the presence of Isnilon and Maute in that particular building. That's the building that we assaulted early this morning."
Their deaths will be a major win for the military, which has been criticised for its slow progress in retaking Marawi, the country's only Muslim majority city, and the ease at which rebels laid siege to it on May 23.
Those leaders have been central to the rebels regrouping, re-arming and recruiting after previous clashes over the past two years on the southern island of Mindanao.
Another leader, Abdullah Maute, was reported by the army to have been killed in August, though no body was found to prove his death.
The insurgents have surprised the military by their ability to endure more than 130 days of air strikes, compounding fears in the Philippines and the region that Islamic State's radical ideology and its advanced recruitment methods are more prevalent than was previously imagined.
The clashes have killed 813 rebels, 47 civilians and 162 military since insurgents seized the heart of Marawi on May 23, according to the authorities.
Lorenzana said the military was trying to locate another rebel commander, Malaysian operative Mahmud Ahmad. He said the battle for Marawi could be over imminently, adding that 17 hostages were rescued on Monday.
"The indication here is that the Marawi incident is close to the end. We may announce the termination of hostilities in the couple of days."
Full report at:
http://indianexpress.com/article/world/philippine-troops-kill-two-leaders-of-pro-islamic-state-alliance-minister-4892618/
--------
G25 takes Home Ministry to court for banning its moderate Islamic book
October 16, 2017
KUALA LUMPUR, Oct 16 ― Pro-moderation group G25 which published Breaking The Silences: Voices of Moderation ― Islam In A Constitutional Democracy book has filed for a judicial review to quash the Home Ministry's ban on its book.
In a statement, G25 said the application was filed at the High Court here last Friday as a last resort after it failed to meet with the home minister for an explanation despite intercession from former prime minister Tun Abdullah Ahmad Badawi who had also penned the foreward to its book.
"We are still baffled as to why the book was banned, having been kept in the dark on the grounds for the ban and the parts which are deemed 'prejudicial to public order and cause alarm to public opinion'.
"This is especially when the purpose of the book is merely to explore the concept of moderation in Islam, in the context of Malaysia as a constitutional democracy with a national aspiration to be a fully developed country and a model for the Muslim world," it said.
The book is a collection of essays whose publication was organised by a group of prominent Muslim Malaysians pushing a more tolerant form of Islam.
According to G25, Deputy Prime Minister Datuk Seri Ahmad Zahid Hamidi signed the ban on June 14 this year and it was subsequently gazetted on July 27.
This, the group said, came 19 months after the book was launched on December 5, 2015 by prominent Umno leader Tan Sri Tengku Razaleigh Hamzah.
Full report at:
http://www.themalaymailonline.com/malaysia/article/g25-takes-home-ministry-to-court-for-banning-its-moderate-islamic-book#eUlk0gqVSHvBXOm5.97
--------
Life in Malaysia way better, says Rohingya refugee
October 15, 2017
COX'S BAZAR (Bangladesh): "My life in Malaysia was way better than at this refugee camp, but I have to be here to take care of my family," said Musa Khalil, 27, who is among the refugees at the Kutupalong Refugee Camp, about 35km from here.
Following the continuing conflict at his birthplace in Rakhine province, Myanmar, he fled with his family to Kutupalong when he was five with the hope of securing a better life.
Musa had worked in Malaysia from 2009 till 2014 to help change the fate of his family but due to his refugee status and lack of accurate information on job opportunities in Malaysia, he was forced to return to the refugee camp.
He was cheated by middlemen who promised a better life, when in reality, with the refugee status it was impossible for him to work legitimately in Malaysia.
Musa, who can converse in Malay, said life was hard at the refugee camp and they had to withstand hunger as they lacked food and it was difficult for them to get (clean) water and go to the toilet.
"Many of the refugees here see Malaysia as a chance for them to free themselves from the problems that shackle them, but it is not as easy as they think due to their status as refugees.
"Many of us have family members working in Malaysia. If we are lucky, we can get jobs, but many have been cheated by those who promised to help," he said.
Meanwhile, for 23-year-old Syed Hossein who had worked in Malaysia for one year and six months, he said during the time he was in Malaysia, he was able to help support his family of eight but when he returned (to the refugee camp) their lives changed for the worse.
"Life is very hard here. I have no money and job, but everything is expensive. If we are ill, we are unable to get medicine, and our shelters only have the ground as the floor and walls of canvas," said Syed Hossein who was born in the refugee camp.
Many Rohingya refugees in Malaysia are United Nations High Commission for Refugees (UNHCR) cardholders but the government does not recognise the refugee status of the ethnic Rohingya as Malaysia is not a signatory to the (United Nations) 1951 Convention on the Status of Refugees and its 1967 Protocol.
Basically, this has caused them to not be able to work in Malaysia.
However, based on humanitarian grounds, the Malaysian government has allowed UNHCR cardholders, including the Rohingya with legitimate UNHCR cards, to seek temporary refuge in Malaysia until they are sent back to their country or placed in a third country.
Deputy Prime Minister Ahmad Zahid Hamidi will travel to Cox's Bazar tomorrow to assess the situation of the Rohingya refugees in his working visit to Bangladesh which begins today, reflecting Malaysia's concern and seriousness on the Rohingya refugee issue.
Full report at:
http://www.freemalaysiatoday.com/category/nation/2017/10/15/life-in-malaysia-way-better-says-rohingya-refugee/
--------
IS militant deported by Malaysia goes missing in Bangladesh
October 15, 2017
PETALING JAYA: One of three suspected militants from Bangladesh deported back by the Malaysian government earlier this year for alleged links to Islamic State (IS) has gone missing and remains traceless in his home country.
Golam Rabbani's whereabouts are apparently not known to his family, and police at the Hazrat Shahjalal International Airport in Dhaka where he was scheduled to arrive have claimed to have no knowledge about the deportation, the Dhaka Tribune reported yesterday.
His wife Nazia Ferdousi, who is still in Malaysia with their three children, claimed she had last spoken to him over the phone on July 19 when he was being sent back.
Rabbani had called her about 10pm from the cell phone of a fellow passenger on a Malindo Air flight before it took off from the Kuala Lumpur International Airport for Dhaka, his family members were cited as saying.
His elder sister Nigar Sultana also talked to him by phone that night when he said he was returning home, they had said.
That was the last they had contact with him. He neither reached their home in the city of Bogra 200km north-west of Dhaka, nor made any further contact with his wife.
The Dhaka Tribune said an official at the Bangladesh police headquarters, seeking anonymity, had confirmed to the news daily that Rabbani was deported from Malaysia.
He however could not say whether any agency picked him up at the airport.
The report also quoted Noor-E-Azam, officer-in-charge of the airport's police station, as saying that he was not aware of any such deportation.
No one had filed a general diary or a case about Rabbani going missing, he was quoted as saying.
The daily said Rabbani ran a coaching centre for school students in Bogra before he went to Malaysia.
It said he was also an honours student of the political science department at Government Azizul Haque College in the city.
The Dhaka Tribune added that two other nationals also deported from Malaysia were in Bangladeshi police custody since February.
They are Redwanul Azad Rana, alleged to be the mastermind behind the assassination of Bangladeshi blogger Rajib Haider in February 2013, and his colleague Md Ashraful.
The duo were arrested in the city's Uttara precinct by the Dhaka Metropolitan Police's Counter Terrorism and Transnational Crime (CTTC) unit which had followed them after they landed at the airport.
According to the CTTC, Rana was an organiser of militant outfit Ansar Al Islam, formerly known as Ansarullah Bangla Team.
He and Ashraf had planned to get training from the Abu Sayyaf Islamic extremist outfit in southern Philippines after their attempt to join IS in Syria failed. They were then arrested by Malaysian police following information given by Bangladeshi intelligence.
Full report at:
http://www.freemalaysiatoday.com/category/nation/2017/10/15/is-militant-deported-by-malaysia-goes-missing-in-bangladesh/
--------
Mideast
Yemen: Iran uses Houthi militias 'like puppets' to destabilize region
14 October 2017
The Yemeni government has again accused Iran of using the Houthi militia as"puppets" to destabilize the region.
The government also complained about numerous Iranian interferences in the country.
In a statement on Saturday, the Yemeni government said that Iran's alliance with the militia aims to destabilize the region.
The government continued saying that Tehran is providing the militia with weapons and it has intentionally supported them both militarily and materialistically, providing advanced missiles and technology systems.
According to the government, this has prolonged the war.
Other supportive means from Iran include naval mines and booby-trapped boats which threaten Red Sea's stability, security and freedom of navigation.
Tehran has also connected the militia with experts from the Iranian Revolutionary Guard, the government added.
https://english.alarabiya.net/en/News/gulf/2017/10/14/Yemen-Iran-used-Houthi-militias-like-puppets-to-destabilize-region.html
--------
Trump's anti-Iran rhetoric made under Israeli-Saudi sway: Larijani
Oct 15, 2017
Iran's Parliament Speaker Ali Larijani says US President Donald Trump's recent anti-Iran speech showed strong traces of lobbying by the Israeli regime and Saudi Arabia.
Speaking to reporters in Russia on Sunday, Larijani said it was clear that the Zionist regime of Israel and some countries like Saudi Arabia "have played a major role in writing [Trump's speech] and guiding him."
He added that the US president's speech was confused nonsense, emphasizing that Trump made "brazen" comments about the Islamic Revolution Guards Corps (IRGC).
The top Iranian parliamentarian pointed to Trump's remarks about the historic 2015 nuclear agreement, known as the Joint Comprehensive Plan of Action (JCPOA), saying that the US president aimed to cause commotion and prevent international economic cooperation with Tehran.
The US president laid out the United States' new strategy on Iran on Friday in which he said he would not certify Iran's nuclear deal, which was signed between Iran and the five permanent members of the United Nations Security Council - the United States, Britain, France, Russia and China - plus Germany.
Apart from his refusal to certify the JCPOA, Trump also warned that he might ultimately terminate the deal, in defiance of other world powers and undermining a landmark victory for multilateral diplomacy.
While Trump did not pull Washington out of the nuclear deal, he gave the US Congress 60 days to decide whether to reimpose economic sanctions against Tehran that were lifted under the pact. Reimposing sanctions would put the US at odds with other signatories to the accord and the European Union.
During his speech, the American businessman-turned-politician also said he was authorizing the US Treasury Department to impose further sanctions on "the entire" Islamic Revolution Guards Corps (IRGC) for what he claimed was "its support for terrorism."
Israel and Saudi Arabia were among few governments that supported Trump's refusal to certify Iran's compliance with the nuclear agreement.
Saudi Arabia's King Salman on Saturday telephoned the US president, voicing appreciation for the aggressive speech that he delivered against Iran.
The United States is a key source of weapons for Saudi Arabia, which has been bombarding Yemen since 2015, leaving thousands of civilians dead.
Full report at:
http://www.presstv.com/Detail/2017/10/15/538714/Iran-Saudi-Arabia-Israel-Russia-US-Ali-Larijani-Donald-Trump-JCPOA-IRGC
--------
Muslims in Athens can't wait for city's only mosque to open
Oct 16, 2017
Decrying how Muslims in Athens have no choice but to pray in unsanitary conditions in basements, a top Muslim cleric from Greece said there is great need for a mosque in the Greek capital. "Greece is the only country in the EU without a mosque in its capital," İbrahim Şerif, head of the Western Thrace Turkish Minority Advisory Board and elected mufti of Komotini (Gümülcine), told Anadolu Agency in an exclusive interview.
There are some half a million Muslims in Athens, Şerif said. "These people are praying in basements and unsanitary places. There is great need for a proper mosque," he stressed.
Şerif said the construction of a mosque is ongoing, but "I won't believe it until I see it open for prayer. I guess it will take many more years to be completed."
The completion of Athens' first official mosque since the 19th century, in the downtown neighborhood of Votanikos, is set for the end of this year, according to plan.
Şerif also said some masjids or smaller mosques in Alexandria, Veroia as well as Thessaloniki and Didimoteicho, Evros were closed down by Greek authorities.
"People there first opened an association and then masjids under the same roof with the association to pray. These masjids were closed."
Şerif said the official reason for the closures was that they lacked proper fire exits, but added that there are no facilities that meet that standard.
Furthermore, Şerif said many Ottoman monuments in Greece are doomed to disappear, including recently collapsed mosques on the southern islands of Rhodes and Kos.
He said that while the Turkish Cooperation and Coordination Agency (TİKA) repairs many Ottoman monuments in the Balkans, they are barred from doing so in Greece.
"For example, Çelebi Mehmet Mosque in Didymoteicho suffered a fire some months ago. It is historically the first mosque in the Balkans. It has now been sitting there for three months in the same condition. I don't know what will happen to it."
Şerif said he hopes this great work of art could be restored with the support of UNESCO or TİKA.
"But Greece doesn't permit this restoration to be done, as I know. And they don't do the repairs themselves, either," he said.
On a brighter note, Şerif expressed his happiness at seeing Hakan Çavuşoğlu, who was born in Gümülcine, Greece, become Turkey's deputy prime minister, saying he recently paid a visit to Turkish capital Ankara to congratulate Çavuşoğlu.
Also speaking to Anadolu Agency, Ozan Ahmetoğlu, head of the Xanthi (Iskece) Turkish Union (ITB), said the group was founded in 1927 and carried out its activities legally until 1983.
But that year, the Greek state filed for a court to close the ITB and two other minority associations that had the word "Turkish" in their name.
"This was a reflection of Greece's denial of the ethnic identity of the minority and their claim that there is no Turkish minority in the Western Thrace," Ahmetoğlu stressed.
He added that a lengthy legal fight followed, and the ITB exhausted domestic remedies in 2005, when the Greek Supreme Civil and Criminal Court ordered its dissolution.
The same year the case was brought to the European Court of Human Rights (ECHR), and in 2008 the court ruled in its favor, Ahmetoğlu said.
He said the ECHR ruling said Greece's dissolution order violated the European Convention on Human Rights.
For the next nine years, the Council of Europe constantly urged Greece to implement the ECHR ruling, Ahmetoğlu added.
Ahmetoğlu said a bill to correct this situation and similar cases were recently brought to parliament, but after objections by the far-right Independent Greeks (ANEL) party, a small partner of the ruling coalition, the bill was withdrawn.
Last week, the bill was reintroduced but with changes that would on the contrary prevent the reopening or recognition of the ITB, and parliament passed it, he said.
Ahmetoğlu said during debate over the bill, a group calling itself the "High Policing Team" had encouraged harassment and physical attacks against the board of the ITB, including him personally.
Necat Ahmet, head of the Gümülcine Turkish Youth Union (GTGB), also commented on the Greek parliament vote, saying it shows "once again how for Greece the word 'Turkish' is a fearful and wrong word.""
Ahmet added that his group was also targeted for having the word "Turkish" in its name.
Greece's Western Thrace region is home to around 145,000 Muslim Turks.
Turkey has long complained that the Turkish minority in the region has faced various forms of mistreatment.
Full report at:
https://www.dailysabah.com/europe/2017/10/16/muslims-in-athens-cant-wait-for-citys-only-mosque-to-open
--------
Hollywood Stars to Partake in Turkish Film 'Islamophobia'
Oct 16, 2017
Ankara – In the city of Antalya, southern Turkey, shooting the film "Islamophobia" has kicked off with the participation of many actors, including stars from Hollywood.
The film aims to shed light on the tolerant reality of Islam and to counter Islamophobia that has spread in the West. The filmmaker and cinematographer, Omer Sarikaya, oversees the filming in the historical and tourist sites of Antalya, with the participation of artists and stars from 48 countries.
The final part of the movie will be filmed in the Netherlands, after finishing the scenes in Turkey. American actor Adam Dormi will play the role of "Omar", the hero of the film while Armenian actress Hripsime Sargsyan plays the role of "Nina".
Hollywood stars including Robert De Niro, Alec Baldwin, Jackie Chan and Mel Gibson are also taking part as honorary guests in the film, which highlights the values of peace and security advocated by Islam.
Turkish filmmaker Omer Sarikaya told the Anadolu news agency that the film crew has come a long way in terms of the project, which focuses on "Peace and Forgiveness," noting that 85 percent of the film will be shot in Antalya and the rest in the Netherlands.
He added: "In this movie, we are keen to define the tolerance and mercy of Islam for the whole world, and we will prove that terrorism is not linked to Islam," noting that all the film's revenues will be allocated to relief work and humanitarian aid around the world.
Sarikaya continued: "Representatives from more than 18 countries are now working with us, and actors from more than 48 countries will join us to work on proving the reality of Islam to the world, and that it is the religion of security, mercy, compassion and peace."
He also said that the film will be screened for the first time in 2018, and will be preceded by concerts and events, in Antalya, and later in the United States.
For his part the star of the film, Dormi said that the movie contains very important messages, as it seeks to refute the prior and faulty judgments about Islam. Dormi pointed out that among the film's goals is defining the tolerance of religions, and breaking prejudices and false allegations that raise people's fears around the world.
Full report at:
https://english.aawsat.com/saeed-abdelrazek/lifestyle-culture/hollywood-stars-partake-turkish-film-islamophobia
--------
Australia
Muslim Inmates Allege Humiliation and Abuse by Brisbane Prison Staff
15 October 2017
Allegations of abuse, humiliation and deprivation by prison staff have been made by Muslim inmates at a correction centre in Brisbane.
The Islamic Council of Queensland made a series of complaints about the behaviour of staff towards inmates at the Arthur Gorrie correctional centre (AGCC), the state's largest prison.
In a letter sent to Queensland Corrective Services (QCS) in June, the council said that "on at least five occasions non-Muslim prisoners have been instructed to physically assault Muslim prisoners", including one time "without the guard realising he was instructing another Muslim to commit the assault."
It also alleged an inmate was made to stand facing a wall while a guard bashed his head into it repeatedly, "causing the prisoner to lose consciousness".
The letter alleged an AGCC manager entered a cell with eight Muslims praying together and claimed "they are engaging in terrorist activity and it should not be tolerated".
The letter claimed "the prisoners were threatened with gas if they continued to pray together".
The council's appeal for action was unsuccessful, according to a QCS spokesperson, on the grounds that, "after referral to the ESU [ethical standards unit] and CSIU [corrective services investigation unit], no further evidence was provided to substantiate the claims".
The spokesperson said: "QCS takes any allegation of prisoner mistreatment seriously … If an allegation of assault is made, it is referred, in every instance, to the Queensland police service, corrective services investigation unit."
Jesse Price, a 21-year-old ex-inmate from Upper Coomera, converted to Islam last October while detained at the AGCC, the state's biggest remand centre. Now removed from detention, he is one of few individuals willing to publicly voice complaints.
"I'm in the process of doing a discrimination claim … The way I was treated: I was bashed, left in segregation, not given halal food. They would call me a terrorist and were saying I should be associated with terrorists," Price said.
Price said on one occasion he was "knocked out" following altercations with other inmates. "The guards bashed me and put me on the ground, said I'm a piece of shit, I'm a Muslim."
He claimed he protested multiple times before finally being transferred from the AGCC. "It was only until I told them that I felt that I had been sexually abused," he said.
"I was taken down to the detention units, so [that meant] segregation. And they ripped all my clothes off me and stuff. They kicked me in the private parts. It came to the point where I was getting taunted by them, it was ongoing, every day … The staff needs to know the things that they were doing and how it was wrong and how it affects people. And know the effects of the ongoing scarring it's had."
Price said he was detained in the Brisbane correctional centre and Wolston correctional centre before arriving at the AGCC last year, with charges including alleged assaults on a police officer, vehicle theft and property-related offences.
He said he was in contact with Muslim inmates at the prison, who were "still experiencing the same stuff from the guards".
Following his release from the AGCC, members of the Islamic Council of Queensland provided Price support as a newly converted Muslim.
The council, founded in 1969, is a peak umbrella body which uses community channels to represent the interests of Muslims in Queensland.
The council's members heard accusations against prison staff during regular visits with Muslim inmates at the AGCC. These were eventually raised in a formal address to QCS's general manager, Peter Shaddock.
Ali Kadri, spokesperson of the ICQ, has had a long-standing involvement in efforts to legitimise and address the inmates' claims, which he said pointed to an "ongoing structural problem".
Kadri said it sometimes took up to 12 weeks for converts to access halal food and in some instances they never did.
Inmates who convert are required to send a dietary request form to the general manager's office, and "in many cases, the guards have just crumpled these papers up in front of the inmates and thrown them in the bin".
The AGCC is privately owned by the company GEO Group, which when asked about inmates' access to halal food responded: "GEO is required to adhere to QCS procedure for the provision of special diets to prisoners in accordance with religious or medical requirement."
The GEO spokesperson also said: "The management of the AGCC has not received complaints in the last 12 months of prisoners being mocked or intimidated because of religion or race … GEO is aware QCS has received complaints directly from the ICQ which were investigated by QCS."
https://www.theguardian.com/australia-news/2017/oct/16/muslim-inmates-allege-humiliation-and-abuse-by-brisbane-prison-staff
--------
URL: https://www.newageislam.com/islamic-world-news/ahmedis-be-given-religious-liberty/d/112903
New Age Islam, Islam Online, Islamic Website, African Muslim News, Arab World News, South Asia News, Indian Muslim News, World Muslim News, Women in Islam, Islamic Feminism, Arab Women, Women In Arab, Islamophobia in America, Muslim Women in West, Islam Women and Feminism