New Age Islam News Bureau
20 Dec 2019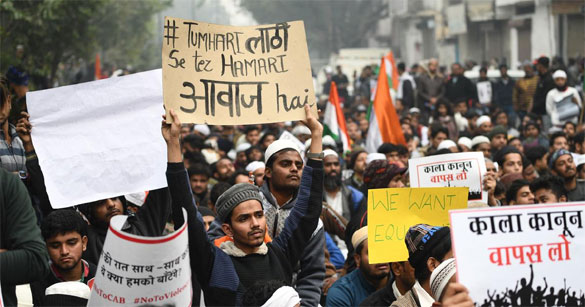 A demonstration against the Citizenship Amendment Act held in Delhi on Thursday. "Our voice is stronger than your batons," reads the placard held aflot. | Sajjad Hussain/AFP
-------
• Ahmedabad: Seven Muslim Boys, 'Saat Hindustani', Threw Themselves In Front Of an Angry Mob and Saved the Cops
• 'Today It Is Us Muslims, Tomorrow Sikhs Or Christians': Delhi Speaks Out Against The CAA-NRC
• Pakistan's Minorities, Hindus, Sikhs & Christians React to India's CAA/CAB
• Pakistan Ulema Council Terms Musharraf Treason Verdict 'Un-Islamic'
• Traders Agree On Creating Zakat Fund In Kabul Event
• Rich Muslim Nations Should Support Poorer Ones in Education, Says Qatari Shura Council Member
• New Saudi Poll Shows Just One-Fourth Back Moderate Islam or Count on the United States
• Islamic Jihad: We Agreed With Hamas To Respond To Future 'Aggression' Together
• Islamic State Fighters and Their Families Return To Bosnia
• Russia warns of Daesh re-grouping; Hamas and Islamic Jihad against Israel; Airstrikes in Libya
• Jihadi Referrals to Prevent Fall Despite Police Admitting Islamist Extremism Is Still Main Security Threat Facing UK
Compiled By New Age Islam News Bureau
URL: https://www.newageislam.com/islamic-world-news/ahmedabad-seven-muslim-boys-aat/d/120582
------
India
• No One from Bangladesh Will Get To Enter Assam By Means Of Citizenship Act: Assam Chief Minister
• Telangana: United Muslim Action Committee holds meeting over new citizenship law
• 'It's now or never': Why young, urban Muslims plunged into the anti-Citizenship Act protests
• Mumbai: 15 Islamic scholars detained amid march to police station
• As Protests Over Citizenship Law Peak, Bihar CM Reassures Muslims
• CAA stir: Protecting interests of Muslim community is our responsibility, says BS Yediyurappa
• BJP unfazed, says will implement CAA, NRC
• Delhi CM Arvind Kejriwal appeals to Centre to roll back CAA
• Three killed as protests across India rattle govt
------
Pakistan
• Army, govt roast judge over grisly rider in Musharraf ruling
• IMF approves second tranche of $452m, says Pakistan's economic reform 'on track'
• PBC objects to army's criticism of Musharraf verdict
• Musharraf 'persistently, stubbornly' delayed, evaded high treason trial, says detailed verdict
• Sharif diagnosed with complicated heart disease
------
South Asia
• Facebook has no plan to open office in Bangladesh now
• Bangladesh to Allow Transhipment of Indian Goods From January Sans Custom Duties, Transit Fees
• AL council starts at 3pm; thousands throng Suhrawardy Udyan
• 'Resisting militancy, communalism AL's pledge in 21st council'
• Locals not getting benefits of development projects in Cox's Bazar for Rohingya influx: Speakers
• Amnesty demands specialized health care for Khaleda
• No more free water from Afghanistan, Ghani tells neighbours
• 7 Taliban killed in Paktika operations
• Worsening insecurity worries Herat residents
• Badakhshan police seize chemical, acid from truck
• Police killed three protesting civilians in Uruzgan
------
Southeast Asia
• Let's Produce Our Greta Thunbergs, Maszlee Tells Muslim Countries
• Asri takes 'Buy Muslim-First' campaign to KL Islamic summit
• In Malaysia, China's PR Blitz On Uygurs in Xinjiang Sparks Anger
• Muslim Iran's Right to Attend KL Summit, Says Shia Critic Perlis Mufti
• Azmin: Muslim Countries Should Invest In Each Other
• Malaysian king, PM stress importance of unity in Islamic world
------
Arab World
• Riyadh announced to become the first Arab Digital Capital
• Iraq: US Forces capture leader of paramilitary Sunni tribal fighters
• Keys hidden all over Riyadh give foodies access to this unique Diriyah Season restaurant
• Saudi ministers host talks with leading foreign officials
• Saudi DJs make their world debuts at MDL Beast in Riyadh
• Misk to back graduates with initiative offering practical experience with major firms
• Yemeni stabber at Riyadh show received orders from Al-Qaeda
------
Mideast
• Iran Proposes Crypto currency for Muslim Nations to Reduce Reliance on U.S. Dollar
• Islamic bank stresses support for Turkish exporters
• Islamic finance industry to see surge in demand from youngsters
• Egypt's 'history of humanity' monuments face climate change threat
• A year on, Amnesty urges Sudan to deliver on protesters' demands
• Palestinians protest in support of prisoner on hunger strike
------
Africa
• Islamic group to FG: Release Sowore, other detainees' now
• Christian Group Demands Removal of CJN Over His Call For Integration Of Sharia Law
------
Europe
• Connecticut man accused of supporting Islamic State group
------
North America
• Joe Biden Challenged A Muslim Journalist For Pronouncing 'Afghanistan' Correctly
• Quebec City's first Muslim cemetery set to open next spring
• India's Anti-Muslim Citizenship Law 'Patently Discriminatory': NYT
• US wants Pak to take immediate and irreversible action on terrorism
• US probe of Saudi oil attack shows it came from north: Report
------
New Zealand
• New Zealand to End Gun Buy-Back Started After Mosque Shootings
------
Ahmedabad: Seven Muslim Boys, 'Saat Hindustani', Threw Themselves In Front Of an Angry Mob and Saved the Cops
Dec 20, 2019
AHMEDABAD: Amid the din of protest against the Citizenship (Amendment) Act across the country, seven Muslim youths came to the rescue of cops who were outnumbered and being chased by violent mob in Shah-E-Alam area of the city on Thursday. The video of their nobel act has gone viral.
It all began when a large number of people congregated on the streets of Shah-E-Alam area to protest against the CAA in response to a 'Gujarat bandh' call. Tension erupted between protesters and policemen and over 30 people were detained. Angry mob blocked the police vehicle and started pelting stones at the police.
Amid the chaos four policemen got cornered. In the video, youths can be seen hurling bricks on policemen, with one of them shielding himself with a plastic chair.
Suddenly, one youth is seen coming out and waving his hands to the mob asking them to stop. Other Muslim youths join him, one shielding the policemen with a bench, while another waves a Tricolour in his hands.
In the video, seven Muslim youths can be seen protecting the cops. Sources said the youths later facilitated their escape from the mob.
"Boys in our area ran and threw themselves in front of an angry mob to protect policemen. In the end, humanity prevailed," said Badruddin Shaikh, a civic corporator.
https://timesofindia.indiatimes.com/city/ahmedabad/ahmedabad-saat-hindustani-who-saved-cops-from-mob/articleshow/72895811.cms
------
'Today It Is Us Muslims, Tomorrow Sikhs Or Christians': Delhi Speaks Out Against The CAA-NRC
"Today we have a voice to speak but that may not be the case tomorrow," said Mohammad Rashid, a 26-year-old interior designer and resident of Old Delhi. On a foggy Thursday afternoon, while defying prohibitory orders, Rashid joined hundreds of residents, workers and students to protest against the newly amended Citizenship Act and the possibility of a nationwide National Register of Citizens.
The protestors marched from Nishadraj Marg in Old Delhi toward the historic Red Fort area where Section 144 of the Code of Criminal Procedure – which bans a gathering of more than four people – had been imposed on Thursday morning.
These protestors demanded that the Act – which many believe can be used along with the NRC as a tool to harass Indian Muslims – be withdrawn, and they chanted slogans against Prime Minister Narendra Modi, Home Minister Amit Shah and the Delhi Police. Similar protests took place around the country, with authorities detaining hundreds of protesters and the demonstrations leading to three causalties.
Around noon, the protesters in Old Delhi were stopped by police and the protest came to a halt, after which several of them sat on the road and sang songs like 'Hum Honge Kamiyaab' (We Shall Overcome) as the presence of police and paramilitary forces grew.
"This Act goes against the ideology of Babasaheb Ambedkar which is why we are protesting against it," said Muzahid Ali Khan, a 35-year-old, who is a resident of South Delhi's Jamia Nagar. "When the government stops listening to the pen then people use their voice. That is why people should come out to protest. In the last six years, they [Centre] have been doing as they wish despite dissent."
Earlier in the day, police had detained dozens of protestors who had gathered in the area, even though permissions were denied.
The protestors detained included Swaraj Abhiyan's Yogendra Yadav, lawyer Prashant Bhushan, activist Harsh Mander, Communist Party of India (Marxist) leaders D Raja, Sitaram Yechury, Brinda Karat, Nilotpal Basu and former Jawaharlal Nehru Student Umar Khalid were among those detained. They were later released on Thursday evening.
Police officials on Thursday afternoon told Scroll.in that around 126 protestors around Red Fort area had been detained. More than a 100 of these protestors were taken to Rajiv Gandhi Stadium in North West Delhi's Bawana, while the rest were detained at a facility in Rohini, police officials said.
In the National Capital, Section 144 was imposed in North East Delhi district, around Red Fort and in parts of New Delhi, said Delhi Police Public Relations Officer MS Randhawa while addressing a press conference on Thursday evening. Mobile internet was also snapped in some parts of Delhi to curb rumour mongering, he said.
Another protest halted
The stretch of Nishadraj Marg goes on for around a kilometre and it is just a street away from the Red Fort, where the protestors were hoping to gather. As they reached the end of the stretch, however, police officials stopped them and the protest halted there.
"Today it is us Muslims, but tomorrow it could be Sikhs and Christians next," said 32-year-old Irfan Khan, who lives and works as a travel agent in East Delhi's Laxmi Nagar.
Khan also felt that protest was the only alternative left. "It is the only way we can raise our voice against this. All are here including women and even the elderly."
At around 12.40 pm, as protestors sat on the road, the number of policemen equipped with batons and tear gas cans. Around 52 companies were present at Nishadraj Marg that included several paramilitary personnel including those from Rapid Action Force, the Delhi Police spokesperson later said said.
Police and paramilitary troops continued to stand on the road as protestors demanded that those detained be released at around 1.30 pm. Some protestors also negotiated with police officials to release those detained.
At around 3.45 pm, some protestors alleged that stones were pelted on them twice from a building situated along Nishadraj Marg. "It just fell on us suddenly but nobody got hit," said Vikram Pratap, 25, a protestor who was present at the time. Police officials said they would investigate the matter.
'Protest is precious'
Despite prohibitory orders in place, several protestors at Nishadraj Marg felt it was necessary for them to dissent. Another protestor felt that dissenting against the Act was necessary to protect different communities.
At around 5.45 pm protestors started to disperse from the road. But many of them said they would continue to protest against the Citizenship Act.
"It is every Indian's duty to be out here on the streets," said 19-year-old student Shabi Mirza. "So many people are raising their voices against the Act in Jamia [Jamia Millia Islamia] and Assam. Protest is very precious for us because we cannot use violence. We need to get our voice to the government."
https://scroll.in/article/947338/today-it-is-us-muslims-tomorrow-sikhs-or-christians-delhi-speaks-out-against-the-caa-nrc
------
Pakistan's Minorities, Hindus, Sikhs & Christians react to India's CAA/CAB
18 Dec 2019
While three Hindu lawmakers in Pakistan have denounced the Modi regime's Citizenship (Amendment) Act, stating clearly that the Indian government should not "drag" the Hindu minorities across the border into the controversy for its political advantage, the Christian community seemed also clear about their position on CAB/CAA.
Speaking to the Indian media, Lal Chand Malhi, member of national assembly from Pakistan's serving party Tehreek-e-Insaf, said: "It is unfortunate to see how blatantly India's home minister
Amit Shah is projecting CAB/CAA as the only lifeline for minorities in Pakistan, Bangladesh and Afghanistan We are a proud minority in Pakistan contributing to every other community to make our country better in terms of everything."
Malhi is one of the minority leaders in Pakistan who have been vocal against evils like forced conversions. To a query on recent cases of atrocities on Hindus in Pakistan, he said: "Every country has a set of problems. Muslims in India, for instance, have been facing human rights issues in Kashmir and other places. Similarly, some fringe elements in Pakistan have issues with Hindus. In the age of communication, nothing can be hidden from the public view. The human rights violations by any country cannot be kept hidden whether it is happening in Pakistan, India or the US."
Sachanand Lakhwani, member of the provincial assembly of Sindh, also said that CAB/CAA is no longer India's internal matter. "Since they (Indian government) have involved the minorities of three countries, they have involved three sovereign republics. The least I can say is that by dragging Pakistan's Hindus into the issue, India has interfered in our internal matters," he said.
Lakhwani, who passed out from Ajmer's Mayo College, questioned Shah's claim that Hindu population has declined drastically in Pakistan over the years. "The claim being made is that the Hindu population of Pakistan has declined from 20 odd per cent in the 1950 census to 2 per cent at present. The fact is that of the 20 per cent, as many as 17.5 per cent had lived in former east Pakistan (now Bangladesh) and only 2.5 per cent lived in west Pakistan (present day Pakistan). The population percentage of Hindus is still around the same," he said.
Reacting as sharply on these developments in India, a third lawmaker, Kesoo Mal Kheeal Das, MNA (MP) from Jamshroo in Sind, termed the Bill as distasteful and a wrong precedent for minority groups in every country. "Hindus living in Pakistan trace their genealogy to the oldest civilisation of Mohenjo-daro. This land is a part of our collective history and has been ours for the last 5,000 years. No Hindu would like to leave Pakistan as the situation here is improving," said Das, who is the MNA from PML-N.
Meanwhile, Peter Jacob, a prominent member of Christian community and a vocal voice for minority rights in Pakistan criticized CAB, calling it a deliberate religious discrimination."This bill is such a detrimental act that there will be psychological repercussions, there will be political repercussions and of course the relationships between the two countries will be affected", he said.
"To say the least, I am devastated by the actions that the government of India has taken. It will not only have affects in India but also in Pakistan because it is the biggest disservice to the Hindu community in Pakistan. They would like to be seen as a patriotic Pakistanis. But this act of India will somehow create a friction on the basis of religion. Whereas, it is detrimental to the policies, harmony and social cohesion in India in the outset", he added.
Punjab's Provincial Minister for Minority Rights Ejaz Alam Augustine had also criticised CAB/CAA and called the amendment, India's agenda detrimental against Muslim minorities.
"India is trying to show that it wants to give rights to minorities, but the fact is that it is committing serious human rights violations against 80 lac Kashmiris. India's real face stands exposed in front of the world today", said Augustine.
"It is also a fact that the highest number of churches burnt and priests killed in the world has been in India. And even after doing all these brutalities, if India thinks that by introducing this amendment bill, its minorities are going to be happy, then I would say that India is badly mistaken", he added.
Pakistan has internationally raised serious concerns over the controversial bill, stating that it is a dangerous expose of the ideology behind Narendra Modi's supreme Hindutvamind-set.
Prime Minister Imran Khan said "India is working towards making a Muslim majority state into minority in Jammu and Kashmir (JK) by bringing in Hindu people and settling them in the valley".
https://sabrangindia.in/article/pakistans-minorities-hindus-sikhs-christians-react-indias-caacab
------
Pakistan Ulema Council terms Musharraf treason verdict 'un-Islamic'
December 19, 2019
All Pakistan Ulema Council (PUC) Chairman Tahir Ashrafi said on Thursday that the special court's judgement against former military ruler retired General Pervez Musharraf is against the Islamic constitution.
The three-judge bench – comprising Justice Waqar Ahmad Seth, Justice Nazar Akbar and Justice Shahid Karim – convicted the former president of high treason and sentenced him to death on Tuesday.
In the detailed judgement issued earlier in the day, the court "directed the law enforcement agencies to apprehend the fugitive/convict to ensure that the punishment is inflicted as per law, and if found dead, his corpse be dragged to the D-Chowk, Islamabad, and be hanged for 3 days".
Condemning the verdict, the PUC chief said the law of the land and Shariah provide no precedent of such a verdict "which is against the Islamic law."
Tahir Ashrafi said that the "trial of politicians and judges should also be conducted, if the former military ruler had subverted the Constitution" on November 3, 2007.
Moreover, the Pakistani military took strong exceptions to the special court's detailed judgement, saying that they "know how to defend the honour and dignity of the institution" but were exercising restraint because for them, "the country comes first".
"The detailed judgement, especially the choice of words, is beyond the basic values of religion, humanity and civilisation," the chief military spokesperson, Major General Asif Ghafoor, told an unscheduled media briefing on Thursday – shortly after the special court issued its detailed judgement.
Human Rights Minister Shireen Mazari said the words used were "aghast" and a "violation of the constitution". She questioned where the country was headed with such "violent mindsets".
https://tribune.com.pk/story/2121389/1-pakistan-ulema-council-terms-musharraf-treason-verdict-un-islamic/
------
Traders agree on creating Zakat Fund in Kabul event
Dec 19, 2019
KABUL (Pajhwok): Traders on Thursday signed a 152-sided commercial contract and agreed on creation and financing a Zakat Fund for needy people during their second national conference here.
Syed Mansoor Sadat, a founder of Yellow Page Afghanistan, a commercial guide company, told a ceremony for launching Commercial Guide book in Afghanistan, said commercial guide was important for a society.
He said the Commercial Guide Book contained addresses and telephone numbers of over 12,000 companies in Afghanistan.
He said such guides were printed annually in other countries so people and companies could get benefit of it.
Based on an initiative of Yellow Page Afghanistan, a contract in coordination with industrial and manufacturing companies was also signed, based on which companies in the contract are responsible to sell their products with a discount to other members of the agreement, he said.
"The aim of this 152 sided contract is encouraging companies to use domestic products", he said, adding that last year the contract was signed between 114 companies.
In his speech, Sadat said the Zakat Fund Box dedicated to needy people would be also created with the support of Afghan traders who are members of Yellow Page Afghanistan.
"A team would be formed for credibility of this fund box so traders donating to the box are assured of transparency in distribution of the aid", he said. He did not provide more details about the issue.
Etibar Khan Zadran, president's advisor in public affairs and a trader, who was present in the conference, said that printing and publishing the Commercial Guide book could help strengthen links between companies.
He said the government was always supportive to the private sector and it did not hesitate from making efforts in this regard.
The 105 sided contract was signed and Commercial Guide book was launched at the conclusion of the conference.
Sayed Ashraf Hashemi, another official of Yellow Page Afghanistan, said that 50 domestic companies showcased their products in today's event.
He said that Zakat Fund Box would be formally inaugurated after the contract signing and any trader could donate money to it.
https://www.pajhwok.com/en/2019/12/19/traders-agree-creating-zakat-fund-kabul-event
------
Rich Muslim nations should support poorer ones in education, says Qatari Shura Council member
Friday, 20 Dec 2019
BY RADZI RAZAK
KUALA LUMPUR, Dec 20 ― Rich Muslim countries should support poorer counterparts in order to enhance the quality of education and life, said Hend Abd Rahman Al-Muftah, a member of Qatar Shura Council.
Hend, who took part as one of the speakers for special session titled "Why Education is the key of National Development" at Kuala Lumpur Summit (KL Summit) 2019, said increased collaboration in education should be made a priority in to change the stereotype of Muslims in the world.
"What do we really need are collaborating and completing each other where the rich country can support the poor country and that is one of the parts that we talk in today's session.
"We have excellent settings when it comes to infrastructure education and research, come point with wealth of the Muslim country, they have nature resources, good work that can be part in such investment.
"So all what we need is just enhancing the collaboration and more focus on science and technology in order to move forwards," she told reporters on the sidelines after the session at the KL Convention Centre today.
Oil-rich Qatar is one of the richest countries in the Gulf and has emerged as an education hub rivalling its neighbours Saudi Arabia and the United Arab Emirates (UAE).
It was also seen as a more progressive and less feudalistic compared to its neighbours and is home to Al-Jazeera network, the media conglomerate that has caused friction with some Muslim nations.
In June 2017, Saudi Arabia along with the UAE, Bahrain and Egypt severed diplomatic and trade ties with Qatar, accusing it of supporting "terrorism".
Doha has denied the allegations and accused its neighbours of seeking to curtail its sovereignty.
Sheikh Mohammed said the terrorism accusation has been proved to have "no basis at all" by the international community.
The blockading nations have demanded that Qatar cease interactions with their rival Iran, shut down Al Jazeera, and close a Turkish military base.
https://www.malaymail.com/news/malaysia/2019/12/20/rich-muslim-nations-should-support-poored-ones-in-education-says-qatari-shu/1820949
------
New Saudi Poll Shows Just One-Fourth Back Moderate Islam or Count on the United States
David Pollock
David Pollock is the Bernstein Fellow at The Washington Institute, focusing on regional political dynamics and related issues.
Also available in العربية
December 19, 2019
The recent terrorist murders by a Saudi cadet at the Pensacola Naval Air Station have revived urgent questions about grass-roots Saudi attitudes toward the United States. As luck would have it, new data from a confidential survey conducted inside Saudi Arabia last month provide the answers. And they are not all that reassuring.
Only 25 percent of Saudis today say it is important for their country to have good relations with the United States. By comparison, exactly the same percentage voice that view about relations with Syria. And a notable proportion—36 percent—now say that good relations with Russia are important.
On sensitive social issues, moreover, the past year has seen some popular backlash against certain Saudi government reforms. The majority still say their government should continue its efforts at "promoting opportunity and equality for women," or even do more in that direction; but that figure has dipped from 71 to 64 percent. Conversely, the proportion who say Riyadh is doing "too much" about women's rights has risen a bit, from 25 to 34 percent.
But more ominously, the minority who want to "interpret Islam in a more moderate, tolerant, and modern direction" has dropped five points, to just 20 percent. And the majority who now disagree with a more moderate version of Islam has risen by the same amount, to 77 percent—including who 43 percent who say they disagree "strongly." And one-quarter of Saudi Sunni Muslims continue to express some sympathy for the hardline fundamentalist Muslim Brotherhood—even though their own government has outlawed that organization as a "terrorist" group.
A related, particularly controversial question turns out to be the matter of relations with other religious communities. Surprisingly, nearly two-thirds of Saudis agree at least somewhat with this proposition: "We should show more respect to the world's Christians, and improve our relations with them." Yet a mere five percent of the Saudi public feels that way about Jews, as respondents indicated when answering an identical question about that group.
On internal economic issues, attitudes have hardly changed over the past year, again with considerable private grumbling about official behavior. The Saudi public remains concerned about corruption: around 60 percent, about the same as a year ago, say their government is doing too little to combat it. Significantly fewer, but still around 40 percent, say the Saudi government is doing too little in "dealing with our growing economic problems and people's daily hardships," or in "sharing the burden of taxes and other obligations to the government in a fair manner.
The good news from this survey is that on a few key foreign policy issues, Saudis remain inclined to agree with the United States—and with their own country's policies. The Saudi public, like its government, remains overwhelmingly negative toward Iran, Ayatolllah Khamenei, and Hezbollah. Positive views of all three are mired in the single digits. A mere 8 percent see it as "important" for Saudi Arabia to have good relations with Iran. Just 6 percent have a favorable view of Khamenei. And only 7 percent say they have a positive attitude toward Hezbollah.
A closer look shows that Saudi Arabia's roughly ten-percent Shiite minority, clustered in the eastern oil-producing province, have more nuanced opinions on these matters. Half say it is important for their country to have good ties with Iran. And nearly half voice a positive view of Hezbollah. But only 18 percent of Saudi Shiites have even a "fairly good" opinion of Iran's Supreme Leader, Ayatollah Khamenei.
There is also some unexpected good news on the difficult question of Palestine and Israel. Two-thirds of Saudis, as in my annual polls for the previous two years, agree with this statement: "Arab states should play a new role in Palestinian-Israeli peace talks, offering both sides incentives to take more moderate positions." Only 22 percent of Saudis have a favorable opinion of the Palestinian Hamas movement, which rejects peace with Israel. And the same low proportion, asked to choose from a list possible priorities for American Mideast policy, pick "stay out of our regional altogether, or at least withdraw from most of it." If the Saudi terrorist in Pensacola voiced a violent grievance against the United States on this score, he did not represent the large majority of his people.
Nevertheless, adherence to an intolerant view of Islam, along with dislike or distrust of the United States, remain widespread among the Saudi public. The reforms championed by the Saudi government, along with its alliance with Washington, are in the interest of both countries. But both sides apparently still have a long way to go in convincing not just the American public, but the Saudi public as well.
The survey was conducted in November by a leading regional commercial market research company, using face-to-face interviews and standard geographic probability sampling methods to yield a representative national sample of 1,000 Saudi citizens. The author personally traveled to the region to consult with the project managers, and ensure strict confidentiality and quality controls, during the fieldwork period. The statistical margin of error for a sample of this kind is approximately three percent.
More on
GULF COUNTRIES
How the Syrian War Shifted Attitudes Towards Arab–Israeli Rapprochement
By Hadeel Oueis
Despite Blockade, Opportunities are Increasing for Qatar to Develop Broader Regional Ties
By Jalal Selmi
Oil's Impact on Tensions in Southern Yemen
By Muneer Binwaber
The Gulf Crisis Is a Messaging Nightmare—With No Success in Sight
By Hassan Mneimneh
Understanding Egypt's Limited Involvement in the Campaign Against Iran
By Mohamed Maher
UAE Public Privately Split on Key Issues, New Poll Reveals
By David Pollock
More on
SAUDI ARABIA
Iran and Saudi Arabia: Imagining a Path Towards Rapprochement
By Mohammad S. Alzoubi
How the Syrian War Shifted Attitudes Towards Arab–Israeli Rapprochement
By Hadeel Oueis
Despite Blockade, Opportunities are Increasing for Qatar to Develop Broader Regional Ties
By Jalal Selmi
The Gulf Crisis Is a Messaging Nightmare—With No Success in Sight
By Hassan Mneimneh
A New Foreign Policy in Sudan: Status Quo or a Shift Towards the Gulf?
By Jalal Selmi
Yemen: Can Aid Alleviate Human Suffering?
By Muneer Binwaber
More on
SECURITY
Iran and Saudi Arabia: Imagining a Path Towards Rapprochement
By Mohammad S. Alzoubi
U.S. Interests and the Unsustainable Status Quo in Iraq
By Michael Knights
How Will the SDF React to Turkey's Invasion?
By Wladimir van Wilgenburg
Egypt, Haftar, and U.S. Passive Interest in the Libyan Conflict
By Mohamed Maher
The Challenge of Sovereignty: The PMF and Iranian Entrenchment in Iraq
By Haitham Numan
The United States Shouldn't Replicate Slip-ups in Sudan
By Nasreldin Wali
Fikra Forum encourages a range of voices and perspectives. Please follow these guidelines to be considered for publication:
Submit full text of article (800-1500 words) in English OR Arabic
Hyperlinks and references in-text, where necessary – please avoid footnotes
Include a brief author biography and headshot (if desired)
Submissions for publication must be original and previously unpublished
Send to submissions@fikraforum.org
Please note that while we are committed to carefully reviewing every submission we receive, submission does not guarantee publication. The language in which you submit will not impact our consideration in any way.
CUSTOMIZE YOUR RSS FEED
Fikra Forum is an initiative of the Washington Institute for Near East Policy. The views expressed by Fikra Forum contributors are the personal views of the individual authors, and are not necessarily endorsed by the Institute, its staff, Board of Directors, or Board of Advisors.
https://www.washingtoninstitute.org/fikraforum/view/New-Saudi-Poll-Shows-Just-One-Fourth-Back-Moderate-Islam-or-Count-on-U.S
------
Islamic Jihad: We agreed with Hamas to respond to future 'aggression' together
19 December 2019
ADAM RASGON
The Hamas and Islamic Jihad terror groups have agreed that they will respond together to any future Israeli "aggression," Islamic Jihad secretary-general Ziad al-Nakhala asserted on Thursday.
"I affirm that we will respond to any aggression together, God willing. No aggression will come without meeting a response. That is what we agreed to with the brothers in Hamas and the resistance force," Nakhala said in a televised speech.
Hours after his speech, the Israel Defense Forces said that a projectile was fired from Gaza toward southern Israel — the second in under 24 hours.
During the latest escalation in tensions in November, the Al-Quds Brigades, Islamic Jihad's military wing, and other smaller terror groups in Gaza fired some 450 rockets and mortars at Israel, which responded with many retaliatory strikes in the coastal enclave.
Unlike in previous rounds of fighting, the Izz ad-Din al-Qassam Brigades, Hamas's military wing, sat on the sidelines.
Shortly after the escalation concluded, Israeli media reported that tensions between Islamic Jihad and Hamas were high because of the latter's decision to not participate in fighting.
Palestinian news outlets had reported at the time that that young members of senior Al-Quds Brigdes commander Baha Abu al-Ata's family prevented top Hamas official Mahmoud al-Zahar from visiting a tent for those mourning Abu al-Ata's death.
Islamic Jihad official Khaled al-Batsh later apologized to Zahar for the incident.
At the start of the fighting in November, Israel had eliminated Abu al-Ata in a targeted killing. There were no immediate reports of injuries or damage.
Earlier this month, Nakhala and Hamas chief Ismail Haniyeh met in Cairo alongside many senior officials in both terror groups. According to a joint statement on December 3 by Islamic Jihad and Hamas, Nakhala and Haniyeh met for five hours and discussed multiple matters related to the Palestinian cause including the escalation in November.
The statement said: "The leaderships of the two movements affirmed the strategic relationship between them."
Hamas and Islamic Jihad are considered the most and second-most powerful terror groups in Gaza, respectively.
They have fought three major wars with Israel in the past 12 years.
https://www.timesofisrael.com/islamic-jihad-we-agreed-with-hamas-to-respond-to-future-aggression-together/
------
Islamic State fighters and their families return to Bosnia
19/12/2019
A group of 25 Bosnian citizens have been sent home from camps in Syria, including former Islamic State fighters and women and children, authorities said Thursday.
Bosnia's Security Ministry said in a statement that the group included six women, twelve children and seven former foreign fighters who have been handed over to the Bosnian legal authorities.
The men are facing legal proceedings in Bosnia on suspicion of organizing terrorist groups and joining foreign paramilitary formations, Bosnia's Prosecutor's Office said in a statement Thursday.
It said international arrest warrants already exist for some of the suspects.
The plane carrying the Bosnian nationals from Syria landed earlier Thursday at the airport in the capital of Sarajevo under heavy security.
Bosnian officials in the past have said about 260 Bosnian citizens remain in the camps in Syria, including approximately 100 men and 160 women and children,
In 2014, Bosnia became the first country in Europe to introduce prison terms for its citizens who fought abroad. Fighters who have since returned to the country were tried and, in most cases, sentenced to prison.
https://www.euronews.com/2019/12/19/islamic-state-fighters-and-their-families-return-to-bosnia?utm_source=feedburner&utm_medium=feed&utm_campaign=Feed%3A+euronews%2Fen%2Fnews+%28euronews+-+news+-+en%29
------
Russia warns of Daesh re-grouping; Hamas and Islamic Jihad against Israel; Airstrikes in Libya
Dec 20, 2019
PANAGYURISHTE, (BM) – Your briefly report on December 19 in last twelve hours from BulgarianMilitary.com:
Iran, Russia warn of Daesh relocation to Afghanistan
Iranian and Russian security chiefs have expressed concerns that the Deash terrorist organisation will re-group from their former Middle East strongholds into Afghanistan.
The warnings were made during the second edition of the Regional Security Dialogue conference held in Tehran yesterday by the Secretary of Iran's Supreme National Security Council, Ali Shamkhani, and his Russian counterpart, Nikolai Patrushev, reported Press TV.
Also in attendance were security officials from China, India, Afghanistan, Tajikistan, and Uzbekistan. "Since Daesh's defeat in Iraq and Syria, one of the [pressing] security concerns has been the relocation of the defeated Daesh elements from the two countries to Afghanistan," Shamkhani said.
Russia's Patrushev said Afghanistan currently hosts between 2,500 and 4,000 Daesh terrorists and that the only solution is direct and unconditional talks between the Taliban and the Kabul government. He also referred to the increase in drug production in Afghanistan as one of the principal sources of funding terrorism, and said around $600 million of the funds deriving from drug production and sales go to terrorist outfits in the region each year.
Hamas and Islamic Jihad against Israel
The Hamas and Islamic Jihad terror groups have agreed that they will respond together to any future Israeli "aggression," Islamic Jihad secretary-general Ziad al-Nakhala asserted on Thursday.
"I affirm that we will respond to any aggression together, God willing. No aggression will come without meeting a response. That is what we agreed to with the brothers in Hamas and the resistance force," Nakhala said in a televised speech.
Hours after his speech, the Israel Defense Forces said that a projectile was fired from Gaza toward southern Israel — the second in under 24 hours.
During the latest escalation in tensions in November, the Al-Quds Brigades, Islamic Jihad's military wing, and other smaller terror groups in Gaza fired some 450 rockets and mortars at Israel, which responded with many retaliatory strikes in the coastal enclave.
Fighter planes carried out airstrikes on military sites in the western city of Misrata, Libya's UN-recognized Government of National Accord (GNA) said Thursday.
Mustafa al-Majai, a spokesman for the GNA's Burkan Al-Ghadab (Volcano of Rage) operation, told Anadolu Agency that some old air defense sites and battalion camps were hit.
Al-Majai did not say who the warplanes belonged to but noted there were no casualties.
In April, forces loyal to eastern Libya commander Khalifa Haftar launched a military campaign to capture Tripoli, but they have so far failed to progress beyond the city's outskirts.
However, on Dec. 12, Haftar announced he had ordered his militants to launch a "decisive battle" to capture the city.
According to UN data, more than 1,000 people have been killed and over 5,000 injured since the start of the operation.
Since the ouster of late leader Muammar Gaddafi in 2011, two seats of power have emerged in Libya: one in eastern Libya supported mainly by Egypt and the United Arab Emirates and another in Tripoli, which enjoys UN and international recognition.
https://bulgarianmilitary.com/2019/12/20/russia-warns-of-daesh-re-grouping-hamas-and-islamic-jihad-against-israel-airstrikes-in-libya/
------
Jihadi referrals to Prevent fall despite police admitting Islamist extremism is still main security threat facing UK
Izzy Lyons
19 DECEMBER 2019
Jihadi referrals to the anti-radicalism programme Prevent have declined, despite a senior police officer admitting ISIS-inspired extremism is still the main security threat facing Britain.
The number of Islamist referrals to Prevent from March 2018 to 2019 dropped 56 per cent, from 3,197 to 1,404.
Introduced in 2003, Prevent has attracted wide criticism for being racially prejudiced, sparking concerns this could be behind the drop in referrals. But national counter terror coordinator, Chief Superintendent Nik Adams, said the reduction is due to a growing public perception that "the Islamist threat has lessened over time".
Mr Adams warned members of the public to not get complacent in reporting concerns with jihadi extremism despite a drop in the number of large scale terror attacks occurring in the UK. The terror attack in London Bridge last month, where Cambridge University graduates Jack Merritt and Saskia Jones were killed, "reinforces" the "enduring threat" from Islamist terrorism, Mr Adams said.
"Within our investigations nationally, we still see significant risks from ISIS inspired terrorism. That is not going away anytime soon," Mr Adams told the Telegraph.
The decline in Islamist referrals to Prevent comes alongside a six per cent increase in referrals relating to right-wing extremism.
The figures, released yesterday by the Home Office, show that 1,312 right-wing extremism reports were made in 2018 versus 1,389 over the following 12 months.
"My worry would always be that, because we focus quite a lot on the growing threats of the right-wing, people think that is now the dominant threat. It's growing and it's significant. But the highest level of threat we face is from ISIS and Daesh inspired terrorism," Mr Adams said.
Police are expecting a slight spike in referrals for Islamist extremism over the coming year due to the London Bridge attack, Mr Adams added.
The most recent figures show that overall referrals to Prevent are also down. In the year ending March 2019, 5,738 referrals were recorded, a 22 per cent decrease compared to the previous year, 7,318.
https://www.telegraph.co.uk/news/2019/12/19/jihadi-referrals-prevent-fall-despite-police-admitting-islamist/
------
India
No One from Bangladesh Will Get To Enter Assam By Means Of Citizenship Act: Assam Chief Minister
December 20, 2019
Assam Chief Minister Sarbananda Sonowal on Friday said that the citizenship law did not encourage fresh influx from Bangladesh, but those that fled the neighbouring country and moved to the state decades ago due to religious persecution would be able to apply for Indian citizenship.
Allaying fears of the state's indigenous population, who are wary that the law would threaten their identity, Sonowal said "not a single person of Bangladesh will get to enter Assam through CAA".
"Only those people who have been living in Assam for decades having fled religious persecution in Bangladesh would be able to apply for Indian citizenship," he told reporters at a press meet in Guwahati.
Once the process of filing applications for citizenship is over, a list of the claimants would be published, the chief minister stated.
The number would be "negligible", Sarbananda Sonowal insisted.
"It is certain that granting of citizenship cannot have any impact on our social construct. Clause 6 of the Assam Accord grants constitutional, legislative and administrative safeguards to protect, preserve and promote the cultural, social, linguistic identity and heritage of the Assamese people," Sarbananda Sonowal said.
Appealing people to maintain calm and not get swayed by "misinformation", Sarbananda Sonowal said his government would always work for their best interests.
"I have invited the leaders of anti-citizenship law agitation for talks across the table as I believe that is the only way forward. I believe, together, we chalk out a solution... everything is possible," Sarbananda Sonowal added.
https://www.indiatoday.in/india/story/at-least-flights-diverted-running-late-delhi-airport-bad-weather-1630010-2019-12-20
------
Telangana: United Muslim Action Committee holds meeting over new citizenship law
20-12-2019
United Muslim Action Committee on Friday held a meeting at All India Majlis-e-Ittehadul Muslimeen (AIMIM) head office here to discuss and formulate a strategy against the Citizenship (Amendment) Act, 2019 and National Register of Citizens (NRC). AIMIM chief and Hyderabad MP Asaduddin Owaisi and Muslim Scholars from across the state participated in the meeting.
In the meeting, Owaisi said that they will strongly oppose the new law but will also take police permission for the demonstrations. "We have to oppose this act strongly, but only after taking police permission and peacefully. As you know in Lucknow and Delhi, there was police brutality. There was also violence in Mangaluru, in which two Muslims died. If there is violence then we will condemn and disassociate ourselves from it," he said.
Owaisi also pitched to conduct meetings across Telangana to build consensus. This comes amid widespread protests against the newly-enacted citizenship law across the country. (ANI)
(This story has not been edited by Devdiscourse staff and is auto-generated from a syndicated feed.)
https://www.devdiscourse.com/article/national/802086-karnataka-cm-appeals-to-people-to-stay-off-vested-interests
------
'It's now or never': Why young, urban Muslims plunged into the anti-Citizenship Act protests
Rehan Sheikh had been disturbed by the prospect of a nationwide National Register for Citizens since April when he first heard Home Minister Amit Shah announce plans to bring in the Citizenship Amendment Bill. Addressing a public meeting then, Shah said the legislation would grant citizenship to non-Muslim refugees from Bangladesh, Pakistan and Afghanistan, and then flush out "infiltrators" through the NRC.
In the following months, as the NRC was implemented in Assam and the ruling Bharatiya Janata Party government became more vocal about a nationwide citizenship register, Sheikh realised how closely it was linked to the passing of the Citizenship Amendment Bill.
Yet, when the Bill was passed by Parliament and became an official Act on December 12, Sheikh was taken by surprise. "It happened so suddenly," said Sheikh, a 30-year-old investment advisor working with a bank in Mumbai. "I always knew this was going to be a dangerous law, but I did not expect to be passed so quickly after they tabled it in Parliament."
Since then, like almost every other Muslim he knows, Sheikh has been brimming with feelings of anger, indignation, dread and a sense of urgency. These feelings have intensified after December 15, when the Delhi police unleashed an unprovoked assault on students of Jamia Milia Islamia University in Delhi, and students around the country began to protest in response.
For young, urban, middle-class Muslims like Sheikh, who had been more invested in their community's educational and economic development than politics, the Citizenship Amendment Act and the police crackdown on protests have been an eye-opening jolt.
"We have been silent about a lot of things for the sake of peace, including the Supreme Court verdict about the Babri Masjid," said Sheikh, referring to the court's decision on November 9 to hand over the disputed land in Ayodhya to the Hindu side. "But now it is a question of our very existence in this country. We have to speak out now."
'I cannot believe this is happening'
This "now or never" sentiment was palpable at Mumbai's August Kranti Maidan on Thursday, when thousands of people across communities turned up to protest the Citizenship Amendment Act. Several protesters had never considered stepping out on the streets to raise slogans before, but now, for the first time, they felt compelled to raise their voices.
"My family has never been interested in politics before," said Alam Khan, a travel agent in his 30s. "My wife did not watch the news even when the Ayodhya verdict came out or when Article 370 was removed [in Jammu and Kashmir]."
"But this time our community is directly being targeted, so many of my family members wanted to protest," he said.
Khan's personal desire to be vocal is rooted in both fear for his community and a rising sense of patriotism. "Muslims from my grandparents' generation were not literate enough to preserve documents. How will people like us show proof of residence in India from the 1950s and 70s?" he said. "I cannot believe this is happening in my country – we cannot let it happen."
Firdos Farooqui, a medical doctor from South Mumbai, said that the protest at August Kranti Maidan was only the second time she ever felt the need to participate in a public agitation. "I had protested triple talaq last year because it is an un-Islamic practice, and now I am protesting CAA and NRC because they are against India," she said. "I did not expect that the law would be passed so easily, without much opposition in the Parliament."
Like Farooqui, Farzana Khan, who had travelled for the protest all the way from the northern suburb of Mira Road, was also rattled by the idea of Indian Muslims being asked to prove their citizenship. "My father was a freedom fighter who won medals for this country," she said. "What more do I need to prove?"
Wearing religion on one's sleeve
According to 39-year-old Javed Sayed, it is the support of non-Muslim Indians that helped Muslims across the country to step out in large numbers and protest visibly in public.
"I think Muslims had resigned themselves to a lot of injustice towards the community, so there were hardly any protests against NRC in these last few months," said Sayed, a graphic designer from Mumbai. "But after CAA [Citizenship Amendment Act] was passed, when so many non-Muslims came out to speak for us and to support the students of Jamia, we found it easier to protest."
Indian Muslims' discomfort with public dissent is rooted in a history of bitter experiences with street protests, particularly since the demolition of the Babri Masjid in 1992. But some Muslims are now ready to discard the past and take control of their narratives.
Journalist Humaira Ansari, for instance, said that after the Citizenship Amendment Act was passed, she decided to "stop giving a damn" about how other people perceive her political stances.
"Earlier, whenever there were terror attacks and Muslim groups went out of their way to condemn the violence, I always felt uncomfortable about it," she said. "I always questioned, why should we have to do it? Why should I have to wear my religion on my sleeve?"
Ansari, 33, has had sleepless nights since the Act was passed. "Now I feel it is time for us to embrace our religion, to step out and say yes, I am a Muslim and I have a problem with the way Muslims are mistreated and targeted in this country."
https://scroll.in/article/947368/its-now-or-never-why-young-urban-muslims-plunged-into-anti-citizenship-act-protests
------
Mumbai: 15 Islamic Scholars Detained Amid March to Police Station
December 20, 2019
As many as 15 Ulema (Islamic scholars), who were planning to hold a peaceful march to Nagpada police station to offer their arrest in opposition to the new citizenship law, were detained on Thursday soon after they stepped out of the Sunni Badi Masjid in Madanpura.
The incident took place at about 2 pm, when the group was about to begin the walk after offering their prayers.
Over 200 police personnel from various nearby police stations along with the state reserve police formed a barricade, not allowing the Ulema to walk ahead. It led to a large crowd being confined to one area, where they began shouting slogans and holding banners against the citizenship law while carrying the Indian flag.
In a bid to control the crowd, the police detained 15 Ulema and began driving them to the police station. However, the crowd began following the police van. The police released the men about 150 metres away from the mosque, after which they handed over a notice under Section 188 of the Indian Penal Code.
Sayyed Moinuddin Ashraf, general secretary of Raza Academy, said, "We had already informed the relevant police authorities of our peaceful march to the police station to protest against the dark Act, but our Ulema were held and put in vans by Nagpada Police, which created a situation of restlessness."
"No one was arrested; they were detained and then released. The detention was carried out as permission to carry out a protest march was not granted," said Senior Police Inspector Shalini Sharma.
https://indianexpress.com/article/cities/mumbai/mumbai-15-islamic-scholars-detained-amid-march-to-police-station-6175806/
------
As Protests Over Citizenship Law Peak, Bihar CM Reassures Muslims
December 20, 2019
New Delhi: As protests against the new citizenship law swept the country on Thursday, Bihar Chief Minister Nitish Kumar took out time to reassure the Muslim community, left upset by his party's role in passing the law in parliament.
The contentious law promises citizenship to non-Muslims from Pakistan, Afghanistan and Bangladesh who moved to India by 2014. Critics say it challenges the foundations of India's secular constitution by making religion a criterion for citizenship.
The Chief Minister's Janata Dal United, which initially opposed the citizenship bill, had supported it in both houses of parliament, saying it was about granting citizenship to people from certain countries. It had helped the law to pass the Rajya Sabha test, where the government lacks the numbers.
On Thursday at a government meeting in Gaya, the Chief Minister promised Muslims full safety and security.
"I guarantee you that no one can ignore you till the time we are around," Mr Kumar said. "No one can do (you) any damage but let's move together. I won't let anyone, irrespective of his religion or community, to suffer any difficulties," he added.
Mr Kumar is yet to clarify his stance on the other hugely controversial issue - the National Citizens' Registry, which the government plans to take across the country. The process, meant to weed out illegal migrants from the country, had left out near 19 lakh people - many of them Muslims -- when it was rolled out in Assam earlier this year.
The flip flop of the JDU is seen to have alienated the Muslims, among whom Lalu Yadav's Rashtriya Janata Dal had found a ready votebank during the bypolls in October. With assembly elections in Bihar due next year, Mr Kumar is seen to be trying to clamber back to favour.
For now, he also appears to have patched up the differences within the party over the move - several senior leaders, including Prashant Kishor, had questioned the move.
The country has seen a wave of protests over the citizenship law, which peaked today with protests across 10 states. Three persons died - two in Mangaluru and one in Lucknow - and several people, including policemen, have been injured. Internet has been suspended in parts of Uttar Pradesh and Karnataka and Mangaluru has been placed under curfew till Saturday.
https://www.ndtv.com/india-news/as-protests-over-citizenship-law-peak-bihar-chief-minister-nitish-kumar-reassures-muslims-2151592
------
CAA stir: Protecting interests of Muslim community is our responsibility, says BS Yediyurappa
19th December 2019
BENGALURU: In an attempt to allay fears among the Muslim community regarding the Citizenship Amendment Act (CAA), Karnataka Chief Minister B S Yediyurappa on Thursday said protecting your interest is our responsibility.
Calling for peace, amid protests in various parts of the state defying prohibitory orders, against the CAA, he alleged Congress party's role behind it and warned them of consequences.
The Chief Minister on Wednesday had declared that his government will "hundred per cent" implement the CAA.
"I appeal to the minority Muslim brothers, this law will in no way affect you, protecting your interest is our responsibility. Kindly cooperate, maintain peace and order," Yediyurappa said.
Speaking to reporters here, he said, "we have not given permission for any agitation in favour or against the law, and section 144 (prohibitory orders) were in place."
Authorities had clamped section 144 of the CrPC in various parts of the state including Bengaluru and Mangaluru with immediate effect on Wednesday evening that will be in force till the midnight of December 21.
Alleging the Congress was behind the protest, Yediyurappa said it is because of people like U T Khader (Congress MLA) such things are happening, and if they continue in the same way, they will have to face the consequences.
Khader had recently claimed that the state would "blow up in cinders" if the Yediyurappa government tried to implement the Citizenship Amendment Act.
Later in the day as the protests grew, the Chief Minister once again urged and appealed to all political parties, leaders and people in general to maintain calm on the CAA issue.
"CAA is no threat to the people of this country. It is only an act applied to the people from other countries who seek citizenship. CAA does not discriminate people on the basis of religion. Citizenship is accorded on the basis of their nationality and not on the basis of religion or caste," he said.
Yediyurappa also claimed that opposition parties and leaders who are opposing the act are doing it with a political motive and people of the country are intelligent to understand their motto.
"Citizenship Amendment Act is a national Act CAA is a constitutional provision, there is no question of states rejecting it. As a member of the federal set up, every state is bound by the Constitution," he added.
Expressing surprise over the detention of noted historian Ramachandra Guha earlier on Thursday for staging a protest against the CAA, Yediyurappa instructed police to exercise restraint against the agitators.
Guha and many others were detained for staging a demonstration against the CAA and NRC near the Town Hall here, in defiance of the prohibitory orders imposed in the city.
Hitting out at Yediyurappa for his government's decision to clamp down on protests against Citizenship Amendment Act, Congress leader and former Chief Minister Siddaramaiahasked him not to be "undemocratic".
Different parts of the country witnessed violent protests against the Citizenship (Amendment) Bill which was passed by Parliament and given assent by the President last week.
According to the Act, members of Hindu, Sikh, Buddhist, Jain, Parsi and Christian communities who have come from Pakistan, Bangladesh and Afghanistan till December 31, 2014, and facing religious persecution there, will not be treated as illegal immigrants but given Indian citizenship.
The act says refugees of the six communities will be given Indian citizenship after residing in India for five years, instead of 11 years earlier.
https://www.newindianexpress.com/states/karnataka/2019/dec/19/caa-stir-protecting-interests-of-muslim-community-is-our-responsibility-says-bs-yediyurappa-2078411.html
------
BJP unfazed, says will implement CAA, NRC
Dec 20, 2019
NEW DELHI: Unfazed by the refusal of some state governments to implement a nationwide National Register for Citizens (NRC), BJP is standing its ground for a registry of all citizens.
On a day when the government clarified that NRC was not part of CAA, BJP's working president J P Nadda, after meeting a delegation of refugees from Afghanistan at the party headquarters here, reiterated that both the new citizenship law and the NRC would be implemented across the country.
FAQs released by the government on Thursday to counter propaganda about changes in the CAA leaves room open for implementation of NRC about which the government merely said "it is yet to be decided". Several states have refused to implement the NRC if it is brought in future. JD(U) chief and Bihar CM Nitish Kumar and BJD boss and Odisha CM Naveen Patnaik, whose parties had supported the CAB in Parliament, have said no to NRC.
However, Nadda made it amply clear that there was no going back on NRC. "India is marching ahead under PM Narendra Modi and will continue to do so. The Citizenship (Amendment) Act will be implemented, so will the NRC in future," he said, leaving no room for confusion about the party's position on NRC.
Nadda said BJP's rivals were protesting against the CAA for vote bank politics while ignoring the plight of minorities of three neighbouring countries living in India. "Those who are opposing the citizenship law should meet them first," Nadda said after meeting Sikh refugees from Afghanistan, who will become Indian citizens as per the new citizenship law.
BJP's working president added: "These people have been living in India for 28-30 years but can't admit their children in schools or buy a house as they do not have citizenship. Our rivals cannot see anything beyond vote bank politics."
Asked about Congress, TMC, Left and other parties' opposition to the bill, Nadda quoted home minister Amit Shah's statement in Parliament that opposition parties were speaking the same language as Pakistan on the issue.
Shah has asserted several times that NRC, which has been implemented in Assam as per the Supreme Court's order, will be done nationally.
On Thursday, a delegation of Sikhs thanked BJP for bringing changes in the citizenship law, which will grant citizenship to Hindus, Sikhs, Christians, Parsis, Jains and Buddhists from Pakistan, Bangladesh and Afghanistan if they arrived in India by December 31, 2014, due to religious persecution.
Nadda said these Sikhs had left Afghanistan nearly three decades ago and arrived in India to protect their faith. "Documentation process to grant them citizenship will be done quickly so that they can join the mainstream," he said.
https://timesofindia.indiatimes.com/india/bjp-unfazed-says-will-implement-caa-nrc/articleshowprint/72893970.cms
------
Delhi CM Arvind Kejriwal appeals to Centre to roll back CAA
19 Dec 2019
Delhi Chief Minister Arvind Kejriwal once again appealed to the Centre to rollback the Citizenship Amendment Act (CAA). The Delhi CM has made this appeal amid sporadic agitations against the Act across India. Kejriwal expressed that an atmosphere of fear and tension has gripped the minds of people as they are uncertain over this law. He further stated that the Centre will achieve nothing out of this law and should instead focus on providing employment.
https://timesofindia.indiatimes.com/videos/city/delhi/delhi-cm-arvind-kejriwal-appeals-to-centre-to-roll-back-caa/videoshow/72892180.cms
------
Three killed as protests across India rattle govt
December 20, 2019
NEW DELHI: Three persons were killed in police firing on Thursday and several were injured as protests swept at least 10 states against India's new law on citizenship. Permission for protests was denied in almost all states but the protesters defied police and a lockdown across Uttar Pradesh, parts of Delhi, Karnataka and Madhya Pradesh.
In Mangaluru, where curfew has been declared, two persons died in police firing. In Lucknow, one person died and three others were injured.
In Delhi, hundreds including activists and opposition leaders were temporarily taken into custody. The Delhi-Haryana border was sealed for eight hours, hitting road traffic and delaying flights.
Rattled by continuing nationwide protests against the controversial law for citizenship, Indian Home Minister Amit Shah has summoned a high-level meeting to assess the response.
Upping the clamour to revoke the law, West Bengal Chief Minister Mamata Banerjee, in her seventh major public rally, asked Prime Minister Narendra Modi to test his measures with a UN-sponsored referendum. Such a call was hitherto confined to the status of occupied Jammu and Kashmir.
Considered the sword arm of Mr Modi's rightwing government, Mr Shah has insisted that his resolve to implement the twin-measures of Citizenship Amendment Act (CAA) and the National Register of Citizens (NRC) was rock solid. But ceaseless weeklong protests are testing that resolve.
The week has seen some of the most brutal police barbarity on peaceful demonstrators since independence, analysts say. A student in Aligarh Muslim University had his arm amputated after being hit by police shrapnel while two others are being treated for serious injuries.
New Delhi's Jamia Millia Islamia university has witnessed an equally vicious assault by the heavily-armed police, who come directly under Mr Shah's command.
The minister will be briefed on how thousands hit the streets across at least 10 states, even defying lockdown across Uttar Pradesh, parts of Karnataka, Madhya Pradesh and Delhi, in protest against the law on citizenship.
In pictures: Protests persist against India's new citizenship bill
In the national capital, nearly 1,200 protesters were temporarily taken into custody as they defied a law banning the gathering of more than four persons. Most of them have been released.
Over 100 people were temporarily detained in Bengaluru along with historian Ramchandra Guha, who was dragged away by police in the middle of a television interview. In parts of Lucknow and Gujarat's Ahmedabad, the protesters clashed with police.
Curfew was declared in Mangaluru, where police had opened fire, reports said.
Protests were held in 13 major cities around the country over the new law that's emerging as the biggest challenge to Mr Modi's government since he was elected in 2014.
Mr Guha likened the burgeoning anger to a few major crises since ind­e­p­endence, starting with Mahatma Gandhi's assassination by rightwing Hindu nationalists, the emergency and other setbacks, including the massacre of Sikhs in 1984.
Amid the countrywide unrest over the new citizenship law, Chief Minister Banerjee has stood out. Addressing a huge rally in Kolkata — part of a 10-city protest — she said: "If BJP has guts, it should go for a UN-monitored referendum on the amended Citizenship Act and NRC".
Addressing Prime Minister Modi and Mr Shah, she said. "Let's have a vote. Just because you are majority, you can't do just about anything. You are terrorising all the pillars of society".
The contentious law promises citizenship to non-Muslims from Pakistan, Afghanistan and Bangladesh who moved to India by 2014. Critics say the law challenges the foundations of India's secular constitution by making religion a criterion for citizenship.
While the BJP has been accusing opposition parties of instigating violence, Ms Banerjee suggested an alternative theory. The BJP is buying skullcaps for its cadres, who, she said "vandalise properties to malign a particular community".
The chief minister has refused to implement the new law and the National Registry of Citizens — meant to eventually help purge illegal migrants — which the government plans to take across the country after its introduction in Assam earlier this year.
https://www.dawn.com/news/1523273/three-killed-as-protests-across-india-rattle-govt
------
Pakistan
Army, govt roast judge over grisly rider in Musharraf ruling
Syed Irfan Raza
December 20, 2019
ISLAMABAD: Hours after a special court released its detailed judgement in the high treason case in which it ordered dragging and hanging of former military ruler retired Gen Pervez Musharraf's corpse, the government and military authorities on Thursday gave an angry response to the verdict and decided to file a reference against Peshawar High Court Chief Justice Waqar Ahmed Seth in the Supreme Judicial Council (SJC), besides challenging the verdict in the Supreme Court.
Justice Seth headed the three-judge special court.
Both the government and the army expressed 'anger' over a specific paragraph 66 of the detailed judgement and termed it "unlawful", "inhuman" and "unconstitutional".
Para 66 of the verdict read: "We direct the law enforcement agencies to strive their level best to apprehend the fugitive/convict [Pervez Musharraf] and to ensure that the punishment is inflicted as per law and if found dead, his corpse be dragged to the D-Chowk [in front of the Parliament House], Islamabad, Pakistan, and be hanged for three days."
The government decided to move the SJC and file an appeal against the verdict during a meeting of the ruling Pakistan Tehreek-i-Insaf's (PTI) strategic committee, chaired by Prime Minister Imran Khan after his telephonic conversation with Chief of the Army Staff (COAS) Gen Qamar Javed Bajwa.
The government's decision to go against the special court verdict and its author Justice Waqar Ahmad Seth was revealed by Law Minister Farogh Naseem, Special Assistant to the Prime Minister (SAPM) on Information Dr Firdous Ashiq Awan and SAPM on Accountability Mirza Shahzad Akbar at a joint press conference.
Earlier, military spokesman Maj Gen Asif Ghafoor, while referring to certain parts of the verdict during a hurriedly called media briefing, vowed to thwart the "enemy design" and defend the institutional dignity. "Today's verdict, especially the words used in it, is against humanity, religion, culture and our values," he said, adding that the army's response plan to the threat was also in place.
Without elaborating the institutional response to the sinister "design", he said that conspiracies of the "anti-state elements" both "internal and external" would be foiled.
Law Minister Naseem said the government had a ground to file a reference against the PHC chief justice because there was a verdict of former chief justice of Pakistan Iftikhar Mohammad Chaudhry that "incompetence is a ground of misconduct".
Terming the decision against the former president "unprecedented and despicable", the law minister said: "This is an attempt to take Pakistan into dark ages."
Responding to a question whether the special court's verdict will stand invalid if the SJC gives its decision against the PHC chief justice, he skipped it and only said "no comments". However, SAPM Awan said at the fag end of the press conference: "In that case the verdict will stand null and void."
Mr Naseem said the federal government would plead before the SJC that the PHC chief justice was "mentally unfit" and "incompetent" and, therefore, he should be restrained from giving important decisions as head of the high court or judge of the Supreme Court.
Referring to a past judgement by Justice Naseem Hasan Shah of the Supreme Court in which the "universal declaration of human rights in Islam" had been referenced as well as Article 14 which speaks of the "fundamental right of the dignity of man" was invoked, the law minister said it was ruled that public hangings were in contravention to the Constitution and Islam.
Mr Naseem said there was no room for a judge to have authority to present such an observation in Article 6 of the Constitution, in the High Treason Act-1973 and in the Criminal Amendment Act of the special court-1976.
The controversial paragraph 66 was widely criticised by the lawyers' community as well as members of civil society.
Attorney General Anwar Mansoor Khan said the verdict was "unconstitutional, unethical, inhuman, and was given by an individual whose sanity is questionable".
In his presser, Maj Gen Ghafoor said: "We very well know how to uphold the dignity of the institution. … God willing we will protect both the country and the pride and prestige of the institution."
He said the army chief in his conversation with PM Khan conveyed the sentiments of the army and "patriotic citizens, who are aware of the challenges being faced by the country" and deliberated on how to move ahead in the matter.
The military spokesman asserted that the army was fully alive to the enemy designs against Pakistan. "Being an important national security institution, we are clear about the efforts to weaken us internally and benefitting from that materialise the external threat," he said.
He said the adversary's design was to "provoke us to fight against each other" and in this way fulfilled its "dream of defeating Pakistan". He emphasised the cohesiveness within the army, likening it to "a family", and the "public support" as sources of strength for the military in dealing with national challenges. "If the country today needs the sacrifice, performance and the unity of the institution, we will not fail it by falling to the conspiracies of the enemy," he maintained.
Talking about the detailed verdict, the military spokesman said it had vindicated army's reservations expressed in its initial reaction on Dec 17 after the announcement of the short order, which were about Gen Musharraf not getting due process, being denied fundamental rights.
SAPM Shahzad Akbar said the verdict had bowed his and the entire nation's head in shame and brought a bad name to the country. "We will ascertain that why and how this paragraph [66] was dropped into the judgement which was written by violating law and the Constitution," he added.
He said the government had decided to challenge the decision against Gen Musharraf because legal and constitutional requirements had not been fulfilled in the judgement. "The case was decided in absentia without recording statements of Gen Musharraf and witnesses in the case," he added.
Mr Akbar termed the verdict an "attack" of an institution on another institution at a time when there was a tension on the Pakistan-India border. "Custodians of law have a responsibility to forge harmony but in what kind of issue they have involved themselves for personal enmity," he added.
He said the right of fair trial had not been given to the former president and the case was decided in haste. "Similarly, why requirement of seeking permission of the federal cabinet for filing petition against Mr Musharraf was ignored by the special court," he added.
Firdous Ashiq Awan alleged some external powers were behind the conspiracy and some people in the country were being used as their tools. "But the government and the army will crush all such conspiracies," she added.
https://www.dawn.com/news/1523287/army-govt-roast-judge-over-grisly-rider-in-musharraf-ruling
------
IMF approves second tranche of $452m, says Pakistan's economic reform 'on track'
December 20, 2019
The International Monetary Fund (IMF) on Thursday approved the second tranche of $452.4 million for Pakistan under the $6 billion Extended Fund Facility (EFF), declaring that Pakistan's reform programme is "on track and has started to bear fruit".
The Fund, after completing it's first review of Pakistan under the EFF, noted that "decisive" implementation of government policies had helped preserve economic stability in the country.
The IMF package, which was approved in July this year, is an effort to revive Pakistan's ailing economy through periodic release of funds over a 39-month period, conditional on the government meeting the Fund's policy guidelines.
Following the release of the latest tranche, the total amount of money so far granted by the IMF under the current programme will rise to $1,440m.
In a press release issued earlier today, the IMF noted that the "transition to a market-determined exchange rate has been orderly [and] inflation has started to stabilise, mitigating the impact on the most vulnerable groups of the population."
The IMF further observed that the "authorities remain committed to expanding the social safety nets, reducing poverty, and narrowing the gender gap."
At the same time, however, the Fund warned that "risks remain elevated". The press release quoted IMF's First Deputy Managing Director and Acting Chair David Lipton as saying: "Strong ownership and steadfast reform implementation are critical to entrench macroeconomic stability and support robust and balanced growth."
"The authorities are committed to sustaining the progress on fiscal adjustment to place debt on a downward path," Lipton said, adding that: "The planned reforms include strengthening tax revenue mobilisation, including the elimination of tax exemptions and loopholes, and prudent expenditure policies. Preparations for a comprehensive tax policy reform should start early to ensure timely implementation."
"The flexible, market-determined exchange rate remains essential to cushion the economy against external shocks and rebuild reserve buffers," he suggested.
Lipton also pointed out that "faster progress [was] needed to improve the AML/CFT framework supported by technical assistance from the IMF and other capacity development providers" in order for Pakistan to be removed from Financial Action Task Force's (FATF) 'grey list'.
Pakistan was placed on FATF's 'grey list' last year. In October this year, FATF retained Pakistan on its grey list and gave the country four-months to take stronger measures to combat terror financing and money laundering.
https://www.dawn.com/news/1523343/imf-approves-second-tranche-of-452m-says-pakistans-economic-reform-on-track
------
PBC objects to army's criticism of Musharraf verdict
December 20, 2019
KARACHI: The Pakistan Bar Council (PBC) on Thursday objected to the insulting criticism of the judgement of the special court which convicted former army chief retired Gen Pervez Musharraf.
In a statement, the council said that the law had provided procedures and proper course for agitating flaws, if any, but the way in which the judgement was criticised gave an impression that there was no respect for any other forum, including the judiciary.
"If there are some flaws in the judgement of Musharraf's case, in the opinion of DG ISPR, then the law has provided, procedure and proper course for agitating such flaws, if any, before the higher judicial forums by way of appeal, revision or constitutional petition but the manner and the way, in which, the judgement of the special court has been criticised by an official of the army clearly gives an impression that all the institutions in Pakistan are subservient to the armed forces, to follow its dictation and there is no respect for any other forum including the judiciary," said the statement jointly issued by the council's vice chairman Syed Amjad Shah and chairman of its executive committee Sher Mohammad Khan.
"The legal fraternity is also of the view that the attitude adopted by the federal government, its ministers, law officers and specially the attorney general for Pakistan, also confirms that the party in power has been installed by the army and its institution is on the driving seat and that's why they are also criticising the judgement in the same tune and tenor. We, therefore, strongly condemn and disapprove the insulting attitude of the army official as well as the government functionaries towards judiciary and the constitutional process of dispensation of justice."
The PBC also called ISPR DG's statement as violation of the constitutional provisions which amounted to be the contempt of the court. Disapproving his statement, the council reiterated that Mr Musharraf was convicted for committing high treason.
https://www.dawn.com/news/1523290/pbc-objects-to-armys-criticism-of-musharraf-verdict
------
Musharraf 'persistently, stubbornly' delayed, evaded high treason trial, says detailed verdict
Haseeb Bhatti
December 19, 2019
The detailed verdict in the high treason case against former military ruler retired Gen Pervez Musharraf was released on Thursday, two days after the special court found the former president guilty of treason and handed him a death sentence.
The verdict is split 2-1, with Justice Shahid Karim of the Lahore High Court agreeing with Peshawar High Court Chief Justice Waqar Ahmad Seth and Justice Nazar Akbar of the Sindh High Court dissenting.
"A dictator stays in power only as long as he manages to subvert the will of his people. The usurpation of the functions of government and other organs of State established by the Constitution tantamount to subversion of the Constitution. Exercise of undue influence over judiciary (such as making them cease office and/or take fresh extra-constitutional oath) do tantamount to subversion of the Constitution," says the 169-page detailed judgement, authored by Peshawar High Court Chief Justice Waqar Ahmad Seth.
Para 66 of Justice Waqar Seth's detailed judgement.
Justice Seth, along with Justice Karim, said that the evidence presented had proved that Musharraf committed a crime. Justice Karim concurred with the findings and punishment, with the exception of paragraph 66 which mentions "dragging the body to D-Chowk".
"I dissent with the President [...] it has no basis in law and will be ultra vires for this court to do so. In my opinion it is enough to sentence the accused to death," said Justice Karim.
'Uniformed officers with boots on equally involved'
"It is patent by the act and conduct of the accused facing trial, that he has persistently and stubbornly strived ever since the commencement of this trial, to delay, retract and in fact evade it. It has been his plea throughout that either on account of ill health or for security hazards he could not reach up to this Court to face trial," said the judgement.
"If for a moment it is presumed that military high command including Corps Commanders were not involved then why they failed to defend and protect the Constitution of the Islamic Republic of Pakistan, 1973 by not restraining a man in uniform […] the then Corps Commanders Committee in addition to all other uniformed officers who were guarding him each and every time, with boots on, are equally and fully involved in the act and deeds of the accused person," says the judgement.
"The trial of high treason is the requirement of the Constitution against those individuals who undermine or attempt to undermine the Constitution by any means. This court after presentation of undeniable, irrefutable and unimpeachable evidence by the prosecution against the accused reaches to the conclusion that indeed the accused is guilty and deserves exemplary punishment.
"As a necessary corollary to what has been observed we find the accused guilty as per charge. The convict be hanged by his neck till he dies on each count as per charge," says the verdict.
Para 68 of the verdict.
"We direct the law enforcement agencies to strive their level best to apprehend the fugitive/convict and to ensure that the punishment is inflicted as per law and if found dead, his corpse be dragged to the D-Chowk, Islamabad, Pakistan and be hanged for 03 days.
"Indeed, this portion of the judgement and execution is nowhere defined but since it is first impression cases and the sentence of death is announced in his absence after declaring the convict as proclaimed offender therefore the sentence is supposed to be executed.
"It would be in the interest of justice that all those involved (if any) in facilitation of the escape of the fugitive accused may also be brought in the net of due course of law and their criminal acts (if any) may be investigated and tried in accordance with law."
Dissenting note
Justice Akbar pointed out that the definition of high treason was updated after passage of the 18th constitutional amendment in 2010, which he said was not intended to be applied retrospectively.
"I have respectfully gone through the proposed judgement authored by my brother Waqas Ahmad Seth J [...] with my humble comprehension of law and justice, I happened to dissent with majority view of my learned brothers," said Justice Akbar in his dissenting note.
Justice Akbar was of the view that Musharraf's actions of imposing emergency on November 3, 2007, could not be seen as "attracting provisions of Article 6 of the Constitution" on the said date.
"[Counsel] has failed to appreciate that on the date of offence [2007] except 'abrogate' and 'subvert' no other act of any person was considered as an offence under Article 6 of the Constitution. Only the act of 'abrogation' and 'subversion' of Constitution was considered as an act of high treason," the judge notes.
The words 'suspension' and 'abeyance' were not used in the language of Article 6 of the Constitution until 20.4.2010 when [they] were introduced through the 18th Amendment — almost after two and a half years of Musharraf imposing emergency.
"In the offence under Article 6 of the Constitution, the charging word is 'high treason', therefore, without properly appreciating what does it mean, this court cannot pass a just and fair verdict."
"But for this reason, both the learned counsel for the prosecution and my learned brothers have referred to the definition of 'high treason' by relying on the meaning of 'high treason' given in the Oxford Dictionary (Tenth Edition).
Death sentence
A special court in Islamabad on December 17 found Musharraf guilty of high treason and handed him a death sentence under Article 6 of the Constitution, marking the first time in Pakistan's history that a military chief has been declared guilty of high treason and handed a death sentence.
Article 6 of the Constitution says: "Any person who abrogates or subverts or suspends or hold in abeyance, or attempts or conspires to abrogate or subvert or suspend or hold in abeyance the Constitution by use of force or show force or by any other unconstitutional means shall be guilty of high treason."
The army had stood by Musharraf, with Maj Gen Asif Ghafoor, in a statement, saying that the "decision given by special court has been received with lot of pain and anguish by rank and file of Pakistan Armed Forces".
"An ex-Army Chief, Chairman Joint Chief of Staff Committee and President of Pakistan, who has served the country for over 40 years, fought wars for the defense of the country can surely never be a traitor," said the ISPR statement. "The due legal process seems to have been ignored including constitution of special court, denial of fundamental right of self defence, undertaking individual specific proceedings and concluding the case in haste."
"Armed Forces of Pakistan expect that justice will be dispensed in line with Constitution of Islamic Republic of Pakistan," he said.
The PTI-led government had termed the high treason trial against Musharraf "unfair". "I will defend the law in the case but not any individual," said Attorney General Anwar Mansoor in a late-night joint press conference on the day of the verdict.
The former military chief is currently in Dubai in the United Arab Emirates. He was admitted to a hospital following deterioration of his health earlier this month. The former military dictator broke his silence on Wednesday evening and expressed his gratitude to the armed forces and the people of Pakistan for "remembering his services" for the nation.
In a video that showed him lying on a medical bed, Musharraf also said that he would decide his future course of action after consulting his legal team.
"I have faith in Pakistan's judiciary that they will provide me justice and keep in view the supremacy of law," he said.
https://www.dawn.com/news/1523187/musharraf-persistently-stubbornly-delayed-evaded-high-treason-trial-says-detailed-verdict
------
Sharif diagnosed with complicated heart disease
Dec 20, 2019
LONDON: Former Pakistan Prime Minister Nawaz Sharif, who is currently in London for treatment, has been diagnosed with a complicated coronary disease and will undergo further scans, his personal physician said.
In a tweet, doctor Adnan Khan said on Thursday: "Former PM #NawazSharif underwent comprehensive Cardiovascular evaluation & investigations at Royal Brompton & Harefield Hospital, London. He's diagnosed of complicated Coronary Artery / Ischemic Heart Disease with significant disease burden. Cardiac Perfusion Scans scheduled," Dawn news reported.
Sharif continues to undergo a range of tests for his cardiac and haematology complications, as doctors move to diagnose the reason for his low platelet count.
The former leader arrived in London on November 19 along with his brother Shahbaz Sharif after the government and courts granted him permission to travel abroad on medical grounds.
He came to London three weeks after he was granted bail by the Islamabad high court in the Al-Azizia corruption case on medical grounds.
A delegation of senior PML-N leaders came visited Nawaz Sharif in London last week, but some members of the team told Dawn news that no political discussion took place.
https://timesofindia.indiatimes.com/world/pakistan/sharif-diagnosed-with-complicated-heart-disease/articleshow/72895409.cms
------
South Asia
Facebook has no plan to open office in Bangladesh now
December 20, 2019
Muhammad Zahidul Islam
FACEBOOK has no plan to set up office in Bangladesh at the moment and is rather pleased to serve the country through regional offices, said a senior official of the social media giant, dealing a blow to a government push that aims to persuade it to establish local presence.
"We have no current plans to open an office in Bangladesh. Our community is global but we don't have offices in every country," said Dan Neary, vice president for Asia Pacific (Global Business Group) at Facebook, in an interview in Singapore recently.
The current plan, however, does not mean that the company is not committed to the country, he said.
The comments, however, dashed, for the time being, the government's attempt to convince the social media giant to set up its office in Bangladesh.
In September, the government sat with Facebook's high officials in Dhaka when it pushed them to establish the office. After the meeting, the government also said Facebook is willing to set up an office and appoint local representative.
In the last budget the National Board of Revenue (NBR) stipulated that all social media platforms set up an office in Bangladesh or appoint an agent to ensure 15 percent value-added tax and 4 percent advance income tax are paid to its coffer.
The size of the digital advertisement market in Bangladesh is about Tk 2,000 crore and almost half of it goes to Facebook, according to market sources.
Without making detailed comments on Bangladesh's decision to impose 15 percent VAT on the spending for social media campaigns, Neary said Facebook is engaged with relevant stakeholders and partners to comply with the new VAT regulations in Bangladesh.
He said Facebook has teams that are dedicated to Bangladesh. The teams sit in regional offices where they get resources and support they need.
The world largest social media company recently invited some journalists from 14 countries in the Asia-Pacific to its inaugural APAC press day event, where Neary also attended a session.
Neary, who has 20 years of executive-level work experience in the US and Asia, said Facebook is supporting local businesses to grow and helping Bangladeshi businesses achieve their goals.
"We are learning from Bangladesh's SMEs and are investing in ways to help them attain their goals and contribute to Bangladesh economy."
"We will continue to educate SMEs on how they can grow business on our platform," said Neary, who worked for Skype and handled its marketing in the Asia-Pacific region before moving to Facebook.
Currently, Facebook has 2.45 billion active monthly users globally and the user base is expanding at 9 percent annually. It, however, didn't share country-level breakdowns and also didn't give details about the products Bangladeshi users are using the most.
Bangladesh has 33.71 million active Facebook users as of January, according to Napoleoncat, a research firm focused on digital companies.
Bangladesh has become a very important market for Facebook as already three crore users are connected with the platform and the company is earning huge amounts from here, Post and Telecom Minister Mustafa Jabbar said in August.
Neary said its mission is to give people the power to build communities and to bring the world closer.
"It is a mission that Facebook takes very seriously. We're always looking for ways to support local communities to enrich their lives."
Facebook is committed to digital literacy education in Bangladesh, the Facebook official said.
It partnered with the Unicef in Bangladesh in 2018 to launch an online safety campaign for children.
It has teamed up with Banglalink, the country's third-largest mobile phone operator, under an initiative – New to Internet People Programme -- that has helped educate more than 1 million women and children in Bangladesh by helping them develop an understanding on the internet's relevance in daily lives and how to use it safely.
More recently, Facebook joined forces with Banglalink to train women on how to participate in the digital world in a safe and responsible way through the "Learn More, be More" campaign.
News is also a key part of Facebook's mission to give people the power to build community and bring the world closer.
"We care deeply about journalism and it is the future. That's why we are focused on helping publishers build sustainable businesses and stronger communities around their important work," Neary said.
The Facebook Journalism Project (FJP) supports quality journalism and news literacy and serves as a hub for journalists and publishers as they look for new tools to enhance news-gathering and storytelling.
Neary said the project works in three ways: Building Community through News; Training Newsrooms Globally; and Quality through Partnerships.
In its community-building efforts, Facebook invests in institutes that are dedicated to funding high-quality journalism and building sustainable futures for community-based news.
As part of newsrooms trainings, it visits newsrooms and offers online courses to train journalists on how to leverage social media tools to tell stories that matter.
And for quality through partnerships, Facebook directly partners with news publishers and non-profit organisations to combat misinformation, promote news literacy, fund new initiatives, share best practices, and improve journalism on its platform.
And most recently, Facebook News, a dedicated place for news on Facebook, was launched and it is now being piloted on a subset of people in the US. The platform gives people more control over the stories they see and the ability to explore a wide range of their news interests, directly within the Facebook app
https://www.thedailystar.net/business/news/facebook-has-no-plan-open-office-bangladesh-now-1842823
------
Bangladesh to allow transhipment of Indian goods from January sans custom duties, transit fees
Dec 19, 2019
New Delhi: Bangladesh, notwithstanding its decision to cancel visits by foreign and home ministers to India last week in the aftermath of Citizenship (Amendment) Bill controversy, will allow transhipment of Indian goods via Chittagong and Mongla sea ports from January without charging customs duties and transit fees.
The decision, considered a new phase in connectivity between the two countries, was agreed upon when Bangladesh shipping secretary Md. Abdus Samad met his Indian counterpart Gopal Krishna at the shipping secretary-level talks in Dhaka last week, officials told ET.
Earlier, the Standard Operating Procedures to allow transhipment of Indian goods to and fro from landlocked north-eastern states was agreed upon during Prime Minister Sheikh Hasina's visit to Delhi in October. The move will give further push to India's Act East policy by connecting north-eastern states with SE Asia.
Bangladesh expects that such connectivity between the countries will open up greater economic opportunities, strengthen infrastructure and boost business, according to Dhaka-based officials.
"We are yet to decide the date of the first trial run, but it is likely to be in January next year. A container cargo is likely to operate either through Chittagong Port or Mongla Port to the Indian state of Tripura through the Agartala and Akhaura river routes," said Abdus Samad.
Customs fees are not applicable as it is a bilateral agreement between the two countries. But India will pay duties and taxes as per Bangladesh's tariff schedule for ports. It will also pay fees for using roads in line with the policy of the Bangladesh Road and Highways Division, officials said.
Seven routes have been suggested for the movement of goods and passenger vessels between north-eastern states and two ports. These include Chittagong Port or Mongla Port to Agartala via Akhaura; Chittagong or Mongla port to Dawki via Tamabil; Chittagong or Mongla port to Sutarkandi via Sheola; and Chittagong or Mongla to Bibekbazar via Simantapur.
Meanwhile, passengers travelling on cruise ships to India and Bangladesh will get on-arrival visas at the ports. It may be recalled that operations of cruise ships from Narayanganj (Bangladesh) to Kolkata began on a trial basis in March this year.
https://economictimes.indiatimes.com/news/economy/foreign-trade/bangladesh-to-allow-transhipment-of-indian-goods-from-january-sans-custom-duties-transit-fees/articleshow/72882058.cms
------
AL council starts at 3pm; thousands throng Suhrawardy Udyan
December 20, 2019
Thousands of people are thronging Suhrawardy Udyan in the capital as ruling Awami League is set to stage its 21st council today.
AL President and Prime Minister Sheikh Hasina will inaugurate the two-day council through releasing the symbol of peace pigeon around 3:00pm at the historic venue, the site of Bangabandhu's landmark 7th March address and surrender of Pakistani troops in 1971.
Another session of the council, to be held at The Institution of Engineers tomorrow, would elect the ruling party's new leadership.
Sheikh Hasina, a four-time prime minister, has been leading the AL since 1981. Speaking at party forums on several occasions, she expressed her desire to go on retirement.
The previous AL council in 2016 had elected Hasina as the party president for the eighth straight term and Quader the general secretary.
THE STAGE
Shaped like a boat -- the party's electoral symbol, the stage of the programme was being prepared with a seating capacity of 77. The stage is 120 feet long and 40 feet wide.
The digital stage was decorated in such a way that it looks like a big boat floating in the mighty Padma river. A separate stage was set up in front of the main stage for cultural programme.
Shoal on both sides of the bridge, toll plazas, open sky and grasses were being projected centring the whole stage.
Apart from these, banners and festoons, highlighting the government's various development projects, including the mega ones, would be put up around the venue. The programme would be screened through 28 LED screens at the venue.
https://www.thedailystar.net/politics/news/al-council-starts-3pm-thousands-throng-suhrawardy-udyan-1842907
------
'Resisting militancy, communalism AL's pledge in 21st council'
December 19, 2019
Awami League (AL) General Secretary and Road Transport and Bridges Minister Obaidul Quader today said the pledge of AL in the 21st national council will be eliminating militancy and resisting the communal forces.
"The challenge of the present government is stamping out the poisonous root of the communal forces and militancy. The AL's committee this time will be more dynamic through the combination of young and older leaders to overcome the challenge," he said.
The AL general secretary said this while briefing journalists after visiting the stage set up for the party's 21st council slated for December 20-21 at the historic Suhrawardy Udyan in the capital.
Urging the party leaders and activists to strengthen the hands of Prime Minister and AL President Sheikh Hasina for implementing the party's election manifesto, Quader said, "The government cannot be successful if the party is not strengthened".
The new committee will work to make the prime minister's visions a success aiming at realizing the dream of Father of the Nation Bangabandhu Sheikh Mujibur Rahman, he said.
Terming the upcoming council as important one, the AL general secretary said the council will be held in a festive mood while some amendments will be brought in the party constitution.
AL Relief and Social Welfare Secretary Sujit Roy Nandi, central working committee member Mirza Azam, Dhaka City South AL President Abu Ahmed Mannafi and Dhaka City North AL President Sheikh Bazlur Rahman and General Secretary SM Mannan Kachi were present, among others, during the briefing.
https://www.thedailystar.net/politics/resisting-militancy-communalism-awami-league-pledge-in-21st-council-1842508
------
Locals not getting benefits of development projects in Cox's Bazar for Rohingya influx: Speakers
Local people affected by the massive influx of the Rohingyas are not getting equitable benefits of the development projects undertaken in Cox's Bazar, said development experts, government officials and aid agencies.
They said the locals had welcomed and provided shelters to the Rohingyas when they fled to Bangladesh in 2017, but eventually they have been greatly affected in socio-economic and environmental terms.
Income of local workers has gone down due to supply of Rohingya workers for cheap wages, while prices of essentials have gone up, leaving the local poor people in Cox's Bazar under pressure, they added.
Also, many of the school and college-going students got engaged in jobs and some schools are being used for the Rohingya cause, they said at a discussion titled 'Together for Better Rohingya Response Until the Repatriation and Facilitating Development in Cox's Bazar'.
COAST Trust, an NGO and UN Refugee Agency (UNHCR) organised the programme at a hotel in Cox's Bazar today.
In a presentation, Mujibul Haque Munir of COAST Trust said COAST Trust formed four social cohesion committees in four unions in Ukhiya and Teknaf with the participation of local union parishad members, teachers, civil society.
The committee members visited the camps and local areas to identify the sufferings and problems of the Rohingya and the local people, he said.
Munir said the committees recommended that 25 percent of the fund allocated for the Rohingya crisis should be used for the local people.
The committees also suggested special initiatives for education of local youths, reducing the use of cars in the Rohingya camps and engaging the Rohingya youth in education, creating awareness among the Rohingya women and girls on trafficking.
Samira Akhter, a student at Ukhia College, said that many students leave college for jobs as the educational institutions are not running well, while it became costly for them to manage high cost of travel to college.
Abu Murshed Chowdhury of Cox's Bazar Civil Society Organization-NGO Forum, said high school and college students are now getting involved in jobs, while teachers are leaving school and colleges for joining NGOs for higher salaries.
Rezaul Karim Chowdhury, executive director of COAST Trust said the government has taken nine mega projects in Cox's Bazar including airport, state-of-the-art railway, large power plant and shelter project.
There should not be any elements in Cox's Bazar that can hamper the mega projects that are imperative for the development of Cox's Bazar as well as the country.
KM Abdus Salam, director general of the NGO Affairs Bureau, said the NGO Bureau is trying to ensure coordination of all aid agencies in implementing programs for Rohingya and local people.
"We should consider that a portion of the funds are earmarked for the local area and it is also important to ensure transparency in the activities of the NGOs," he said.
Manuel Moniz Pereira, chief of IOM in Cox's Bazar, said sustainable development in Ukhia-Teknaf requires a lot of investment.
Speakers also suggested a joint risk assessment with the participation of all stakeholders in Cox's Bazar and take an effective plan and implement it effectively for social cohesion among the Rohingyas and local communities until the repatriation of the Rohingyas takes place.
https://www.thedailystar.net/rohingya-crisis/news/rohingya-influx-locals-not-getting-benefits-development-coxs-bazar-1842646
------
Amnesty demands specialized health care for Khaleda
December 19, 2019
Amnesty International has expressed concern about the health condition of former prime minister Khaleda Zia and urged Bangladesh government to ensure that she is treated in accordance with the UN Standard Minimum Rules on the Treatment of Prisoners.
"Amnesty International is therefore urging Bangladeshi authorities to allow Begum Khaleda Zia access to the specialized health care she requires and ensure her fair trial rights are fully respected," it said issuing a statement.
Citing various media reports, the international human rights organization said Khaleda's personal doctors advised her specialized treatment for severe arthritis problem at a private hospital where she used to undergo treatment before her detention.
"…However, despite repeated requests from Khaleda Zia and her family to the authorities, to allow her to receive specialized treatment at a private hospital as per the recommendation from her personal doctors, the government has declined," the statement said.
It said this is inconsistent with the provisions of the United Nations Standard Minimum Rules for the Treatment of Prisoners (UN Standard Minimum Rules, also known as Nelson Mandela Rules), which stipulates that: "Prisoners who require specialized treatment or surgery shall be transferred to specialized institutions or to civil hospitals."
In the statement, it mentioned that Khaleda Zia's family members told Amnesty International that the government had refused to disclose her official medical reports to them.
This is deeply concerning and also inconsistent with the UN Standard Minimum Rules, which provides that: "the health-care service shall prepare and maintain accurate, up-to-date and confidential individual medical files on all prisoners, and all prisoners should be granted access to their files upon request. A prisoner may appoint a third party to access his or her medical file."
It also said, according to Rule 24 of the UN Standard Minimum Rules the "provision of health care for prisoners is a State responsibility" and that prisoners "should enjoy the same standards of health care that are available in the community" and without discrimination.
Khaleda Zia is facing a total of 36 cases filed on various grounds -- five corruption-related, 16 concern arson and bomb-attacks, four for defamation, three for murder, two concerning 'defamatory statements', two on sedition charges and four on other charges, the right organization said adding that four of the total cases were filed during the 2007-08 military-backed caretaker government and 32 cases were filed subsequently under the current administration.
It also said some charges against her are not consistent with international law and standards – such as hurting religious sentiments, making "defamatory statement" on Bangabandhu Sheikh Mujibur Rahman, celebrating Khaleda Zia's 'fake' birthday, undermining national flag, and for commenting on the number of liberation war martyrs.
The rights organization said Khaleda has secured bail in the 34 cases that have yet to proceed to the trial stage. "There are concerns regarding infringements of Khaleda Zia's right to a fair hearing. For instance, a High Court division bench granted bail in the Charitable Trust case on 12 March 2018, taking into consideration the severity of the sentence, her age and medical condition. However, the bail order was hastily stayed by the Appellate Division of the Bangladesh Supreme Court, led by the Chief Justice, on 14 March 2018 without hearing the defendant's lawyers and by only allowing the prosecution to present their case."
Khaleda Zia's counsel declared such a step unprecedented, it said.
According to international law, where a defence lawyer is excluded from a hearing where the prosecutor is present, this is in violation of the principle of "equality of arms" between the accused and the prosecution in the context of the adversarial proceedings, it said.
https://www.thedailystar.net/politics/news/amnesty-demands-specialized-health-care-khaleda-1842487
------
No more free water from Afghanistan, Ghani tells neighbors
ByMohammad Asif Ahmadzai
Dec 19, 2019
KABUL (Pajhwok): President Ashraf Ghani on Thursday said Afghanistan's neighbors would no longer use the country's water free of cost and that Kabul would not enter long-term water treaties.
During his meetings with Parliament members and heads of commissions, President Ghani thanked the lawmakers for approving the water management law and urged them to prioritize allocation of budget for water management and also approve the mining law.
Wolesi Jirga commission on culture, education, higher education, haj and auqaf deputy head Lailula Wali Hakimi, head of the commission on natural resources, environment, energy and water Haji Khan Mohammad Wardak and complaints commission head Haji Mohammad Sadiq Qader shared information and plans of other commissions with the president.
The lawmakers thanked the president for his continued meetings with people's representatives and presented their proposals regarding the government-led and supervised peace process and coordination and cooperation among state institutions.
President Ghani asked the legislators to submit their questions and demands in written form with ministries concerned in order government official were able to come up with preparations and provide timely answer.
The president briefed lawmakers about the government's upcoming plans regarding reforms in the education, higher education and haj ministries, the peace process, water management, electricity production, capacity building, agriculture, mines, infrastructure and other sectors.
https://www.pajhwok.com/en/2019/12/19/no-more-free-water-afghanistan-ghani-tells-neighbors
------
7 Taliban killed in Paktika operations
ByRahim Khan Khoshal
Dec 19, 2019
SHARAN (Pajhwok): Seven Taliban have been killed five others injured in two separate operations in the Wazikhwa and Sarobi districts of southeastern Paktika province, a statement said on Thursday.
Four Taliban were killed and three others injured in police raid in Gawashti locality on the Taliban hideout, a statement from the provincial Police Headquarters said.
The Taliban training centre was destroyed in the operation and police recovered some weapons from the facility.
Elsewhere, three Taliban were killed and two others injured in police raid in the Sulaimankhel locality of Sarobi district. According to the statement these Taliban militants searched and snatched passengers on the part of the highway going through this area.
The Taliban have not spoken about their casualties in the police operations.
https://www.pajhwok.com/en/2019/12/19/7-taliban-killed-paktika-operations
------
Worsening insecurity worries Herat residents
ByStorai Karimi
Dec 19, 2019
HERAT CITY (Pajhwok): A number of residents of western Herta province held a protest gathering on Thursday and expressed concerns over increasing insecurity, particularly terrorist attacks and armed robberies, in the province.
The participants of the gathering in Gulha Square of Herat city, the provincial capital, chanted slogans 'We want security' 'Instability in Herat is behind capital flight.
They criticized security organs and the central government for failing to ensure their security. They claimed more than 10 security personnel and civilians were either killed or wounded in terrorist attacks and armed robberies in Herat city alone during the last one week while detective organs being unable find a clue to the perpetrators.
Dr. Nisar Ahmad Musdiq, head of Herat People's Council and Herat Doctors Association, said the aim of the gathering was to raise their voice for security of Herat people.
He said 1,900 cases of beating, 40 cases of injury and dozens of robbery cases had been recorded during the last 17 days of this month alone in Heart city while the government was busy in election related issues.
"The government does not care for Herat, the number of police in Helmand province is twice compared to Herat, Kandahar also has also a high number of security personnel, we want the government to wake up," he said.
Enayatullah, a resident of Herat, said that the security situation was worsening in the province and police were not able to even keep their own security.
"Local officials only take taxes by force from people and do not care about their security," he said.
Safiullah, another resident, said insecurity was at its peak in the province and people could not send their children to school lonely.
A provincial council member, Najibullah Mohibi, said that there were many hands behind insecurity in Herat.
"There are many hands behind insecurity in Herat, a limited number of police personnel and lack of public cooperation are other factors that contributed to instability," he said, without naming anyone.
Meanwhile, Jailani Farhad, governor's spokesman, said a delegation of the ministries of interior and defense has recently visited Herat and needed measures would be taken after problems in the area identified.
Complaints about insecurity increased after seven police including a worker of Independent Electoral Complaints Commission (IECC) were killed and over 10 civilians injured in Heart since last Friday.
https://www.pajhwok.com/en/2019/12/19/worsening-insecurity-worries-herat-residents
------
Badakhshan police seize chemical, acid from truck
ByMohammad Gul Tanha
Dec 19, 2019
FAIZABAD (Pajhwok): Police in northeastern Badakhshan province have seized hundreds of kilograms of solid chemical used in making drugs and hundreds of liters of acid.
Police spokesperson Sanaullah Rohani told Pajhwok Afghan News the chemical and acid were cleverly hidden in vacant places of a Kamaz truck which police intercepted on Wednesday night.
He said the truck from Balkh province was en route to Argo district of Badakhshan province.
The spokesperson said two individuals had been arrested in connection with the drug trafficking who are residents of Mazar-i- Sharif.
He said police were investigating the matter and the case would be referred to judicial organs after their investigation was over.
https://www.pajhwok.com/en/2019/12/19/badakhshan-police-seize-chemical-acid-truck
------
Police killed three protesting civilians in Uruzgan
Dec 19, 2019
TIRIMKOT (Pajhwok): Three civilians were killed by police in the Gezab district of central Uruzgan province on Thursday, a well-placed source said.
Police opened fire on civilians before noon after they staged protest in front of the district centre against the orders that they had to leave their homes and shift to other places.
Police earlier ordered the residents of Saeedano village to leave their homes till tomorrow morning because they were allegedly accused of providing sanctuaries to the Taliban, according to the source.
The source said police opened fire on civilians when they gathered at the district centre to stage protest.
https://www.pajhwok.com/en/2019/12/19/police-killed-three-protesting-civilians-uruzgan
------
Southeast Asia
Let's produce our Greta Thunbergs, Maszlee tells Muslim countries
Minderjeet Kaur
December 20, 2019
KUALA LUMPUR: Education Minister Maszlee Malik today told the ongoing summit of Muslim countries here of the need to reform their education systems.
He then drew a reference to Greta Thunberg, the 16-year-old Swedish environmental activist who was recently named Time Magazine's "Person of the Year".
"We have Greta Thunberg, who is 16, who can talk about environmental issues. We should have more from the Muslim world. We need to expand our education," he told the KLSummit 2019 during a session to discuss on the themes of education and national development.
Maszlee said the education system should have elements of humanity, so that it produces individuals who are passionate in community affairs and who can solve societal problems.
He said there is a need for education systems in Muslim countries to undergo reforms and revival.
"This (revival) is done by strengthening something that is weak, repairing something that is old and patching up something that is cracked," he said.
He said among the reforms in the education system is to allow more space for "thinking" than "learning".
He said the education system should be producing talents who can think and lead scientific discoveries.
https://www.freemalaysiatoday.com/category/nation/2019/12/20/lets-produce-our-greta-thunbergs-maszlee-tells-muslim-countries/
------
Asri takes 'Buy Muslim-First' campaign to KL Islamic summit
Minderjeet Kaur
December 20, 2019
KUALA LUMPUR: Perlis mufti Mohd Asri Zainul Abidin told delegates at the Kuala Lumpur Summit here today that it is the duty of Muslims to buy goods produced in Muslim nations.
Speaking at a talk titled "Redistribution of Wealth: Shared Prosperity", he said there are some 1.7 billion Muslims worldwide who could increase the purchasing power of Muslim countries.
"This buying power can be positively exploited to help Muslim countries," he told members of the audience who include leaders of Muslim countries.
He also referred to the "Buy Muslim-made first" campaign in Malaysia, saying that when a Muslim urges other Muslims to buy such products, they are labelled as racist.
"We never ask anyone to boycott non-Muslim products," he said, adding that the campaign was merely to help Muslims in Malaysia to prosper.
He said Muslims, especially in Malaysia and even in Indonesia, are relatively weak in the business sector.
"They face problems marketing Muslim goods," he added.
He also said Muslim countries are still dependant on the West, to the extent that they become "puppets" even though they are rich in resources such as oil and gas.
This, he said, was because Muslim countries lacked a trade bloc that united all Muslims.
"This is the sad reality of the ummah."
He urged Muslims at the individual, national and international level to foster "Islamic solidarity" in order to achieve economic freedom.
He said this could put an end to the issue of halal and haram food while ensuring food security among Muslims.
https://www.freemalaysiatoday.com/category/nation/2019/12/20/asri-takes-buy-muslim-first-campaign-to-kl-islamic-summit/
------
In Malaysia, China's PR blitz on Uygurs in Xinjiang sparks anger
20 Dec, 2019
Amy Chew
In op-eds published by several Malaysian [1] media outlets last week, China's ambassador to the Muslim-majority country denounced "Western media reports" of Uygurs and other minorities being detained [2] in Xinjiang province as sensationalised "half truths".
Bai Tian's commentary, headlined "Truths about Xinjiang [3] that Western politicians and media won't tell you", was carried by newspapers including the English-language The Star and Malay Mail, the Malay-language Berita Harian and Sin Chew Jit Poh, which is published in Chinese.
Rights groups including the United Nations say more than a million Muslims are being held against their will in a bid to erase their culture.
Bai, however, in his commentary said Beijing did protect the rights of religious minorities, citing Xinjiang's many halal restaurants and the fact that there was one mosque for every 530 people in the province – a higher ratio than in Turkey.
"What minorities in China like Uygurs are facing is not torture, but policies and social welfare far more favourable than what their Han brethren are enjoying," he said.
But the ambassador's public relations blitz in the media – coupled with videos on the embassy's official Facebook page highlighting "thousands of terrorist attacks" in Xinjiang – did little to reshape public opinion in Malaysia over China's internment of its Muslim minorities. Instead, the commentaries sparked anger online and among the country's leading Muslim intellectuals.
On Twitter, a user named Azhar Khan with the handle @azharkhanashfar asked the Malay Mail: "How much do they pay you?", while Naga Kavin Amulthan using the handle @NKamuthan tweeted "Shame on you for this Chinese propaganda" at The Star.
The Islamic Renaissance Front (IRF), a think tank for youth empowerment and the promotion of Muslim intellectual discourse, slammed the media outlets who carried the piece, saying they were "obsessed with trying to publish anything positive about China".
"The Chinese authorities have been doing all sorts of public relations work to convince the people [5], especially the Muslims, that everything was a Western conspiracy. But what about the satellite images as published by the BBC? The fact is, an ethnic cleansing is taking place," said Dr Ahmad Farouk Musa, founder and executive director of IRF.
The Malay Mail defended its decision to publish Bai's letter, saying it was for balance as its news portal had been running foreign news reports on Xinjiang, including reports of Uygur internment camps. Editor-in-chief Wong Sai Wan said "no one paid" the Malay Mail to publish the ambassador's letter.
Wong said he had received Bai's commentary in an email and noted that his outlet had previously carried a Reuters story referencing a New York Times report on leaked Chinese government documents that revealed a clampdown on Muslims in Xinjiang under President Xi Jinping. Beijing has since denied that the documents are real.
"I thought it was only fair we carry the other side but as a letter, as we are in no position to see for ourselves what is the real situation. It was just a matter of fair play," Wong said.
Political analyst Azmi Hassan said the scepticism towards China's explanation was because most Malaysians believed the reports by Western media as "somewhat true" while the Chinese explanations were "somewhat embellished".
He attributed this to anxiety over China's influence and investments in Malaysia since the watershed May 2018 election, when the Beijing-friendly Barisan Nasional administration was booted out by the Pakatan Harapan coalition led by current Prime Minister Mahathir Mohamad.
Bilateral ties, at first prickly under the new administration, have since warmed after both countries renegotiated the East Coast Rail Link project, which had long faced accusations that its terms were excessive and in China's favour.
[8]Negative perceptions of China could "cloud one's thinking", Azmi said. "But again there will be groups of Malaysians who believe the ambassador's assertion that the Western media is biased and take the article [to be true]."
'POWERFUL NATION'
In Malaysia, opposition towards China's treatment of Muslim minorities has been more pronounced than in Indonesia, where a mix of factors – including Jakarta's fear of offending its top trading partner and suspicions towards Western media reports – have resulted in a muted reaction.
In October 2018, Mahathir released 11 Uygurs who were jailed under the previous government and sent them to Turkey, saying they had done nothing wrong and disregarding China's request to extradite them back to Beijing.
This September, however, he explained to a regional news portal that he had been circumspect about commenting on the Uygur issue as China was a "powerful nation" [9].
"You don't just try and do something which would fail anyway, so it is better to find some other less violent ways not to antagonise China too much, because China is beneficial for us," he said.
A month later, Malaysians heaped criticism on a comic book written by a Malaysian former politician of ethnic Chinese descent that suggested Malays who supported China's Uygurs were radicals. The comic, distributed to secondary schools for free, has since been banned.
Azmi, the political analyst, pointed out that while the plight of the Uygurs had the sympathy and support of many Malaysians, it did not have the same standing as the Palestinian cause – which Mahathir has been known to speak up for.
"Malaysians generally are quite well versed and, more importantly, more sympathetic to the Palestinians compared to the Uygurs," he said. "In general, Malaysians [became] aware of the Xinjiang issue only very recently and therefore to [have] the same empathy as the Palestinian issue is a tall order."
The country's Muslim groups have mostly rebuffed China's attempts to engage with them, unlike in Indonesia where clerics, journalists, politicians and social media influencers have gone on tours publicly expressing that they found nothing wrong with the camps.
The Muslim Youth Movement of Malaysia (ABIM), a prominent youth group, said it had rejected a Chinese embassy-organised visit to Beijing and Xinjiang's capital Urumqi. Other Muslim and civil society groups did make the trip in April.
"We refuse to go there, because we know already, it is propaganda … a staged show by the [Chinese] government. And our presence there will be [seen as if] we are with the Chinese government on [Xinjiang]," said ABIM vice-president Ahmad Fahmi Mohd Samsudin.
Prominent Muslim political scientist Chandra Muzaffar, president of the NGO International Movement for a Just World, called for the Malaysian government to lead an independent investigation into Xinjiang to verify the treatment of Uygurs.
"The government should ask the Chinese authorities … to allow independent observers [such as] journalists, activists, and intellectuals to visit detention centres, that they be allowed to do their investigations, ask questions, for the purpose of preparing a report to be submitted to the Malaysian government," Chandra said.
He said "one should not be echoing protesters" nor "take sides with the Chinese government" on Xinjiang because it was unclear what was the truth.
[11]He pointed out that Islam was not new to China and historical texts showed numerous interactions between Muslims and Confucian culture.
"Muslims have been in the country since the 8th century and history has shown that Muslims have been given prominent positions in the government in the past like Admiral Zheng He," Chandra said, referring to the Ming dynasty mariner and military official.
He said he was doubtful of the veracity of reports that Chinese officials had forced Muslims in Xinjiang to eat pork and consume alcohol, describing these as "outlandish" accusations. But the matter of internment camps needed to be investigated, Chandra said.
Malaysia could then decide how to act according to its investigations, even choosing to not make its report public in the name of "quiet diplomacy".
"But nonetheless, we want the Chinese government, as a friendly government, to act seriously upon the findings," he added. "The Chinese … they prefer that sort of quiet diplomacy rather than fanfare as it makes things difficult for them."
Source URL: https://scmp.com/week-asia/politics/article/3042877/mahathirs-malaysia-chinas-pr-blitz-uygurs-sparks-anger-among
Links
[1] https://www.scmp.com/topics/malaysia
[2] https://www.scmp.com/topics/human-rights-china
[3] https://www.scmp.com/topics/xinjiang
[4] https://www.scmp.com/week-asia/politics/article/3033937/malaysias-mahathir-joins-criticism-comic-book-linking-malay
[5] https://www.scmp.com/topics/censorship-china
[6] https://www.scmp.com/week-asia/economics/article/3042499/malaysia-revives-1mdb-linked-mega-project-it-strengthens
[7] https://www.scmp.com/week-asia/politics/article/3042478/lawyer-malaysias-former-pm-najib-razak-says-hitmans-claim
[8] https://www.scmp.com/week-asia/politics/article/3042478/lawyer-malaysias-former-pm-najib-razak-says-hitmans-claim
[9] https://www.scmp.com/week-asia/politics/article/3030991/malaysias-mahathir-thinks-china-too-powerful-censure-uygur-issue
[10] https://www.scmp.com/week-asia/politics/article/3040271/malaysia-flags-us-china-rivalry-and-jihadist-fighters-key
[11] https://www.scmp.com/week-asia/politics/article/3040271/malaysia-flags-us-china-rivalry-and-jihadist-fighters-key
https://www.scmp.com/print/week-asia/politics/article/3042877/mahathirs-malaysia-chinas-pr-blitz-uygurs-sparks-anger-among
------
Muslim Iran's right to attend KL Summit, says Shia critic Perlis mufti
Mohamad Fadli
December 20, 2019
KUALA LUMPUR: Perlis mufti Mohd Asri Zainul Abidin says he has no issue with the participation of Shia-majority Iran in the ongoing Kuala Lumpur Summit despite his vocal criticism of Iran and Shia teachings.
"They are a nation, so they can participate. I criticise matters I disagree with, but as a Muslim nation, they are free to come," Asri told FMT on the sidelines of the summit here, where he was a speaker in a session on the economy.
The KL Summit which opened yesterday angered Saudi Arabia, whose three main critics – Iran, Turkey and Qatar – sent high-level delegations headed by their presidents.
Iran's President Hassan Rouhani, Turkey's Recep Tayyip Erdogan and Qatar's Sheikh Tamim bin Hamad Al Thani have joined Dr Mahathir Mohamad in defence of the summit, in what analysts say is a challenge to Saudi hegemony in the Muslim world.
The Saudis and their allies are staying out of the gathering, saying it undermines the Organisation of Islamic Cooperation.
Asri, whose lectures have often hit out at Shia Islam and who has been accused of spreading Saudi-inspired Salafist teachings, said Sunni Muslim nations were always open to cooperation with Iran.
He said rather than asking about who had come for the KL Summit, the focus should be on countries which chose to be absent.
But he declined to comment on speculation surrounding Riyadh's absence at the summit.
"You have to ask the organisers," he said.
Pakistan Prime Minister Imran Khan, who was part of the driving force of the summit, announced at the eleventh hour that he was cancelling his trip to Kuala Lumpur.
The decision was widely seen as the result of pressure from Saudi Arabia, one of the biggest aid givers for Pakistan's tattered economy.
Saudi Arabia wields great power over Muslim governments including through lucrative aid as well as its control of the two holy cities of Mecca and Medina, which allows it to determine the annual haj quota.
https://www.freemalaysiatoday.com/category/nation/2019/12/20/muslim-irans-right-to-attend-kl-summit-says-shia-critic-perlis-mufti/
------
Azmin: Muslim countries should invest in each other
Friday, 20 Dec 2019
KUALA LUMPUR, Dec 20 — Muslim countries should increase investment and trade among themselves to prosper each other, Economic Affairs Minister Datuk Seri Azmin Ali said today.
In the Plenary Session of Kuala Lumpur Summit (KL Summit) 2019 today, he said Muslims and Muslim-majority nations accounted for approximately US$6.5 trillion or 7.6 per cent of the global economy in 2018 and were 1.9 billion people combined.
He said this should enable Muslim countries to invest in and support each other's economies.
"As alluded to earlier, there needs to be greater trade amongst Muslim countries to create that critical mass and economies of scale to generate wealth and prosperity.
"Foreign direct investment in each other's economies will be a boon to the wealth creation of Muslim economies even as we continue to trade and invest with other states," he said in the session theme "Redistribution of Wealth - Shared Prosperity".
In his speech, Azmin promoted Malaysia' Shared Prosperity Vision (SPV) 2030 that was launched earlier this year to restructure the country's economy to bridge the gap between the rich and the poor.
He said that Muslim countries should create a framework akin to SPV 2030 and the "Prosper Thy Neighbour" philosophy Prime Minister Tun Dr Mahathir Mohamad was promoting.
"While some Muslim countries are blessed with rich natural resources, reliance on resource-based industries have resulted in under-developed economies where resources are not exploited efficiently and productivity remains stagnant. This has created instability in the region as disparity between Muslim and non-Muslim countries as well as among Muslim countries continues to widen. A more united and inclusive framework is needed.
"A 'Prosper Thy Neighbour' approach within the framework of Muslim nations means that we need to facilitate free and fair trade amongst ourselves so as to generate long-term economic growth," he said.
United States Council of Muslim Organisation secretary general Oussama Jamal agreed with Azmin that Muslims have the power to end poverty if wealth was more equally distributed.
"Allah has provided us the bounty in this world. Muslims are responsible to end poverty, not just for Muslims, but for the whole world.
"Islam is against the hoarding of wealth so the wealth must be distributed equally," he said.
Perlis Mufti Datuk Mohd Asri Zainul Abidin, who was on the panel, highlighted the "buy Muslim" first campaign here.
Denying the campaign was a veiled boycott of non-Muslims products and services, he said that Muslim countries should no longer be puppets to the West that only enriched the elites.
"Our pride is bruised and we become a slave to them (Western powers) economically. Maybe there a few rich Muslims who can afford expensive foreign cars but they (the country) could not even build bicycles
"As Allah directed us to build strength to defend ourselves and economy could be use as a weapon to do just that," he said.
Others on the panel were Mohamed Amine Mokra from Ukranian Kyiv National University and Maldives Minister of Home Affairs Imran Abdallah.
KL Summit board of advisors' member Mohd Daud Bakar moderated.
https://www.malaymail.com/news/malaysia/2019/12/20/azmin-muslim-countries-should-invest-in-each-other/1820959
------
Malaysian king, PM stress importance of unity in Islamic world
December 19 2019
QNA /Kuala Lumpur
King Abdullah Riayatuddin al-Mustafa Billah Shah of Malaysia expressed yesterday that the glory of the Islamic civilisation can be rebuilt, so that Muslims can succeed in facing the challenges ahead of them.
The king of Malaysia, who was giving a speech at the opening session of the Kuala Lumpur Summit 2019 that carries the theme The Role of Development in Achieving National Sovereignty, that "the time has come for us to broaden our individual efforts to transcend towards the wider Ummah."
He stressed on the importance of the unity of the Islamic world, and said that dialogue was the way forward, including a stronger understanding of the faith and using that as the foundation.
"When we accomplish this, we will create a new generation of Muslims that can perform their role with wisdom, courage, fairness and justice," he said, adding that they are at a significant advantage in the modern world, with instant access to greater knowledge," the king said.
For his part, Prime Minister of Malaysia Dr Mahathir Mohamed expressed his regret at the state of the Islamic world, and stressed that the summit was not aiming to discriminate or isolate anyone. He added that the summit is not focused on discussing religion, but instead the state of affairs in the Muslim world.
"We all know that the Muslims, their religion and their countries are in a state of crisis. Everywhere we see Muslim countries being destroyed, their citizens forced to flee their countries, forced to seek refuge in non-Muslim countries," the prime minister said.
Mohamed said that Muslim countries have lost the respect of the international community, they no longer produce any valuable scientific work like in the past, nor do they have a role to play in advancing human civilisation.
"We have seen other countries devastated by the World War II not only recovering quickly but growing strongly to become developed. But a few Muslim countries seem unable even to be governed well, much less to be developed and prosper," the prime minister said.
https://www.gulf-times.com/story/651084/Malaysian-king-PM-stress-importance-of-unity-in-Is
------
Arab World
Riyadh announced to become the first Arab Digital Capital
NOOR NUGALI
December 20, 2019
RIYADH: Riyadh is set to become the Arab world's first digital capital city.The announcement was made on Wednesday at the 23rd session of the Council of Arab Ministers of Communications and Information Technology, held at The Ritz-Carlton hotel in the Saudi capital.
The ministers' decision to bestow the title on Riyadh came as a result of the city's prominent role in adopting and promoting the use of digital technologies to enhance socio-economic development, advance health care, improve education, and ultimately increase community welfare.
The Kingdom's information and communications technology (ICT) sector now makes up 4 percent of the Saudi GDP, and has helped the country not only to climb 16 places in the World Economic Forum's global competitive index 2019 in terms of ICT adoption, but also to gain a top ease-of-doing-business ranking in the World Bank's 2020 report.
The Arab Digital Capital initiative aims to encourage the creation of a stimulating ecosystem for investment in ICT, activate initiatives to develop knowledge within the ICT industry across Arab countries, and adopt new projects to help grow tech entrepreneurship in the region.
The Kingdom's ICT sector is the largest in the Arab world and has experienced significant regulatory change, expressed across several public- and private-sector investment drives since the launch of Vision 2030.
Saudi Arabia is also the region's largest ICT market, ranking 13th globally, with a value of $28.7 billion (SR107 billion) in 2019 and strong growth in both the consumer and enterprise segments.
Supported by a young and tech-savvy population, the Kingdom is a market of early technology adopters, with one of the highest social media usages in the world. Mobile subscribers stood at 43.8 million in 2019, representing a 129 percent penetration of the total population.
"I am not exaggerating when I say you can do anything with a mobile app in Saudi Arabia," Saud Al-Sabhan, the Saudi Ministry of Communications and Information Technology's (MCIT) director general of corporate communications told Arab News.
"We are reshaping our digital economy and the way we live to create new value and lead the Arab world to play a more active role in the global digital economy.
"Based on Ookla's global internet speed benchmarking, the Kingdom ranks 14 with average speeds of 51.8 mbps (megabits per second).
"Augmenting a mature mobile adoption rate of penetration of 129 percent, the Kingdom witnessed the first commercial 5G rollout in MENA (Middle East and North Africa region), which puts it in third place globally when it comes to 5G deployment, and of course Riyadh is leading Arab cities when it comes to the deployment of 5G networks," said Al-Sabhan. International Telecommunication Union (ITU) Secretary-General Houlin Zhao said: "Saudi Arabia is a strategic partner of the ITU and a very important country in ICT development generally, playing an active role not just locally but internationally.
"It's fantastic to have the Saudi government and Saudi ICT experts engaged at this level, as they have achieved a lot in this space. They have the knowledge and experience to help show how ICT can transform society and develop a digital economy."
Dr. Mohammed Al-Tamimi, governor of the Communications and Information Technology Commission (CITC), said: "Saudi Arabia is one the world's true pioneers in ICT innovation, with an Internet penetration rate of 93 percent and sector regulations among the most mature globally.
"With so many milestones already reached over the last five years, digital transformation has the potential to change the structure of Saudi Arabia's ICT sector for the better, paving the way for further growth, productivity, and development."
Earlier this year, the MCIT launched a five-year strategy aimed at accelerating the sector's growth by 50 percent and elevating its contribution to GDP by $13.3 billion.
Despite the global trend toward job disruption as a consequence of digitalization, the MCIT's technology localization initiatives significantly increased the ICT sector's employment capacity in 2019.
The naming of Riyadh as the Arab world's digital capital is recognition of the Kingdom's achievements in the ICT sector and will provide an even greater impetus to the country's already busy regional and international agenda for 2020.
As the only Arab nation represented in the G20, Saudi Arabia will be hosting G20 meetings throughout 2020 under the theme, "Realizing Opportunities of the 21st Century for All." The G20 summit of world leaders will take place next year on Nov. 20 and 21 in Riyadh.
https://www.arabnews.com/node/1601486/saudi-arabia
------
Iraq: US Forces capture leader of paramilitary Sunni tribal fighters
December 20, 2019
US Forces on Thursday (local time) captured a leader of paramilitary Sunni tribal fighters in Jubba area at the town of al-Baghdadi, some 190 km northwest of the Iraqi capital city Baghdad.
Xinhua, citing an official and a security source, reported that "US forces conducted an operation and captured a leader of paramilitary Sunni tribal fighters over participating in a rocket attack on an airbase housing U.S. troops in Iraq's western province of Anbar."
The U.S. troops conducted an airdrop operation before dawn on a house in Jubba area and arrested Naseer al-Obeidi, a leader of local tribal fighters affiliated with the Hashd Shaabi forces, Xinhua quoted a local official as saying on condition of anonymity.
Multiple rockets hit an airbase that houses US troops in western Iraq's Anbar province on December 3 but no casualties were reported, the Iraqi military had said.
The incident came just over a week after US Vice President Mike Pence and his wife Karen had met the American soldiers stationed at the base ahead of Thanksgiving Day.
https://www.business-standard.com/article/news-ani/iraq-us-forces-capture-leader-of-paramilitary-sunni-tribal-fighters-119122000086_1.html
------
Keys hidden all over Riyadh give foodies access to this unique Diriyah Season restaurant
NOOR NUGALI
December 20, 2019
A scavenger hunt for a golden key has come to Diriyah Season: Parkers Farmhouse, a unique themed restaurant co-owned by Deem Al-Bassam and Amal Al-Marri, has arrived at the festival.
The key to getting in is to find the golden key. Hidden in various parts in Riyadh, the restaurateurs offer a fun exclusive take on eating out in the open air — you have to follow Parkers' Snapchat and Instagram stories for clues to locate the key, and gain access to the spacious outdoor dining area.
After the long hunt is over, scavangers may find themselves in a long queue to be served. But when the wait is over, customers are welcomed into the beautifully lit outdoor restaurant area and served Arabic coffee near the bonfire before being seated.
This is the second Parkers pop-up restaurant to open in Saudi Arabia. However, the concept was first implemented in Dubai and after its initial success, more restaurants followed.
"Before we opened this Parkers Farmhouse, we had Parkers Lighthouse in Al-Rae'da for six months," Sayed Hassan, the operations manager, said.
"We believe in quality ambiance. There is no compromise when it comes to the quality of food. It's a combination of a beautiful concept with unmatchable food and top-quality service."
The food served at the restaurant is as unique as its concept. An interesting menu serves up a feast of choices, with the signature dish for Diriyah corn on the cob drizzled with sauce. Their famous spicy toffee shrimp, truffle burger and the oozing mac and cheese with spicy cheetos on top are also worth trying.
Their famous street fries are smothered with sauce and served steaming hot. Chicken and beef sliders are also beloved by customers, as is the Madeline chocolate cake, a three-layered masterpiece drizzled with sauce and flakes. The slices served are deliberately large, too, because, as Sayed says: "You can eat and take the rest home, so Parkers is always with you."
https://www.arabnews.com/node/1601511/saudi-arabia
------
Saudi ministers host talks with leading foreign officials
December 20, 2019
RIYADH: Saudi Minister of Foreign Affairs Prince Faisal bin Farhan on Thursday met with his Eritrean counterpart Osman Saleh Mohammed.
During talks in Riyadh, which were attended by a number of other officials, they reviewed bilateral relations between the two countries and ways to enhance them.
Adel Al-Jubeir, the Saudi minister of state for foreign affairs and a member of the Cabinet, received the Eritrean minister in a separate meeting and discussed similar matters.
The Kingdom's new ambassador to Eritrea, Saqr bin Sulaiman Al-Gurashi, recently met with Eritrean President Isaias Afwerki at the presidential palace in the northeast African nation's capital Asmara.
On Thursday, Prince Faisal also held talks with Kazakhstani envoy, Bulat Sarsenbayev, which covered the future development of bilateral relations.
Meanwhile, on Wednesday, Saudi ministers and officials met with South Korean Foreign Minister Kang Kyung-wha and discussed joint cooperation initiatives between the two countries.
Their meeting agenda also included the Saudi-Korean committee and projects underway in sectors such as industry, technology, health, training, and infrastructure. Talks focused on knowledge transfer and human capital development, along with research and development systems.
https://www.arabnews.com/node/1601506/saudi-arabia
------
Saudi DJs make their world debuts at MDL Beast in Riyadh
SALEH FAREED
MARIAM NIHAL
December 20, 2019
RIYADH: As the largest musical festival in the Middle East, MDL Beast will host some of the biggest names in the DJ world, including an impressive lineup of Saudi musicians.
David Guetta, Tiesto, Martin Garrix, Black Coffee, Solomun, Marco Carola, and Saudi DJs, Khaled Al-Khaldi, known as K.LED, Mohanned Nassar, Majid Shamsan and Hatoon Idrees are all set to play across the big 3-night event.
The grandest festival of its kind, it offers a multi-sensory, multi-stage experience for concert goers that will showcase both local and international talent, representing all spheres of the cultural landscape.
Shamsan, 29-years-old and from Riyadh, began his musical journey in the US.
"I am very honored to be part of this historical event, a milestone for the Kingdom and a new era for all Saudi youth to experience. I am so excited to showcase what Saudis have to offer, there is so much talent here in the Kingdom and huge potential to grow and to show the world that the region can deliver some quality sounds and production," he said.
"There is so much energy in the Saudi youth and dancing has been in our culture for a long time. I will make sure to deliver the proper sound of house music rather than following trends and 'popular' sounds, sticking to the roots of the music."
K.LED has been playing music since 2000, having started as a musician playing the guitar and drums with several local bands. His love for music drove him to pursue a degree in electronic engineering with a focus on sound and acoustics.
As a producer and sound designer as well, the acceptance of his community helped him thrive and achieve many milestones in his career.
"I never found any challenges when it came to spreading the love music and good vibes. I was truly blessed to have a supportive community that believed in the universal language of music," said K.LED.
He noted this eagerness to stand onstage at MDL Beast, doing what he does best. "I am truly grateful to be able to do what I love on a grand scale in my hometown. My feelings of pride and excitement don't do it justice."
"I cannot wait to start this journey with all our local heroes and artists. We are all truly humbled and blessed with the amount of support we are getting," he added.
Idrees is one of the most famous Saudi female DJs, who has wowed her fans with her unique mix of music with an electric Oud guitar.
Beloved by many, one of her major appearances came last summer during Jeddah Season as she performed as the opening act for famous Dutch DJs Afrojack and R3hab, as well as various other performances in Riyadh Season as well.
"I am ready and very excited to show off my vibes," she told Arab News. "I cannot describe my feelings, performing here in Riyadh in front of thousands of fans, sharing the stage with our idols. It is a dream come true."
Nassar began his DJ career in 2005 when a friend bought him a full DJ set and he began playing underground.
Nassar's upbringing in Saudi Arabia, and his exposure to global cultures, helped create a world known only to him, which further propelled him to create music on an international level.
He started the Vinyl Mode project with friend and partner, Harris Mavromatis, who helped train and upgrade his DJ skills, music production and career.
"I am aiming to change the perception and understanding of parties in our community. The dream is to continue doing what I love and never stop, develop my knowledge in music in and express it in so many ways. The dream is to see everyone in our community dance as if nobody is watching. My idea of success is doing what you love without harming anyone,"
he said.
https://www.arabnews.com/node/1601501/saudi-arabia
------
Misk to back graduates with initiative offering practical experience with major firms
December 20, 2019
RIYADH: Misk Initiatives is launching a training program that will offer students and recent graduates practical experience in leading investment firms in the region and target future industry leaders.
The Initiatives Center at Misk, the nonprofit foundation established by Crown Prince Mohammed bin Salman, has partnered with the Saudi Company for Bold Investment to launch the Misk-Saudi Company for Bold Investment program.
The program focuses on cooperative training, and aims to develop skills among Saudi youth through training opportunities that strengthen their talents and creativity.
Among the initiatives of the private sector incentive plan is a proposal to fill financing gaps in emerging companies by investing SR2.8 billion ($750 million) to support startups and enterprising investors.
The program targets male and female students in their final academic year and recent graduates in the fields of accounting, finance, marketing, information technology, human resources and law.
Students who wish to enrol in the program must have a grade point average of at least four out of five or 3.2 out of 4, as well as a mastery of English.
The program is due to be launched in mid-January 2020 for six months.
https://www.arabnews.com/node/1601481/saudi-arabia
------
Yemeni stabber at Riyadh show received orders from Al-Qaeda
December 20, 2019
RIYADH: Two men arrested for their parts in a stabbing in Riyadh last month were operating under orders from Al-Qaeda in Yemen, their trial has heard.
The prosecution of the suspects began at the specialized criminal court in the Saudi capital, where the case was presented to the defendants and their legal representation assigned.
The first man, identified as a 33-year-old Yemeni resident, was charged with committing an armed terrorist attack with a sharp instrument, and the stabbing of two people — one a musician and the other a security guard at a live music show — resulting in severe injuries.
It is said the man is a member of Al-Qaeda in Yemen.
He was assigned by one of the organization's leaders to carry out the attack at the King Abdullah Park Theater, after monitoring and planning the operation. He has previously been accused of fighting with the group in Yemen.
The accused also filmed himself before the attack with his mobile phone, wearing a mask while delivering a poem containing incitement to commit violence. He later sent the video to others via WhatsApp.
The second defendant is accused of covering up for the first, as well as compromising an ATM machine and sending money stolen from it to Yemen.
He was also accused of participating in the promotion of counterfeit paper currency inside the Kingdom, fraud, attempting to purchase a firearm using counterfeit money, covering up the process of trading arms, and entering the Kingdom illegally.
https://www.arabnews.com/node/1601476/saudi-arabia
------
Mideast
Iran Proposes Cryptocurrency for Muslim Nations to Reduce Reliance on U.S. Dollar
Francisco Memoria
20 Dec 2019
The president of Iran, Hassan Rouhani, has during an Islamic conference in Malaysia proposed the creation of a cryptocurrency for Muslim nations, as an alternative to the U.S. dollar.
According to the Associated Press, Rouhani urged during the conference for Muslim nations to deepen financial cooperation to fight what he described as the United States' economic hegemony. Rouhani noted that U.S. economic sanctions were being used as the "main tools for domineering hegemony and bullying" of other nations.
Iran has been facing violent protests over the past month as Iranian have been revolting over a sharp rise in gasoline prices that followed U.S. sanctions being imposed on the country. Per the country's president, the U.S. was looking to cripple Iran with the "heaviest sanctions."
As a solution, he proposed financial cooperation between Muslim countries, including trading in local currencies and the creation of a Muslim cryptocurrency. At the opening of the three-day conference, which included leaders from Turkey, Qatar, and Malaysia, he said:
Rouhani further proposed the establishment of a joint fund to finance technological cooperation between the nations. Turkey's President Recep Tayyip Erdogan pointed out that Muslim countries should focus on Islamic financing, and suggested the creation of a working group to look into it.
Malaysia's Prime Minister, Mahathir Bin Mohamad, seemed to agree with Rouhani, pointing out this was the first time a cryptocurrency was being suggested as a solution, he said:
As CryptoGlobe reported, earlier this year Iran legalized cryptocurrency mining. It's been widely reported it launched a gold-backed cryptocurrency called "PayMon," although there aren't a lot of details regarding its current use within the country, if any.
https://www.cryptoglobe.com/latest/2019/12/iran-proposes-cryptocurrency-for-muslim-nations-to-reduce-reliance-on-u-s-dollar/
------
Islamic bank stresses support for Turkish exporters
Yunus Turk, Aysu Bicer
19.12.2019
ANKARA
The Islamic Development Bank (IDB) Group has been supporting Turkish exporters through strong cooperation with Turk Eximbank, the bank's regional director said in the Turkish metropolis Istanbul on Thursday.
"The IDB cumulative financing support to Turk Eximbank amounts to more than $3.3 billion," Salah Jelassi said in his opening speech at the Foreign Investment Forum 2019 held by Turkey's Foreign Economic Relations Board (DEIK).
The sum includes $370 million financing by the IDB and $2.9 billion financing by the International Islamic Trade Finance Corporation (ITFC), he added.
Collaboration with Turk Eximbank to boost export-related activities of Turkish contractors, midcaps and small- and medium-sized enterprises (SMEs) supports Turkey's aspiration to position itself as a global market leader through enhanced export competitiveness, he said.
"The IDB Group would synergize its efforts to support broader integration of Turkish private sector companies into global value chains, which is so critical for enhancing their productivity and competitiveness," he explained.
The IDB is an international financial institution established for the purpose of fostering economic and social development of its member countries and Muslim communities in non-member countries.
"Turkey is emerging as a global player, increasing mergers and acquisitions abroad that perform to a certain standard," said Volkan Kara, the head of DEIK's Foreign Investment Business Council.
He added that Turkey has a private sector that can invest more than $4 billion in foreign investment per year.
"Turkish companies accelerated their investments in neighboring countries," he noted, adding that over the last 15 years, Turkish foreign investments have risen tenfold.
He said if foreign investment grows in line with macroeconomic indicators, Turkey can reach annual capital issuance levels of more than $10 billion.
"This is certainly not enough. Foreign investments should definitely be included in our medium- and long-term economic targets," he added.
https://www.aa.com.tr/en/economy/islamic-bank-stresses-support-for-turkish-exporters/1678812
------
Islamic finance industry to see surge in demand from youngsters
December 20, 2019
The $2.6 trillion global Islamic finance industry, which is getting popular among non-Muslims also, will see a major surge in demand in the next five years from young high networth individuals, according to a report.
Individuals aged 25-50 will be the key driver of demand, and are forecast to account for more than half (55 per cent) of this increase, versus 33 per cent from family offices and 12 per cent from institutions, said the report commissioned by Jersey Finance and Hubbis. At present, it is those aged 50-70 who use Islamic wealth management products/solutions the most, accounting for 59 per cent of the total. The report, The Evolution of Wealth Management in the World of Islamic Finance 2019, said most of the demand is likely to come from the GCC/Middle East, followed by Asia, particularly Indonesia and Malaysia, and also from Africa.
Today, Malaysia leads the ranks as the largest Islamic finance hub, Dubai is noted as the second 'most sought-after jurisdiction', followed by Jersey in third.
According to the 10th Global Islamic Finance Report (GIFR) 2019, the estimated figure for the global Islamic financial industry at the end of 2018 was $2.6 trillion after recording a growth of 6.58 per cent.
According to Professor Humayon Dar, director-general the of Cambridge Institute of Islamic Finance and founder of GIFR, Islamic finance as an industry has been witnessing substantial growth in the past decade, but its growth rate has steadily declined since 2013 from 11.16 per cent to 6.02 per cent in 2017. After five years of declining trend, the industry has once again picked up to register annual growth in assets of 6.58 per cent during 2018. The report by Jersey Finance and Hubbis highlights that promoters of Islamic wealth management – from the providers to the regulators – are gearing up to offer a greater array of Shariah-compliant wealth management products and solutions to a client base that is generating private wealth at a remarkable rate.
Socially-responsible investing and products offering environmental, social and governance standards are driving the increase in demand for Islamic wealth management products/solutions.
Faizal Bhana, director for the Middle East and Gulf at Jersey Finance, said the report shows that Islamic finance is no longer a niche product for Muslim investors alone. "Rather, we're seeing more non-Muslim families and institutional investors seeking both performance and long-term value, as an alternative to conventional products and solutions."
As demand grows, the report called for "better structures and proper governance". Islamic Finance hubs in the Middle East, Dubai and Bahrain are examples of jurisdictions that are revamping their trust regimes and will continue to improve its regulatory framework and market initiatives to vie for the top spot.
The global Islamic finance market is growing moderately, because of the strong investments in the halal sectors, infrastructure and sukuk bonds, especially through electronic modes in all products and services. The factors driving the growth of the market are directing investment toward the tremendous growth opportunities in the promising Islamic sectors. Islamic banking is the largest sector in the Islamic finance industry, contributing to 71 per cent, or $ 1.72 trillion, of the industry's assets.—(Courtesy: Khaleej Times)
https://pakobserver.net/islamic-finance-industry-to-see-surge-in-demand-from-youngsters/?utm_source=rss&utm_medium=rss&utm_campaign=islamic-finance-industry-to-see-surge-in-demand-from-youngsters
------
Egypt's 'history of humanity' monuments face climate change threat
December 20, 2019
LUXOR, Egypt: It's a steamy November day in the southern Egyptian city of Luxor, and the tourists tramping through the ancient temples of Luxor and Karnak are sweating. But the city's famed 7,000-year-old antiquities are feeling the heat too.
Increasingly high temperatures linked to climate change, as well as wilder weather, particularly heavy rains and flooding, are taking a growing toll on the ancient stonework, said Abdelhakim Elbadry, a restoration expert who works at Karnak temple.
"The changes appear noticeably, in the damage and cracks of the facades of many graves as well as the change of the color of the archaeological stones, as a result of high temperature and humidity," Elbadry told Thomson Reuters Foundation.
Granite that was once rose-coloured has faded to a pale pink or even light grey over the last 15 years, he said.
"In every archeological site here in Luxor, you can witness the changes," he said.
Climate change is making efforts to protect Egypt's famed but fragile archaeological sites even harder, preservation experts say.
From the pyramids and Sphinx to the Citadel of Qaitbay and an ancient Roman amphitheatre near the Mediterranean Sea, the country's historic sites face growing threats from harsher weather and rising seas.
Egyptologist Zahi Hawass - the country's former Minister of State for Antiquities Affairs - said virtually all open-air archeological sites in Egypt are in danger from stronger winds and humidity, higher temperatures and bigger floods.
"I believe that in 100 years all these antiquities will be gone because of climate change," Hawass said, referring to expected serious deterioration of the monuments.
He said offices staffed by specialists should be set up near each of the country's archeological sites to record the changes taking place, try to find immediate solutions and to coordinate restoration of damage.
He has called for a joint effort by Egypt and the European Union to try to mitigate the effects of climate change on Egyptian antiquities.
Monica Hanna, an archaeologist with the Arab Academy for Science, Technology and Maritime Transport, said she believes many Egyptian historic sites near the Mediterranean Sea could see significant damage from rising sea levels linked to climate change within about 30 years.
Alexandria, Egypt's second-largest city, faces some of the biggest risks.
In remarks in Germany last year, Patricia Espinosa, head of the U.N. climate change secretariat, warned that climate change posed particularly severe threats to low-lying coastal cities such as Alexandria and Osaka in Japan.
Climate impacts "are not going to get better, they are going to get worse," she warned.
But a shifting climate also is just one of the threats to Egypt's antiquities, which also face pressure from everything from worsening air pollution to expanding settlements as the country's population grows, Hanna said.
Air pollution can erode the limestone and sandstone blocks that make up many ancient structures, she said, and the construction of housing areas without proper sewage systems, in areas near historic sites, can cause "tremendous" damage.
Egyptologist Hawas said visiting tourists also remain a threat to the structures they flock to admire.
"The flashes of mobile phones, the breathing and touching the antiquities — all these have really harmful effects," he said.
Government action
Hussein Abdel Basir, director of the Antiquities Museum at the Bibliotheca Alexandrina, said the government is taking some action to better protect its archaeological sites from climate threats.
In Alexandria, the national government has earmarked $14 million to protect the Citadel of Qaitbay from coastal erosion.
"A total of 4,700 concrete blocks have been dropped in the water around the citadel in order to protect it from rising water," Abdel Basir said.
In addition to that effort, which started in late 2018, the government is putting in place projects to protect beaches from higher waves and stop coastal erosion.
Abdel Basir said about 230 foreign-led archeological missions operate in Egypt, and about 10% of those are carrying out work to reverse degradation seen in the country's famed antiquities.
But that is still far too little to adequately deal with the growing climate change threats, he said.
The endangered monuments are "the heritage of the world. It is not only Egypt's civilisation that is being threatened, it is the history of humanity," he said.
https://www.arabnews.com/node/1601641/middle-east
------
A year on, Amnesty urges Sudan to deliver on protesters' demands
December 20, 2019
CAIRO: Amnesty International on Thursday urged Sudan's new transitional government to deliver on popular demands for sweeping change as the country marked the first anniversary of mass protests that led to the ouster of former president and longtime ruler Omar Bashir.
A year ago, the first rally was held in Sudan to protest the soaring cost of bread, marking the beginning of a pro-democracy movement that convulsed the large African country. That led, in April, to the extraordinary toppling by the country's military of Bashir, and ultimately to the creation of a joint military-civilian Sovereign Council that has committed to rebuilding the country and promises elections in three years.
To mark the anniversary, activists have organized protests in cities across the country.
"The transitional authorities must honor the commitments they made to restore the rule of law and protect human rights," Seif Magango, Amnesty's deputy director for East Africa, the Horn and the Great Lakes said in a statement. "The Sudanese people deserve nothing less."
The global rights group said Sudan's new government has shown positive signs of progress during its fragile transition to democracy, citing the repeal of a decades-old policing law and dissolution of the former ruling party — moves that have helped the Sovereign Council distance itself from Bashir's disgraced rule.
Over the weekend, a court in Sudan convicted Bashir of money laundering and corruption, sentencing him to two years in a minimum security lockup.
The image of the former dictator in a defendant's cage "sent a strong message, on live TV for all of Sudan to see, that we are on the route toward justice," said Sarah Abdel-Jaleel, a spokeswoman for the protest organizers. But in the view of protesters, Abdel-Jaleel added, Bashir has not been held to account.
The deposed ruler is under indictment by the International Criminal Court on far more serious charges of war crimes and genocide linked to his brutal suppression of the insurgency in the western province of Darfur in the early 2000s. The military has refused to extradite him to stand trial in The Hague.
Amnesty also called on the new government to hold security forces accountable for killing scores of people in their efforts to stifle protests against military rule, especially those behind a deadly crackdown on a huge sit-in outside the military headquarters in the capital, Khartoum, in June. Since last December, nearly 200 protesters have been killed.
The government recently appointed independent judges to oversee investigations into the killings, a major achievement for the protest movement. But even the most high-profile cases have shown no signs of official action, said Amnesty's Sudan researcher Ahmed Elzobier. Families still find it very difficult to bring cases against security officers, he added.
Sudan is under heavy international and regional pressure to reform. With the economy on the brink, the new government has made it a mission to get Sudan removed from the US list of state sponsors of terrorism so that it can attract badly needed foreign aid.
Many pro-democracy protesters say the revolution remains unfinished. The poverty, high prices and resource shortages that catalyzed the original uprising continue to fuel frustration.
"We're looking at a deep state that for thirty years has been plagued by corruption and economic crisis," said Abdel-Jaleel. "But if the nation is given an opportunity to achieve democracy and development and peace, that will be an achievement for the world, not just for Sudan."
https://www.arabnews.com/node/1601531/middle-east
------
Palestinians protest in support of prisoner on hunger strike
December 20, 2019
RAMALLAH, Palestinian Territories: Dozens of Palestinians protested outside an Israeli military court in the occupied West Bank on Thursday calling for the release of a prisoner who has been on a partial hunger strike for nearly three months.
The protesters carried portraits of Ahmed Zahran, 42, who was arrested in February and is being held without charge in what is known as administrative detention. He is a member of the Popular Front for the Liberation of Palestine, a leftist group that Israel blames for a bombing in a settlement in August that killed a 17-year-old Israeli girl and wounded her brother and father.
Zahran has been arrested several times and previously spent 15 years in Israeli prison.
His family says he went on a hunger strike to protest administrative detention, under which Israeli authorities can hold detainees for months or years without charge or trial. Rights groups have criticized the practice, which Israel says is necessary to prevent attacks and to protect classified information.
Nearly 5,000 Palestinians are serving time in Israeli prisons, including those convicted by military courts of taking part in deadly attacks against Israelis. An estimated 450 are being held in administrative detention.
Zahran's brother, Adel, says he is taken to a clinic and given nutritional supplements when he faints.
Israeli troops dispersed Thursday's protest with sound grenades and tear gas. There were no reports of any injuries.
In a separate development, Israeli police said 18 vehicles were vandalized in an Arab neighborhood of east Jerusalem.
Police spokesman Micky Rosenfeld said forensic teams were investigating at the scene in the neighborhood of Halaila, where anti-Arab graffiti was found on walls nearby.
Hard-line Israeli settlers have been known to carry out "price tag" attacks against Arab property in response to Palestinian militant attacks or perceived efforts by Israeli authorities to limit settlement expansion. It was unclear what might have sparked the latest apparent attack.
The incident comes ten days after vandals slashed the tires of over 160 vehicles and sprayed anti-Arab slogans in a different neighborhood of Jerusalem.
Jerusalem Mayor Moshe Lion condemned that incident as a "hate crime" and called on police "to find the criminals as fast as possible and bring them to justice."
Israel captured east Jerusalem in the 1967 Mideast war and annexed it in a move not recognized by most of the international community. The Palestinians want east Jerusalem to be the capital of their future state.
https://www.arabnews.com/node/1601526/middle-east
------
Africa
Islamic group to FG: Release Sowore, other detainees' now
DECEMBER 19, 2019
By Bashir Bello – Katsina An Islamic organization popularly known as Ansar-Ud-Deen Society of Nigeria (ADS) has on Thursday called on the Federal government to immediately release the convener of the #RevolutionNow, Omoyele Sowore and other detainees that have been granted bail by a competent court of law.
Chairman of the organization's Youth wing "Ansar-Ud-Deen Youth Association of Nigeria ADYAN" Northern States Council, Professor Bashir Adeniyi Omipidan, made the call in Funtua, Katsina state, ahead of it 2019 Northern State Council Conference and Awards Ceremony slated for this weekend.
Prof. Omipidan noted that it is imperative for the Federal Government to obey court orders and release those granted bail.
The Professor of law further said it is equally not opposed to the federal government rearresting of those who went against their bail terms or anyone that it has cogent reason to prosecute.
According to him, "ADYAN Northern States Council is not oblivious of the fact that Omoyele Sowore and some other persons are still in detention despite court granted bail, we call on the Federal Government to arraign those who have not been tried to court while allowing those who have already been granted bail to go home.
"We are equally not opposed to rearrest of anyone on bail if there are reasons to suspect that condition of such bail has been flouted, this should, however, be carried out in accordance with the rule of law. A person remains suspect until convicted by a court of competent jurisdiction but as at this moment, Omoyele Sowore is still a suspect who has been granted bail by the court and should be released.
"His counsel, Femi Falana has asked the Federal Government to release him but the attorney general of the federation said the court would determine that. We need peace in our country, so we cannot say whoever committed offense should not be dealt with but it should be done within the confines of the law.
"We call on all Nigerians perpetrating violence, evil vices like insecurity, etc that they should desist before the long arms of the law catch up with them," Prof. Omipidan said.
However, activities outlined by ADYAN for its 2019 Northern State Council Conference include visitation to Federal Correctional Center and visitation to emir's palace.
Others include a lecture by the Director Interfaith Mediation Center, Kaduna, Dr. Nurain Ashafa, Jumaat service on Friday, interactive sessions on topical issues and award presentations to deserving members of ADS, followed by shura selection of new executives to run the affairs of ADYAN for the next three years.
https://www.vanguardngr.com/2019/12/islamic-group-to-fg-release-sowore-other-detainees-now/
------
Christian group demands removal of CJN over his call for integration of Sharia law
December 19, 2019
A Christian Fellowship group has charged the Federal Government to immediately remove the Chief Justice of Nigeria, CJN, Tanko Muhammad over his call for a constitutional amendment to allow for the integration of Sharia law.
The group identified as the Nigeria Christian Graduate, NCG, fellowship condemned the call by Justice Tanko and also urged the National Judicial Council, NJC, to sanction the CJN for making such a call.
The NGC in a statement signed and issued on Thursday by its National President, Prof. Charles Adisa and General Secretary, Onyenachi Nwaegeruo, said that the personal religious interest of the CJN should not be expressed in such a manner.
The group expressed sadness by the "recent call by the Chief Justice of Nigeria, Mr Ibrahim, Tanko Mohammed that the constitutional provisions in favour of Islam and Sharia should be expanded.
"This call according to reports is contained in an address to a sectarian professional group of Islamic lawyers and judges at Ahmadu Bello University (ABU), Zaria.
"We would not have any reason to join issues with Mr Mohammed had he spoken as an ordinary citizen with bias to a particular religion. That would have passed as his fundamental right to express his opinion on any matter of his interest. But for the fact that he spoke having been invited to the forum in his official capacity as the CJN and head of an important arm of the government saddled with the responsibility of adjudicating over matters arising from the Constitution and doing justice to all and sundry without fear or favour.
"Secondly, the fact that he boasted in his speech, we have the number in the national assembly to cause the change" shows the highest act of irresponsibility to his high office.
"Perhaps, Mr Mohammed does not know that the office he occupies demands that his personal Religious interest should not be expressed in such a manner as to create doubt in the mind of ordinary citizens that should a matter with religious tinge comes to his court he is likely to exercise his discretion in favour of his faith. This is a clear violation of his sworn oaths of office and allegiance to the federal republic of Nigeria, a pluralistic State with multi-ethnic and multi-religious biases.
"To the extent of his indiscretion and impudence in promoting one religion above others, we believe that the leadership of the Christian Association of Nigeria (CAN) is right in her call to the CJN to resign. On our part we, not only agree with CAN, but we also call on the national judicial Council to apply appropriate sanctions against the CJN.
"Mr Mohammed may perhaps go and head the national mosque or become the grand khadi. Those are the places he belongs and they are appropriate platforms he can use to further his ambition of Islamization, but to use the revered office of the CJN to promote his bigotry is unacceptable to us.
"Furthermore, if he has nothing useful to offer the Judiciary except drag her to sectarian terrain, Mr Mohammed may as well metamorphose into a full-time politician and go into the National Assembly and employ his bigot prowess in convincing his likes on his life ambition of using the Constitution to accomplish Islamic conquest of the nation. But to hide under the Judiciary and use it as a platform to accomplish his nefarious ambition we consider as a desecration of the hallowed office that should be resisted.
"In light of the above, the Nigeria Christian Graduate fellowship call on the national judicial Council to apply appropriate sanctions, including the removal as demanded by Christian Association of Nigeria to discipline Mr Mohammed for his indiscretion and abuse of his position. The Nigerian Judiciary must be protected from religious bigots if it must fulfil its constitutional mandate."
https://www.ripplesnigeria.com/christian-group-demands-removal-of-cjn-over-his-call-for-integration-of-sharia-law/
------
Europe
Connecticut man accused of supporting Islamic State group
19 December 2019
HARTFORD, Conn. (AP) - A 26-year-old Connecticut man who allegedly pledged allegiance to the Islamic State group's leader has been charged with attempting to provide material support to the terrorist group in Syria, federal prosecutors announced Thursday.
Kevin McCormick, of Hamden, allegedly made several statements expressing a desire to travel to Syria and to fight for the Islamic State group. He was arrested on Oct. 21 after he attempted to board a flight out of the country, authorities said.
A message seeking comment from the public defender's office representing McCormick was not immediately returned.
It is the second case this week of a Connecticut man charged with trying to support IS. Ahmad Khalil Elshazly, 22, of West Haven, was arrested Sunday as he attempted to leave the country by boat and charged with attempting to provide material support for a terrorist organization. The two cases are unrelated, according to a spokesman for Connecticut's U.S. attorney.
A concerned person who attends an Islamic center outside Connecticut informed the FBI in early October that McCormick had expressed to them a desire to travel to Syria and "fight for Allah," according to an FBI agent's affidavit. The individual reported that McCormick cited religious doctrine to justify his reasons for wanting to fight, but he did so incorrectly.
McCormick, who was fired from his job as a truck driver in September, attempted to purchase a gun and a knife afterward from a store in Washington state. He told the sales clerk the gun was "not for an animal" and the clerk refused to sell him the gun, according to the affidavit.
A review of his Facebook page also revealed Islamic State videos and videos of McCormick firing a pistol at gun range, the agent said.
On Oct. 19, investigators say, McCormick made a video in which he pledged allegiance to Islamic State and its leader, Abu Bakr al-Baghdadi. He has been detained since his arrest after he traveled to a Connecticut airport to board a flight to Canada.
A week earlier, McCormick attempted to take a flight from Connecticut to Jamaica but was stopped by the U.S. Department of Homeland Security. He told another person that he intended to travel on to Jamaica and then Syria and that he wanted to acquire weapons and join the Islamic State group, prosecutors said.
https://www.dailymail.co.uk/wires/ap/article-7811993/Connecticut-man-accused-supporting-Islamic-State-group.html
------
North America
Joe Biden Challenged A Muslim Journalist For Pronouncing 'Afghanistan' Correctly
By Akbar Shahid Ahmed, HuffPost US
Former Vice President Joe Biden questioned a Muslim American debate moderator over her correct pronunciation of "Afghanistan" during Thursday evening's Democratic primary debate in Los Angeles.
Amna Nawaz, a PBS correspondent, asked Biden about recent Washington Post reporting showing that U.S. officials misled the public about how badly the war in Afghanistan was going. The candidate, who's currently a front-runner in the contest for the 2020 Democratic presidential nomination, interjected mid-question.
"Afghanistan, you said?" Biden asked, using the common American pronunciation.
"Yes, sir. Afghanistan," Nawaz responded, sticking to her pronunciation.
Nawaz is the first Muslim American to moderate a presidential debate. (And the first Pakistani American as well.)
Once Nawaz confirmed she said what he thought she did, Biden went into an answer about his track record of opposing increased U.S. military intervention there.
Political commentator and podcaster Tommy Vietor, who served with Biden in the Obama administration, noted that he "broke hard from Obama on Afghanistan. "It's true that he opposed the 2009 surge and was skeptical of the Pentagon's hard sell about [counter-insurgency] strategy," Vietor wrote on Twitter.
Biden has similarly diverged from former President Barack Obama's approach to taking responsibility for approving U.S. support for a bloody Saudi-led campaign in Yemen.
The candidate's answer won him plaudits from commentators. His reaction to an accurate pronunciation by a person of color isn't likely to go down quite as well.
https://www.huffingtonpost.in/entry/joe-biden-afghanistan-journalist_n_5dfc3ac5e4b0843d35f931d8?ri18n=true
------
Quebec City's first Muslim cemetery set to open next spring
December 19, 2019
Quebec City's mayor has signed a deed of sale for a parcel of land that will soon become the region's first Muslim cemetery.
Mayor Régis Labeaume had promised the land to the city's Muslim community in 2017, shortly after residents of a nearby town voted against a proposal to open an Islamic cemetery in their area.
The mayor was joined for the public signing Thursday by Boufeldja Benabdallah, president of the main mosque in Quebec City, who thanked Labeaume for pushing ahead with the project and avoiding a divisive debate.
Benabdallah says Quebec City's Muslims have been working to have their own cemetery for 20 years.
Community members seeking formal Islamic burials have had to send their dead to Montreal.
The Quebec City Muslim cemetery is expected to open by the spring.
Benabdallah's mosque was the site of a mass shooting in January 2017, when a gunman murdered six men in the main prayer hall.
The following summer, residents of Saint-Apollinaire, 35 kilometres southwest of Quebec City, rejected a proposal to open the area's first Muslim cemetery on their territory, by a vote of 19 to 16.
At Thursday's ceremony, Labeaume invited citizens to "love each other." He told reporters Quebec City is changing, and new waves of immigration will make the city — and the rest of the province — more diverse.
"As of today, we need to start thinking about what we can do, about the steps we can take in our community, so that we can all live together in harmony," he said.
https://globalnews.ca/news/6318756/quebec-city-muslim-cemetery-spring-2020/
------
India's anti-Muslim citizenship law 'patently discriminatory': NYT
December 20, 2019
New York
A leading American newspaper Thursday denounced as 'patently discriminatory' India's new citizenship law, and urged all democratic nations to speak out against it.
'The law, as India's 200 million Muslims have correctly surmised, has nothing to do with helping migrants and everything to do with the campaign by Mr. Modi and his home minister, Amit Shah, to marginalize Muslims and turn India into a homeland for Hindus, who comprise about 80 percent of the population of 1.3 billion,' the Editorial Board of The New York Times said, referring to the eruption of protests across India after the law was passed by Modi's Hindu-nationalist Bharatiya Janata Party (BJP) last week.
The editorial, 'Modi makes his bigotry even clearer', said: 'The devil is in the missing details. Accelerated citizenship is offered to members of the Hindu, Christian, Buddhist, Sikh, Parsee and Jain religions but not to Muslims. And the only neighboring countries named in the law are Pakistan, Bangladesh and Afghanistan, all majority Muslim. Other neighbors, from Sri Lanka to China, where Muslims do not predominate, are not mentioned.
'The not-so-hidden message is that the Muslim-majority countries abutting India persecute Hindus and other minorities, and that Muslims from such countries cannot be refugees even people like the Rohingya, some of whom have reached India after fleeing to Bangladesh from brutal repression in Myanmar….'
'Last summer, Mr. Modi's government abruptly stripped statehood and autonomy from India's only Muslim-majority state, Kashmir, arresting many of its leaders and shutting down the internet. Also in August, Mr. Modi aggressively escalated a program of citizenship tests in the northeastern state of Assam, leaving nearly two million people, many of them Muslims, potentially stateless.—APP
https://pakobserver.net/indias-anti-muslim-citizenship-law-patently-discriminatory-nyt/?utm_source=rss&utm_medium=rss&utm_campaign=indias-anti-muslim-citizenship-law-patently-discriminatory-nyt
------
US wants Pak to take immediate and irreversible action on terrorism
Dec 20, 2019
WASHINGTON: The Trump administration has a very clear position on Pakistan and wants Islamabad to take immediate, sustained and irreversible action on reining in terror groups and to ensure that its soil is not used for terrorism, external affairs minister S Jaishankar has said, a day after the conclusion of the second India-US 2+2 dialogue.
US secretary of state Mike Pompeo and defence secretary Mark Esper hosted Jaishankar and defence minister Rajnath Singh for the second 2+2 dialogue in Washington DC on Wednesday. Jaishankar and Singh left US on Thursday.
Jaishankar told a group of Indian journalists here on Thursday that the relationship between India and the US had expanded both in its scope and content.
He said the regional issues - including Pakistan, Afghanistan, Iran and South East Asia - were discussed during the talks.
"With regard to Pakistan, what we heard was very clear position from the American side which was for them to take immediate, sustained and irreversible action regarding the fact that territory under their control is being used for terrorism," he said.
The external affairs minister said important decisions were taken on space situational awareness, technical co-operation on water resources management during the talks.
The US has supported several Indian initiatives including coalition for disaster resilient infrastructure and Indo-Pacific oceans nitiative.
The natural focus for the discussions were foreign policy, defense and national security policies, he said.
In a major decision, the 2+2 ministerial decided to have Indian liaison officers with Bahrain-based US naval forces central command and possibly with the special operations command, he said.
On the other hand, a US liaison officer is likely to be stationed at the Information Fusion Centre for the Indian ocean region (IFC-IOR), Jaishankar said.
The center has been established by India to advance cooperation on maritime security across the region. According to the joint statement, they also discussed ways to enable closer army-to-army and air force-to-air force ties and to explore cooperation between special operations forces, he said.
Describing the decision to hold Tiger Triumph tri-services exercise annually as a major outcome of the ministerial, he noted that it was important to do this Humanitarian Assistance and Disaster Response (HADR) exercise because one of the trends seen over the last few years is that some countries in the region do need to come forward to address that need.
India has now taken the lead to a large extent in recent past. So, working with the Americans who have a lot of experience and capabilities in the region, he added.
The two countries agreed to continue discussions on Basic Exchange and Cooperation Agreement (BECA) in 2020 to enable greater geospatial information-sharing, Jaishankar said.
Signing of the Industrial Security Annex provides the framework for the exchange and protection of classified military information between the industries of the two countries. This is very important for industrial collaborations under 'Make in India', he said, noting that such an arrangement existed at the government level.
Finalisation of a statement of intent to co-develop several projects and also of the standard operating procedure for setting forth implementation guidelines for projects under DTTI and the industry-to-industry framework, were other key areas of progress in the defense sector, Jaishankar said.
The two countries agreed to explore the establishment of maintenance repair and overhaul (MRO) facilities in India.
"Maintenance, repair and overhaul is an important business. It's very necessary business. There are our capabilities in India, there are our platforms, many of them of American origin, not just in India, but in the larger region. So, we need the support of American OEMs to do that," he said.
In addition to his bilateral meetings with Pompeo, Jaishankar also held a meeting with the national security advisor at the White House.
He said the two countries took several major decisions to enhance people to people relationship.
"One, of course was that we agreed on an internship program," he said.
Every year about 200 Indian interns would come to the US. Students at post-secondary or graduate levels will come here and essentially look at internship opportunities in different areas, he said.
The two countries also agreed to strengthen the bilateral parliamentary exchanges. US Congress, historically, has played an important factor in this relationship and so has members of parliament, he said.
"We would love to encourage more interaction between them and the parliament," Jaishankar said.
Observing that India wants to build its strength in counter terrorism jurisprudence, the external affairs minister said the ministerial looked at judicial cooperation between US Federal Judicial center and the National Judicial Academy in Bhopal.
https://timesofindia.indiatimes.com/world/us/us-wants-pak-to-take-immediate-and-irreversible-action-on-terrorism/articleshowprint/72895819.cms
------
US probe of Saudi oil attack shows it came from north: Report
Dec 20, 2019
WASHINGTON: The United States said new evidence and analysis of weapons debris recovered from an attack on Saudi oil facilities on September 14 indicates the strike likely came from the north, reinforcing its earlier assessment that Iran was behind the offensive.
In an interim report of its investigation - seen by Reuters ahead of a presentation on Thursday to the United Nations Security Council - Washington assessed that before hitting its targets, one of the drones traversed a location approximately 200 km (124 miles) to the northwest of the attack site.
"This, in combination with the assessed 900 kilometer maximum range of the Unmanned Aerial Vehicle (UAV), indicates with high likelihood that the attack originated north of Abqaiq," the interim report said, referring to the location of one of the Saudi oil facilities that were hit.
It added the United States had identified several similarities between the drones used in the raid and an Iranian designed and produced unmanned aircraft known as the IRN-05 UAV.
However, the report noted that the analysis of the weapons debris did not definitely reveal the origin of the strike that initially knocked out half of Saudi Arabia's oil production.
"At this time, the US Intelligence Community has not identified any information from the recovered weapon systems used in the 14 September attacks on Saudi Arabia that definitively reveals an attack origin," it said.
The new findings include freshly declassified information, a State Department official told Reuters.
The United States, European powers and Saudi Arabia blamed the September 14 attack on Iran. Yemen's Houthi group claimed responsibility for the attacks, and Iran, which supports the Houthis, denied any involvement. Yemen is south of Saudi Arabia.
Oil price spike
Reuters reported last month that Iran's leadership approved the attacks but decided to stop short of a direct confrontation that could trigger a devastating US response. It opted instead to hit the Abqaiq and the Khurais oil plants of US ally Saudi Arabia, according to three officials familiar with the meetings and a fourth close to Iran's decision making.
According to the Reuters report a Middle East source, who was briefed by a country investigating the attack, said the launch site was the Ahvaz air base in southwest Iran, which is about 650 km north of Abqaiq.
Some of the craft flew over Iraq and Kuwait en route to the attack, according to a Western intelligence source cited by the report, giving Iran plausible deniability.
The 17-minute strike by 18 drones and three low-flying missiles caused a spike in oil prices, fires and damage and shut down more than 5% of global oil supply. Saudi Arabia said on Oct. 3 that it had fully restored oil output.
US Special Envoy for Iran, Brian Hook, told Reuters that the newly-declassified information was more evidence that Tehran was behind the attack. "The UAVs flew into Saudi Arabia from the north, and the recovered debris is consistent with Iranian-produced materiel," he said.
"As many nations have concluded, there are no plausible alternatives to Iranian responsibility," he said.
The United States presented its findings to a session of the U.N. Security Council on Thursday as it hopes to mobilise more support for its policy to isolate Iran and force it to the negotiating table for a new nuclear deal.
"The damage at the oil facilities shows that the attack came from the north, not from the south, as you would expect if the Houthis were responsible," US Ambassador to the United Nations Kelly Craft told the Security Council on Thursday.
UN political affairs chief Rosemary DiCarlo stressed to the council that the United Nations was still reviewing components and collecting and analyzing additional information on the missiles.
Iran's UN Ambassador Majid Takht Ravanchi addressed the Security Council and categorically rejected the accusations against Tehran over attacks on Saudi oil facilities. He described US sanctions on Iran as "economic terrorism" and said that "Iran does not negotiate under the threat of a sword."
Drone parts 'nearly identical'
In a similar report last week, the United Nations also said it was "unable to independently corroborate" that missiles and drones used in attacks on Saudi oil facilities in September "are of Iranian origin."
The report noted that Yemen's Houthis "have not shown to be in possession, nor been assessed to be in possession" of the type of drones used in the attacks on the Aramco facilities.
Washington's interim assessment also included pictures of drone components including the engine identified by the United States as "closely resembling" or "nearly identical" to those that observed on other Iranian unmanned aerial vehicles.
It also provided pictures of a compass circuit board that was recovered from the attack with a marking that is likely indicating a potential manufacturing date written in the Persian calendar year, the report assessed.
The name of a company believed to be associated with Iran, SADRA, was also identified on a wiring harness label from the Sept. 14 wreckage, the report said.
US President Donald Trump last year withdrew from a 2015 nuclear deal between world powers and Iran and snapped back sanctions on Tehran with the aim of choking Iranian crude sales, the Islamic Republic's main source of revenues.
As part of its 'maximum pressure' campaign, Washington has also sanctioned dozens of Iranian entities, companies and individuals to cut Tehran's revenue, a move some analysts have suggested may have forced Iran to act more aggressively.
https://timesofindia.indiatimes.com/world/middle-east/us-probe-of-saudi-oil-attack-shows-it-came-from-north-report/articleshow/72895072.cms
------
New Zealand
New Zealand to end gun buy-back started after mosque shootings
A scheme to buy back weapons that was launched in New Zealand after the Christchurch mosque attack ends on Friday, with gun-control groups hailing its success despite opposition from some firearms owners.
The March 15 attacks in which 51 Muslim worshippers were killed shocked the normally peaceful South Pacific nation and prompted a swift ban on assault rifles and military-style semi-automatic weapons used by the lone attacker.
A key element of the ban was a buy-back scheme accompanied by an amnesty, giving gun owners a payment and a guarantee of "no questions asked" when they handed in weapons deemed illegal under new laws.
Police said on Friday that 56,350 firearms and 188,000 parts had been handed in and they were expecting a late rush before the final collection event at 8pm (07:00GMT) on Friday.
"There will be no extension - anyone prosecuted may lose their firearms licence and could face a penalty of up to five years imprisonment," police said.
Gun-control advocates say the scheme has succeeded despite opposition from some firearms owners, who they accuse of adopting hardline tactics similar to the US National Rifle Association (NRA).
"Their rhetoric and style of approach very much comes from the NRA," Gun Control NZ spokeswoman Hera Cook told AFP.
"Everything's a slippery slope, everything's a burden on gun owners, there are no compromises that are reasonable."
The Council of Licenced Firearms Owners (COLFO) estimates there are 170,000 banned firearms in New Zealand, arguing that its data indicates less than a third of the illegal weapons have been collected.
"The scheme is looking like a failure due to the rush on implementing political and ideological remedies, instead of developing a more fair and reasonable hand-in regime," spokeswoman Nicole McKee said.
But police have provided no official estimate of illegal firearms numbers and Waikato University law professor Andrew Gillespie said there was no way to gauge them accurately.
"I have no idea how they (COLFO) got to this figure, given there's been no central firearms register since 1982," he said.
"Estimates of how many firearms are in the country overall are guesswork, with margins of hundreds or thousands either side."
Regardless of the numbers, University of Sydney gun policy researcher Philip Alpers said the buy-back would result in a safer community.
"No one pretended police would immediately find every one of these guns," he said.
"But ... for each rapid-fire weapon destroyed, you can expect the risk of another mass shooting to decrease."
'Unprecedented act'
The buy-back's completion is not the end of gun reform in New Zealand and the government has already introduced a second tranche of measures to parliament.
They include establishing a firearms registry to track every gun in the country and ensuring only a "fit and proper person" can hold a firearms licence.
The measure will give police the power to exclude anyone promoting "extremism", convicted of violent crime or with mental health issues, including attempted suicide, from owning a gun.
Gun Control NZ's Cook said the latest reforms would lead to a long-term change in New Zealand's firearms culture.
But she warned the government had only a brief window of opportunity to further tighten gun laws before political inertia set in and pro-gun advocates set about watering down reforms.
"A lot of New Zealanders who are not gun owners are complacent and think we've solved the problem with the buy-back," she said.
"They don't understand how important the legislation currently before parliament is for creating long-term change."
https://www.aljazeera.com/news/2019/12/trump-impeachment-republicans-democrats-spar-steps-191219183025231.html
------
URL: https://www.newageislam.com/islamic-world-news/ahmedabad-seven-muslim-boys-aat/d/120582
New Age Islam, Islam Online, Islamic Website, African Muslim News, Arab World News, South Asia News, Indian Muslim News, World Muslim News, Women in Islam, Islamic Feminism, Arab Women, Women In Arab, Islamophobia in America, Muslim Women in West, Islam Women and Feminism