New Age Islam News Bureau
30 Apr 2017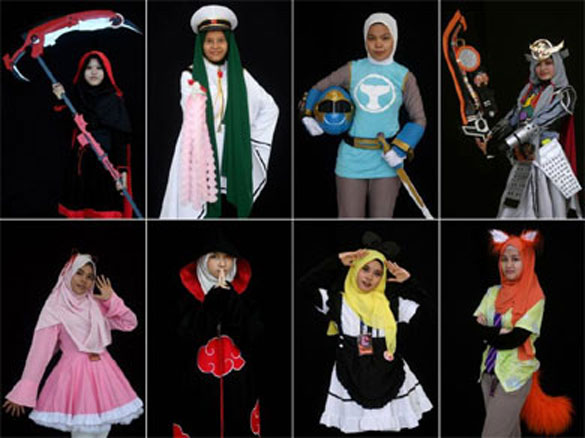 Photo: Muslim women wearing hijab participate in a cosplay event Saturday in Subang Jaya, outside of Kuala Lumpur. | AFP-JIJI
-----
• Dramatic Moment Burqa-Wearing Woman Screams As Anti-Terror Police Drag Her Off A Bus In North London
• Arab World Must Boost Women in the Workforce
• Can Merkel Press Saudi Authorities On Women's Rights?
• 'Hundreds of Us Will Die In Raqqa': The Women Fighting Isis
• Controversial Muslim Women's Group Hits Back At Ben Fordham
Compiled by New Age Islam News Bureau
URL: https://www.newageislam.com/islamic-society/muslim-women-wearing-hijabs-enjoy/d/110965
------------
Muslim Women Wearing Hijabs Enjoy Participating In Malaysian Cosplay Event
AFP-JIJI
APR 30, 2017
KUALA LUMPUR – Muslim women dressed as superheroes, and princesses and mighty sword-wielding warriors took part in a hijab cosplay event in Malaysia on Saturday, where the role-playing craze continues to grow.
Around 20 women showcased their love for anime with elaborate make-up and costumes while still wearing their traditional hijab — the headscarf worn by many Muslim women in Malaysia — at the event held in a shopping mall on the outskirts of Kuala Lumpur.
Many participants took photos with each other, mingled and networked, sharing costume and make-up tips.
NurAzlina, a 21-year-old university student, decked out in a "Power Ranger" outfit, said a hijab did not hinder her cosplay skills and that there had been a lot of positive reaction.
"Some people are sometimes surprised when they see my hijab . . . but it doesn't bother me. My friends and my family support me and I also get invited to birthday parties to attend with my costume," she said. "I love cosplay and I get to make new friends here and also in the international cosplay community."
Raja Muhammad Rusydi, a 20-year-old male cosplay enthusiast who also took part in Saturday's event said he hopes such happenings will generate more interest among hijab-wearing women to take part in cosplay activities.
"I support them. If they love the character and have the passion, they should do it."
In cosplay, short for costume role-play, enthusiasts gather to imitate characters from anime series, comics and video games, many drawn from Japanese pop culture.
The cosplay fad has swept much of the world and has been popular for over two decades in Malaysia.
But hijab cosplay has only become popular in the last few years in the Southeast Asian nation and has generated much buzz among those in the cosplay scene.
japantimes.co.jp/news/2017/04/30/asia-pacific/offbeat-asia-pacific/muslim-women-wearing-hijabs-enjoy-participating-malaysian-cosplay-event/#.WQXM1dqGPIU
---------
Dramatic Moment Burqa-Wearing Woman Screams As Anti-Terror Police Drag Her Off A Bus In North London
This is the moment a woman in a burka was dragged off a packed bus by undercover police in the same operation that led to another young female Muslim being shot streets away.
Exclusive MailOnline footage shows the bus passenger in Muslim dress, believed to be in her early 20s, screaming as at least five officers snatched her off public transport on Willesden High Road last night.
She was bundled into a doorway next to a convenience store, forced to lower her veil to show her face and had her bags searched after being trailed by undercover police.
Scotland Yard told MailOnline that she has not been arrested - but it is understood that she was grabbed while with a 20-year-old man who was.
Video of the bus raid shows it was pre-planned with more than a dozen officers grabbing and swamping the woman, including some who were travelling on public transport with her.
The man also on board is understood to have run off but was quickly arrested by more police nearby.
She had got off the 266 bus, which was quickly waved on by counter-terror officers at the scene.
Officers went through her bags but she was released after being 'spoken to', the Met said.
Witness Eddie, who filmed the arrest, said: 'They pulled her off the 98 bus, it comes from Oxford Street.
'They were searching her bags. They made her take the veil off while they searched her in a doorway.
'As she came off more police came off directly behind her. About five minutes before a guy was standing directly next to the bus stop with an ear piece.
'I thought he was lost but he was obviously orchestrating the entire operation.'
dailymail.co.uk/news/article-4455972/Dramatic-moment-burka-wearing-woman-dragged-bus.html#ixzz4fjxOW1Qw
---------
Arab world must boost women in the workforce
Filed on April 29, 2017
International Women's Day has long come and gone, but the celebration of women everywhere will not end with the day. While there are countless reasons for this, one simple reason is that women continue to be the driving force behind the economy today. They control approximately 64 per cent of global household spending and $30 trillion of consumer spending recorded in 2013 alone, which is expected to increase by almost a third next year. Given these numbers, the contribution women make to the workforce, and ultimately the economy, can no longer be neglected.
Not only are women the world's most powerful consumers and purchase decision makers at home, but they also make up a significant part of the workforce. Keeping in mind the current global financial conditions, there is a pressing need to grow economies quickly now more than ever, which is why female participation in the workforce is greatly encouraged across the world.
If you really think about it, in the present day and age, no healthy economy exists without the involvement of women. Leading the GCC in terms of women empowerment, the UAE is responsible for numerous women holding senior ministerial and managerial positions. Saudi Arabia's Vision 2030 focuses on diversifying the economy by encouraging more and more women to join the workforce, which gives them a productive outlet to help the country in realising its vision. In Nigeria, small and medium-sized enterprises (SMEs) are the backbone of any economy, and are often run by women.
As women are part of the solution to a much bigger problem, educating and preparing them to help balance the existing labour force will not only boost growth potential in the near future, but also raise living standards for the country's population. In the UAE, this has already been prioritised and resulted in a 30 per cent growth of Emirati women's labour participation in three decades, according to Statistics Centre - Abu Dhabi.
This increase in such a short span of time can be credited to the government's active efforts to promote female participation across different sectors, as well as the support provided to women in terms of literacy and education where the UAE continues to lead in the Arab world, according to the Gender Gap Report issued by the World Economic Forum.
Moreover, the country's leaders have pushed for equal opportunities, placing their faith in the hands of both genders, and not just women, to push boundaries and achieve the impossible. In fact, it is this very thinking that has resulted in women in the country holding posts such as speaker of the UAE parliament today, and men offering their undivided support to uplift and empower women.
From a global perspective, recent estimates suggest that economic gender parity could add an additional $240 billion to the gross domestic product (GDP) of the United Kingdom, $1,201 billion to that of the United States, while China could see a $2.5 trillion GDP increase by 2020.
In spite of these successes, countries in the Middle East and Africa have a long way to go to compete with global standards of female work participation. While ECOWAS Vision 2020 seeks to increase investment in the development of the region's human capital, particularly as it pertains to women and young people, necessary steps will need to be taken to ensure sustained growth and healthy performance of the economy.
With women contributing to nearly half of the UAE's SME sector, these women should be recognised for their contribution, supported and empowered to continue leading this sector. The UAE government has made considerable efforts by setting up specialised organisations such as the Dubai SME and the Dubai Business Women Council to help provide knowledge for young entrepreneurs and regular assistance through mentorship programmes and workshops to give them direction.
So, what lies ahead for women in the region who are essential for the growth of the economy? For starters, the UAE's economy minister is aiming to attract $75 billion by 2025 into the country's new industrial manufacturing sector which is expected to contribute 25 per cent to the country's GDP by 2025. Women should be made a part of the progression from the beginning by educating them about their responsibilities and involving them in all initiatives to accelerate the growth of the economy.
To conclude, undoubtedly, women in the region contribute a great deal to the economy and hold senior management positions or run investments worth $15 billion, but their potential is still not completely explored. However, initiatives such as the mandatory 20 per cent female presence in corporate boardrooms by 2020 for listed companies and other similar steps are expected to put the spotlight on the role of women to support the growth of the local economy. Boosting female participation in the labour force is only the first of many steps to empower women in the region, particularly since the Arab world is making that extra effort to support women.
The writer is senior executive officer/head of DIFC branch at The Access Bank UK. Views expressed are her own and do not reflect the newspaper's policy.
khaleejtimes.com/business/economy/arab-world-must-boost-women-in-the-workforce
---------
Can Merkel press Saudi authorities on women's rights?
German Chancellor Angela Merkel landed in Saudi Arabia Sunday on a one-day official visit. She will hold talks with the Saudi leaders on the fight against the so-called "Islamic State" (IS) militant group as well as the conflict in Yemen. Trade and business ties will also feature in the discussion between German and Saudi officials.
In her talks in Jeddah with King Salman bin Abdulaziz Al Saud and Crown Prince Mohammed bin Nayf, Merkel will raise questions about the human rights situation as well as the role of women in the Arab country.
The German leader's Saudi visit comes at a time when the United Nations is facing criticism over electing Saudi Arabia to serve on the UN Commission on the Status of Women, a body "dedicated to the promotion of gender equality and the empowerment of women."
Saudi women could not vote in local elections until 2015, and domestic violence was first outlawed in 2013
The Arab country's human rights record, especially its treatment of women, is extremely poor. Rights organizations say that the state is responsible for the crimes against women in the country. The women are not allowed to drive, and most aspects of their lives are controlled by "male guardians."
The wife of Saudi blogger RaifBadawi, whose imprisonment and public lashing provoked an international outcry, has also called on Merkel to seek a pardon for her husband from Saudi authorities.
"Saudi Arabia has made marginal improvements on women's rights in recent years, primarily in employment and access to higher education, but such changes have been hindered or even nullified because authorities have allowed the male guardianship system to remain largely intact, enabling men to maintain control over female relative's lives," says Adam Coogle, Human Rights Watch's Middle East researcher.
The public opinion in Germany is unequivocally against Saudi Arabia's treatment of women. Merkel needs to press Saudi authorities harder over women's rights. It should be a lot more
dw.com/en/can-merkel-press-saudi-authorities-on-womens-rights/a-38644389
---------
'Hundreds of us will die in Raqqa': the women fighting Isis
Kimberley Taylor from Blackburn is part of the all-female Kurdish force battling to rout Islamic State. Driving them on is the chance to free women enslaved by the extremists: 'It starts with fighting Daesh, then the mentality of the male'
Sunday 30 April 2017 08.30 BST
She had heard the stories about how Islamic State fighters could glide like ghosts into Kurdish militia bases during the dead of night, but nothing prepared her for the bedlam when it happened. It was 3.40am on 12 February when Isis attackers scrambled over the perimeter defences of the base north of Raqqa. Kimberley Taylor was convinced it would be overrun. Grabbing her Kalashnikov, she began firing at the shapes. Beyond the corner of the nearest building cowered an enemy fighter. Suddenly he rushed towards her. As their eyes met, he yanked the cord on his suicide belt.
Multimedia editing by Ekaterina Ochagavia
Night-time along the shifting frontline of northern Syria is a fraught affair. Absolute silence, punctured by periods of pandemonium. Isis can strike from anywhere, shadows that melt in and out of the darkness. Taylor's base was six miles behind the front, among the lush floodplains of the Euphrates. Everyone there knew that the Isis fighters' latest tactic was tiptoeing into the huts of sleeping Kurdish fighters and blowing themselves up. Taylor, who survived the suicide attack, counted herself lucky.
"Well, kind of. I was completely covered in human remains, which was pretty horrific," said the 28-year-old in her gentle Lancashire accent. Later, when the sun rose, Taylor admitted to being both disgusted and fascinated by a human exploding, particularly how hair was blown clean from the scalp.
Kimberley Taylor from Blackburn joins the fight against Isis. Photograph: Mark Townsend for the Observer
Taylor, born in Blackburn 28 years ago, is a footsoldier for the YPJ – a Northern Kurdish or Kurmanji acronym for the Women's Protection Units – an all-female force that is part of the offensive to liberate Raqqa. Fighting alongside a coalition of Arab and Assyrian Christian militias, the YPJ is steadily encircling the capital of Isis's proto-state, supported by US airpower.
Standing among the ruins of a bombed command post 25 miles north of Raqqa, Taylor looks more like a guerrilla fighter from the Spanish civil war than a combatant at the sharp end of the international coalition to eradicate the world's arguably most feared terrorist organisation. She has no army boots and instead marches to battle in a pair of size five secondhand Chinese-made trainers, bought for £6 in the Kurdish town of Qamishli. She has no body armour or helmet, so wraps an emerald and orange embroidered keffiyeh around her forehead to, she says, help express her femininity. She watches the war through a pair of Specsavers glasses.
Taylor, though, does have military fatigues and a flak jacket that carries four magazines (30 rounds each) and two grenades. She also carries a small bag that contains bandages, a sealable dressing for chest wounds and a tourniquet. Few have a tourniquet and Taylor knows she is fortunate – without one, a wounded soldier could bleed to death in the remote villages where they are fighting. Most crucial is her rifle – made in 1978 in Soviet-era Poland, and which looks like it has been involved in every war since.
Taylor said she was prepared for death. She does not carry any lucky charms, but has the motto "One life" inked in Thai script on her left forearm. Although she had it done in a beach shack on KohSamui in Thailand 10 years ago, it serves as a reminder that life is fragile, that every day matters.
The pre-op briefings for the Raqqa offensive did not dilute the dangers that lay ahead. Casualties were predicted to be "significant". Already Taylor had noticed how Isis fighters were retreating from the villages that dot the river valley around Raqqa, withdrawing back to the city for the group's final showdown. "They've been preparing for this for so long. Hundreds and hundreds of us will die in Raqqa, I'm going to lose so many friends." She paused and exhaled slowly: "What we'll find inside the city will be unlike anything we've seen."
Some villages lie deserted after heavy fighting
At first the north-eastern corner of Syria when approached from Iraq seems a peaceful, plentiful land. Fields of wheat stretch to the horizon, towns bustle with hawkers, trading beneath huge portraits of the Turkish-Kurdish leader Abdullah Öcalan, leader of the militant PKK, and whose philosophy of direct democracy and feminism has been adopted wholesale by the neighbouring Syrian Kurds.
Full report here: theguardian.com/world/2017/apr/30/hundreds-of-us-will-die-in-raqqa-the-women-fighting-isis
---------
Controversial Muslim women's group hits back at Ben Fordham
TODAY show host Ben Fordham slammed a Facebook video from a group called 'Women of Hizbut-Tahrir Australia' for saying it is okay for Muslim men to hit their wives.
Members of an Islamic women's group condemned by TODAY host Ben Fordham for consenting to domestic violence against Muslim wives have retaliated to his comments.
Fordham yesterday passionately rebuked a video shared by the Women of Hizbut-Tahrir Australia that showed two members discussing Islamic teachings concerning men disciplining women.
They explain that according to their understanding of Islam, men can punish their wives by "hitting" them with a small stick or twisted scarf so as not to cause pain.
"It's very evident that this is symbolic in nature," one of the women said.
Fordham told TODAY viewers any violence against women was unacceptable.
"It's never okay to hit your wife. Never. That's called assault. If you hit a woman, you're a coward. It's not okay to hit your wife gently, or softly, or occasionally or any other way you want to spin it.
"It's assault. It's illegal. It's wrong."
The 'Women of Hizbut-Tahrir Australia' has caused widespread outrage over a video that attempts to explain how men can hit their wives.
But hours later, Women of Hizbut-Tahrir Australia shared a post on its Facebook page described Fordham as a "shock jock" … whose [career has] been built on the consistent shameless demonisation of Muslim women".
The group also took a swipe at some media figures and government ministers for playing down domestic violence.
It declared they were "the same folk who are a hundred times louder on 'terrorism' and 'extremism', simply because it sells, than on the domestic violence, which is a far greater menace in this country".
The group also recognised "the very understandable concern expressed from sections of our Muslim community" regarding the post and described domestic violence as "an abomination that Islam rejects in the strongest terms".
The video was condemned by the Turnbull government earlier this week.
Minister for Women Michaelia Cash released a statement saying the video was "abhorrent".
"These attitudes have no place in modern Australia," Ms Cash said.
"Attempts to teach the next generation of young Australian Muslims that violence from a husband to a wife is completely out of touch with community standards and should be condemned in the strongest possible terms.
"Domestic violence is abuse — plain and simple. It is not, 'a beautiful blessing' as the video describes it."
Silma Ihram from the Australian Muslim Women's Association has criticised the video's message, arguing Islam in no way condones violence.
"Unfortunately, patriarchal cultures and organisations continue to try and relegate Muslim women to domestic duties and control by their husbands," she told 9news.com.au.
"This was not the practice of the Prophet Muhammad (peace and blessings upon him) nor the intent of the jurists in their interpretations of Islamic law, and definitely should not be condoned in any form today."
9news.com.au/national/2017/04/14/11/08/muslim-women-hit-back-at-ben-fordham#Jw3fqetkSvRy78hw.99
URL:
https://www.newageislam.com/islamic-society/muslim-women-wearing-hijabs-enjoy/d/110965