New Age Islam News Bureau
30 Jul 2020
• Women Police Officers Join Makkah's Hajj Security Forces for First Time
• Arab Nations Cannot Afford to Ignore the Rise of Women's Football
• Afghan Girl Takes Up Motocross and Champions Women's Rights
• Emirati Female Footballer Smashes Most 'Hotstepper' Ball Control Tricks Record
• Human Rights Lawyer Contributes to The Winning Women's World Cup Bid
• US Women's Control Of $10 Trillion Set to Triple in A Decade
• British Women's 263-Day Tandem Bike World Tour Breaks Guinness Record
• Mexico Supreme Court Rejects State's Bid to Decriminalise Abortion
• Viral Female Empowerment Movement Taking Over Instagram
• Covid-19 May Increase Risk of Blood Clots in Pregnant Women, Warn Scientists
• Most Women Treated In New York City for Gynaecologic Cancers Not at Increased Risk of Death From COVID-19: Study
• World Bank Gives Zambia 142 mln USD To Support Women Empowerment, Girls' Education
• Women Business Owners: Filling the Gap with The Right Information
Compiled By New Age Islam News Bureau
URL: https://www.newageislam.com/islam-women-feminism/women-police-officers-join-makkahs/d/122503
-------
Women Police Officers Join Makkah's Hajj Security Forces for First Time
RUBA OBAID
Hajj began on Wednesday as pilgrims began their journey from the Grand Mosque in Makkah amid strict safety rules. (AFP)
----
July 29, 2020
JEDDAH: Saudi women police officers have been fronting Makkah's security force for the first time during this year's Hajj season.
Following last year's government announcement that women could join the military service, female officers have been able to join their male colleagues in policing the holy city for the Muslim festival.
And with strict measures in place to stop the spread of the coronavirus disease (COVID-19) outbreak, the pilgrimage has been very different from normal.
Afnan Abu Hussein, who was among the first batch of women cadets to graduate from police service training, told Al-Ekhbariya TV: "This is a source of pride and happiness for us. Hajj is a very busy season for us, unlike normal days."
"Each group of pilgrims has a leader to facilitate and control their movement in order to ensure social distancing," said Sari Asiri, director general of Hajj and Umrah affairs at the Ministry of Health.
"Moreover, each group is also accompanied by a health professional to monitor pilgrims' health status and assist them when needed," he added.
"We visited each pilgrim at their home and did an overall test for their health condition, and we monitored them on a daily basis until they safely arrived at their hotels in Makkah," Asiri said.
All workers serving pilgrims this year had also undergone health checks to ensure they were free of COVID-19, and Makkah hospitals and health centers have been readied to deal with any emergency.
Tarwiyah Day (fetching water), on Wednesday, was the first day of Hajj ritual. Pilgrims headed to the Grand Mosque to perform Tawaf and Saee between Safa and Marwah hills.
The few hundred pilgrims received at the Grand Mosque this year walked in their groups along specific pathways following their guide.
The movement protocols were designed and implemented by the General Presidency for the Affairs of the Two Holy Mosques in collaboration with the Ministry of Hajj and Umrah and security authorities.
The presidency has allocated specific entrance and exit doors for each group of pilgrims to prevent any crowding and ensure a smooth flow of movement and the organization of social distancing measures passed the efficiency test for the first day of Hajj.
Civil Defense Forces have stepped up their readiness in Mina to receive the pilgrims where they will spend the night before moving to Arafat mount.
Meanwhile, Saudi Public Security announced that it had arrested 244 violators of Hajj guidelines who had attempted to enter holy sites without permission. A spokesperson called on citizens and expats to abide by the law and Hajj instructions, stressing that security forces had imposed a tight cordon around Makkah and the holy sites.
Those caught at the holy sites without permission risk fines of up to SR10,000, with fines increasing for repeated violations.
Each year, about 2.5 million pilgrims descend on Makkah for the annual Hajj, but the COVID-19 pandemic has meant that only about 1,000 will be able to perform it this year.
https://www.arabnews.com/node/1711886/saudi-arabia
-------
Arab Nations Cannot Afford to Ignore The Rise Of Women's Football
ALI KHALED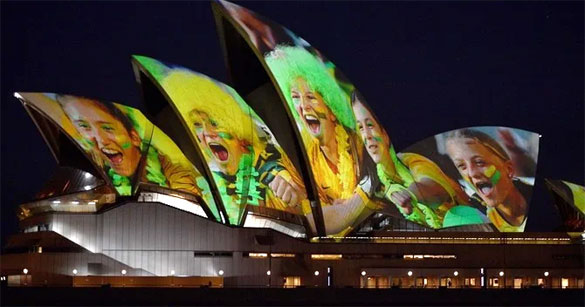 The women's game in the region cannot afford to fall behind much longer. (FILE/AFP)
---
July 29, 2020
DUBAI: On Sept. 25, 2005, a football match that few people will remember or even have heard of, took place in Amman, with hosts Jordan comfortably thrashing an overwhelmed Bahrain 9-0.
But the result mattered little. This was a football match with a difference for the beaten team; it was the first time that Bahrain's national women's team - established in 2003 - had taken to a football field.
Women's football had taken its first, small step in the GCC. It was only a matter of time before Gulf nations would follow other more established football neighbors like Jordan and Egypt in developing the women's game.
Fifteen years on, a revolution is taking place in women's football. But it's a revolution that seems to be going under the radar in the majority of the GCC, Arab countries and the Middle East at large.
On June 25, 2020, the announcement that Australia and New Zealand will co-host the 2023 FIFA Women's World Cup was warmly welcomed across the globe. More than a month on, the news has barely made any waves in the region, especially considering one of the co-hosts, Australia, is a fellow Asian Football Federation (AFC) member state.
The 2023 World Cup will also see the number of participating nations expanded from 24 to 32, in line with the men's competition, though the extra qualifying opportunities are unlikely to vastly improve the chances of Arab nations.
Across Asia, teams like Japan and China, as well as North Korea and South Korea, have for long been powerhouses in the women's game, and now Vietnam, Thailand and Uzbekistan are increasingly looking to close the gap on the heavyweights of Europe and the Americas as well. For now, the West Asian region is being left further behind.
Perhaps it's no surprise that the women's game has not captured the imagination, or even mere attention, of the regional public. No Arab nation has ever taken part in the FIFA Women's World Cup since its inception in 1988, and only a few ever make the AFC Asian Cup. Women's football, for long a traditional taboo, remains a novelty even in these days of cultural progress. That remains the case beyond this region.
At the same time, any criticism for lack of the progress of the women's game must come with acknowledgement of the socio-political environment, and hardships, that prevail in many Arab and Middle Eastern countries like Syria, Lebanon, Palestine and Iraq. In many cases, football and sports in general, for men as much as women, are fraught with political and cultural obstacles which render them of secondary concerns.
But perhaps that is as good a reason as any to ensure the current rise of women's football does not become the latest wasted opportunity; it's not just the sporting aspect of women's game that female athletes would be missing out on.
In recent years, women's football has become a driving force for equal rights in sports, and beyond, something many regional nations are striving to put right.
In particular, the 2019 World Cup in France was a revelation, a true game-changer for the women's game at so many levels. There were record attendances and worldwide record television audiences and perhaps for the first time ever, the tournament was enjoyed without the usual, stereotypical caveats.
Even the previous World Cup, in Canada in 2015, had seen major steps taken in the women's game, with the US Women's National Team (USWNT) as ever, leading the way.
American captain and star of the last year's World Cup, Megan Rapinoe, has for one transcended the sport to become a role model for aspiring female athletes and one of football's most vocal advocates for women's empowerment.
Ahead of winning the 2023 bid, Australia's women's team, the Westfield Matildas, took on Football Federation Australia and Fifa to achieve equal pay with their male counterparts. On Nov. 6, 2019 they won their case and the next World Cup will now stand as a beacon of gender equality and non-discrimination for female footballers.
It would be unfair and unrealistic to expect such giant steps to take place across nations were women's football remains embryonic, and nor is there is a complete lack of interest by West Asian federations in promoting the game in countries like UAE, Jordan and Bahrain, and with Saudi Arabia indicating huge leaps in the coming years too.
Jordan remains the highest women's FIFA-ranked Arab nation at 58, and thanks to the work of former FIFA Vice President Prince Ali bin Hussein and the Jordan Football Association, the team has won several regional tournaments and competed at continental level. And in captain Stephanie Al Naber, who had a spell playing at Danish club Fortuna Hjørring 10 years ago, they have a role model that young Jordanian footballers can aspire to emulate.
In 2018, the Women's Asian Cup was held at Amman International Stadium and King Abdullah II Stadium in the Jordanian capital, two years after the FIFA U-17 Women's World Cup had been a success. Jordan, as hosts, were the only Arab representatives in either competition.
In the UAE, a program of training for talented young Emirati girls over the last decade has raised the profile of the women's national team, with age group selections taking part in invitational tournaments in Asia and Europe.
Having established a women's team in 2004, a year after Bahrain, the UAE won the West Asia Football Federation (WAFF) Women's Championship in 2010 and 2011, albeit with a team of mostly nationalised foreign players. Last year in Bahrain, fielding a team of Emirati players, the UAE finished fourth.
The UAE Football Association (UAE FA) has provided significant funding for the national team programs, as well as the seven-team domestic league, with Houriya Al Taheri - coach and technical director with the UAE FA - and Omar Al Duri, formerly a coach with Ghana's World Cup squad, exerting a positive influence on a team now ranked 97 in the world, 13 behind Bahrain at 84.
In Saudi Arabia, Saja Kamal, a footballer with a massive online following has been leading a campaign to establish a senior national team in the Kingdom, and like Naber and Al Taheri, is a role model in her own right.
Women were only allowed into Saudi football stadiums as recently as 2017, but progress has accelerated in recent times. Earlier this year, an official women's league was launched in the Kingdom that aims to encourage participation at grassroots and community level.
The 2023 World Cup may come too soon to see an Arab team taking part in Australia and New Zealand. But it should be seen as an unmissable opportunity to learn the lessons that other nations have taken on board, and plan ahead.
Perhaps regional countries could follow suit and co-host international tournaments. That would easily be within the capabilities of the UAE and Saudi Arabia. Staging such competitions would indicate a commitment to the women's game and to gender equality. Above all, it will bring the game closer to young female football fans.
The women's game in the region cannot afford to fall behind much longer.
https://www.arabnews.com/node/1711731/sport
-------
Afghan Girl Takes Up Motocross and Champions Women's Rights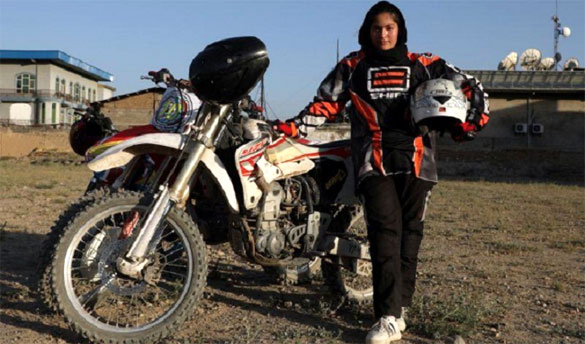 Negin Afshar took up motocross about a year ago after having competed for Afghanistan in athletics when she was younger. Reuters/Omar Sobhani
-----
Jul 29, 2020
For 16-year-old Negin Afshar, riding a motorbike around a dirt track in Kabul isn't just about the excitement. It is also a way to show that Afghan women can be tough too in a country where concerns are growing that hard-earned rights might be lost.
Encouraged by her parents, Afshar took up motocross about a year ago after having competed for Afghanistan in athletics when she was younger.
Wearing a white helmet and black and red motorbike suit, she trains with male riders on a barren lot surrounded by warehouses and private homes.
"When I saw the men motorcycling here, I decided to pursue motocross to inspire Afghan women and show that they can do this tough sport as well," Afshar said during a break from practice.
"I tried to be one of the first women to take this path, and I hope we can encourage others as well."
She and her mother worry that pursuing her passion may not be so easy in future, with the hardline Islamist Taliban movement bidding for a share of power in a country where it has led a ruthless insurgency since 2001.
When the group ruled Afghanistan in the late 1990s, girls were not allowed to attend school, women could not work and they had to wear all-enveloping burqas when they left their homes.
In recent months the Taliban has projected itself as more moderate, as it seeks to turn battlefield gains into formal recognition. Talks with a government-mandated committee remain stalled amid violence and mutual suspicion.
Asked whether she was concerned about the rights of girls and women being eroded should the Taliban return to power, Afshar replied: "God willing, this will not happen, because our government will not allow the Taliban to do so ... If they want to violate our rights, we will stand against them and resist. I will not leave my country, and I want to stay here and serve my country."
Her mother, Frishta Afshar, head of the women's committee of the National Motorcycling Federation of Afghanistan, agreed.
"Some people do not agree with this, and they have a negative view, while others agree and encourage," she said. "In any case, my husband and I will support her as much as we can, and we want to take Negin to the highest peaks of success."
https://www.tribuneindia.com/news/world/afghan-girl-takes-up-motocross-and-champions-womens-rights-119561
-------
Emirati Female Footballer Smashes Most 'Hotstepper' Ball Control Tricks Record
29 July 2020
By Hassan Ibrahim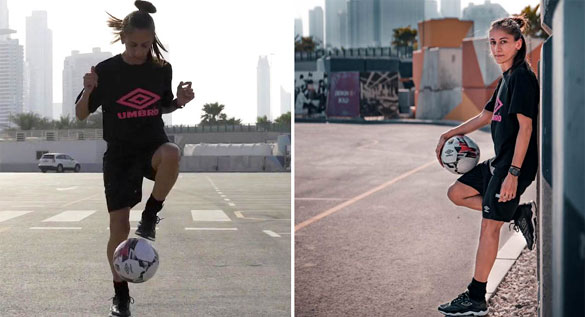 Areej made history by smashing the record for the most football 'hotstepper' ball control tricks in one minute,
-----
Many female footballers in the United Arab Emirates excel on a regional level, but one woman, by the name of Areej Al Hammadi, has gone a step further.
Areej made history by smashing the record for the most football 'hotstepper' ball control tricks in one minute, after completing 86 repetitions in total. A major jump on the previous record of 56 repetitions set in March 2020 in the UK.
"Not for ladies" is what Areej used to hear throughout her long career in women's football. With most of the attention focused on their male counterparts, Areej is keen to see women's football transform and take place at the forefront of the sport.
Areej-Al-Hammadi-during-her-attempt-to-break-the-record-for-the-most-football-hotstepper-ball-control-ticks-in-one-minute
Areej has paved her way to the top of women football in the MENA region.
She is a Creative Services professional by day and a footballer by night.
She has lived most of her life chasing opportunities in football, forming football teams both in school and during higher studies in the American University in Dubai, and attending many of the women's football championships within the MENA region. She finally made it to the UAE National Football Team.
When asked about how she went from being passionate for the sport to representing the national team she said: "Courage to pursue your own goals is a key, but with focus and commitment everything is possible if you have the will to do it."
"I aim to contribute to my country's improvement of women's representation at all levels of the game by challenging discrimination with hopes for big improvements in the sport industry globally."
Areej-Al-Hammadi-holding-a-ball-in-Dubai-after-breaking-the-record-for-the-most-football-hotstepper-ball-control-ticks-in-one-minute
Following three weeks of consecutive training, Areej took the challenge to break a world record within a residential area in Mirdif, Dubai, on a concrete ground outdoors, using a FIFA approved football.
"COVID-19 curfew had a massive impact on the sports industry, from gym closures to teams stopped from group training, but I wanted to do something special. I managed to break the record following a week of practice but wanted to raise the bar on this record title to keep it, at least for a while," Al Hammadi said.
The announcement of this record marks the launch of this year's Guinness World Records Day; the annual celebration of record breaking that takes place in November each year. This year's GWR Day (18 November) will celebrate the Discover Your World theme of the Guinness World Records 2021 book.
https://www.guinnessworldrecords.com/news/2020/7/emirati-female-footballer-smashes-most-hotstepper-ball-control-ticks-record-625080
-------
Human rights lawyer contributes to the winning Women's World Cup bid
July 30, 2020
Australia and New Zealand's successful FIFA Women's World Cup 2023 bid was assisted by an unassuming Griffith University human rights defender.
Professor Susan Harris Rimmer from the Law Futures Centre received the call up from Football Federation Australia and New Zealand Football for a human rights game plan after consulting on the 2018 Gold Coast Commonwealth Games.
"This is the first time FIFA has requested an independent human rights assessment for a Women's World Cup bid and as far as I can tell the first one to be written by a woman focused on women's issues," she said.
Professor Harris Rimmer recommended organisers minimise their environmental and economic impact on host cities and to mitigate homophobic, racist or discriminatory chants in stadiums and social media directed at players.
She also encouraged framing the Women's World Cup as an important contribution to recognising women's right and ability to participate in all forms of public life.
"Australians and New Zealanders identify strongly with sports and many of our heroes are athletes. This isn't just any sporting event, it's a moment for recognising women at the top of their game and celebrating them as champions.
"Australians and New Zealanders identify strongly with sports and many of our heroes are athletes. This isn't just any sporting event, it's a moment for recognising women at the top of their game and celebrating them as champions."
"Women can be champions. It sends a very strong message to young girls and women that they can be more than just supporters and facilitators of elite sports. There is a place for them on the field."
Professor Harris Rimmer sees this as an opportunity for Australia and New Zealand to become leaders in advancing women's sport and build on their shared legacy as pioneers in women's rights.
"There are still major issues around funding women's sports and access to sports equipment, training and infrastructure that male athletes take for granted.
"Women are also precarious players in the business of sport, their spots aren't guaranteed despite capably proving themselves often with much less."
When the Women's World Cup rolls around in three years, Professor Harris Rimmer said the event's success should not be measured purely in economic benefits but in how it inspires people.
"The world is so ready for this event, it could be something really special as the world needs a bright moment, something hopeful, shiny, good and which lifts everyone's spirits."
https://news.griffith.edu.au/2020/07/30/human-rights-lawyer-scores-womens-world-cup/
------
US women's control of $10 trillion set to triple in a decade
30 Jul 2020
American women control more than $10 trillion in U.S. household financial assets, an amount likely to triple within a decade.
The shift is being driven by aging baby boomers who are set to inherit wealth as they outlive their spouses, as well as by younger women who are becoming more financially savvy, according to a McKinsey & Co. survey of more than 10,000 affluent investors, almost 3,000 of whom are female financial decision-makers.
"An unprecedented amount of assets will shift into the hands of U.S. women over the next three to five years, representing a $30 trillion opportunity by the end of the decade," McKinsey said in its report, released Wednesday. Men in America currently control almost 70% of total assets, the consulting firm said. "After years of playing second fiddle to men, women are poised to take center stage."
The conclusions have implications for wealth management, where women represent just 15% of financial advisers. The industry, which has long been dominated by men, will need to come up with systematic ways to serve female customers, just as the automotive and real estate industries have done, McKinsey said.
https://www.livemint.com/
-------
British women's 263-day tandem bike world tour breaks Guinness record
JULY 29, 2020
By Ben Hooper
July 29 (UPI) -- Guinness World Records announced a pair of British women broke the record for fastest circumnavigation by tandem bicycle when they crossed the globe in 263 days, 8 hours and 7 minutes.
The record-keeping organization said Cat Dixon, 54, and Raz Marsden, 55, began their attempt in Oxford, England, on June 29, 2019, and cycled an average 80-100 miles per day on their tandem bike before arriving in London on March 18, 2020.
The trip took the two women through France, Monaco, Italy, Slovenia, Croatia, Bosnia and Herzegovina, Montenegro, Albania, Macedonia, Greece, Turkey, Georgia, India, Myanmar, Thailand, Malaysia, Singapore, Australia, New Zealand, United States of America, Mexico, Morocco, Spain and Gibraltar.
The women, who raised more than $50,000 for charity, not only broke the female version of the record, they also surpassed the male version of 281 days, which was set by fellow Britons Lloyd Edward Collier and Louis Paul Snellgrove.
Guinness announced the new record as part of the run-up to Guinness World Records Day, scheduled for Nov. 18. The theme of this year's event, which encourages members of the public to set their own world records, is "Discover Your World."
https://www.upi.com/Odd_News/2020/07/29/British-womens-263-day-tandem-bike-world-tour-breaks-Guinness-record/6711596043942/
-------
Mexico Supreme Court rejects state's bid to decriminalise abortion
29 July 2020
Mexico's Supreme Court has rejected a landmark injunction on abortion rights across the country.
The case revolved around an injunction granted in the eastern state of Veracruz, which would have effectively decriminalised termination in the first 12 weeks of pregnancy.
Campaigners hoped the ruling would set a precedent for similar injunctions in other states.
Abortion is legal in just two of Mexico's 32 states.
In an article last week, reproductive rights organisation GIRE said they hoped the court's decision would be a "historic opportunity" for pro-choice campaigners.
But at the hearing today, four out of the Supreme Court's five justices voted against upholding the injunction.
Last year, a judge in Xalapa, Veracruz, approved an injunction ordering the state's Congress to remove articles 149, 150 and 154 of the local penal code.
The case then went to Mexico's Supreme Court, which needed to decide whether to uphold that judge's decision.
Removing these articles would have decriminalised abortion in the first 12 weeks of pregnancy, allowed terminations for health reasons, and gotten rid of the time limit on abortions in cases of rape.
These changes were first recommended in a wide-ranging report on women's rights, published by the National Commission to Prevent and Eradicate Violence against Women (Conavim) and the National Institute for Women (InMujeres) in 2016.
Although this decision only affects Veracruz for now, campaigners said it could have had repercussions for the rest of the country, too.
In its article last week, GIRE said that if the injunction were to be upheld, Veracruz state congress should "modify its abortion legislation, thereby opening the doors and setting a precedent for other states to modify their local penal codes in the same terms".
While other states allow abortion after rape, there have been high-profile cases of women and girls in this situation being denied terminations.
In 2016, a 13-year-old girl in Sonora state was denied an abortion by health officials after a judge ruled that she was not raped, but was the victim of the lesser crime of "sexual coercion".
https://www.bbc.com/news/world-latin-america-53584575
-------
Viral female empowerment movement taking over Instagram
July 29, 2020
CHARLOTTE, N.C. — Millions of women are joining the movement to lift each other up on social media. Filling a lot of people's feeds with black and white images of themselves.
Big-time celebrities and maybe your own friend are joining hands to empower each other. It's spreading quickly because a part of the challenge is to post the picture and say #challengeaccepted but to also then privately message 50 other women to do the same.
Celebrities like Founder of Spanx Sara Blakely, actresses Kerry Washington and Reese Witherspoon have shared their female empowerment messages to their millions of followers.
Actresses Jennifer Aniston took the moment to encourage women to say, "and while I have you here, maybe the best way we can support other women is to REGISTER TO VOTE for the issues that affect women. Encourage all your friends, girlfriends, sisters, moms, daughters to do the same. The election is right around the corner, and we need to look out for each other AND love each other!"
That brings up the question, why was this challenge started in the first place? Some say it was a female empowerment response to Representative Alexandria Ocasio-Cortez's speech responding to remarks she claims Representative Yoho said to her.
Actress Jessica Biel posted that the movement was a global effort for women to support women, but specifically to highlight what is happening to women in Turkey.
Biel said in her post, "especially those whose voices are not being heard (here, and around the world). To the women in Turkey, we stand with you and hear you. And for the women here in the US — this is a reminder that we need to use our voices to protect each other... and vote on the issues that affect women."
https://www.wcnc.com/article/features/viral-female-empowerment-movement-taking-over-instagram/275-a004faf2-40a6-440e-afce-45b3b767d082
-------
Covid-19 May Increase Risk of Blood Clots in Pregnant Women, Warn Scientists
JULY 30, 2020
COVID-19 may increase the risk of blood clots in pregnant women, or in those taking estrogen with birth control or hormone replacement therapy, say scientists who call for the development of innovative animal experiment models to further study this association.
According to the researchers, including those from the Tufts University School of Medicine in the US, one of the many complications of COVID-19 is the formation of blood clots in previously healthy people.
They said the female hormone estrogen also increases the chance of blood clots during pregnancy, and in women taking birth control pills or hormone replacement therapy.
If infected with COVID-19, the risk of blood clotting could be even higher, and these women may need to undergo anticoagulation therapy, or discontinue their estrogen medicines, noted the research, published in the journal Endocrinology.
The scientists believe further research is needed to understand the effects of the novel coronavirus on coagulation, answering if the virus aggravates the risk of blood clots and strokes associated with oral contraceptive pills, other estrogen therapies, and pregnancy-associated risks.
"During this pandemic, we need additional research to determine if women who become infected with the coronavirus during pregnancy should receive anticoagulation therapy, or if women taking birth control pills or hormone replacement therapy should discontinue them," said Daniel Spratt, the study's corresponding author from Tufts University School of Medicine in Boston, US.
"Research that helps us understand how the coronavirus causes blood clots may also provide us with new knowledge regarding how blood clots form in other settings and how to prevent them," Spratt said.
However, the scientists said understanding the cause of blood clotting in COVID-19, including the intersecting effects of estrogen therapy or pregnancy, has several hurdles and will require innovative animal and tissue models.
"The emergence of this pandemic and the curious impact of this virus on hypercoagulability emphasise the continuing need for additional research into coagulation pathology in women," they wrote in the study.
According to the researchers, collaborative efforts between clinicians and basic researchers, and between endocrinologists and hematologists are necessary to understand the interactions between the novel coronavirus and pregnancy or estrogen therapy that could guide clinical management.
https://www.news18.com/news/world/covid-19-may-increase-risk-of-blood-clots-in-pregnant-women-warn-scientists-2744223.html
-------
Most Women Treated In New York City For Gynecologic Cancers Not At Increased Risk Of Death From COVID-19: Study
30 July, 2020
New York [USA], July 30 (ANI): Women receiving standard treatment in New York City for ovarian, uterine, and cervical cancers are not at increased risk of being hospitalised for -- or dying from-- COVID-19 due to their cancer, a new study shows.
The researchers found that neither having cancer nor receiving treatment for it, which can come with its own toxicities, worsened COVID-19 disease outcomes.
Led by researchers at NYU Langone's Perlmutter Cancer Center and NYU Grossman School of Medicine, the study showed that 121 women, ages 51 to 63, who were receiving standard treatments for such malignancies and who contracted the pandemic coronavirus had similar rates of hospitalization and death as those who only had COVID-19.
Publishing in the journal Cancer online July 31, the study showed that 54 per cent of the women (66 of 121) required hospitalization and among these, 25 per cent (17 of 66) died, for an overall death rate of 14 per cent. This is comparable to the results of another study, which showed a 21 per cent death rate among all 5,700 hospitalized patients with COVID-19 in the city, who were mostly male (60 per cent) and at greater risk of the disease, researchers say.
Having late-stage gynecologic cancer, cancer surgery, or high-dose chemotherapy also did not increase a woman's risk of dying from COVID-19.
Importantly, the work also found that 75 per cent of gynecologic cancer patients with COVID-19 had a mild form of the disease and recovered from their infection.
"Our study should be reassuring for women with gynecologic cancers who are worried that having cancer increases their risk of becoming seriously ill if they go to the hospital because of COVID-19," says study lead investigator Olivia Lara, MD, an oncology fellow in the Department of Obstetrics and Gynaecology at Perlmutter. These patients already contend with increased inflammation and imbalanced immune systems that, in theory, coronavirus infection could make worse.
"Women with gynecologic cancers have the same risk factors for dying from COVID-19 as women without these cancers," says study senior investigator Bhavana Pothuri, MD, MS, a professor in the Department of Obstetrics and Gynecology at Perlmutter.
These shared risk factors, she says, which overall double women's risk of dying from COVID-19, are being African-American or having two or more underlying health conditions, such as hypertension, obesity, and diabetes.
As part of the study, researchers reviewed the medical records of women treated for both COVID-19 and gynecologic cancer at area hospitals between March 1 and April 22, 2020. These included NYU Langone's Perlmutter Cancer Center, NYC Health + Hospitals Bellevue Hospital, Memorial Sloan-Kettering Cancer Center, Columbia University Medical Center, SUNY Downstate Medical Center, and the Montefiore Medical System.
Another study finding was that a small number (eight of 121) of participants receiving immunotherapy, drugs that harness the immune system to attack cancer cells, were three times more likely to die than women who were receiving standard radiation, surgery, chemotherapy, or a combination of these therapies. However, Pothuri cautions that the number of women receiving immunotherapy was not large enough to lead to any firm recommendations about clinical care. (or to result in any firm conclusions about clinical care)
Pothuri says the team has plans to analyze patient records for further insights into any factors that might lessen the impact of these underlying risk factors for COVID-19 on women with cancer, including how best to communicate with local community groups.
For now, Pothuri says, women should definitely not put off screening, diagnosis, or treatment of new cancers out of any additional fear they have about the risks from COVID-19. "The basic rules of cancer care have not changed during the pandemic," she says. "Early detection, screening, and care lead to more people surviving what remains a leading cause of death among American women.
http://www.businessworld.in/article/Most-women-treated-in-New-York-City-for-gynecologic-cancers-not-at-increased-risk-of-death-from-COVID-19-Study/30-07-2020-303078/
-----
World Bank gives Zambia 142 mln USD to support women empowerment, girls' education
July 30, 2020
The World Bank has given Zambia 142 million U.S. dollars which will go towards livelihood support for women and boost access to secondary education for disadvantaged adolescent girls in extremely poor households, the bank said on Wednesday.
In a release, the bank said the funds are for additional support to the Girls Education and Women's Empowerment which the bank has been supporting.
The Swedish International Development Association (SIDA) and the UK Department for International Development (DFID) which are jointly funding the program have also provided 35 million dollars co-financing grant.
According to the release, the project has supported more than 28,000 girls from poor households by covering their secondary school costs and about 75,000 women with livelihood packages, including life and business skills, mentorship and support to form saving groups.
The project, according to the release, is also supporting regular and predictable cash transfers to some 245,000 extreme poor and vulnerable beneficiaries which have gone a long way in improving basic consumption, resilience and investments in productive activities.
The financial support, according to the release, is to protect the basic needs and human capital of the poor.
"With this support, we are hopeful that better human capital outcomes will be attained through educating adolescent girls, empowering women and supporting the poorest households with longer-term investments, as well as enhancing government's capacity to manage such interventions," Sahr Kpundeh, the World Bank Country Manager for Zambia said in the release.
https://africa.cgtn.com/2020/07/29/world-bank-gives-zambia-142-mln-usd-to-support-women-empowerment-girls-education/
------
Women Business Owners: Filling the Gap with The Right Information
July 29, 2020
West Orange, NJ, July 29, 2020 (GLOBE NEWSWIRE) -- The Product Boss (https://TheProductBoss.com) is a New Jersey based, woman-owned company. They're working to help strengthen women globally with resources that teach them product-based selling.
Jacqueline Snyder and Minna Khounlo-Sithep saw a bigger, brighter future and went for it. Then they taught other women how to do the same thing. Entrepreneurs, take note. They're creating a trail of wealth not only for themselves but for the women they teach and guide. The women of The Product Boss offer information on their website, courses, and a top-rated business podcast. The Product Boss works hard to lift up other women, so they too can reach their dreams.
The Product Boss's area of expertise is an area that's often overlooked. While many businesses focus on service products, they help people learn the ropes of product-based businesses. With a gap in the market, they knew they could help. Jacqueline Snyder and Minna Khounlo-Sithep were skilled and knowledgeable in this field. Sharing that information with women who sell physical products became their mission.
In fact, they're so good at what they do, they created a mastermind group. Success? Absolutely. Not only are they thriving, but the businesses in the mastermind groups are seeing huge gains in their own businesses.
They speak on the importance of believing you can do something, and mention, many entrepreneurs have self-limiting beliefs about what they can accomplish. They put caps on what they think they can make financially. With masterminds and digital courses, they help business owners see beyond their self-imposed limitations.
One suggestion when starting out is to get a feel for the information you're considering jumping into. The Product boss offers free advice on their popular business podcast, which allows you to get a feel of what they're digital courses and masterminds offer. The podcast is accessible and offers a vast array of combined knowledge.
The Product Boss Podcast is a winner and a top business podcast on Apple's charts. It's important for the founders to lift up other women globally. They are inclusive in their reach, wanting to help women across the world find the answers that work for them.
When it comes to Jacqueline Snyder and Minna Khounlo-Sithep, they share a connection of not only being first-generation American's but also being the first in their families to get a college degree. They not only saw what was possible but went after it, grabbing the brass ring. The drive they feel in lifting other women and growing their community helps feed their continual success. Success breeds success.
For the entrepreneur thinking of starting a product-based business, it's time to check out The Product Boss. They're ready to help you thrive, once you get your feet on the ground and your business growing.
Their mastermind groups are for business owners who are already at the point of growth but need help taking the next step. These are six-figure and seven-figure businesses. Everybody has to start somewhere, but the key is learning to start.
One final note, they don't let change hold them back. Pivoting is crucial in today's world. With COVID-19, in a time when many businesses are crumbling, they grew stronger. With quick thinking, they helped their community learn new creative ways to work around the ever-changing issues.
By having multiple streams of revenue, there is more stability. They strongly stress that relying on one stream of revenue is limiting, and can destroy your business if something massive changes. By having multiple streams of revenue and visibility, you're able to adapt without losing your business.
If you'd like to know more about The Product Boss, be sure to check out their signature digital course, today. Their website makes it easy to see their full list of programs, resources, courses, and more.
You can find a grouping of their latest podcasts here or on your favorite podcast resource. The Product Boss Podcast covers topics such as strategies, leveling up, pivoting, being authentic, and so much more. They also interview multiple successful business owners, so you get a well-rounded look at how other businesses are thriving too.
https://www.globenewswire.com/news-release/2020/07/29/2069557/0/en/Women-Business-Owners-Filling-the-Gap-with-The-Right-Information.html
---------
URL: https://www.newageislam.com/islam-women-feminism/women-police-officers-join-makkahs/d/122503
New Age Islam, Islam Online, Islamic Website, African Muslim News, Arab World News, South Asia News, Indian Muslim News, World Muslim News, Women in Islam, Islamic Feminism, Arab Women, Women In Arab, Islamophobia in America, Muslim Women in West, Islam Women and Feminism