New Age Islam News Bureau
14 Feb 2018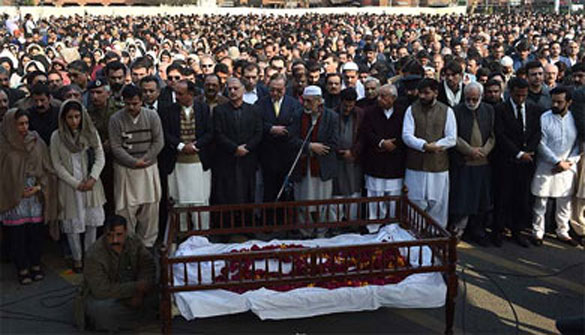 Photo credit: Geo TV, Asma Jahangir's 'Namaz e Janaza'
----
• Saudi Arabia's First Woman Tour Guide Earns a Place in History
• Taxi App Signs Up 1,000 New Women Drivers In Saudi Arabia
• Iraq's Girl Weightlifters Also Boost Family Finances
• Woman Accuses MQM's Salman Baloch of Sexual Assault
• Chibok Girls' Kidnapper Jailed For 15 Years
• WPC Steers Through KP Assembly Three Resolutions on Women Empowerment
Compiled by New Age Islam News Bureau
URL: https://www.newageislam.com/islam-women-feminism/tradition-cares-women-fore-asma/d/114278
--------
Tradition, Who Cares? Women to The Fore At Asma's 'Namaz Janaza'
By Zahra Hayat
February 14, 2018
As I walked into the stadium for Asma Jahangir's funeral, I initially couldn't spot any women. I hesitated, and tried to remember the logistics of death: do women even attend public funeral prayers? What if they ask me to leave? Then quickly, sanity returned. Would Asma Jahangir be having these thoughts? Never, she'd charge right in. So I channelled her, then, as I know I will many many times after today, stood up a little taller, and walked in. And of course, there were so many women. Many were lawyers. A sense of solidarity. We asked each other where the women's enclosure was, expecting any minute to be directed away from where her body was kept, to a separate female enclosure. There was none. Of course. As we crowded around the front, women and men, announcements began about starting the Namaz, and again, we expected to finally be told to step back and form lines behind the men. But instead, the men were asked to move to the back, and the women called to the front.
We prayed like that, standing next to some men, in front of others. No one objected, how dare they? It was beautiful, so fitting. I should've known - how could the woman who charged alone, quite literally, into all-male bar rooms, courtrooms, into all sorts of hyper male spaces, countenance that the women who came to say farewell to her, their hero, be shunted to the back? Such beautiful subversion, in death as in life. Farewell, Asma. Rest in power.
https://sabrangindia.in/article/tradition-who-cares-women-fore-asmas-namaaz-janaza
--------
Saudi Arabia's First Woman Tour Guide Earns a Place in History
NADA HAMEED
14 February 2018
JEDDAH: Saudi Arabia's first female tour guide is hoping she can inspire women in the Kingdom to follow in her footsteps.
Maryam Al-Harbi was recently named as best tourist guide for 2017 by the Saudi Commission for Tourism and National Heritage (SCTH), which praised her work to improve services available to visitors to the Kingdom.
Al-Harbi told Arab News that tour guides have a "major role to play in introducing the country to newcomers. The tour guide is an ambassador who conveys the country's culture and heritage to tourists and acquires other cultures in return."
She said her earlier studies in archaeology helped her develop a passion for historical stories and inspired her to become a tour guide.
"The (tour guide) profession at one time was reserved for men in Saudi Arabia, but some women's delegations wanted to have female guides," she said. "My university qualifications played a role in increasing demand for tour guides among Saudi women."
Al-Harbi also has qualifications in tourism from several government agencies.
She is also completing a master's degree in antiquities at King Saud University through its tourism and archaeology faculty. Next year the university will offer a special tourism degree for women, with a hospitality major through its department of events management.
Al-Harbi said that "besides Arabic and English language, I speak Turkish and now am working on improving my Chinese language skills."
She now guides visitors to Madinah, including private delegations, school students and university groups, as well as Umrah and Hajj visitors, and helps delegations visiting the provinces of Ola, Madain Saleh, Khyber and Badr.
Her next goal is to lead visitors to the historic town of Diriyah on the northwestern outskirts of the Saudi capital, Riyadh.
"Diriyah tells the real story behind the Kingdom," she said.
Saudi Arabia's Vision 2030 has highlighted the role of tourism and entertainment to help diversify the Kingdom's income and encourage private investment. As part of the project, tourist and heritage sites will be developed to encourage visitors from around the world.
http://www.arabnews.com/node/1246081/saudi-arabia
--------
Taxi app signs up 1,000 new women drivers in Saudi Arabia
February 14, 2018
A Middle Eastern taxi app has signed up almost 1,000 Saudi women for training in anticipation of the ban on women driving being lifted later this year.
The new drivers have been hired by Careem, a UAE-based ride hailing company with millions of users in neighbouring Saudi Arabia.
"We are very excited about this June, it is a big milestone for the country. We have already started training female [drivers] and we hope to get up to 100,000 on board within a year," co-founder Magnus Olsson said in an interview with Thomson Reuters' Zawya last week.
"We foresee very strong growth in Saudi Arabia."
Saudi Arabia's King Salman, at the behest of his son, Crown Prince Mohammed bin Salman, has issued a raft of royal decrees in recent months designed to liberalise some of the Islamic kingdom's conservative laws.
The most high profile announcement will allow women to drive in the conservative Islamic kingdom from 24 June.
The rapid reforms do not not fundamentally change the guardianship system which effectively makes Saudi women second-class citizens - but the ability to drive will give them an unprecedented taste of freedom.
Public transport is basically non-existent in the Kingdom, which to date has given ride hailing apps such as Careem and Uber a captive market.
Up to 70 per cent of Careem users in the country are women, and 80 per cent of Uber rides are ordered by women. Last year, it was reported that the Ministry of Labour was working to subsidise app rides for working Saudi women.
Saudi Arabia suffers from high unemployment, which climbed to 12.8 per cent last year. Of those jobseekers, 80 per cent are women.
The ability to drive will widen women's access to the job market - and allow them to become paid drivers themselves if they so wish.
Careem training sessions are already being held in Riyadh, Jeddah and al Kohbar for women who have valid driving licenses obtained abroad.
Careem - which operates in 13 Muslim countries and is valued at around $1 billion - hopes to recruit 100,000 female staff in Saudi Arabia in total as part of its expansion into the market, Mr Olsson said.
Forced to reckon with a global drop in oil prices, vast economic and social reform are part of Saudi Arabia's Vision 2030, the Kingdom's long-term blueprint for weaning the country off economic dependence on oil.
http://www.independent.co.uk/news/world/middle-east/careem-taxi-app-saudi-arabia-women-drivers-sign-up-middle-east-right-to-drive-a8208646.html
--------
Iraq's girl weightlifters also boost family finances
February 14, 2018
Baghdad — The weightlifters on Iraq's national women's team train hard every day, both to bring home the medals and to help ease the financial burden of running a home.
Jerking weights heavier than themselves at a rundown gym in Baghdad's conservative Shiite neighborhood of Sadr City, the young women and girls come together for three hours every day.
The girls are focused as they work out between the small gym's peeling pale mint walls, one of which is adorned with a giant painted Iraqi flag.
With their dark hair in high buns and dressed in team green tracksuit tops, black shorts and leggings, they raise an arm and turn from side to side to warm up.
Then they work out hanging from a pull-up bar, before moving to different mats to get down to the business of lifting weights.
"To those who say weightlifting is not for girls, I say we can do everything men do," says Huda Salim Al-Saedi, 20, patting chalk powder from her hands.
"I challenge men to lift weights and I'm proud of it," says the weightlifter, her eyebrows trimmed neatly and a black bandana keeping her hair from falling in her face.
Huda was one of the first to be recruited when coach Abbas Ahmed in 2011 set out to create Iraq's first national female weightlifting team.
At first, it was an uphill battle.
"It was very, very hard," says the former men's coach, who is now 54.
"Society rejected the idea," with conservatives considering the sport inappropriate for women and girls.
There was also no state funding for the project.
So Ahmed first approached families whose members were already fans of the sport.
Huda seemed like an ideal candidate. She had practised Taekwondo since the age of eight and had long been a fan of weightlifting on television.
Today, she's a cornerstone of the Iraqi women's team and its most promising member.
Huda helped to train her sister Hadeel, who just turned 17, and last year both of them competed in Asian championships.
The 20-year-old won bronze in the "snatch" discipline in her category at the Asian Championships in Turkmenistan, lifting 90 kilos in one swift motion above her head. She finished first overall at the Asian Junior Championship in Nepal.
Her younger sister Hadeel also competed there taking 10th place lifting 68 kilos in the "snatch," while in another competition in Kathmandu, the Asian Youth Championships, she came in fourth overall.
But beyond making their relatives proud, Huda and Hadeel's accomplishments have also provided their family with some financial security.
"Thanks to weightlifting, I have a salary and money to cover my family's needs every month," Huda says, with her sister's pay check also helping make ends meet.
The women's team is sponsored by the police club, which pays each of its eight members a monthly salary of $400 to $800 -- a considerable sum for some families.
If Huda and Hadeel did not receive support from the club, their family could not pay their monthly rent of some $330, their father Salim Noma says.
Over time, he says, support has grown for the girls in the conservative neighborhood.
"Everybody has ended up supporting them. They're welcomed as heroes every time they return from a competition," says Noma as he watches his daughters train.
Female weightlifting has provided an unexpected source of pride -- and safety net -- for some families in the working-class neighborhood.
Loujain Hazem, 15, gave up her studies to focus on the sport, winning a silver medal at the West Asia championships in Jordan last year.
"Our coach has taught us determination and perseverance," she says.
"I'm sure our efforts will pay off, in terms of both weightlifting and money."
The younger generation is also dreaming big.
Every day after shool, the father of 12-year-old Roqaya picks her up and they weave through the traffic jams of Baghdad on his moped to the gym in Sadr City.
With her hair tied in a pink bow, she lifts two large red weights above her head.
"I hope one day to take part in the Olympics," says Roqaya, already aiming high. — AFP
http://www.saudigazette.com.sa/article/528288/World/Mena/Iraqs-girl-weightlifters-also-boost-family-finances
--------
Woman Accuses MQM's Salman Baloch of Sexual Assault
FEBRUARY 13, 2018
KARACHI: A woman on Tuesday alleged that Muttahida Qaumi Movement-Pakistan (MQM-P's) lawmaker Salman Mujahid Baloch sexually assaulted her at Parliament Lodges.
The woman filed a complaint against the MQM-P's leader at Gulshan-e-Iqbal police station claiming that Mujahid called her to Islamabad on the pretext of giving her a job.
"Mujahid sexually assaulted me and made a video of it from a hidden camera," claimed the woman.
She also alleged that Mujahid promised to tie the knot with her but, later, he backtracked.
The woman further claimed that MQM-P's leader demanded Rs 4 million in exchange for the video.
She also accused Mujahid of kidnapping and torturing her brother.
However, Mujahid has denied all the allegations and termed the latest episode as a "conspiracy" against him. " I had already filed a complaint against this woman on December 16 last year," he said.
He claimed that the woman fraudulently borrowed Rs 4million from him for her mother's treatment. "I came to doubt her when asked for more money," said Mujahid.
According to the lawmaker, the case is in the court.
https://dailytimes.com.pk/201134/woman-accuses-mqms-salman-baloch-sexual-assault/
--------
Chibok Girls' Kidnapper Jailed For 15 Years
February 14, 2018
KANO - A man involved in the 2014 kidnapping of more than 200 schoolgirls from Chibok in northeast Nigeria has been jailed for 15 years, the government confirmed on Tuesday.
The conviction of Haruna Yahaya, 35, is the first in relation to the mass abduction, which triggered global outrage and sparked a worldwide campaign for the girls' release.
A total of 276 students were seized from the Government Girls Secondary School in the remote town in Borno state on the evening of April 14, 2014.
Fifty-seven escaped in the immediate aftermath. Since May 2016, a further 107 have escaped, been found or released after government talks with the militants, leaving 112 still in captivity.
Justice ministry spokesman Salihu Isah said Yahaya admitted to being involved when he appeared at a special court trying hundreds of Boko Haram suspects on Monday.
Nigeria began prosecuting people arrested during the insurgency last October, starting with 1,669 suspects held at a military detention facility in Kainji, in the central state of Niger.
"It is true that a member of Boko Haram who took part in the kidnapping of the Chibok schoolgirls was given 15 years jail," said Isah.
"Haruna Yahaya, who is 35 and handicapped with a paralysed arm and a deformed leg, was arrested in 2015 by the Civilian JTF," he said, referring to the joint task force militia.
"He confessed to having taken part in the abduction."
Isah said Yahaya's defence lawyer "pleaded for leniency" on the grounds that he was "forcibly conscripted into the group and he acted under duress".
Yahaya was previously a trader in the town of Potiskum, in Yobe state, northeast Nigeria. He claimed he was forced to carry an AK-47 assault rifle during the Chibok abduction.
Boko Haram has used kidnapping as a weapon of war in its quest to establish a hardline Islamic state in northeast Nigeria, seizing thousands of women, young girls and men of fighting age.
"But the court dismissed his plea on the grounds that he had the option not to take part in Boko Haram activities... His sentence starts from the time of conviction," said Isah.
Yan St-Pierre, a counter-terrorism specialist with the Modern Security Consulting Group, said: "Involvement with Boko Haram is not necessarily voluntary. But it's very difficult to prove."
The presence of young boys in the Islamist ranks was an indication of coercion but others in the impoverished region may become involved for financial reasons, he added.
A total of 468 of the 1,669 Boko Haram suspects held at Kainji were released last year after it was found they had no case to answer.
Forty-five others were sentenced to between two and 15 years in jail, and 28 had their cases transferred.
A further 82 pleaded guilty in exchange for a lesser prison sentence or release taking into account time served in custody.
On Monday, 19 defendants were jailed for between three and five years, said Isah.
Once the cases at Kainji are finished, the courts will move to Iwa barracks in the Borno state capital, Maiduguri, to try 651 others held there.
Boko Haram has also targeted Chad, Cameroon and Niger, where fighters have been prosecuted behind closed doors. Niger is looking to introduce deradicalisation and reintegration schemes.
Nigeria's government initially banned the media and public from attending the trials, sparking criticism from the UN and human rights groups.
But the second phase of proceedings at the remote military base have now been opened to some civil society groups, including human rights organisations and the media.
Nearly nine years of conflict have left at least 20,000 dead and forced 2.6 million others from their homes, triggering a humanitarian crisis across the region.
Nigeria's military has been accused of arbitrarily arresting civilians and holding them for years on end without access to lawyers.
Conditions have been described as overcrowded and unsanitary, while detainees have allegedly been tortured, died from illness or disease or were summarily executed.
St-Pierre said questions remained about the reliability of Nigeria's justice system. "One trial is not going to change years of abuse," he added.
https://nation.com.pk/14-Feb-2018/chibok-girls-kidnapper-jailed-for-15-years
--------
WPC steers through KP Assembly three resolutions on women empowerment
February 14, 2018
PESHAWAR: The US Agency for International Development (USAID) and a local NGO called Pak Women supported the women parliamentary caucus (WPC) of Khyber Pakhtunkhwa (KP) to pass through the KP Assembly three landmark resolutions that will facilitate and empower women while providing them broader opportunities to earn a living.
The three Resolutions, titled 'Inclusion of subjects/skills like commerce, science, technology and IT etc. for development/mainstreaming of women'; 'Increase of women job quota from 10 to 15 per cent to provide jobs to women and make them economically independent'; and 'Declaration of maternal deaths is notifiable' were drafted in August 2017 through the USAID-funded Khyber Pakhtunkhwa Governance (KPG) project and were tabled for the assembly's review and concurrence in January 2018.
Following the assembly's approval, letters of instructions were issued to the social welfare and women development department, the agriculture, livestock and dairy department, and the health department for the implementation of these resolutions within two months.
MPA and WPC Chairperson Meraj Humayun said, "These resolutions are a precursor to legislation and will bring long-standing issues into immediate focus. The resolutions will open the way for improvements in the overall environment if the departments are made more gender sensitive and supportive to female issues."
The successful passage and unanimous political support for these critical resolutions will bring the province into alignment with the universal declaration of human rights, and a step closer to making sustainable development goal on gender equality a reality.
MPA and member of the women caucus Amna Sardar termed these resolutions a giant leap in the direction of the emancipation of women. "Without USAID support, these would not have seen the light of the day. These [resolutions] will definitely enhance and affect women participation in other departments too," she said.
Pak Women CEO Azra Gul praised USAID's support and said, "KP's economy is dependent 70 per cent on agriculture for its revenue and contribution to the country's gross domestic product and per capita income. Therefore, increased participation of women in the agriculture sector will greatly contribute to the country's GDP."
https://www.pakistantoday.com.pk/2018/02/13/wpc-steers-through-kp-assembly-three-resolutions-on-women-empowerment/
--------
URL: https://www.newageislam.com/islam-women-feminism/tradition-cares-women-fore-asma/d/114278
New Age Islam, Islam Online, Islamic Website, African Muslim News, Arab World News, South Asia News, Indian Muslim News, World Muslim News, Women in Islam, Islamic Feminism, Arab Women, Women In Arab, Islamophobia in America, Muslim Women in West, Islam Women and Feminism