New Age Islam News Bureau
4 Jul 2019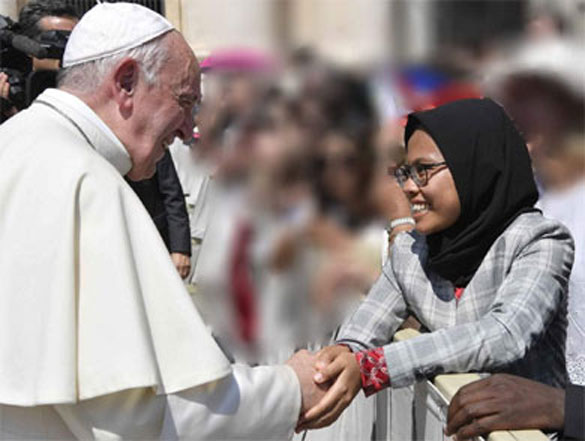 Dewi Praswida, a 23-year-old student from Indonesia, shakes hands with Pope Francis on June 26. Dewi has become an internet sensation after the picture went viral. (Facebook/Dewi Praswida)
------
• Picture of Indonesian Muslim Woman Shaking Hands with Pope Francis Goes Viral
• 152,000 Saudi Women Work In Construction Sector: SCA
• Pakistan Coal Plants Help Women Make A Living
• Afghanistan Women's Coach 'Disgusted' With FIFA President Over Abuse Scandal
• Muslim Woman Masquerades As Hindu At Protest Over Mob Lynching
• Women Working Under Deplorable Conditions In The Green-House Complex
Compiled by New Age Islam News Bureau
URL: https://www.newageislam.com/islam-women-feminism/talaq-notices-supreme-court-india/d/119079
--------
Talaq Notices: Supreme Court of India Refuses To Entertain Muslim Woman's Plea
Jul 3, 2019
NEW DELHI: The Supreme Court on Wednesday refused to entertain a Muslim woman's plea challenging two notices of Talaq given by her husband saying it cannot entertain a writ petition on the issue.
A bench of Justices R Banumathi and A S Bopana disposed of the plea saying that it is not a court where Talaq notices could be challenged, granting her liberty to move an appropriate forum for relief.
Advocate M M Kashyap, appearing for the woman said the process of Talaq-e-hasan under the personal law was not followed.
The bench said it cannot go into the merits of the plea and the petitioner should approach the appropriate forum.
The woman, who claimed to have been married to the man for nine years, has also sought registration of FIR against the husband for giving her the notices— the first on March 25 and the second on May 7.
The plea said the woman got married on February 22, 2009 as per Muslim rites and customs and has two children of nine years (boy) and six years (girl) age.
She contended that the apex court had on August 17, 2017 held the practice of Triple Talaq among Muslims as unconstitutional and the notices given by the husband were violative of that order.
The woman, a Delhi resident in her plea has said that her husband and in-laws started harassing and assaulting her after the marriage for want of additional dowry and a car.
She said the The Muslim Women (Protection of Rights on Marriage) Ordinance, 2019, which was promulgated in January 12, is in her favour.
https://timesofindia.indiatimes.com/india/talaq-notices-sc-refuses-to-entertain-muslim-womans-plea/articleshow/70057911.cms
--------
Picture of Indonesian Muslim Woman Shaking Hands with Pope Francis Goes Viral
4 Jul 2019
JAKARTA (ANN): A picture of a Muslim woman from Indonesia shaking hands with Pope Francis has gone viral on the internet.
The woman in question, Dewi Praswida, is a 23-year-old student who was visiting the Vatican to take part in an interfaith dialog fellowship.
Dewi got the opportunity to shake hands with Pope Francis in St. Peter's Square on June 26. At that time, Dewi introduced herself as a Muslim from Indonesia.
Her post gained attention after political observer Fadjroel Rachman posted the picture on his Instagram account (@fadjroelrachman) on Sunday.
The picture, which had gained over 11 thousand likes by Wednesday, has been reshared by multiple social media accounts and news outlets ever since. - The Jakarta Post/Asia News Network
https://www.thestar.com.my/news/regional/2019/07/04/picture-of-indonesian-muslim-woman-shaking-hands-with-pope-francis-goes-viral/
--------
152,000 Saudi Women Work In Construction Sector: SCA
July 3, 2019
Fadl Al-Buainain
RIYADH — The Saudi Contractors' Authority (SCA) has claimed that about 152,000 Saudi women work in the Kingdom's construction and contracting sector.
According to statistics for the fourth quarter of 2018 released by the SCA, expatriates constituted 85.39 percent of the total number of the workers in the sector with Saudis only accounting for 14.61 percent.
More than 3 million expatriates were employed in the Saudi construction and contracting sector by the end of last year while there were about 511,000 Saudi nationals, including 152,000 Saudi women, according to the SCA figures quoted by the Arabic daily Al-Watan on Wednesday.
Economic expert Fadl Al-Buainain questioned the accuracy of the statistics about women working in the sector. He said it was true that some big contracting and construction companies might have created job opportunities for women but this number would be limited in all cases.
"Their number could be nowhere near 152,000. This is downright example of fake Saudization. What will the women do in the sector of contracting and construction?" he told Al-Watan.
The authority said the number of the workers in the sector were 4.2 million in 2017 but their number came down to 3.5 million in 2018.
It said there were 162,446 contracting and construction establishments in the Kingdom in 2018, up from 16,262 at the end of 2017. About 43,000 of them were in Riyadh, 32,000 in Makkah, 24,000 in the Eastern Province and 16,000 in Qassim.
The SCA said there were 91,000 construction companies, 43,000 for specialized construction and 1,300 for civil engineering consultation.
http://saudigazette.com.sa/article/570755/SAUDI-ARABIA/Their-number-could-be-nowhere-near-152000-This-is-downright-example-of-fake-Saudization-What-will-the-women-do-in-the-sector-of-contracting-and-construction
--------
Pakistan Coal Plants Help Women Make A Living
by Osama Bin Javaid
July 04, 2019
The discovery of a large coal reserve in Southern Pakistan is changing the way families have lived for generations.
Women in poor rural communities mostly worked in the home or in the fields.
But now a new coal plant in Tharparkar is offering these women an opportunity to earn their own money.
https://www.aljazeera.com/news/2019/07/pakistan-coal-plants-women-living-190703140731994.html
--------
Afghanistan Women's Coach 'Disgusted' With FIFA President Over Abuse Scandal
4 Jul 2019
LYON, France (Reuters) - The coach of the Afghanistan women's soccer team said on Wednesday she was disgusted with FIFA and its president Gianni Infantino for not taking action earlier and more rigorously to investigate an abuse scandal that engulfed soccer there.
Last month, global soccer body FIFA banned for life the former president of the Afghanistan Football Federation (AFF) after its ethics committee found him guilty of abusing his position and sexually abusing female players.
The former AFF president, Keramuddin Keram, has not yet responded to the ban and the AFF could not be immediately reached for comment.
FIFA began its investigation in December into the alleged abuse of at least five Afghan female soccer players between 2013-18. However, the team's coach, Kelly Lindsey, said she and the players had raised concerns to FIFA and the Asian Football Confederation much earlier but were rebuffed.
"Even when you put in a report you get nothing back. Nobody responds. You can send it through all layers of AFC and FIFA -you'll get nothing back," said Lindsey, an American.
In response to her comments, a FIFA spokesperson told Reuters in an email: "In early 2018, FIFA was made aware of sexual abuse allegations in Afghanistan football and immediately began to investigate these serious matters in a way that would ensure... the safety and security of those abused and their families."
The spokesperson added that they were working with United Nations human rights agencies on the matter.
Afghan President Ashraf Ghani ordered an investigation after Britain's Guardian newspaper reported in November that senior figures linked to the women's team alleged that some players had been molested by federation officials. The AFF has previously called the allegations "groundless".
Lindsey, who first learned of the abuse when on a training camp with her players around February 2018, said neither she nor her staff had been asked to meet with FIFA to coordinate on their investigation.
When asked what she would say to Infantino, re-elected unopposed last month, if she met him, the 39-year-old said: "I'm disgusted by him and I would say to his face. I'm disgusted that this is the response that was given to a case like this.
She said she had lost respect for the FIFA process on such issues and hoped the body was working to come up with a better system, adding, "They cannot continue like this and just let players, coaches, referees be abused behind the scenes and brush it under the rug."
Meanwhile, Lindsey said the women involved in the case were now in hiding having been resettled, forced to learn new languages and feared for their lives.
'DARE TO SHINE'
The launch of Wednesday's campaign was held in a hotel in Lyon, not far from where fans gathered in an official FIFA fan park ahead of the second women's World Cup semi-final between Sweden and the Netherlands.
The 24-team tournament has been arguably the most competitive in the history of the women's game, however Lindsey said she was bothered by the event slogan - "Dare To Shine".
"'Dare to shine' and then you're letting this darkness and these things behind the scenes sit and brush them under the rug and let these individuals, these human beings suffer in a game that we all love?"
Former FIFA vice president Prince Ali set up the "Fearless Football" petition through his Association Football Development Programme Global group. The aim of the campaign is to get governing bodies to put in place a zero-tolerance policy in regard to the mistreatment of women and girls.
The petition has been signed by former footballers such as Robert Pires, Jamie Carragher, Kelly Smith and Gerard Houllier.
Having experienced life in FIFA's executive committee during the corruption scandals under the body's former president Sepp Blatter, the Jordanian said that the body had not done enough to tackle human rights abuses in the game.
"When I was an executive committee of FIFA all the talk was about corruption in the sport, which obviously is a huge, huge issue," he told Reuters.
"But this subject was never broached. And looking into it, it's really endemic and it's not just in Afghanistan but it's been going on in places around the world."
https://www.thestar.com.my/sport/football/2019/07/04/afghanistan-womens-coach-disgusted-with-fifa-president-over-abuse-scandal/
--------
Muslim Woman Masquerades As Hindu At Protest Over Mob Lynching
3rd July 2019
The above message has been shared on social media platforms along with a set of photographs. In one of the photos, a young woman can be seen holding a placard that says, "I am a Hindu and I love Muslims. Muslims are my brothers, sisters and spouses. You killed our Tabrez, we all are Tabrez, your hate is too small in front of us all #NotoHindutvaterrorism". Another image shows a woman dressed in pink, with an infographic that wishes Eid, with the name Sabiha Khan written on it. A protest was held in the national capital in June over the lynching of Tabrez Ansari in Jharkhand.
The above post is from the Facebook group I Support Yogi, and has been shared over 2100 times so far. It has also been posted on the page NAMO Youth Brigade and India Fans. Moreover, several individual users have posted it on their timelines. For some of these instances, the share count is significant.
FALSE CLAIM
The lady in question is not Sabiha Khan, as claimed. Alt News contacted her to confirm her identity and managed to access her driving license. Her name is Swati and she is a Delhi-based college student. Alt News is withholding her full name at her request. She gave us a detailed statement which is posted below.
Yes I stood up for Tabrez and many like him whether they were Muslims, Hindus, Sikhs, Christians or anyone else. I and many like me stand for humanity for which this country is known for. I spoke against hate and I feel only Love can conquer it.
That night when we protested against the mob lynching of Tabrez, I went like any other dissappointed citizen tired of explaining both my Hindu and Muslim friends that these crimes are there to divide us and the day we stop getting divided at any cost, the crimes will stop. I have been standing against all the atrocities that happen in our country in the name of religion or caste like that of Pehlu Khan, Akhlaq, Ankit Saxena, Najeeb, Dr. Payal Tadvi, etc. I have been part of many protests.
I feel that I carry a responsibility as an Indian and also a part of Hindu family to defend my own Hindu community that we do not wish to harm any life. I wish to give this message to our Muslim community that THEY ARE US.
Many people online did what-aboutery in this case but I wish they understood that people like me are not selective, its the politicians who sometimes are selective because they desire votes, not people like us. I feel bad as well because some of my own college mates harrassed me online for propagating our constitutional duty as citizens of India.
A-51A of the Indian Constitution says that it is our Fundamental duty to abide by the Constitution and respect its ideals, to promote harmony and the spirit of common brotherhood amongst religious, linguistic and regional or sectional diversities.
I just did my fundamental duty as a law abiding citizen of India and I hope our parliamentarians and their supporters understand that respecting and abiding by the constitution is the biggest national duty one can do as a civilian. I hope we all stay strong and together no matter what happens. This country stands on love and it will stand tall forever.
India has a VIBGYOR colour, no colour can dominate the other. We are a country with colourful problems and colourful solutions. Therefore, I reject to be the colourblind citizen of India.
Thank you.
– Your fellow citizen of India.
WHO IS SABIHA KHAN?
Two other photographs which show a woman clad in pink have been circulated with the claim that she is the same lady seen in the picture of the woman holding the placard. Alt News found that this woman is indeed Sabiha Khan. She is a leader of the Hyderabad based political party, All India Majlis-e-Ittehadul Muslimeen (AIMIM). Sabiha Khan has a dedicated Facebook page with a significant following of over 180,000.
Moreover, the facial features of the two women are markedly different.
In all probability, the confusion surrounding the identity of the lady with the placard was caused by a post by Sabiha Khan on her official page, in which Swati's photo with the placard was posted.
Alt News found that photographs of a poet have also been shared with this false claim.
Alt News contacted Huma Shehnaz who confirmed that two of the photos posted along with this claim are hers.
It may be reiterated that this is a false claim- the lady holding the placard is not Sabiha Khan, but Swati, a student based in Delhi.
https://www.altnews.in/zee-news-falsely-claims-mahua-moitra-plagiarised-her-maiden-parliament-speech/
--------
Women Working Under Deplorable Conditions In The Green-House Complex
Jul 4, 2019
Women are working under deplorable conditions in the green-house complex in Sanandaj, capital of the Iranian Kurdistan Province in the west.
The green-house complex belongs to the graduates of agriculture in Kurdistan – Sanandaj, and is affiliated with the Ministry of Agricultural Crusade.
Only women work in these green houses. Seven women work at every green house from 7 a.m. to 7 p.m. where the weather is intolerably warm. Women work 12 hours a day in these green houses in the heat of 56 degrees Celsius, and receive only 37500 tomans ($2.5) as daily wage.
None of these women have insurance. The pressure and difficulty of work in the super-hot weather in these green houses have caused various illnesses for these women and a number of them have been hospitalized.
Women workers work under deplorable conditions in Iran because women are systematically discriminated against in the law, in the job market and in employment. So, they have to endure double oppression.
They have to accept just any job with any income and under any difficult circumstances in small workshops which do not have to comply with the labor law. So, those who work in these workshops do not enjoy any legal support, benefits, insurance or safety. Some experts have called the tortuous conditions for female workers as "new slavery."
The Iranian regime, which is a member of the UN Commission on the Status of Women (CSW), has not adopted any of the CSW recommendations to improve women's economic empowerment, and is moving in the opposite direction.
Instead of "eliminating structural barriers and discriminatory laws" and "creating equal economic opportunities," the regime sanctions more discrimination against women and its legislations marginalize them even further.
As reiterated by the mullahs' Supreme Leader Ali Khamenei "the issue of women's employment is not among the main issues."
https://women.ncr-iran.org/2019/07/04/women-working-under-deplorable-conditions-in-the-green-house-complex/
--------
URL: https://www.newageislam.com/islam-women-feminism/talaq-notices-supreme-court-india/d/119079
New Age Islam, Islam Online, Islamic Website, African Muslim News, Arab World News, South Asia News, Indian Muslim News, World Muslim News, Women in Islam, Islamic Feminism, Arab Women, Women In Arab, Islamophobia in America, Muslim Women in West, Islam Women and Feminism