New Age Islam News Bureau
1 Dec 2018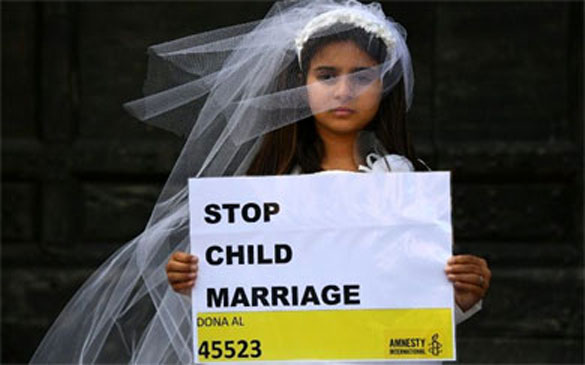 In a statement, Mais said it has agreed to make the requirements for marrying a child stricter to safeguard the child's interest and prevent harm, rather than abolishing child marriage altogether. ― AFP pic
-----
• Women Can Build Their Way in UAE's Construction Sector
• Egyptian Girls Dominate Women's Squash Championship 2018
• Egyptian Women Race in Cairo to Campaign for End to Violence
• Objections from Family, Hospital Delay Sikh Girl's Wish To Donate Kidney To Save Muslim Friend
• Fez to Host Arab-German Symposium on Women's Empowerment
• UAE Expat among 5 Female Scientists to Win Dh83, 400 UNESCO Fellowships
• Sisi Bestows Order of Sports Merit on Women's Squash, Football Teams
• How A Yemeni Woman's Path to Freedom Led Her to Malaysia
• Omani Woman Scientist Wins Fellowship for Research in Biofuels
• Omani Women's Association Gets a New Home in Nakhal
Compiled by New Age Islam News Bureau
URL: https://www.newageislam.com/islam-women-feminism/selangor-records-48-underage-marriage/d/117036
--------
Selangor Records 48 Underage Marriage Applications from Muslims This Year
30 NOV 2018
SHAH ALAM: Selangor recorded a total of 48 underage marriage applications involving Muslim couples as of Oct 31 this year, said Menteri Besar Amirudin Shari (pix).
He said of the total, 34 applications had been approved while 14 were rejected.
"For the non-Muslim marriage's registration it falls under the purview of the Registration Department," he said this at the State Legislative Assembly sitting here today.
Amirudin (PKR-Sungai Tua) said this when responding to a question from Elizabeth Wong Keat Ping (PKR-Bukit Lanjan) who wanted to know the number of applications and approvals for underage marriage involving Muslim couples during the period.
Replying to a question from Lim Yi Wei (DAP-Kampung Tunku) who wanted to know the number of underage Muslim marriage applications recorded after the amendments of the Islamic Family Enactment (State of Selangor) Enactment 2003 (Amendment 2018) passed, Amirudin said thus far no application had been received.
"This is because we are still using the previous enactment as the new enactment will only come into effect from January 2019," he said.
On Sept 5, Selangor State Assembly passed the Islamic Family Enactment (State of Selangor) Enactment 2003 (Amendment 2018) which, among others, regulates the minimum age limit of Muslim marriage from 16 to 18 years in the state.
Amirudin when presenting the motion then said that under the amendment every marriage application for those under the age of 18 have to obtain permission from a Syariah Court judge in Selangor.
Prior to the amendment, Section 8 of the Islamic Family Enactment (State of Selangor) 2003 had determined that the minimum age of marriage for Muslim men was not less than 18, and for Muslim women not less than 16.
Selangor was the first state to amend the Islamic Family Enactment (State of Selangor) 2003 regarding the minimum age limit of Muslim marriage in the state, following the issue of 11-year-old girl's marriage to a 41-year-old man in southern Thailand earlier this year.
The amendment was approved by the Sultan of Selangor, Sultan Sharafuddin Idris Shah who viewed cases involving Muslim underage marriages seriously because of the negative impact on the couple's future as well as its implication on society. — Bernama
https://www.thesundaily.my/local/selangor-records-48-underage-marriage-applications-from-muslims-this-year-LX189490
--------
Women Can Build Their Way in UAE's Construction Sector
November 30, 2018
While the construction industry remains a traditionally male-dominated industry that presents a number of challenges for women, several key players across the UAE are taking a number of steps to encourage women to pursue careers in the industry, experts at The Big 5 Women in Construction Seminar & Awards said.
"The UAE government is setting an example, with federal institutions leading the way in implementing the UAE's vision to boost gender parity. Today, nine female ministries are part of the country's Cabinet, and a UAE Gender Balance Council is at work to support women's empowerment and promote equality," said Josine Heijmans, portfolio director of The Big 5.
Dr Shetha Al Zubaidi, CEO of Alfahim Avenue Group of Companies - Brookson Project Management, noted that the presence and status of women in engineering has improved dramatically over the last half-century. However, the progression of professional women into positions of leadership has been slow.
"Many women have worked hard to take gender out of the equation to simply be recognised for their skills and talents. Integrating leadership into one's core identity is particularly challenging for women, who must establish credibility in a culture that is deeply conflicted about whether, when, and how they should exercise authority. In Dubai, women have a lot of opportunities within the world of engineering, but I still think we have some way to go before both sexes are equally represented in construction leadership positions. Engineering still needs more women."
"The most significant reasons why you haven't got enough women in the senior side of the industry is the barriers they face re-entering the workplace after having children. But if the industry is to deliver the billions of essential infrastructure projects the country has lined up, it is essential to keep this workforce in place and attract them back into the industry after a career break," Al Zubaidi added.
Residential and infrastructure projects are driving the growth of Dubai's construction sector and this trend is expected to gain momentum in the lead up to Expo 2020, new analysis released by the Dubai Chamber of Commerce and Industry has revealed. The analysis found that the residential segment accounts for 43 per cent of total projects in the pipeline in Dubai over the 2014-22 period.
According to the findings, Dubai's construction sector contributed an estimated 6.3 per cent to the emirate's GDP in 2017, as work on several government-led projects commenced during the year, including expansions to public transport and logistics infrastructure, in addition to building works for the Expo 2020 site in Dubai South.
https://www.khaleejtimes.com/business/local/women-can-build-their-way-in-the-uaes-construction-sector
--------
Egyptian Girls Dominate Women's Squash Championship 2018
December 1, 2018
KARACHI: All of the three Egyptian women competing in the US$18,000 Pakistan Open Women's Squash Championship 2018 quarterfinals won their respective matches to secure three of the four semi-final slots for their country here at the DHA Asif Nawaz Squash Complex on Friday.
Top seed Yathreb Adel dropped a game before beating seventh seeded Malaysian Rachel Arnold by 12-10, 11-9, 9-11, 11-9 score in 34 minutes.
Third seeded Egyptian Zeina Mickawy defeated France's 9/16 seed Enora Villard by 11-8, 11-6, 4-11, 12-10 score in 45 minutes.
Second seeded Egypt's player Nadine Shahin took only 27 minutes to dispatch sixth seed from Japan Satomi Watanabe in straight sets by 11-6, 11-3, 14-12 score in 27 minutes.
Fifth seeded Malaysian Sivasangari Subramaniam is the only non-Egyptian player to qualify for semifinals after she pulled an upset against fourth seed Liu Tsz-Ling of Hong Kong recording 11-9, 11-8, 3-11, 6-11, 11-4 victory in 27 minutes.
However, Egyptians weren't lucky enough in the lucrative US$53,000 Pakistan Open Men's Squash Championship as only one Egyptian player survived the quarterfinal hurdle while facing compatriot.
Favorite Karim Abdel Gawad of Egypt defeated compatriot Mazen Gamal by 11-9, 11-7, 11-1 score in 29 minutes.
Fourth seeded Malaysian Nafiizwan Adnan elbowed out his compatriot Ivan Yuen by 6-11, 11-6, 11-7, 12-10 score after a 69-minute clash.
Fifth seeded Mexican player Arturo Salazar dispatched 9/16 seed Mostafa Asal of Egypt by 11-5, 11-2, 11-7 score in 31 minutes.
Peruvian second seed Diego Elias sent seventh seed Karim El Hammamy of Egypt packing for home after recording 11-6, 11-7, 11-9 victory in 35 minutes.
Karim Abdel Gawad will face Nafiizwan Adnan while Arturo Salazar will take on Diego Elias for a place in the summit clash.
The women's semifinals will be played between Yathreb Adel and Zeina Mickawy, and Sivasangari Subramaniam and Nadine Shahin.
Results:
Men's Quarterfinals:
[1] Karim Abdel Gawad (EGY) bt [9/16] Mazen Gamal (EGY) 11-9, 11-7, 11-1 (29 mins)
[4] Nafiizwan Adnan (MAS) bt [9/16] Ivan Yuen (MAS) 6-11, 11-6, 11-7, 12-10 (69 mins)
[5] Arturo Salazar (MEX) bt [9/16] Mostafa Asal (EGY) 11-5, 11-2, 11-7 (31 mins)
[2] Diego Elias (PER) bt [7] Karim El Hammamy (EGY) 11-6, 11-7, 11-9 (35 mins)
Women's Quarterfinals:
[1] Yathreb Adel (EGY) bt [7] Rachel Arnold (MAS) 12-10, 11-9, 9-11, 11-9 (34 mins)
[3] Zeina Mickawy (EGY) bt [9/16] Enora Villard (FAR) 11-8, 11-6, 4-11, 12-10 (45 mins)
[5] Sivasangari Subramaniam (MAS) bt [4] Liu Tsz-Ling (HKG) 11-9, 11-8, 3-11, 6-11, 11-4(27 mins)
[2] Nadine Shahin (EGY) bt [6] Satomi Watanabe (JPN) 11-6, 11-3, 14-12 (27 mins).
https://www.thenews.com.pk/print/400268-egyptian-girls-dominate-pakistan-open
--------
Egyptian Women Race in Cairo to Campaign for End to Violence
NOVEMBER 30TH, 2018
Hundreds of women took part in a race in the Egyptian capital Cairo on Friday to campaign for an end to violence against women and push for acceptance of women running in public spaces.
In the first event of its kind, women challenging conservative social norms took advantage of reduced weekend traffic to compete on an eight-kilometre course in the neighbourhood of Heliopolis.
"I came to this race today so that all women can run in the street without any fears or worries," said 52-year-old Amany Khalil, who placed third, completing the course in just under 39 minutes.
Experts surveyed by the Thomson Reuters Foundation last year ranked Cairo as the world's most dangerous megacity for women, based on a lack of protection from sexual violence and harmful cultural practices, as well as access to healthcare and finance.
It is uncommon for women to practice sport in Egypt in public places, where they regularly face harassment.
"This is the first event for girls only," said 24-year-old Yasmin Mamdouh, who competed alongside her younger sister.
"It's to say that we can do anything and run freely, and do what they do, boys. No one can bother us and stop us from doing what we want."
https://cyprus-mail.com/2018/11/30/egyptian-women-race-in-cairo-to-campaign-for-end-to-violence/
--------
Objections from Family, Hospital Delay Sikh Girl's Wish To Donate Kidney To Save Muslim Friend
30 NOVEMBER 2018
Srinagar, Nov 30 A Sikh girl in Jammu and Kashmir wants to donate one of her kidneys to save the life of her Muslim friend suffering from organ failure, but objections by her family and a hospital here are delaying the procedure, prompting them to approach court.
Manjot Singh Kohli (23), a Sikh social activist from Udhampur area of the Jammu region, has decided to donate one of her kidneys to her 22-year-old friend Samreen Akhtar, a Muslim and a resident of Rajouri district.
"We have been friends for the past four years and I am emotionally attached to her. Also, it is my strong belief in humanity that is motivating me to donate my kidney," Kohli said.
She said Akhtar has been involved in social activism with her for the past many years in Jammu.
"But, Akhtar never told me about her illness and I came to know through a mutual friend. She has been my friend and supporter in my tough times and I decided to donate a kidney to her when she needs it," Kohli said.
Akhtar said she was grateful to her friend for the selfless act.
"She (Kohli) is an incredible person. I simply want to thank her for her selfless act of love and kindness. She was prompt to contact me and express her willingness to donate her kidney. At first, I did not believe my ears, but when she came to meet me and accompanied me before the authorisation committee, I was overwhelmed. It was really life changing for me," Akhtar said.
They, however, said doctors at the Sher-e-Kashmir Institute of Medical Sciences (SKIMS), Soura here were "delaying" the procedure by creating "unnecessary hurdles".
"The SKIMS is creating hurdles and delaying the procedure even as the authorisation committee for organ donation has cleared both of us for the transplant procedure. I do not know why we are being pushed to the wall by doctors and administration at SKIMS, Soura," Kohli said.
Director, SKIMS, Dr Omar Shah said the committee is looking into the issue and they would decide on it immediately.
"We will do whatever best we can. The authorisation committee has informed me that there are legalities involved and they need some more papers before they take a decision on the matter," Shah said.
Kohli said while she thinks the SKIMS might be apprehensive about the procedure because of the donor belonging to a different religion, her family also has sent a notice to the hospital, saying there was no family consent.
"My family has sent a notice to the SKIMS and may never give the consent. But, I am a major and can take decisions for myself. I am legally eligible to donate and I do not need the family's consent," she said.
She said they would approach court on Saturday to seek a direction to SKIMS to perform the procedure without any further delay.
"I have consulted a lawyer friend and we will go to court tomorrow (Saturday). There are court directions from previous cases and we hope to get a favourable judgement," Kohli said. SSB MIJ SNE SNE
https://www.outlookindia.com/newsscroll/objections-from-family-hospital-delay-sikh-girls-wish-to-donate-kidney-to-save-muslim-friend/1431563
--------
Fez to Host Arab-German Symposium on Women's Empowerment
Nov 30, 2018
Rabat – The Arab-German Young Academy of Sciences and Humanities is hosting an international conference dedicated to women's empowerment and gender equality November 30 to December 1 in Fez.
The conference, titled "Gender Equality in the Arab World and Germany: Challenges and Prospects" and organized in partnership with the NGO ISIS Centre for Women and Development, will tackle
several issues women face in their daily lives.
Topics vary from challenges in the workplace or job market, such as in male-dominated fields and the role of universities to raise awareness on gender equality to transnational networking and women migrants.
Effecting change, promoting gender equality, and Arab-German dialogue are the main drivers behind the symposiums.
The event's program will also explore the role of women throughout the history and cultural heritage of Fez, Morocco's cultural capital.
The event is taking place at the International Institute for Languages and Culture in Fez and will welcome "high-profile academics and experts" from six Arab countries with the participation of other academics from Germany, the ISIS Centre said in a press release.
https://www.moroccoworldnews.com/2018/11/259149/fez-arab-german-women-empowerment/
--------
UAE Expat among 5 Female Scientists to Win Dh83, 400 UNESCO Fellowships
November 26, 2018
Finding an early detection method for ovarian cancer, designing therapeutic treatments for mood disorders and depression, and using marine environment to produce natural pharmaceutical products are some of the projects female researchers will continue to pursue, thanks to a ?20,000 (Dh83,400) fellowship.
As part of the L'Oréal- 'For Women In Science Middle East Fellowship 2018,' five female scientists from four Gulf countries were granted Dh83,400 each for the PostDoc Researchers category and one PhD student was granted Dh33,360.
The programme, which aims to promote gender equality and encourage more girls and women to become scientists, honours five laureates internationally each year, one from each continent.
To date, the programme has supported 3,100 women, rewarding 102 laureates and granting doctoral and post-doctoral fellowships in 115 countries.
Speaking to Khaleej Times, the women said since scientific projects are too expensive to pursue, the fellowship brings them one step closer to making their ideas a reality that will benefit their societies. Here are the five outstanding women scientists and their research topics.
Dr Ashwag Albukhari, Assistant professor in biochemistry
(Treatment for ovarian cancer)
Dr Ashwag Albukhari, assistant professor in biochemistry, King AbdulAziz University, Saudi Arabia, said the fellowship will help her start developing the organoid system, derived from human tissues, to understand the progress of ovarian cancer, help in early detection and find new therapeutic strategies for ovarian cancer.
The molecular mechanism in the ovaries which is not well understood, hinders early detection of ovarian cancer, the sixth most common cancer in women with the highest mortality rates. Albukhari decided to build a human-derived fallopian tube organoids to study early carcinogenesis and understand the molecular mechanisms of the cancer.
"Now, removal of ovaries and fallopian tubes remains as the only effective prevention for women with high risk of developing the familial ovarian cancer. The model will prevent this and increase chance of survival," she said.
Dr Basma Radwan, Research associate in nueroscience
(Link between sleep, stress)
Dr Basma Radwan, 36, post-doctoral research associate in neuroscience at New York University Abu Dhabi, and an Egyptian expat in the UAE, is investigating the connection between stress and sleep to develop treatment for mood disorders and depression.
Through her research, Radwan is trying to understand the evolution and function of sleep among depressed individuals to further develop effective therapeutic solutions."We need a model to help manipulate the sleep stages and see if it can lead to changes in mood and depression to better understand the link between the two," she said.
Since the sequencing of gene expression is a process that cost ?50,000, the fellowship will help fund part of the project to understand how sleep processes lead to the maladaptive response to stress.
Radwan intends to examine the function of sleep of renormalising the synapses in modulating the brain capacity to adapt to stress.
Dr Saja Fakhraldeen, Assistant research scientist
(Drugs from marine resources)
Dr Saja Fakhraldeen, 31, assistant research scientist at Kuwait Institute for Scientific Research, is researching on the use of marine resources to develop pharmaceutical products to reduce reliance on lab products.
Given that the Arabian Gulf is an untapped resource with huge potential for pharmaceutic applications, Fakhraldeen aims to identify local sources of biologically active materials for her study.
Through her research, she will tap into marine resources to find the compounds that develop bioactive compounds with therapeutic and pharmaceutic applications in an environmentally conscious manner.
Following completion of this project, the Kuwaiti institute will have a new and fully functional mammalian cell culture facility.
The proposed genetic database of organisms in Kuwaiti waters are expected to be a valuable resource to both Kuwaiti and international researchers.
Dr Lamya Al Haj, Molecular biology professor
(Products from algae)
Dr Lamya Al Haj, 36, assistant professor of molecular biology at Sultan Qaboos University (Oman), is developing high-value products from genetically-modified algae.
With the world moving towards cleaner energy alternatives, Al Haj aims to reduce the dependency on conventional petroleum in Oman with identifying alternative sources that will help diversify the economy.
She envisions the first microalgae bio-refinery in Oman to use algae in generating biofuels and high value products. Part of her research investigates the potential of utilising algae strains for the production of high-value products like antioxidants, superfoods, food supplements and drugs. The other part is focused on exploring second, third and fourth generation biofuels as sustainable energy sources. The research has made it to 10 publications, won several international awards and was the breakthrough in biofuel production in Oman.
Ghofran Othoum, PhD student
(Sequencing Read Sea strains)
The research of Ghofran Othoum, 28, a PhD student at King Abdullah University of Science and Technology (Jordanian expat in Saudi Arabia), centres around studying bacteria isolated from the Red Sea environment that can be used in different applications.
Her studies indicated that several of the isolated strains extracted from microbial mat and mangrove mud samples from the Red Sea represent promising candidates for the development of cell factories for enzyme production. "Red Sea species are promising as microbial cell factories, specifically with respect to their ability to thrive in saline water, eliminating the need for the environmentally and economically expensive costs of water desalination and sterilisation," said Othoum.
Her research also uncovered the richness of these species' genomes that have likely evolved in Red Sea Bacilli due to environmental adaptation.
https://www.khaleejtimes.com/nation/dubai/uae-expat-among-5-female-scientists-to-win-dh83400--fellowship
--------
Sisi Bestows Order of Sports Merit on Women's Squash, Football Teams
Nov. 29, 2018
CAIRO - 29 November 2018: President Abdel Fatah al-Sisi honored on Thursday the national squash team for wining the world championship along with the women's football team for snatching the bronze medal in the Special Olympics Unified Cup.
The president conferred the Order of Sports Merit on the Egyptian champions, greeting them and the technical committees that were responsible for their training.
The ceremony was attended by Prime Minister Moustafa Madbouli, Social Solidarity Minister Ghada Wali and Youth and Sports Minister Ashraf Sobhi along with the regional president of Special Olympics and the chairman of the Egyptian Squash Association.
President Sisi hailed the achievements of the champs who contribute to promoting Egypt's standing in the regional and international sports arena, Presidential Spokesman Bassam Rady said in a statement.
The president expressed appreciation for the Egyptian athletes whom he described as role models for the youth, the spokesman added.
Sisi ordered offering all needed support for the Egyptian champions to help them make more sports achievements, Rady noted.
For their part, the Egyptian champions said that they are proud of being honored by the president, confirming that such move reflects Sisi's appreciation and care for the distinguished Egyptian athletes.
http://www.egypttoday.com/Article/1/61200/Sisi-bestows-Order-of-Sports-Merit-on-women-s-squash
--------
How A Yemeni Woman's Path to Freedom Led Her to Malaysia
Ainaa Aiman
December 1, 2018
KUALA LUMPUR: Yusra Ali Salm was only 18 when she was married off to a 60-year-old man.
Growing up in Yemen, she said, young girls didn't have much say in the matter, especially if they came from poor families.
She received little support from her family, except from one of her brothers who did what he could to help her even though they had very little.
"He gave me money. He gave me something," Yusra, 50, told FMT on the sidelines of a United Nations event on gender-based violence against refugees in Malaysia.
She thought that life as a married woman would be better as she would escape from her family and perhaps gain enough freedom to pursue an education.
She also thought that getting married would earn her approval from her family since they would receive a dowry.
But her marriage turned out to be just another nightmare. From the very beginning, she said, her husband told her that he owned her since he had paid her dowry.
"I was told that I couldn't see anyone or go anywhere, and no one could visit me."
She added that her husband used to lock her up in a room from morning until night. He also beat and raped her.
"It gives me pain whenever I think about it," she said briefly.
As a young girl, Yusra had always wanted to be a famous hairdresser. When she grew older, she worked at a salon despite the disapproval from her community.
One of her brothers would even beat her whenever she went to work.
"People told him, 'Your sister is not good, she goes to a salon. How can you allow her to do this?'" she said.
As years passed, the violence in Yemen escalated and Yusra finally decided to sell all of her gold jewellery for a plane ticket to Malaysia.
"Besides the government killing people, there were a lot of problems in my family and with my husband.
"In Yemen, they treat women like they are nothing, like animals. They don't get to do anything, and sometimes they are sexually abused or raped as well."
When she arrived in Malaysia with her son four years ago, she found it difficult to survive at first. She took any job she could find, from cleaning houses to cutting hair at salons.
But she was happy to find support from the Yemeni community in Malaysia. She also made friends who helped her find a place to stay and work to do.
Yusra now operates from home as a hairdresser. Some of her customers pay up to RM500 for her services, but most days, it is still hard going.
However, she is glad that she no longer depends on others for money.
"I don't want to ask anyone for money," she said, adding that she still harbours her old dream of opening a proper salon one day.
Her son is now 11 years old. He initially went to a refugee community school but now attends a government school thanks to aid from her embassy.
"I'm happy here," Yusra said. "I love being here because my son and I feel safe in Malaysia."
https://www.freemalaysiatoday.com/category/nation/2018/12/01/how-a-yemeni-womans-path-to-freedom-led-her-to-malaysia/
--------
Omani Woman Scientist Wins Fellowship for Research in Biofuels
November 27, 2018
An Omani woman scientist is among those honoured at the fifth edition of the L'Oréal- 'For Women in Science Middle East Fellowship'.
Dr Lamya al Haj from the Sultan Qaboos University was recognised at a ceremony held on Monday along with four other extraordinary women from the GCC for their contribution to the field of science. The awards ceremony was hosted at the Hilton Dubai Al Habtoor City Hotel, in partnership with Zayed University.
Dr Lamya was honoured for her two-streamed research on exploring second, third and fourth generation biofuels as clean and sustainable energy resources and investigating the potential of utilising algae strains for the production of high-value products.
This year's awards celebrated the contributions of distinguished female scientists and researchers in the GCC, whose works have contributed significantly to scientific development in the region. The inspiring women fellows were each awarded €20,000 in postdoctoral researchers category and €€8,000 for the PhD students category, in recognition of their outstanding achievements in their respective fields.
Prof Reyadh al Mehaideb, vice president of Zayed University said, "The L'Oréal- 'For Women in Science Middle East Fellowship' has become an inspirational platform in the field of scientific discovery, thanks to its impressive track record of achievements in science and technology in our region and beyond."
Speaking at the ceremony, Prof Mehaideb said, "Today, we honour five exceptional individuals for their interest in scientific research and their ability to change the world for the better. They use their research and scientific discoveries to serve humanity and build a brighter future for generations to come."
The L'Oréal- For Women in Science Middle East programme was founded on the belief that 'the world needs science and science needs women, because women in science have the power to change the world'.
Not only were the female fellows recognised for their achievements, they were also highly commended for their advocacy of the field of research and for influencing young women to tread similar paths. Dr Mouin Hamzé, president of the jury and secretary general of the National Council for Scientific Research – Lebanon (CNRS-L), said, "It has been my honour to chair the Jury Committee of this incredibly inspiring programme for the fifth year in a row. All winning fellows have truly impressed us and have shed light on some fascinating topics in the fields of physical and life sciences, including early detection of ovarian cancer, exploring second and third generation biofuels for clean and sustainable energy and targeting mental health and depression through examining the connection between sleep and stress."
Rémi Chadapaux, managing director, L'Oréal Middle East said, "In line with our commitment to women around the world, this programme continues to encourage gender diversity in scientific research, which is such an important field for global advancement."
https://www.muscatdaily.com/Archive/Oman/Omani-woman-scientist-wins--fellowship-for-research-in-biofuels-5c72
--------
Omani Women's Association Gets a New Home in Nakhal
November 25, 2018
Nakhal: The opening of the Omani Women's Association building was celebrated in the Wilayat of Nakhal yesterday during a ceremony held under the patronage of Her Highness Sayyedah Dr. Mona bint Fahd Al Said, Assistant Vice Chancellor of Sultan Qaboos University (SQU) for International Cooperation.
The opening of the building of the Omani Women's Association in Nakhal coincides with the Sultanate's celebrations of the 48th Glorious National Day.
The building includes several facilities, a hall designed for organising celebrations, meetings and other activities, a training hall on tailoring, administrative offices and classrooms.
The opening ceremony was attended by Sheikh Hilal bin Said Al Hajri, Governor of South Al Batinah, Dr. Yahya bin Badr Al Ma'awali, Undersecretary of the Ministry of Social Development, Sheikh Harith bin Saif Al Dughaisi, Wali of Nakhal, Mohammed bin Sulaiman Al Kindi, Member of Majlis Al Shura, members of the Municipal Council and officials in South Al Batinah.
https://timesofoman.com/article/490767
--------
URL: https://www.newageislam.com/islam-women-feminism/selangor-records-48-underage-marriage/d/117036
New Age Islam, Islam Online, Islamic Website, African Muslim News, Arab World News, South Asia News, Indian Muslim News, World Muslim News, Women in Islam, Islamic Feminism, Arab Women, Women In Arab, Islamophobia in America, Muslim Women in West, Islam Women and Feminism