New Age Islam News Bureau
5 Jan 2019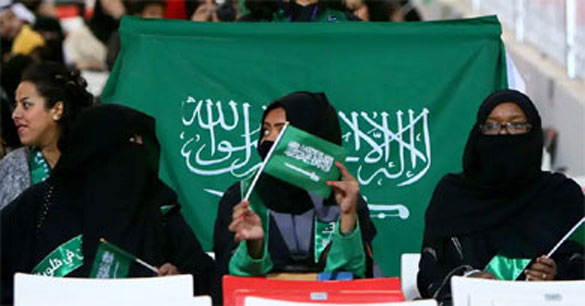 The controversy follows calls for the game to be moved after the killing of journalist Jamal Khashoggi ( Getty )
------
• Saudi Women Lawyers Welcome New Divorce Notice via SMS
• Muslim Congresswoman, Ilhan Omar, Vows to Fight Trump's 'Destructive' Policy
• Nigeria: Women Urge Politicians to Respect Female Muslims' Rights
• Islamic Training Programme for Female Teachers Concludes In Islamabad
• UN's Position on Women's Equal Rights Applies To All Religions: Official
• Ultraconservative Ayatollah Raises Alarm over 'Danger' To Hijab
Compiled by New Age Islam News Bureau
URL: https://www.newageislam.com/islam-women-feminism/saudi-ban-women-fans-italian/d/117375
--------
Saudi Ban on Women Fans from Italian Super Cup Prompts Sexism Row
5 Jan, 2019
The ban on unaccompanied women attending the Italian Super Cup in Saudi Arabia has caused outrage in Italy.
The cup will be played between Italian football clubs Juventus and AC Milan in Riyadh in mid-January, but women are only able to buy tickets for the "family" section whereas men can sit alone, the Italian football league announced.
Matteo Salvini, Italy's far right interior minister and deputy prime minister, argued holding the match in Saudi Arabia was "disgusting" due to the restrictions put on female fans.
Mr Salvini, leader of the country's hard right populist League party, condemned the fact sections of the King Abdullah Sports City stadium will be reserved for men only for the match on 16 January.
"It's sad, it's disgusting that the Italian Super Cup is being played in an Islamic country where women cannot go to the stadium if they are not accompanied by men," he said on Facebook on Thursday.
The outspoken AC Milan fan, who rarely misses a game, said he would not be watching the match.
Vincenzo Spadafora, responsible for the government's equal opportunities, said he was "bitterly disappointed" – saying it was "unacceptable for Italian football to turn a blind eye to this blatant discrimination".
Serie A, the game's organisers, defended the decision to hold the game in Saudi Arabia and challenged Mr Salvini's claim that women could not enter the stadium without a man.
"Until last year, women (in Saudi Arabia) could not attend any sporting event," Serie A president, Gaetano Micciche, said.
"We are working to ensure that in the next games that we play in the country, women can access all the stadium seats."
He argued the presence of women inside the stadium alone would constitute a "historic first".
Saudi women attended a football match in Saudi Arabia for the first time in January last year after the country announced it would allow women into sports stadiums for the first time in October 2017. This was a landmark move which opened up three previously male-only venues to families.
The controversy follows calls for the game to be moved after the killing of journalist Jamal Khashoggi.
In November, the Italian state TV's journalists' union said it was "absurd" and "unacceptable" for the game to be played in Saudi Arabia less than three months after Khashoggi's killing.
Saudi agents killed Washington Post columnist Khashoggi in the kingdom's Istanbul consulate in October.
US intelligence assessments and experts have said Saudi Crown Prince Mohammad bin Salman, who controls all levers of power in Saudi Arabia, likely ordered, or at least knew about the high-profile murder. Saudi authorities say those who killed Khashoggi exceeded their authority, and prosecutors are seeking the death penalty for five people allegedly involved.
Human rights group Amnesty International has also expressed opposition to the football match being played in Saudi Arabia.
"Even before the horrific killing of Jamal Khashoggi, Saudi Arabia had a truly appalling human rights record," said Allan Hogarth, Amnesty International UK's head of policy.
"Big clubs like Juventus and AC Milan need to understand that their participation in sporting events in the country could be used as a form of 'sportswashing'," he said.
https://www.independent.co.uk/news/world/middle-east/saudi-arabia-supercup-women-ban-italy-female-fans-riyadh-january-a8711486.html
--------
Saudi Women Lawyers Welcome New Divorce Notice via SMS
4 January 2019
A number of Saudi female lawyers have said the new system introduced by the Justice Ministry to notify married women through SMS in case of divorce, will put an end to a situation where the women are the last ones to know about their latest marital status Many Saudi lawyers said several reforms introduced by the Ministry of Justice lately contribute greatly in ensuring justice for women and to protect their rights, according to Saudi Gazette.
The new initiative will notify the women immediately via text message to their phone numbers registered through the Absher system when a divorce deed is issued by a court.
The text message will inform the divorcee of the number of the divorce document and the court that issued it.
Lawyer Somayya Al-Hindi told Okaz/Saudi Gazette that Saudi courts in the past heard many cases of Saudi women who continued to live with their ex-husbands not knowing that they had been divorced.
"Saudi men in the past obtained divorce deeds from courts without the knowledge of their wives and without informing them of their new marital status," Al-Hindi said.
"This will put an end to any attempts at cheating or impersonating the identity of women to take control of their bank accounts and property using previously issued powers of attorney," Al-Hindi said.
https://english.alarabiya.net/en/features/2019/01/04/Saudi-women-lawyers-welcome-new-divorce-notice-via-SMS-.html
--------
Muslim Congresswoman, Ilhan Omar, Vows to Fight Trump's 'Destructive' Policy
Jan 4, 2019
The first hijab-wearing Muslim congresswoman has vowed to fight efforts by the administration of US President Donald Trump to divide the American public.
Ilhan Omar, a Democratic member of the US House of Representatives from the state of Minnesota, was sworn in on the Holy Quran on Thursday.
"I plan to resist the current Administration's attempts to divide us and push destructive policies that chip away at our rights and freedoms," Omar said in a statement. "We have the opportunity to build a more inclusive and compassionate culture, one that will allow our economy to flourish and encourage more Americans to participate in our democracy."
The newly-elected representative was allowed to wear a religious head covering on the House floor after the easing of a 181-year ban on headwear of any type in the chamber.
Omar, 37, who emigrated as a refugee from Somalia at the age of 14, outperformed her rivals in the US midterm elections after campaigning on a platform promoting legal immigration, criminal justice reform and more accessible healthcare.
Along with Omar, a second Muslim woman – Rashida Tlaib – was also sworn in on Thursday.
Tlaib, a Democrat and a social worker born in Detroit to Palestinian immigrant parents, was elected to the House in a district where she was running unopposed.
The two Muslim women are known as polar opposites of Trump and his Republican Party's policies.
The US House of Representatives, chaired by Speaker Nancy Pelosi, is currently engaged in a long-running dispute with Trump over the passage of a controversial bill regarding the funding of a US-Mexico border wall.
The standoff over the issue has led to a partial government shutdown, forcing around 800,000 federal workers to work without pay or expecting to be furloughed.
Trump made the wall a key election campaign promise in 2016, saying Mexico would pay for it and claiming it is needed to combat illegal immigration and drug trafficking. Democrats have time and again called a border wall immoral, ineffective and medieval. https://www.presstv.com/Detail/2019/01/04/584871/US-Congresswoman-Ilhan-Omar-Minnesota-Donald-Trump-destructive-policy
--------
Nigeria: Women Urge Politicians to Respect Female Muslims' Rights
4 JANUARY 2019
By Shakirah Adunola
Al-muminat (The Believing Women) Organisation, has urged politicians vying for various offices in the country to respect the right of female Muslim on the use of hijab.
The National Amirah, Hajia Nimatullah Abdullateef, who stated this while addressing Muslim women during the closing ceremony of 23rd National Convention and Annual Training Forum held at Vanguard Academy, Odosenlu, Ogun State, said the believing women would only vote candidates who respects their inalienable rights to use hijab.
The Deputy Governorship candidate of All Progressive Congress, (APC), Engr. Naimat Salako-Oyedele was a special guest at the occasion.
It will be recalled that the Muslim Students' Society of Nigeria (MSSN), Lagos State Area Unit had also recently declared that its members would only vote any candidate who will support the use of hijab in schools.
Abdulateef said: "We are not political organisation, but all our members across different zones in the country will not vote any candidate who refuses the right to use hijab. So, no hijab, no vote."
Lamenting how the society is drifting towards moral decadence, she said shameful acts in various forms have become the order of the day, and until mankind revert to the Creator, solution to the challenges will remain elusive.
"Today, man is in a state of confusion, social vices and moral decadence have become the norm in the society, music has become the order of the day and musicians are using their medium to promote all sorts of atrocities, evils and social vices. Our Muslim women cannot freely use their hijab, our young girls are not safe, our women at homes have become victims of battering, and rape.
"Apart from the prevalence of moral decadence and social vices in the world today, there is also a disheartening situation of economic recession and depression and political instability, war, insecurity, insurgency and natural disaster. The situation is so terrible that suicide has now become the order of the day, as suicide rate keeps increasing at alarming rate daily," she said.
Abdulateef however stated that efforts made by mankind to proffer solution to these problems would only amount to futility if recourse is not made to God.
"Allah enjoins mankind to keep a steady and constant relationship with Him for proper guidance. So, any attempt by man to run his affairs by himself without the guidance of the creator will only put him terrible situation. The only hope is to revert to Allah and adopt the pristine teachings of Islam.
"This proposition is not merely hypothetical as its actual manifestation can be seen all around us. A very good example is the recent trend in the financial sector globally on the adoption of the Islamic Non- interest Banking" she added.
On the forthcoming general elections, Abdullateef urged the Federal Government and the electoral body to adopt the Islamic principle of Justice, equity, fairness and truthfulness in the conduct of the February general elections.
She also advised the electorates not to show apathy, but actively participate in the process without fear or favour.
Also, in a lecture titled 'Islam the only Hope', Hajia Idiat Jumah, a seasoned teacher in the state, advised women to remain steadfast in their prayers and unflinching in their relationship with God, adding that Prophet Ibrahim and others relied unto Allah in the face of challenges.
She advised leaders to make available interest-free loans arguing that the subsisting interest based loan is capable of exacerbating the economic condition of the borrower.
Deputy Director, Ministry of Physical Planning, Lagos State, Alhaja Jelilat AbdulHameed, thanked the organisers of the event, adding that the forum has helped a lot Muslim women to rediscover themselves in their spiritual and economic pursuit.
https://allafrica.com/stories/201901040305.html
--------
Islamic Training Programme for Female Teachers Concludes In Islamabad
January 05, 2019
ISLAMABAD - The two weeks long Islamic Training program for teachers of college and university level concluded at International Islamic University Islamabad (IIUI) with an aim to build the capacity of female teachers with respect to true teachings of Islam.
The training programme was organized by Dawah Center for Women (DCW), IIUI for female teachers from colleges and universities in which as many as 34 female teachers from different cities of four provinces had participated, a press release Friday said.
Chairing the concluding ceremony Rector IIUI Prof. Dr. Muhammad Masoom Yasinzai said that role of women is pivotal in nation building, while female teachers have more responsibility in spreading true teachings of Islam in Islamic societies. He highlighted the role of women in society and called upon the Muslim societies to provide best opportunities to women.
He said, "Holy Book Qur'an is a complete code of life and the follower of teaching of Islam can never be unsuccessful. Whereas, to explore the teachings of Qur'an and to strengthen our faith, the teaching and learning should be the motto of each Muslim, the way we can be successful not only in the world but also in the eternal world,".
During the two weeks long training, course participants remained involved in different academic activities and also visited different places of twin cities. While, comprehensive sessions on significant topics based on Islamic teachings in Qur'an and Sunnah, the role of women in an Islamic society, teachings of Qur'an and Islamic ideologies, Islamic practices for women in domestic and practical life, were also covered during the training program.
Prof. Dr. Yousif Farooqi, Dr. Sohail Hassan, Dr. Imtiaz Zafar, Dr. Zaheer Ud Din Behram, Dr. Tahir Mahmood, Dr. Muhammad Khan Fayaz, Dr. Tahir Siddique, Dr. Atiq Uz Zafar, Dr. Hafiz Habib ur Rehman, Dr. Hafiz Muhammad Anwar, Dr. Iffat, Tahira Batool, Sara Ehsan, Shagufta Omer, and Faryal Ambreen, delivered lectures during the two weeks long course.
The concluding ceremony was also attended by Dr. Sohail Hassan, Director General, Dawah Academy, Dr. Shahid Rafi, Director (Training) Dawah Academy, Shagufta Omer, In Charge DCW, IIUI, and other staff members of Dawah Center for Women, DCW, IIUI. In the end course participants were awarded course completion certificates.
https://nation.com.pk/05-Jan-2019/islamic-training-programme-for-female-teachers-concludes
--------
UN's Position on Women's Equal Rights Applies To All Religions: Official
January 05, 2019
UNITED NATIONS: The UN's fundamental position on equal rights for women applies across the board to all religions and in the case of Sabarimala, since the Supreme Court has ruled on women's right to enter it, the world body encourages respect for rule of law, according to an official here.
While answering a reporter's question on Friday about the Sabarimala controversy, UN Secretary-General Antonio Guterres' deputy spokesperson Farhan Haq said: "You are aware of the UN's position on equal rights of all people."
Asked if the UN's position on equal rights for women applied to all religions, including Catholicism and Islam, he said: "It applies across the board. The question is how that is to be carried out... this is a question on which the courts have pronounced themselves and we encourage respect for the rule of law."
In answer to another reporter's pointed question about the "frenzy" in Kerala over two women entering the Lord Ayyappa shrine and former UN Under-Secretary-General Shashi Tharoor's criticism of the women, Haq said: "This is an issue on which the Supreme Court of India has commented. So we will leave the matter in the hands of the rule of law authorities in India. Of course, we want all parties to respect the rule of law."
Asked if not allowing women to enter the temple was a violation of human rights, Haq did not give a direct answer, but said: "We encourage all to respect the laws of the country."
The Supreme Court ruled in September against the temple's ban on women between the ages of 10 and 50 entering the shrine dedicated to Lord Ayyappa.
After prolonged protests blocked women from entering the temple, two women in their 40s entered the shrine under police escort on Wednesday.
Demonstrations have been held across Kerala both in support of women entering the temple as well against it.
Tharoor, now a Congress Party MP representing Thiruvananthapuram, had criticised the women who went to the shrine on Wednesday, saying that it was an "unnecessary provocative act".
But he added, that he was "very much in favour of women equality but was also in favour of respecting the sanctity of religious practices in our country".
http://punjabnewsexpress.com/world/news/un-s-position-on-women-s-equal-rights-applies-to-all-religions-official-83966.aspx
--------
Ultraconservative Ayatollah Raises Alarm over 'Danger' To Hijab
January 05, 2019
Ahmad Alamolhoda, the ultraconservative Friday Prayer leader of Mashahd in northeatern Iran, says some people are trying to undermine the importance of compulsory hijab, the head to toe cover for women.
Speaking during his Friday January 4 sermon, Alamolhoda said "These individuals want to establish discos for women with hijab like the ones in Turkey," and at the same time "publish pictures of Palestinian girls who do not use hijab," in order to undermine its va;ue.
He said "A conspiracy has started in Turkey to portray women with hijab as the causes of indecency, corruption and prostitution," claiming that "women with hijab can go to discos in Turkey," but did not elaborate further.
Alamolhoda made the offending remarks a year after Iranian women officially started a campaign against compulsory hijab, by hoisting their scarves on sticks in public. The remarks also coincided with the anniversary of Reza Shah Pahlavi's anti-hijab campaign that started in January 1936.
January is also the first anniversary of a modern-day, grassroots anti-hijab campaign. During mass anti-regime protests in December 2017-January 2018 many women began appearing on busy streets, standing at a visible location, waving their headscarves in the air as protest against compulsory hijab.
More ordinary women going about their business remove their headscarves in Iran. Videos posted on social media show women without the compulsory scarf in the streets of Tehran and other cities.
In one particular video, an angry cleric objects to a woman who has taken off her scarf at a metro station, but the woman ignores him and men at the station tell the cleric to shut up and mind his own business.
In another video, a woman challenges a cleric's order to cover her hair while by-standers cheer in her support.
In many other videos, Iranian women bravely ignore the restrictions and go about their daily business the way they like: without a scarf:
Many Iranian women seem not to have accepted the compulsory hijab in the 40 years after the Islamic revolution. They always loosely hold a scarf over their heads "as if there will be a regime change any minute," says a veteran journalist.
Ironically, from 1936 till his removal from power by the Allies in 1941, Reza Shah Pahlavi and his government worked hard to get Iranian women free from their traditional hijab so that they would be assimilated in social activities like men.
Now, women are struggling to get rid of the scarf once again if only as a symbol of unfair restrictions that keep them away from their rights as citizens.
There are more female university students in Iran and more women graduates than men every year from Iranian institutions of higher education. Nevertheless, very few of them are employed as the government and clerics frown at the idea of women as managers, lawyers, engineers and so on.
In a speech in 2014, The Islamic Republic's leader Ali Khamenei questioned the idea of women's equality with men and suggested women should stay home.
Other clerics at Friday Prayers also ruled out resistance to compulsory hijab as "opposition to Islam."
The remarks contradict official statistics and results of polls that indicate an increasing number of Iranian women opposing compulsory hijab. Based on a poll conducted by the Majles Research Center last year, only 35% of Iranian women view hijab as an Islamic value.
However, moderate religious scholars including Hassan Yusefi Eshkevari believe rules about hijab can be changed. Eshkevari was first sentenced to death and finally jailed for five years, and disrobed by the government after making the comment at a conference in Germany in 2000.
https://en.radiofarda.com/a/iran-ayatollah-raises-alarm-over-danger-to-hijab-alamolhoda/29691969.html
--------
URL: https://www.newageislam.com/islam-women-feminism/saudi-ban-women-fans-italian/d/117375
New Age Islam, Islam Online, Islamic Website, African Muslim News, Arab World News, South Asia News, Indian Muslim News, World Muslim News, Women in Islam, Islamic Feminism, Arab Women, Women In Arab, Islamophobia in America, Muslim Women in West, Islam Women and Feminism