New Age Islam News Bureau
13 Jan 2019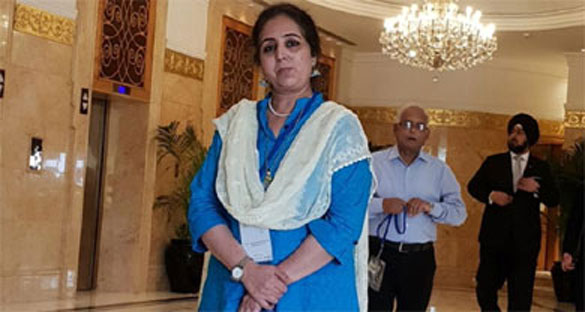 Prof. Nuzhat Parveen Khan Muslim Woman KScholar
------
• MAIL Program Helps More 30 Thousand Afghan Women Facing Economic Challenges
• Women Empowerment in India Needs More Teeth, Says Scholar
• Triple Talaq Bill Not Silver Bullet for Aggrieved Women
• Noida Namaz Row: Private Firm Offers Space To Muslim Women Employees For Friday Prayer
• I Was Forced To Accept Islam, Beaten When Refused: Rajasthan Woman Alleges Forced Conversion
• Hefazat's Shafi Says He Opposes Coeducation, Not Women's Education
Compiled by New Age Islam News Bureau
URL: https://www.newageislam.com/islam-women-feminism/recognise-womens-role-islam-scholar/d/117444
--------
Recognise Women's Role In Islam: Scholar
JANUARY 13, 2019
Women empowerment is not possible only through arguing for gender equality, and this is where feminism goes wrong, said Varsha Basheer, Islamophobia Research and Documentation Project (IRDP) scholar from the University of California, Berkeley.
Describing feminism as "anti-woman", Dr. Basheer said those leading a religious life had the responsibility to make constructive interventions in matters affecting society at large. She was inaugurating a session on 'Women and renaissance' at an international colloquium on reform organised by the Academy for
Islamic Study and Research at Kottakkal on Saturday.
Dr. Basheer called upon the Muslim leadership to recognise the multifaceted roles of women in Islam. "The leadership has the responsibility to ascertain if there is any truth in criticisms being raised against Islam and Muslims," she said. Dr. Basheer called upon the community to introspect if its attitudes and deeds were partly responsible for the challenges posed by Islamophobia.
The freedom granted to women in Islam, including the freedom to pray in mosques, should be restored, she said.
Muslim Girls' and Women's Movement (MGM) president Khadeeja Nargis presided over the function. Scholars Salma Anvaria, Muhsina Pathanapuram, Khadeeja Mangad, Noorjahan K., Abida Farooqui, Fasna Mian, Afifa Punur, Taslina Kuzhipuram, and Rafida Changaramkulam spoke.
Inaugurating a session on 'Kerala Muslim renaissance', E.T. Mohammed Basheer, MP, said selfishness should not get in the way of any reform movement. He added that the Muslim community looked poised to undergo a major transformation if perceived from modernity's standpoint. U.P. Yahya Khan presided over the session.
District Panchayat President A.P. Unnikrishnan inaugurated a session on 'Renaissance and cultural exchanges'. Historian V. Kunhali presided. C.M. Moulavi inaugurated a session on 'Art and creativity'.
https://www.thehindu.com/news/cities/kozhikode/recognise-womens-role-in-islam-scholar/article25982703.ece
--------
MAIL Program Helps More 30 Thousand Afghan Women Facing Economic Challenges
13 Jan 2019
The Ministry of Agriculture, Irrigation, and Livestock of Afghanistan (MAIL) has assisted more than 30 thousand Afghan women who were facing economic challenges through its 1397 fiscal year upliftment program by creating green houses, domestic gardens, vegetable process centers and distribution of working kits.
MAIL spokesman Akbar Rustami said around 30,305 women have benefited from the program during the 1397 fiscal year.
He said the ministry has created domestic gardens for 30,305 women, distributed 800 goats to 400 women in Kabul, Uruzgan, Paktia, and Kunar provinces, 600 honey bee boxes were distributed to 300 women, 110 cows were distributed to 110 women, and 21 food processing kits were distributed to 800 women.
Rustami further added that the ministry has also created 1,030 small green houses for the women during the same year and 14 food processing centers have became operational.
According to MAIL, around 154 seasonal jobs in Saffron sector have been created with the women forming around 80 percent of the recruitments.
The Ministry has also completed the construction work of dairy products in Kabul and Balkh provinces which have a capacity of producing 46 thousand liters of milk per day while another processing center for honey has been established in Khost province, MAIL added.
https://www.khaama.com/mail-program-helps-more-30-thousand-afghan-women-facing-economic-challenges-03105/
--------
Women Empowerment in India Needs More Teeth, Says Scholar
2019-01-12 19
JEDDAH — Even though India has taken giant strides in women empowerment, a lot more needs to be done in this regard, a leading female scholar and legal luminary has said.
"Framers of our Constitution in their great wisdom realized the need to uplift the womenfolk and thus they ensured equal rights for women through Article 14. Subsequently, they also realized that in the medieval period women were suppressed a lot under the then prevalent patriarchal system. According to their considered opinion, merely granting equality to women would not have served the purpose. To really achieve the objective, they then framed Article 15, which ensured that there is no discrimination on the basis of caste, creed, color, religion and gender. Then in Article 15 Clause 3 they ensured equal opportunities for women," said Prof. Nuzhat Parveen Khan, dean of the law faculty in the prestigious New Delhi-based Jamia Millia Islamia University.
Prof. Khan, who has to her credit several books, notably "Women and the Law" and "Child Rights and the Law," was in the Kingdom recently on a private visit.
Talking exclusively to Saudi Gazette, Khan said Indian society consists of people belonging to almost all kinds of religious beliefs. "In every religion women are given a special place and every religion teaches us to treat women with respect and dignity. But somehow society has so developed that various types of ill practices, both physical and mental, against women have become a norm for ages. For instance, female infanticide, wife burning, sexual violence, sexual harassment at work place, domestic violence and other varied kinds of discriminatory practices; all such acts consist of a physical as well as mental element," she said.
"These discriminatory practices continue to dominate our society and as such we see honor killings, dowry killings, female infanticide, domestic violence, sexual harassment, rape, illegal trafficking, exploitation (pimping), gender discrimination, sex ratio issues, etc.," she said.
If women participate actively in economic activities and are able to take independent decisions, it would greatly contribute toward the overall economic development.
"The empowerment of women would result in overall development of society both at micro and macro levels," she said. "Empowering women will help restore balance in our society where women constitute almost half the population. This empowerment would take the nation on a path of greater development," she said.
She said it was heartening to see that more and more female students are enrolling in professional courses in different universities of the country. "At the time I was pursuing masters in law (from Aligarh Muslim University) there were only three girls in a class of 68. The earlier perception of discouraging girls from pursuing higher studies has been done away with. Now more and more girl students can be found in almost all professional courses and they are being meticulously groomed to shoulder the responsibility of nation-building," she said.
Commenting on the contentious government-sponsored "Triple Talaq" bill recently passed by the Lok Sabha (the lower house of parliament), the scholar said the aim of the bill is undoubtedly to remove the practice of pronouncing triple talaq in one go among Muslims. "But the issue is a social one and it is not prudent to put the practice in the criminal law bracket. The government should have started a consultation process with the Muslim community ensuring their support in creating awareness among the masses against the abhorrent practice. Ultimately it is the woman who suffers; she gets the divorce (the Supreme Court does not recognize it as such) and the husband goes to jail for three years. Now who will take care of her alimony?"
The bill is yet to be passed by the Rajya Sabha (the upper house) before it becomes a law. "There are certain loopholes in the bill which may not pass judicial scrutiny," she said.
http://www.saudigazette.com.sa/article/553677/World/Asia/Women-empowerment-in-India-needs-more-teeth-says-scholar
--------
Triple Talaq Bill Not Silver Bullet for Aggrieved Women
13 January 2019
The ostensible reform Bill doesn't serve its purpose as putting husband behind bars would lead to unwanted separation between the couple sans a 'legal' divorce
The Muslim Women (Protection of Rights on Marriage) Bill, 2018, which makes the practice of instantaneous triple talaq criminal offence with three years jail was passed in the Lok Sabha but is currently pending in the Rajya Sabha due to vehement protest by the Opposition which has demanded amendments.
Given the highly politicised discourse surrounding this practice, it is important to examine whether the Bill which makes all declaration of talaq, including in written or electronic form, to be void (ie not enforceable in law) and illegal, addresses the concern of gender justice.
The Bill loses sight of the issue at the core of triple talaq debate: protecting the interests of women. Ensuring that the deserter husband gets jail does not resolve the daunting task that lies ahead of a divorced woman of finding economic, social and emotional support for herself and her children.
The provision of sustenance allowance in the Bill does not seem necessary because Muslim women are already entitled to full lump sum maintenance to be provided within the iddat period that is 90 days after divorce under the Muslim Women Act, 1986.
The idea of sustenance allowance leaves Muslim women on the mercy of deserter husbands, thus undermining the progress made in Muslim women's economic rights on divorce through the 1986 Act.
It is not clear whether the sustenance allowance would be subtracted from the maintenance amount or will be in addition to it. Putting the husband behind bars for three years just postpones the divorce which the husband is sure to obtain once he is out of jail. It penalises the already aggrieved wife and children by keeping them in limbo and stuck in an unwanted marriage for three years depending on the not-yet-defined sustenance allowance.
The Government could instead promote awareness that under the Muslim Women Act, 1986 to address the issues a Muslim woman faces in the case of instant triple talaq.
A major challenge in protecting the rights of Muslim women is the implementation of laws. There are laws already existing in India which can be used by Muslim women such as the Domestic Violence Act, 2005, the Muslim Women Act, 1986, and the Dissolution of Muslim Marriage Act, 1939.
The problem is that women are not provided with adequate support in pursuing long legal battles. A criminal or civil suit costs time, money and begets social stigma. Marginalised Muslim women need access to free legal aid to pursue any civil or criminal suit. The Domestic Violence Act provides for a State-appointed protection officer for providing free legal aid to women. However, the majority of victims report their cases through private lawyers than protection officers due to lack of awareness and availability of protection officers.
The Triple Talaq Bill has no provision of providing free legal aid to the victims of instantaneous triple talaq.
The Bill does not address the ambiguities left unanswered in the Shayara Bano judgment. While the judgment and the Bill declare instantaneous triple talaq invalid, both are silent on the legally valid form of divorce.
The State could make people aware of the more gender just practices of divorce in Islam such as the right of women to initiate divorce that is khula and faskh, talaq-e-sunna (divorce over a period of 90 days with attempts at reconciliation) and mubaraat (divorce through mutual consent). The State could also spread awareness about the Dissolution of Muslim Marriage Act, 1939, which gives Muslim women the right to dissolve marriage on various grounds.
In the nikahnama or marriage contract, women can stipulate the terms and conditions of marriage. The Government could push for certain mandatory provisions to be included in the nikahnama such as prohibition of instantaneous triple talaq and polygamy.
There can be a wide gap between legal validity and societal validity due to the continued legitimacy of religio-cultural practices in the social structure. If we penalise a religio-cultural practice, the result may be that women who are situated in these diverse practices are not able to approach official legal actors for help. Upholding women's agency to exercise rights derived from multiple sources of law may be a more effective strategy in reforming gender unjust religious practices.
https://www.dailypioneer.com/2019/sunday-edition/triple-talaq-bill-not-silver-bullet-for-aggrieved-women.html
--------
Noida Namaz Row: Private Firm Offers Space To Muslim Women Employees For Friday Prayer
Jan 13, 2019
Noida: After the recent controversy over offering Friday namaz at Sector 58 public park in Noida, a private firm in Sector 64 provided space to its women employees to do the prayer on Friday, January 11. More than 60 Muslim women workers of the garment factory offered namaz on the terrace of the office.
The garment factory has been providing space to its women employees to do the prayers since the last 10 years, according to a report in Hindustan Times (HT). The workers get an hour's break every Friday from 1 pm to 2 pm to offer their weekly prayers and have lunch.
A women employee who wished to remain anonymous told HT that the rooftop of the factory is divided into two parts every Friday, one for men and the other for women to perform their weekly prayers. The firm has also arranged for mats, mattresses and an Imam to assist the devotees.
Reportedly, the company also organises Bhajans during the Navratras for its Hindu employees. The company's employees find that the work culture accepts people from different walks of life making its atmosphere a positive one.
Also Read: 'Akhada beyond sexuality': transgender to enter Kumbh 2019
Imam Qari Mohammad Abbas (42) who has been visiting the company every Friday since the last decade to hold the prayers said that he has seen people from different faiths show equal compassion and harmony to others. He found the company's gesture to give its Muslim employees a space to pray as commendable. The owner of the company had decided to provide space to his employees after realising that they had to go out every Friday for prayers.
https://www.timesnownews.com/mirror-now/society/article/noida-namaz-row-private-firm-offers-space-to-muslim-women-employees-for-friday-prayer/346626
--------
I Was Forced To Accept Islam, Beaten When Refused: Rajasthan Woman Alleges Forced Conversion
January 13, 2019
An 18-year-old woman hailing from Barmer district in Rajasthan has alleged that she was blackmailed by a man and forced to accept Islam after she was taken to Jammu and Kashmir's Kupwara region nine months ago, reported news agency ANI.
In her complaint, it was mentioned that she was forced to sign fake marriage documents and forced to accept Islam; the man also threatened to send her to Dubai. Certain media reports also indicated that she was forced to eat beef and offer namaz.
It has also come to light that the girl had earlier went missing from Barmer on March 16, 2018, when she was on her way to Vadodara. She was earlier blackmailed by a man using her edited photos.
I was made to sign a blank paper, which later became marriage document. I was forced to accept Islam and beaten up when refused. They planned to send me to Dubai. When I got chance, I booked a ticket to home, she said.
Commenting on the case, Barmer's Superintendent of Police, Rashi Dogra said that officers have gone to Jammu and Kashmir to investigate the issue. He said that the woman will get justice in due course.
However, the victim suggested that the police are yet to record her statement under Section 164 of the CrPC and also demanded protection.
Police yet to record my statement under Sec 164 of CrPC. I demand protection, she added.
https://www.indiatoday.in/india/story/rajasthan-barmer-woman-alleges-forced-conversion-to-islam-1429777-2019-01-13
--------
Hefazat's Shafi Says He Opposes Coeducation, Not Women's Education
13 Jan 2019
"We want women in the country to be educated because a child cannot be properly educated if the mother is not," he said in a statement on Saturday, where he said that the co-education system 'violates the Pardah.'
But he urged the creation of a separate education system for women which would allow them to maintain 'Pardah' through segregation.
"There all the officials will be women. We will urge our women to receive education in that kind of system," he said.
Shafi, the director of Al-Jamiatul Ahlia Darul Ulum Moinul Islam Madrasa in Chattogram's Hathazari urged Muslim devotees to make four-point promise during the 118th annual congregation of the madrasa on Friday, according to media reports.
The reports stated that Shafi had urged devotees to promise they would not send their daughters to school and college and not allow them to study above grade five if they do.
He drew flak from several quarters after the reports were published. Deputy Education Minister Mohibul Hassan Nowfel told journalists on Saturday morning that the statement was Shafi's 'personal opinion' and was unacceptable and 'discriminatory and inconsistent' with the country's policy.
Part of his statement has been 'presented incorrectly' by some media sources, which has created confusion, Shafi said in a statement.
"Different media have been spreading news on me being 'misogynist' which is really unfortunate. They have been disseminating an incorrect interpretation of my statement."
"What I mainly wanted to say is that women should not study in such institutions where the basic law of Islam 'Pardah' or female seclusion is violated. We must remember that Islam is a full lifestyle. All aspects of life are mentioned in it, including the education and the running of the the country. Islam promotes the education for women. Everyone knows that Ummul Mumenin Hazrat Ayesha (Ra) had been a notable Muhaddis. The Muslim Ummah would have missed many Hadiths if she had not been educated," Shafi explained his statement.
"But there is a basic law of Pardah in Islam. In my statement, I wanted to ensure that the Pardah is not violated during education. Most of the general education institutes in the country provide co-education; meaning men and women receive education together. I wanted to warn the people against that."
Shah Ahmed Shafi mentioned his role as the chairman of Al Haiyatul Ulya Lil Jamiyatil Kawmiayah, an organisation coordinating the six Qawmi madrasa boards to show that he was in favour of women's education.
Thousands of women have received the higher education certificates from the institute, he said. "The prime minister has announced our Dawraye Hadith is equal to a Masters degree, allowing millions of our students to get the Masters qualification," he said.
"I don't understand how I became someone against women's education when the board I head is allowing thousands to women to receive higher education."
The Hefazat-e-Islam amir said he wants to run women's education institutes in a segregated way.
"We are not against women education, but we're promoting safe education institution for women. We want our women to have higher education but in a safe environment that does not violate the law of Islam. It is important to have education but we can't send our daughters to unsafe places for such education," he said.
"The way we are providing the highest education for women in a safe environment should be followed."
https://bdnews24.com/bangladesh/2019/01/13/hefazats-shafi-says-he-opposes-coeducation-not-womens-education
--------
URL: https://www.newageislam.com/islam-women-feminism/recognise-womens-role-islam-scholar/d/117444
New Age Islam, Islam Online, Islamic Website, African Muslim News, Arab World News, South Asia News, Indian Muslim News, World Muslim News, Women in Islam, Islamic Feminism, Arab Women, Women In Arab, Islamophobia in America, Muslim Women in West, Islam Women and Feminism