New Age Islam News Bureau

22 September 2020

• Asma Arian Wife of Qatar's Detained Sheikh Talal Makes Desperate Plea to UNHRC For Her Husband's Release

• Taj Bibi, An Afghan Woman Prays That Peace Will Save Her Fourth Husband

• Palestinian Women Suffer Sexual Abuse in Israeli Prisons: Report

• 'If Sikhs Can Wear Turban, Why Can't Muslims Wear Hijab'; Singapore Debates Ban on Islamic Veil at Workplace

Compiled by New Age Islam News Bureau

URL: https://www.newageislam.com/islam-women-feminism/nobel-peace-prize-laureate-malala/d/122917

--------

Nobel Peace Prize Laureate Malala Yousafzai: There Should Be No Compromise on Girls' Education in Intra-Afghan Talks

September 21, 2020
Malala Yousafzai, Nobel Peace Prize laureate
-----
Nobel Peace Prize laureate Malala Yousafzai says that "there should be no compromise" on the right to education for Afghan girls in ongoing peace negotiations between the government and Taliban militants.
In an exclusive interview with RFE/RL's Radio Mashaal on September 21, Yousafzai said that "peace is precious" for the Afghan people after suffering through four decades of war, losing their family members, homes, and livelihoods.
Malala, who was awarded the 2014 Nobel Peace Prize for her campaign supporting the education of girls, stressed that women's freedoms and human rights should not be undermined in any peace process.
"We all hope that peace comes to this world so that our people have their own normal life. But it is very necessary that [the government and the Taliban] have to listen to the voices of civil society and women and there should be no compromise on girls' education and human rights because peace can't be restored without human rights," said Malala, who was shot in the head by a Pakistani Taliban gunman when she was on her way to school in the Swat Valley.
Women's rights is one of the thorniest issues in the long-delayed, U.S.-brokered peace talks that began in Doha on September 12.
During its brief administration in Afghanistan, the Taliban banned women from going to school and working outside their homes, while also brutally enforcing a strict dress code.
Many Afghan activists fear that women's rights could be a casualty of peace negotiations despite recent pledges by Taliban officials that they will respect women's rights under Islamic law.
Millions of Afghan girls have gone to school and women enjoy the right to work and participate in politics since the collapse of the Taliban regime in 2001.
https://gandhara.rferl.org/a/malala-urges-no-compromise-on-girls-education-in-afghan-peace-talks/30850428.html
--------
Asma Arian Wife Of Qatar's Detained Sheikh Talal Makes Desperate Plea To UNHRC For Her Husband's Release
September 21, 2020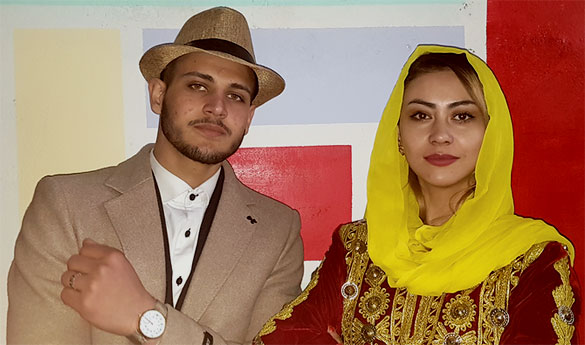 Asma Arian, here with her four children, has made an 11th-hour effort to get her husband, Qatari Sheikh Talal Al Thani, released from prison. (Courtesy of Asma Arian)
------
LONDON: The wife of a Qatari royal languishing in a Doha prison made a desperate appeal to the UN Human Rights Council Monday for her husband's release.
Sheikh Talal bin Abdul Al-Thani, a grandson of the former emir Sheikh Ahmad bin Ali Al-Thani, has been in prison for seven years.
His wife, Asma Arian, says he has been tortured and ill-treated by the Qatari authorities and denied medical care as his health deteriorates.
She delivered a statement to the Geneva-based council on a report by the Working Group on Arbitrary Detention on Qatar, which it visited last year.
"He's been arbitrarily detained in Qatar for over seven years — years of suffering for our children and me, and torture and despair for him," Arian, who lives in Germany with her four children, said.
"He's in incommunicado detention and suffers from severe medical conditions he developed in prison.
"My husband needs urgent medical care and a lawyer he chooses freely."
Arian says her husband was detained in 2013 after he requested his inheritance from the government. She said Sheikh Talal was duped into signing security checks that it said would underwrite commercial projects through which he would be paid.
"Their projects proved fictitious, designed to trap my husband in fabricated charges of defaulting on his debts," she said.
He was given a 22 year prison sentence without a proper trial.
The UN working group's report explicitly criticized Doha for imprisoning large numbers of people for defaulting on debt and the use of "guarantee cheques" to secure loans.
"We call on Qatar to abide by the recommendations of the working group and release my husband immediately, and respect his rights while he's in detention," Arian said.
The report made a series of recommendations for Qatar, including raising the minimum age of criminal responsibility to 14 and abolishing the system of male guardianship over women.
Sheikh Talal's plight has been linked to the decades of infighting within the Qatari royal family.
His grandfather, who reigned from 1960 until 1972, was deposed by his cousin Sheikh Khalifa bin Hamad, grandfather of Qatar's current emir, Sheikh Tamim.
https://www.arabnews.com/node/1738021/middle-east
--------
Taj Bibi, An Afghan Woman Prays That Peace Will Save Her Fourth Husband
September 22, 2020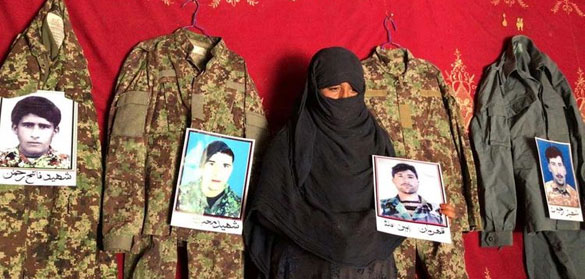 Taj Bibi 33, holds a photo of her husband next to the military uniforms and pictures of her former husbands who were killed battling the Taliban, at her home in Asad Abad, Kunar province, Afghanistan September 20, 2020.
Image Credit: Reuters
------
Kabul/Jalalabad: Heavily pregnant Taj Bibi prays for her fourth husband as the Afghan soldier sets off to battle the Taliban, hoping his fate won't be the same as that of his three brothers, her first three husbands, all killed fighting the militants.
Clashes between Afghan government forces and Taliban insurgents have not died down despite peace talks in Qatar that have raised hopes for an end to Afghanistan's seemingly endless cycle of war.
At least 60 members of the Afghan security forces were killed in the past week across the country. Bibi, watching her husband, Aminullah, set off for a three-month stint on the front line, has a simple plea: she hopes the men in power don't make her a widow for a fourth time. "I can't afford to see my five children being orphaned again," said Bibi, 33, who lives in the Sadeqabad area of mountainous Kunar province in eastern Afghanistan.
Bibi was 18 when she got married for the first time, to Aminullah's oldest brother, who was a soldier. Life was good, Bibi says, until her husband was killed in a battle with the Taliban. Within months, she married his younger brother, also a soldier.
It is common in ethnic Pashtun society for widows to marry their brothers-in-law because of a belief that a widow should not marry outside the family.
But even before she came to terms with her new life, a pregnant Bibi had to identify the bloody body of her second husband, who was killed defending a check-point from a Taliban attack.
'Blame myself'
After 90 days of mourning, she agreed to her father-in-law's request that she marry his third son, a police officer. He was killed in a clash with the Taliban in 2017.
That same year, Bibi married Aminullah, the fourth brother, who accepted his three-time widowed sister-in-law as his wife along with her children.
"Sometimes I blame the Taliban, sometimes I blame the Afghan government, sometimes I blame the foreign forces but mostly I blame myself for all this pain," Bibi said over the telephone. Bibi is a devout Muslim and prays five times a day. "Islam teaches us not to kill anyone, but here in our land we just kill anyone and everyone," she said.
"I don't know if Allah understands my pain and loss." She says she begs Aminullah to quit the army but he promises he'll be back from his tours of duty. She also prays that peace will save him. "My life depends on seeing my husband alive," she said.
Bibi spends much of her time sewing clothes for her children, and cares for them and an extended family of 15 people on Aminullah's monthly income of $300, and pension allowances for her dead husbands.
She said people die once but after losing three husbands, she felt like she'd already died three times.
"Maybe I'm just unlucky."
https://gulfnews.com/world/asia/afghan-woman-prays-that-peace-will-save-her-fourth-husband-1.74038266
--------
Palestinian women suffer sexual abuse in Israeli prisons: Report
21 September 2020
A group of Palestinian women have reported sexual abuse, including exposition to extreme body searches, by Israeli prison officials and interrogators at detention centers across the occupied territories.
Dena Karmi, 41, a Palestinian woman, who spent 16 months in an Israeli prison, told Turkey's official Anadolu news agency on Monday that she was subjected to sexual harassment for two days at the interrogation facility run by the regime's internal security agency, known as ISA, at Shikma Prison in Ashkelon.
"When I refused to take my clothes off, the jailer attacked me. She tore my pants to shreds and subjected me to embarrassing searches," she said while describing her first moments at the detention center.
Karmi added, "It was very humiliating and horrific particularly, when the interrogator was behaving promiscuously and trying to provoke me. The male interrogator would usually get closer to me during interrogation sessions at night, and even showed his inappropriate photos in swimming trunks."
The Palestinian woman went on to say that the interrogator used to come close breathing on her face, when her hands were cuffed behind. The officers even sought to molest her and used foul language.
The interrogator even accused Karmi of having sexual relationship with other Israeli intelligence officers, who had interrogated her earlier.
Karmi was arrested in July 2018 from her house in the occupied city of al-Khalil in West Bank and was sentenced to an imprisonment of 16 months. She was held for allegedly participating in social activities linked to the Hamas resistance movement with six other women.
Another Palestinian prisoner, requesting anonymity, said she was subjected to sexual harassment as she was being transferred from the occupied central West Bank city of Ramallah to Jerusalem al-Quds.
"An Israeli criminal sitting opposite to me in the prisoner transport vehicle insulted me sexually. I was shocked and knocked at the metal cage repeatedly in search of help. Nobody, however, responded to my appeals," she said.
The woman said no Israeli officer helped her or stopped the criminal from harassing her.
Director of the Addameer Prisoner Support and Human Rights Association, which advocates the rights of Palestinian inmates, said the Israel's judicial system does not take the complaints related to sexual harassment seriously.
"We have documented and filed many complaints to the Israeli courts and the United Nations. But there has been no satisfactory response up until now," Sahar Francis said.
More than 7,000 Palestinian prisoners are currently held in some 17 Israeli jails, with dozens of them serving multiple life sentences.
Over 350 detainees, including women and minors, are under Israel's administrative detention, which is a form of imprisonment without trial or charge, allowing authorities to incarcerate Palestinians for up to six months. The duration could be extended for an infinite number of times.
The detention takes place on orders from a military commander and on the basis of what the Israeli regime describes as 'secret' evidence.
Some prisoners have been held in administrative detention for up to 11 years.
https://www.presstv.com/Detail/2020/09/21/634700/Palestinian-women-suffer-sexual-abuse-in-Israeli-prisons--Report
--------
'If Sikhs can wear turban, why can't Muslims wear hijab'; Singapore debates ban on Islamic veil at workplace
Sep 21, 2020
Every day before she starts her shift at a government hospital in Singapore, Farah removes her hijab -- the Islamic veil she has worn since a teenager.
Although minority Muslim women can freely wear the hijab in most settings in Singapore, some professions bar the headscarf – and a recent case has triggered fresh debate on diversity and discrimination in the workplace.
Now Farah has joined a growing number of Muslims – who account for about 15 per cent of Singapore's four million resident population – calling for the ban to end, with an online petition gathering more than 50,000 signatures.
"They told me I can't work here if I wear the tudung," said Farah, using the local Malay term for hijab, as she recounts her job interview two years ago for a physiotherapist position.
"I felt a sense of helplessness, it's unfair. Why has the tudung become a barrier for us to look for jobs?" asked the 27-year-old, who used a pseudonym for fear of reprisals at work.
She accepted the job eventually but has to remove her headscarf whenever she is at work.
Farah's case is not an oddity.
There was outcry last month when a woman was asked to remove her hijab to work as a promoter at a local department store.
Halimah Yacob, the country's first female president who herself wears the hijab, said there is "no place" for discrimination when asked her view of the case.
The store reversed its policy, but many took to social media pointing out restrictions remain on wearing the hijab for some civil servants, including policewomen and nurses.
LIVELIHOOD
The debate surrounding the hijab is not new in Singapore, a modern city-state which takes pride in its multicultural and multiracial background. The country is predominantly ethnic Chinese, many of whom follow Buddhism or Christianity.
In 2013, then Muslim affairs minister Yaacob Ibrahim said wearing a hijab at the workplace would be "very problematic" for some professions that require a uniform.
The following year, Prime Minister Lee Hsien Loong said the hijab issue was about "what sort of society do we want to build in Singapore", according to local media reports.
Singapore's police force and the health ministry did not respond to repeated requests seeking comment.
Referring to the department store case, Singapore's president said discrimination in the workplace was "disturbing" as it deprives a person from earning a living.
"People should be assessed solely on their merits and their ability to do a job and nothing else," Halimah wrote on her Facebook, which attracted more than 500 comments.
"During this COVID-19 period when concerns over jobs and livelihoods are greater, incidents of discrimination exacerbate anxieties and people feel threatened," she added.
DIVIDED
The hijab has been a divisive issue for Muslims worldwide.
Many Muslim women cover their heads in public as a sign of modesty, although others see it as a sign of female oppression and in the Middle East women face jail for eschewing it.
In Indonesia's conservative Aceh province, women without a headscarf have been censured. In Malaysia, Islamic authorities have probed a book about Muslim women who refuse to wear the hijab.
But women's rights campaigners in Singapore say they want Muslim women to have freedom of choice.
Such restrictions have hindered women's job prospects, especially when the coronavirus pandemic has pushed Singapore into recession and companies are laying off, they say.
"Women should be able to practise their religion freely without having to choose between having a job or to practise their religion," said Filzah Sumartono, a writer who helps run Beyond the Hijab, a website focused on Singapore Muslim women.
"This issue in Singapore is only being faced by Muslim women, it's a strong discriminatory policy against Muslim women," she told the Thomson Reuters Foundation.
IDENTITY
Others urge consistency, noting that the turban - headgear worn by Sikh men - is allowed at work in Singapore.
"Why the double standard," asked Nur, a Muslim law student who signed the petition posted online in June. She requested not to use her full name to protect her privacy.
The 22-year-old said her mother and sister, who work as a nurse and in a private security company respectively, are both banned from wearing a headscarf at work.
She called on officials to explain the restrictions, saying countries such as Britain or Australia have changed tack, with disposable hijabs for nurses to address any hygiene concerns.
"I accept that racial harmony is very fragile, but it's not just acknowledging these differences exist and live with them.
It's much more than that," said Nur, a co-founder of Lepak Conversations, an online group.
"It's about knowing these differences exist, accepting them and embracing these differences."
Filzah of the Beyond the Hijab group said the restrictions can make it more difficult for women to enter the workforce.
"Some women don't feel comfortable removing a part of their identity just to be able to earn money," she said.
"Having to put this very difficult choice on Muslim women is unfair and unjust." Reuters
https://www.tribuneindia.com/news/world/if-sikhs-can-wear-turban-why-cant-muslims-wear-hijab-singapore-debates-ban-on-islamic-veil-at-workplace-144462
--------
URL: https://www.newageislam.com/islam-women-feminism/nobel-peace-prize-laureate-malala/d/122917
New Age Islam, Islam Online, Islamic Website, African Muslim News, Arab World News, South Asia News, Indian Muslim News, World Muslim News, Women in Islam, Islamic Feminism, Arab Women, Women In Arab, Islamophobia in America, Muslim Women in West, Islam Women and Feminism