New Age Islam News Bureau
20 Jan 2019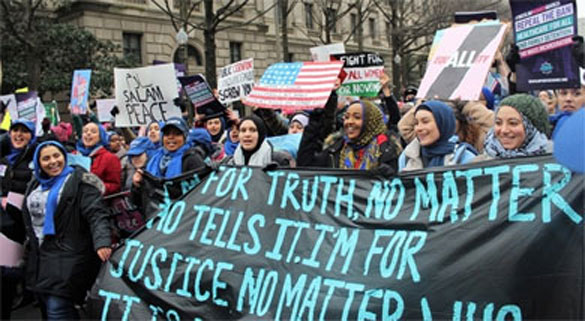 'From Palestine to Mexico, all the walls have got to go,' demonstrators chanted (MEE/Ali Harb)
-------
• Blame Game Follows Cancellation of Women's Cycle Rally in Pakistan
• Rise Of Female Jihadists Complicates Anti-Terror War
• Women's Empowerment Conf. Begins Ahead Of Beirut's Arab Developmental Summit
• Saudi Arabia to Issue Tour Guide Licences To Women
• Emirati Women Volunteer Doctors Treat Patients At Refugee Camp
• Contest Helps Emirati Women Lead In Business
Compiled by New Age Islam News Bureau
URL: https://www.newageislam.com/islam-women-feminism/muslim-women-raise-their-voices/d/117512
--------
Muslim Women Raise Their Voices in Unison at Women's March in Washington
19 January 2019
Sheren Khalel
WASHINGTON - They chanted. They shouted. They danced. With their bright blue hijabs, they were difficult to miss.
Dozens of Muslim women joined thousands of protesters at the Women's March in Washington on Saturday to protest against what they say are President Donald Trump's unjust policies targeting their communities as well the wider public.
Their presence was conspicuous and drew praise from fellow protesters who joined their contingent to show unity.
Blocks away from the White House, the women chanted in support of Black Lives Matter, refugees and democracy, calling on Trump to "move" and "get out the way".
"From Palestine to Mexico, all the walls have got to go," they sang together.
The chanting grew louder, angrier and more animated as the protesters passed the Trump Hotel along the route of the march.
Jinan Shbat, outreach manager at the Council on American Islamic Relations (CAIR), lauded the energy of the marchers, calling it "empowering".
"It's absolutely amazing, seeing all these people here supporting each other," she said. "This administration has been seeking to divide us for two years, and I feel like every year we just come back stronger."
Shbat said Trump's travel ban on several Muslim-majority countries remains a major worry for women in the community, many of whom are struggling to unite with their families.
"Here in the United States, on top of that, the rhetoric that the president has been spreading about Muslims has been hurting visibly Muslim women," she added.
"If our president allows the hate to continue, unfortunately, Muslims tend to be the main target."
Wafa May Elamin, a 26-year-old Sudanese American demonstrator, said she was personally affected by the ban, which made her feel unwelcome. Sudan appeared on Trump's first executive order, but was later dropped in revised versions of the ban.
Still, Elamin said she was heartened by the solidarity of the gathering.
"If I was to define 'support' it would be this - the Women's March," she told MEE.
As the protesters gathered before the march, prominent Muslim activist Linda Sarsour urged the women to be proud of their faith and contributions to society in the United States.
"It was important to us to make sure we were here as a visible force, to make sure that people do not ignore us, do not erase us from the conversation, that no one talks about Muslims without Muslims, and to show that we are also unapologetic about our identities and that we are also part of the feminist movement in America," she told MEE.
Draped in a Palestinian keffiyeh, young activist Roudah Chaker enthusiastically shouted slogans through a megaphone. She said she was at the march to fight for the rights of Arabs, Muslims, African Americans and all marginalised people in the US.
"They all connect, because everybody is being oppressed by the same president," she told MEE between rounds of chants. "The government is oppressing all these people, and all these people need to have rights in this country."
Lorie Hershberger, a therapist from Michigan, echoed the tone of solidarity, saying she becomes emotional when she thinks about the bigotry against Muslims in the US.
"We have a lot of Muslims in our community in Michigan, and they are wonderful people," she said.
One woman marched with a sign that echoed Congresswoman Rashida Tlaib's call to "impeach the mother****er", referring to Trump. The latter part of the word, however, appeared in Russian - a nod to the ongoing investigation of possible collusion between the Trump campaign and Russia during the 2016 election.
Trump, who regularly uses name-calling against opponents, had hit back against Tlaib, calling her comment "disgraceful".
Asked about Trump's remarks, the demonstrator answered without words, shaking her head with an incredulous look.
Nikki Lavailey, a 23-year-old marcher who works in the health-care industry, held a sign featuring new members of Congress from various ethnic backgrounds, including Ilhan Omar, a Somali American Democrat who first came to the US as a refugee.
In November, Omar and Tlaib became the first Muslim women to be elected to Congress, joining a wave of fellow women of colour who emerged victorious in last year's midterm election.
"I just think for America, this is a time when we need women to step into a place of power and make the choices for us," Lavailey said.
On Saturday, demonstrators held signs ridiculing the president, often poking fun at his dishonesty, relationship to Russia's Vladimir Putin and his comb-over hairdo.
Many held small unflattering effigies portraying Trump, modeled after the giant balloon that was flown over the London during the US president's visit to the UK.
The march featured a myriad of ideologies and demands ranging from denouncing Trump and condemning racism to promoting equal pay and reproductive rights for women.
On the edge of the demonstration, a few Uighur women waved the light blue flag of the autonomous region of Xinjiang, where the Chinese government has rounded up as many as 1 million Muslims and detains them in concentration camps.
Demonstrators from Code Pink, a women-led anti-war activist group, called for peace and the rejection of Trump's proposed border wall with Mexico.
Medea Benjamin, co-founder of Code Pink, said that opposing US foreign wars is a women's issue.
"Women are the ones who are most hurt by wars," she told MEE. "They're the ones who have to keep the families together once men go off to war... Women are the ones who suffer when the budget goes into the military and is not there for the families' needs, like health care and a good education system."
https://www.middleeasteye.net/news/muslim-women-raise-their-voices-womens-march-1572072622
--------
Blame Game Follows Cancellation of Women's Cycle Rally in Pakistan
January 20, 2019
PESHAWAR: The organisers have begun playing the blame game following the cancellation of a bicycle rally for women and transgender persons over backlash from clerics, who called the event organised by three non-governmental organisations promotion of 'vulgarity and obscenity'.
Accusing an organiser to have put lives of participants at stake by leaking the information about event and inciting the clergy's hostile response, two organisations involved in the holding of the 'Women on Wheels' cycle rally in Peshawar say the event will happen soon.
The rally scheduled for Saturday (Jan 19) was cancelled Friday night when first Majlis Ulema Hayatabad condemned it in Friday sermon and other religio-political parties, including Jamiat Ulema-i-Islam-Fazl and Jamaat-i-Islami held protests to block the event declaring it the promotion of 'vulgarity and obscenity".
The Pak Development Mission in collaboration with the Professional Development Organisation and Zmung Jwandun (ZJ) had planned the event in the Hayatabad Sports Complex and got the permission of the local administration for it.
The two main organisers issued a joint news release on Saturday starting the blame game over failure to hold the event. The PDO and PDM accused the ZJ of endangering the life of participants and the bicycle rally.
The release issued by the PDM and PDO said the provincial government had been very supportive but Wafa Wazir, founder of ZJ, leaked the rally's information to the media though the three organisations had agreed not to disclose the event details for the safety of participants.
"Expecting backlash, three of us had agreed not to leak out any event information. The rally participants were selected, while their privacy was ensured through a WhatsApp group but it all was put at stake by Wafa Wazir through violation of the agreement," said PDO head Eiman Jamil.
She, however, declared said the event would happen soon.
"Hopes are high. We are keeping our fingers crossed," she said adding that the participants continued to take place in the event.
As the PDO and PDM announced to hold a news conference on Monday (Jan 21), Wafa Wazir of ZJ said she would speak to the media about the rally cancellation today (Sunday).
She said she didn't want to endanger the lives of participants and cancelled the rally to ensure their safety and show respect to the local culture and traditions.
Ms Wafa said there were no direct threats to the event but when she saw adverse reaction on social media and decided to cancel the event.
"We had even asked women participants to wear shalwar qameez and cover face with veil," she said adding that she wanted to show through the rally that peace has returned to Peshawar.
Ms Wafa said the event was not about women's empowerment and instead, it was just for promoting softer image of Peshawar.
"We cancelled the rally for the sake of the safety of participants. The mindset would slowly change," she said.
Rights activist Tahira Kaleem criticised organisers for cancelling the bicycle rally and said it seemed that the rally was a mismanaged event.
"The mismanagement of three organisations holding the rally gave space to the extremist mindset to push back the women seeking and working for social space for women," she said.
Ms Tahira said the rally's cancellation encouraged extremists to exert themselves and that the whole episode turned out to be counterproductive.
https://www.dawn.com/news/1458584/blame-game-follows-cancellation-of-womens-cycle-rally
--------
Rise Of Female Jihadists Complicates Anti-Terror War
JANUARY 20 2019
They are young, intelligent, beautiful and deadly. Welcome to the world of female jihadists, two of whom are currently being sought by the Kenyan police over Tuesday's attack at the DusitD2 hotel and office complex in Nairobi, which has so far claimed 21 lives.
The most high-profile of the two is Violet Kemunto Omwoyo, the wife of Ali Salim Gichunge, who is said to be among the five-member team that carried out the attack at the upscale hotel which is popular with Westerners.
So far, her role in the attack is fuzzy; she is a suspect by association to her husband whom the authorities say was the leader of the killer team.
He is believed to have been killed during the rescue mission.
LIBERATION
The other high-profile woman being pursued by detectives is a Miriam Abdi - who is believed to have played a central role in the delivery of the deadly weapons used in the attack.
The hunt for the mystery woman has taken sleuths from the Anti-Terrorism Police Unit (ATPU) to various towns, among them Eldoret and Mombasa, but she has so far proved slippery.
The duo add to a growing number of local and international women who have joined the dark world of global terrorism and, in the process, redefined their roles in modern insurgency groups from victims to active agents.
The media often portray these women as joining jihadi groups through romantic adventurism such as the "jihadi brides", naivety, or a sense of their own marginal lives lived in their own countries.
However, studies show that the majority of women who support, join, or are recruited to these groups are actually moderately to well-educated women, said security analyst George Musamali.
"Many women who are actually joining these groups see it as a form of empowerment, liberation, and an opportunity to live in a society with a belief system that they subscribe to," he said.
ARRESTS
For example, Ms Kemunto is a fresh-faced holder of a journalism degree from Masinde Muliro University of Science and Technology.
She plaited her hair, wore lipstick and a nose ring to boot, all which had long been banned by the Al-Shabaab as they tried to impose their austere, puritanical form of Islam in Somalia and beyond.
Female jihadis, such as Ms Kemunto, with her beauty and level of education, serve as potent recruiting magnets for Islamist groups, said Mr Musamali, a former General Service Unit officer.
There are a number of local examples of this. In March 2015, four young women from relatively well-off families — Ummulkheir Sadri Abdalla, Khadija Abubakar Abdulkarim, Halima Aden and Maryam Said Aboud — were arrested in Elwak on allegations that they were sneaking into Somalia to join the Al-Shabaab.
They were arraigned before a Mombasa magistrate's court with 20 charges including being Al-Shabaab members, collecting and holding information on terrorism and organising terror trainings among others.
The State prosecutor based his evidence on the videos found on the suspects' mobile phones, which he claimed to be showing terror-related activities.
EDUCATION
But many were surprised to learn that Ummulkhayr was a third year medicine student in Sudan while Khadija was studying pharmacy at Mount Kenya University (Thika Campus).
Ummulkhayr was born in 1996 and had been studying at the International University of Africa in Khartoum since 2013, according to the police.
According to government records, Maryam was born on December 4, 1990 in Shela Malindi, and studied at Burhani Secondary School in Malindi until 2005 then joined Kenyatta University (Mombasa campus) in 2009.
She died in May last year while their case was ongoing. Her three alleged accomplices were set free four months later, in October last year.
Before them, a mother of four with a comely face from the United Kingdom, Samantha Lewthwaite, also famously known as the "white widow", had captured world imagination after she joined Al-Shabaab.
MANHUNT
Ms Lewthwaite, 35, is the widow of Jamaican-born Jermaine Lindsay, an Al-Qaeda terrorist who blew himself up in the King's Cross underground station in London in July 2005, killing 26.
Ms Lewthwaite, the daughter of a retired British military officer and widow of a suicide bomber, is wanted for organising and financing terrorist activities inside the country and beyond.
Interpol issued a red notice arrest warrant for her after she was linked to the 2013 Westgate Mall attack in Nairobi which left 66 other people dead.
She is also linked to the slaughter of 148 people, most of them students, by Al-Shabaab gunmen at the Garissa University College in 2015.
In December last year, British intelligence sources told the London-based Mirror newspaper that Ms Lewthwaite had since left Kenya and is now operating from Yemen where its chaotic political situation has given her an ideal cover.
SAGAR
The other high-profile local female terror suspect is Haniya Sagar, the wife of slain Muslim cleric Aboud Rogo, a fiery preacher who used his sermons at Masjid Musa in Mombasa to openly urge Muslim youths to take up the cause of global jihad up until he was shot by unknown people in August 2012.
His wife was arrested and charged in 2016 with aiding terror activities and failing to give information which would have stopped the commission of a terror attack.
She was jailed for 10 years in February 2018 but was set free on appeal in October.
Ms Sagar, and three others, had also been charged with aiding three women — Tasni Farah, Ramla Hussein, and Maimuna Abdirahman — to carry out an attack at the Central Police Station, Mombasa, in September 2016.
INTELLIGENCE
The three women, who walked into the station pretending to report a stolen phone, brandished knives after they were barred from accessing the cells with one throwing a petrol bomb in an attempt to burn down the station.
The women had apparently gone to rescue a terror suspect, a former Recce squad officer, who had been held at the station.
Beyond our borders, two women — Amina Farah Ali and Hawo Mohamed Hassan — from Minnesota were convicted in 2013 of fundraising for Al-Shabaab in the US.
"Women involved are often seen as meek and manipulated, when in fact, many of them have done due diligence before making their decisions," said Mr Richard Tuta, a former police officer and a scholar in criminal and security matters.
"Usually these women open communication channels with those already in the group, read material online, and even leave letters for their families back home justifying their decisions," he said.
A key role women play in terror groups, such as Al-Shabaab, is intelligence gathering, wrote Phoebe Donnelly in a blog titled Women in Al-Shabaab through a New War's Lens, which appeared in July 2018 in Women in International Security (WIIS), an online journal for international peace and security.
https://www.nation.co.ke/news/Rise-of-female-jihadists-complicates-anti-terror-war/1056-4942726-ji1dn5/index.html
--------
Women's Empowerment Conf. Begins Ahead Of Beirut's Arab Developmental Summit
19/01/2019
BEIRUT, Jan 19 (KUNA) -- The Mashreq Conference on Women's empowerment kicked off on Saturday under the patronage of the Lebanese Prime Ministers Saad Al-Hariri.
The conference is held ahead of the 4th Arab Development, Economic and Social Summit in Beirut scheduled on Sunday.
"The absence of women in the labor force equals the absence of half of the society, and causes a huge loss to local growth and production. We have focused in the last few years on empowering women and activating their role in all fields in line with UN's goals to achieve sustainable development," Al-Hariri said.
The Lebanese government have taken several steps towards the goal through allowing women to assume high-ranked governmental posts, and enforcing laws against women discrimination, Al-Hariri added.
Al-Hariri announced that the World Bank Group have initiated new strategies in funding policies that aim to achieve gender equality in the Middle East, which is an important step that will help move from the planning phase to execution.
On his part, Secretary General of the Arab League Ahmed Abul Gheit said, that a number of matters listed in the business agenda that will be discussed in the Summit on Sunday include women's empowerment, and ensuring their medical, social and educational rights were met.
Abul Gheit stressed the importance of integrating Arab women in the economic world and spread awareness of their essential role in the community.
Lebanese Minister of Health Ghassan Hasbani said in a statement to KUNA, that it was important to have laws that help empower women, but is more vital to close the big gap between men and women in society.
Lebanese MP Rola Tabsh told KUNA that empowering women can be achieved in laying more rules and laws concerning equality.
To achieve equality, women must be active in the labor market starting by handling public jobs reaching political posts, she added. (end) bb https://www.kuna.net.kw/ArticleDetails.aspx?id=2771722&Language=en#
--------
Saudi Arabia to Issue Tour Guide Licences To Women
January 20, 2019
Saudi Arabia will start issuing tourist guide licences to qualified Saudi women this month, a news report said.
As many as 150 Saudi women, who have studied tourism guidance and graduated as early as 2012, have applied for the license, said a report in Saudi Gazette.
The first training sessions qualifying women to obtain the licences was held in Tabuk, it said.
According to Sattam Al-Balawi, chairman of the Saudi society for tourist guides, to become a tour guide, applicants should not be less than 23 years of age, be medically fit, should pass the commission's qualifying tests and should have successfully attended training sessions in first aid.
Areej Falatah, an aspiring tour guide, said she worked for five years in areas away from her specialisation. She will now be able to work as a tour guide when she is given the license.
Meanwhile, the Saudi Commission for Tourism and National Heritage (SCTH) is working to give licences to three private museums in Makkah, which will join five others already existing in the city, the report said.
http://tradearabia.com/news/TTN_349931.html
--------
Emirati Women Volunteer Doctors Treat Patients At Refugee Camp
January 19, 2019
Amman: A delegation of Emirati women volunteer doctors paid a visit to the UAE-funded Mrajeeb Al Fhood Syrian Refugee Camp in Zarqa Governorate, Jordan, from January 13 to17.
During the visit, the team provided health and therapeutic services to the patients in the field hospital in Mafraq and the medical centre in the camp.
The delegation thanked the officials of the camp and praised the UAE's pioneering role in the humanitarian and voluntary work field.
At the end of the visit, Mohammad Salim Al Ka'abi, Deputy Director of the Camp, presented certificates of appreciation to the delegation.
https://gulfnews.com/uae/government/emirati-women-volunteer-doctors-treat-patients-at-refugee-camp-1.61522721
--------
Contest Helps Emirati Women Lead In Business
Saman Haziq
January 19, 2019
A mix of talented Emirati women, mostly university students, pitched their ideas, views and visions as future Emirati leaders at the UAE Corporate Finance Woman of the Year (CFWY) competition, which was held on Wednesday at the Youth Hub in Emirates Towers.
The contest, now in its second year, is aimed at encouraging female Emirati students to explore new business sectors. Organised by global professional services firm Ernst & Young (EY) and its corresponding youth council, along with the support of the UAE Youth Council, the initiative encouraged Emirati women to pursue careers in the private sector, particularly within the corporate finance industry.
Out of 60 entries, 11 women were shortlisted. The winning applicant will then be competing at the global CFWY contest in London in February. Top finalists will be encouraged to join EY as interns and apply for graduate positions.
Fatma Al Jassim, a 2017 UAE Pioneer Award Winner and Dubai Youth Council member, said: "The EY Corporate Finance Woman of the Year competition is an innovative and unique programme for young Emirati females interested in business.
I encourage my peers to look for opportunities that challenge them to get outside of their comfort zone. The skills we gain from participating in such activities will only help us utilise our strengths across different settings."
After sharing how they wanted to build a better working world and create a lasting legacy, the contestants started the group activities and the participants were assessed based on their thought process, problem-solving ability, behaviour, communication skills, the kind of questions they asked, and their team spirit.
Participant Fatima Al Qubaisi, the first Emirati student to graduate from Harvard Law School, said: "One way to create a better world is to embrace how you are different and not like everyone else. If you want to be a leader, you shouldn't ask yourself, 'do I belong here?' But you should ask yourself, 'what can I add?' And then when you add something, you will get that feeling of belonging."
Lauding the initiative that aimed at empowering potential female leaders, Al Qubaisi added: "I am a lawyer and love talking, so this is a platform for me to put my talent to good use and display my capabilities as an Emirati woman. This initiative gives us a chance to prove our worth to the world."
Among the participants were UAE nationals completing their undergraduate degree or a minor in accounting, finance, economics, or political science, graduating in or before January 2020, as well as students who were enrolled in a master's degree programme and would graduate in or before January 2020 with work experience of six months or less.
Rana Sanyoura, partner for transaction advisory services, UAE CFWY sponsor, EY, said: "The CFWY competition was developed by EY to support the next generation of female Emirati business leaders, especially those interested in pursuing a career in corporate finance. The talent that participated during the competition last year was truly inspiring, and we are excited to provide a new group of young Emiratis with this platform to expand their knowledge, network and opportunities in the workplace."
The CFWY competition has also been launched for the first time in the Kingdom of Saudi Arabia, where one female Saudi business student will be announced as the national winner. She, along with the UAE winner, will compete against 14 others from countries such as Australia, Germany, Japan, Norway, Russia, Singapore, the United Kingdom, and the United States.
https://www.khaleejtimes.com/nation/dubai/contest-helps-emirati-women-lead-in-business
--------
URL: https://www.newageislam.com/islam-women-feminism/muslim-women-raise-their-voices/d/117512
New Age Islam, Islam Online, Islamic Website, African Muslim News, Arab World News, South Asia News, Indian Muslim News, World Muslim News, Women in Islam, Islamic Feminism, Arab Women, Women In Arab, Islamophobia in America, Muslim Women in West, Islam Women and Feminism