New Age Islam News Bureau
4 Sept 2017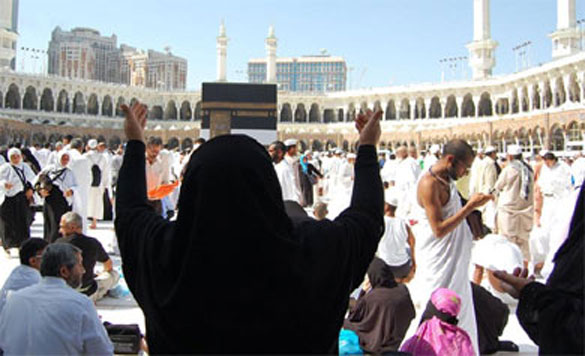 A woman supplicates before the Holy Kaaba in Makkah in this file photo. On Arafat day, Makkah women venture into the Grand Mosque to relive a custom.
----
• Govt Taking Steps for Destroyed FATA Girls Schools Reconstruction
• Kenya: Girls' School Fire Claims 7 Lives, 16 Wounded
• Volunteer programme for women and children launched
• Employment of women at Haj applauded
• Gurl, what do you know about hijab hair woes?
• 300 new Iranian female bosses contribute to economy after training program
• Iran Slams US Blockade on Buses Carrying Women, Children in Syria
Compiled by New Age Islam News Bureau
URL: https://www.newageislam.com/islam-women-feminism/makkah-women-custom-spending-quality/d/112428
--------
Makkah women custom: Spending quality time at the mosque
Sep 2, 2017
MAKKAH — On Eid Al-Adha day the streets of Makkah are empty because pilgrims and people volunteering for Haj are in Arafat. They move from Muzdalifah to Mina, and that's why this time of year is the most appropriate time to change the garment of the Kaaba. Many of the religious and social customs and traditions in Saudi Arabia are inherited from grandparents and parents who pass on the traditions baton to the children, especially those during special occasions, Al-Hayat reported.
Despite the non-observance and the fading of some customs and traditions due to social factors and urbanization and modernization of the society, there are customs and traditions that are still firmly established, especially those that are associated with religious events. On Arafat day, which is called "the day of the Khalef" the elderly return to celebrate this day in their own way and lead the women onto the streets in groups. Men and women go out in groups and have special traditional conversations carrying baskets of coffee and date pastries while heading to the house of God. This custom they have agreed to call "the day of the Khalef." They spend that day in the Grand Mosque and pray for the pilgrims.
Most of the neighborhoods of Makkah, such as: Masfla, Mansour, Jarul, Hajlah, and Ajyad, Rea Bakhsh, remain during this day completely free of pilgrims, because they are involved in the Haj rituals in the holy sites. And despite how old the custom is, the women of Makkah are still keen on teaching their daughters to practice them. The women of Makkah, who have lived in the neighborhoods of Al-Khalef, now go to gatherings to hold lectures and seminars, and may eat together after fasting on the day of Arafat, which represents the day of the greatest pilgrimage.
And the reason why the women focus on making dates pastries rather than other desserts or sweets, says Khaleda Al-Thaqafi, is that, "The Haj season is distinguished from other occasions by baking date pastries because the pilgrims on their way to Makkah would take food that helped them perform their rituals and fueled their energy with nutritional value. Dates and flour have provide that in addition these pastries are easy to store and don't go off easily. This ease of transporting this pastry made it popular among the pilgrims in that period."
http://saudigazette.com.sa/article/516393/SAUDI-ARABIA/Haj
--------
Govt taking steps for destroyed FATA girls schools reconstruction
September 04, 2017
ISLAMABAD: The government is taking bold steps for reconstruction of destroyed girls schools in Federally
Administered Tribal Areas (FATA) during war against terror.
Spokesperson of Ministry of States and Frontier Regions talking to Radio Pakistan, there are 2248 Girls School in FATA and
2 co-education based schools that also giving admission to girls on merit basis.
He said 1195 girls schools were affected by war on terror in these agencies, of them, 555 were completely destroyed and 491 were partially affected.
He said that 895 schools have been rehabilitated and construction of remaining schools is under process.
http://nation.com.pk/national/04-Sep-2017/govt-taking-steps-for-reconstruction-of-destroyed-girls-schools-in-fata
--------
Kenya: Girls' school fire claims 7 lives, 16 wounded
03 September 2017
Seven Kenyan girls perished in a dormitory fire in capital Nairobi in the early hours of Saturday, according to officials.
Following the fire at the Moi Girls School, 16 other girls have been admitted to the Nairobi Women's Hospital, including three in critical condition, Education Secretary Fred Matiang'i told reporters at the school.
The fire started at 2 a.m. local time on Saturday (2300GMT Friday), and the cause has yet to be determined, he added.
"What we know is that one of the dormitories was razed and we need to establish why that happened. We have decided to close the school for two weeks," Matiang'i said.
Moi has over 1,000 students and is among the top schools in the East African nation.
One student's mother could be seen wailing outside the school principal's office, and other parents could be seen at a Red Cross desk set up to handle inquiries.
"Our children don't have phones in school so I rushed here because as a parent I'm worried, but we have yet to be told where our children are," said parent Joyce Mwambia.
"Some parents have been reunited with their children but for me I am just waiting … praying."
http://www.worldbulletin.net/africa/193621/kenya-girls-school-fire-claims-7-lives-16-wounded
--------
Volunteer programme for women and children launched
September 3, 2017
Abu Dhabi: A local and global programme to consolidate a culture of volunteer work and giving among women and children was launched on Sunday by Her Highness Shaikha Fatima Bint Mubarak, Chairperson of the General Women's Union (GWU), Supreme Chairperson of the Family Development Foundation and President of the Supreme Council for Motherhood and Childhood.
The Fatima Bint Mubarak Volunteer Programme will adopt initiatives to attract, train and empower women and children in the field of volunteer work.
The programme complements the orders of President His Highness Shaikh Khalifa Bin Zayed Al Nahyan declaring 2017 as the Year of Giving.
It will launch a number of initiatives that will effectively contribute to developing the capabilities of women and children in the field of volunteer work. The programme also includes launching an award for women and children in the field of volunteer work. A global campaign will also be inaugurated for investing in the capabilities of women and children in the field of health, education, culture and environment, as well as a number of different constructive initiatives that will contribute to sustainable social and economic development.
Noora Al Suwaidi, Director-General of GWU, said that Shaikha Fatima spares no effort in encouraging and motivating Emirati women to contribute to voluntary work that will benefit members of the society.
Al Suwaidi said that the programme will provide a qualitative shift in the field of volunteer work for women and children, on a local and global level, by utilising their energies to encourage and support the efforts of various institutions that operate in the area of community service.
http://gulfnews.com/news/uae/society/volunteer-programme-for-women-and-children-launched-1.2084512
--------
Employment of women at Haj applauded
September 3, 2017
Manama: The decision to deploy women during the Haj season in Makkah was welcomed by social media users as "wise and sensible."
Women were for the first time deployed to inspect shops in Makkah during the Haj season.
Pictures and a video were posted by the Ministry of Commerce and Investments on its Twitter account showing women inspectors checking details in shops inside a mall to ensure their full compliance with the rules and regulations.
The men teams were deployed mainly in open areas under the scorching heat in some areas of Makkah and Madinah "intensifying control and inspection on shops, booths, refrigerated vehicles and patrol trucks loaded with food supplies and commodities and ensuring their availability, validity, quality and the suitability of the prices for pilgrims," the ministry said.
"We are steadily moving ahead with decisions to empower women economically, without much noise and with great confidence," Visitor posted.
Another user, under the moniker of Patriot, said that "such decisions are applauded as they are helping Saudi women take up jobs and support themselves economically."
"It is a positive step towards increasing the number of Saudis with jobs and reduce reliance on foreigners," Patriot said.
For Al Batar, the initiative deserved to be supported.
"This is a beautiful and remarkable initiative and the Ministry of Commerce and Investment deserves the greatest appreciation. We pray to God to protect our women and help them succeed."
Another user said she was looking forward to the ministry keeping the move beyond Haj and to seeing other ministries giving greater opportunities for women.
"We want all public sectors to participate in empowering women economically, and this should not be confined to the commerce ministry," the user posted.
"We want to improve the views towards women and to feel proud with their achievements."
http://gulfnews.com/news/gulf/saudi-arabia/employment-of-women-at-haj-applauded-1.2084173
--------
Gurl, what do you know about hijab hair woes?
September 4, 2017
With the advent of what marketers call Generation M — a young, trend-loving generation of Muslims — the hijab has emerged both as a symbol of faith and a style statement defining who the women of this age group are and what they stand for.
The hijab is a head covering traditionally worn by some Muslim women in the presence of adult males outside of their immediate family generally for reasons of modesty and privacy.
With nationals from more than 180 countries calling the UAE home, hijab wearers hail from everywhere. But whether Asian, Western, Arab or African, some hair problems are common, and can impact one's psychological well-being.
The most common hair complaint is dry hair that looks dull and lifeless. This is largely due to hot weather, the use of chemical-laden hair products and not drinking enough water. For others, issues such as dandruff and thinning hair remain unseen.
Maryam Sameer, a 20-yearold Omani national from Sharjah, started wearing a hijab after she got married recently. "When I just started wearing the hijab I struggled with limp hair, breakage and dandruff problems. I noticed if the hijab was too tight, it would pull the front edges of the hair and cause discomfort or breakage. When I removed the hijab my hair was too dry so I started using dry shampoo to breathe life back into my hair."
Coarser than average
Luckily, salons across the UAE are well equipped to deal with the problem, with years of experience in finding solutions. "Hair that is dryer and coarser than normal needs a lot more moisture to look and stay healthy," says Aidan Steele, a senior stylist and technician at Toni & Guy Dubai.
Steele often recommends a Brazilian blowout to tame frizz. "At our salon, we use only our in-house product, Label M, as it has UVA and UVB filters that help restore the hair's integrity."
As an indication of just how much hair care depends on each individual's own body chemistry, other women have the opposite problem: an itchy scalp, or hair that is too oily. This is often caused by draping a hijab on wet or damp hair.
Najla Naif Daar Alyafei, a 26-year-old GCC national working as a graphic designer, artist and director in Dubai, has curly hair that is prone to sweat and greasiness after wearing the hijab all day, while the dry weather makes it frizzy.
"To tame my hair, I often use homemade hair masks that are natural and chemical-free," she explains. "My favorite concoction is a combination of castor and olive oil, which I leave in my hair for six hours once a week. This makes my hair strong and reduces the breakage from using the hijab all day," she says.
The kind of fabric draped around the head also plays a big role. For example, cotton fabrics help your hair breathe.
RiRi's fave infusion
Those who choose to go to a clinic may opt for a treatment chosen by Rihanna and Simon Cowell: intravenous vitamin treatments. At the Elixir Clinic, hair infusion injections are the most popular treatment, says Dr Heba Abdelrazek, its medical director. "For these women beauty is a combination of looks and hair, also some of them wear a hijab every day, hence their hair is either damaged or thinning."
But every Arab grandmother has an arsenal of home remedies for the problem, from castor oil massages to combat hair loss, lemon juice for dandruff and ginger for an itchy scalp, to a diet rich in fruits and vegetables.
Whatever the reason you wear a hijab, there's no need to let hair problems remain covered.
http://gulfnews.com/gn-focus/special-reports/lifestyle/gurl-what-do-you-know-about-hijab-hair-woes-1.2084189
--------
300 new Iranian female bosses contribute to economy after training program
September/03/2017
Some 300 women entrepreneurs have emerged in Iran as a result of social policies fostered for the past eight years and launched by civil initiatives, according to officials.
The Women Empowerment Center in Iran, supported by the Tehran Municipality, provides a three-year training program for women who have lost their partners or are divorced and in need to support their families.
"The Women Empowerment Center in Iran holds facilities in 22 different regions. The center has trained 17,000 women in the last eight years. Some 13,000 of them finished their training and 4,000 of them still continue the program. Among them, 300 women employers emerged and are doing their own businesses in Iran," the president of the center, Fahimeh Firouzfar, told daily Hürriyet during a recent press tour.
"First, we train and then we supply the work opportunity. We register the whole family into the system. We also keep track of the daughters and sons of the women who have lost their partners. If the daughter of the family gets married, her consultancy still continues for five more years. The plan [of our consultancy] includes the family as a whole. We can see how many people live in an area through the information we register," said Firouzfar.
"Women come here for training and consultancy. We check if applicants have talent or not when they apply for the program. The women must be insured during the training period. We rented the venue from the municipality and this venue can be taken back from us if we do not insure the women within the three months," she said.
She added that there are also other women who come to the center to find the workers to whom they can give work. She said the women applicants in the center have the telegram mobile application and other people can get in contact with them through this medium.
There are also programs shorter than three years in the center tailored especially for those who cannot leave their homes. These courses mainly consist of designing in silver and textile.
Female taxi drivers
A second association in Iran which helps women in the country is the Imam Khomeini Aid Association.
Its president, Fatma Rehber, said they signed a special agreement with a factory that produces automobiles in attempt to supply vehicles for women who want to work as taxi drivers.
"Women can choose to call female taxi drivers. They also prefer women drivers on school buses. We put the certificate as a condition when they want to buy a car. We also check the psychological health of the applicants before we agree with them. Female drivers are allowed to work in their own city," Rehber said.
According to the agreement with the car factory, the association is set to buy 5,000 cars and pay 33 percent of each car's value, leaving the rest of the amount to be paid by the women drivers.
Apart from carrying out projects to provide women with jobs, the association also directly deposits money in disadvantaged people's bank accounts and do housing benefits as well as renovate old houses in villages.
Some 66 percent of the aid association's budget is subsidized by the government, with the rest coming from donations.
Rehber said they supported 3 million people so far, 60 percent of whom are women while 1,200,000 of them were elderly men.
http://www.hurriyetdailynews.com/300-new-iranian-female-bosses-contribute-to-economy-after-training-program.aspx?pageID=238&nID=117525&NewsCatID=344
--------
Iran Slams US Blockade on Buses Carrying Women, Children in Syria
September 3, 2017
Iranian Foreign Ministry Spokesman Bahram Qassemi has slammed that the United States' move to impose an aerial blockade on buses carrying women and children as part of a deal between the Lebanese Hezbollah resistance movement and ISIL Takfiri terrorists.
"The US move to lay a siege to women and children given the country's history of cooperation with Daesh [terrorist group] is regarded as an illogical issue," Qassemi said on Sunday.
"Iran believes that this is an attempt to negatively impact the victory of the Lebanese government and the resistance movement," he added.
There is a "fundamental difference" between fighting armed ISIL terrorists and the killing of innocent people, he said.
He added that imposing a blockade on a number of women and children in a desert by the US has no military value and would not diminish ISIL terrorists' power but would stoke more violence in the region.
"The aerial siege against women and children in non-military buses and the killing of a number of pregnant women over the past two days may turn into a humanitarian disaster if continued," Qassemi said, warning that this could further spread violence across the region.
He went on to say that ISIL is nearing a complete collapse due to cooperation among the Iranian, Syrian, Lebanese and Iraqi governments and their armies and added that the fight against the terrorist group is forcefully ongoing to eradicate terrorism in Syria and Iraq.
The Iranian spokesperson also welcomed and expressed the country's support for the humanitarian efforts by the Lebanese government and Hezbollah to save innocent civilians, saying the move turned Lebanon's military victory into an even bigger one.
"The Islamic Republic of Iran, as a country which is at the forefront of the confrontation against terrorism, particularly Daesh, asks the United Nations to intervene in this issue and prevent the killing of innocent people," Qassemi said.
The Syrian government on August 27 agreed to a deal between Hezbollah and ISIL Takfiri terrorists, which allows the transfer of the latter from the strategic and mountainous region of Qalamoun close to the border with Lebanon to eastern Syria.
https://english.almanar.com.lb/341299
--------
URL: https://www.newageislam.com/islam-women-feminism/makkah-women-custom-spending-quality/d/112428
New Age Islam, Islam Online, Islamic Website, African Muslim News, Arab World News, South Asia News, Indian Muslim News, World Muslim News, Women in Islam, Islamic Feminism, Arab Women, Women In Arab, Islamophobia in America, Muslim Women in West, Islam Women and Feminism