New Age Islam News Bureau
10 Jan 2019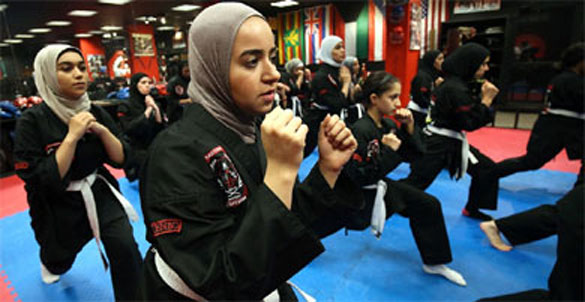 Kuwaiti women practise the hybrid martial art of Kajukenbo in a club in Kuwait City, on Oct 22, 2018.PHOTO: AFP
------
• Don't Hit Women Unless They Deserve It, Says Abbas Adviser on Islam
• French Muslim Women Push For 'Inclusive' Mosque in Paris
• Kuwaiti Girls Use Martial Arts to Counter Bullies and Violence
• Pakistani Man Helps save Girl Forced into Prostitution in Dubai
• Disappeared Saudi couple highlights crackdown on activists
Compiled by New Age Islam News Bureau
URL: https://www.newageislam.com/islam-women-feminism/linda-sarour-prophet-muhammad-human/d/117420
--------
Linda Sarour: Prophet Muhammad Was Human-Rights Activist
January 10, 2019
President Trump's administration is "fascist," but Islam's prophet Muhammad was a human rights activist," according to Linda Sarour, a Palestinian activist known for her leadership of the Women's March.
Sarsour's comments at a banquet in Sacramento, Calif., on Dec. 2 were captured by the Middle East Media Research Institute.
"This administration is not like any other administration. We are talking about a time in the United States of America when we are living under fascism. These are fascists," she said.
Sarsour criticized President Trump for moving the American embassy to Jerusalem.
"I declare to all of you here today in Sacramento that Jerusalem is and always will be the capital of Palestine."
Sarsour said she had to go to public school because her parents couldn't afford a private Islamic school.
"As I grew older, I realized that I got cheated out of my Islamic education," she said.
"You know what I feel like I got cheated out of? Nobody told me that my beloved Prophet Muhammad was an activist. He was a human rights activist."
Sarsour asserted Islam "has always been an anti-racist, feminist, and empowering religion."
"I don't need people in the West, or people in Europe, or people in the United States of America to teach me what feminism is," she said.
She encouraged Muslims to engage in politics even if their mosques usually avoid it.
"Here's my answer to (Muslims who say they're not political). If you woke up this morning, and you are breathing and you are Muslim, you're political."
https://www.wnd.com/2019/01/womens-march-leader-muhammad-was-human-rights-activist/
--------
Don't Hit Women Unless They Deserve It, Says Abbas Adviser on Islam
January 10, 2019
Amid a Palestinian Authority campaign to stop violence against woman, the prime minister's adviser on Islam has affirmed Islam allows husbands to beat their wives if they are disobedient.
Mahmoud Al-Habbash, adviser to President Mahmoud Abbas, said Allah "has permitted a certain type of beating."
"It is good for society and good for the woman and the man," he said.
Palestinian Media Watch reported the remarks came were made on official Palestinian Authority TV at the same time the broadcaster was promoting messages such as "No to violence against women" and "There is no authority that gives men the right to attack women."
PMW said the public campaign discouraging violence against women was run during the "16 Days of Activism against Gender-Based Violence," which called for an end to violence against women and girls.
It began Nov. 25 on the International Day for the Elimination of Violence against Women and ended Dec. 10, Human Rights Day.
"While this campaign was running and teaching that it is never acceptable to hit women, Abbas' adviser Mahmoud Al-Habbash explained on official PA TV that there are situations in which men are allowed to beat women. In fact, it is even good for the women."
He said Allah permits this when women are disobedient.
"The one and only situation, which is very limited and very rare, in which a man is permitted to beat in a way that doesn't harm, doesn't injure, avoids the face, and doesn't cause strong pain – is the situation of disobedience," he said. "Only a situation of the woman's disobedience. The disobedient woman, the woman who is out of line, the woman who destroys the bonds of marriage, and the bonds of home and family. Aside from this, any type of beating, injuring, and cursing of the woman constitutes a forbidden act."
PMW commented, "While Al-Habbash defends the practice, saying it is 'rare,' the categories of women who may be beaten that he himself describes are so general that he opens the door for ongoing abuse."
https://www.wnd.com/2019/01/dont-hit-women-unless-they-deserve-it-says-abbas-adviser/
--------
French Muslim Women Push For 'Inclusive' Mosque in Paris
10-01-2019
Two Muslim organisations in France have launched projects to create "inclusive" mosques: spaces where women and men can pray together, and where female imams would be able to lead Friday prayers.
Kahina Bahloul conducts her prayers at home, in her living room. She decided to stop going to the mosque five years ago after she was refused access to the main prayer room.
"I went to the mosque with a group of male and female friends. It was a religious festival commemorating the birth of the Prophet, so it was very important," she tells RFI.
"The men were told to go in, but we women were told 'cross the road and you'll find a room'. It was a garage in fact. So there I was in this garage. The sound system was terrible and the atmosphere was not at all spiritual. Women were cooking and kids were playing. I was extremely disappointed, shocked even."
Bahloul says the separation of men and women in the main prayer does not make sense.
"We're together everywhere in everyday life, and then suddenly, when it's prayer time, you can't even look at one another. It's as if we've been reduced to sexual objects and nothing else."
A need for an inclusive space
Bahloul has a doctorate in Islamic studies and is of the more mystical branch of Islam known as Sufism. Following the terror attacks in November 2015 she founded a discussion group and youtube forum, Parle moi d'Islam (talk to me about Islam).
Along with philosohy professor Faker Korchane, she has now set up an association with the aim of opening a Fatima mosque, an "inclusive" modern space where men and women can pray together.
"The mosque will welcome men and women in the same room, women on one side, men on the other, but both on the same level," she explained.
Bahloul does not wear a veil and does not believe the Koran imposes it, so there will be no dress code.
The other crucial feature is that a woman imam will lead Friday prayers every other week.
France's female imam
Bahloul would like to be the first woman in France to lead Friday prayers, but recognises that even though France has Europe's largest Muslim population (estimated between four to five million people), she is swimming against a very conservative tide.
"It's surprising that in France, considering there's such a large Muslim community, that there's also a deeply conservative tradition," she said. "The traditional currents such as Salafism and the Muslim brotherhood have a strong presence.
"Some schools of Islamic jurisprudence like the Mālikī school – the most common in the Maghreb – forbid women imams entirely. Other schools accept women imams, but they're allowed to hold prayers only in front of women, or there's a physical separation in the hall so you can't see the women imam."
New readings of the Koran
Eva Janadin is another French muslim woman with big hopes of creating a place embodying the reformist current of Islam.
Along with Anne-Sophie Monsinay, she plans to open the Simorgh Mosque, also mixed, with female imams and an open dress code. Prayers would be in French.
"We would like to use the critical-historical discourse around Islam that has developed within universities," she tells RFI. "To try and make it more accessible to a wider public and bring it into the religious domain.
"In other words we want to draw concrete lessons on how you can lead a spiritual life in today's world, following all the new readings of the Koran, new religious concepts and so on."
Both groups are looking for funds and premises for the mosques which would, ideally, be in the French capital.
Other attempts in Europe
There is some support for women imams in Britain and Spain, but so far Germany and Denmark are the only European countries that have more progressive mosques where women and men can pray side by side.
The Mariam mosque, which opened in Copenhagen in early 2016, welcomes worshippers of both sexes; Friday prayers are reserved for women.
Berlin's Ibn Rushd-Goethe 'liberal' mosque opened in June 2017. Prayers are held in German in a building belonging to the Protestant community.
Despite positive media coverage the Berlin mosque has only a few dozen regular worshippers. And its female imam, Seyran Ates, a well-known lawyer and human rights militant, has suffered ongoing threats and lives under police protection.
http://en.rfi.fr/france/20190109-french-muslim-women-push-inclusive-mosque-paris
--------
Kuwaiti Girls Use Martial Arts to Counter Bullies and Violence
January 10, 2019
KUWAIT CITY: Asma Hasnawi and her daughter Riham spend more than 12 hours a week learning kajukenbo, a mixed martial art the mother says boosts her child's confidence and thwarts bullying.
In a small hall in Kuwait City, women and girls in black uniforms gather to learn the basics of self-defense.
On their left sleeves are the flags of Kuwait and the US state of Hawaii, where the hybrid martial art of kajukenbo was developed in the 1940s.
The sport's name was derived from the various forms of martial arts it includes: karate (KA), judo and jujitsu (JU), kenpo (KEN) and boxing (BO).
Each form teaches techniques that can be used to fend off an attack, says Hasnawi, 33, who stands in class alongside her 12-year-old daughter and other girls.
"I initially wanted to explore this sport, but I continued to practice it to be able to defend myself," she tells AFP.
Hasnawi still remembers being bullied as a child — something her daughter has struggled with at school too.
But she says Riham has "changed a lot" since they started practicing kajukenbo, gaining patience and strength through the sport.
"She has transformed. At school, she used to get really angry and quickly agitated if someone would say something to her," Hasnawi says.
"Now, it's something normal that she can (healthily) deal with."
There is no recent data in Kuwait on cases of violence against women, who enjoy more freedoms than those in neighboring countries.
A 2010 study found that a woman is assaulted a day in Kuwait, according to Ghada Al-Ghanem, of the Women's Cultural and Social Society (WCSS).
The WCSS, whose goal is to help and encourage women's participation in the Kuwaiti community, has dealt with a number of assault cases and Ghanem believes the actual figure may be higher.
Hung on the red and black walls of the Street Warrior Academy is a poster of two men practicing the sport.
"Kajukenbo teaches your child the methods and arts of self-defense," it reads, complimenting the mottos of "strength and honor" and "street warrior" on the backs of the girls' uniforms.
The students closely watch their instructor, Faisal Al-Gharib, as he explains how to counter an attack with the help of his son.
The girls then pair up to take what they have learnt and put it into practice.
In another instance, the instructor's son mimics an attack with a wooden knife on one of the more experienced pupils, who wears a black belt.
Already familiar with the exercise, the student explains: "I pretend that I have surrendered... and then I grab his hand on my neck, push it down and move it away."
More than 120 girls and women between the ages of four and 50 participate in the academy's different kajukenbo classes, which are held in a room with training weapons lining its walls.
Some 40 men and boys also currently take part in kajukenbo classes at the club on different days from the women.
For Um Saleh, the sport has helped her twin 13-year-old daughters become more independent and decisive.
"It gave them something to focus on other than social media," she says.
Gharib, the instructor, established the academy in 2014 after learning kajukenbo in the United States. He says he wanted to teach the sport to women back home as a way to stay fit and to defend themselves against any attack.
As part of the training, he presents his students with different scenarios, including assaults and knife attacks.
"We focus on self-defense skills and place the girls in conditions similar to those on the street so we can build their self-confidence and teach them exactly when and where to expect the hit," Gharib says.
The academy, which has a strict confidentiality policy, has become a safe haven for many girls and women that have been victims of assault or bullying.
It is one of dozens of similar clubs and academies that have opened in Kuwait as kajukenbo gains popularity. Although in the rest of the Gulf, the sport remains relatively unknown.
"Being a (victim) of assault, whether in school or on the street, is what pushed some of these girls and women to pursue the sport," says Fai Al-Fahed, one of the instructors.
"Ultimately, girls are embracing this kind of martial art and we see it boosting their self-confidence."
Khalida Bashir says she was drawn to kajukenbo after watching clips of the sport online.
"I used to be afraid of everything, but this sport changed me," she tells AFP.
"I have become more confident and more patient. Some say this is a man's sport, but that is, in fact, not true."
http://www.arabnews.com/node/1433251/middle-east
--------
Pakistani Man Helps save Girl Forced into Prostitution in Dubai
January 10, 2019
A Pakistani man, who "fell in love" with a 13-year-old girl forced into prostitution in Dubai, is standing trial over molestation charges. The 25-year-old admitted to having sex with the minor several times "with her consent". He reported the girl's plight to the police, which led to her rescue.
The court of first instance heard that another Pakistani man, 49, brought the 13-year-old to the country, after claiming to be her father, and forced her into prostitution.
He allegedly raped his compatriot and assaulted her with a stick every time she refused to have sex with him. The accused ran a brothel in Abu Hail in Dubai and was arrested along with two of his countrywomen, who face prostitution charges. He is facing charges of human trafficking, running a brothel, molestation and facilitating paid sex for the other two women.
The case was reported in September 2018.
According to court records, the girl told prosecutors that the accused forced her into prostitution back home two years ago. He then issued a visit visa for her and brought her to the country, claiming she was his daughter. The girl was forced to have sex with "11 men of different nationalities" every day for money.
"He raped me back home and here (in the UAE) too. He hit me with a stick every time I refused to have sex with him," the girl told prosecutors.
The 25-year-old defendant, was a customer at the brothel, fell in love with the girl and promised to marry her. He reported the girl's plight to the police after he received a text message from her brother, who resides in Pakistan, requesting for help.
The police raided the place and arrested the two women, both aged 23, who admitted to working as prostitutes. They also corroborated the girl's rape claims. They said the brothel's owner approached the girl while he was drunk and wanted to have sex with her. He assaulted her when she refused. Both women admitted that the accused paid Pakistani Rs200,000 to their families to bring them to the UAE.
The 49-year-old denied rape charges but admitted to consuming alcohol. He also admitted he brought the teenager to the country for prostitution and facilitated paid sex for the other two women.
Forensic reports showed bruises on the young girl's body.
https://www.pakistantoday.com.pk/2019/01/09/pakistani-man-helps-save-girl-forced-into-prostitution-in-dubai/
--------
Disappeared Saudi couple highlights crackdown on activists
January 10, 2019
The cases of Saudi stand-up comedian Fahad al-Butairi and his wife, Loujain al-Hathloul, a women's right-to-drive activist, who were arrested in 2018, has resurfaced following a Twitter thread detailing their disappearance.
In a series of tweets, American writer and television producer Kirk Rudell spoke about his friendship with the Saudi couple who tried to challenge the kingdom's strict social rules.
The tweets about their disappearance went viral, spotlighting Saudi Arabia's crackdown on activists and the killing of journalist Jamal Khashoggi in the Saudi consulate in Istanbul in October last year.
Rudell tweeted about messages he shared with the couple after meeting them in Los Angeles a few years ago.
"I'd like to see what they could do in this world, if they were given the chance," said Rudell, adding, "I'd like to have that dinner with them some day."
In a follow-up tweet, Rudell said he was "overwhelmed" by the response to his tweets, including one from California Congressman Adam Schiff, who said he would contact Saudi Arabia's ambassador to the United States about the case.
"I've been overwhelmed by the interest in and support of this story. It has been humanity-affirming and the best possible expression of Twitter in action. My intention was to bring the plight of Fahad and Loujain to the attention of people who can do more for them than tweet," he wrote.
Both Butairi, 33, and Hathloul, 29, were arrested in 2018. Butairi's whereabouts are unknown, while Halthloul remains incarcerated.
Hathloul was among a group of more than a dozen Saudi women's right-to-drive activists detained and allegedly tortured by electrocution, flogging, and sexual harassment, according to Human Rights Watch and Amnesty International.
For years, she advocated for women's right to drive in the kingdom and, in 2013, actively participated in a campaign where she posted videos of herself driving in an attempt to encourage women to do the same.
With an active social media presence, the 29-year-old had been arrested several times for defying the now-lifted ban on women driving in Saudi Arabia.
Most of the arrested activists campaigned for the right to drive and an end to the kingdom's male guardianship system, which requires women to obtain the consent of a male relative for major decisions.
https://www.aljazeera.com/news/2019/01/disappeared-saudi-couple-highlights-crackdown-activists-190109093412494.html
--------
URL: https://www.newageislam.com/islam-women-feminism/linda-sarour-prophet-muhammad-human/d/117420
New Age Islam, Islam Online, Islamic Website, African Muslim News, Arab World News, South Asia News, Indian Muslim News, World Muslim News, Women in Islam, Islamic Feminism, Arab Women, Women In Arab, Islamophobia in America, Muslim Women in West, Islam Women and Feminism