New Age Islam News Bureau
19 Jun 2018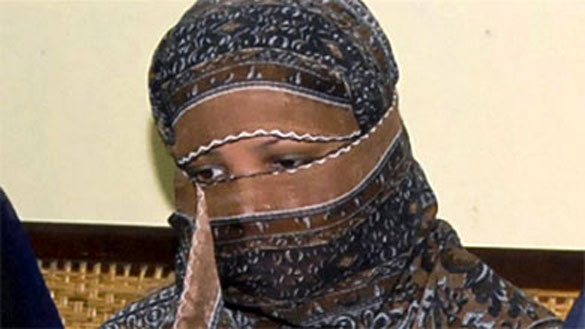 The daughters of Pakistani Christian woman Asia Bibi pose with an image of their mother while standing outside their residence in Sheikhupura located in Pakistan's Punjab Province. Standing left to right is Esha, 12, Sidra, 18 and Eshum, 10. (Image: Reuters)
-----
• It's Been 9 Years Since Asia Bibi Was Arrested On Blasphemy Charges for Sharing Water With Muslim Women
• Hillary Joins First Ladies against Trump's Immigration Policy
• Pay More Attention To Education Of Muslim Girls — Ghana President
• Study On Gender Diversity On Boards Launched
• Nepotism Seen In Selection for PTI Women Reserved Seats
Compiled by New Age Islam News Bureau
URL: https://www.newageislam.com/islam-women-feminism/it-been-9-years-since/d/115582
-----
It's Been 9 Years Since Asia Bibi Was Arrested On Blasphemy Charges for Sharing Water with Muslim Women
Zoya Mateen | June 19, 2018
Nine years ago, in the small village of Ittanwali about 48 kilometres from Lahore, Asia Bibi, a Pakistani Christian woman, shared a bowl of water with farmers. She had been harvesting falsa berries with these farmers.
This set in motion a history of conflict and turmoil for the Christian woman. A conflict erupted because some of the Muslim women on the farm felt it was sacrilegious for Muslims to share the cup with a Christian.
As the exchange between Asia Bibi and the women charged up and turned ill-tempered, the situated escalated to the charge of blasphemy, on account of the allegations made by a few women on the field of insulting the Prophet Muhammad.
Despite the reported inconsistencies in witness testimonies and fragmented evidence, appallingly, Asia Bibi was arrested, imprisoned and was convicted under the Blasphemy Law of Pakistan and was sentenced to death.
The exact words that led to Bibi's prosecution under sections 295-B and C of the Pakistan Penal Code have not been disclosed as this was an accusation of blasphemy, and to repeat the words would be to perpetuate blasphemy.
Since then, the name of this Christian woman, a laborer and mother of five children, has become synonymous with Pakistan's harsh blasphemy laws.
Several newspapers and human rights advocates reported that she had been paraded on the streets and was also brutally gang-raped in Nankana Sahib, a district in Punjab Province.
Pakistan is notorious for its use of the Blasphemy law, which dates back to the reign of Gen. In 1986, Muhammad Zia ul Haq amended it by adding the clause to punish blasphemy against Prophet Mohammed with "death, or imprisonment for life".
In 2014, the Lahore High Court upheld her death sentence. Nonetheless, the execution was stayed in July 2015, when the Pakistani Supreme Court agreed to hear her appeal that had to take place in October 2016.
Unfortunately, the appeal had to be adjourned after one of the three judges, Justice Iqbal Hameed-ur-Rehman, recused himself by quoting a conflict of interest.
Despite international outcry, Asia Bibi has had no success, with the appeal adjourned indefinitely in 2016. Numerous petitions have been filed across the globe and the pleas to stop her execution have received worldwide support.
From human rights activists and organizations to lawyers have criticized her imprisonment and sentence and attacked Pakistan's blasphemy laws calling them the instruments to "settle personal disputes".
In a 2014 report, Amnesty International condemned the imprisonment of Asia in harsh tones declaring the Blasphemy laws of Pakistan as inconsistent with its international obligations of "to ensure the rights to freedom of expression and freedom of thought, conscience and religion".
For years now, people all over the world are trying to seek justice for Asia in their own ways.
In February, Rome's ancient Colosseum was lit in red as hundreds thronged outside the Roman symbol of martyrdom to condemn the death penalty against Asia and to hear her daughter and husband address the event.
Blasphemy carries a maximum penalty of death, yet the law legitimizes no standards for evidence, no necessity to prove intent, no punishment for false allegations and most importantly, indeed, no guidance on what actually constitutes blasphemy.
For nine years now, Asia Bibi has been languishing in prison.
In the first ray of hope for Asia Bibi, last month, a top Pakistani judge confirmed that she will soon get the opportunity to have her appeal heard at the Pakistani Supreme Court.
Source: news18.com/news/buzz/its-been-9-years-since-asia-bibi-was-arrested-on-blasphemy-charges-for-sharing-water-with-muslim-women-1783129.html
-----
Hillary Joins First Ladies against Trump's Immigration Policy
By Mark Moore June 18, 2018
Modal Trigger
Hillary Clinton and Rosalynn Carter joined fellow former first ladies Michelle Obama and Laura Bush Monday in condemning the White House's "zero tolerance" immigration policy that is separating children from their parents.
"This is not happening because of the 'Democrats' law,' as the White House has claimed," the ex-secretary of state said at an awards luncheon for the Women's Forum of New York at The Plaza hotel.
"Separating families is not mandated by law at all. That is an outright lie, and it is incumbent on all of us, journalists and citizens alike, to call it just that."
Carter weighed in later Monday.
"The practice and policy today of removing children from their parents' care at our border with Mexico is disgraceful and a shame to our country," she said in a statement.
Earlier Monday, Michelle Obama supported a Washington Post piece written by fellow former first lady Laura Bush that called the policy "cruel" and "immoral."
"Sometimes truth transcends party​," Obama tweeted.
In her speech at The Plaza, Clinton also called out Attorney General Jeff Sessions, who last week invoked Romans 13 to justify the harsh immigration policy.
"Those who selectively use the Bible to justify this cruelty are ignoring a central ten​e​t of Christianity," said Clinton, who was receiving an award from the forum.​
​"What is being done using the name of religion is contrary to everything I have ever ​been ​taught. Jesus said​,​ 'Suffer the little children unto me.' He did not say​,​ 'Let the children suffer.' ​"
First lady Melania Trump also spoke out against the policy Sunday.
"Mrs. Trump hates to see children separated from their families and hopes both sides of the aisle can finally come together to achieve successful immigration reform​," her office said in a statement issued by spokeswoman Stephanie Grisham. "She believes we need to be a country that follows all laws, but also a country that governs with heart."
Source: nypost.com/2018/06/18/hillary-joins-first-ladies-push-against-trumps-immigration-policy/?utm
-----
Pay More Attention To Education Of Muslim Girls — Ghana President
Date: Jun 18, 2018
President Akufo-Addo, who made the appeal at this year's national Eid-ul-Fitr prayers held at the Black Star Square, said the Ministry of Gender, Children and Social Protection, led by the Minister, Ms Otiko Afisa Djaba, had embarked on a campaign to dissuade parents from marrying out their girls and urged Muslims to embrace such a campaign.
"In Islam, it is believed that paradise lies under the feet of our mothers; our mothers and potential mothers cannot, therefore, hold to guarantee us paradise if they are allowed to remain ignorant," the President stated.
The President, who was named in 2017 as the AU Gender Champion and the Co-Chair of the UN SDGs Advocates, said he was very passionate about the development of women and asked that Muslim girls, and for that matter girls in general, should be allowed to realise their full potential.
He stressed the commitment of his government to make education accessible to all and urged Muslims to take advantage of the free senior high school (SHS) policy.
To show his support for the advancement of the girl-Child President Akufo-Addo in December 2017, launched the 'HeForShe' platform to advocate men's support for women's advancement.
At the Eid-ul-Fitr prayers he stated that the government had engaged about 2000 instructors to teach Arabic in schools and called an girls to take advantage of it
Religious tolerance
Describing Ghana as a unique country which stood out in West Africa (based on its inter and intra religious cooperation), President Akufo-Addo said: "Ghana is home to every religious denomination; people pursue their religious practices without hindrance."
He, therefore, urged all citizens to "guard this tradition of religious cooperation and tolerance jealously."
Source: graphic.com.gh/news/education/pay-more-attention-to-education-of-muslim-girls-prez.html
-----
Study On Gender Diversity On Boards Launched
Date: Jun 18, 2018
Author: Ama Amankwah Baafi & Lucy Mensah
A study on Women on Boards (WoBs) of corporate and public institutions in Ghana has suggested that companies that have more gender-balanced boards tend to perform better.
High-performing firms, based on Return Of Assets (ROA) were associated with higher Gender Diversity (GD) than low-performing firms.
In sales growth, high-performing firms were associated with higher GD than low-performing firms.
These provide support for the decision-making perspective that suggests a positive relationship between gender diversity and firm performance, taking into consideration the various factors that enhance decision- making.
The study, titled 'Gender Diversity in Ghanaian Boardrooms', launched in Accra in October 2016, was an initiative of the Ghana Corporate Governance Programme of the International Finance Corporation (IFC), a member of the World Bank Group, in partnership with the Swiss Secretariat for Economic Affairs (SECO), and conducted by the University of Ghana Business School (UGBS).
It mainly focused on generating a balanced and objective analysis of the issues surrounding women in the boardroom to ascertain the business case for having females on boards in Ghana.
Some findings
It revealed that the proportion of female to total board members generally ranged from seven to 25 per cent.
It showed that 24.05 per cent of the sampled boards are composed of only males. Thus, one out of every four boards has no female representation.
Also, 49.37 per cent of the WoBs were non-executive directors and only 6.49 per cent of organisations have females on boards as chairs.
Presenting the findings during the launch of the report in Accra, the lead researcher, Dr Elikplimi Komla Agbloyor, noted that women formed 50 per cent of the population in Africa, yet were limited on boards.
He noted that unlisted firms exhibited higher GD compared with listed firms and that State-Owned Enterprises (SOEs) had higher GD, compared with other ownership types, and cited capacity, experience, academic qualification and social connections was determinants of board diversity.
Challenges, prospects and experiences
Dr Agbloyor said that generally, women who served on boards were satisfied with the board experience and these women do not experience discrimination, although there was a male dominance on boards.
However, they are faced with challenges on the boards of organisations in Ghana, with about 80 per cent of respondents saying that board activities affected their family responsibilities.
"There is also the lack of recognition which stems from male dominance on boards. Some women, although qualified to be on boards, deliberately shy away. This could be because some women do not want to be in the spotlight amid males, as the Ghanaian culture tends to tag assertive women as disrespectful," he stated.
IFC model
The IFC Country Manager, Ms Ronke-Amoni Ogunsulire, said the IFC, having recognised that addressing gender disparity and increasing participation of women on corporate boards and in other decision-making positions added value economically and socially, took a decision to promote GD and inclusion on the boards of its investee companies.
"Currently, women make up 29 per cent of the directors who sit on IFC investee company boards worldwide, up from only 11 per cent in 2011, and heading towards a goal of 40 per cent by 2019," she indicated.
Source: graphic.com.gh/news/general-news/study-on-gender-diversity-on-boards-launched.html
-----
Nepotism Seen In Selection For PTI Women Reserved Seats
Bureau Report
June 19, 2018
PESHAWAR: Though belatedly, the Pakistan Tehreek-e-Insaf (PTI) Chairman Imran Khan has reportedly expressed dissatisfaction over the lists of the reserved seats for the party women, The News has learnt.
ut what the PTI chief perhaps forgot was that these were the very same National Assembly and provincial assembly lists which were provided to the Election Commission of Pakistan over a week ago which bore his signature, said a party member.
Several PTI members, while requesting anonymity, told The News there was no mechanism for the selection of candidates.
"The manner in which a party formed in the name of justice announced its names for the reserved seats was disappointing," said a PTI member.
He said all the attention was on the distribution of general tickets and selection of reserved seats for women was subjected to favouritism and nepotism.
Details are surfacing of the unfair manner in which the tickets were doled out to family members and personal friends without following merit, he alleged.
An angry party worker said although members were asked to submit forms, evidently nobody did a proper scrutiny of the forms.
"No interviews were conducted at all. Names were added of those who had not even sent their nominations. There was no selection criteria," said the party member.
More intriguingly, while the last date set by the ECP was June 11 for submission of the final lists by the party, a former KP minister from Peshawar submitted those on June 9. He revealed the list after the deadline expired.
Much hue and cry is being raised now but legal experts reckon that once the ECP has accepted the list, it cannot be amended or returned.
Parliamentary Board comprised of former chief minister Pervez Khattak, Shah Farman, Atif Khan, Shahram Tarakai and Asad Qaiser.
There was no women representation in the committee. Moreover, the PTI workers believed, the KP women's wing office-bearers and Peshawar region office-bearers were bypassed completely.
A number of women protested outside Banigala against what they termed unfair distribution of tickets by Parliamentary Board KP.
In the past, prominent workers like Fauzia Kasuri who had been denied tickets in PTI have left the party.
Source: thenews.com.pk/print/331052-nepotism-seen-in-selection-for-pti-women-reserved-seats
----
URL: https://www.newageislam.com/islam-women-feminism/it-been-9-years-since/d/115582
New Age Islam, Islam Online, Islamic Website, African Muslim News, Arab World News, South Asia News, Indian Muslim News, World Muslim News, Women in Islam, Islamic Feminism, Arab Women, Women In Arab, Islamophobia in America, Muslim Women in West, Islam Women and Feminism