New Age Islam News Bureau
4 March 2020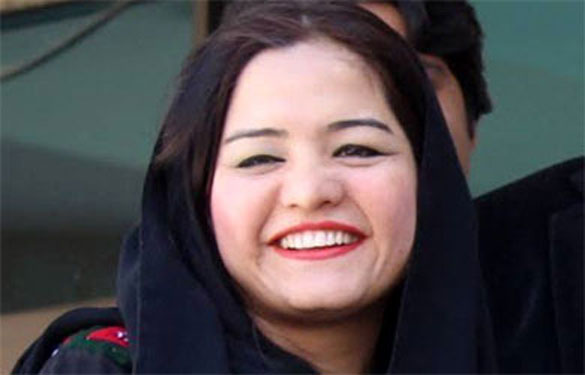 Human rights activist and lawyer Jalila Haider. Photo: File
------
• Aurat March Can't Be Stopped Under Constitution, LHC Rules
• Saudi Forum Aims To Boost Female Presence In Data Science
• Do Muslim Women Reclaiming Public Spaces Make You Uncomfortable? Good!
• Kingdom's Female Artists, Creatives Gallop Ahead with Displays of Work at Saudi Cup
• A Voice for Afghan Women: Roya Sadat Believes In The Power Of Film To Create Positive Change
• Murders Of Women In Turkey See A 32% Decline
Compiled By New Age Islam News Bureau
URL: https://www.newageislam.com/islam-women-feminism/iron-lady-balochistan-honours-rights/d/121222
--------
'Iron Lady of Balochistan': US Honours Rights Activist Jalila Haider with International Women of Courage Award
Anwar Iqbal
March 04, 2020
WASHINGTON: Jalila Haider, a human rights activist from Balochistan, will receive the Inter­national Women of Courage award from US Secretary of State Michael Pompeo on Wednesday, said an official announcement.
The US State Depart­ment's spokesperson's office identified Ms Haider as "the Iron Lady of Balochistan," who founded "We the Humans – Pakistan", a non-profit organisation to lift local communities by strengthening opportunities for vulnerable women and children.
She specializes in defending women's rights and provides free counselling and legal services to poverty-affected women. The first female attorney of her Hazara community, Ms Haider led a peaceful hunger strike to recognise the right to life for the Hazaras following a series of targeted attacks. She has taken up the cause of many other vulnerable communities.
As Balochistan's President of the Women Democratic Front and Balochistan's bran­­ch of the Aurat (Wo­man's) March, "she fought against violence against women in public spaces, at work, and at home," said her brief introduction released by the State Department.
Secretary Pompeo will host the annual Inter­national Women of Courage (IWOC) Awards at the Department of State on Wednesday to honour 12 extraordinary women from across the world. The First Lady of the United States Melania Trump will deliver remarks to recognise the extraordinary accomplishments of these women.
Now in its 14th year, the Secretary of State's IWOC Award recognizes women around the globe who have demonstrated exceptional courage and leadership in advocating for peace, justice, human rights, gender equality, and women's empowerment, often at great personal risk and sacrifice.
Since the inception of this award in March 2007, the department has recognized 134 women from 73 countries. This year will bring the total to 146 awardees from 77 countries.
Following the IWOC ceremony, the 12 awardees will participate in an Inter­national Visitor Leader­ship Programme (IVLP) visiting various cities across the United States, before reconvening in Los Angeles for the conclusion of their programme on March 16.
Besides the Baloch Hazara woman, an Afghan woman Zarifa Ghafari, who became the mayor of Maidan Shar in the conservative Wardak province at the age of 26, will also receive the award. When she showed up to start work, a male mob appeared, and she was forced to flee. Despite facing death threats, Ms Ghafari returned, defying her conservative critics and their narrative that a woman is unfit to lead.
https://www.dawn.com/news/1538221/jalila-among-recipients-of-women-of-courage-award
--------
Aurat March Can't Be Stopped Under Constitution, LHC Rules
March 04, 2020
LAHORE: The Lahore High Court (LHC) on Tuesday wrapped up a petition against the holding of Aurat March, reiterating its earlier remarks that the gathering could not be stopped under the Constitution, directing the Lahore district authorities to speed up its decision on an application seeking permission to hold the march on Mar 8.
The petition, filed by Judicial Activism Council Chairman Azhar Siddique, had claimed "there are various anti-state parties funding the march with the sole purpose of spreading anarchy in public."
His petition also termed the march "against the norms of Islam" with a "hidden agenda" to spread "vulgarity and hatred".
During today's hearing, LHC Chief Justice Mamoon Rashid Sheikh said "under the law and Constitution of the country, the Aurat March cannot be stopped" but went on to say that the marchers should "refrain from hate speech and immorality".
Earlier, the police department submitted a written response on the matter and said that the march will be provided foolproof security. But the police did remind the organisers that Lahore's Mall Road was off-limits for public gatherings of any kind.
"Police has heard the objections [on the march] from various civil society members," the reply read. It said objections did not concern the holding of the march but on the "banners and slogans used in the march".
Reiterating his statement from the previous hearing, the petitioner, Azhar Siddiqui, told the court: "We never wanted for the Aurat March to be stopped."
Nighat Dad – a digital rights expert and activist who is defending the holding of the march in court – told the petitioner: "You wrote in your petition that the march is anti-state, which is a very dangerous claim."
"Women are the beauty of our society. Then they talk about slogans like 'Mera jism, meri marzi' (my body, my choice). The perception in the world is that we oppress our women," Siddiqui responded.
The chief justice asked how many participants are the organisers expecting to which Dad said they were expecting "at least four to five thousand people including men, women and transgender people will take part in it."
"We are ready to give [a] guarantee that no actions against the law will take place at the march," Dad said, after which guidelines for participants of the march were then presented in court. After hearing arguments from both sides, the LHC chief justice said:
"There are no two opinions about women's rights and it is the responsibility of the organisers of the Aurat March to ensure that no immoral slogans are raised at the march."
"Under the law and constitution of Pakistan, this march cannot be stopped," he added.
The judge also observed that the petitioner had no issue with the march being held.
"The organisers and participants of the march should remain within the ambit of the law. The police DIG Operations has assured foolproof security for the march," Justice Sheikh said.
Wrapping up the petition, the court directed the Lahore district government to speed up its decision on the organisers' application to hold the march.
https://www.pakistantoday.com.pk/2020/03/03/lhc-directs-govt-to-speed-up-decision-on-clearance-to-hold-aurat-march/
--------
Saudi Forum Aims To Boost Female Presence In Data Science
HALA TASHKANDI
March 03, 2020
RIYADH: A high-profile conference aimed at boosting the presence of women in the data science sector has been staged in Saudi Arabia.
Prince Sultan University (PSU) organized and hosted on Monday the third Women in Data Science (WiDS) forum in Riyadh.
Along with strategic partner, the Saudi Ministry of Communications and Information Technology, the collaborative event between PSU and the Stanford Institute for Computational and Mathematical Engineering, also focused on highlighting the latest data science research and practices in the Middle East.
PSU is the first university in the Kingdom to put data science in the spotlight, and its rector, Dr. Ahmed Al-Yamani, pointed out the importance of the forum and its contribution to the Saudi Vision 2030 reform plan.
"The third Women in Data Science conference is in line with the worldwide satellite WiDS initiative from Stanford. WiDS resonates with the thrust of the Kingdom's Vision 2030 which is the guiding light for the country's economic, social transformation and reforms," he said.
Dr. Heba Khoshaim, acting vice rector of the female campus at PSU and executive supervisor of WiDS, said: "Through WiDS we exchange ideas, encourage mentorship and interdisciplinary collaboration, and connect regional researchers and practitioners to pioneer global networks.
"WiDS contributes to Vision 2030 by strengthening the female workforce and empowering female scientists. Admittedly, there will be great challenges and expectations, and through their spirit, women will meet those expectations and make remarkable contributions to society," she added.
The event involved panel discussions, keynote speeches, and workshops, as well as poster presentations by PSU students.
Keynote speakers included Dr. Maliha Hashmi, executive director of health, wellbeing and biotech at NEOM, Dr. Samantha J. Horseman from human energy management at Saudi Aramco, and Dr. Duaa Abaoud, the Eastern Municipality's deputy director of electronic services.
One of PSU's primary aims in being at the forefront of higher education in the Kingdom, is to broaden the technical research horizon and stimulate technical discussion and social activities to boost engagement and collaboration for its faculty, students and the community at large.
Forum organizers stressed the important role played by women in all fields of science, technology, engineering, and mathematics (STEM).
Dr. Tanzila Saba, WiDS ambassador to PSU and associate chair of the information systems department, said: "Gender parity in STEM is not just good for women, but for society too.
"Any society that fails to harness the energy and creativity of its women is at a huge disadvantage in the modern world, while the AI (artificial intelligence) revolution will not just be feminine — it will be powered by women."
https://www.arabnews.com/node/1636331/saudi-arabia
--------
Do Muslim Women Reclaiming Public Spaces Make You Uncomfortable? Good!
4th March, 2020
The anti-CAA-NRC protests across the country brought hundreds and thousands of people to streets and in many cases, ranging from Shaheen Bagh, Kolkata's Park Circus Maidan to university spaces, women have been at the forefront. Women from Muslim communities took centre stage in many of these protests and voiced their concern against the divisive Act with their moving speeches.
However, openly sexist, coupled with communal comments came back from many members of the ruling party (comprising mostly of Hindu upper caste, Hindi speaking male) which actually shows how the particular right-wing ideology and the male ego is actually very vulnerable.
The Political Character Of Rape
Given the history of communal nature of politics and culture of India, Hindutva emerged as a sense of victimhood – a wrong done to Hindus. The ideological figure of Hindutva, Vinayak Damodar Savarkar, in his book Six Glorious Epochs of Indian History asserted that Hindu women had been raped numerous times when Muslim rulers won in the wars.
According to him, it was done to numerically increase the Muslim population which would pave for a victory over the Hindus by numbers. The Hindu men, he said, did not commit the same act since they were afraid that they themselves would be converted to Islam.
Thus, he concludes, the Hindus are the victims of this act. It is on these very lines that he justified rape when he said that if Hindus committed the same act, then they would have saved millions of Hindu women. In the worldview of Savarkar, I think women lose their status as human beings and are only seen as procreators, who could and would be 'raped' at the will of men who win battles.
The country has been torn apart many times with recurrence of communal violence from the days of partition to the recent violence in the northeast of Delhi. Muslims (about 14% of the entire population) for decades have been socially seen as the 'other,' the 'enemy,' the 'outsider' which has resulted in a gradual restriction of access of the community to basic needs like access to education, health and jobs.
Muslim women, because of their religious identity and the hierarchical structure of the patriarchal social and political order, often become the target of the right-wing groups and the State. In the horrific riots of Gujarat in 2002, a large number of Muslim women were tortured and raped, along with Hindu women who were close to Muslim men.
The political character of the act of rape finds a wide consensus among feminists. Sexual violence against women in wars and riots, I feel, is a deliberate product of patriarchy since the act of violence against the women is to 'feminise' the men of the enemy and hurt their 'male ego' since they have failed to 'save their women.'
As the norms of the patriarchal world suggest that it is the men's duty to save the women, the sole purpose of the sexual violence against women is to weaken the opponent psychologically. At the end, it is the autonomy of one's body which is violated.
It was therefore, no surprise for me when the national flag was used to justify and support the accused when the rape of an eight-year-old nomadic girl took place in Jammu and Kashmir. It was the same when Hindu men in the parliament became concerned about the suffering of Muslim women (given the history and nature of communal riots) and banned triple talaq.
I think it was done on the same lines of psychologically weakening the 'enemy men' by 'feminising' them while themselves appearing as 'real' powerful men, upholding liberal values.
Left With No Choice, The Men Resorted To Blatant Misogyny
When the country's women, especially Muslim women, came out on the streets and offered a huge resistance to the inhumane Act passed by the Centre, these men were caught by surprise. Under pressure, not knowing what to do they resorted to blatant sexism and communal comments by dehumanising the protesters.
The Bengal BJP chief Dilip Ghosh called the protesters at both Shaheen Bagh and Kolkata's Park Circus uneducated, poor and accused them of engaging in the protest for money sponsored by foreign countries. In spite of bad weather conditions, a large number of women never left the protest site.
These men called the women 'anti-national' and 'Pakistani.' The chief minister of Uttar Pradesh took the same approach of the 'feminisation' of men, when on January 22, he claimed in a rally that Muslim men were afraid to indulge in vandalism and left with nothing to do and had therefore, 'sent' the women and children to protest on the streets. He called it was very shameful to do that on part of the protesters.
It also revealed another patriarchal construct and an insult to all women by shamefully claiming that women don't have the autonomy to wilfully go out to protest. These men fear independent women and think that women being somewhere and anywhere must be because they have some kind of 'permission.' It is simply, hard for them to think of independent women.
The avoidance of conducting a dialogue with the protesters shows how fragile the ideology of the ruling party is. Muslim women have been historically targeted in India. The Gujarat riots along with many other instances of communal violence, the systematic exclusion of Muslim women from arenas of political and social life speaks volumes about the old structures of oppression. It is time to reclaim the streets.
https://www.youthkiawaaz.com/2020/03/wtp-anti-caa-protests-how-muslim-women-are-reclaiming-public-spaces/
--------
Kingdom's Female Artists, Creatives Gallop Ahead with Displays of Work at Saudi Cup
March 03, 2020
RIYADH: At the lavish first edition of the Saudi Cup this past weekend in Riyadh, there was something that many attendees had not anticipated: Contemporary art and fashion.
For the world's richest horse race — and one that has effectively put Saudi on the map for world-class sporting events — to host live artists and fashion designers has surprised many. And yet inside the posh environs of the Red Sea Pavilion was a display of works by an array of young Saudi and international creatives, the majority of which were women.
The Saudi Art Association and the Ministry of Culture staged live art events, including a digital caricaturist, calligrapher and two live Saudi painters, Fahad Al-Ammar and Basmah Alyami.
"This is the second year that I come here to paint and I am painting mostly horses for the occasion of the races," said Alyami. "People in Saudi love horses but I also paint portraits of men, women and families."
Salwa Abuljadayel, a communications specialist, said: "It's all about art these day in Saudi."
In support of that statement, the weekend showcased a range of live traditional Saudi performances coupled with breakdancing, performances of "Grease Lighting," stilt dancers and even comedy acts with jugglers and acrobats. The scene was set for an international stage and one that the inaugural Saudi Cup garnered. There were close to 10,000 visitors over the weekend, hailing from across the Middle East and all over the world.
Also at the Red Sea Pavilion were the works of Saudi artist Nabila Abuljadayel, a prolific portrait artist who specializes in paintings on silk. Abuljadayel is known for her paintings of Saudi royalty and eminent members of society. She displayed special edition works at the Saudi Cup, revealing several of the Kingdom's past and present leaders.
Abuljadayel displayed a copy of an original piece called "Our Path Is One." She said it portrays "the first King of Saudi Arabia King Abdulaziz followed by the second King, King Saud, then King Faisal, King Khaled, King Fahad, King Abdullah and then King Salman, our current king all seated on different Arabian horses." The idea behind the work is how "all of our kings have had the same philosophy and message and that we are continuing it now a step further with Vision 2030 by hosting such a great event for the first edition of the Saudi Cup."
Another artist, Roksanda Ciurysek-Gedir, displayed two abstract works depicting natural areas in Saudi Arabia such as the Farasan Islands rendered in digital ink print on a brushed aluminium box with 300 hand-encrusted diamonds and a 24-carat gold leaf. An artist-in-residence for Fabergé, banker and movie producer, part of the proceeds of the sale of Ciurysek-Gedir's paintings will go to planting mangrove trees in support of the UN Paris Climate Agreement and the UN's Sustainable Development Goals.
Also taking place during the Saudi Cup was a fashion show by students from Princess Nora University. One of the judges was Prince Bandar bin Khalid Al-Faisal, chairman of the Jockey Club of Saudi Arabia.
"Prince Bandar's mandate was to include Saudi brands and retailers on a global stage as the Saudi Cup illustrates just how important it is for us to maintain our identity alongside these major changes," said Marriam Mossalli, founder of Niche Arabia, the Kingdom's leading luxury marketing brand, which was also present at the races.
The fashion showcased at the Princess Nora University show revealed stunning abayas in a variety of cuts, fabrics and patterns.
To top it off were the colorful and vibrant handmade hats of Dubai-based milliner Evelyn McDermott. "They really wanted me to bring the European style here and didn't want me to change anything to do with my designs," said McDermott. "Everyone has been fabulously welcoming. Prince Bandar himself saw everything we were bringing beforehand. It's been the most wonderful few days."
She added: "Sometimes when a country opens up, it can mean the importation of many foreign industries.
"But with Saudi Arabia, we are utilizing the eyes of the world to export our culture and introduce ourselves for the first time, whether it be in fashion, art or music. Niche Arabia is proud to continue to be part of these global events happening within the Kingdom; and to curate Saudi retail toward an international audience."
https://www.arabnews.com/node/1636236/saudi-arabia
--------
A Voice for Afghan Women: Roya Sadat Believes In The Power Of Film To Create Positive Change
March 03, 2020
KABUL: For a generation, Roya Sadat has been a voice for Afghan women in one of the world's worst places to be one.
One of the first female filmmakers to make her name after the fall of the Taliban in 2001, she has won plaudits at home and abroad for works such as "A Letter to the President" and "Three Dots."
She has lived through the Soviet occupation — fleeing with her family for their lives at times —endured the brutality of civil war, and then the violent oppression of Taliban rule, where women existed only in the shadows and basic freedoms were lost.
Her fear is a return to that fundamentalism: The Feb. 29, US-Taliban deal may be a potential first step for peace in a nation that for decades has only known war, but it offers no guarantees the few women's rights set out in the current constitution will be upheld.
"I feel concerned when I remember how we had simply been forgotten during the five-year Taliban rule until 9/11 happened," said the 37-year-old. "If the international community approaches (Afghanistan) as an open-and-shut scenario and abandons us again, there will undoubtedly be grave consequences."
Almost 39 percent of girls go to secondary school according to World Bank figures for 2017, while USAid says that of the 300,000 students in universities, about one third are female, citing figures from the Afghan Ministry of Higher Education. These figures are predominantly for urban areas but 20 years ago it would have been all but impossible everywhere.
"There are many good changes happening, coming from the heart of society," Sadat said, but concedes there is a huge amount to be done.
Afghanistan ranks last in the Georgetown Institute for Women, Peace and Security index which measures well-being and self-reliance. In rural areas, female literacy can be less than 2 percent and rights are often even more constrained by tradition. She is not alone in fearing that the small inroads made in women's rights may disappear — in urban centres young people have grown up listening to music, watching television, and more recently accessing the Internet and social media. Many have only seen the Taliban on the news.
Sadat, who has been writing stories, poems and plays since she was a young girl, recalls how her life ground to a halt in 1996 as the Taliban rolled in.
Schools closed, women were confined to their homes, the televisions and radios stopped playing. A precocious teenager, she continued to write indoors, and read books on directing from her father's collection.
She was allowed to work as a nurse as women could only get female medical help, and even set up clandestine cultural performances of her plays in the hospital, even though the head of it was linked to the Taliban.
"It was very dangerous. I still find it hard to believe that we were able to," she said.
Her first work, "Three Dots," which tells the tale of a single mother who is forced to marry a warlord and become a drug smuggler, was penned during this period, but only made — using simple equipment — once the regime changed and she could channel all the knowledge accrued from surreptitious reading into real-world creativity.
This determination and persistence has defined her career, and she feels strongly that film has a social purpose.
The mother-of-two said: "I turned to cinema, when I had just come out of an era of suffocation, and had a world to express.
"I strongly believe in cinema and that this is the most important art that can influence a positive change in our society. But change cannot come overnight. The change has to come to the thoughts and minds of people."
In her twenties she set up an independent film company — Roya Film House with her sister Alka — and was awarded a scholarship to study film in South Korea.
She has also written television dramas for prominent media firm Moby Group.
From the outset she has faced questions from her family and criticisms from the community, but she argues that when locals come to see her work — they understand.
Her 2017 film "A Letter to the President," shows a woman slapping back at her violent husband when he hits her, before accidentally killing him.
Sadat recalls how she expected a "bad reaction" because of the taboos surrounding female behaviour. Instead the audience applauded during the slap scene.
Cinema remains contentious in parts of the country, and her productions, which shine a light on female inequality and repression, controversial.
She was given the International Woman of Courage Award in 2017.
https://www.arabnews.com/node/1635941/media
--------
Murders of women in Turkey see a 32% decline
MAR 03, 2020
The Interior Ministry announced that the rate of murders of women decreased by 32% in January and February, compared to the same period last year. It is a much-welcomed figure for the country where murders at the hands of angry spouses or other men remain a thorny issue.
Forty women were killed in the first two months of 2020, while this number was 59 between January and February 2019.
In a statement, the Interior Ministry said they also stepped up measures against perpetrators of violence targeting women. In the past two years, there has been a 92% increase in restraining orders for perpetrators. Also, more women had access to KADES, an app allowing them to immediately report any case of violence by spouses to police. More than 23,000 women sought help via the app, the figures show.
Domestic violence claimed the lives of 932 women between 2016 and 2018. Turkey is striving to eradicate the disturbing phenomenon by increasing prison terms for perpetrators and awareness campaigns denouncing violence targeting women, a product of a twisted patriarchal mindset. Some perpetrators justify murders by saying the victim deserved it for "staining their honor" or cheating and in the case of former husbands, marrying someone else. Existing laws do not tolerate domestic violence or violence against women but a debatable interpretation of the laws by courts paves the way for perpetrators to get away with relatively lenient prison terms. Restraining orders are also often violated due to their loose implementation. Turkey seeks an overhaul of laws to bring harsher sentences for culprits.
https://www.dailysabah.com/turkey/murders-of-women-in-turkey-see-a-32-decline/news
--------
URL: https://www.newageislam.com/islam-women-feminism/iron-lady-balochistan-honours-rights/d/121222
New Age Islam, Islam Online, Islamic Website, African Muslim News, Arab World News, South Asia News, Indian Muslim News, World Muslim News, Women in Islam, Islamic Feminism, Arab Women, Women In Arab, Islamophobia in America, Muslim Women in West, Islam Women and Feminism