New Age Islam News Bureau
7 Oct 2019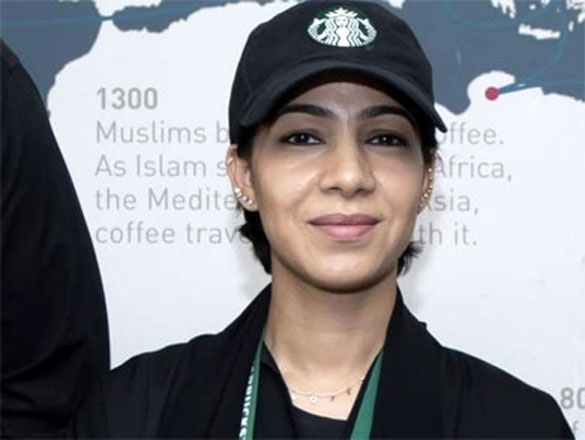 Hana Al Badr, an area manager of Starbucks
------
• Women Barred From Participating in Jamiat Ulema-i-Islam Fazl's 'Azadi March'
• Employment Opportunities For Women Underlined
• Australia Urged To Act Quickly To Get Families Out Of Syrian Refugee Camps
Compiled by New Age Islam News Bureau
URL: https://www.newageislam.com/islam-women-feminism/hana-al-badr-saudi-female/d/119932
--------
Hana Al Badr, A Saudi Female Millennial Racing Against Time To Earn Her Passion
October 6, 2019
RIYADH — In a media roundtable held at a Starbucks café in Riyadh, we met a girl in her twenties wearing a tennis cap. She introduced herself as Hana Al Badr, an area manager.
In a chat with Hana, she said: "I had a chance to work for Starbucks. I never hesitated because I was looking for a job to gain experience and learn how to confront challenges. I loved the atmosphere here, the passion, and the pressure. I loved sharing people's views, choices, and love for coffee."
She added: "Some customers ask me to make their coffee personally. They trust my way of preparing their coffee although the amounts and the way of preparation are standard in all Starbucks coffee shops. But some customers connect their cup of coffee with the barista who prepares it. This is something I am proud of, as it reflects the customer's trust."
Hana said she started as a junior barista and then learned the secrets of coffee making and the way coffee is cultivated, collected, and shipped to coffee shops around the world, where it is classified as black, brown, or mixed. She also learned the various flavors, the amounts of milk to be added, and many other things related to coffee and coffee making.
Moreover, she said: "I learned that meeting customers and preparing their coffee entails mutual happiness. My work at Starbucks helped me learn new skills that will help me in my future career. I am proud of being part of the world's largest and best quality coffee chain. I am also proud of being the first Saudi woman to reach this position at Starbucks. But my ambition will not stop here. I will go on, hoping to become the first Saudi woman to reach a position no one else has reached on the level of Saudi Arabia or the world."
"My job helped me address challenges and share people's passion for coffee Saudi women are racing against time to prove themselves. Now they are competing for jobs that have traditionally been a monopoly to men," she added.
http://www.saudigazette.com.sa/article/579143/BUSINESS/An-epitome-of-a-Saudi-female-millennial-racingagainst-time-toearn-her-passion
--------
Women Barred From Participating in Jamiat Ulema-i-Islam Fazl's 'Azadi March'
OCT 7TH, 2019
The Jamiat Ulema-i-Islam Fazl (JUI-F) has decided not to invite women to its Oct 27 anti-government march towards Islamabad. Sources said that JUI-F chief Maulana Fazlur Rehman wrote to the Pakistan Muslim League-Nawaz (PML-N) informing it about the decision of non-participation of women in the upcoming Islamabad sit-in. The JUI-F chief had a day earlier said his 'Azadi March' would only end when the government falls. "The entire country will be our battleground," he told reporters at a press conference.
"Our strategy will not remain stagnant. We will keep changing it to cope with [any] situation," he said. He insisted that a "flood of people from all over the country" will join the march. When asked whether he has been able to garner the support of other opposition parties, he said that he "hopes to see them" in the march. He added that since all opposition parties agreed that last year's general elections were "fake" and that reelection should be held, they should all be "on the same page and the same stage".
PTI government to complete five-year term with Imran Khan as PM: Khattak
RECORDER REPORT
PESHAWAR: Federal Minister for Defence, Pervez Khattak has said that the PTI government will complete its five-year constitutional term under the leadership of Prime Minister Imran Khan.
Addressing a public gathering at Nowshera Kalan of his electoral constituency here Sunday, he said those all political and religio-political that are making hue and cry of electoral rigging have not presented any proof in the election tribunal.
Those present on the occasion were included KP Minister for Irrigation, Liaquat Khan Khattak, MPA Mian Jamshiduddin, Malik Aftab Khan, former Tehsil Nazim, Ahad Khattak and Haji Sajjad Hussain Paracha. He said that Prime Minister Imran Khan had given gold opportunity to all political parties for presenting proofs of rigging. But, they had not come out with any solid proof to prove electoral riggings in the general elections of July 2018. He said that the real face of the champions of democracy has been unveiled before the masses.
Regarding the Azadi March of Maulana Fazlur Rehman, the Defence Minister said that Maulana has no love for Islam; rather he wants Islamabad and asked him to wait for his term.
He also criticized both ANP and PPP and said that the former had pushed Pakhtuns to backwardness and poverty while the later had broken the record of corruptions through raising the slogans of 'Roti, Kapra aur Makan'. Similarly, he said that the leadership of PML has also involved in corruption and made properties abroad while Maulana Fazlur Rehman has always eyed on Islamabad in the name of Islam and had did nothing during the provincial government of his party.
He said that Prime Minister Imran Khan has fought a long struggle of 22 years against corruption and with the massive support of the people PTI is today the largest political party of the country. Pervez Khattak said that he in capacity of Chief Minister introduced reforms and in consultation with ulema had abolished all those laws that were repugnant to Islam.
On this occasion, a large number of political activists including president of ANP, Kabul River area announced joining PTI along with their families and associates.-PR
https://fp.brecorder.com/2019/10/20191007525063/
--------
Employment Opportunities For Women Underlined
October 7, 2019
PESHAWAR: The Career Development Centre (CDC) of the University of Engineering and Technology (UET) Peshawar conducted an outreach session jointly organised by MOL Pakistan.
The session was solely arranged for women graduates. It was about employment and internship opportunities offered by MOL Pakistan under its Female Engineers MOL Programme.
This outreach session was attended by girl students from different departments who asked various questions about employment opportunities and prospects of their professional growth from the management of MOL Pakistan.
Abdullah Afridi, HR Manager, and Sara Mujahid Geologist MOL-Pakistan, also briefed the audience about the procedure of applying to the FEMP Programme. Vice-Chancellor UET Peshawar Dr Iftikhar Hussain addressed the audience as chief guest and shared the UET Peshawar's policy for engaging aspiring students and providing equal opportunities to women. Dr Faridullah, Director CDC, also highlighted the role of the Career Development Center in promoting University Liaison with Industry.
https://www.thenews.com.pk/print/537597-employment-opportunities-for-women-underlined
--------
Australia Urged To Act Quickly To Get Families Out Of Syrian Refugee Camps
Ben Doherty and Helen Davidson
Mon 7 Oct 2019
Family members of Australians held in detention camps in northern Syria have begged the Australian government to "act urgently" to bring their relatives to safety, as a US withdrawal from the region overtly greenlights a Turkish military offensive.
Kamalle Dabboussy, whose daughter Mariam and three grandchildren are in Al-Hawl camp in north-east Syria, told the Guardian "the window is rapidly closing" to bring women and children caught in the camps to safety.
"We've been warning the government for months that the window to act is closing. There is still a chance to move these women and children to safety, but the future is uncertain. The window will close quickly.
"We've already told the government they need to enact their plan for these Australians, and they need to act with a sense of urgency."
But foreign minister Marise Payne said while the Australian government remains concerned for the welfare of Australians held in the Syrian camps, "as we have made clear, we will not put Australian officials, forces or our public in danger so any repatriation will occur only if safe to do so".
Late Sunday night US-time, Donald Trump announced the US was moving its forces out of the area, effectively greenlighting a Turkish offensive into northern Syria, and abandoning long-time allies, the Kurds.
Turkey will now take custody of captured Isis fighters, their wives and children, the White House said.
Dabboussy, whose daughter Mariam was reportedly coerced by a relative into going to Syria, said the feeling on the ground was one of apprehension, not of Turkish control itself, but of a resistance to any Turkish offensive plunging the volatile region back into war. Any transition from Kurdish to Turkish control is unlikely to be smooth.
"People in the camps fear there will be another war, there will be resistance [to a Turkish invasion] and more conflict. They are sitting behind fences … caught in a very unstable region. People are concerned about the transition to power."
Dabboussy said other countries with citizens caught in the post-war camps had successfully repatriated their citizens.
"The Middle East is a very unstable place, and when you have a window of stability you need to use it. The status quo was stable, and it was not difficult to foresee a destabilising impact of some sort. I would suggest it's a lost opportunity."
Child rights and welfare NGO Save the Children is operating in the Syrian camps.
"There was always a limited window of opportunity for the Australian government to accept assistance from the United States in order to repatriate the Australian children and women languishing in camps in northeast Syria," Save the Children Australia chief executive Paul Ronalds said.
"With the news that the US will withdraw its forces that window is rapidly closing. We urge the Australian government to urgently move the Australian children and women in the camps to safety, with a view to repatriating them."
Ronalds said the movement of women and children from the camps to safety must be "an immediate priority".
"There are more than 40 Australian children in the camps – most under the age of five – who have lived through conflict, bombardment and acute deprivation. These children are innocent victims of the conflict and must be treated as such."
Kurdish forces, supported by the US, have spearheaded the campaign against terror group Isis in the region, but Trump's dramatically altered policy after a phone conversation with the Turkish president, Recep Tayyip Erdoğan, has left the region deeply uncertain over its future.
"The Kurds have sacrificed an enormous amount in this conflict," Dabboussy told the Guardian. "To lose the Kurds as an ally, to betray the Kurds in this way, they may be forced to look for other allies in the region, for instance Iran and Russia. It's hugely disappointing."
For months Erdogan has been threatening to launch a military assault on the Kurdish forces in northern Syria.
In August, the US and Turkey came to an agreement to create a "safe zone" in the region, by which US-backed Kurdish-led Syrian Democratic Forces (SDF) would pull back from the border.
Ankara regards the SDF as essentially indistinguishable from Kurdish insurgents inside Turkey and views the organisation as a terrorist front and a serious internal security threat. The safe zone deal was due to forestall a Turkish military offensive.
In his White House statement, Trump said he had spoken to Erdogan by phone, and Turkey would "soon be moving forward with its long-planned operation into northern Syria".
US forces would not support or be involved in the operation, he said.
Trump's statement specifically condemned "France, Germany and other European nations" for refusing to take back captured fighters, and said Turkey would now be responsible for those captured foreign fighters and their family members held in camps.
"The United States will not hold them for what could be many years and at great cost to the United States taxpayer," he said.
Payne said the Australian government was in close consultation with allies about Trump's unilateral decision.
"The Australian government urges restraint by all parties to the conflict in Syria, and calls for all to avoid escalatory actions that cause further instability and added risks of humanitarian suffering."
While not named in the statement, Australia also has more than 60 citizens in the camps, where around 70,000 family members of fighters are being held.
During the Australian prime minister Scott Morrison's recent US visit, Trump had threatened to leave foreign fighters at the borders of their home countries, but Morrison said the question of Australia's citizens did not form part of the bilateral talks.
While some children of Australian foreign fighters have been brought back to Australia, 66 women and children remain.
Morrison maintains the government will not risk any Australian life to bring back adults.
"There are some quite hideous things that are occurring in these camps and there are some pretty hideous people in them who don't want to do Australia any favours," he told Sky News last week.
"Let's not assume that the individuals, particularly the adults, who are involved here don't present any potential threat to Australia.
"That would be a big mistake to make."
On social media, the SDF's coordination and military operations centre said following the agreement struck with the US, the SDF withdrew military fortifications, combat forces and heavy weapons from the border area. Now the unilateral US withdrawal risked creating a "zone of conflict and permanent war".
The SDF said any Turkish attack would reverse the successful effort to defeat Isis, "where the SDF sacrificed 11,000 martyrs of our sons and daughters over five years", draw Isis leaders in hiding back into conflict in north-eastern Syria and create a long-term war in the region, "making Syria a permanent conflict area".
https://www.theguardian.com/australia-news/2019/oct/07/australia-urged-to-act-quickly-to-get-families-out-of-syrian-refugee-camps
--------
URL: https://www.newageislam.com/islam-women-feminism/hana-al-badr-saudi-female/d/119932
New Age Islam, Islam Online, Islamic Website, African Muslim News, Arab World News, South Asia News, Indian Muslim News, World Muslim News, Women in Islam, Islamic Feminism, Arab Women, Women In Arab, Islamophobia in America, Muslim Women in West, Islam Women and Feminism