New Age Islam News Bureau
14 March 2019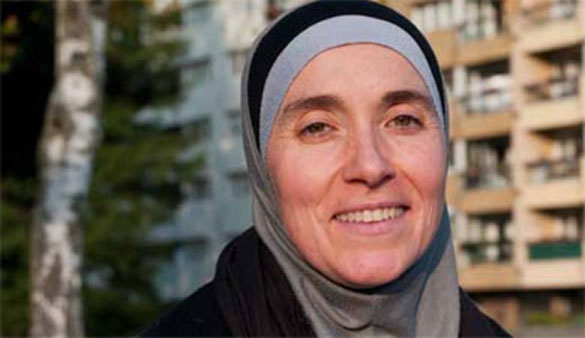 Sabine Tiguemounine chose to sit out the meeting rather than disrupt proceedings. Photo: Meyrin.ch
------
• Islamic State Women Defiant In Face Of Lost Caliphate
• Students Try on Hijabs In Event Hosted By Muslim Student Association
• Saudi Princess, Moudi Bint Khalid, Says Gender Balance Key to Reforming Society
• Muttahida Majlis-i-Amal Lawmaker Says Will Seek Police FIR against Aurat March
• Her Crime? Defending Women's Rights in Iran
• Iranian Women's Football League In Deplorable Conditions
Compiled by New Age Islam News Bureau
URL: https://www.newageislam.com/islam-women-feminism/geneva-muslim-councillor-forced-sit/d/118024
--------
Geneva: Muslim Councillor 'Forced To Sit Out Council Meeting Because Of Headscarf'
13 March 2019
In an early test for Geneva's controversial new secularism law, a Muslim councillor on Tuesday chose to sit in the public gallery during a recent council meeting rather than obey the new legislation by removing her headscarf so that she could take part in the session.
The move by Sabine Tiguemounine, a councillor with the Greens for the Geneva municipality of Meyrin, came just days after Geneva's new cantonal secularism law came into force on March 9th.
The law was adopted after 55 percent of voters in the canton backed its introduction in a referendum in February.
Under the new law – which aims to more clearly define the limits of religion in the public sphere, but which has been criticised by Greens, feminist organisations, unions and Muslim groups – elected representatives in Geneva are banned from displaying religious symbols including headscarves when taking part in plenary council sessions or during other official acts when they are in public view.
But as Geneva daily Tribune de Genève reported, Tiguemounine chose not to remove her headscarf for Tuesday's council meeting which meant she could not vote during the session.
The Greens have already lodged an appeal against the relevant article of the new law, but a decision on whether to suspend it while the matter is appealed won't be taken until March 22nd.
The head of the Greens in Meyrin, Maurice Amato, said the party respected the law and the institutions but was appealing the article in the new law because it violated the Swiss constitution. Under the Swiss constitution, the right to freedom of religion and conscience is guaranteed.
Amato also said the fact that his colleague had been forced to sit out the council meeting was "in violation of the popular verdict" which had seen Tiguemounine voted into office in 2015.
Meanwhile, in comments to state broadcaster RTS, Tiguemounine said it was absurd she had "the right to work behind in commissions behind closed doors out of public view but not the right to vote in a plenary assembly".
https://www.thelocal.ch/20190313/geneva-muslim-councillor-forced-to-sit-out-council-meeting-because-of-headscarf-secularism-law
--------
Islamic State Women Defiant In Face Of Lost Caliphate
13 March 2019
As the battle against the Islamic State (IS) group in eastern Syria enters its final stages, the BBC's Jewan Abdi says the mood amongst many of the jihadists' supporters who have left the area, including many women, remains defiant.
The encampment in the village of Baghuz is barely more than a few holes in the dirt covered with blankets. It is squalid and filthy.
But above it flies the black Islamic State flag, fresh and clean. IS fighters had raised it only the day before, an act of defiance in the face of overwhelming odds.
"That's a sign they will fight," says a soldier belonging to the US-backed Syrian Democratic Forces (SDF) on the front lines battling the jihadists.
Just 24 hours later the battle resumed. It was the end of a ceasefire that had seen more than 12,000 leave in the preceding few days.
One day last week in the early morning, more than 20 trucks led by Humvees armed with machine guns went inside the tiny IS enclave to evacuate jihadist fighters and their families.
I followed these vehicles on their return journey to the desert where they were checked, separated, and sent on to camps run by the SDF forces. One military commander told me the total number of people evacuated was about 7,000.
The hunger and anger was evident on their faces. As I walked among them with my camera, trying to talk to them and film, several IS women suddenly attacked me and threw stones, dust and cans.
"Go film the brothers, don't come here. Go. Leave. Go film them, we're the woman of the Islamic State, Allahu Akbar, Allahu Akbar (God is greatest)," they said.
A few weeks ago, the SDF estimated the number of IS families and fighters left remaining in Baghuz to be between 1,500 and 2,000 people. But in just two days last week, 9,000 people emerged.
The final territory under IS's control may be on its last legs in Syria, but the ideology remains strong among those who have left.
Many of the IS women I encountered threatened of violent jihad and raising their children to become jihadist fighters.
Two captors for one woman
Among the thousands of people turning up out of Baghuz, I also found victims of IS's notorious brutality, including one Yazidi woman called Adiba.
A mother of two, Adiba was enslaved for five years after IS attacked her small village in Sinjar, northern Iraq, in 2014.
Her husband was one of the hundreds of Yazidi men killed by the jihadist group, and she - like thousands of Yazidi women - was forced to convert to Islam and was used as a sex slave.
She says she was enslaved by a Moroccan man who beat her constantly and raped her. He was the father of her two-year-old child.
"I had to marry him. When we were alone he wasn't good to me, he was always angry with me, but in front of people he treated me well," Adiba tells me.
After Adiba's first captor died, she was taken by another Moroccan man named Ahmed - orders she says came from her first captor in the event of his death.
Ahmed, who surrendered to the SDF last week, has denied enslaving Adiba.
Most of the people evacuated from Baghuz recently, including many foreigners who travelled to Syria and Iraq to live under IS rule, have been transported to the SDF-controlled camp al-Hol, in the north-east of the country.
The camp was designed to accommodate 20,000 people but the UN says conditions there are dire as the numbers have risen to more than 66,000.
The global dream of an Islamic State caliphate - a state governed in accordance with Islamic law - is on the brink of collapse, with most of its leadership gone and many captured by the SDF and coalition forces.
Hundreds of IS fighters have surrendered. Separated from their families, they sit in long queues in an area inaccessible to journalists, where US Special Forces and SDF soldiers interrogate them and send them on to detention centres and prisons under Kurdish control.
After losing their self-proclaimed caliphate, a sense of sadness, anger and indignation was clear among these fighters who are stuck in the middle of the desert, waiting to be moved into detention camps, away from their wives and children.
https://www.bbc.com/news/world-middle-east-47553726
--------
Students Try on Hijabs In Event Hosted By Muslim Student Association
March 13, 2019
Women's Herstory month is in full swing at Ramapo, this week with the Muslim Student association's annual "Try on a hijab day."
This event, hosted in the Fishbowl, encouraged students to try on a hijab and ask questions about it openly.
"We're trying to bring us [hijabis] together," said junior Rand Abdul-Razik of MSA. "Even if some of our members don't wear hijabs, or if they do, it's just a way to spread awareness about the culture."
Though some of the women of the Muslim Student Association noted that they do not see many women wearing hijabs on campus, they feel Ramapo creates a comfortable environment for those who do make the choice. One of the key points of this event is to remind others that wearing a hijab is a choice that many Muslim women are proud to make.
"I love this event because it not only shows how we would represent ourselves, but gives others insight as to what it represent and how much it signifies respect and honor that we, as women, have in our culture," said junior Caitlyn Probst. She noted that she identifies with a religion other than Islam but still wears a veil or hijab to her church.
Women covering their heads either only in church or always have a part in many different religions, including Judaism and Christianity. However, a stigma sometimes surrounds Muslim women who wear hijabs.
"It's good for people to ask questions, not out of ignorance, but out of curiosity," Abdul-Razik said. "Just because people wear hijab doesn't mean that they all have a certain, similar perspective. They all have different personalities, different ideas, and it's important to know that you need to get to know the person for who they are, not just the scarf."
Women's history month aims to highlight the varying experiences of women around the world, and this event certainly helps to gain insight on women's experiences wearing hijabs.
Beyond being welcomed to try on a hijab and keep a scarf, women were encouraged to wear the hijab for the rest of the day and share their experiences later at a dinner hosted in Friends Hall. By engaging out of respect and curiosity, there was much to be learned about the experiences of hijabi.
"People shouldn't be scared of people who wear hijabs, because I know it can be a real cultural stigma when people see people proudly showing their faith," freshman Khalisah Hameed said. The ability to gain knowledge and break down stereotypes is a key goal of this event.
One of the most important takeaways is to remember that women who wear hijabs are not defined solely by their decision to proudly represent their religion. The women of MSA joked around as they talked about the stereotype of hijabi women looking unfriendly or not smiling.
"Sometimes we're shy of how someone else is looking at us," Abdul-Razik said.
Junior Samarah Khan added, "Or, we're just really stressed, like any other college student."
Women who approached the table of scarves to choose from were warmly welcomed and shown different ways to wear a hijab. The styles in which hijabs are worn in vary in different countries and by preference of the wearer.
This event was a success for the Muslim student association, as shown by the many proud faces who shared in this experience to try on a hijab.
Khalisah Hameed summed up their motivation for this event well, "It's not a forced thing that we have to do," she said. "It's a decision that we're proud to make."
http://www.ramaponews.com/news/view.php/1037846/Students-try-on-hijabs-in-event-hosted-b
--------
Saudi Princess, Moudi Bint Khalid, Says Gender Balance Key to Reforming Society
March 13, 2019
RIYADH: Equality for men and women at home and in the workplace was key to achieving social and economic reform in Saudi Arabia, according to Princess Moudi bint Khalid.
The Saudi royal was speaking at a conference being held on the heels of International Women's Day, during which she highlighted the importance of a gender-balanced society to the success of the Kingdom's Vision 2030 reform plan.
Princess Moudi was addressing delegates in her role as general secretary of the board of directors of conference organizer Al-Nahda, a nonprofit body which has been working to empower women for 57 years through education and financial support.
She said this year's conference theme "Balance for Better," should be a goal all year round and not just for one day.
"I pray that we work together to achieve a balance between both genders in all fields, whether at home or in the workplace," the princess said, while also emphasizing Al-Nahda's important role in empowering women and announcing that the organization will launch a book documenting its journey.
Historian and author Sultan Al-Mousa became the first man to speak at a public event at Al-Nahda's headquarters when he gave a talk on the competition in ancient civilizations between men and women.
Al-Mousa described how women were once considered sacred and holy beings, before being persecuted, and he spoke about their different roles throughout history.
Dr. Moudhi Al-Jamea, a Saudi telecom executive and "ethical hacker," spoke about the lack of women in the technology sector.
She told the conference that there were many reasons for this, such as the lack of female role models and many families viewing it as an unattractive career for women.
Al-Jamea said she was the only female Ph.D. graduate in cybersecurity. "We have lots of universities that have tech roles and subjects, but there is a disconnection in the industry."
During part of the conference, delegates were plunged into darkness following an electricity cut. However, with the audience using lights on their mobile phones, Maha Taher, VP of the Saudi Agricultural and Livestock Investment Co., was able to deliver her speech on the challenges of being a working mother and finding a balance between her personal life and career.
"Take it slow and enjoy every phase of your life," she said. "If you're a mom, enjoy your children; if you're a CEO, enjoy your success."
Taher stressed the importance of equity over equality. "Women don't want to be a façade. Don't give us positions if we don't deserve it. Give it for competency, not to fill a void."
http://www.arabnews.com/node/1466391/saudi-arabia
--------
Muttahida Majlis-i-Amal Lawmaker Says Will Seek Police FIR against Aurat March
March 14, 2019
Muttahida Majlis-i-Amal (MMA) lawmaker Abdul Rasheed has lashed out at the 'Aurat March' which was held across Pakistani cities on March 8, saying he would complain to police to have a case registered against the organisers of the event which he alleged disrespected women and was in violation of Islamic principles.
Addressing a session of the Sindh Assembly on Tuesday, the MPA mainly targeted the Aurat (Women's) March which took place at the Frere Hall in Karachi.
He requested the Sindh government's support in registering a first information report (FIR) against the march's organisers, saying he hoped the provincial government would cooperate with him "on the basis of the ideology and laws of Pakistan".
Women in large numbers, as well as men, had participated in last week's Aurat March held across the country to mark International Women's Day. The first such march took place in Karachi in 2018; this year, the rally was extended to more cities including Lahore, Multan, Faisalabad, Larkana and Hyderabad.
Rasheed claimed that while everyone in the Sindh Assembly knew about and understood the "sanctity of women" as well the roles assigned to them by nature and Islam, in Pakistan women were continually being disrespected.
He said the March 8 event mocked women.
"The placards held by women at the march carried such shameful slogans that a man would be embarrassed just by reading them," the MMA lawmaker claimed.
He noted that one such slogan was 'my body, my choice' and went on to say that a person, in fact, doesn't have authority over any part of their body.
"A person doesn't choose to whiten their hair or take the breaths of life," he said, adding that everyone was the property of God who has attached certain boundaries with every life.
He then turned his guns towards the ruling Pakistan Tehreek-i-Insaf (PTI). He said although the party had come into power by chanting slogans of creating a welfare state like Madinah, an incident that took place on New Year's Eve last year did not reflect that promise.
"For the first time in Pakistan's history, shameful acts were committed at Karachi's Seaview on December 31 and people had undressed and wrapped their bodies with the flags of the federal government," he claimed. Dawn.com could not independently verify if such an incident took place.
Rasheed said if the family system of Muslims did not last, no one's politics or culture would last in the country. "None of us are ready to enjoy the idea of our mothers and daughters coming out on the streets," he added.
Returning to his tirade against the Aurat March, he said if such events were ignored, they would continue and "things will go beyond boundaries".
Addressing the house and the Sindh chief minister, he said there was no space for such things in the narrative of Pakistan.
"So who gives permission for such activities in the city," he asked. "Why isn't action taken? Why aren't FIRs registered against them?"
Assembly speaker Agha Siraj Durrani interjected and said he didn't think it was the government that gave permission but the minister in-charge was in the assembly who would find out and check the matter.
Rasheed said a woman maintains relations as a mother, a daughter, a sister and then as a wife through Islamic instructions.
"This is our family system," he said, adding that while the progress, education, health and needs of women should be talked about, they should not be "brought out into the streets to be disgraced".
https://www.dawn.com/news/1469421/mma-lawmaker-says-will-seek-police-fir-against-aurat-march
--------
Her Crime? Defending Women's Rights in Iran
March 13, 2019
In their perverse way, dictatorships know full well they're doing wrong when they imprison dissidents. They betray this by the absurdity of the accusations they make against their critics, as if trying to conceal the real intent of their persecution. The result, of course, is the opposite — the silenced dissenter emerges as the righteous accuser, the tyrant as crook.
The latest proof of this is the new prison sentence handed down against Nasrin Sotoudeh, the Iranian human rights lawyer in jail since June, on charges of "colluding against the system" and "insulting" the supreme leader, Ayatollah Ali Khamenei. She had already been convicted, in absentia, of belonging to a human rights organization and stoking "corruption and prostitution" — an apparent reference to her defense of women arrested on charges of removing the mandatory Muslim head scarf. A few years earlier, Ms. Sotoudeh had been imprisoned for "activities against national security" and "propaganda against the regime."
It does not require a lot of investigating to discern that Ms. Sotoudeh is guilty of none of the above. She is a lawyer who has represented abused children and mothers, activists and journalists. In doing so, she has lawfully and peacefully insisted that the theocracy at the helm of Iran abide by the rule of law and the human rights obligations it has signed on to. She has done so fully aware that law and truth are forces that the Islamic Republic abhors, and that simply invoking them incurs the wrath of the regime.
Her work has earned her the European Union's Sakharov Prize for Freedom of Thought (awarded in 2012, while she was serving time for her conviction for purportedly spreading anti-government propaganda) and numerous expressions of support from international human rights organizations.
Ms. Sotoudeh was first arrested in 2010 and sentenced to six years in prison, but released with 10 other political prisoners shortly before the Iranian president was to address the United Nations. She was arrested again last June and found guilty of several national-security-related charges; on Monday, her husband, Reza Khandan, reported that she had been sentenced on several more counts.
There were conflicting reports on the actual sentence. Mr. Khandan said his wife has been sentenced to a total of 38 years in prison, while an Iranian news report cited a judge who said she had been sentenced to seven years.
Mr. Khandan described the sentences in a Facebook post on Monday, saying that his wife had received a five-year prison term in one case and a sentence of 33 years in another. He said she had also been sentenced to receive 148 lashes.
Hopefully the sentence is not one that will effectively condemn the 55-year-old mother of two to life in prison. The flogging, if ordered and carried out, would amount to a horrendously cruel punishment, though one not unusual for Iran. More than 100 flogging sentences were handed down in Iran in 2017, and at least 50 were carried out, according to the United Nations.
Whatever the actual sentence, the persecution of Ms. Sotoudeh and other Iranian human rights lawyers represents a flagrant violation of a defendant's fundamental right to counsel. Ms. Sotoudeh is one of at least seven human rights lawyers arrested in Iran over the past year, in what amounts to a declaration by the Islamist state that representing a political prisoner is in itself a political crime. Instead, decreed the courts, political prisoners must choose from a short list of court-approved lawyers.
That, Ms. Sotoudeh said in an interview shortly before her arrest last June, effectively allows the courts to interrogate, prosecute and sentence political prisoners without any information reaching the public. And with that, she said, "we have to say goodbye to the legal profession in Iran."
Democratic governments and human rights organizations must make clear to the Islamist hard-liners in Iran that their kangaroo courts fool no one, whether those in the dock are dissidents or the lawyers who should be defending them.
The Times is committed to publishing a diversity of letters to the editor. We'd like to hear what you think about this or any of our articles. Here are some tips. And here's our email: letters@nytimes.com.
https://www.nytimes.com/2019/03/13/opinion/iran-nasrin-sotoudeh.html
--------
Iranian Women's Football League In Deplorable Conditions
Mar 13, 2019
The Iranian women's football league is being held under deplorable conditions.
The Azarakhsh football team of Tehran which is the only team representing the capital in the league is struggling.
Tehran women's football team of Azarakhsh does not have a suitable field for its practices. They play in a field which is smaller than the standard football field. They do not do any body building. They do not receive any support from sports institutions and it is not clear how long they will be able to stay in the Iranian women's football league.
Khodayar, CEO of Azarakhsh club, explained the team's problems. "Unfortunately, we do not have any sponsor. We cannot add a few effective players. We have a lot of financial problems. We are strangers in Tehran. Neither the municipality nor the parliament, back us. We have time and again explained our financial problems, but no one cares a bit. We do not even have a standard field. Every day, we are practicing in a new place. On the one hand are our financial problems and on the other, there is the problem of injustice."
In addition, in the 12th week of the Iranian women's football league, the Southern Pars Team of Bushehr sent only nine players, instead of 11, to play in the games. Southern Pars represents Bushehr Province in the league. It participated without its main coach and was accompanied only by a supervisor.
Somayyeh Bashi, the assistant coach of Southern Pars, said on March 11, "We played with nine players. We did not have a goal keeper, so one of the players stood in front of the gate. This was because one of our goal keepers could not participate due to a problem for her kid. Another could not come because of family problems."
Due to financial problems, the Southern Pars players boarded on a van to go to Kerman to play their game in the Iranian women's football league. (The state-run ISNA news agency – March 11, 2019)
https://women.ncr-iran.org/2019/03/13/iranian-womens-football-league/
--------
URL: https://www.newageislam.com/islam-women-feminism/geneva-muslim-councillor-forced-sit/d/118024
New Age Islam, Islam Online, Islamic Website, African Muslim News, Arab World News, South Asia News, Indian Muslim News, World Muslim News, Women in Islam, Islamic Feminism, Arab Women, Women In Arab, Islamophobia in America, Muslim Women in West, Islam Women and Feminism