31 January 2021
• Fashion e-Tailer Myntra Forced To Change Logo After Activist Alleges Signage 'Offensive Towards Women'
• UK Police Impressed With New Zealand-Designed Hijab Uniform, Trialing Prototype
• An Idaho Woman Said She Had No Choice But To Wear A Burka 'Like A Muslim' So She Could Avoid A Mask Mandate
• Ignore The Rumours, Covid Vaccines Do Not Make Women Infertile
• How Afghan Woman Judge Tried To Fend Off Her Taliban Killer With Her HANDBAG
• These Are The Top 10 Richest Women, Non From Africa - Bloomberg
• 'A Lost History': The US Women Who Fought For Better Working Conditions
Compiled By New Age Islam News Bureau
URL: https://www.newageislam.com/islam-women-feminism/fashion-e-tailer-myntra-forced/d/124190
-------
Fashion e-Tailer Myntra Forced To Change Logo After Activist Alleges Signage 'Offensive Towards Women'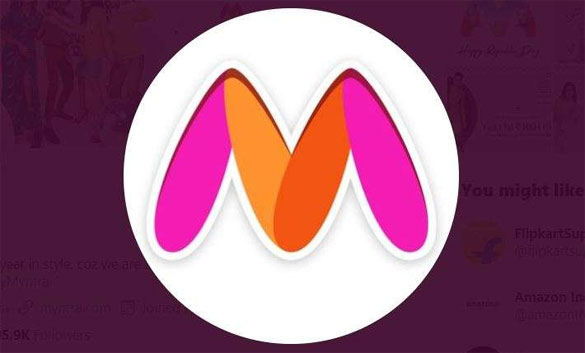 Myntra changes logo after complaint calls signage offensive to women
-----
By Digital Desk
30th January
Following a complaint alleging that e-commerce website Myntra's logo was offensive towards women, the brand has decided to change its signage, PTI reported on Saturday. The complaint, filed in December, by a Mumbai-based activist has forced the fashion e-tailer to change its logo on the website, mobile app and the packaging materials as well. Founded in 2007, Myntra was acquired by e-commerce giants Flipkart in 2014 and was later merged with Jabong to expand its base.
The complaint had been lodged last month with the cyber cell in Mumbai. "A complainant (woman) had approached the cybercrime police station in the matter. We called a meeting with Myntra following the complaint, they (Myntra) came and agreed to change the logo. They have sent an email as well on the same," DCP Rashmi Karandikar of Mumbai Police's Cyber Crime Department told PTI.
In a tweet, Avesta Foundation said: "Congratulations to our founder. She did it what apparently seemed impossible. Thank you, everyone, for your support. We're overwhelmed by the response. Kudos to @myntra for addressing the concerns and respecting the sentiments of millions of women". As per sources, the complainant had alleged that the present logo of Myntra resembled a naked woman. The decision to change its logo has received a mixed response across the internet.
https://www.republicworld.com/business-news/india-business/myntra-forced-to-change-logo-after-activist-alleges-signage-offensive-towards-women.html
--------
UK police impressed with New Zealand-designed hijab uniform, trialing prototype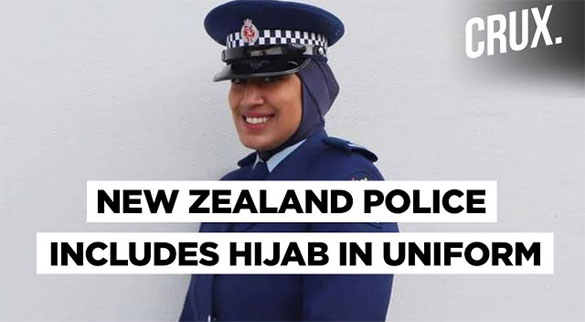 By Sameer
30th January 2021
Leicestershire: The UK's Leicestershire Police not only got impressed with New Zealand's decision of introducing hijab into uniform but also trialing prototype for their female staff members.
The Health and Safety team is currently trialing the hijab that is being worn by trainee Constable Khadeejah Mansur.
It may be mentioned that the New Zealand Police had introduced hijab into their official uniform to encourage more Muslim women to join.
New Zealand Police said that the work to develop the hijab for its uniform began in 2018. Constable Zeena Ali was the first recruit to request it as part of her uniform and was invited to take part in the development process.
During the designing of the hijab, New Zealand Police undertook international conversations and collated samples from other Police worldwide.
As per the New Zealand Police release, the consultation was done with Muslim women who were involved in fabric research, extensive pattern sampling, prototyping and trialing.
Constable Ali, who was born in Fiji and moved to New Zealand as a child, had told the New Zealand Herald that she decided to join the police after the Christchurch terror attack.
"It feels great to be able to go out and show the New Zealand Police hijab as part of my uniform," she added.
https://www.siasat.com/uk-police-impressed-with-new-zealand-designed-hijab-uniform-trialing-prototype-2079323/
--------
An Idaho woman said she had no choice but to wear a burka 'like a Muslim' so she could avoid a mask mandate
Bre'Anna Grant
31-01-2021
An anti-masker ranted about the "nonsense" of mask-wearing during a local city council meeting in Idaho.
Katie Dugger is seen at a meeting hosted by the City of Lewiston on January 25 wearing a colorful outfit which she says is the "only way she can avoid wearing a mask."
"You know why I'm wearing this?" Dugger asked city officials, according to video from a Facebook live stream. "I'm wearing this because the only way I could go to school today was because I had to act like I had on a freaking burka like I'm a Muslim."
Dugger is a student at Lewis-Clark State College (LCSC) and said she had to take last semester off because of the mask mandate "nonsense."
Students, faculty, and staff to wear face coverings in campus buildings and classrooms. But, face coverings are not required for those who have medically-based reasons for not wearing them or if people are socially distanced while outside, according to the school's website.
Dugger said she had to wear the Peruvian-made outfit all day to school, and said wearing masks affects her schooling.
In the video, she also said that since childhood it has been "traumatizing for her to wear a mask."
Dugger downplayed some of the COVID-19 protocols put in place in the city such as plastic partitions and signs saying "masks required."
"C'mon, what is this gonna do?" Dugger asks while holding up her scarf. "Do you think the virus is smart enough to say 'Omg, she has on a burka. I'm gonna stop right here and not infect her or anybody else.'"
Lewiston City Council met on January 25 to determine whether or not to extend the city's mask mandate.
Many of the residents who spoke during the meeting did not wear a mask.
Starting Monday, wearing masks on public transportation will be required, according to a new rule by the CDC.
Wearing a mask was introduced back in the early days of the pandemic when there wasn't much evidence on whether masks helped prevent the virus from spreading.
https://www.insider.com/anti-masker-dresses-in-muslim-garb-to-avoid-wearing-mask-2021-1
---------
Ignore the rumours, Covid vaccines do not make women infertile
By Catherine Thornton
31 JAN 2021
A lot of conspiracy theories and fake news surrounding the pandemic are doing the rounds. Among the disinformation is a suggestion that COVID-19 vaccines might cause infertility in women.
This seems to be based on perceived similarities between the coronavirus's spike protein – which is the key part of the virus that the vaccines target – and a protein found in the placenta called syncytin-1. This has led to the unfounded theory that antibodies against the spike protein will attack syncytin-1, stopping it performing its important role in the placenta.
All proteins are made up of long strings of individual building blocks called amino acids. SARS-CoV-2, the virus that causes COVID-19, is made up nearly 10,000 amino acids, of which around 1,300 are found in the spike protein. Syncytin-1 is made up of around 540 amino acids. Given that there are only 20 different types of amino acid, it isn't surprising that many, many proteins share similarities.
To make a protein these long strings of amino acids are folded to form a 3D structure. For antibodies to mistakenly recognise syncytin-1 as SARS-CoV-2, there would have to be sufficient similarity of amino acids in these strings (which there isn't) and the critical amino acids would need to be clustered together in the 3D molecule in a sufficiently similar and accessible way (which they aren't).
Spike protein antibodies are made in response to both natural infections and vaccines. So women who have been infected naturally with SARS-CoV-2 during pregnancy also have antibodies to the spike protein. Therefore, studies of the natural immune response of pregnant women to SARS-CoV-2 – and the effects of infection on pregnancy outcomes – can provide insight into the risk of spike protein antibodies to pregnancy.
Evidence shows that the risk of miscarriage is not increased in women who have had a SARS-CoV-2 infection in early pregnancy. This indicates that even if spike protein antibodies are present within the uterus, they don't have a negative effect on implantation or early development of the placenta.
The mother's blood supply is not fully connected to the placenta until the end of the first trimester. The passage of antibodies from mother to baby across the placenta then follows in the second and third trimesters. This is a normal part of pregnancy and provides protection to the baby against infectious diseases. This is known as passive immunity and continues after the baby is born with antibodies being transferred via breast milk.
SARS-CoV-2 antibodies have been found in the newborns of women who have had COVID-19 during pregnancy and who continued to carry their pregnancy to term. (Typically, this is done by analysing umbilical cord blood collected when the baby is delivered.) This shows that antibodies are passing across the placenta from mother to baby and are not having a detrimental effect on the pregnancy. This is despite cells expressing syncytin-1 being the first point of contact on the placenta for these antibodies.
At the outset of the pandemic there was much concern about the potential harmful effects of SARS-CoV-2 on pregnancy and unborn children. Pregnant women were included in lists of vulnerable people as a sensible precaution. This was based on experience with other viruses that cause more severe disease in pregnant women than the general population or can infect the placenta or the fetus and cause harm. This list of viruses includes influenza, hepatitis E, and Zika.
But the passage of time has shown us that we do not need to add SARS-CoV-2 to this list. Yes, pregnant women can develop severe COVID-19, which can increase the likelihood of being admitted to intensive care and giving birth preterm. Overall, however, pregnant women are less likely to experience symptoms of COVID-19 and are more likely to have milder symptoms when they do.
As a similar precaution, it's normal practice to not include pregnant women in the testing of vaccines – or any other form of medicine – until their safety has been established. Given the short timescale over which COVID-19 vaccines have been developed, there simply hasn't been the time to gather the safety data needed to confirm that it's safe to enrol pregnant women in clinical trials.
While pregnant women haven't been recruited into these trials yet, due to these trials' large size, there have been instances when women involved have become pregnant. In the cases where this has happened, there has been no adverse effect on the pregnancy.
Likewise, there hasn't been time to gather enough data to allow pregnant women to be included in the priority groups for vaccination. However, the safety data from the general population is sufficient for the Royal College of Obstetricians and Gynaecologists to advise that pregnant women who are clinically extremely vulnerable or frontline healthcare workers can consider being vaccinated and should discuss this with their doctor.
These women should not have any concerns that spike protein antibodies generated in response to the vaccine will have any harmful effects on their pregnancy.
Catherine Thornton, Professor of Human Immunology, Swansea University and April Rees, PhD Researcher in Immunology, Swansea University
This article is republished from The Conversation under a Creative Commons license. Read the original article.
https://www.walesonline.co.uk/news/uk-news/ignore-rumours-covid-vaccines-not-19736385
--------
How Afghan Woman Judge Tried To Fend Off Her Taliban Killer With Her HANDBAG
By RYAN FAHEY
30 January 2021
An Afghan woman judge tried to fight off a Taliban assassin with her handbag but died after the killer shot her five times in the chest.
Supreme Court Judge Kadria Yasini, 53, drew her handbag to her chest to protect herself from the gunman's attack in Kabul earlier this month.
Shots ripped through her black leather handbag, police say, leaving the 53-year-old dead at the scene, with at least five bullet holes in her chest.
While looking through his mother's bullet-riddled bag, Yasini's son Abdulwahab Yasini, 28, told the Times he thinks his mother was shot more than police estimates.
'The police told us that Mum had been shot five times but maybe it was much more,' said Abdulwahab Yasini, 20. 'There are three spent bullets in the bag, and everything seems to have been shot through.'
A pair of tweezers were bent by the impact of the shells and the bag, a purse, notebook, water bottle and book on law written by the 53-year old were all pierced, the Times reports.
Yasini's brother, Haji Mustafa Herawi, was one of the first at the bloody scene after hearing gun shots ring out through the window of his Kabul home.
'As a young man I ran into this street and collected my dead father's brain from the tarmac,' he told the Times. 'Thirty years later I ran out and found my sister dead in the car in the same place. They had shot her in the face, head, chest, everywhere. And the wounds of the past came back again.'
The murders have caused outrage across Afghanistan and come just three months before the US and Britain withdraw the last of their fighting forces from the war-torn country.
On the same day the judges were killed, Taliban, Afghan and US negotiators sat down in Qatar. Among the insurgents' demands was the release of 5,000 jailed fighters, which experts fear could see them return to their former strength.
Last year's peace accord with the US government has restricted the insurgents in carrying out large-scale urban bombing campaigns, so they have switched methods.
Victims are now killed by trained motorbike assassins, or detonating magnetic mines under vehicles which engulf them in clouds of fire.
As the Taliban targets the liberal elite, droves of the country's most-educated are leaving and applications for Afghan passports are at record levels, the Times reports.
'People are leaving. Those that remain are becoming too afraid to speak out,' said Shaharzad Akbar, chairwoman of Afghanistan's Independent Human Rights Commission.
Akbar fears that public debate is being silenced among people who choose to stay. For many women, he adds, seeing the two judges killed after working so hard to rise in such a male-dominated judiciary, 'raises the question in women's minds here: "Is it worth it?"'
'Afghanistan is losing one of its most important gains, its educated & professional cadre, in what seems to be a systematic massacre & the world seems to be just watching. This must stop,' tweeted Akbar.
Killings in Kabul have risen sharply since November, with 91 civilians and 64 law enforcement officers slaughtered in just 102 days. Almost 350 people have been wounded.
Following the attacks, President Ashraf Ghani spoke to the families of Yasini and Herawi and called for the hanging of any Taliban prisoners found to be involved in the incident.
Vice President Amrullah Saleh called the 'ultra-sensitive and spectacular assassinations', events that have shaken Afghani society, adding the Taliban was trying to 'humiliate' the government and target civil society.
Saleh said the reasons behind the attack is that the Taliban see media, and women, as blockades in the way of their Islamic state.
The extremists countered authorities' comments with threats, which concerned UN, US and NATO diplomats as they fear rising public outrage could hinder already dragging peace talks. ***
America's 2,500 troops are to leave the conflict-ravaged country by 1 May and Britain's 1,000-strong battleforce will follow closely behind.
Western forces will leave whether a peace accord is finalised, or not, and many experts believe an agreement still won't be reached in the timeframe. Many believe a collapse in talks will lead to civil war.
Two men held by Afghan intelligence have been interviewed and confessed to being behind the November killing of Yusuf Rasheed, the CEO of the Free and Fair Election Forum of Afghanistan Yusuf Rasheed, and his driver.
One admitted to watching Rasheed daily schedule and planning the attack, while the other confessed he had been in possession and transported one of the Berettas used.
Twenty-year-old Safi Ahmed told the Times that he'd been a member of the Taliban since he was 16 and that his superiors ordered Rasheed's killing.
It is firmly believed that the Taliban have been behind most of the killings, but some have been claimed by rival jihadist group, the Islamic State.
Some think that other criminal organisations, including the country's mafia, could be involved and benefitting from efforts to cull the liberal elite.
Former news anchor Yama Siawash was killed in Kabul when a mine under his vehicle exploded on 7 November as he made his way to work at Aghanistan's state-owned Central Bank.
Mr Siawash was collected 20 minutes after the vehicle left the bank's secure car park, which suggests the mine was attached on bank premises.
'Yet now even the word 'democracy' is understood by our society as a target ... all of these killings are undermining faith in what democracy actually means here or what place it has in our future.'
https://www.dailymail.co.uk/news/article-9204867/How-Afghan-woman-judge-tried-fend-Taliban-killer-handbag.html
--------
These are the top 10 richest women, non from Africa - Bloomberg
JANUARY 31 2021
By Agencies
The saying "What a man does a woman can do even better" comes to the mind when you meet the ten richest women in the world today with a total net worth of $427 billion, according to the Bloomberg Billionaires Index, a daily ranking of the world's richest people.
They include Francoise Bettencourt Meyers from France, the richest woman with her net worth of $72.4 billion, she's the granddaughter of Eugène Schueller, the founder of L'Oreal's.
She has served on L'Oreal's board since 1997 and is current chairwoman of the family holding company. Alice Walton-the second richest woman, with her net worth totalling at $64.9 billion.
She's the only daughter of Sam Walton, the founder of Walmart. She has two siblings, Rob and Jim, who work at Walmart, whereas Alice Walton chose a different career path for herself.
She's an art curator and runs the Crystal Bridges Museum of American Art. MacKenzie Scott is the third richest woman with net worth of $61.3 billion.
She's a renowned author and the ex- wife of Amazon founder Jeff Bezos. The fourth richest woman is Julia Flesher Koch with a net worth totalling $56.1 billion.
Koch and her three children inherited a 42 per cent stake in Koch Industries – it owns and runs a diverse set of businesses and industries from her husband, David Koch, who passed away in 2019.
Meanwhile, Jacqueline Mars, the fifth richest person in the world, at $40.9 billion is a philanthropist, businesswoman and the granddaughter of Franklin Clarence Mars, founder of Mars, the world's largest candy maker. She worked for the company for nearly 20 years and served on the board until 2016, states Forbes.
She inherited billions of dollars of stock in Apple and Disney from her late husband, Apple co-founders Steve Jobs. She's the founder of Emerson Collective, a hybrid investment, social impact and philanthropic firm, according to Mag.
Yang Huiyan who hails from China, is the seventh richest woman with a net worth of $27.4 billion. She owns 57 per cent of Country Garden Holdings, a real estate developer.
Forbes says the mammoth ownership stake was largely transferred to her by her father Yeung Kwok Keung in 2007. Gina Rinehart is Australia's richest citizen who built her wealth on iron ore.
Abby Johnson at $23.3 billion from the US is the ninth richest woman. She's been the chair- person of Fidelity Investments since 2016. She took over from her father.
Forbes says she owns an estimated 24.5 percent stake of the firm, which has nearly $2.9 trillion in managed assets.
https://www.thecitizen.co.tz/tanzania/news/these-are-the-top-10-richest-women-non-from-africa-bloomberg-3274998
--------
'A lost history': the US women who fought for better working conditions
Michael Sainato
31 Jan 2021
In the early 1970s, a group of female clerical workers in Boston, Massachusetts, began organizing for better wages, advancement opportunities, and an end to sexual harassment. Their organizing efforts spurred a nationwide movement called 9to5, formed to improve working conditions for women across the board, and eventually toward the goal of forming unions within the workplace.
A new documentary film on the 9to5 movement from the Academy Award-winning film-makers of American Factory premieres 2 February on PBS, and the makers believe the movement has many echoes of today's social justice movements from #MeToo and Black Lives Matter.
Women's participation in the workforce climbed from 33.9% in 1950 to about 51.5% in 1980. As more women began entering the workforce, they faced glaring pay inequities, rampant gender discrimination, pregnancy discrimination and sexual harassment.
The film, featuring interviews with leading organizers of the movement and actor Jane Fonda, who starred in and helped develop the 1980 film 9 to 5 with Dolly Parton and Lily Tomlin, explores the history behind the movement that inspired the Hollywood film, its successes, losses, and parallels to the ongoing struggles in the labor movement and for women's rights today.
"Women had so few opportunities that working-class women and middle-class women found themselves with the same problems in the same workplaces. We were able to bring people together across class, make sure that we were confronting divisions around race by bringing people together and finding common cause. And it worked," said Karen Nussbaum, co-founder and director of 9to5.
From Boston, 9to5 grew to cities around the US, creating a space for women and women's issues in the labor movement in tandem with the women's liberation movement occurring in the same era. Rallying cries of "Raises not roses", "coffee rebellions" and picketing actions spread to cities like Chicago, Atlanta, Cleveland, New York City, San Francisco and Seattle.
Local chapters ran campaigns targeted at employers and directed toward issues such as securing promotions and hiring opportunities for women workers, healthcare benefits, pay raises, childcare, receiving back pay, and organizing women around collective issues impacting them in the workplace.
"It's a lost history," said film-maker Julia Reichert. "We started making this film long before we made American Factory. We didn't realize the two films were going to end up talking to each other so much. For instance, the [American Factory] union drive was clearly defeated because plenty of workers were fired, and there were those huge mandatory meetings where workers were told unions were bad again and again. That all started in the 9to5 movement in the late 1970s and 80s."
During the 1970s and 1980s, union avoidance developed into a multimillion-dollar industry as consultants and lawyers actively pursued employers to utilize their services. According to a 2019 report by the Economic Policy Institute, US companies spend nearly $340m a year on union avoidance advisers. In part as a result of the corporate backlash toward the labor movement, the union membership rate of the US workforce drastically declined over the past 50 years, from 20.1% in 1983 to 11.1% in 2015, driven primarily by union losses within the private sector.
"Whenever these votes occur, you might hear about a union drive and that the workers chose not to have the union. I feel a lot of people don't get the kind of pressure workers are under from their boss, who pays their paychecks, stopping them from voting 'yes'," said film-maker Steven Bognar.
Organizers with the 9to5 movement formed a local within the Service Employees International Union, Local 925, in the early 1980s. Through their organizing efforts, workers experienced union election victories, but also suffered defeats at the hands of well-funded, aggressive anti-union campaigns where consultants utilized captive audience meetings, fear, and intimidation to suppress unionization efforts.
"Everyone should know that there is an opportunity to do collective bargaining, working together so that they can have better decision making, make more money, have better outcomes, and better benefits," said Mary Jung, a 9to5 organizer and activist in Cleveland, Ohio, in the 1970s. "It's all about that one-on-one contact, how you approach people, how you're inclusive, how you try to build an organization, and you just really need people to meet others where they're at and see and show them where they can go."
Co-founder of 9to5, Karen Nussbaum noted the political and social conditions that enabled the rise of the 9to5 movement in the 1970s is similar to the political and social turmoil the US has recently experienced, from economic recessions to the #MeToo and Black Lives Matter movements.
The new administration under Joe Biden has begun to take steps toward enacting a $15 minimum wage and reforming labor laws to facilitate workers to organize unions as public approval of labor unions is at the highest rate since the 1960s, at 65%, according to the latest Gallup poll, conducted in August 2020.
During the Covid-19 pandemic, the unionization rate of the US workforce increased from 11.6% to 12.1% due to the job security protections afforded to workers who belong to a union. The decline in union membership over the past few decades has directly correlated to surges in income inequality, as increasing shares of income has been directed to the top 10% of wealthiest Americans.
After securing a slim majority in the senate, the Democratic party now has the ability, if they eliminate the filibuster, to pass the Protecting the Right to Organize Act, which passed in the House in 2019 but did not reach a vote in the then Republican-led Senate. The legislation would expand worker protections in forming unions, including raising penalties for firing workers in retaliation for union organizing and banning captive anti-union meetings in the workplace.
Aside from labor law reforms, Nussbaum explained worker-led organizations and unions need to partner together to organize to create the change similar to what 9to5 was able to achieve and continue to build on it.
"Unions and the new worker organizations need to have the kind of partnership that we did," Nussbaum said. "No amount of foundation money is going to substitute for organizations that working people own themselves. And if we don't have that, we'll never have the power that we need to really be a counterbalance to the better corporate power that we have right now."
https://www.theguardian.com/business/2021/jan/31/9to5-pbs-documentary-women-working-conditions
---------
URL: https://www.newageislam.com/islam-women-feminism/fashion-e-tailer-myntra-forced/d/124190
New Age Islam, Islam Online, Islamic Website, African Muslim News, Arab World News, South Asia News, Indian Muslim News, World Muslim News, Women in Islam, Islamic Feminism, Arab Women, Women In Arab, Islamophobia in America, Muslim Women in West, Islam Women and Feminism