New Age Islam News Bureau
12 October 2021
• Afghan Women Have A Long History Of Taking Leadership And Fighting For Their Rights
• Ministry, UN Women Launch Gender-Responsive Budgeting Seminars
• UN Chief Guterres Slams 'Broken' Taliban Promise Made To Women, Girls
• China Detains Muslim Women For Using WhatsApp, Labels Them As Pre-Criminals, Says New Book
Compiled by New Age Islam News Bureau
URL:
--------
Women's Pavilion at Expo 2020 Dubai Discusses Forced Marriages, Female Education
12 October 2021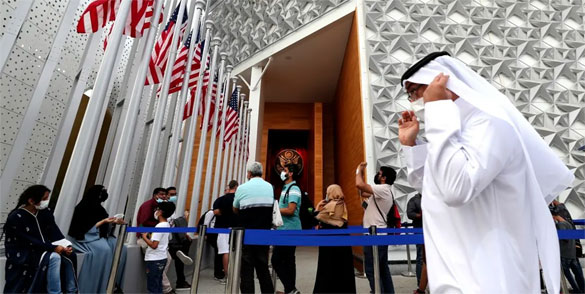 (Photo courtesy: Al-Arabiya)
------
The Women's Pavilion at Expo 2020 Dubai hosted a symposium on Monday that brought together young female activists from Egypt, Lebanon and Africa to highlight the impact of challenges such as gender-based violence, forced child marriage and a lack of access to education.
The symposium, entitled 'We can! Girls' Voices for Girls' Empowerment', was appropriately being held on the United Nations' International Day of the Girl Child, which supports more opportunities for females and increases the awareness of gender inequality. The discussion was hosted by UK-based NGO Save the Children.
In her speech, the symposium's guest speaker, Egyptian TV anchor Mona El Shazly, emphasized education as a basic right of all children. She encouraged the expansion of community classes initiated by UNICEF in remote areas where there are few schools, and creating curricula for specific communities. She also pointed out the dangers of parents depriving their children of education.
Entrepreneur and activist Sarah Al Madani said that society needs to change to accept women as powerful figures. "Instead of hiding behind outdated cultures, customs and traditions, we must begin seriously to change them," she said. "Social reform starts from within the family, and we must focus our efforts on educating the new generation."
The participants were agreed on their opposition to forced child marriage, and their desire to facilitate the access of education for girls all over the world, simultaneously creating a safe environment for them.
In a virtual message, Nouneh Sarkissian, wife of the President of Armenia, UNICEF advocate for children and an author, stressed the importance of women in positions of power. Environments conducive to this development should be encouraged, involving women in the decision-making process at senior levels.
The Women's Pavilion at Expo 2020 tackles key issues of concern to women, as a partner for building a promising future, and highlights the contributions made by women to the advancement of societies.
Over 182 days, more than 200 participants – including nations, multilateral organizations, businesses, and educational institutions, as well as millions of visitors – aim to come together to create the largest and most diverse World Expo ever.
Source: Al Arabiya
https://english.alarabiya.net/News/gulf/2021/10/12/Expo-2020-Dubai-Women-s-Pavilion-discusses-forced-marriages-female-education
--------
Afghan Women Have A Long History Of Taking Leadership And Fighting For Their Rights
October 11, 2021
Ever since the Taliban recaptured Afghanistan, the question in much of the Western media has been, "What will happen to the women of Afghanistan?"
Indeed, this is an important concern that merits international attention. The Taliban has already imposed many restrictions on women.
At the same time, however, much of the Western media coverage appears to be reinforcing the idea that the U.S. military intervention helped expand the rights for Afghan women, while erasing the impact of years of resulting corruption and violence on their lives.
This framing echoes similar post-9/11 calls to action by many well-meaning Americans on behalf of Afghan women. Pundits continue to ask, did Biden, the U.S. and its NATO allies abandon Afghanistan and its women too soon?
As Afghan American women scholars, we are concerned that this rhetoric presents Afghan women as victims in need of saving, suggesting all women experience life in Afghanistan the same way, without accounting for their activism and political resistance.
We know through our research, advocacy and experiences that a diverse spectrum of women-led groups are fighting for human rights, both now and historically.
Do Muslim women need saving again?
Western colonial powers have a long history of appropriating women's rights movements in the Middle East, North Africa and South Asia to serve their own geopolitical interests.
Indian scholar Gayatri Spivak was among the first to write about this phenomenon, in reference to British rule in India. In her 1988 essay, she explains how this white savior rhetoric was used to justify Western rule in the name of liberating Muslim, Hindu or pagan women from their "repressive" societies. She described this savior disposition as "White men saving brown women from brown men."
Scholar Leila Ahmed described this dynamic in her 1992 book "Women and Gender in Islam," when she notes instances in which imperial British agents in Egypt used women's rights as a rhetorical device to further their colonial rule, while undermining those rights through the violence of colonial occupation. One example that Ahmed cites is Lord Cromer, the British consul-general of Egypt, who supported Egyptian women's rights but condemned the suffragist movement at home. He also supported viceroys who were conservative-leaning and espoused anti-women and anti-gay laws.
Anthropologist Lila Abu-Lughod in her 2013 book "Do Muslim Women Need Saving?" also cautions against the savior narrative, which she argued reduces Muslim women to a monolithic group who are all repressed by a draconian version of Islam, and in need of some form of militarized intervention, packaged as humanitarianism.
Women's movements in Afghanistan
Afghan women, just like women of any nationality, cannot be generalized into a singular category. They have a plurality of aspirations, commitments and visions for the future shaped by their socioeconomic identities, religious affiliations or lack thereof, location in the country and ethnic identity.
Afghan women's rights movements and organizations are also far from monolithic. They range from communist to secular, and moderately religious to more religiously conservative.
In the 1960s and 1970s, Afghanistan underwent a series of liberal reforms started by the government and social works programs that radically increased the active participation of women in arts, culture and politics.
The women's movements were emboldened by the 1964 ratification of the equal rights amendment act in the Constitution of Afghanistan. At that time, Afghan women began to demand more rights. Shortly thereafter, women began protesting against veiling, which had been socially mandated. The government subsequently worked toward easing the restrictions.
During the Soviet-Afghan War and occupation that lasted from 1979 to 1989, many Afghan women fought and demonstrated against the Soviets, despite being targeted, beaten or killed for their activism.
Two of the most prominent women who were killed for their resistance were Nahid-i Shahid, often known as Nahid the Martyr; and Meena Kamal, the founder of the Revolutionary Association of the Women of Afghanistan, an organization founded in 1977 in opposition to foreign interference in Afghanistan and corruption in the Afghan government. Shahid was killed by the Soviet-backed puppet regime after protesting the Soviet occupation in 1980. Kamal is said to have been assassinated by a Jihadi leader in 1987.
In recent decades, women professionals used their skills as leverage against repressive edicts. The Taliban, for example, in 1996, was forced to reinstate Suhaila Siddiqi, a female heart surgeon, so she could operate on members of the group.
In the post-9/11 era, U.S. military intervention was coupled with development aid designed to revitalize Afghan society, including women's empowerment. Many women participated in new educational and professional initiatives, as well as development projects in the arts, media and athletics.
By 2003, in the first elections following the ousting of the Taliban, a U.S. and United Nations mandate in the post-9/11 Afghan Constitution required that women comprise 25% of the Parliament and occupy positions as heads of ministries and governorships.
US military
Over the past two decades, the political clout of the Taliban and other warlords and extremists in Afghan society has been strengthened, with real consequences for women.
In spite of countrywide protests, the U.S.-backed Afghan government invited many of the same leaders and warlords that the Taliban had displaced back to power. These warlords wreaked havoc on the population by using their government positions as fiefdoms to grow their base and to divert international funding to themselves.
Increasing corruption reduced the efficacy of the development projects and undermined the gains made. As media reports pointed out, while the lives of some women in urban areas, especially Kabul, improved, those of women in other parts of the country became unbearable. Many women in rural areas were subjected to constant drone surveillance, night raids and aerial bombings.
The Taliban, similar to their first ascent to power, promised to rid the country of the warlordism and kleptocracy in the U.S.-supported government. With their harsh interpretation of Islam, they also brought back restrictions on women's freedoms.
The path forward
We argue that it is important to remember the work of many Afghan women reformers and human rights activists over the last 20 years so as to better support their aspirations for social transformation.
Many Afghan women, such as Shaharzad Akbar, chairperson for the Afghanistan Independent Human Rights Commission, Fatima Gailani, director of the Red Crescent Afghanistan, Malalai Kakar, the head of Kandahar's Department of Crimes against Women, Fawzia Koofi and Malalai Joya, both former members of Parliament and women's rights activists, as well as Suraya Pakzad and Habiba Sarabi, also women's rights activists, have dedicated their lives to working for women's rights.
Afghan women are not and never have been passive victims who need to be saved. They have a rich history of resistance and political dissent. It is important for the global community to listen to their voices so as to support Afghan women's aspirations for a better future.
Source: The Conversation
https://theconversation.com/afghan-women-have-a-long-history-of-taking-leadership-and-fighting-for-their-rights-167872
--------
Ministry, UN Women launch gender-responsive budgeting seminars
October 12 2021
Awareness-raising seminars on gender-responsive budgeting (GRB) for senior managers have started in the capital Ankara in partnership with U.N. Women and the Family and Social Services Ministry.
Attended by more than 100 heads of departments from around 25 line ministries and central public institutions and organizations, the seminars aim to raise awareness on gender-responsive planning and budgeting and develop practices accordingly.
Compiled under six sessions, the seminars will last until Oct. 15.
Seminars will provide necessary information to senior managers to ensure that public institutions' planning and budgeting processes are carried out through a gender-responsive perspective.
Gülser Ustaoğlu, the general director of the status of women at the ministry, emphasized the importance of the seminars, saying, "We need to continue our efforts to achieve equality between women and men across society, within politics, education and the economy. Therefore, we need to adopt an equality-based approach to meet different needs and priorities of women and men across public service provision."
"I believe our project will empower both women and men in our country," she added.
Covering the period of 2020-2023, the project is designed to support women's and men's access to equal rights and opportunities through gender-responsive budgeting. Within this framework, the seminars target mainstreaming gender-responsive budgeting across public institutions and organizations.
Emphasizing the project, Zeliha Ünaldı, U.N. Women Turkey programmes manager, said: "The seminars will continue to be held in the coming period, increasing in number and diversifying. We can only reach a society where everyone can enjoy equal and just rights and opportunities by establishing a sustainable system where everyone's needs are met."
Gender-responsive budgeting is an application of gender mainstreaming in the budgetary processes. GRB enables budgeting and planning processes to incorporate a gender perspective at all levels and meets the different needs and priorities of women and men.
Source: Daily News Turkey
https://www.hurriyetdailynews.com/ministry-un-women-launch-gender-responsive-budgeting-seminars-168556
--------
UN Chief Guterres Slams 'Broken' Taliban Promise Made To Women, Girls
11 October ,2021
UN Secretary-General Antonio Guterres on Monday slammed the Taliban's "broken" promises to Afghan women and girls, and urged the world to inject cash into Afghanistan in order to prevent its economic collapse.
"I am particularly alarmed to see promises made to Afghan women and girls by the Taliban being broken," he told reporters.
"I strongly appeal to the Taliban to keep their promises to women and girls and fulfill their obligations under international human rights and humanitarian law."
Source: Al Arabiya
https://english.alarabiya.net/News/world/2021/10/11/UN-chief-Guterres-slams-broken-Taliban-promise-made-to-women-girls
--------
China detains Muslim women for using WhatsApp, labels them as pre-criminals, says new book
October 12, 2021
China has been detaining women belonging to Muslim ethnic groups for months for cyber 'pre-crimes' such as accessing messaging app WhatsApp and a school Gmail account. The Chinese authorities label such "violators" as pre-criminals. A new book titled "In The Camps: China's High-Tech Penal Colony" has made these revelations.
The book has cited the case of Vera Zhou, student at the University of Washington, who was recently detained for using a Virtual Private Network (VPN) to open her school Gmail account and submit homework in China's Xinjiang, according to a report published by Business Insider.
Zhou was then informed that she was being sent for a 're-education' class. She was also made to wear a uniform which had neon green stripes on the sleeves and pants.
Zhou even spent her Thanksgiving, Christmas, and 2018 New Year in that cell.
Zhou was released under a set of conditions after spending six months at the camp. The conditions required her to stay within her local neighbourhood and she had to report regularly to a "social stability worker".
Even after being released, Zhou said she felt as if she was still stuck in a digital prison. One day, while walking beyond her neighbourhood's border, Zhou's face was immediately identified as a Muslim pre-criminal on a nearby monitor.
More than 1 million Uyghurs and people from other Muslim groups have been held in camps in China, according to rights groups. Activists accuse Chinese authorities of imposing forced labour on those placed in these camps.
The book, released on Tuesday, noted that along with Zhou, 11 other Muslim women, were identified by police as extremist "pre-criminals" under China's internet security law.
According to the law, internet network operators have to share personal data with Chinese authorities. Zhou, who is also a permanent US resident, finally returned to Seattle in 2019.
However, the surveillance technology also followed her to the US. The book said one woman was arrested for downloading WhatsApp while another woman was detained for allowing several customers to use her ID to set up their SIM cards.
According to author Darren Byler, all three women, including Zhou, were victims of China's high-tech surveillance system.
Source: India Today
https://www.indiatoday.in/world/story/china-detains-muslim-women-for-using-whatsapp-labelling-them-as-pre-criminals-says-new-book-1863905-2021-10-12
--------
URL: https://www.newageislam.com/islam-women-feminism/expo-2020-women-dubai-marriage/d/125561
New Age Islam, Islam Online, Islamic Website, African Muslim News, Arab World News, South Asia News, Indian Muslim News, World Muslim News, Women in Islam, Islamic Feminism, Arab Women, Women In Arab, Islamophobia in America, Muslim Women in West, Islam Women and Feminis