New Age Islam News Bureau
1 Aug 2018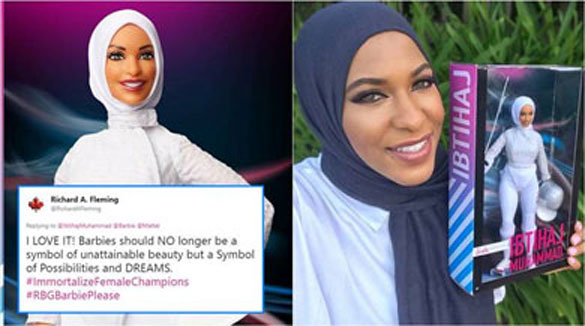 Barbie wearing a hijab received mixed reactions from people online. While some supported the ensemble, others wondered whether hijab Barbie had the choice of removing the hijab if she wanted.
-----
• Palestinian Women Jailed For Anti-Occupation Poems
• Female Plumbers, Electricians To Fix Glitches In Pilgrim Camps
• 120 Female Guides to Serve Pilgrims This Hajj Season
• Faisal Islamic Bank Of Egypt Recruits Its First Women
• To Avoid Triple Talaq-Halala, Muslim Girls Should Convert and Marry Hindu Boys: Sadhvi Prachi
• Danish Muslim Women to Protest Veil Ban across Country
• Women Who Moved Court against Triple Talaq Seek Protection
Compiled by New Age Islam News Bureau
URL: https://www.newageislam.com/islam-women-feminism/barbies-latest-doll-inspired-olympic/d/116004
--------
Barbie's Latest Doll Inspired by Olympic Athlete Wears Hijab
August 1, 2018
Over the years, doll brand Barbie has tried to make their toys more inclusive and inspirational. Its latest doll, which is inspired by American Olympic athlete Ibtihaj Muhammad, reinforces the same thought.
Taking to Twitter, the official handle of the company tweeted a picture of the doll that looks like Muhammad and wears a hijab. The tweet reads, "Fencing champion and #Barbie #Shero @IbtihajMuhammad inspires girls to pursue their dreams & embrace what makes them unique."
The 32-year-old fencer is known for being the first Muslim American woman to be wearing a hijab during an Olympic competition representing the United States. Posing with the doll, Muhammad tweeted, "She's finally here! I'm happy to announce that you can now have your very own Ibtihaj Barbie doll starting today! "
However, this new attire received a mixed reaction from people online. While some supported the ensemble, others wondered whether hijab Barbie had the choice of removing the hijab if she wanted. Here are some of the reactions that trended on Twitter:
What are your thoughts about Barbie wearing a hijab? Tell us in the comments section below.
https://indianexpress.com/article/trending/trending-globally/barbie-hijab-ibtihaj-muhammad-twitter-reactions-5285991/
--------
Palestinian Women Jailed For Anti-Occupation Poems
July 31, 2018
An Israeli court on Tuesday sentenced an Arab woman to five months in prison for incitement to violence and support for a terrorist organisation in poems and other social media posts, the justice ministry said.
Dareen Tatour, 36 and an Israeli citizen, posted a video clip of herself reading her poem "Resist, my people, resist them" in October 2015, accompanied by pictures of clashes between Palestinians and Israeli forces, according to authorities.
The posts on YouTube and Facebook came as a wave of Israeli-Palestinian violence was erupting, including Palestinian knife attacks.
She was convicted in May and sentenced in the Nazareth district court. Her lawyer Gaby Lasky was expected to appeal.
Her prosecution has drawn international criticism.
International writers group Pen has defended Tatour, saying she "has been convicted for doing what writers do every day — we use our words to peacefully challenge injustice".
The poem was quoted in Hebrew in the charge sheet, but according to an English translation on the Arabic literature and translation site ArabLit, it contains the following lines:
"For an Arab Palestine, I will not succumb to the 'peaceful solution', Never lower my flags, Until I evict them from my land, Resist the settler's robbery, and follow the caravan of martyrs."
Prosecutors said that on October 4, she also quoted a statement by Islamic Jihad calling for "continuation of the intifada in every part of the West Bank", alleging it showed her support for the outlawed militant group.
Tatour, from the Arab village of Reineh near Nazareth, was arrested on October 11, 2015.
Her sentencing comes after the release on Sunday of Palestinian teenager Ahed Tamimi, who served an eight-month sentence for slapping two Israeli soldiers, an episode recorded in a video that went viral.
Tamimi, 17, was greeted by crowds of supporters and journalists upon her release in her hometown of Nabi Saleh in the occupied West Bank.
https://www.thenational.ae/world/mena/palestinian-women-jailed-for-anti-occupation-poems-1.755776
--------
Female Plumbers, Electricians To Fix Glitches In Pilgrim Camps
August 01, 2018
JEDDAH — A number of women are being trained to fix electricity and plumbing malfunctions at Haj camps for females.
Marwan Shaban, acting chairman of the Makkah Chamber of Commerce and Industry and the head of the National Committee for Haj and Umrah, said this was a pioneering initiative that aims at qualifying female specialists to deal with electricity malfunctions and water supply problems during the pilgrimage.
The main goal of the training was to reduce the need to bring male technicians to fix malfunctions in Haj camps for women.
Shaban said he did not expect so many women to participate in this kind of work. "However, our female participants have proved that Saudi women are capable of doing any job," he added.
Shaban also said the initiative was necessary because there was a need for qualified female technicians every Haj season to serve the pilgrims while respecting their privacy.
The training program was offered by the Haj and Umrah Committee under the supervision of the Makkah Chamber.
Shaban said they would expand the program next year by signing contracts with specialized vocational training institutes.
Mansour Abu Khanjar, a member of the Haj and Umrah Committee, said the program was crucial especially in peak days of Haj.
"Each year technical malfunction issues tend to occur in camps for female pilgrims and we wait for a long time until we can allow a male technician to go in and fix the failure," he said.
This program, he pointed out, aims at training females and equip them to fix technical issues. The participants will be given lessons on how to fix the technical glitches in addition to field training on electricity and plumbing systems.
Abu Khanjar said officials at different sectors were keen to develop different services to help the pilgrims perform their rituals in ease and comfort.
http://saudigazette.com.sa/article/540243/SAUDI-ARABIA/Female-plumbers-electricians-to-fix-glitches-in-pilgrim-camps
--------
120 Female Guides to Serve Pilgrims This Hajj Season
1 August 2018
At least 120 women are getting ready to perform guide duties for Hajj pilgrims this year, in addition to other duties adopted by the women's division of the National Tawafa Establishment for Pilgrims of Arab Countries (ARBHAJ), which was awarded the "ISO" certificate twice in the past.
Supervisor of the women's division, Lina Khashim, told Al Arabiya English that there were nine main duties that the "Motawefs" or "guides" work on.
"They will work the whole year on communication to update the qualifications, education, information, and phone and accounts numbers. They would also receive the loan and subsidies requests, deliver cheques. Also the customer service employees respond to customer inquiries, transfer them to the concerned authority, register them electronically and report the problem," she said.
"Work has been done to coordinate a training program to acquire the tourism and guidance license. A large number of Motawefs were nominated to obtain a tourist guide license. The students of Umm al-Qura University, Laureate University and the college of Technology were also trained to identify the reviews from all the institutions in order to match the housing for the Hajj season," Khashim added.
"The work is going on according to four main committees. The Motawef will work in the field service offices in a way that differs than the previous years; through the duties assigned to them by other committees; either Surveys, call center, hospitals or the field follow up with Performance Indicators."
https://english.alarabiya.net/en/News/gulf/2018/08/01/120-female-guides-to-serve-the-pilgrims-this-Hajj-season.html
--------
Faisal Islamic Bank Of Egypt Recruits Its First Women
Hend El-Behary
July 31, 2018
For the first time, the Faisal Islamic Bank of Egypt will open its doors to hire females across vacancies in all branches and sectors. Bank Governor Abdulhameed Abu Mousa stated that the decision comes as part of a wider national effort to integrate women, given that the bank is an Egyptian shareholding company.
Abu Mousa told Al-Masry Al-Youm that the bank now seeks distinguished young graduates of both genders, provided that they are qualified enough to meet the job conditions and distinguish themselves in the recruitment process.
He remarked that hiring females would not necessitate any change in the basic procedures of the bank, and would only require "updates in its internal regulations". Over the next few months, recruiters are to follow "practical procedures" for selecting female candidates from among the applicants, according to the needs of the bank.
Abu Mousa did not mention whether this involved a quota, or what number of females it would entail.
Although the bank is part of the vast banking empire established by Saudi Prince Mohammed al-Faisal, Abu Mousa stressed that joint-stock company's decisions have no relation to Saudi Arabia and concern only Egypt, as it is headquartered in Cairo and operates entirely in the local market.
He added that the prior lack of female recruitment did not violate any Egyptian law or constitutional right.
https://www.egyptindependent.com/faisal-islamic-bank-of-egypt-recruits-its-first-women/
--------
To Avoid Triple Talaq-Halala, Muslim Girls Should Convert and Marry Hindu Boys: Sadhvi Prachi
Jul 31, 2018
The self-styled Vishwa Hindu Parishad (VHP) leader Sadhvi Prachi stirred a fresh row when she advised Muslim girls to convert and marry Hindu boys to save themselves from Islamic practices of triple Talaq and Nikah-Halala.
Talking to media in Mathura, the firebrand Hindutva leader said that Islam was a 'dangerous religion' which was destroying the lives of majority Muslim girls and women. "They (Muslim girls) should embrace Hinduism to save themselves from the social evils being practiced under Islam," advised Sadhvi Prachi.
The saffron torch-bearer further advised Muslim girls and women to slap Clerics who asked them for Nikah-Halala. "They should leave Islam on their own and embrace Hinduism to save their lives from life-long harassment and embarrassment," said she.
Taking a dig at the ruling party, she said that some people were taking political mileage on the issue construction of Ram temple in Ayodhya. "It is not a political issue but belief of millions and millions of Hindus. Everyone is eagerly awaiting the Supreme Court verdict but the temple construction will begin in 2019," she claimed.
On temple purification incident in Hamirpur, after a Dalit BJP MLA Manisha Anuragi offered prayers there, Sadhvi Prachi said that it was discrimination against women. "A woman can deliver and rear a child, why can't she enter a temple and offer prayers? It was gross injustice and discrimination against Hindu women," fumed she.
Earlier on Monday, Sadhvi Prachi took a jibe at the bachelorhood of AICC President Rahul Gandhi saying that "she has prayed to the God to get a life-partner to Rahul Gandhi."
Sadhvi Prachi said that she regularly seeks blessing at Gorakhnath temple every Shravan but this time she sought a special wish. "I prayed that if the Congress did not get a majority to form the government then at least Rahul Gandhi gets a life-partner," she quipped.
http://www.dnaindia.com/india/report-to-avoid-triple-talaq-halala-muslim-girls-should-convert-and-marry-hindu-boys-sadhvi-prachi-2644012
--------
Danish Muslim women to protest veil ban across country
Aug 01 2018
DENMARK: Danish Muslim women across the country will march in protest today against the parliament's ban on wearing face veils in public.
The ban which becomes law today (August 1), will see many Muslim women and non-Muslim women protest by wearing face coverings at the rally.
In May, the Danish government had joined France and other European countries in banning the veil adding that the veil demeans women, making them seem like second-class citizens, which is not in line with the country's democratic values.
Sabina, 21, who is studying to be a teacher, has joined forces with other Muslim women who wear the veil to form Kvinder I Dialog (Women In Dialogue) to protest and raise awareness about why women should be allowed to express their identity in that way
"I won't take my niqab off. If I must take it off I want to do it because it is a reflection of my own choice," she said.
"Everybody wants to define what Danish values are," said Meryem, 20, who was born in Denmark to Turkish parents and has been wearing the niqab since before meeting her husband, who supports her right to wear it but feels life could be easier without.
"I believe that you have to integrate yourself in society, that you should get an education and so forth. But I don't think wearing a niqab means you can't engage yourself in Danish values," Meryem, who has a place to study molecular medicine at Aarhus University, said.
Like Sabina, Meryem plans to defy the law, keep her niqab on and protest against the ban.
Under the law, police will be able to instruct women to remove their veils or order them to leave public areas. Justice Minister Soren Pape Poulsen said officers would fine them and tell them to go home.
Fines will range from 1,000 Danish crowns ($160) for a first offense to 10,000 crowns for a fourth violation.
"I feel this law legitimizes acts of hatred but, on the other hand, I feel people have become more aware of what is going on. I get more smiles on the street and people are asking me more questions," said Ayah, 37.
Mathias Vidas Olsen, who makes reproductions of Viking age jewelry, is supporting the campaign by making special bracelets and giving the proceeds to Kvinder I Dialog.
"I'm not for or against the niqab," the 29-year-old Copenhagen man said.
"I'm for the right of the people to wear whatever they want whether they be a Muslim or a punk.
"I see this as the government reaching in to places they don't belong and as a cheap hit on an already stigmatized group to score cheap political points."
https://www.geo.tv/latest/205630-danish-muslim-women-to-protest-veil-ban-across-country
--------
Women Who Moved Court against Triple Talaq Seek Protection
01 August 2018
Muslim woman who moved the court challenging 'Triple Talaq' and 'Nikah Halala' (Polygamy) on Tuesday stepped on to the ground to seek help from the police and court to provide them security from their husbands and others from the same community who were allegedly threatening them (Women) for moving the court against their rituals and culture.
The practice of Nikah-Halala requires a divorced woman to marry someone else, consummate the marriage and then get a divorce in order to again marry her first husband under the Muslim personal law.
"Mission Talaq Abhiyan", a non-government organization (NGO), run by a group of woman especially Muslims come from various states has received nearly 8-9 petitions from various states claiming 'Death Threats' from their husbands and in-laws.
In an incident, Farzana Parveen, a Muslim woman who had recently filed petition in the apex court seeking abolition of Nikah Halala practice alleged that she has received death threats from her husband for moving to court.
"Since the day I filed petition in the high court, my husband is threatening me of killing and is pressurizing me to remarry with another person. When I refused, he started giving death threats by saying you have to listen to me, there is no court before me, I will kill you and your kid in such a way that the court and police cannot find and do nothing against me," said Farzana.
Farzana was living with her husband in Uttar Pradesh's Sikandarabad town. But four years ago, her husband left her and married another woman.
"My husband divorced me four years back through triple talaq and left us (me and my son) alone. After which we are living alone with the support of my father. But, after so many years he is back and is forcing me to do the 'Halala Nikah' with a person of my father's age. Every day he calls and gives me death threats," Farzana futher claimed.
Moreover, Shameena head of 'Mission talaq Abhiyan' allegedly said, "She is receiving threats from the Maulvis from Barelly and even threatened me to remove from my residence in Jasola near Okhla area. Further, they have ideclared a reward of 11,786 for those who will cut the hair of woman protesting against the Nikah-Halala."
https://www.dailypioneer.com/city/women-who-moved-court-against-triple-talaq-seek-protection.html
--------
URL: https://www.newageislam.com/islam-women-feminism/barbies-latest-doll-inspired-olympic/d/116004
New Age Islam, Islam Online, Islamic Website, African Muslim News, Arab World News, South Asia News, Indian Muslim News, World Muslim News, Women in Islam, Islamic Feminism, Arab Women, Women In Arab, Islamophobia in America, Muslim Women in West, Islam Women and Feminism