New Age Islam News Bureau
20 May 2020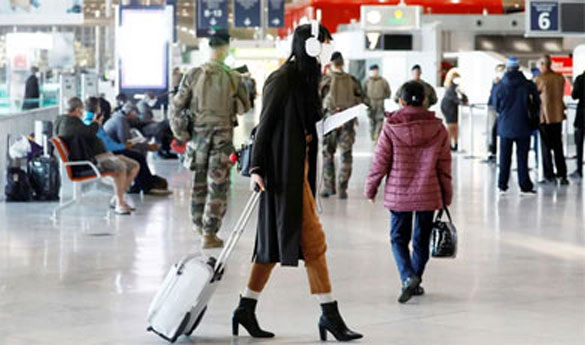 A passenger wearing a protective face mask to prevent the spread of COVID-19 arrives at the Charles de Gaulle airport in Paris. (Reuters)
------
• Debate Rages in France On the Irony of Burqa Ban and Mandatory Face Masks
• Saudi Ministry Of Justice Set To Give Women More Legal Rights
• Three Arrested Over Murder of Lebanese-Born Woman Shot Dead In UK
• Israel's New Gov't: More Female Ministers, Post Quality Stagnant
• Saudi Arabia Launched Two Digital Colleges For Women
Compiled by New Age Islam News Bureau
URL: https://www.newageislam.com/islam-women-feminism/women-groups-protest-turkey-sickening/d/121902
--------
Women's Groups to Protest Against Turkey's Sickening Child Rape Law
MAY 19, 2020
WOMEN'S organisations in Turkey have warned of "grave consequences" ahead of tomorrow's protests over a sickening child-rape law that is set to be passed in the country's parliament tomorrow.
Demonstrations will take place in a number of towns and cities including Istanbul and the capital Ankara, where the grand assembly building sits.
Women will don purple ribbons in protest as they hold what is believed to be one of the biggest protests since Turkey went into lockdown to stop the spread of Covid-19.
Protesters will maintain social distancing, but they insist that they will not remain silent over the law contained in an amendment to the judicial package which will allow rapists to escape punishment if they marry their victims.
The proposed amnesty law has been tabled by President RecepTayyipErdogan's ruling Justice & Development Party (AKP).
Although it was mooted earlier this year, it was unclear when it was being presented to parliament, with campaigners accusing the government of operating in secrecy to prevent mass demonstrations.
Those resisting its passage, including the opposition Peoples' Democratic Party, argue that it will legalise the rape of children as young as 12.
Underage marriage is not legal in Turkey. But the figures make for grim reading. According to official statistics, a total of 482,908 children were married in the past decade.
The number of conceptions recorded among females aged under 18 was 21,957 in the last 18 months, according to the Health Ministry, but the real figures are likely to be much higher.
About 26 per cent of women in Turkey were married before they turned 18, and 10 per cent gave birth while they were still minors.
A total of 440,000 underage females have given birth since 2002. The number of girls under 15 who gave birth after being exposed to sexual abuse was recorded as 15,937.
The youngest girl to have given birth was just nine. She delivered a baby boy by caesarean section in the western city of Ayfon in 1990.
Nationwide demonstrations held prior to the coronavirus pandemic were attacked by the authorities, and there are fears that tomorrow's activities will be brutally suppressed.
But VolkanColakoglu of the Association for Combating Child Abuse & Neglect insisted the protests were necessary, warning of "grave consequences" if the amnesty is passed.
Speaking to the Mesopotamia Agency, he said that those devoted to the future of children "will set ourselves on fire if necessary" if the amnesty is tabled in parliament.
"You don't need to be a woman to stand against this law," he said. "These children belong to all of us, and it is our job as adults to protect these children. They cannot enact this law as long as we loudly and strongly protest."
https://morningstaronline.co.uk/article/w/womens-groups-protest-against-turkeys-sickening-child-rape-law
--------
Debate Rages in France On the Irony of Burqa Ban and Mandatory Face Masks
May 20, 2020
PARIS: France has said that everybody will be required to wear a face mask on public transport to avoid spreading coronavirus, reigniting the debate about a national ban on face coverings worn for religious reasons.
The ban, which was introduced in 2010 when Nicolas Sarkozy was president, outlaws the wearing of veils and masks that cover the face. Wearing such a face covering, like the burqa or niqab, is punishable by a 150 euro ($162) fine and/or enforced participation in citizenship education.
However it excludes face coverings worn for health reasons.
"They are two completely separate things," Olivier Roy, a French political scientist and professor at the European University of Florence, told Arab News. "The burqa ban concerns the policy of ultra-secularity that we have had for 20 years in France, whereas wearing a protective mask that covers the face attracts the derision of some Muslims who are opposed to the burqa and veil ban."
In early March, as the disease began to spread across the country, there were reports of scams related to face coverings. In one incident men dressed as police officers confronted a group of mask-wearing Chinese students and ordered them to pay on-the-spot fines because they were breaking the face-covering law.
The pandemic has also led to people wearing improvised face coverings — like scarves and bandanas — as the government was reserving masks for health workers.
French Muslims have remarked on the double standard of the burqa ban remaining in force when everyone is now obliged to wear a mask in public.
"I had no mask and I was allowed in by the police in a train station where covering my face for religious reasons with a scarf before COVID-19 was not allowed and sanctioned because of its ban in any public space," one woman wrote on social media. "This is irony itself."
Roy said that public opinion had focused on Islam since 2015, the year of deadly terror attacks in France that were claimed by Islamists.
"Before COVID-19, the whole debate in France was about the Islamization of neighborhoods, the relationship between jihad and young people who were fighting the police, the role of the Muslim Brotherhood, secession and civil war. However, the social movements that have been taking place in France for the past five years have nothing to do with Islam."
In 2013, 300,000 people marched in Paris to protest against same-sex marriage, Roy added. The "yellow vest" demonstrations that began in 2018 were not anti-Islam, they were about perceived economic injustices and Muslims were among the protesters.
"These two big movements put hundreds of thousands of people into the streets, but Islam had nothing to do with either of them."
The issue of face masks for COVID-19 had no relevance to the debate about Islam and the veil although some were trying to turn it into a political issue about Muslims in French society, the professor said.
A few social media posts from Muslim women pointing out the irony of having to wear a face mask as a health precaution while they were unable to wear a veil was not an attempt to launch a protest movement against the burqa ban, according to Roy. The women were merely pointing out one of the odd effects that the current crisis was having on them. It was others who were attempting to politicize it, he added.
"It is not hypocrisy. It is schizophrenia in the end that makes the debate focus on a theme that has no concrete expression on the street or in French society.
"We keep talking about the Islamization of neighborhoods but we know nothing about it and the people mentioning it often have no experience of it.
"The women on Facebook who talk about the obligation to put on the mask while the burqa is banned are simply expressing irony.
"They now say that everybody mistakes the headscarf they wear to go shopping for an anti-coronavirus mask. This is neither a protest movement nor a political movement, rather, it is simple irony. Only these women, as well as the Washington Post, perceive this irony."
https://www.arabnews.com/node/1677126/world
--------
Saudi Ministry Of Justice Set To Give Women More Legal Rights
May 19, 2020
RIYADH — The Ministry of Justice intends to grant women more legal rights, especially with regard to marriage contracts, Okaz/Saudi Gazette has learned from well-informed sources.
The move follows the directive of the higher authorities to empower women and enhance their independence while choosing their life partners with explicitly pronouncing whether they are satisfied with their prospective life partners.
Jurists and legal experts said that the updated regulations of the ministry include provisions to allow women to be present during drafting of marriage contracts so that they could examine the terms and conditions and document their decisions with thumb impression, in addition to their endorsement of the contracts.
Dr.Qais Bin Muhammad Mubarak, former member of the Council of Senior Scholars, emphasized that the wife's attendance while framing the marriage contract is her right if she wants to do so and that she has the authority to appoint a guardian specifically for that purpose.
"However, the guardian does not have the right to force her to be physically there. She has full freedom either to be present or not."
He explained that marriage is a union between two parties based on consent. Its basic structure is the desire of the spouses to have permanent relationship between them, and hence the contract is primarily between husband and wife.
He revealed that wife's consent is a condition for the validity of marriage, and majority of jurists ruled the imperativeness of the guardian's presence, saying that this will help protect her rights on the part of her husband.
Dr.Issa Al-Ghaith, member of the Shoura Council, believes that woman's real presence shall be ascertained, but some people prevent their daughters to be physically present during the framing of marriages contract under the pretext of customs and traditions.
Speaking to Okaz/Saudi Gazette, he said that there is no religious or legal objection to her attendance and she is entitled to examine it before signing it.
Al-Ghaith asserted that it is the duty of the marriage official to ask her personally about her willingness to sign the contract without any coercion. The official has to ensure that there is no forged signature of woman in the contract, he added.
https://saudigazette.com.sa/article/593342/SAUDI-ARABIA/Ministry-of-Justice-set-to-give-women-more-legal-rights
--------
Three Arrested Over Murder of Lebanese-Born Woman Shot Dead In UK
Nicky Harley
May 19, 2020
Detectives investigating the murder of an "inspiring" Lebanese-born law student have arrested three men in connection with the drive-by shooting.
AyaHachem, 19, from Blackburn, northern England, was shot dead by assailants on a moving car as she walked to a supermarket on Sunday afternoon.
Police officers do not believe that the part-time charity worker, whose parents fled Lebanon as refugees, was the intended target of the attack.
Three men, aged 33, 36 and 39, from Blackburn have been detained in police custody on suspicion of murder.
On Tuesday, a fundraising page set up to build a mosque in Ms Hachem's memory had received £35,000 in donations.
Ms Hachem, who was in her second year of law at Salford University in Greater Manchester, had ambitions of becoming a solicitor.
Detective Superintendent Andy Cribbin, from Lancashire's Force Major Investigation Team, said: "There is no evidence to suggest Aya was the intended target of this attack, and every indication is that she was an innocent passer-by, making this all the more tragic.
"We are determined to find who did this to Aya, particularly for her family, who are understandably devastated at their loss. Our thoughts remain with them," he said.
"We are also continuing to stress that the incident is not being treated as terrorism-related or a racially motivated attack."
Shots were fired from a light green Toyota Avensis as it drove past Ms Hachem at 3pm on Sunday. Police later found the car abandoned. Officers are urging witnesses or anyone with information about the incident to make contact.
"We are on with a number of lines of enquiry, which includes looking at CCTV in the area and we have spoken to a number of key witnesses," Det Supt Cribbin said.
"Despite that, and the arrests, this is a live investigation and I am asking anyone who might know anything about what happened, or the circumstances leading up to Aya being senselessly killed, to speak to us.
"Any piece of information, no matter how insignificant it may seem, could prove vital to our investigation."
In a statement, Ms Hachem's family have described her as a "loyal" and "devoted" daughter.
"Our beautiful 19-year-old daughter Aya has been taken from us in the most horrific circumstances," they said.
"She was the most loyal devoted daughter who enjoyed spending time with her family especially her brothers and sisters Ibraham, Assil and Amir.
"She excelled in her studies both at Blackburn Central High School and at Salford University where she was in her second year and dreamed of becoming a solicitor. She had just completed her exams and was learning to drive.
"We her parents are absolutely devastated by her death and would like to take this opportunity to plead with any members of the public who may have any information however small that may bring those responsible to justice."
Tributes have poured in for the teenager, and the Muslim women's charity Global One has launched a second fundraising campaign to build water wells for vulnerable women and girls in communities where water is scarce.
Ms Hachem had volunteered as a young trustee at the Children's Society.
Its chief executive, Mark Russell, said that all at the charity were deeply saddened to learn of her death.
"She was a truly remarkable young woman, and an inspiring voice for children and young people," Mr Russell said. "Our thoughts are with her family at this awful time."
The Deputy Chief Constable of Lancashire Police, Terry Woods, said her family was "utterly distraught".
"This was an appalling and senseless attack on an innocent young woman, whose life was cut short while she was simply out doing some shopping," DCC Woods said.
"First and foremost our condolences are with her family, who have lost their daughter during the holy month of Ramadan.
"For her life to have been cut short like this is unthinkable and her family are understandably utterly distraught."
Following the incident, armed police officers have been deployed to patrol the streets of the town.
https://www.thenational.ae/world/three-arrested-over-murder-of-lebanese-born-woman-shot-dead-in-uk-1.1021562
--------
Israel's New Gov't: More Female Ministers, Post Quality Stagnant
MAY 20, 2020
The new Israeli government sworn in this week made history with the appointment of eight women to head ministries, doubling the previous record of four set several years ago.
The proportion of women in the cabinet is also at its highest-ever level at almost 24%, as the number of ministries increased to 34 on Sunday (and may yet go up to 36), compared to nearly 20% previously.
"In general, we can see a consistent and gradual improvement in the number of women elected to the Knesset in the last two decades, but this improvement did not translate into a parallel improvement in the cabinet," Dr.OferKenig, a researcher at the Israel Democracy Institute, told The Media Line. "The proportion of women in the cabinet has finally correlated with the proportion of women in the Knesset."
While having eight female ministers is certainly welcome, women still have a ways to go when it comes to advancement within the country's political scene.
"The appointment of the most female ministers was a landmark in the representation of women in politics, but having said so, I think that numbers do not tell the whole story," Kenig said.
"When you look at the positions to which these eight women were appointed, the picture is less encouraging... We've never had a woman in the top position at the Finance Ministry or the Defense Ministry," she said. "We have to pay attention not only to the quantity of appointments but the quality as well."
Transportation Minister MiriRegev has the most senior ministry of all the women but Michal Gera Margaliot, executive director Israel Women's Network, said the post is still not considered that important.
"Women got small ministries; MiriRegev got transportation, which is considered medium-plus. Women are out in the backseat in the Knesset and now they're staying there," she told The Media Line. "We are happy that there is a record number of women in government but it is still not even close to half, which is what we aim for."
However, Regev, unhappy at losing out on the Public Security Ministry, has been promised the Foreign Ministry in 18 months' time.
Margaliot hopes to improve the status of women in the government by having the cabinet members assign more women as directors-general, the top professional post within each ministry.
EinatWilf, a former Knesset member and co-author of the recently published book The War of Return, argued that the individual ministries were not as powerful as they used to be, limiting women's power in the small ministries even more.
"On the one level, there is advancement in terms of numbers and proportion, but it is happening at point when in general the government and the ministries are being relatively weakened compared to the concentration of power in the prime minister," she told The Media Line.
This underscores the importance of having a female prime minister. Golda Meir was Israel's only female head of government, serving from 1969 to 1974.
Dr.GayilTalshir, an expert on crisis of democracy, Israeli politics and political ideology in the Political Science Department at the Hebrew University, argues that the traditionalist structure of Israeli society prevents women from getting further ahead.
"The status of both religion and the army in Israeli politics … leads to women having a problem getting treatment equal to men," she told The Media Line.
While the first ultra-Orthodox female cabinet member, MK Omer Yankelevich from the Blue and White Party, has been appointed to head the Diaspora Affairs Ministry, it is notable she did not come from either of the two ultra-Orthodox parties. United Torah Judaism (UTJ) and Shas do not allow women on their slates of candidates for the Knesset.
"[Yankelevich's] appointment is symbolic, an important symbol, because the haredi parties, of course, make the outrageous claim often made by men in power that their women, haredi women, are content to be behind the scenes and they do not actually want to be part of the Knesset. It is important to have... an ultra-Orthodox woman who can at least provide a voice for herself to counteract this claim," Wilf told The Media Line.
Kenig agrees, adding: "It is important but the real breakthrough would be if ultra-Orthodox women could run in haredi parties.
"UTJ and Shas are in the same position as the Arab parties were seven or eight years ago, and today about a third of the Arab MKs are women," she said.
There will be one less female member of Knesset than in the previous Israeli parliament, with women holding 29 out of 120 seats.
The increase in the power of the haredi parties − UTJ and Shas together have 16 seats − has also depressed the number of women in politics.
"The potential pool of available seats is smaller, leaving women with fewer seats to compete for," Kenig said.
This, combined with the fact that there were not many women in the top 10 on the lists of candidates for the main parties − Likud and Blue and White − also did not help to boost women's participation in national politics.
"Blue and White and Likud bring 70 seats with them [actually 69, before 16 MKs split from the former post-election and joined the opposition], which is over half the Knesset, and the [female] representation there is just not good enough," Margaliot said. "These two parties and the ultra-Orthodox parties make up most of the coalition, and if there are no women in the latter then we don't have enough."
To improve this, Wilf said that people needed to make the importance of women in politics known to their representatives.
"Ultimately, politicians are very simple creatures. They respond to pressure and they respond to incentives. Only if they feel that that this a major issue, will they feel that they have to do anything about it."
She cited one success of this strategy: Blue and White adding more women to its candidates list after public outrage over the lack of representation.
The Israel Women's Network Margaliot said that quotas were necessary in order to achieve equal gender representation.
"If we want to get to 40% or 50% women among Knesset members, we need quotas," she said. "The minimum Israel needs to do is to give more [campaign finance] money to parties that have equal representation; less than the minimum would be to take away money from parties that don't have equal representation.
"What I believe should be done is that for every five seats, there need to be at least two men and two women," Margaliot added.
When it comes to female representation in government, Israel fares well vis-à-vis the Middle East, but not in comparison to Europe.
"Israel is doing much better in terms of the share of women in government and the parliament and of course equal rights. In comparison to the region, Israel is an egalitarian society, but it's bad in comparison to Europe," the Hebrew University's Talshir said.
According to the Inter-Parliamentary Union-UN map, which rates countries based on women in leadership and other governing posts as of January 1, 2020, in Spain, for example, 66.7% of ministerial positions are held by women, and in Finland, the figure is 61.1%.
Turning to the Middle East, while at one point Lebanon did have more women than Israel as heads of ministries, six, Israel has now reclaimed the top spot in absolute numbers. However, proportionally, Lebanon leads with 31.6% of cabinet posts being held by women. Israel is currently tied with Egypt with approximately 24% of ministerial heads being women, placing it ahead of the United States, where the proportion is 17.4%.
Still, Israel's numbers dwarf those of Saudi Arabia, which has no women heads of ministries, and Iraq, where women hold 4.5% of such posts.
https://www.jpost.com/israel-news/politics-and-diplomacy/israels-new-govt-more-female-ministers-post-quality-stagnant-628643
--------

Saudi Arabia Launched Two Digital Colleges For Women
May 20, 2020
While preventive measures continue to be taken across Saudi Arabia to combat the ongoing pandemic, life goes on as the country continues to work on providing educational and work opportunities for its citizens. This week, as part of its efforts, the Kingdom's Technical and Vocational Training Corporation (TVTC) launched two digital colleges for women that offer both diploma and bachelor programs in various fields such as data technologies, network systems management, software, multimedia, e-marketing, and web technologies.
According to Saudi Press Agency (SPA), the new colleges will launch their programs at the start of the new academic year. Speaking on the occasion, Governor of TVTC, Dr. Ahmed Bin Fahd Al-Fuhaid, said, "This trend to set up digital technology colleges has come so as to keep abreast with the labor market needs for digital jobs and to empower women in this field. We will have qualified graduates having the experience and competence required by the labor market in future."
Dr. Al-Fuhaidalso praised the efforts of institution in launching the digital colleges, pointing out that part of its strategic goals is to provide a safe and environment for its students to train, "based on performance evaluation indicators such as professional expansion, assimilation, qualification and development of national cadres." In addition, the efforts of the TVTC focus heavily on utilizing optimal resources in order to implement development training projects that are in line with Vision 2030, which is Saudi Arabia's ambitious plan to reshape its economy and reduce its reliance on oil revenue.
https://www.abouther.com/node/29316/people/features/saudi-arabia-launched-two-digital-colleges-women
--------
URL: https://www.newageislam.com/islam-women-feminism/women-groups-protest-turkey-sickening/d/121902
New Age Islam, Islam Online, Islamic Website, African Muslim News, Arab World News, South Asia News, Indian Muslim News, World Muslim News, Women in Islam, Islamic Feminism, Arab Women, Women In Arab, Islamophobia in America, Muslim Women in West, Islam Women and Feminism