New Age Islam News Bureau
21 Apr 2020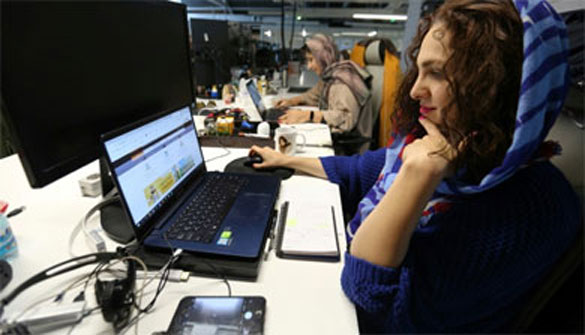 Iran is one of the Middle East's most connected countries, with an internet penetration rate of 87 percent
------
• Women in Virus-Hit Iran Tech Sector Fight to Keep Hard-Won Jobs
• Boko Haram Kills Vigilante, Abducts Pregnant Mother in Yobe
• W20 Calls for Appointment of Women in Global Task Force to Fight Pandemics
• Displaced, Stateless Women and Girls at Greater Risk During Pandemic, UNHCR Says
• Iran To Form Women's Para Powerlifting Team
• Are Pregnant Women More Vulnerable To COVID-19? The Dubai Health Authority Posted A New Guideline on Instagram
• COVID-19: Woman in Lahore Continues Free Food Service Maintaining Strict Social Distancing
• Sharjah Registers 401 Cases of Child Abuse In 90 Days
• Domestic Abuse: 'Women in Herat May Survive Coronavirus but Not Lockdown'
• COVID-19 Pandemic Forces Indonesian Mothers To Do It All
Compiled By New Age Islam News Bureau
URL; https://www.newageislam.com/islam-women-feminism/women-virus-hit-iran-tech/d/121632
-------
Women in virus-hit Iran tech sector fight to keep hard-won jobs
Lucie Peytermann
April 21, 2020
From the hustle and bustle of a startup, Fereshteh Kasrai now works from home, like many Iranian women fighting to keep hard-won tech jobs as the coronavirus outbreak stirs uncertainty.
Iran says the COVID-19 disease has claimed more than 5,200 lives and infected close to 83,000 over the past two months, in the Middle East's deadliest outbreak.
She comes across as tired, contrasting with the energetic tone when AFP met her at her workplace in Tehran a few weeks ago.
The interior is trendy with giant cushions in rest areas and glass enclosed offices where staff focus their gaze on high-end computers.
Dressed in tight-fitting jeans and scarves that reveal their hair, women work alongside men, an uncommon mix in the Islamic republic.
Of the nearly 700 employees at Alibaba, 42 percent are women. Some have senior roles, a challenge in this patriarchal society.
"I worked with three large companies before Alibaba... and I felt that growing in those places requires a certain condition," Anis Amir Arjmandi, a legal manager, says referring to nepotism.
"The opportunities I'm given here -- which is not because of my gender or my position, but the company's way of doing things -- enable me to have a degree of freedom," she says.
Tech journalist KhosroKalbasi says women benefit from working in startups as they are more progressive with younger managers.
Azadeh Kian, professor of sociology in Paris and a specialist on Iran, says women account for 70 percent of engineering and science students in the Islamic republic.
"It is a sector where they know they can have more room for improvement and the possibility of innovating," Kian says.
She said she was pleased to see "as many women as we have men" in Alibaba's tech division, breaking the "taboo" that a programmer must be a man.
But the country's tech sector was hit hard by the reinstatement of US sanctions in 2018, after the United States withdrew from the Iran nuclear deal.
In an unexpected twist, the sanctions were seized upon by Iranian entrepreneurs as an opportunity to launch even more startups.
With the benefit of being protected from foreign competition, they took inspiration from global giants to create local equivalents.
Among them are Digikala, Iran's answer to US online retailer Amazon, as well as Tap30 and Snapp!, which are similar to US ride-hailing service Uber.
"Most of them are less than 30 years old, and they are employed in all sectors -- marketing, technical, HR, call center," says Negar Arab, who is head of communications.
One of the biggest success stories among Iran's startups is Takhfifan, an online retailer founded by Nazanin Daneshvar and her sister.
"The [staff] are really doing a good job although it is very difficult and can be exhausting" to work from home and to handle things remotely using apps, she says.
"In the first couple of years, I used to take my dad along [to meetings] because nobody accepted me as the manager," Daneshvar says.
"The reality I always fight against is that they judge men based on their potential but judge women on their past performance."
"I have had employees who left... as the husband is not happy because they couldn't cook at the right time, or they couldn't deliver what you expect as a traditional woman."
She says women are more likely to lose jobs amid the health and economic crises, especially in governmental or semi-governmental enterprises.
https://www.thejakartapost.com/news/2020/04/21/women-in-virus-hit-iran-tech-sector-fight-to-keep-hard-won-jobs.html
--------
Boko Haram kills vigilante, abducts pregnant mother in Yobe
21-04-2020
Suspected Boko Haram insurgents on Saturday evening launched a fierce gun attack in BuniGari town of Gujba Local Government Area of Yobe State killing a member of a vigilante and abducting a pregnant mother and her child. A source said a resident of the area also sustained injury on the leg from a stray bullet during the attack, and identified the deceased vigilante member killed by the insurgents as KaukauGada.
Read more: https://www.dailytrust.com.ng/boko-haram-kills-vigilante-abducts-pregnant-mother-in-yobe.htmlHe said the corpse of the vigilante member was found at the outskirt of BuniGari town covered in blood a day after the attack. "Some parts of BuniGari Primary School and a house belonging to one internally displaced person (IDP) were set ablaze," the source added. Our correspondent gathered that the attackers stormed BuniGari town at about 5:10 pm on the fateful day and launched sporadic gun attacks, which forced residents to flee to neighboring villages but later returned after the shooting had subsided. Another resident who does not want to be named said the insurgents stormed the town in 14 Hilux vehicles, saying, "Our vigilante forces who were on the ground in BuniGari engaged them but were later overpowered by the insurgents' heavy weaponry. "The insurgents launched the attack in BuniGari before they subsequently encountered troops of the Nigerian Army with reinforcement from Air force fighter jets where they lost several members," the source further said. Meanwhile, the Nigerian Army has maintained that it killed not less than one hundreds and five (105) insurgents during the encounter. While briefing the Chief of Army Staff and his entourage on Sunday, the Commander Sector 2 OPLD, Brig-Gen Lawrence Araba said "Following aggressive follow up/exploitation operation carried out by troops of Sector 2, Operation Lafiya Dole (OPLD), the Army has confirmed that a total of one hundred and five (105) Boko Haram/ISWAP terrorists were neutralised during the BuniGari encounter" Brig. Gen. Araba attributed the recent success to an intelligence report, which exposed the insurgents' plan to attack the village, that resulted in the military's capture of five (5) AK-47 rifles, three (3) GPMG, one (1) duska anti-aircraft gun, one (1) PKT Gun, two (2) handheld radio, with one (1) terrorists' gun truck destroyed. The Chief of Army Staff had visited the injured troops at the Field Ambulance Logistics, Base 3 Damaturu and Special Forces' School in BuniYadi on Sunday.
Read more: https://www.dailytrust.com.ng/boko-haram-kills-vigilante-abducts-pregnant-mother-in-yobe.html
------
W20 calls for appointment of women in global task force to fight pandemics
April 21, 2020
RIYADH: Women 20 Chair Dr. Thoraya Obaid on Monday called on G20 health ministers to recognize the role women are playing in fighting the coronavirus pandemic and the impact it is having on them.
On behalf of W20's international delegates, she said that G20 health chiefs should consider women's role in their coordination efforts including any new task force.
Expressing support for the idea of the formation of a new global health task force to tackle pandemics, the Women's Engagement Group urged ministers to appoint women to the proposed body. It called on the G20 to take specific measures to address women's specific health care needs.
"Women are a vital part of the health care infrastructure that is battling the pandemic head-on — both directly, as women comprise almost 7 out of 10 health and social care workers, and indirectly as unpaid caregivers, contributing $1.5 trillion to the global health economy even before these extraordinary times. Their needs merit dedicated attention as workers and as receivers of care themselves," Obaid said.
It also urged authorities to introduce incentives for employers to implement measures that recognize the role of women as caregivers for children, the sick, disabled and elderly family members.
W20 also stressed the need to accelerate measures to include women in national and global COVID-19 response policy and operational spaces.
It also called for the expansion and sharing of data collection, reporting and analysis of the gendered impact of pandemic response policies.
"This should include the different types of vulnerabilities women face due to discriminations based on age, race, ethnicity, religion, disabilities, and health conditions," according to a W20 statement.
The group also called for a review of the gendered implications of quarantines, such as whether men and women's different physical, cultural, security and sanitary needs are recognized in service provision.
W20 also urged policymakers to increase resources to fight gender-based violence and to introduce hotlines and monitoring systems to curb it.
https://www.arabnews.com/node/1662311/saudi-arabia
--------
Displaced, Stateless Women and Girls at Greater Risk During Pandemic, UNHCR Says
By VOA News
April 20, 2020
As COVID-19 is taking lives and effecting communities around the world, displaced and stateless women and girls are at heightened risk of gender-based violence, the United Nations High Commissioner for Refugees (UNHCR) said on Monday.
"We need to pay urgent attention to the protection of refugee, displaced and stateless women and girls at the time of this pandemic. They are among those most at-risk. Doors should not be left open for abusers and no help spared for women surviving abuse and violence," the UNHCR Assistant High Commissioner for Protection Gillian Triggs said.
Lockdowns and quarantines imposed to control the spread of COVID-19 have led to worsening socio-economic conditions due to restricted movement and closure of services, Triggs said, adding that under such circumstances women and girls "may be forced into survival sex or child marriages by their families."
The UN Refugee Agency is calling on governments to ensure that the "rising risks of violence" for refugee women are considered with priority in their action plans to deal with the coronavirus pandemic.
One of such measures could be to designate services for survivors of gender-based violence as essential and keep them accessible.
The agency is also coordinating sectoral humanitarian interventions to mitigate the risks of sexual and gender-based violence, including but not limited to the emergency health response.
https://www.voanews.com/covid-19-pandemic/displaced-stateless-women-and-girls-greater-risk-during-pandemic-unhcr-says
--------
Iran to form women's para powerlifting team
April 21, 2020
Iran Sports Federation for the Disabled Vice President MojganNasiri has said that the female para powerlifters will par take at the international events after the Ministry of Sports and Youth confirms their dress code.
"With the aim of finding new talents in the sport, the domestic league was held with participation of 19 teams across the country last year," Nasiri said.
"We were due to form the national team in the current year but it was delayed due to coronavirus outbreak. The team will be formed, when the situation becomes normal," she added.
"We first want to participate at the Asian Para Games and our female powerlifters will compete at the Paralympic Games," Nasiri went on to say.
Last year, The Iran Weightlifting Federation sent the women lifters to the Asian Championships and International Weightlifting Federation (IWF) World Championships for the first time.
https://www.tehrantimes.com/news/447018/Iran-to-form-women-s-para-powerlifting-team
--------
Are pregnant women more vulnerable to COVID-19? The Dubai Health Authority posted a new guideline on Instagram
April 20, 2020
Dubai: Are pregnant women more prone to catching COVID-19? Recently, there have been concerns regarding the health of pregnant women during this pandemic, and whether they are at a higher risk of contacting the disease, making them more "vulnerable"?
The Dubai Health Authority took to Instagram to answer this question and offer guidelines to help pregnant women and expecting mothers deal with the crisis.
It has been more than a 100 days since the coronavirus pandemic outbreak, and while scientists and healthcare professionals are finding ways to curb the virus, there is still a lot we don't know.
According to an article published on March 20 on the Harvard Health Publishing, media division of Harvard Medical School of Harvard University: "No evidence shows that being pregnant increases a woman's risk for getting COVID-19." Neither does it put them at a higher risk of showing symptoms.
The article states that in the UK, pregnant women have been declared a part of the "vulnerable patient population", but there is no evidence demonstrating this. Pregnant woman "are just as likely as the general public" to develop symptoms.
The Dubai Health Authority took to Instagram to offer guidelines for pregnant women during this crisis. The government body also states that there is no evidence that states that pregnant women are at a higher risk during this crisis.
According to the post: "Due to changes in their body and immune system… pregnant women can be badly affected by respiratory infections."
The virus spreads through droplet infection and till date, the virus "has not been found in amniotic fluid" meaning that the foetus will not be affected.
The guideline says that it is preferred for pregnant women to "work from home". The virus spreads in crowded places, which is why pregnant women should avoid coming in contact with people unnecessarily. They should avoid family members who display symptoms of respiratory disease.
Pregnant women should "remain in regular contact with their doctors" and if they feel like they are displaying symptoms of COVID-19, they should "immediately consult a specialised doctor".
In order to keep healthy and build a better immune system, pregnant women should have a healthy diet, get enough sleep and stay active while in home quarantine.
The current situation is stressful and it is taking a toll on people's mental health. While some individuals are tired of being housebound, others are anxious about catching the virus. The guideline advises pregnant women to talk to friends and family if they are feeling anxious. They can even seek professional help.
Can mothers breastfeed their child if they have COVID-19? According to the Instagram post, the mother should consult with her doctor and take a decision based on their health if they are fit to breastfeed their baby.
If you have symptoms and decide to breastfeed, mothers need to "wash hands well before", "wear a face mask" and "wash or wipe your breast well before and after breastfeeding".
While it is found that pregnant women can't pass on the virus to the foetus, after the baby is born however, "anybody can infect the newborn" with COVID-19.
https://gulfnews.com/uae/health/are-pregnant-women-more-vulnerable-to-covid-19-the-dubai-health-authority-posted-a-new-guideline-on-instagram-1.1587380886004
--------
COVID-19: Woman in Lahore continues free food service maintaining strict social distancing
April 20, 2020
Zubair Qureshi
Islamabad: Amid the prevailing lockdown in the country, majority of small and medium businesses have either suspended their operations or restricted them to quite a considerable level resulting in joblessness of hundreds of low-paid employees and daily wage workers.
This dismal scenario has however failed to wear out Rukhsana Izhar's spirits who has been running free food service for the poor and the destitute for the last thirty years or so.
While talking to Gulf News on Monday, Rukhsana, 58, said after outbreak of virus she was asked by her friends and children that food serving should be suspended until the virus days are over. However, she did the opposite.
"Coronavirus has impacted lives of the poor in a way one cannot even imagine. Hundreds of security guards, salesmen and women, assistants and poor workers who were working at showrooms, shopping malls, business centres, banks and private offices all of a sudden found themselves jobless and there was no one to feed them or their families," said Rukhsana.
"I thought what they would do if we discontinued serving food to them at a time when they needed it more than ever before. Agreeing to my point of view, we started preparing food in larger quantity," she said.
"With their support and patronage, today we are serving food to more than 500 persons daily and all this is taking place without any government support," said Rukhsana.
At the door of her house in Johar Town, it is written in bold words: "No one will sleep hungry. Food is available 24 hours."
However, for the safety of those who come for food at her door or those who help her in the gigantic task, Rukhsana and her family have maintained social distancing.
"The authorities have suggested four feet distance between two persons but we are keeping it six feet," said she. We have also refused to serve food to children and elderly persons to prevent spread of coronavirus. In the beginning, it was a challenge to prevent women from coming along with their children but we convinced them that it was in their own interest and in the interest of their families that a safe distance is maintained while availing them of this free service.
Her son, Huzaifa Izhar Ahmad, a graduate of Lahore University of Management Sciences (LUMS) is also running a social entrepreneur project "Rizq" along with other LUMS graduates and volunteers who collect unused or leftover food from various hotels and restaurants of the town and distribute it further among the poor and the needy.
https://gulfnews.com/world/asia/pakistan/covid-19-woman-in-lahore-continues-free-food-service-maintaining-strict-social-distancing-1.71074767
--------
Sharjah registers 401 cases of child abuse in 90 days
April 20, 2020
Sharjah has registered as many as 401 abuse cases involving children of various nationalities during the last three months, according to complaints received on the child abuse helpline at 800700.
Maha Al Mansouri Director of Communications at the Sharjah Social Services Department (SSSD), said the calls covered reports about sexual abuse, physical abuse and negligence. Most of the calls were regarding physical abuse by parents, caregivers or other people who had access to the children.
The frontline team of social workers, psychologists and lawyers are on 24/7 duty and they respond to the calls, take down the details and then forward the cases to various concerned departments including the police to initiate suitable action.
Mansouri urged parents to be patient during the stay home period and not take out their frustrations on the children because they are confined to the house. Instead, she recommended they take this opportunity to spend quality time with children and shower them with love, affection and use the day to teach them manners and religious values.
"Beating up children is an unwise act. It affects the child's ability to learn the rules of good conduct and grow up to be a normal citizen in the future,' she said.
She also stated there are many cases of teenage girls who run away from their families as a result of physical abuse such as beatings, physical violence by father, mother, brother or relative."
The chat abuse line also receives communications through WhatsApp at 065015995 (chat bot) which has been recently launched by the SSSD to ensure immediate follow-up of the cases reported with a complete clarity on the procedures that guarantee the interest of the child and the confidentiality of the caller of the abuse report.
Maha Mansour made it very clear that the department was keen to enhance its communications network with various members of society through the call center. It is also open to investigate issues concerning the elderly, women protection, home care, and the need for urgent intervention.
The hot line also responds to inquiries by adults and offers psychological, legal and social consultations through qualified specialists in child psychology.
These efforts are in keeping with the aspirations of the government of the Emirate of Sharjah and the endeavor to provide the highest levels of protection and safety for the child thereby making a tangible contribution to the development of his capabilities and skills.
https://www.khaleejtimes.com/uae/sharjah/sharjah-registers-401-cases-of-child-abuse-in-90-days
--------
Domestic abuse: 'Women in Herat may survive coronavirus but not lockdown'
Ruchi Kumar
21 Apr 2020
Every morning Marzia Akbari, a 25-year-old psychologist from the western Afghan city of Herat, wakes up, picks up her phone and starts calling women. Most calls go unanswered. Since Herat was put in lockdown two weeks ago, Akbari's work as one of Afghanistan's only healthcare workers helping victims of domestic abuse has ground to a halt and many of the women she was trying to protect have disappeared.
Akbari is part of a small group of female psychologists, doctors and health workers in Herat who were the only lifeline for women facing domestic abuse in the province.
In a country where violence against women is endemic, Herat has some of the highest rates of domestic abuse and female suicides. While the UN estimates that over 50% of Afghan women in the country face domestic abuse from their partner in their lifetime, Akbari believes that in Herat almost every woman is being beaten or hurt in their own homes.
Before the lockdown, Akbari was working with her colleagues running a covert counselling clinic at a local hospital. Many of the women she was working with were already risking their lives by seeking help. Now this has also been lost.
"The building we used for providing mental health support was turned to an isolation centre of patients with coronavirus about a month ago," Akbari says. "We tried to relocate to another place but the only reason women could manage to reach us before was because the counselling centre was based at the local hospital. Many of their families didn't know these women were seeking counselling, they thought they were attending a medical appointment."
Globally cases of domestic abuse have already surged since countries went into lockdown. For women in Herat, now Akbari's clinic has closed, they have nobody to turn to for help.
"Women in Afghanistan have no reason to have any faith that police would help them," says Heather Barr, a senior researcher at Human Rights Watch.
Even though domestic abuse was criminalised in 2009, it is still not considered a serious offence by many in authority in Afghanistan.
"The government has taken virtually no responsibility for assisting victims and in fact has too often intentionally worked to undermine access to these services," says Barr.
Before the lockdown Akbari was dealing with a caseload of 50 women a week and was in constant contact with the clients she was assisting. There is only one domestic abuse shelter run by an NGO in Herat, but even before lockdown, the stigma of leaving your family and fear of losing children and revenge attacks often mean that women won't leave their homes. She is terrified that the violence women face during quarantine will claim many of their lives.
"Out of the 50 clients I was working with when we went into lockdown, I can barely make contact with 25 women now," she says.
The only way she can reach them is by phone, but many women don't have their own devices and even for those who do it can be dangerous to receive calls in front of their abusers. "I called one of my clients after quarantine who is married to a very violent man. When she answered she was very nervous and had to pretend I was her sister. She was terrified," Akbari says.
Today, Akbari has managed to finally track down Zainab, a 25-year-old survivor of domestic abuse and rape. Zainab was married to her cousin when she was 13 and endured a life of physical and sexual violence and forced addiction before she found her way to Akbari's clinic last year.
Zainab was able to secure a divorce last year, a very rare accomplishment for an Afghan woman, but was forced to give up her three young children. Yet even though she is divorced, she is still harassed and assaulted by her ex-husband. For Zainab, the lockdown has meant living with her parents who are also abusing and threatening her. "Because of the divorce they assume she in now an immoral woman," says Akbari. "But at least I know she is alive."
Others are still out of reach. "There is another older woman I am very worried about. She had been forcibly married three times to abusive men and also faces violence from her brothers," says Akbari. "It took me weeks to reach her, and when I did, she told me her condition has worsened since the lockdown. The harassment has increased and she says her phone is being monitored. She was miserable, and that was the last I spoke to her. Her phone has been switched off since then. I am so worried for her safety."
In the UK, call the national domestic abuse helpline on 0808 2000 247, or visit Women's Aid. In Australia, the national family violence counselling service is on 1800 737 732. In the US, the domestic violence hotline is 1-800-799-SAFE (7233). Other international helplines may be found via www.befrienders.org
https://www.theguardian.com/global-development/2020/apr/21/domestic-abuse-women-in-herat-afghanistan-may-survive-coronavirus-but-not-lockdown
--------
COVID-19 pandemic forces Indonesian mothers to do it all
Ardila Syakriah
April 21, 2020
Five months pregnant, 33-year-old NikenFajarsari has to juggle work, domestic chores and teaching her son, as schools have been closed in Jakarta to curb the transmission of COVID-19.
Despite Jakarta's large-scale social distancing (PSBB) measures, Niken still has to commute to her job at a ministerial office in the heart of the capital city periodically, as her family is now relying solely on her income.
Her husband resigned from his job at a financial technology company in February to start a toy store and a coffee shop, both of which have been badly affected by the outbreak. The couple will sometimes accept catering orders for extra money.
"My son gets so much homework from his kindergarten, be it written tasks, arts and crafts or practical assignments. He must wait until I get home to finish the tasks [...] Moreover, it must be well-documented in pictures or videos, which are supposed to be submitted daily to the teachers. Doing this straight after work, while pregnant, makes me feel like I want to pass out," Niken told The Jakarta Post on Monday.
Schools have been closed in Jakarta, the national epicenter of the COVID-19 outbreak, since March 16, well before PSBB measures went into effect on April 10. Since then, many other regions have followed suit.
The Education and Culture Ministry issued a circular letter on March 24 calling for schools to provide distance learning activities for students while they stayed at home and announcing the cancellation of national exams.
It remains unclear when schools will reopen. The government predicts the outbreak could reach its peak in the country by the end of May.
The uncertainty has taken a toll on mothers in Indonesia, where women are expected to bear the responsibility of child-rearing on top of other domestic chores.
A 2016 Asian Development Bank (ADB) economics working paper found that childcare responsibilities limited Indonesian women's engagement in the compensated labor market. Women who had young children, the report said, were significantly less likely to work than their childless peers.
Although women did appear to reenter the labor force as their children got older, they did so through family work or self-employment as there was little re-entry into wage-based work as the children aged, the report found.
These have been among the reasons provided for women's low – but slowly growing – participation in the country's workforce, despite sustained economic growth since the 1980s.
As of February 2019, the rate of women's participation in the workforce was 55.5 percent, a slight increase from 55.44 percent in February 2018. The figure was a stark contrast to men's labor force participation rate at 83.18 percent.
Niken said that prior to the outbreak, she had to take care of house chores while looking after her son on her own, without the help of a domestic worker, who are often employed by middle- and high-income households in Indonesia.
Furthermore, there were growing expectations from Niken's mother-in-law to follow in her footsteps as a working mom who had managed to handle everything by herself.
It was only after her husband resigned that they started sharing the domestic work, although it was no easy task in the beginning. Fights could not be helped as both tried to adjust to the new normal, she said.
"I'm afraid that my son won't be able to study optimally. Sometimes, I can't help but grumble in front of him because I'm tired from work. I sometimes feel guilty and sad because he is supposed to enjoy learning at home [...] It's important for mothers to stay sane," Niken said, just before Kartini Day.
Kartini Day, celebrated annually on April 21 to commemorate the birth of the eponymous national heroine RadenAjengKartini, offers Indonesians the opportunity to appreciate and express their gratitude for the role of women, especially mothers.
Hailed as a symbol of women's empowerment in Indonesia, Kartini's life demonstrates the idea that women's empowerment cannot be separated from education and contributions to public life, goals that are still often sacrificed for motherhood and marriage in general.
After leading a life enlightened by the promise of equal education opportunities for girls and women, Kartini was pushed into marriage and died giving birth.
During times of crisis, women are often burdened with greater expectations to carry out domestic responsibilities, including tending to children and ill members of the family, said Lily Puspasari, a program management specialist at United Nations Women in Indonesia.
With schools closed and disruptions at the workplace becoming the norm, including working from home, Lily said there was bound to be "more roles expected from women".
A recent UN Women report, titled The First 100 Days of the COVID-19 Outbreak in Asia and the Pacific: A Gender Lens, also highlights this impact on women, noting that across the region, "the unequal distribution of unpaid care and domestic work between women and men is a major barrier to gender equality and women's empowerment."
The report also highlights how women were growing increasingly vulnerable economically, as they are found to be over-represented in sectors and jobs hardest hit by the COVID-19 outbreak – in manufacturing, textiles and garments, care services, hospitality and tourism – and in employment with the least protections, including in the informal domestic sector and self-employment.
Sari Saraswati, 31, a marketing executive who now works from home, said she found it challenging to balance work and teaching her children, a 6-year-old kindergartner and a 2-year-old who is learning to speak.
She said that her conference call schedule was so intense that she could sometimes only spare an hour to help with school work or accompany her child in a Zoom meeting with teachers.
"I share work with my husband but my husband can only help in the afternoon because he sometimes sleeps from morning to noon," Sari told the Post.
Working from home might be fun for some but it might be "work from hell" for others, as 44-year-old lecturer and mother of one, Aprilia KartiniStreit, often says jokingly.
Aprilia, who teaches visual communication design at a private university in Jakarta, said there was much work to do at home and also virtually, as she had to be on standby for her students all day to assist them with their coursework. She also had to teach her daughter as she was being assigned lots of homework by the early childhood education center (PAUD) she attended.
"My husband and I tried to share the work equally [...] But at certain times, when she had to eat, take a nap or drink milk, I had to be the one in charge. So I had to teach an online class while putting her to sleep or excuse myself from my students to take her to the bathroom. I have to do it all at once," Aprilia said.
https://www.thejakartapost.com/news/2020/04/21/covid-19-pandemic-forces-indonesian-mothers-to-do-it-all.html
--------
URL: https://www.newageislam.com/islam-women-feminism/women-virus-hit-iran-tech/d/121632
New Age Islam, Islam Online, Islamic Website, African Muslim News, Arab World News, South Asia News, Indian Muslim News, World Muslim News, Women in Islam, Islamic Feminism, Arab Women, Women In Arab, Islamophobia in America, Muslim Women in West, Islam Women and Feminism