New Age Islam News Bureau
29 Sept 2019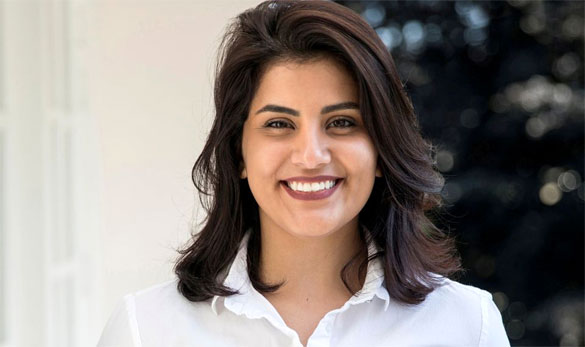 Imprisoned Saudi women's rights activist Loujain al-Hathloul (Photo by the Financial Times)
------
• Muslim Women Say the Hijab Is a Symbol of Faith, Not Oppression
• Bangladeshi Women Fled Exploitative Situations Hoping For A Bright Future; And Are Now Incarcerated As Illegal Migrants
• Turkish Women Rally against Rising Violence Targeting Them
• Germany: Women Attacked At Anti-Islamophobia Event
• 'If Muslim Women Do This We're Terrorists': Cardi B's Paris Outfit Draws Attention To Niqab Ban
• Iraq's Well-Meaning Parliamentary Quotas Are a Disservice to Women
• Sale's International Women's Film Festival Features Tunisian Cinema
Compiled by New Age Islam News Bureau
URL: https://www.newageislam.com/islam-women-feminism/un-human-rights-experts-urged/d/119864
--------
UN Human Rights Experts Have Urged Saudi Authorities To Release Jailed Saudi Women's Rights Activist Loujain Al-Hathloul
Sep 28, 2019
A group of United Nations human rights experts have urged Saudi authorities to release jailed prominent Saudi women's rights activist Loujain al-Hathloul, whose arrest more than four years ago marked the start of a crackdown led by Crown Prince Mohammed bin Salman against women activists in the ultra-conservative kingdom.
"It is shockingly hypocritical that Ms. al-Hathloul remains in prison for campaigning to change laws which have since been amended. Indeed, she should never have been imprisoned in the first place for exercising her fundamental rights to freedom of expression, peaceful assembly and association," the experts said in a statement on Friday.
The statement added, "In spite of recent improvements in Saudi Arabia's male guardianship laws, it is imperative that the world [should] not lose sight of the human rights concerns which persist in the country, as human rights defenders have continued to express."
The UN experts then called on the Saudi regime "to immediately release Ms. al-Hathloul and all other human rights defenders in Saudi prisons, and urged Saudi officials "to launch a prompt, effective and independent investigation into whether she has been tortured."
"No one should suffer such adversity for exercising their right to defend the human rights of others," they pointed out.
Back on August 13, Hathloul's family said she had dismissed a proposal to secure her release from prison in exchange for a video testimony denying that she had been tortured and sexually harassed in custody.
"The Saudi state security has visited my sister in prison recently. They have asked her to... appear on video to deny the torture and harassment. That was part of a deal to release her," her brother, Walid al-Hathloul, who is based in Canada, wrote on Twitter at the time.
Walid went on to say that Loujain, who recently marked her 30th birthday in jail, had initially agreed to sign a document denying that she had been tortured, as a precondition for her release.
Walid Alhathloul
✔
@WalidAlhathloul
The #Saudi State Security has visited my sister in prison recently. They have asked her to sign on a document where she will appear on video to deny the torture and harassment. That was part of a deal to release her.
434
7:48 PM - Aug 13, 2019
Twitter Ads info and privacy
399 people are talking about this
Loujain al-Hathlol is among around a dozen renowned Saudi women's rights activists, who are currently facing trial after being detained in a sweeping crackdown on political dissidents and pro-democracy campaigners last year.
She was among a number of detainees, who have accused interrogators of subjecting them to torture, including electric shocks, flogging and sexual assault in detention.
Saudi authorities have denied torture allegations, and said the arrests were made on suspicion of harming the interests of the ruling Riyadh regime and offering support to hostile elements abroad.
Hathloul's family maintains that Saud al-Qahtani, a senior adviser to the crown prince who has also been implicated in the murder of well-known journalist Jamal Khashoggi inside the kingdom's consulate in Turkey last October, was present during some of the activist's torture sessions and even threatened to rape and kill her.
Saudi Arabia has lately stepped up politically-motivated arrests, prosecution and conviction of peaceful dissident writers and human rights campaigners.
Over the past years, Riyadh has also redefined its anti-terrorism laws to target activism.
https://www.presstv.com/Detail/2019/09/28/607346/UN-experts-calls-on-Riyadh-regime-to-free-jailed-Saudi-woman-activist
--------
Muslim Women Say the Hijab Is a Symbol of Faith, Not Oppression
SEP 28, 2019
Contemporary Christians rarely shy away from symbolic professions of their faith, whether it be a cross around their neck or the outline of a fish on their license plate.
But for Muslim women who venture in public, the terrain is trickier. Wearing a hijab – the simple head covering that serves as a sign of their commitment to Islam and acknowledgement of their cultural roots – tends to bring a variety of responses, ranging from curiosity to hostility.
Navigating that terrain hasn't gotten much easier in the nearly 20 years since 9/11.
Currently six European countries ban wearing burqas in public, and this year Quebec passed a law that penalizes teachers and other public service employees for wearing religious garb in the classroom. Doing so limits their chances for promotion.
None of which has deterred the most determined Muslim women, who say wearing a hijab as much a symbol of empowerment as of their devotion to God.
"It's my way of serving God and I believe that it's mandatory; that is like reason enough for me," said University of Toledo student Walaa Kanan. Born and raised in Toledo, Ms. Kanan said a diverse group of Muslim women influenced her decision to wear the hijab.
"I'm a little bit different, though. I started wearing the hijab a lot younger than what is normal. I started wearing it ... in second grade."
Because she was young and "didn't grasp the full meaning behind wearing it," she said family members thought her choice to wear the hijab was just a phase.
"They were like,'Oh, she's a kid. She's probably gonna wear it sometimes', but I stuck with it."
Adopting the hijab early is not the case for most young women. Consider Zobaida Falah, a Sylvania entrepreneur who started wearing the head covering as a freshman in high school.
"Growing up in Kentucky I was visibly the only Muslim," Ms. Falah said. "I was literally the token Muslim in my class, my school, and even in my city."
Ms. Falah said that after 9/11 she felt as if she was a walking representation of her religion which stressed her out.
"That was a huge burden on me, because I felt I had to perfect everything I did, or I at least had to second guess every action that I did, because I didn't want to be perceived in a negative way," she said.
What exactly is this garment that's caused so much secular consternation? The hijab is a head covering veil that predates the arrival of Muhammad in Arabia. It's intent is to maintain modest and privacy against the gaze of unrelated males. Unlike a burqa, which entails fully covering the face leaving only the eyes unmasked, hijabs are closer to scarves wrapped around the head.
The word "hijab" comes from the Arabic root "hajaba" which means to hide or make invisible. In modern Arabic language it's used to describe the way women are encouraged to dress.
On whether wearing the veil is a requirement, Muslim religious writings aren't entirely clear. Ovamir Anjum, chair of Islamic studies at the University of Toledo, said there are various passages in the Qur'an that make reference to the covering of the prophet's wives, but some Muslims disagree about who it applies to: only the prophet's wives or all Muslim women?
"There's a verse in the Qur'an that says that women should take their headscarves and wrap that around there, and not show their beauty except to their husbands or close relatives like fathers and brothers and so on," Anjum said. "They are meant to dress in a way that is not designed to draw attention."
While some women adhere to covering at a young age, others don't decide until much older.
"It's a sign of showing who I am as a Muslim," 58-year-old Manal Elshiekh said. Born and raised in Egypt, Ms. Elshiekh started wearing the hijab full-time when she moved to Perrysburg with her family about 20 years ago. For her, wearing the hijab was a way to reconnect with her faith and move away from shallow ideas about beauty.
"When I was young, I just want to be proud of the way I look and scared how people will look at me," she said. "I was afraid I would look older than I was. Then I came to one point I said,'Who I am going to please, I'm going to please the people or God?'" Often people believe that Muslim women are forced by the men in their lives to wear the hijab. This is a myth that Muslim women want to dispel immediately.
"In reality, it's the woman's choice. 100 percent," Zobaida Falah said. "My father didn't force me to wear it, my brothers didn't force me, my husband didn't force me. It was 100 percent my choice, I chose to do it."
Unable to control her irritation at the thought of being labeled oppressed Ms. Kanan agrees.
"It's so baffling to me that people think they have the right to come tell me whether or not I'm oppressed," she said. "That's literally so counterproductive to feminism. Like, you're gonna tell me that something I'm doing by choice is oppressing me and I shouldn't do it. Like, you're oppressing me by telling me I shouldn't do what I feel like doing."
There is no Quranic penalty for not adhering to Muslim dress, but university chair Ovamir Anjum said that some women in conservative cultures can face social ridicule.
"A woman who doesn't wear the hijab is looked down upon by her own family and sometimes the community," he said. "But that only happens in very conservative places."
Despite the growing community of Muslims in Toledo there aren't any specialty stores for women to buy their hijabs.While this isn't an issue for some, who get their hijabs online or from family overseas, the desire for better representation does exist.
"We need it to be normalized in society," Ms. Falah said. "Because the reality is there are Muslim women walking around in everyday life who wear the hijab."
All three women say the rules for wearing the hijab are pretty straightforward. They must cover whenever they're in public and whenever they're around men that aren't their husband, father, brother, grandfather, and son. There aren't any restrictions on color, fabric, or pattern.
"But the hijab isn't just about the covering the head," says Ms. Kanan. "Covering the head is the very last thing. It's also about the way you dress."
Outside of wearing the hijab, women are also expected to wear loose fitting clothing as not to show off their figure.
"If I would put on a pair of tight jeans, my mom would say, 'Those are really tight. That's showing off your entire figure, you need to wear something a little bit looser,' " Zobaida Falah recalled.
Despite the multitude of reasons women decide to wear or not wear the hijab, Ms. Falah says most Muslim women enjoy opening up about their faith so never be afraid to ask educated questions. They are here as flag bearers.
"This is an open invitation. If you're a non Muslim and you have questions, feel free to walk up to us and ask us questions. As long as they're not offensive. But let me just end with, no, we don't shower in these," she says, chuckling.
https://www.toledoblade.com/a-e/culture/2019/09/28/muslim-women-hijab-symbol-of-faith-not-oppression/stories/20190922004
--------
Bangladeshi Women Fled Exploitative Situations Hoping For A Bright Future; And Are Now Incarcerated As Illegal Migrants
September 28, 2019
Rimple Mehta
Their realities often intersect — they come from extremely impoverished backgrounds; they fled exploitative situations hoping for a bright future; and are now incarcerated as illegal migrants
Before I came here I didn't know some place called Indiya existed," said Salma*, 18, her face contorting as she tried to pronounce the word correctly. "I had heard of Bharat, Kolkata and Hindustan. I knew that only Hindus stayed in Bharat and there were no Muslims. That is all I knew."
When Salma left her husband and his abusive family in Bangladesh and crossed the border to India, she was not quite clear about the concept of this desh called Indiya, or of the boundaries between the nation-states. India, to her, was a geographical space. And now, India is the place she is imprisoned in for being a foreigner without valid documents.
Nargis, a 22-year-old widow, knew something was wrong when the dalal (agent) she was travelling with on a train offered her an apple. "I knew there was something behind it," she said. Nargis was on her way to a job that the man had promised. "I told him I wanted to go back; but he said that once someone gets on this path, they do not return. I tremble when I think of him even now," said Nargis, who later found herself in a correctional home in Kolkata. "Didi, why did he say that one cannot return... is it true?" she asked me.
Reshmi, 22, managed to escape the clutches of the trafficker who brought her to India; but then she had to contend with the Border Security Force (BSF). "The BSF caught me. They kept me in their camp for a night, they kicked me in my stomach, they raped me, they tortured me. I fell unconscious. I had to be admitted to hospital. It's been two years and three months; some parts of my body still ache."
Salma, Nargis and Reshmi do not know each other. But their realities have intersected constantly — violence is central to their experience, even if the perpetrators are different; they come from extremely impoverished backgrounds; they have fled exploitative situations to what they hope will be a bright future; and now, they are all incarcerated in India as illegal migrants.
For most of these women, crossing the border was about moving from a vulnerable and violent situation in the hope of a better place. They placed their hopes on the goodness of a 'facilitator', mostly a friend or acquaintance from their village, who assured them of a job or refuge. Instead, they found themselves trafficked, mostly to brothels in India.
Another exile
When the Assam National Register of Citizens (NRC) was published on August 31, it stripped 1.9 million people in India of citizenship and a sense of belonging. This anxiety has a specific historical context in Assam. Whether it is through the NRC or through the everyday functioning of the criminal justice system, the country has created a group of people sans national identity. Detention centres are being built to house these nowhere people but their future is not in sight.
These are people we use every day as cheap labour — domestic workers, construction workers, manual scavengers — yet their lives are lived invisibly, with no identity. These nowhere people, ironically, are being used as scapegoats to assert a sense of belonging for the average Indian citizen. This is the politics of othering, where the self derives power by marginalising the already disempowered.
The Bangladeshi women languishing in Indian prisons are another such set of disempowered people trapped in no-man's land. Bangladeshis make for the largest segment of foreign prisoners in India. According to the 2015 Prison Statistics India, there were 1,493 Bangladeshi convicts (of 2,353 foreign national prisoners) lodged in prisons across the country.
Of these, 1,253 were in prisons in West Bengal. A total of 2,579 Bangladeshis (of the 3,795 foreign nation prisoners) were undertrials in 2015, and 2,099 of them were in West Bengal. Maharashtra had the second highest number of Bangladeshi undertrials. In 2016, the number of Bangladeshi convicts in Indian prisons rose to 1,792.
No legal aid
As a student social worker, I worked in a prison for female undertrials in Mumbai in 2008-09, and later as a doctoral researcher in two prisons in Kolkata in 2010-11. Over the last decade, I have engaged with several stakeholders on this subject.
In some States, Bangladeshis without valid documents are arrested under the Foreigners Act, 1946, and in others, under the Passports Act, 1967. There is little clarity on what documents the police check while arresting those who are alleged Bangladeshis.
The predicament of Bangladeshi prisoners, in general, and of Bangladeshi women prisoners in particular, is grim. A number of women who are victims of trafficking are arrested as 'illegal' immigrants, often while they are fleeing brothels or exploitative jobs.
Once in prison, it is difficult for these women to get legal aid, as the District Legal Services Authority lawyers are usually unwilling to take up their cases, and the prisoners don't have the money to hire private lawyers. They don't have visitors either, because their relatives fear arrest, or because their relatives are all in Bangladesh.
Sometimes, Muslim women from West Bengal are arrested in other States when they are unable to produce documents — which make them "Bangladeshi" in the eyes of the criminal justice system.
Most of the women I met had been child labourers, were married in their early teens, had experienced marital violence, their husbands had either deserted them or married another woman, or the women had chosen to walk out of bad marriages.
Rina, 21, divorced her husband because he was a drug addict and she had not wanted the marriage. "I was really young. I didn't want to get married but didn't have the courage to say this to my mother... this is why I am still upset with my parents," said Rina. "So I decided to come to India for some time... I needed money to raise my child."
Domestic violence, the severing of relationships, and the subsequent livelihood crisis makes migration inevitable. Any promise of a better life is embraced — and opportunity often presents itself in the form of traffickers, who promise jobs in other cities in Bangladesh or in India.
What is a border?
Often, these women begin work in a garment factory in Dhaka or other Bangladeshi cities. Many women I spoke to mentioned a certain Pia as their co-worker and confidante, who first suggested the possibility of going to India. The spectre of Pia loomed large, and she seemed to be the principal organiser of their journey. Once in India, Pia's associates took over. It was only much later that the women realised they had been sold into brothels. And so, the garment factories in Bangladesh, which are seen as a road to empowerment for women, often become the site of violence and disappearance.
As I pieced together fragments of their stories, it became clear that most of the women were still not sure about the political concept of borders. Our conversations gave an insight into the various ways in which a border may be visualised, laying the ground for multiple meanings and interpretations that do not necessarily rely on notions of security and power.
Rumpa, 20, a young mother, said, "This country is taking the help of Bangladesh and Bangladesh takes the help of this country. There seems to be nothing wrong with that. In Bangladesh, we eat Indian rice, Indians eat vegetables grown in Bangladesh. We take oil from India, we share water... there seems nothing wrong with all this exchange of goods; then why is there objection to women like us who come to work? We plan to go back... we don't want to stay in your country forever."
For most of them, the first realisation that they are making a mistake, bhool, happens at the time of crossing the border when the agent tells them to run across clandestinely, or makes them wade across narrow ditches or jump across barbed wire fences. Though they acquiesce and go through with it, focussed on a 'bright future', it's here that a lingering fear and confusion begins.
In most cases, their fear is not linked to an understanding of borders or international laws. Only when they are arrested is the feeling of having committed a bhool followed by the realisation that they have committed an aporadh, a crime.
The biggest challenge for the criminal justice system as well as for these prisoners is when their sentence is done and they are to be repatriated to Bangladesh. They are taken to the border in West Bengal and here, they are 'pushed back' into Bangladesh. The women I met in West Bengal prisons had heard from the warders and from other women who had returned to prison that they would be "pushed back".
In other words, there is no process or system in place. In fact, on occasions, they continue in prison in West Bengal even after their sentence is over since there are no clear repatriation orders. Thus, the moment of release from prison becomes their moment of greatest uncertainty.
'End of life'
Inside the prisons in West Bengal, after their sentence is over and before they are sent back to Bangladesh, they are known as Jaan khalash. The word literally means 'end of life,' but for the women prisoners it means 'free public' — that they could roam around the prison as free people and not as prisoners. But this is also their hardest time.
They have questions that have no answers: no one seems to know when they will be sent back or 'pushed back'; papers for their release cannot be processed easily since they are not claimed by Bangladesh either.
While various records and documents are maintained from the time a Bangladeshi is arrested, then released, then returned to the border, the process is still mired in confusion. Adding to the chaos, many women from West Bengal, Assam and other States are mixed up with the women from across the border. The shared physiognomy, culture and language makes identification complex.
A 2017 report by the Committee on Empowerment of Women titled 'Women in Detention and Access to Justice' discusses the vulnerability of foreign women in prison, but is limited to their difficulties in understanding a foreign language, the laws of the land and their lack of access to families. The report falls short of discussing the larger issue of repatriation.
Another report, filed recently by amicus curiae Ajay Verma in the Delhi High Court, focused on delayed trials, lack of communication with families, difficulty in getting bail, and language barriers, but it too skirted the process through which they are are sent back. Nonetheless, these are important beginnings to a discussion on the condition of such prisoners.
With the NRC in Assam, women prisoners from Bangladesh are likely to become more marginalised and silenced. Will they be brought from different prisons in the country and sent to the detention centres that the State is now setting up? What is the process by which they will be repatriated from here? As citizenship and belonging come constantly under question, these women on the margins, with no claims on any national identity, will remain nowhere people.
https://www.thehindu.com/society/meet-the-bangladeshi-women-who-fled-violence-were-trafficked-and-are-now-trapped-in-india/article29529647.ece
--------
Turkish Women Rally against Rising Violence Targeting Them
29 September 2019
Dozens of women protested in Istanbul on Saturday to denounce rising violence against women and the government's failure to stop brutal attacks across the country.
They gathered in the Kadikoy neighborhood on the Asian side of Istanbul, recounting harrowing stories of women recently murdered across the country, including Emine Bulut, whose killing by her ex-husband in August sparked outrage.
"Stop the murder of women!", "Stop male violence!" and "Do not watch violence, do something," they shouted.
Bulut's murder in front of her daughter sent shockwaves across Turkey after a video of the attack was published online.
The 38-year-old was stabbed to death in a cafe on August 18 by her former husband in the central Anatolian city of Kirikkale. Bulut, who had divorced him four years ago, died in the hospital.
Her name was a worldwide trending topic on Twitter and "I don't want to die" (#olmekistemiyorum) was widely quoted on social media.
"The murder of Emine Bulut sparked frustration and resentment in society. Her last words are ringing in all women's ears: I don't want to die," Gamze Ozturk, one of the organizers, told AFP.
"There are increasing numbers of women being murdered and none of them wanted to die," she said.
A total of 294 women were murdered in the only first eight months of 2019 - 40 of them in August alone, while 440 women were killed last year, according to the women's rights group We Will Stop Femicide, which has been tracking gender-related deaths.
"We will be out on the streets to protect women's rights until no single woman is killed," protester Bircan Sahin told AFP.
Turkey has ratified the Council of Europe's 2011 Istanbul Convention on preventing domestic violence - but activists say more needs to be done to put the laws into practice.
https://english.alarabiya.net/en/News/middle-east/2019/09/29/Turkish-women-rally-against-rising-violence-targeting-them-.html
--------
Germany: Women Attacked At Anti-Islamophobia Event
Mesut Zeyrek
28.09.2019
COLOGNE, Germany
An event meant to raise awareness of Islamophobia in Germany on Saturday was the scene of a violent attack, according to the head of the event organizer.
At the Support Diversity event in the southern city of Ulm, organized by the Turkish-Muslim association IGMG, a man shouted "I will kill you" in English and tried to attack women taking part in the event with a knife.
The attack was blocked at the last second, and apparently no one was hurt.
Bekir Altas, head of the IGMG, condemned the attack coming at a peaceful event organized to draw attention to racism and Islamophobia.
At a stand set up at the event, the man "first verbally attacked our girls there, and then attacked our staff with a knife," he told Anadolu Agency.
Altas added that the attacker had been taken into custody and that police are investigating the incident.
Germany, a country of over 81 million people, has the second-largest Muslim population in Western Europe after France. Among the country's nearly 4.7 million Muslims, 3 million are of Turkish origin.
https://www.aa.com.tr/en/europe/germany-women-attacked-at-anti-islamophobia-event/1596883
--------
'If Muslim Women Do This We're Terrorists': Cardi B's Paris Outfit Draws Attention To Niqab Ban
29 Sep 2019
Cardi B has arrived at Paris Fashion Week in a head-to-toe floral outfit -- and the look has drawn attention to France's controversial niqab ban.
The skirt, jacket and scarf ensemble was designed by Richard Quinn and completely obscures every part of the wearer's skin, including their face.
The fashion-forward rapper posted a video to social media wearing the outfit in front of the Eiffel tower, with her unmistakable voice heard from underneath the fabric.
"What's poppin' baby?" she laughed to a crowd of paparazzi capturing the moment.
Fans on Twitter have humourously compared the outfit to a shower curtain, a Jedi temple guard and something Mrs Doubtfire might wear -- but the floral number has also raised comments from Muslim women about France's controversial face-covering ban.
The 2010 law forbids "any article of clothing intended to conceal the face" in public spaces and was deemed a violation of human rights by a UN committee in 2018.
Cardi B's outfit has prompted Muslim women to point out the hypocrisy of the face-covering law, with some writing on Twitter that there's a double-standard at play in France.
"So Cardi B can wear this but I'll be fined €500 every time I go out in public. Cool," wrote US-based Muslim woman Tuscany Bernier.
Women in France who defy the ban face fines of €150 (about $240), a sum that must be paid within a month, and/or must enrol in citizenship education.
The criticism has been (mostly) levelled at France for continuing to uphold the ban after nearly a decade, rather than Cardi B herself.
Although Cardi hasn't addressed the issue, some fans have pondered whether her outfit was an intentional political statement.
The floral outfit was debuted at Quinn's Autumn/Winter London runway show in February and was worn by model Karlie Kloss in British Vogue in July -- but has only raised eyebrows since Cardi's decision to wear it in France.
https://10daily.com.au/entertainment/celebrity/a190929ynjgw/if-muslim-women-do-this-were-terrorists-cardi-bs-paris-outfit-draws-attention-to-niqab-ban-20190929
--------
Iraq's Well-Meaning Parliamentary Quotas Are a Disservice to Women
Bahira al-Sheikhly
28/09/2019
Although giving Iraqi women a set quota in the parliamentary elections, a right guaranteed by Iraq's post-US occupation constitution, might appear a positive distinction, a sort of affirmative action for women, this "quota" turned out to be bad for Iraqi women and harmful to their reputation.
The word "quota" translates into Arabic as "relative share." Former Iraqi female MP Nadia al-Jabouri explained that the new Iraqi election law ensures that women do not have less than one-quarter of the seats in parliament. Before that legal obligation, women in the House of Representatives represented no more than 2%.
Jabouri said political Islam parties and other parties in power manipulated the spirit of the law by enrolling on party lists women not qualified for parliamentary work and who are fanatical in their outlook, holding loyalty to their lists or sects or ethnic groups much higher than loyalty to the homeland.
Writer Sabiha Shobbar said the quota system is an insult to Iraqi women because it suggests that women cannot get votes on their own merit, votes that reflect people's trust in these women's ability to represent them.
She pointed out that the quota system was valid at an earlier stage when women did not have the strong will and confidence to run for elections but now they do and it has become inappropriate for women to get seats in parliament only through the quota. Shobbar said many women reached the parliament house because of voters' trust in them.
Mona Alainah Ji, a former professor of sociology at the University of Baghdad, said the quota system did not offer Iraqi women a real opportunity but that the parties, especially Islamic ones, took advantage of it to put in parliament women with particular qualifications that have nothing to do with parliament work and representing people but were related to party loyalty. She pointed out that the quota system was not an incentive for empowering women but exploited them for partisan gains.
Alainah Ji blamed civil parties for doing the same thing. The only difference is that the civil parties take advantage of the women's exterior look, their fashionable clothing and hairstyles to show them off rather than promote their qualifications, while religious parties choose veiled and fully cloaked women who refuse to say their full name and prefer to be identified through their connection to a male like calling themselves "Wife of So and So" or "Mother of X" or "Sister of Y."
Alainah Ji asserted that parties carefully and purposely selected these models of female candidates to make sure that they would serve the interests of the parties and not those of the voters.
What is more dangerous, Alainah Ji said, is that the parties selected the most ignorant and the less emancipated females, those who, because of their social upbringing, are traditionalist at the core, ready to follow orders given by the dominant male in the family — father or elder brother — or by the tribe's head.
The quota system in Iraq put forth and promoted models that harmed the image of Iraqi women in terms of partisan women's intolerance towards other sects, races or regions and any regard for the higher interests of the society or the country.
Examples of this social and political backwardness abound. We have heard an Islamist female member of parliament demand the killing of seven people from one sect if seven people from another sect were killed and we have heard other ladies defend the interests of Iran while keeping silent about Iraq's interest but most of them have no concern other than what they can reap from being a representative.
It would be unfair to Iraqi women to be compared to these female MPs, especially when we recall examples of Iraqi ladies who have had a big effect on Iraqi history, such as novelist Amina Rahal, writer Angele Arstakis, poet Rabab al-Kazimi, Judge Sabiha Sheikh Daoud and chemistry researcher Albertine Ilya Habboush.
Legal experts consider the quota system a valid transition solution to remedy the low participation of women in political life. Opponents of the quota system, however, regard it as a form of discrimination in the representation of women and may not reflect the will of voters by limiting their choices.
Mohammed al-Sheikhly, head of the Justice Centre in London, argued that the quota system for women is undemocratic. He said the system represents a type of discrimination against women, even if it appears in their favour.
"It is a form of discrimination between men and women by imposing a quota for women in parliament seats and that is contrary to a democratic system which leaves the right to elect people's representatives to the people themselves," he said.
Sheikhly added that the experience of the women's quota system in the Iraqi parliament did not achieve its desired objectives, which were to represent women in parliament during the transitional phase of the country.
At the time when there had to be a fair representation of Iraqi women in the parliament, we found that the electoral blocs chose to nominate and impose on everybody female candidates who do not meet the minimum criteria to be a member of parliament. Unfortunately, these women became a heavy burden on the parliament and on the people.
The partisan blocs had nominated women who contributed strongly to the destruction of women's rights by either introducing or supporting bills that are undemocratic, such as the law recognising the validity of the Jaafari school of jurisprudence, which allows marrying 9-year-old children.
Sheikhly advocates the abolition of the quota system and a return to letting people choose their representative in accordance with democratic standards.
Abdel Moneim Al-Mulla, secretary-general of the International Organisation of Iraqi Expatriates, said a quota system in favour of women is usually introduced in parliaments or other political or social bloc only to give those institutions a character of modernity, civilisation and sophistication and to emphasise the leading role of women in multiethnic and diverse societies and thus vividly embody the principle of gender equality in constructing a better and fair society.
In Iraq, unfortunately, the female quota system has become a burden and an insult to the role of Iraqi women in building a modern society since the eradication of illiteracy in 1975.
https://thearabweekly.com/iraqs-well-meaning-parliamentary-quotas-are-disservice-women
--------
Sale's International Women's Film Festival Features Tunisian Cinema
Zakia Abdelnabi
28/09/2019
SALE, Morocco - At the opening speech of the recent 13th International Women's Film Festival in Sale, Morocco, festival President Noureddine Chammaou said cinema "is a platform for women to advance their cause and show off their highly artistic skills as writers, directors, actresses, managers, producers and critics of this fine art."
"The Ground Beneath My Feet," an Austrian movie directed by Marie Kreuter, won the Grand Prize and the best screenplay award at the festival's closing ceremony. Acting awards went to Isa Yasan, Kalbinur Rahmati, Alinaz Rahmati and Moosa Yasan for their roles in the Chinese film "A First Farewell" by Wang Lina. The best actress award was given to Zorica Nusheva in the North Macedonian film "God Exists, Her Name Is Petrunya," which also received the Jury Prize.
The festival honoured Tunisian cinema by showing five feature films and documentaries by Tunisian women directors.
The festival included workshops and panel discussions and a regional forum, in cooperation with the UNESCO office in Morocco, titled "For Gender Equity in the Audiovisual Industry."
The Women's Film Festival is one of the most prominent Arab and African film festivals that showcase contemporary women's issues and problems.
Tunisian director Sarra Labidi said the stereotypical image of women in Arab cinema is not the product of cinema alone but also of the socialising process in Arab families, schools and society at large. She said that, in addition to festivals, films, forums and other events, "breaking the stereotype needs a political decision."
"Cinema is the mirror of society," Labidi said. "I think that change must come first from the depths of society for this image of women to change in cinema."
Tunisian cinema was highlighted at the Sale festival and Labidi contributed to the event by showing her award-winning feature film "Benzine."
She said the film, which was her first feature film after several short ones, was "a challenge on many levels," noting that it was filmed in southern Tunisia "in an area where film-makers have never shot before, as well as relying on novice actors."
The film is about clandestine immigration, "a topic that has been dealt with extensively in Arab and international cinema but I dealt with the phenomenon in a way different from what is prevalent, not from the point of view of those who migrate but of those who stay behind waiting," she said.
Labidi studied fine arts in Tunisia and travelled to Belgium to study cinema. She has several short films to her credit. "Benzine" was her first feature film. Labidi wrote the screenplay, directed and produced it. It was filmed by her late husband, Ali Ben Abdallah, who died before the commercial release of the film.
Recalling fondly working with her husband, Labidi said he had considerable experience in the film industry. "We worked more freely. We were filming together in our own style and according to our own vision. Together, we formed an integrated team," she said.
"We dreamed together. We chose the filming locations and the crew and we've put in a great deal of effort. Unfortunately, it wasn't meant for him to see the film in theatres with an audience."
The film tells the story of Salem and Halima whose lives had been turned upside down as they searched for their son, who was missing after he tried to migrate illegally to Italy shortly after the overthrow of the regime of Tunisian President Zine el-Abidine Ben Ali on January 14, 2011.
About her placing the film in southern Tunisia — she is from Gabes in that region — Labidi said it was "purely spontaneous. I couldn't imagine the story taking place in another Tunisian city.
"I consider this region of Tunisia to be very beautiful not from a folkloric pictorial perspective as it is for postcards, but there is some kind of fascinating and mysterious beauty about it."
Labidi said she looks at her coming to the cinema from a background of fine arts as "complementing her movie career. The arts all meet and complement each other. It is important for a cinematographer to know about the history of contemporary and modern arts and music because cinema is the seventh art in the sense that it includes all the other arts… My art studies have helped me a lot in my artistic vision, in structuring and framing the shots I take, in deciding on the decor, accessories and design."
Labidi said the question of equality between men and women in opportunities, especially in artistic fields, is "a false question and the problem is posed in the wrong way."
"Women have been present in Arab cinema right from its beginnings, as proven by the case of Egyptian cinema," she said. "As a Tunisian woman, I do not really see myself as different from a man; at least in cinema, I have equal chances as my male counterparts."
https://thearabweekly.com/sales-international-womens-film-festival-features-tunisian-cinema
--------
URL: https://www.newageislam.com/islam-women-feminism/un-human-rights-experts-urged/d/119864
New Age Islam, Islam Online, Islamic Website, African Muslim News, Arab World News, South Asia News, Indian Muslim News, World Muslim News, Women in Islam, Islamic Feminism, Arab Women, Women In Arab, Islamophobia in America, Muslim Women in West, Islam Women and Feminism