New Age Islam News Bureau
24 May 2018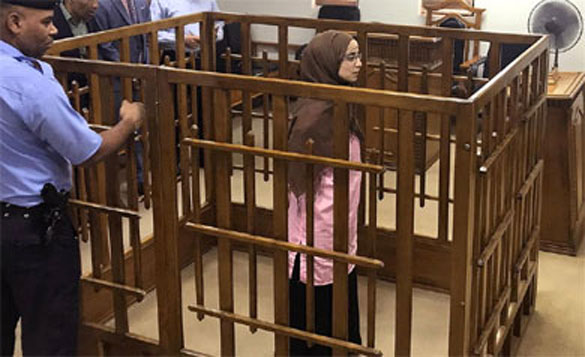 DEATH sentences have been passed on more than 40 captured jihadi brides after they were given ten minutes to plead for their lives.
------
• Women Fill Leading Roles in Egypt's Ramadan TV Series
• French Muslim Student in Media Storm over Headscarf
• Love Has No Bar: Serving Life Sentences, Hindu Man, Muslim Woman Marry In West Bengal
• Malala Extends Condolences to Sabika's Family over Phone
• Pakistan Consul General visits Dr Aafia Siddiqui in Texas prison
• Saudis Toughen Crackdown, Blunting Good Publicity over Letting Women Drive
• Maleeha Lodhi Highlights Pakistani Women Leaders' Role in Building UN System
• Iran: Women participate in protests in Tehran and Rasht
• Women should make Up 50 Percent of Decision-Making Positions: Turkish Businesswomen's Association Head
• Turkey Enters Electoral Process with Highest Ratio Of Female Parliamentary Candidates Ever
Compiled by New Age Islam News Bureau
URL: https://www.newageislam.com/islam-women-feminism/jihadi-wives-get-just-ten/d/115344
--------
Jihadi Wives Get Just TEN Minutes to Plead For Life
May 24, 2018
DEATH sentences have been passed on more than 40 captured jihadi brides after they were given ten minutes to plead for their lives.
Up to 1,000 women face hearings in Iraq — but many claim they were duped into joining Daesh.
Djamila Boutoutao, 29, from Lille in France said she thought she had 'married a rapper' instead of a member of the Islamist terror group, she told a court in Baghdad.
'It was only when we arrived in Turkey for a week-long holiday that I discovered my husband was a jihadist.
'I'm a victim. My husband beat me and locked me up in a cave with my children when I refused to follow him.'
Daesh now has a few scattered strongholds after establishing a 'caliphate' across much of Syria and Iraq between 2014 and 2017. At least 40,000 foreigners from 110 countries are thought to have joined, including about 800 from the UK.
Around 300 captured fighters have already been executed, with dozens of women still on death row. Belkis Wille, of Human Rights Watch, said foreign fighters faced harsher justice than Iraqi jihadists.
'In the minds of Iraqis, by virtue of the fact that you are foreign and chose to live in Daesh territory there is a level of agency in what you did and more culpability,' she told The Guardian. 'If you buy a plane ticket, cross a border and make your choices, you are far more exposed.'
Boutoutao, who saw her husband killed in Mosul in 2016, is caring for her two-year-old daughter in jail. Her son Abdullah died last year before she was captured. Her daughter is one of about 820 children born to Daesh women in Iraqi jails. 'I'm going mad in here,' she said. 'I'm facing a death sentence or life in prison. No one tells me anything.'
https://www.metro.news/jihadi-wives-get-just-ten-minutes-to-plead-for-life/1069429/
--------
Women Fill Leading Roles in Egypt's Ramadan TV Series
N.A. Hussein
May 23, 2018
CAIRO — Eleven of the Egyptian series flooding TV screens, billboards and websites this Ramadan feature women in leading roles, making Egyptian actresses the winners of the rating wars that occur during the period of fasting each year in Egypt.
The 2018 Ramadan TV season, which kicked off May 17, introduces both young female stars, such as Dina El-Sherbiny in the thriller drama "Malika," and all-time Egyptian favorites, such as Yousra in the thriller drama "We've Further Comments."
Some 34 Ramadan series are broadcast this year on satellite TV, YouTube and internet channels. While actors still have more leading roles (in 35% of series), actresses come close, for the first time, with 32% of the series featuring women in leading roles. This marks a sharp rise from last year's Ramadan TV season, where only seven series out of 27 had females in leading roles.
The number of TV series with female leads continued to rise after Ramadan last year, with popular series such as the drama "The Street Behind Us," starring Dorra, and "My Soul Has Gone," the Arabic version of the American comedy "Drop Dead Diva," in which a model is reincarnated as a brilliant but oversized lawyer, starring Engy Wegdan. Out of a total of 13 series broadcast since last Ramadan, six featured strong female protagonists.
The presence of strong female roles has been a subject of discussion for film critics, who have divergent views on what contributed to this increase. Some consider it a natural reflection of the focus on women in Egypt following President Abdel Fattah al-Sisi's declaration that 2017 was "the year of women." Others say that TV series, unlike cinema, have traditionally been more female-friendly anyway because of their focus on family entertainment, particularly during Ramadan. Still others claim that actresses in leading roles were so rare in the 1980s and 1990s that an improvement was inevitable. The question is whether this will be reflected in Egypt's cinema, as it had been in the 1950s and 1960s, when the big screen was one of the pioneers of the Middle East with iconic female stars and strong female roles.
Asked why actresses have been featured more prominently in TV series both after Ramadan 2017 and during this Ramadan season, Tarek al-Shennawy, a professor of art criticism at the Higher Institute of Cinema, told Al-Monitor, "Television brings the family together. In this sense it is different from cinema whose audience are mostly men and young women. Housewives and the elderly hardly ever go to the movies; they watch TV series instead. Having actresses star in TV series is widely welcomed by women who love and appreciate TV series more than films."
Shennawy pointed out that in the 1990s women lost ground in films as Egyptian film producers turned to action and crime films, which were popular globally at the time. "These are not the type of films with many leading female characters," he said.
Kamal Ramzy, a leading film critic who writes for Al-Shorouk and El Tahrir newspapers, told Al-Monitor that the female leads in the 1980s and 1990s in cinema and TV productions were at an all-time low, a reflection of women's secondary role in other parts of society, such as politics or business, at the time. "Following years of marginalization in the '80s and '90s women have managed to restore their place in society only now," he said.
He explained that the lack of appreciation and respect for women in society in general was the reason film producers and directors did not create strong and complex female characters in their productions. "After 2017 was declared 'the year of the women,' producers also started including more visible and more complex female characters in their productions," he said.
The 1960s witnessed the rise of three main Egyptian stars: Faten Hamama, Magda al-Sabahi and Soad Hosny. In the '80s and '90s, the presence of Egyptian actresses in leading roles in cinema productions came almost to a halt. Since the 2010s, a few actresses have starred in iconic roles, such as Hend Sabry in "Asmaa" and Menna Shalabi in "Nawara."
Magda Morris, a critic who works at El Watan and Al-Ahram newspapers, said that women's involvement in TV series as writers, directors and producers was the reason behind the increase in the leading roles offered to women on TV, as they have started including realistic and complex female leads.
"During the past years, women such as producer Mai Mishal and actresses such as Mona Zaki and Hend Sabry have entered the field of production. Meanwhile some actresses proved themselves as directors including Kamla Abou Zekri, whose series 'A Girl Named Zat' and 'Women's Prison' starred Nelly Karim."
She added, "Not only have women excelled in the fields of production and direction, they also excelled in writing. One example is Mariam Naoum, who wrote the script of 'A Girl Named Zat' and 'Women's Prison.' Female producers, writers and filmmakers are better at choosing and developing roles that suit women than their male counterparts."
Film critic Nader Adly told Al-Monitor that the successes women are achieving in the world of TV are only expected and that it is more of an evolution than a breakthrough.
"Both the public and critics describe this as a breakthrough, but the truth is that the number of women in TV productions was so low that it was bound to improve," he said, arguing that the reason for this was due to the women in the sector themselves. "There were those who insisted on starring in action and revenge movies that did not suit women, such as Nadia El Gendy and Nabila Obeid, and others such as Yousra, Elham Shahein and Layla Olwy, who settled for supporting roles as 'temptresses' or 'muses' leaving the leading roles to male stars such as Adel Emam and Mahmoud Abdel Aziz."
Adly concluded, "The present generation should fight for the restoration of leading roles for females. Current developments reflect the importance and the number of women in TV series, and I hope that the theaters will soon witness films starring Egyptian women."
https://www.al-monitor.com/pulse/originals/2018/05/strong-female-leads-back-in-egypt.html
--------
French Muslim Student in Media Storm over Headscarf
May 24, 2018
A Muslim student at one of France's top universities has found herself at the centre of a media storm after she appeared in a documentary wearing a headscarf.
Maryam Pougetoux had appeared in the film to talk about student protests in the country, which have been ongoing since April this year.
The student activist is the president of the student union at Paris-Sorbonne IV University in the French capital.
It was not her thoughts on the protests that drew controversy, instead, it was the headscarf she wore while being filmed.
Since the interview, she has been criticised by French Interior Minister Gerard Collomb, who said the appearance was "shocking" and accused Pougetoux of wanting to proselytise her religion.
French Equality Minister Marlene Schiappa also weighed in, calling Pougetoux's choice of headwear a "manifestation of political Islam".
The student defended her decision to wear the scarf in an interview with Buzzfeed, in which she said her headscarf had "no political function" and that her religion did not affect her ability to perform her duties as the union president.
"When I defend students, I do not ask myself about their skin colour, their sexual orientation, their philosophy of life," she told the news outlet.
History of controversies
The coverage has sparked intense debate in France, which has, in the past decade and a half, witnessed several major controversies over what Muslim women wear.
In 2004, legislators passed a law banning the display of religious symbols in schools, which included the headscarf. University students, however, are still allowed to wear headscarves.
In 2010, the country introduced a ban on the face covering worn by a small minority of Muslim women, known as the niqab.
Later in 2016, an image of French police officers in southern France asking a Muslim woman to remove a burkini swimsuit, which covers much of the body and hair went viral.
The officials were acting to enforce a locally implemented ban on the dress but also ended up targeting women who were deemed to be covering excessively.
France's highest administrative court struck down the bans, declaring them a violation of "fundamental liberties".
Alleged prejudice
Advocates of restrictions on Muslim religious clothing say they are ensuring the separation of religious and public life or protecting the French brand of secularism, which is known as Laicite.
However, Muslim civil liberties activists say the restrictions are influenced by prejudice towards Muslims and other communities.
"Mariam Pougetoux has again showed that France has a deep problem with its own minorities and an even bigger one if they dare to speak in public," said activist Yasser Louati.
"Thanks to this controversy, the whole country forgot why she spoke in the first place and the mobilised the students she represented," he added.
He went on to say the controversy would not be the last to involve the headscarf.
https://www.aljazeera.com/news/2018/05/french-muslim-student-media-storm-headscarf-180523073930597.html
--------
Love Has No Bar: Serving Life Sentences, Hindu Man, Muslim Woman Marry In West Bengal
May 23, 2018
Buddhadeb and Runa Bibi fell in love while rehearsing for Bengali poet and Nobel Literature Prize winner Rabindranath Tagore's plays.
And, the Hindu man and Muslim woman got married on Tuesday under the Special Marriage Act, 1954, at a hall where the actors of the Berhampore Repertory Theatre practise for their plays.
Their love story, however, is not ordinary as both are murder convicts serving life sentences at Berhampore Central Correctional Home in West Bengal's Berhampore town.
Buddhadeb, the 38-year-old resident of Labhpur in Birbhum, clobbered a man to death when he saw him beating his father. Runa Bibi from Jalangi in Murshidabad district killed the daughter of her brother-in-law in 2004 within two months of her wedding. She was only 13 when she was married off.
Her husband's family abandoned her for the crime and her parents were so poor that they could not hire a lawyer to shift her case to the Juvenile Justice Board. Her husband divorced her after she was convicted.
Buddhadeb, too, was married before and his wife left him after he committed the murder.
Buddhadeb and Runa met a few years ago while acting for a play directed by Pradip Bhattacharya, a well-known face in Bengali cinema and theatre. They have travelled with Bhattacharya to several cities across India for the plays.
"Buddhadeb and Runa have been acting in plays under my direction for about 12 years. They have played important roles in three Tagore's plays 'Tasher Desh', 'Tota Kahini' and 'Rakta Karabi'," Bhattacharya said.
They have to thank senior police officer BD Sharma, who launched an initiative to reform prisons in the state in 2005-06. Sharma, who was the inspector general (prison) then, even took the decision to allow convicts and undertrials to take part in plays.
Those chosen to act rehearse regularly inside the prison and are released on parole when the plays are staged outside.
"They committed the crimes in a moment's impulse. But they are now completely reformed. However, I do not have an idea when they fell for each other," Bhattacharya said.
The wedding was planned to be held on March 27, which is observed as the International Theatre Day and they submitted an application for parole. But it had to be deferred after the sudden death of one of Runa Bibi's relatives.
BD Sharma, special adviser to the state prisons department, said if inmates want to get married they don't need to file an application with the authorities.
"Long-term convicts get periodic paroles and they get married at that time. But if both the groom and the bride are inmates of a jail, they will need parole at the same time. In that case, they may mention marriage for simultaneous parole," Sharma said.
Runa Bibi's elder brother and aunt came to witness their wedding and from Buddhadeb's side his mother and brother arrived. The workers of the theatre group arranged a small dinner on the occasion.
"Baba (Pradip Bhattacharya) has changed the lives of many people. If he wasn't around, our marriage would not have been possible. He has given us a new life today," said the couple.
"A man and a woman are getting married. Their religious identities are not important," Buddhadeb and Runa said on Tuesday during a very brief interaction with the media after they got married.
They also refused to reveal their surnames.
"You can call it a result of Tagore's teachings," said Bhattacharya.
The couple will be on parole for 10 days before they return to their respective cells in the prison. Some activists are trying to help the couple shift to the Lalgola open prison where they can live together.
"If they want to stay in the open prison, a board will be set up to consider the case. They have to apply for it," TR Bhutia, superintendent of Berhampore Central Correctional Home, said.
https://www.hindustantimes.com/india-news/love-has-no-bar-serving-life-sentences-hindu-man-muslim-woman-marry-in-west-bengal/story-bnufeIKCKtDp8RVwjy1C7L.html
--------
Malala Extends Condolences to Sabika's Family over Phone
May 24, 2018
KARACHI: Pakistani Nobel laureate Malala Yousafzai on Wednesday spoke to the family of Sabika Sheikh, the Pakistani student who was killed in a school shooting in the United States last week, via phone and extended her condolences over the tragic incident.
Malala told Sabika's father, Abdul Aziz Sheikh, that every individual was aggrieved over Sabika's death, adding that the nation had been deprived of a talented daughter.
The rights activist asked Sabika's father and sister to consider her as their own daughter and sister, and that she equally shared their grief.
During the conversation, Aziz told the Nobel laureate that he wanted people to raise their voice against gun violence. At which, Malala assured him that she would fully back him on this issue.
Sabika was laid to rest in her hometown Karachi on Wednesday.
17-year-old Sabika was killed during the Santa Fe high school shooting on Friday, one of the 10 victims who were mostly students.
A resident of Karachi's Gulshan-e-Iqbal locality, Sabika was studying in the US under the Kennedy-Lugar Youth Exchange and Study (YES) programme since August 21, 2017. She was due to return home in July.
https://www.pakistantoday.com.pk/2018/05/23/malala-extends-condolences-to-sabikas-family-over-phone/
--------
Pakistan Consul General visits Dr Aafia Siddiqui in Texas prison
MAY 24, 2018
TEXAS: Pakistan's Consul General in Houston, Aisha Farooqi on Wednesday visited Doctor Aafia Siddiqui in the Federal Medical Center, Carswell in Fort Worth, Texas.
The meeting continued for two hours. After the meeting, Aisha Farooqi denied all rumours about Aafia Siddiqui's demise.
Farooqi told her correspondent that it was her fourth visit to Aafia Siddiqui in the past fourteen months.
Earlier, rumours were circulating on social media that Aafia had passed away.
Dr. Aafia Siddiqui is a Pakistani neuroscientist and in 2010 she was convicted of seven counts of attempted murder and assault on US personnel. She was sentenced to 86 year imprisonment as a result.
https://dailytimes.com.pk/244048/pakistan-consul-general-visits-dr-aafia-siddiqui-in-texas-prison/
--------
Saudis Toughen Crackdown, Blunting Good Publicity over Letting Women Drive
By David D. Kirkpatrick
May 23, 2018
LONDON — Saudi Arabia is escalating its crackdown on activists who had pressed for the right of women to drive, bringing the number arrested to at least 11 and publicly branding them as "traitors."
The acceleration of the crackdown has come as a surprise because the kingdom is expected, in just three weeks, to grant the activists a victory by allowing women for the first time to drive. An international uproar over the arrests now threatens to drown out the accolades that Crown Prince Mohammed bin Salman, the dominant force in the kingdom, had previously won for announcing the rule change.
But both supporters and critics of the crown prince said Wednesday that he appeared determined to portray the change as a royal gift to Saudi women rather than any concession to domestic or international pressure, even if silencing the activists overshadows the reform.
"That sort of change has to be seen as emanating from the government itself rather than the West," said Ali Shihabi, founder of the Washington-based Arabia Foundation and a supporter of the crown prince. He argued that the activists had failed to appreciate the balancing act that the crown prince faced in checking the power of the clerical hierarchy and its conservative supporters, who opposed allowing women to drive.
"These activists got carried away with being celebrated in the West as 'the activists driving change' and so on," he said. "It all sounds nice and sexy in New York and London and Paris but in reality it is deadly."
He added: "It further provokes an already resentful conservative and clerical class when the government is working very hard to temper their resentment. It puts meat on the bones of the accusation from the religious class that this is all a Western-driven agenda."
Rights advocates said the crackdown discredited the claims by the crown prince to be a liberalizing reformer.
"The crown prince wants to be the author, the creator, the narrator and the controller, and nobody else gets a say," said Sarah Leah Whitson, the Middle East director for Human Rights Watch. "So if you think of 'reform' as changes that he happens to think are a good idea, like letting women drive, he supports that. But if you think of 'reform' as opening up space for Saudis to have rights as people, or participate as citizens with views on the reforms, then he is the opposite of a reformer."
Both Human Rights Watch and Amnesty International said in new tallies released on Wednesday that the Saudi authorities had now arrested as many as 11 activists, more than double the number confirmed five days earlier.
Saudi prosecutors have not disclosed the names of those arrested or any charges filed against them, but a government statement has accused them of "suspicious contact with foreign parties" and of undermining "security and stability."
Pro-government news outlets and social media accounts have called them "traitors," with one account splattering the word in red across their faces, or as "agents of embassies," suggesting they worked for foreign governments. One newspaper said they could face as much as 20 years in prison for treason.
News reports have identified some of those arrested. One of the best known, Loujain al-Hathloul, is in her late 20s; she was previously detained for more than 70 days in 2014 for trying to post an online video of herself driving into the kingdom from the United Arab Emirates. Others include a retired professor with five children and eight grandchildren; an assistant professor of linguistics who is also a blogger in English and the mother of four; a psychotherapist in her mid-60s; and a twentysomething nurse in Riyadh, the Saudi capital. One of a handful of men arrested is a lawyer who defended Ms. Hathloul when she was previously arrested.
Crown Prince Mohammed, 32, is unapologetically authoritarian, and his defenders argue that top-down authoritarianism is the only way to modernize the conservative kingdom, whether by gradually opening up more freedoms for women or by liberalizing the economy to attract foreign investment.
But the crown prince badly tarnished his image as an economic reformer when he ordered the arrests last fall of about 200 wealthy businessmen and officials, incarcerating them in a Ritz-Carlton Hotel and forcing many to surrender assets in exchange for their freedom. His supporters called it a crackdown on corruption. Critics — and investors — saw it as a shakedown.
Allowing women to drive was among the most visible steps the prince has taken to loosen the kingdom's ultraconservative social codes, but the arrests of the activists are casting a shadow over that change, too.
"A P.R. campaign calling yourself a reformer means nothing if you are arresting peaceful activists simply because they are calling for reforms," said Samah Hadid, the Middle East director of campaigns for Amnesty International.
Mr. Shihabi of the Arabia Foundation said he, too, was shocked when he first heard the news. "The lack of an adequate explanation until today is very damaging to the kingdom."
https://www.nytimes.com/2018/05/23/world/middleeast/saudi-women-drivers-arrests.html
--------
Maleeha Lodhi Highlights Pakistani Women Leaders' Role in Building UN System
May 23, 2018
by Sarfraz Ali
NEW YORK – Pakistan's Ambassador to the United Nations, Maleeha Lodhi, has paid rich tribute to Pakistani women leaders who contributed to the evolution of the UN system as well as to their country's development at an event honouring the world body's founding mothers.
"It is timely to highlight the legacy of the remarkable women who helped shape the foundations of this organization and emergence of a world order based on rule of law, international cooperation, and respect for the rights of all people to equality, self-determination, freedoms, and prosperity," she told representatives of Member States and UN officials in the packed hall of Trusteeship Council on Tuesday.
Speaking as a co-sponsor of the event sponsored by Brazil and titled, "Women and the Origins of the UN — A Southern Legacy", Ambassador Lodhi also highlighted the role played by women in Pakistan's freedom movement. "This could not have become a reality without the active participation of the women who struggled as vigorously as men in securing the creation of Pakistan," she said.
The Pakistani envoy said that the strong participation of women in her country's freedom movement encouraged and motivated many women leaders who worked tirelessly in those formative days, as politicians, diplomats, community leaders, student activists, members of the legislative assembly and special envoys to various international conferences, including at the UN.
She recalled the part played by Mohtarma Fatima Jinnah, the Mother of the Nation, Begum Rana Liaqat Ali Khan, Begum Jahan Ara Shahnawaz and Begum Shaista Ikramullah and said that these luminaries from a long list of noteworthy women, helped forge the concept of a progressive and democratic Pakistan wedded to the values of peace, security, and international cooperation embedded in the UN Charter.
"With a progressive background, these women were the true custodians of fundamental human rights. During negotiations in various international forums including the UN, they championed the liberal values of equality, dignity, and non-discrimination", she added.
She cited the example of Shaista Ikramullah, a member of Pakistan's first Legislative Assembly, who forcefully advocated women's rights. Her untiring efforts resulted in the realization of the right to inherit property in the country's nascent domestic laws.
As a member of the Pakistan delegation, she also succeeded in securing endorsement for equal rights of women in marriage in Article 16 of the Universal Declaration of Human Rights.
Ambassador Lodhi said that as custodians of this illustrious legacy, women in Pakistan continued to set new standards of excellence, from Benazir Bhutto as the first elected female prime minister of a Muslim country to Dr. Nafis Sadik, the first female to head a major UN voluntarily-funded programme.
She said that recognition of such distinguished women serves as an inspiration for the women and girls who are today so critically engaged in advocating and advancing the values that are enshrined in the UN Charter and the numerous laws and norms developed over the years on the basis of the Charter's principles and purposes.
Today, Ambassador Lodhi said, Pakistani women" such as Nobel laureate Malala Yousafzai" continue to make outstanding contributions to a world free of all forms of discrimination and abuse.
"A world where the glass ceiling is being shattered, a world where women increasingly contribute to realizing the goal of One Humanity that is the unspoken but fundamental objective of the United
Nations", she concluded.
The ambassadors of Brazil, India, Ghana, and Columbia also spoke on the occasion that was followed by an interactive session According to UN, studies from scholarly research, women delegates from developing countries, or the Global South, played a significant role in ensuring that the Charter mad specific mention of gender rights. And yet, out of the 850 delegates who signed the historic document, only four were women. Speaking in Tuesday's event, UN Chef de Cabinet Maria Luiza Viotti said that even as the world body works for equality today, "we must also remember our history."
Ms Viotti recalled their push to defend women's rights, and inspire a global shift in recognition, when many of the countries at the 1945 San Francisco Conference, did not even allow women to vote.
"Since then, the UN has elaborated an extensive body of laws, standards, and norms articulating women's rights" from the opportunities to which they are entitled to the protections they must be assured," she continued, noting that today, it presses for gender parity not just across the world but across the world body itself.
"The struggle continues. Laws and goals on paper are essential. But what is needed even more is tangible steps to bring these rules and rights to life," Ms. Viotti concluded.
https://en.dailypakistan.com.pk/pakistan/maleeha-lodhi-highlights-pakistani-women-leaders-role-in-building-un-system/
--------
Iran: Women participate in protests in Tehran and Rasht
23 May 2018
Women actively participated in protest gatherings of students and plundered people in Tehran and Rasht, capital of Gilan Province, in northern Iran.
On Tuesday, May 22, 2018, women and men plundered by fraudulent financial institutes gathered in protest in front of Majlis, the mullahs' parliament but the State Security forces raided the gathering, brutalizing and arresting the protesters even women.
On the same day, women and men plundered by the IRGC-backed Caspian Credit Institute in Rasht gathered outside the Sarparasti branch and set fire to the effigy of Valliollah Saif, President of the Central Bank of Iran. They pelted eggs and rotten tomatoes at the building.
Also in Rasht, angry protesters plundered by Adineh Commercial Complex staged a protest demanding to be reimbursed for their plundered assets.
Women and men, swindled by Ayandeh Bank in Tehran gathered in protest on Monday, May 21, 2018 and chanted against the bank officials. They chanted: "Ayandeh Bank is a thief; it steals your money."
Students of South Tehran Azad University walked out of their classes on Monday, May 21, 2018, to protest against corruption of the university's administration and other problems on campus. The demanded action by university officials.
https://women.ncr-iran.org/iran-women-news/5197-iran-women-participate-in-protests-in-tehran-and-rasht
--------
Women should make Up 50 Percent of Decision-Making Positions: Turkish Businesswomen's Association Head
May 24, 2018
Turkish Businesswomen's Association (TİKAD) head Nilüfer Bulut has said women should make up "50 percent of decision-making positions."
Women's representation in the political sphere "has always been low," Bulut told daily Hürriyet on May 23 after political parties announced their lists of parliamentary candidates for the upcoming snap election.
"The percentage of women on the [ruling Justice and Development Party] AKP's list is 28 percent, while the number is 23 percent for the [main opposition Republican People's Party] CHP," she said, adding that these percentages were "lower than expected."
TİKAD recently placed a one-page advertisement in all newspapers calling for gender equality in parliament. "Gender has no value in terms of service to the nation. We support male-female equality in parliament," it stated
"Our intention was to stress that a sexist approach should be abandoned and instead merits should be put forward. There are men with no skill on the lists, who are just there because they are men. Whereas there are many very competent women who cannot find a place on the lists," Bulut said.
Her comments came after the Union of Chambers and Commodity Exchanges of Turkey (TOBB) on May 15 declared its new board of directors, which includes only male members. A photograph released by the TOBB of the board showed the starkness of this male domination.
"The photograph that the TOBB issued has disturbed us very much," Bulut said, describing it as "not suitable for the 21st century.
"In this century, the institutions in which only males dominate should not be accepted. They should be condemned. Of course we are objecting to this situation, but there is also the fact that we, as women, are responsible for this situation. We are not putting in enough effort to get places in executive ranks. We are imprisoning our energy within a few areas," she added.
"That is why we will continue to see such photographs [as the TOBB board of directors], because men also want women who just make things easier for them and do not enter their areas. This is true not just at home but also outside," Bulut said.
After receiving her master's degree in economics from Istanbul University, Bulut started a career in the finance sector. She developed her career as an entrepreneur by founding an advertisement and management consultancy in 1995. Bulut founded TİKAD in 2004 and has been an active participant in forums to empower women.
http://www.hurriyetdailynews.com/women-should-make-up-50-percent-of-decision-making-positions-turkish-businesswomens-association-head-132255
--------
Turkey Enters Electoral Process with Highest Ratio Of Female Parliamentary Candidates Ever
May 22, 2018
A total of 904 women from seven political parties are running to become parliamentarians in the June 24 elections, a record in the Republic's history. The number constitutes to 21.5 percent of all candidates running for Parliament. Monday was the last day for political parties to deliver their final list of parliamentary candidates to the Supreme Election Board (YSK) for the elections. The anticipation for the lists was sky-high. Among the most highly anticipated figures was the women's participation rate as candidates, seen as a definite sign of participatory democracy. Despite still being far behind the desired rates, 904 of the 4,200 candidates, or a little higher than one in five, were women.
Nine parties are running in the elections but two, the Great Unity Party (BBP) and the Democrat Party (DP), opted to include their candidates from the list of other larger parties they are allied with. That is why the total number of candidates running for Parliament is 4,200. Overall, the lists showed that almost all political parties have women candidates when it comes to the larger provinces. However, as far as the smaller provinces are concerned, where the competition is more heated due to the limited contingent that is left to the candidates, it is revealed that women are often eliminated from the process and men fulfill that reduced number of candidacy ranks.
The Peoples' Democratic Party (HDP), a party that has come under fire for its close links to the PKK terrorist organization, became the one which has the highest number of women candidates.
Some 230 of HDP's 600 candidates are women, which was achieved due to the party's policy of showing a woman candidate for each man candidate, especially in some eastern provinces such as Şırnak, Van and Mardin, where the party has significant support.
However, the party placed women candidates, who constitute 36.7 percent of all, in provinces that the party is unlikely to win or in unelectable seats. In the Nov. 2015 elections, the HDP got 10.8 percent of the votes and managed to have 59 parliamentarians, 23 of whom were women.
The HDP was followed by the minnows, the Patriotic Party (VP) which had 150 women candidates, 25 percent of the total.
Approximately 21 percent of ruling Justice and Development Party's (AK Party) candidates are women. Meaning that 126 of their 600 candidates are women, which is an improvement compared to the last general elections that were held in Nov. 2015, in which only 12 percent of party's candidates were women.
Despite not having the highest number of female candidates, the party took care to place the most women in seats that are almost certain to win. As a matter of fact, in four of the provinces, women candidates were at the top of the AK Party lists and there is no metropolitan region that the party did not have any women candidates.
Thanks to the strategic placement of the candidates, 71 of 126 women candidates are more or less guaranteed to be elected to the next Parliament.
The party has no female candidates in 28 provinces, mostly in inner and northern parts of Turkey, which is a remarkable number considering there are 81 provinces in total.
With its 137 women candidates, which constitutes 21 percent of the total number of its candidates, the main opposition Republican People's Party (CHP) failed to satisfy its party members.
Despite a party rule that says at least 33 percent of the parliamentary candidates need to be women, the party faced internal criticism due to the fact that it failed to re-nominate several currently serving female deputies.
The CHP also surprised by placing women candidates in the first ranks in only six provinces. The party also has no women candidates at all in 30 provinces.
The Nationalist Movement Party (MHP), despite a small increase, again failed to follow the national trend in nominating a higher number of female candidates. There are only 69 female MHP candidates out of 600. That number was 61 in the 2015 general elections. The party failed to nominate a single woman in 44 provinces.
The Felicity Party (SP) also trailed the others by having only 79 women candidates among 600 candidates.
Yet, unfortunately, none of the party's women candidates were lucky enough to run for guaranteed seats and furthermore, the party ignored women in a total of 50 of the 81 provinces.
Being the only political party that is running in the elections with a female leader, the Good Party (İP) has 134 women and 466 male candidates, but only six of the women are running in near-certain seats.
The right to run for election and be elected was given to women in Turkey in 1934, making it one of the first countries to grant this right to women. By having 17 women parliamentarians in the 1935 Parliament, the country had a quite remarkable start in terms of welcoming women into the politics.
However, despite this promising start, the numbers fell quickly and their political involvement in the running of the country was almost nonexistent. It took nearly 70 years for the number of female deputies to reach the 1935-level.
In 1954 elections, the number of women parliamentarians saw its lowest point by with two deputies. However, in 1990's, the situation gained a new momentum thanks to the number of women in the parliament started to increase again and having a woman prime minister for the first and only time in the country's history.
Tansu Çiller, a professor of economics, elected as the prime minister of Turkey in 1993 and served until 1996. Although there have not been any other female prime ministers since, the number of women parliamentarians continued to increase, constituting 14.7 percent of the Parliament elected in November 2015, which is still quite low especially considering the long history of women's participation into the politics in the country.
Yet, it should also be noted that there were many obstacles for women in Turkey to be the representatives of the people, such as the headscarf ban that was lifted only in 2015. This law had long prevented covered women from being elected as parliamentarians.
Currently, there are 82 women parliamentarians in Parliament, 34 of who are from the AK Party and two of them are ministers, which is the first time two women are in the cabinet.
There have been 22 women ministers in the history of the Republic so far. Nine of these 22 women ministers served since 2002 when the AK Party was the government and most were responsible for the ministries on family and social affairs.
https://www.dailysabah.com/elections/2018/05/23/turkey-enters-electoral-process-with-highest-ratio-of-female-parliamentary-candidates-ever-1527015974
--------
URL: https://www.newageislam.com/islam-women-feminism/jihadi-wives-get-just-ten/d/115344
New Age Islam, Islam Online, Islamic Website, African Muslim News, Arab World News, South Asia News, Indian Muslim News, World Muslim News, Women in Islam, Islamic Feminism, Arab Women, Women In Arab, Islamophobia in America, Muslim Women in West, Islam Women and Feminism