New Age Islam News Bureau
4 May 2018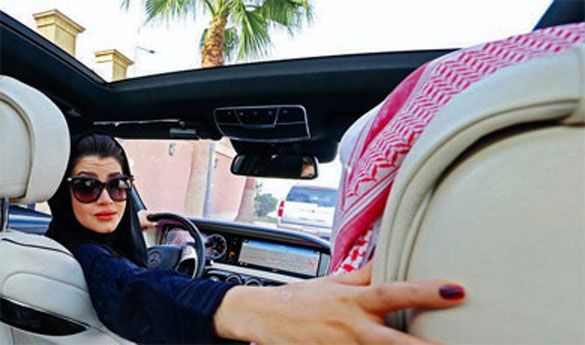 Allowing women to drive is expected to have a positive impact on the Saudi economy. (File/AFP)
-----
• Saudi Women Rev Up To Take the Driving Seat at Leadership Forum
• On World IP Day: Arab League Empowers Women's Creativity and Innovation
• NIA Grills Islamic State Woman Recruiter in Philippines, Gets More Leads
• Support for Saudi Woman Who Was Told To Cover Her Face
• Turkish Female Wrestlers Win European Championship
• 37th Istanbul Film Festival and the Situation of Women In Film
Compiled by New Age Islam News Bureau
URL: https://www.newageislam.com/islam-women-feminism/forty-five-schoolgirls-hospitalised-after/d/115144
--------
Forty Five Schoolgirls Hospitalised After Afghan Gas Attack
May 04, 2018
TALUQAN - Some 45 Afghan girl students were poisoned following a suspected gas attack in the northern province of Takhar on Thursday, local police said. "Up to 45 students of Banan Middle School in Khwaja Bahauddin district were mysteriously poisoned in their classrooms and have been taken to nearby hospitals," Abdul Khalil Asir, provincial police spokesman, told Xinhua. The affected students said they have smelled a strange gas when entering classrooms, Asir said, adding the provincial police department has launched an investigation into the case. Gas attacks frequently take place in girls' schools by militants who are opposing education of girls and the official did not rule out the involvement of anti-government militants in the incident.
https://nation.com.pk/04-May-2018/45-schoolgirls-hospitalised-after-afghan-gas-attack
--------
Saudi Women Rev Up To Take the Driving Seat at Leadership Forum
May 04, 2018
Potential women leaders who met at a leadership forum in Jeddah heard rousing words from female role models who had already made it.
As the long-anticipated day when Saudi women will be allowed to drive approaches in June, the third Women in Leadership forum, organized by Abdul Latif Jameel Company, took place in Jeddah on Wednesday, at the Hussein Jameel conference hall.
The event follows two earlier Women in Leadership forums held in Riyadh and Alkhobar in March.
The forum gathers Saudi female business leaders, decision-makers, and women who have achieved success to share their experiences and support other women to be effective leaders.
Guest speakers at the forum who shared their experiences included Njlaa Sifder, the president of Nafisa Shams Academy set up to train and empower women, Hisham Lari, general director of ride-hailing company Careem, Fatimah Batook, owner of Studio 55 gym, and Al-Anoud Yamani, professional make-up artist and trainer.
The host of the event Hatoon Qadhi, Saudi YouTube star, assistant professor and columnist, told Arab News: "Women in leadership is not a new topic, it has never disappeared, but it is now reviving again since women are to drive soon, so the event is gathering both women driving and women in leadership in all fields."
Qadhi said that the most important thing Saudi women needed was not to feel pressured.
"I can see a lot of pressure imposed on Saudi woman by media. There is a general feeling that is pushing women to believe that they have to do something special. However, what we always wanted and called for is that women should have a wider range of opportunities.
"Women should not get questioned about their own decisions and choices; she should not be asked to leave her comfort zone and do something she does not want to do. Real empowerment of women is to let them choose what pleases them for themselves."
Fatimah Batook told Arab News: "Women were always in the driving seat, she was not physically driving, but she was leading her own life, and her family's. She is a superwoman because no matter how little she had, she would always find a way to achieve what she aspires to."
Batook added: "The Saudi woman needs to be bold, ready to take the first step, because there are so many fields that women do not exist in, and they need to prove themselves. She needs the courage and awareness of herself, who is she, where she belongs, and what values she was brought up with."
One of the forum guests, Fatimah Al-Maghrabi, 45, told Arab News: "I came here with my daughters, I have enjoyed listening to the speakers and, I am truly excited to drive soon."
Ibtihal Abdulrahman, 29, another forum guest, said: "As a social worker and a coach, I like to engage in activities and events taking place in my environment, especially when it is about driving.
"I strongly believe that women have the right to be independent and own and control their vehicles to be able to fulfill their own needs.
"I am excited to learn how to drive ... I believe it is a basic skill we all need to have."
http://www.arabnews.com/node/1296201/saudi-arabia
--------
On World IP Day: Arab League Empowers Women's Creativity and Innovation
May. 3, 2018
CAIRO – 3 May 2018: On World Intellectual Property Day, which falls on April 26 annually, the intellectual property rights and means to protect them are the subject of numerous activities and events worldwide.
World Intellectual Property Organization (WIPO), a Geneva-based international organization, has set this day to raise awareness of how patents, copyright, trademark and designs impact life and celebrate great innovators and creators. WIPO specify a specific theme for the International Day yearly.
The Arab League celebrated the Intellectual day this year through holding conferences, seminars and workshops under the theme of "encouraging women's creativity and innovation", the theme which was set by the WIPO.
"Empowering Change: Women in Innovation and Creativity" was one of the conferences, held in the Arab League in collaboration with SMAS-IP, a firm that specializes in intellectual property across the Middle East, featuring renowned and distinguished experts on the subject.
Intellectual Property rights professionals including the head ofthe Intellectual Property and Competitiveness Unit of the Economic Sector at the General Secretariat of the Arab League, MahaBekheit, the head of the Intellectual Property and Competitiveness Unit of the Economic Sector at the General Secretariat of the Arab League and the manager of the WIPO Regional Bureau for Arab countries Waleed Abdel Nasser delivered keynote speeches at the conference.
The conference discussed the importance of empowering Arab women's IP rights to secure their contributions to Arab culture and innovation. It also covered the main challenges that women face in IP through presenting high-level delegates from a number of Arab countries who talk about these challenges and examples of women's success stories.
Bekheit talked about the status of Arab women in scientific and technological knowledge and the challenges they face in Arab societies. "The purpose of this conference is to highlight the importance of women's rights in the Arab world in terms of intellectual property to ensure their contribution and to benefit from their creative and innovative skills in achieving economic, social, and cultural development," she said.
"The share of women in Arab countries studying science rose 7 percent during the last 10 years,"Bekheit quoted the UNESCO report.
There was an exchange of views, experiences and lessons learned, aiming to enrich tools and instruments and strategies which aimed at promoting, encouraging and enhancing women's innovation and creativity in the Arab world.
However, even before specifying "encouraging women's innovation and creativity" as the theme of World IP Day in 2018, the Arab Leagueorganized a regional workshop on the same theme at the league's headquarters in Cairo in May 2017.
The stance of Arab women in the fields of innovation, science, and technology has improved over recent years.
International sources have reported that Arab women's participation in these sectors reached 37 percent in 2017, which is nearly the same percentage as that of the more-developed economies. So many efforts are still needed in enhancing women's participation innovation and creativity.
https://www.egypttoday.com/Article/2/49264/On-World-IP-Day-Arab-League-empowers-women's-creativity-and
--------
NIA Grills Islamic State Woman Recruiter in Philippines, Gets More Leads
May 04, 2018
The National Investigation Agency (NIA) interrogated a 33-year-old woman recruiter for the Islamic State (IS) terror group in Manila in Philippines. Karen had radicalised several Indian men online for the IS through social media platforms like WhatsApp, Telegram, Facebook since 2014
The agency has sent a two-member team to question that accused who was nabbed by the Philippines counter part.
NIA stated that during investigation of ISIS-related cases registered in 2015 and 2016, it was revealed that three accsed persons Mohd Naser from Tamil Nadu, Mohd Sirajuddin from Karnataka and Adnan Hasan from Karnataka were in online contact with Karen Aisha Hamidon on messaging applications like Facebook, WhatsApp and Telegram.
It further came on record that Karen was also in online contact with many other Indians. Subsequently, the aforesaid three accused persons were charge-sheeted and they are facing trial in their respective cases.
The questioning of the aforesaid accused and data retrieved from the digital devices seized from them at the time of their arrest had revealed the name of Karen Aizha Hamidon Abuan, a resident of MB-13 Unit-105, Pamayanang Diego Shilang Village Barangay Ususan at Taguig City at Metro Manila in Philippines. They also stated that she was one of the most active ISIS operative based in Philippines between 2014 and December 2015.
She was running different Facebook pages, WhatsApp groups and Telegram channels for motivating, radicalizing and instigating her online associates from different countries including India to fight on behalf of IS in conflict zones. She was also in telephonic contacts with many other Indian nationals.
In order to collect the evidence against the accused persons and ascertaining her role in the crime, requests under Letters Rogatory, issued by the Special Courts of NIA, in Delhi and Jaipur were forwarded through proper channel to the Competent Judicial Authority, Philippines, seeking legal assistance in the investigation of NIA case on 28 March 2017 and 25 April 2017, respectively.
Hamidon was arrested by the National Bureau of Investigation, Philippines on October 11, 2017 and she has been charged for incitement to rebellion.
In pursuance of Letters Rogatory and to question Hamidon, two NIA officers visited Manila, Philippines on April 24 to April 28 this year. .
The questioning of Hamidon by NIA officials has resulted in confirmation of several facts revealed during the investigation and also provided significant leads about her associates in India, who were active online, to propagate the ideology of the IS and also about a few Indians residing abroad who have helped her financially. The leads obtained are being investigated.
http://www.dnaindia.com/india/report-nia-grills-islamic-state-woman-recruiter-in-philippines-gets-more-leads-2611260
--------
Support for Saudi Woman Who Was Told To Cover Her Face
3 May 3, 2018
Manama: A Saudi woman has stirred a heated debate on social media after she forced a clerk at the justice department to deal with her even though she was not covering her face.
Muna Abu Sulayman, wearing a hijab, walked into the department in Riyadh, but a clerk told her she had to cover her face.
"I told him that [Crown] Prince Mohammad [Bin Salman] said that covering the face was not necessary. However, when he replied 'But the religious …', and I told him that I was inside a public institution, 'so please give me the required document'.
His comment was that I should not show off my face. I replied that I did not have the slightest make up on my face and that I was wearing sunglasses. The era of scaring women that they will not be served unless they cover their faces is over," Muna posted on her Twitter account where she has more than 538,000 followers.
She was eventually given the document. "The whole transaction lasted 10 minutes. My friends tell me that it usually takes much longer than that."
In March, Prince Mohammad said he believed that wearing the abaya (loose-fitting coverall) or hijab is a matter of choice according to Sharia.
"The laws are very clear and it is stipulated in Sharia that women wear decent, respectful clothing," he said. "This, however, does not particularly specify a black abaya or a black head cover … The decision is entirely left for women to decide what type of decent and respectful attire she chooses to wear."
Muna later told a TV talk show that she deleted the tweet after three people from the department called her to apologise for the behaviour.
"They were very eloquent in their apologies and gracious in their understanding of my reaction."
Muna added that it was not acceptable for any woman not to be served by clerk at any department simply because her face was not covered.
"If a man cannot accept to deal with a woman who wears the hijab but does not cover her face, he should not work in a place where he has to interact with people," she said, quoted by Saudi daily Okaz on Thursday. "The core idea is to follow the rules and regulations in all public institutions and provide women with all the services without hurting or denigrating them."
Social media users were mostly supportive of Muna's attitude and applauded her courage to stand up to "those who still regard women as second-class citizens."
"Their job is to serve people regardless of who they are and what they are wearing. It is her basic right and she should be served without any prejudice," the Green posted.
However, those who opposed her said that she should not have used her status as a well-known media figure to put pressure on a department's clerk.
"She had what she wanted, so there was no need to publicise and encourage other people to behave as they want, without restrictions or rules," Al Mawred said.
https://gulfnews.com/news/gulf/saudi-arabia/support-for-saudi-woman-who-was-told-to-cover-her-face-1.2215768
--------
Turkish Female Wrestlers Win European Championship
03.05.2018
Turkey's Elif Jale Yesilirmak on Thursday has won the gold medal at the European Championships of United World Wrestling in Kaspiysk in Russia's northern Caucasus Republic of Dagestan.
Competing in women's 59 kg category, Yesilirmak defeated Bulgarian opponent Mimi Nikolova Hristova 6-4.
The victory marked Yesilirmak's first European title in her career, and the second ever Turkish woman winning gold in the championship.
In women's 76 kg category, Turkey's Yasemin Adar won gold medal by beating her Russian opponent Ekaterina Bukina 8-2.
Adar's victory marked her third European championship in a row.
In a statement, Turkish President Recep Tayyip Erdogan congratulated the gold medalists and wished them continued success.
In women's 68 kg category, Turkey's Buse Tosun won bronze medal after beating the last European champion Poland's Monika Ewa Michalik 6-4.
Russia's Anastasia Bratchikova bagged gold medal, while French Koumba Selene Fanta Larraque won silver in women's 68 kg category.
https://www.aa.com.tr/en/sports/turkish-female-wrestlers-win-european-championship/1134707
--------
37th Istanbul Film Festival and the Situation of Women In Film
May 04, 2018
In one of the most influential novels of all time in Turkey, "Woman Has No Name," the female protagonist with no name says, "They will either tolerate and forgive me or they will humiliate and accuse me. Because I am a woman, just because I am a woman." The novel was written by one of the most prominent and well-respected defenders of women's rights in Turkey, Duygu Asena.
Since her novel was first published in 1986, awareness about women's rights and equality has increased considerably. Some protective laws have been passed and many women have taken action to make public spaces more secure, created online platforms to support each other and spoken up for themselves about any kind of abuse they face. This has led to greater awareness of the fact that violence conducted by men against women must not be tolerated.
Despite the increased awareness and diminishing prevalence of violence against women in the public sphere since the first novel's release, there has been far too little progress made in eliminating the intangible repression and abuse that women face at work and in their private lives.
This is mostly an outcome of a global patriarchal order that exists and exerts great power even in the most developed countries. Asena had also underlined the existence of this insidious and widespread threat to gender equality in her masterpiece, most probably because she was also a victim of it, even though she came from a well-educated and prosperous family.
No More Flowers: Film and women
The universal existence of this intangible repression against women was also emphasized at one of the most highly anticipated art events of the year in the cultural capital of Turkey, the Istanbul Film Festival (IFF). This year, in the 37th round of the festival, there was a new section, "No More Flowers," which was dedicated to bringing together 10 different films featuring a strong female character who was bold and persevering in her struggle to protect her rights or pursue her dreams.
Some of those strong women were comparatively privileged professionals such as judges and business executives, and some were from more humble backgrounds, like the American veteran of the Iraq war who ended up as a mentally ill and homeless person in NYC, or the mother who made ends meet by being a sex worker in Argentina.
In Ana Urushadze's directorial debut "Scary Mother," which successfully created excitement in international festival circles last year, a middle-aged mother risks her physical and mental health by writing a frantic, pornographic and hostile novel about the members of her family who have been repressing and forcing her to conform to their idea of family roles.
In "Numéro Une" (Number One), the female protagonist, a highly respected French business executive, faces a nearly identical type of discouragement from her husband and also gets fiercely besieged by her male rivals on the way to her well-deserved promotion as the CEO of a company.
Both films highlight the struggles women often face from the men in their lives; these stories starkly show the ways in which men put women down, even while these men are supposed to give full support to their "beloved" ones so that they can achieve their own dreams.
There were many scenes in both films that were painful and uncomfortable to watch, partly because they resonate so much with the real experiences of women confronting these "quiet" or "private" types of oppression.
Another intangible type of female repression widespread in many societies is the incorrect association of women with certain specific roles and professions.
This kind of struggle women face was elegantly and beautifully portrayed at the IFF in "L'amour des Hommes" (Of Skin and Men), a film by Mehdi Ben Attia. He depicts how the conventional roles usually at work in the model-photographer relationship can be exquisitely reversed.
At the question and answer session after the screening, he acknowledged the dominance lf male-oriented narratives in Tunisian movies and added that his intention in making the film was to help reverse this situation by using an unconventional and bold story line where the protagonist, who is a female art photographer, takes salacious photos of men.
Yves Hinant and Jean Libon similarly aim to show the unconventional sides of women through the story of a real life Belgian judge, Anne Gruwez, in their mockumentary/docudrama, "Ni Juge Ni Soumise" (So Help Me God). Judge Gruwez entertains the audience with her peculiar and deadpan approach towards the defendants. She also astonishes the audience with her untimely and inappropriate inquiries to a sex worker on the bizarre requests of her customers – just because the topic catches her interest. Yet, she manages to gain the admiration of defendants, detectives and colleagues in the story; most importantly she wins over the cinema-going audience with her eccentric, outspoken and uncompromising character.
Untold stories, biased perceptions
Cinema, as with many industries, is not gender equal by any stretch of the imagination, as the past year has shown for the entire world to see. But even in more subtle ways, the film industry is still under the dominance of male stories and male narratives. Therefore, the IFF brought together a number of important decision makers at a panel called "Women in Film: What has changed up until today and what is next?" to discuss the current state of women and their presence in the film industry.
Francine Raveney, Project Manager at Eurimages and former director of the European Women's Audiovisual (EWA) Network, provided some extremely disappointing but eye-opening statistics based on pan-European research carried out
by the EWA Network.
The research suggests that there is actually relative gender equality in film schools across Europe but when it comes to making a career in the film industry, the percentage for women fell roughly to 24 percent. Moreover, when it comes to national film funding, the share of funding awarded to female directors ranges from 11 percent to 28 percent of overall funding, a clear disparity.
The underrepresentation of women's narratives in Turkish cinema is even more severe than the situation in Europe. The share of women directors who released a movie between 1990 and 2001 was just 5.76 percent. Back then, it was still considered quite a significant jump from the levels of 1980s cinema. That came in at 1.25 percent.
Unfortunately, Melis Behlil, the moderator of the panel and an associate professor at Kadir Has University confirmed that the number is still only hovering at around a very weak 5 percent based on her study carried out
in 2015-16.
There are also some other widespread biased perceptions that need to be broken down. For example, most men working in film think that camerawork is not suited for ladies. "Trying to convince my colleagues that I am as capable of doing all the required physical work as my male counterparts was the most difficult part of my 11-year career, contrary to what is believed. Having to carry all the cameras and equipment and having all the back pain…" Meryem Yavuz, one of the few female directors of photography in Turkey, said during the panel discussion.
There has been a substantial increase in awareness about gender inequality since the 1986 publication of "Woman Has No Name," yet it is clearly recognized that policy-level action is needed to help eliminate the problem. Therefore, established institutions such as Eurimages and the European Council are committing themselves to achieve gender equality throughout the industry by implementing a "50/50 by 2020" strategy designed to help increase the visibility of female talent in all aspects of cinema – not just in front of, but also behind, the camera.
As Anna Serner, the CEO of the Swedish Film Institute put it, "I don't either claim that everything is going to be better when women are more involved or claim that women are better at directing than men. However, I surely know that women have different stories and different narratives because women are able to look at the issue from different perspectives. Just because of this reason, more women should be in the sector."
We should always keep in mind that women are capable of doing everything men can do, but also remember that we do it with a different touch. This will help bring more diversity to the stories that women and men tell, and accordingly will enrich the films, increase empathy, delight the audience and hopefully make the world a slightly better place by expanding the variety and quality of cinematic stories and narratives.
https://www.dailysabah.com/cinema/2018/05/04/37th-istanbul-film-festival-and-the-situation-of-women-in-film
--------
URL: https://www.newageislam.com/islam-women-feminism/forty-five-schoolgirls-hospitalised-after/d/115144
New Age Islam, Islam Online, Islamic Website, African Muslim News, Arab World News, South Asia News, Indian Muslim News, World Muslim News, Women in Islam, Islamic Feminism, Arab Women, Women In Arab, Islamophobia in America, Muslim Women in West, Islam Women and Feminism