Israel Agreed On The Ceasefire Because Israel Had Underestimated The Hamas And Had No Information About The New Rocket System Of Hamas.
Main Points:
1. US will try to weaken Hamas in Gaza.
2. Mahmoud Abbas will be promoted in Gaza.
3. US-Israel will intensify campaign against Iran.
----
New Age Islam Special Correspondent
25 May 2021
Israel and Hamas have agreed on a ceasefire after the eleven day attacks and counter attacks on Israel and Gaza Strip. But an uneasy calm prevails at the borders. This was the fourth armed confrontation between the two forces in the last ten years. But recent confrontation was different from earlier ones in some aspects.
Many analysts were surprised by the sudden unconditional ceasefire when both were baying for each other's blood till the previous evening. The attacks from both sides started on 10th May as Israel pounded civilian and military targets inside Gaza. Israel killed dozens of Hamas' top commanders. While on 13th May Benjamin Netanyahu vowed to carry on the attacks as long as necessary, Biden on the same day said Israel had the right to defend itself. But after 15th May the scenario started to change. On 15th May Saudi Foreign Minister Faisal bin Farhan talked to his Egyptian counterpart in an effort to stop the war. Later more players like Qatar entered the scene. The US also involved Mahmoud Abbas in the peace process. And finally by Friday 21 May the two sides agreed on ceasefire unconditionally. Of course Egypt promised millions dollar aid for reconstruction of Gaza. The urgency with which Israel agreed on the ceasefire has surprised many and that is the reason Palestinians celebrated the ceasefire as their victory and Israel's defeat.
-------------------------------------------------------------------------------
Also Read: Baitul Muqaddas-Masjid-e-Aqsa complex: Why are we Muslims so obsessed with it as our Qiibla-e-Awwal contrary to Qur'anic teachings?
-------------------------------------------------------------------------------
The fact is that Israel agreed on the ceasefire because Israel had underestimated the Hamas and had no information about the new rocket system of Hamas. It fired more than four thousand rockets into Israel and most of them were advanced and could reach targets at 250 kilometre distance. Due to the extended range of the rockets called Ayyash, Israel's airport was closed. Though most of the rockets were intercepted by Israel's Iron Dome, some of them not only hit civilian areas but also military installations.
Two factors made Israel to agree to a ceasefire temporarily. One, on 18th May, Hamas attacked 6 military bases and nuclear bases of Israel in Tel Nof, Hatzor, Palmachim, Sde Dov. In these attacks 2 people died and 20 were injured. The attacks on military bases of Israel including the one in Palmachim where its nuclear warheads are kept made Israel jittery. Second, On 20th May, Iran's military commander Ismail Qa'ani wrote letters to Hamas' supreme commander Md Deif and other top leaders assuring Hamas of every support no matter under how much pressure Iran will be. This letter was a clear declaration from Iran that in case of a full scale war between Israel and Hamas, Iran will openly provide weapons and technical support to Hamas. And Israel knew that if Iran is openly behind Hamas, it will suffer serious damage as Israel's military bases were under its target. That's why Israel decided to stop the war for the time being and try to weaken Hamas through diplomacy and through assassinations.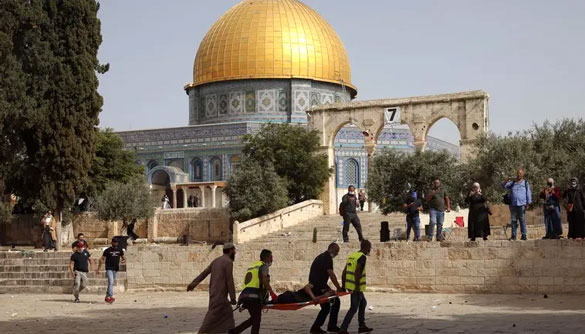 Palestinians evacuate a wounded man during clashes with Israeli security forces in front of the Dome of the Rock Mosque at the Al Aqsa Mosque compound in Jerusalem's Old City Monday, May 10, 2021. Israeli police clashed with Palestinian protesters at a flashpoint Jerusalem holy site on Monday, the latest in a series of confrontations that is pushing the contested city to the brink of eruption. Palestinian medics said at least 180 Palestinians were hurt in the violence at the Al-Aqsa... Mahmoud Illean
-----
Israel has acknowledged that though it killed top commanders of Hamas it could cause little damage to the rocket system of Hamas. The barrage of rockets fired by Hamas had started hitting Israel and Israeli people had lost the sense of security. Thousands of civilians had fled towards West Bank to take shelter in Palestinian areas to protect themselves. The Jews-Arabs riots in Israel caused another embarrassment to Benjamin Netanyahu. Thousands of Jews came out on the streets condemning Netanyahu's war mongering.
Therefore, Israel agreed on an unconditional ceasefire but is looking for ways to weaken Hamas. According to a news in Times of Israel, "IDF officials have told the government that the current situation presents an opportunity to assassinate Deif or other top Hamas officials."Md Daif is the supreme commander of Hamas military wing.
This is a clear indication of the strategy behind the sudden ceasefire. Now there will be attempts at the assassination of Md Deif or other top military and political leaders of Hamas and any such incident will start another war between the two adversaries. Already the two parties have threatened each other of serious response in case of any attacks.
On May 21, the day ceasefire came into effect, Benjamin Netanyahu had said that Hamas would see a much tougher Israeli stance and that any future rocket fire from Gaza would be met with a whole new level of force. On the other hand Hamas threatened to renew fighting over any change in status quo and rejected proposal of releasing the captives in exchange of reconstruction of Gaza Strip.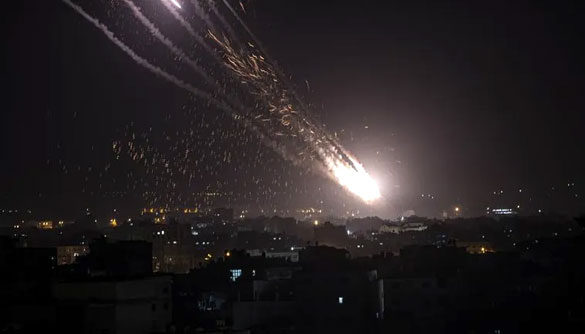 Rockets are launched from the Gaza Strip towards Israel, Monday, May. 10, 2021. Hamas militants fired dozens of rockets into Israel on Monday, including a barrage that set off air raid sirens as far away as Jerusalem, after hundreds of Palestinians were hurt in clashes with Israeli police at a flashpoint religious site in the contested holy city. (AP Photo/Khalil Hamra) Khalil Hamra
-----
The US will now try to weaken Hamas in the Gaza Strip by making Mahmoud Abbas, President of West Bank have a strong hold in Gaza though it seems impossible after Hamas' unexpected performance in recent hostilities against Israel. Palestinian people now see Hamas as their true representative and call Palestinian Authority dogs and spy of Israel.
Already tensions between Iran and Israel are at an all time high and both have attacked each other's ships in April. Israel damaged Iran's nuclear plant at Natanz. Hamas's head Ismail Haniyeh openly thanked Iran for providing Hamas with money, weapons and technical support. The clip of his statement was shown on Iran's Press TV. Iran expressed jubilation at Hamas' performance in the war and considers it as its revenge against Israel.
On the whole, behind the ceasefire, there is an uneasy calm which may turn into another hostility at any time.
URL: https://www.newageislam.com/islam-politics/ceasefire-hamas-israel-/d/124882
New Age Islam, Islam Online, Islamic Website, African Muslim News, Arab World News, South Asia News, Indian Muslim News, World Muslim News, Women in Islam, Islamic Feminism, Arab Women, Women In Arab, Islamophobia in America, Muslim Women in West, Islam Women and Feminism