By Alia al-Hathloul
Jan. 13, 2019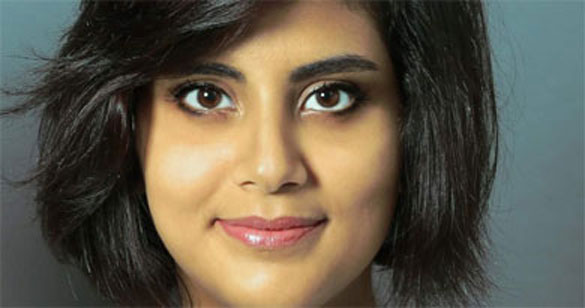 Loujain al-Hathloul is a Saudi women's rights activist, a social media figure, and a political prisoner.
-----
When Secretary of State Mike Pompeo visits Saudi Arabia on Monday, he is expected to discuss Yemen, Iran and Syria and "seek an update on the status of the investigation into the death of journalist Jamal Khashoggi."
I am struck by what is not included in Mr. Pompeo's itinerary: the brave women activists of Saudi Arabia, who are being held in the kingdom's prisons for seeking rights and dignity. Mr. Pompeo's apathy is personal for me because one of the women detained, Loujain al-Hathloul, is my sister. She has worked relentlessly to earn Saudi women the right to drive.
I live in Brussels. On May 15, I got a message from my family that Loujain had been arrested at my parents' house in Riyadh, where she was living. I was shocked and confused because the Saudi ban on women driving was about to be removed.
We could not find out why she was arrested and where she was being held. On May 19, the Saudi media accused her and the five other arrested women of being traitors. A government-aligned newspaper quoted sources predicting the women would get sentences of up to 20 years — or even the death penalty.
Loujain was first arrested in December 2014 after she tried to drive from the United Arab Emirates to Saudi Arabia. She was released after more than 70 days in prison and placed under a travel ban for several months.
In September 2017, the Saudi government announced that the ban on women driving was going to be removed the following June. Loujain received a call before the announcement from an official in the royal court forbidding her from commenting or talking about it on social media.
Loujain moved to the U.A.E. and enrolled into a master's degree in applied sociological research at Sorbonne University's Abu Dhabi campus. But in March she was pulled over by security officers while driving, put on a plane and transferred to a prison in Riyadh, Saudi Arabia. She was released after a few days but banned from travelling outside the kingdom and warned not to use social media.
Then came her arrest in May. I hoped that Loujain would be released on June 24, the date for removing the ban on women driving. That glorious day arrived, and I was delighted to see Saudi women behind the wheel.
But Loujain was not released. I remained silent, hoping my silence might protect her. Around that time, I was struck by a dark trend emerging on social media in Saudi Arabia. Anyone who criticized or made a remark on anything related to Saudi Arabia was labeled a traitor. Saudi Arabia has never been a democracy, but it hadn't been a police state either.
I kept my thoughts and my grief private. Between May and September, Loujain was held in solitary confinement. In brief phone calls that she was allowed to make she told us that she was being held in a hotel. "Are you at the Ritz-Carlton?" I asked. "I don't have the Ritz status, but it is a hotel," she laughed.
In mid-August, Loujain was transferred to Dhaban prison in Jeddah and my parents were allowed to visit her once a month. My parents saw that she was shaking uncontrollably, unable to hold her grip, to walk or sit normally. My strong, resilient sister blamed it on the air-conditioning and tried to assure my parents that she would be fine.
After the killing of Jamal Khashoggi in October, I read reports claiming that several people detained by the Saudi government at the Ritz-Carlton in Riyadh had been tortured.
I started getting phone calls and messages from friends and relatives asking if Loujain too had been tortured. I was shocked by the suggestion. I wondered how people could think a woman could be tortured in Saudi Arabia. I believed that social codes of the Saudi society would not allow it.
But by late November, several newspapers, Human Rights Watch and Amnesty International reported that both male and female political and human rights activists in Saudi prisons had been tortured. Some reports mentioned sexual assaults.
My parents visited Loujain at the Dhaban prison in December. They asked her about the torture reports and she collapsed in tears. She said she had been tortured between May and August, when she was not allowed any visitors.
She said she had been held in solitary confinement, beaten, waterboarded, given electric shocks, sexually harassed and threatened with rape and murder. My parents then saw that her thighs were blackened by bruises.
Saud al-Qahtani, a top royal adviser, was present several times when Loujain was tortured, she said. Sometimes Mr. Qahtani laughed at her, sometimes he threatened to rape and kill her and throw her body into the sewage system. Along with six of his men, she said Mr. Qahtani tortured her all night during Ramadan, the Muslim month of fasting. He forced Loujain to eat with them, even after sunrise. She asked them if they would keep eating all day during Ramadan. One of his men answered, "No one is above us, not even God."
A delegation from the Saudi Human Rights Commission visited her after the publication of the reports about her torture. She told the delegation everything she had endured. She asked them if they would protect her. "We can't," the delegates replied.
A few weeks later, a public prosecutor visited her to record her testimony about torture. After the killing of Mr. Khashoggi, Saudi Arabia argued that occasionally officials make mistakes and misuse their power. Yet we are still waiting for justice.
I would have preferred to write these words in Arabic, in a Saudi newspaper, but after her arrest the Saudi newspapers published her name, her photographs and labelled her a traitor. The same newspapers concealed the names and pictures of the men who could face the death penalty for the murder of Mr. Khashoggi.
Even today, I am torn about writing about Loujain, scared that speaking about her ordeal might harm her. But these long months and absence of hope have only increased my desperation to see the travel bans on my parents, who are in Saudi Arabia, revoked and to see my brave sister freed.
Ms. Hathloul is the sister of the jailed Saudi women's rights activist Loujain al-Hathloul
Source: nytimes.com/2019/01/13/opinion/saudi-women-rights-activist-prison-pompeo.html?
URL: https://www.newageislam.com/islam-human-rights/loujain-al-hathloul-sister-writes/d/117462