Many Muslim Countries Persecute Human Rights Activists Though They Claim To Follow Democratic Values
Intro:
1. Iran has a long record of persecuting Human Rights activists
2. Nargis Mohammadi has been sentenced to 8 years in jail and 70 flogging
3. Earlier she served a five years sentence.
4. A number of Iranian rights activists have been arrested and jailed by authorities in Iran.
----
By New Age Islam Staff Writer
29 January 2022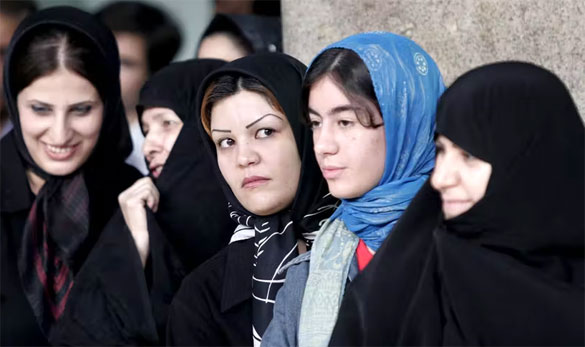 The UN has singled out Iran for discrimination against women, so why is it elected to the main UN body dedicated to gender equality? EPA/Stefan Zaklin
-----
The sentencing of Nargis Mohammadi, a rights activist and colleague of Nobel Peace Prize winner rights activist of Iran Shirin Ebadi by an Iranina court to 8 years of prison and 70 floggings once again shows the poor track record of Iran and other Muslim countries on rights front.
Nargis Mohammadi was sentenced to 8 years prison only after a 5 minutes hearing. This shows the farcical judicial process while dealing with human rights issues.
Nargis has been an eyesore of the Iranian government for years as she has been working with exiled human rights activist Shirin Ebadi who was persecuted by Iran government.
In 2016, she had been sentenced to 5 years prison for expressing her views against death penalty and her stand against prison authorities. She was released in 2020 only to be sentenced again for 30 months. This time she was arrested in November 2021.
Nargis has been working for Defenders of Human Rights Centre and has been fighting for human rights of citizens and for judicial reforms in Iran.
Nargis is not the only woman rights activist of Iran to have gone through persecution for speaking in favour of human rights and trade union rights or demanding judicial reforms in the country. There are other brave women in Iran who have dared to stand up against the religious authorities and protest against the human rights abuses committed by the government.
Saba Kord Afshari is another young Iranian rights activist who has been jailed for opposing the mandatory hijab laws and protesting against corruption in government's rank and file. She staged a protest She has spent more than two years in jail in two separate sentences. She was also accused of promoting prostitution and immorality in public when in 2019 when she posted a video of herself without a scarf. She was arrested and was sentenced to 20 years of prison. She said that in Iranian prisons, there was no sign of human rights. This speaks highly of the poor condition of prisons in Iran.
Another woman rights activist is Yasman Aryani who opposed the mandatory hijab laws and has spent two years in prison for her 'crime' for speaking for the rights of women. She has been detained twice and has spent nearly two years in prison. She was also a participant in the protest against hijab and corruption. She was arrested in 2018 and was sentenced to one year prison and was released in 2019. But her imprisonment could not silence her and her resolve to fight for women's rights. In 2019, on Women's Rights Day, Aryani and her mother presented flowers to the women of the women only car of Iran's Metro to promote resistance against compulsory hijab laws. This act earned her and her mother the wrath of the government and she and her mother were sentenced to 16 years in prison. Later Aryan sentence was reduced to nine years and six months. They have been in jail since then. This is unimaginable in a modern society where only protesting against hijab laws can earn a sentence for 16 years.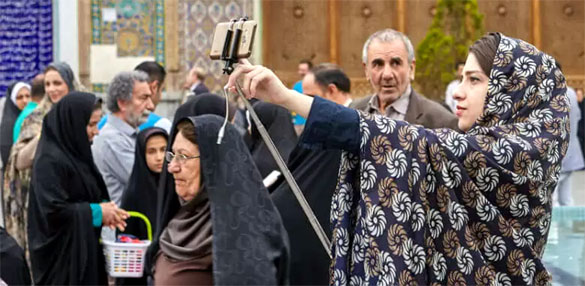 Tehran, Iran, April 2017 © Grigvovan/Women's Rights in Iran
----
Atena Daemi is yet another women rights activist of Iran who has earned the wrath of Iran's religious authorities who deny the rights of women granted to them by Shariah. The conservative religious leadership always try to stifle the female voices that speak up against harassment and persecution of women.
Atena fights for the rights of children and opposed death penalty. In 2014 she had been arrested for meeting the families of prisoners and making the plight of the prisoners public causing embarrassment to the jail authorities as the condition of jails in Iran are very poor and the treatment of prisoners in those prisons was like animals. She was arrested and kept in solitary confinement. She was sentenced to 14 years but the sentenced was later reduced to seven years. The jail authorities physically tortured in jail. When her two sisters complained to the court about the torture they were also arrested. Daemi staged hunger strike in protest of their arrest. The inhuman treatment meted out to her in jail caused her serious health problems like skin disease, falling eye sight and stomach problems.
Sepideh Qolian is another woman rights activist whom the Iranian government fears and tries to silence. She fights for labour rights of workers. She speaks and writes about the inhuman treatment of prisoners in Iran's prisons. Her book "Tilapia sucks the blood of Hur-al-Azim deals with the inhuman conditions of Spider Prison. She was arrested in 2019 and was sentenced to 19 years in prison for publishing false news, colluding against national security, illegal assembly and false propaganda against the state. Later her sentence was reduced to five years. From the prison she wrote a book giving an account of the jail condition. She wrote that the jail cell was very small that is 5 square metres with a filthy carpet and two filthier blankets. She also revealed the practice of the jail authorities of extracting forced confessions. She was also offered pardon on the condition that she would apologize to the supreme leader Ayatollah Khamenei but she refused to apologize. She remains in jail.
Hangameh Shahidi is another woman activist journalist who has spoken against stoning for adultery. She is vocal for human rights and supports women's rights in Iran. She has been detained three times and has served jail terms for five years.
These are some of the brave women who have shown the courage to stand up against the highhandedness of the religious authorities and have supported women's rights. They have also made the miserable condition of prisons in the country and the illegal and unIslamic practices of the jail authorities. The women have protested against mandatory hijab, against injustice to the working class and against the child rights abuses.
But the Iranian government, instead of bringing jail and labor laws reforms, instead of giving a respectful place granted to them by Islam, have jailed the women with sentences ranging from five years to 14 years, not for killing people but for just opposing mandatory hijab, torture in jails and opposing the punishment for adultery by stoning.
This is how women are being treated in Iran which claims to be a truly Islamic country. The Islamic government in practice behaves like the Taliban in Afghanistan. The women of Iran are more educated than their Afghani or Arab counterparts and so they are aware of their rights and place in an Islamic society. They have refused to bow down to the authorities and to the religious leadership.
To claim to be a truly Islamic country, Iran needs to change its attitude and policy towards women and should change its laws in accordance with the laws in modern Islamic countries. It needs to reform its jail system and stop torturing women prisoners. These are inhuman practices unbecoming of an Islamic country.
URL: https://www.newageislam.com/islam-human-rights/iran-human-rights-women/d/126263
New Age Islam, Islam Online, Islamic Website, African Muslim News, Arab World News, South Asia News, Indian Muslim News, World Muslim News, Women in Islam, Islamic Feminism, Arab Women, Women In Arab, Islamophobia in America, Muslim Women in West, Islam Women and Feminism