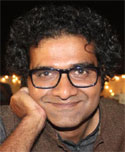 By Arshad Alam, New Age Islam
25 October 2021
There Seems To Be Political Interest In The Continuation Of Religious Tension
Main Points:
1. Protests against Friday Namaz is now regularly held in some sectors of Gurgaon.
2. Hindu groups allege that Muslims are praying at illegal places; such claims that are not backed up by the police version.
3. The CM sees nothing wrong if prayers are being held at designated places but has so far refused to act on vigilante groups.
4. Muslims need to strategize and think if Friday congregation is necessary at all.
-------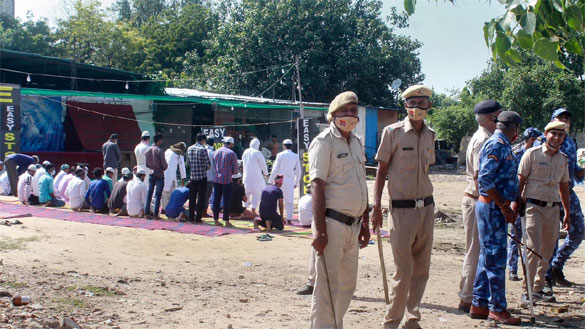 'Jai Shri Ram' Slogans Allegedly Raised (Photo: The Quint)
----
Gurgaon is on the edge. Every Friday, when Muslims gather to pray at the congregation, groups of right-wing Hindus assemble at the spot shouting objectionable slogans with the express intention to stop Muslims from performing their ritual. These Hindu groups claim that Muslims do not have the requisite permission to perform their prayers at a public place which makes their ritual illegal. They further claim that after the prayers, Muslims indulge in anti-social activities. They accuse the police of being partisan because they do not stop these Muslims from praying in public.
The police have so far maintained that this is not a new issue. Similar strife was reported during the year 2018, when the district administration and 'both parties' (Hindus and Muslims) had come with a solution of designated spots where Muslims could offer their Fridays prayers. The police claim that Muslims were allotted 37 such places and that so far there have been no violation from the Muslim side. Despite the weekly protest by some Hindu groups, the police have been offering protection to Muslims and upholding the administrative decision that was made three years ago. Most of the protests have happened in sectors 47 and 12, but the police have consistently maintained that in both these sectors, Muslims are praying at the designated spots and hence there is no illegality involved.
Gurgaon was built adjacent to Delhi as a posh metropolitan area where the expectation was that glitzy markets would flatten differences of religion and caste. In the arrogance of planning this new city, the developers not only saw no need to build pedestrian paths (as everyone would have cars!) but they also failed to plan for adequate religious spaces for their new residents. And residents are not only those who live in the high rises oblivious to what is happening on the ground below but also those who migrated to this new city in search of jobs and ended up serving those living in the high rises. There are nearly 4 Lakh Muslims living in Gurgaon, most eking out their living as service providers. But there are only 22 mosques to serve a population this big and that's the reason why Muslims search for alternative spaces. And this becomes a crisis because the noon payer on Friday is supposed to be held in congregation. There are simply not enough big mosques to accommodate the numbers.
It is not that all Hindus have a problem with the Muslim prayer. Indeed, only a handful of Hindus gather at odd sites to protest against the Namaz. But like always, the majority of Hindus have no problem that such disruption is taking place in their name; they simply do not care. Otherwise, we would have seen a counter mobilization of other Hindus who believe that all religions should have the space to freely express their faith in the country. At any such protest, there are no more than 300 odd Hindus, and most of them come from one of the many right-wing organizations like the Bajrang Dal, etc.
The argument that these Hindu groups are making do much have much basis. They have argued that the area in which Muslims are praying have not been designated by the administration which is not true because the police are corroborating the Muslim version. They also wonder why Muslims cannot pray inside their mosques and why they should do so in a public place? The simple answer is that there are not enough big mosques to accommodate a congregation. But this is also rather rich coming from a community where the distinction between public and private in most festivals is nearly absent. In fact, most religious communities in India, insist on public display of their religiosity and Muslims are no exception to this rule. The claim that Muslims indulge in anti-social activities after their prayers also does not have any empirical basis as there is no such data which might prove it. This is like another patently false allegation that Muslims raise the slogan of 'Pakistan zindabad' after their prayers!
The issue is patently political. Most of these Hindus are related to blatantly communal organizations. Some are even members of the ruling party. But the chief minister of Haryana, Manohar Lal Khattar, has said in no uncertain terms that Muslims should not be disturbed in their prayers if they are praying at spaces earmarked by the district administration. Why is it then that his ideological brotherhood is not listening to him? And why is that the CM is not taking to task those who are indulging in such activities? The only reason perhaps is that the political class in interested in the perpetuation of this religious tension. This tension has all the potential to give them some talking point in the upcoming elections in the neighboring state of Uttar Pradesh.
Muslims need to understand this political game. Their insistence that Friday Namaz must be said collectively needs to be revised in the light of present-day realities. There was a time when Friday prayers served political purposes. It was at times an occasion to show collective strength. At times, it was utilized by Islamic governments to gain legitimacy and authority. Even now, the Friday sermon in Arab countries is tightly controlled by the state, with the speaker only allowed to say what the ruler wants him to say. These conditions are absent in India and hence insisting on congregation doesn't make much sense. It is only being continued as a relic of the past.
Moreover, in earlier times the Friday congregation was also the space where, and through which, important decisions were conveyed to the people. Today's Friday's sermons are nothing like that: there is no political discussion that happens; only tales of the Prophet and his companions are recounted. Today, if anything important needs to be conveyed to Muslims, it can be done instantly through modern media. In short, there is no need to insist on a collective prayer every Friday. Such an insistence would only mean that Muslims are still wedded to the political idea of demonstrating their faith in public.
For a long time, Muslims have been blocking highways to offer their prayers without any regard to the concerns of the larger public, Hindus or Muslims. It is good that better sense has prevailed, and such scenes of public religiosity are not so common anymore.
Better sense should prevail, and Muslims should strategically withdraw from such spaces and concentrate on those aspects that leads to the empowerment of the community, like accessing modern education and getting into desired jobs.
-----
Arshad Alam is a columnist with NewAgeIslam.com
URL: https://www.newageislam.com/islam-politics/friday-namaz-gurgaon-muslim/d/125640
New Age Islam, Islam Online, Islamic Website, African Muslim News, Arab World News, South Asia News, Indian Muslim News, World Muslim News, Women in Islam, Islamic Feminism, Arab Women, Women In Arab, Islamophobia in America, Muslim Women in West, Islam Women and Feminism