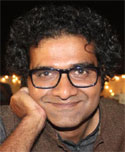 By Arshad Alam, New Age Islam
17 December 2021
The Prime Minister's Inauguration of Kashi Corridor Is Fundamentally about a Public Recognition of the Hindu Faith
Main Points:
At Kashi, the prime minister was the very representation of an emergent Hindu nation state

This is not about UP elections or compromising secularism; this is about faith

Hindus and Muslims have always been guided by their respective mythologies rather than actual histories.

The prime minister is carving out symbolic space and representation for Hinduism, especially in the context of North India.
----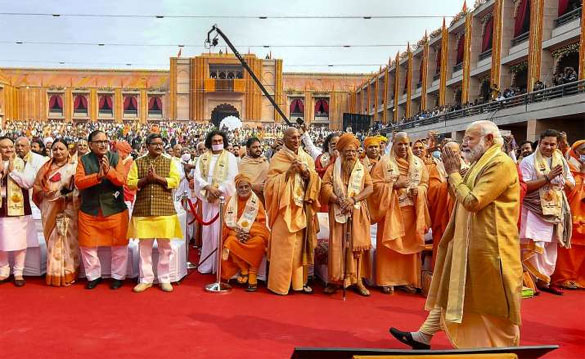 Day 1 Varanasi visit: 'Tyrants tried to destroy Kashi, city now writing new chapter of glory' (Photo India TV)
----
The recent inauguration of Kashi Vishwanath corridor by Prime Minister Narendra Modi was replete with religious symbolism. The whole spectacle focused on the prime minister; as if Narendra Modi was the very representation of an emergent Hindu nation state. His speech, infused with a particular way of reading history, was designed to reflect this personification. He referred to Aurangzeb and Ghazi Miyan who were supposedly resisted by Shivaji and Suheldev. The prime minister spun a simplistic narrative of conflict and resistance, at the core of which was religion. This is the narrative wherein Hinduism was able to posit an alternative and eventually dislodge Islam and Muslims from political and cultural power. Articulating this in Varanasi, a city where each square inch is dotted with history and mythology, the prime minister laid bare an image of India which is essentially a story of religious conflict between Hindus and Muslims.
It doesn't really matter if history tells us that the story is more complicated. Positing Shivaji as a Hindu icon glosses over the fact that there were many in his army who were Muslims. This retelling conveniently forgets that Shivaji sacked Surat, a predominantly Hindu city, and looted it for three full days. Those who think of Aurangzeb as a Muslim icon also conveniently forget that he appointed none other than Jai Singh as his general to take care of Shivaji.
Suheldev might have defended his principality from the depredations of Ghazi Miyan but we should not forget that today Ghazi Miyan's tomb at Bahraich is mostly visited by lower caste Hindus. A neat binary between Hindu and Muslim may be appealing but is certainly a poor representation of India's history. But then who cares about history? Religious communities in India, including Hindus and Muslims, have always been guided by their respective mythologies and it is this that moves the imagination of people. Can we then blame the prime minister for mythologizing Indian history?
Beyond the mythology versus history debate, it is important to understand the function and implications of prime minister's ritual immersion at the very seat of Hinduism, Kashi. What was the need for such ostentatious symbolism and what was he trying to achieve? Commentators miss the point when they say that the whole exercise was done keeping in mind the upcoming Uttar Pradesh elections. This is such an obvious point that it need not be stated. After all, the prime minister is a political person and UP is important for his own electoral success. Why should anyone expect otherwise from him?
But the important question that we need to ask is whether the symbolism was just about the upcoming elections or was it trying to achieve something more fundamental? Understanding what the prime minister is doing only through an electoral lens is a deliberate act of intellectual misrecognition. Those indulging in such lazy analyses do not understand the larger politics of Hindu nationalism which is not just related to election but to the larger question of Hindu re-imagination.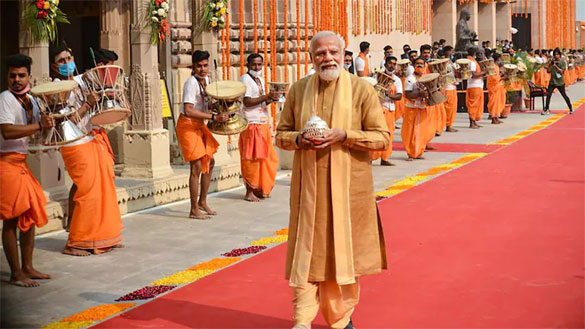 (Photo India Today)
-----
Others have pointed out that as prime minister, he should not have performed what was a Hindu ritual as it compromised the secular character of the state. But aren't we way past such arguments? Is prime minister Narendra Modi the first to dissolve the line between state and religion? Before throwing such sanctimonious barbs at the prime minister, why is it that we forget what Rajiv Gandhi and Narsimha Rao did when they were prime ministers? Wasn't it Rajiv Gandhi who started his election campaign from Ayodhya after allowing bhumipoojan of Ram Janmbumi? Was the secular fabric of the state not tattered to pieces when prime minister Narsimha Rao slept while the Babri mosque was being demolished? And what are the current opposition parties doing in the name of countering the ruling dispensation? Aren't they trying to posit themselves as Hindus plus? There are many other examples to establish what the current prime minister did was in fact a culmination of a long history. The only difference perhaps is Narendra Modi is completely unapologetic about it. What was de-facto in a sense has now been made de-jure.
Hinduism need not become the state religion; it has never been. Like before, Hinduism is quite capable of making its presence and authority felt within the veneer of secularism. But in the prime minister, Hinduism now wants to expand the footprints of its symbolism. Kashi is a symbol of Hindu pride since time immemorial but there is not one Hindu religious structure in the city which can command the imagination of people like the Taj Mahal or the magnificent Hindu temples of South India. In trying to establish a religious corridor, the prime minister is carving out that symbolic space for this ancient religion, especially in the context of North India. A similar exercise is on in Ayodhya and other religious cities which have mythological importance for Hindus. Imagine a civilization as ancient as Hinduism and then conflate it with the almost barren architectural Hindu religious landscape of North India. What immense violence does this absence of religious symbolism do to the psyche of Hindus? What the prime minister is doing is aligning this expectant Hindu psyche to the realities of today; he is telling them to be unapologetic and take pride in the fact that this land should be dotted by their religious symbolism.
The Kashi corridor is a measure of internal churning within the Hindu community. The Hindu emotion is perturbed by the perception that despite this being a Hindu nation, Hinduism did not get the public recognition that it deserved. In the prime minister, they see someone who is capable of righting this historical wrong.
The more important question that we need to ask is whether there would be any space for Muslims in this imagination of Hindu India? The prime minister was careful enough to highlight the relationship of Buddhism, Jainism and Sikhism to the city of Varanasi but said nothing about Islam or Christianity and how they impacted the history of the city. Perhaps part of this is inevitable as the Hindu psyche is up against centuries of Muslim symbolic and political domination. He did mention the name of Bismillah Khan, the deceased Shehnai player, but only as an afterthought.
These are testing times for Indian Muslims. But they are not perturbed over what the prime minister is achieving for his religion. They are perturbed because they do not know what direction this internal churning within Hinduism is going to take. Muslims want it to be inclusive and make space for other religious traditions also. But then, as Muslims, we need to ask ourselves how inclusive our own theology has been towards other faith traditions.
---
A regular columnist for NewAgeIslam.com, Arshad Alam is a writer and researcher on Islam and Muslims in South Asia.
URL: https://www.newageislam.com/current-affairs/kashi-vishwanath-corridor-narendra-modi-religion/d/125973
New Age Islam, Islam Online, Islamic Website, African Muslim News, Arab World News, South Asia News, Indian Muslim News, World Muslim News, Women in Islam, Islamic Feminism, Arab Women, Women In Arab, Islamophobia in America, Muslim Women in West, Islam Women and Feminism