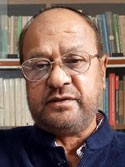 By Prof. Makkhan Lal for New Age Islam
19 December 2021
Parveen Shakir is considered to be one of the most respected Pakistani writers of Urdu language. She gave birth to a new genre of Ghazals and Nazms; writing in the light of the female experience, which was never in use before her. Parveen wrote Ghazals and Nazms full of fascinating vocabulary that mesmerized everyone and that stirred the souls. Parveen is known as one of the leading women writers who used the words ladki, ladaka, ladli etc. in her works, which was rarely or almost never used in Ghazals and Nazms.
Parveen Shakir started writing at a very young age. She wrote both customary/traditional Ghazals as well as Nazms (free verses). Her writings are multi-faceted and covered a variety of subjects, but the most noticeable themes in Parveen's poetry are love, affection, feminism and social customs, traditions, sex discriminations and female humiliations. However, the feminist ethics of Parveen Shakir are more than poetic skills. Her dilemmas and concerns represent an educated, urbanized middle-class trying to harmonizing ideas between tradition and modernity. Parveen Shakir said during an interview, "The philosophy of love is the foundation of my poetry and that is why I always consider and try to understand the triangle of God, the Universe and the Humans."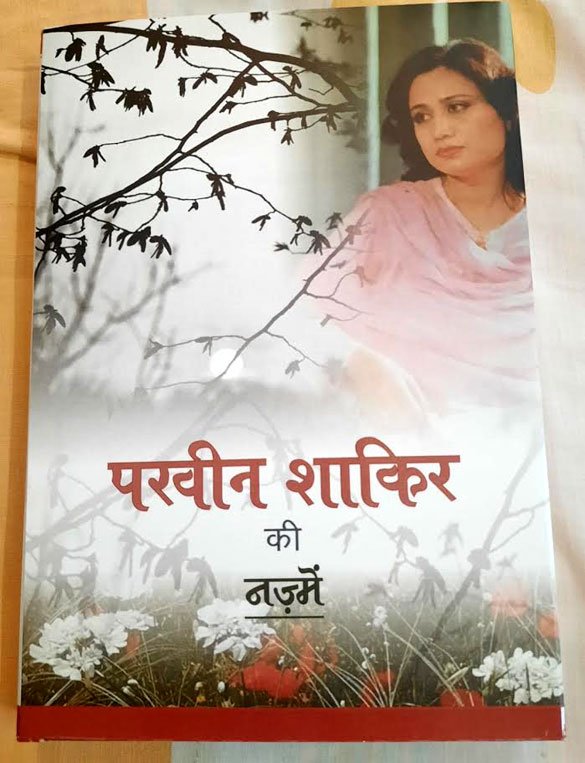 The poetry of Parveen Shakir was well appreciated, and after her untimely death she is now considered as one of the best and among the most prominent modern poets in Urdu literature. There is no doubt that Shakir gave the most beautiful feminine touch to Urdu poetry. While writing her first book, Khushbu she was just a young girl, still unmarried and relatively restricted and restrained. Her later books reflect the coming change in her life - her struggle, as she confronts like many women in Pakistan with similar issues -- an unequal/mismatched marriage, early motherhood, omnipresent in-laws (house), work and family-life balance, and indeed at the end divorce. Shakir believed that she was not understood correctly by her own family, by her in-laws and indeed in the marriage itself. Especially, her passion for Urdu literature, Ghazals and Nazms was particularly not understood. In fact, even her name and fame, her reputation as a talented poet and a brilliant civil servant could not save her from the ubiquitous patriarchy, social stereotypes and outdated customs and traditions. In the preface of Sadberg, Parveen writes:
My crime is that I was born in a tribe where having a thinking mind is a crime. But the mistake made by the tribesmen was that they did not bury me in the ground as soon as I was born (and now it is not that easy for them to pin me in the wall!)…. But they is not oblivious to their mistake, so now here I am and this blind well of my compulsion, taking rounds of which my feet have turned to stone and my eyes water --- because like other girls, I refused to wear a head-to-toe burqa! And the end of the those who defy is never good!
With every refusal, one more nail got embedded in my body. but those who hammered nails in my body left my eyes unharmed…. maybe they knew that extinguishing them would make no difference in the inner light or perhaps they needed a deef and dumb witness to enjoy their deeds. I wonder why this testimony still hasn't rocked my eyes!"
Shakir was an exception in many ways; her authority over Ghazals and Nazms was no less than that of any eminent poet of her time; though she was very young in age. Many people tried malign her in and out of literary circles. Due to this, various rumors were spread. Nevertheless, she continued to write and touched new heights of fame. She received attention and praise from established literary dons and great poets. She was indeed a darling of the common public. The great literary giants and poets like C. M. Naeem, Faiz Ahmad Faiz, Ahmad Nadeem Kazmi, Zia Mohiddin, Munir Niazi, Fahmida Riaz, Kishwar Naheed, Amjad Islam Amjad and Ahmed Faraz praised Parveen Shakir for her literary contribution and styles. Ghazal singers like Ghulam Ali, Abida Parveen, Tasavvur Khanam, Tahira Sayyid, Tina Sani and indeed, the emperor of ghazal singing, Mehdi Hasan himself, adopted Parveen's Ghazals and lent their voices to her notes. Besides, her outstanding performances in mushayaras around the world, he made television appearances, gave interviews and did programmes and discussions with great legends of the Urdu literature.
-----
Parveen Shakir was born on 24 November 1952 in Karachi, Pakistan. She was the second daughter of Syed Shakir Hussain and Afzal-Un-Nisha. His father was a resident of Bihar and had moved to Karachi in 1945 in search of a job; two years before the partition of India. Her mother was from Patna, India and after marrying Shakir Hussain, her mother also moved to Karachi. Her father, Syed Shakir Hussain, worked as a clerk in the telephone and telegraph department of Pakistan. Her family lived in the Rizvia colony, one of the new settlements built before and after partition to rehabilitate the displaced persons who migrated to the city. Parveen Shakir's mother describes her as sensitive and very stubborn as a baby girl. Parveen was very stubborn and also very dear to her parents, that's why she always had her way in everything. Parveen Shakir was indifferent towards domestic works and largely incompetent, but always far ahead in studies and intellectual works. These small little things about Parveen Shakir help us understand her personality, her independent and enthusiastic nature; sensitivity and stubbornness all come into her writings when she talks openly about love, romance, desires of mind and body from a woman's perspective. Given the age, context and the time she was writing, Shakir's writings actually challenge rules and stereotypes about women and even influenced social systems and cultural traditions and beliefs.
After matriculating from Rizvia Girls High School, she enrolled in Sir Syed Girls' College in 1968 and graduated in 1971 with a Bachelor Degree of Arts. After this Shakir enrolled as a post-graduate at the University of Karachi and studied English and earned Master's degree in 1972 And started working as a lecturer at Abdullah Girl's College. At the same time, Shakir started writing a column also for the daily newspaper 'Jang' in the name of 'Gosha-e-Chashm'. In 1980, after three years of marriage, he got her second M.A. Degree in English Linguistics from the University of Karachi.
Gradually, Shakir started getting tired of teaching. This was because the students were not interested in learning English. Parveen Shakir says that while teaching in class, sometimes she felt as if she was talking to the walls. She thought of getting rid of this situation. In 1981, Shakir took the examination of Civil Senior Service of Pakistan (CSS, equivalent to the in India) and came second in the Merit List of successful candidates. The status of Parveen Sahkir as a poet can be understood by the fact that when she appeared in her Civil Service Examination in 1981, a question in the examination was on her own Ghazals and Nazms. In 1983 she was selected to continue training in the Customs and Excise Department. However, Shakir excelled in the civil service examinations and wanted to join the Foreign Service. But this could not happen. Pakistan's then Martial Law Dictator, General Zia-ul-Haq, prohibited women from working in the Foreign Service. Parveen Shakir always felt sad about it. Later in an interview to Pakistan TV, he said with a very heavy heart and full of disappointments:
"I wanted to go to the foreign service and got selected. This was my first choice and I achieved it as well. But that era was not right. In 1983 the General Sahib who ruled over us issued an Ordinance that the posting of khawatin (women) would not be out of country at all… I was Khatoon (woman); it was my crime that they could not forgive. I had to come to my second choice, Customs "
In Parveen Shakir craving to study and get knowledge was such, that even after joining the CSS, she kept it alive. In 1991, she was awarded a Fulbright Scholarship to participate in the Harvard University Program. During the Fulbright Scholarship, she taught South Asian literature at Trinity College through the Hertford Consortium for Higher Education. Courses on politics and culture of Pakistan and Bangladesh separately at St. Joseph's College. At Harvard University, Parveen Shakir served as a sub-editor of the non-academic activities' newspaper 'Harvard News and Views'. On her return to Pakistan in 1993, she was promoted to the position of Deputy Director in Customs and Customs Inspection Department.
-----
When Shakir was a student at Sir Syed College, one of her teachers, Irfana Aziz, inspired her to write Ghazals and Nazms. Aziz asked her to write a Ghazal on the occasion of Pakistan's Defense Day (6 September 1967). She was not yet 15 years old. Shakir composed a Ghazal called 'Subhe-e-Watan' (Morning of the Nation) and was awarded the first prize for this. Irfana Aziz offered Islah (reforms, suggestions and corrections) and also introduced her to the notes and meters – specifics of Nazm and Ghazal writing. Irfana Aziz helped Parveen become a better poet. After a few years Shakir came in contact with Ahmed Nadeem Qasmi (1916-2006) and took him as her mentor. It is necessary to mention here that Ahmad Nadeem Qasmi was considered to be a veteran of his time in the field of Urdu literature. He was counted as a great poet, story-writer, novelist and indeed legendary editor. He edited many prestigious magazines during his lifetime. Qasmi became her true guru and Shakir saw Qasmi as a father figure and affectionately called him "Ammo" and even dedicated her first book to him; the first poem, a long Nazm, is also dedicated to him.
Parveen Shakir was a well-educated, self-reliant and financially independent person who could not accept subordination of anyone. She was also disturbed by social stereotypes, traditions and inconsistencies. She always took a clear stand regarding the social and economic status of women in society vis-à-vis customs and traditions. As a result, her personal life in a conservative society was full of turmoil. If we try to understand her personal life journey then the best way I to read her Nazms and Ghazals in the order the collections were published. As one goes through Shakir's five volumes, one is struck by the autographical tone of much of her poetry. One also feels that poems have been arranged in the books in almost the chronological order of their composition. Thus, one may read in them the growth of the "girl" into "lover", a "wife", a "mother", and a "working woman" facing a hostile world. Shakir did not hesitate to write on a range of experiences within the marital love – on sexual intimacy, pregnancy, childbirth, infidelity, separation and divorce – which no male poet has ever written about it in Urdu literature.
In a TV interview, on a very personal moments (which Shakir's very close friend Rafaqat Javed has also mentioned in her book, "Parveen Shakir Jaisa Maine Jana"), Shakir in a very choked voice said, "Life did not do justice to me" (Zindagi Ne Mere Saath Insaaf Naheen Kiya). After all, why did she say that? We need to know.
Born in a middle-class family, Parveen Shakir inherited everything that is part and parcel of that stratum of society. Along with the love of parents, the freedom to read and write, pursue a career also came social stereotypes and fetters. By the age of twenty, Shakir had gained considerable fame in the world of Urdu Ghazals and Nazms. She was called regularly in Mushayaras. When she moved towards youth, tide of emotions also followed. Her first love in student life was with a tall and handsome boy studying in her senior class. But after sometime she fell in love with a government official and the same person was the inspiration behind Shakir's first book, Khushbu. Shakir was madly in love with this person. She wanted to marry him. But this could not happen. Although both belonged to Muslim religion, their sects were different. Shakir was Shia and he was Sunni. Their social status was also different from each other. Parveen Shakir's grief and pain through all this trauma is not only visible in the poems of her first book Khushbu but also can be seen in the introduction "Daricha-e-Gul" of "Khushbu". Parveen writes:
"On the crumbling threshold of the fleetfooted moments, holding on to the arms of the wind, a girl stands and wonders: what should she tell you? Years ago in the still hours of some night, she had prayed to God that he should reveal to her the girl inside her. I am sure, God must have smiled, at least once, at the simplicity of this prayer (Girls of tender age don't know that no greater calamity than self-knowledge befalls those who dwell on earth), but he granted her request. And so at an age when others wish for the moon, she received the magic world that would let her into the thousand gated city of the self."
Parveen Shakir's first book Khushbu can be described as a book of pure love and collection of poems of all colors associated with love. Khushbu is not only expresses love, disinterest, detachment, despair, giddiness, etc. with much disinterest; one can also fine physical desires in a very simple language and in extremely civilized manner. All of this was a big thing in the then Islamic society and that too by an unmarried girl. Before Shakir, her seniors Fahmida Riaz, Kishvar Naheed, and others, were writing Nazms and Ghazals on the lines of women's liberation movement inspired by Kate Millett and the likes in the west. They tried to rope in Shakir to write in the same way but Shakir very politely declined (see Nazms, Masala and Tanqeed and Takhaliq). Once she was asked about her beliefs and about her certain Nazms in the context of the Women's Liberation Movement, she replied "Yes these are on the same line but not of the militant types." Parveen Shakir spoke of women's rights and freedom but always staying inside decently defined social boundaries. Shakir never adopted the language of Fahmida Riyaz, Kishwar Naheed, etc.
Parveen Shakir's first collection of Nazms and Ghazals Khushbu was published in 1977. It became an instant sensation and received much critical acclaim and public love. The second print of the book came out within sex months of publication. Shakir received the prestigious Adamjee Literary Award for this. In Khushbu she is a young passionate girl who has a lot of aesthetic sense and also eyes for beauty. She loves her femininity completely and never tries to hide it. She tells herself and wants to convince the world that a young girl's innocence and feelings are worth expressing and knowing. Parveen Shakir's biggest contribution to Urdu poetry is that she revealed how a woman loves a man with all her heart and passion. No other poet had expressed so deeply before and was so comfortable with her feelings for a man. But h feelings never crossed the lines of love and went into lust. There can be an innocent sexuality wrapped in sobriety! A latent sadness is also felt during Khushbu's romantic and lighthearted journey. It finally comes to the forefront when she is disappointed in love. She feels that his feelings are not fulfilled and she is surprised at the entire love affair issue not knowing clearly whom to blame.
The world of her dreams is slowly shattering and with this she realizes the bitter realities of life. The difference of personality and social status is having a big impact in their relationship. There was more disagreement and sadness than this only. This is where the real poetess is born. Khushbu is a beautiful love story written in poetry and woven with tender emotions. Parveen Shakir always took a very clear stand regarding love. In a TV interview, when Shakir was asked whether love is required to do poetry. Her answer was:
When a person learns how important it is to love someone and to be loved by someone, that person becomes civilized; love teaches patience and empowers a person to bear and makes a person perfect ... When existence found intuition for love, poetry was born.
During all this Shakir was undergoing severe depression due to refusal of marriage with her loved one. Dr. Naseer Ali, her cousin, treated and cared for her. He was Shakir's cousin in a relationship and marriage between cousins' siblings is common in Islam. They married in September 1976. Parveen Shakir was twenty-four years old at that time and by then she had become a very well-known figure in the world of Urdu literature. Signs of trouble started appearing in their marriage right from the beginning. Shakir's mother-in-law and other members of the family wanted Shakir to stay at home and take care of the family. Nearly three years after marriage, on 20 November 1979, Parveen Shakir gave birth to a beautiful son whom she named Syed Murad Ali. She used to fondly call her son by the name 'Geetu' and dedicated to him her third book Khudkalami. Parveen Shakir has always had these deep hurt feelings that Nasir Ali visited to meet Shakir and see the son's face on the third day of his birth. It is certainly very sad and hurtful thing for any wife and the first-time mother.
Khushbu's sensitive girl has grown quite mature over the years and had become a strong woman. For her, love and feelings are not everything in the world anymore. She had seen a lot of fame, criticism, jealousy, rumour-mongering and had been victim of malicious campaign, and indeed had felt deeply the hypocrisy in the society. She had experienced workplace harassment that reinforced her belief in feminism. Most importantly, she was now a married woman. Khushbu's shy girl has become a confident married woman writing fairly openly on sexual and marital bliss. Later, the Nazms and Ghazals of "Sadbarg" give a strong feeling that the shadows of grief and mourning are taking away her happiness. The dream was shattered; the sorrow was deeper than ever.
Shattered marital life is seen in the role of "Sadberg". Parveen herself writes in the role of "Sadberg" (which appeared in 1980):
"When the time of celebrations came in the life, not only only Sandrilla's shoes were missing, there were neither that dream, nor that garden, nor that princess. All the fairies of good colors had left for their gloomy countries. With blood-stained palms the princess rubbing her eyes was left alone in the forest— and the evening in the forest never comes alone! Wolves are her best friends! There is only one way to save the princess, she has to tell the story for a thousand nights….and so for only 27 nights have passed.
There is no skill to conquer the bounty of a perpetual lier; and there would be no better one than the wind, who kisses the flowers early in the morning and wakes them up and at dusk snatches its petals with her greedy nails--- There is no problem in paying the cost with life, but it surely hurts to get scattered petal to petal to petal--- Since the wind does not have a house, so it cannot see a roof over someone's head. !
The Ghazals and Nazms of "Sadberg" show that those were not of the happiest times of Shakir's life and an atmosphere of despair and gloom is seen all around. After the birth of her son, there was a hope that Dr. Nasir and Shakir's relations would improve. Alas! this could not happen. Despite Shakir's efforts, her marital life continued to deteriorate for years. In fact, Parveen Shakir and Dr. Naseer Ali were people from two different worlds; both had different world views about the life. In such a situation, they thought it was appropriate to separate and in 1987, they separated from each other with mutual consent. Parveen Shakir had unbridled love with his son Murad. She could not even think of a life without Murad. She took the responsibility of bringing-up Murad without any demand from Dr. Naseer, without any condition, and also accepted the condition stipulated in divorce, stating that if Parveen Shakir married another man then son Murad would be taken from her and given to father. Dr. Naseer got remarried within a year of divorce but Parveen Shakir remained unmarried for the remaining years of her life. Son Murad was such a big part of his life, it can be understood from the many Nazms written by Shakir for his son.
On the one hand, where daily life was going through a lot of trouble, her third collection Khudkalami came out which presents Parveen Shakir as a strong image of a self-supporting, independent, functioning and tenacious woman as well as an affectionate, dotting mother. All her sufferings faded into his son's eyesight. Her Nazms and Ghazals in this volume provide a beautiful description of a woman's pregnancy and feelings of being a mother. She is very happy to bring a new life to the world and loves her child completely. The pain of motherhood is a new feeling. Some of the scenes and Ghazals in this collection reflect the struggles of his professional life. She seems to be trying to reconcile the increasing responsibilities in difficult times and feels divided between her professional life, domestic duties and motherhood. Poet inside her does not get time for herself. Referring to her job in customs, she writes:
Numbers devour my day like vultures,
Words come to see me late at night.
In 1986, Parveen Shakir was appointed as the Second Secretary in the Federal Bureau of Revenue in Islamabad. She left Karachi, the city of her birth, and moved to a new life in the capital. The last collection of his poetry was "Inkar". It emerges as a reflection of her entire life. She did not abandon her love poetry but now she started writing openly on various political issues including government flaws.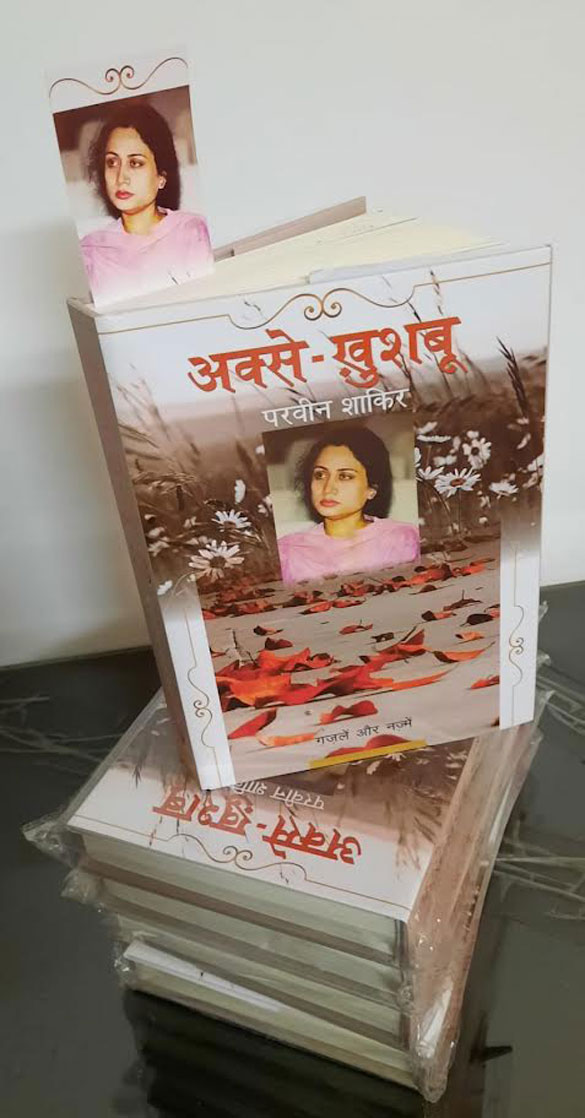 Parveen Shakir wrote in daily newspaper Jang in the early 1970s and 80s. She continued to publish her ideas in newspapers in the 1990s. She commented on a myriad of topics ranging from literary, cultural and political in her column, Gosha-e-Chashm (The Corner of the Eye). In these columns she did not hesitate to criticize the government. From time to time in addition to other things, in her columns, she started pointing out the shortcomings to the government in very satirical manner. For example, in an article (published May 22, 1994) while discussing the corruption in banks in relation to payment of salaries of employees she says, "she is happy to note that other things also, like democracy, are handed in parts." She had had millions of admirers who understood this satire very well. In another article (published in April 1994), she wrote about the invitation to a women's studies conference. It was the first conference of its kind organized by the private sector in Pakistan. She used this opportunity to comment on the inefficiency of the government. Satirically said, if the government had held the conference, first a minister would have been found to inaugurate the programme. And once all the preparations were completed, this occasion would be canceled due to change of government.
Parveen Shakir's fifth book "Kafe-Aina" was compiled by her sister Nasreen and friends after her death.
Shakir continued to write poetry throughout his life and won various awards and recognitions. Se was recognized and honored for her talent and her contribution to Urdu literature. The prestigious awards he has received include: Best Poet Award, USIS, Karachi, 1970; Adamjee Literary Award, 1978; Gold Medal - Best Poet of the Year, Sir Syed Girls College, Karachi, 1979; Allama Iqbal Hijra Award, 1985; Zahoor-e Nazar Award for Urdu Nazm, India, 1986; Faiz Ahmed Faiz International Award for Poetry, Delhi, 1989; President's Pride of Performance Award, Pakistan, 1991; Posthumous awards to Shakir include: APNS 12th Journalism Award, 1995; Shield of Recognition, Karachi Women's Peace Committee, 1997; Golden Women of Pakistan, Ladies Forum, 1997.
On the morning of December 26, 1994, Parveen Shakir had breakfast with her son Murad and left for office. Her car was hit very hard by a passenger bus at the Faizal intersection, very close to her house. The car driver died on the spot. Shakir was rushed to Islamabad Hospital where she later died. She was 42 years old. Parveen Shakir used to say during her life time that she would not live beyond 42 years of age and this proved to be true as she went on a journey of eternity one month after her 42nd birthday. Her best friend and well-wisher and indeed a great patron, Mrs. Parveen Qadir Agha, in her book Teardrops, Raindrops: A biography of Parveen Shakir, writes that "Parveen's dressing table was full of make-up items, but 15 days before her death, her table was almost empty and makeup had almost stopped. As if she was ready for the journey of eternity. "
The road on which the accident took place was named "Parveen Shakir Road" in honor of Parveen Shakir. The Pakistan Post and Telegraph Department released a commemorative postage stamp of Rs 10 in 2013 to honor Parveen Shakir on her 19th death anniversary.
-----
(Prof. Makkhan Lal, a well-known archaeologist and historian, taught in Banaras Hindu University and Aligarh Muslim University before moving to Delhi as the founder Director of the Delhi Institute of Heritage Research and Management. He was also the first Charles Wallace Fellow in the Cambridge University. He has recently published Parveen Shakir's poetry in Hindi in two Volumes)
URL: https://www.newageislam.com/books-documents/parveen-shakir-makkhan-lal-/d/125989
New Age Islam, Islam Online, Islamic Website, African Muslim News, Arab World News, South Asia News, Indian Muslim News, World Muslim News, Women in Islam, Islamic Feminism, Arab Women, Women In Arab, Islamophobia in America, Muslim Women in West, Islam Women and Feminism