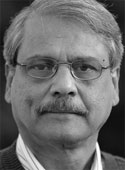 By Zahid Hussain
February 05, 2020
"It is lamentable, that to be a good patriot one must become the enemy of the rest of mankind." — Voltaire
"HOW could you question someone's patriotism?" the chief justice of Islamabad High Court inquired while hearing the bail application of political activists arrested by the capital administration and charged with sedition. The young detainees were protesting against the arrest of Manzoor Pashteen, the Pashtun Tahaffuz Movement leader who has also been charged with sedition.
They were peaceful and had not violated any law of the land; they had just exercised their democratic right to protest. Still, their patriotism was questioned. Some of the detainees in Islamabad are out on bail but scores of others across the country, mostly PTM activists, are still languishing in prison facing sedition and terrorism charges in other parts of the country. There are also cases of forced disappearances. The old colonial law of sedition comes in handy when the administration wants to deal with political dissent.
Justice Athar Minallah's remark is very pertinent. How does one define patriotism and who decides the patriotic credentials of any citizen? According to its definition, "patriotism is the feeling of love, devotion and sense of attachment to a homeland and alliance with other citizens who share the same sentiment". Patriotism includes a sense of pride, but does not require that proof be given for it.
So how does the demand for justice and the struggle for basic democratic rights enshrined in the Constitution make one unpatriotic? In fact, it's an act of patriotism when people rise up against the wrongdoings of those in power and struggle for their rights. For the powers that be, such an act is considered sedition. It depends on which side of history one is standing.
Among those who face sedition charges are the young and brightest minds of the country. They are not willing to accept the injustice perpetuated by the ruling elite. It's a sign of growing discontent among the young generation against the prevailing state of affairs. Protests are a sign of life that the ruling classes are afraid of. The latest crackdown against peaceful protesters is indicative of the increasing intolerance of the establishment towards any kind of dissent. The space for reason and freedom of expression is shrinking.
What is more worrisome is the increasing use of sedition charges against those who believe in non-violence. It is not that such draconian laws have not been used in the past; a number of political leaders in this country have been accused of sedition and questions raised about their love for the country. But such impunity had not been witnessed in recent years. Dozens of PTM supporters are languishing in prison on sedition charges. Even lawmakers have not been spared.
It is most disturbing that all this should happen under a civilian dispensation that claims there are no political prisoners in the country. Those lately arrested were more peaceful than the participants of Imran Khan's 2014 siege of Islamabad and months-long dharna for an unconstitutional demand. He had even called on the 'umpire' to intervene. But political activists, who have not thrown even a single stone, are charged under anti-terrorism laws.
While the state power instantly swings into action against peaceful protesters it bows to extremist elements who have no qualms about promoting violence and are even capable of bringing life in the capital to a grinding halt as amply demonstrated a few years ago. The administration looked on one side as vitriolic speeches were made from the pulpit. The Tehreek-i-Labbaik Pakistan chief Maulana Khadim Hussain Rizvi had the freedom to spread religious hatred and justify murder in the name of faith. But he was still considered a 'patriot' as he eulogised the security establishment. Should this be a criterion to convince people of one's patriotic credentials?
Criticising the security establishment for its wrong policies and excesses doesn't make anyone unpatriotic. It should not be the right of a particular institution to decide who is a patriot and who is not. In mature societies, patriotism is not something that is embellished all the time. Condemning the politicisation of the armed forces is not an unpatriotic deed. In the words of Samuel Johnson, "Patriotism is the last refuge of the scoundrel".
And there is no dearth of such examples in our country. Many of those who are not tired of displaying their 'patriotism' may not consider it wrong to usurp the rights of other people. It is also wrong to mix ultra nationalism with patriotism. As somebody said: "Public policing of individuals' patriotic credentials is not a good advertisement for any democracy".
Protest is a democratic right and protesters cannot be accused of being unpatriotic or of having foreign agents within their ranks. Unannounced bans on media coverage of such protests can deal a blow to the freedom of expression and damage our democratic credentials. In any case, restrictions on the media and the freedom of expression are often counterproductive in the age of social media. Surely, there have been some cases of extreme manifestations of protests that cannot be condoned, but declaring any protest as anti-state will not help address the real issue.
In his remarks Justice Minallah declared that constitutional courts would not shut their eyes to a matter like this. One hopes that the superior courts take some action to stop the government and the law-enforcement agencies from using sedition laws to suppress saner voices in society. It is the responsibility of the courts to uphold the rule of law and protect those who are fighting to uphold fundamental democratic rights that are enshrined in the Constitution. Failure to provide justice could have serious ramifications for the country.
The root cause of protest movements lies in the challenges and problems that populations face at home and that are not engineered from outside. But external forces can easily exploit the situation if the state fails to address the genuine grievances being faced by the people.
Zahid Hussain is an author and journalist.
Original Headline: Questioning patriotism
Source: The Dawn, Pakistan
URL: https://www.newageislam.com/the-war-within-islam/zahid-hussain/tehreek-i-labbaik-pakistan-chief-had-the-freedom-to-spread-religious-hatred-and-justify-murder-in-the-name-of-faith/d/120991